Dec. 30: The Hill: ACLU sues to get information on NSA surveillance
The ACLU sued the Obama administration on Monday for more information about how intelligence agencies conduct surveillance.  The civil liberties group filed a Freedom of Information Act lawsuit in a New York federal court seeking information on an executive order originally signed by President Reagan that is frequently used by the administration to justify National Security Agency actions.
The ACLU in its suit said the NSA is using the order to justify the collection of "vast quantities of data worldwide," including "nearly 5 billion records per day on the location of cell phones, including Americans' cell phones." It also said it used the order to obtain "information from Google and Yahoo user accounts as that information travels between those companies' data centers located abroad." The group cited "revent revelations" in the press to back up its claims. It's lawsuit was joined by Media Freedom and Information Access Clinic at Yale University.
Dec. 27: Fox News: Federal Judge Rules NSA Data Collection is Legal
A federal judge in New York has ruled the National Security Agency's massive data collection program is legal, one week after another federal judge ruled the opposite. The conflicting rulings increase the likelihood that the challenges could someday end up before the Supreme Court.
The ruling on Friday came from District Judge William H. Pauley III, in the case of the ACLU vs. James Clapper, the director of national intelligence. The judge agreed with the federal government's request to dismiss the case. "No doubt, the bulky telephony metadata collection program vacuums up information about virtually every telephone call to, from, or within the United States," the judge wrote.   But he added: "As the September 11th attacks demonstrate, the cost of missing such a thread can be horrific. Technology allowed Al Qaeda to operate decentralized and plot international terrorist attacks remotely. The bulky telephone metadata collection program represents the Government's counter-punch: connecting fragmented and fleeting communications to re-construct and eliminate al-Qaeda's terror network."
After the ruling, the ACLU said it would appeal to the Second Circuit Court of Appeals. "We are extremely disappointed with this decision, which misinterprets the relevant statutes, understates the privacy implications of the government's surveillance and misapplies a narrow and outdated precedent to read away core constitutional protections," Jameel Jaffer, ACLU deputy legal director, said in a statement.
Dec. 23: U.S. News: NSA Lawsuit attorney ignored White House Panel
Larry Klayman, the former Reagan administration prosecutor who won a preliminary injunction Dec. 16 against the government's collection of all American phone records, says the White House's surveillance review panel should be ignored.  The five-member panel released a 303-page report Dec. 18 containing 46 recommended changes to intelligence practices.  "It's a ruse," Klayman tells U.S. News. "This is an age-old government practice: When caught with their hand in the cookie jar, they come up with a 'solution.'" The practice is somewhat similar to advocating a law outlawing murder after killing someone, he says.
Klayman expects Department of Justice attorneys to file an appeal within a few days challenging the legal victory he received from U.S. District Court Judge Richard Leon against the National Security Agency's collection of phone records.  Leon's ruling was the first major legal blow against the NSA following leaks from Edward Snowden that began in June. Another U.S. District Court judge, William Pauley of New York, is considering an injunction request against the phone program as part of a case brought by the American Civil Liberties Union.
Dec. 20: The New York Times: N.S.A. Spied on Allies, Aid Groups and BusinessesSecret documents reveal more than 1,000 targets of American and British surveillance in recent years, including the office of an Israeli prime minister, heads of international aid organizations, foreign energy companies and a European Union official involved in antitrust battles with American technology businesses.  While the names of some political and diplomatic leaders have previously emerged as targets, the newly disclosed intelligence documents provide a much fuller portrait of the spies' sweeping interests in more than 60 countries.
Britain's Government Communications Headquarters, working closely with the National Security Agency, monitored the communications of senior European Union officials, foreign leaders including African heads of state and sometimes their family members, directors of United Nations and other relief programs, and officials overseeing oil and finance ministries, according to the documents. In addition to Israel, some targets involved close allies like France and Germany, where tensions have already erupted over recent revelations about spying by the N.S.A.
Dec. 19: The Hill: House seeks criminal probe into intel czar lying to Congress:
Seven House Republicans are calling for the Justice Department to open a criminal investigation into whether Director of National Intelligence James Clapper lied to Congress.  In a letter to Attorney General Eric Holder on Thursday, GOP Reps. Darrell Issa (CA), James Sensenbrenner Jr. (WI), Trent Franks (AZ), Blake Farenthold (TX), Trey Gowdy (SC), Raúl Labrador (ID) and Ted Poe (TX) said Clapper's "willful lie under oath" fuels distrust in the government and undermines the ability of Congress to do its job.  "There are differences of opinion about the propriety of the NSA's data collection programs," they wrote. "There can be no disagreement, however, on the basic premise that congressional witnesses must answer truthfully."  [Editor's Note" Of course action by the Attorney General who stonewalled Congress and is still facing a contempt of Congress is highly unlikely.]
During a Senate Intelligence Committee hearing in March, Sen. Ron Wyden (D-OR) asked Clapper whether the National Security Agency collects data on millions of Americans. Clapper insisted that the NSA does not — or at least does "not wittingly" — collect any information on Americans in bulk. After documents leaked by Edward Snowden revealed that the NSA collects records on virtually all U.S. phone calls, Clapper apologized for the false comment. Shawn Turner, a spokesman for Clapper, said the intelligence director mistakenly understood Wyden's question to be referring to the contents of communications, instead of "metadata" such as phone numbers, call times and call durations.
Dec. 17: Fox News: Judge deals a blow to the NSA phone monitoring program:
A federal judge ruled Monday that the National Security Agency's bulk collection of phone records likely violates the Constitution, in a major setback for the controversial spy agency. U.S. District Court Judge Richard Leon granted a preliminary injunction sought by plaintiffs Larry Klayman and Charles Strange. However, he also stayed his decision "pending appeal," giving the U.S. government time to fight the decision over the next several months.
The judge wrote that he expects the government to "prepare itself to comply with this order when, and if, it is upheld." Even after the appeals court rules, the Supreme Court will probably have the last word.  The ruling was the first major legal defeat for the NSA since former contractor Edward Snowden began exposing secrets about the NSA's data collection over the summer.
Dec. 15: The Hill: NAS Official: Snowden stole the "Keys to the Kingdom"
A top National Security Agency official said in an interview broadcast late Sunday that former contractor Edward Snowden stole "the keys to the kingdom."  Rick Ledgett, in charge of the task force assessing damage from Snowden leaks, said on "60 Minutes" that he would not dispute an estimate that Snowden took 1.7 million documents. 
"He did something that we call scraping. Where he went out and just went, used tools to scrape information from websites, and put it into a place where he could download it," Ledgett said. "It's an exhaustive list of the requirements that have been levied against -- against the National Security Agency," he added. "And what that gives is, what topics we're interested in, where our gaps are. But additional information about U.S. capabilities and U.S. gaps is provided as part of that."  Ledgett said the documents could give foreign governments "a roadmap of what we know, what we don't know, and give them-- implicitly, a way to-- protect their information from the U.S. intelligence community's view."
Dec. 7: The Blaze: Ex-Official says the FBI can secretly activate people's Webcam without them knowing it's on:
The FBI can secretly activate a computer's webcam to spy on an individual without turning on the indicator light, a former official revealed to the Washington Post in an article published Friday.  According to the Post's account of what Marcus Thomas — former assistant director of the FBI's Operational Technology Division in Quantico — said, "The FBI has been able to covertly activate a computer's camera — without triggering the light that lets users know it is recording — for several years, and has used that technique mainly in terrorism cases or the most serious criminal investigations."
"Because of encryption and because targets are increasingly using mobile devices, law enforcement is realizing that more and more they're going to have to be on the device — or in the cloud," Thomas added, in reference to remote storage services. "There's the realization out there that they're going to have to use these types of tools more and more."
Dec. 6: The Hill: Patriot Act author: Obama's Intelligence Czar should be prosecuted:
Rep. James Sensenbrenner Jr., the original author of the Patriot Act, says Director of National Intelligence James Clapper should be prosecuted for lying to Congress.  "Lying to Congress is a federal offense, and Clapper ought to be fired and prosecuted for it," the Wisconsin Republican said in an interview with The Hill.
He said the Justice Department should prosecute Clapper for giving false testimony during a Senate Intelligence Committee hearing in March.  During that hearing, Sen. Ron Wyden (D-OR) asked Clapper whether the National Security Agency (NSA) collects data on millions of Americans. Clapper insisted that the NSA does not — or at least does "not wittingly" — collect information on Americans in bulk. After documents leaked by Edward Snowden revealed that the NSA collects records on virtually all U.S. phone calls, Clapper apologized for the misleading comment.  The intelligence director said he tried to give the "least untruthful" answer he could without revealing classified information.
Sensenbrenner said that explanation doesn't hold water and argued the courts and Congress depend on accurate testimony to do their jobs. "The only way laws are effective is if they're enforced," Sensenbrenner said. "If it's a criminal offense — and I believe Mr. Clapper has committed a criminal offense — then the Justice Department ought to do its job."
Nov. 18: Capitol City Project: Homes raided, subpoenas issued, conservatives and friends of Scott Walker are targeted:
In Wisconsin, dozens of conservative groups and allies of Gov. Scott Walker are undergoing political intimidation from the left at the hands of a special prosecutor.  Subpoenas have been issued demanding correspondence and donor information of right-leaning organizations and individuals and raids have been conducted resulting in law enforcement officers taking computers and files in a secret investigation, according to reports.
"In recent weeks, special prosecutor Francis Schmitz has hit dozens of conservative groups with subpoenas demanding documents related to the 2011 and 2012 campaigns to recall Governor Walker and state legislative leaders," the Wall Street Journal writes,  The latest actions are taking place under Wisconsin's John Doe law, which makes it difficult for the groups involved to defend themselves publicly since the law bars a subpoena's targets from disclosing its contents to anyone but his attorneys. 
The orders reportedly began in the office of Milwaukee County Assistant District Attorney Bruce Landgraf just days before Democrat Mary Burke announced that she'd be running for governor of the state.  A source close to Watchdog.ord told the Wisconsin Reporter they believe this is a taxpayer funded campaign simply for opposition research purposes.  "This is not a question of what conservatives did wrong. It's a question of one party in this state using prosecutorial powers to conduct a one-sided investigation into conservatives."
Nov. 13: Roll Call: GOP Lawmakers Release Holder Articles of Impeachment:
A group of House Republicans are tired of waiting for answers from Attorney General Eric H. Holder Jr. — they want him impeached and will formally introduce their charges Thursday.  As Roll Call previously reported, a small group of GOP lawmakers have been drafting articles of impeachment for Holder over a string of controversies, including a Department of Justice refusal to turn over documents related to Operation Fast and Furious, a refusal to uphold certain laws — namely the Defense of Marriage Act, the Controlled Substances Act and the Anti-Drug Abuse Act of 1986 — and a refusal to prosecute IRS officials who accessed tax records of political donors and candidates without authorization. The articles of impeachment also charge that Holder provided false testimony to Congress — a "clear violation" of law.
Texas Republican Pete Olson, who is leading the charge behind the Holder articles of impeachment, said this wasn't a decision he took lightly.  "Since the House voted in 2012 to hold Attorney General Eric Holder in contempt, the pattern of disregard for the rule of law and refusal to be forthright has continued," Olson said in a statement to CQ Roll Call. "The American people deserve answers and accountability. If the Attorney General refuses to provide answers, then Congress must take action."  Olson told Roll Call that he would be dropping the articles of impeachment Thursday. On Wednesday, he released a five-page white paper explaining the four articles of impeachment against Holder.
Article I of the impeachment proceedings claims that Holder "engaged in a pattern of conduct incompatible with the trust and confidence placed in him" by refusing to comply with a subpoena issued by the House Oversight and Government Reform Committee for documents related to "a legitimate congressional investigation into Operation Fast and Furious by the Bureau of Alcohol, Tobacco, and Firearms that put thousands of illegally-purchased weapons into the hands of cartel leaders, ultimately resulting in the death of U.S. Border Patrol Agent Brian Terry on December 14, 2010."


Article II of the proceedings charges that Holder violated his oath of office by refusing to enforce certain laws that the Obama administration, for various reasons, decided not to enforce, including the Defense of Marriage Act, which the administration deemed unconstitutional.


Article III also charges that Holder violated his oath of office, this time by "refusing to prosecute individuals involved in the Internal Revenue Service scandal of unauthorized disclosure of tax records belonging to political donors."


Finally, Article IV claims Holder "provided false testimony to the House Judiciary Committee" regarding the potential prosecution of a member of the news media, Fox News correspondent James Rosen, using the Espionage Act.
Nov. 7: Reuters: Snowden persuaded NSA workers to give up passwords
Former U.S. National Security Agency contractor Edward Snowden used login credentials and passwords provided unwittingly by colleagues at a spy base in Hawaii to access some of the classified material he leaked to the media, sources say.   A handful of agency employees who gave their login details to Snowden were identified, questioned and removed from their assignments, said a source close to several U.S. government investigations into the damage caused by the leaks.  Snowden may have persuaded between 20 and 25 fellow workers at the NSA regional operations center in Hawaii to give him their logins and passwords by telling them they were needed for him to do his job as a computer systems administrator, a second source said.

Nov. 2: The NY Times: No Morsel Too Minuscuule for National Security Agency:
When Ban Ki-moon, the United Nations secretary general, sat down with President Obama at the White House in April to discuss Syrian chemical weapons, Israeli-Palestinian peace talks and climate change, it was a cordial, routine exchange.   The National Security Agency nonetheless went to work in advance and intercepted Mr. Ban's talking points for the meeting, a feat the agency later reported as an "operational highlight" in a weekly internal brag sheet. It is hard to imagine what edge this could have given Mr. Obama in a friendly chat, if he even saw the N.S.A.'s modest scoop. (which the White House won't say.)

But it was emblematic of an agency that for decades has operated on the principle that any eavesdropping that can be done on a foreign target of any conceivable interest — now or in the future — should be done.

Nov. 1: Reuters: UK: Snowden reporter's partner involved in espionage and terrorism:
British authorities claimed the domestic partner of reporter Glenn Greenwald was involved in "terrorism" when he tried to carry documents from former U.S. intelligence contractor Edward Snowden through a London airport in August, according to police and intelligence documents.  Greenwald's partner, David Miranda, was detained and questioned for nine hours by British authorities at Heathrow on August 18, when he landed there from Berlin to change planes for a flight to Rio De Janeiro After his release and return to Rio, Miranda filed a legal action against the British government, seeking the return of materials seized from him by British authorities and a judicial review of the legality of his detention. At a London court hearing this week for Miranda's lawsuit, a document called a "Ports Circulation Sheet" was read into the record. It was prepared by Scotland Yard - in consultation with the MI5 counterintelligence agency - and circulated to British border posts before Miranda's arrival. The precise date of the document is unclear.

The document reads, in part: "Intelligence indicates that Miranda is likely to be involved in espionage activity which has the potential to act against the interests of UK national security.  We assess that Miranda is knowingly carrying material the release of which would endanger people's lives," the document continued. "Additionally the disclosure, or threat of disclosure, is designed to influence a government and is made for the purpose of promoting a political or ideological cause. This therefore falls within the definition of terrorism..."

Miranda was not charged with any offense, although British authorities said in August they had opened a criminal investigation after initially examining materials they seized from him. They did not spell out the probe's objectives.

Oct. 27: Fox News: Report says Obama knew and approved of NSA spying on Merkel
President Obama knew of the organization's spying on German Chancellor Angela Merkel – and approved of the efforts, a National Security Agency official has reportedly told a German newspaper.  The Economic Times writes the "high-ranking" NSA official spoke to Bild am Sonntag on the condition of anonymity, saying the president, "not only did not stop the operation, but he also ordered it to continue."

The Economic Times also reports the official told Bild am Sonntag that Obama did not trust Merkel, wanted to know everything about her, and thus ordered the NSA to prepare a dossier on the politician.  The account could mean difficulties for the White House, given another report claiming Obama told Merkel during a telephone conversation last Wednesday he was not aware of the NSA's spying.

The unnamed NSA official's allegations delve deeper into a Saturday report, published by the German magazine Der Spiegel, claiming the U.S. spy agency has monitored Merkel's phone since 2002, or even before she rose to her country's chief executive position and was only an opposition leader.  The revelations follow earlier reports of the NSA monitoring phone calls made by French and German citizens, an account prompting both nations' foreign ministries to summon the respective American ambassadors to each country for an explanation. Much -- if not all -- of the reporting on the alleged spying scandal stems from documents leaked by former NSA contractor Edward J. Snowden.

Oct. 25: The Washington Times: Armed agents seize reporter's notes: The Times prepares for legal action:
Maryland state police and federal Homeland Security agents used a search warrant from an unrelated criminal investigation to seize the private reporting files of an award-winning former investigative journalist for The Washington Times who had exposed problems in the Homeland Security's Federal Air Marshal Service.

Reporter Audry Hudson said the investigators took her private notes and government documents that she had obtained under the Freedom of Information Act during a predawn raid of her family home on Aug. 6. The documents, some which chronicled her sources and her work at the Times about problems inside the DHS, were seized under a warrant to search for unregistered firearms and a "potato gun" suspected of belonging to her husband, Paul Flanagan who is a Coast Guard employee.  The warrant, obtained by the Times, offered no specific permission to seize reporting notes or files.

The Washington Times said Friday it is preparing legal action to fight what it called an unwarranted intrusion on the First Amendment.

Oct. 25: Breitbart.com: Rep. Sensenbrenner to introduce bill to rein in NSA Surveillance Activities:
The United and Strengthening America by Fulfilling Rights and Ending Eavesdropping, Dragnet Collection, and Online Monitoring Act, or USA FREEDOM Act, is somewhat of a step beyond the controversial "Amash Amendment" that narrowly failed to pass the House in July that would have stripped funding for NSA programs collecting the telephone records of those in the United States.

Sensenbrenner is the former Chairman of the House Judiciary Committee and current Chairman of the subcommittee on Terrorism and Homeland Security. He was also the original sponsor of the PATRIOT Act. The Wisconsin lawmaker has previously stated that the PATRIOT Act was "deliberately drafted to prevent [the] data mining" yet the NSA interpreted his legislation to justify their dragnet style surveillance of American citizens. His support, as the drafter of the PATRIOT Act, could be influential with a few of his national security oriented Republican colleagues.

Oct. 18: The Hill: Snowden denies giving files to Russia
Former National Security Agency contractor Edward Snowden said he did not provide any classified documents about U.S. surveillance to Russia or China. "There's a zero percent chance the Russians or Chinese have received any documents," he said in an interview with The New York Times that was conducted through encrypted online communication.

After leaking classified documents to numerous newspapers, Snowden fled to Hong Kong before seeking asylum in Russia in August.   Snowden said he handed over the last of his documents to reporters while in Hong Kong because it would not serve the public interest to carry them with him to Russia.   "What would be the unique value of personally carrying another copy of the materials onward?" he said.  Snowden said China had been his last target while working as a contractor, and he was confident he kept his classified documents from them while there.

Sept. 4: The Daily Caller: NRA and ACLU are strange bedfellows on NSA phone records lawsuit:
The National Rifle Association filed an amicus brief on Wednesday supporting the American Civil Liberties Union's lawsuit challenging the constitutionality of the National Security Agency's phone records collection program. The NRA filed a brief of amicus curiae in U.S. District Court in support of the plaintiff in the ACLU's lawsuit against key Obama administration officials, including director of national intelligence James Clapper, NSA director Keith Alexander, defense secretary Chuck Hagel, Attorney General Eric Holder and FBI director Robert Mueller. 

The gun-rights group — often associated in the public consciousness with conservative politics — and the progressive-leaning civil rights advocacy organization might appear to be strange bedfellows, but the NRA claims that the two groups have common interests.  "The mass surveillance program threatens the First Amendment rights of the NRA and its members," according to the NRA counsel's argument in the amicus brief. "The mass surveillance program could allow identification of NRA members, supporters, potential members, and other persons with whom the NRA communicates, potentially chilling their willingness to communicate with the NRA."

Aug. 29: The Hill: Leaked documents reveal U.S. sees Israel as spying threat:
The Obama administration views Israel as one of the top spying threats facing its intelligence services, leaked documents reveal.  A secret budget request obtained by The Washington Post from former NSA contractor Edward Snowden lumps Israel alongside U.S. foes Iran and Cuba as "key targets" for U.S. counterintelligence efforts. The document suggests Israel does not believe U.S. assurances that its interests are aligned with Israel's on crucial issues such as Iran and peace talks with the Palestinians.

"To further safeguard our classified networks, we continue to strengthen insider threat detection capabilities across the Community," reads the FY 2013 congressional budget justification for intelligence programs. "In addition, we are investing in target surveillance and offensive CI [counterintelligence] against key targets, such as China, Russia, Iran, Israel, Pakistan and Cuba."   The White House and the Israeli Embassy did not respond to requests for comment.

The revelations come as no surprise to Georgetown University's Paul Pillar, who retired as the national intelligence officer for the Near East in 1995 after a 28-year career in U.S. intelligence. Israeli spying, he said, has remained a major threat since U.S. citizen Jonathan Pollard received a life sentence in 1987 in a massive spying case that gravely strained relations between the two countries.

Aug. 7: Roll Call: Hill Applauds as Obama Scraps Summit with Putin: 
There is no audible opposition from Congress to President Barack Obama's announcement today that he's backing out of next month's scheduled meeting with Russian President Vladimir Putin. The tenor of the initial reaction from lawmakers in both parties has been totally supportive of the diplomatic slap, which is pushing the United States closer to an outright canceling of the "reset" in Russian relations that Obama had been long promoting — and which many in Congress had been resisting. Many senators and House members had been urging the president to spurn the long-planned Putin meeting. If there was an undercurrent of criticism after today's announcement, it was in mumbled versions of "What took him so long?" from the president's most ardent Republican critics.

The presidential snub is a clear signal of anger and frustration with the Putin government for permitting fugitive intelligence analyst Edward Snowden to remain in Russia instead of returning him to the United States so he could be prosecuted for his disclosures of national security secrets. But tension between the two countries has been building for months, most acutely over the Russians' support for the Assad regime in Syria.

The one-day summit was supposed to happen in Moscow in four weeks, just before the G-20 meeting of the world's most economically powerful countries opens in Russia's second city, St. Petersburg. The White House said the president will still attend that annual meeting, which some in Congress had called on him to boycott because of its location. Other members have encouraged a boycott of next year's Winter Olympics in the Russian city of Sochi.

Aug. 4: The Daily Caller:  Judicial Watch President: Holder's Depart. of Justice is a "Locus of Evil"
In a scathing interview, Tom Fitton — president of the non-partisan group Judicial Watch — assessed the Obama administration's behavior and described the Department of Justice under Eric Holder's tenure as a "Locus of Evil."  "It doesn't get much worse than that Attorney General," Fitton said.  He recalled that Judicial Watch took the highly unusual step of opposing Holder's appointment. "We knew Eric Holder was involved in the pardon scandal under the Clinton years, where he pushed for these pardons that were bought and paid for practically by Clinton patrons… That only scratches the surface of his problems. So he comes in, and sure enough, he is appointed and he turns into the politically-pliant Attorney General that we thought he would be."

Aug. 4: The Hill: Terror threat opens new front in the NSA Debate:
A weekend terror threat that had top administration officials huddling at the White House, and provoked the State Department to close more than 20 diplomatic posts and issue a worldwide travel alert, has opened up a new front in the debate over the National Security Agency's (NSA) surveillance programs. A handful of lawmakers – most of them long-time national security hawks -- took to the Sunday news shows to declare the NSA programs a success, and credit the controversial surveillance methods, first uncovered when former contractor Edward Snowden divulged details to The Guardian, as directly responsible for uncovering a potential terrorist attack.

"These programs are controversial, we understand that," Sen. Saxby Chambliss (R-GA) said on NBC's "Meet the Press." "But they are also very important… If we did not have these programs, then we simply would not be able to listen in on the bad guys."  And Sen. Lindsey Graham (R-SC) argued on CNN's "Statue of the Union" that by shedding light on the weekend terror threat, that "the NSA program is proving its worth yet again."

Aug. 4: The Hill:
Schumer: Obama should stand up to the "schoolyard bully" and cancel Putin meeting:
Sen. Charles Schumer (D-NY) Rep. Paul Ryan (R-WI) said President Obama should cancel a bilateral summit Russian President Vladmir Putin scheduled for later this month and push to move the international economic G20 Summit out of St. Petersburg because Putin granted asylum to NSA leaker Edward Snowden.  "I would urge the president to cancel the bilateral summit he's having with Putin," Schumer said Sunday on CBS's "Face the Nation." "President Putin's behaving like a schoolyard bully, and in my experience, I've learned that unless you stand up to that bully, they ask for more and more and more."

Schumer said that the relationship between the U.S. and Russia "is more poisonous than at any time since the Cold War because of all of this," and said if President Obama meets with Putin, it's giving him "the kind of respect he doesn't deserve at this time."  The New York Democrat also said the U.S. should pressure its allies to move the international economic G20 Summit out of St. Petersburg.  "For once…I agree with Chuck Schumer on that," Ryan said, following "Schumer on Face the Nation." "I think President Putin thinks he can get away with pushing around this administration because the administration has given appeasement feelings that they can do this."

Aug. 3: The Hill: Obama in tough spot on Snowden
President Obama is facing a no-win decision on Edward Snowden.   The White House on Thursday said it was "extremely disappointed" with Russia for granting the intelligence leaker temporary asylum, and officials said they were considering whether to cancel a planned bilateral summit ahead of the G-20 meeting in St. Petersburg next month.  But the president himself has yet to speak publicly on the matter, and it's his response that will have the biggest impact on Russia's relations with the United States.

Lawmakers from both parties have pushed Obama to go further than just canceling the bilateral summit. Some have recommended moving the G-20 meeting or possibly skipping it altogether. That puts the president in a difficult spot. Retaliating against the Kremlin could jeopardize U.S. supply lines in Afghanistan, Moscow's help with Iran's nuclear ambitions and Obama's efforts to jointly reduce the countries' nuclear weapons.  Following through with the planned bilateral summit, however, is likely to spark criticism at home from lawmakers who saw the asylum move as a "slap in the face" by Russian President Vladimir Putin.    "He can't win," said Lawrence Korb, a defense analyst at the liberal-leaning Center for American Progress.

Aug. 2: Fox News: Snowden gets job offer from Russian media company:
A day after Russia granted him asylum, National Security Agency leaker Edward Snowden is looking for a place to live and considering job offers, according to his attorney.  Russia granted temporary asylum to Snowden Thursday, after he spent nearly six weeks at a Moscow airport. Russia is allowing Snowden to stay until July 31, 2014, as he evades espionage charges in the U.S.  Snowden's Russian lawyer, Anatoly Kucherena, told reporters Friday he gave the whistle-blower a certificate on refugee status in the Russian Federation and put him in a taxi, according to a report in the Moscow Times.

Snowden's refugee status gives him the right to travel and work around Russia, something he previously said he intends to do, according to Kucherena. Snowden had previously suggested he would seek work in Russia, and planned to stay in the country long enough to familiarize himself with local culture, customs and language.  Pavel Durov, the majority shareholder of popular social network Vkontakte, offered Snowden a job at his company in St. Petersburg as an IT specialist, the Moscow Times reported.  But Kucherena said instead of working for in the tech industry, Snowden will look for a job as a human rights activist.

Aug. 1: Politico: Snowden gets Russian Asylum for a year:
NSA leaker Edward Snowden has left the Moscow airport, entered Russia and been granted one-year temporary asylum, according to reports Thursday.  Snowden called the move a win for the law.  "Over the past eight weeks we have seen the Obama administration show no respect for international or domestic law, but in the end the law is winning. I thank the Russian Federation for granting me asylum in accordance with its laws and international obligations," Snowden said upon receiving his certificate, according to WikiLeaks.

July 25: The Hill: Senators float trade sanctions against Russia over Snowden Affair:
A Senate panel on Thursday approved a State Department funding bill with a provision aimed at pressuring Russia to reject asylum for National Security Agency leaker Edward Snowden. The provision, authored by Sen. Lindsey Graham (R-SC), was adopted unanimously by the Senate Appropriations Committee. It states that if Snowden is granted asylum, then the secretary of State must consult with Congress on possible sanctions.

"The Committee notes that certain countries have offered asylum to Edward Snowden, an American citizen who divulged classified information to the press. The Committee directs the Secretary of State to consult with the appropriate congressional committees on sanction options against any country that provides asylum to Mr. Snowden, including revocation or suspension of trade privileges and preferences," the Graham amendment states.

The language of the Graham amendment stops well short of actually imposing sanctions. Furthermore, Russia is now a member of the World Trade Organization, so trade sanctions by the U.S. could invite WTO-approved retaliation.

July 21: The Hill: Bill requiring warrants for email searches nears Senate vote:
The chairman of the Senate Judiciary Committee is pushing to fast-track legislation that would require police to obtain a warrant before accessing emails and other private online messages.  Sen. Patrick Leahy's (D-VT) goal is for the Senate to unanimously approve his bill before the August recess, according to one of his committee aides. Any opposition could delay a vote until after Congress returns in the fall.  He has secured unanimous support from his fellow Democrats and is in negotiations with Sen. Chuck Grassley (R-IA), the Judiciary Committee's ranking member, and other Republicans to address their concerns.

Leahy's aide claimed that even if a floor vote is delayed until after the recess, they are already "way past" the 60 votes they would need to overcome a filibuster and approve the bill, which is co-sponsored by Republican Sen. Mike Lee (UT).  Leahy's bill would not affect the NSA programs, but it would curb the ability of local and federal law enforcement officials to access private online messages. But Grassley and some other Republicans are concerned that the warrant requirement could hinder civil regulatory investigations. Warrants are only available for criminal investigations.

Mary Jo White, chairwoman of the Securities and Exchange Commission, sent a letter to Judiciary Committee senators earlier this year, explaining that few of her agency's cases involve criminal charges. She warned that applying a warrant requirement to the SEC would impede the agency's "ability to protect investors and to assist victims of securities fraud."  Grassley echoed White's concerns at the committee vote on Leahy's bill, and has sought changes to the legislation.

July 19: Fox News: Senators suggest Obama recommend moving economic summit out of Russia due to Snowden affair:
Two senators urged President Barack Obama on Friday to consider recommending a new site for the September international summit in St. Petersburg, Russia, if Moscow continues to allow National Security Agency leaker Edward Snowden to remain in the country. Sens. Schumer (D-NY) and Graham (R-SC) introduced a resolution encouraging Russia to turn Snowden over to the United States, where he is accused of leaking information about U.S. surveillance programs. Snowden has applied for temporary asylum in Russia three weeks after arriving at a Moscow airport from Hong Kong. The United States wants the former analyst sent home to face prosecution for espionage. The resolution is the latest congressional effort to increase pressure on Russia as it considers Snowden's request, reminding Moscow of the potential fallout. The resolution said the president "should consider options, including recommending a different location for the September 2013 G20 summit in St. Petersburg, Russia, should the Russian Federation continue to allow shelter for Mr. Snowden."

Snowden's presence in Russia has roiled already rocky U.S.-Russia relations. The White House is considering canceling a fall meeting between Obama and Russian President Vladimir Putin in Moscow. While Obama could recommend another location for the summit, it is uncertain how many participating countries would back his move. "On multiple fronts, Russia is becoming one of the bad actors in the world," Graham said in a statement. "Russia continues to provide cover to the Iranian nuclear program and sell sophisticated weapons to the (Bashar) Assad regime in Syria to butcher tens of thousands of its own citizens. For Russia to grant temporary asylum to Mr. Snowden on top of all this would do serious damage to our relationship."

July 17: The Hill: White House signals Obama may snub Putin over Snowden asylum:
The White House for the second day in a row signaled President Obama could scrap planned one-on-one talks with Russian President Vladimir Putin next month in Moscow if Edward Snowden is granted asylum in that country. White House press secretary Jay Carney on Wednesday refused to elaborate on the president's autumn travel plans, admitting it was possible he was being "deliberately vague." Asked specifically about whether plans still stood for Obama to travel to Moscow Sept. 3-4 for a bilateral summit ahead of the G-20 meeting in St. Petersburg, Carney said he had "no further announcements on our travel to Russia."

"The president intends to go to Russia in September," he said. The use of the word "intends," suggested some flexibility in the president's plans, and when a reporter noted that he was saying Russia — not Moscow — Carney admitted, "I just have nothing else to say on it." Asked Tuesday if he was being "intentionally vague," Carney cracked a smile. "I don't have anything to add," he repeated.

July 15: The Hill: Putin: Snowden winding down "political activity" against the US
Russian President Vladimir Putin said Monday that National Security Agency leaker Edward Snowden was winding down his "political activity" against the U.S., according to Reuters.  The Russian leader previously said he would grant Snowden asylum if he stopped "his work aimed at inflicting damage on our American partners."   Putin's comments Monday sparked speculation that the Kremlin may be opening the door to extending asylum to the American fugitive, who is seeking to avoid a U.S. extradition request to face espionage charges. Snowden has been stuck in the transit zone of a Moscow airport for nearly a month.

The NSA leaker said Friday in a rare public appearance that he would request temporary asylum from Russia so that he could travel to one of a handful of Latin American countries that have offered to take him in. Russian officials though said over the weekend that they had not yet received an asylum request for him.

July 14: The Hill: Snowden creates new headaches, distractions for White House:
National Security Agency leaker Edward Snowden is vowing to create more headaches for President Obama after emerging Friday to request temporary asylum in Russia. After a three-week stay in the transit zone of a Moscow airport, Snowden made a public appearance on Friday at a meeting with human rights groups. Snowden said in a statement that he would once again request asylum in Russia so he could secure legal travel to the Latin American countries that would take him in.  The latest developments in the Snowden saga underscore the public relations problem that Snowden has become on the international stage as the U.S. has attempted unsuccessfully to extradite him on espionage charges. Snowden's latest request could threaten to further chill the icy U.S.-Russia relations should Moscow — which has said it is neutral in the Snowden affair — grant asylum to the 30-year-old defense contractor.

July 6: Fox News: Nicaragua and Venezuela willing to grant asylum to Edward Snowden
NSA leaker Edward Snowden's effort to evade prosecution in the U.S. took a turn toward Latin America Friday after the Presidents of Venezuela and Nicaragua announced they were prepared to grant NSA whistleblower Edward Snowden asylum. Although there were no concrete details from Presidents Daniel Ortega of Nicaragua or Nicolas Maduro of Venezuela, it is believed that they are the first offers of asylum that Snowden has received since he requested asylum in several countries, including Nicaragua and Venezuela.

Maduro made the asylum offer during a speech marking the anniversary of Venezuela's independence. It was not immediately clear if there were any conditions to Venezuela's offer. But his critics said Maduro's decision is nothing but an attempt to veil the current undignified conditions of Venezuela, including one of the world's highest inflation rates and a shortage of basic products such as toilet paper.

The White House on Friday refused to comment on the asylum offers, referring questions on the matter to the U.S. Justice Department, according to Reuters. A number of countries have already rejected asylum applications from Snowden.

July 5: Politico: Snowden's worst nightmare, Nothing will change?
Edward Snowden's nightmare may be coming true. Not exile; not the danger of imprisonment or prosecution; and not his newfound association with dictators, lawyers and impresarios. Snowden's worst fear, by his own account, was that "nothing will change." "People will see in the media all these disclosures, they'll know the lengths the government is going to grant themselves powers, unilaterally, to create greater control over American society and global society," he told The Guardian last month after he'd asked it to identify him as its source. "But they won't be willing to take the risks necessary to stand up and fight to change things, to force their representatives to actually take a stand in their interests."

One month after The Guardian's first story, which revealed an order from the secret Foreign Intelligence Surveillance Court authorizing the National Security Agency to collect the phone records of every Verizon customer, there has been no public movement in Washington to stop the court from issuing another such order. Congress has no intelligence reform bill that would rein in the phone tracking, or Internet monitoring, or cyberattack planning, or any of the other secret government workings that Snowden's disclosures have revealed. In short, the workings of the NSA and its partner intelligence agencies — which, Snowden said, threaten to become "turn-key tyranny" — continue unabated.  "It's very concerning," said Jack Lerner, a law professor at the University of Southern California who specializes in privacy and national security. "I've seen surveys that already show some changing attitudes, however I've also seen a Pew survey that said there's still a pretty strong majority in favor of essentially letting the NSA do this."

Meanwhile Snowden may have applied to six unnamed countries for asylum, Politico Reported on July 5th. A Tweet by WikiLeaks states: Edward #Snowden has applied to another six countries for asylum. They will not be named at this time due to attempted US interference. The NSA whistleblower, who's believed to be in a diplomatic "purgatory" at Moscow's Sheremetyevo airport, has applied for asylum in 21 countries, none of which have responded yet with a yes. The United States has suspended his passport.  The plane of Bolivian President Evo Morales was forced to reroute last week and land in Vienna over suspicions that Snowden was aboard and headed to Bolivia. Bolivia has yet to formally answer Snowden's asylum appeal.

July 2: Politico: Bolivian President's Plane diverted because of Snowden being possibly aboard:
The plane carrying Bolivian President Evo Morales home from Russia was rerouted to Austria on Tuesday after France and Portugal refused to let it cross their airspace because of suspicions that NSA leaker Edward Snowden was on board, the country's foreign minister said. Foreign Minister David Choquehuanca denied that Snowden was on the plane, which landed in Vienna, and said France and Portugal would have to explain why they canceled authorization for the plane. "We don't know who invented this lie. We want to denounce to the international community this injustice with the plane of President Evo Morales," Choquehuanca said from Vienna, where the plane landed.

Morales had earlier met with Russian President Vladimir Putin at a summit of major gas exporters in the Kremlin. In an interview with Russia Today television, Morales said that his South American country would be willing to consider granting asylum to Snowden.  Snowden is believed to be in a Moscow airport transit area, seeking asylum from one of more than a dozen countries.

Choquehuanca said in a statement that after France and Portugal canceled authorization for the flight, Spain's government allowed the plane to be refueled in its territory. From there the Falcon plane flew on to Vienna. He said the decision by France and Portugal "put at risk the life of the president." "This is a hostile act by the United States State Department which has used various European governments," said Bolivian Defense Minister Ruben Saavedra, who was on the flight.


July 2: Politico: Snowden: In it for the headlines and notoriety?
When Edward Snowden first told the world he was the NSA leaker, he insisted he didn't want to become the story. What happened to that?  At every turn, Snowden has drowned out the debate over privacy, security and the role of government he hoped to spark by serving up a human drama — starring himself.  He's given frequent interviews, set off an international manhunt by jetting from the United States to Hong Kong to Russia, and then Monday he took it even further by firing off a missive over President Barack Obama's handling of his case — without a mention of his original cause.

On Tuesday, Snowden's ongoing game of will-he or won't-he with asylum took another turn when he pulled his request with Russian authorities. Vladimir Putin said Monday that he wouldn't host Snowden if he keeps leaking American secrets.  It's a saga that's left even those skeptical of the U.S. surveillance programs wary of him.  Rep. Gerry Connolly (D-VA) said he wasn't sure whether Snowden truly acted on his conscience or was "just someone who wanted to get his name in the paper."
"I certainly am not going to count him as a folk hero," Connolly said. "There's enough in his past that makes me guarded about that."

June 30: Fox News: Senators urge Pres to get tough with Russia, Ecuador over Snowden affair:
Two top senators called Sunday for the U.S. to get tough with countries positioned to help NSA leaker Edward Snowden, with Sen. Chuck Schumer saying the U.S. should cut off business visas to Ecuador if that country offers him asylum. Sens. Schumer (D-NY) and John McCain (R-AZ) had tough words for both Russia and Ecuador.  The latter is considering Snowden's bid for asylum, though may not issue a decision for weeks. Russia, meanwhile, has declined to intervene despite Snowden spending the past week in a Moscow airport.

On Ecuador, Schumer told "Fox News Sunday" that the U.S. should cut off millions in foreign aid to the country and suspend favorable trade status, something Ecuador has suggested doing anyway. But he also said the U.S. could exert leverage by ending the 85,000 business visas between the two countries. "Cut them off," he said.

June 28: The Hill: Snowden's father offers deal in letter to Holder (Deal? We don't think so!)
The father of Edward Snowden has proposed a deal to Attorney General Eric Holder that he says could convince his son to return to the United States.  Lonnie Snowden said his son, Edward, would likely come back to America if he were promised that he could remain free prior to trial, not be subjected to a gag order and be tried in a place of his choosing. He also proposed that if those terms were violated, the government should agree to dismiss charges against Edward, a former defense contractor who admitted to leaking information about top-secret National Security Agency programs.

"With these written representations and guarantee, Mr. Snowden is reasonably confident that his son could be persuaded to surrender voluntarily to the jurisdiction of the United States to face trial," wrote Bruce Fein, the Washington attorney for Snowden's father, in the letter to Holder that was obtained by CNN.  Edward Snowden is thought to currently be at the international terminal of the Moscow Airport, where he arrived last weekend after fleeing Hong Kong. He has reportedly requested asylum in Ecuador.

June 25: Fox News: Terrorists changing tactics in wake of surveillance program leaks, officials say:
Known terrorist groups already have begun to change the way they communicate in the wake of classified leaks detailing U.S. surveillance tactics, U.S. intelligence and counterterrorism officials tell Fox News. "We are already seeing indications that they are attempting to change their communications behaviors," said one senior U.S. official, speaking to Fox News on the condition of anonymity. "That is a direct result of what we are seeing in the media. That is a fact."
Former NSA contractor Edward Snowden has acknowledged providing sensitive information to the media on U.S. surveillance programs. Facing federal charges in the U.S., Snowden continues to evade capture and is said to be in a Moscow airport. Counterterrorism officials say that although some of the basic principles of U.S. surveillance were known before the leaks, terrorist groups are now armed with new details that can help them keep their communications private. "They now know the scope and breadth of our abilities and our collection," one official said.

June 24: Fox News: Peter King (R-NY) This is no longer a game!
"It's time to hit the reset button with Putin" says King.  The president needs to get involved and let Russia know that if they help Snowden and not turn him over to us that there will be a price to pay.

June 24: Fox News: US pressures Moscow to turn over Snowden:
The U.S. government pressured Moscow on Monday to turn over NSA leaker Edward Snowden, while sending a strong message to the globe-trotting fugitive: we know where you are. Snowden, who left Hong Kong for Russia over the weekend, had been expected to board a Cuba-bound flight from Moscow on Monday morning, but was nowhere to be found on that flight. A Justice Department official, though, told Fox News that the department knows his location, without providing further detail.

White House Press Secretary Jay Carney later said he is presumed to be in Russia. "We do expect the Russian government to look at all the options available ... to expel Mr. Snowden back to the United States," Carney said. He also chided Hong Kong for letting Snowden leave, saying they made a "deliberate choice" that will damage U.S.-China relations. Carney did not provide other details about the status of possible negotiations.

June 23: Fox News: US revokes Snowden's passport
The anti-secrecy website WikiLeaks said Sunday it is helping Edward Snowden, the former National Security Agency contractor who exposed secrets about the federal government's surveillance program, to seek asylum in Ecuador. The announcement came as a source confirmed to Fox News Saturday that the United States revoked Snowden's passport. "As is routine and consistent with US regulations, persons with felony arrest warrants are subject to having their passport revoked," State Dept. spokeswoman Jen Psaki said in a statement. "Such a revocation does not affect citizenship status. Persons wanted on felony charges, such as Mr. Snowden, should not be allowed to proceed in any further international travel, other than is necessary to return him to the United States. Because of the Privacy Act, we cannot comment on Mr. Snowden's passport specifically."

June 23: The Daily Caller: Graham: "I hope they case him (Snowden) to the ends of the earth"
On this weekend's "Fox News Sunday," South Carolina Republican Sen. Lindsey Graham downplayed the "hero" status of whistle-blower Edward Snowden as the news of his flight from Hong Kong to Moscow as he seeks asylum from the prosecution of U.S. authorities broke. Graham emphasized his support for doing what it takes to track Snowden down. "Well, I'd like to find out why our papers were not in compliance," Graham said. "That would be a big mistake by the Department of Justice. I don't think he's a hero. I believe he hurt or nation. He compromised our national security program designed to find out what terrorists were up to. So, the freedom trail is not exactly China, Russia, Cuba, Venezuela. So, I hope we'll chase him to the ends of the earth, bring him to justice and let the Russians know there will be consequences if they harbor this guy." In a related story: Snowden flees Hong Kong for Moscow while wanted to seek asylum in Ecuador:

The former National Security Agency contractor responsible for exposing two classified Internet and phone surveillance programs used to target terrorists, is en route to Ecuador from Hong Kong as he seeks asylum from the U.S. government. Wikileaks announced Snowden's intentions in a statement Sunday afternoon.  Stating that he left Hong Kong legally, the organization said that Snowden "is being escorted by diplomats and legal advisors from WikiLeaks." Snowden sought out the organization, said Wikileaks, and requested that it use "its legal expertise and experience to secure his safety."

June 22: Politico: U.S. asked Hong Kong to send Snowden back:
The Obama administration is asking Hong Kong to extradite former National Security Agency contractor Edward Snowden to face charges he leaked national security secrets, the White House said Saturday. The United States is seeking Snowden's transfer "in accordance with the US/Hong Kong Agreement for the Surrender of Fugitive Offenders," White House spokeswoman Caitlin Hayden said.  A criminal complaint charging Snowden with illegally disclosing national defense secrets, revealing details of "communications intelligence," and theft of government property was unsealed Friday. However, the complaint was filed a week ago and there's no sign yet of legal action in Hong Kong. "If Hong Kong doesn't act soon, it will complicate our bilateral relations and raise questions about Hong Kong's commitment to the rule of law," a senior U.S. official who asked not to be named said Saturday.

June 21: Politico:  Snowden charged with three felonies:
Federal prosecutors secretly charged former National Security Agency contractor Edward Snowden last week with three felonies in connection with recent leaks of classified information about secret U.S. surveillance programs, according to a court complaint unsealed Friday. Snowden was charged with conveying classified information to an unauthorized party, disclosing communications intelligence information, and theft of government property. The charges, which can carry a penalty of up to ten years in prison on each count, were filed in federal court in Alexandria, Va., last Friday.

The charges were first reported Friday evening by the Washington Post, which said the complaint against Snowden was sealed. It's not immediately clear whether the charges were unsealed before or after the Post report. A Justice Department official confirmed Friday evening that a complaint was filed in the case, but declined further comment on the matter. Sen. Bill Nelson (D-FL), who has called Snowden's leaks "an act of treason," praised the move. "I've always thought this was a treasonous act. Apparently so does the U.S. Department of Justice," he said, although the complaint unsealed Friday does not include a treason charge. "I hope Hong Kong's government will take him into custody and extradite him to the U.S."

June 19: Politico: AP boss says sources won't talk any more since seizure of records:
Associated Press' president Gary Pruitt on Wednesday slammed the Department of Justice for acting as "judge, jury and executioner" in the seizure of the news organization's phone records and he said some of the wire service's longtime sources have clammed up in fear. Pruitt said the department broke its own rules with the seizure, which he said was too broad, and by failing to give the AP notice of the subpoena. Pruitt questioned the DOJ's actions concerning the subpoena — had the DOJ come to the news organization in advance, "we could have helped them narrow the scope of the subpoena" or a court could have decided, he said.

Since the disclosure of the DOJ's subpoena, Pruitt on Wednesday said AP reporters have experienced a chilling effect on news gathering. Sources are "nervous and anxious" about talking with reporters, he said, and it goes beyond just the AP. "What I learned from our journalists should alarm everyone in this room and should alarm everyone in this country," he said.
"The actions of the DOJ against AP are already having an impact beyond the specifics of this particular case," he said. "Some of our longtime trusted sources have become nervous and anxious about talking to us, even on stories that aren't about national security. And in some cases, government employees that we once checked in with regularly will no longer speak to us by phone, and some are reluctant to meet in person."

June 19: Fox News: Mueller acknowledges use of drones on U.S. soil:
FBI Director Robert Mueller acknowledged Wednesday that the bureau has a limited number of drones that it uses for surveillance on U.S. soil. The practice, however limited, could raise further concern about government snooping amid the ongoing controversy over the administration's phone- and Internet-tracking programs. Mueller addressed the matter during a Senate hearing on Capitol Hill, under questioning from Sen. Chuck Grassley (R-IA). Asked if the FBI has drones, Mueller said, "Yes, and for surveillance." He later said they are deployed on U.S. soil, but clarified they are used in a "very, very minimal way and very seldom."

The administration already has stated outright that it cannot use lethal drone strikes against a non-combatant American on U.S. soil, amid questions about the extent of the once-secretive drone program used in counterterrorism operations overseas. President Obama also said in a speech last month that armed drones should never be deployed over U.S. soil. But the use of non-lethal drones for surveillance purposes is rapidly getting off the ground, so to speak, among local law enforcement agencies and other groups. Mueller, in acknowledging that the FBI, too, has obtained surveillance drones, said the bureau is in the "initial stages" of drafting rules and regulations for their use. "I will tell you that our footprint is very small. We have very few and have limited use, and we're exploring not only the use but also the necessary guidelines for that use," he said.

June 17: Politico: Surveillance programs create chasm among Democrats
Revelations about the Obama administration's expansive domestic surveillance programs have opened a chasm between Democratic elected officials and their progressive base — one that could be tricky for the party's future presidential hopefuls to bridge. Have Democratic voters become more accepting of surveillance tactics after blasting them during the Bush administration? Or could this become the 2016 version of the 2008 Democratic Party brawl over who voted for the Iraq War, a debate that helped sink Hillary Clinton's candidacy and elect Barack Obama? It is too soon to say. But there are certainly echoes of that messy fight about whether Democrats were too close to President George W. Bush's signature doctrine. In this case, it could turn out to be a disadvantage to have been inside the administration that conducted the phone and email surveillance, as opposed to outside it.

June 17: Politico: Obama: I am not Dick Chaney! Well you got that one right!
President Barack Obama used a television interview set to air Monday night to defend his administration's use of far-reaching surveillance programs as carefully supervised and controlled. Obama also appeared to reject comparisons between himself and Vice President Dick Cheney, who strongly backed similar surveillance efforts in the George W. Bush administration and has defended Obama's continuation of national security-related programs similar in many respects to those pursued by the previous administration. "Some people say, 'Well, you know, Obama was this raving liberal before. Now he's, you know, Dick Cheney.' Dick Cheney sometimes says, "Yeah, you know? He took it all lock, stock, and barrel," the president told interviewer Charlie Rose in the exchange recorded Sunday. "My concern has always been not that we shouldn't do intelligence gathering to prevent terrorism, but rather are we setting up a system of checks and balances?"

June 17: Business Insider: Snowden: The truth is coming, and the government can't stop it by murdering me:
Avoiding a specific question on the scope of documents he obtained about the National Security Agency's surveillance programs, former NSA contractor Snowden suggested Monday that he believes the federal government wants to either jail or murder him. "How many sets of the documents you disclosed did you make, and how many different people have them? If anything happens to you, do they still exist?" a questioner asked Greenwald in a livechat on the Guardian's Website. Here is his answer: "All I can say right now is the US Government is not going to be able to cover this up by jailing or murdering me. Truth is coming, and it cannot be stopped."

Many members of Congress have suggested that Snowden is a "traitor" or committed an "act of treason." In the chat, Snowden also said that he fled to Hong Kong over Iceland — his preferred destination for asylum — because of travel restrictions for NSA employees. "Leaving the US was an incredible risk, as NSA employees must declare their foreign travel 30 days in advance and are monitored," Snowden wrote. "There was a distinct possibility I would be interdicted en route, so I had to travel with no advance booking to a country with the cultural and legal framework to allow me to work without being immediately detained. Hong Kong provided that. Iceland could be pushed harder, quicker, before the public could have a chance to make their feelings known, and I would not put that past the current US administration."

June 16: Politico: White House doesn't know where Snowden is:
White House chief of staff Denis McDonough doesn't know where NSA leaker Edward Snowden is, but is suspicious of some of the claims the former government contractor has made. Citing the ongoing investigation, McDonough wouldn't talk about his or President Barack Obama's views of Snowden, though he did tell host Bob Schieffer on CBS's "Face the Nation" on Sunday that he's unsure of whether Snowden is still in Hong Kong. "I don't know where he is," McDonough said.
He also suggested he has some doubts about some of the claims Snowden made, including that he would have been able to access the president's personal accounts. Without getting into specifics, McDonough said it's "surely my view that [Snowden] did" overstate what he was capable of doing. McDonough also cautioned against "some of the hyperbole that's now being thrown around" by Snowden and others, which can "somehow cast a pall on the intelligence community" and all the hard-working, patriotic people working in the field.

June 16: The Hill: Congressman Nadler clarifies NSA "cannot listen" to calls without a warrant
Jerrold Nadler (D-NY) said Sunday he does not believe that the National Security Agency can listen to Americans' phone calls without a warrant. "I am pleased that the administration has reiterated that, as I have always believed, the NSA cannot listen to the content of Americans' phone calls without a specific warrant," Nadler said in a statement to several news outlets.
The comment follows a Saturday story in CNET, which was updated Sunday, about domestic phone calls in which Nadler said he was told in a classified briefing that eavesdropping without a warrant was allowed. A Sunday post on ZDNet, a sister site to CNET, notes that "We're pulling the plug on this story" following Nadler's new comment.

June 16: Fox News: Cheney defends NSA programs, says Snowden is a "Traitor" and that Obama "lacks credibility"
Former Vice President Dick Cheney on Sunday strongly defended the recently exposed U.S. surveillance programs, which he helped craft in the aftermath of 9/11, but sharply criticized President Obama for his handling of a range of issues from the Syrian civil war to the Benghazi terror attacks. Cheney, a Republican vice president from 2001 to 2009 under the Bush administration, told "Fox News Sunday" the National Security Agency-led programs have to remain confidential to keep the information from enemies and that he and other U.S. intelligence officials were concerned about a nuclear attack. "It was 19 guys with box cutters and airplane tickets," but the next time it could have been a "nuclear attack," the 72-year-old Cheney said.

He said former NSA contractor Edward Snowden exposing the gathering of information on phone calls and emails has done "enormous damage" to the United States' anti-terror programs and called Snowden a "traitor." Cheney also said top Capitol Hill lawmakers participated in the drafting of the Patriot Act. "We did it in my office in the West Wing," he said. Cheney also said the lawmakers advised him not to seek further congressional oversight for fear of leaks and argued that 9/11 attacks in which terrorists killed roughly 3,000 people by hijacking commercial jets and slamming them into the Pentagon and the World Trade Center likely could have been foiled had the surveillance plan already been in place.

Cheney's strongest criticism was directed at Obama. "I'm obviously not a fan," he told Fox.
Cheney said the president has not been "standup" and "forthright" about the Sept. 11, 2012, terror attacks on a U.S. outpost in Benghazi, Libya, in which U.S. Ambassador Christopher Stevens and three other Americans were killed. The sharpest criticism has been about whether the administration had adequate security before the attacks, made every attempt to rescue the Americans and about why officials in the aftermath of the attacks scrubbed intelligence information suggesting they were terror related and instead said they were sparked by an anti-Islamic video.

June 16: Fox News: Officials say NSA surveillance programs helped foil terror plots in 20 countries:
U.S. intelligence officials released newly declassified information Saturday stating the National Security Agency's controversial programs gathering millions of phone and email records helped foil "dozens of potential terror plots." The three-page document regarding the NSA programs was released to congressional intelligence committees and states the plots were thwarted in the U.S. and more than 20 other countries. The data is destroyed every five years, according to the document.

The officials also said the NSA checked just 300 phone numbers last year against its database of millions of U.S. phone records gathered daily, an attempt to argue the surveillance programs are less sweeping than alleged. They also said they are working to declassify information on the dozens of plots NSA chief Gen. Keith Alexander said were disrupted, to show Americans the value of the programs, but said they want to make sure they don't inadvertently reveal parts of the U.S. counterterrorism playbook in the process.

June 14: The Hill: NSA Leaker may have been working for the Chinese, Congressman says:
Congressman Peter King (R-NY) said Friday that National Security Agency leaker Edward Snowden may have been working with the Chinese government to reveal U.S. intelligence secrets. "There's a lot of reason for suspicion," King said on MSNBC. "First of all the fact that he transferred money to China, the fact that he has studied Chinese, the fact that his girlfriend had some connections to China, the fact that of all the countries in the world he went to China, and he arranged to have the papers, those documents released, on the same weekend that President Obama was meeting with the president of China, and why is he still in China, and what is Chinese intelligence doing with all this?" "So there's no definitive proof yet," he added. "But it's something that has to be investigated fully, and my belief is that it is being investigated."

King's remarks come a day after House Intelligence Committee chairman Mike Rogers (R-MI) said investigators were doing a "thorough scrub" of Snowden's potential ties to the Chinese government. "We need to ask a lot more questions about his motives, his connections, where he ended up, why he is there, how he is sustaining himself while he is there, and is the Chinese government fully cooperating," Rogers said. Snowden fled to Hong Kong before the story went to print. Many have wondered why he chose to hide out in a country that is notorious for its aggressive surveillance of its own citizens and its efforts to limit free speech.

June 14: The Hill: AG Holder doges another GOP subpoena
Attorney General Eric Holder has agreed to meet with House Republicans as part of their probe into whether he misled Congress or acted inappropriately in the Justice Department's investigation of two separate leaks to media outlets. House Judiciary Committee Chairman Bob Goodlatte (R-VA) made the announcement late Friday after exchanging several weeks worth of testy letters with the nation's top cop. In agreeing to meet with the lawmakers, Holder staved off the threat of a subpoena from Goodlatte for a second time in as many weeks.

Goodlatte is investigating whether Holder misled the committee last month when he testified that, under his leadership, the DOJ has never sought to prosecute a journalist. Republicans argue that his remarks are at odds with a warrant application that Holder approved citing Fox News reporter James Rosen as a criminal co-conspirator in the DOJ's investigation of an alleged leak of classified information from the State Department. "We have agreed to afford the attorney general the opportunity to fully answer the original questions we sent him regarding his May 15th testimony before the House Judiciary Committee and to meet with him so he can further clarify the actions of the Justice Department regarding the search warrant they obtained for reporter James Rosen's emails," said Goodlatte on Friday. "The American people and Congress deserve answers on this important matter and accountability from Attorney General Holder. We expect to have all our questions answered completely."

June 13: The Daily Caller: Terrorists already changing their tactics as a result of leaks:
People seeking to attack the United States are already altering their tactics as a result of the leaked information on the National Security Agency programs, Senate Intelligence Ranking Republican Saxby Chambliss said Thursday. "As a result of what Mr. Snowden has already disclosed, the bad guys are now changing their methods of operation," Chambliss told reporters, after a classified briefing on the NSA programs with seven officials involved. Chambliss said Snowden's actions were "likely to cost lives down the road."

June 13: The Hill: NSA leaker Snowden is lying about his level of access:
The NSA leaker is lying about both his access to information and the scope of the secret surveillance programs he uncovered, the heads of the House Intelligence Committee charged Thursday. Emerging from a hearing with NSA Director Gen. Keith Alexander, Reps. Mike Rogers (R-MI), chairman of the Intelligence Committee, and Dutch Ruppersberger (MD), the senior Democrat on the panel, said Edward Snowden simply wasn't in the position to access the content of the communications gathered under National Security Agency programs, as he's claimed.
"He was lying," Rogers said. "He clearly has over-inflated his position, he has over-inflated his access and he's even over-inflated what the actually technology of the programs would allow one to do. It's impossible for him to do what he was saying he could do."

"He's done tremendous damage to the country where he was born and raised and educated," Ruppersberger said. Asked how much additional information — including other Foreign Intelligence Surveillance Act verdicts — Snowden has in his possession, Rogers said, "No one really knows the answer to that today. I think we will know the answer to that shortly."
"It was clear that he attempted to go places that he was not authorized to go, which should raise questions for everyone," Rogers added.

June 13: The Daily Caller: Senate to craft legislation to prevent contractor access to classified data:
The Senate will take steps to prevent another leak like the recent release of information on an National Security Agency program monitoring domestic phone records, Senate Intelligence Committee Chair Dianne Feinstein said. "We will certainly have legislation which will limit or prevent contractors from handling highly classified technical data," Feinstein told reporters Thursday following a closed briefing on the NSA program. Forty-seven senators attended the briefing and were given the opportunity to ask questions of seven officials involved with the program, including Director of National Intelligence James Clapper, NSA Director General Keith Alexander, FBI Deputy Director Sean Joyce and the former chief judge of the foreign intelligence surveillance court John Bates, according to Feinstein.

June 13: The Daily Caller:
Officials concerned Snowden may seek asylum in Communist China as US moves to prosecute.
FBI Director Robert Mueller told members of the House Judiciary Committee Thursday that the U.S. government is taking all "necessary steps" to prosecute NSA whistleblower Edward Snowden. "As to the individual who has admitted making these disclosures, he is the subject of an ongoing criminal investigation," Mueller told the committee. The National Security Agency, while having conducted their own investigation into Snowden, filed a formal request with the Justice Department on June 8 to begin a criminal investigation into Snowden.

June 12: Reuters: Feds were searching for Snowden days before the NSA program went public:
U.S. government investigators began an urgent search for Edward Snowden several days before the first media reports were published on the government's secret surveillance programs, people familiar with the matter said on Wednesday. Snowden, who has admitted to providing details of the top-secret programs, had worked on assignment at a Hawaii facility run by the National Security Agency for about four weeks before he said he was ill and requested leave without pay, according to the sources who spoke on condition of anonymity. When Snowden failed to return, that prompted a hunt for the contractor, first by his employer Booz Allen Hamilton and then by the U.S. government, they said.

Snowden, 29, was known among colleagues as a very gifted "geek," according to one of the sources, who added, "This guy's really good with his fingers on the keyboard. He's really good." His job as a systems administrator would have afforded Snowden very wide access to servers containing classified information at the NSA, and possibly other U.S. intelligence agencies, the same source said, without giving specifics. Perhaps of more concern is Snowden's presence in Hong Kong (China). The Chinese would be very interested in learning what he knows and is willing to share.

June 12: The Hill: Snowden tells Chinese/Hong Kong about U.S. Hacking their computers:
The United States government has been hacking into computers in China and Hong Kong for years, former government contractor Edward Snowden told the South China Morning Post. In an interview with the Post in Hong Kong, Snowden said the National Security Agency has carried out hacking attacks against nonmilitary targets since 2009, with the newspaper citing "unverified documents." He said the targets of these attacks included Chinese university and public officials, businesses and students.

Snowden believes there are "hundreds" of NSA hacking targets based in Hong Kong and mainland China, and there are more than 61,000 hacking operations worldwide, according to the Post's report. "We hack network backbones – like huge internet routers, basically – that give us access to the communications of hundreds of thousands of computers without having to hack every single one," Snowden told the Post.

June 12: Associated Press: Snowden still in Hong Kong (Mainland China):
In a report provided by the South china Morning Post Snowden was asked why he selected Hong Kong (part of communist China) as a destination. He said "People who think I made a mistake in picking Hong Kong as a location misunderstand my intentions. I am not here to hide from justice; I am here to reveal criminality."

The newspaper quoted him as saying that he had several opportunities to flee from Hong Kong, but that he "would rather stay and fight the United States government in the courts, because I have faith in Hong Kong's rule of law." "My intention is to ask the courts and people of Hong Kong to decide my fate," he said. Snowden said he plans to stay in the city until he is "asked to leave," the newspaper said.

June 12: The Daily Caller: Congressman King (R-NY): Punish Glenn Greenwald and Snowden for leaks:
On Wednesday's broadcast of Fox News Channel's "America Live," New York Republican Rep. Peter King said with the leaks about the National Security Administration first put forth by the Guardian's Glenn Greenwald, it may be time to consider prosecuting the journalists. According to King, not only should Edward Snowden be prosecuted for the leaks, but Greenwald as well for threatening to name names of CIA agents.

"I'm talking about Greenwald," King said. "Greenwald, not only did he disclose this information, he has said that he has names of CIA agents and assets around the world and is threatening to disclose that. The last time that was done in this country, we saw the CIA station chief murdered in Greece. No right is absolute and even the press has certain restrictions. I think it should be very targeted, very selective and a rare exception. In this case, when you have someone to disclose secrets like this and threatens to release more, then that to me — yes, there has to be legal action should be taken against him. This is a very unusual case with life and death implications for Americans."

June 12: National Review: Sensenbrenner: Obama Administration's NSA Assurances are a "bunch of bunk!"
Representative Jim Sensenbrenner (R-WI), who introduced the PATRIOT Act on the House floor in 2001, has declared that lawmakers' and the executive branch's excuses about recent revelations of NSA activity are "a bunch of bunk." In an interview on Laura Ingraham's radio show Wednesday morning, the congressman reiterated his concerns that the administration and the secret Foreign Intelligence Surveillance Act court have gone far beyond what the PATRIOT Act intended. Specifically, he said that Section 215 of the act "was originally drafted to prevent data mining" on the scale that's occurred.

Sensenbrenner, the current chairman on the House Judiciary Subcommittee on Crime, Terrorism, Homeland Security, and Investigations, suggested that the secret nature of the FISA court has prevented appropriate congressional oversight over the NSA's activities. When asked whether he agreed with those in Washington calling leaker Edward Snowden a traitor, Sensenbrenner responded, "No, I don't agree," and said that he would not have known the extent of abuse by the FISA court and the NSA without Snowden's disclosures.

June 11: The Hill: Google asks to disclose details of NSA spying:
Google asked the Justice Department for permission on Tuesday to disclose more details about national security requests for its users' data. In a letter to Attorney General Eric Holder and FBI Director Robert Mueller, Google asked to reveal information about the number and scope of national security requests for data, including court orders under the Foreign Intelligence Surveillance Act (FISA). Google already reveals statistics about government requests for user data in its Transparency Reports, but the company is barred from discussing or even acknowledging the existence of FISA orders.

In the letter, Google Chief Legal Officer David Drummond said the company has worked "tremendously hard" to earn its users' trust. "For example, we offer encryption across our services; we have hired some of the best security engineers in the world; and we have consistently pushed back on overly broad government requests for our users' data," he wrote.
Google and other major Internet companies denied news reports last week that they have given the National Security Agency direct access to their servers to mine their users' data as part of a program called PRISM.

June 11: The Hill: Carney declines to call Snowden a "traitor"
White House press secretary Jay Carney on Tuesday said the administration would wait for the investigation into Edward Snowden to "proceed" before commenting, sidestepping questions on whether he would characterize the National Security Agency (NSA) leaker as a "traitor."
Carney declined to address comments from lawmakers on Capitol Hill, including Speaker John Boehner (R-OH), who called Snowden a "traitor" earlier Tuesday.

June 9: Politico: NSA Leaker ID's himself, says he has No Regrets:
The former CIA employee who leaked details about classified secret surveillance programs to the Guardian and the Washington Post revealed himself in a story published Sunday, saying that he has no apologies for his actions. Edward Snowden, 29, told the Guardian that he wanted his identity made public. "I have no intention of hiding who I am because I know I have done nothing wrong," he said. Snowden, who told the papers that he is at a hotel in Hong Kong, said he intends to seek asylum outside the United States. "I intend to ask for asylum from any countries that believe in free speech and oppose the victimization of global privacy," Snowden told the Post.

Snowden is taking credit for leaking documents exposing both the National Security Agency's PRISM program, which gathers electronic communications data from companies like Facebook and Google, and a government program designed to track every phone call made within or from the United States. Director of National Intelligence James Clapper acknowledged the existence of PRISM in a statement Saturday. Clapper reiterated President Barack Obama's stance that Congress has been regularly briefed about the programs and approved the laws that allowed their creation.

According to the Daily Caller Snowden became disillusioned with the Obama Administration and contributed twice to the failed Ron Paul bid for the Presidential nomination. Records show that he made two donation of $250 to Paul's campaign, once on March 18, 2012 from a Maryland address, and a second time on May 6, 2012 from Hawaii. Paul ceased active campaigning for the Republican presidential nomination on May 14, 2012.

June 9: The Hill: Meanwhile the Intelligence Community is assessing the damage from the NSA leak:
The intelligence community is reviewing the "damage" done by a series of leaks revealing the National Security Agency's secret phone and internet surveillance, the Office of the Director of National Intelligence (DNI) said Sunday. "The Intelligence Community is currently reviewing the damage that has been done by these recent disclosures. Any person who has a security clearance knows that he or she has an obligation to protect classified information and abide by the law," the statement said.

The DNI statement came hours after Edward Snowden, a 29-year-old Booz Allen Hamilton infrastructure analyst went public as the person who leaked the information on top secret NSA intelligence programs. "We have seen the latest report from The Guardian that identifies an individual claiming to have disclosed information about highly classified intelligence programs in recent days," the statement said. "Because the matter has been referred to the Department of Justice, we refer you to [them] for comment on any further specifics of the unauthorized disclosure of classified information by a person with authorized access," the DNI added.

June 9: Politico: NSA Leaker could reveal more secrets if not stopped:
The investigations that seized Associated Press phone records and dug into the email account of a Fox News reporter labeled a co-conspirator are just a warm-up act for what's coming next. New probes might be uncomfortable politically after the recoil from recent revelations of how far the Justice Department went in hunting leaks — and President Barack Obama says he welcomes the debate that the flurry of new and potentially more significant leaks in recent days have sparked. But revealing the government's telephone call tracking, surveillance conducted on foreign users of America's top web companies and a highly-classified order Obama signed authorizing the development of offensive cyber-operations have, according to Director of National Intelligence James Clapper, caused "potentially long-lasting and irreversible harm" to intelligence operations. And they may be far more broad and far reaching in their impact than what was behind the AP's stories about a terrorism plot busted in Yemen or the information about North Korea's nuclear program that James Rosen reported for Fox.

"I've been saying for two weeks that this would be the best time in the world to leak, because no one is going to want to launch a leak investigation, but I was wrong," said Peter Zeidenberg, a former federal prosecutor who worked on the investigation into the leak of CIA officer Valerie Plame's identity. "When you look at this pattern of leaks, they don't have any choice. They've really got immediate huge, major leaks that sort of put the AP story and the Fox and Rosen things in a complete different light. Those look relatively minor, while these are huge," said Ted Boutrous, a media lawyer who has represented journalists caught up in leak inquiries. "I have very little doubt that they will conduct an aggressive investigation."

June 9: Fox News: Senator Paul wants to lead Supreme Court challenge to Fed's tracking Americans' calls/emails:
Sen. Rand Paul said Sunday he wants to mount a Supreme Court challenge to the federal government logging Americans' phone calls and Internet activities. Paul (R-KY) a leading voice in the Libertarian movement, told "Fox News Sunday" he wants to get enough signatures to file a class-action lawsuit before the high court and will appeal to younger Americans, who appear to be advancing the cause of less government and civil liberties. "I'm going to be asking all the Internet providers and all of the phone companies: Ask your customers to join me in a class-action lawsuit," he said. "If we get 10 million Americans saying we don't want our phone records looked at, then maybe someone will wake up and something will change in Washington."

June 8: The Hill: Paul: NSA's seizure of phone records is "an outrageous abuse of power"
Following reports that the National Security Agency (NSA) has been collecting phone records, Sen. Rand Paul (R-KY) on Friday introduced legislation would require federal law enforcement officials to obtain a warrant, with probable cause, before searching Americans' phone records. Among the revelations this week was a top-secret court order enabling the NSA to review telephone data for millions of Americans.

Paul called the NSA's secret seizure of phone records "an outrageous abuse of power and a violation of the Fourth Amendment to the Constitution." "I have long argued that Congress must do more to restrict the Executive's expansive law enforcement powers to seize private records of law-abiding Americans that are held by a third-party," Paul said. "The collection of citizen's phone records is a violation of the natural rights of every man and woman in the United States, and a clear violation of the explicit language of the highest law of the land," Paul writes in the legislation.

June 8: The Hill: Report: Obama administration likely to investigate surveillance program leaks:
A U.S. official told Reuters that federal law may compel the launch of an investigation. The Obama administration is likely to open an investigation into how top secret documents about a secret surveillance program were leaked to the public. According to Reuters, national security officials say the Justice Department and the Federal Bureau of Investigation are expected to open a probe into how The Washington Post and The Guardian newspapers obtained documents detailing how the National Security Agency collects Internet and telephone information.

A U.S. official told the news service that federal law may compel the launch of an investigation. In response to the reports, major Internet companies denied that they knew anything about the surveillance program, called PRISM. "We hadn't even heard of PRISM before yesterday," Facebook CEO Mark Zuckerberg wrote on his Facebook page.

June 6: Fox News:
GOP lawmakers may bring Holder back to explain testimony but stop short of issuing a subpoena:
Republican lawmakers want to haul Attorney General Eric Holder back to the Hill to explain questionable testimony he gave on reporter surveillance -- though they are stopping short of issuing a subpoena. In a letter sent Thursday to the attorney general, Republican leaders of the House Judiciary Committee urged Holder to testify on June 18, or some other date before the end of the month. They say his department's prior response to date "still fails to fully and adequately answer our questions." They want Holder to explain his May 15 testimony.

At the time, the attorney general said under oath he knew nothing of the "potential prosecution" of the press. Days later, it emerged that Holder was involved in his department's successful effort to obtain Fox News reporter James Rosen's personal emails -- the DOJ sought access to the documents by arguing Rosen was a likely criminal "co-conspirator" in a leak case.

Holder was facing a close-of-business deadline Wednesday to personally explain the possible disconnect. Earlier in the week, the department sent a written response penned by a lower-level official which committee Republicans said did not suffice. Holder then submitted a written response of his own Wednesday night, after the deadline. In it he vouched for the response sent out earlier in the week from the department's "Office of Legislative Affairs." But Chairman Bob Goodlatte (R-VA) and others said that did not constitute "a satisfactory on-the-record response."

It's unclear whether lawmakers would resort to a subpoena -- as some Republicans have threatened -- if Holder does not agree to return to explain himself. Holder did testify Thursday before a Senate committee. There, he assured lawmakers that the department's goal in leak cases is "to identify and prosecute government officials who jeopardize national security by violating their oaths, not to target members of the press or discourage them from carrying out their vital work."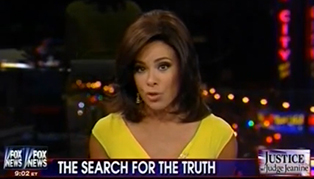 June 2: The Daily Caller:
Judge Jeanine Pirro: "Eric Holder Should Be Indicted"
On her Saturday night Fox News Channel program, "Justice" host Jeanine Pirro said that embattled Attorney General Eric Holder "should be indicted." [Click on image, left, to see video] According to Pirro, the scandals surrounding Holder are a stain on the U.S. Department of Justice. Holder should lose his job as the department's head. Pirro said Holder should be indicted with the following counts:
Count One: Perjury for his statement May 15th before House Judiciary that had no knowledge of the possible prosecution of the press when in truth he knew the statements were untrue but personally signed a warrant for a reporters records;
Count Two: Knowingly making a false statement on a matter within the jurisdiction of the legislative branch for the same testimony given May 15th, but on this count with an enhanced sentence for obstruction;
Count Three: For Operation Fast and Furious and Holder's role in aiding and abetting false statements in a February 4, 2011 letter to the Senate Judiciary Committee in which it was stated that there was no gun walking or weapons sent across the Mexican border and which Holder later admitted was not true;
Count Four: For Holder having the duty to stop the commission of a felony in the gun running into Mexico and his failure to do so; and
Count Five: Perjury, for lying to Congress as to when Holder first heard about Operation Fast and Furious.
June 2: Fox News: Holder under investigation for statements made during Hill testimony:
The chairman of the House Judiciary Committee said Sunday his panel is investigating remarks Attorney General Eric Holder made under oath regarding the Justice Department accessing a Fox News reporter's phone logs and emails. "It's fair to say we're investigating the conflict in his remarks, those remarks were made under oath," Chairman Rep. Bob Goodlatte, R-VA, told "Fox News Sunday." However, he did not say the committee is investigating Holder for perjury.
Goodlatte said the committee has sent Holder a letter asking him to explain why his remarks before Congress in May seem to conflict with the language of an affidavit he signed in 2010 asking a judge to give investigators access to Fox reporter James Rosen's communications and movement within State Department headquarters. "We also think it's very important that the attorney general be afforded the opportunity to respond, so we will wait to pass judgment on that until we receive his response," the congressman said.
At issue is Holder signing the 2010 affidavit that refers to Rosen as a "potential criminal liability" for seeking classified information from a State Department contract employee and states investigators had probable cause to believe Rosen committed a crime by conspiring with the employee or by aiding and abetting the purported leak. Holder then told Congress on May 15 that prosecuting the press was "not something I've ever been involved in, heard of, or would think would be wise policy."
May 30: Politico: Cruz: DOJ case "without precedent"
Sen. Ted Cruz (R-TX) accused the Department of Justice of an unprecedented disregard for the law and called for Attorney General Eric Holder's resignation. "The degree of willingness of this administration to target a reporter for this network as an indicated co conspirator — that is without precedent," Cruz told Fox News' Megyn Kelly on Thursday. "And unfortunately, I think it's part and parcel of a pattern of this administration of not respecting the bill of rights." Cruz was referring to the DOJ's subpoena of Associated Press and Fox News reporters, and his comments come as Holder sits down with Washington bureau chiefs Thursday to discuss press scrutiny.

"This Department of Justice has demonstrated a willingness to disregard the law," Cruz continued, saying President Barack Obama should ask Holder to resign. Cruz later brought in criticism of the Obama administration's handling of the controversy over the IRS's targeting of conservative groups. "In recent weeks there are at least two instances of senior officials for the administration telling flat out falsehoods," Cruz said. "I think president Obama needs to take responsibility and needs to tell the truth."
May 30: Fox News: An assault on freedom of the press:
The firestorm commenced by the revelation of the execution of a search warrant on the personal email server of my Fox News colleague James Rosen continues to rage, and the conflagration engulfing the First Amendment continues to burn; and it is the Department of Justice itself that is fanning the flames. As we know from recent headlines, in the spring of 2010, the DOJ submitted an affidavit to a federal judge in Washington, D.C., in which an FBI agent swore under oath that Rosen was involved in a criminal conspiracy to release classified materials, and in the course of that conspiracy, he aided and abetted a State Department vendor in actually releasing them. The precise behavior that the FBI and the DOJ claimed was criminal was Rosen's use of "flattery" and his appeals to the "vanity" of Stephen Wen-Ho Kim, the vendor who had a security clearance. The affidavit persuaded the judge to issue a search warrant for Rosen's personal email accounts that the feds had sought.
The government's theory of the case was that the wording of Rosen's questions to Kim facilitated Kim's release of classified materials, and Rosen therefore bore some of the criminal liability for Kim's answers to Rosen's questions. Kim has since been indicted for the release of classified information (presumably to Rosen), a charge that he vigorously denies. Rosen has not been charged, and the DOJ has said it does not intend to do so.
May 30: Politico | Fox News | The Hill: Growing boycott of Eric Holder media meetings:
Several news organizations have announced they will not attend this week's off the record meetings with Attorney General Eric Holder unless the sit-downs are conducted on the record CNN, Fox News, CBS News, Reuters, McClatchy and now NBC News on Thursday joined the Associated Press, The New York Times and The Huffington Post in refusing to go to one of the Department of Justice's off the record sessions about the department's handling of investigations into journalists. Politico, The Washington Post, The Wall Street Journal, ABC News, Bloomberg News, USA Today and the bureau chief for the Los Angeles Times and the Chicago Tribune, meanwhile, have announced that they will attend the off the record meetings, which are being held to discuss changes to the Justice Department's guidelines for subpoenas of reporters.
An ABC News spokesman on Thursday told Politico the network "will attend the meeting and press for that conversation to be put on the record." CBS News spokesperson Sonya McNair said CBS News will not attend, but would consider an on the record conversation. "CBS News does not plan to participate in the off-the-record meeting with Attorney General Eric Holder," McNair said in a statement to POLITICO. "We would be willing to consider an on-the-record discussion."
May 30: Politico: On DOJ meeting, Tom Brokaw puts NBC News in a box:
NBC News has declined to participate in the off-the-record meeting, according to a network spokesperson. As reported earlier NBC News was the last major news organization deliberating over whether or not to attend the Justice Department's off-the-record meeting with the media. But Tom Brokaw, the network's veteran newsman, seems to have already decided that NBC News shouldn't go. In an interview with Huffington Post Live on Thursday, Brokaw said "no news executive should go in there on an off-the-record session." This will put Brokaw and NBC News in a difficult position should they decide to attend. And even if they skip, it raises questions over whether or not Brokaw forced their hand. Earlier this afternoon, Politico reached out to Brokaw through NBC News spokespeople to ask why, as someone who has attended off-the-record briefings with government officials in the past, he took issue with this meeting specifically. We have yet to hear back.
May 29: Fox News: House Republicans challenge Holder testimony on reporter surveillance:
Top Republicans on the House Judiciary Committee openly challenged Attorney General Eric Holder on Wednesday over his testimony two weeks ago in which he claimed to be unaware of any "potential prosecution" of the press, despite knowing about an investigation that targeted a Fox News reporter. Committee Chairman Rep. Bob Goodlatte, R-VA, and Rep. James Sensenbrenner, Jr., R-WI., voiced "great concern" in a letter to Holder. They asked a litany of questions about the department's dealings with the press, and pointedly alleged that the Fox News case "contradicts" his testimony at a May 15 hearing. "It is imperative that the committee, the Congress, and the American people be provided a full and accurate account of your involvement," they wrote.
The letter comes a day after the committee confirmed it was looking into Holder's testimony. Appearing before the House Judiciary Committee on May 15, Holder insisted that "the potential prosecution of the press for the disclosure of material" is not something he was involved in or knew about. But days later, it emerged that the Justice Department obtained access to the emails of Fox News reporter James Rosen -- after filing an affidavit that accused him of being a likely criminal "co-conspirator" in the leak of sensitive material regarding North Korea. Rosen was never charged, and never prosecuted. But he was effectively accused of violating the federal Espionage Act. "The media reports and statements issued by the Department regarding the search warrants for Mr. Rosen's emails appear to be at odds with your sworn testimony before the Committee," Goodlatte and Sensenbrenner wrote in the letter Wednesday. They did not accuse Holder of committing perjury, but noted he was "under oath." Among other questions, they asked Holder how he could claim to have never heard of the potential prosecution of the press. And they asked him to clarify whether he "personally approved" the search warrant request. Sensenbrenner, in an interview on Fox News, threatened to subpoena Holder to come before the committee if necessary.
May 29: CBS News: House Republicans express "great concern" about possible Holder perjury:
Republicans on the House Judiciary Committee sent a letter to Attorney General Eric Holder on Wednesday expressing "great concern" about the possibility that Holder lied under oath during his testimony earlier this month on the Justice Department's seizing of journalists' records, CBS News has learned. On May 15, Holder told the committee he wasn't involved in "the potential prosecution" of a member of the press under the Espionage Act for disclosing classified information. "This is not something I've ever been involved in, heard of, or would think would be wise policy," he said. House Judiciary Republicans, in their letter, raise the possibility that Holder perjured himself by issuing an ironclad denial of any involvement in the investigation and potential prosecution of reporters, especially in light of reports that he signed the search warrant.
May 29: Reuters: House Republicans assail Eric Holder on leak testimony:
Two Republican lawmakers asked U.S. Attorney General Eric Holder on Wednesday to clarify testimony he gave Congress this month about his role in the targeting of journalists in a leak probe. House Judiciary Committee Chairman Bob Goodlatte (R-VA) and colleague James Sensenbrenner (R-WI) sent a letter to Holder saying recent media reports "appear to be at odds with your sworn testimony."
At the May 15 hearing, Holder said he had never been involved in any decision to pursue a criminal investigation of a journalist and said it would not be "wise policy" to do so. Last week, news outlets reported that Holder had approved a decision to seek a search warrant for Fox News email records as part of a leak investigation. Reuters later reported Holder signed off on a subpoena for telephone records as well. The Fox News reporter involved, James Rosen, was described as a "co-conspirator" by investigators, but was not charged.
May 29: The Hill: Holder to meet news media chiefs in review of subpoena policy:
Attorney General Eric Holder is planning to meet with the Washington, D.C., bureau chiefs of major news outlets this week as he reviews the Justice Department's (DOJ) policies for issuing media subpoenas. The meetings over the next two days will initiate more lengthy discussions in the coming weeks with representatives from print, radio, television, wire, and online news groups and trade associations, according to a DOJ official.
May 29: Politico: The New York Times will not attend DOJ Sessions:
New York Times executive editor Jill Abramson has announced that her paper will not attend an off-the-record session with Attorney General Eric Holder to discuss the Justice Department's monitoring of reporters, due to the fact that the meeting is to be conducted "off the record. We will not be attending the session at DOJ. It isn't appropriate for us to attend an off the record meeting with the attorney general. Our Washington bureau is aggressively covering the department's handling of leak investigations at this time," Abramson said in a statement. "Evidently, there will be a future session with department officials on the substance of how the law should be applied in leak cases and I am hopeful that our counsel, David McCraw will be able to participate in that meeting," she wrote.
May 24: The Hill: Justice asked the Judge to keep Fox reporter in the dark over tracked email:
The Justice Department pleaded with a federal judge to keep a Fox News reporter indefinitely in the dark as it tracked his email in a national security leaks case. A new set of exhibits unsealed and made public this week show U.S. Attorney Ron Machen argued in 2010 that the traditional 30-day notice period did not apply to Fox News reporter James Rosen. Justice wanted to secretly monitor Rosen's gmail account. "Where, as here, the government seeks such contents through a search warrant, no notice to the subscriber or customer of the e-mail account is statutorily required or necessary," Machen wrote in the June 2010 motion. "Thus, this court's indication on the face of the warrant that delayed notice of 30 days to the customer and subscriber was permissible was unnecessary." Machen, through a separate court order, also successfully stopped Google from telling Rosen that the government was spying on his e-mail account. Machen demanded to see all of Rosen's e-mail records, including his deleted messages, e-mails in his trash folder and all attachments sent to and from the reporter.
Fox News CEO Roger Ailes in a memo to his employees on Thursday condemned the government's actions, comparing them to the McCarthy era. "The administration's attempt to intimidate Fox News and its employees will not succeed and their excuses will stand neither the test of law, the test of decency, nor the test of time," Ailes wrote in the letter. "We will not allow a climate of press intimidation, unseen since the McCarthy era, to frighten any of us away from the truth." Tensions between the administration and the press were strained further this week by reports that Justice targeted Rosen as a criminal co-conspirator, secretly examining his phone records and personal emails in 2010 while tracking his visits to the State Department using his press badge's data. It was revealed this week that the warrant allowing for the DOJ to spy on Rosen was signed personally by Holder, according to an anonymous law enforcement official who spoke with NBC News.
May 24: Fox News:
Justice acknowledges Holder was on board with warrant for Fox News reporter's emails and phone records:
The Justice Department acknowledged late Friday that Attorney General Eric Holder was on board with a search warrant to obtain the personal emails of a Fox News reporter, as media and civil liberties groups continued to raise concerns about the case. Following prior reports indicating that Holder had likely signed off on the search warrant, the Justice Department acknowledged Holder's involvement and defended the decision. It insisted the call to seek these files -- in the course of an investigation into a leak allegedly made by State Department contractor Stephen Jin-Woo Kim -- was legal. "The Department takes seriously the First Amendment right to freedom of the press," the department said in a written statement, provided late Friday at the start of the holiday weekend. "In recognition of this, the Department took great care in deciding that a search warrant was necessary in the Kim matter, vetting the decision at the highest levels of the Department, including discussions with the Attorney General.
The "tailored" search warrant, though, was obtained only after federal officials accused Fox News correspondent James Rosen in an affidavit of being a likely criminal "co-conspirator" under a wartime law known as the Espionage Act. This accusation, along with the seizure of Rosen's records, prompted complaints from media organizations. President Obama directly addressed these complaints for the first time on Thursday, announcing a review of DOJ policies on investigations that involve reporters. "I've raised these issues with the attorney general, who shares my concern," Obama said, adding that Holder would report back by July 12. The acknowledgment, however, that Holder was involved in the search warrant decision raised additional questions about whether the attorney general's review of his own actions would be impartial.
May 24: Politico: The Sharyl Attkisson Approach:
Sharyl Attkisson has problems. The Obama administration won't answer the CBS News correspondent's questions because her investigations — into Benghazi, Fast and Furious, Solyndra — often reflect negatively on it. Some colleagues at CBS News, where she has worked for two decades and earned multiple Emmy awards, dismiss her work because they perceive a political agenda. And now, she says, someone may have hacked into her computers.
Attkisson's one piece of solace may come from finally gaining some like-minded colleagues in the media. For years, Attkisson has been one of the few mainstream reporters pursuing critical stories about the Obama administration. Today, as "scandal season" takes hold in Washington, she has seen her longstanding skepticism of the White House and the Justice Department become the conventional attitude among a formerly deferential Beltway press corps. Attkisson is a dogged reporter, driven by a strong skepticism of government. Producers at CBS News once nicknamed her "Pit Bull," a source said, because she gets on a story and won't let go. But that is seen as both a strength and a weakness. Her drive can produce great journalism, but it can also cause her to push stories to the point that colleagues — especially those of a more progressive bent — suspect a political agenda. Of course these more progressive journalist don't have a political agenda of their own!
May 23: NBC News: Holder Approved search warrant for Fox News Reporter's private emails:
Attorney General Eric Holder signed off on a controversial search warrant that identified Fox News reporter James Rosen as a "possible co-conspirator" in violations of the Espionage Act and authorized seizure of his private emails, a law enforcement official told NBC News on Thursday. The disclosure of the attorney general's role came as President Barack Obama, in a major speech on his counterterrorism policy, said Holder had agreed to review Justice Department guidelines governing investigations that involve journalists. [Editors Note: Hello, isn't kind of like letting the fox guard the hen house? And isn't this the guy who was found in Contempt of Congress over the Operation Fast and Furious documents and the fella who has said he is not going to enforce all the laws (like the DOMA)?]
"I am troubled by the possibility that leak investigations may chill the investigative journalism that holds government accountable," Obama said. "Journalists should not be at legal risk for doing their jobs." Rosen, who has not been charged in the case, was nonetheless the target of a search warrant that enabled Justice Department investigators to secretly seize his private emails after an FBI agent said he had "asked, solicited and encouraged … (a source) to disclose sensitive United States internal documents and intelligence information." Obama's comments follow a firestorm of criticism that has erupted over disclosures that in separate investigations of leaks of classified information, the Justice Department had obtained private emails that Rosen exchanged with a source and the phone records of Associated Press reporters.
May 22: Politico: DOJ says We haven't compromised Attkisson's computers:
The Department of Justice says it has never "compromised" computers belonging to Sharyl Attkisson, the CBS News investigative reporter who on Tuesday said that her personal and work computers were under investigation after intrusions by an unspecified entity. "To our knowledge, the Justice Department has never 'compromised' Ms. Attkisson's computers, or otherwise sought any information from or concerning any telephone, computer or other media device she may own or use," Dean Boyd, a DOJ spokesperson, told Politico on Tuesday night.
Attkisson had told WPHT Philadelphia on Tuesday morning that "there could be some relationship" between the intrusion into her computers "and what's happened to James [Rosen]," the Fox News reporter who was investigated by the DOJ after reporting on CIA intelligence about North Korea four years ago.
May 22: Fox News: DOJ Fox Hunt: seized phone records of Rosen's parents:
Newly uncovered court documents reveal the Justice Department seized records of several Fox News phone lines as part of a leak investigation -- even listing a number that, according to one source, matches the home phone number of a reporter's parents. The seizure was ordered in addition to a court-approved search warrant for Fox News correspondent James Rosen's personal emails. In the affidavit seeking that warrant, an FBI agent called Rosen a likely criminal "co-conspirator," citing a wartime law called the Espionage Act.
Rosen was not charged, but his movements and conversations were tracked. A source close to the leak investigation confirmed to Fox News that the government obtained phone records for several numbers that match Fox News numbers out of the Washington bureau. Further, the source confirmed to Fox News that one number listed matched the number for Rosen's parents in Staten Island. Rosen's father, attorney Myron Rosen, told FoxNews.com he found the records seizure to be "downright ludicrous." "My son and his wife call us all the time, and we talk about grandchildren," he said. "We don't talk about nuclear proliferation." He continued: "The fact that they had our phone records, it shows how crazy they are, how desperate."
May 22: Politico: Feds say "We didn't track James Rosen's parent's calls:
The Justice Department is denying that it tracked the phone calls of Fox News reporter James Rosen's parents as part of an investigation into how Rosen got classified information about North Korean nuclear test plans."We did not wiretap the phones of any reporter or news organization. Nor did we monitor or track the phone calls of any reporter's parents. No records were obtained from the computer servers of any news organization," the U.S. Attorney's Office for the District of Columbia said in a statement. "We take seriously our obligations to follow all applicable laws, federal regulations, and Department of Justice policies when grand jury subpoenas are issued for phone records of media organizations, and strive to strike the proper balance between the public's interest in the free flow of information and the public's interest in the protection of national security and the effective enforcement of our criminal laws."
The New Yorker noted Tuesday that a publicly-filed court document in the prosecution of Rosen's alleged source, State Department contractor Stephen Kim, included area codes and exchanges for phone records gathered in the investigation. At least six of the numbers appear to be Fox News office lines. "James Rosen—I emailed with him tonight and he told me that even his parents home phone records in Staten Island were taken," Fox legal commentator Kimberly Guilfoyle said on "The O'Reilly Factor" Tuesday night. "Talk about overreaching."
May 22: Fox News: Assault on First Amendment needs to stop:
On the heels of the Justice Department's seizure of telephone records involving AP reporters in four bureaus, now comes the revelation the DOJ had investigated the news-related activities of Fox News reporter James Rosen in another probe of classified leaks. Incredibly, the government suggested that Rosen was a "co-conspirator" for allegedly asking for information about a story. When did a reporter doing his job become a criminal?
The case here involved Stephen Jin-Woo Kim, a former State Department employee who is accused of giving Rosen details involving North Korea from a classified report after it had been released to others in the intelligence community. His trial is scheduled for next year.
As part of its investigation, the Justice Department asked for and received a search warrant for Rosen's personal emails.
In an affidavit, the FBI said Rosen "asked, solicited and encouraged Mr. Kim to disclose sensitive United States internal documents and intelligence reports." It claimed that accessing Rosen's information was critical to its investigation. Rosen was not charged with a crime—nor is he expected to be. And the fact is that no reporter has ever been charged in this country for seeking classified information. But the mere fact that Rosen's movements were tracked, his emails read and his phone records reviewed stand as more examples, according to critics, of the government's efforts to criminalize First Amendment freedoms. These chilling developments will only serve to further drive away sources from reporters for fear their conversations are not likely to remain confidential. In fact, the AP says that's already begun after the phone records seizure was revealed.
The Obama administration continues to publicly tout its support for a free press and its defense of the First Amendment. At the same time, it has pursued more leak investigations under the Espionage Act of 1917 than all other administrations before it. And, in the process, apparently sees no conflict with repeatedly involving journalists while doing so.
May 22: The Hill: The House pushes for judicial oversight of DOJ in the wake of Associated Press leaks case:
A bipartisan group of House lawmakers unveiled a bill on Wednesday that would force the Department of Justice (DOJ) to get a federal court's approval before seizing records from journalists. The move comes in response to growing concerns from both parties on Capitol Hill that the DOJ may have violated the First Amendment rights of Associated Press and Fox News employees by seizing their telephone and email records in a pair of separate investigations into national security leaks.
"This was nothing short of, in my opinion, a massive intimidation fishing expedition," said Rep. Ted Poe (R-TX), the lead Republican backer of the measure. "We believe it's time for Congress to intervene and take action to preserve and protect the First Amendment that we all believe in. So we should revise and revisit U.S. law and require in all cases judicial review before the government can secretly investigate those who keep the public informed."
Poe was joined Wednesday by Democratic Reps. John Conyers Jr. (MI), Sheila Jackson Lee (TX) and Jerrold Nadler (NY.) along with their Republican colleague Rep. Trey Radel (FL), who formerly worked as a journalist for CNN and CBS, among other outlets.
May 21: Politico | BreitBart.com: CBS' Sharyl Attkisson reports her computers may have been compromised:
Sharyl Attkisson, the Emmy-award winning CBS News investigative reporter, says that her personal and work computers have been compromised and are under investigation. "I can confirm that an intrusion of my computers has been under some investigation on my end for some months but I'm not prepared to make an allegation against a specific entity today as I've been patient and methodical about this matter," Attkisson told Politico on Tuesday. "I need to check with my attorney and CBS to get their recommendations on info we make public."
In an earlier interview with WPHT Philadelphia, Attkisson said that though she did not know the full details of the intrusion, "there could be some relationship between these things and what's happened to James [Rosen]," the Fox News reporter who became the subject of a Justice Dept. investigation after reporting on CIA intelligence about North Korea in 2009. Attkisson said the irregular activity on her computer was first identified in Feb. 2011, when she was reporting on the Fast and Furious gun-walking scandal and on the Obama administration's green energy spending, which she said "the administration was very sensitive about." Attkisson has also been a persistent investigator of the events surrounding last year's attack in Benghazi, and its aftermath.
May 15: Politico: Holder get grilled on the Hill as both Dems and Reps turn up the heat:
Attorney General Eric Holder, long accustomed to GOP attacks, faced bipartisan ire in the House Wednesday from lawmakers looking for answers on multiple fronts. Most of the Judiciary Committee's questions during the four-hour session revolved around the Justice Department's decision to subpoena journalists' phone records in connection with a leak investigation — but there was little new information in the responses from Holder, who announced Tuesday that he had recuse himself from the inquiry.
Committee Chairman Bob Goodlatte (R-Va.) said the Justice Department's handling of the investigation — which eventually obtained records of phone calls from home, office and cellphone lines used by several Associated Press reporters and editors — "appears to be contrary to the law and standard procedure." He pressed Holder to explain why the news organization was not given advance notice of the subpoenas.
Holder's careful framing of his answers Wednesday played into a testy exchange with Rep. Darrell Issa (R-CA) over the ethics of a deal that Labor Secretary nominee Tom Perez constructed to try to avoid a Supreme Court ruling he feared would undermine civil rights enforcement. After Holder declined to offer a "yes or no" response to a question from Issa, and the congressman cut Holder off, the attorney general clearly became irritated."No, I'm not going to stop talking now," Holder said, as Issa continued speaking over him. "It's consistent with the way you conduct yourself as a member of Congress. It's unacceptable, and it's shameful."
May 15: The Hill: Holder  Makes it personal – Calls Issa's Actions "Shameful"
Attorney General Eric Holder on Wednesday lashed out at Rep. Darrell Issa (R-CA), calling his conduct "unacceptable and shameful." In a tense moment at a House Judiciary Committee hearing, Holder berated the lawmaker who led the successful effort in the House to hold him in contempt of Congress. Holder said Issa's questioning at the hearing was "too consistent with the way in which you conduct yourself as a member of the Congress. It's unacceptable, and it's shameful."
Issa, who seemed to brush off the rebuke, was questioning Holder about a deal the Justice Department's top civil rights enforcer made with the city of St. Paul, Minn., to drop a False Claims Act case in exchange for the city ditching an unconnected appeal to the Supreme Court. But the larger backdrop for the hearing was the controversy swirling around the Justice Department's decision to subpoena phone records from The Associated Press in an investigation of national security leaks. Holder has recused himself from that investigation, but came under fire from members of both parties.