December 31: Fox News: Admin releases five more GITMO prisoners, sent to Kazakhstan
The Defense Department announced Wednesday that five more prisoners will be transferred out of Guantanamo Bay to another nation, in the latest step by the Obama administration to whittle down the prisoner population in pursuit of ultimately closing the camp.   The five men will be transferred to the Central Asian nation of Kazakhstan for resettlement, the U.S. government announced.   The two men from Tunisia and three from Yemen -- who have been at the camp for a dozen years -- had been cleared for release from the prison by a government task force but could not be sent to their homelands. The U.S. has sent hundreds of prisoners from Guantanamo to third countries but this is the first time Kazakhstan has accepted any for resettlement.   Their release brings the prison population at Guantanamo to 127, according to a Pentagon statement on Tuesday.

December 30: The Guardian: Cuban dissidents arrested before free-speech demonstration in Havana
Cuban police have detained at least three leading dissidents ahead of a planned free-speech demonstration in the Plaza de la Revolución.  The arrests of Antonio Rodiles, Eliezer Avila and Reinaldo Escobar look set to be the biggest test yet of diplomatic relations with the US since they were restored earlier this month after 53 years of tension.  The crackdown came around lunchtime on Tuesday, just hours before local performance artist Tania Bruguera was due to stage an open-microphone event in Havana's most politically sensitive square.  Police had denied Bruguera a permit for the "Yo tambien exijo," [I also demand]" demonstration and warned activists not to participate, but several had indicated their willingness to participate in this test case for public dissent.  The authorities did not give them a chance.
December 30: The Daily Mail:
Queen's Guard falls back behind gates in face of mounting fears of new 'lone wolfs"
Security chiefs have taken the dramatic step of withdrawing Royal Guards from their high-profile posts outside palaces and placing them in more secure locations amid mounting fears of 'lone wolf' Islamic terrorist attacks.  For the first time since the height of the IRA's terror campaign, the soldiers are also no longer allowed on sentry duty alone, and are now accompanied by armed police.  The move Benghazi to more secure positions behind gates or railings is a direct response to attacks such as the murder of Fusilier Lee Rigby and the killing of a sentry by a lone gunman at the Canadian Parliament two months ago.

But the measures have been described as a 'retreat' for the Guards, known the world over for their bearskin caps.  Retired officer Major Iain Dalzel-Job of the Scots Guards told The Mail on Sunday: 'I think this is a big shame. The reason people know we're around is because they can see us. But I suppose the changes are necessary as there is a significant threat.'  This newspaper has confirmed the changes to the Guards' security at sites including Clarence House, St James's Palace, Windsor Castle and Horse Guards Parade.

December 29: The Daily Mail: Cuba-US detane upend life for Cuba dissidents:
President Barack Obama told the world this month that engaging Cuba is the best way to strengthen people pushing for greater freedom on the island.  Less than two weeks after it was announced, the U.S.-Cuba detente is upending the civil society Obama hopes to strengthen. The prospect of engagement between the two Cold War antagonists seems to be undercutting the island's hard-line dissidents while boosting more moderate reformers who want to push President Raul Castro gradually toward granting citizens more liberties.  The traditional dissidents say they feel betrayed by a new U.S. policy of negotiation with a government that Washington and the U.S.-backed opponents worked for decades to undermine. They say they fear that detente serves the Castro administration's aspiration of following China and Vietnam by improving the economy without conceding citizens significantly greater freedoms.

Moderates say the new balance of power inside the small, fractious world of Cuba's opposition will produce political change by offering Castro a type of engagement that's harder to reject: a negotiated, more controlled opening meant to avoid the sort of disorderly transition that scarred the former Soviet Union and, more recently, the countries of the Arab Spring.   What's unknown is whether the Cuban government will engage with the newly energized, more moderate members of civil society, or continue to sharply limit free speech, freedom of assembly and freedom of association as threats to the country's single-party system. However Raul Castro told Cuba's National Assembly Dec. 20 that warmer relations with the U.S. would not change the system.

A major test will come during April's Summit of the Americas in Panama, a gathering of Western Hemispheric leaders where Obama and Raul Castro are expected to meet. A forum including figures from civil society inside Cuba is to be organized on the sidelines, and seems likely to spawn debate between the U.S. and Cuba, and among reformers from the island.
December 29: The Daily Caller: Obama's See-no-Islam Policy Forces U.S. Military Rethink Strategy:
President Barack Obama's top special-forces general in the Middle East is quietly trying to look beyond the president's insistence that Islamic terrorism isn't Islamic.  The reexamination is camouflaged by the general's use of a panel of outside experts to help develop a military and ideological strategy against the jihadi group, which blitzed through western Iraq in the summer of 2014.  "We do not understand the movement, and until we do, we are not going to defeat it," Maj. Gen. Michael Nagata, the special forces commander in the Middle East, told the group of outside experts, according to a friendly article in the New York Times.

 "We have not defeated the [jihadis'] idea. We do not even understand the idea," he said, according to the article, which does not mention Islam as a motivating force, nor the White House's fatwa against any mention of Islam.  But Nagata's statements repeatedly hint that the Islamic State's power is based on its Islamic authenticity. "What makes ISIS. so magnetic, inspirational?…There is a magnetic attraction to ISIS that is bringing in resources, talent, weapons, etc., to thicken, harden, embolden ISIS. in ways that are very alarming," he wrote.  The general also used a religious term when he commented about the persuasive power of America's Muslim allies in the region, who are regarded as traitors to Islam by the Islamic State's jihadis. The Islamic State's supporters "revel in being called murderers when the words are coming from an apostate," said Nagata.  An apostate is a religious term used to describe a person who has quit a particular faith. In numerous Islam countries, and in the Islamic State, apostates are deemed to be traitors who deserve the death penalty, and criticism from apostates is a sign of fidelity to Islam.

December 28: Yahoo News(Reuters):  Cuban Prisoner Release: Who they are Remains a Mystery
Cuba's most prominent dissidents say they have been kept in the dark by U.S. officials over a list of 53 political prisoners who will be released from jail as part of a deal to end decades of hostility between the United States and Cuba.   For years, dissident leaders have told the United States which opponents of Cuba's communist government were being jailed or harassed, but they say they were not consulted when the list of prisoners to be freed was drawn up or even told who is on it.  The lack of information has stoked concern and frustration among the dissidents, who worry that the secret list is flawed and that genuine political prisoners who should be on it will be left to languish. 

"We're concerned because we don't agree with the silence, because we have a right to know who they are. Who are they?" said Berta Soler, leader of the Ladies in White dissident group, which marches in Havana on Sundays to demand the release of prisoners.  "There are not just 53 political prisoners, there are more, and we are concerned that the U.S. list might have common criminals on it," she told Reuters in Havana.

There are somewhere between 80 and 140 according to the dissident Cuban Commission on Human Rights and National Reconciliation, which keeps track of activists in the different opposition groups.  U.S. officials have so far been tight-lipped about how the list of 53 was assembled and who was consulted inside Cuba. It also is not clear if some prisoners were kept off the list because the Cuban government refused to release them.   A U.S. official said on Saturday that Washington had asked Cuba to release a specific group of people jailed on charges related to their political activities, but declined to answer further questions.
December 26: Associated Press:
Father & Son Risk Lives on Raft to escape Cuba: Treated as Celebrities and Welcomed to Freedom:
Ten days at sea, out of gas but full of hope for freedom, they finally made it to a sandy beach in Miami in their rickety raft made of wood, metal and intertubes.   They jumped out and ran barefoot to a metal gate. A guard opened the door.  "Welcome to the land of liberty!" he said.  A month later they were on their way to Portland, OR where a church group had provided housing, a job, and education.  Why did they leave?  A quest for freedom and relief from Cuban wages that averaged $20 per month.

Three months after the men's arrival, Obama surprisingly announced efforts to restore ties with the island they left behind.  The news came as a relief: Perhaps they would not have to wait years to see their families.  Had they known relations between the U.S. and Cuba were about to improve, Cardenas said he would have risked the journey anyway. "I'm not looking back," he said.  Even with improved relations, freedom for the Cuban people is not assured.

December 26: Associated Press: New Russian Military Doctrine: NATO is Top Threat
President Vladimir Putin has signed a new military doctrine that describes NATO's military buildup near the Russian borders as the top military threat amid Russia-West tensions over Ukraine.  The document released by the Kremlin on Friday maintains the provisions of the previous, 2010 edition of the military doctrine regarding the use of nuclear weapons. It says Russia could use nuclear weapons in retaliation to the use of nuclear or other weapons of mass destruction against it or its allies, and also in case of aggression involving conventional weapons that "threatens the very existence" of the Russian state.  For the first time, the new doctrine says that Russia could use precision weapons "as part of strategic deterrent measures." The document doesn't spell out conditions for their use.

December 26: World Bulletin: Russia Test Ten Next Generation Nuclear tipped ICBM
Russian Defense Ministry announced the successful test of the RS-24 "Yars" ballistic missile on Friday. Test warheads hit their targets in the Kura testing range on the Kamchatka peninsula with pinpoint accuracy," said Col. Igor Yegorov a spokesman for the ministry. The missile was launched at 11:02 Moscow time on Friday, Yegorov said.  "The adoption of the RS-24 ICBM with multiple re-entry warheads has increased the combat capabilities of the Strategic Missile Forces assault group to overcome missile defense systems, thus strengthening the nuclear deterrent of Russian strategic nuclear forces," Col. Yegorov said. The RS-24 carries up to ten independently targetable warheads.  Russia's strategic nuclear forces are actively rearming with the new RS-24 "Yars" missile, which replaces two older models that have been in use for more than 50 years.   The ballistic missile uses solid fuel and has a range of 7,500 miles. It can be launched either from a silo or from a road-mobile launcher.
December 23: Yahoo News: Russia and four former USSR nation states form fragile alliance:
Russia and four other ex-Soviet nations on Tuesday completed the creation of a new economic alliance intended to bolster their integration, but the ambitious grouping immediately showed signs of fracture as the leader of Belarus sharply criticized Moscow.  The Eurasian Economic Union, which includes Russia, Belarus, Kazakhstan, Armenia and Kyrgyzstan, comes to existence on Jan. 1. In addition to free trade, it's to coordinate the members' financial systems and regulate their industrial and agricultural policies along with labor markets and transportation networks.  Russia had tried to encourage Ukraine to join, but its former pro-Moscow president was ousted in February following months of protests. Russia then annexed Ukraine's Black Sea Crimean Peninsula, and a pro-Russia mutiny has engulfed eastern Ukraine.

Russian President Vladimir Putin said that the new union will have a combined economic output of $4.5 trillion and bring together 170 million people.  But Belarus' President Alexander Lukashenko cracked the ceremonial veneer of the meeting by launching a harsh attack on Moscow for damaging Belarus' economic interests with moves to restrict its exports to Russia.  Belarus, sandwiched between Russia and European Union members Poland and Lithuania, has profited handsomely from Moscow's ban on imports of EU food in retaliation to Western sanctions against Russia by boosting imports of food from the EU nations and reselling it to Russia.  The Russian authorities have retaliated by halting imports of Belarus' own milk and meat, citing alleged sanitary reasons, and banning transit of Belarusian food bound for Kazakhstan through its territory on suspicion that much of it ended up in Russia.
December 23: The Daily Beast: Bin Laden Shooter under investigation for disclosing classified information
The former Navy SEAL who ignited a controversy when he publicly claimed credit for killing Osama bin Laden is under investigation for possibly leaking official secrets, The Daily Beast has learned.  When reached for comment, Ed Buice, NCIS Public Affairs Officer confirmed "The Naval Criminal Investigative Service (NCIS) is in receipt of an allegation that Mr. O'Neill may have revealed classified information to persons not authorized to receive such information. In response, NCIS has initiated an investigation to determine the merit of the allegations."  It wasn't clear to whom specifically O'Neill is alleged to have disclosed classified information, or what that information was.  O'Neill contends that the non-disclosure agreements he signed while in the military didn't cover aspects of the raid that he discussed with journalists, according to people familiar with the matter.

December 22: Reuters: From Baltic to Asia: East-West confrontations in the sky heat up
From the skies of the Baltic to the South China Sea, a new era of confrontation with Russia and China is pitting U.S. and allied pilots against their counterparts on a scale not seen since the Cold War era. It's current and former officials say a major shift for air crews who by and large have spent more than a decade flying largely uncontested missions over Afghanistan and Iraq.   Lying behind the aerial sabre-rattling are high tensions between the West and Russia over Moscow's role in Ukraine's separatist conflict and China's efforts to build up its military while being more assertive over its claimed maritime boundaries.   

Sweden has complained that a Russian military aircraft nearly hit a civilian airliner.  In August, a U.S. reconnaissance plane and Chinese fighter jet had a near miss over the South China Sea, while Chinese and Japanese fighter pilots increasingly spar over disputed islands.   Experts contend that these incidents are happening on a scale we have not seen in 25 years.  The shooting down of a Malaysia Airline flight last July over eastern Ukraine was a vivid reminder of the dangers to civil aircraft flying over contested air space. Meanwhile NATO reported earlier this month that its jets had scrambled more than 400 times this year as Russian air force jets approached its air space, twice the level from 2013.
December 21: IJ Review: Rubio: President's Policy does nothing to further freedom of the Cuban people
Sen. Marco Rubio (R-FL) made the Sunday talk show rounds to weigh in on the President's decision last week to normalize relations with Cuba. Rubio is strongly opposed to Obama's actions. Meet the Press host Chuck Todd went after Rubio right out of the box, asking, "What was working with the old policy?" as if to suggest that those opposed to Obama's executive action on Cuba are wrong. But the senator, whose parents immigrated to the U.S. from Cuba in 1956, was ready:

That's not the question. The question is, what new policy can we put in place that will actually achieve our goal? Our goal for Cuba is freedom and liberty for the Cuban people.  And my opposition to what the president has done is it won't do anything to further that cause.  On the contrary, just yesterday, Raúl Castro gave a speech where he made very clear there will be no political change on the island. Nor did the president ask for any.  So, if you're going to make concessions to Cuba, if you're going to recognize them diplomatically, if you're going to have more commerce with them, there has to be some reciprocal opening on their part towards democracy. There was none."

December 21: Fox News: Cuban exiles protest normalizing relations with Cuba:
Cuban opposition leaders from the island joined Cuban American politicians and activists on Saturday, pledging to oppose the Presiden's plan to normalize relations with the communist nation and disputing the notion that their community is split by a generational divide.  "The opposition will continue fighting, with or without Barack Obama," Cuban activist Jorge Luis Garcia Perez said to cheers.  The gathering at a Little Havana park drew more than 200 people, largely older Cuban exiles who chanted "Obama, traitor!" and waved U.S. and Cuban flags. "The mentality is, 'Hey, we're going to be able to buy Cuban cigars and rum.' Well, it's not a happy thing for us," said Armando Merino, 68, who came to the U.S. at age 14. "I'm here because for the Cuban people, my family in Cuba, they are not able to protest."

The protest featured two high-profile Cuban dissidents: Garcia Perez, who spent 17 years in jail for his activities and has gone on hunger strikes to protest the treatment of political prisoners, and Berta Soler, spokeswoman for the island-based Ladies in White, a group of Cuban mothers and wives of dissidents arrested in the 2003 government crackdown there.  Soler said a normalized relationship between Cuba and the U.S. would "perfect the repressive mechanism of the Cuban government."  "Cuba needs freedom, and that freedom depends on the Cubans," she said. Those protesting argued that Obama's gestures would do nothing to improve the prospects of a democratic Cuba.  "The worst infamy is the pretext he used: He says it's to help the Cuban people," said one speaker, when the opposite is the truth.
December 20: The New York Times: Raul Castro: Thanks USA, but we will remain communists!
President Raul Castro declared victory for the Cuban Revolution on Saturday in a wide-ranging speech, thanking President Obama for "a new chapter" while also reaffirming that restored relations with the U.S. did not mean the end of Communist rule in Cuba.  In a televised speech before Parliament and a group of favored guests  Castro alternated between conciliatory and combative statements directed at the United States.  He stoked the flames of Cuban nationalism, declaring near the end of his statement, "We won the war." But he also praised  Obama for starting the biggest change in United States-Cuban policy in more than 50 years.  "The Cuban people are grateful," he said, for Obama's decision "to remove the obstacles to our relations."  He added that all issues and disputes between  Cuba and the United States would be on the table in coming discussions about re-establishing formal diplomatic ties between the two countries. But he offered no immediate concessions to demands for improvement in Cuba's human rights record.
December 19: The Daily Mail: U.S. troops take on ISIS at Iraqi base
A number of militants have been killed in Islamic State's very first battle with U.S. ground troops after the extremists attempted to overrun an Iraqi military base.  The militants attacked Ein al-Asad military base on Sunday where more than 100 U.S. military support troops are based.  Despite launching the surprise attack just after midnight, ISIS's offensive was swiftly repelled when U.S. troops and F18 jets joined in the skirmish in support of the Iraqi Army.  Facing both Iraqi and US troops supported by F18 jets, an unknown number of ISIS attackers were killed during the two hour firefight before being forced to retreat.  Ein al-Asad came under repeated attack by ISIS troops in October, however, now bolstered by the U.S. assistance, it poses a much more formidable target.
December 19: Bloomberg: Obama takes credit for Hillary's policy push for Cuba normalization
Although President Barack Obama is taking the credit for Wednesday's historic deal to reverse decades of U.S. policy toward Cuba, when Hillary Clinton was secretary of state, she was the main architect of the new policy and pushed far harder for a deal than the Obama White House.  From 2009 until her departure in early 2013, Clinton and her top aides took the lead on the sometimes public, often private interactions with the Cuban government. According to current and former White House and State Department officials and several Cuba policy experts who were involved in the discussions, Clinton was also the top advocate inside the government for ending travel and trade restrictions on Cuba and reversing 50 years of U.S. policy to isolate the Communist island nation. Repeatedly, she pressed the White House to move faster and faced opposition from cautious high-ranking White House officials.

Clinton played down her own role in the issue, which will surely become important if she decides to run for president. Top prospective Republican candidates, including Jeb Bush, Ted Cruz and  Marco Rubio have all come out against the president's policy shift.  Clinton's advocacy on behalf of opening a new relationship with Cuba began almost as soon as she came into office. Obama had campaigned on a promise to engage enemies, but the White House initially was slow to make good on that pledge, and on the Cuba front enacted only a modest relaxation of travel rules. From the start, Clinton pushed to hold Obama to his promise with regard to Cuba.

December 18: The New York Times: It's all about money: Businesses start scouting Cuba for opportunities
PepsiCo wants in. So do Caterpillar and Marriott International.  Within hours of President Obama's historic move to restore full diplomatic relations with Cuba, companies in the United States were already developing strategies to introduce their products and services to a market they have not been in for the better part of 50 years — if ever.  "Cuba is a potential market for John Deere products and services," Ken Golden, a spokesman for Deere & Company, a leading maker of farm and construction equipment based in Illinois, said by email. But while there may be robust opportunities for some companies, especially those selling products or goods that could be viewed as enhancing Cuba's own domestic production or helping to develop its underused resources, other companies could get the cold shoulder.  "For a company like McDonald's, the Cuban government is going to ask, 'How does McDonald's coming in and selling hamburgers help the economy of Cuba?' " said Kirby Jones, founder of Alamar Associates, which has advised companies on doing business in Cuba since 1974. "It's just not going to be like other regions where you see a McDonald's on every corner."
December 17: Fox News: Obama hands Cuba's Castros a major victory, but Congress can still stop it
Establishing ties with Cuba has been on President Obama's bucket list for some time.  And the president will go on picking off the next items on the bucket list for the next two years of his term unless Congress decides to stop him. So what can Congress do?  Right off the bat, Congress must make it crystal clear to President Obama that he lacks the authority to lift the embargo on Cuba, allow trade to take place between the two nations, let tourists to go to Cuba to bail out the regime or give Cuba have access to capital markets. U.S. law—the Helms-Burton Act of 1996—gives the Congress power to override any action taken by the executive to lift the embargo.
In order to lift the embargo, the Cuban government would have to give the Cuban people a number of rights—of association, speech, political activity, etc.— that was not part of the agreement between the President Cuban dictator Raul Castro.   Congress can also make clear that there are statutory criteria that must be met before the Administration can take Cuba off the State Department list of terrorism sponsors. He must inform Congress that there has been a change of leadership and policies by the Cuban government and that Castro has given assurances that Cuba will no longer support terrorist acts – actions that have not taken place. In addition, the new Senate can make it clear that they will put on hold any nomination of an ambassador to Cuba that the President nominates unless he can guarantee that the Cuban government is no longer a threat to the United States and has decided to grant freedom to people in Cuba. Sen. Marco Rubio [R-FL] has already said he plans to do just that.
Finally, Congress can look into the possibility of using policy riders in the upcoming DHS appropriations debate in February and the Fiscal Year 2016 appropriations process to deny the president funds for setting up relations.  Congress needs to  act because President Obama has gotten nothing worthwhile in exchange for many substantial concessions made to the Communist regime. After five years of "negotiations" President Obama ended exactly where Raul Castro's demands began five years ago. As Senator Marco Rubio said, President "Obama is the worst negotiator since Carter."
December 17: The New York Times: Obama Announces normalizing relations with Cuba
The United States will restore full diplomatic relations with Cuba and open an embassy in Havana for the first time in more than a half-century after the release of an American contractor held in prison for five years, President Obama announced on Wednesday.  In a deal negotiated during 18 months of secret talks hosted largely by Canada and encouraged by Pope Francis, Mr. Obama and President Raúl Castro of Cuba agreed in a telephone call to put aside decades of hostility to find a new relationship between the United States and the island nation just 90 miles off the American coast. 

Mr. Obama has long expressed hope of transforming relations with the island nation, an aspiration that remained untenable as long as Cuba held 65-year old Alan P. Gross, an American contractor whose  "crime" was to bring computers to Jews on the island   The advantage in the deal is for Cuba that is seeing its patron (Russia) facing an economic downturn.  The deal will bring hard currency to the Island nation which Cuba can use to fund its military and, according to some, to continue to oppress its citizens.

December 17: CBS Miami: Little Havana erupts in protests about Obama Cuba Policy
News of an American's release and the administration's change to U.S. policy toward Cuba has swept through the streets of Little Havana in Miami.  Cuban-Americans have flocked Cafe Versailles, a political hotspot to trade opinions on the news. CBS4's Natalia Zea spoke with several hard line Cuban-Americans at the Little Havana cafeteria. "It's a good thing that they freed Alan Gross. He is a patriot," said Cuban-American Gonzalvo Lopez. But the Cuban-Americans gathered at the restaurant, some with angry signs, seem to agree the U.S. government should not have released three Cuban spies detained by the U.S. 

Edwin Gonzalez and his father-in-law are furious about the Obama Administration's announcement that it will restore diplomatic relations with Havana by opening up travel, trade and information between the two countries.  "I personally feel it would be a betrayal of him and what he left Cuba for," said Gonzalez.  President Obama's position is that isolating Cuba hasn't worked. Most at the café still don't want to see this change in policy.
December 17: Fox News: Obama hands Cuba's Castros a major victory, but Congress can still stop it
Establishing ties with Cuba has been on President Obama's bucket list for some time. Health care -- done. Amnesty for illegal immigrants -- done. Cuba -- next. This last one also has the added bonus point that it puts him right with the international left, which lionizes Castro.  And the president will go on picking off the next items on the bucket list for the next two years of his term unless Congress decides to stop him. So what can Congress do? 
- Right off the bat, Congress must make it crystal clear to President Obama that he lacks the authority to lift the embargo on Cuba, allow trade to take place between the two nations, let tourists to go to Cuba to bail out the regime or give Cuba have access to capital markets. U.S. law—the Helms-Burton Act of 1996—gives the Congress power to override any action taken by the executive to lift the embargo.
- In order to lift the embargo, the Cuban government would have to give the Cuban people a number of rights—of association, speech, political activity, etc.—that President Obama obviously failed to secure in his 45-minute conversation with Cuban dictator Raul Castro Tuesday.
- Congress can also make clear to the president that there are statutory criteria that must be met before his administration can take Cuba off the State Department list of terrorism sponsors. The president must inform Congress that there has been a change of leadership and policies of the Cuban government and that Castro has given assurances that Cuba will no longer support terrorist acts. Can President Obama do any of that?
- In addition, Senators should also make clear that they will put a hold on any ambassador that Mr. Obama nominates to serve in Cuba unless he can guarantee that the Cuban government is no longer a threat to the United States and has decided to grant freedom to people in Cuba. Sen. Marco Rubio, R-Fla., has already said he plans to do that.
- Finally, Congress can look into the possibility of using policy riders in the upcoming DHS appropriations debate in February and the Fiscal Year 2016 appropriations process to deny the president funds for setting up relations. 
Congress needs to  act because President Obama has gotten nothing worthwhile in exchange for many substantial concessions made to the Communist regime. After five years of "negotiations" President Obama ended exactly where Raul Castro's demands began five years ago. As Senator Marco Rubio said, President "Obama is the worst negotiator since Carter."
December 8: The U.K. Independent: The Risk of Nuclear War Increases
with Tensions and Insecure Stockpiles:
Urgent action is needed to minimize the risk of a nuclear war, more than 120 senior military, political and diplomatic figures from across the world have warned.  Ahead of the Vienna Conference on the Humanitarian Impact of Nuclear Weapons, which starts today, the experts wrote in a letter that the danger of such a conflict was "underestimated or insufficiently understood" by world leaders.

December 8: Ynet News: Iran is Playing with Fire:
The strikes in Syria on Sunday afternoon, which have been attributed to the Israeli Air Force, were likely intended to prevent the transfer of advanced weaponry from Iran to Hezbollah. The Iranian Revolutionary Guard continues to play with fire by equipping Hezbollah with arms that have the capability to cause widespread losses and destruction in Israel. he appraisal is based on the fact that the targets were in two distant areas – one near the international airport in Damascus and the other in Dimas, west of the capital, mere miles from the border with Lebanon.

It is widely believed that shipments of missiles and other arms destined for Hezbollah land in Iranian cargo jets at the airport in Damascus, then transferred to a Syrian military storage site, until they are sent to over the border to Lebanon.  It is reasonable to assume that Sunday's strike, if it actually was undertaken by the IAF through Lebanese airspace, was launched based on precise intelligence and after all operational and strategic aspects were considered.

December 7: McClathchy News: Israel May Have Taken Out Russian Anti-Aircraft System in Syria
Suspected Israeli aircraft bombed a military complex on the outskirts of Damascus' international airport Sunday in what Syrian state television said was an attack on warehouses housing an advance Russian-made anti-aircraft system.  The attack would be consistent with repeated Israeli pledges that it would not allow Syria to deploy the S-300 anti-aircraft missile system and raised the question of whether Russia had sent new components of the system to Syria, perhaps in violation of an August pledge not to complete delivery under terms of a United Nations arms embargo.  The Israeli military offered no comment on the report.

The Russian sale of the S-300 anti-aircraft system to Syria has long been controversial. Israel first objected to the sale when it was agreed to in 2007, fearing that the system, with a range of nearly 50 miles, would allow the Syrians to down Israeli aircraft while still in Israeli airspace. Considered one of the most sophisticated anti-aircraft defense systems in the world, it is said to be able to track as many as 100 targets simultaneously.  An agreement to sell the system to Iran collapsed under international pressure in 2010.
December 3: The Daily Caller:
Netanyahu Fires Two Cabinet Ministers and Calls for New Elections in March
Israel's Knesset voted Wednesday to dissolve, kickstarting a period of likely uncertainty and infighting, culminating in elections slated for March 17. The vote was triggered by Prime Minister Benjamin Netanyahu firing two prominent cabinet members on Tuesday and calling for elections. Both deposed ministers are heads of other parties, which constituted the ruling Likud party's inter-party coalition: Justice Minister Tzipi Livni of the Hatnuah party, and Finance Minister Yair Lapid of Yesh Atid. In a speech following the firings, Netanyahu accused them of "opposition from within the government."

"I don't think Netanyahu would have called elections unless he was betting on himself," Danielle Pletka, a top Middle East expert at the American Enterprise Institute, told The Daily Caller News Foundation. But, Pletka insisted, "the Israeli public is notoriously fickle," and there may be surprising changes before the elections in March.  The Guardian reported Tuesday that a flash poll predicted top results for Netanyahu's Likud, together with Jewish Home, which advocates the expansion of Israeli settlements in the Palestinian-held West Bank.
November 25: New York Times: Iranian Nuke Talks Extended after Failure to Reach Agreement [Giving more time to negotiate while they continue to build a nuclear weapon?]
A yearlong effort to reach an enduring accord with Iran to dismantle large parts of its nuclear infrastructure fell short on Monday, forcing the United States and its allies to declare a seven-month extension, but with no clear indication of why they think they can ultimately overcome the political obstacles that have so far blocked a deal.  The failure to agree even on the framework for a comprehensive deal, after extended high-level diplomacy over an issue that was arguably President Obama's top foreign policy priority, had to be a disappointment for the administration.

Secretary of State John Kerry, trying to put the best face on it, told reporters that a series of "new ideas surfaced" in the last several days of talks. He added that "we would be fools to walk away," because a temporary agreement curbing Iran's program would remain in place while negotiations continued.  [See Related Story]
November 22: The Jerusalem Post: Israel Cornered but not bound by the Nuclear Pact?
World powers are seeking to clinch a comprehensive deal that will address their efforts to keep Iran from obtaining a nuclear weapon.  But reflecting on the deal under discussion Israel has issued a stark, public warning to its allies with a clear argument: Current proposals guarantee the perpetuation of a crisis, backing Israel into a corner from which military force against Iran provides the only logical exit.  Under the proposal the West would need to rely upon the "trusted" Russian government to convert Iran's current uranium stockpile into fuel rods for peaceful use. The proposal would also include an inspection regime that would attempt to follow the program's entire supply chain, from the mining of raw material to the siphoning of that material to various nuclear facilities across Iran.
"Iran's not being asked to dismantle the nuclear infrastructure," the Israeli official said, having seen the proposal before the weekend. "Right now what they're talking about is something very different. They're talking about Ayatollah Khamenei allowing the P5+1 to save face."  Yet, more than any single enforcement standard or cap included in the deal, Israel believes the Achilles' heel of the proposed agreement is its definitive end date – the sunset clause.  "You've not dismantled the infrastructure, you've basically tried to put limits that you think are going to be monitored by inspectors and intelligence," said the official, "and then after this period of time, Iran is basically free to do whatever it wants."
November 22: United Press International: President signs secret order expanding U.S. role in Afghanistan
President Obama reportedly has signed a classified order authorizing an expanded military mission in Afghanistan in 2015, allowing U.S. forces to carry out missions against the Taliban, ensuring American troops will be fighting in the country for at least one more year.  According to a New York Times report, the order allows American troops to take a direct role in missions against militant groups that include the Taliban. It's a broader mission than the president described in his May announcement, when he said the U.S. military would have no combat role in Afghanistan next year and the remaining 9,800 troops would be focusing on training Afghan forces and handling al-Qaida threats. The new authorization also reportedly calls for U.S. jets, bombers and drones to support Afghan troops on combat missions. The order will allow for U.S. airstrikes to support Afghan military operations in some cases and some ground troops may accompany Afghan troops in actions against the Taliban. The decision to broaden the role for American troops came during a heated debate in the Obama administration with national security advisors.
November 15:  The Telegraph: Putin planning to leave the G-20 early after meeting with PM Cameron:
Russia's President Putin is set to leave the G20 summit early after a tense meeting with British Prime Minister David Cameron over Moscow's actions in Ukraine. The Russian president will miss its official lunch in response to repeated criticism from western leaders.   The move comes after Australian Prime Minster Tony Abbott threatened to "shirt front" Putin -- a form of physical confrontation. Canadian Prime Minister Stephen Harper  told Putin: "I guess I'll shake your hand, but I'll only have one thing to say to you - get out of the Ukraine."
Cameron told Putin that he is at a "crossroads" and could face further sanctions after the pair held "robust" discussions on Ukraine.  During a tense 50 minute meeting Cameron warned that Russia is risking its relations with the West and must end its support for Russian separatists.   He compared Russia to Nazi Germany. Tensions escalated further when Russia stationed a fleet of warships off the coast of Australia in an apparent show of strength ahead of the summit.   In interviews hours before the meeting, Cameron suggested that he cannot trust Putin and described Russia's decision to send a fleet of warships to Australia as "international machismo".

Meanwhile some are asking "Where is President Obama?"  Peggy Noonan writes in the Wall Street Journal   that Obama is the loneliest President since Nixon.  "I have never seen a president in exactly the position Mr. Obama is, which is essentially alone. He's got no one with him now. The Republicans don't like him, for reasons both usual and particular: They have had no good experiences with him. The Democrats don't like him, for their own reasons plus the election loss."    But at the G-20 meeting Putin "…delivered the unkindest cut, patting Mr. Obama's shoulder reassuringly. Normally that's Mr. Obama's move, putting his hand on your back or shoulder as if to bestow gracious encouragement, needy little shrimp that you are. It's a dominance move. He's been doing it six years. This time it was Putin doing it to him. The president didn't like it."
November 14: RT News: 
U.S. Navy Deploys New Laser Weapon to Persian Gulf
The US Navy has deployed its first ever combat laser. The futuristic weapon has boosted the arsenal of the Fifth Fleet's command vessel in the Persian Gulf. The laser is said to be effective against numerous small targets, such as Iran's gunboats.  A 30-kilowatt-class Laser Weapon System has been equipped on the USS Ponce amphibious transport ship since late August, Navy officials said.

The device is capable of focusing beams from six solid-state commercial welding lasers into a single strong beam, which can be used both as a blinding warning shot and as a weapon capable of setting fire to a drone or small boat. The technology's big advantage is its operational efficiency, as firing one shot costs just around $1, the Navy stressed. But lasers have their own peculiarities, with their efficiency depending on weather conditions, the presence of dust and vapors in the air, and other factors. The range of the laser, which is limited by those factors, remains classified.
November 9: The Daily Mail: Queen, 88, will not shirk from her duty!
The Queen Elizabeth has vowed to attend the Remembrance Day centenary ceremony at The Cenotaph despite police arresting four Islamist terror suspects plotting to kill her on the day. The 88-year-old monarch insisted she will carry on with tradition - laying the first wreath following the two-minute silence at 11am on November 11.  A source said 'Whatever the security assessment, Her Majesty would not shirk from her responsibility and duty - and this Remembrance Sunday is no different. 'The Queen's tribute will be followed as normal by salutes from Prime Minister David Cameron, Cabinet members and Opposition leaders.

Yesterday armed officers seized the four men, aged 19 to 27, following months of surveillance. Last night police were said to be interrogating the suspects - who are thought to have hatched a plot assassinate the Queen with a knife. Police had already stepped up security after a terrorist shot a soldier guarding a war memorial at Canada's parliament.

November 9: Fox News: Islamic State leader may have been wounded in airstrikes:
Iraqi officials said Sunday that the head of the Islamic State group, Abu Bakr al-Baghdadi, was wounded in an airstrike in western Anbar province, but Pentagon officials said they had no immediate information on such an attack or whether the militant leader was injured. Iraq's Defense and Interior ministries both issued statements saying al-Baghdadi had been wounded, without elaborating, and the news was broadcast on state-run television Sunday night.
November 7: Fox News: Egyptians demolish homes in move to stop smuggling of weapons into Gaza:
Egyptian troops are pressing ahead with the demolition of hundreds of homes along the border with the Gaza Strip, cutting off electricity and firing warning shots in the air in a heavy-handed campaign to evict thousands of residents from the volatile area.  The forced evacuations in Egypt's Sinai Peninsula are further alienating a restive population with longstanding grievances against the government of Egyptian President Abdel-Fattah el-Sissi, raising the risk of more violence in the lawless region.

The demolitions, meant to halt the smuggling of weapons and militants in and out of Gaza, have also put pressure on Hamas, the militant group that controls Gaza and has long counted on smuggling tunnels as its lifeline. Egypt announced the demolition plan last month after militants killed 31 Egyptian troops in an assault on a checkpoint 20 miles (30 kilometers) from Rafah. Egypt has long accused Islamic militants of using smuggling tunnels to move in and out of Gaza and announced it would clear out a 500-yard-wide (meter) buffer zone along the border.

November 7: Yahoo News: Israel increases security at the Temple Mount:
Hundreds of Palestinians knelt on prayer carpets in a Jerusalem street Friday, faced by a cordon of Israeli riot police who blocked them from reaching Islam's third- holiest shrine in the nearby Old City.   The worshippers eventually dispersed peacefully, but the scene highlighted the escalating tensions over the holy site — a walled, hilltop plateau known to Muslims as the Noble Sanctuary and to Jews as the Temple Mount.  Israel argues that restricting access to the shrine, which has been common in recent weeks, is needed to clamp down on growing unrest in the contested city of 810,000 people. On Friday, Muslims under age 35 were denied entry, while restrictions were broader in preceding weeks.
October 30: Haaretz News:  Netanyahu: I'm Under Attack for Defending Israel
Prime Minister Benjamin Netanyahu said Wednesday that he was under attack by "anonymous" critics simply because he was defending Israel and its national security interests, but stressed that he "cherished" Israel's alliance with the United States despite the arguments.   Speaking to Knesset hours after a senior U.S. official was quoted calling him a "chicks**t prime minister," Netanyahu told Knesset: "When there are pressures on Israel to concede its security, the easiest thing to do is to concede. You get a round of applause, ceremonies on grassy knolls, and then come the missiles and the tunnels."
"I am not prepared to make concessions that will endanger our state," Netanyahu said. "Understand, our national interests, topped by security and the unity of Jerusalem, are not what top the interests of those anonymous forces attacking us, and me personally. I am under attack simply because I am defending the State of Israel. If I didn't stand firm on our national interests, I would not be under attack."
October 30: The Daily Caller:  Krauthammer: No Doubt "Chickens**t" comment reflects Administrations views
Syndicated columnist Charles Krauthammer weighed in on the controversy over an Atlantic piece alleging that an administration official called Israeli Prime Minister Benjamin Netanyahu a "chickens**t," telling Fox's Brian Kilmeade he has "no doubt" the story accurately reflects Obama's feelings. "I think there is animosity between the leadership, the president and prime minister, unlike any in the history of Israel. It goes back to 1948," he said. "This is unique."
"There is no doubt that what we saw is an accurate reflection of what they think," Krauthammer responded. "That's the reason they won't offer an apology. Everybody knows it's how the president thinks about the Israeli leadership. We all know there's a veracity underlying it; you're not supposed to say it, you're supposed to deny it when it becomes published. But this is the tension between them. This is the worst relations between administrations, Israeli and American, probably in 50 years."
October 25: Ynetnews: Administration refuses to meet with Israeli Officials: Try to restrict contact:
On Friday, Ynet revealed that the Obama administration refused the Israeli defense minister's request to meet with other top officials, including Vice President Joe Biden, Secretary of State John Kerry, and the National Security Advisor Susan Rice.   Since then, reports have said the same officials tried to prevent Ya'alon from meeting with the US' UN ambassador Samantha Power – and when the two did meet, Ya'alon reportedly heard mostly of Power's objection to settlement construction.   During the last bout of US-led peace talks, Ya'alon dubbed Kerry's diplomatic efforts as "obsessive and messianic," saying "Kerry should win his Nobel and leave us in peace." Ya'alon's current treatment is said to be an attempt to settle the score. Ya'alon did hold a successful meeting with his US counterpart, Chuck Hegal, indicating that the reason for the cold shoulder was more a testament to personal tensions between Ya'alon and the White House than an attempt to sabotage Israel's relations with the US.
October  25: Fox News: Citizen Jihadists: ISIS uses lone wolves to mount cheap and effective attacks
Al Qaeda spent less than $1 million on its signature 9/11 attack, but Islamic State has found an even more cost-effective way to strike on American soil - inspiring psychotic sympathizers to commit "lone wolf" attacks that blur the line between random crime and terrorism, say experts.  Grisly photos and video of severed heads and mutilated bodies tweeted out and posted on the Internet, combined with explicit calls to kill, have allowed Islamic State to turn American citizens into weapons, say experts. The new technique requires no infiltration by sleeper cells and no planning, coordination or logistics. Yet, it is proving extremely effective at spreading fear, they say.  "If you can kill a disbelieving American or European, especially the spiteful and filthy French, or an Australian, or a Canadian, or any other disbeliever, then rely upon Allah and kill him in any manner or way however it may be."
October 22: The Daily Caller: Gingrich takes on President's response to Canadian Shootings
Former Republican Speaker of the House Newt Gingrich took President Barack Obama to task for his "delusional" response to the Ottawa shooting that saw the death of at least one Canadian soldier.  In his mid-day address, Obama told reporters that it was too soon to draw any conclusions about the shooter, later identified as Canadian citizen Michael Zehaf-Bibeau, or the shooter's motive. Gingrich took to Twitter to slam Obama for his refusal to call the attacks the product of radical Islam.  In the past the President prefers to call terrorist attacks "workplace violence", such as the Fort Hood shooting, while bring terrorism cases before civilian courts instead of military tribunals as would normally be the case.  Gingrich suggested the "President Obama's statement on Canadian killings verges on delusional. He can't bring himself go tell truth about Radical Islamists."

October 22: The Daily Caller: Gov't. Report finds glaring gaps in State Department Iran Strategy:
A new government report found that the State Department's Iran strategy failed to develop a plan to prevent terrorists from entering the United States from the Canadian or Mexican borders, despite Congress's explicit request that it do so.  The Countering Iran in the Western Hemisphere Act of 2012 "directed the Secretary of State to conduct an assessment of the threats posed to the United States by Iran's growing presence and activity in the Western Hemisphere, and to submit a strategy to address Iran's growing hostile presence and activity in the Western Hemisphere." The act specified 12 "broad elements" that should be addressed and included the strategy, including strengthening U.S. borders to prevent terrorists from entering from Canada or Mexico.  According to the Government Accountability Office, the strategy report State submitted in June 2013 only fully addressed two of these elements, partially addressed six, and totally ignored four.
October 18: Reuters: US-led coalition jets strike Kobani, Islamic State shells hit Turkey:
U.S.-led coalition jets pounded suspected Islamic State targets at least six times in the besieged Syrian town of Kobani on Saturday after the fiercest shelling in days by the insurgents shook the town's center and hit border areas within Turkey.  Shelling continued after the strikes hit the center of Kobani. Several ISIS mortar shells fell inside  Turkey near the border gate.  Islamic State militants have battled Kurdish fighters for a month to take control of Kobani and consolidate a 60 mile (95 km) stretch of land they control along the Turkish border, but stepped-up air strikes in recent days have helped Kurds fend off the advance.

October 16: The Hill: U.S. Defense Department worried over ISIS gains in recruitment
The top U.S. Army commander in Europe said Thursday he was concerned by an "acceleration" in the recruitment of Europeans by the Islamic State in Iraq and Syria (ISIS).  Maj. Gen. Walter Piatt, commanding general of U.S. Army Europe, said he's worried the ISIS recruits could later return to Europe and launch attacks against the West.  Recruiting is accelerating and "it's a concern," Piatt said.  "We've seen it all the way throughout Europe and [it's] impossible to track every single person where they are."   Piatt concluded.
October 12: Fox News: Putin orders thousands of troops away from Ukraine Border  -- Really?
Russian President Vladimir Putin says he has ordered thousands of Russian troops near the Ukrainian border to return to their usual bases, according to his spokesman.  Dmitry Peskov told Russian news outlets late Saturday that Putin had ordered approximately 17,600 troops to return home from Rostov, a southern region that borders east Ukraine, where pro-Russian insurgents have been battling government troops since April.  The Kremlin has said that troops stationed in Rostov were participating in "drills," but Ukraine and the West have repeatedly accused Russia of fueling the insurgency with arms, expertise, and fighters, and have slapped Moscow with sanctions in response to its moves in the region. Previous Russian claims of troop withdrawals have been countered by NATO, which said the moves were not actually carried out.

October 12: Reuters: Kurds fight off ISIS attack on Turkish Border
Kurdish defenders held off Islamic State militants in Syria's border town of Kobani on Sunday, but the fighters struck with deadly bombings in Iraq, killing dozens of Kurds in the north and assassinating a provincial police commander in the west.  The top U.S. military officer suggested that Washington, which has ruled out joining ground combat in either Iraq or Syria, could nevertheless increase its role "advising and assisting" Iraqi troops on the ground in future.   A U.S.-led military coalition has been bombing Islamic State fighters who hold swathes of territory in both Iraq and Syria, countries involved in complex multi-sided civil wars in which nearly every country in the Middle East has a stake.  In Syria, the main focus in recent days has been on the mainly Kurdish town of Kobani near the Turkish border, where Kurdish defenders have been trying to halt an advance by fighters who have driven 200,000 refugees across the border.

The jihadists have laid siege to the town for nearly four weeks and fought their way into it in recent days, taking control of almost half of the town. A U.N. envoy has said thousands of people could be massacred if Kobani falls.  As night fell on Sunday, the town center was under heavy artillery and mortar fire, Ocalan Iso, deputy head of the Kobani defense council, said by Skype from inside the town. Heavy clashes were underway in the east and southeast, he said, with neither side gaining ground.  Idris Nassan, deputy foreign minister in the Kurdish administration for the Kobani district, said heavy fighting had begun around nightfall in the streets. Kurdish fighters had caught attackers in an ambush, he said from the town.
October 11:  The Telegraph: Iraq Pleads for U.S. Ground Troops as ISIS Threatens Bagdad
Iraqi officials have issued a desperate plea for America to bring US ground troops back to the embattled country, as heavily armed Islamic State militants came within striking distance of Baghdad. Amid reports that ISIS forces have advanced as far as Abu Ghraib, a town that is effectively a suburb of Baghdad, a senior governor claimed up to 10,000 fighters from the movement were now poised to assault the capital.  The warning came from Sabah al-Karhout, president of the provisional council of Anbar Province, the vast desert province to the west of Baghdad that has now largely fallen under jihadist control.  The province's two main cities, Fallujah and Ramadi, were once known as "the graveyard of the Americans", and the idea of returning there will not be welcomed by the Pentagon.
October 10: The Washington Post: US-led air war against ISIS in Syria is off to a rocky start:
The U.S.-led air war in Syria has gotten off to a rocky start, with even the Syrian rebel groups closest to the United States turning against it, U.S. ally Turkey refusing to contribute and the plight of a beleaguered Kurdish town exposing the limitations of the strategy.  U.S. officials caution that the strikes are just the beginning of a broader strategy that could take years to carry out. But the anger that the attacks have stirred risks undermining the effort, analysts and rebels say.   The main beneficiary of the strikes so far appears to be President Bashar al-Assad, whose forces have taken advantage of the shift in the military balance to step up attacks against the moderate rebels designated by President Obama as partners of the United States in the war against extremists.   The U.S. targets have included oil facilities, a granary and an electricity plant under Islamic State control. The damage to those facilities has caused shortages and price hikes across the rebel-held north that are harming ordinary Syrians more than the well-funded militants, residents and activists say.
October 7: Fox News: Penetta: The President Needs to Develop a Desire to get into the ring and fight ISIS:
http://www.foxnews.com/politics/2014/10/07/panetta-obama-needs-to-develop-will-to-get-into-ring-and-fight-isis/
Former Defense Secretary Leon Panetta told Fox News' Bill O'Reilly Tuesday there is no question that the Obama administration's decision to not maintain a presence in Iraq was a mistake, and President Obama needs to "develop the will to get into the ring and fight" against the Islamic State. Panetta, who served in the Obama administration for four years, said on "The O'Reilly Factor" that he, then-Secretary of State Hillary Clinton and the director of the CIA made a "very strong case" for keeping at least 10,000 troops in Iraq at the end of the war. Panetta, who was promoting his new book "Worthy Fights," said Obama agreed with their assessment but ultimately wasn't willing to push the Iraqis on the issue. "I think the president did support providing that 10,000 troop presence in Iraq and supported CIA operations, supported the diplomatic operations that we wanted to continue," he said. "The real issue was how hard did he fight to make it happen. That's the issue that I raised."
October 6: The Jerusalem Post: Two Dead in Explosion of Suspected Iranian Nuclear Facility:
There was a reportedly huge explosion at the large (nuclear?) facility in Parchin, located 30 km. southeast of Tehran.  According to the report, the powerful explosion blew out the windows of buildings located up to 15 km. away from the base, and eyewitnesses could observe the blast from a distance.  Parchin is a controversial military base where Israel and the International Atomic Energy Agency suspect the Islamic Republic is attempting to develop a nuclear explosive device. IAEA inspectors have not been permitted to enter the site since 2005. 
October 6: Yahoo News: FBI warns of possible terrorist attack in the U.S.:
An al-Qaida cell in Syria that was targeted in American military airstrikes last month could still be working on a plan to attack the United States or its allies and is "looking to do it very, very soon," the head of the FBI says.  "Given our visibility we know they're serious people, bent on destruction," FBI Director James Comey said.  The Khorasan Group, a small but battle-hardened band of al-Qaida veterans from Afghanistan and Pakistan, was the target of U.S. strikes near Aleppo, Syria. In an interview broadcast Sunday on CBS' "60 Minutes," Comey said the militants were "working and, you know, may still be working on an effort to attack the United States or our allies, and looking to do it very, very soon." Senior U.S. officials have not said whether the group's plots have been disrupted.
October 4: RT News: Germany considers sending boots on the Ground to Ukraine:
Berlin is mulling sending troops to monitor the shaky ceasefire between Kiev forces and local militia in eastern Ukraine, a German government source told Reuters.  The source told the agency that a German troop deployment would depend on the Organization for Security and Cooperation in Europe (OSCE), which could move to send in troops to monitor the ceasefire it helped broker on September 5 in Minsk, Belarus. If such a political decision were made, the number of troops sent by Germany would depend on the security situation in Ukraine and conditions set by the OSCE, the source said.  German newspaper Bild, however, said that 200 soldiers were planned for the mission. Around 150 would help monitor the crisis area with drones, and an additional 50 would provide security.

Last month, France and Germany offered to send drones to help bolster OSCE monitoring of the ceasefire in Ukraine's troubled east.   The daily said the mission was in reaction to a Franco-German fact-finding mission in mid-September, which determined that the ceasefire could only be effectively monitored if boots on the ground provided security for monitoring staff.   A spokesman for the German Foreign Ministry told Reuters that Berlin and Paris are hammering out a plan to support the OSCE mission, but were only in the exploratory phase.   Germany has also dispatched more than 100 trucks from 17 different cities to deliver aid, including mobile kitchens, heating devices and blankets, to Ukraine,  Der Spiegel reported.

September 26: CBS News: Obama: U.S. Underestimates the Rise of ISIS in Iraq and Syria:
President Obama acknowledged that the U.S. underestimated the rise of ISIS (also called ISIL) and overestimated the ability of the Iraqi military to fend off the militant group in an interview that will air Sunday on CBS 60 Minutes.  "Jim Clappper [Director of National Intelligence] has acknowledged that I think they underestimated what had been taking place in Syria," he said, blaming the instability of the Syrian civil war for giving extremists space to thrive.  The comments were among the president's most candid to date about the rapid rise of the terrorist group that has ransacked much of Syria and Iraq in recent months.

"Essentially what happened with ISIL was that you had al Qaeda in Iraq, which was a vicious group, but our Marines were able to quash with the help of Sunni tribes," he explained. "They went back underground, but over the past couple of years, during the chaos of the Syrian civil war, where essentially you had huge swaths of the country that are completely ungoverned, they were able to reconstitute themselves and take advantage of that chaos."  Left unmentioned was the Presidential decision to remove U.S. troops thereby creating a vacuum that allowed this situation to happen.

September 26: Financial Times:  Obama tries to shake off Jimmy Carter Aura:
Barak Obama's first speech to the UN was filled with the giddy hopes that won him the presidency in the first place. "More than at any point in human history, the interests of nations and peoples are shared," he told world leaders in 2009.  Five years later, it was a greyer and more somber Obama who warned the UN this week about the "generational task" of defeating Islamist militants in the Middle East, two days after he launched his first air strikes in Syria. "The only language understood by killers like this is the language of force," he said.  From the foreign policy perspective, Obama conducted what amounted to a genuine pivot in his approach to the world – embracing the central point of many of his critics who insist that a leadership vacuum has emerged in the world that only the US can fill.

A president who only five months ago described his foreign policy goals as "you hit singles, you hit doubles" warned Islamic militants in Iraq and Syria that they "should leave the battlefield while they can".  The comparison with former president Carter is one that Republicans have made ever since the President took office.  Mitt Romney, his 2012 challenger, regularly accused him of being "worse than Carter" but the charge never stuck, in part because of the successful mission to kill Osama bin Laden.
September 25: Yahoo News (Reuters): Russian Draft Law would allow seizure of foreign property: l
Russian courts could get the green light to seize foreign assets on Russian territory under a draft law intended as a response to Western sanctions over the Ukraine crisis.  The draft, which was submitted to parliament on Wednesday by a pro-Kremlin deputy, would also allow state compensation for an individual whose property is seized in foreign jurisdictions.  Italian authorities this week seized property worth about 30 million euros ($40 million) belonging to companies controlled by Arkady Rotenberg, an ally of President Vladimir Putin targeted by the U.S. and European Union sanctions.

The draft law, published on a parliamentary database, would allow for compensation for Russian citizens who suffer because of an "unlawful court act" in a foreign jurisdiction and clear the way to foreign state assets in Russia being seized, even if they are subject to international immunity.  Boris Nemtsov, a Kremlin critic who in the late 1990s was a senior member of government, said the bill was an attempt by Putin to shield Russian billionaires and officials from the impact of sanctions.  "What is a strongman's friendship like?" he asked rhetorically on his Facebook page. "It is when your four villas, apartment and hotel are seized in Italy, and your accomplice in the Kremlin immediately introduces a bill to compensate for the losses from the Russian budget."
Russia and the West are locked in their worst standoff in decades over the Ukraine crisis. Western powers have introduced several sets of sanctions against Moscow, ranging from visa bans and asset freezes to caps on access to overseas capital markets for Russian firms.
September 16: The Daily Caller: Rangel calls for war tax and a draft if the U.S. goes to war against ISIS:
Democratic Rep. Charlie Rangel said if this country is willing to declare war on the Islamic State of Iraq and Syria (ISIS), then every citizen should have to pay a tangible price.  Rangel and his constituents are not convinced arming and training Syrian rebels to fight ISIS is in the nation's best interest, he said Tuesday on the House floor. "It's so easy to try to bring justice to a situation if it doesn't cause you anything or any inconvenience. Already we have lost trillions of dollars and over 6,000 lives in this area, and I don't think we have yet to declare war."  If Congress ever does decide to declare war on ISIS or any enemy of the United States, he continued, we should attach measures to "force every American to evaluate whether or not they believe that they're prepared to make sacrifice."  "One of those, of course is a war tax," he continued. "These last wars, the only people who have suffered, were those people who had boots on the ground, or those people who know people, or those people who went to the funerals."  "I don't think it's asking to much of Americans to be able to say yes and we're willing to pay taxes for it and yes we're ready to have mandatory recruitment of young men and women who are prepared to say that if our nation's in trouble, we all should be doing something," he added.

September 16: The Hill: Democrat Senator: Obama wants $100K per rebel:
Sen. Joe Manchin (D-WVA.) blasted the president's plan to train and arm moderate Syrian opposition forces against the Islamic State in Iraq and Syria as Congress prepares for a vote to authorize it. He said the plan, which would cost $500 million to train 5,000 rebels for a year, would essentially cost $100,000 per rebel.  
"So that is $100,000 per person that we are supposed to do," he said at a Senate Armed Services Committee hearing Tuesday.   Manchin said the plan was risky and that trained rebels could turn against the Assad regime in Syria, instead of ISIS fighters as intended.   "I have a hard time understanding why all of a sudden we are going to convince these 5,000 to turn and fight ISIS, who is fighting the same religious war that they are fighting against the Assad regime," he said. He argued efforts over the past decade to train Iraqi forces had failed and noted that U.S. equipment supplied to them has been captured by ISIS.
September 14: Christian Science Monitor:  Islamic-State 101: Why are the Arab Countries Reluctant to Help?
Secretary of State John Kerry just ended a whirlwind tour of the Middle East to raise support for US-led military action against the Islamic State. The response was less than enthusiastic.  The past few days have offered compelling evidence for why President Obama has been so loath to militarily insert America into the fight against the brutal Islamic State.  The past few days, however, have also offered compelling evidence for why critics of Mr. Obama have been so frustrated by the cautious steps of a president they say "leads from behind."  Welcome to the Middle East!  [See the related column on this subject by the Three Musketeers]
September 14: Reuters: NATO Countries have begun arms deliveries to Ukraine: Defensive Minister
Ukraine's defense minister said on Sunday NATO countries were delivering weapons to his country to equip it to fight pro-Russian separatists and "stop" Russian President Vladimir Putin.  Valery Heletey told a news conference he had discussed weapons deliveries in bilateral meetings with NATO defense ministers during a NATO summit in Wales on Sept. 4-5.   NATO officials have said it will not send "lethal assistance" to non-member Ukraine but member states may do so.  Earlier this month, a senior Ukrainian official said Kiev had agreed on the provision of weapons and military advisers from several members of the U.S.-led alliance. Four of the five countries named, including the United States, denied this. Heletey said about 3,500 Russian troops were now on Ukrainian territory with a further 25,000 massed on the Russian side of the joint border.   Moscow denies accusations by Kiev and its Western backers that it has sent troops and tanks into eastern Ukraine to support separatists in a conflict with Ukrainian forces that has killed more than 3,000 people.

September 13: The New York Times: Paths to War, then and Now, Haunt the President
Just hours before announcing an escalated campaign against Islamic extremists last week,  the President privately reflected on another time when a president weighed military action in the Middle East — the frenzied weeks leading up to the American invasion of Iraq a decade ago.  "I was not here in the run-up to Iraq in 2003," he told a group of visitors who met with him in the White House before his televised speech to the nation, according to several people who were in the meeting. "It would have been fascinating to see the momentum and how it builds."

In his own way, the President said, he had seen something similar, a virtual fever rising in Washington, pressuring him to send the armed forces after the Sunni radicals who had swept through Iraq and beheaded American journalists. He had told his staff, he said, not to evaluate their own policy based on external momentum. He would not rush to war. He would be deliberate.
September 11: Politico: The President on ISIS: No Matter How Tough He Sounds, His Heart is Someplace Else:
Only President Obama would feel compelled to mention the success of the American auto industry in a speech rallying the nation for a long war of annihilation against a vile terror group.  Over the years, even when he's been his most stalwart-sounding in national security speeches, you can't shake the sense that he'd much rather be talking up tax credits for plug-in electric cars, or extolling Obamacare's mandate for employer coverage of contraception.  He didn't run for president to be commander-in-chief. He ran to tidy up some loose ends in the war on terror (most importantly, killing Osama bin Laden), reverse the mistakes of the Bush administration, and get on with the much more urgent business of regulating the banks, expanding Medicaid, regulating coal, and raising the minimum wage. 

The last thing he wanted to do, nearly six years into his presidency, is have to give a prime-time address about his new war in Iraq.  Yet he did it last night and sounded credible, indeed forceful and determined. He condemned the viciousness of the Islamic State of Iraq and the Levant. He put himself clearly on record for seeking its destruction. He boasted of his own lethality to our enemies. He extolled American leadership (and talked up the auto companies).  The speech had everything a hawk against ISIL would want—except an unmistakable strategy to destroy ISIS.

September 11: The Daily Caller: Reporter Ticks Pelosi Off when asked to compare Bush to Obama:
House Minority Leader Nancy Pelosi was visibly irritated when a reporter brought up former President George W. Bush and asked whether she thinks Obama is following his lead.  "He's not relevant right now," she said at her weekly press briefing Thursday, after a reporter brought up a statement from former Bush administration lawyer John Yoo saying "President Obama has adopted the same view of war powers as the Bush administration. Do you agree with that?" the reporter asked.

"No," she responded, and said Democrats in congress and Obama have taken a narrower view of the scope of the president's ability to engage in conflict without explicit congressional approval. "How [the Bush administration] interpreted [the Act] and for how long is another issue," she continued. "But he's not relevant right now."  I didn't approve of anything [Bush] said or did when he was in office, much less care about his opinion right now," she said.

September 9: The Hill: Obama Tells Leaders he Doesn't need their vote for the ISIS Campaign:
President Obama told congressional leaders at a White House meeting on Tuesday he doesn't need their authorization to expand his military campaign against Islamic terrorists.  The president offered the assurance one day before a prime-time address he's scheduled to give to the nation.  Wednesday's address is a pivotal moment for the president just months before a midterm election season in which the Senate's majority hangs in the balance.  Polls show that confidence in Obama's foreign policy is eroding just as anxiety over the threat posed by the Islamic State in Iraq and Syria (ISIS) has peaked.  Seven in 10 Americans believe the group has the ability to launch an attack against the United States, according to a CNN poll released Monday, while just 30 percent say Obama has presented a clear plan for dealing with the group.

The president is apparently weighing the possibility of airstrikes against ISIS targets in Syria, as well as asking the United Nations to pass a binding resolution requiring governments to prevent the flow of foreign fighters to the region.  While Obama told the House and Senate leaders he would welcome congressional action that demonstrates a unified front, the president told the bipartisan group "he has the authority he needs to take action against (ISIS) in accordance with the mission he will lay out in his address," according to the White House.
September 7: Fox News:  On Wednesday Obama to outline his new "strategy" regarding ISIS
President Obama said Sunday that the United States will "go on the offensive" against Islamic State militants in the Middle East and that he will further outline his plans Wednesday in a speech.  "The next phase is us going on the offensive," Obama said an interview that aired Sunday on NBC's "Meet the Press."  The president said that on Wednesday he will not announce the use of U.S. ground troops or a campaign equal to the war in Iraq and that goal is to make clear the mission is to deal with terror threats like those over past several years.  However, he acknowledged that Islamic State is unique because of its "territorial ambitions" in the Middle East.

"Over the course of months, we are going to be able to not just blunt the momentum of ISIL," he said, using an alternate name for the group. "We are going to systematically degrade their capabilities. We're going to shrink the territory that they control. And ultimately we're going to defeat them."  Obama said he has the "authority he needs" to increase attacks on Islamic State targets without congressional approval. But he did not answer repeated questions about whether he will order air strikes on Islamic State targets in Syria.
September 7: Fox News: Romney: President is "Out of Touch" on Islamic State and other foreign policy issues:
Former Republican presidential nominee Mitt Romney on Sunday ripped into President Obama for his handling of Islamic State militants and other foreign policy decisions, accusing the president several times of being "out of touch."  Romney, who lost to Obama in the 2012 presidential elections, eschewed several opportunities during a "Fox News Sunday" interview to revisit his assertions during the campaign that Russia was the United States' biggest geopolitical threat, considering Moscow's recent foray into Ukraine.  He said he's instead focused on U.S. foreign policy today, including what to do about the rise of Islamic State militants.  "I think the president is really out of touch with reality," Romney said. "He's so out of touch with reality that he hasn't taken the necessary steps. … I don't know if you can see the reality from the fairway, but he doesn't see reality."

Romney said Obama has known for at least a year about the Islamic State threat, yet has taken no action.  "The president has a very different foreign policy than what the United States has had over the past 60 years," Romney said. "It's based on common humanity, and humanity is not common. … Bad people do bad things."
September 3: The Daily Caller: CNN, Fox and MSNBC are all mystified by the President's ISIS Flip-Flop:
The cable news universe converged into a single point at 4 p.m. EST on Wednesday, with hosts on Fox News, CNN and MSNBC all simultaneously expressing confusion over President Barack Obama's most recent flip-flop on a strategy to defeat the brutal Islamic terror group ISIS.  On Wednesday morning Obama spoke in Estonia about the need to "degrade and destroy" ISIS — right before he went on to explain his goal of "shrinking" ISIS to a "manageable problem." By Wednesday afternoon, that disconnect was noticed by all three of the major cable networks.
"Alright, I want you to listen to something, because I'm confused," Fox News host Neil Cauvto said, playing both clips for his audience. "Destroy or debate? A manageable problem? Maybe that is the problem . . . The president might've been wise to stick to his opening remarks and focus on annihilating them."
Meanwhile, on CNN, Jake Tapper expressed similar concerns. "President Obama vowed to destroy ISIS," he began. "But then, a few minutes later, he said the goal was to make ISIS a 'manageable problem.' So, which is it? . . . President Obama's seemingly-contradictory remarks might make it difficult to know exactly what he thinks — especially after ISIS beheaded a second American."
Even MSNBC got in on the action, with guest host Luke Russert playing both clips side-by-side. "At first, the president offered an uncompromising goal," he said. "[But] later, the president appeared to mitigate that declaration to destroy ISIS . . . With the president already facing criticism from some lawmakers over his ISIS strategy, that remark drew further anger."
September 3: Yahoo News: Russia and China aim to close the military technology gap with the U.S.
Russia and China are trying to close the technology gap with the U.S. military and developing weapons systems that appear designed to counter traditional U.S. advantages, Defense Secretary Chuck Hagel said on Wednesday.  Hagel was speaking before a NATO summit expected to bring Russia's souring relations with the West into sharp focus and the goals of NATO allies to strengthen defense spending.  U.S. defense officials have watched as Moscow and Beijing have tested a string of sophisticated weapons, from radar-evading aircraft and anti-ship missiles that fly many times the speed of sound, to integrated air defenses.

While the Defense Department's spending of around $500 billion is still more than the next six or seven countries combined, research and development spending has fallen more than 20 percent since President Barack Obama took office. In contrast, China and Russia have been rapidly increasing their security spending and have passed new technological milestones in recent years.

September 3: Yahoo News: French hold up delivery of warship to Russia:
Responding to international pressure, France suspended the delivery of a warship to Russia at least until November amid security concerns over Moscow's role in the Ukraine crisis, officials said Wednesday.  The Vladivostok, the first of two Mistral-class helicopter carriers ordered by Russia, was due to be delivered next month as part of a 1.2 billion euro ($1.6 billion) contract — the biggest-ever sale of NATO weaponry to Moscow.  The second ship, named Sevastopol, ironically, after a port in the Russia-annexed Crimean Peninsula, has been slated for delivery next year.  In an announcement on the eve of a NATO summit in Wales, French President Francois Hollande's office called the fighting in eastern Ukraine "grave," and said Russia's recent actions harm "the foundations of security in Europe."

September 2: The Washington Times: U.S. Navy send missile destroyer into the Black Sea:
Responding to turmoil in Ukraine, the U.S. Navy announced Wednesday that a guided missile destroyer had entered the Black Sea.  The USS Ross "serves to demonstrate the United States' commitment to strengthening the collective security of NATO allies and partners in the region," the Navy said in a press release.  "The U.S. Navy maintains an enduring commitment to forward-presence throughout the region in order to have forces readily available if a crisis were to occur," the press release said, adding that the Ross will help support U.S. national security interests in Europe.  The U.S. and its NATO allies have been debating how best to respond after Russian troops crossed the Ukrainian border and have widely been reported to be helping pro-Russia separatists fight the Ukrainian government.

September 2: Reuters: U.S. and Allies to stage exercises in West Ukraine as battles rage in the East:
As fighting between the army and Russian-backed rebels rages in eastern Ukraine, preparations are under way near its western border for a joint military exercise this month with more than 1,000 troops from the United States and its allies.   The decision to go ahead with the Rapid Trident exercise Sept. 16-26 is seen as a sign of the commitment of NATO states to support non-NATO member Ukraine while stopping well short of military intervention in the conflict.  The annual exercise, to take place in the Yavoriv training center near Ukraine's border with Poland, was initially scheduled for July, but was put back because early planning was disrupted by the crisis in the eastern part of the country.   "At the moment, we are still planning for (the exercise) to go ahead," U.S. Navy Captain Gregory Hicks, spokesman for the U.S. Army's European Command said on Tuesday.

August 31: The Daily Caller: NBC's Engel: Military is "Apoplectic" over the Presidential "No Strategy" comment:
NBC News' chief foreign correspondent Richard Engel claimed military commanders are "apoplectic" over President Barack Obama's dithering on ISIS and admission that "we don't have a strategy yet" to deal with them.  Engel spoke Sunday on NBC's "Meet The Press," where he was asked by Andrea Mitchell about the "president's reluctance to take the fight against ISIS to Syria."  "Well, I spoke to military commanders, I [spoke] to former officials, and they are apoplectic," he explained. "The[y] think that this is a clear and present danger. They think something needs to be done."  "One official said that this was a Freudian slip," he continued. "That it shows how the United States does not have a policy to deal with Syria, even when you have ISIS — which has effectively become a terrorist army, roughly 20,000 strong, about half of them foreign fighters — and incredibly well-armed after two major weapons hauls."

August 31: Reuters: President faces bipartisan criticism over his lack of a foreign policy:
President Obama faced criticism over his foreign policy from both Democratic and Republican lawmakers on Sunday as he wrestled with crises in Iraq, Syria, Libya, and the Ukraine.  Republican lawmakers seized on the President's comment on Thursday when he said, "We don't have a strategy yet" for confronting the Islamic State militant group, saying it suggested indecisiveness.  On Sunday, influential Democrats chimed in with their own critiques of President's foreign policy, chiding him for being "too cautious" on Syria, and urging him to do more to help Ukraine resist Russian advances.  "I've learned one thing about this president, and that is he's very cautious. Maybe, in this instance, too cautious," Democrat Dianne Feinstein, chairman of the Senate Intelligence Committee, told NBC's "Meet the Press" program on Sunday when asked about Obama's comments about dealing with Islamic State militants.

August 31:  The Hill: President can do more to keep ISIS out, House Intel Chair says:
Rep. Mike Rogers (R-MI) on Sunday encouraged the Obama administration to do more to mitigate the threat of Islamic extremists committing terrorist attacks in the United States.   Rogers said he agreed with efforts undertaken in the United Kingdom, which will soon vote on a proposal to make it easier to revoke passports of suspected Islamic State in Iraq and Syria (ISIS) fighters. But the House Intelligence Committee chairman said the United States can take other measures to protect itself.  "We have to be careful how we do it, not to restrict U.S. citizen travel," Rogers said on "Fox News Sunday."  "I do think that there is a way, through greater means of collecting evidence, to slow down these individuals."

The U.K. passport proposal, and others like it, are meant to reduce the chances that citizens from the western Europe, the United States and other western countries could train with ISIS, return and carry out attacks.  The United States can already take action against people who give material support to terrorism. Officials should use that law to prosecute ISIS fighters and sympathizers in the U.S., he said.  "We have a law on the books, we should use it. And we should be aggressive when using it," he said. "I think if you can have a few of those prosecutions up front, people get less interested in traveling overseas."

August 30: Yahoo News: Saudi Arabia warns the West will be the jihadists next target if action is not taken soon:
King Abdullah of Saudi Arabia has warned that the West will be the next target of the jihadists sweeping through Syria and Iraq, unless there is "rapid" action.  "If we ignore them, I am sure they will reach Europe in a month and America in another month," he said in remarks, Saturday on state-run television.    "Terrorism knows no border and its danger could affect several countries outside the Middle East," said the king who was speaking at a welcoming ceremony on Friday for new ambassadors, including a new envoy from Saudi ally the United States.

August 30: Reuters: Ukraine says Russian tanks "flattened" town:
Ukraine said Russian tanks had flattened a small border town and pro-Russian rebels had made fresh gains in its east, as EU leaders signaled on Saturday they would threaten more sanctions against Moscow over the crisis.  Ukrainian President Poroshenko, attending an EU summit in Brussels, said he was hoping for a political solution, but warned that his country was on the brink of full-scale war.  Russia has repeatedly dismissed accusations from Kiev and Western powers that it has sent soldiers into its neighbor, or supported pro-Russian rebels fighting a five-month-old separatist war in Ukraine's east.  But Ukraine military spokesman Andriy Lysenko told journalists in Kiev that Russian tanks had entered the small Ukrainian town of Novosvitlivka on the border with Russia and fired on every house.

August 30: Yahoo News:  Polish President Warns Germany of Putin's "empire" ambitions:
Polish President Komorowski said that Vladimir Putin is trying to build a new Russian empire for Moscow and that the region now had to choose whether it wanted "a Cossack Europe or a democratic one".  "Russia has carried out an invasion in Ukraine," the Polish head of state told German public radio, according to excerpts of an interview to be broadcast later on Saturday.  Komorowski said Putin was quite open about his ambitions to "rebuild the empire". The Cossacks long served Russian czars in military and security roles on the borders of the empire and their brand of Russian Orthodox patriotism is admired by Putin.

August 24: Fox News: Journalist Released after nearly two years in captivity:
American freelance journalist Peter Theo Curtis, held hostage for nearly two years by the terror group Jabhat Al-Nusrah in Syria, has been released, the State Department said Sunday.  "We are all relieved and grateful knowing that Theo Curtis is coming home," Secretary of State John Kerry said.  Curtis, a resident of Massachusetts and Vermont, is also an author fluent in Arabic and French, according to his family.

"My heart is full at the extraordinary, dedicated, incredible people… who have become my friends and have tirelessly helped us over these many months," said Curtis' mother, Nancy Curtis, of Cambridge, Mass. "Please know that we will be eternally grateful."  She also said that her son, while working as a journalist in Yemen, became interested in the stories of "the many disaffected young men from the West coming to study Islam" and that wrote about them in his book, "Undercover Muslim," published in the United Kingdom.  The Curtis family said the government of Qatar was involved in the release, which was carried out on a humanitarian basis without ransom.

August 23: The Washington Free Beacon: Navy sends second aircraft carrier to South China Sea as Chinese aggressive actions increase
The Navy is sending a second aircraft carrier strike group to the Asia Pacific region amid new tensions with China over a dangerous aerial encounter between a Chinese interceptor and Navy P-8 surveillance craft.  The strike group led by the USS Carl Vinson departed San Diego for the Pacific on Friday, the Navy said in an announcement of what it terms a "planned" deployment.  China's military on Saturday, meanwhile, demanded an end to all U.S. monitoring flights and called U.S. criticism of dangerous Chinese jet maneuvers false.  Chinese Defense Ministry spokesman Yang Yujun said in a statement that a Chinese fighter jet made a "regular identification and verification" of the Navy P-8 anti-submarine warfare jet during an encounter in an area 135 miles east of Hainan Island.

August 22: The Wall Street Journal: Pentagon says U.S. patrol plane harassed by Chinese military aircraft:
An armed Chinese fighter jet on Tuesday conducted what Pentagon officials described as an unusually dangerous and aggressive midair intercept of a U.S. Navy patrol aircraft during a routine patrol in international airspace.  During the incident, which took place about 135 miles east of Hainan island in the South China Sea, the Chinese fighter made three passes under the U.S. aircraft at close range, and conducted a series of provocative maneuvers that brought them nearly wingtip to wingtip, officials said. The U.S. protested through official diplomatic channels, the Pentagon said.

Tense air and sea encounters with Chinese forces happen on occasion but U.S. officials said the Aug. 19 incident was particularly aggressive.  In one of the more brazen midair maneuvers, the Chinese jet passed the nose of the U.S. aircraft at a 90-degree angle, displaying the weapons it was carrying on its belly, Pentagon officials said. Then the Chinese fighter flew alongside the Navy aircraft, bringing their wingtips to within 20 feet of each other. The Chinese jet next conducted a rolling maneuver over the U.S. patrol aircraft, passing within 45 feet, the Pentagon said.

August 22:  The Washington Post: Russia escalates conflict in Ukraine by firing shells
The conflict between Russia and Ukraine hit dangerous new heights Friday as Russia sent an enormous aid convoy into rebel-held Ukrainian territory without the permission of the Kiev government, a move that a top Ukrainian security official described as a "direct invasion." The maneuver came amid reports from NATO that Ukrainian troops were coming under Russian artillery fire from inside their borders.   "Russian artillery support — both cross-border and from within Ukraine — is being employed against the Ukrainian armed forces," NATO Secretary General Anders Fogh Rasmussen said in a statement accusing Moscow of a "blatant breach of Russia's international commitments" that would intensify a crisis he said it had helped to create and fuel.

"The disregard of international humanitarian principles raises further questions about whether the true purpose of the aid convoy is to support civilians or to resupply armed separatists," Rasmussen said. It was the strongest denunciation of Russia's role in Ukraine that NATO has issued and the first time the alliance has accused Russian forces of firing artillery at the Ukrainian army from within Ukraine.

August 21: Roll Call: Top Republican from Senate Intelligence wants Special Counsel to investigate prisoner swap:
The top Republican on the Senate Intelligence Committee wants a special counsel to investigate President Barack Obama's swap of five Taliban members for the release of Army Sgt. Bowe Bergdahl. 

August 21: Fox News: Hamas admits to the abduction and killing of three Israeli Youths:
A top Hamas official has admitted that the militant group is behind the abduction and killings of three Israeli teenagers in the events leading up to the current Gaza fighting.  Saleh al-Arouri told delegates at the International Union of Islamic Scholars in Istanbul on Wednesday that "the popular will was exercised throughout our occupied land, and culminated in the heroic operation by the Qassam Brigades in imprisoning the three settlers in Hebron," according to a recording of the meeting.

Until now, Hamas has refused to confirm or deny accusations from Israel that it was behind the abductions and killings, Reuters reports.  Al-Arouri said the operation was carried out by Hamas' military wing "to aid their brothers on hunger strike in [Israeli] prisons."  The three Jewish students -- Eyal Yifrach, 19, Gilad Shaer and Naftali Fraenkel, both 16, were abducted on June 12 while hitchhiking in the West Bank.

August 21: The Hill: Hagel: ISIS poses greater threat then al Qaeda
The Islamic State in Iraq and Syria (ISIS) is beyond "just a terrorist group" and poses a greater threat than al Qaeda, Defense Secretary Chuck Hagel said Thursday.   "This is beyond anything that we've seen," he said during a briefing on Thursday afternoon about the Sunni militant group that has taken over territory in Iraq and Syria and earlier this week beheaded American journalist James Foley.  

"ISIL is as sophisticated and well-funded as any group that we have seen," Hagel said, using another acronym for the group. "They marry ideology, a sophistication of strategic and tactical military prowess. They are tremendously well-funded. So we must prepare for everything. And the only way you do that is that you take a cold, steely, hard look at it ... and get ready," he said.

Hagel's remarks come months after President Obama dismissed ISIS, calling the group "JV".  Gen. Martin Dempsey, chairman of the Joint Chiefs of Staff, said it was possible to "contain" ISIS, but "not in perpetuity."   "This is an organization that has an apocalyptic, end-of-days strategic vision and which will eventually have to be defeated," said Dempsey, who spoke alongside Hagel.  Dempsey said for ISIS to be defeated, it would have to be addressed in Syria, possibly in part by airstrikes.

August 21: The Daily Caller: GAO says Obama Administration Broke the Law:
The Obama administration broke the law earlier this year by secretly ordering the swap of five Guantanamo Bay detainees in return for American prisoner of war Army Sgt. Bowe Bergdahl, according to a new report by the U.S. Government Accountability Office. 

August 19: Fox News: Young Kurdish fighters learn on the front line
Thousands of inexperienced Kurdish troops are being taught basic military skills while already serving on the front lines, Peshmerga officers have told FoxNews.com.  Night and day, a handful of experienced fighters move up and down the front - just 1,500 yards from Islamic State forces - teaching new volunteers basic weapons, movement and artillery skills. The green recruits know they have to learn fast, as a clash with the murderous jihadi army could come without warning.  "There are so many problems with our unity and our training, and this is affecting our army," said veteran Peshmerga officer Sherdyl Rwandzi. "Soldiers come to us knowing very little, and we must teach them everything here [on the front lines]."

August 16: Fox News: US Launches Airstrikes on ISIS controlled Iraqi Dam
The United States on Saturday launched several more air strikes in Iraq at Islamic State, including ones targeting members of the Islamic militant group who are positioned around the country's largest dam, near Irbil.  Islamic State captured the Mosul Dam last month in its surprisingly swift and deadly run across northern Iraq in recent months. 

U.S. Central Command said a mix of U.S. fighter and remotely-piloted aircraft executed nine strikes as part of its humanitarian efforts in Iraq and to protect American personnel and facilities. The strikes destroyed or damaged four armored personnel carriers, seven armed vehicles, two Humvees and an armored vehicle, officials said.  A senior U.S. official said the strikes were to protect Iraq's critical infrastructure and that the U.S. executed them at the request of the Iraqi government, which thinks Islamic State forces can no longer maintain the dam. Moving Islamic State forces away from the facility could allow Iraqi teams to return to the dam and keep it from failing, which would result in as much as 12 feet of flooding at the U.S. Embassy and the major cities of Baghdad and Mosul, officials say.

August 16: Associated Press: German Intelligence Spied on John Kerry and Hillary Clinton
Germany's foreign intelligence agency eavesdropped on calls made by U.S. Secretary of State John Kerry and his predecessor Hillary Clinton, German magazine Der Spiegel reported Saturday.  The respected news weekly reported that the agency, known by its German acronym BND, tapped a satellite phone conversation Kerry made in 2013 as part of its surveillance of telecommunications in the Middle East. The agency also recorded a conversation between Clinton and former U.N. Secretary-General Kofi Annan a year earlier, Der Spiegel claimed.

The magazine didn't give a source for its information, but said the calls were collected accidentally, that the three officials weren't directly targeted, and the recordings were ordered destroyed immediately. In Clinton's case, the call reportedly took place on the same "frequency" as a terror suspect, according to Der Spiegel.

August 14: Israel National News: Obama reportedly blocks Israel Missile Shipment
A new report reveals that US President Barack Obama's administration stopped a shipment of missiles to Israel late last month and tightened weapons shipment procedures to Israel, as tensions between the two nations grow amid Operation Protective Edge.  The report in the Wall Street Journal, released Wednesday night, cites US officials in Obama's administration, who say they discovered Israel had requested a large number of Hellfire missiles directly through military-to-military channels. An initial batch of the missiles was about to be shipped, according to sources in Israel and the US Congress.

The Pentagon stepped in and put the transfer on hold apparently under instructions from top White House officials that instructed them to get approval first from the Department of State before shipping these needed supplies to Israel.  Obama has been at odds with Israel over the defensive operation in Gaza, making various attempts to press Israel into accepting a truce with the adamant terrorist organization of Hamas. Prime Minister Binyamin Netanyahu reportedly responded to the pressure by telling the administration "not to ever second guess me again," after Hamas committed one of its many ceasefire violations.

August 14: The Free Beacon: U.S. Postal Service apologizes for denying mail deliveries to Israel:
The United States Postal Service (USPS) is apologizing to customers in several states who were reportedly denied delivery of their mail to Israel, according to a USPS spokesman. 

August 14: Fox News: Al-Maliki agrees to step down as Prime Minister
Embattled Iraqi Prime Minister Nouri al-Maliki has agreed to step aside and support his nominated replacement in the post, potentially ending the political deadlock that has plunged Baghdad into uncertainty as the country fights a Sunni militant insurgency.  Al-Maliki, who has served as Iraq's prime minister for the past eight years, had been struggling for weeks to stay for a third four-year term amid an attempt by opponents to push him out, accusing him of monopolizing power and pursuing a fiercely pro-Shiite agenda that has alienated the Sunni minority.

August 13: Fox News: New Poll shows Majorities disapprove of Obama on Iraq, Israel, and Ukraine.
Voters are generally dissatisfied with how President Obama is handling the world's hot spots -- most give him a thumbs-down for the job he is doing on Iraq, Israel and Ukraine. At the same time, they approve of U.S. airstrikes he's ordered against ISIS militants in Iraq.  That's according to a new Fox News national poll released Wednesday.   Amid new cold war anxieties, most voters say Obama hasn't been tough enough on Russia, and that Vladimir Putin doesn't take Obama seriously.

August 13: The Weekly Standard: SecDef: "The World is Exploding All Over"
Fresh off a trip to India and Australia, Secretary of Defense Chuck Hagel addressed a group of Marines in San Diego, California Tuesday, and may have delivered a line that will show up in Republican campaign ads this election cycle. After updating the troops on some issues in the Pacific region and the Middle East, Hagel took questions from some of the Marines and gave a stark assessment of the global security situation: "The world is exploding all over." The remark came in response to a question about the Obama administration's realignment of the military towards the Asia-Pacific theater.

August 13: The Jerusalem Post: Rocks fired on Israel Targets before cease fire is scheduled to end
Terrorists in Gaza breach three-day cease-fire set to end at midnight by launching rocket at Israel; one projectile strikes open area in Sha'ar Hanegev, no injuries; Hamas denies firing rockets.  Rockets were fired from Gaza Wednesday night two-hours before the midnight deadline to Sunday's 72-hour cease-fire, as the IDF enhanced its troop presence along the border preparing to once again wage war against Hamas in Gaza.

August 9: Fox News: Senior Hamas member killed in Gaza as fighting resumes
Israeli forces struck more than 20 targets Saturday in the Gaza Strip in response to rocket fire from the area after the expiration of a cease-fire between Israel and the terror group Hamas, reportedly killing a senior member of the militant group.  Hamas officials said Israel airstrikes hit houses, mosques, its warehouses and training sites. Three bodies were found under the ruins of the al-Qassam mosque in Gaza, including that of senior Hamas official Moaaz Zaid, said Palestinian health official Ashraf al-Kidra.  The Israeli military said militants in Gaza fired five rockets Saturday toward Israel, for a total of 70 since the truce expired. In response, Israel has targeted more than 30 sites in Gaza since Friday, it said.

August 9: Fox News: Obama: Iraq situation will take more than "weeks" so solve
President Obama braced Americans on Saturday for a sustained military involvement in Iraq, saying the United States is prepared to continue with air strikes to protect U.S. diplomats and citizens and others under attack from the ISIL terror group.   "I don't think we're going to solve this problem in weeks," the president said on the South Lawn of the White House. "This is going to be a long-term project." 
Obama laid out a three-part strategy for heightened U.S. involvement in Iraq, one day after U.S. aircraft began launching air strikes on ISIL military installations and dropping humanitarian aid for the estimated thousands who have fled from the terror group into the Sinjar mountains, in the northern region of the country.  The president also sharply rejected the premise that it was his decision to pull out from Iraq and said it was because Iraqis didn't want U.S. troops there.

August 8: Fox News: US warns Russia: Any intervention in Ukraine will be viewed as an invasion
The United States is warning Russia that any further intervention in Ukraine would be viewed as "an invasion of Ukraine."  U.S. Ambassador Samantha Power delivered the warning Friday at a Security Council meeting on Ukraine.  It follows recent reports by the West and Ukraine's pro-Western government that accused Moscow of beefing up its military on the border, dispatching what NATO estimates is 20,000 troops to the frontier.  "Therefore any further unilateral intervention by Russia into Ukrainian territory, including one under the guise of providing humanitarian aid, would be completely unacceptable and deeply alarming — and it would be viewed as an invasion of Ukraine," she said.

Arugust 7: Breitbart: Obama Flashback: We're Leaving Behind a Soverign, Stable, and Self-Reliant Iraq:
In a speech at Ft. Bragg, NC on December 14, 2011, President Barack Obama said the United States was "leaving behind a sovereign, stable and self-reliant Iraq, with a representative government that was elected by its people."  "Iraq's future will be in the hands of its people. America's war in Iraq will be over" he remarked. And "Iraq is not a perfect place. It has many challenges ahead. But we're leaving behind a sovereign, stable and self-reliant Iraq, with a representative government that was elected by its people. We're building a new partnership between our nations."

Today, CNN anchor Wolf Blitzer reported that Iraq is "falling apart." The White House is currently debating dropping in aid or engaging in airstrikes against Iraq while stating "there could be a humanitarian catastrophe" inside Iraq.

August 7: The New York Times: Isis/Iraqi Rebels seize the Country's Largest Dam
Sunni militants captured the Mosul dam, the largest in Iraq, on Thursday as their advances in the country's north created an onslaught of refugees and set off fearful rumors in Erbil, the Kurdish regional capital.  Residents near the dam and officials in the region confirmed that the Islamic State in Iraq and Syria, or ISIS, held the dam, a potentially catastrophic development for Iraq's civilian population.   The dam, which sits on the Tigris River and is about 30 miles northwest of the city of Mosul, provides electricity to Mosul and controls the water supply for a large amount of territory. A report published in 2007 by the United States government, which had been involved with work on the dam, warned that should it fail, a 65-foot wave of water could be unleashed across areas of northern Iraq. Atheel al-Nujaifi, the governor of Nineveh Province, whose capital is Mosul, said in a telephone interview from northern Iraq, where he has fled, that ISIS had secured the dam after what he called an "organized retreat" of Kurdish security forces, known as pesh merga.

August 7: The Washington Times: Russian bombers penetrate U.S. Air Defense Zones 16 times in ten days:
Russian strategic nuclear bombers conducted at least 16 incursions into northwestern U.S. air defense identification zones over the past 10 days, an unusually sharp increase in aerial penetrations, according to U.S. defense officials.  The numerous flight encounters by Tu-95 Russian Bear H bombers prompted the scrambling of U.S. jet fighters on several occasions, and come amid heightened U.S.-Russia tensions over Ukraine. Also, during one bomber incursion near Alaska, a Russian intelligence-gathering jet was detected along with the bombers.

August 5: ABC News: Two Star General Killed in Afghanistan
Major General Harold Greene has been identified as the army official killed in an attack this morning at a military academy in Afghanistan.  Greene was a two star major general and the highest ranking official to have been killed in the Afghanistan war. He was deployed to Afghanistan in January, according to the Pentagon's website.   The Taliban claimed responsibility for the attack, in which a gunman wearing an Afghan army uniform opened fire on Americans and others Afghans at Camp Qargha, a military academy 11 miles west of Kabul. The camp trains hundreds of Afghan forces a month and was recently renamed the Marshal Fahim National Defense University for the country's deceased vice president. Fifteen others were injured, including eight Americans, all of whom are expected to live. Among the injured was a German brigadier general and two Afghan generals, the Associated Press reported.

August 2: Associated Press: Netanyahu to the Administration: Don't Try to Second Guess me on Hamas!
Following the quick collapse of the cease-fire in Gaza, Israeli Prime Minister Benjamin Netanyahu told the White House not to force a truce with Palestinian militants on Israel. Sources familiar with conversations between Netanyahu and senior U.S. officials, including Secretary of State John Kerry, say the Israeli leader advised the Obama administration "not to ever second guess me again" on the matter. The officials also said Netanyahu said he should be "trusted" on the issue and about the unwillingness of Hamas to enter into and follow through on cease-fire talks.  

August 2: The BBC: Israel reports the kidnapped soldier is believed to be dead:
Hadar Goldin was believed to have been captured by militants during fighting, leading to the collapse of a ceasefire shortly after it had been declared. The Israel Defense Forces said it had determined that Lt Goldin, previously considered captured, had died. Hamas had denied it was holding the 23-year-old captive, saying it did not know the soldier's whereabouts. Confirmation of Lt Goldin's death means 66 Israelis have now died in the fighting, all but two of them soldiers.

August 1: The Times of Israel: Two soldiers Killed a Third Kidnapped: The Truce is Over!
Prime Minster tells Kerry that Hamass will pay for seizing Goldin and killing two soldiers during the "cease fire" that lasted only 90 minutes before Hamas inititated the attack on Israeli personnel. The Times of Israel live blogged events as they unfolded through Friday, the 25th day of Operation Protective Edge.

August 1: Yahoo News: China Confirms New Generation of Missile that can reach the U.S.
China has acknowledged the existence of a new intercontinental ballistic missile said to be capable of carrying multiple nuclear warheads as far as the United States, state-run media reported Friday.  A government environmental monitoring centre in Shaanxi said on its website that a military facility in the province was developing Dongfeng-41 (DF-41) missiles, the Global Times reported.  The DF-41 is designed to have a range of 7,500 miles, according to a report by Jane's Strategic Weapon Systems, putting it among the world's longest-range missiles. It is "possibly capable of carrying multiple independently targetable re-entry vehicles", the US Defense Department said in a report in June, referring to a payload of several nuclear warheads.  China's military is highly secretive, and the Global Times said it had not previously acknowledged the existence of the DF-41.

July 31: Reuters: EU adopts tougher sanctions on Russia:
The European Union has published a law that will curb arms sales to Russia and to cut off financing for five major Russian banks over Moscow's support for rebels in Ukraine.  Russia has denounced the measures, agreed by the 28 EU member states on Tuesday, as "destructive and short-sighted", while fighting has intensified in eastern Ukraine between Kiev forces and the pro-Russian separatists.  The toughest measures aim to prevent Russian banks from raising money on Western capital markets, while others limit defense sales and the export of hi-tech equipment for the oil sector.

July 30: Yahoo News: Israeli troops w/dogs and robots track Gaza tunnels
Israeli Colonel Tomer was literally tipped off to the tunnel snaking under a Palestinian village when the tank-churned earth gave way to the weight of one of his behemoth bulldozers' treads.  Twenty-four hours later his forces had cleared a greenhouse that had provided cover and dug a three-metre-deep (10 foot) crater exposing the concrete-reinforced passage wide enough for a man in battle gear to squeeze through.  It would take several days  to map out the half-dozen suspected access shafts to the tunnel, one of which was concealed by a nearby home.

"We don't put men in the tunnels. There is too much risk of booby traps," Tomer told a Reuters correspondent invited by the army to view his force's operations.  Instead, he said, the army sends in dogs to sniff out explosives and robots that relay back video images through which the layout can be learned.

July 29: Sky News: Hamas Leader's House "Hit by Israeli Missile"
While "misdirected" Hamas Rockets hit Palestinian Hospital in Gaza
The home of Hamas leader Ismail Haniyeh has been hit by an Israeli missile, according to the Gaza Interior Ministry.  An Israeli aircraft fired a missile at the house early on Tuesday causing damage but no casualties, the ministry said.  Mr Haniyeh's son confirmed the strike on his Facebook page and added that the house of the former Hamas Gaza prime minister was empty.   As night fell over Gaza, army flares illuminated the sky and the sound of intense shelling could be heard.  The military warned thousands of Palestinians to flee their homes in areas around Gaza City - usually the prelude to major army strikes.  A number of rockets fired from Gaza were launched toward various regions in southern and central Israel, including the Tel Aviv area.  At least one of the rockets was intercepted by the Iron Dome system.   Earlier, Israel accused Hamas of misfiring two rockets - one of which struck Gaza's main hospital and the other a refugee camp, killing nine children.

July 27: Fox News: Netanyahu: We will do "whatever is necessary" in fight with Hamas
Israeli Prime Minister Benjamin Netanyahu on Sunday vowed to do "whatever is necessary" in the country's latest weeks-long battle with Islamic militant group Hamas.  "Hamas has broken five cease-fires," Netanyahu told said.   "They've violated their own cease-fires. They  are firing on us now. … We'll do whatever is necessary to achieve our goal of a sustained quiet."  The 20-day war has killed more than 1,060 Palestinians according to Palestinian health officials. Israel has lost 43 soldiers, while two Israeli civilians and a Thai worker in Israel were killed by rocket and mortar attacks from Gaza.

The military had earlier said about a dozen rockets were fired toward Israel since midnight -- without causing casualties or damage -- and that as a result it would "resume its aerial, naval and ground activity in the Gaza Strip." The Israeli military released a video showing a rocket being fired from what it said was a Gaza school.  "The military is aiming its fire at terror sites, but if citizens are accidentally harmed Hamas is responsible for this since it once again violated an offer for a humanitarian lull that Israel accepted," Netanyahu's office said in a statement.

July 27: Associated Press:  Hamas Agrees to 24 Hours Cease Fire as Rockets Continue to Fall Upon Israel
Hamas on Sunday agreed to observe a 24-hour humanitarian truce after initially rejecting such an offer by Israel, as fighting resumed and the two sides wrangled over the terms of a lull the international community hopes can be expanded into a more sustainable truce.  Between the rival announcements Palestinian militants fired rockets deep into Israel, prompting it to resume an offensive aimed at destroying rocket launchers and cross-border attack tunnels used by Hamas.  Hours later Hamas said it would be willing to abide by a new 24-hour humanitarian truce ahead of the Eid al-Fitr holiday marking the end of the Muslim fasting month of Ramadan.  Israel had offered a 24-hour truce late Saturday, but Hamas -- which has demanded the lifting of the Israeli and Egyptian blockade on Gaza as well as the release of Palestinian prisoners -- rejected it.  Lt. Col. Peter Lerner, an Israeli army spokesman, did not say if Israel would hold its fire during the time requested by Hamas, but said troops would continue demolishing militant tunnels.

July 27: Reuters: Russians push locals aside and take over top rebel posts in eastern Ukraine
As Ukrainian troops gained ground in eastern Ukraine in early July, separatist leader, Aleksander Borodai, a Russian national, left for Moscow for political consultations.  After what he described as successful talks with unnamed people there, he returned to the rebel stronghold of Donetsk to introduce a new senior figure in his self-proclaimed republic, a compatriot seasoned in the pro-Russian separatist movement in Moldova and a war between Russia and Georgia  Vladimir Antyufeyev was named "deputy prime minister" by Borodai on July 10, one of several native Russians to have taken charge of the separatist rebellion in Ukraine's eastern regions.  Joining Borodai and rebel commander Igor Strelkov, Antyufeyev's arrival underlines a change at the top of the separatist movement, highlighting Moscow's involvement in the conflict, Western officials say. The Kremlin denies any involvement.


July 26: The New York Times: Pentagon Plan would help Ukraine Target Rebel Missiles:
The Pentagon and American intelligence agencies are developing plans that would enable the Obama administration to provide specific locations of surface-to-air missiles controlled by Russian-backed separatists in eastern Ukraine so the Ukrainian government could target them for destruction, American officials said.  But the proposal has not yet been debated in the White House, a senior administration official said. It is unclear whether Obama, who has already approved limited intelligence sharing with Ukraine, will agree to give more precise information about potential military targets, a step that would involve the United States more deeply in the conflict.
July 25: The Israeli Times: For the Second Time, Hamas Rockets Found at a U.N. School in Gaza
For the second time in less than a week, rockets have been found in a school in Gaza operated by the United Nations Relief and Works Agency.   As soon as the rockets were discovered, UNRWA staff were withdrawn from the premises, and so we are unable to confirm the precise number of rockets. The school is situated between two other UNRWA schools that currently accommodate 1,500 internally displaced persons at each facility.  Israeli officials reacted furiously to the discovery. "How many more schools will have to be abused by Hamas missile squads before the international community will intervene," Foreign Ministry spokesperson Yigal Palmor said. "How many times can it turn its head the other way and pretend that it just doesn't see?"

This discovery follows the announcement last week that twenty such Palestinian rockets were found at another UNRWA school.  Israeli officials content that the U.N. has a history of letting Hamas use its facilities and that the UNRWA is attempting to ingratiate itself with Hamas.  Our View?  This is just one more possible example of the United Nations at work and it's not helpful!
July 23: Reuters: Two Ukrainian jet fighters shot down by missiles that may have been launched from Russian territory
Kiev said two of its fighter jets were shot down over the rebel-held territory in eastern Ukraine on Wednesday, and the missiles that brought them down might have been fired from Russia.  A spokesman for Ukraine's military operations said the planes were shot down near Savur Mogila, not far from where a Malaysian airliner was brought down last week, killing all 298 passengers on board.

Ukraine's Security Council said the military jets were hit at the altitude of 5,200 meters by missiles that, according to preliminary information, were launched from Russia. "They were shot down very professionally. The terrorists do not have such professionals," said Andriy Lysenko, the council's spokesman, referring to pro-Russian rebels fighting the government forces in eastern Ukraine.  The rebels said they shot down the plane themselves.
July 23: Fox News: Terrorist Win as the FAA extends its ban on flights to Tel Aviv Airport:
In a move that has some wondering whether the terrorist have "won," the FAA extended its flight ban to Israel's Tel Aviv airport for an additional 24 hours Wednesday as European airlines canceled their flights amid fighting in the region. The FAA says it will continue to monitor and evaluate the situation at Israel's Ben Gurion International Airport, where a Hamas rocket exploded nearby on Tuesday.  Senator Cruz (R-TX) charged that the cancellation of flights was tantamount to an economic boycott of Israel [something U.S. law prohibits!].  Other European countries have followed suit and cancelled as many as twenty flights daily to Israel.  But hats off to the Brits!  British Airways  said Wednesday it has not canceled any of its Tel Aviv flights and had no immediate plans to do so.


July 21: Yahoo News:
French Minister Slams "Anti-Semitic" Gaza Protests:
France's interior minister on Monday slammed "intolerable" acts of anti-Semitism after a rally against Israel's Gaza offensive descended into violence pitting an angry pro-Palestinian crowd against local Jewish businesses.  Sunday's demonstration in the north Paris suburb of Sarcelles was the third to deteriorate in a week, as shops were looted and riot police lobbed tear gas and rubber bullets at the crowd.  The rally had been banned amid concern the Jewish community would be targeted after protesters last weekend tried to storm two synagogues in Paris. 
"When you head for the synagogue, when you burn a corner shop because it is Jewish-owned, you are committing an anti-Semitic act," Bernard Cazeneuve told reporters outside the Sarcelles synagogue.  In the Paris suburb, sometimes nicknamed "little Jerusalem" for its large community of Sephardic Jews, the rally descended into chaos when dozens of youth -- some masked -- set fire to bins and lit firecrackers and smoke bombs.
July 21: The Financial Times: Photos of Malaysian Airliner shows damage from missile strike
The first apparent hard evidence that Malaysia Airlines Flight #MH17 was brought down by a surface-to-air missile is emerging from the crash site in eastern Ukraine, after experts confirmed on Monday there were signs of shrapnel damage to the aircraft.  A photograph, first published by the Financial Times over the weekend, shows a piece of the downed Boeing 777 about a meter square with a gaping hole in the middle, surrounded by smaller holes and apparent burn marks.  Two defense analysts in London and a former military pilot who have studied the picture corroborated the claim by a local man, who said he had served in the military, that much of the damage was consistent with a missile strike.

July 20: The Daily Beast: Did the United Nations Really Give the Rockets back to Hamas?
The U.N. agency that runs schools and hospitals in Gaza is supposed to be neutral. But it gave the Hamas rockets found in one of its buildings to cops who many believe report to Hamas. The U.N. was quick to condemn the discovery but this may not be the only instance of this happening in Palestinian/Hamas controlled Gaza.   In other words, the supposedly neutral agency may have given weapons to one of the combatants in a conflict that has claimed more than 360 lives in the past two weeks.  Hamas, which is designated by the U.S. State Department as a terrorist organization, has been lobbing hundreds of rockets into Israel over the past week. In response, Israel has launched an ongoing air and ground campaign to destroy Hamas rocket capabilities and smuggling tunnels. Hamas stands accused of using international facilities in its attacks because such facilities are seen to be less vulnerable to Israeli strikes.
July 19: The Times of Israel: Tens of Thousands Rally in London Against Israel's Operations in Gaza – Muslims?
Tens of thousands protested in London Saturday afternoon against Israel's military operations in Gaza, denouncing Israel as a terrorist state and castigating British Prime Minister David Cameron for backing Israel's right to self-defense against Hamas rocket fire.   The Palestine Solidarity Campaign, which organized the demonstration, said that since the protest began at 12 p.m. (GMT), tens of thousands of people had gathered, more than the 20,000 anticipated. The demonstration began outside Downing Street and was to march to the Israeli embassy.

Our View? Read other stories below about Hamas tunnels from Gaza into Israel, raids from the tunnels against civilian and military targets in Israel, and over 1,200 rockets fired into Israel from Gaza.  Then ask yourself, what would the people in London do if France started to lob rockets into their city like the Germans did in World War II?  Israel has the right to protect itself and if that means invading Gaza to destroy the tunnels and the supply of Hamas rockets, so be it!

July 18: The Daily Caller: Operation "Choke Point" hearing reveals DOJ Threats and Strong Arm Practices
A Justice Department fraud prevention program came under fire Thursday for allegedly actively pressuring banks to deny financial services to businesses for political reasons.  The controversy is over allegations that the DOJ is pressuring financial institutions to decline doing business with companies that sell products the Administration opposes such as guns, ammo, and tobacco. "Operation Choke Point is one of the most dangerous programs I have experienced in my 45 years of service as a bank regulator, bank attorney and consultant, and bank board member. Operating without legal authority and guided by a political agenda, unelected officials at the DOJ are discouraging banks from providing basic banking services…to lawful businesses simply because they don't like them," said William M. Isaac, former chairman of the FDIC.

July 18: The Washington Post: Initial U.S. Assessment: Pro-Russians shot down the Civilian Jetliner
A preliminary U.S. intelligence assessment indicates that a Malaysia Airlines plane that crashed Thursday in eastern Ukraine was shot down by an antiaircraft missile fired by pro-Russian separatists, U.S. officials said Friday.  President Obama said at least one American was killed in the shoot down, which he said was carried out from an area controlled by Russian-backed separatists. In a news conference he noted that the separatists have "received a steady flow of support" from Russia, including heavy weapons, training and antiaircraft systems. He called for "a credible international investigation" into the tragedy and urged Russia to cooperate with it.  "Our assessment is that Malaysia Airlines Flight 17 was likely downed by an SA-11 missile, operated from a separatist-held location in eastern Ukraine," Samantha Power , the U.S. ambassador to the United Nations, told the U.N. Security Council earlier Friday.   Because of the "technical complexity" of the Russian-made surface-to-air missile system, "it is impossible to rule out Russian technical assistance" to the separatists in operating it, Power said.

July 18: The New York Times:  World Leaders Match anger with Calls for Inquiry into Ukraine Plane Crash
Angered and dismayed by the downing of a Malaysian airliner over Ukraine, European leaders cast about for some form of joint response to the tragedy on Friday, but beyond calls for an international inquiry they showed few signs of immediately following the United States in imposing harsher sanctions on Russia.  With sentiments ranging from shock to fury, political leaders across the globe urged a rapid, independent and international effort to investigate the crash, which killed 298 people and provoked accusations and counteraccusations about who brought the plane down.


July 18: The New York Times: Hamas Tunnels Prompted Israeli Invasion of Gaza
Israel's decision to invade Gaza has its roots just outside a small kibbutz in Sufa in southern Israel where open fields and citrus orchards offer a pastoral scene that residents say has long been deceptive.  At dawn on Thursday, 13 Hamas gunmen from Gaza emerged from the mouth of an underground tunnel about a mile away, inside Israel territory. The air force thwarted the attack, but the government said that the attempted incursion was the final straw and that the ground invasion would commence.  By Friday, the Israeli military said it had already uncovered approximately 13 openings of "terror tunnels, "and that there were "dozens" spread around Gaza. In a statement, it described tunnels crossing the border from Gaza to Israel as "complex and advanced," and said they were "intended to carry out attacks such as abductions of Israeli civilians and soldiers alike; infiltrations into Israeli communities, mass murders and hostage-taking scenarios."

July 17: The Washington Post: Israel moves ground forces into Gaza in effort to stop rocket fire from Hamas
Israeli forces backed by artillery barrages and airstrikes launched a major ground offensive into Gaza late Thursday, marking a dramatic escalation of the 10-day-old conflict with the Palestinian militant group Hamas.  Spokesmen for the Israel Defense Forces said the goal of the offensive was limited: to destroy tunnels used by the militants to infiltrate into Israel. "This requires precise operations," their statement said. Among the troops moving in were engineering units with armored bulldozers.  "We have hit Hamas hard and we will continue to hit Hamas hard," Israel's military said in a tweet shortly after thousands of Israeli soldiers entered Gaza.

July 17: Associated Press: Both Ukraine and Russia Deny shooting down civilian airliner near their border:
A Ukrainian official said a passenger plane carrying 295 people was shot down Thursday over a town in eastern Ukraine.  As huge plumes of black smoke rose up near a village in eastern Ukraine, the fate of the passengers aboard the plane wasn't immediately known.  Anton Gerashenko, an adviser to Ukraine's interior minister, said on his Facebook page the plane was flying at an altitude of 10,000 meters (33,000 feet). He also said it was hit by a missile fired from a Buk launcher [see image], which can fire missiles up to an altitude of 22,000 meters (72,000 feet).  The Buk missile system is Russian made and was developed by the former USSR.    The region where the civilian jet was shot down is currently under the control of armed pro-Russian separatist and has been the scene of severe fighting between Ukrainian and pro-Russian forces.
July 16: The Daily Mail: Russia to open cold war Cuban listening post used to spy on the U.S.
Russia has agreed to reopen a major Cold War listening post on Cuba that was used to spy on America, it was reported today.  Moscow-based daily Kommersant claimed Russia and Cuba have struck a deal 'in principle' after President Vladimir Putin visited the island last week.  The signals intelligence facility near Havana at Torrens, also known as Lourdes, was the largest Russian SIGINT site abroad, but has been mothballed since 2001.  It covered a 28 square-mile area with 1,000-1,500 Russian engineers, technicians, and military personnel working at the base. [see image]

Russia had closed the Lourdes spy base south of Havana on Putin's orders to save money and due to a warming of relations with the U.S. after the September 11 attacks.   But Moscow has since shown a new interest in Latin America and its Cold War ally Cuba and relations with the West have deteriorated amid the Ukraine crisis. 

The base was set up in 1964 after the Cuban missile crisis to spy on the United States.  It was used to listen in to radio signals including those from submarines and ships and satellite communications.  A former head of Russia's foreign intelligence service, Vyacheslav Trubnikov, told the newspaper the base would strengthen Russia's international position.  'Lourdes gave the Soviet Union eyes in the whole of the western hemisphere,' he said.
July 14: CBS News: Russian Rocket may have downed Ukrainian Military Plane:
A Ukrainian military transport plane was shot down Monday along the country's eastern border with Russia, the defense minister said.  Rebels in conflict-riddled eastern Ukraine immediately claimed responsibility for downing the Antonov AN-26 but Ukrainian Defense Minister Valeriy Heletey said the rocket may have been fired from Russia.  Heletey said the plane was flying at an altitude of 21,300 feet, which he said was too high to be reached with the weapons used by the separatists fighting government troops.  Ukrainian authorities say plane may have been carrying around 20 people but there was no immediate word on casualties.
July 13: The Hill: Holder says DOJ will fight same-sex marriage bans
The Justice Department will file a brief arguing the Supreme Court should prevent states from banning same-sex marriage, Attorney General Eric Holder said Sunday.  Holder said in an interview with ABC News that if the high court agrees to hear any of the legal challenges to state bans on homosexual marriage, the Obama administration will argue such laws are unconstitutional. Last week, officials in Utah said they would ask the Supreme Court to review a lower court ruling enabling homosexual marriage in the state.

July 13: The Washington Times: DOJ to investigate Nebraska parade float critical to Obama – an issue of Free Speech?
The Department of Justice has sent a member of its Community Relations Service team to investigate a Nebraska parade float that criticized President Obama.  A Fourth of July parade float featured at the annual Independence Day parade in Norfolk sparked criticism from some when it depicted a figure resembling Mr. Obama standing outside an outhouse, which was labeled the "Obama Presidential Library." 

July 13: The Telegraph:   First Israeli ground forces wounded while silencing a rocket launching site
The Israeli military says four soldiers have been lightly wounded in fighting in northern Gaza.  The military says the soldiers were hurt during a brief incursion to destroy a rocket launching site. It says they have returned to Israeli territory.  It is the first time that Israeli ground troops are known to have entered Gaza in the current offensive. But the operation was carried out by special forces and did not appear to be the beginning of a broad ground offensive.
July 11: The Washington Times: Sniper Heaven: Pentagon has self-guided ammunition – nowhere to hide from sniper fire:
The research arm dedicated to creating breakthrough technology for the Pentagon has shared video of a successful test of self-guided bullets. DARPS (the Pentagon's Defense Advanced Research Projects Agency) conducted a test April 21 with Teledyne Scientific & Imaging. A video, posted on YouTube earlier this month shows a round with a ballistic path far from its intended target. As the round makes its way along the errant trajectory it suddenly curves, corrects itself and hits the intended target. "The Extreme Accuracy Tasked Ordnance system seeks to improve sniper effectiveness and enhance troop safety by allowing greater shooter standoff range and reduction in target engagement timelines," DARPA'S Website claims.  The new rounds will make American snipers even more efficient, allowing them to acquire moving targets in any environment. A self-guided bullet makes eliminating a target with one shot more likely, which better safeguards the sniper's exact location.

July 10: Yahoo News: Israel's Iron Dome cuts incoming terrorist rockets down to size!
Israel's "Iron Dome" defense system has emerged as a game-changer in the current round of violence with Hamas militants in the Gaza Strip, shooting down dozens of incoming rockets and being credited with preventing numerous civilian casualties. By shooting down more than 90 percent of its targets, the system is ensuring Israel's decisive technological edge that has helped it operate virtually unhindered in Gaza. So far, Hamas and other Gaza militants have fired more than 420 rockets toward Israel in three days of fighting. The military says it has shot down 90 of those, including several over Tel Aviv and central Israel.  "I'm sure that Hamas is feeling frustrated with this situation because after launching hundreds of rockets, they haven't managed to get Israeli casualties," said a retired Israeli general and the current director of Israel's Strategic Affairs.
July 9: Fox News: Gaza Rockets aimed at Israel: What would you do with 15 seconds before rockets hit? [Editorial]
Imagine that wherever you live in the United States you have only 15 seconds to reach a secure place to avoid a rocket or missile. Seriously, count down from 15 to 1, and think about what you would do. For more than 3.5 million Israelis, Jews and Arabs, their mental stopwatch is ticking as Hamas extends the reach of its barrage from Israeli communities near the Gaza border to Hadera, 26 miles north of Tel Aviv.  Some of the hundred-per-day rockets have been stopped by Israel's Iron Dome anti-missile system. Most have landed in open fields or in buildings that, by chance, were empty. But given past experience with Hamas, the deadly projectiles are likely to soon maim or kill.
July 8: Yahoo News: Israel foils seaborne attack from Gaza Strip
The Israeli military launched a major offensive in the Hamas-ruled Gaza Strip on Tuesday, striking more than 100 sites and mobilizing troops for a possible ground invasion in what Israel says is an operation aimed at stopping a heavy barrage of rocket attacks from the Palestinian territory.  Late Tuesday, Israeli troops shot and killed four militants who tried to infiltrate a military base in southern Israel by sea. Lt. Col. Peter Lerner, a military spokesman, said the attackers made it ashore and attacked the base with grenades and assault rifles. An Israeli soldier was lightly wounded.   Lerner said Israeli forces were searching the area for other attackers. Hamas claimed responsibility for the attack.

July 7:  Fox News: Israel reportedly launches offensive against militants in Gaza
Israel reportedly launched an aerial offensive in the Gaza Strip on Tuesday as violence in the region continued to increase, with militants in the Gaza Strip unleashing dozens of rockets on southern Israel.  Reuters reported that the Israeli strikes were part of a campaign called "Operation Protective Edge" aimed at striking back at Hamas militants. Nine people reportedly were injured in the two air strikes, which were launched at homes in southern Gaza.  "Operation Protective Edge is under way, targeting Hamas capabilities that are terrorizing Israel," military spokesman Lieutenant Colonel Peter Lerner said in a tweet Monday.  The Associated Press reported Monday that Palestinian militants have bombarded Israel with some 40 rockets and mortars, drawing Israeli airstrikes in retaliation, and at least eight Palestinian militants were killed.
July 4: Fox News: Ukraine Government claims victory over rebel stronghold
Government troops have taken a rebel stronghold in east Ukraine, the country's president and a spokesman for the rebels said Saturday. President Poroshenko said in a statement that government troops took Slovyansk, a city of about 100,000 that has been a center of the fighting between Kiev's troops and the pro-Russian insurgents, after a night of fighting. It was a rare significant success for Kiev's forces in their struggle to quell the rebellion.

Andrei Purgin of the separatist Donetsk People's Republic told The Associated Press that rebels were evacuating, but claimed the army's campaign had left the city "in ruins."  Alexei, a driver and local Slovyansk resident who would not give his last name for fear of reprisal, told the AP by phone that he heard bombing throughout the night. When the bombing stopped in the early morning, he left his house and saw that all the rebel checkpoints were abandoned. He said there was some damage to buildings in the center of the city, but said much of the rest of the city had been left untouched.

July 4: The Washington Times: China invests in Nuclear Submarines:
China's military is investing heavily in advanced submarines, including both ballistic and cruise missile firing vessels and attack subs.  Recently, Beijing showed off what appears to be a mock-up of its next-generation nuclear-powered attack submarine, according to veteran military analyst Rick Fisher.  "A large outdoor model of a next generation nuclear attack submarine [SSN] has appeared at the People's Liberation Army Navy [PLAN] submarine academy in Qingdao, China," Fisher stated in a report published by the International Assessment and Strategy Center, a think tank.

"The role of this model may simply be to inspire the academy's students, but it may signify a larger personnel investment by the PLAN to prepare for its next generation submarines, as it may also offer some indications about a new class of SSN," he said, referring to the military acronym for attack submarines.  Photos of the model were first published in April during a Chinese naval conference.  The mock-up could be the first peek at China's Type-095 attack submarine — the second nuclear-powered attack submarine being built by the Chinese after its current Type-093.

July 2: Fox News: NSA Internet spying program an "effective tool" bipartisan privacy board says
A federal watchdog group said Wednesday that the National Security Agency's data collection and surveillance program has been "an effective tool" for the country.  Seven months earlier, the same bipartisan group found fundamental flaws with another program, arguing in a January report that the NSA's collection of domestic calling records "lacked a viable legal foundation" and recommended that it be shut down. 

But the latest report, voted on by the five-member board, found that the NSA's collection of Internet data within the United States passes constitutional muster and employs "reasonable" safeguards designed to protect the rights of Americans.  The board, made up of members appointed by President Obama, largely endorsed the controversial surveillance programs that have that been under scrutiny following revelations last year by former NSA employee Edward Snowden.  But the board's report wasn't all glowing. It said some aspects of the programs raise privacy concerns that merit new internal intelligence agency safeguards.
June 27:
National Review: Barney Fife Meets Delta Force -- Hypermilitarized police departments are they more dangerous than whatever they fight.
Ooops! Wrong House!  A woman describes what happened one night.  They "threw a flashbang grenade inside," she reported. It "landed in my son's crib." Now, her son is "covered in burns" and has "a hole in his chest that exposes his ribs." So badly injured was he by the raid that he was "placed into a medically induced coma." "They searched for drugs," she confirmed, but they "never found any." Nor, for that matter, did they find the person they were looking for. He doesn't live there. "All of this," she asks, "to find a small amount of drugs?"
Historians looking back at this period in America's development will consider it to be profoundly odd that at the exact moment when violent crime hit a 50-year low, the nation's police departments began to gear up as if the country were expecting invasion — and, on occasion, to behave as if one were underway. The ACLU reported recently that SWAT teams in the United States conduct around 45,000 raids each year, only 7 percent of which have anything whatsoever to do with the hostage situations with which those teams were assembled to contend. Paramilitary operations, the ACLU concluded, are "happening in about 124 homes every day — or more likely every night" — and four in five of those are performed in order that authorities might "search homes, usually for drugs." Such raids routinely involve "armored personnel carriers," "military equipment like battering rams," and "flashbang grenades."
Were the military being used in such a manner, we would be rightly outraged. Why not here? Certainly this is not a legal matter. The principle of posse comitatus draws a valuable distinction between the national armed forces and parochial law enforcement, and one that all free people should greatly cherish. Still, it seems plain that the potential threat posed by a domestic standing army is not entirely blunted just because its units are controlled locally. To add the prefix "para" to a problem is not to make it go away, nor do legal distinctions change the nature of power. "Over the past two decades, the federal government has happily sent weapons of war to local law enforcement, with nary a squeak from anyone involved with either political party. Are we comfortable with this?" the column asks.
June 21: Bloomberg News: Putin puts 65,000 troops on Alert as U.S. broaden sanctions on Russia:
Russia put more than 65,000 troops on combat alert and ordered them to take part in a drill a day after Ukraine called a week-long cease-fire to quell violence in the eastern part of the country.  The Russian drill is the biggest since the country annexed the Black Sea Crimean peninsula in March. The U.S. has accused the government in Moscow of aiding the separatists and this week imposed sanctions on people linked to the insurgency.   The dispute is flaring as American and European officials warn that more painful penalties affecting Russia's access to financial markets, technology and military hardware may come as early as next week if President Putin refuses to curb tensions. North Atlantic Treaty Organization and U.S. officials have said this week that Russia was renewing its military buildup near the Ukrainian border. 
Putin put troops in Russia's central military region on full combat alert and ordered them to take part in a test of military readiness that is to last through June 28 and will also involve 5,500 pieces of military equipment, Vladimir Anikin, a spokesman for Russia's Defense Ministry, said by phone. In Kiev, the Foreign Ministry denounced Russia's latest military activity, saying it "does not help to normalize the situation in Ukraine and to implement peaceful initiatives by the Ukrainian authorities," according to an e-mailed statement.
June 14: Yahoo News/Reuters: Pentagon Sends another aircraft carrier to the Gulf if needed to deal with Iraq
U.S. Defense Secretary Chuck Hagel ordered an aircraft carrier moved into the Gulf on Saturday, readying it in case Washington decides to pursue a military option after insurgents overwhelmed a string of Iraqi cities this week and threatened Baghdad.  "The order will provide the Commander-in-Chief additional flexibility should military options be required to protect American lives, citizens and interests in Iraq," the Pentagon said in a statement.  The carrier USS George H.W. Bush and its escort vessels, will be moved from the North Arabian Sea.  President Barack Obama said on Friday he needed several days to determine how the United States would help Iraq deal with the stunning advance of Islamist militants, who earlier this week seized several major Iraqi cities and appeared to have set their sights on the capital, Baghdad.

U.S. leader ruled out sending U.S. troops back into combat in Iraq, where over 4,000 U.S. soldiers died in the war that followed the 2003 invasion to oust Saddam Hussein, and said any intervention would be contingent on Iraqi leaders overcoming their longstanding political and sectarian divisions.  While the United States has already increased its surveillance assistance to Iraq and conducted drone flights at the request of the Iraqi government the Pentagon has also prepared a range of options for Obama to consider, including conducting air strikes.

June 14: The Daily Caller: Police Reports indicated Bergdahl's Dad was a peeping-tom stalker
The father of Sgt. Bowe Bergdahl creepily harassed a pair of twin sisters in Hailey, Idaho, for several months, according to police reports obtained by the Daily Mail.  In 2011, long before Robert "Bob" Bergdahl began learning Pashto and Arabic or tweeted a Taliban spokesman, police documents indicated bizarro bearded dad stalked Lacey and Allie Hillman.  He allegedly tried to steal a peek at one of the twins in the shower and even stole a little gnome from their garden.

June 13: Politico: GOP Senators Ask if Bergdahl Swap Broke Spending Law
Nine Republican appropriators are questioning whether the Pentagon ran afoul of a law that prevents spending funds without approval from Congress in the move to transfer five Taliban leaders to Qatar.  The letter, spearheaded by Thad Cochran of Mississippi, the top Republican on the Defense subcommittee, asks the Government Accountability Office to review the move for possible violations of the federal spending law known as the Antideficiency Act.  "We are writing to request your legal opinion regarding whether the Department of Defense (DOD) incurred obligations in violation of section 8111 of the Consolidated Appropriations Act, 2014 with regard to the transfer of five individuals from Guantanamo Bay, Cuba, to the nation of Qatar," the senators wrote in a letter to the Comptroller General.

The transfer of the senior Taliban figures came about as part of the swap that freed Army Sgt. Bowe Bergdahl from Taliban custody in Afghanistan.  The signers of the letter also included Minority Leader Mitch McConnell (KY), Appropriations ranking member Richard Shelby (AL), Lamar Alexander (TN), Susan Collins (ME), Lisa Murkowski (AK), Lindsey Graham (SC), Dan Coats (IN) and Roy Blunt (MO).  "If, indeed, DOD's obligation of appropriated funds runs afoul of section 8111, we also seek your legal opinion as to whether DOD has violated the Antideficiency Act," the senators wrote.
June 13: The New York Times: There is proof the Russians have sent tanks to separatists in Ukraine
The State Department said Friday that Russia had sent tanks and other heavy weapons to separatists in Ukraine, supporting accusations Thursday by the Ukrainian government.  A convoy of three T-64 tanks, several BM-21 multiple rocket launchers and other military vehicles crossed the border near the Ukrainian town of Snizhne, State Department officials said. The Ukrainian Army reported Friday that it had destroyed two of the tanks and several other vehicles in the convoy.


The BBC: The Russian government has strenuously denied that any of its tanks crossed the border into Ukraine. But now NATO has released satellite imagery, linked to existing video material, which appears to give added weight to assertions from the Ukrainian authorities that the tanks used by separatist forces that crossed into its country just a few days ago were indeed supplied by the Russians.  There is no doubt that the mystery tanks were on the road inside Ukraine.  Two of them were seen driving through the town of Makiivka, near Donetsk, and another was seen in Snizhne, further east.
June 11: Fox News: Hagel admits the Administration mishandled parts of the Prisoner Swap
Defense Secretary Chuck Hagel on Wednesday sought to ease concerns about the controversial swap of five hardened Taliban leaders for Sgt. Bowe Bergdahl, but under pressure from lawmakers acknowledged that the administration mishandled the announcement. "We didn't handle some of this right," Hagel admitted to the House Armed Services Committee, toward the end of the first public hearing on the prisoner exchange. The hearing lasted more than five hours, as lawmakers from both sides of the aisle voiced concerns about the trade -- while some also accused Republicans of exaggerating the security threats.
Though White House and other officials have adamantly defended their handling of the exchange, Hagel did express some regret over the decision to keep Congress in the dark until after the swap had been executed. Republicans and Democrats alike vented to Hagel that they should have been trusted with that information.
June 10: The Daily Caller: Cruz: Israeli strike against Iran could happen soon
Texas Sen. Ted Cruz told a small gathering of pro-Israel American leaders Tuesday that an Israeli strike against Iranian nuclear facilities "could happen in a matter of months."  "In my view, [Iranian Supreme Leader Ali] Khamenei believes there is no credible deterrence from the United States, there's not realistic risk of significant consequence for moving forward with their nuclear development," the Republican told the Spring National Leadership Meeting of the Jewish Institute for National Security Affairs (JINSA) at the Willard Hotel. "That means, that if they keep going forward, I think if it comes down to it, I have real confidence that the nation of Israel will act to preserve her national security, even if this administration will not act first. And that could happen sooner rather than later — that could happen in a matter of months."
Cruz told the assembled JINSA leaders that he believes the Obama administration, which is currently engaged in negotiations with the Islamic Republic over its nuclear program, has shirked its responsibility in dealing with Iran's nuclear program and is not taken seriously by Iranian leadership.  "In my view, here is what a responsible president would do," Cruz, who is believed to be considering a 2016 presidential run, said. "A responsible president would stand up on the world stage and say, 'Let me be clear: Under no circumstances will the nation of Iran be allowed to acquire nuclear weapons capability. We will impose crippling sanctions but they will either stop or we will stop them using all available means, including if necessary direct military force.'  In my view, a policy of weakness and appeasement only increases the chance of military conflict," he said.
June 10: The Washington Times: Two U.S. Stealth bombers head to Europe for first time, putting Putin on notice
Two U.S. B-2 Spirit stealth bombers are being deployed to Europe for the first time. The deployment of the advanced aircraft will be used for "short term deployment" at Fairford, a Royal Air Force base in England — just three hours from Russia. "This deployment of strategic bombers provides an invaluable opportunity to strengthen and improve interoperability with our allies and partners," said Adm. Cecil Haney, commander of U.S. Strategic Command.  "The training and integration of strategic forces demonstrates to our nation's leaders and our allies that we have the right mix of aircraft and expertise to respond to a variety of potential threats and situations," he continued.
The radar-evading B-2 bombers are likely being used as a show of force to Russian President Vladimir Putin, who has been accused of fomenting unrest in eastern Ukraine after the Russia's recent annexation of Crimea.  The stealth bombers, which can carry up to 50,000 pounds of bombs, assisted Europe and NATO allies in 1999 with targeting bombing runs in Serbia, but they were operating at the time out of Whiteman Air Force Base, Missouri, the International Business Times reported Tuesday. The round-trip missions lasted 30 hours.
In the meantime, four Russian bombers flew near Alaska, two of them then came within 50 miles of Northern California. U.S. fighter-inceptors were scrambled to interdict the Russian aircraft.  
June 9: The Weekly Standard: Hillary Rewrites Her History on Israel
In her new book, Hillary Clinton picks out a few foreign policy topics that she thinks are now safe, even helpful, to express disagreement with the course taken by the Obama administration. She acknowledges that the Obama administration's demand for a settlement freeze from Israel as a precondition to talks with the Palestinians "didn't work." Yet she also seeks to exculpate herself from this failure by claiming that she was against the policy from the beginning. According to the Washington Post, she "disagreed with Obama and then-White House chief of staff Rahm Emanuel on a demand that Israel halt all new settlement construction. 'I was worried that we would be locking ourselves into a confrontation we didn't need,' she writes."
Yet for all her alleged opposition to the policy that launched confrontation, no one save President Obama himself played such a prominent role in provoking it, amplifying it, and prolonging it. Immediately after Obama first issued the demand for a freeze, Clinton took the lead in making indignant, confrontational public statements that were clearly intended to intimidate the Israelis and gratify the Palestinians. The freeze, Clinton said, was the only way to get Abbas and the Palestinians to talk.
June 6: Fox News: Bergdahl declared Jihad in captivity, secret documents show:
U.S. Army Sgt. Bowe Bergdahl at one point during his captivity converted to Islam, fraternized openly with his captors and declared himself a "mujahid," or warrior for Islam, according to secret documents prepared on the basis of a purported eyewitness account and obtained by Fox News.  The reports indicate that Bergdahl's relations with his Haqqani captors morphed over time, from periods of hostility, where he was treated very much like a hostage, to periods where, as one source told Fox News, "he became much more of an accepted fellow" than is popularly understood. He even reportedly was allowed to carry a gun at times.
The reports are rich in on-the-ground detail -- including the names and locations of the Haqqani commanders who ran the 200-man rotation used to guard the Idaho native -- and present the most detailed view yet of what Bergdahl's life over the past five years has been like. These real-time dispatches were generated by the Eclipse Group, a shadowy private firm of former intelligence officers and operatives that has subcontracted with the Defense Department and prominent corporations to deliver granular intelligence on terrorist activities and other security-related topics, often from challenging environments in far-flung corners of the globe.
June 6: Time: Behind the Scenes of Bowe Bergdahl's Release:
In the days and hours leading up to the release of Sgt. Bowe Bergdahl last week, his Taliban captors in Pakistan prepared for a big send-off. Those selected to physically hand Bergdahl over to U.S. officials at a pre-arranged location on the other side of the border in Afghanistan rehearsed the messages they wanted to convey to the American people. A videographer was assigned to cover the event, for propaganda purposes.

Bergdahl, who was the only known remaining U.S. prisoner of war from the long conflict in Afghanistan, had learned basic Pashto during his incarceration and had made several friends among his Taliban captors, according to an Taliban commander. The tunic set given to him, along with the woven scarf that can also be worn as a turban, but is draped across Bergdahl's shoulders in the Taliban video documenting his release, was a parting gift designed to demonstrate no personal ill will, says the commander: "We wanted him to return home with good memories."
June 5: Fox News:  Obama digs in on Taliban-for-Bergdahl trade, Vows 'no apologies'
President Obama, facing rising bipartisan criticism over his handling of the Taliban-for-Bergdahl prisoner swap, dug in his heels Thursday and declared he would make "absolutely no apologies" for bringing an American soldier home -- as his administration stepped up its defense of the controversial deal.   The President contended that he was adhering to a principle that America does not leave soldiers behind.   "We had a prisoner of war whose health had deteriorated and we were deeply concerned about -- and we saw an opportunity and we seized it," he said. "And I make no apologies for that."
The comments come as those close to the negotiation process privately fume over the media firestorm that has ensued. Senior U.S. officials briefed by negotiators, in defending the controversial exchange of five high-value Taliban leaders for Bergdahl, told Fox News there are many points about the deal that need clarification.

June 3: Fox News: Unequal treatment: Soldier in Mexican Jail verses release of Deserter in Afghanastan!
The Obama administration's extraordinary effort to free Army Sgt. Bowe Bergdahl has some wondering why the president can't make a simple phone call on behalf of a former Marine being held in a Mexican prison after mistakenly driving across the border with registered guns.  Obama announced Saturday in a dramatic Rose Garden news conference that five Taliban prisoners from Guantanamo Bay would be exchanged for Bergdahl, a 28-year-old infantryman held captive for five years by the terrorist group. The swap angered many in the military and on Capitol Hill, because it went against long-standing policy of not bargaining with terrorists.
On Monday, a Fox News journalist asked State Department spokeswoman Jen Psaki why the administration would strike a precedent-shattering deal with the Taliban, yet can't win Tahmooressi's freedom from an ally and neighbor.  "I understand the desire to make comparisons, but we wouldn't compare them," Psaki said. "This is – was a Marine (sic) who was taken while in combat, and you're talking about a situation of an individual who the Mexican authorities are accusing of violating the law."
June 2: Fox News:  Arizona Congressman:  Mr. President, Help the Marine in Mexican Jail!
Rep. Matt Salmon (R-AZ) who recently visited Marine Sgt. Andrew Tahmooressi at his Mexican prison, told Greta Van Susteren Monday on "On the Record" The President needs to  get off his duff and do the right thing. Salmon said. "You've boldly said you have a pen and a phone – put that phone to good use for once and a while."   He also said that when he visited Tahmooressi Saturday he was in good condition and good spirits. The Marine was arrested March 31 after he drove across the border with three weapons in his car. 
Salmon added, "this guy had no evil intent in going into Mexico. It was an inadvertent mistake. He had all of his belongings in his car and he was not going there to do anything with these weapons. He simply was in the wrong place at the wrong time and these people understand.  He has been diagnosed with post-traumatic stress disorder, he needs to get back to the United States and get his treatment. I am very hopeful though, after my conversation with the Mexican ambassador that they understand how important this is to many of us here in the United States."
June 2: The Daily Caller:  How Bergdahl could become Obama's "Bergdahizi"
If President Barack Obama hoped his deal with the Taliban to bring back Sgt. Bowe Bergdahl would be a political boon in the midst of the VA scandal, he is in for a big surprise.  Soon after Obama revealed that Bergdahl was to be released, we learned the president agreed to release five of the most hardcore Taliban fighters from America's terrorist detention facility in Guantanamo Bay in exchange.  "The Taliban 5 were some of the worst outlaws in the U.S. war on terror," Eli Lake and Josh Rogin report in The Daily Beast, noting a Pentagon "dossier" that deemed all five "a high risk to launch attacks against the United States and its allies if they were liberated."
Negotiating with terrorists is a dangerous and inadvisable policy under most circumstances. The long-term bad often outweighs whatever short-term good. While it is great to see the return of a captured soldier, giving into terrorist demands to get them back provides greater incentive for terrorists to go out and capture more American soldiers in the hopes of making future lopsided deals.
Perhaps Obama hoped that seeing a captured American serviceman return home would overwhelm any American outrage over the deal. But then we learned that Bergdahl was taken into Taliban captivity only after allegedly deserting his fellow troops.  "The sense of pride expressed by officials of the Obama administration at the release of Army Sgt. Bowe Bergdahl is not shared by many of those who served with him, veterans and soldiers who call him a deserter whose 'selfish act' ended up costing the lives of better men." CNN's Jake Trapper reports.  "At least six soldiers were killed in subsequent searches for Bergdahl," Tapper added.
June 2: The Daily Caller: Pentagon Official: White House Trade with the Taliban was "political"
Here is the truth: The deal to trade five senior Taliban detainees to secure the release of Sgt. Bowe Bergdahl was political. It was publicly justified with lies, it breaks decades of U.S. policy, it breaks American law, it puts Americans at risk, it undermines the government of Afghanistan, and it passes responsibility on to the next administration.  But first of all, it was political.  But no, it was not to take the spot light off of the failures at the Department of Veterans Affairs.  Simply stated, it was because so long as Bergdahl remained in Taliban captivity in Pakistan, the Obama administration would never be able to close the chapter of the failed Afghanistan campaign it has owned since approving — and then under-resourcing — a surge of U.S. forces in the country.
Bergdahl's captivity served as a constant reminder of President Barack Obama's strategic failures while U.S. forces prepare to withdraw from Afghanistan. That's something the Democrats cannot allow going into 2014 and 2016 elections. So the president agreed to an unprecedented deal in blatant violation of U.S. law and established precedent that undermines the safety and security of the United States and her citizens, once again choosing short-term political gain over long-term security interests.

June 2: The Daily Caller: White House Story is Unraveling:  U.S. Knew Bowe Bergdal Had Deserted and Investigated Him:
As early as 2010, the Pentagon had confirmed that Sgt. Bowe Bergdahl had deserted his post in 2009, and even before he deserted he had been the subject of "a major classified file" by U.S. intelligence.  A 2010 investigation by the Pentagon found there was solid evidence that Bergdahl hadn't lagged behind on patrol, as first reported, and had indeed walked from his post, AP reports. The Pentagon decided at that point to draw down search-and-rescue operations. 
June 2: Media-ite: CNN's Toobin: Obama Clearly Broke the Law!
CNN legal analyst Jeffrey Toobin declared on Monday that President Barack Obama "broke the law" when his administration failed to give Congress notice of at least 30 days before releasing five ranking Taliban members from Guantanamo Bay. Toobin said that a presidential signing statement did not absolve Obama from culpability for failing to abide by the law mandating congressional notification.  "I think he clearly broke the law," Toobin said. "The law says 30-days' notice. He didn't give 30-days' notice." Toobin added that Obama's opinion expressed in a signing statement "is not law."  "The law is on the books, and he didn't follow it," Toobin added.
June 2: The Daily Mail: Is the Prisoner Swap an Impeachable Offense?
The Daily Mail, in a column asks if the recent prisoner swap is an impeachable offence noting that the  President ignored a law – which he signed last year – requiring him to notify Congress 30 days before releasing anyone from Guantanamo Bay.  It noted that the Obama  administration never told Capitol Hill until after Bergdahl was in American custody and the US Taliban prisoners were preparing to leave.  A former federal prosecutor told MailOnline that putting enemy combatants back in a position to harm Americans is an impeachable offense.
A White House insider said Obama administration officials didn't anticipate how controversial Bergdahl's rescue would be, and compared it to the 1981 release of 52 US hostages in Iran.  Since Saturday several of Bergdahl's former military comrades have said he was an Army deserter, and some have speculated that he also aimed to join with the Taliban in Afghanistan.  In addition an official Pentagon report concluded in 2010 that Bergdahl 'walked away,' so little effort was made to retrieve him, according to the AP.

June 1: The Hill: Cruz: Clinton Foreign Policy was a Disaster
Sen. Ted Cruz (R-TX) said former Secretary of State Hillary Clinton's foreign policy has been a "disaster."  "Her policies domestically and internationally haven't worked," Cruz contended on ABC's "This Week."   The potential 2016 GOP presidential contender said that Clinton -- a presidential contender in her own right -- has "deliberately stonewalled" questions about Benghazi.  "The sad thing with Secretary Clinton is that it seems to be all politics all the time," he said. 
Republicans have criticized Clinton and the administration for their handling of the Sept. 11, 2012, attack at a U.S. post in Benghazi in which four Americans were killed. Democrats have criticized conservatives for politicizing the issue.  "She's more focused on blaming the so-called vast right wing conspiracy than on the terrorists. The truth shouldn't be partisan," Cruz said on Sunday.
May 28: The Washington Times: Government Directive Outlines Obama Plan to use Military against Civilians:
A 2010 Pentagon directive on military support to civilian authorities details what critics say is a troubling policy that envisions the Obama Administration's potential use of military force against Americans.  The directive contains noncontroversial provisions on support to civilian fire and emergency services, special events and the domestic use of the Army Corps of Engineers.  The troubling aspect of the directive outlines presidential authority for the use of military arms and forces, including unarmed drones, in operations against domestic unrest.  "This appears to be the latest step in the administration's decision to use force within the United States against its citizens," said a defense official opposed to the directive.

Directive No. 3025.18, "Defense Support of Civil Authorities," was issued Dec. 29, 2010, and states that U.S. commanders "are provided emergency authority under this directive."  "Federal military forces shall not be used to quell civil disturbances unless specifically authorized by the president in accordance with applicable law or permitted under emergency authority," the directive states.  "In these circumstances, those federal military commanders have the authority, in extraordinary emergency circumstances where prior authorization by the president is impossible and duly constituted local authorities are unable to control the situation, to engage temporarily in activities that are necessary to quell large-scale, unexpected civil disturbances" under two conditions.

The conditions include military support needed "to prevent significant loss of life or wanton destruction of property and are necessary to restore governmental function and public order." A second use is when federal, state and local authorities "are unable or decline to provide adequate protection for federal property or federal governmental functions."

May 28: Stars and Stripes: Biden challenges Air Force Grads to Create a "New World Order"
Under a blazing sun, Vice President Joe Biden challenged graduating Air Force Academy cadets on Wednesday to help create a "new world order for the 21st century."  Biden called on images from the end of World War II, part of a White House push to burnish a foreign policy that has been challenged by Russian aggression and continued trouble from North Africa to Afghanistan.  "I believe we and mainly you have an incredible opportunity to lead in shaping a new world order for the 21st century in a way consistent with American interests and common interests," Biden said before shaking hands with 995 members of the class of 2014.

May 26: FT.Com: U.S. Foreign Policy – Trouble Abroad
Barack Obama is accused of timidity overseas, thereby raising fear and anger among allies.  High quality global journalism requires investment.  When President Obama ran for re-election in 2012, he pulled off what for Democrats was a remarkable feat – he took foreign policy off the table as a campaign issue. 

Republicans have sought to cast their Democratic opponents as weak in the face of foreign challenges. Yet fresh from his risky but successful military operation to extinguish Osama Bin Laden,  Obama side-stepped the usual assault during his re-election campaign. His challenger Mitt Romney hardly brought up foreign policy.  Eighteen months later, the political ground is shifting rapidly beneath Obama's feet. As he prepares to give an important address on foreign policy at West Point tomorrow, the president finds himself under attack over what critics charge is a record of indecisive leadership.  From Saudi Arabia to Japan, officials have been wondering whether the US would still come to their defense.

May 26: The Daily Caller: Surprise! Obama Outs Kabul CIA Chief During visit to Afghanistan
An unidentified Obama administration official exposed the name of the highest-ranking CIA officer in Kabul on Saturday by accidentally placing it on a list of names provided to a bunch of media outlets.  The list contained the names of several senior U.S. officials who took part in a military briefing during President Barack Obama's surprise Memorial Day visit to Afghanistan to glad-hand with the troops, the Washington Post reported.  The list candidly described the head of the clandestine service in Kabul as "chief of station." The CIA specifically uses the title to refer to the top spy stationed in every country around the world.

May 25: Fox News: Heavily Favored Poroshenko wins Ukrainian Elections,  Exit polls show
Billionaire candy-maker Petro Poroshenko on Sunday won Ukraine's presidential election, according to exit polls.  The poll, by three respected Ukrainian survey agencies, shows Poroshenko took 55.9 percent of the vote, which would make him the outright winner and canceled an expected June 15 runoff vote.  Sen. Ayotte, (R-NH), who was in Ukraine monitoring the vote, told "Fox News Sunday" that the 48-year-old Poroshenko is considered somebody who can work with the East and West and that he wants more U.S. military support.

The election follows the ouster in February of the country's pro-Russia leader, Viktor Yanukovich, who was chased from power by months of protests over corruption and his decision to reject a pact with the European Union and forge closer ties with Moscow.  A strong voter turnout was reported around the capital city of Kiev and scarce voting in the country's pro-Russian eastern region.  Long lines snaked around polling stations in Kiev as heavily-armed, pro-Russian rebels in the east intimidated voters by smashing ballot boxes and blocking access to voting centers. But there were no immediate signs of clashes after weeks of intense battles in a deadly insurgency.

Russian President Vladimir Putin promised Friday to "respect the choice of the Ukrainian people" and said he would work with the winner, in an apparent bid to ease the worst crisis in relations with the West since the Cold War and to avoid a new round of Western sanctions.  Poroshenko strongly backs closer ties with the EU, but also has spoken about the need to normalize ties with Russia.
May 24: The New York Times: China's Leader, Seeking to Build Its Muscle, wants Overhaul of its Military
Driven by ambitions to make China a great power, President Xi Jinping is staking his political authority on a huge task: overhauling the Chinese military, which is still largely organized as it was when a million peasant soldiers mustered under Mao Zedong.  Mr. Xi wants a military that can project power across the Pacific and face regional rivals like Japan in defense of Chinese interests. To get it, he means to strengthen China's naval and air forces, which have been subordinate to the People's Liberation Army's land forces, and to get the military branches to work in close coordination, the way advanced Western militaries do.
China's military budget has grown to be the second largest in the world, behind that of the United States, and the country has acquired sophisticated weapons systems. But Mr. Xi has told his commanders that is not enough.  "There cannot be modernization of national defense and the military without modernization of the military's forms of organization," Mr. Xi told a committee of party leaders studying military reform at its first meeting in March, Xinhua, the official Chinese news agency, reported. "There has to be thoroughgoing reform of leadership and command systems, force structure and policy institutions," he was quoted as saying.
May 24: The Hill: Meanwhile the Pentagon is to close 21 facilities in Europe
The Pentagon announced Friday it was closing down 21 military facilities in Europe, a move the Department said would save $60 million annually.  The closures were part of a previously-announced effort, but the decision was somewhat unexpected in light of U.S. attempts to reassure European allies in the wake of Russia's annexation of Crimea.  The closures are partly comprised of recreational and housing facilities at U.S. and NATO military bases across Europe, such as a skeet shooting range, a hotel and a golf course. But some munitions storage facilities will also be shuttered. 

"This is about making sure we have the right footprint, the right posture, and frankly that we're spending taxpayer dollars the right way in Europe," Pentagon Press Secretary Navy Rear Adm. John Kirby said at a press briefing Friday. Kirby said it is just the first round of such closures, which are taking place in Germany, Italy, Denmark, Greece, the United Kingdom, and Belgium, and that more would follow.
May 20: The Daily Mail:  Prince Charles Likins Putin to Hitler (Video)
Prince Charles has sensationally likened Vladimir Putin to Adolf Hitler.  In a withering verdict on the actions of the Russian president in Ukraine, he told a woman who lost relatives in the Nazi Holocaust: 'And now Putin is doing just about the same as Hitler.'   The prince's extraordinary intervention is certain to cause international controversy.   It is likely to be seen as a criticism of the West for failing to confront Mr Putin over his seizure of Crimea. The annexation was the first by a major power in Europe since 1945. Observers have compared the crisis in Ukraine with Hitler's takeovers of Czechoslovakia and Poland.
May 18: Yahoo News [Reuters]: Hard for NATO to defend Baltic States from Russia, Report says:
NATO would struggle to defend the Baltic states from any Russian aggression "with conventional means", Germany's Spiegel magazine reported on Sunday, citing sources close to the organization and a draft of a NATO planning document.  Eastern European states are nervous about Russia after it annexed Ukraine's Crimea region and massed 40,000 troops on Ukraine's borders.  The United States has sent 600 soldiers to the three Baltic countries - Estonia, Latvia and Lithuania - and Poland to take part in exercises to bolster NATO's presence in eastern Europe.
"Russia's ability and intention to undertake significant military action without much forewarning poses a far-reaching threat for the maintenance of security and stability in the European-Atlantic area," the weekly magazine said, citing a NATO defense planning committee document.  Russia is capable of building up a local or regional military threat at short notice and at an arbitrary spot, the draft document continued.  "In light of the new security situation created by Russia's illegal and illegitimate aggression against Ukraine, we have taken immediate measures to enhance collective security in the air, at sea and on the ground."  The Ukraine crisis has compelled the alliance to refocus on its core mission of defending its members after years in which its main effort has been far away in Afghanistan.
May 12: Politico: FCC Wheeler scrambles to salvage net neutrality plan:
Federal Communications Commission Chairman Tom Wheeler is on the clock and scrambling to salvage his controversial net neutrality plan as the commission counts down to a crucial vote on Thursday.  According to FCC officials, he circulated his latest revisions Monday — trying to pick up the two votes he needs to pass the notice of proposed rule-making to ensure an open Internet.  In the most significant change, Wheeler will seek public comment on whether the FCC should reclassify broadband as a communications utility, giving the agency authority to regulate Internet rates and services as it does with telephone companies, according to commission officials. Net neutrality advocates favor that option as more robust, but it's opposed by telecoms that fear it will give the government too much power over their business.
Wheeler's original plan sparked outrage after details emerged that it would allow Internet-service providers, such as AT&T and Verizon, to charge companies like Netflix, Amazon and Google for faster delivery of content. The revised proposal keeps that basic approach but would seek comment on whether a "fast lane" should be banned. It also proposes a new ombudsman position at the FCC to act as a net neutrality advocate for startups and consumers.  "He's trying to address concerns from his fellow Democrats on the Hill and at the FCC," said Paul Gallant, managing director of Guggenheim Securities, a financial advisory firm. Democrats are concerned Wheeler is not asking enough questions about the proposal's impact on consumers, he said. Turmoil has engulfed the FCC chairman's latest effort to write the rules. The agency's previous attempt was thrown out by a court as legally flawed.
May 7: The New York Times: Putin Claims Russian Pull Back from Ukraine Border – US Sees No Evidence of Same:
In an apparent attempt to halt the escalating violence in southeastern Ukraine, President Vladimir V. Putin said on Wednesday that Russia was pulling troops back from the border, and he urged Ukrainian separatists to call off a referendum on sovereignty they had hoped to hold on Sunday.  Speaking at the Kremlin after talks with the president of Switzerland, who is acting as the chief mediator for Europe in the crisis, Mr. Putin said that Russia wanted to give diplomacy a chance.

NATO officials said that they saw no immediate sign that Russian forces had pulled back, news services reported from NATO's headquarters in Brussels. A White House spokesman, Josh Earnest, told reporters traveling with President Obama aboard Air Force One that while the United States would welcome a Russian military pullback from the Ukraine border region, "there has been no evidence that such a withdrawal has taken place."
May 5: The Telegraph: China plans for North Korea regime collapse leaked
China has drawn up detailed contingency plans for the collapse of the North Korean government, suggesting that Beijing has little faith in the longevity of Kim Jong-un's regime. Documents drawn up by planners from China's People's Liberation Army that were leaked to Japanese media include proposals for detaining key North Korean leaders and the creation of refugee camps on the Chinese side of the frontier in the event of an outbreak of civil unrest in the secretive state.   The report calls for stepping up monitoring of China's 879-mile border with North Korea.
May 5: Yahoo News: Russian planes active near California and Guam:
The commander of U.S. air forces in the Pacific is reporting a significant increase in activities by Russian planes and ships in the region.  Gen. Herbert Carlisle linked that to the situation in the Ukraine. He said Russia was demonstrating its capabilities and gathering intelligence on U.S. military exercises.  Carlisle said there had been long-range Russian air patrols to the coast of California and a circumnavigation of the U.S. Pacific territory of Guam. He said a U.S. F-15 fighter jet intercepted a Russian strategic bomber that had flown to Guam.  He also reported a sharp increase in Russian air patrols around Japanese islands and Korea.  Carlisle said there was a lot more Russian ship activity too.
May 3: Fox News: Ukraine Broadens Offensive against insurgents as military observers released
Ukraine resumed a military offensive against pro-Russian forces in the country's east on Saturday, as military observers from the Organization for Security and Cooperation in Europe who were held for more than a week were released.  Interior Minister Arsen Avakov said Ukrainian forces had seized control of a television tower in Kramatorsk, near the rebel stronghold of Slovyansk where at least three were killed in fighting on Friday, Reuters reported. "We are not stopping," Avakov wrote on his Facebook page early Saturday.
Tensions were especially high after at least 42 people died in clashes between government supporters and opponents in the Black Sea port of Odessa on Friday. The clash began with street fighting between two sides in which at least three people were reported killed by gunfire, then turned into a grisly conflagration when government opponents took refuge in a building that caught fire after protesters threw firebombs inside.
Apr. 30: Fox News: Failure of Administration Foreign Policy and National Security?  Russia to US: Use trampolines to get your astronauts into space!
A Russian official angered over new sanctions that the United States imposed on Russia over the Ukraine crisis is suggesting that American astronauts get to the International Space Station by using trampolines instead of rockets.  "The United States introduced sanctions against our space industry... We warned them, we will reply to statements with statements, to actions with actions," Deputy Prime Minister Dmitry Rogozin, who heads Russia's defense industry, said on Twitter, according to Reuters. 
American astronauts depend on Russian rockets to get to the ISS, but after the U.S. imposed sanctions – which deny export licenses for high-tech items that could aid Russia's military -- Rogozin offered up the different idea of the U.S. finding another way to get to the ISS.    But analysts told Reuters that Russia is unlikely to suspend its shuttle service to the ISS, as NASA provides essential financing for the effort, paying more than $60 million per person to get them into space.  Still, Russia is expected to be hit hard by the sanctions, and five upcoming commercial satellite launches -- contracted by foreign clients at a Russian space center -- could be at risk.
Earlier this month, NASA was also banned from contacting the Russian government.  "This is a very sensitive issue since our defense industry was completely unprepared for such developments," Sergei Oznobishchev, the director at the Institute for Strategic Assessments think tank in Moscow, told Reuters. "Both sides will suffer but Russia will lose out more in terms of technology transfer."  Analysts say Russia lags behind in production of high-tech electronic equipment, such as microchips for satellites, and is reliant on imports from Western nations.
All of this may be true but it raises questions about the U.S. efforts to formulate its foreign and national security policies based upon help from foreign partners, including those who are not friends.  This leads some to ask "Is this what JFK envisioned when the space program was initiated?"
Apr. 28: The Free Beacon: Cruz Calls on Kerry to Resign After "Apartheid" Remark about Israel
Sen. Ted Cruz (R-TX) demanded on the Senate floor Monday that Secretary of State John Kerry resign from his post following highly controversial remarks about the state of Israel.  Kerry came under fire from lawmakers and a variety of pro-Israel organizations after he told world leaders in a closed door meeting that Israel risks becoming "an apartheid state" if it fails to reach peace with the Palestinians.
Israel cut off peace talks late last week after Palestinian President Mahmoud Abbas formed a unity government with the terror group Hamas, which announced that it would not renounce violence or recognize Israel's right to exist.   Cruz said in a speech on the Senate floor that Kerry should immediately offer his resignation to President Barack Obama.  "John Kerry should offer President Obama his resignation and the president should accept it," Cruz said.
Apr. 26: Fox News: Have they lost their mind? #Hashtag Diplomacy with Russia?
The Obama administration using Twitter to show public support for Ukraine and to negotiate with Russia after the annexation of Crimea is sparking another round of accusations about the president being soft on foreign policy.  The most recent criticism followed a tweet late Thursday by State Department spokeswoman Jen Psaki.  "The world stands #UnitedforUkraine. Let's hope that the #Kremlin & @mfa Russia will live by the promise of hashtag," she posted.
Supporters of the administration using Twitter argue that social media is a fast, non-filtered way to connect with Ukrainians and others around the world, particularly amid the country's months of political unrest.
Meanwhile former Arkansas Governor Huckabee mockingly said on Saturday, "The thought that somebody would come at him with 160 characters is absolutely terrifying to Vladimir Putin!"   Criticism about Obama having a weak foreign policy strategy is not limited to conservatives.  New York Times critic David Brooks said this week on NBC's "Meet the Press": "Let's face it Obama whether deservedly or not does have a -- I'll say it crudely -- but a manhood problem in the Middle East.
Apr. 25: Yahoo News (Reuters): Holder Holding on until at least the midterm elections:
U.S. Attorney General Eric Holder plans to stay on through November's mid-term elections and has no timeline for an exit after that, a Justice Department official told Reuters on Friday.  "The Attorney General does not plan to leave before the mid-terms. That does not mean that he is definitely leaving after the mid-terms, just that he is at least staying through that time," the official said. 
There has been speculation over when Holder, 63, might step down from the post he has held since shortly after President Barack Obama took office in 2009. Should Republicans win control of both chambers of Congress in the November elections, it may be difficult for a potential replacement for Holder to be confirmed.   Among Obama's cabinet members, Holder is said to have one of the closest relationships with the president. During his time in office, Holder has taken on issues in line with the president's agenda, such as civil rights, voting rights, and most recently, reducing sentencing for low-level drug offenders.
Apr. 25: The Washington Free Beacon: Pentagon: Russian Spy Ships Operating off the East Coast Near U.S. Naval Bases:
A Russian intelligence-gathering ship has been operating off the U.S. East Coast and near the Gulf of Mexico for the past month, the Pentagon said Thursday.  "We are aware that the Russian ships Viktor Leonov and Nikolay Chiker are currently operating in waters that are beyond U.S. territorial seas but near Cuba," said Lt. Col. Tom Crosson, a Pentagon spokesman.  Pentagon officials suspect the ships were part of a spying operation since March against the U.S. nuclear missile submarine base at Kings Bay, Ga. and other U.S. military facilities.

The ships were detected operating off the coast of Florida near the U.S. Naval Station Mayport, Fla., which is south of the Naval Submarine Base Kings Bay. The Russian intelligence gathering coincides with heightened tensions between the United States and Russia over Moscow's recent military annexation of Ukraine's Crimea.

Apr. 24: The New York Times: Obama Suffers Foreign Affairs Setbacks in Japan and the Mideast
President Obama encountered setbacks to two of his most cherished foreign-policy projects on Thursday, as he failed to achieve a trade deal that undergirds his strategic pivot to Asia and the Middle East peace process suffered a potentially irreparable breakdown.  Mr. Obama had hoped to use his visit to Tokyo to announce an agreement under which Japan would open its markets in rice, beef, poultry and pork, a critical step toward the Trans-Pacific Partnership, the proposed regional trade pact. But Prime Minister Shinzo Abe was not able to overcome entrenched resistance from Japan's farmers in time for the president's visit.

Meanwhile in Jerusalem, Israel's announcement that it was suspending stalemated peace negotiations with the Palestinians, after a reconciliation between the Palestine Liberation Organization and the militant group Hamas, posed yet another obstacle to restarting a troubled peace process in which Secretary of State John Kerry has been greatly invested.

The setbacks, though worlds apart in geography and history, speak to the common challenge Mr. Obama has had in translating his ideas and ambitions into enduring policies. He has watched outside forces unravel his best-laid plans, from resetting relations with Russia to managing the epochal political change in the Arab world. On Thursday, as Russia staged military exercises on the border with Ukraine, Mr. Kerry denounced broken promises from the Kremlin but took no specific action.

Apr. 23: Rasmussenreports.com: New High: 61% Favor Building the Keystone XL Pipeline:
Support for building the Keystone XL pipeline is now at its highest level ever. The latest Rasmussen Reports national telephone survey finds that 61% of Likely U.S. Voters now at least somewhat favor building the major oil pipeline from Canada to Texas, while just 27% are opposed. This includes 37% who Strongly Favor the project and 10% who Strongly Oppose it. Thirteen percent (13%) are undecided.
Apr. 23: Fox News: Maryland Natural Gas Project Draws Environmental Objections:
A liquefied natural gas facility in southern Maryland is generating intense criticism from environmental groups, in a fight that echoes the protracted battle over the proposed Keystone XL pipeline. Energy company Dominion Resources is hoping to invest up to $3.8 billion to upgrade the Cove Point LNG facility as an export terminal. If successful, it could become the East Coast's chief LNG export facility, sending billions of cubic feet of natural gas to Japan, India, and elsewhere.

Dominion stresses that the project would have a huge economic impact close to home as well. "The local area of Calvert County gets a huge benefit: $40 million dollars in additional taxes, property taxes, and the whole area of Maryland gets a benefit as well ... not to mention the U.S., from an export perspective," Mike Frederick, Dominion's VP of liquefied natural gas operations, told Fox News in an interview.
The Department of Energy has given Dominion conditional permission to export gas. The company is awaiting an environmental assessment from the Federal Energy Regulatory Commission (FERC), due May 15.

Apr. 22: Breitbart.com: Attorney General Greg Abbott to BLM:"Come and Take It!"
Texas Attorney General Greg Abbott questions the authority of BLM to take 90,000 acres of privately owned land on the Texas-Oklahoma border.  "I am about ready to go to the Red River and rais a 'Come and take it' flag to tell the feds to stay out of Texas" Abbott said.   He also sent a strongly-worded letter to the BLM Director (who happens to be related to Senate Majority Leader Harry Reid) asking for answers to a series of questions related to the potential land grab.
"This is the latest line of attack by the Obama Administration where it seems like they have a complete disregard for the rule of law in this country ...And now they've crossed the line quite literally by coming into the State of Texas and trying to claim Texas land as federal land. And, as the Attorney General of Texas I am not going to allow this," Abbott said.  "I think that we should be able to resolve this from a legal standpoint because, I believe, what the BLM is doing clearly violates the law. They don't have any legal standing whatsoever to do this and that's why I have issued this letter today."
Apr. 21: Breitbart.com: BLM Eyeing 90,000 Acres of Texas Land on Border with Oklahoma
After the recent Bureau of Land Management episode in Nevada, Texans are becoming concerned about BLM's focus on 90,000 acres along a 116 mile stretch of the Texas/Oklahoma  boundary.  BLM is reviewing the possible Federal takeover and ownership of privately-held lands which have been deeded property for generations of Texas landowners.
Claiming that because Texas was part of the Louisiana purchase, Texas did not have the authority to deed property to private citizens the BLM could intend to argue that the land comes under federal jurisdiction. In a 1986 case BLM was successful in attempting to seize 140 acres of land along the Red River from Tommy Henderson.  Henderson received no compensation in return for the loss of his land.
In the meantime KFOR.Com – Channel 4 News reports that the 50,000 man Oklahoma militia have joined the controversy. Spokesman Scott Shaw says the Oklahoma Militia members are ready to take up arms against the federal government if need be.  "It's up to the feds. The ball's in their court!" he said.  "You can do this legally or if you want to try to do a land grab violently, you can do that. [but] we're going to resist you!"
Apr. 20: The Hill: Ukraine Threatens to Undermine Obama's delayed Asia "Pivot"
President Obama is traveling to Asia this week under the cloud of the Ukraine crisis, which threatens to put Asian allies on edge about U.S. security commitments and create yet another distraction from the administration's much-delayed "pivot" to the region.  Obama will be visiting Asian allies, including Japan, South Korea and the Philippines, that are involved in increasingly tense territorial disputes with China, and will seek to reaffirm U.S. commitment to them. 
That connection was supposed to have been cemented earlier in Obama's tenure, when the administration announced a "rebalance," or "pivot," to Asia. But crises at home and around the world, the latest of which is in Ukraine, have stymied that plan.   "We're almost rescuing the rebalance to Asia," said James Schoff, a former Defense Department senior adviser for East Asia policy under Obama. "It's not necessarily the theme that the White House wanted to go into this trip with."

Russia's successful takeover of Crimea, despite protests from the U.S., is an example concerned allies can point to when questioning American commitment.  "Junior allies are quick to have doubts about the credibility and resolve of their protector," said Richard Bush, a former unofficial U.S. representative to Taiwan. "Our allies in Asia watch carefully what we do in other places to test the proposition that the U.S. commitment to them remains solid."

In a briefing Friday, National Security Adviser Susan Rice connected the Asian territorial disputes to those in Ukraine. She said tension between China and Japan over the control of certain islands needs to be resolved "without resort to coercion or the threat of the use of force."

Apr. 20: The Express (UK): Holocaust Survivor Urges Jewish People to Flee from the Ukraine Immediately:
ALL Jewish people should leave Ukraine at once, a Holocaust survivor warned last night, after "grotesque" anti-Semitic leaflets were handed out in the country.  The pamphlets and posters, distributed in the eastern Ukraine city of Donetsk, demanded that the Jewish population register, pay a new tax or leave.  They are a terrifying echo of the anti-Jewish atrocities carried out by Ukrainians under Nazi occupation during the Second World War.  The leaflets, apparently signed by pro-Russian group the People's Republic of Donetsk, have enraged the world.
Sam Pivnik, 86, was only 14 when his family were rounded up in Bedzin, western Poland, and sent to the death camp at Auschwitz. After his parents, brothers and a sister were chosen "with the flick of a glove" for extermination by "Angel of Death" Dr Josef Mengele, the teenager, tattooed with a prisoner number, was left to survive alone. Mr Pivnik, who now lives in Golders Green, north London, said he was not surprised by the literature's anti-Semitism.

Apr. 19: The Hill: Ukraine Prime Minster Orders: Find the anti-Jewish "Bastards!"

Ukranian Prime Minister Arseniy Yatsenyuk says that he has ordered his military to find and bring to justice those accused of taking threatening actions against Jews in the eastern part of Ukraine. "I made a clear statement urged Ukrainian military and security forces and Ukrainian Department of Homeland Security urgently to find these bastards and to bring them to justice," the prime minister said in an interview with NBC's "Meet the Press" to air Sunday.
Yatsenyuk told "Meet the Press" that he fears Russian President Vladimir Putin is bent on restoring the Soviet Union. "President Putin has a dream to restore the Soviet Union. And every day, he goes further and further. And God knows where is the final destination," he said, according to a transcript released by NBC on Saturday. "I consider that the biggest disaster of this century would be the restoring of the Soviet Union under the auspices of President Putin," he added.

Apr. 19: BreitBart.com: Justice Scalia: It's foolish to have the Supreme Court Decide if NSA Wiretapping is Unconstitutional
Thursday in an interview conducted at the National Press Club in Washington, D.C., Justices Antonin Scalia and Ruth Bader Ginsburg talked about their views of the First Amendment. Moderator Marvin Kalb questioned Scalia about whether the NSA wiretapping cloud be conceivably be in violation of the Constitution:

Justice Antonin Scalia said, "No because it's not absolute. As Ruth has said there are very few freedoms that are absolute. I mean your person is protected by the Fourth Amendment but as I pointed out when you board a plane someone can pass his hands all over your body that's a terrible intrusion, but given the danger that it's guarding against it's not an unreasonable intrusion. And it can be the same thing with acquiring this data that is regarded as effects. That's why I say its foolish to have us make the decision because I don't know how serious the danger is in this NSA stuff, I really don't."

Apr. 18: The New York Times: "Extremely Modest" War Drills Planned for Eastern Europe

The United States plans to carry out small ground-force exercises in Poland and Estonia in an attempt to reassure NATO's Eastern European members worried about Russia's military operations in and near Ukraine, Western officials said Friday.  The moves are part of a broader effort by NATO to strengthen the alliance's air, sea and land presence in Eastern Europe in response to Russia's new assertiveness in the region.
It is not yet clear what additional troop deployments the United States and other NATO nations might undertake in Eastern Europe after the exercises and to what extent the moves would ease anxieties there.  The land-force exercises the Obama administration is planning are extremely modest.  The exercise in Poland, which is expected to be announced next week, would involve a U.S. Army company and would last about two weeks, officials said. A company consists of about 150 soldiers.
Apr. 18: The Washington Post: U.S. to send ground forces to Poland, beefing up a U.S. Presence
Poland and the United States will announce next week the deployment of U.S. ground forces to Poland as part of an expansion of NATO presence in Central and Eastern Europe in response to events in Ukraine. That was the word from Poland's defense minister, Tomasz Siemoniak, who visited The Post Friday after meeting with Defense Secretary Chuck Hagel at the Pentagon on Thursday.  Siemoniak said the decision has been made on a political level and that military planners are working out details. There will also be intensified cooperation in air defense, special forces, cyberdefense and other areas. Poland will play a leading regional role, "under U.S. patronage," he said.
But the defense minister also said that any immediate NATO response to Russian aggression in Ukraine, while important, matter less than a long-term shift in the defense postures of Europe and America. The United States, having announced a "pivot" to Asia, needs to "re-pivot" to Europe, he said, and European countries that have cut back on defense spending need to reverse the trends.
Apr. 17: Infowars.com: Harry Reid Calls Bundy Supporters "Domestic Terrorists"
Senator Harry Reid has escalated the war of words over the Cliven Bundy dispute and standoff on Saturday, sensationally labeling the Nevada cattle rancher's supporters "domestic terrorists" during an event in Las Vegas today.   The Bundy supporters were able to force the Bureau of Land Management (BLM) agents to back down and release some 380 head of cattle that BLM had seized.
Reid claimed that Bundy viewed the United States as a "foreign government," while accusing his supporters of goading violence, saying "There were hundreds, hundreds of people from around the country that came there.  They had sniper rifles on the freeway. They had weapons, automatic weapons. They had children lined up. They wanted to make sure they got hurt first … What if others tried the same thing?"  Despite Reid's characterization the only violence metered out during the dispute was when BLM agents tasered and assaulted the demonstrators.   No matter where you stand on the Bundy issue, Reid's characterization of American protesters as "domestic terrorists" is chilling and a massive backlash is almost certain to follow.
It also fits the narrative that the federal government has been pushing for years through literature such as the MIAC report, which framed Ron Paul supporters, libertarians, people who display bumper stickers, people who own gold, or even people who fly a U.S. flag, as potential terrorists. In 2012, a Homeland Security study was leaked which characterized Americans who are "suspicious of centralized federal authority," and "reverent of individual liberty" as "extreme right-wing" terrorists.
Reid was obviously angry that as a result of the news coverage it was disclosed that he was involved in a solar farm project just 35 miles away from the Bundy Ranch which required confiscation of the Brundy's cattle in order to clear the way for lucrative solar deal with a Chinese company. 
Apr. 17: USA Today:  Leaflets Tell Jews to Register in East Ukraine
World leaders and Jewish groups condemned a leaflet handed out in the eastern Ukrainian city of Donetsk in which Jews were told to "register" with the pro-Russian militants who have taken over a government office in an attempt to make Ukraine part of Russia, according to Ukrainian and Israeli media.  Jews emerging from a synagogue say they were handed leaflets that ordered the city's Jews to provide a list of property they own and pay a registration fee "or else have their citizenship revoked, face deportation and see their assets confiscated," reported Ynet News, Israel's largest news website, and Ukraine's Donbass news agency.
Secretary of State John Kerry said the language of the leaflets "is beyond unacceptable" and condemned whomever is responsible.  "In the year 2014, after all of the miles traveled and all of the journey of history, this is not just intolerable — it's grotesque," he said. "And any of the people who engage in these kinds of activities — from whatever party or whatever ideology or whatever place they crawl out of — there is no place for that."
Apr. 17: The Washington Free Beacon: Russia Blocks U.S. from Treaty-Approved Over-flight
According to U.S. officials the Russian government this week canceled a planned U.S. surveillance flight over Russian territory in a bid to limit spying on massed troops facing off against Ukraine and Eastern Europe.  The over-flight mission was scheduled for April 14 to April 16 under the 1992 Open Skies Treaty, but Russia's government notified the State Department 72 hours before the scheduled flight that it would not be permitted.  The cancelation is unusual because the sole reason for putting off such treaty-approve surveillance is flight safety, such as bad weather.  Until this week, the United States and other European allies who are a party to the 34-nation treaty were conducting weekly over-flights above Russia during the past month.
The Russian cancelation of the flight comes amid heightened tensions between Russia and the West over the crisis in Ukraine, where Russian troops militarily annexed the Crimean peninsula last month and continue to foment pro-Russian unrest in the eastern part of the country.  The cancelation further undermines the Obama administration's arms control-centered security policies. Russia recently was accused of violating and circumventing other arms treaties, including the 2010 New START arms treaty and the 1987 Intermediate-range Nuclear Forces Treaty.
Until this week, the overflights had been providing close up aerial observation of Russian military deployments near Ukraine and near NATO allies in Eastern Europe where concerns are increasing about Russian military aggression. U.S. intelligence agencies are continuing to closely monitor Russian troop movements using imagery satellites. The Pentagon has said the tens of thousands of Russian troops, along with tanks and armored vehicles, have been "staging" in recent weeks in apparent preparation for military action.
Apr. 17: The National Journal:  How the U.S. is Vulnerable to Terrorism in Space
Space terrorism is a growing threat to U.S. national security, according to a new report.  And an attack on a U.S. satellite—or damage to one from another country's debris—could have astronomical effects on national security, says the report from the Council on Foreign Relations.  The U.S. is more reliant on space than any other nation to carry out critical national security functions, such as precision attacks on suspected terrorists and image analysis of nuclear-weapons programs, according to the report.  But countries like China, North Korea, and Iran are developing their military space capabilities, increasing the risk of a dangerous situation for the U.S, says the report.
Space is cluttered with trash, like old satellites and parts of rockets, making navigation very tricky. China's haphazard testing of its anti-satellite weapons is making the mess worse, according to the report, and a random collision with Chinese debris could quickly escalate into an crisis between the U.S. and China.  Given the high stakes, the U.S. needs to make haste in developing its capabilities, both technical and political, to reduce the risk of an attack or collision  lest it risk ceding control of shaping global space policy.
Apr. 11: The Daily Caller: Federal Judge: Holder Gave Unprecedented Instruction for which he had no authority:
A federal judge criticized Attorney General Eric Holder for directing prosecutors to pursue shorter prison sentences for drug crimes before new guidelines for sentencing had been approved.  The U.S. Sentencing Commission approved the reduced sentences for federal drug trafficking offenses on Thursday. Holder endorsed the move last month, and the Justice Department instructed prosecutors not to object if defendants sought the newly-proposed guidelines during sentencing. 
The Justice Department's eagerness to apply more lenient sentencing before it had been approved through the appropriate channels frustrated commission member Judge William H. Pryor Jr., despite his support for the reform.  "I regret that, before we voted on the amendment, the Attorney General instructed Assistant United States Attorneys across the Nation not to object to defense requests to apply the proposed amendment in sentencing proceedings going forward," he said Thursday.  "That unprecedented instruction disrespected our statutory role, 'as an independent commission in the judicial branch,' to establish sentencing policies and practices under the Sentencing Reform Act of 1984… and the role of Congress, as the legislative branch, to decide whether to revise, modify, or disapprove our proposed amendment…We do not discharge our statutory duty until we vote on a proposed amendment, and Congress, by law, has until November 1 to decide whether our proposed amendment should become effective."
Apr. 10: PCWorld.com: End of ICANN contract puts Internet freedom at risk, critics say:
The freedom and openness of the Internet are at stake after the U.S. government announced plans to end its contractual oversight of ICANN, some critics said Thursday. The National Telecommunications and Information Administration (NTIA) announced last month that it will end its contract with the Internet Corporation for Assigned Names and Numbers to operate key domain-name functions could embolden other nations to attempt to seize control, some Republican members of the U.S. House of Representatives Judiciary Committee said. 
"All hyperbole aside, this hearing is about nothing less than the future of the Internet and, significantly, who has the right, the ability and the authority to determine it," said Representative Bob Goodlatte, a Virginia Republican. "Should it be decided by a few people in Washington, Beijing, Moscow, Sao Paolo or even Silicon Valley or should it be determined by those who use and stand to benefit from it?" Goodlatte suggested that other countries would try to control ICANN after the U.S. ends its contract. The U.S. can "rightly take credit for the freedom that exists the Internet today," he said during a hearing. "When we let go of that final link, will that institution be safer from those efforts to regulate the Internet, or will it be more exposed because it no longer has the protection of the United States?"
Apr. 9: The Daily Caller: Holder Takes Cheap Shot at Congressman Gohmert
Eric Holder ventured off script in a speech Wednesday to the National Action Network, the organization led by MSNBC host and recently-exposed FBI informant Al Sharpton.  "I'm pleased to note that the last five years have been defined by significant strides and by lasting reforms," said Holder at the conference of black activists, before improvising "even in the face, of unprecedented, unwarranted, ugly, and divisive adversity. If you don't believe that, if you look at the way, forget about me, forget about me, if you look at the way the attorney general of the United States was treated yesterday by a House Committee, it had nothing to do with me, forget that, what attorney general has ever had to deal with that kind of treatment?"  Holder's remarks were in reference to a terse exchange he had Tuesday with Texas Republican Rep. Louie Gohmert in a House Judiciary Committee hearing about documents related to a terror trial.
Apr. 8: The Hill: Holder Claims a "vast amount" of discretion in enforcing federal laws:
Attorney General Eric Holder maintained in front of House Judiciary Tuesday that he has a "vast amount" of discretion in how the Justice Department prosecutes federal law.  Holder's remarks came in response to accusations that he is flouting the law with his department's positions on marijuana legalization, criminal sentencing and a contentious provision of the president's signature healthcare law.  When Chairman Goodlatte asked Holder whether he believed there were any limits to the administration's prosecutorial discretion Holder responded "There is a vast amount of discretion that a president has — and, more specifically, that an attorney general has. But that discretion has to be used in an appropriate way so that your acting consistent with the aims of the statute but at the same time making sure that you are acting in a way that is consistent with our values, consistent with the Constitution and protecting the American people."  Holder said the Justice Department must defend federal laws on the books unless it concludes that "there is no basis to defend the statute."
Apr. 8: The Daily Caller: Holder explodes at Texas Congressman "You don't want to go there, buddy!"
Attorney General Eric Holder exploded at Texas Republican Rep. Louie Gohmert during a House hearing Tuesday when the Congressman made a side comment about how the House of Representatives found Holder in contempt in 2012 for refusing to turn over documents related to the Fast and Furious gun-running scandal, saying: "I realize that contempt is not a big deal to our attorney general, but it is important that we have proper oversight."   Holder shot back "You don't want to go there, buddy! You don't want to go there, okay."

"I don't want to go there?" the Texas Republican responded.

"You should not assume that that is not a big deal to me. I think that it was inappropriate, I think it was unjust. But never think that that was not a big deal to me. Don't ever think that," Holder said pointing at Gohmert. 

Gohmert reiterated that the Justice Department has still not produced the documents related to Holders contempt charge.  "I'm just looking for evidence and normally we're known by our fruits and there's been no indications that it was a big deal because your department still has not been forthcoming in producing the documents that were the subject of the contempt," Gohmert concluded!
Apr. 8: Associated Press: President lowering Nuke force to lowest since the 1960s"
The U.S. will keep its current force of 450 land-based nuclear missiles but remove 50 from their launch silos as part of a plan to bring the U.S. into compliance with a 2011 U.S.-Russia arms control treaty, the Pentagon said Tuesday.  The resulting launch-ready total of 400 Minuteman 3 intercontinental ballistic missiles would be the lowest deployed ICBM total since the early 1960s. 
The decisions come after a strong push by members of Congress from the states that host missile bases - North Dakota, Wyoming and Montana - to not eliminate any of the silos from which the missiles would be launched. Fifty silos will be kept in "warm" status - empty of missiles but capable of returning to active use.  But given the recent aggressive behavior by Russia, is further reducing our defense capabilities appropriate?
Apr. 8: CSMonitor.Com: China warns its military ambitions can't be contained by the U.S.
The timing was part of the message: The day after China brought Defense Secretary Chuck Hagel on board its first aircraft carrier as the first foreign visitor, its defense minister warned that no one, not even the U.S., could contain its military ambitions.   "With the latest developments in China, it can never be contained," Gen. Chang Wanquan said, according to Bloomberg Business week. The U.S. is "a country of worldwide influence, and the Pacific Ocean is huge enough to hold both China and the U.S. for common development and also huge enough to hold the other Asia-Pacific countries."  Mr. Hagel hopes to create a framework to "manage competition" between the US and China, and to reassure other countries in the region who fear being trampled by China – and might take action to send a message to Beijing.
Apr. 5: Yahoo News: Japan orders military to intercept any North Korean missiles deemed a threat:
Japan will strike any North Korean ballistic missile that threatens to hit Japan in the coming weeks after Pyongyang recently fired medium-range missiles, a government source said on Saturday.  Defense Minister Itsunori Onodera issued the order, which took effect on Thursday the source told Reuters on condition of anonymity.  Following the order, meant "to prepare for any additional missile launches," a destroyer was dispatched to the Sea of Japan and will fire if North Korea launches a missile that Tokyo deems in danger of striking or falling on Japanese territory, the source said.
Tensions have been building between North Korea and its neighbors since Pyongyang - in an apparent show of defiance - fired two Rodong missiles on March 26, just as the leaders of Japan, South Korea and the United States were sitting down to discuss containing the North Korean nuclear threat.
Apr. 4: The Washington Examiner:  Holder didn't take over 100 personal trips on the taxpayers dime it was only 27. Some contend this is 27 too many!
Attorney General Eric Holder disputed a Government Accountability Office report on his use of Justice Department airplanes for personal trips, saying it overstated the number of trips he took and failed to recognize that some trips were job-related.  Holder told Rep. Frank Wolf (R-VA), during a House Appropriations subcommittee hearing. "There was this notion that we've taken -- I think it was described as hundreds of personal trips. That was wrong. GAO counted flights, not round trips. And we looked at it and figured out from the time period that they were looking, we took not hundreds, but 27 personal, four combined -- official and nonpersonal trips -- and none of the trips that I took or that the [FBI] director took ever had an impact on the mission capability of those airplanes."
Apr. 4: The Washington Free Beacon: Senior CIA Manager jumps off building, committing suicide, in Northern Virginia:
A senior CIA official has died in an apparent suicide this week from injuries sustained after jumping off a building in northern Virginia, close to Tysons Corner,  CIA officials confirmed today.  The incident did not take place at CIA headquarters in McLean, Va.  "We can confirm that there was an individual fatally injured at a facility where agency work is done," White, a CIA spokesperson recounted. "He was rushed to a local area hospital where he subsequently died. Due to privacy reasons and out of respect for the family, we are not releasing additional information at this time."  Many agency employees are known to work under stressful conditions and high stress is considered a part of the profession.
Apr. 2: The National Journal: Republicans Fear Obama will turn over control of the Internet to Russia and China:
An Obama administration plan to give up oversight of certain technical Internet functions could open the door to a takeover by authoritarian regimes, Republican lawmakers claimed Wednesday.  If Russia or China gain new influence over the management of the Internet, they could begin censoring content or blocking websites, the Republicans warned.  "Make no mistake: Threats to the openness and freedom of the Internet are real," said Republican Rep. Greg Walden, the chairman of the House Energy and Commerce Communications and Technology Subcommittee, which held a hearing on the issue Wednesday. "Leaders such as Vladimir Putin have explicitly announced their desire to gain control of the Internet."
Walden and other Republicans are pushing a bill that would block the transfer of authority until the Government Accountability Office can study the issue. Dozens of Senate Republicans, led by John Thune and Marco Rubio, sent a letter to the administration on Wednesday, demanding more answers about the plan.  But Democrats at Wednesday's hearing insisted that if Republicans were serious about Internet freedom, they would support the U.S. proposal.
Assistant Secretary of Commerce Larry Strickling said the U.S. will make sure that no foreign government will be able to seize new powers over the Internet.  "Do you really think that Vladimir Putin... isn't going to figure out some way to get control?" Rep. Steve Scalise, a Louisiana Republican, shot back. "China and Russia can be very resourceful,"  Last month, the Commerce Department announced that it will give the Internet Corporation for Assigned Names and Numbers (ICANN), an international nonprofit group, control over a set of technical procedures that allows computers around the world to connect to Web addresses.
Although the Internet was invented in the United States [by Al Gore?!], ICANN has actually managed the Internet's address system since 1998. But ICANN's authority stems from a contract it receives from the National Telecommunications and Information Administration, a Commerce Department agency.  By ending that contract, the U.S. will give up an "important backstop" that has protected the Internet from authoritarian regimes, Walden said. If ICANN bowed to pressure from Russia, China, or Iran, the U.S. could have always pulled the group's contractual authority. But once the U.S. gives up its power, "there is no putting this genie back in the bottle," he warned.
Mar. 26: Fox News: Poll: Country weaker under Obama, not tough enough on Russia:
By a widening margin, more voters think the United States is weaker since Barack Obama became president. And the highest number in a decade feels the country is less safe than it was before 9/11, according to a Fox News poll released Wednesday.   The poll also finds most voters think President Obama has not been tough enough on Russia, although a majority still says the U.S. should stay out of the situation in Ukraine.
Some 52 percent of voters think the country is weaker and less powerful today than it was six years ago. That's three times the 17 percent who say the country is stronger and more powerful. About 3 in 10 think it is unchanged (29 percent). The number of Democrats saying the country is stronger now has dropped 11 percentage points: it's 32 percent today, down from 43 percent in 2013. Twenty-two percent of Democrats say the country is weaker and 44 percent say it is the same.   Views among Republicans are lopsided: 78 percent say the country is weaker under Obama vs. five percent stronger.
Mar. 26: Fox News: Obama Says Russian Energy Sector may be the target for the next round of sanctions:
President Obama threatened a new round of sanctions against Russia on Wednesday, this time aimed at the country's energy sector.  Obama said the crisis in Ukraine underscored Europe's need to become less dependent on Russia's rich energy sources.  He also acknowledged that additional sanctions could affect Russia's neighboring countries but said the United States was committed to helping those nations find energy alternatives. Obama said coordination between the U.S. and Europe on economic sanctions against Russia has been excellent and warned that if Russia continues on its current course, "the isolation will deepen."
The president went on to say if "Russian leadership thought the world wouldn't care about their actions in Ukraine, or that they could drive a wedge between the European Union and the United States, they clearly miscalculated."
Mar. 24: The Hill: Russia Kicked out of G-8, at least temporarily

The United States and other Western powers on Monday kicked Russia out of their exclusive club, at least temporarily. Western leaders replaced a Group of Eight meeting that Russia was to host in Sochi this June with a Group of Seven meeting in Brussels, effectively suspending Russia's G-8 membership in the process.  The decision at an emergency meeting of the G-7 in The Hague is the latest in a series of diplomatic steps the Obama administration has taken to isolate Moscow for its takeover of Crimea, a region of Ukraine that Russia annexed last week.

In a joint statement, the G-7 countries said that the group was originally formed "because of shared beliefs and shared responsibilities. Russia's actions in recent weeks are not consistent with them. Under these circumstances, we will not participate in the planned Sochi Summit," the countries said.  The group also said it remained "ready to intensify" sanctions against Russia, "including coordinated sectoral sanctions that will have an increasingly significant impact on the Russian economy."  Russia quickly dismissed the ejection.
Mar. 23: Fox News: Romney: Obama is "naïve" and lacked judgment regarding Ukraine and Putin
Former GOP presidential nominee Mitt Romney on Sunday accused President Obama of being "naïve" about Russian President Vladimir Putin agenda and lacking the foresight to have prevented Putin from taking over a Ukraine peninsula.  "There's no question but that the president's naiveté with regards to Russia," he said on CBS' "Face the Nation." "And his faulty judgment about Russia's intentions and objectives has led to a number of foreign policy challenges that we face."
During Romney's 2012 presidential race against Obama, the president criticized him for saying Russia -- not Al QED -- was America's "number one geopolitical foe."   "This is not fantasy land," Romney said Sunday. "They are not our enemy but an adversary on the world stage."  He also said the United States should have worked sooner with allies to make clear the penalties that Russia could have faced if it moved into Ukraine.
Mar. 21: Fox News: Federal Prosecutors balk at Holder push to reduce drug sentences:
Federal prosecutors are at odds with U.S. Attorney General Eric Holder over whether mandatory minimum sentences -- a key part of the government's so-called war on drugs -- should be rolled back.   Congress approved many of those harsh penalties in the 1980s. Under the guidelines, a dealer busted with 1,000 marijuana plants, for example, or large amounts of certain narcotics, could face five, 10, even 20 years behind bars.  As a result, prosecutors say, drug crime has gone down.
But now Holder is leading the charge to overhaul mandatory minimums. Amid exploding incarceration rates, and allegations that long prison sentences have unfairly hurt low-income and minority communities, Holder is calling on Congress to pass the so-called Smarter Sentencing Act, which reduces the required incarceration times, claiming that by doing so the county could save billions of dollars.
But many who've helped put serious drug dealers away disagree. In a sharply worded letter to Holder, the National Association of Assistant U.S. Attorneys wrote "we consider the current federal mandatory minimum sentence framework as well-constructed and well worth preserving." Some federal prosecutors are saying incarceration rates may go down, but drug crimes will go up because dealers won't feel compelled to cooperate calling it a "terrible idea."
Mar. 19: The Washington Times: Pentagon goes "hypersonic" with long-range rapid attack weapon:
An experimental scramjet-powered, ultrahigh speed strike vehicle is emerging as the Pentagon's main choice for a new long-range, rapid attack weapon, a senior official says. Alan Shaffer, principal deputy assistant defense secretary for research and engineering, told a defense industry conference that prototypes and recent tests proved concepts for hypersonic arms, and several systems are part of a high-priority effort by  Pentagon weapons developers, despite the era of sharply-diminished defense spending.
Hypersonic vehicles can deliver nuclear or conventional payloads in precision strikes against increasingly hard-to-penetrate air defenses of countries like China, Russia and Iran, he said.  "We, the U.S., do not want to be the second country to understand how to have controlled scramjet hypersonics," Shaffer contended.  The comments come 2 1/2 months after China's surprise Jan. 9 test of a new hypersonic glide vehicle, dubbed the Wu-14. That ultrahigh speed maneuvering vehicle test represents a major challenge for current U.S. missile defenses, which are designed to counter non-maneuvering ballistic missile threats.
Mar. 18: Fox News:
GOP bill would cut DOD civilian workforce shifting funds to the troops and readiness initiatives:
Several House Republicans have introduced legislation that would reduce the civilian defense workforce by 15 percent in six years and use the savings from the cuts to boost military readiness and support active-duty personnel.  The Rebalance for an Effective Defense Uniform and Civilian Employees, or REDUCE, Act would cut nearly 115,000 jobs from the Defense Department, from the current 770,00-person workforce down to roughly 655,000, GovExec.com reported. 
Ken Calvert, R-CA who introduced the legislation, said his proposal would require the Pentagon to make civilian workforce reductions in a "systematic manner" without compromising the nation's ability to maintain a strong national defense. "The growth of the civilian workforce within the DOD continues to create a significant budgetary burden but, more importantly, if left unchecked it will negatively impact our men and women in uniform," Calvert said in a statement. "[Secretary of Defense Chuck] Hagel's recently announced military reduction plan trims the wrong side of the DOD. It would negatively impact our troops, compromise our national security, while failing to make the tough but necessary decisions needed to trim the civilian workforce at the DOD."
The proposal was met with immediate resistance from the American Federation of Government Employees, the nation's largest federal employee union who may just happen to represent some of the those threatened with job cuts.
Mar. 13: Fox News: A Vote to Join Russia could leave Crimea without Water, Electricity:
As Russia's stranglehold on Crimea tightens, the Ukrainian province to the north is warning it could make life on the peninsula miserable if the coveted region chooses sides with Moscow in Sunday's referendum.  Pro-Moscow officials in Crimea, who favor secession from Ukraine, have said they will seize all utilities and assets owned by the Kiev-based Ukrainian government if the referendum goes as expected. But Crimea's electricity, freshwater and natural gas all flows in from the province of Kherson, where leaders warn they will shut everything off if the referendum they say is illegitimate, goes forward.
Mar. 13: Washington Examiner: Kerry gives Russia until Monday to reverse direction in Ukraine:
Secretary of State John Kerry warned of serious repercussions for Russia on Monday if last-ditch talks over the weekend to resolve the crisis in Ukraine failed to persuade Moscow to soften its stance.  Kerry will travel to London for a Friday meeting with Russian Foreign Minister Sergey Lavrov ahead of a Sunday referendum vote in the Crimea region to secede from Ukraine and join the Russian Federation.  U.S. and European officials argue that Moscow is orchestrating the referendum and waging an intimidation campaign with thousands of Russian troops controlling the region. If Russian-backed lawmakers in Crimea go through with the Sunday referendum, Kerry said the U.S. and its European allies will not recognize it as legitimate under international law.
Mar. 11: The Washington Post:
Feinstein "PO'ed" Over possible CIA search of Intelligence Committee Computers:
A behind-the-scenes battle between the CIA and Congress erupted in public Tuesday as the head of the Senate Intelligence Committee accused the agency of breaking laws and breaching constitutional principles in an alleged effort to undermine the panel's multi-year investigation of a controversial interrogation program.  Chairman Feinstein (D-CA) accused the CIA of secretly removing documents, searching committee-used computers and attempting to intimidate congressional investigators by requesting an FBI inquiry of their conduct — charges that CIA Director Brennan disputed within hours of her appearance on the Senate floor.
Feinstein described the escalating conflict as a "defining moment" for Congress's role in overseeing the nation's intelligence agencies and cited "grave concerns" that the CIA had "violated the separation-of-powers principles embodied in the United States Constitution."
Brennan fired back during a previously scheduled speech in Washington, saying that "when the facts come out on this, I think a lot of people who are claiming that there has been this tremendous sort of spying and monitoring and hacking will be proved wrong."
Mar. 7: The Daily Caller: Former Soviet Spy Chief claims Putin regime is an "intelligence agency dictatorship"
The highest ranking defector to flee from the old Soviet bloc has a message to share about Vladimir Putin — he's still a KGB agent at heart and that mindset is heavily influencing his tactics for furthering Russia's interests. Ion Mihai Pacepa was the head of the Romanian communist regime's foreign intelligence service before he defected to the West in 1978. Due to the threats on his life, Pacepa refuses to appear in public, but he has communicated his message to the co-author of his most recent book "Disinformation: Former Spy Chief Reveals Secret Strategies for Underming Freedom, Attacking Religion, and promoting Terrorism." Pacepa's co-author, Ronald Rychlak, spoke with The Daily Caller on Friday on Pacepa's opinion that Putin has created an "intelligence agency dictatorship" in Russia that's heavily composed of ex-KGB agents and how they use the tactics of their old organization to govern the country.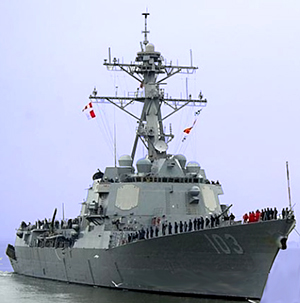 Mar. 6: Yahoo News: USS Truxtun (DDG-103) on the Way to the Black Sea for Maneuvers:
A US guided-missile destroyer is en route to the Black Sea but naval officials said Thursday it was a "routine" deployment that was planned before the crisis unfolded in Ukraine.  The USS Truxtun departed the port of Souda Bay Crete Thursday to carry out joint training with Romanian and Bulgarian forces, the US Navy said in a statement.  "While in the Black Sea, the ship will conduct a port visit and routine, previously planned exercises with allies and partners in the region," it said.  The mission was "scheduled well in advance of her departure from the United States," it said.
Although portrayed as unrelated to tensions in Ukraine, where pro-Russian forces have taken de facto control over the Crimean peninsula, the presence of a US naval destroyer in the Black Sea sends a symbolic message to Moscow.  The move comes a day after the Pentagon sought to reassure anxious allies in Central and Eastern Europe over Russia's actions in Ukraine, announcing plans to send more F-15 fighter jets to patrol the skies over Baltic states and stepping up aviation training in Poland.

Mar. 6: National Review: Ambassador Bolton: Our Biggest National Security Problem is Barack Obama!
With the Obama administration grappling with a crisis in Ukraine, former United Nations ambassador John Bolton took the stage at the Conservative Political Action Conference on Thursday and declared that the country's "biggest national-security problem is Barack Obama."   Bolton honed in on the terror attack in Benghazi, Libya, which he described as paradigm of President Obama's foreign-policy failures because the president "has done nothing to avenge Chris Stevens's death.  That is a terrible lesson for our adversaries," Bolton said. "Under Barack Obama you can murder his personal representative and get away scot-free." He also warned that the matter will come back to haunt Hillary Clinton if, as most suspect, she launches a presidential bid in 2016. "We will be happy to tell Hillary Clinton in unmistakable terms, 'We know what difference it makes, even if you don't,'" he said.
Mar. 5: The Daily Beast: TV Anchor Quits On Air, can "no longer be "part of a network that whitewashes the actions of Putin"
An American anchor working for state-owned television station Russia Today quit on air on Wednesday. Liz Wahl, in the network's D.C. bureau, announced she could no longer be "part of a network that whitewashes the actions of Putin. I'm proud to be an American and believe in disseminating the truth, and that is why, after this newscast, I am resigning." 
"It actually makes me feel sick that I worked there," Wahl told The Daily Beast exclusively.  She had been planning this move for some time. "When I came on board from the beginning I knew what I was getting into, but I think I was more cautious and tried to stay as objective as I could," she said, explaining that she was repeatedly censured by her superiors.  The Kremlin's influence over RT is subtle, Wahl said, but management manipulates its employees, punishing those who stray from the narrative. "In order to succeed there you don't question," Wahl explained.
Mar. 4: McClatchyDC Report: Military's Top General Offers Grim Outlook on Nations Defense Capabilities:
The nation's top military commander painted a dark picture Tuesday of future U.S. defense capabilities clouded by shrinking Pentagon budgets and adversaries' technological advances that he said would erode American battlefield superiority.  Army Gen. Martin Dempsey, chairman of the Joint Chiefs of Staff, provided his sobering views as part of the Quadrennial Defense Review, a congressionally mandated evaluation of U.S. military strength issued every four years.  Dempsey predicted that it would become increasingly difficult to balance the competing demands of protecting allies abroad, securing Americans at home and deterring future wars.  "The smaller and less capable military outlined in the QDR makes meeting these obligations more difficult," he said. "Most of our platforms and equipment will be older, and our advantages in some domains will have eroded. Our loss of depth across the force could reduce our ability to intimidate opponents from escalating conflicts."  Dempsey added: "Moreover, many of our most capable allies will lose key capabilities. The situation will be exacerbated given our current readiness concerns, which will worsen over the next three or four years."
Mar. 3: Fox News: Rumsfeld on Ukraine: "Its is US weakness that has shaken the world"
Former Secretary of Defense Donald Rumsfeld told Fox News' Greta Van Susteren Monday that he believes "U.S. weakness has shaken the world" and has created a power vacuum that has led to instability and crises such as the one in Ukraine.  Rumsfeld said under the Obama administration the U.S. has been perceived as a world power in decline, and wields far less influence than it used to. Consequently, the world as a whole has become less stable.  "We have created a leadership vacuum in the world, and it is being filled by the Putins of the world, by people without our values or our interest, and it's to the detriment of the United States and our friends and allies around the world," he said. "It is the United States that's injected that instability into the world equation."
Rumsfeld said the U.S. has to aim to create a coalition of nations that will put the maximum amount of pressure on Putin and Russia.  "So, the thing we have got to persuade other countries of is that we get peace through strength as Eisenhower said," Rumsfeld said. "If we want peace, we have to be prepared for war and that it is U.S. weakness that has shaken the world.
Mar. 3: The Daily Caller: Is Obama Administration Freezing Fox News out of Foreign Policy Reporting?
The Obama administration faces a difficult problem. Diplomacy has failed, despite its best efforts, and the ruthless winner-take-all attitude of its adversary now leaves them but two choices: break off relations or capitulate to its demands.  That adversary, of course, is Fox News — and President Barack Obama finally seems prepared to enforce a hard line against them. In the past week the White House has frozen the top-rated news network out of two key foreign policy interviews provided to other networks — one on Sunday with Secretary of State John Kerry, and one last week with National Security Adviser Susan Rice.
Kerry made the rounds yesterday to discuss the White House's response to Russia's Friday invasion of Ukraine, appearing on NBC, CBS and ABC's Sunday shows to promise a tough (if unspecified) response to Vladimir Putin's power grab. But Chris Wallace of "Fox News Sunday" was shut out.  "For the record, we invited Secretary of State Kerry to join us today," Wallace noted at the conclusion of his opening interview. "But although the White House put him out on all the other broadcast Sunday shows, they declined to make him available to us — or you."
Feb. 26: Fox News: Two days after the Administration announced major cuts in military spending they want $300 Billion for roads and railways
Just two days after the Pentagon outlined major cuts to the U.S. Army and other military programs, President Obama is calling for a whopping $300 billion commitment for America's roads, bridges and mass transit systems -- though as much as half comes from a tax plan that has bleak prospects on the Hill.   The president talked about the stimulus-style plan during a stop Wednesday afternoon in St. Paul, Minn. Officials say the money, as proposed, largely would come from "pro-growth business tax reform." But aside from the challenges in pushing tax reform, Obama could have a hard time making the sell when his military leaders, just days ago, were complaining about the budget crunch. The Republican National Committee also questioned whether new transportation spending would be the jobs engine the administration claims.
Feb 25: Fox News: Increased domestic spending my be behind proposed military cuts, a CBO report suggests:
As the Obama administration announces proposed sweeping defense cuts this week, a Congressional Budget Office report documents how increases in other areas of domestic spending may be forcing the White House to reduce money for the military.  The CBO report finds that mandatory spending, which includes Social Security, Medicare and Medicaid, is projected to rise $85 billion, or 4 percent, to $2.1 trillion this year.  Interest on the debt is worse. It is projected to increase 14 percent per year, almost quadrupling in dollar terms between 2014 and 2024. "We are going to be spending more in interest in a couple of years then we do on national defense," House Armed Services Committee Chairman Buck McKeon, R-CA, told Fox News.
Feb. 25: The LA Times: Supremes Ruling Expands Warrantless Search Authority:
Police officers may enter and search a home without a warrant as long as one occupant consents, even if another resident has previously objected, the Supreme Court ruled Tuesday in a Los Angeles case.  The 6-3 ruling, triggered by a LAPD arrest in 2009, gives authorities more leeway to search homes without obtaining a warrant, even when there is no emergency.
The majority, led by Justice Alito, said police need not take the time to get a magistrate's approval before entering a home in such cases. But dissenters, led by Justice Ginsburg, warned that the decision would erode protections against warrantless home searches. The court had previously held that such protections were at the "very core" of the 4th Amendment and its ban on unreasonable searches and seizures.
Feb. 24: Yahoo News: Obama wants to shrink size if military to pre-WWII levels (Those who fail to know history are doomed to repeat it!)
The Pentagon plans to scale back the US Army by more than an eighth to its lowest level since before World War II, signaling a shift after more than a decade of ground wars.  Saying it was time to "reset" for a new era, Defense Secretary Chuck Hagel recommended shrinking American forces from 520,000 active duty troops to between 440,000 and 450,000. The Pentagon had previously planned to downsize the ground force to about 490,000.
Several members of the Senate Armed Services Committee immediately expressed reservations about the budget proposal. Republican Senator Roy Blunt of Missouri, who sits on the committee, said the proposals had the "potential to harm America's military readiness."  Venturing into politically sensitive territory, Hagel called for slowing growth in pay and benefits -- which make up nearly half the Pentagon's budget -- and closing more bases in the United States.  Lawmakers have long resisted base closures or any reform of pay, pensions or other benefits.
Feb. 21: The Daily Caller: FCC scraps media survey amid allegations of trying to regulate the news:
The Federal Communications Commission cancelled a plan to evaluate the coverage of major media outlets Friday after a tidal wave of media criticism alleged the agency was attempting to influence and regulate the news media industry and its decision making on news coverage.  "In the course of FCC review and public comment, concerns were raised that some of the questions may not have been appropriate," the agency said in a statement Friday. "Chairman Wheeler agreed that survey questions in the study directed toward media outlet managers, news directors, and reporters overstepped the bounds of what is required." 
The FCC came under sharp criticism from Congressional Republicans and a fellow agency commissioner over its proposed Multi-Market Study of Critical Information Needs, or "CIN" study, which aimed to assess how the news media covered "critical information" by sending FCC regulators into the offices of major television, newspaper, and internet media outlets across the country.  One local news outlet in Houston likened the study to the movie "Hunt for Red October" where the political officer had equal power with Captain. 
Feb. 21: Politico: FCC backs off newsroom study:
The Federal Communications Commission will amend a proposed study of newsrooms in South Carolina after outcry over what some called "invasive questions," the commission's chairman said Friday.  The survey was meant to study how and if the media is meeting the public's "critical information needs" on subjects like public health, politics, transportation and the environment.   Now, FCC Chairman Tom Wheeler said questions about news philosophy and editorial judgment will be removed from the survey and media owners and reporters will no longer be questioned.  The uproar caught on fire after one of the Republican commissioners, Ajit Pai, penned an op-ed inn the Wall Street Journal last week blasting the survey and saying the government had no place in newsrooms.
The FCC is saying it is required by law to conduct media studies.  "Any suggestion the Commission intends to regulate the speech of news media is false," FCC spokeswoman Shannon Gilson said Friday in a statement, adding that a revised study will be released within the next few weeks. Additionally, she said media owners and journalists will no longer be asked to participate in the pilot study.  But as a person who served for years in Washington as part of a federal regulatory agency, I can tell you that just having a federal regulator on site has a chilling affect.
Feb. 21: The Hill: Lawmakers to grill Pentagon on deadly attack that killed 30 SEAL team members:
A congressional panel on Thursday will hold a hearing on a mysterious helicopter crash in Afghanistan that killed members of the Navy's elite SEAL Team 6 unit.  Many questions about the Aug. 6, 2011 attack, which killed 30 Americans, will be asked during the House Oversight and Government Reform subcommittee on National Security.  Rep. Jason Chaffetz (R-UT), who heads the panel, told The Hill that the hearing is aimed at getting answers from the Pentagon and "honoring those who gave the ultimate sacrifice."
The SEALs were killed three months after Osama bin Laden was killed in Pakistan by SEAL Team 6 forces. The timing has sparked speculation that the attack was payback for the bin Laden raid.  In all, 38 died when Afghan militants shot down a CH-47 Chinook helicopter. Twenty-two Navy SEALs perished, along with seven Afghan soldiers and an Afghan translator. The U.S. forces were on a rescue mission called Extortion 17.  The 38 bodies were recovered, but the chopper's black box wasn't. Department of Defense officials claim it couldn't be recovered because of a flash flood that occurred after the assault. All 38 bodies were cremated.  Pentagon officials have defended the cremations to the soldiers' families, saying the bodies were badly burned. Chaffetz has said he has seen a photo of a deceased SEAL that was not.
Feb. 18: The Daily Caller: Gingrich: Kerry should resign over global warming remarks:
Former Republican Speaker of the House Newt Gingrich took to Twitter to call for Secretary of State John Kerry to resign for calling global warming the "world's most fearsome weapon of mass destruction."  Gingrich  tweeted out his disgust with Kerry's comments:
Does kerry really believe global warming more dangerous than north Korean and Iranian nukes? More than Russian and Chinese nukes? Really? ? —
Newt Gingrich (@newtgingrich) February 18, 2014
On his trip to Indonesia, Kerry said that global warming is "the world's largest weapon of mass destruction" and particularly harms low-lying countries that are at risk from rising sea levels.  Kerry has been playing up the national security angle of global warming since at least 2009, during his Senate years, when congressional Democrats were trying to pass a cap-and-trade bill. Kerry told the New York Times that he touted the national security concerns of global warming as a way to lure Republicans to support the bill.  But Gingrich, a longtime Republican, is not buying it.  "Every American who cares about national security must demand Kerry's resignation. A delusional secretary of state is dangerous to our safety" Gingrich Tweeted.

Feb. 16: Politico: F-35 Fighter Plane cost overruns detailed
The F-35 Joint Strike Fighter is $163 billion over budget, seven years behind schedule, and will cost taxpayers about twice as much as sending a man to the moon. But according to Pentagon officials, the Lockheed Martin-built plane is light years ahead of its competition from other countries, and there's no turning back on the project now.  In an interview with CBS's "60 Minutes" that aired Sunday night, the Pentagon's chief weapons buyer Frank Kendall called the $400 billion purchase "acquisition malpractice" that strayed from the long-standing "fly-before-you-buy" rule.

Despite the project's problems, military officials say the planes are unlike any others and provide invaluable advantages over countries like Russia and China.  Marine Lt. Gen. Robert Schmidle said the planes were like flying computers, and that they could detect an enemy plane five to 10 times faster than the enemy could detect it.  Lt. Col. David Berke said it was difficult to overstate how significant the advancement of this plane is over anything that's flying right now.  Part of that technology is a half-million dollar helmet custom-made for each pilot. That allows them to see 360 degrees around the outside of the plane.

Feb. 16: Fox News: Acting ICE Director Sandweg Resigns after 5 months on the Job
John Sandweg, a former defense attorney who knew former Department of Homeland Security Secretary Janet Napolitano from their days as political allies in Arizona and came to Washington with her, gave his notice just six months after taking the reins in August. In a letter Friday to coworkers, Sandweg said he will return to work in the private sector but gave no explanation for his departure.  "Over the past several months I had the opportunity to work alongside many of you," he wrote. "I was always amazed by your dedication and commitment to the agency and our nation. Despite the challenges we face, you continue to push on, achieving remarkable security and public safety gains for our country."

Sandweg was named to the post amid concerns by congressional lawmakers and former agency officials that his background as a criminal defense attorney with no law enforcement experience made him unqualified to run the country's second-largest law enforcement agency.

Feb. 16: YouTube: Rear Admiral Lee Addresses Restrictive Regulations on our military:
This video was taken during the National Day of Prayer last year. However, since I just came across it and found it to be a powerful message I have posted it here within this timeline. It addresses politically correct actions taken by the current administration to restrict religious freedom and free speech within our military forces.

Feb. 9: The Financial Times: U.S. blames China for rising tensions in the South China Sea:
In public statements in recent days, senior US officials placed the blame for tensions in the region solely on China and warned that the US could move more forces to the western Pacific if Beijing were to declare a new air defence zone in the South China Sea.  Although President Barack Obama is due to visit the region in April, several Asia governments have complained privately that the administration has become distracted in the Middle East and has left the way open for China to pursue its claims with greater confidence.

"They [the administration] are definitely trying to turn up the volume about China," said Bonnie Glaser, a China expert at the Center for Strategic and International Studies in Washington DC. "This is as close as the Obama administration has come to saying that the nine-dash line is illegal. It is quite significant because they previously danced around the issue." The nine-dash line is a map produced by China which appears to claim that the bulk of the South China Sea is under Chinese control.

Feb. 8: The Times of Israeli: Iran TV airs simulated video of attack on Israel and U.S. Aircraft Carrier:
Iranian state TV on Friday ran a documentary featuring a computerized video of Iran's drones and missiles bombing Tel Aviv, Haifa, Ben Gurion Airport and the Dimona nuclear reactor in a hypothetical retaliation for an Israeli or American strike on the Islamic Republic.   Iranian drones and missiles are also shown carrying out simulated strikes on the American aircraft carrier USS Abraham Lincoln, downing American aircraft and striking American military targets in the Persian Gulf.   The clip was broadcast amid a clear escalation of anti-American rhetoric and even action by Iran: On Saturday, an Iranian admiral announced that Iran had dispatched warships to the North Atlantic, while Iran's spiritual leader Ayatollah Khomeini denounced the Americans as liars who, while professing to be friends of Iran, would bring down his regime if they could. He also said it was "amusing" that the US thought Iran would reduce its "defensive capabilities."

Feb. 7: InfoWars.Com: TSA Agents interrogate Jewish Author for Reading Conservative Paper:
Award winning Jewish author Phyllis Chesler was questioned and had her bag searched at New York's JFK Airport as a result of a TSA agent's suspicions over the fact that she was reading a conservative newspaper.  The incident happened on Wednesday afternoon after Chesler's flight to Florida was delayed due to the recent ice storms.  As soon as Chesler pulled out a copy of The Jewish Press, a popular English language weekly with a conservative political bent, a TSA agent eyed her with suspicion, approached the author and asked to see the newspaper.  After the TSA agent scrutinized the cover of the newspaper and showed it to another security official, Chesler was ordered to open her luggage, which the two agents then proceeded to rifle through.

During the search, Chesler was interrogated by the two TSA workers. As her luggage was being searched, Chesler noticed that a Muslim woman wearing a niqab that covered her entire face apart from her eyes was allowed through security with no questions asked and with no one even bothering to verify her identity.  Chesler was left alone after the two agents found nothing more deadly than a bottle of water. Despite their best efforts to assume the role of political thought police, the TSA workers discovered that reading a newspaper other than the New York Times or the Washington Post isn't indicative of being a terrorist.

"The issue is not that the Jew was the one who was stopped and the Muslim was the one who sailed through security," reports the Jewish Press. "The issue is that merely the word Jewish on a newspaper was sufficient to draw the agents' attention and suspicion, while someone whose identity was impossible to discern, who could be hiding who knows what, was ignored by security – security! professionals."

Feb. 5: Fox News: Widow of fallen cop blocked from testifying on Obama DOJ pick:
The Philadelphia district attorney is speaking out against President Obama's nominee for a top Justice Department post, saying his link to the case of a convicted cop killer "sends a message of contempt" to police -- as the widow of the fallen officer is apparently denied the chance to testify. Maureen Faulkner, whose husband Daniel Faulkner was killed in 1981, was hoping to speak publicly on the case before the Senate Judiciary Committee, which plans to vote Thursday on the nomination of Debo Adegbile to lead the Civil Rights Division.

But she told FoxNews.com she's "extremely frustrated" after being told by representatives of Judiciary Committee Chairman Patrick Leahy, D-VT, that she won't be able to do so.  "I am physically, emotionally and mentally distressed that I'm not able to be in that room," Faulkner told FoxNews.com by phone. "This is personal to me."   Faulkner said she received a letter from Leahy's office this week informing her that it's "not the practice" of the committee to accept outside testimony. Faulkner, who lives in Los Angeles, later realized she could attend the hearing as a member of the public but was unable to book a flight.

Feb. 5: The Daily Caller: Kerry to Israeli Critics: I've been attacked before by people using real bullets:
John Kerry invoked his Vietnam War service to push back against an Israeli cabinet member who criticized his recent comments on the Israeli-Palestinian peace process.  During a security conference in Munich last weekend, Kerry suggested that if his Israeli-Palestinian peace effort fails, there could be serious consequences for Israel.  "For Israel there is an increasing delegitimizing campaign that has been building up," Kerry said, without condemning the effort. "People are very sensitive to it. There are talks of boycotts and other kinds of things."

In response, Israel's economy minister Naftali Bennett harshly criticized Kerry's failure to speak out against the delegitimization campaign at the conference. "We expect our friends around the world to stand beside us, against anti-Semitic boycott efforts targeting Israel, and not for them to be their trumpet," he said in a statement.

Feb. 4: The Daily Mail: Lockheed Martin fires first portable laser weapon that could replace missiles:
It is a weapon that could mean the end of traditional missiles. Lockheed Martin revealed is has tested the a 30-kilowatt electric fiber laser, the highest power ever fired. The firm says the weapon could eventually be mounted on jets, tanks and fighter planes - and will more than triple in strength before being used in combat. The record-breaking power output was achieved by combining many fiber lasers into a single, near-perfect quality beam of light.

The process, called Spectral Beam Combining, sends beams from multiple fiber laser modules, each with a unique wavelength, into a combiner that forms a single, powerful, high quality beam. 'Lockheed Martin has opened the aperture for high power, electrically driven laser systems suitable for military applications,' said Dr. Ray O. Johnson, senior vice president and chief technology officer of Lockheed Martin. 'Advancements in available laser components, along with the maturity and quality of our innovative beam-combining technology, support our goal of providing lightweight and rugged laser weapon systems for use on military platforms such as aircraft, helicopters, ships and trucks.'

Jan. 28: Free beacon: Pentagon Concerned by China's New High-Speed Missile:
China's recent test of a new ultra-high speed strike vehicle highlights growing concerns that Chinese military advances will overtake those of the United States in as few as five years, a senior Pentagon official told Congress Tuesday.  Frank Kendall, undersecretary of defense for acquisition, technology, and logistics, said during a House Armed Services Committee hearing that he is concerned by large-scale cuts in U.S. defense spending that are undermining efforts to maintain U.S. military superiority.  "On hypersonics, this is a good example of an area of technology that is going to move forward whether we invest in it or not," Kendall told a hearing on the United States shift toward Asia. "China is doing work in this area."

Kendall said the threat of such hypersonic vehicles to the United States is that they are difficult for missile defenses to counter. The vehicles travel and maneuver while flying at speeds of up to Mach 10 or 7,680 miles an hour.  "The high speed of these systems makes it much more difficult for air defenses to engage," he said.

Jan. 26: Politico: McCaul: Maryland mall shooting shows vulnerabilities:
The chairman of the House Homeland Security Committee said Sunday that the recent shooting at a suburban Washington mall, while not a terrorist attack, shows the dangers of malls as a target.  "This is not a terrorist threat at all, probably more a domestic squabble," Rep. Mike McCaul (R-TX) said on CBS's "Face the Nation." "It does highlight the vulnerability of shopping malls to shootings, soft targets like we saw in the Kenya shopping mall case, and that's the kind of scenario we do not want to see happen in the United States."   McCaul told host Bob Schieffer that ultimately, isolated shooters are difficult to stop.

Jan. 24: Roll Call: Will Court Give New Impetus for Background Check Process Overhaul?
A troubling court filing this week will increase the pressure to overhaul the process for federal background checks.  The government alleges that United States Investigations Services, the private contractor that vetted both Edward Snowden and Navy Yard shooter Aaron Alexis, intentionally cut corners on a contract to conduct background checks for the Office of Personnel Management.  Homeland Security and Governmental Affairs Chairman Thomas R. Carper responded in a statement to CQ Roll Call.  Senators have said, "By now, the stunning failures of this company — and the resulting threats to our national security — are well-documented. But we can't wait for the next disaster before tackling something as serious as lapses in protecting our nation's secrets and our secure facilities. We've seen swift action to boost accountability over these contractors, and I'm now calling on my colleagues to pass our bipartisan bill that would strengthen background checks through automatic reviews."

Jan. 21: Yahoo News: Fugitive U.S. Secret Leaker Fears for His Life
The Russian lawyer of Edward Snowden said Tuesday that the fugitive US intelligence leaker has feared for his life since reading of explicit threats against him by unnamed Pentagon officials.  "There are real threats to his life out there that actually do exist," Snowden's lawyer Anatoly Kucherena told Russia's state-run Vesti 24 rolling news channel.  "These statements call for physical reprisal against Edward Snowden," Kucherena said.

Jan. 21: The Times of Israel: Iranian warships en route to the Atlantic Ocean, a first ever action by Iran
Iran's navy has dispatched warships on a mission to the Atlantic Ocean for the first time in history, an Iranian news agency said.  The flotilla, consisting of a Khark logistic and helicopter-carrier warship and Sabalan destroyer, could journey as much as 25,000 nautical kilometers in the next three months, Fars News reported Tuesday.  No specific military mission was identified, and no ports of call were mentioned. 

Bidding farewell to the crews, Rear Admiral Seyyed Mahmoud Moussavi said Iran has a message of peace and friendship for the nations of the world and only seeks to display its defensive power capabilities. But previous statements by high-ranking Iranian naval personnel had declared Iran's intention to dispatch a next flotilla of warships to the high seas at around this date to protect the country's cargo ships and oil tankers against pirate attacks.

Jan. 19: Politico: Three Obama Veteran operatives involved with pardon of Rich and now advising president on clemency for Snowden:
Top Obama administration officials facing high-profile calls for clemency or a plea deal for Edward Snowden have life experience that counsels extreme caution: the political explosion they witnessed after President Bill Clinton pardoned financier Marc Rich more than a decade ago.  Attorney General Eric Holder, FBI Director James Comey and new Obama White House counselor John Podesta all played roles in the Rich saga, wrestling with the complex questions of what tactics and compromises officials should consider when an American is holed up overseas, beyond the reach of the U.S. justice system.


Jan. 19: Fox News: Senator Leahy says Senate will push for NSA limitations:
Vermont Sen. Patrick Leahy, chairman of the Senate Judiciary Committee, said Sunday the upper chamber will continue working on legislation to limit NSA spying, suggesting President Obama has not gone far enough in making changes to protect Americans' privacy.  "There's a concern that we have gone too much into Americans' privacy," the Democratic lawmaker told "Fox News Sunday." "There's still going to be legislation on this."

Leahy said several times that congressional Democrats and Republicans both share the concern and suggested the direction of the legislation will be impacted by what Attorney General Eric Holder says when he testifies on Capitol Hill on Jan. 29 -- the day after the president's State of the Union address.  The president announced the changes Friday in a major policy speech at the Justice Department, following a series of revelations by former National Security Agency contractor Edward Snowden that started last summer about the extent of agency spying.

Leahy said he wouldn't fight the president on his proposed NSA changes -- including additional court approval, a non-government agency holding phone meta-data and limiting the extent of the data collection.  "I think we have a way we can do this," he said. "I believe in going after the bad guys. But I also believe in some checks and balances, so you don't have a government run amok."

Jan. 4: Fox News: Rand Paul to sue over NSA spying practices:
Sen. Rand Paul, R-KY, is suing the Obama administration over the National Security Agency's spying practices in an effort to "protect the Fourth Amendment," he told host Eric Bolling Friday on "Hannity."  "The question here is whether constitutionally, you can have a single warrant apply to millions of people," Paul said. "So we thought, what better way to illustrate the point than having hundreds of thousands of Americans sign up for a class action suit."

Paul said he began collecting signatures about six months ago, and says it's "kind of an unusual class-action suit" because everyone in America who has a cell phone is eligible to join in the legal action, he said.  He added that Ken Cuccinelli, the current attorney general of Virginia who ran for governor last year, is part of the initiative's legal team.  "We're hoping, with his help, that we can get a hearing in court, and ultimately get this class-action lawsuit, I think the first of its kind on a constitutional question, all the way to the Supreme Court," Paul said.

Jan. 3: The Hill:  Clemency for Snowden should be off the Table: Napolitano Says
Former Homeland Security Secretary Janet Napolitano said Friday that she "would not put clemency on the table" for NSA leaker Edward Snowden.  "I think Snowden has exacted quite a bit of damage and did it in a way that violated the law," Napolitano said in an interview airing on "Meet the Press" this Sunday.  She said damage from Snowden's actions will be seen for years to come.

Asked if the administration should consider a deal that would allow Snowden to avoid jail time in return for unreleased documents, Napolitano said she couldn't judge without knowing what information the former defense contractor still had.  "But from where I sit today, I would not put clemency on the table at all," she said.

Jan. 2: The Washington Post:  NSA seeks to build quantum computer that could crack most types of encryption:
In room-size metal boxes ­secure against electromagnetic leaks, the National Security Agency is racing to build a computer that could break nearly every kind of encryption used to protect banking, medical, business and government records around the world.  According to documents provided by former NSA contractor Edward Snowden, the effort to build "a cryptologically useful quantum computer" — a machine exponentially faster than classical computers — is part of a $79.7 million research program titled "Penetrating Hard Targets." Much of the work is hosted under classified contracts at a laboratory in College Park, Md.

The development of a quantum computer has long been a goal of many in the scientific community, with revolutionary implications for fields such as medicine as well as for the NSA's code-breaking mission. With such technology, all current forms of public key encryption would be broken, including those used on many secure Web sites as well as the type used to protect state secrets.