Dec. 30: Fox News: Businesses brace for the highest minimum wage in the county
As talk builds on Capitol Hill over hiking the federal minimum wage, one city in Washington state is poised to set the highest rate in the nation. On Jan. 1, an estimated 1,600 hotel and transportation workers in SeaTac, Wash., will see their pay jump to $15 an hour, a 60 percent increase from the state's $9.32 minimum wage. While many workers look forward to the higher pay, employers are looking for ways to absorb the big increase in labor costs. Some plan on eliminating jobs. "We're going to be looking at making some serious cuts," said Cedarbrook Lodge General Manager Scott Ostrander. "We're going to be looking at reducing employee hours, reducing benefits and eliminating some positions."
One employer has told a trade group it is going to close one of its two restaurants, eliminating 200 jobs. The plan has also caused Han Kim -- who runs Hotel Concepts, a company that owns and manages 11 hotels in Washington state -- to shelve plans to build a hotel in SeaTac. The company already has three hotels in SeaTac, and Kim and a business partner were looking to build a fourth on land they own. "Uncertainty is bad for business, and right now we're right in that area so we're just putting everything on hold," Kim said.
It is clear that the short-sightedness of raising the minimum wage rate does have an impact on jobs and decreases job opportunities for those who can least afford it, those who are less skilled.  Many of these folks may be laid off and added to the unemployment rolls.
Dec. 27: The Hill: Jobless benefits expired this weekend – 1.3 Million affected – What does this say about economic recovery?
Roughly 1.3 million people lost their extended unemployment benefits on Saturday as both Congressional Republicans and Democrats allowed the program to expire.  Even so, some Democrats — angry that an extension wasn't included in the recently-enacted budget agreement — have vowed to make the benefits the first item on their 2014 agenda.  Republicans contend that lawmakers would better serve their constituents by directing their efforts to other job-boosting areas, especially given that a year-long unemployment extension comes with a $26 billion price tag. They also are waiting on Democrats to put forward a specific plan.  A question that is not being asked is "What does the fact that 1.3 million people have remained unemployed for so long say about the wellbeing of efforts to improve the economy and increase job creation?"
Dec. 25: Fox News: Dems try changing the subject turning to jobless benefits, minimum wage benefits:
Reeling from public dissatisfaction with ObamaCare, Senate Democrats hope to change the subject when they return in the new year, with a proposal to raise the minimum wage by 40 percent and another to extend long-term unemployment benefits for three months.   But Democrats face two big hurdles. One is House Republicans skeptical of both measures. The other is Democrats' own claims about the economy itself.
Democrats have touted modest progress in the economy lately, and critics ask: If it's doing as well as Democrats claim, why are those bills needed?   "Extending unemployment insurance isn't going to help," said Glenn Hubbard, chairman of the Council of Economic Advisers under the George W. Bush administration.   The economy still is on shaky ground, but Democrats may struggle to convince colleagues that more emergency economic measures are needed.   The current jobless benefits extension runs out Dec. 28. 
Dec. 19: Roll Call: Now comes the hard part: Three Weeks to craft the $1 Trillion Appropriations Bill
Appropriators from both parties and both sides of the Capitol have opened intentionally secretive negotiations on the mammoth and complex measure necessary to make good on the budgetary truce just called by Congress.  The four-dozen or so members involved have given themselves less than three weeks to agree on the several thousand line items in the bill, which will be written as non-amendable legislation dictating all of the government's discretionary spending for the final 37 weeks of this budget year.
The enormity of the task and the extraordinarily tight time table would normally present significant obstacles to a smooth or successful outcome. But the lawmakers who have taken the assignment are betting that those challenges will be eased by several factors:
The fiscal deal the Senate cleared Thursday, which President Barack Obama will sign before leaving this weekend to spend the holidays in Hawaii, sets a grand total of $1.012 trillion for the package that both parties' negotiators say they can live with. The figure is $45 billion, or 4.6 percent, more than would have been allowed if the sequester had remained fully on the books.

The vast majority of lawmakers, not to mention hundreds of lobbyists and advocates, will be away from Washington during the next two work weeks. That should afford the negotiators and their aides an opportunity to set their priorities and make their tradeoffs without the usual volume of importuning — a tiny silver lining, also, for having to work through Christmas and New Year's Eve.

The leaders of the talks, Kentucky's Harold Rogers for the Republican majority in the House and Maryland's Barbara A. Mikulski for the Democratic majority in the Senate, have agreed to draft the bill as a take-it-or-leave it package deal. Their bet here is that substantial numbers from the rank and file in all four caucuses will be willing to set aside their reservations about the content and their annoyance about the process and vote "yes" — because they know defeating the measure would threaten another government shutdown as the first congressional action of the midterm election year.
The timetable for the next three weeks sketched begins with a deadline for the end of the week: apportioning the spending grand total into a dozen slices — the so-called 302(b) spending caps for the subcommittees that are supposed to write 12 different spending bills every year.

Dec. 19: Politico:  Treasury says debt limit ceiling will be reached in March:
Treasury Secretary Jack Lew told Congress on Thursday that the debt ceiling will need to be raised by late February or early March.  In a letter to members of the House and Senate, Lew urged Congress to "take prompt action" to raise the country's borrowing limit.  Congress was able to enact a budget deal this month, but it failed to address the debt ceiling issue, leaving open the possibility of another fiscal showdown next spring.
This week, Senate Minority Leader Mitch McConnell (R-KY) said he doesn't believe the next debt ceiling increase will be "clean," a sign that Republicans may attempt to win political concessions, such as reductions in spending, in exchange for raising the borrowing cap.  The administration maintains it will not negotiate over the debt ceiling, arguing it is the job of Congress to make sure the government doesn't default on its obligations.

Dec. 18: Politico: Murray distancing self from cut in military pensions after brokering the deal with Ryan:
Sen. Patty Murray is distancing herself from a cut in military pensions in the budget deal she brokered with Rep. Paul Ryan.  Her unease about a key element of her own deal, which passed the Senate on Wednesday and is now headed to President Barack Obama, comes amid a backlash from veterans groups and Senate defense hawks that has put her and her colleagues in a tough spot going into an election year.  Murray's response: The pension cut isn't final.  "We wrote this bill in a way that will allow two years before this change is implemented so that Democrats and Republicans can keep working to either improve this provision or find smarter savings elsewhere," she said on the Senate floor this week.  But one needs to consider that Murray, from Washington, has a lot of military installations in her state and these people vote!

Her stance provides a major opening for opponents of the cut to work to get it tossed out or replaced with alternate savings — an effort that could weaken the budget deal and force vulnerable senators to continue defending their support for an agreement that would provide sequester relief for federal agencies at the expense of veterans.  "We're probably going to lose this fight, but we will win the war," Sen. Lindsey Graham, who voted against the budget deal, declared to a group of veterans on Tuesday — vowing to take this fight into the next year.

Dec. 17: Fox News: Senate moving to cut Vet benefits instead of those for illegals:
A final effort by Senate Republicans to halt cuts to pensions of military retirees failed late Tuesday, after Democrats blocked an amendment to the controversial budget bill.  The two-year budget agreement, which cleared a key test vote earlier in the day, was expected to get a final vote no later than Wednesday. Ahead of the final vote, Sen. Jeff Sessions (R-AL) tried unsuccessfully to offer an amendment to undo the cuts for military retirees.  A provision in the already House-passed bill would cut retirement benefits for military retirees by $6 billion over 10 years.  Sessions wanted to eliminate an estimated $4.2 billion in spending by reining in an IRS credit that illegal immigrants have claimed.  He and fellow senators argued the bill unfairly sticks veterans and other military retirees with the cost of new spending.

"It's not correct, and it should not happen," Sessions said on the floor.  "By blocking my amendment, they voted to cut pensions for wounded warriors," he said afterwards. "Senators in this chamber have many valid ideas for replacing these pension cuts, including my proposal to close the tax welfare loophole for illegal filers, and all deserved a fair and open hearing. But they were denied." Sessions' office claimed the vote Tuesday to block the amendment was a vote to "cut military pensions instead of cutting welfare for illegal immigrants."

Dec. 17:  Washington Free Beacon:  Disabled Vets not exempt from pension cuts
A provision cutting the pensions of military retirees in the bipartisan budget deal that the Senate will vote on this week does not exempt disabled veterans, the Washington Free Beacon has learned.   Disabled retirees were previously thought to be exempt from the changes to military retiree pay, which could cost service members up to $124,000 over a 20-year period.

The Free Beacon previously reportedthat military retirees under the age of 62 would receive 1 percentage point less in their annual cost-of-living adjustment (COLA) in the budget deal.   The section of the U.S. code that has been altered also applies to disabled service members, many of whom have been wounded in combat.

Sen. Jeff Sessions (R-AL), ranking member of the Senate Budget Committee, called the change "unthinkable."  " I was deeply troubled when my staff and I discovered that even individuals who have been wounded and suffered a service-related disability could see their pensions reduced under this plan.  It is unthinkable that this provision would be included in a deal that spares current civilian workers from the same treatment," he said. "An equivalent amount of savings and more can be easily found, and I hope the Senate will move to address the unbalanced treatment of our service members before considering the legislation any further."

Dec. 17: The Hill: McConnell: GOP ready for debt ceiling debate
Senate Minority Leader Mitch McConnell (R-KY) on Tuesday predicted a springtime fight will erupt over the debt ceiling because the GOP will make demands in exchange for increasing it. "I doubt if the House, or for that matter the Senate, is willing to give the president a clean debt-ceiling increase," McConnell, the top Republican in the Senate, said. "The debt ceiling legislation is a time that brings everyone together and gets the president's attention."

McConnell was able to negotiate discretionary spending caps, including the automatic sequester spending cuts, as a condition of Congress raising the debt ceiling in 2011. In October he had less success in securing concessions from Democrats and the Obama administration in exchange for raising the debt ceiling through Feb. 7. The October deal, coming during an unpopular government shutdown.

Sen. Ron Johnson (R-WI) said Tuesday he wants to demand ObamaCare changes as a condition of raising the debt ceiling. He said giving individuals the legal right to keep their current insurance policies would be one option.
"I'd love to take a look whether we can attach to the debt ceiling a piece of legislation to preserve freedom of choice in the healthcare system, or allow people to keep their employer-sponsored plans, which is going to be the next shoe to drop," he said.

Dec. 17: Fox News: Sessions tries to undo cuts to military retiree benefits in Budget "Deal"
A top Republican senator is trying to undo cuts to military retiree benefits in the House-passed budget deal ahead of a crucial vote Tuesday morning in the Senate.  Alabama GOP Sen. Jeff Sessions filed an amendment late Monday to restore money that was cut from veteran and military retiree pension benefits by closing a loophole that allows illegal immigrants to qualify for child tax credits.  His move comes after several GOP senators voiced complaints about the budget package, which sailed out of the House last week on a strong bipartisan vote.

Now it appears America's veterans and military retirees could be a determining factor in whether the deal makes it through the Senate. Some Republicans say the plan unfairly forces veterans to pick up the cost of new spending. The provision generating heated opposition from Veterans of Foreign Wars and allied lawmakers would cut retirement benefits for military retirees by $6 billion over 10 years. "It's unacceptable to single out our men and women in uniform in this way," said Sen. Kelly Ayotte, R-N.H., who has already expressed her intention to vote against the proposed budget.

Democrats need to hold most of their caucus of 55 senators together and pick up a handful of GOP senators in order to reach the 60-vote threshold to advance the bill on Tuesday.

Dec. 15: The Hill: Durbin: GOP and TEA Party challengers imperil budget deal
Senate Democratic Whip Dick Durbin (IL), the second-ranking Senate Democratic leader, said Sunday that Republicans jockeying for the White House in 2016 and Tea Party challengers in 2014 have imperiled the budget deal.  Durbin estimated that Democrats will lose three members of their caucus on the vote, which means they'll need at least eight Republicans to cross the aisle and vote with them. The challenge Democratic leaders face in trying to round up the vote has been compounded by the outspoken opposition to the deal from Republicans weighing presidential bids and a slew of Republican primary races in 2014.

"A handful of members of the Senate are vying for the presidency in years to come and are thinking about this vote in that context and others are, frankly, afraid of this new force, the Tea Party force, the Heritage Foundation force, that is threatening seven out of the 12 senators running for reelection," Durbin said on CBS's "Face the Nation." Sens. Ted Cruz (R-TX), Rand Paul (R-KY) and Marco Rubio (R-FL), who are weighing presidential bids in 2016, have all blasted the deal. 

No Senate Democrat has yet publicly voiced their opposition to the deal negotiated by Senate Budget Committee Chairwoman Patty Murray (D-WA) and her counterpart, Rep. Paul Ryan (R-WI), but Durbin expects three defections.

Dec. 15: The Hill: Ryan signals a new fight on the debt ceiling
Rep. Paul Ryan (R-WI) on Sunday said Republicans will insist on more concessions for raising the debt limit in early 2014, indicating that the fiscal ceasefire he brokered in a budget deal may not last long. "We don't want nothing out of this debt limit," Ryan said on "Fox News Sunday." "We are going to decide what it is we can accomplish out of this debt-limit fight."  The two-year budget agreement Ryan negotiated with Sen. Patty Murray (D-WA) did not increase the nation's borrowing authority, which the Treasury Department believes will be needed by March after extraordinary measures are exhausted.  "One step at a time," Ryan said. "Patty Murray and I knew we weren't going to solve every problem, like the debt limit problem."

House and Senate Republicans will discuss their debt-limit strategy at separate party retreats in January, Ryan said.  Asked about the debt limit on Thursday, Speaker John Boehner (R-OH) similarly deflected the question, saying he was focused on the current budget agreement, which most notably would prevent a government shutdown for the next two years.  Boehner has previously demanded spending cuts or reforms greater than the increase in borrowing authority, although the last two suspensions in the debt limit did not get Republicans much in return.  President Obama has vowed not to negotiate over the debt ceiling after doing so in 2011, and he is expected to maintain that position next year.

Dec. 15: The Hill: In Budget Deal, a Secret Reward for the Dems
The two-year budget deal approved by the House has hidden political benefits for Senate Democrats, Republicans charge. Because it sets a top-line budget number for 2015, Democrats won't have to write and pass a budget resolution in the midterm election year.  That means vulnerable Democrats like Sens. Mark Pryor (AR), Mark Begich (AK), Kay Hagen (NC) and Mary Landrieu (LA) won't have to take tough votes as part of a budget vote-o-rama.

Republicans are unhappy, as they believe the tough votes would have made it easier to defeat those candidates next fall and take control off the Senate in 2015. With ObamaCare's difficult rollout, forcing members to vote on many aspects of the healthcare law would be especially appealing. The Senate is expected to vote on the budget deal on Tuesday.

Until this spring, when the Senate approved its first budget resolution in four years, Senate Democrats had repeatedly avoided passing a budget in part because of the problems it would have created for vulnerable members.  In two of the years in which the Senate failed to pass a budget, Senate Majority Leader Harry Reid (D-NV) argued budget caps in the 2011 Budget Control Act law meant no resolution was legally necessary.   Republicans said Reid was wrong then, and he'd be wrong now if he used the new bill to avoid a budget vote.  "Yes we should do a budget every year and the Budget Control Act was used as an excuse and it was a poor excuse," Senate Budget Committee Ranking Member Jeff Sessions told The Hill on Friday. "It seems to me it would be the same with this."  At this point, Democrats aren't committing to doing a new budget.

Dec. 14: Fox News:  Conservatives pushing back over Boehner and the budget "deal"
Tea party activists are pushing back hard against Speaker John Boehner for attacking conservative groups that are opposed to bipartisan budget legislation approved this week by the House, claiming he has "declared war on the Tea Party" with his blunt criticism.   In a fundraising email to supporters, Tea Party Patriots referred to the Ohio Republican as a "ruling class politician" who only pretends to be a conservative while remaining a "tax-and-spend liberal," The Hill reported Friday.

The group, which supported efforts to defund the Affordable Care Act, accused Boehner of passing a "back-room budget deal which increases discretionary spending, does nothing to reform entitlements, and fully funds ObamaCare."   The organization called the deal "an out and out betrayal of the American people."

All three top Republican leaders were among 169 members of the rank and file in voting for the measure, which cleared the House on Tuesday on an overwhelming bipartisan vote of 332-94.  In advance of the vote, Boehner unleashed a stinging attack on conservative groups campaigning for the bill's demise, saying they lacked credibility. He also blamed them for leading the party into the partial government shutdown this fall.

Dec. 13: The Daily Caller:  Senate schedules Budget Deal for Next Tuesday
The Senate will take up the Ryan-Murray budget deal on Tuesday, Senate Majority Leader Harry Reid announced Friday, one of the final items on the agenda before the Senate heads home until 2014.  On Thursday evening, the House the budget plan forged by House and Senate Budget Committee Chairs Paul Ryan and Patty Murray won by a large margin, with a majority of both parties voting for it.   In the Senate, the bill's support is less bipartisan. A number of Republicans have come out against it, since the agreement was announced on Tuesday.

Dec. 13: Fox News:
Outcome of Budget Deal in the Senate is uncertain – the "Warren Wing" of progressing Democrats may revolt:
Speaker John Boehner delivered on his promise to pass a bipartisan budget bill through the House, and he's taking plenty of blowback from conservatives for it. But the real test for the two year can-kick seems to be whether Senate Majority Leader Harry Reid can tame an increasingly unruly liberal wing of his own party.

Far-left senators like Elizabeth Warren, D-MA, Sherrod Brown, D-O, Al Franken, D-MN, Tom Udall, D-NM and Bernie Sanders, I-VT., can't be happy about maintaining more than half of the spending caps from the 2011 debt-limit deal and making no provisions for extended welfare benefits.  Given that so many Democrats are secretly rooting for a shutdown, it might even seem like the strategic thing to do for a party stuck in the bogs of ObamaCare. Reid, who needs four Republican votes if he has all 56 Democrats on board, will have to pick up one GOPer for every liberal who walks away from the deal. Boehner found a way. Can Reid? And as Senate Majority Whip Dick Durbin said, "I'm not sure of anything," when it comes to the vote count.

Go nuke yourself - Republicans don't mind squeezing Reid as he tries to corral what's been called the "Elizabeth Warren wing" of the Democratic Party.  After all, Reid just nuked filibusters on presidential nominations, so his demands for swift acquiescence sounded like laugh lines in the Red Team locker room. Among those already out: Sens. Marco Rubio, R-FL, Tom Coburn, R-OK, Lindsey Graham, R-SC, Ted Cruz, R-TX, Kelly Ayotte, R-NH, and Jeff Sessions, R-AJ. Sessions says he will lead a filibuster.  Reid may be able to count on liberal-moderate members like John McCain, R-AR, Lisa Murkowski, R-AL, and Susan Collins, R-MA, but so far, they're not saying.

Dec. 12: Breitbart.com: Senator Paul says Budget Deal is a Step Backwards:
Senator Paul (R-KY), in an op-ed piece calls the Ryan-Murray budget plan a joke. According to Paul it adds over $60 billion in new spending in the first two years, it gets rid of the only cuts we have, and it is worse than the status quo, which is already an unacceptable level of spending and debt.  Paul notes that even with the automatic sequester cuts the national debt has risen $2 trillion in two years.    "This is the wrong direction," Paul contends.  " Instead of getting rid of the sequester reductions, we need spending cuts."  He claims the "bipartisan deal" gets rid of the only cuts we have.

It adds over $7 trillion in debt over 10 years. It raises taxes. And I don't care what you call them – "fees," "revenues" – if more money leaves the hands of the taxpayers and goes to the government, it is a tax increase; and the budget continues to avoid being balanced.  "This is not a budget 'deal' It is a surrender," Paul concluded.  "It is a cave in [and] it's a shame.

Dec. 12 : The Daily Caller: Here's What's Next for the Budget Deal
The Senate will take up the Ryan-Murray budget deal on Tuesday, Senate Majority Leader Harry Reid announced Friday, one of the final items on the agenda before the Senate heads home until 2014.  On Thursday evening, the House the budget plan forged by House and Senate Budget Committee Chairs Paul Ryan and Patty Murray won by a large margin, with a majority of both parties voting for it. In the Senate, the bill's support is less bipartisan. A number of Republicans have come out against it, since the agreement was announced on Tuesday.

Alabama Sen. Jeff Sessions, the ranking Republican on the budget committee, said in a statement Tuesday that he would "be unable to support the legislation," citing the discretionary spending levels that are greater than the caps set in the budget control act, among other issues.  Senate Minority Leader Mitch McConnell is not expected to support the plan either, as The Daily Caller previously reported, based on sources with knowledge of his thinking. Nor is Texas Sen. John Cornyn, the second-highest ranking Republican in the Senate.  South Carolina Sen. Lindsey Graham came out against the bill, saying in a statement that he felt "it will do disproportionate harm to our military retirees. Our men and women in uniform have served admirably during some of our nation's most troubling times."  Graham, McConnell, and Cornyn all face re-election next year and all have primary challengers on the right.  New Hampshire Sen. Kelly Ayotte said she shared Graham's concerns.

Dec. 9: The Hill:
Government Sells the last of its General Motors stock – Taxpayers take a $10.5  Billion hit in the process – Is that a good deal?
President Obama proudly declared that "the American auto industry is back" on Monday, after the Treasury Department announced it had sold its outstanding shares of General Motors stock.  Defending the controversial auto bailout, Obama said in a statement that he "refused" to allow GM and Chrysler — "the heartbeat of American manufacturing" — to collapse after the recession in 2008.  "When things looked darkest for our most iconic industry, we bet on what was true: the ingenuity and resilience of the proud, hardworking men and women who make this country strong," Obama said. "Today, that bet has paid off. The American auto industry is back."

In total, the government invested some $49.5 billion into the leading auto manufacturer, and recovered $39 billion from selling 31.1 million shares of GM stock — for a loss of $10.5 billion. "When things looked darkest for our most iconic industry, we bet on what was true: the ingenuity and resilience of the proud, hardworking men and women who make this country strong," Obama said. "Today, that bet has paid off. The American auto industry is back."

In total, the government invested some $49.5 billion into the leading auto manufacturer, and recovered $39 billion from selling 31.1 million shares of GM stock — for a loss of $10.5 billion.

Dec. 8: Politico:Budget negotiators are looking at military pensions
Can savings from military pensions be part of the solution to avoid deeper cuts from defense next month?  That's an important question facing House-Senate negotiators as they try to close out a deal this week to avoid another round of sequestration in January and restore some certainty to the appropriations process for the remainder of this Congress.  The two sides appear close but Democrats are anxious about the level of savings being sought by Republicans from civilian federal workers. Finding some money on the military side of the equation could lessen this burden and make the package more equitable too from a political standpoint. 

Indeed, the Pentagon has the greatest stake in some agreement and faces a further $21 billion cut in its 2014 budget if nothing is done. There is a greater recognition too –in Congress and among the Joint Chiefs— that it must come to terms with personnel-related costs, which are eating up more and more of what money remains.  "Forty-four cents of every dollar we spend goes to military personnel," said House Armed Services Committee Chairman Buck McKeon (R.-CA) "You look at Detroit, you look at General Motors, you look at what happens when you build up these costs, but we aren't doing anything about it in our [defense] bill this year."

Dec. 6: Politico:
Senate's Top Budget Negotiator wants to include an extension of unemployment benefits in budget deal:
The Senate Democrat's top budget negotiator wants to include an extension of unemployment benefits in the emerging fiscal deal, adding uncertainty to the final stages of the talks.  Patty Murray (D-WA), who heads the Senate's Budget Committee, is urging House Budget leader Paul Ryan (R-WI) to include in the package a proposal that would extend unemployment benefits for 1.3 million workers past their Dec. 28 expiration date, according to sources familiar with the talks.

While Democrats haven't drawn a line in the sand over the issue, they argued Friday that such a move could bolster the vote count for a budget deal by winning the support of scores of House Democrats if the deal hits the floor, possibly next week.  But so far, Ryan has resisted the push for fear it would prompt a mass revolt against the overall budget proposal among conservative House Republicans. Senior Republicans say the pricey extension of unemployment benefits  spooks many in their party. 

"This literally came out of nowhere yesterday, and it is totally disingenuous of them to put this in play at this point," one Republican familiar with the talks said. "They know the impact this will have on our side of the aisle, so I can only read this as a deliberate attempt to blow up any deal."

Meanwhile the President has said whether the provision is included or not, is not a deal breaker for the Administration.

Dec. 4: The Daily Caller: CEO's say ObamaCare is harming the economy:
Uncertain corporate costs for President Barack Obama's healthcare reform law and other regulations continue to stymie U.S. employment and capital spending, business leaders said on Wednesday.  Roughly 39 percent of U.S. chief executives cited regulatory costs as their top concern for the next six months, according to a survey released by the Business Roundtable, a confederation of top U.S. companies.

The group said uneven implementation of Obamacare, has made it tough for businesses to decide where to allocate capital for new construction or hiring.  "There seems to be an exception every other day on the Affordable Care Act," Jim McNerney, head of the Business Roundtable and chief executive of airplane maker Boeing Co, said in a conference call on Wednesday, using the law's formal name.  "Is your preferred constituency going to get an exception or not? It's hard to know, so people respond by hedging investment and hedging employment."

Parts of the law requiring employers to provide healthcare for their workers was delayed earlier this fall until 2015 by the White House, though it remains unclear if that will be made permanent.

Dec. 4: Fox News: Crunch Time: Congress running up against another shutdown deadline
'Tis the season of important dates -- Thanksgiving, Hanukkah, Christmas, New Year's, government shutdown ...   Yes, it's that time of year -- again. Just two months after the last partial government shutdown ended, lawmakers are once again struggling to meet the deadline for funding the government.

As part of the short-term agreement struck in mid-October, Congress gave itself until Jan. 15 to pass a budget, and until Dec. 13 to reach a tentative deal at the committee level while also eliminating the debt ceiling for four months for the second time this year. It's Dec. 4, and despite weeks of talks the budget negotiations have only crept forward. And Congress really only has five more days this month to do anything. While the House is in session, the Senate doesn't return until next week -- and Speaker John Boehner plans to adjourn the House for holiday recess next Friday.   "The speaker is very serious about us being out of here on the 13th," House Majority Leader Eric Cantor, R-VA, said.

There may be little stomach on Capitol Hill for another shutdown showdown. The last 16-day standoff helped drive public approval of Congress to historic lows. And while President Obama took heat for refusing to negotiate, Republican leaders emerged from the battle bruised -- and with little to show for it, having failed to win any major delay in ObamaCare.  Meanwhile there is no bill on the table that could avert another shutdown.

Congressman Ted Poe (R-TX) made it clear on KTRH News that he and his conservative colleagues would not vote for any measure that raises taxes.  This time around, the debate centers around the spending levels for 2014, and the so-called sequester. Republicans want to hold down spending, while Democrats want to boost that number. With so little time to cut a deal, some lawmakers are talking about passing another stopgap spending bill to buy more time to negotiate.

Nov. 20: The Daily Caller: Congress takes up probe into bogus unemployment data:
The House Oversight Committee has joined an investigation into the faking of Census Bureau unemployment data that began in the New York Post Sunday.  "These allegations are shocking," Republican Rep. Blake Farenthold of Texas, chairman of the subcommittee on Federal Workforce, U.S. Postal Service and the Census, wrote in a letter Monday night to U.S. Census Bureau Director John Thompson. "If true, there may be a systemic problem at the Philadelphia Regional Census Office, where the alleged data fabrication occurred. These allegations also raise the prospect that the fabrication of data is a widespread problem."  Farenthold was referring to Jon Crudele's Post story quoting a Census employee reportedly caught faking results, as well as an anonymous source asserting that the corruption is widespread.

Nov. 18: The Blaze: If these claims are true, the Administration is headed for another scandal:
The U.S. government in the final months leading up to the 2012 presidential election released "faked" unemployment data, according to a bombshell report from the  New York Post.  Recall that the unemployment rate from August to September dropped precipitously to 7.8 percent from 8.1 percent. This raised suspicion among certain members of the business community, most notably former General Electric CEO Jack Welch.  Unbelievable jobs numbers," Welch said in an Oct. 5 tweet, "these Chicago guys will do anything…can't debate so change numbers."

The truth may be that Welch's comment may not be that far fetched!  The September 2012 job numbers were "manipulated" and the U.S. Census Bureau, the government agency responsible for the report, knew it, the Post alleges, citing "reliable sources."  The Post's anonymous source, who said he's willing to speak to the Labor Department and Congress about the falsified data if asked to do so, said unemployment data manipulation, which continues to this day, involves more than just one rogue employee.

In fact, a full two years before President Barack Obama won a second term in the White House, the Census Bureau reportedly caught an employee fabricating unemployment data. However, the Post notes, instead of correcting the problem, it only got worse and escalated throughout the 2012 presidential election.  The employee who was caught two years ago, one Julius Buckmon, told the Post in an interview that he "faked" the numbers at the direction of his supervisors.

Nov. 18: CNS News: Treasury forced to issue $1 Trillion new debt in first six weeks of FY 14:
Between Oct. 1, 2013, the first day of fiscal 2014, and Nov. 14—which was less than a month after Congress agreed to temporarily suspend the legal limit on the federal debt—the Treasury was forced to issue more than $1 trillion in new debt.  During that time, according to the Daily Treasury Statement, the Treasury issued $1,014,215,000,000 in new bills, notes, bonds and other securities.

Nov. 16: The Daily Caller: One Month After the Shutdown Ended Where Are We?
It's Nov. 16, 2013, and the partial government shutdown ended one month ago today.  In those four weeks, and the two prior, everything conservatives said would happen has happened. What's more, the Democrats' united stand against them has turned into a retreat — and is primed to become a rout — as they amend ObamaCare's disastrous rollout, President Obama "apologizes" for his failures, and electorally vulnerable Democrats break ranks and flee.  In the end, real people simply weren't affected by the shutdown, so they won't vote on it — a distinction Obamacare does not share.

It's clear now that the whole shutdown thing could have been avoided if Mr. Obama had been willing to bend on his signature health-care law — something reality has since forced him to do, and something he will likely have to continue to do — instead of accusing the Republicans of being "terrorists" who are holding the country captive.

Nov. 11: The Daily Caller: The number of people not in the labor force hits a historic high:
[At this rate there could be more people not working than working within four years]
A record high 91,541,000 Americans did not participate in the labor force this October.  According to data from the Bureau of Labor Statistics (BLS), 932,000 people dropped out of the labor force last month. The BLS defines a person "[n]ot in the labor force" as age 16 and older who are not employed and not considered to be unemployed as they have not looked for work in the four weeks prior to the survey.

The labor force participation rate — or all employed and unemployed people — in accordance with the decline, also hit a record low at 62.8 percent. When President Obama took office in January 2009, the labor force participation rate was 65.7 percent. From January 2009 to October 2013, more than 11 million people have dropped out of the labor force — from 80,507,000 to October's 91,541,000. The economic blog Zero Hedge notes that at the current rate, the number of people not participating in the labor force could exceed those working in about four years.

Nov. 2: USA Today: Food stamp cuts create higher demand for food bank supplies
Food banks across the country, stretched thin in the aftermath of the recession, are bracing for more people coming through their doors in the wake of cuts to the federal food stamp program.  Benefit to 47 million Americans were cut starting Friday as a temporary boost to the federal program came to an end without new funding from Congress. 

Under the program a family of four that gets $668 per month in benefits will find that amount cut by $36. "It may not sound like a lot but to a person like me, it is," says Annie Crisp, 30, a single mother of two girls in Lancaster, Ohio. "It's not just a number."  She says she received a little less than $550 a month in food stamps and now will receive $497. Crisp, a babysitter who brings home about $830 a month, says the food stamps help her buy her family fresh fruits, vegetables and meat.

Nov. 1: The Daily Caller: Feds targeting JP Morgan for criticizing Obama?
JPMorgan Chase admitted it is under investigation by the Justice Department over its hiring practices in Hong Kong, the latest in a string of federal probes and lawsuits against the bank that some believe is motivated by political payback. Reuters reports that JPMorgan — the largest U.S. bank by assets — disclosed the investigation Friday as part of a routine filing with the Securities and Exchange Commission (SEC), which is also looking into alleged cronyism in the bank's hiring process in China.

It's the latest in bad news for JPMorgan, which agreed to pay a record-breaking $5.1 billion to the Federal Housing Finance Authority (FHFA) last week over toxic mortgage securities sold before the financial crisis. An additional $9 billion settlement over the same securities is in the works with the Department of Justice, putting the bank on the hook for an astounding $14.1 billion in penalties.

Oct. 30: The Hill: Budget talks open with fight over taxes:
The budget conference committee met for the first time on Wednesday, and its leaders immediately clashed over the old issue of taxes. Senate Budget Committee Chairwoman Patty Murray (D-WA) said Republicans must agree to close "tax loopholes" as part of any deal to replace automatic spending cuts known as the sequester.  House Budget Committee Chairman Paul Ryan (R-WI) responded, "if this conference becomes an argument about taxes, we're not going to get anywhere."

Negotiators ended their day by deciding to get together again on Nov. 13, when they will have a month left to reach a deal by a Dec. 13 deadline. The clash between Ryan and Murray, and the lack of urgency suggested by the decision to not meet until after a congressional recess, could justify outside expectations that the conference committee members are unlikely to reach a deal on their own.

Oct. 30: Fox News: Report: Bankrupt solar panel firm took stimulus money and left a toxic mess:
A Colorado-based solar company that got hundreds of millions of dollars in federal loan guarantees before going belly-up didn't just empty taxpayers' wallets - it left behind a toxic mess of carcinogens, broken glass and contaminated water, according to a new report. The Abound Solar plant, which got $400 million in federal loan guarantees in 2010, when the Obama administration sought to use stimulus funds to promote green energy, filed for bankruptcy two years later. Now its Longmont, Colo., facility sits unoccupied, its 37,000 square feet littered with hazardous waste, broken glass and contaminated water. The Northern Colorado Business Report estimates it will cost up to $3.7 million to clean and repair the building so it can again be leased.  "As lawyers, regulators, bankruptcy officials and the landlord spar over the case, the building lies in disrepair, too contaminated to lease," the report stated.

Oct. 28: Roll Call:  Long Term Budget solutions end up with better chance of stop-gap alternatives:
Grand bargains are out. Tax hikes are out. Short-term and stopgap solutions are very much in.  That's the reality in Washington this week, as budget conferees meet for the first time Wednesday to try to hammer out a deal.  Publicly, the White House and top Democrats are still talking about a "balanced" plan requiring new revenue as part of a long-term budget blueprint that would replace the sequester and tackle the nation's long-term debt challenges. But almost no one expects that to happen.  Not Senate Majority Leader Reid. Not House Budget Chairman Ryan.

Last week, the Nevada Democrat and the Wisconsin Republican lowered expectations by ditching the grand bargain talk. Ryan told reporters that tax hikes aren't going to be in the deal; Reid cited the GOP's opposition to more tax hikes on the "wealthy" as a reason people should stop talking about cutting Social Security or Medicaid – something the Democrats claim the GOP wants to do.

The focus instead will be on forging a deal that can replace some of the sequester spending cuts — perhaps for just a year or two — and un-sticking the mess that has become the annual appropriations process.  Both sides have at least some incentive to get a deal. An agreement would give Republicans a chance to change the post-shutdown political narrative that they can't govern. And with big defense cuts kicking in come January, Republican hawks are already pressuring their leaders to find a way out.  Democrats and the White House, meanwhile, have been chafing as the president's agenda has been squeezed by both the sequester and a gridlocked Congress. If they give in on taxes in a short-term deal, would they settle for one of the unfinished Obama agenda items that has been going nowhere in this Congress, such as a minimum-wage hike, infrastructure spending or universal preschool? [Editor's Note: Since when does the Federal Government have jurisdiction over "universal preschool?" Isn't that an issue for state and local govenments?]

Oct. 26: Fox News: Congress aiming low in new budget talks as Reid dismisses entitlement reform as "happy talk!"
Congressional Democrats and Republicans are setting low expectations about budget talks scheduled to begin next week -- with Senate Majority Leader Harry Reid dismissing as 'happy talk' any notion of a grand bargain that would include cuts to entitlement programs. 

The Nevada Democrat won't be directly involved in the formal House-Senate budget negotiations set to begin Wednesday. But he has been among the most overt in blaming the opposite party -- even before the talks begin. And he has given perhaps the bleakest assessment for a potential compromise on tax increases and cuts to entitlement spending. "You keep talking about Medicare and Social Security," Reid said on Thursday, cutting off a Nevada Public Radio host. "Get something else in your brain. Stop talking about that. ... There is not going to be a grand bargain."  He also said Republicans would have to agree on tax-revenue increases for Congress to achieve a large-scale agreement, but they instead have their mind set on "nothing more on revenue."

Oct. 23: Roll Call: Appropriations frustrations mount as Sequester Deadline Nears
July 31 was a fateful day: It was when House Republicans proved even they couldn't govern under the sequester spending levels — and the day the chairman of the House Appropriations Committee finally had enough.  "The House has made its choice: sequestration — and its unrealistic and ill-conceived discretionary cuts — must be brought to an end," Rep. Harold Rogers of Kentucky said after leadership was forced to pull the Transportation-HUD funding bill from the floor.

"If we're gonna pass a Republican budget that's largely or entirely with Republican votes, we're gonna need 218 Republican votes to pass the appropriations bills that conform with the Republican budget. It's pretty basic," said appropriator Charlie Dent of Pennsylvania. "But a lot of members are voting for the budget and then voting against appropriations bills.

Oct. 20: The Hill:
Here's a really bad idea and non-starter: Take authority to raise the debt ceiling out of the hands of Congress!
Sen. Chuck Schumer (D-NY) will propose legislation that would make permanent a plan to take the decision to raise the country's debt limit out of Congress's hands.  By making the so-called "McConnell rule" permanent, the president would have ultimate authority to raise the debt limit and prevent the United States from defaulting.  Talk about putting the fox in charge of the hen house!   But according to Schumer Congress would still have power to oppose raising the debt ceiling, but would not have to vote to increase the borrowing limit.

With the current "balance of power" in the Congress, under this scenario  the Senate could stop any attempt by House to limit increases to the borrowing limit instead of requiring Congress to take action in order to increase borrowing limitations.

Oct. 20: Fox News: With new budget deadlines looming – Disagreements continue"
Top Washington lawmakers appeared no closer Sunday to reaching deals on upcoming budget negotiations than they were on the recent ones -- disagreeing over an entire range of issues including taxes, spending and ObamaCare.   Among the key issues is whether negotiators for the Republican-controlled House and Democrat-controlled Senate can agree on an alternative to the indiscriminate cuts know as sequester, a result of the 2011 Budget Control Act.

Such a deal seemed unlikely given that Republicans think the automatic sequester cuts are the only real spending cuts that have yielded results while Democrats are saying they "won't trade" reducing cuts on defense spending for deep cuts to entitlement, as Republicans have proposed.  Democrats want to increase spending levels next year above the sequester caps and replace them with more long-term budget savings through spending cuts and tax increases, which Republicans have rejected.

An additional $19 billion in sequester cuts would kick in January 15 if the negotiators fail to reach an agreement.  They must also reach deals before the federal government faces another partial shutdown of government services in mid-January and reaches February 7th suspension of the dead ceiling deadline.

Oct. 18: The Washington Times:
U .S. Debt Jumps a record $328 billion in One Day – Puts Debt over $17 Trillion for the First Time:
U.S. debt jumped a record $328 billion on Thursday, the first day the federal government was able to borrow money under the deal President Obama and Congress sealed this week.  The debt now equals $17.075 trillion, according to figures the Treasury Department posted online on Friday.  The $328 billion increase shattered the previous high of $238 billion set two years ago.

The giant jump comes because the government was replenishing its stock of "extraordinary measures" — the federal funds it borrowed from over the last five months as it tried to avoid bumping into the debt ceiling.  Under the law, that replenishing happens as soon as there is new debt space.  In this case, Treasury borrowed $400 billion from other funds beginning in May, awaiting a final deal from Congress and Mr. Obama.

Usually Congress sets a borrowing limit, or debt ceiling, that caps the total amount the government can be in the red.  But under the terms of this week's deal, Congress set a deadline instead of a dollar cap. That means debt will rise by as much as the government spends between now and the Feb. 7 deadline.  Judging by the rate of increase over the last five months, that could end up meaning Congress just granted Mr. Obama a debt increase of $700 billion or more.

Republicans initially sought to attach strings to the debt increase, but surrendered this week, instead settling on a bill that reopened the government and included some special earmark projects, but didn't include any spending cuts.  Democrats insisted that the debt increase be "clean," meaning without any strings attached. They say the debt increase only allows Mr. Obama to pay for the bills he and Congress already racked up, and that it doesn't encourage new spending.

Oct. 17: Fox News: With budget "Deal" the national debt if free to soar again:
- The good news: The national parks are open, furloughed federal workers are back on the job, and the country will not cut off benefit payments because it can't borrow.
- The bad news: The national debt is back on course to hit $17 trillion any day now, with no deal in sight to ever reverse the climb.

The latest increase in the debt cap is the sixth since President Obama took office, when the debt was $10.6 trillion. It was raised three times when Democrats controlled Congress, and has been raised three times since Republicans took control of the House. Fiscal conservatives and government watchdog groups reacted with dismay Thursday after Washington, following weeks of hard-nosed negotiations, produced only a stopgap bill to end the partial government shutdown and raise that cap. And despite the chaos of the past few weeks, they are once again trying to refocus Washington on the need to -- seriously -- lasso the nation's debt and break the habit of endless over-spending.

The nonpartisan Congressional Budget Office issued a rather dire warning last month about what the future holds if the trajectory is not changed.   Their analysis explained how the government has been expanding at historic rates. Between 2009 and 2012, it said, deficits were larger relative to the size of the economy than at any point since 1946 -- in turn fueling the rapid growth in the debt.   Deficits are projected to fall for the next few years, but then rise again, in large part because of two major factors -- interest on the debt, and entitlement programs.   The growth of the debt has triggered a vicious cycle, where higher debt leads to bigger interest payments, in turn growing the debt even more.   The CBO estimates that by 2038, interest on the debt will rise to 5 percent of GDP -- compared against a modern historical average of 2 percent. That means less money in the federal coffers for everything from the military to benefits programs.

But the biggest benefits programs, known in Washington as entitlements, are the dominant factor.   Programs like Medicare, Medicaid and Social Security are poised to eat up more and more of the federal budget. The CBO says the share of spending on those programs will double by 2038, to 14 percent of GDP. As a consequence, spending on everything else will drop. Obama said Thursday that longer-term deficits do need to be addressed, and that budget negotiators need to focus on programs like Medicare and Social Security.   But Rubio said the problem is Obama has resisted major changes to any of those programs, due in part to resistance from the liberal base.

Oct. 17: Fox Business: Sticker Shock: U.S. Debt Bill is $123K per working American
If the last few weeks on Capitol Hill has taught us anything, it's that Washington doesn't have the best concept of living within your means. Last night's 11th-hour deal raised the country's borrowing limit to avoid a possible default on our payments. When Congress passes laws that require spending, the Treasury Department is tasked with providing the funds, but when they don't have the cash from tax revenues to cover the expenditures, it forced to borrow money—and that's where we've gotten in trouble.

To put our country's debt situation into perspective, if every working American had to pay their share of the $16.7 trillion debt in 2012, they would be shelling out $123,000.  The national debt is on schedule to hit $17 trillion in the next few weeks, up from $10.6 trillion when President Obama took office in 2009.  This debt obligation comes out to nearly $53,000 if every person living in the U.S., including children and unemployed had to pay a share, according to a Harvard Report, titled 2012 Annual Report of the USA.

Barry Bosworth, economist at the Brookings Institution says despite the political infighting in D.C., he maintains Congress has done a decent job of cutting expenditures in the past two years under a Republican-controlled House, but he still says the spending is unsustainable.  "I would still worry if I were an American," he says. "It's not clear that these cuts are sustainable. We will have a debt problem once again."

Oct. 16: The Hill: Partial Shutdown is over, for now!
Congress moved Wednesday to end the government shutdown and prevent a possible default, as both the House and Senate approved a Senate agreement in separate, bipartisan votes.  The House voted 285-144 in favor of the agreement, which would fund the government until Jan. 15 and eliminate the debt ceiling until Feb. 7. That followed an 81-18 Senate vote on the same measure. 

The Treasury had warned it would have only $30 billion in its accounts after Thursday, and Fitch on Tuesday put the U.S. credit rating on a negative watch.   Passage will give the two parties a framework for working together, at least for a few months. The deal also gives the Treasury Department the ability to borrow beyond the debt ceiling.  And for the first time in two and a half weeks, the federal government is expected to reopen on Thursday.

The next step is to go to conference committee: One immediate test for negotiators is finding a way to reconcile Democratic demands for new tax revenue and GOP opposition to any new taxes. House Democrats will fight to increase spending above the 2013 sequester levels. Senate Republicans claimed a sliver of victory by keeping current spending levels locked in place for three more months.   The bill will grant back pay to an estimated 800,000 federal workers who were furloughed by the shutdown. The leaders also agreed to set up a Senate-House budget conference to negotiate broader fiscal reforms and report its work to Congress by Dec. 13. It also allows for hundreds of millions of dollars more to fix flood-damaged roads in Colorado, and sets out reporting requirements for the administration on the issue of income verification under ObamaCare.

Oct. 16: Fox News: Where Does This Leave Us?
American taxpayers have once again been trampled by establishment Republicans – a thundering herd of chicken-hearted Republicans in Name Only (RINOs) galloping to the Left.  The debt ceiling deal struck between Senate Majority Leader Harry Reid and Senate Minority Leader Mitch McConnell is a victory for President Obama and Democrats.  ObamaCare is still the law of the land. The government is still spending money it does not have. And thousands of government workers just got a two-week vacation courtesy of the taxpayers.

Establishment Republicans always talk about doing the right thing for the nation, no matter the price. But when push comes to shove, they always throw in the towel. And Wednesday, McConnell and his band of merry moderates heaved their towels in an epic demonstration of lily-livered cowardice.  But you've got to hand it to Sen. Ted Cruz for standing his ground. He held the line and ultimately paid the price. His good name was smeared by Democrats as well as McConnell's band – most notably Sens. John McCain, Lindsey Graham and Bob Corker.

Sen. Cruz had nothing but praise for the House of Representatives. He said they held the line. They stood strong for the American people. The Senate is another matter. "The outcome of this fight would have been very, very different if only Senate Republicans had made the decision to stand and fight alongside House Republicans," he said. "That didn't happen. That was the critical piece."

Oct. 16: The Hill: Ryan votes against shutdown deal
Rep. Paul Ryan (R-WI) split with his party's leadership and voted against the Senate fiscal agreement on Wednesday night.  In a statement, Ryan called the legislation to reopen the government and lift the debt ceiling "a missed opportunity" for failing to reduce the debt.  "To pay our bills today —- and to make sure we can pay our bills tomorrow -— we must make a down payment on the debt," Ryan said. "Today's legislation won't help us reduce our fast-growing debt. In fact, it could extend the debt ceiling well into next year, further delaying any action. In my judgment, this isn't a breakthrough. We're just kicking the can down the road."

As chairman of the House Budget Committee, he will serve on a formal conference committee with Senate Democrats that must report its findings by Dec. 13. Yet in voting against the debt limit bill, he broke with Boehner and the entire senior GOP leadership team, who supported the Senate bill.  "I look forward to convening the first conference on a budget resolution since 2009," Ryan said. "And though a budget resolution by itself can't resolve our spending problem, I'm committed to making a bipartisan budget conference a success."

The debt limit measure passed the House on Wednesday despite opposition from a majority of Republicans. Eighty-seven Republicans voted no and 144 voted yes.

Oct 16: The Washington Times: Deal struck in the Senate – Nobody Wins!
Top senators struck a deal Wednesday to reopen the government and extend the federal borrowing authority into next year and both sides of the Capitol are hoping for quick action.  For Republicans, the deal was more about getting an embarrassing couple of weeks behind them than in being able to claim victory in a deal that they felt compelled to make.

The deal would reopen the government with a stopgap spending bill running to Jan. 15, and would provide the government with unlimited borrowing authority through at least Feb. 7. It would also require both the House and Senate to name negotiators to try to reach a final deal on a 2014 budget, giving them a December deadline.  The only major concession Republicans won was to include strict income monitoring of those seeking taxpayer subsidies under Obamacare.

Oct. 14: Fox News: Rollback of cuts fuels claims that government-inflated impact of partial shutdown:
Two weeks into the partial government shutdown, the Obama administration is increasingly easing off some of its most painful cuts -- fueling the perception among critics that the government initially imposed visible, but ultimately unnecessary, cutbacks as a way to pressure Republicans.   The Department of the Interior late last week agreed to let states use their own money to reopen some national parks. Defense Secretary Chuck Hagel also determined football and other sports could continue at service academies through October.   Following outrage from military groups, the Pentagon contracted with a charity to provide death benefits to the families of fallen soldiers, before President Obama abruptly signed legislation to do just that.

Earlier, the Pentagon also announced most of its 350,000 furloughed civilian military personnel would return to their jobs. And CIA Director John Brennan said he would begin bringing back employees deemed necessary to the agency's core missions. "It appears they are truly just making this up as they go along, as they have put out one inconsistent policy after another," House Natural Resources Committee Chairman Doc Hastings, R-WA, said in a statement, accusing the administration of playing "political games."   Charges that the Obama administration exaggerated the cutbacks from the outset were amplified Sunday when hundreds of vets marched in Washington to protest the closure of popular war memorials, including open-air sites.

Oct. 14: Fox News: Senate leadership scrambles to put together a new budget plan:
The top two Senate leaders scrambled late Monday to iron out the specifics of an emerging budget proposal aimed at ending the partial government shutdown and lifting the debt ceiling -- after a string of prior plans fizzled.  Senate Democratic leader Harry Reid appeared on the chamber floor Monday night to announce, "We've made tremendous progress--we are not there yet--but tremendous progress and everyone just needs to be patient."  His Republican counterpart, Mitch McConnell, added, "We've had a good day...I think it's safe to say we've made substantial progress and we look forward to making more progress in the near future."
Oct. 13: USA Today: Mr. President, Tear Down This Walls!  WWII Memorial Protest
A crowd converged on the World War II Memorial on the National Mall, pushing through barriers Sunday morning to protest the memorial's closing under the government shutdown.  Republican Senators Mike Lee (R-UT) and Ted Cruz (R-TX) were among those who gathered Sunday morning, along with former Alaska governor Sarah Palin, according to WTOP radio. Cruz said President Obama is using veterans as pawns in the shutdown.  "Tear down these walls," the crowd chanted. Protesters also sang God Bless America and other patriotic songs as they entered the memorial plaza. 
The memorial has become a political symbol in the bitter fight between Democrats and Republicans over who is at fault since the shutdown began. Earlier rallies have focused on allowing access for World War II veterans visiting from across the country with the Honor Flight Network.  Sunday's rally was more political. A protest by truckers converged with a rally by a group called the Million Vet March at the World War II Memorial. Participants cut the links between metal barriers at the National Park Service site and pushed them aside.
Oct. 13: Politico: Federal Judges forget decorum and blast Capitol Hill; Guess it depends on who's ox is being gored!
Federal judges, long used to being blasted as "judicial activists" by members of Congress, are now directing a stream of anger and vitriol right back at Capitol Hill.  Driving judges' ire: the budget austerity and chaos lawmakers have imposed on the judiciary. Jurists say funding for the courts has already been cut to the bone by way of sequestration — and now the government shutdown has added insult to injury, leaving the government's third branch running on fumes that likely won't last out the week. "It is time to tell Congress to go to hell," Senior U.S. District Judge Richard Kopf wrote on his blog last week. "It's the right thing to do."

Oct. 13: The Hill: GOP standing firm on sequester spending limits:
Rolling back the automatic budget cuts known as the "sequester" has emerged as a critical sticking point in the negotiations to reopen the government and avoid default.
Democrats don't want to lock in 2014 government funding at the reduced level required by the sequester, but Republicans refuse to increase spending and say Democrats are overplaying their hand.
"The dispute has been how to undo the sequester," Sen. Chuck Schumer (D-N.Y.) said on "Face the Nation" on CBS on Sunday, explaining that Democrats want a mix of entitlement reforms and revenue increases.
But Republican lawmakers on the Sunday talk shows vowed not to budge on the sequester budget cuts. The second round of those indiscriminate cuts is scheduled for January, 2014.
"If you break the spending caps, you're not going to get any Republicans in the Senate," Sen. Lindsey Graham (R-S.C.) declared on "This Week" on ABC. Sen. Rand Paul (R-Ky.) said undoing the sequester cuts would be "a real big step in the wrong direction." "Now they want a spending bill that increases spending and dramatically will increase the debt," Paul said on CNN's "State of the Union." "It's a non-starter."

Oct. 13: The Washington Times:  International Monetary Fund (IMF) Chief Concerned over U.S. Flirtation over Debt Ceiling
The chief of the IMF said Sunday the United States' stalemate over spending and its debt limit is "very, very concerning" and has rocked the organization's annual meeting in Washington.  Christine Legarde said things had been looking up around the world. Speaking with hundreds of finance ministers around the world, they believed that Japan had turned the corner, and that economies in the United States and Europe were on the upswing.
"And then they found out that the debt ceiling was the issue," she told NBC's Meet the Press. "They found out that the government had shut down and that there was no remedy in sight. So it really completely transformed the meeting in the last few days."  Lagarde also threw cold water on claims by GOP lawmakers that Thursday's deadline to raise the debt limit is not consequential, since it might not lead to automatic default on the country's debts.  Members of the GOP have pointed out that even if the debt ceiling is reached there are more revenues coming into the U.S. Treasury than would be required to pay the interest on the existing debt and so that the issue is whether to raise the amount of debt, thereby increasing the interest payments in the future.  The GOP contend, and a majority of those surveyed agree, that the problem is the level of federal spending.
Oct. 13: The Hill:  Democrats may seek the "Nuclear" Option on the Debt Limit
Sen. Joe Manchin (D-WVA) suggested Sunday that Democrats would consider raising the debt limit with only 51 votes in the Senate. Democrats tried to pass a $1.1 trillion increase in the debt limit Saturday, but they failed to achieve the 60 votes needed to overcome a Republican filibuster.  On "Fox News Sunday," host Chris Wallace asked Manchin to explain Sen. Durbin's (D-IL) comment that Democrats have "several somethings" they can use as a back-up plan to raise the debt ceiling and avoid default.
"I would assume that they might be referring to the so-called 'nuclear option,'" Manchin said. "If you have to use that basically to keep this country from falling into default—do we go to 51 votes on the Senate side to prevent that from happening?"   But Manchin said he hopes Democrats aren't forced to make that decision.  "I don't think we need to go that direction whatsoever, and I think we can come to an agreement," Manchin said.

Oct. 12: The Daily Caller: Obama Summons Democrat Leaders to the Oval Office after Hill defeat
President Obama held a Saturday afternoon meeting in the Oval Office with top Senate Democrats after the GOP blocked an Obama-backed bill to sharply raise the government's credit-limit by $1.1 trillion.  The bill only won 52 yes votes, when it needed 60. The Democrats' majority leader, Sen. Harry Reid, voted against the bill, because Senate rules say that his no vote allows him to bring the bill up again.    Democrats tried, but failed, to persuade six swing-voting GOP Senators to support their debt-boosting bill.
But the GOP Senators are pushing for a bill that raises the debt limit until January, and are also trying to curb future spending.  In turn, top Senate Democrats blocked a GOP-drafted bill that would have set 2014 spending to match the 2011 sequester plan.  On Friday and Saturday, Obama rejected the latest compromise offered by the House GOP. Roughly one-sixth of Obama's administration is shut down because 2013 spending bills have expired, and he is expected to hit his credit-limit Oct. 17. Since his 2009 inauguration, his government has borrowed $6 trillion to fund its ambitious spending programs.
Oct. 10: The Pittsburgh Post-Gazette: World War II Memorial Shutdown
Tears filled John Lichko's eyes as he thought of the Army Air Corps comrades he served with in England and France. The memories flooded back as he posed for a picture under a pillar at the World War II Memorial that commemorates the contributions of Pennsylvania veterans. "Being here really makes you miss your buddies. Some of the guys I served with for three years," said Mr. Lichko, 90, who grew up in Vandergrift and now lives in Flatrock, Mich., just south of Detroit.  The government shutdown that began 10 days ago nearly robbed him of the chance to remember them and to see the towering pillars of granite and the Freedom Wall's 4,048 gold stars, each representing 100 Americans who died in the war.
A week ago, National Park Service employees, citing the shutdown, blocked access to the World War II Memorial. Members of Congress intervened and barriers that surrounded the monument were moved so groups of veterans participating in Honor Flight trips could enter the open-air memorial.  "That was terrible and I felt terrible to hear about it," said Mr. Lichko, who flew in from Toledo, Ohio, Wednesday with Honor Flight Northwest Ohio, a nonprofit group that provides transportation and escorts for veterans visiting war memorials.
Oct. 9: The Weekly Standard: National Park Service shows politics involved in selecting site closures:
The conduct of the National Park Service over the last week might be the biggest scandal of the Obama administration. This is an expansive claim, of course. Benghazi, Fast and Furious, the IRS, the NSA, the HHS mandate​—​this is an administration that has not lacked for appalling abuses of power. And we still have three years to go.
Even so, consider the actions of the National Park Service since the government shutdown began. People first noticed what the NPS was up to when the World War II Memorial on the National Mall was "closed." Just to be clear, the memorial is an open plaza. There is nothing to operate. Sometimes there might be a ranger standing around. But he's not collecting tickets or opening gates. Putting up barricades and posting guards to "close" the World War II Memorial takes more resources and manpower than "keeping it open."
The closure of the World War II Memorial was just the start of the Park Service's partisan assault on the citizenry. There's a cute little historic site just outside of the capital in McLean, Virginia, called the Claude Moore Colonial Farm. They do historical reenactments, and once upon a time the National Park Service helped run the place. But in 1980, the NPS cut the farm out of its budget. A group of private citizens set up an endowment to take care of the farm's expenses. Ever since, the site has operated independently through a combination of private donations and volunteer workers.
The Park Service told Claude Moore Colonial Farm to shut down.  The farm's administrators appealed this directive​—​they explained that the Park Service doesn't actually do anything for the historic site. The folks at the NPS were unmoved. And so, last week, the National Park Service found the scratch to send officers to the park to forcibly remove both volunteer workers and visitors.  Think about that for a minute. The Park Service, which is supposed to serve the public by administering parks, is now in the business of forcing parks they don't administer to close.
We're not done yet. The parking lot at Mount Vernon was closed by the NPS, too, even though the Park Service does not own Mount Vernon; it just controls access to the parking lots from the George Washington Parkway. At the Vietnam Memorial​—​which is just a wall you walk past​—​the NPS called in police to block access. It's one thing for politicians to play shutdown theater. It's another thing entirely for a civil bureaucracy entrusted with the privilege of caring for our national heritage to wage war against the citizenry on behalf of a political party.
This is how deep the politicization of Barack Obama's administration goes. The Park Service falls under the Department of the Interior, and its director is a political appointee. Historically, the directorship has been nonpartisan and the service has functioned as a civil, not a political, unit. Before the current director, Jonathan Jarvis, was nominated by President Obama, he'd spent 30 years as a civil servant. But he has taken to his political duties with all the fervor of a third-tier hack from the DNC, marrying the disinterested contempt of a meter maid with the zeal of an ambitious party apparatchik.
Oct. 8: Roll Call: Republicans Say Obama Underestimates their Resolve as the Debt Ceiling Debate Heats up:
If you thought Republicans weren't serious about a debt default, think again.  While Democrats refuse to negotiate on the continuing resolution and the debt limit, apparently assuming the GOP will eventually cave, House Republicans insist they are prepared to bring borrowing authority to a screeching halt.  "I can assure you it's not posturing. It's not a political play or anything like that," Rep. Phil Gingrey, R-GA, told CQ Roll Call on Tuesday.  Gingrey said Republicans were "absolutely" prepared to lose the House to extract concessions on the CR and the debt limit, and he said the White House is "missing the determination of the Republican Party."
President Barack Obama held a news conference Tuesday during which he reiterated his position that Democrats would not negotiate with Republicans "for the mere act of reopening the government or paying our bills." But Republicans insist Obama will have to negotiate if he wants the debt ceiling raised, and it is that impasse that makes a debt default far more likely than many anticipate.  "I don't think he's going to win a game of chicken," said Rep. Tom Cole, R-OK, about Obama's "no negotiations" position. House Republicans were expected to pass a bill Tuesday evening that would create a bipartisan, bicameral working group to address the current fiscal impasse.
Oct. 8: Fox News: Poll shows majority are against raising the debt ceiling:
Soon Congress will have to vote on raising the nation's debt limit so the federal government can borrow more money to make good on its spending commitments. If it were up to the American public, they would vote no -- with a majority saying the debt limit should only be raised after major spending cuts have been made. A Fox News national poll asks voters to imagine being a lawmaker and having to cast an up-or-down vote on raising the debt ceiling: 37 percent would vote in favor of it, while 58 percent would vote against it.
Treasury Secretary Jack Lew has said the country will be unable to meet its commitments starting October 17. Most Republicans (78 percent) and a majority of independents (57 percent) would vote against raising the limit. So would almost all Tea Partiers (88 percent).
Oct. 8: Fox News: Boehner calls Obama position on the fiscal crisis "non-sustainable"
House Speaker John Boehner dismissed President Obama's position on the fiscal crisis as "not sustainable" Tuesday, only hours after Obama held a non-press conference to say he was willing to compromise but not negotiate. "What the president said today was, if there's unconditional surrender by Republicans, he'll sit down and talk with us. That's not the way our government works," Boehner said.
The speaker said he wants conversations about spending cuts to start "now," not "next week" or "next month." It's unclear how Republicans will navigate Obama's stance going forward, with the country in week two of the partial government shutdown. Their demand is that they get some concessions -- like spending cuts -- in exchange for passing a spending bill and raising the debt ceiling.
Boehner's appeal on Tuesday was for Democrats to simply come to the negotiating table. "It's time for us to just sit down and resolve our differences," Boehner said. "There's no boundaries here. There's nothing on the table, there's nothing off the table." His remarks followed Obama's lengthy non-press conference, in which he again accused "extreme" Republican lawmakers of holding the nation for "ransom."
The president tried to stake out his position during a lengthy exchange with reporters in the White House briefing room. Even the nature of the event was unclear. Though it was not considered a formal press conference, the president answered questions from 11 reporters and spoke for over an hour. The takeaway was that the president, while willing to talk with Republicans about "almost anything," will not do so until they pass the spending bill and debt ceiling legislation.
Oct. 8: Fox News: Making the "Shutdown" as painful as possible by closing down various operations that don't cost much money to run such as shutting down Websites
Republicans continue to allege the Obama administration is trying to make the partial government shutdown "as painful as possible," by closing down various operations that don't cost much to run anyway. Here are just a handful of things that were shut down by Washington, despite a strong suspicion that doing so is not saving taxpayers money.

- Websites: A number of federal government websites have gone off-line since last week, due to the partial shutdown. There doesn't appear to be much consistency to it. The Department of Defense, the White House and other branches have their websites online, though not regularly updated while the National Park Service, the Department of Commerce and the Department of Agriculture, went through the effort to take down their sites entirely. [Editorial Comment:  When I served as a Web Master at the Department of Commerce in Washington, DC I kept the site up and current from my home during the September 11th attack and in the days that followed.  There was no reason to take the site down.  Our view back then was "we are here to serve the public!"  But things have changed in the past 12 years.  Now it is about making political statements instead of serving the taxpayers!]
- Open-Air Memorials: The short-lived effort to close off the open-air World War II Memorial from visitors last week became the veritable symbol, for critics, of the government going the extra mile to make shutdown-related changes more visible. "It cost more money to barricade the monuments than it would to keep them open," Rep. Jason Smith, R-MO, complained on the House floor Tuesday.
- Parking Lots:  This is surely not the only example of a commonly used parking lot being shut down, but a spacious riverside lot 10 miles outside of Washington was targeted last week by the shutdown police. The northern Virginia parking lot lies between the heavily traveled George Washington Memorial Parkway and the Potomac River, and is a popular pull-off for weekend runners and bikers. Thanks to the budget stalemate, though, the lot has been cleared out and barricaded.
- Views:  Some officials went beyond closing down America's parks and monuments. In South Dakota, officials put up traffic cones to prevent passersby from pulling over to take pictures of Mount Rushmore.
Oct 7: The Washington Examiner: Park Service OKs Immigration Reform Rally on grounds of the Closed National Mall:
A planned immigration reform rally will take place on the National Mall on Tuesday even though the site is closed due to the government shutdown.  Organizers for the "Camino Americano: March for Immigration Reform" were spotted Monday setting up a stage and equipment on the National Mall for the rally which will take place on Tuesday.  A few scattered barriers around the park have signs informing visitors that the area is closed as a result of the government shutdown.
Susana Flores, a spokesperson for the rally, confirmed for the Washington Examiner that the Park Service will allow the event to take place under the group's rights granted by the First Amendment. About 30 members of Congress are expected to attend the rally, including House Minority Leader Nancy Pelosi, D-CA.  The event is hosted by several immigration activist groups, together with the Service Employees International Union and the AFL-CIO. The decision to allow some to use the mall but others not has caused some to question whether a group's political persuasion is the determining factor!
Oct. 7: Politico: Cracks start to appear in Democrat debt limit fight:
For the past several weeks, Senate Democrats and the White House have shown a remarkable amount of unity in the controversial fight surrounding the debt ceiling.  Then came shutdown Day Seven.  Just as top Senate Democrats began to lay the groundwork to raise the U.S. government's borrowing limit through 2014, senior White House officials refused to rule out a short-term increase. The divergent messages caused major heartburn for top Senate Democrats and gave Republicans fresh hope that they could defeat a yearlong debt ceiling hike and win concessions from President Barack Obama in this fall's fiscal battles.
By late Monday afternoon, nervous Senate Democrats had reached out to the White House to ensure they were on the same page — and the concerns on Capitol Hill seemed to be alleviated after senior administration officials downplayed the idea of a short-term increase.  But the incident underscored the fear among the congressional Democratic leadership that President Barack Obama may eventually back away from the no-negotiation stance he and Senate Majority Leader Harry Reid (D-NV) have voiced for weeks in order to avoid a first-ever default. And it raised questions about Senate Democrats' next step in the debt ceiling debate if Republicans successfully filibuster a bill to increase the $16.7 trillion national debt ceiling.
Oct. 5: The Weekly Standard:  NBC Reports Park Police Remove Vets and Visitors from the Vietnam Memorial Wall in DC:
The NBC affiliate in Washington, D.C. reports that police ordered tourists and Vietnam war veterans who were visiting the Vietnam Veterans Memorial Wall to leave the memorial at one point on Friday.  After one group of veterans went around the barricade, "the park ranger told them the wall was closed," NBC's Mark Seagraves reported. "Later another group of vets showed up and moved the barricades. At that point, the memorial filled with vets and tourists. That's when police came and moved everyone out."
The Vietnam Veterans Memorial Wall is a black granite outdoor wall on which the names of the 58,272 service members who died or were unaccounted for during the Vietnam war are inscribed.  It takes more manpower and costs the government more money to close down an outdoor wall than to let people walk past it and pay their respects.  The Obama Administration has been very selective in devoting resources to shutting down memorials.
Oct. 5: Fox News: House passes bill to pay federal employees back pay once shutdown is over:
In a unanimous vote of Republicans and Democrats (407-0) the House passed a bill Saturday to give thousands of furloughed federal workers back pay when the government reopens, but Democrats – playing politics as unusual –  promptly characterized it as a signal the GOP doesn't want the partial shutdown to end.  "Now we're saying to federal employees: We're going to pay you when this is all over with," Senate Majority Leader Harry Reid, said minutes after the unanimous House vote. "But right now, you just stay home … watch TV, play chess, whatever you're going to do, because we won't let you work."
House leaders on Saturday again put the blame on Democrats, particularly Senate leadership.  "The House just took another step to try to ease the pain," said House Majority Leader Eric Cantor. "We have majority leader in senate that won't work out differences."  The House-passed measure gives 800,000 furloughed federal workers retroactive pay once the government reopens.  The Senate was expected to OK it as well, but the timing is unclear.  The White House backs the legislation.
Oct. 5: The Hill: House to Obama: Let furloughed military chaplains serve!
Furloughed chaplains should be able to give prayer services on a volunteer basis, according to a House vote on Saturday.  The House resolution approved in a 400-1 vote argues the Obama administration should allow contract chaplains who have been furloughed to continue offering prayer services on a volunteer basis. Right now, chaplains who do so could be charged with trespassing or arrested because of the government shutdown.  The only "no" vote came from Rep. Bill Enyart (D-IL).
The resolution, from Rep. Doug Collins (R-GA), is a response to an op-ed from John Schlageter, general counsel at the Archdiocese for the Military Services. On Thursday, Schlageter claimed that it would be illegal for contract chaplains to minister on base if they have been furloughed, and could face arrest if they ignore that. Republicans were outraged at this possibility, and quickly developed the resolution on Friday in response. "The First Amendment rights of our military do not sunset with the lack of appropriations or even a shutdown," said Rep. John Fleming (R-LA).  "Will our priests and ministers this weekend…  be arrested if they recite a Hail Mary, if they lead in prayer?" asked Rep. Marsha Blackburn (R-TN).
Oct. 5: Fox News: Pentagon orders 200,000 civilian furloughed workers back to work:
The Pentagon is ordering most of its approximately 400,000 furloughed civilian employees back to work.  The decision by Defense Secretary Chuck Hagel is based on a Pentagon legal interpretation of a law called the Pay Our Military Act.  That measure was passed by Congress and signed by President Barack Obama shortly before the partial government shutdown began Tuesday.
The Pentagon did not immediately say on Saturday exactly how many workers will return to work. The Defense Department said "most" were being brought back.  The law ensured that members of the military, who have remained at work throughout the shutdown, would be paid on time. It also left room for the Pentagon to keep on the job those civilians who provide support to the military.
Oct. 4: The Daily Caller: White House distances self from celebrating shutdown quote:
White House Press Secretary Jay Carney was left playing damage control Friday after a "senior administration official" told The Wall Street Journal that the administration doesn't care how long the government shutdown continues.  "We are winning," the unnamed official told the Journal. "It doesn't really matter to us" how long the shutdown lasts "because what matters is the end result," the official said.
"This is absurd," Carney tweeted Friday, after political observers noted the callousness of the administration's supposed position. "POTUS wants the shutdown to end now."  Reporters and bloggers were quick to note the irony of the White House press secretary rejecting a statement by a "senior administration official."
Oct. 4: The Hill: "This isn't some damn game" Speaker Boehner says:
Speaker John Boehner (R-OH) urged Republicans to stick together Friday at a closed-door conference meeting, leaving for another day talk of a possible "grand bargain" to end standoffs over the government shutdown and raising the debt ceiling. "This isn't some damn game," Boehner told reporters after the conference, angrily responding to reports that the White House thought it was winning the showdown. 
Lawmakers emerging from the meeting said Boehner told his colleagues they are locked in an "epic battle" with President Obama and Democrats on the shutdown, and vowed they would not "roll over."  They said Boehner sought to hype up his conference a day after reports emerged that the Speaker has told some members he would not allow the country to default and is willing to bring legislation to the floor that would depend on Democratic votes for passage. Speaking to reporters, Boehner continued the recent GOP strategy of casting Republicans as the party interested in talking, and blaming Democrats for stonewalling them.
Oct. 4: The Weekly Standard: WWII Memorial Closed Off
On Tuesday morning seven National Park Service employees were seen erecting and tending to a barricade around the World War II memorial in Washington, DC.  One NPS employee was operating a forklift.  There usually aren't any NPS employees working at the memorial.  A couple of hours later, when an Honor Flight of WWII veterans arrived, accompanied by Democrat and Republican Members of Congress, the fences blocking the memorial were moved away, allowing the Vets to enter.  But the barriers are still at the memorial and they've been reinforced.
Who is ordering the National Park service to go to such great lengths to shut down the open-air World War II memorial that is usually unguarded?  On Tuesday, Carol Johnson of the NPS told me that the White House's Office of Management and Budget "sends everything down t all other departments.  We are part of Interior.  Interior gives us our instructions."
Oct. 4: The Daily Caller: Obama promises to veto funding bills:
The President is threatening to veto another stack of Republican-drafted government funding bills until the GOP gives up its efforts to reform the Obamacare network.  "If the President were presented [with the 10 funding bills for individual agencies]… he would veto the bills," said a Oct. 4 White House statement about the bills, which are being voted through the House Oct. 4.  "Instead of opening up a few Government functions, the House of Representatives should re-open all of the Government," it said.
Obama's aggressive stance is intended to force the GOP to abandon its Obamacare reforms.  Those GOP-reforms include ending a tax on the revenues of high-tech medical device makers, ending the lucrative Obamacare subsidy for Democratic and Republican congressional staffers, and setting a one-year delay in the 2010 law's requirement that all adults buy health insurance, no matter their age, health or other priorities.  Democrats fear those reforms will lead to the collapse of the hugely ambitious health-sector takeover, which has yet to win support from a majority of Americans.
Oct. 4: Politico:  Chris Wallace: "White House debt message is bull"
Although President Barack Obama has said that negotiating over the debt ceiling would be unprecedented, Fox News Sunday host Chris Wallace isn't buying it.  "The White House keeps saying, the president says this has never happened before, we've never had a negotiation on the debt limit," Wallace told Politico for this week's "Turn the Table" series. "That's bull. It just isn't true."  "They've had negotiations over the debt limit sometimes on related budget issues, sometimes on completely unrelated issues for years."
CNN's Candy Crowley also she doesn't expect the shutdown to end anytime soon.  "When you look at the dynamics of what's going on inside the Republican caucus, I don't think they're there yet and ready to give anything up. And if you go out and listen to the public words of Sen. Reid and the president, there's no give there either."
Oct. 4: The Hill: GOP halts Democrat attempt to pass a clean spending bill less the defunding of ObamaCare:
House Republicans on Friday stood firm against a move by Democrats to call up the Senate's continuing resolution funding the government.    The vote came on the fourth day of the government shutdown, and is an indication the House GOP remains united in its effort to press ahead with smaller spending bills for the next several days.  Democrats, in contrast, want a vote on a "clean" funding plan passed by the Senate that funds all of the government, including ObamaCare.
Friday's House vote came up at the end of debate on a rule that will allow the GOP to call up nearly a dozen smaller spending bills on issues like disaster aid, nuclear weapon safety, nutrition and education.

Oct. 4: The Daily Caller: Social Security Admin. instructs employees to scare recipients about the Debt Ceiling:
Social Security Administration employees are being instructed to tell people who ask that if the debt ceiling is not raised, their social security benefits could be in danger.  In an email sent Friday, obtained by The Daily Caller, employees are instructed:  "If a member of the public asks whether their Social Security payment will be affected if the federal debt ceiling is not raised, you may give the following response: 'Unlike a federal shutdown which has no impact on the payment of Social Security benefits, failure to raise the debt ceiling puts Social Security benefits at risk.'  "Direct all program–related and technical questions to your supervisor."
According to the Treasury, the U.S. will reach its borrowing limit on October 17, and if the debt ceiling is not raised before then, the country will default on its debt.  "In a government shutdown, Social Security checks still go out on time," President Barack Obama said Thursday, the Huffington Post reported. "In an economic shutdown, if we don't raise the debt ceiling, they don't go out on time."
Oct. 4: The Daily Caller: Carney can't cite any actions by Obama to ease the government shutdown:
White House spokesman Jay Carney declined to describe any steps taken by President Obama to soften the impact of the government shutdown on Americans.  Instead, Carney tried to blame Congress for the actions of officials in Obama's agencies who have denied use of free government services by blockading public spaces and parks, shutting down White House and agency websites, and excluding Catholic priests from military bases.  Officials, including Obama, have also tried to spur alarm among investors and pensioners, and Obama promises to veto GOP bills that fund individual agencies.
Has the President "used his agency power and asked any regulator to make life easier in any way for Americans, for example … not putting out signs, not picketing parks, and restarting websites?" The Daily Caller asked Carney in the Oct. 4 White House briefing. "Please give me some examples."  Carney evaded the question and several follow up questions before recognizing another reporter for a question.
Oct. 4: The Hill: Walker defies Fed and keeps state parks funded with federal money open:
Wisconsin Gov. Scott Walker (R) is defying orders from Washington, D.C., to close down several state parks that receive federal funding. Despite receiving a closure directive from the National Park Service, Wisconsin's Department of Natural Resources (DNR) has decided instead that parks partly funded by the federal government would stay open to the public. In the wake of this week's federal government shutdown, the U.S. Fish and Wildlife Service also placed barricades by a boat launch on the Mississippi River because it was on federal land. Wisconsin's natural resources agency reopened it. State officials said they had legal authority to remove the barricades at the boat landing because of an agreement Wisconsin has had with the federal government since 1961.
Oct. 2: Washington Examiner: Feds Close Popular Memorials Leave the others open:
Federal officials have closed a number of popular tourist attractions in Washington, citing the government shutdown, but they've left lesser-known locations un-barricaded, as evidenced by an interactive map compiled by House Republicans.  "It appears as though only the highly visible monuments and areas are being closed to the public — further proof that the Obama Administration is only playing politics and purposely choosing to make this shut down as painful as possible," House Natural Resources Committee chairman Doc Hastings, R-Wash., said.  Hastings' committee staff compiled photos of high-profile, open-air sites closed by the National Park Service, The closure of the World War II Memorial received national attention Tuesday after aging World War II veterans, aided by members of Congress and their staff, moved the barricades to visit the monument.
On the other hand, Hastings' team noted that the Constitution Gardens, the Upper Senate Park, and the Japanese-Americans Memorial, among others, remain open.
Oct. 2: Fox News: House to try again to pass emergency government funding bill. 
The House of Representatives will make another attempt Wednesday to pass three emergency funding bills after each failed to obtain the required two-thirds majority under the suspension of the rules procedure on Tuesday. The House Rules Committee is scheduled to meet at 10:15 a.m. Wednesday to consider the three measures backed by House Republicans, which are aimed at reopening parks and monuments, continuing veterans' benefits and allowing the municipal government of the District of Columbia to function.
Unlike on Tuesday, the latest bills will not be treated by House GOP leaders as suspension bills, which means they only need a simple majority vote to pass. On Tuesday, each measure needed 286 votes to pass. The parks funding bill went down by a tally of 252 in favor to 176 against, the veterans programs by 264 in favor to 164 against and the D.C. government funding by 265 in favor to 163 against.
However, even if the bills pass the House Wednesday, they are almost assuredly doomed in the Senate, where Democrats suggested GOP House members had picked high profile parts of the government to fund as a cover for their part in forcing a government slowdown, while overlooking other critical areas such as the National Institutes of Health.
Both the Senate and the White House say the bill is a non-starter.  So who is to blame for where we are?  The House has sent the Senate numerous bills that would fund the government and the Senate refuses to compromise.  It almost feels like the Democrat-controlled Senate wants the government shutdown for political reasons.  It is time that they come to the table and give a little! [See Related Story on the Shutdown Battle from September 30th]
Oct 1: Fox News: Much of the government is not shutdown, only slimmed down
With all the talk of a government shutdown, it's important to remember that much of the government will technically remain open. The following is a list of government services that will continue, rain or shine ... or shutdown:
- While roughly half of the Defense Department's civilian employees will be furloughed, the 1.4 million active-duty military personnel stay on duty.
- Most Homeland Security agents and border officers, as well as other law enforcement agents and officers, keep working.
- Social Security checks will continue to go out. Medicare benefits will keep coming.
- The Postal Services will keep delivering mail.
- Though most of the  Department of Veterans Affairs services will continue.
- Meat inspections by the Agriculture Department will continue.
- Air traffic controllers will remain on the job.
- Railroad and pipeline safety inspectors will also remain at work.
- The National Security Agency -- as part of the nation's national security infrastructure -- will continue to operate.
- Except for some potential glitches, passport and visas will be handled as usual, both at home and abroad.
Sept. 30: Roll Call: Shutdown Battle About Setting the Stage for the Debt Ceiling Fight:
Don't let the cable news shutdown countdown clocks fool you: Monday's Congressional fight over how to keep the government operational isn't really about avoiding a shutdown, it's about the two parties positioning themselves for a fight over the more consequential debt limit.  Democrats for the first time in years are digging in as a major deadline nears, sending a signal to Republicans that they won't dismantle the health care law in order to appease demands they believe are fueled by the fringe of the opposing party and are unreasonable in relation to the fight at hand. And at this point, Democrats have no choice but to stand strong on a clean continuing resolution. Because if they were to relent now, they would prove that President Barack Obama's words — that he won't negotiate around the full faith and credit of the United States — are just lip service and that the GOP again can exact demands in October with a potential government default on the line.
Democrats cannot repeat their performance from two years ago, largely because there are not really any more politically viable discretionary domestic cuts to be made. Quite the contrary, Democrats such as Senate Appropriations Chairwoman Barbara A. Mikulski, D-Md., are pushing aggressively to roll back the sequester that mandates the cuts in the first place.  While they would never say so vocally, there are likely some Republicans who quietly hope Democrats stand firm against the conservatives pushing to attach Obamacare provisions to the spending bills, because without Democrats being the enemy in this case, the GOP establishment will have a difficult time turning its attention back to its comfort zone: cutting spending.
Sept. 30: Fox News: Senate kills latest House counteroffer, kicks the can back to the House:
The Senate voted for the second time Monday to kill a Republican counteroffer that would rein in ObamaCare while funding the government, kicking the bill back to the House with less than an hour left on the clock before the government begins to shut down.   Lawmakers are facing a midnight deadline to reach an agreement on a government spending bill. Senate Democrats vow they will not accept any proposal that targets ObamaCare. The rhetoric was getting more heated as the deadline neared.
"Senate Democrats have made it perfectly clear that they'd rather shut down the federal government than accept even the most reasonable changes to ObamaCare," Senate Republican Leader Mitch McConnell countered.  The latest House bill, which the chamber backed on a 228-201 vote, would have delayed the law's individual mandate while prohibiting lawmakers, their staff and top administration officials from getting government subsidies for their health care.  The Senate voted 54-46 along party lines to reject it.
There is also an effort underway by some House members to request a conference committee -- a bicameral committee tasked with hammering out the differences between the warring pieces of legislation.  At this point, it's unclear what common ground the two sides can find. The latest GOP proposal stirred dissension in the ranks, with some lawmakers reluctant to hurt their own staff by taking away additional subsidies for their health care costs. According to the site Legistorm, the average House staffer salary is under $60,000. Twelve House Republicans peeled off in the latest vote to oppose the bill.
The Senate earlier Monday rejected a GOP proposal that would delay the health care law by one year and repeal an unpopular medical device tax. Reid warned Republicans not to fiddle with the spending bill any more.
Sept. 29: Fox News:
House passes Short Term CR, Delays ObamaCare one year, Will Pay Military if there is a shutdown:
House Republicans voted early Sunday morning in favor of a temporary spending bill that includes a one-year delay for ObamaCare, a move that increases the chance of a government shutdown with Senate Democrats and the White House vowing to reject the measure ahead of a Monday night deadline.  The Republican-led House passed the proposal 231-192 in one of two amendments attached to a Senate spending bill passed Friday night.
The lower chamber also passed an amendment 248-174 to repeal the health-care law's medical-device tax and voted 423-0 to approve a bill to pay the military on time should a temporary shutdown occur, in a series of votes that started shortly before midnight. The final tallies came in after midnight, and the House adjourned until 10 a.m. Monday shortly after. 
"I don't think we're near the precipice of a shutdown," House Minority Whip Steny Hoyer, D-MD, said after the votes. "We are on the precipice."  The vote to delay ObamaCare basically hewed to party lines, with two Democrats voting for the amendment and two Republicans voting against the amendment. 17 Democrats voted with every Republican member of the House to repeal the medical-device tax. The medical-devise tax is a major source of funding for ObamaCare and the subsidies that will be provided to those who cannot afford the "affordable care." 
Within minutes, the White House vowed President Obama would veto the plan, resulting in the federal government technically running out of money Monday night and forcing a partial shutdown. So stand by for the NON-Headline in the mainstream media... "Senate and Obama Shut Down the Federal Government!"
Sept. 26: Roll Call: GOP Leaders Hunting for Debt Limit Votes:
Republican leaders still haven't secured the votes for a debt ceiling bill as they plan weekend sessions to wrap up work to avert a government shutdown.  Rory Cooper, spokesman for House Majority Leader Eric Cantor, R-VA, tweeted Thursday that the House would come in for one vote series Friday morning at 10 a.m. and then return Saturday at 10 a.m., given that Senate will vote on the CR on Friday afternoon. Cooper also tweeted that members have been told to expect the House to be in session on Sunday as well.
The House Rules Committee earlier passed a "same-day" rule allowing legislation to be brought up the same day it is introduced. Earlier in the day, Chairman Pete Sessions, R-TX, said he believed his panel would be meeting on the debt limit bill Thursday evening.  But after a whip count during a vote series, that proved too optimistic.
After presenting a debt limit bill to their conference on Thursday morning that would delay Obamacare for a year and secure permit approval for the construction of the Keystone XL oil pipeline, leaders have yet to win over enough Republicans to proceed. And Democrats still insist they won't negotiate at all.
Tim Huelskamp, R-KS, said he believed "it's at least 18" Republicans who are still in opposition to the debt limit measure. I don't think they bring it up if it's really 18," Huelskamp said Thursday afternoon.  Republicans would need 217 votes, if every member of the House were voting, to pass a debt limit bill. Rep. Rodney Alexander, R-LA, is resigning Friday, which will bring the GOP number down to 232. That means Republicans can't lose more than 15 members on the debt limit bill if all members are voting.
Sept. 22: Politico:
Hunt for Red October, Capt. Mancuso: " In the game of chicken it's all about knowing when to flinch!"
Obama calls Boehner: "I will not negotiate on the Debt Ceiling!"  Who will flinch first?  Who has the power?  The House of Representatives does if it will but use it. 
President Barack Obama is once again warning House Republicans that he will not negotiate over a debt-ceiling increase, even as the U.S. government moves closer to its borrowing limit. Obama called Speaker John Boehner Friday night to reiterate his hard-line stance. The Ohio Republican's office said the president called to say "he wouldn't negotiate with him on the debt limit." The question is, "Is this another of Obama's 'Red Lines" and will he cave on this line drawn in the sand like he did on Syria?"
"Given the long history of using debt limit increases to achieve bipartisan deficit reduction and economic reforms, the speaker was disappointed but told the president that the two chambers of Congress will chart the path ahead," a Boehner aide said in an email. "It was a brief call."  A White House official said Obama spoke to both Boehner and House Minority Leader Nancy Pelosi.
Sept. 20: The Daily Caller: Obama tells public you can't always get what you want
President Obama stressed the virtue of compromise while slamming congressional Republicans at a campaign-style speech in Liberty, Missouri Friday following House passage of Rep. Tom Graves' resolution to fund the federal government in fiscal year 2014 without funding Obamacare.
Sept. 17: The Hill: McConnell punts on showdown solution:
Senate Minority Leader Mitch McConnell (R-KY) on Tuesday declined to take sides in the squabble among House Republicans over a government shutdown.  Speaker John Boehner (R-OH) has tried to convince his colleagues to support legislation that would keep the government open after Oct. 1 while forcing the Senate to vote on defunding ObamaCare.
That approach was dismissed by the right wing of his conference, and now 70 House conservatives are supporting an effort to tie a one-year defunding of ObamaCare to the government funding resolution.  McConnell, who crafted deals to end the 2011 debt-ceiling standoff and the 2012 fight over the "fiscal cliff," said it's up to the House to find a path forward.  "One thing all Republicans agree on is that we think ObamaCare was the worst piece of legislation in the last 50 years. …The question at this point is what the House will send us," he told reporters. "It's up to them. We will react to what they send us. And we'll be happy to vote on it at that point."
McConnell made clear that he supports Boehner's call to attach spending cuts to the debt ceiling increase that will be needed by mid-October. "I would be stunned if we raised the debt ceiling and didn't do something about the debt. That's the view of virtually every Republican," he said. He said that Obama has only shown a willingness to reduce the deficit when forced to by GOP leverage. "The request to raise the debt ceiling is one of those opportunities," he said.
Senate Majority Leader Harry Reid (D-NV) on Tuesday dared the GOP to allow the U.S. to default on its payment obligations. "If the Republicans think that it's good for the country to not pay our bills and risk the full faith and credit, then that's what they'll have to do. We are not negotiating over the debt ceiling," he said. "We are not going to have them hold the CR or the debt ceiling hostage to ObamaCare."
Sept. 16: Politico: GOP leaders link debt hike to CR
A debt ceiling vote is creeping its way into the government funding fight.  The House Republican leadership, facing rank-and-file GOP lawmakers skeptical that the party is willing to defund or delay Obamacare, is weighing ways to tie an increase in the $16.7 trillion debt ceiling to a government funding bill, which must be enacted before Oct. 1, according to several leadership aides involved in the discussions.
One option under consideration is an accelerated vote on the debt ceiling. There is discussion in House Republican leadership circles about setting a debt ceiling vote before Sept. 30. If Republican leaders show in the next few weeks how they will use the debt ceiling to delay Obamacare, it will display that the party's brass is serious about an all-or-nothing legislative brawl with Senate Democrats and President Barack Obama. That could help ease the passage of the continuing resolution to fund the government.  
In discussions among leadership aides, the CR would defund Obamacare, and the debt ceiling would include a delay of the health care law.  The debt ceiling package could also include tons of conservative goodies: construction of the Keystone XL pipeline, entitlement reform and principles for tax reform, according to GOP sources involved in the discussions. All of these random policies would help Republicans attract 217 GOP votes.
Highlighting the urgency of the debt ceiling issue, the House Republican Conference on Monday announced that they scheduled a session focused on the debt cap. On Wednesday, top leadership policy will "provide members with information" about the debt ceiling, according to an email sent to lawmakers Monday.  They are searching for a new strategy because Speaker John Boehner and the House Republican leadership have a trust problem. As they circle throughout their conference trying to persuade lawmakers to pick a fight on Obamacare as part of the debt ceiling negotiations instead of a government funding bill, they are finding a lot of skeptics. Many House Republicans feel that they are being duped by the leadership, who earlier in the year had advised them to fight over the CR, not the debt ceiling, to fund the government.
Sept. 16: The Hill: House GOP move forward with $40 Billion Food Stamp Cut
House Republicans on Monday introduced a food stamp reform bill that they say will cut $40 billion from the program over 10 years. The move sets up a dramatic debate and vote on the bill on Thursday, with the fate of the stalled farm bill likely hanging in the balance.  The House Rules Committee announced a meeting on Wednesday on HR 3102.  The bill contains twice as much in cuts as the House Agriculture Committee originally sought for the program and it was devised by a task force led by House Majority Leader Eric Cantor (R-VA) after an integrated farm bill failed on the House floor this summer.
The House later passed a bill just dealing with the rest of the farm bill, including crop subsidies and crop insurance, before the August recess.  Rural Republicans appeared torn on the new bill, which has 10 times the level of cuts to the food stamp program as the Senate-passed farm bill. The difference could make it impossible to complete a planned House-Senate farm bill conference.  "You're talking about $40 billion in cuts vs. $4 billion, which is a huge gap," said Rep. Tom Rooney (R-FL). "We need that farm bill and cannot do an extension of the Pelosi farm bill. If that happens we are really going to get screamed at the town halls."
Farm bill supporter Rep. Steve King (R-IA) who is whipping the food stamp bill, predicted that it would pass and that some compromise with the Senate will be found.  "It will pass and we will get a farm bill," he predicted.
Sept. 14: The Hill: Confident Democrats want separate showdowns with House on Fiscal Battles
Senate Democrats want to have separate fights with the House GOP over a potential government shutdown and raising the nation's debt limit, confident they will win showdowns on both issues.  Some House Republicans want to bundle the question of setting federal funding levels and raising the debt limit into one vote but a senior Senate Democrat has rejected that possibility.  Senate Democratic Whip Dick Durbin (D-IL) said repeatedly raising the debt limit in small increments wreaks havoc on government operations.  "The longer you extend the debt limit, the more thoughtless it is," he said.

Durbin predicted Congress would tackle the debt limit question in mid October instead of pushing the debate until shortly before Christmas. "October 15, mark your calendar," he said. "I'm told that come October 15 we better start getting serious about it."
Sept. 6: Roll Call: Cantor insists on Budget reforms in return for debt hike:
House Majority Leader Eric Cantor, R-VA, outlined a plan Friday to hold federal spending and the debt limit hostage — but not necessarily over Obamacare.  "House Republicans will demand fiscal reforms and pro-growth policies which put us on a path to balance in ten years in exchange for another increase in the debt limit," Cantor wrote to GOP lawmakers.  With President Barack Obama vowing not to negotiate, the United States faces a default crisis a little over a month after lawmakers return.
Cantor's threat has a somewhat different standard than the demand from Speaker John A. Boehner, R-OH, that any increase in the debt ceiling be accompanied by an equivalent amount of "cuts and reforms." Boehner's demand, known as the "Boehner rule," was violated earlier this year when the House punted on the debt limit, but the Speaker recently promised a "Whale of a fight" this fall.   Cantor also said Republicans would demand Obama agree to keep the sequester in place past Sept. 30 — and slash $64 billion from the levels Obama signed months ago.  "In signing a CR at sequester levels, the President would be endorsing a level of spending that wipes away all the increases he and Congressional Democrats made while they were in charge and returns us to a pre-2008 level of discretionary spending," Cantor said.
The White House has repeatedly declined to answer whether Obama would sign a bill that lets the sequester continue. If the Senate blocks the measure, or Obama vetoes it, a partial government shutdown will ensue.  That, of course, would require Cantor to be able to actually pass such a bill through the House. And Cantor's memo makes no mention of tying the CR to Obamacare — something scores of the GOP conference have sought.
Instead, Cantor alludes to Boehner's strategy to chip away at the law through "a series of strategic votes."  If that's not enough for the rank and file, GOP leadership will either have to include Obamacare defunding in the CR and endure headlines saying they are risking a government shutdown, or they will have to woo Democrats for votes.
Aug. 30: Roll Call: Can Obama Regain his lost leverage on spending?
The real fight in Congress in September isn't over Obamacare. It's about the money.  After all, the money is crucial to how much of President Barack Obama's tattered agenda will be implemented in his second term. And how much money he gets may come down to whether the president will finally use his veto power to bring House Republicans to heel.
Unlike in 2011, when Republicans successfully held a critical debt limit increase hostage to extract more than $2 trillion in spending cuts, Obama no longer has to worry about a default crisis imperiling his re-election. His charm offensive with Senate Republicans aimed at reaching a budget deal has been a dud so far. He's signed little of consequence since being sworn in for a second term in January.   But one bill Congress will have to send him this fall is the measure keeping the government open past Sept. 30.   His signature — or veto — on that bill is the biggest piece of legislative leverage he has left.
So far, Speaker Boehner has promised to play hardball on spending, because he believes it's a fight Republicans can win. But the speaker also has been resisting calls from the right for a shutdown showdown over defunding Obamacare, which the speaker's allies dismiss.  Boehner told lawmakers on Aug. 22 that he plans to pass a stopgap continuing resolution that would keep in place the sequester spending cuts that have become a tourniquet on Obama's second-term ambitions.   Will Obama cave yet again — as he did in March when he signed a bill that allowed the spending cuts to continue unabated?   Or will he use a veto threat to demand funding for his priorities?  The White House won't say and, by all public accounts, the president hasn't decided yet what to do. But all those grand visions and soaring speeches about investing in his priorities won't amount to much if he can't get Congress to cough up the cash.
Boehner doesn't think Obama can credibly risk a shutdown aimed at forcing Congress to spend more money.  "The American people won't stand for it, and we're not going to be swayed by it," he told his conference.  "The president's desperation to rid himself of sequestration is apparent, but any effort — or even threat — to shut down the government over it will surely backfire," Boehner spokesman Brendan Buck said. "Sequestration is bad policy, but after all his blown predictions, the president has very little credibility on the issue."
Aug. 29: Politico: Deficit talks break down, focus returns to the House:
The White House and a group of Republican senators have reached an impasse on the deficit after months of private talks, a development that raises the prospects of a budget crisis in the fall.  After a private meeting yielded no progress between eight senators and top White House officials, the two sides concluded it was time to break off discussions, officials said Thursday evening. With virtually no prospect for a bipartisan deal in the Senate, participants said the development would shift the focus back to the House, which will have to begin finding a way to avoid a government shutdown and debt ceiling crisis.
Aug. 29: Politico: House Conservatives prepare for Fiscal Fights:
While the August recess has offered little insight into how the House Republican leadership plans to tackle this fall's fiscal fights, conservatives are plotting their own strategy.  A group of the House's hard-liners has been in touch while at home about how to tackle the impending fiscal battles — including a continuing resolution to keep the government open past Sept. 30 and raising the nation's debt limit. The conservatives' focus is squarely on whether the House leadership listens to their demands.
"We've been in constant communication in the course of the August recess," South Carolina GOP Rep. Mick Mulvaney said in a phone interview as he walked in to a town hall meeting along with South Carolina GOP Rep. Trey Gowdy. The pair spent a chunk of the recess together, holding joint constituent meetings in both districts.  House Speaker John Boehner (R-OH) has given little indication that he's going to give conservatives what they want, specifically a continuing resolution that would defund Obamacare. But conservatives think if he doesn't, it could be a first shot in a renewed battle within the party. "I'm still trying to get our leadership to actually take on Obamacare when it really counts," Rep. Tim Huelskamp (R-KS) said.
As part of a deal to keep the government running, conservatives want to defund Obamacare, but are also seeking to maintain spending at levels both consistent with the sequester and the House-passed budget. They will only agree to sign off on a debt ceiling hike if it cuts spending, but are unsure whether that should be part of a CR. Taking it a step further, conservatives argue that they aren't simply seeking symbolic votes in the House, but real measures on which their leadership will stand firm in negotiations with the Senate.
Aug. 27: Roll Call:  Boehner: President in for a "Whale of a Fight" over the Debt Limit
Speaker John A. Boehner said Monday that President Barack Obama is in for a "whale of a fight" over the debt limit, with the GOP leader insisting on spending cuts greater than, not just equal to, the amount the debt ceiling is raised. The Ohio Republican, speaking at a fundraising event for Idaho Republican Mike Simpson, said he has "made it clear that we're not going to increase the debt limit without cuts and reforms that are greater than the increase in the debt limit," according to the Idaho Statesman.  "The president doesn't think this is fair, thinks I'm being difficult to deal with," Boehner said. "But I'll say this: It may be unfair, but what I'm trying to do here is to leverage the political process to produce more change than what it would produce if left to its own devices. We're going to have a whale of a fight."
On Tuesday, Boehner spokesman Michael Steel told CQ Roll Call that the speaker's comments are "consistent with his long-stated position: Any increase in the debt limit must be accompanied by cuts and reforms greater than the increase."  When pressed on Boehner's comment that he would insist on cuts "greater than" the increase in the debt limit, Steel said, "the standard has always been, 'equal to or greater than,'" signaling that the speaker was, perhaps, just short-handing his so-called Boehner rule — a dictum requiring "cuts and reforms equal to or greater than any increase in the debt ceiling."
The White House, for its part, was also resolute on the matter Monday.  "Let me reiterate what our position is," White House Press Secretary Jay Carney said. "And it is unequivocal: We will not negotiate with Republicans in Congress over Congress' responsibility to pay the bills that Congress has racked up. Period."
Aug. 26: The Daily Caller: GOP lawmakers to Holder: Lay off online lenders:
A group of GOP congressmen blasted Eric Holder's Department of Justice on Friday for "intimidating" banks into terminating business arrangements with certain online lenders.  Thirty-one Republican lawmakers sent a letter to Attorney General Holder and the head of the Federal Deposit Insurance Corporation (FDIC) that accused their two agencies of smothering access to short-term, high-interest loans purchased online, The Wall Street Journal reports.
Led by Missouri Rep. Blaine Luetkemeyer, the group says that federal regulators are "intimidating some community banks and third party payment processors with threats of heightened regulatory scrutiny unless they cease doing business with online lenders."  By targeting the banks and payment services online lenders work with every day, regulators "eliminate the basic processing services that legitimate lenders rely upon to serve millions of Americans."
"More than one in four American households conducts some or all of their financial transactions outside the mainstream banking system," the letter notes, arguing that poor families who use payday loans are most likely to suffer from the crackdown.  "Your actions to 'choke-off' short-term lenders by changing the structure of the financial system are outside of your federal mandate," the lawmakers added, calling on the federal agencies to halt their enforcement actions.
Aug. 26: The Hill: Treasury tells Congress the nation will breach debt ceiling in mid-October:
The Treasury Department told Congress on Monday it must raise the $16.7 trillion national debt limit by mid-October. Treasury Secretary Jack Lew in a letter to lawmakers said his department would exhaust the "extraordinary measures" it holds to keep the U.S. from breaching the limit at that time. "Congress should act as soon as possible to meet its responsibility to the nation and to remove the threat of default," he wrote. "Under any circumstance — in light of the schedule, the inherent viability of cash flows, and the dire consequences of miscalculation — Congress must act before the middle of October."  Lew's deadline would set up a crucial few weeks for the White House and Congress when lawmakers return to Washington next month. The government will shut down on Oct. 1 unless Congress approves a measure to keep it funded. Only nine legislative days are scheduled in September.  
Shortly after Lew's letter became public, the White House reiterated its stance on raising the debt limit — it is not up for debate.  Of course earlier this year the Congress allowed the debt ceiling to "float" earlier this year when it passed the No Budget No Pay bill which did away with the debt limit for about four months.  Time will tell whether the Congress will take any similar action again and what they will call it this time!
Aug. 22: Politico: House hopes to lump debt ceiling and sequester into one debate
House Republicans have no idea how they're going to lift the debt ceiling this fall — top aides and lawmakers freely admit it.  But Republicans say their best hope is to try to leverage Democrats' desire to blunt sequester cuts to get something in return for raising the nation's borrowing limit.  Speaker John Boehner (R-OH) and other GOP leaders think that if they are able to lump the sequester and debt ceiling into one legislative fight, they will be able to extract some changes to entitlement programs from President Barack Obama and congressional Democrats. The more issues thrown in the same debate, the better — as they create more leverage points, Republicans say. Obama could say he didn't negotiate over the debt ceiling, but rather the sequester, and Republicans could brag about more concessions from the president.
Republicans will also aim to include other items to please the base, including the building of the Keystone XL pipeline, various energy policies and revising parts of Obamacare, including the individual mandate. But here's where the fight begins: A senior Obama administration official said there is nothing that will compel the White House to negotiate over the debt ceiling — including the sequester. The White House doesn't believe the Republicans will push the nation into default if they don't get their way.  Furthermore, House and Senate Democrats want to increase taxes in exchange for changes to popular entitlement programs like Medicare and Medicaid — something the GOP says doesn't have a prayer of passing. Senate Majority Leader Harry Reid (D-NV), for his part, wants to keep the issue of government funding and the sequester separate from the debt-ceiling fight.
Aug. 10: Fox News: Obama warns disabled vets that sequester could put their benefits jeopardy:
President Obama took his case for ending the sequester to hundreds of disabled veterans Saturday, saying he protected their benefits from the "reckless" cuts to the federal budget but suggesting next year might be different.  "It's hurting our military. I made it clear that your veteran's benefits are exempt from this year's sequester," the president said to the applause of hundreds at the Disabled American Veterans' convention in Orlando, Fla. "But I want to tell you going forward the best way to protect the VA care you have earned is to get rid of this sequester altogether."
he president but the blame squarely on Congress, which returns in about four weeks to work on a new federal budget and increasing the federal debt limit. "We've got these reckless, across-the-board budget cuts called the sequester that are hitting a lot of folks hard," Obama said.  [We have heard this before: dire warnings about the impact of sequester cuts, cutting off White House tours while the President takes multiple expensive vacation trips.  It it called ruling by fear and this administration has made it an art form!]
Aug. 10: The Daily Caller: The New face of Food Stamps; used to  buy lobster for surfer and his buddies (video) [Please note: Some of the language contained in the report linked to is not suitable for children]
During an hour-long deep dive into the growing use of food stamps in America, Fox News highlighted "the new face of food stamps."  That new face is a pina colada-sipping, lobster-loving lothario named Jason Greenslate.  "I surf everyday. It's wonderful, man. Just get away from everything, clear your head. Get out with the boys. Have a good time." Greenslate said.

Roberts reports that Greenslate has no fixed address, instead choosing the life of a beach bum staying with family, friends and girlfriends, living off them and $200 a month in benefits from the Supplemental Nutrition Assistance Program, which he uses to buy gourmet items at the grocery store. "I don't got a paycheck coming in so I qualify," Greenslate told Roberts.
Aug. 10: The Hill: Economist are split on whether Taxes hurt economic recovery:
Analysts are split over whether the tax increases passed in January have hurt the economy as Congress barrels toward another round of fiscal fights this fall. Eight months ago, Congress passed legislation to avoid the "fiscal cliff" that included a slew of tax hikes. Republicans predicted the tax increases would slow down the recovery, while Democrats argued the benefits of cutting the deficit would exceed negligible costs. The parties still hold to those positions, and both sides have experts in their corner. 
But let me add one observation. Look at what is happening with ObamaCare. Because companies with 50 or more full-time employee are required to provide health care benefits or pay fines (the Supreme Court calls them Taxes) what are we seeing? Small and medium-size companies are increasing the number of part time workers (who work less than 30 hours) while the number of full-time employment positions in these firms is on the decline.  So you decide whether taxes hurt the economy!
Aug. 6: The Daily Caller: Obama urges revival of "bubble-era" mortgage policies:
President Barack Obama today urged a revival of two devastating mortgage policies that helped inflate the real estate bubble before the economic crash of 2008.  "Let's make it easier for qualified buyers to buy homes they can," he said in a campaign-style speech in Phoenix, Arizona, today.  "We should simplify overlapping regulations and cut red tape for responsible families who want to get a mortgage, but who keep getting rejected by banks," he said, echoing President George W. Bush's support in 2002 for lower lending standards. Obama, like Bush, also urged greater immigration.
This time around, Obama insisted, massive government interference in the private real estate market would not produce the catastrophe Americans endured in the last decade.  "I hope everybody here learned some hard lessons from what happened… It was kind of crazy," Obama told his Phoenix audience. "So what we want to do is something stable and steady," he said.  Obama's proposal to stimulate the real estate sector echoes Bush's call in 2002 to spur home-buying by immigrants and African-Americans.
Aug. 6: The Daily Caller: Left and right unite to blast sequester-imposed cuts on defense:
A bipartisan panel of defense scholars rejected the options presented in the Defense Department's new plan for tackling the sequester, arguing that the proposed cuts would severely curtail America's ability to respond to multiple threats simultaneously.  Michael O'Hanlon of the liberal Brookings Institution and Mackenzie Eaglen of the conservative American Enterprise Institute were responding to last Wednesday's release of the Strategic Choices and Management Review, a Pentagon report laying out how the DoD would restructure the U.S. military should the full ten years of sequester-mandated cuts – totaling $500 billion – go into effect.
While critical of the Pentagon's plan, the scholars reserved most of their ire for the sequester itself, which they said forced the Defense Department to consider such drastic action in the first place.  "At the time [of its enactment] sequestration seemed better than doing nothing," O'Hanlon remarked. "Now I think it's worse than nothing. It's a bridge too far."
Eaglen argued that the Pentagon is being unfairly targeted compared to other federal agencies. "Roughly $1 trillion was taken out of current, planned or future DoD spending in the last four years before sequestration," she said. "In many of these other departments, they're coming off a budget wave from the stimulus."
Aug. 4: Politico: Cantor: Real problem is entitlements, not sequestration
House Republicans are open to rolling back the sequestration this fall in exchange for cuts to entitlement programs, Majority Leader Eric Cantor said Sunday.  "What we have always said, in the House, as Republicans, leadership and members alike, is that we want to fix the real problem: The real problem is entitlements," the Virginia Republican said in an interview on "Fox News Sunday." "We've always said sequester is not the best way to go about spending reductions. …  The House really is the only one who has consistently engaged in trying to address the spending problem," he added. "And this fall is going to give us a great opportunity, I think, to all come together and try and tackle the real problem, which is the entitlements."
The Republican leader also said most in Congress, including conservatives, do not support a government shutdown when the new fiscal year starts Oct. 1.  "What we're trying to do is fund the government and to make sure, also, that we take away the kinds of things that are standing in the way of a growing economy, of better health care," Cantor said, "and all the while keeping our eye focused on trying to deal with the ultimate problem, which is this growing deficit."
Aug. 3: The Hill: Obama: Shutting down the government won't help the middle class, but who is the one responsible for shutting it down?
President Obama warned congressional Republicans on Saturday not to try to use the threat of a government shutdown to defund the health care law.  "Gutting critical investments in our future and threatening national default on the bills that Congress has already racked up – that's not an economic plan," Obama said in his weekly address. "Denying health care to millions of Americans, or shutting down the government just because I'm for keeping it open – that won't help the middle class."
The problem is that Obama's got it all wrong.  What is being suggested is NOT shutting down the entire government, but ONLY ObamaCare.  The rest of the government would be fully funded.  So, if the President were to veto a continuing resolution that funds everything but ObamaCare, the question is "Who would really be responsible for shutting down the government  [e.g., air controllers, the Patent and Trademark Office, the National Parks, and so forth)?"  The proposed CR would fund all of these!  So wouldn't it be the President, and not the Congress, who is ultimately responsible for shutting down the federal government if this should happen?

Aug. 1: Roll Call: Boehner: Sequester will stay until Obama offers smarter cuts:
Speaker John A. Boehner came before the mics on Thursday, and he made one thing clear: The sequester is here to stay until the White House gets serious about spending cuts.  "Sequestration is going to remain in effect until the president agrees to cuts and reforms that will allow us to remove it," the Ohio Republican said to reporters in his weekly news conference. "The president insisted on the sequester none of us wanted, none of us like it, there are smarter ways to cut spending. The House has moved twice over the last year and a half to replace the sequester, and we saw no action in the United States Senate.
Boehner's remarks came a day after GOP leadership made the decision to pull from the floor, mid-consideration, an appropriations bill funding transportation and housing programs. Boehner on Thursday morning reiterated the official party line, that the choice was because of scheduling concerns, not concerns that there weren't enough Republican votes to bring the measure over the finish line.  But that talking point has run in conflict with speculation from fellow Republicans, including those on the Appropriations Committee, who say there was not adequate GOP support — from conservatives who said the bill didn't cut deeply enough and from more moderate Republicans who couldn't stomach cuts to key programs on which constituents in their districts rely, from Amtrak to Community Development Block Grants.
Aug. 1: Politico: Speaker calls for short-term Continuing Resolution:
House Speaker John Boehner said Congress should pass a short-term government funding bill in September, but he still wants to finish the eight spending bills that the House hasn't completed.  Congress has struggled to pass spending bills this year, so Boehner's goal seems a bit lofty to say the least. "It's clear that we're not going to have the appropriations bills finished by Sept. 30," Boehner said Thursday morning. "I believe a continuing resolution for some short period of time would probably be in the nation's interest. But having said that, the idea of operating for an entire year under a CR is not a good way to do business. And I've been working with [Appropriations Chairman Hal Rogers] to try to find a way to actually do all of these appropriations bills. I think it's important for Congress to do its work."
July 28: Fox News: White House doubles down on vow; won't agree to more spending cuts:
The Obama administration dug in Sunday on its vow to reject proposed spending cuts by congressional Republicans in upcoming budget talks but declined to say whether the president would veto their proposals or allow a government shutdown. Treasury Secretary Jack Lew told "Fox News Sunday" that President Obama will neither sign government funding bills that slash domestic spending nor negotiate with Republicans over spending cuts to raise the federal debt limit. However, he would not say whether the president would veto proposals and put the responsibility on Capitol Hill.
He also repeated what the administration has said in the weeks ahead of talks on short-term funding for federal agencies before a Sept. 30 deadline -- that Capitol Hill lawmakers must replace so-called sequester cuts with less drastic ones.  "Congress should find a way out of sequester," Lew said.
The administration is facing a credibility gap when it claimed all kinds of horrible things would happen because of the current sequester, things that did not happen or agencies were able to avoid.  At the same time, while they were forecasting doom and shutting down White House tours the Obamas were continuing to take expensive vacations which raised eyebrows at the time.
July 28: The Hill: Lew warns GOP to avoid 'false crises' over spending and the debt limit:
Treasury Secretary Jack Lew warned Republicans to avoid "false crises" [see the story above about such crises] over a government shutdown and the debt limit in the coming months.  Appearing on ABC's "This Week with George Stephanopoulos," Lew continued to hammer the message President Obama has been touting this week, about renewing a focus on boosting the middle class and avoiding self-inflicted wounds on the economy. "We need to remember that this isn't just about cutting budgets. Obviously, we need to have our fiscal house in order," he said. "What it's about is building the foundation for a strong economy."  However, he stopped short of demanding a "clean" debt limit bill, that is, legislation that raises the debt limit and nothing else.
July 26: Politico:  The Fiscal Cliff and Funding the Federal Government all over again:
Not again.  That's the message several national GOP strategists and some lawmakers have for Republicans hell bent on waging another fiscal fight this fall.  The 2014 midterm season is about to heat up – and President Barack Obama and his Democratic allies are eager to tag the GOP as the root cause of Washington dysfunction. The Republicans say they can ill afford another game of high-stakes brinksmanship in the looming negotiations over raising the debt ceiling and funding the government.

The only way Republicans will lose the House is to shut down the government or default on the debt," said Oklahoma Rep. Tom Cole, a former National Republican Congressional Committee chairman. "Shutting down the government is not in the best interests of the American people and it makes you look politically irresponsible." "I'm not inclined to jeopardize the crown jewel," Cole added, "and the House of Representatives is the crown jewel in this election cycle."
Capitol Hill has been immersed in debate over immigration and the farm bill, but that will change once Congress returns from its August recess. There's an Oct. 1 due date for passing a continuing resolution to keep the government funded, and the nation is expected to hit its borrowing limit sometime between October and the end of the year.
Congressional Republicans are just beginning to put together a debt ceiling and government funding strategy, and there's growing division within the party over what path to take.
House GOP leaders and many rank-and-file lawmakers appear to be itching for another showdown with the White House over raising the debt ceiling — one of the few real leverage points they have to deliver on their pledge to cut spending. In the Senate, a trio of potential 2016 GOP contenders — Marco Rubio of Florida, Ted Cruz of Texas, and Rand Paul of Kentucky — want to defund Obamacare as part of a deal to keep the government open.
How those battles play out is likely to become a dominant political story line heading into the election year. That's especially true in the battle for the House, because it's been center stage for Washington's recurring fiscal drama ever since the tea party-led GOP takeover of the chamber in 2010.
July 26: Politico: 60 GOP House Members to Speaker: Obamacare funding must go or shut down the government:
More than 60 Republicans have signed a letter urging Speaker John Boehner to defund Obamacare when Congress funds the government in September. The letter, being circulated by the office of freshman Rep. Mark Meadows, doesn't explicitly say that supporters will vote against a government funding bill if it does not strip funding for Obamacare. But it says that signers of the letter are "urging [Boehner and Majority Leader Eric Cantor (R-VA)] to defund the implementation and enforcement of the Patient Protection and Affordable Care Act in any relevant appropriations bill brought to the House floor in the 113th Congress, including any continuing appropriations bill."
"In light of the Administration's recent delay of the employer mandate and the Internal Revenue Service (IRS) scandal, it is imperative, now more than ever, that Congress do everything in its power to halt the implementation of the healthcare law," Meadows writes. "It is entirely unacceptable that the IRS, a government agency that actively discriminates against Americans, is in charge of implementing a law that Americans do not want."

July 25: The Hill: CBO says sequester cuts could cost up to 1.6 million jobs through 2014
The nonpartisan Congressional Budget Office on Thursday estimated that keeping the spending cuts from sequestration in place through fiscal 2014 would cost up to 1.6 million jobs. Canceling the cuts, on the other hand, would yield between 300,000 to 1.6 million new jobs, with the most likely outcome being the addition of 900,000.

The new CBO report was requested by House Democratic fiscal point-man Chris Van Hollen (MD), who on Thursday said the party plans to make the report the centerpiece of a major push in August to reverse the $109 billion annual cuts that started March 1.
Van Hollen's district is populated with federal workers who have faced furloughs since the sequester went into effect.

"These are big numbers, and this is a very timely report, especially in light of the president's speech this week on the middle class and the economy," Van Hollen told The Hill. Of course, how the numbers come out depends upon the questions you are asking and the assumptions you are making! 
July 23: The Hill:  Reid's firm stand increases the likelihood of a government shutdown standoff:
Message for the GOP?  Don't blink!
Senate Majority Leader Harry Reid (D-NV) on Tuesday declared he will oppose any government stop-gap funding measure that reflects spending levels set by House Republicans. Reid's firm stand, which matches the staunch position of House GOP leaders, increases the likelihood of a government shutdown standoff in the fall.
Reid declared he has no interest in continuing government funding at a level that abides by the automatic spending cuts known as sequestration, which total about $100 billion per year to defense and non-defense programs.
When asked if he would support a continuing funding resolution that maintains sequestration, Reid said, "I can't speak for other Democrats — I wouldn't." He warned that keeping government funding levels at post-sequester levels would have dangerous consequences for the U.S. economy. "Let's see what the House winds up doing. I think it would be a disaster for this country and I would do everything within my ability to oppose that," he said. A Democratic aide said Reid is objecting to the decision of House Republicans to restore defense funding to pre-sequester levels and paying for it by cutting non-defense domestic programs.
July 23: Roll Call: Democrats Grudgingly Accept Student Loan Deal:
As the student loan endgame neared, Democrats grumbled about the budget rules that make the bipartisan package work. With an extra push from the White House, however, the bill seemed on track for passage. "We're going to enjoy it now and pay later," Rhode Island Democrat Jack Reed said, citing the Congressional Budget Office determination that the deal announced last week would backload higher interest rates in later years. "The cost of fixing it goes up with each year."
This manner of accounting is nothing new. The formula used to calculate payments to doctors who treat Medicare patients always assumes a huge cut in payments to providers in future years, a budgeting debacle that's come to be blocked through the stopgap known as the "doc fix." Reed said he planned to offer an amendment with Sen. Elizabeth Warren, D-MA., to cap the rates for students at 6.8 percent, instead of allowing them to float higher, with no real anticipation of success.
July 21: Fox News: First Family returns to Martha's Vineyard summer vacation, while furloughs kick in:
The first family is returning this summer to Martha's Vineyard, the third time the Obamas have vacationed on the exclusive Massachusetts island in the past four years. President Obama and first lady Michelle Obama will arrive August 10 and stay through August 18, the White House said earlier this month. The vacation is drawing some criticism about the president relaxing among the rich and famous while drastic cuts to the federal budget known as sequester kick in with full force, including the start this month of furloughs for 85 percent of the Defense Department's civilian workforce.
July 18: The Daily Caller: DC's "living wage" law is a dead end! Those who conceived it don't understand the free market:
Wal-Mart's decision to revaluate its plans to open a number of new stores in Washington, DC — due to the city passing a new 'living wage' law — has elicited the predictable outrage from the left.  Unfortunately, liberals' ignorance of economic law causes them to support policies that harm the very people they claim to want to help — poor and minority populations.  What the left fails to account for when advocating for policies such as the minimum wage is what the great French economist Frederic Bastiat called, "that which is not seen." 
Some will always benefit from minimum wage laws because their hourly wages go up. What is not so apparent is the damage that minimum wage causes — increased unemployment and less economic opportunity for unskilled workers, and a lower wage for those workers not subject to minimum wage laws, among other things.  An increase in the hourly wage of an employee might not seem like much money when considered individually, but it is a lot of money for an employer with a large number of employees who are subject to minimum wage. Since the employer only has so much money budgeted for his labor pool, the logical solution is to eliminate some of these positions, or to cut hours and scale back in a variety of ways.
The result is that some minimum wage workers will lose their jobs. Others will never be hired in the first place, becoming "that which is not seen."
July 18: Politico: Democrats renew anti-sequestration push:
In the calm after the Senate's filibuster drama earlier this week, Democratic leaders are renewing a mantra that had been under the radar recently: Sequestration needs to end.  Four Democrats joined Senate Majority Leader Harry Reid Thursday to revive their party's sequester distress signals, following a meeting with an official from the National Institutes of Health – which was struck by $1.55 billion in cuts – that Sen. Dick Durbin (D-Ill.) called "one of the most sobering half hours we've spent in that room since I've served in the Senate." The senators cited a week marked by bipartisanship – after they averted the "nuclear option" following a full-body meeting in the Old Senate Chamber – as reason to make moves to halt the spending cuts that began March 1.
July 15: Politico: Should Glass-Steagall be reinstituted limiting bank involvement in commercial enterprises?
The Federal Reserve's point man on overseeing the banking industry on Monday questioned the benefit of reinstating a Depression-era law that would separate commercial and investment banking activities — an idea being championed by Sens. Elizabeth Warren (D-MA) and John McCain (R-AZ).  Last week the senators introduced what they are calling a modern day Glass-Steagall Act, arguing that Wall Street banks still pose a threat to the economy and taxpayers because they take too many risks risks and that the banking business should return to its "boring" roots.
Fed Gov. Daniel Tarullo said Monday that the repeal of Glass-Steagall in 1999 was not a major factor in the 2008 financial crisis and that putting it back in place would not necessarily address the current threats to the financial system, such as banks' reliance on volatile short-term funding markets.  "There's some question as to how much that separation would actually prevent the kind of problems we saw from developing," Tarullo said in reference to financial institutions that ran into trouble during the financial crisis.  The repeal of Glass-Steagall has been seized upon by reform advocates as a moment when Wall Street deregulation went too far and the era of excessive risk taking that led to the 2008 financial crisis began in earnest.
July 15: Politico: Air Force Thunderbirds Flying Again amid Sequester
The U.S. Air Force says many of its combat air forces will start flying again after being grounded since April because of budget cuts. The grounding affected about one-third of the Air Force's active-duty combat aircraft, including squadrons of fighters, bombers, and airborne warning and control craft. Air Combat Command at Joint Base Langley-Eustis in Virginia said planes in the U.S., Europe and the Pacific would become airborne again starting Monday. The popular Thunderbirds demonstration team will also start flying again.
The Defense Department received authority from Congress to shift about $7.5 billion from lower priority accounts to more vital operations. The Air Force says the restored flying hours represent about $208 million of that allocation authorized by Congress. The restoration of flying hours will last through Oct. 1.
July 14: The Daily Caller: 
Ben Carson: Obama's "redistribution ideology" harms race reletions:
In an exclusive [VIDEO] interview with The Daily Caller, Ben Carson criticized President Obama for his stance on redistribution of wealth, arguing that it has had serious implications for race relations in America. "I don't think he has been particularly helpful, particularly with respect to his redistribution ideology," Carson said. "Because he's made a lot of people think that that's all that the blacks want — they want to get our money and to get our wealth, and they think that we owe them this and that, and of course there are a lot of people of all races who do not believe that."
Carson argued that his time as a neurosurgeon has given him a unique view of race and humanity. "When I take someone to the operating room and I cut the scalp, and peel it down, and take off the bone flap, and open the dura, I'm actually operating on the thing that makes that person who they are. … Their skin doesn't make them who they are. The color has nothing to do with who they are. But you know, people who tend to be superficial. You know, superficial things mean a lot. People who tend to be deep are able to see through that and evaluate a person for who they are, and that's what Martin Luther King meant when he said judge a person by the content of their character and not by the color of their skin."
July 5: The Hill:
195K Jobs Added while unemployment remains above 7.5% for the 54th month – a Record!
Employers added 195,000 jobs in June while the unemployment rate remained unchanged at 7.6 percent. While this is the 54th month with unemployment over 7.5% (a record) the data is better than expected and is running ahead of what economists had predicted would be a rough summer for the labor market because of the combination of tax increases and spending cuts.
The economy has added an average of 202,000 jobs per month for the first six months this year, a jump from 180,000 in the six months prior, another sign that businesses are hiring despite fiscal headwinds. "While more work remains to be done, today's employment report provides further confirmation that the U.S. economy is continuing to recover from the worst downturn since the Great Depression," Alan Krueger, chairman of the White House's Council of Economic Advisers said in a statement.
June 29: The Weekly Standard: 
High Cost of VIP Travel: Biden and Obama Spend Millions in the middle of Sequester:
The Washington Times reports that the cost of Obama's Africa trip, estimated as high as $100 million, is overshadowing President Obama's agenda. If past VIP trips are any indication, lodging and local transportation would represent only a fraction of the $100 million, yet those costs would likely still dwarf those of the average citizen traveling abroad. In late March, Vice President Joe Biden's $321,000 limo bill and $585,000 Paris hotel bill for his trip to Europe earlier this year were revealed.
While the amounts spent were deemed fairly ordinary by government insiders, the fact that the closely-held information was found on a publicly available government website had some speculating that perhaps the postings had been inadvertent. Wolf Blitzer, who spent seven years reporting from the White House, even called it "an extremely rare glimpse." However, further investigation has revealed that the information is not as rare as previously supposed.
June 28: Politico: Sequestration will be a long hard process:
So far the era of sequestration has meant furloughs for more than 800,000 federal workers and entire agencies shuttered for days — and those were the easy cuts. There are nine more years of budget austerity to go and that means the federal government must dig in much tougher places to find savings — like forcing early retirements for workers and winding down grants that fund scientific research and allow states to keep infrastructure up to par.  "It's a diet that gets worse every year," said Barry Anderson, a former senior White House Office of Management and Budget official who made the previous sequestration cuts in 1991.
Next year's cuts probably won't create images on TV of long lines at airports or terrifying headlines about the threat of tainted meat — actual examples that rallied Congress and the White House earlier this spring to make sequester exceptions. Plus, the cuts are coming as the economy improves, leaving sequestration opponents who say the recovery is too fragile to withstand a shrinking government with the argument that things could be better — but they can't point to worse.  The result for Washington: Strap in for sequestration's long, slow burn. 
"As far as I can tell, we're going to be operating under the sequester for the foreseeable future," said Jim Manley, a former aide to Senate Majority Leader Harry Reid. In addition Washington's attention has shifted away from the fiscal fight and the fallout that comes with $1.2 trillion slashed from the Pentagon and most domestic agencies. The budget debate will inevitably return when the fiscal year ends Sept. 30 and a House-Senate-White House deal is required to avert a government shutdown. House Republicans are also still demanding concessions from President Barack Obama before they approve an extension to the country's debt limit.
June 27: Common Sense Video:
Time to Sequester Air Force One Vacation and Campaign Flights?

June 19: Politico: Bernanke not coming back: Adjustments in the future?
Ben Bernanke is on his way out. And the soft-spoken chairman of the Federal Reserve may be taking his economy-juicing easy money policy with him. President Barack Obama made it awkwardly clear this week that he has no plans to renominate Bernanke, a Republican, to a third term. It will almost certainly fall to Bernanke's successor to eventually unwind the extraordinary measures the Fed has taken in recent years to try and drag a sluggish economy out of its brutal financial crisis hangover. The end of easy money won't come right away, but it will end, no matter who follows Bernanke.

The prospect of the post-Bernanke era raises a series of thorny questions for global markets and the United States economy as well as political players inside and outside the Beltway. There remains serious doubt that the economy and the stock market can fly on their own without extraordinary Fed assistance. If the Fed bungles the transition from its current policies and the country stumbles back toward recession, it could spell big trouble for Democrats like Hillary Rodham Clinton hoping to replace Obama in 2016. The fact that Bernanke was often the lone operator in Washington capable of administering emergency aid to the economy during a period of Beltway gridlock is another reason market players and economists are so worried about the Fed transition. They fear that Bernanke's successor, partly due to political pressure to back off and partly due to signs the economy is picking up, will move too fast to stop buying assets, possibly tanking the stock market and reversing the recent housing market recovery.
June 19: The Daily Caller: Stockman's Communications Director can live on Food Stamp without problems!
With dozens of Democratic lawmakers struggling to live on a food stamp budget to protest GOP cuts to the Supplemental Nutrition Assistance Program, a Republican staffer says he is living on a SNAP budget without problems. Texas Republican Rep. Steve Stockman's communications director and agriculture policy advisor, Donny Ferguson, says he has been able to eat well on $27.58 for a week, less than the $31.50 House Democrats have limited themselves to for their "SNAP Challenge." "I wanted to personally experience the effects of the proposed cuts to food stamps. I didn't plan ahead or buy strategically, I just saw the publicity stunt and made a snap decision to drive down the street and try it myself. I put my money where my mouth is, and the proposed food stamp cuts are still quite filling," Ferguson said of the challenge.
Stockman's office noted that Ferguson did not use coupons, discount programs, or a shopping list, and he shopped at locations accessible via public transportation. "Not only did I buy a week's worth of food on what Democrats claim is too little, I have money left over. Based on my personal experience with SNAP benefit limits we have room to cut about 12 percent more," Ferguson said. "I could have bought cheaper vegetables instead of prepared red beans and rice, but I like red beans and rice. Folks aren't buying fast food instead of vegetables because of benefit limits, they're buying fast food because fast food tastes great and vegetables taste like vegetables."

June 17: The Daily Caller: GOP seeks to cut "green energy" spending in half next year:
House Republicans revealed their plan to cut green energy spending in half next year as a way to meet the cuts required under sequestration. In protest to the Obama administration requesting more funding for the Energy Department in 2014, Republicans are cutting green energy spending by $1 billion — $911 million less spending than in 2013. "In a challenging fiscal environment, we have to prioritize funding, and the Subcommittee chose to address the readiness and safety of the nation's nuclear stockpile and to invest in critical infrastructure projects to protect lives and property and support economic growth," said Rodney Frelinghuysen (R-NJ).
The Obama administration's proposed 2014 budget increases the Energy Department's funding by 8 percent to $28.4 billion to fund clean energy programs, improve energy security, address global warming and modernize the U.S. nuclear weapons systems. The budget proposal also permanently extends green energy tax credits. Renewable energy and energy efficiency programs make up $23 billion in spending over the next decade in the Obama budget blueprint. Republicans have attacked the Energy Department's controversial loan program, which lent millions of dollars to the now failed green companies Solyndra, Abound Solar and Beacon Power. More recently, the luxury hybrid manufacturer Fisker Automotive has been circling the drain, and could represent the largest taxpayer loss since Solyndra — taxpayers stand to lose $171 million. Republican lawmakers argued their bill would prevent the Energy Department from "subordinating" taxpayers' stake in government backed loans to the interests of other investors.
June 16: The Hill: Gore presses Obama on carbon rule, calls Keystone pipeline an "atrocity"
Al Gore is urging President Obama to regulate carbon dioxide emissions from existing power plants, a step the White House has not publicly embraced to date. Gore made the case for Environmental Protection Agency (EPA) regulations for new and currently operating plants in an interview with the Guardian newspaper on Friday. The former vice president also encouraged Obama to veto the proposed Keystone XL oil sands pipeline. "This whole project [Keystone XL] is an atrocity but it is even more important for him to regulate carbon dioxide emissions," Gore told the British paper.
June 14: The Daily Caller: Obama plans international tax uniformity, wants to use G8 meeting to crackdown on legal tax loopholes! Looking for money where ever he can find it!
President Barack Obama will use next week's G8 meeting to organize a community of governments to minimize companies' legal use of foreign tax laws, according to an aide. "The president has been focused on international efforts to reduce what is legal tax avoidance, when companies legally use loopholes that exist in our laws and other [countries'] laws to reduce their tax liability," said Caroline Atkinson, a former spokeswoman at the International Monetary Fund, who is now his deputy at global economic summits. "We want to avoid tax competition turning into a lose/lose proposition, where counties not only lose revenue but companies make inefficient decisions by locating where they pay the lower taxes or shifting their profits to the lower taxes rather than where it is most productive for them to invest and produce," Atkinson told reporters at press briefing on Friday. [A comment: It would seem to those who understand free market economics that companies will seek legal tax avoidance in order to be more profitable for themselves and their stockholders. It is when government intercedes and attempts to force private sector actions that the economy is skewed and adversely impacted.]
June 14: The Weekly Standard:
The Obama Family trip to Africa will cost $60-$100 million; what happened to sequester?
President Obama and his family will be going to Africa later this month. But the trip won't be cheap; it's expected to cost American taxpayers $60 to $100 million, according to the Washington Post. "When President Obama makes his first extended trip to sub-Saharan Africa later this month, the federal agencies charged with keeping him safe won't be taking any chances. Hundreds of U.S. Secret Service agents will be dispatched to secure facilities in Senegal, South Africa and Tanzania. A Navy aircraft carrier or amphibious ship, with a fully staffed medical trauma center, will be stationed offshore in case of emergency," reports the Post. "Military cargo planes will airlift in 56 support vehicles, including 14 limousines and three trucks loaded with sheets of bullet-proof glass to cover the windows of the hotels where the first family will stay. Fighter jets will fly in shifts giving 24-hour coverage over the president's airspace so they can intervene quickly if an errant plane gets too close.
After The Post questioned the costs of a planned family safari, the White House nixed the plan. "The president and first lady had also planned to take a Tanzanian safari as part of the trip, which would have required the president's special counter-assault team to carry sniper rifles with high-caliber rounds that could neutralize cheetahs, lions or other animals if they became a threat, according to the planning document. But the White House canceled the safari on Wednesday following inquiries from The Post about the trip's purpose and expense, according to a person familiar with the decision."
June 14: The Daily Caller: Baucus: Interest in carbon tax is "creeping up"
Sen. Max Baucus (D-MO), chairman of the Senate Finance Committee, announced that interest in a carbon tax is "creeping up" and that "everything is on the table." "There are more members of the Senate now who openly talk about that than I have experienced. It is creeping up a little bit. Is that going to rise to the level of where it is a very strong, serious provision? I don't know. But I am not going to pre-judge it," Baucus said at a Christian Science Monitor event.
The Senate Finance Committee takes up the issue next week, but Baucus is unsure if a carbon tax could gain real momentum. Republicans in the House have introduced a resolution opposed to the carbon tax, and a bipartisan group of senators voted in March to oppose a carbon tax in an amendment to the Senate Democratic budget plan. Michigan Republican Rep. Dave Camp, chairman of the House Ways and Means Committee, said, "I don't support a carbon tax."
June 6: Politico: Speaker Boehner blast Obama Veto Threats on Spending Bills:
House Speaker John Boehner is upping the ante in his war of words with the White House over government spending, calling President Barack Obama "reckless" over veto threats to two spending bills. In a letter sent to Obama on Thursday, Boehner accused Obama of threatening to shut down the government unless Republicans agree to tax and spending increases, something that the speaker says GOP lawmakers will never do. Boehner also said that Obama had agreed to work with Republican and Democratic leaders during a March 1 meeting at the White House to avoid any showdown over government funding but now has gone back on that deal.
"Your administration's sudden demand to increase spending and taxes — yet again — or else shut down the government can only be described as reckless," Boehner told Obama in his letter. "As a president who decried 'manufactured crises' and said the economy should not be subject to a 'politically self-inflicted wound,' Americans deserve to know why you and the members of your administration would now willfully and needlessly raise the specter of a government shutdown," the letter said. Boehner added that he and Obama "agree that sequestration is the wrong way to cut spending" and notes that the House has twice based "sequestration replacement" bills, although these measures were dismissed as a political stunt by Obama and Democratic leaders on Capitol Hill. "But sequestration is here, as a result of legislation that you signed into law, and you have said yourself that we should not make the situation worse by creating 'another crisis' …." Boehner wrote.
The White House this week said Obama would veto the Homeland Security appropriations bill unless there is "an overall budget framework that supports our recovery and enables sufficient investments in education, infrastructure, innovation and national security for our economy to compete in the future," according to a Statement of Administration Policy. Obama has also threatened to veto the Military Construction spending bill.
May 30: The Daily Caller: Senate Staffers offered classes on forgiveness, relaxation, sleep in the midst of sequestration:
Congressional staffers in need of a lesson on how to forgive, sleep, relax and other lifestyle issues are in luck. The government is offering lessons to teach them just that. "Come learn the art of forgiveness. Learn how to 'let go' and move on!" reads an announcement for an hour-long June 10 forgiveness event that was sent to Senate staffers and obtained by The Daily Caller. The forgiveness session, presented by the Senate Employee Assistance Program, promises to teach the "Definitions of grudge and forgiveness; Consequences of holding a grudge; Practical steps to forgiving and moving on." It will be offered as a webinar.
May 24: Breitbart.com: Some Unions Now Angry about Obamacare:
Some labor unions that enthusiastically backed President Barack Obama's health care overhaul are now frustrated and angry, fearful that it will jeopardize benefits for millions of their members. Union leaders warn that unless the problem is fixed, there could be consequences for Democrats facing re-election next year. "It makes an untruth out of what the president said that if you like your insurance, you could keep it," said Joe Hansen, president of the United Food and Commercial Workers International Union. "That is not going to be true for millions of workers now."

The problem lies in the unique multiemployer health plans that cover unionized workers in retail, construction, transportation and other industries with seasonal or temporary employment. Known as Taft-Hartley plans, they are jointly administered by unions and smaller employers that pool resources to offer more than 20 million workers and family members continuous coverage, even during times of unemployment. The union plans were already more costly to run than traditional single-employer health plans. But Obama's Affordable Care Act has added to that cost for the unions' and other plans by requiring health plans to cover dependents up to age 26, eliminate annual or lifetime coverage limits and extend coverage to people with pre-existing conditions. "We're concerned that employers will be increasingly tempted to drop coverage through our plans and let our members fend for themselves on the health exchanges," said David Treanor, director of health care initiatives at the Operating Engineers union.
May 24: Politico: Furlough Friday: Will anybody notice?
If four federal agencies closed their doors, would anyone notice? This is no philosophical experiment Friday when, thanks to sequestration, the IRS, EPA, HUD and OMB turn a normal workday into an unpaid holiday for nearly all of their employees. Well now, some of us might argue this is a good thing for the government to shutdown, especially the IRS and EPA given their overreaching power in our lives! But if we take all of these agencies into account about 115,000 people — roughly 5 percent of the federal workforce — won't be on the clock for the day. Staffers for the Labor and Interior departments will also get an extra unpaid day for their Memorial Day weekend.

It's an important moment for Congress and the Obama administration as they continue to battle over mandatory budget cuts, that the President conceived and the Democrats continue to warn will mean real consequences while most Republicans claim Democrats are just crying wolf. Republicans wanted to permanently close several government agencies during the 2012 presidential campaign. On Friday, they'll get a partial victory when two departments they despise — the Internal Revenue Service and Environmental Protection Agency — take a timeout. "The more days the IRS is closed, the better our economy will probably do," Rep. Steve Scalise said. Of EPA, the Louisiana lawmaker who heads the conservative Republican Study Committee added, "I think China will be unhappy if the EPA closes down on Friday. That's fewer jobs that they'll be getting from us."
May 24: The Hill: Congress and Pentagon lack consensus on sequestration fix:
Capitol Hill and the Pentagon are at an impasse on how to fix the dire fiscal situation facing the department under sequestration, with no viable end in sight. In his last press conference as Air Force secretary, Michael Donley said Friday that he doubts there is any political will on either side of the Potomac to reach a consensus over sequestration's impact. Military leaders are facing "difficult and hot-button issues, if you will, with Congress right now," Donley told reporters at the Pentagon."I don't think we have a consensus with Congress ... on how to do [deal with] that and what the choices will be," he added.
From potential base closures to a reduction in health and retirement benefits, Pentagon leaders are working multiple, politically distasteful options to reduce the impact of those across-the-board budget cuts. The Defense Department is preparing to cut $41 billion in 2013, and its 2014 budget request could get slashed by another $52 billion if the sequester is not eliminated. For its part, the Air Force has already grounded 17 squadrons and severely cut back on critical training missions to pay for their end of sequestration. But in the end, if Congress does not grant the Air Force and the rest of the services the fiscal leeway on base closures and benefits, it could deal a crippling blow to the air service.
May 19: The Hill: Extraordinary measures become standard as US hits debt limit again:
Today, May 19th, the debt ceiling was reinstituted after the Congress and the President suspended it for several months in January of this year as part of the "No Budget No Pay" bill. As a result the country bumped up against its borrowing limit Sunday, forcing the Treasury Department to employ "extraordinary measures" to make sure the government keeps paying its bills.
After a brief hiatus, the nation's debt limit has returned as a major hurdle for Washington to overcome, and one that will play a central role in fiscal fights heading into the fall. Congress agreed to suspend the nation's $16.4 trillion borrowing limit the last time they approached it, at the beginning of the year. But that suspension expired May 19. The latest numbers from the Treasury Department indicate that the overall debt of the United States swelled by about $300 billion during the period of the suspension, and now totals roughly $16.7 trillion. With the government once again operating under a borrowing cap, the Treasury is back to employing special measures to free up space under the limit.
May 19: Politico: GOP may roll out debt ceiling plan before August:
The House Republican leadership is considering releasing its debt ceiling plan before the August recess so lawmakers can actively sell it to their constituents. The idea gained traction in a closed meeting of the House Republican Conference this week, where the main topic was how the party should craft a plan to raise the nation's debt cap. Plans for the legislation are not finalized, but the outlines of a measure are beginning to take shape. In addition to hiking the debt limit, the legislation is likely to have three categories: spending cuts, a framework for tax reform and what will be called a "jobs" element, which will include energy legislation, which would likely be a provision related to the Keystone XL pipeline. Republicans are aiming to put the bill on the floor soon after the summer recess.
President Barack Obama has said he won't negotiate with Republicans over hiking the debt ceiling but has remained open to a larger deficit deal. In a series of conversations between Capitol Hill Democrats and the White House, Obama's team has been firm that he would only accept a clean debt ceiling bill. GOP leadership will soon begin meeting with small groups of lawmakers to gauge exactly what kind of package could win enough Republican votes for passage. This week's meeting saw leadership taking copious notes about what the rank and file wanted to see in the bill. Allowing members to sell the plan would create momentum for it in a Democrat-dominated Washington.
Separately, conservative Republican Reps. Jim Jordan of Ohio, Paul Ryan of Wisconsin, Steve Scalise of Louisiana, Jeb Hensarling of Texas and Tom Price of Georgia are trying to "refine" what they would like to see in the package. They'll meet with Speaker John Boehner within the next few weeks to finalize a plan.
May 19: The Hill: Despite talks, no effort taken in Congress to change Obamacare's Employer mandate:
Small businesses looking for a break from President Obama's healthcare law aren't getting any help from Congress. The law's critics spend a lot of time talking about its potential effects on employers, and small businesses in particular. But there hasn't been a real effort on the Hill to address the provisions that will have the most immediate impact on small businesses.
In part, the lack of action stems from Republican divisions over whether it's OK to "fix" parts of the healthcare law. Some conservatives say the party should focus solely on repealing the law and shouldn't help Democrats solve potential problems."There are members of leadership that told me, 'Hey, we're willing just to let it collapse, and somebody else will get blamed, and it'll be a great political issue,'" Rep. Tim Huelskamp (R-KS) said.
Huelskamp is a hard-line conservative, and he opposed a recent bill that was described as fixing a part of the healthcare law. But he said Republicans should consider small, targeted changes to the law's employer mandate. "That's a reasonable part of a Republican strategy … that seems to make sense. Folks here are really concerned about small business," he said.
The employer mandate requires businesses with more than 50 full-time-equivalent workers to offer health insurance or pay a fine for each uninsured worker. Businesses have to offer coverage to every employee who works more than 30 hours per week. Some businesses have cut their employees' hours, capping them at 29 hours per week to avoid paying for health insurance.
May 18: The Hill: Senators want to move forward to reform Fannie Mae and Freddie Mac:
A bipartisan group of senators want to largely eliminate Fannie Mae and Freddie Mac as part of an overhaul of the mortgage finance market. Although legislation isn't imminent, senators and industry representatives have signaled they are closing in on a broad framework that would wind down and eventually end the government-backed mortgage giants.
While details are still being hashed out, the basic premise is that the government's role in the housing finance market would be reduced in favor of more private capital during a transition that is expected to take several years. "Obviously we're discussing lots of options but I don't know of anybody that's working on an option where Fannie and Freddie are what they are today," Sen. Bob Corker (R-TN) told The Hill. "No one is looking to re-IPO [initial public offering] them or anything else." Corker said that talks are ongoing and "there have been a lot of very fruitful discussions" While reforms of the mortgage industry is far from the forefront of the legislative agenda, there are some indications that it has a pulse.
May16: The Daily Caller: In a meaningless gesture the House Votes to Repeal Obamacare
The Republican-controlled House voted Thursday to repeal Obamacare in its entirety. With implementation of Obamacare set to begin later this year, the vote is largely symbolic. The Senate is highly unlikely to even take up a vote on repeal. The House voted for repeal 229-195, with votes cast almost entirely down party lines. Two Democrats voted with Republicans in favor of repeal: Rep. Jim Matheson of Utah and Rep. Mike McIntyre of North Carolina. This is the third time the House has voted to fully repeal Obamacare, and there have been a number of other votes to repeal parts of it — 37 votes in total. Boehner explained last week that he was holding the vote again because new members had been asking for the opportunity to vote on repeal.
Many of the Republicans who voted for the repeal also voted for fully funding the Affordable Care Act in a vote earlier this year as part of the Continuing Resolution. So are they for repeal, and if so, how come they voted to fully pay for the implementation, administration and enforcement of it? Could it be that they did so, so that they could go back home and tell their constituents that they voted to repeal the measure – even though they know that the vote to do so will have no effect? In the days leading up to the vote, Democrats dismissed the effort as wasteful and unproductive. For once, we would agree with the Democrats! If the House leadership wanted to deal a fatal blow to Obamacare they should have done so as part of the Continuing Resolution, prohibiting the use of any of the funds for this program!
May 9: The Hill: Credit Raters Wary of GOP proposal on Debt Limit:
The nation's credit rating agencies are wary of a House Republican plan to prioritize payments to U.S. bondholders and Social Security recipients if the debt ceiling is reached. GOP leaders have cast their Full Faith and Credit Act, which is set for a House vote on Thursday, as a way to avoid the most damaging aspects of hitting the debt limit. But the credit rating officials said it is not a viable replacement for raising the ceiling, and might not prevent another downgrading of the U.S. credit rating.
Nikola Swann, the primary analyst for the U.S. rating for Standard & Poor's, pointed out that if a prioritization plan were in place, reaching the $16.4 trillion borrowing limit would still carry potentially huge economic and financial consequences. The government would cut bond payments and Social Security checks, but a whole range of other government payments would be cast into doubt. The impact would be "perhaps even a little bigger" than the "fiscal cliff" that threatened the nation's economy at the end of 2012, he said. The U.S. might be able to avoid a literal default on its debt obligations, but the resulting turmoil could still chip away at the nation's credit rating.
"But the real issue is not who will go to the head of the line for payments if the debt ceiling is not raised" the editor of "Your Resource for News" pointed out. "The real issue is that we are not cutting spending! The Obama Administration is calling a reduction of the increase in spending, cuts. But that's not true spending cuts." he notes, "because the amount we spend is still increasing. What is need is for the Congress and the Administration to take a serious look at reducing the amount our county spends and then start paying down the debt." It should be noted that earlier this year the Congress enacted, and the President signed, a bill that does away with the debt ceiling limit until the middle of this month.
May 8: The Hill: Despite Sequester fix, some lawmakers blame flight delays for missed votes:
Lawmakers in the House blamed a series of missed votes on flight delays this week, despite the end of air traffic controller furloughs that Congress addressed last month. "Mr. Speaker, I missed my connecting flight into Washington yesterday afternoon," Rep. Jim Jordon (R-OH) said in a statement in the Congressional Record. "As a result, I was absent from the House floor during last night's three roll-call votes," Jordan continued. "Had I been present, I would have voted in favor of H.R. 588, H.R. 291, and H.R. 507."
May 7: The Hill: Ten people to watch in the debt showdown:
The 2013 debt-limit fight has begun. Powerful policymakers on both sides of the aisle are jockeying for position in what will be a defining moment for the 113th Congress. Economic experts have recently said the debt-limit hike could wait until the fall, though the Treasury Department has not committed to a specific date. But if a bill doesn't need to be passed until after the August recess, that would benefit the GOP, which is trying to tie tax reform to the debt limit.
The following is a list of 10 players to watch on the debt-limit battle, The Hill says.
President Obama: Four months into his second term, the president has been fielding questions about his diminishing political capital.
Speaker John Boehner (R-OH). The Speaker has pledged not to engage in one-on-one negotiations with Obama, though it remains to be seen how a deal can be reached without the two leaders being on the same page.
Vice President Biden. Biden has served as a key asset to Obama, especially when dealing with Congress. He has strong relationships with Republican and Democratic lawmakers and a history of deal-making in the Senate. He helped cut a delicate deal on the "fiscal cliff" late last year.
Senate Minority Leader Mitch McConnell (R-KY). The top-ranking Senate Republican, whose top political goal in 2012 was to deny Obama a second term, is up for reelection in the Blue Grass State next year.
Senate Majority Leader Harry Reid (D-NV). Reid complained to senior White House officials about not being in the loop during the 2011 debt fight. That is highly unlikely to happen again — Reid figures to be a major player this time around, though he will also have to protect his red-state Democrats who are up for reelection in 2014.
House Minority Leader Nancy Pelosi (D-CA). The liberal Democratic House leader will be certain to represent the interests of the left-wing elements of her minority caucus in the House, who insist on little to no changes to entitlement programs.
House Ways and Means Committee Chairman Dave Camp (R-MI). The head of the powerful tax-writing committee has made a determined effort of moving full-blown tax reform through the House this year. Camp has held numerous bipartisan discussion sessions with Ways and Means Committee members and has started briefing the GOP rank and file on possible reform plans.
Senate Finance Committee Chairman Max Baucus (D-MT). The six-term Democratic Montana senator opted against running for reelection in 2014, which might help the chances of tax reform. Baucus has formed a close bond with Camp, who wants to move a "revenue neutral" measure.
House Majority Leader Eric Cantor (R-VA). The No. 2-ranked House GOP lawmaker clashed with Boehner during the 2011 talks and split with the Speaker on the fiscal-cliff bill. Unity in the House GOP Conference has increased in recent months, though it remains fragile. Boehner and Cantor both strongly oppose a "clean" debt-ceiling increase favored by the president. Biden, meanwhile, enjoys working with Cantor, and that relationship could be key later this year. And
Treasury Secretary Jack Lew. Boehner didn't like working with Lew in the 2011 talks, preferring to negotiate with then-Treasury Secretary Timothy Geithner. According to Bob Woodward's book The Price of Politics, Boehner found Lew to be "disrespectful and dismissive." Lew has struck many bipartisan deals in both the Clinton and Obama administrations, but forging a debt-limit pact is his biggest challenge this year.
May 7: The Daily Caller: Increase in coal-fired power generation may be short-lived:
The coal industry may be catching a break, as coal-fired power generation has been on the rise due to rising natural gas prices, according to government energy projections. But the industry believes this "coal renaissance" will be short-lived as looming environmental regulations make it impractical to build a coal plant in the U.S. The Energy Information Administration expects that coal will be used to produce 39.1 percent of the country's total electricity generation in 2013 and 2014, up from 37.4 percent last year. This is due to rising natural gas prices.
May 7: The Hill: Sequestration Cuts Expected to Hit the Job Market over the Summer:
The sequester will take a bigger bite from the economy in the coming months as workers collect more unpaid leave and additional spending cuts are triggered, several economic experts predicted Monday. A strong employment report in April that found the economy added 165,000 jobs underlined the sense that the labor market is improving, but observers warn it's too early to declare the economy is safe from sequestration. "People who think the sequester debate's over, it's not nearly as bad as they thought it was — to me that's declaring victory way too soon," said political and economic strategist Andrew Busch.
May 6: The Hill: Senate Approves Internet Sales Tax Bill:
The Senate on Monday approved legislation that would for the first time allow states to collect billions of dollars in online sales tax revenue from out-of-state purchases. The 69-27 vote is a major victory for retail groups and state governments, who for years have fought to close what they see as a loophole that allows as much as $23 billion in annual taxes from online sales to go uncollected. The measure faces a somewhat cooler reception in the House.
May 6: The Daily Caller | The Hill: Reid and Cruz trade jabs on Senate Floor
Democratic Senate Majority Leader Harry Reid attacked Sen. Ted Cruz Monday for opposing Reid's efforts to appoint members to a House-Senate conference to resolve differences in the two chambers' budget resolution. Over the past two days, Cruz, a Texas Republican, has been in the crosshairs of some Democrats for his demeanor and positions on issues. On Sunday, former Democratic New Mexico Gov. Bill Richardson questioned Cruz's Hispanic background as a politician. But Reid went after Cruz from the Senate floor. "My friend from Texas, like the schoolyard bully, he pushes everybody around and is losing," Reid said. "And instead of playing the game according to the rules, he not only takes the ball home with him but changes the rules. That way no one wins except the bully who tries who indicate to people he has won.
But immediately upon hearing Reid's remarks, Cruz stepped up and took on the Senate Majority Leader. "I wasn't aware we are in the schoolyard," Cruz replied. Reid pushed back on procedural grounds at Cruz, telling him he could either object or not, to which Cruz eventually objected to Reid's measure.
May 4: Fox News: States: 'Blindsided' by plan to shift costs of 'uninsurables' to them under ObamaCare:
Thousands of people with serious medical problems are in danger of losing coverage under President Obama's health care overhaul because of cost overruns, state officials say. At risk is the Pre-Existing Condition Insurance Plan, a transition program that's become a lifeline for the so-called uninsurables -- people with serious medical conditions who can't get coverage elsewhere. The program helps bridge the gap for those patients until next year, when under the new law insurance companies will be required to accept people regardless of their medical problems.
In a letter this week to Health and Human Services Secretary Kathleen Sebelius, state officials said they were "blindsided" and "very disappointed" by a federal proposal they contend would shift the risk for cost overruns to states in the waning days of the program. About 100,000 people are currently covered. "We are concerned about what will become of our high risk members' access to this decent and affordable coverage," wrote Michael Keough, chairman of the National Association of State Comprehensive Health Insurance Plans. States and local nonprofits administer the program in 27 states, and the federal government runs the remaining plans.
May 4: The Hill: Vacancies, furloughs piling up at OMB:
President Obama's new director of the powerful Office of Management and Budget is now on duty, but OMB's executive suite has become a virtual ghost town. Many of the top posts in the Office of Management and Budget have gone vacant for almost a year. The top vacancies come on top of furloughs due to sequestration. OMB issued furloughs on March 7 to 480 employees. They will be furloughed for 10 days between the week of April 21 and the end of September.
It remains to be seen how the personnel issues at OMB will affect its work. The annual budget season will not heat up until the fall, but the office will likely not want to repeat the two-month delay it had in delivering Obama's budget this year. The budget came out in April despite being due in early February.

May 2: The Hill: Small Businesses Sue the IRS for "Illegal" implementation of Obamacare:
A group of small businesses filed a new legal challenge Thursday to the insurance subsidies in President Obama's healthcare law. The businesses said they shouldn't have to provide health insurance to their employees — and that their employees also shouldn't be able to get a subsidy from the government to help afford coverage on their own. It's not the first time critics have accused the IRS of illegally implementing the healthcare law's subsidies, but the latest challenge focuses on small businesses in an effort to advance the issue in the courts. The businesses have enlisted some high-profile legal help for their ObamaCare challenge — they're represented by Michael Carvin, who argued part of the case against the law's individual mandate at the Supreme Court last year.
The suit accuses the IRS of illegally implementing subsidies to help people buy private insurance. And because the administration is giving out too many subsidies, the plaintiffs argue, it is also forcing too many employers to provide insurance even in states. "ObamaCare is already an incredibly massive program. For the IRS to expand it even more, without congressional authorization and in a manner aimed at undercutting state choice, is flagrantly illegal," said Sam Kazman, general counsel of the Competitive Enterprise Institute, which is coordinating the lawsuit.
It all starts with the law's insurance exchanges — new marketplaces where individuals and small businesses can buy private insurance. The law sets up an exchange in each state, and authorizes the federal government to build the exchange in any state that doesn't build its own. The law also provides subsidies to help low-income people buy insurance through the exchanges. And that's the catch — the law specifically refers to subsidies flowing through exchanges "established by the state." The law's critics say subsidies should therefore only be available in state-run exchanges — not in the federal version. "The IRS rule we are challenging is at war with the act's plain language and completely rewrites the deal that Congress made with the states on running these insurance exchanges," Carvin said.
May 2: The Hill: The Price for a Debt Ceiling Increase will be a balanced budget, conservatives say:
Conservative groups are vowing to force lawmakers to adopt a balanced budget plan before passing any increase in the nation's debt ceiling. The Club for Growth and Heritage Action said that establishing a path to a balanced budget within 10 years will be their demand in the looming fight between congressional Republicans and President Obama. [Editor's Note: Why wait for ten years to balance the budget?] The nation hits its $16.4 trillion debt ceiling on May 19. The Treasury Department, however, should be able to take extraordinary measures to avoid immediately defaulting on payment obligations.
The new pressure from conservative groups comes as House GOP leaders are discussing measures that would tie a hike in the debt limit to tax reform legislation and additional spending cuts. President Obama, however, has said he will not negotiate over the debt ceiling, urging Republicans to raise the limit without preconditions. In 2011, Obama was forced by congressional Republicans to accept dollar-for-dollar cuts to the federal budget over ten years for a $2.1 billion increase in the debt ceiling, a move he has said was a mistake.
Club spokesman Barney Keller confirmed to The Hill that a "path to [a] balanced budget within 10 years," is the Club's stance in the new debt fight. The Club had made a similar demand in January when Washington last dealt with an approaching debt limit. The debt ceiling was increased then when the Senate and Obama accepted a bill that included a provision withholding lawmaker pay if each chamber failed to produce a budget. The Senate quickly adopted their first budget in four years.
House conservatives agreed to the "No Budget, No Pay" solution in January in exchange for promises that the House 2014 budget would balance within ten years, that the sequester would be allowed to go into effect unless replaced only with spending cuts, and that GOP leaders would try to use the next debt ceiling increase to get the House budget adopted
May 1: Money Morning: Schiff: 2/3 of America to Lose Everything Because of This Crisis:
A record breaking stock market is distorting a frightening reality: The U.S. is being eaten alive by a horrific cancer that will ultimately destroy the economy and impoverish the vast majority of its citizens. That's according to Peter Schiff, the best-selling author and CEO of Euro Pacific Capital, who delivered his harsh warning to investors in a recent interview on Fox Business. "I think we are heading for a worse economic crisis than we had in 2007," Schiff said. "You're going to have a collapse in the dollar... a huge spike in interest rates... and our whole economy, which is built on the foundation of cheap money, is going to topple when you pull the rug out from under it."
Schiff says that, despite "phony" signs of an economic recovery, the cancer destroying America, stems from a lethal concoction of our $16 trillion federal debt and the Fed's never ending money printing. Currently, Bernanke and company is buying $1 trillion of Treasury and mortgage bonds a year. That's about $85 billion per month against a budget deficit that is about the same level. According to Schiff, these numbers are unsustainable. And the Fed has no credible "exit strategy." Eventually interest rates will rise... and when they do, Schiff says, stocks will tank and bonds dip to nothing. Massive new tax hikes will be imposed and programs and entitlements will be cut to the bone.
May 1: The Hill: President Obama signs bill to ease flight delays from FAA furloughs:President Obama signed legislation on Wednesday to end the air traffic controller furloughs from sequestration that were blamed for hundreds of flight delays last week. The White House said Obama signed the measure, the Reducing Flight Delays Act of 2013 (H.R. 1765). The bill allows the Federal Aviation Administration (FAA) to move money around in its budget to eliminate furloughs for air traffic controllers. The money would come from a grant program used for airport improvements.
Obama has criticized the measure as a short-term solution that does not fix the problems caused by the spending cuts from sequestration. "Congress responded to the short-term problem of flight delays by giving us the option of shifting money that's designed to repair and improve airports over the long term to fix the short-term problem," he said during a press conference on Tuesday. "Well that's not a solution. Essentially what we've done is, we've said, in order to avoid delays this summer, we're going to ensure delays for the next two or three decades." Conveniently omitted was the fact that sequestration was the idea of the Obama Administration.
May 1: Fox News: Americans find ways to soften sequester; saving tourist seasons, programs for needy:
Americans cannot cover the entire $85 billion in federal budget cuts this year known as sequester, but they're pulling together to make up the losses for important matters like helping local economies and salvaging federal programs that serve needy children. When the Navy decided to deal with sequester by pulling its popular Blue Angels fighter jet team from air shows and other events, organizers of Seattle's annual Seafair festival dug into their general fund to pay for a replacement – the Patriots Jet Team. Seafair President Beth Knox said the Blue Angels had performed at the festival over the past four decades so spending $80,000 was important to the community and worth the money."We've had to look outside the box and find ways that we can fill the gaps where our government is not able to provide those services," she told Fox News. In addition to hiring the California-based group of retired fighter pilots, festival organizers also are bringing in a ship from the Canadian Navy to replace a U.S. warship that won't be coming to this summer's events.
May 1: The Hill: Federal Reserve: Fiscal policy 'restraining' economic rebound:
The Federal Reserve on Wednesday said the nation's fiscal policy is holding back its economy and signaled it may be prepared to do more to boost growth. The central bank announced Wednesday that it was continuing its ongoing efforts to stimulate the economy, keeping interest rates near zero and buying up $85 billion of bonds every month in a bid to further spur the economy.
In its latest statement, the Federal Open Market Committee (FOMC) said the U.S. economy was growing at a "moderate pace," no thanks to its fiscal course. "Fiscal policy is restraining economic growth," the FOMC said. As sequestration continues to take effect, the Fed said it was sticking to its "quantitative easing" plan, buying up $40 billion of housing bonds and another $45 billion of Treasury bonds. It added, for the first time, the Fed could potentially increase the size of those purchases, as well as decrease, depending on what happens with the economy or the Fed's handle on inflation.
Apr. 29: Politico: Democrats ask "What Debt Crisis?"
The two parties are miles apart on how to cut the deficit and national debt: Republicans want to slash spending even more. Democrats want to raise revenue. And then there are the other Democrats — the ones who reject the entire premise of the current high-stakes fiscal fight. There's no short-term deficit problem, they say, and there isn't even an urgent debt crisis that requires immediate attention. This group could make it even harder for President Barack Obama to strike a grand bargain because they increasingly see no immediate need for either new spending cuts or significantly more revenue, both of which they say could further slow the economy.
These Democrats and their intellectual allies once occupied the political fringes, pushed aside by more moderate members who supported both immediate spending cuts and long-term entitlement reforms along with higher taxes. But aided by a pile of recent data suggesting the deficit is already shrinking significantly and current spending cuts are slowing the economy, more Democrats such as Virginia Sen. Tim Kaine and Maryland Rep. Chris Van Hollen are coming around to the point of view that fiscal austerity, in all its forms, is more the problem than the solution.
Apr. 29: Fox News: US loans from China at issue in debt-ceiling fight
Despite what you may have heard, China isn't the country's biggest creditor. America is. The bulk of the national debt -- soon to exceed a staggering $17 trillion -- is held by the Federal Reserve, Social Security system, various pension plans for civil service workers and military personnel, U.S. banks, mutual funds, private pension plans, insurance companies and individual domestic investors. China is responsible for just a shade over 7 percent of that total debt. And while it remains the single largest foreign lender (just ahead of Japan), China's been slowly trimming its holdings, down from nearly 10 percent a few years ago. Overall, all foreign investors -- including national central banks -- account for roughly one third of the total outstanding federal government debt. Also, China is suddenly having debt problems of its own. Heavy recent lending by its banks comes as the recovery in the world's second-largest economy seems to be stalling. The export giant posted a rare trade deficit in March.
The national debt will soon be front-and-center again as a deeply divided Congress wrestles with an expected new Obama administration request to increase the government's borrowing authority, the legislatively set debt ceiling. The higher limit would not authorize borrowing for new spending but just enables the government to pay all the bills already racked up. The upcoming summer debate could be a repeat of the divisive debt-ceiling crisis in August 2011 when weeks of political irresolution nearly plunged the U.S. into its first-ever financial default -- and did trigger a downgrade in the government's once-sterling credit rating.
Apr. 29: Fox News: Obama Blames GOP for Sequestor Even Though It Was Originally His Idea:
Why is it that everybody seems to be blaming someone else for a problem instead of doing what is right (in this case cutting spending)? President Obama took another swipe Monday at Congress for allowing billions of dollars worth of spending cuts to the federal government, saying the country -- as a result of "misguided priorities" -- could, as a result, lose years of scientific research. For months now, the president has attempted to blame Congress for the cuts that started in January, particularly the Republican-controlled House, which allowed the reductions instead of agreeing to a second round of 2013 tax increases that the President wanted. "We are on the brink of amazing breakthroughs…" the President said "...which is why we can't afford to gut these investments in science and technology. Unfortunately, that's what we're facing because of the across-the-board cuts." he told the National Academy of Science. Later on Monday, White House Press Secretary Jay Carney made clear the administration holds congressional Republicans largely responsible for the cuts and the negative impact they have had on Americans even though the original idea of having the sequester came from the White House and the Obama Administration.
Apr. 26: The Hill: Experts: Debt-ceiling increase might not be needed until October:
Congress could have until as late as mid-October to haggle over raising the debt limit, according to new expert analysis. The Bipartisan Policy Center (BPC), which has been closely tracking the flow of the nation's finances as policymakers prepare to spar over its $16.4 trillion borrowing cap, now believes the government could avoid a default on its obligations as late as mid-October once its borrowing cap is reinstated in May. Previously they set the date as in August. Earlier this year the Congress passed the "No Budget No Pay" bill that did away with the debt ceiling for four months allowing the Federal Government to continue to add to the debt without serious restriction until mid-May. This could have had an impact on the date moving back a couple of months.
Apr. 26: Politico: Obamacare Round Two Looks as Shaky as Round One:
Obamacare fires are flaring up all over — in Hill hearings, in scary headlines about big rate hikes and in closed-door meetings of nervous Democrats. The White House response: We'll get to that. President Barack Obama's messaging gurus and their allies say they will step on the gas before enrollment begins this fall, but the effort, they concede, is not in full swing.
Obama's allies know the health care law needs a massive outreach effort, but Obamacare Round 2 is already starting to look a lot like Round 1, when Democrats roundly accused the White House of botching its appeal to the public, giving Republicans the upper hand on defining the law. In the meantime leaders like Senator Baucus (D-MT) has been warning of a major train wreck on the horizon.
Apr. 26: Politico: House Bill Reverses Controller Furloughs
The House passed a bill to reverse the furlough of 15,000 air traffic controllers Friday, capping a week that saw thousands of disrupted flights and a wave of bitter partisan sniping over the damage from the sequester. The lower chamber approved the bill on a 361-41 vote under suspension of the rules just hours after the Senate struck a deal Thursday evening and passed the measure after a furious day of negotiating. The measure would let the Department of Transportation transfer $253 million in FAA funding into the operations account that pays for air traffic controller salaries. Republicans have argued all along that DOT already had that authority, making the bill unnecessary. Meanwhile many are saying that the furlough was the result of a political statement being made by the White House.
Apr. 24: The Wall Street Journal: Airlines Seek Clarity on Controllers Shortages:
New hot spots for air-travel delays emerged Wednesday because of a shortage of air-traffic controllers, while some airline executives warned that a lack of consultation was exacerbating the problems. U.S. budget-cut-induced furloughs led to staff shortages Wednesday at facilities in Chicago, Los Angeles, Miami and Tampa, said the Federal Aviation Administration, with more than half of the delays endured by travelers on Tuesday attributed to a lack of controllers forcing planes to fly farther apart. The agency, which has been criticized by airlines and lawmakers for how it implemented the staff cuts, said labor shortages contributed to delays Wednesday being concentrated at Chicago O'Hare, Las Vegas and Tampa.
Mr. Isom, Chief Operating Officer of U.S. Airways Group, Inc., said in an interview that the airline can't plan pre-emptive cancellations to avoid the worst delays because carriers only learn of problems on morning calls with the agency and aren't privy to the information the FAA has when it announces the slowdowns and ground delays. "We really don't know what information the FAA has."
Apr. 24: Politico: Top Lawmakers work on Exemption from Obamacare for themselves and Congressional staff:
Congressional leaders in both parties are engaged in high-level, confidential talks about exempting lawmakers and Capitol Hill aides from the insurance exchanges they are mandated to join as part of President Barack Obama's health care overhaul, sources in both parties said.
The talks — which involve Senate Majority Leader Harry Reid (D-NV), House Speaker John Boehner (R-OH), the Obama administration and other top lawmakers — are extraordinarily sensitive, with both sides acutely aware of the potential for political fallout from giving carve-outs from the hugely controversial law to 535 lawmakers and thousands of their aides. Discussions have stretched out for months, sources said.
Apr. 23: The Hill:
Senator who pushed through Obamacare and who now warns a train wreck is coming Announces Retirement:
Senate Finance Committee Chairman Max Baucus (D-MT) said Tuesday he will not seek reelection in 2014. "Serving the people of Montana has been the greatest honor and privilege of my life," The longtime chairman of the Senate's tax-writing panel faced a difficult reelection contest in Montana, a state easily won by Republican Mitt Romney in the 2012 election. Baucus's retirement throws the 2014 Senate race in Montana wide open and also adds a new challenge for Democrats as they try to maintain control of the Senate. Baucus is the sixth Senate Democrat to announce his retirement this election cycle, and in five of those states, the race for the open seat could be competitive.
Apr. 23: The Daily Caller:
Obama administration accused of inventing "phony and contrived" crisis to cause air delays:
Republican lawmakers on Tuesday accused the Obama administration of a creating a "phony and contrived" crisis as travelers across the country face delays due to the Federal Aviation Administration's furlough of air traffic controllers."It smells," South Dakota Sen. John Thune told reporters in the Capitol on Tuesday. "It smells of politics."

The FAA implemented furloughs of its air traffic controllers on Sunday, citing the recent automatic budget cuts known as sequestration, which went into effect earlier this year. Republicans accuse the administration of cutting things that would inconvenience average Americans in order to portray the cuts as worse than they really are. "You can only conclude — just like the shutting down of the White House tours during Spring Break — it's meant to impact the most negative way possible on the air traveling public," Texas Sen. John Cornyn said. Cornyn called the cuts "phony and contrived." Likewise, Maine Sen. Susan Collins called it "a manufactured crisis."
Apr. 23: The Hill: Reid will try to replace sequester with war savings from Afghan draw-down:
Senate Majority Leader Harry Reid (D-NV) announced Tuesday that the Senate will begin considering a replacement for most of the $85 billion automatic spending cuts known as the sequester. The cuts went into effect on March 1 after the White House and Congress could not agree on a replacement. The White House insisted on using some tax increases while Republicans refused. Senate Democrats will now move a bill using war savings to pay for the sequester.
In 2013, the Pentagon has said it has saved some $81 billion that it would otherwise have spent on the war in Afghanistan if not for President Obama's decision to draw-down the U.S. troop presence. Republicans have derided war savings as a budget gimmick in the past. Reid is acting as public concern over the cuts has begun to emerge due to airport delays.
Folks, we don't have a revenue problem, it's a spending problem!
Apr. 23: The Hill: GOP Blocks Reid from creating a Conference Committee on the Budget.
Senate Republicans on Tuesday prevented Senate Majority Leader Harry Reid (D-NV) from setting up a budget conference. Reid sought the Senate's unanimous consent to form a budget conference committee aimed at reconciling the wildly different House and Senate budget resolutions, but Sen. Pat Toomey (R-PA) objected. Toomey said he was objecting on behalf of Sen. Jeff Sessions (R-AL), the ranking member of the Senate Budget Committee who had a conflict and could not be present.
April 22: Fox News: Travelers brace for delays as FAA imposes furloughs, lawmakers decry 'stunt'
The FAA went ahead with the furloughs on Sunday, citing the automatic budget cuts that went into effect last month. Some delays appeared in the late evening in and around New York, and according to the FAA were spreading on Monday. Sen. Tom Coburn, R-OK, said last week that the FAA "has made zero effort" to avoid the furloughs. "The FAA's decision is a dangerous political stunt that could jeopardize the safety and security of air travelers," he said in a statement.
Coburn claimed the FAA has failed to make "smart cuts" to avoid this outcome. He suggested the agency could reduce spending on "consultants, supplies and travel" by 15 percent, saving $105 million. He also claimed the agency could save much more than that by trimming a grant program for airport improvements. Others suggested that the FAA could reduce the impact on the flying public by cutting other parts of their budget, travel being one of them. Meanwhile the Associated Press reported flight delays piled up across the country on Monday as thousands of air traffic controllers began taking unpaid days off, providing the most visible impact yet of Congress and the White House's failure to agree on a long-term deficit-reduction plan. At one point, the delays were so bad that passengers on several Washington-New York shuttle flights could have reached their destination faster by taking the train.
Apr. 22: The Weekly Standards: White House Endorses Internet Sales Tax – Impact on Small Family Businesses:
The White House today endorsed the Marketplace Fairness Act, which would be a tax hike for purchases made over the Internet. The White House claims the tax would "level playing field for local retailers. The problem with this legislation is that it hurts small family owned and operated businesses that sell over the Internet. There are lots of these companies that help our economy but which will be adversely impacted by the proposed law. If a small company does not have a presence in a neighboring state then they should be exempted from such taxes. An alternative would be to only authorize these taxes on medium and large size firms that have over 50-100 employees.
Apr. 22: Fox News: Lawmakers Warn Cost of Federal "Free Phone" Program is Spinning Out of Control:
What started out as an effort to help poor people in rural areas have a (land-line) phone in cases of emergency has mushroomed into what critics suspect is a new welfare program. "The cost has gone from $143 million a few years ago to $2.2 billion today," Republican Louisiana Sen. David Vitter said, noting that today's cost is 15 times what it was. The cost of the program increased dramatically after cellphones were added in 2008. Only low-income people on welfare and food stamps legally qualify, but some lawmakers say the program is out of control.
Sen. Claire McCaskill, a Democrat from Missouri, was incensed when she got an offer of a free phone. "I got solicitation for a free phone at my apartment, which is certainly not a building where you're going to have people who are qualified for free phones. ... There is clearly money being wasted here." And Vitter adds, "The FCC, itself, said in a recent year there were 270,000 beneficiaries that had more than one of these subsidized cellphones. That's completely against the law right there."
Apr. 21: Politico: Food Stamps: Do We Want to Kick People Off If There are No Jobs for Them?
"Where are the jobs?" Speaker John Boehner likes to ask. But do his fellow House Republicans really want to kick the unemployed off food stamps if they can't find the jobs either? That's the question behind a simmering farm bill battle over reimposing work requirements on millions of able-bodied adults enrolled in the nutrition program. Most have no reported earnings, and without added job training or workfare slots, the change could spell real hardship in today's economy.
For this reason, House Agriculture Committee Chairman Frank Lucas (R-Okla.) is resisting the move. But back home, the Oklahoma state Legislature recently took steps to reinstate work requirements. And the office of Majority Leader Eric Cantor (R-Va.) has repeatedly raised the issue with Lucas as a way to win conservative votes for his farm bill, now slated for markup May 15.
Apr. 19: The Hill: Top House Dems offer mixed reaction to new Bowles-Simpson deficit plan:
Top House Democrats on Friday offered a mixed reaction to the new deficit plan presented by Erskine Bowles and Alan Simpson. House Minority Whip Steny Hoyer (D-MD) and Budget Committee ranking member Chris Van Hollen (D-MD) both offered support for the original 2010 Bowles-Simpson deficit plan. Their support contrasted with quick condemnation from House Minority Leader Nancy Pelosi (D-CA), who was angered by the cuts to Social Security. On Friday, Van Hollen criticized the new Bowles-Simpson plan, while Hoyer offered measured praise."Once again, Bowles-Simpson shows us that only a big, balanced solution, which combines smart, targeted cuts to spending with new revenues, can achieve the savings we need to restore fiscal discipline, provide certainty to our private sector, and invest in economic competitiveness to create middle-class jobs," Hoyer said.
Bowles said Friday that his new plan is 76 percent spending cuts and 24 percent revenue increases when changes already adopted by Congress since 2010 are taken into account. That is roughly in line with the 70 percent to 30 percent ratio the 2010 Fiscal Commission report presented.
Apr. 19: Politico: Flights May Be Canceled, FAA Says, Due to Sequestration of Funds for Flight Controllers:
The FAA is projecting thousands of flights will suffer delays after the sequester furloughs hit Sunday, with estimates showing the daily average will be twice as bad as the worst day last year. According to data FAA provided to Airlines for America, the agency predicts 6,700 flights will be delayed each day across the country. That figure was modeled presuming "blue sky" conditions, and will grow if bad weather or other staffing issues unrelated to the sequester crop up. A truncated version of the FAA documents was shared with reporters Thursday
"With this number of delayed flights, airline schedules will extend into the late evening or early morning hours unless the carriers cancel flights," the FAA wrote in its report. Among those likely to suffer, the documents show, would be flights out of San Francisco, which may see maximum delays of 380 minutes and an average wait of 230.4 minutes during bad weather. During normal "blue sky" weather, delays in San Francisco would be a maximum of 68 minutes and an average of 18.8 minutes. At least one airline has acknowledged that it will need to proactively cancel selected flights, primarily during off-peak hours, in an effort to try to get ahead of the anticipated delays.
Apr. 18: EverydayHealth.Com: Cost of individual health care insurance may rise by 30-80% in 2014 under Obamacare:
Few aspects of the Affordable Care Act are more critical to its success than affordability, but in recent weeks experts have predicted costs for some health plans could soar next year.
A study published last month by the Society of Actuaries (SOA) predicting that, thanks to sicker patients joining the coverage pool, medical claims per member will rise 32% in the individual plans expected to dominate the ACA exchanges next year. In some states costs will rise as much as 80 percent, the report said.
Apr. 18: The Hill: Pompeo to Baucus: ObamaCare 'train wreck' is your fault:
Congressman Pompeo (R-KS) was not impressed with Senator Baucus's (D-MT) criticism of how the Obama administration has implemented its signature healthcare law.
Baucus said Wednesday that he fears the implementation will be a "huge train wreck" because people do not understand what the reform law does.
If it's a train wreck, Pompeo said, Baucus has no one to blame but himself."No one in the country bears more responsibility for the complexity of this law than you," Pompeo wrote in a letter to Baucus who chairs the Senate Finance Committee and which was a key architect of the Affordable Care Act. Most of its major provisions were crafted in his committee, and the Finance draft was consistently treated as the primary bill even as other Senate and House committees worked on their own proposals."You drafted it, you twisted arms to get it passed, and, until now, you have lauded it as a model for all the world," Pompeo wrote to Baucus. Your attempts to pass the buck to President Obama's team will not work, nor will they absolve you of responsibility for the harm that you have brought via this law."
Baucus has a competitive reelection fight coming up next year — just months after the biggest pieces of ObamaCare are set to take effect. Republicans have already made clear that they plan to target Baucus over his role in getting the healthcare law passed, and problems with the implementation could make the GOP's job easier.
Apr. 17: Politico: GOP House Members Want to Stop the "Stop Gap" Approach to Funding the Federal Government:
More than 80 House Republicans have signed onto a letter aiming to increase the pressure on GOP leadership to follow the regular legislative process regarding the budget. Rep. Tom Graves (R-GA) circulated the letter, which urges Speaker John Boehner (R-OH), Majority Leader Eric Cantor (R-VA) and Majority Whip Kevin McCarthy (R-CA) to pass the individual appropriations bills that fund the federal government instead of moving endless stopgap measures known as continuing resolutions.
"Continually governing by CR wastes money, creates massive inefficiencies, and can weaken our national security," Graves wrote in the letter, which he also sent to Appropriations Chairman Hal Rogers (R-KY). "This is exactly opposite of the good government initiatives and reforms each of us promised our constituents. Rather than negotiating yet another Continuing Resolution at the last minute, the Appropriations process should work as it was originally designed, with Appropriations bills passing the House and the Senate and being signed into law by the President, after robust debate, with a process for amendments."
Apr. 17: Politico: It's About Time, Mark Warner (D-VA) Says the federal Deficit is more of a Danger to the Country than the Boston Bomber:
A day after bombings at the Boston Marathon, Sen. Mark Warner said that fiscal issues are more important than terrorism for the future of the country. "In my mind, with the tragedy of yesterday, the issue of this national debt is a greater threat to our nation and our future than any terrorist action," Warner said Tuesday evening at an awards dinner in Washington. "We will not be destroyed from the outside."

Apr. 17: The Hill: House Democrats up pressure on Boehner to start budget conference:House Democrats on Wednesday increased their pressure on Speaker John Boehner (R-OH) to convene a formal House-Senate budget conference committee. All 17 Democrats on the House Budget Committee sent a letter to Boehner calling for the committee to be created. The letter, organized by Rep. Chris Van Hollen (MD), the Budget panel's ranking member, and David Cicilline (RI) comes a day after Senate Majority Leader Harry Reid (D-NV) accused Boehner of dragging his feet on the budget conference. The Senate passed a budget this year for the first time in four years, after Republicans made its failure to do so a pet issue.
Reconciling the Senate budget with the House-passed budget would provide a cap for 2014 spending, easing the passage of 12 annual appropriations bills. It could also resolve uncertainty about the looming debt ceiling. House Budget Committee Chairman Paul Ryan (R-WI) told reporters on Tuesday that he is trying to get a "framework" agreement in place before agreeing to convene a conference with Senate Budget Committee Chairwoman Patty Murray (D-WA).
Apr. 15: The Hill: The good, bad and ugly in President Obama's new budget:
President Obama has now disclosed his budget approximately two months after the law calls for him to present it. It also comes forward after both the House and the Senate have debated and passed budget resolutions. This means, as practical matter, that his budget is substantively irrelevant since neither house will even consider it. It is therefore a purely political document. As such, it makes some fairly significant political statements.
First, on the good side, the president through his budget has declared his willingness to support serious entitlement reform. Moving to a chained Consumer Price Index (CPI) calculation is a big step toward putting the social security system on a path to solvency.
Then there is the bad. The president's budget is a spending juggernaut. His budget says, "Let's start with what we have, deem it all to be good and add to it." The view of this administration as expressed in this budget is that government is good and we just need more of it and that is bad.
Apr. 15: Politico: McConnell Has No Desire to be in the same room with Reid to discuss budget:
The Senate minority leader has signaled privately that he has no interest in sitting in the same room as Majority Leader Harry Reid (D-NV) to discuss a possible "grand bargain" on budget and tax issues. McConnell is fine with talking to Obama — just talking at this point — but he doesn't want Reid there when it happens. Bad blood remains between party leaders and the national partisan realities haven't changed.
And while the leaders don't get along, relationships among the other 98 senators will be tested when voting begins on the controversial gun and immigration measures — starting with this week's expected vote on expanding background checks for firearms purchases. McConnell plans to pull out all the stops to block the bill, and GOP senators are blasting any immigration plan that they say smells of "amnesty."
Apr. 15: Fox News: Gold prices plummet:
Gold dropped 6 percent on Monday to below $1,400 per ounce, its lowest since March 2011, as investors took fright at a market that is heading for its biggest two-day fall in 30 years.
Gold has capitulated in the last two trading days to pressure from a proposed sale of Cypriot gold holdings and concern that other nations might follow suit. Traders also cited concern that the U.S. Federal Reserve might reduce monetary stimulus towards the end of the year. Weaker than expected Chinese economic data earlier on Monday simply gave investors another excuse to slash holdings as other commodities including oil and copper dived.
Apr. 14: The Hill: Reid could move to create conference on budget this week:
Moving a motion to conference the budgets would put the onus on Speaker John Boehner to appoint conferees. Senate Majority Leader Harry Reid (D-NV) could formally move as early as this week to create a House-Senate conference committee on the budget. Moving a motion to conference the budgets — which a leadership aide said is "possible" — would put the onus on Speaker John Boehner (R-OH) and House Budget Committee Chairman Paul Ryan (R-WI) to appoint conferees to the talks. Senate Democratic aides say they suspect Boehner and GOP leaders want to drag their feet on creating a conference committee, and sense an opportunity to draw attention to that. Republicans counter that they want a budget agreement that tackles "out-of-control" government spending, but see little point in a conference committee if Senate Democrats continue to demand a trillion dollars in new taxes while refusing to compromise on cuts.
Apr. 14: The Daily Caller: Left-wing Democrats push Norquist-style no-cuts budget pledge:
Americans for Tax Reform founder Grover Norquist has been skewered by the media and the left for his Taxpayer Protection Pledge, but now some Democrats seem to be imitating him with a budget pledge of their own. Left-wing Democratic Reps. Alan Grayson (FL) and Mark Takano (CA) are circulating a letter addressed to President Obama for members of Congress to sign. Signers of the letter pledge to vote against any substantive changes to America's entitlement programs, including President Barack Obama's proposal to use a different formula for Social Security cost of living increases. "We will vote against any and every cut to Medicare, Medicaid, or Social Security benefits -- including raising the retirement age or cutting the cost of living adjustments that our constituents earned and need," the letter reads, in part. The letter, which was drafted in February, is backed by liberal groups such as the Progressive Change Campaign Committee, Democracy for America and MoveOn, among others. Thirty Members of Congress have signed onto it as of April 9.
Apr. 10: FoxNews.com: Obama budget proposes more than $1 trillion in taxes, fees:
President Obama's budget proposal includes new tax increases that hit everything from deductions for top earners to packs of cigarettes. Though the president's newly released plan claims to include $580 billion in new revenue over the next decade, when all taxes and fees are counted the real number is slightly higher than $1 trillion. Republicans already have said they will not countenance new tax increases, after they already agreed to raise rates on top earners as part of the fiscal crisis deal. But both sides are sure to engage in an exhaustive debate in the weeks and months ahead, particularly as a looming debt-ceiling deadline forces Congress to try to reach a deal.
Here are a few of the notable tax increases in Obama's 2014 budget blueprint that are likely to prove controversial in that debate:
The biggest item by far is a plan to reduce the value of itemized deductions for top earners, so that they can only reduce their tax liability to 28 percent of income. This would affect deductions for charity, mortgage interest and other expenses.


The plan would implement the so-called "Buffett Rule," that would require "wealthy millionaires" pay at least 30 percent of their income after charitable donations.


Though the president's proposal to curb the growth of Social Security was touted as a budget "cut," the change would also bring in more revenue. The proposal would change the inflation formula, which would in turn curb the growth of benefits. In doing so, that same formula would adjust tax brackets and raise about $100 billion over 10 years.


Buried deep in the budget is a proposal to raise the federal cigarette tax by 94 cents a pack.


The budget includes a slew of other tax changes and fees too numerous to mention, but they include: a "financial crisis responsibility fee" on financial firms; an increase in the aviation passenger security fee; and a limit on the total accrual of certain retirement benefits.
Apr. 10: Fox News: Republicans not happy with 'unbalanced' budget proposal, bristle at proposed tax hikes:
Republicans ripped President Obama's long-awaited budget proposal Wednesday, describing it as a "reheated" plan that revives controversial tax hikes in the name of deficit reduction without ever balancing the budget. The 2014 plan, delivered to Congress Wednesday morning, was pitched by Obama as a compromise -- twinning tax increases, which Republicans dislike, with changes to Social Security, which liberal Democrats despise. "I have already met Republicans more than halfway," Obama said in the Rose Garden Wednesday.
But Republican leaders, while praising the president for proposing a change to curb the growth of Social Security, said they had no interest in agreeing to new tax increases for a budget that wouldn't balance anyway.
Apr. 9: CNSNews.com: Safe from Sequester: $704,198 for Gardening at NATO Ambassador's Home:
Just over a week after sequestration took effect, the State Department allotted more than $700,000 for gardening at a U.S. Ambassador's residence in Brussels, Belgium. On March 11, State awarded a contract to provide gardening services at an "official residence" of the U.S. Mission in Belgium. A State Department spokesperson confirmed to CNSNews.com that the contract is for Truman Hall, a historic property that serves at the residence of the Ambassador to the North Atlantic Treaty Organization (NATO). The current U.S. ambassador to NATO is Ivo H. Daalder, who was appointed by President Barack Obama in May 2009. The total award comes to $704,198.30, including $134,744 for the base year and four one-year option periods thereafter.
A State Department spokesperson said that Truman Hall regularly hosts visitors from the 28 NATO nations and other Alliance partner countries around the world and is a valuable platform for America's diplomacy. The award provides for grass cutting, edging, trimming, weeding, and other gardening and landscaping services. It will also mandate the planting of 960 violas, tulips, and begonias. In a letter to Sen. Barbara Mikulski (D-MD) on Feb. 11, Kerry said sequestration means $2.6 billion less in fiscal year 2013 for State Department programs.
Apr. 9: The Weekly Standard: White House to Furlough Assistant Chef for Sequester"
The White House will furlough the assistant chef because of sequestration. "Even White House chefs could be feeling the pain of government budget cuts," reports the AP. "Assistant chef Sam Kass, who cooks dinner for President Barack Obama several nights a week, said Tuesday that he will be furloughed as part of across-the-board budget cuts that went into effect in March. Kass, who is the president's senior nutrition policy adviser, made the comments in an interview with food reporters at the White House. ..."Kass also plants the White House garden and is the director of first lady Michelle Obama's 'Let's Move' campaign to combat childhood obesity. He said that effort won't be affected."
Apr. 9: AirForceTimes.com: Reduced flying hours forces grounding of 17 USAF combat air squadrons:
The Air Force will begin grounding combat air squadrons Tuesday in response to forced spending cuts that have eliminated more than 44,000 flying hours through September, according to internal documents obtained by Air Force Times. The Air Force's budget for flying hours was reduced by $591 million for the remainder of fiscal 2013, making it impossible to keep all squadrons ready for combat, according to an April 5 memo signed by Maj. Gen. Charles Lyon, director of operations for Air Combat Command. The across-the board spending cuts, called sequestration, took effect March 1 when Congress failed to agree on a deficit-reduction plan.
Seventeen combat-coded squadrons will stand down effective Tuesday or upon their return from deployments, according to the documents. The Air Force will distribute 241,496 flying hours that are funded to squadrons that will be kept combat ready or at a reduced readiness level called "basic mission capable" for part or all of the remaining months in fiscal 2013, the documents said. The grounding includes F-22s from Virginia, F-16s from Utah, B-1B Lancers from South Dakota, and A-10s from Arizona in addition to B-52s and F-15Es.
Apr.8: Politico: President's Budget: Late and DOA for the Senate Republicans:
President Barack Obama might think he's offering a compromise budget on Wednesday when he formally unveils it. But Senate Republicans — a group Obama will try to woo with a dinner that night — are expected to vigorously push back, casting the 2014 spending plan as another attempt to raise taxes to fuel more deficit spending.
Apr. 8: The Daily Caller: Obama housing agency's staggering debt won't stop it from insuring more high-risk loans:
The Obama administration's current push to encourage banks to grant high-risk housing loans to lower-class borrowers insured by taxpayer-funded programs provided by the Federal Housing Administration (FHA) may be complicated by the fact that the FHA is in severe debt and faces a potentially disastrous future, records reveal.
The Obama administration, which reportedly believes that the housing recovery is "leaving too many people behind," hopes to encourage lenders to use "more subjective judgment" in offering loans to people with low credit scores and to people who "owe more than their properties are worth" in order to allow them to refinance at current interest rates.
Though many analysts believe that these kinds of policies were responsible for the 2008 financial collapse, the FHA is reportedly working with the White House to develop "new policies" to encourage lenders to offer high-risk loans that conform to FHA programs, which are designed specifically to provide housing loans to low-income Americans.
[See Related Article published on the Website in November 2012]
Apr.8: Politico: Liberals Put Democrats on Notice – Vote for Entitlement Cuts and Face Opposition in November:
A trio of liberal groups is warning Democratic lawmakers who back cuts to entitlements programs that they could face a challenge from the left in the next election — but it's unclear how serious the threat is. The Progressive Change Campaign Committee, Democracy for America, and MoveOn.org have released sharply worded statements putting Democrats on notice that support for President Barack Obama's budget – which proposes cuts to Medicare and Social Security – would be tantamount to betrayal.
PCCC, a prominent liberal group, also launched a website called NoBenefitCuts.com. It asks supporters to sign a petition pledging to "support primary challenges to congressional Democrats who support benefit cuts." "We're very serious," Adam Green, PCCC's co-founder, said in an interview. "Any Democrat who votes to cut Social Security benefits shouldn't call themselves a Democrat … It's not in our minds an empty threat."
Apr. 5: Politico: Too Little Too Late GOP says about Obama Budget:
As word leaked of President Barack Obama's plan to include entitlement tweaks when he unveils his budget next week, Congressional Republicans on Friday said it won't bring Washington any closer to a grand bargain on the deficit. They argue that Obama's decision to include "chained CPI" — a formula that slows the growth rate of Social Security benefits — doesn't go far enough to overhaul entitlements and cut spending. They're especially adamant because they raised taxes without cutting spending in the fiscal cliff deal. As far as they're concerned, any budget compromise needs to include significant changes to entitlements, and far less than $9 billion in tax hikes supposedly in the president's plan.
By putting it on the table, however, the White House is including what is sees as a significant concession in the budget battles. Some progressive lawmakers were already venting steam about the move on Friday, and it could cost Obama with his base without the Republicans having given further on taxes. It was the first time the president included the language in a budget document. "It doesn't address the core structural problems: a dramatic growth in the number of beneficiaries congruent with a shrinking number of payees/taxpayers," the aide said. "It is very unlikely to elicit dramatic movement on a grand bargain…our members feel like they have acceded to more revenue than they agree with under any scenario, so this kind of chippy small-ball won't do it for them."
Apr. 5: The Hill: Right, left pan Obama budget plan:
"The Senate just last month went on record in opposition to the president's approach," Sen. Bernie Sanders (I-VT) said in a statement blasting Obama's proposal to use a less-generous formula to calculate hikes to benefits under Social Security and other programs for inflation.
The criticism from both ends of the political spectrum highlighted the stark divide over how to rein in the nation's red ink. The White House and Congress are eyeing a summer battle over raising the debt ceiling that could be used as a vehicle for a deficit-reduction package.
Obama's plans came the same day a new labor report added to doubts about the economic recovery. The Bureau of Labor Statistics report found employers added only 88,000 jobs in March — much fewer than expected.
Apr. 5: The Daily Caller: CBO: Budget deficit $601 billion in first half of fiscal year:
Federal spending also decreased in the first half of fiscal year 2013. By the non-partisan agency's estimation, federal outlays totaled $1.8 trillion — $46 billion lower than the first half of 2012. The cuts came from the Defense Department which was trimmed by $20 billion, Fannie Mae and Freddie Mac, which were cut by $25 billion, as well.
Spending still increased on the entitlement programs Social Security, Medicare and Medicaid, as well as on agriculture, disaster assistance and veterans' benefits. President Obama will announce a new budget next week where he is expected to propose changes to Social Security and Medicare along with tax increases in an effort to find common ground with the GOP.
Apr. 5: The Hill: Obama budget to take aim at wealthy IRAs:
President Obama's budget, to be released next week, will limit how much wealthy individuals can keep in IRAs and other retirement accounts. The proposal would save around $9 billion over a decade, a senior administration official said, while also bringing more fairness to the tax code. The official said that wealthy taxpayers can currently "accumulate many millions of dollars in these accounts, substantially more than is needed to fund reasonable levels of retirement saving." Under the plan, a taxpayer's tax-preferred retirement account, like an IRA, could not finance more than $205,000 per year of retirement – or right around $3 million this year.
Apr. 5: The Daily Caller: Obama's California fundraising trip irks left and right:
President Obama returned to Washington Thursday afternoon from a Democratic fundraising tour in San Francisco that included appearances at four high-dollar private fundraising events and garnered criticism from Washington Republicans and progressive activists alike. Obama's comments and wasteful hobnobbing with billionaires as the economy is grinding to a halt and labor force participation has plummeted to its lowest rate since 1979.
Apr. 5: Fox News: FAA delays closure of air traffic control towers:
The Federal Aviation Administration, hitting pause on a high-profile sequester cut, announced Friday that it would delay previously planned closures for 149 air traffic control towers at small airports. The FAA announced that it would delay the implementation until June 15, while it tries to resolve "multiple legal challenges" to the decision. Trade groups representing companies that operate the towers under contract for FAA filed a lawsuit Thursday in federal court in Washington. "This has been a complex process and we need to get this right," Transportation Secretary Ray LaHood said in a statement. "Safety is our top priority. We will use this additional time to make sure communities and pilots understand the changes at their local airports."
Apr. 4: The Washington Times: Taxes heat up battle against 'Obamacare'; focus turns to partial repeals:
A tax on everything from X-ray machines to oxygen tanks took effect at the beginning of this year — one of about 20 taxes and fees included in President Obama's health care law — and has emerged as the central battleground in the fight by the law's opponents to repeal parts of the president's overhaul. In a nonbinding test vote last month, the Senate voted 79-20 to repeal the law's 2.3 percent tax on medical devices, with 32 Democrats joining Republicans in pushing to scrap it.
The device tax is one of several that kicked in this year, along with higher taxes on investment income and an increase in the Medicare payroll tax among households making $250,000 per year. The tax penalty imposed on those who refuse to obtain health coverage will kick in next year, with a minimum penalty for low-income individual taxpayers of $95 in 2014, rising to $325 in 2015 and $695 in 2016. Those with higher incomes will end up paying more because their penalty is based on a percentage of their income — 1 percent in 2014, 2 percent in 2015 and 2.5 percent in 2016 and beyond.
Apr. 3: Politico: Republican View of Sequestration:
To figure out why Republicans are winning the sequester wars, look at two numbers. Federal employees have so far taken no furlough days. And the stock market hit an all-time record earlier this month, with the Dow closing Thursday at 14,578. Amid all that, it's pretty hard for most of the public to understand what the Democrats were talking about, with all their gloom-and-doom chatter earlier this year.
But so far, even the White House admits there's little chance of reversing all the cuts. There's been no sudden shock to the system. In fact, the economy seems on the mend, with housing starts higher than before the Great Recession. In fact, there's some evidence that the sequester cuts are becoming the new normal — perhaps the surest sign that the GOP is holding the high ground so far.
Apr. 3: Politico: Democrat View of Sequestration:
The public has largely tuned out the Democrats' repeated warnings about mid-air plane crashes, troop deaths and mass illness from tainted meat if the sequester cuts stay in place. But Democrats aren't dropping the threat of disaster, seizing now on the line they think can beat the Republicans: law and order.
Spending cuts undermine the ability to "catch the bad guys, whether it's white-collar crime, like mortgage fraud, or street crime, or despicable things like trafficking women and children," Senate Appropriations Committee Chairwoman Barbara Mikulski said in a recent floor speech. The Maryland Democrat noted that the spending cuts hurt local law enforcement officials who rely on federal grants to help in staffing and equipment purchases. "It's not the biggest thing in the federal budget but it's the biggest thing to cops," she said. "Why? Because it buys bullet-proof vests."
The whole thing leaves Democrats looking a little like they're rooting for bad news— though they insist that they're only saying what is likely to happen if the money isn't replenished.
Apr. 3: Fox News: White House throwing star-studded concert despite sequester:
Though the White House has been singing the sequester blues, the Obamas still have managed to scrape together enough cash to throw a star-studded concert celebrating "Memphis Soul" later this month. The White House announced Tuesday that the 10th concert in its "In Performance at the White House" series would go on April 16. Set to perform are Al Green, Ben Harper, Queen Latifah, Cyndi Lauper and Justin Timberlake, among many others.
Though the White House last month decided to suspend official tours of the "people's house" citing the sequester, the budget cuts apparently have not impeded the concert schedule. Since their inception in 2009, the White House concerts have featured Paul McCartney, Stevie Wonder and other stars.
Apr. 3: The Daily Caller: More Political Games! Citing sequester, Dem. senator furloughs staff, returns part of salary:
Democratic Alaska Sen. Mark Begich announced Wednesday that he has begun furloughing staff to reduce his office budget in the wake of the sequester. According to Begich press secretary Heather Handyside, 26 of Begich's 41 staffers in both Alaska and Washington, D.C. are being furloughed. "They're taking a temporary pay cut for the remainder of the budget year, and they will reduce their hours accordingly," Handyside said, telling The Daily Caller that she herself is being furloughed.
We need to be making responsible cuts wherever we can, and there is no reason that members of Congress shouldn't feel the pinch like everyone else," Begich said in a statement. "This won't solve our spending problem on its own, but I hope it is a reminder to Alaskans that I am willing to make the tough cuts, wherever they may be, to get our spending under control."
Apr. 2: The Daily Caller: White House scolds media for failing to cover pain caused by sequester:
White House spokesman Jay Carney lamented during a press conference Tuesday that the media are not covering the sequester's "impacts on real people.""The impacts are real," Carney insisted during an exchange with Fox News' Ed Henry, "and they effect real people. And I know that there hasn't been a lot of coverage of the impacts on real people."
Henry was pressing Carney on why the Obama administration had originally told reporters that the sequester would pull 5,000 border patrol agents off the border, only to announce Monday that the agency had reconsidered the decision for the short-term.
Apr. 2: Fox News: Brit Hume: 'The laws of political gravity apply to Barack Obama after all'
On Fox News Channel's "Special Report" on Tuesday night, network senior political analyst Brit Hume said that the goodwill President Barack Obama enjoyed after the 2012 election is fading, largely because of the implementation of his signature health-care reform law. "The usual pattern with the new government-benefit program is [that] once people by the millions begin to use it, it is set in political concrete, [and becomes] far harder to undo than it was to pass," Hume said. "But Obamacare may be different. Instead of coming together, the program seems to be coming apart." Hume went on to specifically describe some of the failures he sees in the sprawling program's implementation.
Apr. 1: Fox News: Watchdog: Energy Department skirted rules to pay contractor execs $300G salaries:
How About this as a Target for Sequester?
The top watchdog for the U.S. Energy Department has found repeated examples of the agency overpaying contractors at national labs – with the most recent being a decision to approve exorbitant executive salaries at a cost to taxpayers of up to $3.45 million. The March 22 Office of Inspector General report found the agency awarded the salaries to 10 executives as part of a $2.2 billion environmental cleanup contract in 2011 at the East Tennessee Technology Park, in the city of Oak Ridge.
The investigation found a senior management official at the Oak Ridge Office approved the salaries -- which exceeded the HR-approved market-value rates -- without proper authority. The 25-page report cited two "extreme cases" of overpayment: a $337,581 salary that exceeded the market rate by 82 percent and a $299,800 salary that was 74 percent higher than the market rate of $164,889.
Apr. 1: The Hill: Pentagon Says It Will Not Extend Furloughs into 2014
The Pentagon is putting the breaks on future furloughs of its civilian workforce and will explore other options to curb spending inside the Defense Department. DOD officials last Thursday kept the door open to extending the current round of furloughs beyond September to help pay off the department's $41 billion share of the across-the-board budget cuts under the White House's sequestration plan.
But DOD Comptroller Bob Hale on Monday said the department would not extend the furloughs, but rather seek "long-term options" to pay off the Pentagon's sequestration bill. "We will look for other options. They may not be pleasant, and they may force us into some difficult choices. But we definitely don't want to repeat what we're doing now," Hale said during a web conference sponsored by the Association of Government Accountants.
Apr. 1: Fox News: Customs and Border Protection delays agent furloughs amid 're-examination' of plan :
The U.S. Customs and Border Protection agency said Monday it will delay furloughs and the elimination of planned overtime, after announcing last week it would implement such cuts to deal with sequester -- the roughly $85.4 billion in mandatory federal budget reductions this year across all government agencies. The border agency said the cuts will be delayed "pending re-examination," following concerns from Congress and at least one border agent union about potential safety and security lapses.
Deputy Commissioner Thomas S. Winkowski told employees in a letter Monday that the temporary spending bill President Obama signed last week that funds the federal government over the next six months allows the agency to "mitigate to some degree" the sequester's impact. However, sources told Fox News a recent surge in illegal border crossings contributed to the re-examination, as the Senate nears a final proposal on immigration reform that hinges on secure borders.
Apr. 1: Reuters: No Medicaid Expansion, Perry Reiterated, and that's no April 1st Joke:
Texas Governor Rick Perry on Monday firmly reiterated that the state will not expand its Medicaid program, saying it is a broken system that needs to be reformed by allowing states more flexibility. Perry, who notified the Obama administration last summer that his state would not expand Medicaid, was joined on Monday by other Texas Republican officials, including U.S. Senators John Cornyn and Ted Cruz. "Seems to me April Fool's Day is the perfect day to discuss something as foolish as Medicaid expansion, and to remind everyone that Texas will not be held hostage by the Obama administration's attempt to force us into the fool's errand of adding more than a million Texans to a broken system," Perry told reporters at the state Capitol. In Texas, Medicaid expansion would cover more than 1 million new low-income Texans by 2017, according to the state Health and Human Services Commission.
Apr. 1: The Hill: OMB Gets Sequester Cuts But So Far, not the White House Itself:
The White House announced Monday that 480 staffers who work at the Office of Management and Budget have received furlough notices requiring that they take unpaid days off due to the sequester. White House press secretary Jay Carney made the announcement during a White House briefing on Monday, but he would not get into details about whether other members of the White House staff, including those who work closest to President Obama in the West Wing, received any notices.
Mar. 31: Forbes: The Age Of Unreason: Senate Democrat Budget Mythology:
Paul Ryan's House Republican budget, and Patty Murray's Senate Democrat budget, deserve continued scrutiny and debate, because they do definitively display the core beliefs of the two parties on a wide range of issues. That includes crucially taxes, and the foundations of economic growth and prosperity.
But the fallacies in the Senate Democrat budget include not even remotely understanding the House Republican budget. For example, the Senate budget states that the House Republican budget shows that, "They believe that we should make massive cuts to education, health care, and other investments that benefit the middle class, seniors, and the most vulnerable families." But the House Republican budget makes absolutely no cuts to anything. It continues to grow government spending every year. After 10 years under Ryan's budget, by 2023, the federal government would be spending $1.4 trillion more in that year than it would in 2014. Ryan's Republican budget proposes to spend $41.5 trillion over the 10 year budget window. Obviously, any talk of massive cuts in this budget could not be more silly, inexcusable and irresponsible.
Mar. 30: The Hill: Momentum builds to revamp nation's 'broken' budget process:
There is new momentum to revamp Washington's Groundhog Day-like budget process. The Senate's recent vote to embrace a biennial budget, coupled with Senate Majority Leader Harry Reid's (D-NV) endorsement, has significantly boosted the chances it could pass in this Congress. The budget revamp would require the president to propose a budget every other year at the beginning of each Congress. Backers say a biennial budget would give lawmakers more time to focus on oversight and policy areas instead of constantly trying to meet spending deadlines, which are often missed.
Mar. 30: The Hill: GOP presses Obama to approve 'no-brainer' Keystone XL pipeline:
Republicans are stepping up pressure on the Obama administration to approve work on the long-delayed Keystone XL oil sands pipeline. Rep. Lee Terry (R-NE) called on the White House to help lower the nation's energy costs, create a total of about 140,000 jobs and provide a boost to the economy by moving forward on the pipeline.
"Keystone is primed to give our economy a shot in the arm and make energy more affordable, and it won't cost the taxpayers a dime," Terry said Saturday in the weekly Republican address. Earlier this week, Speaker John Boehner (R-Ohio) made the case that House Republicans pushed the Democratic-controlled Senate to approve a pro-Keystone amendment to a nonbinding budget resolution.
Mar. 28: Fox News: Calls to shed debt-burdened Fannie, Freddie:
More than five years after the housing bubble burst -- sending the U.S. economy into a tailspin from which it has yet to fully recover -- the two government-backed entities at the heart of the bust remain deeply in debt. At a time when the government is struggling just to pay its bills, the sustained troubles of Fannie Mae and Freddie Mac continue to lead to calls from many to privatize the mortgage giants.
"The biggest problem with Fannie Mae and Freddie Mac is that they are financial institutions with a social mission," said Tom Schatz, president of Citizens Against Government Waste. That social mission, critics say, is to heavily subsidize mortgages for people who don't meet sound lending qualifications. "Lower income homes have a tougher time paying mortgages and when the housing market started to go under, that was the first to go," Schatz said.
Mar. 28: Politico: Obama's Ranking in the Polls Drops below 50% in Virginia because of the Sequester:
President Barack Obama's approval rating in Virginia has slipped below 50 percent for the first time since his reelection as $85 billion in budget cuts affect the state's economy, which is powered by federal and military spending, according to a new poll on Thursday. Forty-five percent of Virginia voters approve of Obama's job performance, and 49 percent disapprove, the poll found. In Feburary, Obama's approval rating stood at 51 percent, with 46 percent of voters disapproving.
Mar. 28: The Daily Caller: Big Government Hurts Average Americans - Senator Johnson (R-WI) Explains:
Wisconsin Republican Ron Johnson on Tuesday unveiled the first installment of a new project aimed at demonstrating how big government hurts average Americans. "The root cause of our economic and fiscal problems is the size, the scope, and the cost of government – all the rules, all the regulations, and all the government intrusion into our lives," Johnson said in a statement.
Johnson commenced his new "Victims of Government" project with a short film detailing the plight of Granite City, Ill. resident Steven Lathrop who spent more than 20 years attempting to comply with federal wetlands regulations to alleviate flooding in his neighborhood — only to end up in a mess of red tape, bureaucratic mistakes and eventual financial distress.
Mar. 28: Politico: Obama Budget Anticipated April 10, Two Months Late:
President Obama will release his budget on April 10, principal deputy White House press secretary Josh Earnest said Thursday. The president's budget is formally due on the first Monday in February, but the White House has said that its two-month delay was in part due to the administration's focus on sequestration.
Mar. 27: FoxNews: Cutting Nonproductive Federal Workers Might Help Budget but Prove Hard to Do:
Working for the federal government used to mean a trade-off -- lower salaries, in exchange for higher job security. Today, that trade-off is gone as federal workers often make good money with little risk of being fired. Though numbers are hard to come by in the mammoth 2.4 million-employee federal workforce, an analysis by USA Today found the federal government fired only one half of one percent of its workers in fiscal year 2011. That's about five times smaller than in the private sector.
If Congress and the Executive Branch are loath to confront the bloat in government, there may be good reason. Firing federal workers is hard. Referencing Jeff Neely, the organizer of the infamous $800,000 General Services Administration conference in Las Vegas, Schatz said "it's extremely difficult to fire anyone in any agency unless you're sitting in a hot tub with a wine glass and you're in charge of the GSA agency out in the west."
Mar.27: Fox News: Millions spent on Federal AWOL, 'standby' workers while others brace for furloughs:
While the federal government prepares to furlough workers in critical agencies starting next month, it's spending millions of dollars on employees who are "absent without leave" or simply showing up to work on "standby." In other words, complains one senator, workers "being paid to do nothing."
Sen. Tom Coburn, R-Okla., is now urging the government to crack down on this alleged waste, saying targeting these workers could yield billions of dollars in savings -- and even avert some furloughs. "It makes little sense to furlough air traffic controllers and border patrol agents while retaining employees who are AWOL, on standby, not performing official duties, or sitting idle awaiting security clearances," Coburn wrote in a letter Wednesday to John Berry, director of the Office of Personnel Management.

Mar. 26: Alabama.com: President Signs Continuing Resolution that fully funds Obamacare:
President Barack Obama signed the new continuing resolution on Tuesday to keep the government running through the end of the fiscal year. The new CR doesn't eliminate sequestration but does provide some spending flexibility in various departments.
The measure sets spending at $984 billion and keeps sequestration's $85 billion cuts in place. The previous CR expires today. The new one freezes federal worker civilian pay and Congressional salaries for a third consecutive year but breaks out separate appropriation bills dealing with Agriculture; Commerce; Justice and Science; Defense; Homeland Security; and Military Construction and Veterans Affairs.
Mar. 25: Citizens Against Government Waste: Not all Budget Cuts Need to be Painful:
For example, raising Medicare's eligibility age by two months per year from age 65 in 2017 to age 67 in 2035 would reduce federal spending by $124.8 billion over 10 years.
Mar. 25: The Hill: Murray, Ryan face new mission impossible on the budget:
House and Senate budget leaders face a new mission impossible: reconciling their wildly different blueprints. The Senate's passage of a budget for the first time in four years sets the stage for leaders to name conferees to negotiate a compromise measure. A reconciled budget resolution would then be put before the full House and Senate for votes. Senate Majority Leader Harry Reid (D-NV) and Speaker John Boehner (R-OH) have made no decisions about when to take these steps, congressional sources said. Experts say the two may wait until President Obama delivers his delayed budget in early April. With a hike to the debt ceiling scheduled for summer, Obama is set to push for another "grand bargain" on deficit reduction this summer.
Mar. 25: Fox News: How they are spending our money to study a duck's private parts:
The National Science Foundation has been criticized for spending $384,949 on a Yale University study that examined, among other things, the particulars of male duck's private parts. More on the story of What to Cut.
Mar. 25: The Plain Dealer: Cleveland Air Show Canceled - Administration blames sequestration:
The Cleveland National Air Show has become a victim of the "sequester," as federal budget cuts that took effect at the beginning of the month have forced the cancellation of the annual Labor Day event. Organizers of the air show issued a news release announcing its cancellation. It's the first time the air show won't be held in Cleveland since its first event in 1964, said air show spokeswoman Kim Dell. The air show attracts 60,000 to 100,000 visitors to Burke Lakefront Airport. It has an annual economic impact of $7.1 million.
Mar. 22: Fox News: Senate Dems reject push to balance budget in 10 years, prepare to vote on new spending plan:
Senate Democrats moved Friday to pass their first budget in four years, but only after Republicans put them on record opposing a measure aimed at balancing the budget by the end of the decade. Deficit hawk Sen. Jeff Sessions, R-AL, called a vote late Thursday on a motion to send the Democrats' plan back to committee with instructions to figure out how to balance it by 2023. Every Democrat except one -- Sen. Joe Manchin of West Virginia -- opposed it, while all Republicans voted for it. The measure failed on a 46-53 vote.
Sessions used the vote to needle Democrats into taking more aggressive action to tackle the nation's debt problem. Debt is pulling down our economy now. Not tomorrow -- now," Sessions said. "But tonight, the Senate's majority party denied the American people the growth, jobs, and confidence a balanced budget would create. They denied our children a future free of crushing debt. They denied millions trapped in failed government programs the reforms they need and deserve.
Mar. 22: Fox News: FAA to close 149 air traffic towers, senator calls for using untapped research money to save them:
The Federal Aviation Administration announced Friday that it will close 149 air traffic control towers in a move one lawmaker said was akin to "removing stop lights and stop signs from our roads." That lawmaker, Republican Kansas Sen. Jerry Moran, also claims the FAA could save the towers by tapping into millions of dollars in unspent FAA research money. Yet the FAA moved forward Friday with plans to shut down the air traffic control facilities, describing them as a necessary cutback due to the sequester.
The cuts will affect small airports starting April 7. The closures will not force the shutdown of any of those airports, but pilots will be left to coordinate takeoffs and landings among themselves over a shared radio frequency with no help from ground controllers under procedures that all pilots are trained to carry out. The FAA decided to keep open 24 towers that were on the original list of possible closures.
Mar. 22: The Hill: | The Daily Caller: Senate endorses Keystone XL in budget amendment vote:
The Senate on Friday voted 62-37 to approve the proposed Keystone XL oil sands pipeline in an amendment to Senate budget. Sen. John Hoeven's (R-ND) amendment was largely symbolic, but served as a clear statement that the Senate backs the pipeline.
"It puts the Senate on record in support of the Keystone pipeline project. And that's just appropriate," Hoeven said. "The Department of State has done four environmental impact statements over the last five years — four — and said there are no significant environmental impacts. And it's time that we in the Senate stepped up with the American people." All Republicans voted in favor. The Senate Democrats' budget plan is non-binding, and reconciliation with the GOP House version is unlikely.
Mar. 22: The Daily Caller: Stanford University Drops Popular Pro-Capitalism Course:
Stanford University administrators axed a popular course titled "Moral Foundations of Capitalism" that portrayed free markets in a positive light. John McCaskey, a philosophy professor at Stanford, decided to offer the course after the 2008 financial crash, and began teaching it in 2009. Both the course and McCaskey's teaching style soon earned rave reviews from students of all political stripes. "This is one of the most fantastic courses that I have taken at Stanford," wrote one student.
Mar. 21: The Daily Caller: GOP winning sequestration debate, but losing spending fight:
Republicans are missing an important opportunity to capitalize on the fizzling panic over sequestration, a leading GOP congressman told The Daily Caller. Commentators on the left and the right agree that President Barack Obama and legislative Democrats overstated the potential negative effects of the mandatory reduction in spending increases that kicked in at the beginning of this month.
But California Republican Rep. Tom McClintock, a member of the House budget committee, says the approval of the continuing resolution on the budget this week deferred Republicans' ability to make serious spending reductions until at least this fall. "The CR prevents the House from using its appropriations power to effect spending reforms until September 30," McClintock told TheDC. "Obviously the battle can be fought on appropriations as of October 1. But this effectively postponed the House's power until then."
Mar. 21: Fox News: | The Daily Caller: House and Senate Play Ping Pong with their Budget Bills:
The Republican-controlled House passed a tea party-flavored budget plan Thursday that promises sharp cuts in safety-net programs for the poor and a clampdown on domestic agencies, in sharp contrast to less austere plans favored by President Obama and his Democratic allies. The Senate, however, easily defeated the house plan later Thursday night, in a 59-40 vote.
The measure, similar to previous plans offered by Budget Committee Chairman Paul Ryan, (R-WI)., demonstrates that it's possible, at least mathematically, to balance the budget within a decade without raising taxes. But its deep cuts to programs for the poor like Medicaid and food stamps and its promise to abolish so-called "Obamacare" are nonstarters with the president, who won re-election while campaigning against Ryan's prior budgets. It passed on a mostly party-line 221-207 vote.
Mar. 21: The Daily Caller: Oil, gas industry fends off Obama's proposed
'Energy Security Trust' with new poll results:
Seventy-four percent of voters believe "now is not the time for politicians in Washington to raise energy taxes," according to a new Harris Interactive poll the American Petroleum Institute (API) commissioned.

The poll of 1,000 registered voters, 92 percent of whom voted in the last presidential election, took place from March 8 to March 17, weeks after President Barack Obama proposed in his State of the Union Address that "we use some of our oil and gas revenues to fund an Energy Security Trust that will drive new research and technology to shift our cars and trucks off oil for good." "We could raise far more revenue to the government in the form of income taxes and royalties and lease bid payments," Stephen Comstock, API's director for tax and accounting policy, said in a conference call accompanying the poll's release Thursday.

Mar. 21: Fox News: | The Hill:
Defense to Delay Furloughs for Civilian Workers While Working on Who Will be Affected:
The Defense Department will delay furlough notices for its civilian employees for about two weeks while officials analyze the impact of a new spending bill on planned budget cuts, the Pentagon said Thursday. The delay comes as defense officials continue to wrangle over how many civilians should be exempt from the unpaid leave requirement, including how much of the U.S. intelligence community should be excluded. A senior defense official said Thursday that as much as 10 percent of the department's 800,000 civilian workers overall could be exempt from the furloughs. The official said the exact numbers were still being worked out.

Mar. 20: YouTube Video: Dowdy Presses ICE Director on Release of Illegal Alien Felony Offenders:
It appears to me that the release of aggravated felons was not based on fiscal reasons but instead on a policy to make a political statement about the sequester, Congressman Dowdy (R-SC) said to a witness from ICE. "It costs $600 a day to house aggravated felons," he continued "certainly you could find funds somewhere else in your budget without releasing these people." In a related video Dowdy presses the a Department of Homeland Security witness on the issue of releasing level one aggravated felons.

Mar. 20: The Hill: Senate Avoids Government Shut Down; Fully Funds ObamaCare, Works on Budget:
The Senate on Wednesday approved legislation to prevent a government shutdown and set up a series of votes on what would be the first Senate Democratic budget in four years. In a 73-26 vote, the Senate approved a $984 billion continuing resolution that will keep the government funded through the end of the fiscal year, Sept. 30. Twenty-five Republicans voted against the measure, along with Sen. Jon Tester (D-MT). 

The bill is similar enough to a House version that it is expected to swiftly pass the House Thursday and reach President Obama's desk before federal agencies are set to close on March 28, when the current stopgap funding bill runs out. The measure includes the $85 billion in automatic spending cuts known as sequestration.


Mar. 20: The Daily Caller: Senate keeps White House closed, gov't promoted winery music, cook books, iPhone apps, winter festivals continue: The Senate on Wednesday voted to leave the White House closed to public tours, instead leaving funding in place for government-promoted winery music, cookbooks, iPhone apps and winter festivals, according to Oklahoma Republican Sen. Tom Coburn's office.

The amendment to reopen the White House for tours, which was introduced by the Oklahoma Republican, would have reduced National Heritage Area funding by $8.1 million and directed $6 million of the savings toward keeping the White House and other National Parks open. It failed by a 54-45 vote. "In effect, with this vote, the Senate decided the following activities which are promoted by the government-funded NHA's were more important than redirecting the funds to ensure the public has access to the White House," a Coburn spokesman explained

Mar. 20: The Hill: House Democrats Force GOP Hand on Study Committee Budget:
The House rejected a conservative budget Wednesday in a 104-132 vote, with 171 Democrats voting present. Democrats voted present to force more Republicans to vote against the Republican Study Committee's (RSC) budget. Democrats hoped that by getting their members to vote present instead of against the budget, it might be approved by the House.
[See how your Congressman voted on this legislation]

That would have allowed Democrats to train their campaign ads on the RSC budget, which would boost the Social Security age to 70 and cut Medicare benefits, including for people now 59 years old. The RSC blueprint would balance the budget in four years. Democrats urged their members in an email just before the ballot to vote present.

The budget plan would cut discretionary spending to 2008 levels, and then freeze them there until the budget balances in 2017. It also seeks to simplify the tax code and would move Medicare to a premium-support system. Supporters of the bill said Congress needs to balance the budget as soon as possible in order to start paying down the government's $16.5-trillion debt. "If a budget is nothing else, it is a statement of our values and our priorities," Rep. Rob Woodall (R-Ga.) said. "And the Republican Study Committee's value and priority is to end the passing of responsibilities from this generation to the next, to be responsible for the bills that we create today and paying for those priorities today."

Mar. 18: Politico: Senate Greatly Expands House Continuing Resolution - Sending Us Down the River?
A stopgap bill to avert a government shutdown next week and keep agencies operating through September advanced in the Senate Monday night — powered by a renewed bipartisan partnership in the Appropriations Committee leadership. On a 63-35 roll call, 10 Republicans joined Democrats to limit further debate on the 587-page package, which seeks to greatly expand on the House-passed version of the same continuing resolution or CR.

The strength of the vote all but assures passage, and Senate Majority Leader Harry Reid said it was his "sincere hope" that this will occur Tuesday. All indications are once the Senate acts, the House Appropriations Committee leadership is prepared to take the modified Senate CR directly to the House floor, possibly as early as Thursday.
[See earlier coverage on House Action]

Mar. 18: The Hill: House conservatives' budget balances in 4 years, raises retirement age to 70:
The conservative Republican Study Committee (RSC) released its budget proposal on Monday, a document that calls for eliminating the federal deficit in four years and raising the retirement age to 70. The fiscal plan by the large conservative bloc in the House is significantly more far-reaching than the official House Republican budget authored by Rep. Paul Ryan (R-WI), which balances the budget in a decade. "What we do in this RSC budget is say, you don't have to wait," said Rep. Rob Woodall (R-GA), who wrote the conservative alternative. "We can make tougher decisions today, and we can end our economic crisis even earlier."

The RSC budget, which Chairman Steve Scalise (R-LA) previewed on Friday, would begin Ryan's "premium support" for Medicare five years earlier, impacting people age 59 and younger. It was gradually increase the eligibility age for Social Security and Medicare to 70, with the phase-up beginning in 2024.

Mar. 18: The Hill: Leaders stop budget defections:


House and Senate leaders appear to have minimized defections on their budget plans in a show of strength ahead of fiscal fights this summer.

The dueling blueprints from Rep. Paul Ryan (R-WI) and Sen. Patty Murray (D-WA) tested party unity on both sides, but a whip count by The Hill indicates leaders have enough support to pass them. None of the vulnerable, red-state Senate Democrats up for reelection in 2014 have so far come out against Murray's budget despite the $1 trillion in tax hikes the plan contains. The party can only afford five defections in order for it to pass.

Similarly, in the House, only Rep. Paul Broun (R-GA.) had as of Monday promised to vote against Ryan's plan, indicating that GOP leaders will stay well below the 15-defections limit to approve the budget over unified Democratic opposition. Neither budget resolution has a shot at being reconciled with the other, but both sides believe the votes — which could happen later this week — will give them leverage as they head into another high-stakes battle over the debt ceiling.

Mar. 17: The Hill: Awkward choice: Vote your conscience or for your paycheck
Senate Republicans and House Democrats will face an awkward choice as they consider budget votes next week: They can either vote for a set of policies they abhor, or they can cast a vote that could result in them missing their paychecks. Such is the conundrum created by the so-called "No Budget, No Pay" law that Congress enacted last month, which stipulates that if the House and Senate do not pass budget resolutions by April 15, members in the chamber that fails will have their pay suspended.

House Republican leaders came up with the idea as a way to win conservative support for a debt-ceiling extension while forcing Senate Democrats to vote on a budget for the first time in four years. But it is their GOP colleagues in the Senate who could find themselves in an unintended financial bind if Democrats fail to win 50 votes for the budget that Sen. Patty Murray (D-WA) unveiled this week. But as reported earlier, the Senate Budget is likely to be dead on arrival in the House, so even if it passed the Senate, there is not a big probability that it will go anywhere. The big issue related to the "No Budget, No Pay" bill is that it essentially did away with the debt ceiling until May 18th. Many of the Republican House members either did not understand this, or chose to ignore it, when they pushed this legislation through the House.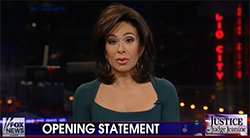 Mar. 17: Fox News: Judge Jeanine: Is the White House being honest with us?
In this video the Judge lists a series of instances where the Obama Administration has not been completely truthful:
- ICE releasing two thousand more than criminal illegal aliens not a hundred.
- Conflicting stories on whether it was the White House or the Secret Service who made the decision to stop the White House tours?
- Holder's letter to Congress denying assault weapons were being sent to members of the Mexican cartels (as part of Operation Fast and Furious) then withdrawing the letter when the truth came out.
- The Administration saying the attack our consulate in Benghazi was a reaction to a video and not a terrorist attack and later changing their story.
So, do we want to trust what they tell us when their history is not to tell us the truth? You be the Judge!
Mar. 17: The Hill: Ryan: House budget only a 'down payment' on looming debt crisis
Rep. Paul Ryan (R-WI), architect of the House GOP budget plan unveiled last week, defended his proposal Sunday, saying it was Washington's best chance to make a "down payment" and avoid a looming debt crisis. "My goal and hope with this budget is that now that the Senate is actually doing a budget, is that we now have this vehicle, this legislative process, which was always intended to work this way," said Ryan on CBS's "Face the Nation." "The House passes a budget, the Senate passes a budget, talk with the president and let's get a down payment on the problem."
Ryan acknowledged that it was unlikely Obama would sign the House GOP budget into law. "But let's get a down payment, let's get a good start on the problem. That, to me, is something that a constructive, bipartisan engagement can accomplish" he said.
Mar. 17: The Hill: Democrats' fiscal 'Jenga' could topple entire economy, says senior Republican
House Majority Whip Kevin McCarthy (R-CA) on Sunday accused President Obama and Congressional Democrats of neglecting to address the nation's deficit, instead playing a game of fiscal "Jenga.""It's the old Washington fiscal game of Jenga. You try to build as much debt as you can take, as much tax as you can take, until you topple the entire economy," said McCarthy on NBC's "Meet the Press."
McCarthy said that Democrats were delaying the tough spending cuts and entitlement reforms the nation needed to restore its fiscal health. "This week, Republicans will have a budget that balances in ten years; the Democrats' budget never balances. No household can run that way," he said, neither can the government!
Mar. 16th: Fox News: Feds fund ecoATM, Robo-squirrel despite warnings about chronic disease research cuts:
The federal government is ready to pay people $45,900 to attend an annual snowmobile competition in Michigan for the next two years. They're also ready to shell out $516,000 for scientists to develop an ecoATM that will give out cash in exchange for old cell phones and other electronics. And why not drop another $349,862 for a study that looks at the effects of meditation and self-reflection for math, science and engineering majors?
These are just a few of the 164 grants the National Science Foundation approved two weeks ago. Yet around the same time, the administration was warning that the sequester would cut into critical research on chronic diseases. While some of the less critical grant ideas were scrapped as the NSF looked for ways to scale back and prioritize, the number of allegedly frivolous grants still in play is not sitting well with Sen. Tom Coburn of Oklahoma.
Mar. 14: The Daily Caller: Another Obama Appointee Caught Stretching the Truth - ICE released over 2,000 illegals:
Immigration and Customs Enforcement Director John Morton toldHouse lawmakers Thursday that ICE had released more than 2,000 illegal immigrants from detention centers in February in anticipation of the sequester. Morton's testimony at a hearing on immigration enforcement before a House appropriations subcommittee contradicted the administration's earlier assertion that only "a few hundred" illegal immigrants had been released due to the mandatory budget cuts. According to a report from the Associated Press, Morton testified that ICE released 2,228 illegal immigrants for "solely budgetary reasons." Morton said that no political appointees played a role in the decision, and that it was the looming sequester that lead to the release.
Mar. 14: Politico: Sparks Fly at Senate Budget Hearing:
Sparks flew at the Senate Budget Committee hearing Thursday morning, offering a preview of the fireworks that are likely to come as the Democrats' budget proposal moves to the floor. But despite the loud pushback from Republicans, Democrats are likely to keep intact and approve the proposal by Chairwoman Sen. Patty Murray (D-WA). The Budget Committee is expected to vote on a series of amendments. The resolution then will head to the full Senate, where it's expected to be subjected to a long list of floor amendments. Votes on the budget are expected next week. Murray's proposal is a direct counterpoint to Rep. Paul Ryan's House budget, which was also introduced this week. Murray's bill doesn't bring the budget into balance in 10 years. It includes about $1 trillion in new revenues, recommending the closing of loopholes and incentives in the Tax Code to match about $ 1 trillion in spending cuts.
During Thursday's hearing, Republican members came out swinging, using time that was allocated to ask technical questions of the staff to make the case that the budget lacks any deficit reductions and instead grows the size of government. "I would really appreciate it if you would stop claiming $1.85 trillion in deficit reduction. It's false. It's false," Sen. Ron Johnson (R-WI) said after a series of tense exchanges with a budget staffer.
Mar. 14: The Hill: Speaker Boehner: 'So far, so good' on Senate's continuing resolution bill:
Speaker John Boehner (R-OH) gave a tentative blessing to the spending bill moving through the Senate and defended the decision not to try to defund the 2010 healthcare law in that measure. [So was it the Speaker who set up the vote in the House where Members who wanted to support the military also had to vote for fully funding Obamacare?. See Discussion Below] The House last week passed a continuing resolution to keep the government funded for the remaining six months of the fiscal year while fully funding Obamacare, and the Speaker had warned the Senate not to "get greedy" and add extraneous measures to the legislation.
Senate Democrats added several full-year appropriations bills to the measure, which already included separate bills for the departments of Defense and Veterans Affairs. But Boehner indicated he did not object to those additions. "I think I'll wait to see what the Senate produces once it comes off the floor. So far, so good," he told reporters at his weekly Capitol press conference. Final passage in the Senate is expected before the end of the week.

Conservative Republicans, led by freshman Sen. Ted Cruz (R-TX), had tried unsuccessfully to attach an amendment defunding President Obama's signature healthcare overhaul. Boehner said doing so would risk "shutting down the government. Our goal here is to cut spending. It's not to shut down the government. I believe that trying to put ObamaCare on this vehicle risked shutting down the government. That's not what our goal is. Our goal is to reduce spending."

Mar. 14: The Hill: Obama asks House Dems to Make concessions for a big deficit deal:
President Obama asked House Democrats on Thursday to give him the political room to make concessions to Republicans on entitlements as part of a deficit-reduction deal. In a meeting with the House Democratic Caucus in the Capitol Visitor Center, Obama said he won't accept anything less than a balanced approach to deficit reduction that includes new tax revenues, according to numerous lawmakers in the room. But he also reminded his troops that, with Republicans in control of the lower chamber, no deal is possible unless Democrats are willing to sacrifice some of their sacred cows.
He openly discussed his proposal to adopt a less generous formula for calculating inflation growth for entitlements, known as chained CPI, in exchange for more tax revenue from Republicans. The offer is controversial with liberal Democrats, as it would reduce the size of Social Security payments over time. Leaving Thursday's meeting, some House members said they weren't ready to concede that change.
Mar. 14: Politico: Obama to Democrats: "I've Got Your Back"
President Barack Obama on Thursday wrapped up his Capitol Hill goodwill tour, telling House Democrats he's got their backs on entitlements. The president has been open to a number of reforms that irk liberals, such as raising the retirement age of Medicare, means-testing and adopting a more modest inflation calculation, known as chained CPI, for Social Security. Obama told the Democrats he won't chase a bad deal and let Republicans entice him into trying for the field goal only to pull the ball away at the last minute time and again.
Mar. 10: Wall Street Journal: [print edition] Peggy Noonan, writing for the Editorial Page of the WSJ Weekend Edition, says we are not facing a debt or a deficit crisis, it is a job crisis. The debt and deficit crisis is just part of the job crisis. The federal tax code is part of it -- it's a drag on everything. The administration's inability to see the stunning and historic gift of the energy revolution is part of it. But it's a jobs crisis that is the central thing. Noonan goes on to say Mr. Obama is making the same mistake he made four years ago. We are in a jobs crisis and he does not see it. He thinks he is in a wrestling match about taxing and spending, he thinks he is in a game with those "dread Republicans". But the real question is whether the American people will be able to have jobs.
Mar. 8: The Hill: Obama budget delayed until April:
The Obama administration will release its 2014 budget more than two months late on April 8, according to congressional sources. Pentagon officials have informed the House Armed Services Committee that the budget is coming on April 8, said Claude Chafin, a committee spokesman. A Democratic congressional source confirmed that is the planned release date. The April release means President Obama's budget will be nine weeks late, as it was due by law on Feb. 4, the first Monday in February.
Republicans have slammed Obama for delaying the budget so far past the deadline. "This indicates a troubling unwillingness to lead," Sen. Jeff Sessions (R-Ala.), the ranking member of the Senate Budget Committee, said of the new delay. "It is odd to me that the president would not have a plan and want the Congress to consider it."

Mar. 8: Fox News: Park ranger: Supervisors pushed sequester cuts that visitors would see:
Another federal employee has come forward to claim the Obama administration resisted efforts to ease the impact of sequester. A U.S. park ranger, who did not wish to be identified, told FoxNews.com that supervisors within the National Park Service overruled plans to deal with the budget cuts in a way that would have had minimal impact on the public. Instead, the source said, park staff were told to cancel special events and cut "interpretation services" -- the talks, tours and other education services provided by local park rangers. "Apparently, they want the public to feel the pain," the ranger said.
The National Park Service is among many federal agencies warning of a major impact from the sequester cuts, which took effect last Friday. The agency has warned of delayed access to portions of Yellowstone and Yosemite national parks, closed campgrounds at Great Smoky Mountains National Park, reduced hours at the Grand Canyon visitor center and other ramifications.
Mar. 8: The Daily Caller: Boehner: Obama 'silly' to close White House to visitors:
House Speaker John Boehner criticized the Obama administration for "locking down the White House" from the American people by stopping tours of the presidential residence, calling the decision "silly." But Boehner would not say if he agrees with an effort by Republican Rep. Louie Gohmert to prohibit federal funds from being used for President Barack Obama's golf trips until the tours resume.
"We'd love to have the American people come and visit their Capitol. You know, even though our budget's been cut, like everyone else's, thanks to proper planning, we're able to avoid furloughs amongst Capitol workers, and tours are going to remain available for all Americans," Boehner told reporters on Thursday at the Capitol.
Mar. 8: Fox News: White House suspends public tours, but first family trips in full swing:
Visitors to the nation's capital looking for a White House public tour are out of luck starting this weekend, courtesy of what the Secret Service says is its own decision to deal with the sequester cuts. But while the agency said it needed to pull officers off the tours for more pressing assignments, the budget ax didn't swing early or deep enough to curtail a host of recent Secret Service-chaperoned trips like President Obama's much-discussed Florida golf outing with Tiger Woods and first lady Michelle Obama's high-profile multi-city media appearances.
Obama's pricey golf outings have been a target for those who see them as examples the administration's selective concerns with running up the tab of Secret Service resources. March 5, Louis Gohmert (R-TX) filed an amendment to a House resolution that would prohibit federal funds from being spent on Obama's golf trips until public tours of the White House resumed. Gohmert referenced reports putting the cost of a recent Obama golf outing with Tiger Woods at $1 million. He also cited press reports saying 341 federal workers could have been spared furloughs if Obama had stayed home. 

Mar. 8: The Daily Caller: White House: Probably not possible for Fox News hosts to privately fund White House tours:
During Friday's White House press conference, deputy press secretary Josh Earnest told reporters that attempts to privately fund White House tours may not be "technically possible.""As you know, there's a move afoot by some of the president's critics to collect private donations keep the White House tours form being canceled because of the sequester," Fox News Channel's Wendell Goler said to Earnest. "Is that technically possible?"
"I don't know if it's technically possible," Earnest said. "My guess is that it's not."
Mar. 8: The Hill: Lawmakers: Spare our flight towers:
A group of Connecticut lawmakers is pushing back on the Federal Aviation Administration's (FAA) plans to close air traffic control towers in their state as part of the agency's sequester budget cuts. The FAA has revealed a list of 173 air traffic control towers, including five in Connecticut, it says it needs to close next month to meet its obligation to reduce its 2013 spending by about nine percent.
But Sens. Richard Blumenthal and Chris Murphy and Rep. Rosa DeLauro, all Democrats, said in a letter to FAA Administrator Michael Huerta that the Connecticut airports should be spared from being closed. "While we understand the extraordinary funding situation the FAA is in as a result of the sequester, we strongly believe that these closures will put at risk public safety in and around the airspace of Connecticut and the local economies that rely on these facilitates for tax revenue and jobs," they continued.
Mar. 8: The Hill: Economy adds 236,000 jobs, unemployment falls to 7.7 percent:
The economy added 236,000 jobs in February and the unemployment rate dropped to 7.7 percent, the first time in the past four years of the Obama Presidency that it has dropped to level below what it was when he came into office. The report released Friday by the Bureau of Labor Statistics suggests job growth is picking up in the private sector as Washington braces for $85 billion in automatic spending cuts and the furloughing of thousands of workers. The White House has warned those cuts will harm the economy, though Obama has scaled back his rhetoric over the last week and now says they will not be the apocalypse.

Mar. 7: The Daily Caller: Fox News personalities offer to pay for two weeks of White House Tours:
As critics pounce on the White House for closing their doors to tourists because of the automatic spending cuts that went into effect this month, a Fox News anchor is offering his own solution that will certainly create some buzz. In a Facebook post on Thursday anchor Eric Bolling announced that he will offer to personally pay the costs to keep the tours at 1600 Pennsylvania Avenue open for a week. Shortly thereafter Fox News personality Shon Hannity offered to pick up the cost of an additional week. The weekly cost is estimated to be as much as $74,000.
Mar. 7: The Hill: President Wants Debt Ceiling Deal by July to Avoid Midterm Election Concerns:
President Obama wants to complete a grand bargain to reduce the deficit by the end of July, an aggressive timeline coinciding with the expiration of the nation's debt limit. Obama told a small group of Republican senators who had dinner with him Wednesday evening that a deficit-reduction deal needs to happen in the next four to five months, according to three sources familiar with the meeting.
A GOP lawmaker who met with Obama said the accelerated timeline has two advantages. Reaching a broad deficit deal by August would allow the president to avoid another messy standoff over raising the debt limit. The president, who has said he will not negotiate on the debt limit, believes it will be harder to forge a major deal in September and beyond, as both parties begin to position themselves for the 2014 mid-term election.
Mar. 7: The Daily Caller: Coburn offers FAA easy alternatives to closing towers, cutting air traffic controllers:
In the latest installment of Okla. Sen. Tom Coburn's letter-writing campaign for administration sanity in implementing the sequester, the Republican is taking on the Federal Aviation Administration's (FAA) spending cut priorities. In a letter to Department of Transportation Secretary Ray Lahood, Coburn called on the FAA to cancel upcoming conferences, stop nonessential hiring or reform low-priority programs before cutting elements that could harm flight safety.
"The Federal Aviation Administration (FAA) announced today that it will close 173 air traffic control towers, effective April 7, and could furlough nearly 47,000 employees, 'including all management and non-management employees working within the Air Traffic Organization,'" Coburn wrote in the letter, dispatched Wednesday. "All of the 173 towers closing April 7 are privately run under contracts. The department's inspector general, however, reported that these same contract towers are both cheaper and safer than towers operated by the FAA."
Mar. 6: The Congressional Record: How The Texas Delegation Voted on HR 933.
Bill Title: Department of Defense, Military Construction and Veterans Affairs, and Full-Year Continuing Appropriations Act, 2013 -- This measure passed the House by a vote of 212 to 197
Discussion: The House Rules Committee rejected an "open rule" (4-9) on this bill. That action prohibited efforts to amend the measure so that ObamaCare could be defunded. That action meant that Members of Congress needed to make a very tough decision in deciding how to cast their vote.
Do they vote for legislation that helps protect our military in the midst of sequestration and provides funding through the end of this fiscal year at the current level of funding less the $85 billion in sequestration?


Do they vote for it knowing that it means that this legislation offers a reasonable chance of passage and approval in the U.S. Senate?


Do they do this with the full understanding that by doing so ObamaCare will be fully funded?


OR, do you vote against the legislation because it it does fully fund ObamaCare, a piece of legislation that conservatives oppose?
This is not an easy decision to make because the leadership of the House (the House Rules Committee) did not allow amendments that would defunded ObamaCare. That meant our Congressmen were stuck with an up or down vote. Below is how the Texas Delegation voted. Only two of the Texas Republicans voted against the measure (Louis Gohmert and Steve Stockman).
[See News Coverage below]

| | | | |
| --- | --- | --- | --- |
| Member | District/Party | In Favor | Against |
| Louis B. Gohmert, Jr | CD-1 (R) | | Against |
| Ted Poe | CD-2 (R) | For | |
| Sam Johnson | CD-3 (R) | For | |
| Ralph M. Hall | CD-4 (R) | For | |
| Jeb Hensarling | CD-5 (R) | For | |
| Joe Barton | CD-6 (R) | For | |
| John Culberson | CD-7 (R) | For | |
| Kevin Brady | CD-8 (R) | For | |
| Al Green | CD-9 (D) | | Against |
| Michael McCaul | CD-10 (R) | For | |
| Mike Conaway | CD-11 (R) | For | |
| Kay Granger | CD-12 (R) | For | |
| Mac Thornberry | CD-13 (R) | For | |
| Randy Weber | CD-14 (R) | For | |
| Ruben Hinojosa | CD-15 (D) | | Against |
| Beto O'Rourke | CD-16 (D) | For | |
| Bill Flores | CD-17 (R) | For | |
| Sheila Jackson Lee | CD-18 (D) | | Against |
| Randy Neugebauer | CD-19 (R) | For | |
| Joaquin Castro | CD-20 (D) | For | |
| Lamar Smith | CD-21 (R) | For | |
| Pete Olson | CD-22 (R) | For | |
| Pete Gallego | CD-23 (D) | For | |
| Kenny Marchant | CD-24 (R) | For | |
| Roger Williams | CD-25 (R) | For | |
| Michael Burgess | CD-26 (R) | For | |
| Blake Farenthold | CD-27 (R) | For | |
| Henry Cuellar | CD-28 (D) | | Against |
| Gene Green | CD-29 (D) | | Against |
| Eddie Bernice Johnson | CD-30 (D) | | Against |
| John Carter | CD-31 (R) | For | |
| Pete Sessions | CD-32 (R) | For | |
| Marc Veasey | CD-33 (D) | For | |
| Filemon Vela | CD-34 (D) | | Against |
| Lloyd Doggett | CD-35 (D) | | Against |
| Steve Stockman | CD-36 (R) | | Against |
Mar. 6: CBS News: Obama administration struggles to illustrate pain from sequester:
The Obama administration has overreached three times in the past 10 days in attempting to illustrate the negative impact of the sequester spending cuts in the short term, giving fodder to those seeking to play down the impact of the cuts.
On Monday, Homeland Security Secretary Janet Napolitano told reporters that major airports had seen lines ballooning to 150-200 percent their normal size. The Transportation Security Administration later clarified that it was not yet seeing longer-than-normal checkpoint lines, though Customs and Border Protection told CBS News there had been increased wait times at two airports due to reduced staffing. The Wall Street Journal reported however, that "officials representing a dozen major airports said there were few if any unusual flight delays or lines at security or customs checkpoints." That included an official at John F. Kennedy Airport in New York, which is one of the two airports that had been specifically cited by Customs and Border Protection. 
Mar. 6: ABC News: The Most Convoluted Sequester Controversy Known to Man?
In perhaps the most convoluted back-and-forth yet regarding whether the Obama administration has overstated the effects of automatic spending cuts, the Department of Agriculture says an employee's email has been misinterpreted and taken out of context by congressional Republicans and news reporters. The story began with a leaked email which seemed to indicate USDA had told one of its workers to make the sequester cuts as painful as promised, dismissing his request for leeway to spread the cuts out and avoid furloughing his employees.
Republican Tim Griffith and Kristi Noem reportedly circulated the email, which came from a USDA field worker who works for the Animal Plant and Health Inspection Service (APHIS) in Raleigh, N.C.  Agriculture Secretary Tom Vilsack was asked about it Monday before the House Agriculture Committee. The email seemed to indicate that USDA shut down an appeal for budgetary leeway, telling him that USDA had already told Congress the sequester would mean cuts to services, and "you need to make sure you are not contradicting what we said the impact would be."
Mar. 5: CNS News: Rep. Huelskamp: 'Defund the Implementation of Obamacare'
Rep. Tim Huelskamp (R-KS) says Congress should work to repeal Obamacare -- and in the meantime, it should use its power of the purse to defund the law when it considers another stop-gap measure (continuing resolution) at the end of March.
"[T]he biggest threat to the future of our country fiscally and otherwise is Obamacare -- $1.4 trillion in new spending coming up because of this program," Huelskamp told Fox News's Sean Hannity Monday evening. Defunding Obamacare would save the government "a few billion dollars," Huelskamp said, but beyond that, "it will help millions of Americans keep their current employer-sponsored health insurance, it will stop HHS (Health and Human Services Department) from continuing to implement a very unpopular law that's driving up premiums."
Asked if Republican leaders in the House are supporting such a move, Huelskamp said, "Right now, it doesn't look like they'll let us vote on defunding Obamacare, and I'm disappointed in that. Hopefully there will be some minds changed in the next 24 to 48 hours."

Mar. 5: The Washington Times: Email tells feds to make sequester as painful as promised:
The White House announced Tuesday that it is canceling tours of the president's home for the foreseeable future as the sequester spending cuts begin to bite and the administration makes good on its warnings of painful decisions. Announcement of the decision — made in an email from the White House Visitors Office — came hours after The Washington Times reported on another administration email that seemed to show at least one agency has been instructed to make sure the cuts are as painful as President Obama promised they would be.
In the internal email, Animal and Plant Health Inspection Service official Charles Brown said he asked if he could try to spread out the sequester cuts in his region to minimize the impact, and he said he was told not to do anything that would lessen the dire impacts Congress had been warned of. "We have gone on record with a notification to Congress and whoever else that 'APHIS would eliminate assistance to producers in 24 states in managing wildlife damage to the aquaculture industry, unless they provide funding to cover the costs.' So it is our opinion that however you manage that reduction, you need to make sure you are not contradicting what we said the impact would be," the internal email says Brown's superiors told him.
Mar. 4: The Hill: Members on Congress Had a Tough Decision to Make!
A bill to fund the government through the end of the fiscal year would not defund President Obama's healthcare law, to the chagrin of some conservatives. The House Appropriations Committee unveiled legislation Monday that assumes sequestration will take effect. The bill aims to protect the Pentagon and some other agencies from cuts, but does not include controversial riders that have hampered bipartisan consensus in the past, including provisions to block implementation of the Affordable Care Act. A temporary spending bill runs out after March 27, meaning the clock is ticking for lawmakers that want to avoid a government shutdown.

The conservative Club for Growth is pushing lawmakers to oppose the bill, given that it would not defund the healthcare law. The group has threatened to score against this week's vote, and circulated a "Dear Colleague" letter from Reps. Jim Bridenstine (R-OK) and Tim Huelskamp (R-KS) on Friday urging members to remember their opposition to the law. "Please commit to not bring to the House floor any legislation that provides or allows funds to implement ObamaCare through the Department of Health and Human Services, the Department of the Treasury, or any other federal entity," the lawmakers wrote."
[See the Vote]
Mar. 4: The Hill: House Appropriations funding bill seeks to soften sequester's blow:
House Appropriations introduced a spending bill that assumes the $85 billion sequester goes forward but takes several steps to cushion the Pentagon and other agencies from the blow. The $982 billion legislation would fund the government through the end of fiscal year 2013 and prevent a government shutdown after March 27, when a current temporary spending bill runs out. It assumes that the sequester cuts that began going into effect on March 1 stay in place, but shifts $10.4 billion into the Pentagon's operations and maintenance account to give the Defense Department more flexibility to prioritize readiness and training programs that were threatened by a full-year continuing resolution.
It also takes several steps to help other agencies from the cuts. These include provisions aimed at making sure border and nuclear security are maintained, that the Federal Bureau of Investigation maintains staffing levels, that security at embassies is increased in the wake of the Benghazi attacks, that the Forest Service has more money to fight wildfires and that federal prisons have enough staff. The bill also includes detailed appropriations for the Defense and Veterans Affairs departments and to fund military construction. In total, the bill includes $518 billion for defense, $2 billion more than President Obama requested for this year.
The bill also extends the current two-year pay freeze for federal workers. Obama has ordered a 0.5 percent increase in federal worker pay after March 27. The House Rules Committee will take up the bill tomorrow (March 5th) with House floor action slated for March 7th.
[See the Vote]
Mar. 3: The Hill: Carrier Cancellation Heats Up Sequester Fight:
The Pentagon's decision to cancel a carrier group's deployment to the Middle East has become a political flash point in the growing fight over how and what the Obama administration is cutting under sequestration. The move has been criticized by some Republicans and The Washington Post's Bob Woodward added fuel to the fire by describing the cancellation as "madness."
"We now have the president going out — because of this piece of paper and this agreement, I can't do what I need to do to protect the country," Woodward said on MSNBC. "That's a kind of madness that I haven't seen in a long time."
Mar. 3: The Hill: Sperling Predicts GOP will Cave on Tax Increases when they see the Pain from Sequester:
Gen Sperling, the senior White House official who engaged in a shouting match with Washington Post reporter Bob Woodward this past week is saying that Congressional Republicans will eventually agree to raise taxes after seeing the "damage caused by billions in automatic spending cuts" [which in reality are a reduction in the amount of increased spending and not real cuts in spending at all].
Sperling, the Director of the National Economic Council and Assistant to the president for Economic Policy, said that Republicans will eventually "choose bipartisan compromise over an ideological position," on Sunday on ABC's "This Week."
Mar. 3: The Hill: Boehner: No one tried harder than me to avoid the sequester:
"There's no one in this town who's tried harder to come to an agreement with the president to deal with our long-term spending problem," said Speaker John Boehner (R-OH) on NBC"s Meet the Press." "No one." He said it was time for "President Obama and Senate Democrats to get serious about the long-term spending problem that we have."
Boehner pushed back against criticism that his party is unwilling to compromise to avoid the $85 billion sequester because they won't accept new revenue. "The president got his tax hikes on Jan. 1," Boehner said. "How much more does he want? When is the president going to address the spending side of this?
Mar. 2: Fox News: Obama Still Dealing with Accuracy Issues Re: Sequester Impact
President Obama and top administration officials are struggling with accuracy in explaining the impact of billions in federal budget cuts known as sequester that kicked in Saturday morning -- even getting called out by a Capitol Hill superintendent about furloughs for support staffers.
Carlos Elias, the Capitol Building superintendent, sent out a memo Friday reminding staffers that the current sequestration plan does not include "reductions in force or furloughs" and that "pay and benefit of each of our employees will not be impacted."
The president, in what appeared to be the administration's attempt to maximize the potential impact of the cuts, said at a press conference earlier that the folks who are cleaning the floors at the Capitol, the security guards and the janitors "... just got a pay cut, and they've got to figure out how to manage that."
Mar. 1: Fox News: Bob Woodward -- Was he threatened?
"His (Gene Sperling's) email followed a conversation where he was shouting at me," Bob Woodward of the Washington Post said. Then Sperling, one of President Obama's senior economic advisors, apologized to the columnist. Woodward said this is just not the way to operate. He (Sperling) is like one of the President's czars and saying things like that are just not appropriate.
Woodward reported in an OpEd piece in Washington Post that the President was the author of the sequester idea. He also talked about Obama "moving the goal posts" asking for more tax increases instead of dealing with cutting spending as part of the sequester.
Woodward also said, "The problem is that members of the press who are not as experienced and have not been doing this as long as I have are giving in to the pressure being brought by the White House. Woodward has gotten email messages from a lot of his colleagues saying that they got similar treatment from the White House.
Lanny Davis, a syndicated columnist reported on WMAL that his editor got a call from a senior White House official saying that if he didn't moderate his columns the editor's reporters would lose their White House press credentials.
Feb. 28: Fox Business News: Republican Sequester Alternative Fails in Senate Vote:
A Republican bill that would replace the onset on Friday of automatic spending cuts under the sequester failed a test vote in the Senate on Thursday. Without a replacement, $85 billion in across-the-board cuts are due to take effect beginning Friday. Congressional leaders are scheduled to meet with President Barack Obama on Friday to discuss replacing the cuts, which go into effect gradually through September. The Republican bill would have given Obama flexibility to determine what cuts to make, but would not have raised any taxes.
Feb. 28: Fox News Special Report: Multiple Reports on the Sequester:
The White House is suddenly on the defense for overplaying their hand about the sequester. The President now tells us this is not a "cliff" and says that it will take some time before the sequester is felt. With the claims from various cabinet members of the dire results if the sequester is allowed to happen, a recent survey showed that 57% believe the only way to make serious cuts if to allow the sequester to happen.
Meanwhile, the Senate considered two alternative plans to the sequester which would allow flexibility on how to cuts would be applied. Both plans failed. Republican leader McConnell questioned why actions were not taken long before we got to this point and said there would be no last minute deals while Majority Leader Harry Reid continued to push for closing "tax loopholes" instead of cutting spending.
In a related story, Washington Post reporter Bob Woodward made public emails from the White House telling him he should reconsider his reporting and that he should recheck his facts, something that seemed as a veiled threat. Subsequently other reporters are coming forward saying they have received similar email messages from the White House and some reporters have privately admitted they have changed their reporting.
Feb. 27: Fox News Special Report On-Line:
The sequester is not a reduction in spending. Instead of increasing spending by $150 billion, the increase will only be about $70 billion. So the sequester is really only reducing the amount of the increase. Secondly, the White House is saying the "cuts" will be immediate and painful, but then they are telling us that most of the impact will not be felt until April or May. Thirdly, if the impact of the cuts are not as drastic as the White House is saying then it puts the Administration in a tough situation in future negotiations with the Hill. For that reason alone, Charles Krauthammer said, it would be in the best interest of the President to make the sequester cuts as painful as possible.
Feb. 25: Fox News: Cuts? There Will be No Cuts!
The problem is all that is happening is that we are cutting the amount of the increase. We will still be increasing the amount we spend. According to "The Five" on Fox News "President Spending" doesn't want any cuts so he is trying to get everybody energized but what he really wants is another increase in taxes. The problem is that the cuts, if it happens, will be across the board and will not be targeted. But the House has introduced legislation to allow each Department to target the cuts within their own agencies. The sequester will not be the end of it, in less than a month we will be seeing this debate allover again with the Continuing Resolution.
Feb. 25: Fox News: The Economy May Be Stalling, Some Economists Say:
The economic forecast is not good. In 2012 the economic growth in our country dropped from 2.2 % to 2.0% and with higher gas prices and increased taxes we are in jeopardy of stalling the economy altogether. What the Obama Administration has not learned yet is that you don't raise taxes in slow economy. To do so, takes money away from those who would otherwise spend it and thereby buildup the economy.
Feb. 22: Fox News: In the October 2012 Presidential Debates Obama said the sequester was not his idea and it will never happen. It looks like he may be wrong on both fronts. The first is that the sequester was, in fact, the President's idea. The second is that it looks like the sequester may, indeed, happen. According to Fox contributor Rich Lowry, over ten years, these cuts are a drop in the bucket equaling about three percent of the total U.S. spending. It is about the amount that the Federal Government spends in nine days. The Administration is painting a picture of the worst possible case in order to instill fear so they get what they want. Lowry says these cuts should happen. If we cannot cut the budget by three percent, he said, we might as well declare bankruptcy right now!
Feb. 22: Fox News: Administration ramps up budget cut warnings, Republicans say drama 'won't solve the problem' The Obama administration on Friday ramped up its campaign to paint an ominous portrait of what would happen if automatic spending cuts take effect March 1, with Transportation Secretary Ray LaHood warning that air traffic control towers would be shut down as part of a host of travel-disrupting FAA cuts.
After a week marked by intense partisan bickering, LaHood again put the pressure on Republicans to find a way out of the impasse. "Trying to drive up Republicans' negative poll numbers by posing with first responders and the men and women of America's Armed Forces while making vague calls for higher taxes won't solve the problem," Michael Steel, spokesman for House Speaker John Boehner.
Political groups on both sides are also weighing in. The conservative Crossroads GPS put out a web video Friday airing Obama's dire warnings alongside news broadcasts reminding viewers that the idea for the so-called sequester came from the White House. "The sequester is Obama's mess. Let him clean it up," the video says.
Feb. 21: Fox News: Because You Asked -- What is the Truth About the Sequester?
The sequester is not a reduction in spending, it is a reduction of the increase in spending. It would reduce the increase of our spending from 13.5% to 5.2% which is still an increase in spending. Also, Bryan York of the Washington Examiner says, nothing will happen immediately if the sequester takes affect. Part of that is because notice is required if the federal government is going to furlough anyone and also because if there is a sequester there will be efforts to lessen the impact of them, perhaps as part of the Continuing Resolution that will be facing us later in March. And statements that the Obama Administration has "no choice" but to make cuts to programs that support first responders is not true at all. The Administration can adjust the cuts within each department.
Feb. 21: Fox News: VA Town Braces for Sequester Cuts:
Hampton Roads, like so many communities in Virginia, has an economy that centers around the military -- in their case, the Navy. And with eight days left for Congress to act to halt looming budget cuts known as the sequester, residents are increasingly worried that Naval Station Norfolk -- the lifeblood of the community -- will be hard hit.
Tom Taylor, who runs MF&B Marine Warehouse in Hampton Roads, is already watching contracts with the Navy dry up at his small ship-repair business. "It's not like turning on a spigot. You don't turn it on and turn it off," Taylor said in an interview with Fox News. "These (contracts) are months or years in the planning stage, so if they are canceled, you know, they don't come right back. ... So that's pretty alarming."
Feb. 21: The Daily Caller: White House Sequester Scare Campaign Continues:
The President phoned top GOP Hill leaders Thursday, marking another stage in the White House public relations campaign to spur a media storm over the pending budget sequester that will trim federal spending by roughly two percent in 2013. White House spokesman Jay Carney announced Obama's phone calls, but declined to describe the conversation.
"The president spoke with Sen. [Mitch] McConnell and the Speaker" John Boehner, Carney said during the midday press conference. "I have no content to read out to you from those conversations," he said.
Feb. 21: The Hill: President Offering False Choices, Wants Us to Raise Taxes Twice in Eight Weeks!
House Majority Leader Eric Cantor (R-VA) said Thursday that President Obama was offering "false choices" on the looming sequester. Cantor said in a statement that the cuts set to go into effect on March 1 – which he agreed were neither smart nor fair – would only be implemented because Democrats refuse to restrain federal spending. The majority leader added that, after the recent "fiscal cliff" deal raised some $600 billion in revenue, it was time for Washington to move to the spending side of the ledger.
"President Obama has said that unless he gets a second tax hike in eight weeks, he will be forced to let criminals loose on the streets, the meat at your grocery store won't be inspected and emergency responders will be unable to do their jobs," Cantor said in his statement. I would contend that if he makes these choices, he is making the wrong ones!
Feb. 20: Fox News: Boehner says to Obama - You Created Spending Cut Crises, You Fix it!
House Speaker John Boehner had a simple message Wednesday for President Obama after he used the bully pulpit to blame Republicans for the "meat cleaver" of looming spending cuts: You created it, you fix it. "Having first proposed and demanded the sequester, it would make sense that the president lead the effort to replace it,"
Feb. 20: The Hill: Administration Threatens Deep Civilian Defense Cuts:
Defense officials have warned lawmakers that sequestration will devastate the military and lead to a hollow force, but the civilian furloughs will be one of the first major impacts felt by the across-the-board cuts. The Pentagon furloughs will affect civilians across the country. Pentagon officials have said that civilians could face up to 22 days of furloughs, one per week, through the end of the fiscal year in September. The employees would receive 30 days' notice before being
Feb. 20: The Daily Caller: Obama Spokesman Admits the Sequester Would Not Cause the Loss of Jobs Claimed:
White House spokesman Jay Carney backed away Wednesday from his boss' apocalyptic claims of imminent mass-layoffs if Congress does not stop the scheduled budget sequester by raising taxes. But when pressed today by reporters whether the sequester would for immediately force of "hundreds of thousands" of Americans, Carney demurred on Obama's dire claims. He answered "No, but there will be job losses."
Feb. 20: The Hill: Obama Takes the Attack on Sequester to Local TV Markets:
President Obama is using some of the eight interviews he conducted Wednesday with local television stations to blast Republicans over the $85 billion in automatic spending cuts set to hit the government on March 1. "What I want to say is that it's not necessary," Obama told Boston's WCVB, when asked about looming job losses because of the automatic government spending cuts. He said the sequester, which was part of a bill he signed into law in 2011 was something "designed to be avoided."
The interview with WCVB is part of a public relations effort Obama designed to win over the public to his side in the fight over the sequester, which the Congressional Budget Office estimates will reduce hiring by 750,000 and take 0.7 percent from economic growth.
Feb. 19: The Hill: Who is Going to be Blamed for the Sequester?
House GOP lawmakers say they do not fear political blow-back if Congress fails to prevent $85 billion in automatic spending cuts from triggering in two weeks. The cuts known as the sequester are almost certain to hit the Pentagon and non-defense discretionary spending on March 1, and congressional Republicans and the White House are focused on avoiding blame for the cuts.
Feb. 19: Fox News: President Grandstanding Again?
Obama's appearance with firefighters and other first responders was another photo op to renew his call for tax hikes on top earners to offset part of automatic spending cuts set to kick in two weeks hence. Obama's argument is that Janet Napolitano and her team at the Department of Homeland Security will have no choice but to cut off subsidies for local fire departments once the cuts take effect, forcing layoffs at firehouses.
But this is not entirely truthful. Napolitano can make other cuts instead of the ones Obama is using to publicize his position. So it's not true that she will have "no choice" but to make those cuts. For example, she could presumably cut other parts of her agency's budget, the high volume of ammunition orders for instance. But doing that wouldn't be so dramatic. What is a better photo op? Having Obama pose with a case of shotgun shells or with people who run into burning buildings for a living. It is important to remember that what sells well on TV might not really be the truth!
Feb. 17: FoxNews: In an effort to avoid costs, three states join others in rejecting to set up state health insurance agencies: As the final deadline for creating state health insurance exchanges passed Friday, New Jersey, Tennessee and Florida said they would not work with the federal government on operating insurance markets required under ObamaCare. Exchanges are online markets required under the federal health care law where consumers will be able to buy individual private policies and apply for government subsidies to help pay their premiums.

Meanwhile FoxNews reports other governors are making forays into states like California urging businesses and residents to consider moving to states with low taxes and less regulation.
Cowboy boot-wearing Rick Perry attracted national attention this month when he traveled to California dangling the twin carrots of lower taxes and fewer regulations to try to poach residents and businesses. Yet the Texas governor is not alone in such efforts, with Republican lawmakers from such states as Florida, Virginia and Wisconsin making similar moves. As part of a broader ideological battle among the states, officials are trying to lure business and grow their own economies by extolling the virtues of a small-government climate.

Perry's foray started with a radio campaign in which he urged California businesses frustrated by myriad regulations and new tax increases to "come check out Texas.""Our low tax taxes, sensible regulations and fair legal system are just the thing to get your business moving to Texas," Perry said in the 30-second spots.

Feb. 16: FoxNews: Rep. Roby leads Republicans in asking Obama to take lead to avert drastic cuts:
Republicans on Saturday stepped up their call for President Obama to take the lead in negotiations to avert roughly $85 billion in automatic cuts to the military and other government spending next month by replacing the cuts with less drastic reductions.

Rep. Martha Roby (R-AL) said the president is responsible for the cuts because his administration proposed the plan, known as sequester, during the 2011 debt-limit negotiations. "In his State of the Union address, President Obama himself admitted that these cuts are a really bad idea," Roby said Saturday in the weekly Republican address. "What the president failed to mention was sequester was his idea."

Roby, chairwoman of a House Armed Services subcommittee, is among several lawmakers, including Marsha Blackburn (R-TN), who after Obama's speech Tuesday, is saying how the across-the-board cuts to the military would impact bases, including those in their home districts.

Feb. 16: The Hill: Experts debate the benefits of a proposed minimum wage hike:
An Obama administration proposal to raise the minimum wage may not help as many low-wage earners as estimated. Keith Hall, a Mercatus Center scholar at George Mason University and former head of the Bureau of Labor Statistics (BLS), said the only real avenue to increasing wages and assisting those with incomes below the poverty level is to create jobs.

"It's probably not going to affect that many people," Hall said. Looking at the 2011 statistics 1.7 million workers earned exactly the prevailing federal minimum wage of $7.25 an hour while BLS reports that there are 73.9 million workers who are 16 years or older. That would mean that about 2.5% of the total workforce would be affected by the proposed increase.

Feb. 16: The Daily Caller: Legislation repealing Obamacare tax paid by small businesses reintroduced:
A bipartisan coalition of congressmen introduced legislation Friday calling for the repeal of the Health Insurance Tax (HIT) on fully-insured premium markets imposed by Obamacare. HIT will kick in in 2014 and is expected to primarily fall on small businesses and the self-employed, who are the main purchasers of fully-insured premiums. According to an earlier study, not repealing the tax could cost also cost between 125,000 and 249,000 jobs by 2021 and raise the cost of employer-sponsored insurance by 2-3 percent, a cumulative cost of nearly $5,000 per family.
However, just because legislation has been introduced does not mean it will see the light of day. The current Administration is not likely to accept this repeal.

Feb. 15: The Wall Street Journal: Millions Defraud Federal Phone Subsidy Program:
The Lifeline program provides phones to low-income Americans and ensures that the poor aren't cut off from jobs, families and emergency services. The program is funded by charges that appear on the monthly bills of every landline and wireless phone customer, amounting to a roughly $2.50 a month per household fee to fund subsidized communication programs. The program is plagued with fraud and is poorly regulated, says the Wall Street Journal.

According to the FCC (Federal Communications Commission) payments are shooting up from $819 million in 2008 to $2.2 billion last year. Recent FCC rules required that carriers verify recipient's eligibility under the program. As a result the five top Lifeline carriers revealed that 41 percent of its 6 million subscribers could not demonstrate eligibility or did not respond.


Feb. 13: The Hill: House GOP prepares stopgap spending bill to avoid shutdown:
House appropriators are finalizing a stopgap spending bill to prevent a government shutdown after March 27, and the bill could see a vote before the end of February. House Appropriations Chairman Hal Rogers (R-KY) said Thursday that he is crafting a continuing resolution at the current level of spending, thereby separating the issue of a government shutdown from the question of how to deal with automatic sequestration cuts.

The stopgap spending bill would be set at the current level of $1.043 trillion for the entire fiscal year that began Oct. 1. It would specify that the $85 billion sequestration is allowed to take place unless it is separately turned off.

Feb. 13: The Hill: Obama is Delusional on Debt:
House Budget Committee Chairman Paul Ryan (R-WI) lambasted President Obama on Wednesday for taking the deficit too lightly in his State of the Union address. Ryan, holding his first hearing of the budget panel since running for vice president last year, said the latest deficit projections from the Congressional Budget Office show Obama is "deluding" himself on the debt.

"It seems as if they think the heavy lifting on debt reduction, deficit reduction is behind us, we have just a little bit left and then we're done," Ryan said. "I really worry that our partners in government, here — two-thirds of it, the Senate and the White House — are deluding themselves in thinking this thing is taken care of."

Feb. 13: The Wall Street Journal: In his State of the Union address, Obama, addressing a Congress driven by disputes over how to rein in budget deficits, rejected broad changes to Medicare, the federal health program, as some Republicans have proposed. The president, who won an increase in tax rates on high wage-earners earlier this year, said he would press for deficit reduction by ending tax breaks and deductions for wealthier Americans, as well as for spending cuts. [Editorial Comment: Deficit reduction? Really? From the person who helped lead us into a $16+ trillion debt? The way he plans on reducing the deficit is by spending more and then raising taxes even higher in order to cover the cost. The problem with this approach is that it will doom our economy and drive businesses overseas.]

In the Republican Party's formal response, Sen. Marco Rubio (R-FL) said the president was wrongly relying on government, rather than the free market, to boost the middle class. "Presidents in both parties—from John F. Kennedy to Ronald Reagan—have known that our free enterprise economy is the source of our middle class prosperity," Mr. Rubio said. "But President Obama? He believes it's the cause of our problems."

Obama also encouraged the Congress to raise the minimum wage from $7.25 an hour to $9. What he doesn't understand is that if this happened it would mean an increase in unemployment as companies hire fewer people and try to maximize the productivity of those employees who are left.

Feb. 13: The Hill: Republicans: Obama State of the Union dims hopes for deficit-reduction deal:
Republican lawmakers say a deal to reduce the deficit and replace $85 billion in automatic spending cuts set to take effect on March 1 is even less likely after President Obama's State of the Union address. While Obama tackled the deficit head-on in his speech, mentioning the word "deficit" 10 times at the top of his address, Republicans accused him of paying lip service to the debt in a speech that called for a higher minimum wage and new spending on programs Obama said were designed to lift people out of poverty.

Republicans say the president hasn't met his own goals for reducing the deficit, noting Obama's pledge four years ago to cut the deficit in half by the end of his first term — a pledge that has gone unfulfilled.


Feb. 11: The Hill: Senate Dems aim to have sequester bill ready by Thursday:
Senate Democrats are aiming to produce a bill to replace the sequester by Thursday, according to Democratic aides. The bill would include tax increases and spending cuts, and it would replace the $85 billion in automatic spending cuts known as the sequester. The sequester, which most members in both parties say will damage national security with its cuts to the Pentagon and other programs, is set to take effect on March 1, leaving Congress little time to act before the Presidents Day recess next week.

Feb. 11: Fox Business News: Democrats Getting Worried that the Sequester Might Actually Happen/Increase Rhetoic: A memo from Democrats on the House Appropriations Committee delivers the emotional impact of the $85 billion in mandated sequestration cuts coming March 1. The memo warns of furloughs of two weeks or longer for roughly 4,000 employees at the Federal Aviation Administration, and an unspecified number of layoffs of USDA food safety inspectors -- which could force meat plant shutdowns, it says.

Also, 5,000 border patrol officers could be furloughed, which "could jeopardize security at points of entry," the memo says. Another 1,300 correctional officers could be laid off, as well as 1,000 federal law enforcement officers at places like the FBI. "The Justice Department would have to furlough hundreds of federal prosecutors," says a White House official.

Feb. 10: The Hill: Defense, domestic groups ally for last-minute drive to halt sequester:
The defense industry is joining forces with health, education and other domestic sectors to wage a last-minute push to stop the across-the-board sequestration cuts from taking effect.


Feb. 9: FoxNews: Obama to refocus on economy in State of the Union
President Barack Obama will focus his State of the Union address on boosting job creation and economic growth at a time of high unemployment, underscoring the degree to which the economy could threaten his ability to pursue second-term priorities such as gun control, immigration policy and climate change.
Feb. 9: From the Editor: My family and I attended the Brazoria County Lincoln Day Dinner this evening. Senator John Cornyn was one of the speakers. He talked about the "generational theft" taking place in Washington as we continue to spend more than we take in. He noted that the only "real" debt reduction seems to be the mandatory sequester cuts and those the President wants to take off the table.

For more on the mandatory sequester visit FoxNews: White House outlines deep cuts that could be coming soon: Trying to ratchet up pressure on Congress, the White House on Friday detailed what it said would be the painful impact on the federal work force and certain government assistance programs if "large and arbitrary" scheduled government spending cuts are allowed to take place beginning March 1. At a White House briefing Obama budget officials said the cuts would include layoffs or furloughs of "hundreds of thousands" of federal workers, including FBI agents, U.S. prosecutors, food safety inspectors and air traffic controllers.
I guess my question is why do they always run up the flag pole examples of things that are important jobs and never seriously address those that are not? Congress, hold the line. Yes, it may mean some serious cuts to our defense budget, but finally we have something that is going to force the White House to get serious about real budget cuts.
[Also see an addtional strategy I suggested earlier on how to reduce spending -- Obamacare]

Feb. 8: The Daily Caller: Despite optimism-mongering in the media and in certain quarters of Washington and elsewhere, we've had indication after indication in the economic data that whatever lousy progress has been made in nudging up GDP, American workers have not benefited from it. But now we know from the horse's mouth, so to speak: they're mired in a tough new reality that is in many ways getting worse.

"Deeply pessimistic" is the term used in the sobering survey, "Diminished Lives and Futures: A Portrait of America in the Great-Recession Era." A confirmation of bits and pieces of economic data that has been trickling in over the years on this topic.

Feb. 7: The Daily Caller: The nation's economy will grow by only 1.4 percent in 2013, and unemployment will remain above 7.5 percent through 2014, according to a Feb. 7 forecast by the non-partisan Congressional Budget Office.

"If that occurs, 2014 will be the sixth consecutive year with unemployment exceeding 7½ percent of the labor force, the longest period of such high unemployment in the past 70 years," said the CBO's statement, titled "Economic Growth Is Likely to Be Slow in 2013 and Pick Up in Later Years."


Feb. 6: The Hill: Here is your chance Congress to shut down Obamacare: The Appropriators are preparing stopgap bill to avoid government shutdown in March. The move is a strong signal that House and Senate deals on more detailed appropriations bills — deals that were close to being finished last December — are unlikely. Work on the stopgap bill is technical at this point, and it's unclear how long the stopgap bill would fund the government. The most likely scenario is a six-month bill to finish out the fiscal year.

Now, here is how to shut down Obamacare:

Do you remember the "Hyde Amendment" from back in 1976? It was a provision placed on appropriation bills that prohibited the use of Federal funds for abortions. The same process can be used today. All appropriation bills must originate in the House of Representatives. This includes Continuing Resolutions (CR) such as the stopgap measure discussed in The Hill article (above). All that is needed is to have the House include language that stipulates none of the funds authorized in the CR may be used to initiate, administer, enforce or fund any of the programs and provisions of the Affordable Care Act. Then, and this is the hardest part, the House needs to stand firm. They need to stop worrying about whether they will be reelected next year. They need to do what is right and be statesmen.

If the Senate doesn't agree with the CR amendment language (and it probably won't), the House needs to make it clear that the House is not shutting down the Federal government. They are only prohibiting the use of funds to implement, administer, and enforce Obamacare. De-funding Obamacare will also have the side benefit of reducing federal spending which is what we need to also do. [See More]

Feb. 6: The Daily Caller: Over-regulation, not phantom spending cuts, caused economy to shrink in fourth quarter: Last Tuesday, The Conference Board — a private group that measures consumer confidence —announced that consumer confidence had plummeted in January. One day later, the Commerce Department reported the U.S. economy had contracted by 0.1 percent in the fourth quarter of 2012. Then on Friday, the Labor Department announced that the unemployment rate had moved back up to 7.9%. The mainstream media and President Obama downplayed the news or blamed phantom "spending cuts." Hardly anyone brought up the dramatic increase in regulation over the last few years and the fear that President Obama's re-election opens the door to a massive onslaught of intrusion into every aspect of our lives.

Feb. 6: The Wall Street Journal: A slowly improving economy and recently enacted tax increases will help bring down the federal deficit for the next few years, the Congressional Budget Office said Tuesday, but it will take another $2 trillion in belt-tightening over the next decade to begin to move the federal debt closer to historic levels. CBO projects that if current laws are left unchanged, the debt will be 77% by 2023, and it will be higher if across-the-board spending cuts are diluted or various expiring tax breaks are extended. (The deficit is the difference between spending and revenues in a given year; the debt is the government's total borrowing, or the sum of past deficits.)

Douglas Elmendorf, director of the nonpartisan agency that advises Congress on budget and economic matters, emphasized the risks of failing to stabilize the debt. "At this level of debt relative to GDP, our country would be incurring costs and bearing risks of a sort that we have not [had] in our history except for a few years around the end of the second World War," he said. "At the same time, bringing debt down relative to GDP requires reductions in services that we are getting from the government, or higher taxes paid to the government."

Feb. 4: Daily Caller: Former Reagan budget director warns of new housing bubble:
The market may be rising, but according to one expert, all is not well on the home front.
David Stockman, former director of the Office of Management and Budget in the Reagan administration, insists that the housing market outlook is not as cheery as some say.
"I would say we have a housing bubble … again," Stockman contended. "We don't have a real organic sustainable recovery, because in a world of 'medicated money' by the central bank, things aren't what they appear to be." Stockman pointed to artificially low interest rates and speculation in the real-estate market as culprits.

"It's happening in the most speculative subprime markets, where massive amounts of 'fast money' is rolling in to buy, to rent, on a speculative basis for a quick trade," he said. "And as soon as they conclude prices have moved enough, they'll be gone as fast as they came." Any kind of interest-rate increase will lead to a bust, Stockman said.

"As soon as the Fed has to normalize interest rates, housing prices will stop appreciating and they'll probably head down," he explains. "The fast money will sell as quickly as they can and the bubble will pop almost as rapidly as it's appeared." Two major buyers are missing from the current real estate market, according to Stockman: first-time buyers and trade-up buyers. High unemployment and burdensome student loan debt, he said, will restrict the younger generation from entering the market.

Feb. 4: Daily Caller: Obama criticized for not submitting budget on time, again:
Republicans on Capitol Hill are criticizing President Obama for failing to submit by Monday a budget for how to spend taxpayer money to Congress. Doing so is mandated under the law.
"By law, the President was supposed to submit his budget to Congress today," House Majority Whip Kevin McCarthy wrote on Twitter. "However, it will be late – making this the 4th of 5 late budgets."

Said Wisconsin Rep. Paul Ryan, the House budget chairman, in a Monday press release said "I'm disappointed the President has missed his deadline. But I'm not surprised." Obama is required under the Budget Act to submit a budget to Congress by the first Monday in February. White House budget director Jeffrey Zients has blamed the lateness of Obama's budget on the American Taxpayer Relief Act — the legislation pushed by Obama that raised taxes on wealthy Americans.

No budget has passed the Senate since 2009. "We spend $1 trillion more than we take in each year," Ryan said. "In fact, we spend $3 for every $2 we take in. And we can't keep that up. If we stay on this path, our finances will collapse."

Feb. 4: The Hill: GOP seizes on Obama's blown budget deadline:
Congressional Republicans are seizing on the White House's failure to meet the Feb. 4 legal deadline to produce an annual budget as a gift that will help them recover from months of political beatings. The White House on Monday declined to say when President Obama's delayed 2014 budget will come out.

"President Obama missed a great opportunity today to help our economy. This was supposed to be the day he submitted his budget to the Congress. But it's not coming. It's going to be late. Some reports say it could be a month late," Speaker John Boehner (R-OH) said on the House floor.

On Wednesday, the House will vote on a bill to require the president to submit a budget that eventually balances — something Obama's 2013 budget never did. The GOP's political offensive began when it forced the Senate and White House to accept No Budget, No Pay legislation that will require senators to go without pay if they fail for the fourth time in a row to do a budget resolution this year. [See analysis of what this legislation really does.]

Feb. 1: Politico: Jobs Growth Continues Slow Grind
The U.S. economy added 157,000 jobs in January as the unemployment rate rose slightly to 7.9 percent, federal economists reported Friday. "This is the wrong time for President Obama to scrap his jobs council and delay his budget," House Speaker John Boehner said in a statement. "Month after month we see the same thing," he said. "High unemployment and even more debt" continue to rise Boehner said referencing the president's decision Thursday to allow his job council to disband.


Jan. 30: The Wall Street Journal: Recovery shows a Soft Spot:
The U.S. economy shrank for the first time in more than three years in the fourth quarter, underscoring the halting nature of the recovery. But the strength of consumer spending and business investment suggested that the economy will grow, albeit slowly, this year.

Jan. 30: FoxNews: Economic Growth in the U.S. Goes Negative:
The new normal for the U.S. economy – sluggish growth – gave way to something more dire in the final three months of 2012. Economic output actually shrank in the fourth quarter of the year. And while economists say that there are hopeful signs, especially higher consumer spending, and logical reasons for the contraction, pared down defense spending and Hurricane Sandy, having the first recessionary quarter since 2009 is still dire news.

With the new Obama taxes in place, including an across-the-board hike on workers with the expiration of Obama's payroll tax holiday and a sharp increase on income taxes on top earners, some in the financial world worry that the economy is just not strong enough to bear the burden of the Obama tax hikes. Deepening their concerns is the fact that reduced spending by Defense contractors ahead of looming cuts was such a big part of the plan. The deal reached on taxes between Obama and Senate Minority Leader Mitch McConnell didn't address the pending cuts, nor does a stopgap plan from House Republicans to temporarily extend the government's credit limit.

Jan. 30: The Fiscal Times:Why the GOP retreated on the debt ceiling debate: GOP Hill staffers heard an explanation that gives a sense of how more conservative thinkers view the debt limit. As it was explained, the U.S. needs to pay the obligations it already has regardless of the government's legal borrowing authority. The problem is not so much with the debt limit, although that is certainly a major issue. The problem is with the hunger to spend more and not reduce the current level of spending. It is going to take a livestyle change to get the country back on track.

Jan. 29: Business Insider: How The House's Unprecedented Debt Ceiling Bill Could Make The Next Round Much Easier: The bill, championed by Republican House Speaker John Boehner and House Budget Chair Paul Ryan, is an unusual one with a format that is unprecedented in recent debt ceiling history. But analysts think that in some ways, the setup could actually be beneficial for future fiscal talks because it takes out much of the uncertainty leading up to the next potential fight.

The big difference between this debt-ceiling bill is that it is not technically a clean hike in the nation's debt limit. It's a suspension of the debt ceiling for a certain time period. On May 19, the debt limit will be raised by an amount "necessary to fund commitment incurred by the Federal Government that required payment." The Bipartisan Policy Center estimates that number will be around $450 billion.

Jan. 29: FoxNews Business:  Analysis: U.S. rating still at risk despite reduced threats from DC:
The retreat by Republicans from threats to push the United States into a debt crisis has stayed the hand of at least one credit ratings agency, but that does not mean the United States is suddenly safe.  The country has retained its top triple-A rating from Moody's Investors Service and Fitch Ratings, despite rising debt levels. It was downgraded by one notch in 2011 by Standard & Poor's after a chaotic debt ceiling battle. On Monday, Fitch said the recent debt ceiling extension eliminates the immediate risk to the rating.

But going forward, the emerging signs of lawmakers working together are not likely to be enough to head off more downgrades of U.S. government debt, which is used as a benchmark for borrowing costs and considered the safest of safe havens. "The negotiations for the medium-term deficit and debt trajectory are the most important things in our ratings," said Steven Hess, lead U.S. sovereign credit analyst at Moody's Investors Service.  "We're looking for a convincing downward trajectory in the debt ratios and we don't think that that's yet there."

Jan. 27: Editorial Comment on the "No Budget No Pay" Bill: The House passed the "No Budget, No Pay" bill. But is the bill a good thing? Let's take a look at it for a moment. Yes, it is a good thing to require both the House and the Senate to pass a budget. The House has done so every year while the Senate has not done so in over three years. And tying the pay of the House and Senate members to the passage of a budget is also a good thing. But does it really stop the Members of the House and Senate from getting paid? Not really! Take a look at the language and you will see that it only postpones the payment until either a Continuing Budget Resolution for FY 2014 is passed by the affected house of Congress or the end of the 113th Congress. So the members will get paid but maybe a year and a half from now! That is not to say that doing this is not an incentive to get to the business at hand, but it is not a complete prohibition on their getting paid as the short hand name of the bill would suggest.

But let's look a little deeper at what the bill does! First, it eliminates (removes) the debt ceiling for three months. The Secretary of the Treasury may increase the debt, subject to a resolution of disapproval from the Congress. That means that the Secretary has a free hand to increase the debt because it is highly unlikely that the Senate will pass any resolution of disapproval, thereby nullifying the ability of the House to stop him. Second, it only requires that each house of Congress pass a budget bill. So what does that really mean? It means that all they need to do is to pass a bill. The bill can be dead on arrival at the other house -- which is likely what the Senate will do. It does not require that a budget resolution be adopted by both houses of Congress and sent to the President for signature. So in short, the bill has no teeth in it and it has no real impact other than to eliminate the debt ceiling for three months -- which is not a good thing! Is there any wonder why 86 Democrats voted for this measure, seven of them from the Texas delegation? Five Texas Republicans stood their ground and opposed the bill. See how each member of the Texas Delegation voted (below).

What does the bill not do? It does not require a reduction in spending. It does not require any spending cuts on the part of the Administration or the Congress. Folks, we have a spending problem which, in turn, is causing our debt problem. The credit rating agencies are down grading the credit of the United States because of the inability of the Congress and the President to cut spending [See Source]. Unless we start dealing with our spending problem we can expect to see a further downgrading of our credit rating, regardless of the amount of the debt ceiling.


Jan. 23: CSPAN: The House, by a vote of 285-144 passed the "No Budget, No Pay" measure that ties a temporary suspension of the federal debt limit with the Senate passing a budget. House Speaker John Boehner (R-OH) called the measure "a plan to balance the budget over the next ten years." The deal would raise the government's current $16.4 trillion debt limit until May 19. In exchange, the House and Senate must pass a budget resolution by April 15 or place members' salaries in an escrow account until the chamber acts.
| | | |
| --- | --- | --- |
| | For | Against |
| Republicans | 119 | 33 |
| Democrats | 86 | 111 |
| Totals | 285 | 144 |

How the Texas Delegation voted on "No Budget No Pay"

| | | | |
| --- | --- | --- | --- |
| Member | District/Party | In Favor | Against |
| Louis B. Gohmert, Jr | CD-1 (R) | | Against |
| Ted Poe | CD-2 (R) | | Against |
| Sam Johnson | CD-3 (R) | For | |
| Ralph M. Hall | CD-4 (R) | For | |
| Jeb Hensarling | CD-5 (R) | For | |
| Joe Barton | CD-6 (R) | For | |
| John Culberson | CD-7 (R) | For | |
| Kevin Brady | CD-8 (R) | For | |
| Al Green | CD-9 (D) | | Against |
| Michael McCaul | CD-10 (R) | For | |
| Mike Conaway | CD-11 (R) | For | |
| Kay Granger | CD-12 (R) | For | |
| Mac Thornberry | CD-13 (R) | For | |
| Randy Weber | CD-14 (R) | For | |
| Ruben Hinojosa | CD-15 (D) | For | |
| Beto O'Rourke | CD-16 (D) | For | |
| Bill Flores | CD-17 (R) | For | |
| Sheila Jackson Lee | CD-18 (D) | | Against |
| Randy Neugebauer | CD-19 (R) | | Against |
| Joaquin Castro | CD-20 (D) | For | |
| Lamar Smith | CD-21 (R) | For | |
| Pete Olson | CD-22 (R) | For | |
| Pete Gallego | CD-23 (D) | For | |
| Kenny Marchant | CD-24 (R) | For | |
| Roger Williams | CD-25 (R) | | Against |
| Michael Burgess | CD-26 (R) | For | |
| Blake Farenthold | CD-27 (R) | For | |
| Henry Cuellar | CD-28 (D) | For | |
| Gene Green | CD-29 (D) | No Vote Recorded | |
| Eddie Bernice Johnson | CD-30 (D) | | Against |
| John Carter | CD-31 (R) | For | |
| Pete Sessions | CD-32 (R) | For | |
| Marc Veasey | CD-33 (D) | | Against |
| Filemon Vela | CD-34 (D) | For | |
| Lloyd Doggett | CD-35 (D) | For | |
| Steve Stockman | CD-36 (R) | | Against |
Jan. 23: CNN: The House on Wednesday passed the "No Budget, No Pay Act," a Republican bill that would effectively defuse the debt ceiling threat for several months. The bill would let the Treasury Department borrow new money until mid-May. In exchange, the legislation would require lawmakers in both chambers of Congress to pass a budget resolution or have their pay withheld until they do.

Most House Democrats spoke out against the bill. Minority Leader Nancy Pelosi called the salary provision a "joke" and Minority Whip Steny Hoyer called the bill a "political gimmick" that perpetuates uncertainty. But other leading Democrats said they would support the bill because it takes the immediate threat of default off the table and divorces the debt ceiling from Republican demands for spending cuts. Senate Majority Leader Harry Reid said the Senate would pass the House bill. President Obama will not oppose the bill if it reaches his desk, even though he would prefer a debt ceiling longer term increase, the White House said Tuesday.

Jan. 23: Business Insider: The House overwhelmingly voted in favor of a bill to suspend the debt ceiling through May 18. The bill won bipartisan support, and passed with a final vote of 285-144. The bill now heads to the Senate, where Democrats have indicated it will pass. The White House has also indicated that President Barack Obama would sign the bill.
The legislation also attaches a provision aimed at forcing Senate Democrats to take up a budget for the first time in four years. If they do not, a "no budget, no pay" provision would withhold pay for members.

The GOP plan is something of a retreat from previous positions, as Republicans found themselves in a virtual no-win situation by attempting to use the debt ceiling as leverage to force spending cuts from President Barack Obama and other Democrats. During the 2011 debt-ceiling debate, Boehner established the rule in his namesake that said every dollar increase in the debt ceiling had to be accompanied by a corresponding amount of spending cuts.

Jan. 22: The Wall Street Journal: The Ceiling is scarier than the Cliff: Alan Blinder's "The Debt Ceiling is Scarier Than the Fiscal Cliff" (op-ed, Jan. 15) misses the mark and perpetuates a few myths. First, in the fall of 2011 S&P lowered the U.S. credit rating due to the failure of the Congress to reduce deficits and reduce the upward trajectory of spending. This, along with the unwillingness of the president to consider spending cuts and deal with entitlement reform and the failure of the Senate to pass a budget in over three years are the real reasons for credit-rating agencies to consider additional reductions in our rating. If investors were concerned about federal government defaults, interest rates on Treasury bonds would be rising, not falling.

Mr. Blinder asserts that the hyperpartisan Congress has failed to pass a budget, resulting in the use of continuing resolutions to fund federal activities. In fact, the House has passed budgets that begin to address the spending and deficit problems. The roadblocks to progress on debt/deficit reduction are clearly the Senate Democrats and the president, neither of whom are willing to address out-of-control spending.

Jan. 22: CBS News: President Obama and congressional Republicans have both drawn a line in the sand over the upcoming series of budget battles, the first of which is whether Congress will raise the country's debt limit - which is expected to hit as early as Feb. 15. The president is refusing to negotiate, imploring Congress to "do its job."

"They will not collect a ransom in exchange for not crashing the American economy," he recently said of Republicans. "The full faith and credit of the United States of America is not a bargaining chip." House Republicans, meanwhile, will hold a vote Wednesday that, if it eventually passes both the House and Senate, would raise the debt ceiling for about three months, giving lawmakers some time to figure out how to avoid default. However, while kicking the can down the road offers a brief respite from one fiscal hurdle, there are still two others that Congress is facing.

In addition to the debt ceiling, lawmakers also have to deal with averting $1.2 trillion in self-imposed automatic spending cuts, or sequester, that takes effect on March 1, and they'll also have to pass a bill to extend government funding, which currently expires at the end of March. As both sides are worlds apart on all three issues, any failure to reach an agreement over three budget-related emergencies in the next few months will have consequences for taxpayer's pocketbooks.

Jan. 22: Fox Business News: President Barack Obama "will not stand in the way" of a three-month debt-limit measure if it passes Congress. While the president believes the extension should be longer, he welcomes the fact that Republicans appear to be giving up on using an increase in the debt ceiling as political leverage, according to Carney. House Republicans will take up a bill on Wednesday to raise the U.S. debt ceiling for three months, in an attempt to push the deadline to mid-April and force the Senate to pass a budget. Carney said the White House will work on a budget deal. "We will work with Congress on moving forward with balanced deficit reduction, because it is important," he remarked at a briefing.

Jan. 22: The Wall Street Journal: Two prominent conservative advocacy organizations, the Club for Growth and Americans for Tax Reform, said Tuesday that they won't oppose House legislation suspending the debt ceiling until mid-May, providing political cover for conservative Republicans inclined to vote for the measure.

Jan. 22: FoxNews: House Republicans are teeing up a vote this week on a new debt ceiling bill, marking the first legislative battle of President Obama's second term and one that could determine whether the country once again risks default over a political fight. While the short-term increase is getting mixed reviews, the second plank of the legislation -- meant to pressure Senate Democrats to pass a budget -- has also raised questions. Under the proposal, Congress would withhold the pay of lawmakers in either the House or the Senate if their chamber fails to pass a budget by April 15. House Republicans have passed budgets for two consecutive years, but the Senate hasn't passed one since Obama's first year in office.

But the so-called "no budget, no pay" provision has run into complaints that it's not constitutional. Critics point to the 27th Amendment, which states: "No law, varying the compensation for the services of the Senators and Representatives, shall take effect, until an election of Representatives shall have intervened." Rep. Hakeem Jeffries, D-N.Y., said Monday "it appears that the 27th Amendment does not permit Congress to alter its pay in the midst of a current session."

Jan. 21: Politico: Republicans Confident in Debt Ceiling Bill: Shortly after returning from their retreat, House Republicans will vote on Wednesday to raise the debt ceiling without matching spending cuts — a proposal that represents both a concession and a new legislative strategy for them. The fact that House GOP leaders have scheduled a vote on the controversial bill in less than a week since the idea surfaced signifies that they have an unusual amount of confidence in their 233 members. That's despite the fact that Republicans have hardly been able to pass a single piece of important legislation without Democratic support.

Jan. 21: FoxNews: House Republicans are touting a new plan that calls for temporarily resolving the debt-ceiling standoff and passing a bona-fide budget for the first time in years. But lawmakers on both sides of the aisle are claiming there's a problem – they say it's unconstitutional.

In an effort to break the partisan deadlock, GOP leaders on Friday pitched an ultimatum aimed at the Democrat-controlled Senate. The plan, dubbed "no budget, no pay," allows the government to get three more months of borrowing authority, with no immediate spending cuts required, in exchange for having to pass a budget within that time. If senators fail to do so, they will be denied their federal paychecks. "We will authorize a three-month temporary debt limit increase to give the Senate and House time to pass a budget," House Majority Leader Eric Cantor, R-Va., said. "Furthermore, if the Senate or House fails to pass a budget in that time, members of Congress will not be paid by the American people for failing to do their job."

Jan. 21: Politico: The House Rules Committee has announced a 2 p.m. Tuesday meeting to mark up the bill that would raise the debt ceiling to continue funding the government through May 18.

House Republicans released the text of their short-term debt ceiling legislation that would suspend the U.S. borrowing limit through May 18 and put members pay at risk if a budget is not adopted. Backing off their earlier plan to demand dollar-for-dollar spending cuts in return for a debt ceiling increase, Republicans are not including any spending reductions in the measure. They'll consider the bill on the House floor Wednesday. House GOP leaders will now have to ensure they have the votes to pass the plan.The House GOP proposal is an attempt to change the dynamics of the fiscal debate and shift the political onus to Senate Democrats, who haven't adopted a budget plan in more than three years.

Jan. 21: Politico: The GOP's attempts to be nice to the President couldn't conceal its real feelings about the content of Obama's inaugural address, delivered before lawmakers from both parties on the Capitol's West Front. Republicans really didn't like the liberal policy agenda that Obama outlined, including just about every progressive priority and only some of their own, including hugely controversial topics like gay rights, income inequality, climate change, gun control and immigration.

In fact, Republicans complained that the 18-minute speech sounded much more like a sharply edged partisan campaign speech meant to set up a fight than an inaugural address intended to inspire togetherness and unity with soaring rhetoric. "The words were code for a progressive agenda. I'm hoping that the president will recognize that compromise should have been the words for today, and they clearly weren't," said Rep. Darrell Issa (R-Calif.), a frequent Obama critic who has zealously pursued a contempt case against Attorney General Eric Holder.

Jan. 19: The Hill: Rep. James Lankford (R-Okla.) hammered Senate Democrats on Saturday for not approving a budget resolution in nearly four years. Lankford also criticized President Obama for falling behind on finalizing a budget proposal in time for next month's deadline, saying he has "already missed more budget deadlines than any of his predecessors."

"Every family and every business has a budget, our nation should have a budget as well," Lankford, the new chairman of the Republican Policy Committee, said during the GOP's weekly address. Unlike the Senate, he said the House will pass its budget on time and vowed that "it will be a plan to slowly but surely walk our nation out of debt, deficit and decline."

Jan. 18: MySanAntonio.com:At least the President didn't call Republicans terrorists at Monday's press conference. But the "divider in chief," who only two years ago urged Americans to usher in a new era of civility, who said then "only a more civil and honest public discourse can help us face up to our challenges as a nation," employed plenty of ugly rhetoric.

Having conceded to the president some of his beloved tax increases in the fiscal cliff negotiations, and having received from the president pledges to cut spending and "shrink our deficits in a balanced way," Republicans reasonably want to see a proposal from the White House that fulfills those pledges before raising the debt ceiling. For that act of treachery, Obama blasted them for negotiating "with a gun at the head of the American people," wanting to "gut Medicare or Medicaid" and threatening to "wreck the entire economy."

Jan. 17: The Hill: House Republicans are discussing a short-term debt ceiling increase to buy time for broader deficit reduction negotiations with Democrats, Rep. Paul Ryan (R-Wis.) told reporters Thursday. "We're discussing the possible virtue of a short-term debt limit extension so that we have a better chance of getting the Senate and the White House involved in discussions in March," Ryan told reporters gathered at the Kingsmill resort in Williamsburg, where the House GOP is holding its annual retreat. . A GOP leadership aide said there was no consensus on the size of a debt limit hike, and that it would have to be coupled with entitlement reforms or spending cuts. 

Jan. 17: FoxNews: Brit Hume: The Republicans should not expect a fair fight over the debt ceiling. The GOP needs to learn that its not enough to be right, you need to be effective, Hume said. He pointed to the Speaker's efforts to block tax increases for everyone but millionaires and he could not get support amoung his own party. The result was that they got a tax increase they liked even less -- increases for those earning above $400,000 for individuals and $450,000 for couples.
The Republicans need to pick a pressure point that sounds reasonable to the public, stake out their position, and not budge from it and, Hume continues, they need to all be saying the same thing. It may be that the automatic cuts would be the most effective. If the Republicans can live with the defense cuts, it is not at all clear that the President and the Democrats in Congress can live with the domestic cuts, Hume concluded.
Jan. 17: The Hill: Rank and File Republicans tell GOP leaders to keep sequester, shutdown 'on the table': Meeting in Williamsburg GOP leaders on Thursday heard from rank-and-file members in a closed-door session, with many urging sequester cuts or a government shutdown to take effect in hopes of forcing the White House into accepting spending cuts.
Jan. 15: FoxNews: Brit Hume: Can we really blame the Repubicans for endangering U.S. credit? The Fitch credit rating service has said that even if the U.S. debt ceiling is dealt with quickly they would still probably down grade the U.S. credit rating "if there is no creditable medium term deficit reduction plan." Last year, Hume notes, S&P down graded the U.S. credit rating because the debt ceiling deal in their opinion "falls short of what would be necessary to stabilize the government's medium term debt dynamic." Translation? The debt ceiling deal did not do enough about the debt itself. So, Hume sugests, keep this in mind when the Republicans are blamed for the downgrading of the U.S. credit rating!
What the Republicans are saying that we have maxed out the credit card. We need to pay what we owe while stopping to add to the debt we already have. The President and the Democrats are trying, successfully, to frame the debate around the theme that Republicans are trying to stop the government from paying what it has already contracted for. This, of course, is not the case.
Jan. 14: The Daily Caller: VA Congressman Introduces Bill to link Congressional Salaries to Passage of a Budget: A Republican congressman is pushing a bill in the House that would automatically cut the salaries of lawmakers if federal spending increases. Speaking by phone with The Daily Caller, Rep. Randy Forbes said on Tuesday that the proposed Congressional Accountability Pay Act is intended to incentivize members of Congress to figure out how to pay down the country's $16 trillion debt. "So if spending goes up by 10 percent, we're reducing your salary by 10 percent," Forbes explained in the interview. "If it goes up by 5 percent, we're going to reduce it by 5 percent."
Jan. 14: FoxNews: Can President Obama use the 14th Amendment to raise the debt limit and circumvent Congress? A legal opinion.
Jan. 14: The Washington Times: Obama and Biden Oppose Raising the Debt Ceiling as Senators: President Obama's vow not to negotiate on the debt limit this year is a stark reversal for an administration whose two top officials both have a history of balking at debt hikes. Mr. Obama himself voted against a debt-limit increase in 2006, saying the government's leaders had deepened the deficit so badly that they didn't deserve a debt hike. And Vice President Joseph R. Biden in the 1980s led the exact same kind of rebellion that Mr. Obama now says he won't tolerate from the GOP.
Indeed, that October 1984 fight was only solved after the government dispatched two Air Force planes to pick up senators back in their home states and bring them to Washington so they could help defeat Mr. Biden — exactly the kind of last-minute standoff Mr. Obama now says he wants to avoid.
Jan. 14: The Daily Caller: On his Monday radio show, conservative talker Mark Levin said that if President Barack Obama sidesteps Congress on the debt ceiling fight and attacks the Congress' constitutionally enumerated "core power" – that is control over spending and taxing — through executive action, Congress will have "no choice" but impeachment.
Jan. 11: The Hill: Senate Democrats will support the unilateral increase of the debt ceiling: Senate Democratic leaders have sent a letter to President Obama pledging their support if he raises the nation's $16.4 trillion debt ceiling unilaterally in the face of Republican resistance. Support has been growing among Democrats in Congress for Obama to invoke the 14th Amendment or another legal justification for expanding the nation's borrowing authority without congressional approval.
"In the event that Republicans make good on their threat by failing to act, or by moving unilaterally to pass a debt limit extension only as part of unbalanced or unreasonable legislation, we believe you must be willing to take any lawful steps to ensure that America does not break its promises and trigger a global economic crisis — without Congressional approval, if necessary," Senate Majority Leader Harry Reid (D-Nev.) and other Democratic leaders wrote in a letter dated Jan. 11.
[See the Initial Story from January 8th below along with Section 4 of the 14th Amendment]
Jan. 11: FoxNews: More on Senate Democrats suggesting Obama circumvent Congress: If President Obama were to break the impasse with Republicans over raising the debt limit by taking unilateral action, such a move would have the potential to set off a firestorm of controversy and spark a protracted legal battle.
Meanwhile the White House has dismissed talk that Obama would rely on unusual measures to raise the nation's debt limit without Congress' approval, but administration officials also have warned that the country could default on its debt and trigger a new economic crisis if lawmakers don't increase the limit on borrowing. Even so, with this President the past has shown that anything can happen!
Jan. 10: The Hill: Panetta orders DOD to 'prepare for the worst' on sequester, including furloughs: The beginning of budget cuts from sequestration, the looming debate on Capitol Hill over the debt ceiling and a critical vote on the defense appropriations bill for fiscal 2013 are all set to come crashing down on DOD next month, Panetta warned. "We have no idea what the hell is going to happen," he said. The secretary and Chairman of the Joint Chiefs of Staff Gen. Martin Dempsey said they have ordered service leaders and combat commanders to begin taking "precautionary" cost-cutting measures in anticipation of sequestration.
Jan. 10: The Daily Caller: Obama wins America Loses According to a recent Pew Poll:A new Pew Research Center poll says most Americans — including 74 percent of Republicans — believe President Barack Obama won the "Fiscal Cliff" face-off, but most also believe the deal is bad for them and the economy. Fifty-two percent of independents believe the deal will mostly hurt the economy, and 55 percent believe the deal will mostly "hurt people like you!"
Jan. 8: The Daily Caller reports that a group of Democratic senators has sent President Barack Obama a letter urging him to invoke the 14th Amendment (see text below) and bypass Congress to address the debt ceiling. That unlikely political power play would almost certainly result in a lawsuit from House Republicans, according to the Daily Caller report.
---
Sec. 4 of the 14th Amendment reads: The validity of the public debt of the United States, authorized by law, including debts incurred for payment of pensions and bounties for services in suppressing insurrection or rebellion, shall not be questioned. But neither the United States nor any State shall assume or pay any debt or obligation incurred in aid of insurrection or rebellion against the United States, or any claim for the loss or emancipation of any slave; but all such debts, obligations and claims shall be held illegal and void.