December 31: KRGV TV News: Brownsville Resident Frustrated with Drug Runners
climbing his fence and entering the U.S.
One of Brownsville's south most property owners said he is fed up with all the drugs crossing on his land.   He said he is seeing an increase in activity from the river. He's also getting more phone calls about the activity.  "The amount of drugs that are coming through is phenomenal," he said.  His land is right on the river. The border fence is in his front yard. "They come over the fence; they climb over the fence," he said.  Earlier this week, a Border Patrol chase on his land ended with agents confiscating drugs and the driver escaping across the river.
December 29: The Daily Caller: California Gun Laws: Police can confiscate legally owned weapons
A new California law scheduled to take effect Friday will allow the police to seize private, legally-owned weapons for up to three weeks without charges or allowing the citizen to contest the seizure.  The bill passed last year following an incident when a teenager (Elliot Rodgers) went on a rampage near UCSB, killing six people and himself. Rodger's parents had reported him to the police prior to the shooting but after meeting with Rodger, police decided he wasn't a criminal risk and took no action. The new law is intended to stop such a situation from re-occurring.
December 29: The Wall Street Journal:  Clinton's War on Women
Donald Trump last week used some typically coarse language to describe Hillary Clinton, who responded by accusing Trump of sexism while announcing that she is unleashing Bill Clinton to campaign for her. Trump is rude and crude, but in this case he is raising an issue that rightly bears on the 2016 election campaign and the prospect of a third Clinton term. Clinton wants to use her gender both as a political sword and shield to win the White House. The purpose is to make male politicians less willing to take her on, while reinforcing her main and not-so-subtle campaign theme that it's time to elect the first woman President.

December 29: The Wall Street Journal: U.S. Spying on Israel Snags Members of Congress!
President Obama announced two years ago he would curtail eavesdropping on friendly heads of state after the world learned the reach of long-secret U.S. surveillance programs.  But behind the scenes, the White House decided to keep certain allies under close watch, current and former U.S. officials said. Topping the list was Israeli Prime Minister Benjamin Netanyahu. 

December 28: The Daily Caller:  EPA Gets Americans 129 Years Of Jail Time As
Agency Workers Go Unpunished After Spilling Toxic Mine Waste:
Environmental Protection Agency (EPA) enforcers helped convict 185 Americans of environmental crimes this year, with each of these eco-convicts getting sentenced to eight months in prison on average for crimes ranging from biofuel fraud to illegally removing asbestos.  EPA enforcement data for 2015 shows the agency opened 213 environmental cases which resulted in 185 people convicted and sentenced to 129 years in prison. EPA has been opening fewer cases in recent years to focus more on "high impact" cases. Interestingly enough, EPA has not fined or jailed anyone for the spilling of three million gallons of mine wastewater in August. That month, EPA workers opened up the Gold King Mine and sent a toxic plume of mine waste though rivers in Colorado, New Mexico and Utah. Toxic mine waste even went through Navajo Nation territory and resulted in farms having their water supplies shut off.
December 28: Fox News: Obama may face a new Iran Sanctions battle in 2016
Despite President Obama's nuclear deal with Iran that provides a gradual easing of decades of crippling economic sanctions, senators are fighting to renew a vital law that would preserve the sanctions option should Iran renege on its end of the bargain.  There are reports that senators plan to move soon on a proposal to extend what's known as the Iran Sanctions Act, which is set to expire next year. Sen. Ben Cardin (D-MD), the top Democrat on the Foreign Relations Committee, told the newspaper his colleagues have floated the possibility of tackling the issue in January or February.  But the debate could put the Obama administration in a tough spot.  Iran surely would howl at any congressional attempts to keep broad sanctions legislation in force, even if specific sanctions are being lifted.

December 28: Fox News: Iraqi Government Forces make major gains in fight for Ramadi
Iraqi government forces scored a major victory when they took control from ISIS of the central government complex in the city of Ramadi on Monday.  But even as one Iraqi military spokesperson unequivically said earlier Monday that Ramadi had been "liberated," the head of Iraqi military operations in Anbar province cautioned against celebrating too early.  "The troops only entered the government complex," Gen. Ismail al-Mahlawi said. "We can't say that Ramadi is fully liberated. There are still neighborhoods under their control and there are still pockets of resistance." 

December 27: The Washington Post: A Year of Taliban gains shows that
"we haven't delivered" top Afghan Official says
In private, top Afghan and American officials have begun to voice increasingly grim assessments of the resurgent Taliban threat, most notably in a previously undisclosed transcript of a late-October meeting of the Afghan National Security Council.  "We have not met the people's expectations. We haven't delivered," Abdullah, the country's chief executive, told the high-level gathering. "Our forces lack discipline. They lack rotation opportunities. We haven't taken care of our own policemen and soldiers. They continue to absorb enormous casualties."

December 27: Fox News:  ISIS puts up heavy flight to slow Iraqi Troops Advance on Ramadi
Islamic State fighters are putting up a tough fight in the militant-held city of Ramadi, slowing down the advance of Iraqi forces, a senior Iraqi commander said Sunday.  Iraq launched the long-awaited operation to retake the Anbar provincial capital, which was captured by IS militants in May, but after an initial push across the Euphrates River, their progress stalled.  Gen. Ismail al-Mahlawi, head of the Anbar military operations, told The Associated Press that the advance was hampered by suicide bombers, snipers and booby traps.  Iraqi troops will "need days" to get to the city's central government complex, said al-Mahlawi, adding that the troops were about a half mile from the complex on Sunday.
December 26: The Daily Caller: Obama's Former Intelligence Director: President's Strategy Not Working
President Barack Obama's highest-ranking military intelligence official — forced out because of excessive candor in 2014 — continued his no-holds-barred critiques in a 20-minute video interview.   Retired in 2014, Lt. Gen. Mike Flynn, President Obama's former director of the Defense Intelligence Agency at the Pentagon, served in the U.S. Army for 30 years but believes the nation is being lead by an ideological allegiance that crowds out strategies and decisions based on facts on the ground.  According to Flynn, President Obama — who called ISIS a "JV team" — is downplaying the Islamic threat and overstating our readiness because of an allegiance to his ideology.
December 26: The Hill: Political Right Outside the Beltway Livid with Speaker Ryan's Spending Bill:
Outside the Beltway, the right is livid with new Speaker Paul Ryan's trillion-dollar spending deal with Democrats.  Conservative Ann Coulter says Ryan, just seven weeks on the job, is ripe for a primary challenge.  Ryan is refusing to let the attacks go unanswered and is using his megaphone as the nation's top elected Republican to try to drown out the chorus of conservative critics.   In a nod to the critics, Ryan has also emphasized that he "inherited" the flawed omnibus bill from his predecessor, ousted Speaker John Boehner (R-OH), and that the cake was "already baked" by the time he was handed the reins in late October.   But those arguments have done little to sway some of Ryan's critics, particularly on conservative talk radio.

December 26: Fox News: Child vaccine mandate, minimum wage hikes and more taking effect in new year
New Sex Ed and child vaccine mandates, higher minimum wages and relaxed pot penalties are among the new state and local laws sweeping into effect next week when the new year arrives.  Even pets will be affected, at least in Illinois, where a new law will make it a Class A misdemeanor to leave dogs and cats exposed to harsh weather conditions. The most immediate and noticeable changes on Jan. 1 will be in wages. Some 12 states alone are expected to increase their minimum wages – many to $10 per hour.

Meanwhile, travelers from a number of states may soon have to bring their passports to the airport because their driver's licenses will no longer serve as valid identification for U.S. airport security checkpoints. Gun laws also have been among the top issues in states this year.   In Texas citizens will be able to carry handguns in plain view in belt or shoulder holsters as of Jan. 1. The Lone Star state is now poised to be the 45th state to issue open carry permits.
December 25: Fox News: Feds Release heavily redacted Benghazi  emails on Christmas Eve
The Office of the Director of National Intelligence on Thursday released 16 pages of sensitive documents related to the 2012 Benghazi terror attack.  The documents, released ahead of the Christmas holiday when they would get the least news coverage, include mostly blacked-out emails. A few of the heavily redacted emails discuss the drafting of an assessment of the threat level before the attack occurred. Congress had requested the assessment in the months after the attack. 
December 25: Fox News: Special Taxing  Authorities  Grow like  Weeds  --  Especially in Texas:
When former Texas Comptroller Susan Combs issued a report in 2012 on special purpose districts — largely invisible layers of government with the power to charge property and sales taxes — there were 1,675 of them.  She sounded the alarm, waived the flag and irritated a few people in the process. But the special purpose districts continued to sprout up all over the state, now growing to about 2,000.   Combs is still beating the drum about the issue, even though she's since left public office.  "There has been no effort to rein any of this in," she said Friday.
December 22: The Hill: Cruz: Attack me, my  family is off limits! Washington Post backs down!
The Washington Post retracted an editorial cartoon Tuesday evening, after presidential candidate Sen. Ted Cruz (R-TX) lashed out over the depiction of his grade-school daughters as dancing monkeys for their appereance in a presidential campaign ad.  On Tuesday evening, a note from editor Fred Hiatt appeared on the Washington Post's website reading: "It's generally been the policy of our editorial section to leave children out of it. I failed to look at this cartoon before it was published. I understand why Ann thought an exception to the policy was warranted in this case, but I do not agree." 
December 21: Fox News: Baby Jesus, "Merry Christmas" banner removed from VA hospital
A manger and a banner reading "Merry Christmas" were removed from a public area of a VA hospital in Texas after someone complained about "overly religious and offensive" decorations.  "They ruined our decorations," Vietnam veteran Holloway said. "They threw them out." Holloway said she had been putting up decorations at the Audi Murphy VA Hospital for 33 years – without any problems. This year, her yuletide banner turned out to be problematic.
"They literally took pieces from the middle of a whole train set, because the middle said 'Merry Christmas,'" helper Grace Martinez said. 
December 21: Fox News: Republicans blast Kerry for suggesting Iran could skirt new visa rules:
Republicans on Monday blasted Secretary of State John Kerry for suggesting in a letter to his Iranian counterpart that the administration could help the country get around new visa restrictions passed by Congress.  "Instead of bending over backwards to try to placate the Iranian regime, the White House needs to be holding it accountable for its recent missile tests, its continued support for terrorism, and its wrongful imprisonment of Americans," House Foreign Affairs Committee Chairman Ed Royce (R-CA) said. 
December 18: Politico: Chaos in Democratic Campaign
A civil war erupted within the Democratic Party on Friday after news that Bernie Sanders' campaign took advantage of a technological glitch to access, search and save one of Hillary Clinton's most valuable campaign assets -- her voter files.  Tension rapidly escalated throughout the day as the Democratic National Committee cut off Sanders' access to his own voter files, effectively crippling his field operation, and the senator retaliated by suing the party and accusing its leaders of plotting to hand the presidential nomination to Clinton.
December 18: The Hill: House easily approves funding bill 316-113
The House on Friday overwhelmingly approved a $1.1 trillion spending package which was largely put in place by former Speaker John Boehner (R-OH), who agreed to the top-line number in a deal with Democrats and the White House before ending his Speakership. Lawmakers backed the package following a furious effort by Speaker Paul Ryan (R-WI), Minority Leader Nancy Pelosi (D-CA) and their leadership teams to corral votes in both parties.  In the end, there was no drama in the 316-113 vote.   Ryan won 150 GOP votes, a majority of his conference that represents a big victory for the new Speaker. 

December 18: McClatchyDC.com: Congressman Jones (R-NC) Swings a sword at the 2,000-page omnibus billl:
Jones didn't just oppose Friday's $1.1 trillion budget deal by voting against it, he brandished a sword in his congressional office Thursday night to cut through the 2,000-page document, expressing disdain for what he later called on Twitter a win for "the Washington Establishment" and loss for "the people."   The House passed the budget deal in a 316-113 vote. The Senate passed the bill in a 65-33 vote, with Sen. Richard Bur (R-NC), voting against it and Sen. Thom Tillis (R-NC) voting in support.
December 17: The Daily Signal: Conservatives shocked at Immigration Slipped into Omnibus Spending Bill:
House conservatives are up in arms over a provision in the omnibus spending bill that could allow more than a quarter-million temporary guest workers into the U.S.  As a significant change to immigration law, the measure stunned conservative lawmakers, Rep. Jim Jordan, (R-OH) said.   "It came out of nowhere, completely out of nowhere," Jordan, chairman of the House Freedom Caucus, said, "[and] everyone was shocked there was a change and no one had talked about it."  The provision is the most recent aspect of the $1.1-trillion package to rile conservatives.
December 16: Market Watch: The Wait is over: The Fed's Raises Interest Rates
The Federal Reserve raised interest rates for the first time since 2006, ending what Chairwoman Yellen called an "extraordinary period" in which the bank sought to revive the economy in the aftermath of the Great Recession.   Policy makers on Wednesday voted 10 to 0 to lift the Fed's short-term borrowing rate by a quarter-point to a range of 0.25% to 0.5%. In a Related Story Fox News reports that with interest rates moving higher it will soon be more expensive for consumers to borrow money to buy big-ticket items such as homes, cars and appliances. 

December 16: The Hill: Senate Sends President a second short-term funding bill
The Senate on Wednesday passed a second short-term spending measure, sending it to President Obama's desk. Senate Majority Leader Mitch McConnell (R-KY) passed the legislation by a voice vote as lawmakers face an end-of-the-day deadline to avoid a government shutdown. The measure, which President Obama is expected to sign, will fund the government through Tuesday, giving lawmakers extra time to debate and vote on a larger "omnibus" funding bill, as well as a separate tax package.
December 16: The Daily Caller: Those who favor Gun Controls may not like how
the Majority of Americans Fee about Semi-automatic guns!
The majority of Americans do not support banning the sale of semi-automatic guns, sometimes also referred to as assault weapons.  According to an ABC/Washington Post poll released Wednesday 53% of Americans do not support banning the sale of these weapons. This is the first time in 20 years that the majority of Americans have been against a potential ban.    The poll also showed that more Americans feel gun control is less likely to stop terrorism, and more people being armed is a better response to stop potential terrorist attacks. It also showed the general public does not have confidence in the government to prevent terrorism in the homeland.

December 13: AlanBWest.com: Here is a Question Guaranteed to Stump every Gun Control Advocate:
On the subject of gun control, the great Thomas Sowell wrote last November "How can anyone consider it to be either logical or moral to force other people to be defenseless because of a theory without any factual evidence? Yet that is what gun control laws amount to." Need any more proof? Just ask a gun control proponent this one question: "What specific regulation would actually work in curtailing gun violence?"  The correct answer is: none!
December 13: RT.Com: Russian destroyer fires warning shots at Turkish fishing boat in the Aegean Sea:
An anchored Russian destroyer opened warning small arms fire as a Turkish fishing vessel sailed on a collision course towards them and didn't respond to calls from the warshi. The warning shots were strategically aimed to guarantee the Turkish ship was out of harm's way, the Russians said in a statement.The incident happened in the northern part of the Aegean Sea some 12 nautical miles from the Greek island of Lemnos.
December 13: Yahoo News: Chinese Navy Carries Out Exercises in the Disputed South China Sea:
In recent days, China's navy has carried out more exercises in the disputed South China Sea, the Defense Ministry said, calling them routine drills.  China claims almost all of the energy-rich waters of the South China Sea, through which more than $5 trillion of maritime trade passes each year. The Philippines, Brunei, Vietnam, Malaysia and Taiwan have overlapping claims.  "This action is a routine arrangement made in accordance with this year's naval training plan," it added, without elaborating.  Pictures on social media accounts of Chinese state media have shown photos of Chinese navy ships engaged in live-fire exercises without saying where exactly they took place.
December 12: The Daily Caller: Report: San Bernardino Jihadi Bride
passed three background checks despite online posts:
The Pakistani woman who killed 14 people with her husband in San Bernardino earlier this month, openly advocated violent jihad on her social media accounts before coming to the U.S., but government officials approved her fiancee visa anyway, The New York Times reports.  Law enforcement officials discovered the posts, according to the Times. Had authorities found the messages when Malik applied last year for a K-1 fiancee visa to come to the U.S. with her husband, Syed Farook, she likely would not have been approved for entry. But, as The Times notes, immigration officials rarely check applicants' social media posts for red flags.  Senior Homeland Security Investigations officials told The Times, visa applicants' identities are run against federal terror watch list databases, and if the person is not flagged during that process, they are usually not subject to further investigation.  And female applicants are generally subject to less scrutiny than male applicants.
December 12: The Latin Post: The Government Tests facial and Eye Scans of
Foreigners entering the U.S. from Mexico:
In order to crack down on the number of immigrants who stay in the U.S. illegally on expired visas, the federal government is making some foreigners undergo facial and eye scans when they enter the U.S.  According to a 2006 study by Pew Hispanic Center, between 40 to 50 percent of people in the country illegally are here because they overstayed their visas. As a result, authorities have no way to identify them due to the absence of a checkout system. But this is about to change.
December 12: Bloomberg.com: Cruz Soars to Forefront of polls in Iowa:
Republican presidential candidate Ted Cruz has surged ahead to become the latest front-runner in the campaign for the Iowa caucuses, dislodging Ben Carson and opening an impressive lead over a stalled Donald Trump, a Bloomberg Politics/Des Moines Register Iowa Poll shows.  The firebrand junior senator from Texas is backed by 31 percent of those likely to attend the Republican caucuses that start the presidential nomination season on Feb. 1. Trump is a distant second at 21 percent, up slightly from 19 percent in October, but below his peak of 23 percent in August.

December 10: The Verge: Zuckerberg's immigration reform group imagines what
Trump's deportation plans would look like:
FWD.us, the political action committee launched by Facebook's Mark Zuckerberg and other Silicon Valley executives, has launched a campaign against deporting undocumented immigrants by dramatizing what a world of mass deportations might look like. The video plays out an imaginary police state brought about by — it suggests — politicians like Donald Trump, who have made anti-immigrant rhetoric a central element of his campaign. It's supposed to be the first section of a six-part series, each of which "tackles the devastating effects on various sectors of society" and shares stories from undocumented immigrants.
December 10: The Daily Caller: Benghazi's "Smoking Gun" Email Unmasks Clinton
The email from Secretary of Defense Leon Panetta's chief of staff shows that special operations teams within a few hours flight from Benghazi were preparing to deploy as early as 7 p.m. Washington time on the night of the attacks, well within the time needed to get to Benghazi before the deadly mortar strike. Panetta aide Jeremy Bash emailed Mrs. Clinton's top aides at 7:09 p.m. to let them know that quick reaction forces, then stationed in Europe, were "spinning up as we speak" to deploy to Benghazi. The 50 man team of Special Ops troops with their own airlift capability and specially trained to deal with these kind of situations were in Croatia on a training mission. According to the emails, all they needed was a go-ahead from the Department of State, which was under Hillary Clinton's leadership at the time.
December 8: The Daily Signal: CBO Report: Workforce could shrink by 2 million because of ObamaCare:
The non-partisan Congressional Budget Office is predicting that over the next decade, 2 million workers could decide to leave the full time workforce because of Obamacare. According to the report the workforce is projected to shrink because of the ObamaCare incentives for workers to do so.  "Some people would choose to work fewer hours; others would leave the labor force entirely or remain unemployed for longer than they otherwise would," the CBO said in its report.  Under the law, workers do not need to rely on employers for insurance any longer.  They can purchase ObamaCare coverage on the federal and state-run exchanges. Additionally, because of the subsidies available to seekers of healthcare coverage is based upon their income those who are making slightly over the limit may opt to work part time or retire entirely, thereby reducing the number of full time employees in the work force.
December 8: The Daily Signal:  How Much Land Near You Does the Federal Government Control?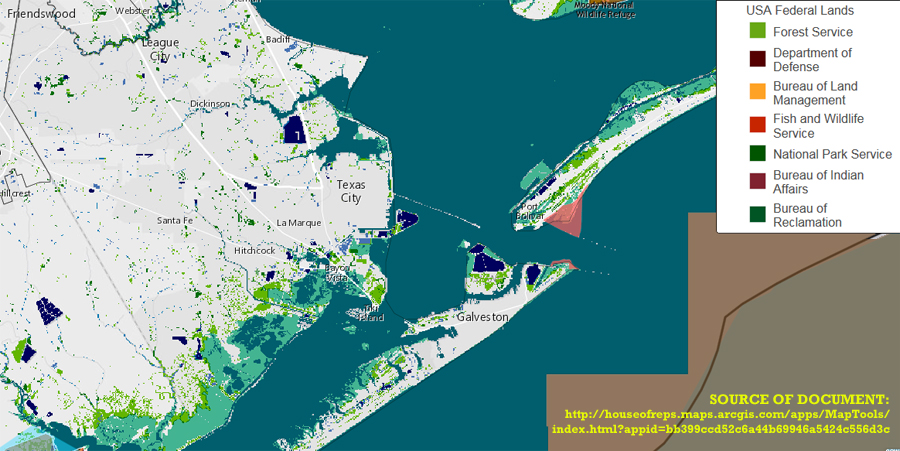 The federal government is looking to use the budget process to expand its ownership of land across the United States despite already owning three of every 10 acres, Texas Congressman Louie Gohmert noted.  As Chairman of the House Natural Resources subcommittee on Oversight and Investigations, Gohmert said the government's "massive" control over land has preserved less than 1 percent of endangered species and instead harmed individuals whose livelihoods depend on land ownership.  As Congress gears up to decide whether government control should be further expanded, Gohmert's committee has created an interactive map that illustrates the current scale of federal land ownership and regulation.  The map includes a description for each area that details the government's reasoning for ownership and regulation, such as an endangered species inhabiting the land.  Gohmert said the goal of the project is to make the issue visual so that Americans can evaluate, in a tangible way, the extent of the government's reach.

December 6:  The  Hill:  Kerry angers Israel again with talk of "bi-national state"
Secretary of State John Kerry caused consternation in Israel when he said the nation threatens to implode if a two-state solution is not reached with Palestinians, drawing the ire of Prime Minister Benjamin Netanyahu. "Israel will not be a binational state," Netanyahu said emphatically at the opening of his weekly cabinet meeting on Sunday, according to the Times of Israel.  Kerry warned Israel that the collapse of the Palestinian Authority (PA) threatens to destabilize the nation.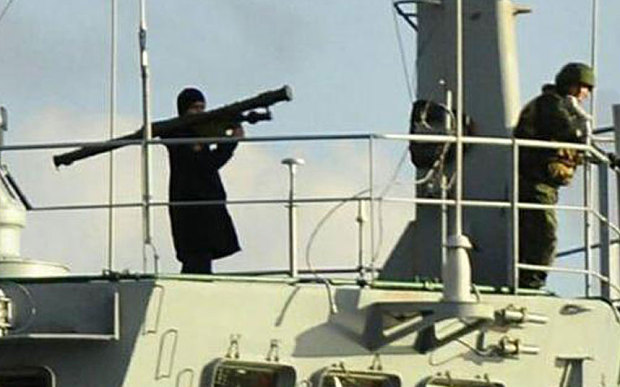 December 6: Yahoo News:  Turkey Angered by
Rocket-brandishing on Russian Warship passing Istanbul
Turkey accused Russia of a "provocation" on Sunday after a serviceman on the deck of a Russian naval ship allegedly held a rocket launcher on his shoulder while the vessel passed through Istanbul.  Relations have deteriorated sharply since Turkey last week became the first NATO member in more than half a century to down a Russian plane, which it said had violated its airspace while flying sorties over Syria. The pilot was killed.  The NTV news channel broadcast photographs (left) that it said showed a serviceman brandishing a rocket launcher on the deck of the landing ship Caesar Kunikov as it passed on Saturday through the Bosphorus Strait, which bisects the city of Istanbul. It said the ship was believed to be en route to Syria.
December 6: Fox News: Liberty University President encourages students to carry heat!
Liberty University president Jerry Falwell Jr. urged students Friday to carry concealed weapons on campus to counter any possible armed attack.  "Let's teach them a lesson if they ever show up here," Falwell told students at the Christian school.  Falwell was met with rousing applause from students.  He told the Associated Press on Saturday he was specifically referring to Syed Farook and Tashfeen Malik, the couple who shot and killed 14 people during a holiday party in a Southern California office building on Wednesday.

December 6: Financial Times: San Bernardino Shooting: Democrats focus on Gun Control while
the Republicans focus on Islamic Extremism
The mass shooting in southern California last week has quickly become a divisive partisan issue with Republicans calling for tougher action against Islamist extremism and Democrats urging stronger gun control.  Republican presidential candidates stepped up their criticism of the Obama administration on Saturday, accusing it of not doing enough to defeat ISIS and of leaving the US vulnerable to terrorist attacks.  At the same time, President Barack Obama  doubled down on Saturday on his calls for restrictions on the sale of assault weapons.  Meanwhile the FBI has labeled the killing of 14 people in San Bernardino as an act of terrorism after one of the suspects posted a message on Facebook shortly before the attack in support of ISIS. However, investigators have said they are only beginning to understand the motivations that led Syed Rizwan Farook and Tashfeen Malik to open fire at a holiday party at a government building.
December 6: The Daily Caller: VA Refuses to Terminate Employees  who
have sex in office | High on Cocaine during work:
The Department of Veterans Affairs seems unwilling to fire its employees, regardless of their outlandish conduct. A new investigation has turned up instances in which employees had sex at work or slept in patient rooms only to receive mild reprimands.  This misconduct occurred in hospital facilities spread out among West Virginia, Maryland and the District of Columbia. Three facilities, one in each region, disciplined, but did not fire, a total of 300 employees, according to a Freedom of Information Act request by NBC4 Washington.

December 4: Fox News: The Economic Week Ahead:
Next week's economic calendar is highlighted by inflation data, November retail sales and a report on consumer sentiment.  All three reports will likely fuel momentum toward a rate hike the following week at the Dec. 15 and 16 meeting of the Federal Reserve.  Only one Fed official is scheduled to speak publicly next week: St. Louis Fed President James Bullard on Monday. Bullard is not currently a voting member of the policy-setting Federal Open Markets Committee. Inflation has been the fly in the ointment for a Fed seemingly anxious to raise rates in an effort to normalize U.S. policy seven years after the 2008 financial crisis. The Fed has said its conditions for raising rates require strong evidence of an improved labor department and confidence that inflation is rising toward the Fed's 2% target. 
December 3: News Now.com: The President is a good gun salesman
A gun-rights advocate says President Obama continues to be the most popular "gun salesman" in the United States. Larry Pratt of Gun Owners of America was responding to a record-breaking number of gun sales during the annual "Black Friday" shopping day that follows Thanksgiving Day.   The FBI announced that it processed 185,345 background checks on firearm purchases, five percent higher than on Black Friday in 2014.  Pratt says Obama deserves "credit" for those sales, especially when he claimed in Paris this week that mass shootings happen only in the United States.  "When we hear our president, in Paris, saying that sort of thing doesn't happen in other countries," says Pratt. "And he said it from Paris, where he had to be within a mile or two from where a horrible mass murder had just occurred."

November 30: The Hill: Feds Release Largest Number of Clinton Emails
The State Department released the largest batch yet of Hillary Clinton's emails yet on Monday, part of a gradual process to put all of the messages that she claimed were work-related out for the public to see.  7,800 pages of Clinton's emails were included in the latest data dump, including one email that the Office of the Director of National Intelligence had originally flagged as potentially containing classified information before deciding it did not contain intelligence agency information
November 30: The Daily Caller:  Emails Reveal New Mexico VA Doctors Suspicious as
Appointments Rescheduled to appear as New Appointments:
A new scandal threatens to engulf the New Mexico Veterans Affairs medical center. Doctors want to know why the VA is "fiddling" with appointments over a year old to make them appear as they they're new appointments.   As described by the doctors, the VA regularly cancels appointments and re-enters them into the appointment database. Once re-entered, the clock is reset. Appointments which are over a year old then appear to be completely new.  This exact process has occurred elsewhere in the VA.
November 30: Fox News: Illegal Immigration: Suit Filed in Oregon to force the issuing of Driver's Licenses:
A group of illegal immigrants is suing the state of Oregon to overturn a voter-approved initiative that denied them driver's licenses. The lawsuit comes after Oregonians passed Measure 88 last year with a strong two-thirds majority. Thirty-five of Oregon's 36 counties voted against licenses for undocumented residents. The lawsuit alleges Measure 88 is unconstitutional because it "arbitrarily" denies driving privileges based on membership in a "disfavored minority group.

November 30: Fox News: Nearly 1,000 of Clinton's emails were classified:
The State Department's latest release of Hillary Clinton documents brings the total number of Clinton emails known to contain classified material to nearly 1,000.  The department on Monday released its largest batch of emails yet.  The latest batch contains 328 emails deemed to have classified information. According to the State Department, that brings the total number with classified information to 999.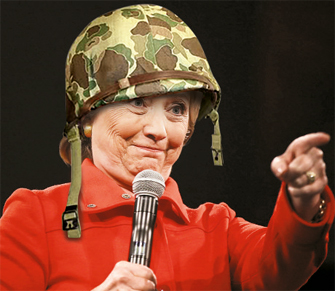 November 28: The New York Post: Lies, Milllions of Lies? Hillary Clinton
Here is another one: Shortly before her 1975 marriage to Bill Clinton, she
decided in a fit of patriotic fervor and dedication to "public service" to stroll
into a recruiter's office in Arkansas and join the Marine Corps. What are the
odds that, in the immediate aftermath of Vietnam, the anti-war Wellesley
graduate, who'd written her college senior thesis on "community organizer"
Saul Alinsky, had a snazzy Yale Law degree, and who was already envisioning
a career in state and national politics alongside Bill (then a candidate for
Arkansas attorney general), would consider signing up for the Marine Corps.
November 28 : Yahoo News: Don't Miss any Opportunity:
Obama Calls for Stricter Gun Laws following the Colorado Shooting
US President Barack Obama declared "enough is enough" and made an impassioned call for tighter controls on military-style weapons Saturday, a day after a gunman killed three people and hid himself in a Colorado Springs Planned Parenthood facility.   The alleged shooter, Robert Lewis Dear, 57, entered the clinic  in a six-hour siege that left a policeman and two other people dead and nine others wounded.  The suspect eventually surrendered and is in police custody while officials remain tight-lipped as to the gunman's motives.  Obama said the suspect was armed with an assault weapon and had held hostages at the Planned Parenthood center, from which he opened fire at people outside.  "This is not normal. We can't let it become normal," a clearly frustrated Obama said in a statement.

November 28: The Daily Caller: Colorado Shooter Had an Arrest Record and had Guns
The shooting has already sparked tense debate over two hot-button issues: abortion and gun control. While Dear's motive is still unknown, Colorado Springs mayor John Suthers said on Saturday that "inferences" about motives for the attack can be drawn from "where it took place."  Others are pointing to the incident as further evidence of the need for tougher gun laws.  But opponents of gun control are pointing to Dear's long and varied criminal history as evidence that he was mentally unstable.  The Associated Press interviewed a former neighbor of Robert Dear and told the AP he didn't recall him ever talking about religion or abortion  -- suggesting that Dear's use of a Planned Parenthood facility was simply a matter of opportunity not premeditation.
November 27: KRGV-TV News: Focus should be on Central America and not
Ranchland owners over Deaths of Illegal Aliens:
A Honduran woman was found dead on a privately owned ranch in Brooks County, TX. This is just one of hundreds who die in the brush as they attempt to enter the country illegally.  Ranchers typically only allow law enforcement and the Border Patrol access to their ranches.  They feel the focus on access to private ranch lands is misdirected and that those who truly want to help these people should redirect their attention on the conditions in Central America. 

November 25: The Washington Examiner:
More Immigrants from Muslim Nations than the population of Washington, DC
President Obama's open-door immigration policy is set to accept more immigrants from Muslim nations over the next five years than the entire population of Washington, D.C., according to federal documents. According to DHS data released by the Sen. Jeff Sessions' Judiciary subcommittee on Immigration and the National Interest, noted that refugees, who must apply for a green card within one year, have instant access to federal welfare and entitlements, along with local benefits and education services; these costs are not offset and will be provided at taxpayer expense.


November 25: Yahoo News: 
Canada Refugee Plan Revives Concerns about the U.S. Northern Border:
Standing two feet from Canada on windswept Montana prairie land, U.S. Border Patrol agent Andrew Herdina looks out over a line of crooked old fence posts with no wire between them -- the international border.  "If somebody is set on doing it, there are plenty of opportunities to cross this border," said Herdina.  Much of the America's northern border is vast grass prairies or forested areas with fire breaks cut down the middle to delineate the border.  There are few if any, border posts, or checkpoints, and no hot deserts to cross and any visible signs of security.

November 25 : CNSNews: Debt Under Obama Over $8,000,000,000,000 (that's over $8 Trillion):
The debt of the federal government has now increased by more than $8 trillion during the time President Barack Obama has been in office, according to the official debt numbers published by the U.S. Treasury.  The total federal debt, which was $18.7 trillion at the close of business on Monday, that equals about $159,007 per household.  It has increased approximately $68,756 per household during Obama's presidency.  On Jan. 20, 2009, when Obama was inaugurated, the total debt of the federal government was $10.6 trillion and it's not over yet!  The Congress suspended the debt ceiling earlier this year as parting "gift" from former Speaker Boehner!

November 25: CNN: Russia to Deploy Anti Aircraft Missiles to Syria;
Turkey Releases Recording of Warning to Russian Mig
Tensions in the Middle East ratcheted up dangerously Wednesday, a day after Turkey shot down a Russian mig with the Turkish President accusing Russia of deceit and Russia announcing it would deploy anti-aircraft missiles to Syria.  Russia is to deploy the S-400 defense missile systems to its air base near Latakia, on Syria's Mediterranean coast.  The missiles have a range of 155 miles while the Turkish border is less than 30 miles away.
November 25: The Daily Caller: 97% of Americans Aren't Worried about Global Warming:
While 97% of so called scientists may agree mankind is driving global warming, 97% of Americans don't seem to care about the issue or even believe it's a major issue when stacked up against other concerns such as terrorism or the economy, according to a recent Fox News poll.  A November Fox News poll of more than 1,000 registered voters found that 3% of those interviewed listed "climate change" as the most important issue facing America today, that's down 5% from a similar poll taken in August 2015.  Even among Democrats concern for global warming was low.

November 24: The UK Daily Mirror: Russian Helicopter Shot Down by Syrian Rebels
while searching for pilots of Downed Mig
A Russian rescue helicopter has been shot down by Syrian rebels while searching for pilots missing after Turkey downed a Russian mig.  The helicopter was forced to make an emergency landing in a government-held area in Syria's Latakia province.  A Syrian insurgent group, which uses U.S. Tow missiles, said its fighters hit the helicopter with an anti-tank missile.    Vladmir Putin earlier warned Turkey of "significant consequences" after the Russian plane was shot down.    Meanwhile Turkey said it shot down the fighter jet after giving it repeated warnings and because it violated its airspace.
November 21: The Hill: GOP Looks at tightening up Visa Program in Wake of Paris Attack
Congressional Republicans are eyeing changes to a decades-old visa waiver program amid growing concerns that a terrorist could use the lightened travel restrictions to enter the United States.  The program has come under intense scrutiny after reports linked last week's Paris attacks — which killed 129 people — to suspected French and Belgian nationals. Under the current rules, individuals from nearly 40 countries can visit the United States without a visa for up to 90 days.
November 20: The Daily Caller: Dem. Rep. Explains Reason He Voted for Refugee Bill:
After listening to a briefing by Obama Administration officials, Democrat Congressman Gerry Connolly and others were not convinced that voting for the refugee bill would shut down the refugee resettlement plan.  The Bill would require the heads of the FBI, DHS and the National Intelligence Agency to certify each refugee admitted from Iraq or Syria is not a risk to U.S. national security. 
November 20: The Daily Caller: Student Settles Lawsuit Allowing Prolife Club in School;
School District Pays $30K in Legal Fees:
A Nevada student at West Career and Technical Academy, applied in December of 2014 to start a pro-life club at her school but was told by the administration the club was too "controversial" and that other people were more qualified to speak on the topic.  After a long legal battle with her school over a pro-life club didn't just get her club approved, she got her school to pay for it. She settled her lawsuit against Clark County School District in Las Vegas and the school has agreed to pay $30,000 in attorney fees.  Meanwhile the school agreed in September to allow the pro-life club after legal pressure.
November 18: The Daily Signal: House Repeal of Obamacare Keeps 82% of the burden, Report Shows
A House bill that some lawmakers insist would repeal Obamacare doesn't touch the lion's share of the tax burden imposed by the Affordable Care Act, according to a recent Congressional Research Service report.  The report, dated Nov. 17, shows that 82 percent of the economic burden caused by Obamacare taxes would remain in effect even if what critics call the "partial repeal" bill became law.

November 17: The Hill:  Senate Votes to Strike Down Obama Climate Rules
The Senate voted Tuesday to block a pair of regulations representing the central pillars of President Obama's climate change initiative. The symbolic votes approving resolutions under the Congressional Review Act come less than two weeks before Obama and other world leaders meet in Paris to agree to a worldwide pact to fight global warming. Obama is expected to veto the resolutions and supporters do not have the two-thirds majority needed in both chambers to override the vetoes.  The vote in the Senate was 52-46 to stop the carbon dioxide limits for existing power plants, which mandate a 32 percent cut in the power sector's carbon by 2030. The vote to block the related carbon rule for newly built power plants pass by the same vote.
November 17: The Daily Caller: Whether States Can Restrict settlement of Refugees is in doubt
As dozens of governors voice opposition to resettling Syrian refugees into their states in the aftermath of the terrorist attacks in Paris, there is pushback against the concept of states having a say in that process. But federal law does leave room for states to have input, in spite of what some are saying. The issue is not as cut and dry. Section 412 (B) of the Immigration and Nationality Act states clearly, "With respect to the location of placement of refugees within a State, the Federal agency administering subsection (b)(1) shall, consistent with such policies and strategies and to the maximum extent possible, take into account recommendations of the State."
November 17: The  Daily Caller: Massive Amount of Dollars Lost in Workman's Comp
The Department of Justice charged 28 individuals in the Texas area Monday with allegedly defrauding $9.5 million from federal workplace injury programs.  The alleged scheme involved a mass network of professionals and healthcare clinics. Those involved targeted worker compensation programs at the Department of Labor (DOL).  Medical professionals got workers to fake or exaggerate injuries to qualify for government assistance. They were also assisted by a claims representative within the department.  The Office of Worker Compensation Programs (OWCP) was the main office within the department scammed.
November 16: Fox News: Teachers in Ohio Carrying Heat in Increasing Numbers
Dozens of school districts in Ohio now allow teachers who have conceal-carry permits to pack heat on the job.  In several cases, boards of education have been pressed into adopting the policy by parents concerned about school shootings in the wake of the 2012 shooting at a school in Newtown, Conn.  While an exact number of Buckeye State districts now allowing teachers to have guns in the classroom is not known, there are at least 40, according to Joe Eaton, director of FASTERsaveslives.org, a program affiliated with the Buckeye Firearms Foundation which sponsors training for teachers from the school districts.
November 12: Yahoo News: B-52s fly by Chinese-built island; South China Sea
Two U.S. B52 strategic bombers flew near artificial Chinese-built islands in the South China Sea this week and were contacted by Chinese ground controllers but continued their mission undeterred, the Pentagon said on Thursday.  The latest U.S. patrol in the disputed South China Sea occurred in advance of President Barack Obama's visit to the region next week to attend Asia-Pacific summits where he is expected the reassert Washington's commitment to freedom of navigation and overflight in the area.
November 12: Yahoo News: Russia Reveals Plans for a Nuclear Torpedo on State Televvision:
Secret design plans of a huge Russian nuclear torpedo were accidentally broadcast on two Kremlin-controlled television stations during ordinary news bulletins.  During a piece reporting a meeting between President Vladimir Putin and his military high command, the camera cut away to a general staring at plans of the torpedo system, in which the name, basic layout and capabilities are clearly visible.  The document, which was on screen for several seconds, shows drawings and descriptions of a weapon labeled as the "Ocean Multi-purpose System 'Status 6'" -- a very large, self-propelled torpedo carrying an exceptionally powerful nuclear warhead.
November 6: The Daily Signal: Reasons Why Obama made a wrong decision on the Keystone Pipeline:
It took President Barack Obama only 2,604 days to reject the permit application for the Keystone XL pipeline.  Here are some of the reasons it was the wrong decision:  It would create jobs, provide a stable supply of oil from a friendly trading neighbor, provide a safe way of transporting the crude oil from Canada, allow business -- and not government -- to risk its own resources in a profitable enterprise,  and because the people of the country want it.
[See Related Column by the Three Musketeers]

November 6: The Hill: Unions: Obama Threw us under the Bus
The main union for construction workers is accusing President Obama of throwing them "under the bus" by rejecting the Keystone XL oil pipeline.  The Laborers' International Union of North America (LIUNA) is one of the few labor unions that broke with the majority of Democrats and supported the project, which Obama rejected Friday after a seven-year review.  "We are dismayed and disgusted that the President has once again thrown the members of LIUNA, and other hard-working, blue-collar workers under the bus of his vaunted 'legacy,' while doing little or nothing to make a real difference in global climate change," Terry O'Sullivan, the union's general president, said in a statement. "His actions are shameful."
November 5: The Washington Post: Sanders says there is more butt to kick before the GOP's
As he filed Thursday to run in New Hampshire's Democratic contest for president, Sen. Bernie Sanders (I-VT) fielded a colorful question from someone crammed into the secretary of state's office here: "You ready to kick some Republican butt, Bernie?""There's some earlier butt we have to deal with," the Vermont senator replied, in a less-than-graceful reference to the Democratic front-runner Hillary Rodham Clinton.
November 5: The Daily Caller: VA Scandal so Outrageous Democrats side with GOP against Government Unions
Democratic Rep. Tim Walz says that the recent relocation bonus scandal at the Department of Veterans Affairs is so egregious that he's willing to buck tradition and tackle public sector unions with Republicans.  Democrats usually side with public sector unions, a position brought into sharp relief by Sen. Richard Blumenthal's recent blocking of a motion for an up-down vote on the VA Accountability Act of 2015 in the Senate.
November 5: CNSNews.com: New Emails: Benghazi Cover Story Continues to Unravel:
A new lot of emails released by the State Department on Halloween were so newsworthy that not even the holiday could drown it out.  It turns out, three days after the Benghazi attack, on Sept. 14, 2012, the U.S. Embassy in Tripoli specifically warned the State Department in an email not to promote the idea that an anti-Muslim YouTube video was the cause of the attack.  The embassy issued this warning for two reasons: one, it was not true. And two, by calling continued attention to the video, anti-American sentiment in Libya was inflamed, where the video had not been a factor to any significant extent.
November 5: Associated Press:  Details of Controversial Pacific Trade Deal are Released
Details of a sweeping Pacific Rim trade deal released Thursday set the stage for a raucous debate in the U.S. Congress but also may provide reassurances to those who worried the agreement could gut protections for the environment, public health and labor. The text of the Trans Pacific Partnership agreement between the U.S. and 11 other Pacific Rim countries runs to 30 chapters and over 5.000 pages.
November 5: The Daily Caller: Senate pushes for budget reforms/biennial budget
After passing 173 short-term spending bills over the past 38 years (an average of 4.5 per year), Senate Budget Committee Chairman Mike Enzi called for major reforms, proposing a biennial budget approach to streamline the process during a hearing held Wednesday.The legislative branch has a history of dysfunctionality when it comes to passing a budget, it has only completed the appropriations process on schedule four times over the course of the past four decades.
November 5: The Hill: Dems push for Gun Violence Research
A new House bill unveiled this week would lift a ban on allowing the Centers for Disease Control to research the causes of gun violence. In the 1990s, the National Rifle Association accused the CDC of trying to use scientific studies to promote gun control, such as one that found having a gun in the home increased the odds for injury.  Congress later threatened to cut the CDC's budget by the same amount the CDC was spending on gun violence research.
October 30: The Daily Mail: One out of 16 of Hillary's emails were classified
The State Department released 4,432 emails on Friday that once lived on the secret server in Hillary Clinton's upstate New York home. State Department Spokesman John Kirby said Friday's installment contains between 200 to 300 messages that were deemed 'classified' by intelligence analysts. Those messages were censored in part or completely. A preliminary count shows that 272 of the messages released Friday include the words 'declassify' and 'reason' – an indication that they were given a classification designation by an intelligency agency. A federal judge has ordered the State Department to make the entire remaining collection  of 55,000 public by the last weekday in January – which comes just three days before the Iowa Caucuses.
October 30: The New York Times:  White House Moves to Keep Obama-Clinton emails hidden:
The White House will try to block the release of a handful of emails between President Obama and former Secretary of State Clinton, citing longstanding precedent invoked by presidents of both parties to keep presidential communications confidential.  The State Department discovered the emails between Mr. Obama and Mrs. Clinton as part of its effort to release the former secretary's emails, several thousand more of which were scheduled to be made public on Friday. Mr. Obama's correspondence was forwarded for review to the White House, which has decided against release.
October 30: The Hill: Winners and Losers over the Debt Ceiling Deal
Congress agreed early Friday morning to pass a two-year budget deal that raises funding levels and suspends the debt limit until 2017. The last-minute accord marked one of the last achievements of outgoing Speaker John Boehner (R-OH), and draws the curtain on the fiscal fights that were central to President Obama's feud with congressional Republicans
October 26: Independent Journal:
Comedian Tim Allen takes on Obama
This past week when the show targeted a larger figure
— President Barack Obama — "Last Man Standing"
called for reinforcements. Going after the President is
a new thing, since as recently as 2012 ABC censored
one of Allen's Obama jokes.  Reinforcement came in
the form of a mechanic played by comedian Jay Leno,
a man who has never had a problem lobbing one-liners
in the direction of the White House. 


October 25: The Daily Signal: How the Freedom Caucus Feels about a Ryan Speakership
On Sunday, two members of the House Freedom Caucus explained the group's majority support for Rep. Paul Ryan (R-WI) to become the next House speaker.  "We do have a commitment from Paul to work on changing the rules" Jordan said. Mark Meadows (R-NC) called Ryan's request to change a House procedure known as "the motion to vacate the chair" a "non-starter."  "There's more that we agree on than divides us," Meadows added.
[The motion to vacate the chair was made part of the House rules by Thomas Jefferson.  Because it is a rule of the House and not the Party it would take Democrat votes to change.  Getting enough votes to do this is highly unlikely.]

October 25: The Washington Times: Dems Nervous about Iran after Nuke Deal
For any Democrat anxious to see the unpopular Iran nuclear agreement fade from public view between now and November 2016, it's been a rough couple of weeks. Headlines about the GOP Senate's failed battle to stop the Joint Comprehensive Plan of Action had all but disappeared when Iran launched an Oct. 11 test of an intercontinental ballistic missile. Suddenly foes of the deal were back in the news, accusing Iran of breaking the agreement.
The White House and Iran countered that the launch did not violate the nuclear deal because it does not include missile testing. Even so, a group of Senate Democrats responded with a letter to Secretary of State John F. Kerry denouncing Iran's move as a violation of U.N. Security Council Resolution 1929 and calling for "unilateral and multilateral responses."
October 24: The Hill:  Clinton: Veterans problems are not widespread
Democratic primary front-runner Hillary Clinton says the Department of Veterans Affairs (VA) scandal is not as "widespread" of a problem as coverage would indicate. She said the problem is real, but cautioned on MSNBC's "Rachel Maddow Show" on Friday that "it's not been as widespread as it has been made out to be." The former first lady blamed Republicans for using the issue as part of an "ideological agenda" and said they want the VA to "fail."
October 24: Yahoo News: U.S. Patrols to raise the stakes in South China Sea
U.S. plans to send warships or military aircraft within 12 nautical miles of China's artificial islands in the disputed South China Sea, possibly within days, could open a tense new front in Sino-U.S. rivalry. A range of security experts said Washington's so-called freedom of navigation patrols would have to be regular to be effective, given Chinese ambitions to project power deep into maritime Southeast Asia and beyond.
October 24: The Daily Caller: Hillary could face a second Congressional hearing
Hillary Clinton could be subpoenaed for a second time by the House Select Committee on Benghazi, according to committee member Ohio Rep. Jim Jordan. "If you made an agreement about her testifying once, and new material arrives that undermines the agreement, don't you have the right to subpoena her again?" radio talk show host Hugh Hewitt asked Jordan during an interview.  Jordan and the 11 other Benghazi Committee members questioned Clinton for 11 hours on Thursday about the Sept. 11, 2012 terrorist attacks in Benghazi. While Democrats mostly gave Clinton a free pass during the marathon session, Republicans quizzed her about her response following the attacks, which left Ambassador Chris Stevens and three others dead. She was also asked about how she and the State Department handled requests for additional security in Libya before the terrorist onslaught.

October 24: Fox News: Trump Trailing in Iowa – Now battling to regain the lead
New polls show Republican presidential candidate Donald Trump is trailing in first-voting state Iowa but his strategy so far appears unchanged -- touting his outsider status and attacking rivals like a scrappy up-and-comer. Trump on Friday attacked primary rival Ben Carson, whom he described as "super low energy" but who leads him in Iowa, according to the polls. A Des Moines Register/Bloomberg Politics poll released Friday shows Trump now trailing Carson by 9 percentage points.
October 24: The Hill:  Law Enforcement Sues Los Angeles over Ban of high-capacity magazines
Gun owners and California law enforcement officers have filed a lawsuit against the city of Los Angeles, claiming its ban on high-capacity magazines violates existing state regulations. Gun owners face a Nov. 18 deadline to give up magazines that contain more than 10 rounds of ammunition, after Los Angeles' City Council voted in July to ban ownership of the magazines, according to the Los Angeles Daily News. The lawsuit seeks to block that law going into effect. Violation of the new ordinance would carry misdemeanor charges.

October 23: The Washington Post: House Searches for Votes to Pass Debt Ceiling
Congressional Republicans say they are short votes for raising the debt limit and avoiding a first-ever government default. GOP leaders promised Friday that the House will act next week — just days from a Nov. 3 deadline. Increasing the government's $18.1 trillion borrowing cap so that it can continue to pay its bills in full and on time would prevent a threatened meltdown in the financial markets. [Not in the Post story: In the meantime the IRS has taken in record levels of income and it is possible to prioritize spending so the interest on the debt is paid first and Medicare and Social Security Checks are also paid.   In fact, the House of Representatives recently passed a bill [221-207] to do just this.]
October 22: The Daily Caller: Hillary told Chelsea Terrorist responsible the night
of the Benghazi attack then later told others it was because of a video:
Hillary Clinton sent an email to her daughter, Chelsea, on Sept. 11, 2012 in which she asserted that an al-Qaida-like group was responsible for the terrorist attacks in Benghazi, it was revealed on Thursday during the former secretary of state's testimony to the House Select Committee on Benghazi.  The email, which was revealed by Ohio Rep. Jim Jordan, indicates that Clinton knew early on that the attacks which left four Americans dead was carried out by terrorists. But as Jordan pointed out, Clinton and others in the Obama administration had already begun crafting the narrative that the attack was spontaneous and that the attackers were motivated by a YouTube video many Muslims found offensive. 

October 22: Fox News: Clinton seeks to move on beyond Benghazi, but can she?
The former secretary of state -- no doubt looking to avoid missteps that could reverberate on the trail -- was visibly measured Thursday as she defended her role before, during and after the attacks. And she repeatedly cited past investigations, suggesting there's little more to uncover.  Whether Clinton gets her wish remains to be seen.  Ultimately, analysts suggested the hearing might not move the dial much either way – Republican critics continued to voice frustration Thursday at her responses, while congressional Democrats spent the better part of the day defending her.  In the short term there were probably no minds changed, which may have been all Clinton could hope for.
October 22: The Hill: Three GOP Senators threaten to vote against ObamaCare Repeal Bill:
Sens. Ted Cruz (R-TX), Marco Rubio (R-FL) and Mike Lee (R-UT) are vowing to oppose any fast-track bill repealing only parts of ObamaCare, narrowing the path for the legislation to pass the Senate.  They don't think the bill goes far enough.  The House is set to vote on Friday on a bill under a fast-track process known as reconciliation that would repeal several parts of ObamaCare. The reconciliation process allows a measure to pass the Senate with 51 votes, instead of the usual 60, and get through to President Obama's desk, where it would face a veto. Their opposition puts the bill's future in doubt. There are 54 Republican senators, so if Cruz, Rubio, and Lee vote no, Republicans could only afford to lose one more vote and still have a simple majority.
October 22: The Hill: In a rare move Obama vetoes major Defense Policy Bill
President Obama on Thursday took the rare step of vetoing a major defense policy bill, upping the stakes in a faceoff with Republicans over government spending. It's highly unusual for a president to veto the defense legislation, which typically becomes law with bipartisan support. The move amounts to a public rebuke of congressional Republicans, who warned that vetoing the $612 billion measure would put the nation's security at risk.

October 22: The Hill: GOP braces for a "clean" debt vote in the House
House Republicans are increasingly resigned to voting on a "clean" bill to raise the debt ceiling now that their leadership has shelved a proposal tied to a package of conservative reforms.  Raising the $18.1 trillion debt limit before the looming Nov. 3 deadline is expected to be one of outgoing Speaker John Boehner's (R-OH) final acts before leaving Congress at the end of the month.  House GOP leaders had been whipping a proposal authored by the Republican Study Committee that would have raised the debt limit into 2017 while imposing a freeze on new regulations, banned the Senate from filibustering spending bills after October and prevented either chamber from adjourning in September if they haven't finished work on appropriations bills.
October 22: The Hill: Cruz tries to name street in front of Chinese embassy after Chinese Dissident!
Senate Democrats on Thursday for a second time blocked a proposal from Sen. Ted Cruz (R-TX) to rename the street in front of the Chinese Embassy in Washington for a Chinese dissident.   Cruz tried to get unanimous consent to pass a resolution that would name the street in front of the embassy "Liu Xiaobo Plaza" after Liu Xiaobo, a human rights activist currently imprisoned in China. It would also change the embassy's address to "1 Liu Xiaobo Plaza."
October 22: United Press International: Ukraine to receive U.S. radar eqipment
The U.S. will supply Ukraine with long-range counter-battery radar stations by mid-November as the country continues to fight the Russian-backed militants.   Those stations will be located tens of kilometers from the front lines but will assist Ukraine in clearly identifying enemy's batteries firing locations and will allow immediate counter strikes at the enemy.
October 22: Politico: "Confidential" Planned Parenthood Video Leaked
Complete raw footage from the Planned Parenthood videos surfaced Thursday on the conservative website "Got News?", whose editor said he had gotten it from a House staffer despite lawmakers' pledge to keep it confidential. Editor Charles Johnson released the full footage Thursday even after the National Abortion Federation got a temporary restraining order a day earlier prohibiting any dissemination. 
October 21: The Daily Signal: Several States Launch New Laws Against ObamaCare
Thought the litigation battle over Obamacare was over? Think again. Texas, Kansas, and Louisiana are about to file a new lawsuit against Obamacare, claiming that a fee being imposed by the IRS as a condition of states continuing to receive Medicaid funds is both unconstitutional and a violation of federal law. And they are in discussions with more than a dozen other states about joining this new lawsuit.
October 21: The Daily Signal: Where Ryan Stands on Critical Policy Issues
Where does Congressman Ryan (R-WI) candidate for Speaker of the House stand on issues like abortion, the budget, gun rights, relations with Cuba, immigration, marriage and national security?

October 19: Fox News:  Steven's Cable shows Ambassador sought security staffing before Benghazi attack
Two months before the fatal 2012 terrorist attack on the U.S. compound in Benghazi, then-Ambassador Chris Stevens requested 13 security personnel to help him safely travel around Libya, according to a cable reviewed by Fox News -- but he was turned down. In the July 9, 2012 cable, Stevens reported that, "Overall security conditions continue to be unpredictable, with large numbers of armed groups and individuals not under control of the central government, and frequent clashes in Tripoli and other major population centers." The cable said 13 security personnel would be the "minimum" needed for "transportation security and incident response capability."
October 19: WRIC News (Richmond, VA): Senate Candidates debate Gun Control Issues
– Result of election may determine who controls the State Senate
Four candidates from the 10th Senate district squared off Tuesday night in a town hall debate at VCU. Election day is just two weeks away, and political watchers from all across the state are watching this race because it will likely determine whether Democrats or Republicans control state Senate.  Republican Glen Sturtevant, Democrat Dan Gecker, Libertarian Carl Loser and Independent Marleen Durfee went back and forth for 90 minutes. With slain WDBJ reporter Allison Parker's parents in the audience, the group discussed their beliefs on gun control.
October 19: The Washington Times: Federal Judge: ObamaCare Lawsuit  Must go Forward:
A federal judge Monday denied the administration's request to hit pause on a House lawsuit over Obamacare so that it could appeal an earlier, and notable, ruling that allowed the case proceed in the first place.   U.S. District Court Judge Collyer enthused conservatives and shocked Democrats last month by granting House legal standing to sue President Obama, after lawmakers said his administration continued to dole out cost-sharing payments under the Affordable Care Act even though lawmakers had not approved them.  On Monday, a judge prevented the Justice Department from appealing that decision before she can move on to the merits of the case. 

October 18: The Telegraph (UK): Russia Retreats as Poverty Looms: Putin is falling back on Soviet-era self-reliance as oil wealth evaporates and sanctions cut off vitally-needed technology:
Russia is running out of money. President Putin is taking a strategic gamble, depleting the Kremlin's last reserve funds to cover the budget and to pay for an escalating war in Syria at the same time.  Deficits on this scale are manageable for rich economies with deep capital markets. It is another story for Russia in the midst of a commodity slump and a geopolitical showdown with the West. Oil and gas revenues cover half the budget.  The Russian finance ministry admits that the funds will be exhausted within sixteen months on current policies.

October 18: Yahoo News: Israel builds walls to protect Israeli Citizens in East Jerusalem:
Israeli police on Sunday began erecting a wall in east Jerusalem to protect a Jewish neighboorhood subject to firebomb and stone attacks launched from an adjacent Palestinian village.  The wall would effectively divide Palestinian Jabel Mukaber and Jewish Armon Hanatziv, raising criticism among the government's opposition, which considered the move a de facto division of Jerusalem. 
October 18: The Daily Signal:  Freedom Caucus Seeks Changes to the Power of the Speakership
For the conservatives who helped push out Speaker John Boehner, finding a replacement isn't about picking someone who is as conservative as them.   The Freedom Caucus, a group of about 40 conservative lawmakers whose votes are key to leadership races, wants the next speaker to commit to numerous process and rules changes to the way the House currently operates.  These lawmakers believe the changes would allow them to advance conservative policies by empowering rank-and-file members to have more influence in the legislative process.
October 15: The Daily Signal: There are now 340 Sanctuary Cities in the U.S. and that number is growing 
Sanctuary cities are growing in the United States, leading to a spike of 340 jurisdictions that shield undocumented immigrants from federal immigration law.  The Center for Immigration Studies published an interactive map showing the locations of the sanctuaries, revealing scattered pinpoints across the country. 
October 15: The Daily Signal: Six Government-Funded Insurance Companies
Created under ObamaCare Collapse:
A government watchdog overseeing the HHS delivered the grim financial state of nearly all of the co-ops—that collectively received $2.4 billion—created under Obamacare several months ago.  Now, following the collapse of six of the 23 that launched in 2013, the co-ops, or consumer oriented and operated plans, face an uphill battle to solidify themselves as competitors in the health insurance market.  To assist the co-ops in getting off the ground, the Centers for Medicare and Medicaid Services disbursed $2.4 billion in start-up and solvency loans to the 23 co-ops created under Obamacare.  However, over the last 10 months, six co-ops, which collectively received nearly $762 million from the federal government, announced they're closing their doors and pulling out of the insurance market for 2016.

October 14: Fox News: 1,500 Iranian Troops enter Syria under Russian Cover
Iran has sent around 1,500 fighters to Damascus airport Syria over the past few days, a regional official and Syrian activists claim.  The Iranian soldiers, bolstered by Russia's airstrike campaign, are preparing for a grand offensive against militants in the northern Aleppo province, which would be announced in the coming days, the official told the AP. They're also accompanied by a new wave of Hezbollah fighters.
October 13: The Daily Signal:  Does the 14th Amendment Require "Birthright" Citizenship?
The issue of birthright citizenship is not well understood by most people.  But it has important consequences because, if those who are contending that just because a person is born in the U.S. – even of parents who are here illegally – is wrong then it would be simple for Congress to pass legislation declaring these children are not U.S. citizens.  

October 12: CNN News: Iran has successfully test launched a long range ballistic missile
Iran has successfully test-fired a new precision-guided, long-range missile, state-run media reported on Sunday.  The Emad (Pillar) surface-to-surface missile, designed and built by Iranian experts, is the country's first long-range missile that can be precision-guided until it reaches its target, said Brig. Gen. Hossein Dehqan, Iran's defense minister.   "To follow our defense programs, we don't ask permission from anyone," he said, according to state-run news agency IRNA.  The new rocket is "capable of scrutinizing the targets and destroying them completely," IRNA reported. It would be Iran's first precision guided missile with the range to reach Israel.

October 11: Yahoo News:  Islamic State Figures Killed in Air Strike
Eight senior figures from Islamic State were killed in an air strike while meeting in a town in western Iraq, but the group's reclusive leader Abu Bakr al-Baghdadi did not appear to be among them, residents of the town and hospital sources said.  Iraq said on Sunday its air force had hit the meeting and had also struck a convoy that was carrying Baghdadi to attend it.  It said Baghdadi had been driven away from the convoy in an unknown condition.
October 10: Fox News: CIA-Backed Syrians making gains before Russians Entered the Picture
CIA-trained Syrian rebels, who had started to make serious gains on President Bashar Assad's forces, are now under Russian bombardment with little prospect of rescue by their American patrons, U.S. officials say.  Officials, who spoke to the Associated Press said Russia has directed parts of its airstrikes against U.S.-backed groups and other moderate opposition in an effort to weaken them. The White House has few options to defend those it had secretly armed and trained.
October 10: Yahoo News: Hillary's Poll Numbers Down 10 Points in a Week
Just days before she will take the stage in the first Democratic debate, Hillary Clinton's lead over rival Bernie Sanders has narrowed, according to a Reuters/Ipsos poll.  Clinton's support among Democratic voters fell 10 points within less than a week.  From October 4 to October 9, Clinton saw her support tumble from 51 percent of Democratic support to just 41 percent.
October 10: The Daily Caller: Armed Citizen Shoots Waffle House Robber:
A Waffle House customer with a legally concealed weapon saved the day by shooting an armed robber at a Waffle House in North Charleston, South Carolina.  a customer opened fire on the armed suspect Saturday morning, according to the local paper. The suspect was rushed to the hospital where he died from his wounds.  The customer's decision to use force drew praise from employees. "He saved us, that's what he did," a Waffle House employee said.  A police officer on the scene said the customer's actions are an example of how guns in the right hands can save people.
October 10: The Hill: Court Battles may be on the horizon over Obama Gun Actions
President Obama's renewed push for executive action on gun control is almost certain to be challenged in court, experts say, setting up another high-stakes battle over the Second Amendment.  Frustrated after a spate of mass shootings, Obama is considering a regulatory change that would extend background check requirements to more gun dealers, the White House said Friday.
October 9: United Press International: Russia running short on Reserve Funds
Stumbling under the strain of low crude oil prices, the Russian economy will run out of reserve funds as early as 2017, the deputy finance minister said.  Russian Deputy said private sector investments are all-but out of the question when access to foreign markets is limited.  "Reserve funds are depleting. We believe reserve funds may end at such rates of their spending," she said. "We will use up resources received when oil prices were high by 2017-18."   The Russian military intervention in the Syrian civil war on the side of Syrian President Bashar al-Assad put positive pressure on crude oil prices.

October 9: The Hill: Gun-Rights Supporters and Family Members on Obama's Oregon Visit
Gun-rights advocates on Friday protested President Obama's visit to Roseburg, OR, where he met with families of the victims of last week's shooting at Umpqua Community College.  Around 300 people gathered to protest Obama before his arrival in Roseburg, according to the local newspaper. Demonstrators held signs saying  "Obama Free Zone" and "Gun free zones are for sitting ducks!"

Meanwhile People.com reports the father of shooting survivor Ana Boylan declined to meet with the president because he too believed Obama was using the opportunity to push for greater gun control. "I do believe it was Rahm Emmanuel that said, 'Never let a good tragedy go to waste,' " Stacy Boylan said.  "On principle, I find that I am in disagreement with his policies on gun control, and therefore, we will not be attending the visit."
October 9: The Daily Signal:
Meet a Single Mom who took on the IRS and won!
Sabina Loving always knew she wanted to work for herself but when she launched Loving Tax Services the Internal Revenue Service promptly slapped her with regulations.  In 2011, the IRS sought to begin regulating the nation's roughly 300,000 independent tax preparers based on an 1884 statute called the Dead Horse Act. The IRS argued that the 127-year-old law, enacted before the nation had an income tax, allowed them to extend current rules to tax preparers.  Loving and two other tax preparers sued the IRS. Last year, she won the case, Loving v. Commissioner.   "The IRS invented out of whole cloth these regulations, and did not actually have the statutory authority to implement them," Loving's lawyer said. "Both the U.S. District Court here in D.C. and the D.C. Circuit agreed with us, and the IRS decided not to appeal to the Supreme Court."
October 9: United Press International: US Commandeer:
North Korea has ability to miniaturize nuclear warheads and strike US targets:
North Korea has the capacity to miniaturize nuclear warheads, send long-range ballistic missiles to the United States and has sufficient plutonium to create 22 nuclear weapons. Adm. Bill Gortney, commander of the U.S. Northern Command and the North American Aerospace Defense Command, said Wednesday that North Korea's nuclear missiles are capable of hitting the continental United States, but added the U.S. military can intercept a North Korean missile.  
October 5: Los Angeles Times: Oregon Sheriff: "Gun control is NOT the answer" and Residents Agree!
In Roseburg, Oregon an ex-girlfriend of a surviving victim scoffed at the idea of tightening gun laws, and an elementary education student -- who hid from the shooting in a nearby classroom -- said she hoped her community's tragedy wouldn't get spun into the national debate about firearms.  "That's not the issue," she said.

October 5:  Fox News: Bloody Baltimore: No end in sight to post-Freddie Gray spike in homicides & shootings
Baltimore's bloody summer ended with a barrage of bangs, as the rate of homicides and gun crimes continued to spike in the wake of the racially charged case of Freddie Gray, whose death in police custody left citizens angry and peace officers demoralized.  Whether due to demoralized cops, emboldened criminals or some combination of the two, the city is scrambling to turn the tide. 
October 5: Yahoo News: Violence Intensifies After Attacks on Israelies
Security was intensified in Jerusalem and the West Bank on Sunday after Israelis were targeted in two stabbing attacks and a Palestinian was killed in a clash with Israeli troops, officials said.   A Palestinian man stabbed and wounded an Israeli teenager in Jerusalem, just hours after another knife-wielding attacker killed an off-duty Israeli soldier and a rabbi, nearby in the walled Old City, police said.  Both attackers were shot dead but the Israeli government announced it was barring Palestinians (other than those who live there) from entering the ancient district for two days.
October 5: CNN: Biden Sounding More Like a Candidate to his Friends:
Vice President Joe Biden, who has been openly toying with the idea of seeking the Democratic presidential nomination, is now privately leaving the impression with some political allies that he is leaning toward running, according to two senior Democrats who have spoken with him in recent days.  The vice president -- directly, no longer only through his advisers -- has sounded more like someone inclined to jump into the race to challenge Hillary Clinton and the rest of the Democratic field.
October 5: The Washington Free Beacon: Iran: Missiles Pointed at U.S. Targets
A senior Iranian military leader warned this weekend that "all U.S. military bases in the Middle East are within the range of "Iran's missiles and emphasized that the Islamic Republic will continue to break international bans on the construction of ballistic missiles.  Much of this missile work, like the details of Iran's advanced arsenal, remains secret, according to Brigadier General Amir Ali Hajizadeh, commander of the Iranian Revolutionary Guard Corps Aerospace Force.
October 3: The Hill: Police: Oregon Shooter Took His Own Live as Officers Approached.
The gunman in the mass shootingat Umpqua Community College in Oregon died by suicide, police said Saturday. Like most active shooter situations, when confronted by law enforcement or a licensed gun holder, they take their own life. Douglas County sheriff John Hanlin said that Chris Harper Mercer took his own life after a firefight with police.  The determination was made after an autopsy. Police had not previously released the cause of death.  The gunman stormed the college Thursday and killed 9 people.
October 3: The Hill: Biden Entering the Race would Help Sanders, Reports Say
A Joe Biden presidential campaign would help Bernie Sanders by hurting Hillary Clinton, according to Democratic Party insiders and other experts.  Biden, whose ideology is more similar to Clinton's than the left-wing senator from Vermont, would siphon off more of her supporters, according to most polls. He could also help Sanders by turning the Democratic fight into a three-horse race.
October 2: The Hill: GOP Slams Obama for "Rant" on Guns:
Former Rep. Allen West (R-FL) said on Friday that Americans are tiring of President Obama's calls for gun control in the wake of recent mass shootings.  "A good leader waits and takes in the facts bit by bit before making any proclamations," West wrote in a post on his blog published that morning.  "Sadly, President Obama could not restrain himself and went into his normal rant before all the facts were in," he said of Thursday's massacre at Umpqua Community College in Roseburg, Oregon.  "It's not that we've become numb to these shootings and incidents – we are numb to your cherry-picking and ideological bent on every issue," he wrote of Obama.
October 2: The Hill: Benghazi panel
Democrats claimed this week that the House's special committee investigating the 2012 violence in Benghazi, Libya, was the longest inquiry of its kind, but fact-checkers on Friday proved them wrong.  In fact, there have been at least four special congressional committees charged with investigating various incidents that have run longer than the Benghazi panel.    Among those four committees running longer than the Benghazi panel are a 1970s panel charged with investigating the assassinations of former President Kennedy and Martin Luther King Jr. and an 1860s probe into conduct during the Civil War. The other two committees are a 1950s panel investigating criminal behavior in labor-management relations and a World War II-era special Senate committee created to look at defense contracts.
October 2: The Hill: Obama Ultimatum: No more short-term spending bills
President Obama vowed Friday that he would not sign another short-term funding measure, pushing lawmakers to craft a long-term budget agreement.  Speaking to the press two days after signing a two-month continuing resolution to keep the government from shutting down, Obama said that would be the last he is willing to tolerate. Government funding is now set to expire Dec. 11 after the latest agreement. In a related column by the Three Musketeers they point out some very interesting things about the Congress and the passage of appropriation bills under the current House and Senate Republican leadership
October 2: Breitbart News: Record 94.6 Million Americans Are Not in the Labor Force:
The number of Americans (ages 16 and older) not in the labor force exceeded 94 million for the second time in a row last month according to government data.  In other words they were neither employed nor had made specific efforts to find work in the prior four weeks.  The number of individuals out of the work force last month — due to discouragement, retirement or otherwise — represented a substantial 579,000 person increase over the most recent record of 94 million, hit in August. 
In a related story from Breitbart News;   a record 56.6 million women are not in the labor force. This number is up 390 thousand from August. 

October 1: The Hill: Treasury: Debt Limit Deadline is November 5th, Coincides with Boehner's Departure:
Congress will need to address the debt limit by Nov. 5 or risk a catastrophic default on the nation's debt, according to Treasury Secretary Jack Lew.  The deadline is the first the Obama administration has set for raising the $18.1 trillion debt limit, and comes in somewhat earlier than what most experts had predicted. 

October 1: Grabein.Com: Obama: Don't pass up an opportunity,
then mention yourself 28 times in a 12 minute speech:
Less than six hours after the mass shooting in Roseburg, Oregon, President Obama called a press conference to demand new gun laws, a move he predicted would spur critics to accuse him of politicizing the issue  -- something he has done for every shooting event during his presidency.  If they don't accuse him of that, they might accuse him of making the tragedy about himself. During today's 12-minute address, President Obama referred to himself 28 times. (For those counting at home, that's almost three times per minute.)  Note that in arriving at this calculation, we included mentions of "we" when he was clearly including himself as part of the plural pronoun; the many uses of "we" in referring to America at large were not included.

October 1: The New York Post: Oregon Gunman Singled our Christians – Domestic Terrorism?
A gunman singled out Christians, telling them they would see God in "one second," during a rampage at an Oregon college Thursday that left innocent people dead and several more wounded.  "[The gunman started] asking people one by one what their religion was. 'Are you a Christian?' he would ask them, and if you're a Christian, stand up. And they would stand up and he said, 'Good, because you're a Christian, you are going to see God in just about one second.' And then he shot and killed them," said Stacy Boylen, whose daughter was wounded at Umpqua Community College in Roseburg, Oregon.  Harper-Mercer, 26, was killed in a shootout with police outside one of the classrooms, said Douglas County Sheriff John Hanlin.  "There was an exchange of gunfire," he said. "The shooter threat was neutralized."
October 1: The Daily Signal: California's Drought may be because of its political decisions:
California's drought is largely a man-made crisis. It is caused by a series of policies—some from the past, many ongoing—which has prioritized environmental demands above the basic provision of water resources to the public. More than half of the state's water resources simply flow out the San Francisco Bay to the Pacific Ocean.  Even now, in the Sierra foothills, state officials empty reservoirs to protect "unimpeded" river flows to benefit small numbers of non-endangered hatchery fish. The California Coastal Commission, the powerful agency with control of development along the shoreline, is holding up a privately planned desalination plant over concerns about its impact on plankton. The environment-friendly commission want to force the developers to build a pumping system that destroys the economics of the plant.
September 29: The Daily Signal: Forensic Analysis: Planned Parenthood Videos are Authentic
A forensic analysis of undercover videos about Planned Parenthood's abortion practices are "authentic and show no evidence of manipulation or editing," according to a report released Tuesday by Alliance Defending Freedom.  The analysis was completed by Coalfire, a digital security and forensics firm that has worked on civil and criminal investigations. The firm had access to all audio and video investigative footage recorded by the Center for Medical Progress.

September 28: The Hill: CNN: Biden qualifies for Democrat Presidential Debate – All he has to do is decide to run!
Vice President Biden has already qualified for next month's CNN debate, the network confirmed Monday.  Now all he has to do is jump in the race.  CNN confirmed that any candidate who has averaged 1 percent in at least three credible polls would be able to participate in the debate. Since most recent polls have tested Biden and found he would have double-digit support, he meets the threshold easily. With that main hurdle past, Biden wouldn't even have to file official paperwork by the debate — the criteria says that a simple public declaration will suffice. 
September 28: The Daily Caller: Investigation shows Marine saved two in Chattanooga shooting:
Gunnery Sgt. Camden Meyer saved his daughter and a fellow marine during the July terror shooting in Chattanooga, Tennessee, according to an investigative officer's report.  On July 16, Meyer reported to his post at Recruiting Substation Chattanooga at 7:30 a.m. Meyer, according to the report, talked with his Marines about the day and then left the office to get his car repaired. Ten minutes after Sgt. Meyer returned to the office with his daughter  Muhammad Youssef Abdulazeez fired between 30 and 45 rounds into the building before driving off in his rental car. In the office, when a bullet came through the wall;  Meyer grabbed his daughter and ordered Thompson to get down, saving all three. According to the report, Thompson was prepared to run, which would have made him an easy target.
September 27: The Hill: Supreme Court Cases to Watch
October 5 the Supreme Court opens another session.  It has agreed to hear 34 cases; among them are the following:
- Fisher v. University of Texas at Austin:
Abigail Fisher (who is white) sued UT when she was not accepted at UT because it used race as a factor in the undergraduate admissions process. She argues that consider of race violates the Equal Protection Clause of the 14th Amendment.
- Friedrichs v. California Teachers Association:
California law allows school districts to require public school teachers to pay union dues even if they opt-out of joining the union.  The court could overturn this requirement or it could find that it violates the 1st Amendment to require public employees opt-out instead of letting them opt-in to a union. 
- Sharpe Holdings v. US Dept of Health and Human Services: 
It is likely the court will consider this case in which a lower court ruled against the requirement that all employer healthcare plans cover federally approved forms of birth control. This lower court ruling conflicts with other lower courts finding causing a split in the decisions.  The 8th Circuit found that the HHS requirements "substantially" burdened the exercise of their religion, mirroring that language of the Supreme Court's findings in the Hobby Lobby case.
September 27: The Hill: Polls:  Trump & Carson Neck in Neck at top of the GOP field
Donald Trump and Ben Carson are running neck and neck atop the 2016 Republican presidential field, according to a new national poll.  The NBC News/Wall Street Journal poll released Sunday morning found 21 percent support from Republican primary voters for Trump and 20 percent for Carson.  Carson's support has doubled since July, when he attracted 10 percent in a similar poll.  Carson said Sunday that the poll "reflects what we've been seeing out on the road, just tremendous crowds but enormous enthusiasm."

September 27: The Wall Street Journal:  GOP voter discontent over leadership is not easing up:
The tug-of-war within the Republican Party that helped end Speaker Beohhner's career is likely to intensify this year both on Capitol Hill and in the tumultuous GOP presidential race.  The Speaker's announcement Friday that he would leave Congress on Oct. 30 isn't expected to mollify either the House's most conservative faction -- which is determined to take an unyielding stance in the face of fiscal deadlines -- or dissatisfied GOP primary voters rooting for outsiders who have pledged to uproot Washington politics.
September 27: The Washington Post: US Catholics may not buy into Pope's message on immigration
When Pope Francis addressed a Joint Session of Congress he devoted a particularly large amount of time to discussing the nation's treatment of its 11 million undocumented immigrants.   The pope strongly encouraged Americans to remember their immigrant roots, to feel empathy for the plight of the undocumented and to resist the urge to resolve immigration problems through deportation. So does the pope actually have the power to persuade his parishioners on immigration? Recent research suggests probably not.

September 26: Associated Press: Conservatives to GOP: Defy us at your own peril!
The Republican Party's conservative wing, pumped up by House Speaker John Boehner's stepping down, is warning the 2016 presidential candidates that defying its wishes will come at their peril.  Religious activists forcefully conveyed this message Saturday: embrace our uncompromising stance against abortion rights and gay marriage, among other priorities, even if doing so risks a federal government shutdown.

September 26: National Review: Mitch McConnell "Next Guy in the Cross Hairs"
Senate Majority Leader Mitch McConnell (R-KY) will be the next target of conservatives frustrated with party leadership, according to one of the conservative representatives who pressured House Speaker Boehner in the weeks leading up to his resignation. "Next guy in the crosshairs will probably be McConnell," Representative Matt Salmon (R-AZ) said in a text message to Senator Mike Lee (R-UT).   Lee's response is that he doubts that will happen.
September 25: The Daily Signal: Obamacare: This Law Suit Has "Legs!"
For those who thought that the lawsuits challenging Obamacare were at an end, think again. On September 9, a federal district court for the District of Columbia refused to dismiss a lawsuit filed by the entire U.S. House of Representatives against the Obama administration over its funding of certain aspects of Obamacare. This is a historic lawsuit and decision. In the past, individual members of Congress have filed a number of (unsuccessful) lawsuits, but this is one of the few occasions when such a suit has been pursued by the entire House of Representatives as an institution. The administration filed a motion to dismiss the lawsuit, claiming that the House lacked standing to assert either claim and that "only the Executive has authority to implement the laws." The judge, however, said the suit remains a clear dispute over constitutional commands for which the judiciary has long been the ultimate interpreter and that because this is a case brought "as an institutional plaintiff, to preserve its power of the purse and to maintain constitutional equilibrium" the House of Representatives has standing to bring the suit. 
September 25: The Hill: Odds of shutdown shrink with Boehner's exit
House Republicans are confident they will avoid a government shutdown after the sudden announcement on Friday that Speaker John Boehner (R-OH) is stepping down.  "I think with the Speaker's decision, the odds of a shutdown are much less likely," Rep. Jolly (R-FL) said. "Because the 'shutdown caucus' as I call them has a small victory, and they can move forward knowing that perhaps there's a bigger battle they can fight in the coming weeks."
September 25: The Hill: McCarthy (R-CA) seen as possible successor to Boehner
House Majority Leader Kevin McCarthy (R-CA) is seen as the favorite to succeed Rep. John Boehner (R-OH) as Speaker.  Several lawmakers are talking about McCarthy, the second-ranking House Republican, as the odds-on favorite in the wake of Boehner's surprise decision to leave Congress at the end of October.  "It's important that our conference comes together behind, I assume, Kevin McCarthy," said Rep. Greg Walden (R-OR), the head of the National Republican Congressional Committee. He called for his colleagues to move beyond intraparty strife and rally around McCarthy.

September 25: The Hill: Cruz: Republicans have failed to deliver under Boehner's leadership
Sen. Ted Cruz (R-TX) basked in Speaker John Boehner's (R-OH) resignation announcement, saying that Republicans had failed to deliver on any of their electoral promises under his leadership.  Speaking Friday at the Values Voter Summit in Washington, the 2016 presidential hopeful learned of Boehner's resignation announcement from reporters while standing at a lectern during a press conference on religious liberty. 

September 25: The New York Times: Boehner to Resign from Congress
Speaker John Boehner, an Ohio barkeeper's son who rode a conservative wave to one of the highest positions in government, said Friday he would relinquish his gavel and resign from Congress, undone by the very Republicans who swept him into power.  Mr. Boehner, 65, made the announcement in an emotional meeting with his fellow Republicans on Friday morning as lawmakers struggled to avert a government shutdown next week, a possibility made less likely by his decision.

September 25: Fox News: Sign off on change in job status for top aide Abedin
Documents released by a conservative watchdog group Thursday show Hillary Clinton personally signed official forms in 2012 that allowed her top aide to attain status as a special government employee (SGE), despite the Democratic presidential frontrunner's denial of any involvement in the situation during a recent interview.
September 25: Fox News: US considering leaving troops in Afghanistan beyond 2016
Military officials reportedly are considering keeping thousands of American troops in Afghanistan beyond the end of next year, in what would be a departure from current plans to leave only a small force of a few hundred troops behind.  The Wall Street Journal reported late Thursday that Army Gen. John Campbell, the top U.S. commander in Afghanistan, has submitted five different recommendations for allied troop levels to the Pentagon and NATO officials in Brussels. The paper reported that the options include keeping the U.S. presence at or near 10,000 troops; reducing the number to 8,000; or continuing with the current drawdown plans.

September 24: The Daily Caller: Obama: Under Estimated ISIS, Russia and North Korea
– Wants Dangerous Cuts to the U.S. Army
Planned cuts to the U.S. Army will endanger national security commitments, a new study conducted by the RAND Corporation argued.  National security commitments, the report argues, are a stalwart resistance to terrorism, deterrence of aggression and preventing weapons of mass destruction (WMDs) from spreading.  On all three counts, RAND found that the U.S. fell short. Read More

September 24: The Hill: House Leadership Wants to Use Reconciliation to Defund Planned Parenthood
Top House Republicans hope to convince their members to keep the government open by using a fast-track process known as reconciliation to try to defund Planned Parenthood.  They are planning to target Planned Parenthood's funding by immediately drafting a fast-track reconciliation bill, according to a senior House GOP aide.  Speaker Boehner (R-OH) and his lieutenants will lay out their strategy at a closed-door conference meeting on Friday.  While the plan would mean supporting a short-term bill introduced in the Senate on Thursday to keep the government open through Dec. 11, it could also lead to legislation blocking money for Planned Parenthood hitting President Obama's desk.

September 24: The Daily Caller: Senate votes 47-53 Not to fund the Government and
Freeze Planned Parenthood Funding
In a 47 to 53 vote, the Senate failed to pass a continuing resolution Thursday that would have temporarily funded the government while freezing Planned Parenthood funding for a year.  Eight Republicans broke ranks and failed to support the Planned Parenthood language.  Senate Majority Leader Mitch McConnell (KY) chose to bring the legislation to the floor in an attempt to prevent a government shutdown while placating conservatives who won't vote for a bill that provides Planned Parenthood with federal dollars.  McConnell is expected to introduce a "clean" version of the bill which will likely to come to a vote Monday.
September 24: The Daily Caller: Congress Getting Upset with DOJ "hiding" of Clinton Emails
Congress is fed up with the Department of Justice withholding information related to the Hillary Clinton email investigation.  Senate Judiciary Chairman Chuck Grassley blasted the DOJ for leaking more information to the media than they'll provide to him in response to formal congressional inquiries.  Grassley wants more information from the DOJ so he can consider the possibility of offering immunity to Clinton aide Bryan Pagliano, who managed Clinton's personal server that contained classified emails, in exchange for his testimony. 

September 22: Bloomberg.com: FBI Recovers Clinton's Deleted Emails
The FBI has recovered personal and work-related e-mails from the private computer server used by Hillary Clinton during her time as secretary of state, according to a person familiar with the investigation.  The FBI's success at salvaging personal e-mails that Clinton said had been deleted raises the possibility that the Democratic presidential candidate's correspondence eventually could become public. The disclosure of such e-mails would likely fan the controversy over Clinton's use of a private e-mail system for official business. The FBI is investigating how and why classified information ended up on Clinton's server. The probe probably will take at least several more months.
September 22: Breitbart.com: Muslims have the fastest growing immigration rate in the US
Muslims are the fastest growing bloc of immigrants, according to new census data published by the Center for Immigration Studies.  The report, which analyzes data from American Community Survey (ACS), finds that the foreign-born population in the U.S. hit a new record high 42.2 million in July 2014. 

September 21: The Galveston Daily News: Fund the Government -- Not Planned Parenthood:
Although most of the Senate Republicans support the defunding of Planned Parenthood, this issue and others show that it is time for a change.  If the leaders on the Hill aren't willing to take a stand and provide righteous leadership they should step aside and let those who will, lead.  Fund the Government without funding Planned Parenthood. 
September 21: Washington Post: Pope Appeases the Castros in Repressive Cuba
In his visit to the United States beginning Tuesday, Pope Francis will meet not just President Obama and Congress but also those marginalized by our society: homeless people, immigrants, refugees and even the inmates of a jail. He's expected to raise topics that many Americans will find challenging, such as his harsh critique of capitalism. His supporters say it's all part of the role the pope has embraced as an advocate for the powerless, one that has earned him admiration from both Catholics and some outside the church. How, then, does this explain his behavior in Cuba?  [Read More]
September 18: The Hill: House Passes One Year Freeze in Funding Planned Parenthood
The House on Friday voted along party lines to freeze federal funding for Planned Parenthood after weeks of escalating tension surrounding its use of fetal tissue.  In a 241-187 vote, nearly all Republicans and two Democrats approved legislation that would block Planned Parenthood's federal funding for one year, giving time for Congress to fully investigate claims of wrongdoing by the provider. Lawmakers also passed a bill tightening restrictions on abortion doctors who violate infant protections in a 248-177 vote. "What we've learned about Planned Parenthood is appalling, barbaric and indefensible," Rep. Keith Rothfus (R-PA) said. [Related: Column on this issue]

September 18: National Journal: Some House members to Boycott Pope's Speech on Climate Change
Congressman Paul Gos­ar (R-AZ) is not pleased with Pope Fran­cis—and he's ready to skip next week's his­tor­ic speech as a res­ult.  In an op-ed piece on the Townhall.com Website he appears to be con­cerned that Fran­cis will urge ac­tion to fight cli­mate change when he be­comes the first pope to speak dir­ectly to a joint ses­sion of Con­gress. The pontiff is an out­spoken ad­voc­ate of ac­tion to com­bat man-made cli­mate change, a stand that does not sit well with Gos­ar, a skep­tic of the sci­entif­ic con­sensus that hu­man activ­ity is the primary driver of dan­ger­ous glob­al warm­ing.   "If the Pope plans to spend the ma­jor­ity of his time ad­voc­at­ing for flawed cli­mate-change policies, then I will not at­tend," Gosar said. Pope Fran­cis's speech will take place be­fore a joint-ses­sion of the House and Sen­ate on Septem­ber 24th.
September 18: Yahoo News: Pope Francis Opposes the "God of Money" What does that make him?
He is the self-declared foe of unbridled capitalism, rabid consumerism and have-it-all lifestyles -- but are conservatives right in fearing Pope Francis is anti-American at heart? The pontiff's attacks on those who worship the "God of money", appeals for an ecological revolution and criticisms of an unjust global economic system that excludes the poor have all wound up economic ultra-liberals.  From Wall Street to the Tea Party, critics have slammed Argentine Francis as a poorly camouflaged Marxist and the debate is intensifying ahead of his arrival in the United States next week.  The 78-year-old head of the Roman Catholic Church certainly believes the superpower should do more, and fast, to live up to its responsibilities, and is unlikely to skip the chance to urge Americans to change their decadent ways.
September 17: The Hill: Court Rules Against ObamaCare Birth Control Mandate
The 8th Federal Circuit Court of Appeals ruled on Thursday that four Christian nonprofits should not have to comply with the ObamaCare rule that all employer healthcare plans include contraception options or face a fee. While employers can seek exemptions to the law, the court argued that doing so poses a "substantial burden" on that organization's religious rights.  The decision is particularly important because it directly contradicts another federal court's ruling. "With today's decisions, the [Supreme] Court will have great reason to decide this issue in the next term," one religious rights group, the Becket Fund for Religious Liberty, wrote.  The Supreme Court already has several cases involving the birth control mandate it could take up in its fall term. 
September 16: Fox News: Commander Admits Size of U.S.-trained troops in Syrian fighting force is 4 or 5
The top U.S. military commander for the Middle East admitted Wednesday that only "four or five" U.S.-trained fighters remain on the battlefield in Syria, leading to accusations from lawmakers that the program is a "joke" and "total failure."   Gen. Lloyd Austin, commander of the U.S. Central Command, addressed the state of the so-called "train and equip" mission in testimony before the Senate Armed Services Committee.   The original goal for the first year was to train roughly 5,400 fighters to take on the Islamic State. But the first group of 54 U.S.-trained fighters was attacked by a Syrian affiliate of Al Qaeda, which killed and captured several of them and sent others fleeing.
September 16: The Washington Post: Boehner Overthrow in the Works
House Speaker John A. Boehner (R-OH) is bracing for what could be the toughest weeks of his speakership as several dozen conservatives in his party are threatening to topple him unless he is more ferocious with Democrats during the upcoming fiscal showdowns.  That internal feud has increased the chances that Washington, for the second time in two years, could stumble into a shutdown of the federal government. The speaker's lieutenants are openly girding for battle with the small but influential bloc of anti-Boehner conservatives who have signaled that if Boehner cuts any deal that they don't like with congressional Democrats and President Obama, they could seek to remove him from the speaker's post. It is a threat that Boehner and his allies are taking seriously.
September 16: The Hill: Senate GOP Balks at Proposal to Give IRS increased authority
Senate Republicans are balking a proposal giving the IRS more power to regulate paid tax preparers, undercutting consideration of a broader measure aimed at battling tax refund fraud.  Finance Chairman Orrin Hatch (R-UT) officially pulled back on his committee's consideration of the tax measure on Wednesday morning, just hours before the mark-up was scheduled to begin.
September 16: The Daily Caller: DHS Secretary Blasts San Francisco Sanctuary City Policy
Secretary of Homeland Security Jeh Johnson criticized sanctuary cities, saying, "it is counterproductive to public safety to have this level of resistance to working with our immigration enforcement personnel."  Johnson, in a speech at the Commonwealth Club in San Francisco, Tuesday argued that it is "not acceptable to have no policy of cooperation with immigration enforcement "It is counterproductive to public safety to have this level of resistance to working with our immigration enforcement personnel," Johnson said. "It is simply, in my judgment, not acceptable to have no policy of cooperation with immigration enforcement. We're all interested in getting criminals off the streets."

September 16: Fox News: Elusive crime wave data shows toll of illegal immigrant-criminals
The federal government agencies that crunch crime numbers are utterly unable -- or unwilling -- to pinpoint for the public how many illegal immigrants are arrested within U.S. borders each year.  In the absence of comprehensive data, a FoxNews.com investigation revealed a  disproportionate number of murderers, rapists and drug dealers are crossing into the U.S. amid the wave of hard-working families seeking a better life. The explosive figures show illegal immigrants are three times as likely to be convicted of murder as members of the general population.
September 16: The Hill: Growing Number of House GOP Members want McConnell
to Invoke the "Nuclear Option" on the Iran Deal
Multiple House Republicans want Senate leaders to "go nuclear" over the Obama administration's deal with Iran now that Democrats have stymied efforts to derail the accord by conventional means. A small but growing number of GOP lawmakers say that Senate Majority Leader Mitch McConnell (R-KY) should invoke the "nuclear option" to change Senate rules and prevent a filibuster on a resolution to kill the deal. Their angst is intensified by their belief that Democrats will likely be able to block legislation withholding federal funds from Planned Parenthood, a standoff that increases the chances of a government shutdown. Some Senators are concerned that because of a Democrat filibuster they were not allowed to debate the Iran Nuke Deal measure and were precluded from voting on it.

September 16: The Washington Free Beacon: Iran Deal allows the testing of ballistic missiles
without violating the Nuke Deal
Iran is permitted to test-fire ballistic missiles under the parameters of the recently inked nuclear accord, according to private disclosures made by Secretary of State John Kerry to a leading U.S. senator, the Washington Free Beacon has learned.  Nothing in the nuclear deal prevents Iran from testing a "conventional ballistic missile," which could be used to carry a nuclear weapon, according to series of written answers provided by Kerry to Sen. Marco Rubio (R., FL).  The Obama administration's failure to rein in Iran's ballistic missile program has emerged as a key criticism among critics of the deal. They argue that during the 15-year duration of the agreement, Iran will be given the opportunity to perfect its ballistic missile program, which could put it much closer to an operable nuclear weapon.
September 12: The Washington Post: Company Managing Clinton Server: No Indication it was wiped:
The company that managed Hillary Clinton's private e-mail server said it has "no knowledge of the server being 'wiped,'" the strongest indication to date that tens of thousands of e-mails that Clinton has said were deleted could be recovered.  Clinton and her advisers have said for months that she deleted her personal correspondence from her time as secretary of state, creating the impression that 31,000 e-mails were gone forever.  There is a distinction between e-mails being deleted and a server being wiped. If e-mails are deleted or moved from a server, they appear to no longer exist on the device but that is not always the case. 
September 12: The Hill: Is another shut down on the horizon?
The prospect of a second government shutdown in two years is growing as House conservatives pledge to oppose any funding measure that includes money for Planned Parenthood.   This means the GOP leaders face a familiar problem. A measure that blocks funding for Planned Parenthood would almost certainly lack the votes to pass the Senate, and would be vetoed by President Obama. But Republicans in the House don't have enough GOP votes to approve a funding measure that continues funding for Planned Parenthood, and don't want to negotiate with Democrats.
September 12: Fox News: Guess What; Iran has a Uranium Supply Previously Unknown
Iran has reportedly found an unexpectedly high reserve of uranium, following assessments that the country is running low on the nuclear raw material and just days after President Obama essentially secured an international nuclear deal with the country's leaders.  The discovery was reported first by Reuters and based on comments made by Iranian nuclear chief Ali Akbar Salehi to the state news agency IRNA. The international nuclear deal with Iran, largely brokered by the Obama administration, allegedly slows the country's nuclear development for nearly a decade in exchange for the lifting of billions of dollars worth of crippling economic sanctions. The timing of the annoucement is interesting. 
September 12: The Hill: Russia: "Unintended Incidents" if US doesn't cooperate on Syria:
Russia is asking for American cooperation on military efforts in Syria amid an escalating migrant crisis in order to avoid "unintended incidents," according to Reuters.  The former Cold War enemies are both engaging in military operations against ISIS in the region, with Russia performing naval exercises off the coast of the war-torn state and the U.S. using Syrian airspaces to launch a series of strikes. But the nations take opposing stances on Syrian President Bashar Assad's regime. Russian President Vladimir Putin has publicly backed Assad, while the U.S. has maintained that his presence only further destabilizes the region. Meanwhile Russia is moving tanks and antiaircraft missile batteries into Syria.
September 11: The Hill: House Rejects Iran Nuke Deal:
The House on Friday rejected a resolution to approve the Iran nuclear deal by a vote of 162-269. Twenty five Democrats joined Republicans in defeating the measure. While the failure of the resolution will not prevent the nuclear pact from taking effect, the vote serves as a rebuke of Obama, who has staked his foreign policy legacy on defusing the Iranian threat through diplomacy. Subsequently the House passed legislation 247-186 that would prevent Obama from lifting sanctions against Iran. That measure would expire on his successor's first full day in office in January 2017. 

September 11: Fox News: Trump says Europe/US need to support Ukraine More:
Donald Trump, the billionaire businessman who is leading the Republican presidential field in the polls, told a gathering of the European elite in the Ukrainian capital that America and Europe should be doing more to support Ukraine.  In an unusual appearance Friday night by satellite feed, Trump told participants at the pro-Western Yalta European Security conference why he was seeking the GOP presidential nomination and expressed support for Ukraine. 
September 11: Yahoo News: Sanders draws within single digits or Hillary:
Vermont Senator Bernie Sanders is gaining fast on front-runner Hillary Clinton in the Democratic presidential race and has moved within single digits of her for the first time, a Reuters/Ipsos opinion poll showed on Friday.  Clinton leads Sanders nationally among Democrats by eight percentage points, 39 percent to 31 percent, her smallest cushion since the nominating battle began for the November 2016 election. She led Sanders by 20 percentage points in the online poll a week ago.

September 11: CBS Los Angeles: Office Depot Defends Illinois store employee for not copying pro-life brochure:
A suburban Chicago woman is accusing Office Depot of religious discrimination, saying employees told her that making copies of an anti-abortion prayer violated company policy.  According to AP a Roman Catholic, asked an Office Depot employee to make 500 copies of "A Prayer for Planned Parenthood"  last month.  A company spokesperson said Office Depot has a policy of not copying material that that advocates "the persecution of certain groups of people," among other criteria. She says the flier "contained material that advocates the persecution of people who support abortion rights."  But Goldstein says the handout (PDF) was part of a weeklong prayer and fasting campaign that aims to change opinions on abortion.

Subsequently, Office Depot apologized for its employee's actions. Karen Denning, media spokesperson for Office Depot, said that upon a more detailed review of the flier, the company determined the prayer was not a violation of the policy.
September 9: The Hill: House Leadership Changes Strategy After Conservative Revolt on Iran:
House Republicans are considering having multiple votes on the disapproval of the Iran deal:
- One would be a resolution to approve the deal — which will fail;
- One to express a sense of the House that the Obama administration has not met the requirements of the Iran review legislation by failing to give lawmakers the text of separate agreements between Iran and the International Atomic Energy Agency (IAEA); and
- One to prevent the U.S. from lifting sanctions on Iran as part of complying with the nuclear deal.
September 9: The Daily Caller: State Department had no idea the email czar is a Hillary Clinton Donor:
The State Department admitted on Wednesday that it did not know that a career diplomat hired as the agency's new email and transparency czar donated the maximum allowed under federal law to Hillary Clinton's presidential campaign.  Regardless of that potential conflict of interest, agency spokesman John Kirby also acknowledged that the new hire, Janice Jacobs, will likely be involved in processing Clinton's emails.  Hours after Jacobs' hiring was announced on Tuesday, it was revealed that she contributed $2,700 to Clinton's campaign in June.
September 9: The Daily Caller: DC Police Commander Under Investigation for forcing officers to collect signatures
DC Police Commander Under Investigation For Forcing Officers To Collect Signatures For Mayor's Pledge.  The internal affairs division of the Metropolitan Police Department is investigating a police commander after she forced officers under her command to collect signatures for the mayor's pledge to end homelessness.  Vendette Parker, commander of the city's seventh police district, told officers that they needed to collect at least five signatures each from residents while on patrol, Mark Seagraves of NBC Washington reports.  Officials with the D.C. Police Union told The Daily Caller News Foundation that using officers to collect signatures for the mayor was a severe misuse of resources and could have possibly violated federal law.
September 9: Fox News: Judge clears the way for House challenge to Obamacare:
A federal judge cleared the way Wednesday for a legal challenge by congressional Republicans to President Obama's health care law to proceed.  U.S. District Court Judge Rosemary M. Collyer ruled the House can pursue its claim that the administration violated the Constitution when it spent public money that was not appropriated by Congress.  At issue is the more than $175 billion the government is paying health insurance companies over a decade to reimburse them for offering reduced health care co-payments for lower-income people.  The House argues that Congress never specifically approved spending that money, and in fact denied the administration's request for it. The Obama administration insists it is instead relying on previously allocated money that it is allowed to use.

September 9: Associated press: Government turns over fewer Clinton Emails than cited
The State Department has delivered only seven of nearly 70 pages of documents that a federal judge identified as potentially responsive to an Associated Press request for documents relating to Hillary Clinton's hiring of longtime aide Huma Abedin as a special government contract staffer.  The department's response contained only five email documents, two of them partially censored.  Meanwhile, government lawyers asked another federal judge to delay releasing thousands of pages of documents, sought by news media, legal, and political organizations, from Clinton's tenure as secretary of state until January 2016.
September 9: The Hill: GOP Seeks Strategy on Spending & Planned Parenthood:
House GOP leaders say they will seek to develop a plan as early as next week on how to keep the government open but block funding for Planned Parenthood.  In the meantime, they will hold listening sessions with rank-and-file members as they seek a way forward.  "The listening session is to get the best idea so that we're closer to being on the same page," House Rules Committee Chairman Pete Sessions (R-Texas) said after GOP conference's fist meeting since the August recess.  Asked when the listening sessions would give way to a planned course of action, Sessions said, "Probably next week."

September 7: The New York Times:
China is burning through foreign currency reserves in order to prop up its economy:
China is burning through its huge stockpile of foreign exchange reserves at the fastest pace yet as it seeks to prop up its currency and stem a rising tide of money flowing out of the country.  Even after a record monthly decrease of nearly $100 billion, China still has the world's biggest cache of foreign reserves, standing at $3.56 trillion at the end of last month, government data showed Monday. The total has declined steadily from a peak of nearly $4 trillion in June of last year, as slowing economic growth caused investors to move money out of the country in search of better returns elsewhere. As a result, the Chinese central bank has had to sell huge amounts from its foreign reserves to maintain the strength of the nation's currency, the renminbi.  The exodus of investors' money accelerated last month after China made the surprise decision on Aug. 11 to devalue its currency.

September 7: Yahoo News: Putin order military exercises in Central Russia to improve readiness
Russian President Putin on Monday ordered snap checks on troop combat readiness in Russia's central military district, the defense ministry said.  "According to the order, troops in the central district... are being brought into full combat" defense minister Sergei Shoigu said.  Russia has recently intensified snap checks of its military might, testing its capabilities from the Arctic to the Far East as relations with the West have plunged to a post-Cold War low over the Ukraine crisis.
September 7: Fox News: VA claims backlog on signature and computer glitch
Nevada veterans with questions about delays in processing their disability claims and the ever-growing backlog say they've hit another roadblock.  Veterans in the Reno area received letters about the status of their claims from a manager at the city's Veterans Benefits Administration Service Center who no longer works there, according to the Las Vegas Review-Journal.

September 7: Associated Press: Congress returns from August Recess with Major Challenges Ahead:
Congress returns on Tuesday with a critical need for cooperation between Republicans and President Barack Obama.  Lawmakers face a weighty list of unfinished business and looming deadlines, including a stopgap spending bill to keep the government open beyond Sept. 30. The most intractable issues - a solution to a yearlong battle over agency budgets and a deal on a long-sought highway bill - have been kicked to the fall.  Perhaps the biggest challenges will be finding agreement on the debt ceiling and avoiding sequestration.  Based on a law signed by Obama in 2011, the automatic budget cuts – called sequestration – kick in if agreements cannot be reached.

September 7: Fox News: Chinese woman has to choose between second child and husband's job
A public outcry has been raised over the plight of a woman who's considering an illegal abortion at 8 months because the child would violate China's restrictive birth policy and would cost her husband his job as a police officer.  Members of the public have been phoning local officials in the couple's Yunnan province community to inquire about the case, and an online travel service reportedly has offered the husband a position if he loses his government job.  The case has rekindled debate over whether employment in the public sector should be used to enforce the policy that limits urban couples to one child in cases where both husband and wife have at least one sibling.
September 6: NBC News: Sanders leads Hillary in New Hampshire; making gains in Iowa
Bernie Sanders has jumped out to a nine-point lead over front-runner Hillary Clinton in New Hampshire, and he's gained ground on her among Iowa voters in the Democratic presidential race, according to a pair of brand-new NBC News/Marist polls.

September 5: The Washington Post: Focus Group foretold voters mood in 2015;
traditional politicians should have listened!
Nine months ago the Anneberg Policy Group sponsored a focus group in Denver,  The participants made it clear that they were fed up with politics as usual. They were harsh in their judgments about most traditional politicians, the political establishment and the way Washington works. They had no particular appetite for a clash-of-dynasties presidential campaign pitting a Bush against a Clinton. It was clear the participants longed for someone who seemed different and who they believed understood their lives.

September 3: The Daily Signal: Less than a dozen out of 2,000 invited Democrat staff members
were interested in seeing Video about Planned Parenthood!   
The pro-life group Susan B. Anthony List invited more than 2,000 Democratic congressional staffers to a screening Thursday of the Center for Medical Progress' undercover Planned Parenthood videos, which have triggered multiple investigations and calls to defund the organization of its taxpayer dollars.  At the screening, fewer than a dozen staffers showed up, and were outnumbered by members of the media.  What does that tell you about some on Congressional staffs?
September 3: The Daily Signal: Will Government Officials be held responsible for the Death of Kate Steinles?  
In an attempt to hold government officials accountable for the shooting death of their 32-year-old daughter Kate, the Steinle family filed a lawsuit against three government agencies.  The suit alleges that those agencies are in part responsible for Steinle's death, but experts say the family has little chance at prevailing.  "Unfortunately, prior lawsuits against cities over their sanctuary policies that were directly responsible for the murder of American citizens have been unsuccessful due to sovereign immunity," Hans von Spakovsky, a senior legal fellow at The Heritage Foundation, told The Daily Signal.  Sovereign immunity is the legal principle that governments are immune to lawsuits except in cases where they waive their immunity and set some amount that they will be liable for if a government employee engages in negligent behavior.
September 2: Fox News: Five Chinese Warships Off the Coast of Alaska during Obama visit:
Five Chinese navy ships have been spotted in the Bering Sea, off the Alaska coast, coinciding with President Obama's visit to the state, a senior defense official confirmed to Fox News.  Navy Commander Bill Urban, a Pentagon spokesman, said Wednesday the sighting marked the first time ships from the People's Liberation Army Navy were seen in the Bering Sea.  "We respect the freedom of all nations to operate military vessels in international waters in accordance with international law," Urban said.  There are three surface warfare ships, one amphibious assault ship and one supply vessel.
September 2: The Hill: Senate Leadership Not Looking Forward to Getting Back to Work:
September is shaping up to be a headache for Senate Majority Leader Mitch McConnell.  The Kentucky Republican is facing an uphill battle to reject President Obama's nuclear deal with Iran and is pushing back on intensifying speculation that the government could shut down at the end of the month.  Meanwhile on his right flank, conservative colleagues are challenging him to include a policy rider to defund Planned Parenthood on a stopgap spending measure to keep the government funded beyond Sept. 30, something Democrats staunchly oppose.
September 2: Fox News: Obama gets enough votes to ensure the Iran Nuke Deal will get through Congress
The Obama administration now appears to have enough support in Congress to stave off Republican efforts to reject the president's controversial Iran nuclear deal, after a retiring Maryland Democratic senator came out Wednesday morning in favor of the pact. Sen. Mikulski (D-MD) announced her support for the deal as Secretary of State John Kerry delivered a lengthy and detailed address in Philadelphia defending the accord.
September 2: Fox News: RNC asking GOP Campaigns whether they will commit not to run as independents:
The Republican National Committee on Wednesday began reaching out to several GOP presidential campaigns, asking if their candidates would sign a pledge not to run as an independent in 2016, multiple campaign sources told Fox News.  RNC sources told Fox News that the plan has been in the works for weeks.  The pledge states in part that if the GOP contender does not become the nominee: "I will endorse the 2016 Republican presidential nominee regardless of who it is."

September 2: The Hill: States: Obama/EPA Water Rule Should be Blocked Nationwide
Thirteen states and the Obama administration are battling in court over whether the new federal water pollution rule should apply in every state.  A North Dakota federal judge blocked the rule's implementation last week, hours before it was due to take effect, but the Environmental Protection Agency (EPA) said it would still enforce the new regulation in every state that was not involved with that lawsuit.  But those states, led by North Dakota, said late Tuesday in a court filing that the regulation should be blocked everywhere in the name of consistency and because they will likely win the case.

The EPA and the Army Corps of Engineers "have repeatedly asserted that uniform applicability, consistency, and predictability were driving forces in the need for and development of the rule," the states wrote.  "Only after this court enjoined the rule from taking effect ... the agencies were quick to abandon their uniform applicability concerns in favor of seeking to limit the scope of this court's ruling."

September 2: The Daily Caller: Florida Policeman Refused Service at Arby's for being a Cop
A Florida police department is outraged after an Arby's employee refused to serve one of their officers simply because the officer was a cop.  A Pembroke Pines police officer went through the drive-through of a local Arby's around 7 p.m. Tuesday evening, but when the officer pulled up, one employee refused service.  "I don't have the exact quote, but something was said to the effect of 'We don't want to serve you because you're a police officer'" Pembroke Pines Major and Public Information Officer Carlos Bermudez said.
August 31: Fox News: Judge tells the IRS it can't hide White House Emails
White House emails to the IRS about individual tax returns cannot be exempted by the embattled agency under the Freedom of Information Act, a federal judge ruled Friday.  United States District Court for the District of Columbia Judge Amy Berman Jackson ruled that Section 6103 of the tax code does not justify the IRS from withholding from FOIA requesters by refusing to say whether the records exist. She ordered the IRS to respond properly to an FOIA request submitted by the non-profit watchdog group Cause of Action.  "As we have said all along, this administration cannot misinterpret the law in order to potentially hide evidence of wrongdoing. No administration is above the law, and we are pleased that the court has sided with us on this important point," said Daniel Bernstein, executive director of Cause of Action.
August 31: The Daily News: History Repeats Itself: Ancient Israel and 911 in the U.S.
In the 212 years since our nation's founding we have seen a continual turning away from our Biblical roots --  millions of unborn children aborted; the selling of baby body parts for profit; the lowering of moral standards; pornography running rampant; redefining families; removing the ten commandments from the public square; trying to do things in our own strength; seeking what pleases us and the list goes on. Perhaps we should have seen 911 as a warning that if we continue down this path the nation may follow in the footsteps of ancient Israel.  Perhaps we should rely upon the powerful principle of repentance, ask for forgiveness, and turning our hearts back to God.
August 31: Breitbart News: Clinton's Private Email Server Housed on Same Network as the Clinton Foundation's
Records reveal that Hillary Clinton's private clintonemail.com server shared an IP address with her husband Bill Clinton's email server, presidentclinton.com, and both servers were housed in New York City, not in the basement of the Clintons' Chappaqua, New York home.  Web archives show that the Presidentclinton.com Web address was being operated by the Clinton Foundation as of 2009, when Hillary Clinton registered her own clintonemail.com server. 
August 30: Fox News: Evidence Mounts that soon-to-be Flush Iran already spurring new attacks on Israel
An unsettling surge in terrorism by Iranian proxies has many Israelis convinced the release to Tehran of tens of billions of dollars in frozen funds is already putting the Jewish state in danger.  In recent days, rockets have rained down on Israel from Gaza in the south and the Golan Heights to the north, Israeli forces foiled a bomb plot at the tomb of biblical patriarch Joseph, and Gaza-based terrorist groups that also have a presence in the West Bank have openly appealed for aid on Iranian television.

August 29: The Hill: Enraging industry labor board asserts its power under Obama
The National Labor Relations Board (NLRB) has become a lightning rod for controversy under President Obama, with its aggressive actions fueling sustained warfare between business and labor.  From the labor board's bitter fight with Boeing, to the creation of new union election rules, the NLRB has repeatedly moved to the forefront of political debate, drawing in Congress, the White House and even the Supreme Court.

The NLRB's latest bombshell was dropped on Thursday, when the board expanded the definition of what it means to be an employer in the United States, which could put companies on the hook for labor violations committed by business partners and contractors.
August 29: Associated Press: Alleged Sheriff Shooter Charged with Murder in Houston Incident
Texas prosecutors on Saturday charged a 30-year-old man with capital murder in the killing of a uniformed sheriff's deputy who was gunned down from behind while filling his patrol car with gas in what officials described as a "senseless and cowardly act."  The arrest of Shannon J. Miles - who has a criminal history that includes convictions for resisting arrest and disorderly conduct with a firearm - came less than 24 hours after authorities said he ambushed Darren Goforth, a 10-year veteran of the Harris County Sheriff's Office, at a suburban Houston Chevron station.

August 28: The Washington Post: Protestors Don't have Free Speech Rights on Supreme Court Steps
The Supreme Court is designated as the ultimate protector of constitutional rights, but the guarantee of protest and free speech ends on the steps to the plaza in front of the court's grand marble temple, a unanimous federal appeals court panel ruled Friday.  Demonstrators are allowed on the sidewalk in front of the court but not any closer to the famous portico promising "Equal Justice Under Law," three judges of the U.S. Court of Appeals for the District of Columbia Circuit decided.
August 25: The Hill: Latest Planned Parenthood Undercover Video: $75 each for baby parts!
The anti-abortion group targeting Planned Parenthood released its latest video on Tuesday, featuring a medical research company that touts its ability to make clinics profitable for donating fetal tissue.  The eighth video includes a secretly recorded interview with Cate Dyer, the CEO of a medical procurement company called StemExpress.  While the new video includes fewer controversial statements and none of the graphic footage that has fueled outrage against Planned Parenthood, it claims the provider received $50 to $75 per fetal "part," citing a former employee for the company.
August 25: Fox News: Lerner's secret personal email address was perfect cover
Former top IRS official Lois Lerner – at the center of a well-orchestrated scheme targeting conservative organizations – used an alias while at the IRS.  In new documents just released, an IRS attorney has confirmed that Lois Lerner used another email to conduct IRS business – under the name of "Toby Miles."  That revelation prompts this question: why would the director of the Exempt Organizations Unit use an alias – a secret, personal email account while at the IRS?

August 25: The Hill: Planned Parenthood files law suit against Jindal
Planned Parenthood is taking legal action against Louisiana Gov. Bobby Jindal (R) in an attempt to save its state funding.  In a lawsuit filed Tuesday, Planned Parenthood asks a federal court to block what it describes as "Jindal's illegal efforts" to strip away the Medicaid funding that helps run their clinics.  It is Planned Parenthood's first legal step in response to the undercover video controversy spurred by anti-abortion-rights activists this summer.  In response to Tuesday's lawsuit, Jindal spokesman Mike Reed said the governor's office will stand its ground.  "Planned Parenthood is flailing. This lawsuit is without merit and the state will aggressively defend our right to cancel the contract," Reed wrote in a statement.

August 25: CNN News: Obama Gives Biden Blessings for Presidential Run
Vice President Joe Biden received President Barack Obama's "blessing" to make a 2016 bid for the White House, according to a senior Democrat.  But that's if Biden chooses to run -- the decision is his. While he doesn't need the President's permission, of course, a potential presidential candidacy was among the topics of their lunch Monday at the White House. The President made clear he would not stand in his way or counsel him against a run, the senior Democrat said.  
August 25: Fox News:  State Department release of Clinton emails;
possible violating 2009 Obama Presidential Order
One of the emails that triggered the FBI probe into Hillary Clinton's server contained classified intelligence from three different agencies – which could mean the State Department violated a Presidential executive order by authorizing its release.   In 2009 order, EO 13526, laid out the rules for "classifying, safeguarding and declassifying national security information." It states that the authority to declassify rests with the intelligence agency that originated the information.  "Information shall be declassified or downgraded by … the official who authorized the original classification ... [or] the originator's current successor," the order says. At least one of the emails violated this Executive Order.

August 25: The Hill: Senator Grassley presses Kerry for details on Clinton Emails
Sen. Chuck Grassley (R-IA) wants Secretary of State John Kerry to hand over the details of how Hillary Clinton's attorney, David Kendall, was given a security clearance to handle her emails.   "The transmission of classified material to an individual unauthorized to possess it is a serious national security risk," Grassley wrote in the letter to Kerry, released on Tuesday, raising concerns about Kendall's security clearance. "Moreover, if a person unauthorized to maintain custody of classified materials does in fact maintain custody, it raises legitimate questions as to whether the information was properly secured from foreign governments and other entities."
August 24: The Washington Times: IRS Finds Another Lois Lerner Email Account:
Lois Lerner had yet another personal email account used to conduct some official IRS business.  The tax agency confirmed this fact in a new court filing late Monday that further complicates the administration's efforts to be "transparent" about Lerner's actions during the tea party targeting scandal.  The admission came in an open-records lawsuit filed by  Judicial Watch, a conservative public interest law firm that has sued to get a look at emails Lerner sent during the targeting scandal.
August 24: The Daily Caller: Israel Makes Deal with Anti-ISIS Fighers
Three-quarters of Israel's oil imports in recent months have come from Kurdistan, the semi-independent Iraqi region at the center of that country's Islamic State fight.  The Financial Times has reported that between May and August, Israel imported 19 million barrels of oil from Kurdistan, totaling over $1 billion in spending and about 75 percent of Israel's total demand. The Kurds have struggled to control their own economy — and their anti-Islamic State fighters — amid what they consider weak support from the central government in Baghdad. 
August 24: The Telegraph: China: The Anchor Economy of East Asia
has struck before the West has fully recovered:
The world financial system is at a dangerous juncture. Markets no longer believe that China's Communist leaders are in full control of the country's $27 trillion debt bubble.  This sudden loss of confidence in the anchor economy of East Asia has struck before the West is fully back on its feet after its own debacle seven years ago.  Interest rates are still near zero in the US, the eurozone, Britain and Japan. Fiscal deficits are at unsafe levels. Debt is 30 percentage points of GDP higher than it was at the onset of the Lehman crisis. The safety buffers are largely exhausted.

August 24: The UK Independent: Stock up on Can Goods and Water Former Advisor to Gordon McBride Says
A former adviser to Gordon Brown has urged people to stock up on canned goods and bottled water as stock markets around the world slide.  Damian McBride appeared to suggest that the stock market dip could lead to civil disorder or other situations where it would be unreasonable for someone to leave the house.  "Advice on the looming crash, No.1: get hard cash in a safe place now; don't assume banks & cash points will be open, or bank cards will work," he tweeted.  "Crash advice No.2: do you have enough bottled water, tinned goods & other essentials at home to live a month indoors? If not, get shopping.  "Crash advice No.3: agree a rally point with your loved ones in case transport and communications gets cut off; somewhere you can all head to."
August 22: Breitbart News: Obama Officials to Discuss Gun Control through UN Treaty
On August 24 officials from the Obama Administration will attend a UN Arms Trade Treaty (ATT) conference in Mexico City.  The ATT is an international gun control treaty designed to be implemented apart from, or in spite of, the general framework of governance for countries that are signatories to it.  Thus, while it will not do away with the Second Amendment on paper, it will subjugate the Second Amendment to the ATT's gun controls if Obama administration officials return and implement the plans they will discuss in Mexico City.  ATT was pushed under the guise of stopping "small arms [and] light weapons" from crossing borders.
August 16: The Washington Times: Clinton's Classified Emails Jump to 60
While media coverage has focused on a half-dozen of Clinton's personal emails containing sensitive intelligence, the total number of her private emails identified by an ongoing State Department review as having contained classified data has ballooned to 60, officials told The Washington Times.  That figure is current through the end of July and is likely to grow as officials wade through a total of 30,000 work-related emails that passed through her personal email server, officials said. The process is expected to take months.
August 15: Yahoo News: Despite Lobbying by Obama Senator Flake will Oppose the Iran Nuke Deal
Senator Jeff Flake (R-AZ) announced his opposition on Saturday to the nuclear deal with Iran despite White House lobbying to try to convince him to break from others in his party and back the accord when U.S. lawmakers vote on it.  The agreement that Iran reached with the United States and other world powers on July 14 "does contain benefits in terms of limiting Iran's ability to produce sufficient fissile material for a nuclear weapon for a period of time, particularly at its known nuclear facilities," Flake said in a statement. 

August 15: The Hill: North Korea Threatens to Attack the U.S. over military exercises:
North Korea is rattling its sabers over America's role in multinational military exercises launching in South Korea next week, a according to CNN. Pyongyang is infuriated the U.S. and its allies are working with its neighboring rival in the annual Ulchi Freedom Guardian event beginning next Monday.  "The further Ulchi Freedom Guardian joint military exercises are intensified, the stronger military counteraction the [Democratic People's Republic of Korea] will take to cope with them," said a spokesman for North Korea's National Defense Commission (NDC) on Saturday.  "[North Korea will] retaliate against the U.S. with tremendous muscle," he said, if the Ulchi Freedom Guardian operations went on as planned.
August 14: Fox News: Dairy Farmer Fights the IRS for "milking" him out of $30,000
Randy Sowers built his dairy farm over three decades into a thriving business. After kick-starting with a $100,000 loan, today the South Mountain Creamery has 1,000 cows and 70 employees delivering milk, ice cream and other products to homes in the Washington, D.C., area. But the Maryland farmer's operation suffered a big setback when the IRS swooped in to seize tens of thousands of hard-earned dollars from his account, claiming he violated an obscure banking law.
August 14: Fox News: Rubio: Obama's Diplomacy Threatens U.S. Security
Two historic events are in progress August 14. The first is the arrival of Secretary of State John Kerry in Cuba. The second is President Obama's continued campaign to secure Congressional approval for his flawed nuclear deal with Iran. These represent the convergence of nearly every flawed strategic, moral, and economic notion that has driven President Obama's foreign policy.
August 14: My Way News: AP Reports Top Secret Clinton Emails included information on the use of Drones.
The two emails on Hillary Rodham Clinton's private server that an auditor deemed "top secret" include a discussion of a news article detailing a U.S. drone operation and a separate conversation that could point back to highly classified material in an improper manner or merely reflect information collected independently, U.S. officials who have reviewed the correspondence told The Associated Press.  The sourcing of the information could have significant political implications as the 2016 presidential campaign heats up. Clinton, the front-runner for the Democratic nomination, agreed this week to turn over to the FBI the private server she used as secretary of state, and Republicans in Congress have seized on the involvement of federal law enforcement as a sign that she was either negligent with the nation's secrets or worse.
August 14: Fox News: Fifteen States Petition to Stop EPA Power Plant Rules
Attorneys general from 15 states filed a petition in federal court Thursday to block new EPA rules requiring massive cuts in emissions from power plants. They have asked the U.S. Court of Appeals for the D.C. Circuit to issue a ruling on the matter before Sept. 8, one year before the states are required to submit compliance plans to the agency.   The new rules, announced by President Obama earlier this month, call for power plants to lower carbon emissions from 2005 levels by 32 percent by 2030.
August 12: Real Clear Politics: Gowdy on Hillary's Server: "She Almost Got Away With It, But She Didn't"
Chairman Gowdy: Every explanation Secretary Clinton has provided about a week later was proven to be demonstrably false. This is just the latest one of those assertions that there was no classified info. I saw the clip this morning. She was very definitive – she neither sent or received classified information. Well, that is patently false.  That I'm primarily concerned with is whether or not I'm going to have access to records that i need to do the job that the House asked me to do...
August 12: The Hill:  White House Warns the States: Defunding Planned Parenthood Might Be Breaking the Law:
The Obama administration has warned Louisiana and Alabama that they could be violating federal law by cutting off Planned Parenthood from their states' Medicaid programs.  The Republican governors in both states this month terminated their state Medicaid contracts with the organization in the wake of controversial undercover videos showing Planned Parenthood officials discussing the price of fetal tissue for medical research.  But the White House points out that federal law says Medicaid beneficiaries may obtain services from any qualified provider and that cutting Planned Parenthood out of the program restricts that choice.
August 11: Reuters: Greece Bailout Hammered Out in All Night Session
Greece and its international lenders reached an 85 billion euro ($93.72 billion) bailout agreement on Tuesday after nailing down the terms of new loans needed to save the country from financial ruin.  The deal, which came after 23 hours of talks that continued through the night, must still be adopted by Greece's parliament and by euro zone countries.  The currency bloc's finance ministers are expected to give their approval on Friday in time for Greece to make a crucial 3.2 billion euro debt repayment that falls due next week.

August 11: Reuters: Wall Street down 1% as cheaper Yuan Hits Commodities Markets
All three major U.S. stock indexes were down more than 1 percent on Tuesday for the first time in over a month as China's surprise devaluation of the yuan stoked fears about the health of the economy and pressured commodity-related stocks.  The yuan fell to its lowest against the dollar in almost three years following what China's central bank described as a "one-off depreciation". U.S. crude hit contract lows, trading about $1 above its bottom for 2015. Brent, the global benchmark, was heading for its largest decline in a week. The currency move by the world's top metals consumer pushed copper and aluminum to six-year lows.
August 11: Fox News 8 – Seattle: New Law in Seattle: Special Tax on Guns and Ammo
Seattle is ready to tax guns and bullets.  The well-meaning but naïve City Council unanimously passed a special tax on Monday, and Mayor Ed Murray signaled his support for the measure.  The new law will impose a $25 tax on guns and a 5-cent tax on bullets sold within the city limits. Lawmakers called it a "gun violence tax" because proceeds would be used for prevention and research programs to reduce gun violence in Seattle.  The Seattle law also requires mandatory reporting on lost or stolen guns. The outstanding question is "Do the bad guys buy guns and ammo?"

August 10: The Daily Caller:
Napolitano: If Hillary is Telling the Truth, Then She No Longer Has the Email Server
Judge Andrew Napolitano stated, "if she [Clinton] told the truth and the statement she signed on Friday, 'I turned over all copies of the e-mails' was accurate then, she no longer has the server."  Napolitano appeared on Fox News' "The Kelly File" Monday, where he said, "if she [Clinton] still has the server, then her statement violates the law because it is untruthful. Because the server has copies of the e-mails on it and she didn't turn over all copies of the email."  Clinton has signed a certification under penalty of perjury that she turned over federal records.
August 9: News One: Bipartisan Report: IRS Targeted Conservatives
The Internal Revenue Service specifically went after conservative organizations applying for tax-exempt status, according to a bipartisan report released by the Senate Finance Committee Thursday. Sen. Orrin Hatch (R-UT), who serves as the chairman of the Senate Finance Committee says that there is plenty of proof against the government agency to prove it.  "This bipartisan investigation shows gross mismanagement at the highest levels of the IRS and confirms an unacceptable truth: that the IRS is prone to abuse," Hatch asserts. "The Committee found evidence that the administration's political agenda guided the IRS's actions with respect to their treatment of conservative groups."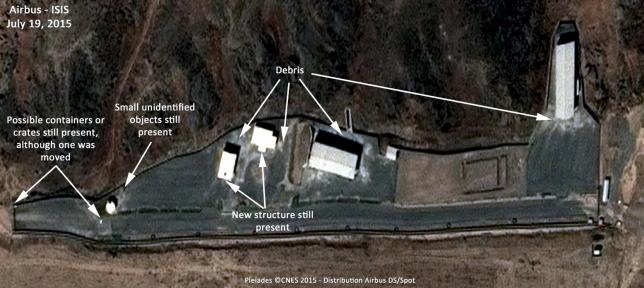 August 8: Reuters:
Iran Says Reports of Military Site are Lies:
Iran's foreign minister said on Saturday that accusations about activity at its Parchin military site were "lies" spread by opponents of its landmark nuclear deal with world powers clinched last month.  A U.S. think-tank on Friday questioned Tehran's explanation that activity at its Parchin military site visible in satellite imagery was related to road work, and suggested it was a clean-up operation before IAEA inspectors arrive at the site.  Parchin is a site to which the U.N. nuclear watchdog, the International Atomic Energy Agency (IAEA), requested access as part of the July 14 nuclear accord between Iran and six major powers, which include the United States.

August 8: Yahoo News: Cuba Arrests 90 Dissidents in Public Rally
With tense bilateral ties recently renewed after five decades, and top US diplomat John Kerry due in Havana in days, Cuba arrested some 90 activists on Sunday.  Cuban security forces rounded up marchers -- about 50 with the Ladies in White dissident group and around 40 other activists, some wearing masks with the image of US President Barack Obama, according to an AFP reporter.  One protester slammed Obama, and said the December announcement to normalize relations between the former Cold war foes had bolstered Havana's crackdown on dissidents.  "It's his fault, what is happening," said former political prisoner Angel Moya, speaking about Obama. "The Cuban government has grown even bolder," he added before being detained.

August 6: Real Clear Politics: Fiorina: I will Debate Hillary on Benghazi Server
MSNBC's Chris Matthews asked GOP candidate Carly Fiorina "How do you debate someone you just called a liar (Hillary Clinton)?  Do you really think that's a way to engage in a debate? Fiorina responded that she was very specific. She lied about Benghazi, her email and her person email server.   "It is very clear from all the data, …from the e-mails that she, that the president of the United States, that the Secretary of State, and that the military understood this was a purposeful terrorist attack on the anniversary of 9/11 and they understood it while it was going on.   So tell me then why would you talk about the next day from the State Department, why would you talk about a video?


July 29:  The Hill: Hillary to Appear before House Benghazi Committee in October:
Former Secretary of State Hillary Clinton has agreed to testify at a public hearing on October 22 before the House committee investigating the 2012 Benghazi attack, the panel announced late Wednesday.  The confirmation comes after a back and forth effort between Clinton and the panel over whether she would attend, and sets the stage for a surefire media spectacle involving the front-runner for the Democratic presidential nomination being grilled by likely antagonistic Republicans lawmakers.



July 29: The Weekly Standard:
Kerry: We Can't Reveal the Contents of Secret Side Deals to the American People:
Secretary of State Kerry testified on Capitol Hill today the U.S. government will not be revealing the contents of secret side deals with Iran to the American people. Senator Tom Cotton wanted to know why it can't be made public. "I'd like to stick with you, Secretary Kerry," Cotton said. "Why can't we confirm or deny the content of these agreements in public? Why is this classified? It's not a sensitive U.S. government document."

July 29: Townhall.com: Planned Parenthood Begs Media: Stop Covering Our Scandal
Planned Parenthood is in real trouble. Three shocking videos released over recent days – with more apparently on the way -- have shown officials at the abortion giant haggling over the price of aborted baby organs. It's ghastly, gruesome stuff, replete with one representative describing how she alters her late term abortion procedures to "crush" the baby in specific areas as to preserve sought-after and lucrative body parts. Another laughs that higher prices could help her buy "a Lamborghini." The abortion lobby argues that fetuses are not human beings worthy of legal protection, while selling the intact human organs of the "non-people" they kill. Besieged by negative headlines and a horrified public, Planned Parenthood has hired a crisis PR firm, which is attempting to mitigate the damage via the application of heavy pressure on media outlets to to ignore or soft-pedal the story.

July 29: The Hill: Treasury Secretary: End of October is Debt Limit Deadline:
Lawmakers will likely have at least until the end of October to raise the nation's borrowing limit, Treasury Secretary Jack Lew said in a letter to Congress on Wednesday.  Lew told lawmakers that while he cannot pinpoint when the nation would be in danger of missing debt payments without a borrowing boost, he was confident he would be able to avoid default until at least late October.

July 29: The Weekly Standard:
Top General: I was against lifting the ban on Weapons and Ballistic Missiles for Iran:
Gen. Martin Dempsey, the chairman of the Joint Chiefs of Staff, testified on Capitol Hill today that it was his recommendation that the U.S. not lift its sanctions on conventional weapons and ballistic missiles that were part of the Iran deal.  Senator Ayotte asked, "Just to be clear, when you came before the committee then, you said under no circumstances should we relieve pressure on Iran on those issues. So was it your military recommendation that we not agree to lifting of those sanctions?"  "Yes," said Dempsey, "and I used the phrase as long as possible and then that was the point at which the negotiation continued. But yes, that was my military advice."

July 27: The Hill:
House to Obama: Fire your IRS Chief
House Republicans will call on President Obama to fire IRS Commissioner John Koskinen on Monday – or threaten to try and remove him themselves, congressional aides said.  Oversight Chairman Jason Chaffetz (R-UT), Rep. Jim Jordan (R-OH) and other GOP members of the Oversight panel will discuss their efforts later on Monday.  Koskinen took over the IRS late in 2013, more than six months after the agency acknowledged improperly scrutinizing Tea Party groups seeking tax-exempt status.  The IRS chief said at the time he hoped to restore the trust of taxpayers – and congressional Republicans – in the agency. But GOP lawmakers have increasingly turned against him in the last 18 months, particularly after the IRS acknowledged that it couldn't find an untold number of emails from former official Lois Lerner.


July 27: Fox News: Clinton Refuses to take a Position on Keystone Pipeline
Hillary Clinton rebuffed a question Monday about her position on the Keystone XL oil pipeline even as she unveiled new energy proposals, opening the door to jeers from Republicans who accused her of "dodging."   The Democratic presidential candidate for months has avoided taking a position on the Canada-to-Texas oil pipeline, which remains under review at the State Department she once led. But given her entry into the White House race, and a new package of clean-energy ideas being put out by her campaign, Clinton was asked again Monday if she would at last weigh in.   Rather than stake out her stance, Clinton said only that she's "confident" the pipeline's impact on greenhouse gas emissions will be a "major factor" in the State Department's review.

July 27: The Daily Caller: House Halts EX-IM Bank Reauthorization
Republican House Majority Leader Congress Kevin McCarthy will assure that the Export-Import bank will remain unauthorized, the AP reports.  McCarthy said Monday that he will not pick up the Senate highway bill in the U.S. House. The Senate sought to renew the Ex-Im bank's charter in its bill, but McCarthy beat them by passing an $8 billion highway bill through the House without the Ex-Im Bank's renewal. McCarthy said that he will not budge on the issue. The Ex-Im Bank, installed by President Franklin Roosevelt to serve as a national export credit agency, has become a breeding ground in recent years for global crony capitalism, according to the House Oversight Committee's Rep. Jim Jordan and other congressional investigators.

July 27: News Now: National Security Experts Question
Whether the Iran Nuke Deal will have us Protecting Iran against Israel:
National security experts and now a U.S. senator have pointed out that the written language in the Iran Nuclear agreement, under a section on "Nuclear Security," seems to imply that the US. will help defend Iran, even from an attack from Israel.  The controversial section reads:
Cooperation through training or workshops to strengthen Iran's ability to protect against or respond to nuclear security threats, including sabotage.
Jan Markell, founder and director of Olive Tree Ministries, says such an agreement is similar to reports made last March that President Obama threatened to shoot down Israeli fighter jets if they attempted to attack Iran.  The Washington Times reported last year that Obama made the threat when he learned that Israel was planning an attack on Iran's nuclear facilities, which Israel claims are being used to produce a nuclear bomb.

July 27: The Daily Caller: Even the DNC Chair Refuses to Back the Obama/Iran Nuke Deal:
Democratic National Committee chairwoman Debbie Wasserman Schultz decided against supporting the Iran nuclear deal Monday as President Barack Obama seeks to get Democrats on board to back the agreement.  The Florida congresswoman told CNN's Wolf Blitzer that while there is some "merit" to the deal, there is also "a legitimate cause for concern" that needs to be looked at with the deal. Wasserman Schultz, who is Jewish, pointed out that she is from a "pro-Israel district" and needs to hear her constituents out before offering her support one way or another.

July 27: Fox News: Cincinnati Man Shot by Concealed Carry Holder after he shoots a one year old
A 62-year-old man with a gun in each hand fired at four people – including a 1-year-old boy – before a civilian with a concealed carry permit returned fire and wounded the shooter, police told a local TV station.  Thomas McCary is being held without bond on four counts of felonious assault.  Apparently McCary was arguing with a woman around 8 p.m. Sunday night and, when the woman's brother, Patrick Ewing, approached, McCary pulled out a .38-caliber handgun and fired three shots at him, Cincinnati police said.  Ewing didn't get hit, but he did get his own gun and returned fire, wounding McCary in the leg. Ewing had a permit to carry a concealed weapon.

July 27: The Washington Free Beacon: Outnumbered: Illegal Immigrants vs. Americans out of work!
The number of illegal immigrants in the United States totaled 11.3 million in 2014, outnumbering the 9.6 milllion Americans who were unemployed in the same year, according to data from Pew Research Center and the Bureau of Labor Statistics (BLS).  "The new unauthorized immigrant total includes people who cross the border illegally as well as those who arrive with legal visas and remain in the U.S. after their visas expire."  Of those 11.3 illegal immigrants, 8.1 million are participating in the labor force. The BLS defines an unemployed individual as someone who did not have a job but actively sought one in the past four weeks.  The executive action on immigration President Obama put in place in November of 2014 is set to help more illegal aliens become active in the labor force.

July 26: Fox News: Judge orders Obama to release illegal immigrants from "deplorable" facilities
A federal judge in California has ruled that hundreds of illegal immigrant women and children in U.S. holding facilities should be released, another apparent setback for President Obama's immigration policy, according to  the LA Times.  U.S. District Judge Dolly Gee said Friday that the conditions in which the detainees are being held are "deplorable" and violate parts of an 18-year-old court settlement that put restrictions on the detention of migrant children.  The ruling also raises questions about what the administration will do with the estimated 1,700 parents and children at three detention facilities, two in Texas and one in Pennsylvania.

July 26: The Hill: The White House Forges Iran "Side Deal" Counter Attack:
The Obama administration is launching a fierce counterattack against Republican arguments that so-called "side deals" between Iran and international nuclear inspectors represent a good reason to oppose the Iranian nuclear deal.  Republicans have seized upon bilateral agreements between Iran and the International Atomic Energy Agency (IAEA) to turn public opinion against the deal.   They hope that if the public rejects the agreement, it will be harder for Democrats to back the administration on votes to unwind the deal that are expected in September.

July 24: The New York Times:  Clinton Emails contained Classified Information
Government investigators said Friday that they had discovered classified information on the private email account that Hillary Clinton used while secretary of state, stating unequivocally that those secrets never should have been stored outside of secure government computer systems.  Clinton has said for months that she kept no classified information on the private server that she set up in her house so she would not have to carry both a personal phone and a work phone. Her campaign said Friday that any government secrets found on the server had been classified after the fact.  But the inspectors general of the State Department and the nation's intelligence agencies said the information they found was classified when it was sent and remains so now. Information is considered classified if its disclosure would likely harm national security, and such information can be sent or stored only on computer networks with special safeguards.

July 24: Associated Press: Cruz Accuses Majority Leader McConnell of Lying:
In a stunning, public attack on his own party leader, Ted Cruz (R-TX) accused Senate Majority Leader Mitch McConnell (R-KY) of lying, saying he was no better than his Democratic predecessor and he couldn't be trusted.  "[It's] not only what he told every Republican senator, but what he told the press over and over and over again, was a simple lie," Cruz said.  At issue were assurances Cruz claimed McConnell had given that there was no deal to allow a vote to renew the federal Export-Import Bank.  Cruz rose to deliver his remarks moments after McConnell had lined up a vote on the Export-Import Bank for coming days. 

July 24: The Hill: McConnell to Fast Track Bill to Defund Planned Parenthood
Senate Majority Leader Mitch McConnell started a fast-track process Friday on legislation to strip Planned Parenthood of federal funding in the wake of two controversial videos showing officials discussing delivery of fetal parts.   The Republican leader began "Rule 14," which will let the legislation skip the committee process and be placed on the Senate calendar so it can be brought up for a floor vote. 

July 24: The Hill: Jindal: Now is not the time to talk Gun Control
Louisiana Gov. Bobby Jindal on Friday deflected questions about whether Thursday night's movie theater shooting should prompt a reevaluation of gun control policies. "We are less than 24 hours out, we've got two families that need to bury their loved ones. We've got families waiting for their loved ones to leave the hospital and are praying for their recovery," he said Friday at a press conference in Lafayette, La., where a gunman killed two others and himself.  "There will be an absolute appropriate time for us to talk about policies and politics, and I'm sure that folks will want to score political points of this tragedy, as they've tried to do on previous tragedies."

July 23: CNBC News: Criminal inquiry sought in Clinton use of personal email account
Two inspectors general have asked the Justice Department to open a criminal investigation into whether sensitive government information was mishandled in connection with the personal email account Hillary Clinton used as secretary of state, senior government officials said Thursday.   The request follows an assessment in a June 29 memo by the inspectors general for the State Department and the intelligence agencies that Clinton's private account contained "hundreds of potentially classified emails." The memo was written to Patrick F. Kennedy, the under secretary of state for management.  It is not clear if any of the information in the emails was marked as classified by the State Department when Clinton sent or received them.   But since her use of a private email account for official State Department business was revealed in March, she has repeatedly said that she had no classified information on the account.

July 22: CBS News Detroit: Government Union Workers: Detroit VA Hospital is Like a Third World Country:
Outraged over what they say are unfair and poor working conditions, employees at Detroit's John Dingell VA Medical Center are rallying for change.  A group of about 100 workers and supporters protested outside the hospital on Wednesday.  "This is like a third world county here," said Benjamin Mayhan, president of American Federation of Government Employees, Local 933. "You have managers who are very hostile towards employees of the union. We have a situation where we went to management several times; it's not been abated."


July 22: The Washington Times: Kerry Aid Compelled to Testify on Benghazi
Secretary of State John Kerry's right-hand man has been called to Congress to testify about the slow pace of information being released to the congressional committee probing the 2012 Benghazi terrorist attack, the probe's chairman announced Wednesday. Jon Finer, Kerry's chief of staff, will appear before the committee July 29 unless the department quickly steps up its production of documents, Chairman Gowdy announced. Gowdy said he's fed up with excuses from the department for a slow response to requests for information, and that Finer, whom Kerry designated as his answers-man on Benghazi, needs to clear things up.

July 22: The Hill: Dems Try to Embarrass Republicans for Sanctuary Cities Legislation
House Democratic leaders are slamming GOP legislation aimed at discouraging sanctuary cities.  The proposal, which would withhold federal law enforcement funds for state or local governments that refuse to cooperate with federal immigration agents, comes in response to this month's fatal shooting of Kathryn Steinle along the San Francisco waterfront, allegedly by an illegal immigrant with a long criminal history.  San Francisco, a sanctuary city, is the home of House Minority Leader Nancy Pelosi (D-CA).  The House vote on the Republicans' sanctuary city bill is scheduled for Thursday, and it is expected to pass.

July 22: The Daily Signal: Cruz questions ICE Official on release of Illegal Alien Criminals
Sen. Ted Cruz questioned U.S. Immigration and Customs Enforcement Director Sarah Saldaña during a Senate Judiciary Committee hearing about illegal immigration on Tuesday.  Cruz asked Saldaña how many "criminal illegal aliens" the Obama administration released in 2013.  Saldaña responded with the 2014 figure: "a little over 30,000." 
Cruz pointed out her error.  "When I asked you how many criminals ICE released in 2013, you were off by a factor of three," Cruz said. "You said 30,000. The correct answer is 104,000."  Saldaña said that the number "went down from 2013."  "But you're omitting the 68,000 criminal illegal aliens that ICE did not begin deportation proceedings against at all. You've got to add both of those together. It's over 100,000," Cruz responded.  Cruz said that of the 104,000 immigrants in the country illegally who were released into the public in 2013, 193 had been convicted of homicide, 426 had been convicted of sexual assault and more than 16,000 had been convicted of driving under the influence of alcohol.

July 22: Fox News: Seattle Sees Unintended Fall Out from $15 Minimum Wage
Seattle's $15 minimum wage law is supposed to lift workers out of poverty and move them off public assistance. But there may be a hitch in the plan.  Evidence is surfacing that some workers are asking their bosses for fewer hours as their wages rise – in a bid to keep overall income down so they don't lose public subsidies for things like food, child care and rent.  "If they cut down their hours to stay on those subsidies because the $15 per hour minimum wage didn't actually help get them out of poverty, all you've done is put a burden on the business and given false hope to a lot of people," said Jason Rantz, host of the Jason Rantz show on 97.3 KIRO-FM.

July 22: The Hill: Susan Rice Acknowledges Side Deals with Iran
National Security Adviser Susan Rice – you remember her, she is the one who told us the attack on Benghazi was over a video -- on Wednesday acknowledged the existence of so-called "side" agreements between Iran and the International Atomic Energy Agency.  Rice said the deals involve Iran accounting for past military uses of its nuclear program, but rejected GOP assertions that this represented "secret" side deals to the Iranian nuclear agreement.  Rice said the documents between Iran and the IAEA are not public, but the administration has been informed on their contents and will share details with members of Congress in a classified briefing on Capitol Hill. Republicans have been demanding to see the Iran-IAEA agreements and have criticized the administration for not yet making the public.  "That we are only now discovering that parts of this dangerous agreement are being kept secret begs the question of what other elements may also be secret and entirely free from public scrutiny," Sen. Tom Cotton (R-AR) said in a statement.

July 21: Fox News: Pakistani Father of Nuclear Bomb says Iran Deal may have Saved Iran from Disaster:
Dr. A.Q. Khan, known as the father of Pakistan's nuclear bomb and a widely suspected supplier of nuclear technology to Iran and North Korea, told Fox News Tuesday that the Islamic republic's recent nuclear deal with the United States and its negotiating partners may have saved Iran from disaster, either in the form of an internal coup or external attack.  In an email to FOX News, the Pakistani scientist said the Iranian leadership has "very wisely and pragmatically saved their country from a very bad situation --- call it a disaster, if you like."  Khan said that if Iran had not agreed to the deal, "ongoing chaos would have left the field open to a military coup sponsored by the West, just as has happened in Egypt."

July 21: The Daily Signal:
In the Wake of Recent Revelations;
Here's a list of Corporate Donors to Planned Parenthood:
In the wake of recent videos (example, left) of Planned Parenthood executives allegedly attempting to sell body parts of aborted babies, Planned Parenthood has pulled from its Website a list of donors that includes some of America's biggest corporations including Adobe, AT&T, Bank of America, Ben & Jerry's, Converse, Energizer, Expedia, Intuit, Johnson & Johnson,  Microsoft, Nike, Oracle, PepsiCo, Pfizer, Starbucks,  Wells Fargo, and Tostitos.  In the wake of two videos allegedly showing Planned Parenthood officials discussing the sale of aborted fetal body parts. Republicans in Congress are working to ensure that Planned Parenthood is stripped of its federal funding.

July 20: The Daily Signal:The Iran Deal, the United Nations, and Reasons for Rejection of both!
The United Nations Security Council voted Monday morning to support the Iran nuclear deal.   Against strong bipartisan Congressional opposition, Obama urged and supported approval by the U.N.  Reports indicate that the President plans to use the UN vote to pressure Congress into agreeing with the arrangement and lifting the current economic sanctions on Iran.  Secretary John Kerry has said, "If Congress were to veto the deal, Congress —the United States of America— would be in noncompliance with this agreement and contrary to all of the other countries in the world."  But opponents contend Congress should dismiss this pressure.

July 18: The New York Post:  Wow! Could this be true? Administration Tracking Racial Info in Secret Database:
A key part of President Obama's legacy will be the fed's unprecedented collection of sensitive data on Americans by race. The government is prying into our most personal information at the most local levels, all for the purpose of "racial and economic justice."  Unbeknown to most Americans, Obama's racial bean counters are furiously mining data on their health, home loans, credit cards, places of work, neighborhoods, even how their kids are disciplined in school — all to document "inequalities" between minorities and whites.

This Orwellian-style stockpile of statistics includes a vast and permanent network of discrimination databases, which Obama already is using to make "disparate impact" cases against: banks that don't make enough prime loans to minorities; schools that suspend too many blacks; cities that don't offer enough Section 8 and other low-income housing for minorities; and employers who turn down African-Americans for jobs due to criminal backgrounds.  Big Brother Barack wants the databases operational before he leaves office, and much of the data in them will be posted online. So civil-rights attorneys and urban activist groups will be able to exploit them to show patterns of "racial disparities" and "segregation," even if no other evidence of discrimination exists.

July 18: The Weekly Standard: Hillary forbids young supporters from talking with the press:
"Here's what struck me," said Susan Page of USA Today, "when I read the coverage in the Des Moines Register this morning. Jennifer Jacobs, who's been on your show, was covering this last night. Big demonstrations outside of young people for O'Malley and Hillary Clinton. She went up to the Clinton supporters -- these are protesters for Clinton -- and they were told they were not allowed to [speak to] a reporter."  Page continued, "Now, why in the world would the campaign tell their own supporters who came out to campaign in favor Hillary Clinton ... these are the young people, college kids, for Hillary, and they've been told they can't talk to reporters. Why in the world would you do that? "This raises some warning flags for Hillary Clinton campaign that is trying to control their supporters."

July 18: WND News: Kagan & Ginsberg Acted "Unethically and Unlawfully"
A couple of constitutional experts have written an open letter to the attorneys general, governors and lawmakers in Michigan, Ohio, Tennessee and Kentucky pleading with them to file a request for a rehearing before the U.S. Supreme Court on the decision that created same-sex "marriage" across the nation.  Why?  Well, for one thing, Elena Kagan and Ruth Ginsburg acted "unethically and unlawfully" in participating in the case after they publicly had taken a position on the outcome. That's according to the letter from attorneys Herbert W. Titus and William J. Olson. Theirs is part of a series of reports on the issue of marriage, under funding from the United States Justice Foundation. Titus taught constitutional law for 26 years and concluded his academic career as the founding dean of Regent Law School. Olson served in three positions in the Reagan administration. Together they have filed more than 80 briefs in the U.S. Supreme Court. They explain that only officials for the four states involved in the case are allowed to request a rehearing. The deadline is July 21.

July 17: The Daily Caller: 92% of Federal Auditors attempts to Scam Obamacare were successful!
The results of an undercover investigation conducted by the Government Accounting Office (GAO) were presented Thursday at Senate hearing, the GAO report showed that federal auditors 11 out of 12 times were able to gain subsidized coverage with fictitious applications, three of the successful applications never provided citizenship or immigration documentation. The investigators in each case were able to obtain $2,500 or around $30,000 annually in advance premium tax credits.
July 16: The Daily Caller: Ridiculed White House Correspondent Clearly Struck a Nerve
After being scolded by President Obama for asking a question critical of the Iran nuclear deal, CBS' Major Garrett said that intentionally provoked the president.  In "returning fire" to the President's rebuke, Garrett said:   Politicians, especially those elected president of the Unite States, are very adept at creating "Straw Men," taking something that they feel rhetorically works towards their advantage and using it. That's exactly what the president did. My question did not suggest that he was content with the captivity of those four Americans. My question was about the contempt or the satisfaction or the realization that it was necessary within the context of this [Iran Nuclear] deal to leave them unaccounted for. That was the essence of the question. Clearly it struck a nerve. That was my intention because ... that does not appear to me to be a side-line issue in the whole context of the conversation about this Iran nuclear deal. Was it provocative? Yes. Was it intended to be as such? Absolutely.

July 16: The Hill: Obama Putting Cart Before the Horse: Iran Nuke Deal and Sanctions:
President Obama should not go to the United Nations with a proposal to lift sanctions on Iran before Congress acts, said Sen. Ben Cardin (MD), the senior Democrat on the Senate Foreign Relations Committee.  "If the United States is signing onto the United Nations program and later on we're not part of it, what we'll do is inconsistent with the U.N. resolution, so it would be better not to have action on the U.N. resolution," he said.
July 16: The Free Beacon: Iran Bans U.S. Inspectors from all Nuclear Sites:
U.S. and Iranian officials confirmed Thursday that no American nuclear inspectors will be permitted to enter the country's contested nuclear site under the parameters of a deal reached with world powers this week, according to multiple statements by American and Iranian officials.  The revelation of this caveat has attracted concern from some analysts who maintain that only American experts can be trusted to verify that Iran is not cheating on the deal and operating clandestine nuclear facilities.  The admission is the latest in a series of apparent concessions made by the United States to Iran under the deal.
July 16: Fox News: Study Shows: Concealed-carry handgun permits soar as murder rate drops
A report from a prominent economist finds that the number of permits to carry concealed handguns has skyrocketed by 178 percent in the last eight years, even as the murder rate has dropped.  The figures, cited in a study by the Philadelphia-based Crime Prevention Research Center, is evidence that legally-possessed handguns deter crime, rather than contribute to it. The huge increase in the number of permits issued to allow law-abiding Americans to pack heat shows attitudes toward firearms are changing. Americans have increasing come to believe that guns make them safer including African-Americans who are increasingly embracing their Second Amendment rights.
July 16: The Hill: Support for GOP Abortion Ban Bill Grows After Planned Parenthood Baby-Parts Scandal:
Momentum is growing for a GOP-backed bill banning late-term abortions in the wake of the viral video of Planned Parenthood's use of fetal tissue. Republican senators are planning a markup of the bill – which would ban nearly all abortions after 20 weeks – in September, with a final vote expected shortly after, according to a GOP aide. The Senate Judiciary Committee is also planning a hearing on the topic "sometime this fall," spokeswoman Beth Levine said Thursday.  Senators are moving up the timeline to consider the bill after an anti-abortion group released a video that shows a Planned Parenthood executive in a shockingly candid discussion about the demand for fetal lungs, livers and "intact" hearts by medical researchers.  The bill passed the house in May 242 to 184.

July 16: The Daily Caller: Circle the Wagons Democrats:
The Planned Parenthood Debacle over Selling Baby Body Parts:
Democrats are calling an undercover sting operation video showing a Planned Parenthood official discussing the harvesting of aborted fetal body parts deceptive.  "Well I think there's been a kind of misrepresentation of the conversation that took place in the transcript in the conversation in the video that they have," House Minority Leader Nancy Pelosi said saying it was made "very clear" by Planned Parenthood that the organization does not engage in fetal organ trafficking, noting, "I think that is the fact."  The video shows Planned Parenthood Federation of America's Senior Director of Medical Services, Dr. Deborah Nucatola telling an individual posing as a representative for a company that buys fetal tissue, that body parts like livers and lungs are available for harvesting after an abortion is performed.
July 14: The Washington Post: Israel blasts Iran Deal as one of the darkest days in history
Israeli leaders across the political spectrum condemned in stark apocalyptic language the Iranian nuclear pact announced by the United States and world powers Tuesday, calling it a historic mistake that frees Iran to sponsor global terror while assembling the expertise to build a nuclear bomb.  "Iran is going to receive a sure path to nuclear weapons," said Prime Minister Benjamin Netanyahu. "Many of the restrictions that were supposed to prevent it from getting there will be lifted."
July 14: WND News: Clinton Appointed Judge Overrules Probation-approved Psychological Counselors
and Orders that Conservative Film Maker get more counseling:
U.S. District Judge Richard M. Berman said he considers D'Souza's violation of federal campaign-finance laws to be evidence of a psychological problem and ordered further counseling.  But D'Souza's defense counsel provided evidence to the court that the psychiatrist D'Souza was ordered to see found no indication of depression or reason for medication. In addition, the psychologist  provided a written statement concluding there was no need to continue the consultation, because D'Souza was psychologically normal and well adjusted.  But Judge Berman, who was appointed by Bill Clinton, disagreed, effectively overruling the judgment of the two licensed psychological counselors the U.S. probation department had approved as part of D'Souza's criminal sentence.  
July 14: CBS News: Nuke Deal Not Based on Trust
In a message to Congress, Obama said that he will "veto any legislation that prevents the successful implementation of this deal."  "I welcome a robust debate in Congress on this issue, and I welcome scrutiny of the details of this agreement," Obama said. "But I will remind Congress that you don't make deals like this with your friends."  Obama said that the deal "is not built on trust, it is built on verification."  
July 14: Breitbart News: Sheriff Joe: 2,000 out of 5,000 people turned over to ICE end up back in jail:
Maricopa County, AZ Sheriff Joe Arpaio said that out of the 5,000 people turned over the Immigrants and Customs Enforcement out of his jails, "2,000 have been coming back." Arpaio, who in October 2014 said 36% out of "4,000 people in our jails for state crimes in the last eight months" keep coming back, stated, "I have ICE agents in our jail. We check everybody that comes in, then detainers are placed for those here illegally on state charges, turn them over to ICE, and guess what? Out of 5,000; 2,000 have been coming back to my jails, all serious types of crime. One guy came back 20 times. So, evidently they keep crossing the border, or the ICE is letting them out on the streets. That's another problem." He added that he would support cutting off federal funding to sanctuary cities.

July 14: Breitbart News: Illegal Immigrant who killed Chandra Levy may be released:
Attorneys for Ingmar Guandique, an illegal immigrant from El Salvador who murdered Washington intern Chandra Levy in 2001, will likely ask for Guandique to be released from jail while he awaits a retrial of his 2010 conviction. A hearing is scheduled for Tuesday.  Gunadique's attorneys requested a new trial, asserting that evidence from a key witness against Guandique was false or misleading and claming that a new trial would serve the "interests of justice." In May, prosecutors agreed to a new trial despite the fact that they thought that Guandique's conviction was justified. In June, a judge ruled that a new trial could be held; it is scheduled for 2016.



July 13: Galveston County Daily News:
Should the Government be involved in the Marriage Business?
If God created marriage, then how and why is the government involved?   It used to be that couples were required to have a blood test prior to being granted a license to get married.  That was done away with around 1990.  So why is there still a licensing requirement?  Galveston County issues about 2,000 (@$81) licenses a year generating $162,000 in revenue.  But all the needs for licensing could be dealt with through "partnership agreements" eliminatingGovernment from the process entirely. Our "Progressives" friends tell us we need to keep church and state separate.  OK, so if marriage was created by God, shouldn't it be restricted to religious institutions?  The logical conclusion is if two people wanted to get "married" they would go to their local church, synagogue, or mosque and have such a ceremony conducted where a covenant is made between the two people and their God. 
July 12: Fox News: Capitol Hill/Presidential Candidates: Bipartisan Concerns over Pending Iran Nuke Deal
Senate Majority Leader Mitch McConnell on Sunday led a chorus of bipartisan concern from congressional leaders and 2016 presidential candidates about an Iran nuclear deal, amid reports that negotiators are expected to reach a provisional agreement.  But McConnell suggested that President Obama will ultimately win final approval for the deal, considering he would only need 34 Senate votes to stop a veto override vote. However, New Jersey Democratic Sen. Bob Menendez, a Senate Foreign Relations Committee member, also continued to raise skepticism about any deal, which suggests that getting 34 Democratic Senate votes might be a challenge.
July 12: The Daily Caller: Hillary "Extremely Evasive" in First Interview:
Reacting to Hillary Clinton's first national television interview with CNN last week on "Capital Download" Sunday, Vox political reporter Jonathan Allen gave the former secretary a harsh review, calling it "terrible."  I thought it was terrible. I think the things that people don't like about her really came out in this interview in terms of her being extremely evasive on questions of substance like would she raise taxes. She dodged that. Even something so small as which woman she thinks should be put on the $10 dollar bill, where she basically hedged and then said maybe it should be the $20 dollar bill and never even answered the question.
July 10: The Weekly Standard: Iran made Illegal Purchases of Nuclear Technology Last Month:
The question is not whether Iran can be trusted to uphold the nuclear deal now being negotiated in Vienna (it can't), but whether the Obama administration and its P5+1 partners can be trusted to punish Iran when it violates the agreement?   Experience shows that unless Iran violates the deal egregiously, the temptation will be to ignore it.
July 10: CBS News Los Angeles:
VA in Hot Water Again!  Public Affairs Officer: Turn Off Your Camera!  CBS News: Turn Off Your Water?
While all Californians are under mandatory water restrictions, CBS News cameras went undercover and found some federal facilities may be wasting water for hours at a time.  And government workers weren't happy when Investigative Reporter David Goldstein tried to get answers.  "Can you shut that off? Or I'm going to have to confiscate your cameras," Lina Satele of the VA Public Affairs Office told Goldstein and a CBS cameraman. "No, you won't," Goldstein replied.  Satele claimed that since the investigative team was on federal property she could take the cameras.
July 10: The Hill: The House Halts Spending Bill over Confederate Flag Fight
House Republicans are hitting the brakes on consideration of spending bills after leaders yanked a measure from the floor this week over the display of the Confederate flag. The House was originally slated to consider the 2016 spending bill for Financial Services next week, but the odds are now low for it hitting the floor. Republicans are worried that Democrats could try to offer more amendments related to the display of the Confederate flag that could again tie the GOP into knots.
July 10: The Houston Chronicle:
When U.S. Military arrives next week Texans will be watching, carefully! Operation Counter Jade Helm:
When the troops land in Texas for Operation Jade Helm next week, someone will be waiting for them.  Hundreds of people have organized a "Counter Jade Helm" surveillance operation across the Southwestern states and in an effort to keep an eye on the contentious military drill that's sparked many suspicious of Uncle Sam's intentions.  Eric Johnston, a 51-year-old retired firefighter and sheriff's deputy who lives in Kerrville, is a surveillance team leader in Texas. He'll coordinate three groups of volunteers, about 20 folks in total, who hope to monitor the SEALs, Green Berets and Air Force Special Ops in Bastrop, Big Spring and Junction when Jade Helm kicks off on July 15. With media prohibited at the drills, the volunteers could be a main source of information for the highly-anticipate seven-state exercise.
July 10: The Hill: Senate GOP wants Revocation of Tax Exempt Status of Green Group:
The National Republican Senatorial Committee filed an IRS complaint against the Natural Resources Defense Council (NRDC), saying the green organization's campaign against Sen. Mark Kirk (R-Ill.) is illegal.  The organization is a 501(c)(3) nonprofit and prohibited from political activity.  "This ad, the latest in a string of multi-million dollar political activities, leaves no doubt that NRDC has forfeited its 501(c)(3) status," the GOP group wrote in its complaint.  Additionally the Senatorial Committee said the source of the contributions used to fund these ads should be investigated. "Any donors who earmarked their contributions for this ad and others like it and who have taken correspondent tax deductions should be prosecuted for tax fraud to the fullest extent of the law."
July 10: The Hill: Benghazi Chair Miffed over
State's Turning Over Press Clippings in Response to Document Requests
The chairman of the House panel investigating the 2012 attacks in Benghazi, Libya, on Friday ridiculed the State Department's responses to requests for documents.  Chairman Gowdy (R-SC) told CNN Friday, "[Do] you know what we got last week? We got 3,600 pages, half of which were press clippings, including articles about Richard Gere!  So if that is their idea of complying with congressional investigations, then we are going to be at this a long time."


July 10: The Daily Caller: Clinton Supporter: "This Interview is Over!"
Former Clinton White House special counsel Lanny Davis hung up on Newsmax TV host Steve Malzberg Friday after the host grilled him over Hillary Clinton's email scandal.  The Newsmax TV host opened up the interview by bringing up the fact that Clinton claimed that she never received a subpoena over her emails, even though Rep. Trey Gowdy revealed on Wednesday that Clinton did indeed receive one in March.  Davis went on the defensive immediately. As Malzberg continued to press the matter Davis became more heated. He finally hung up on the host.
July 10: Fox News: Background Checks Don't Always Work: FBI Sadden by Approval of Roof
Charleston gunman Dylann Roof should never have been able to buy the gun he used to kill nine worshippers at a church Bible study last month, the FBI director said Friday, citing a breakdown in the national background check system. Mistakes allowed the 21-year-old to buy the .45-caliber handgun with money given to him for his birthday despite a criminal record that included a recent drug possession charge. Because of a series of errors, including one on Roof's rap sheet, the examiner performing the check on Roof did not know he had admitted to drug possession in a March 1 incident, which should have rendered him an "unlawful user" ineligible to purchase the gun.
July 8: The Daily Signal: Dems/McConnell Hope to Revive Ex Im Bank Authority/Highway Trust Fund Together
For nearly a week, the Export-Import Bank has been closed following the expiration of its charter. But Democrats in Congress are working to revive the bank through a piece of "must-pass" legislation.  Ex-Im's charter expired June 30, with its authority lapsing for the first time in the bank's 81-year history. The bank can no longer process new applications, but it continues to oversee its existing financing. Additionally, those working at the bank remain employed. Conservative lawmakers and groups cheered Ex-Im's expiration, calling it a victory for Main Street and a defeat for corporate cronyism and corporate welfare.
July 7: Fox News: Oregon the Land of the Free and Home of the Brave – Really?
Pay your fine and shut up! Don't say another word.  That's what the Oregon Bureau of Labor and Industry (BOLI) is telling the owners of Sweet Cakes By Melissa, a bakery owned by Christians who refused to bake a cake for a lesbian wedding.  On Friday the state ordered owners to pay $135,000 in damages to a lesbian couple they turned away in 2013. The state also slapped a gag order on the evangelical Christian bakers – banning them from speaking publicly about their refusal to participate in or bake wedding cakes for same-sex unions.  "This effectively strips us of all our First Amendment rights," the owner wrote on Facebook. "According to the state of Oregon, we neither have freedom of religion or freedom of speech."  [See a related column scheduled for publication, Monday, July 13th, in the Galveston County Daily News]
July 7: Real Clear Politics: More on Blumenthal, Clinton, and Benghazi
The way things are going, the House Select Committee on Benghazi will never release the testimony of Sidney Blumenthal, who, let us make no bones about it, is solemnly accused of being a friend of Hillary Clinton's. Of that he is no doubt guilty, caught red-handed by his leaked emails to her, her responses to him, a vast public record, his utterances in public and private, his employment by the Clinton Foundation, his work in the Clinton White House and other such matters. But in one of the incriminating emails, Blumenthal urged Clinton to "help Clio now" and become more public about her role in the overthrow of Moammar Gaddafi, late of Libya (and of this world). But regarding Benghazi it appears that Blumenthal was only forwarding information to Clinton for further vetting.
July 7: The Washington Post: Committee to hear from Clinton's Inner Circle Prior to Hearing from Hillary herself:
Republicans leading the charge to investigate Benghazi are closing in on Hillary Clinton's inner circle.  Rep. Trey Gowdy (R-SC) disclosed Monday that he plans to interview three of Clinton's top advisers: Huma Abedin, a longtime Clinton aide; Cheryl Mills, Clinton's former chief of staff; and Jake Sullivan, a former director of policy planning at the State Department. Gowdy, who leads the House Select Committee on Benghazi, said there are others on the list but he will not release their names "given the nature of their work."  These hearings are seen as a precursor to hearing from Hillary Clinton herself and asking about her involvement in protecting State Department personnel overseas and her response to the Benghazi attack.
July 7: The New York Post: It Gets Worse: IRS also targeted prosecutions against conservative groups:
So the Obama IRS wasn't just persecuting right-leaning nonprofits — it was out to prosecute them, too. And with the help of the Obama Department of Justice and FBI.  Via Freedom of Information Act lawsuits, the watchdog group Judicial Watch just got evidence of the plot. A "DOJ Recap" on an Oct. 8, 2010 meeting tells how officials from the three agencies discussed "several possible theories to bring criminal charges under FEC law" against groups "posing" as tax-exempt nonprofits.  As part of the project, the IRS handed the FBI 21 computer disks with 1.23 million pages of confidential IRS returns from 113,000 nonprofit 501(c)(4) groups — nearly every 501(c)(4). This, though federal law generally bans the IRS from sharing such data. [See Related story at Townhall.com]
July 7: Fox News: New Hampshire:  Clinton Campaign Keeps Press from the Candidate
Campaign aides for Democratic presidential frontrunner Hillary Clinton on Saturday roped off reporters from the candidate as she walked and talked with potential voters during a July Fourth parade in New Hampshire, sparking frustration from the press corps.  Reporters were reportedly allowed to get close to Clinton but were later herded away by campaign aides concerned about crowd control.  "Spectacle of Clinton as candidate -- press being pulled along with a rope," tweeted New York Times presidential campaign correspondent Maggie Haberman.  However, the optics of reporters being corralled along at the event, in Gotham, N.H., did not look good and added to the criticism that Clinton, unlike other 2016 presidential candidates, is shielded from reporters and their questions and as a public figure is cloaked in secrecy.
July 7: Breitbart.com: Murderer: I Chose San Francisco because it was a "Sanctuary City"
Five-time deportee, seven-time convicted felon Juan Francisco Lopez-Sanchez said in a new interview Sunday with a local ABC News affiliate that he came to San Francisco because he knew the sanctuary city would not hand him over to immigration officials. Lopez-Sanchez has confessed to shooting Kathryn Steinle last Wednesday at Pier 14.  Had San Francisco police not refused a U.S. Immigration and Customs Enforcement (ICE) detainer request, Lopez-Sanchez may not have been in the United States and Steinle might still be alive.
July 7: The New York Post: Veterans Administration Personnel Shuffle Not Expected to Have Much Impact:
Driven out by whistleblowers, Acting Inspector General of the Veterans Administration Richard Griffin finally resigned last week after whitewashing and concealing information about backlogs at the VA.  But don't expect real improvement at the VA. Griffin's successor is another bureaucrat, Lin Halliday who has been with the VA since 1992. Only the president can appoint an inspector general.  Federal law requires that the Veterans Administration and other departments have outside inspectors general to guard against corruption and mismanagement. Obama simply refuses to appoint them, allowing the vacant offices to be filled instead by "acting" IGs like Griffin and Halliday.

July 6: The Hill: White House Defends Immigration Policies Blames GOPafter San Francisco Killing:
The White House on Monday defended its immigration policies and attempted to shift blame upon the Republicans following the murder of a San Francisco woman — by an illegal immigrant.  When asked if the case was a failure of the administration's enforcement policies, White House press secretary  Earnest chided Republicans for blocking a bipartisan immigration bill that would have boosted funding for border security. Federal authorities have suggested San Francisco – the home of House Minority Leader Nancy Pelsi – bares  responsibility for the fact that Lopez-Sanchez was still on the street. 

July 6: The Galveston County Daily News: Runaway Court? The Obamacare Decision
With the recent Supreme Court decisions, reflection is in order. What we witnessed last month is a Supreme Court -- not the constitution -- rewriting legislation. Unless some action is taken, the court's actions will render the tenth amendment null and void. Our concern is over the lack of a constitutional foundation for the court's action. Read the column.

July 6: The Hill: Department of State: No Guarantee there will be an Iranian Nuke Deal
There's no guarantee that nuclear talks with Iran will end with a deal this week, the State Department said Monday. While Secretary of State John Kerry hopes to secure a deal by tomorrow's deadline, a spokesman on Monday said "very difficult decisions" have yet to be made.  Negotiators set a July 7 deadline after missing a previous June 30 deadline.  The administration hopes to submit text of a deal to Congress by July 9. That will trigger a 30-day period for Congress to review the deal.  If the text is submitted after July 9, Congress will have 60 days to review the text.

July 6: Fox News: Financial Situation in Greece Impacts Markets Worldwide:
Greece's debt crisis sent shivers through American stock markets Monday, a day after Greek voters rejected demands from international creditors for further austerity measures in exchange for a bailout of its bankrupt economy.  The Dow Jones Industrial Average fell more than 100 points after the opening bell, at one point hitting its lowest level since early February.  The dip followed plunges by markets in Europe and around the world as the government of Prime Minister Alexis Tsipras struggled to find its way through the crisis, which included the resignation Monday morning of Finance Minister Yanis Varoufakis.

July 5: The Hill: Puerto Rico Debt Crisis Hits Congress:
A looming debt crisis in Puerto Rico is setting off a fresh fight in Congress, where lawmakers are debating a statutory fix that could allow the island territory to declare bankruptcy.  Advocates of the change say it would resolve a technical oversight from a decades-old bankruptcy law, while skeptics warn that it could throw into question billions of dollars in debt now owned by investors across the country.  But a quirk in the nation's bankruptcy code is throwing Congress into the middle of the matter, as lawmakers will need to quickly pass a new law if Puerto Rico is going to gain access to the nation's bankruptcy courts.
July 5: The Washington Times: Judicial Watch: Classified Clinton emails require seizure of the Server
The president of a conservative watchdog group says now that it is known that classified information was contained in Hillary Clinton's private stash of State Department emails, it is time for the government to seize her personal server and related storage disks to determine whether security was breached during her tenure as secretary of state.  Judicial Watch, has filed, along with other groups, lawsuits to force the State Department to turn over memos and emails. These include Clinton's messages stored on her private, at-home server through which she exclusively conducted government business.
July 5: The Hill: The Iran Nuke Deal or no Deal?
If President Obama can secure a final nuclear deal with Iran next week, attention will immediately turn to Congress — which can vote to disapprove of the agreement. But the upper hand still remains with the President who can veto any bill to disapprove a Nuke Deal.  Obama agreed to the review, which has no teeth in it, under pressure from Democrats, who have been torn during the Iran talks between the White House and Israel, which strongly opposes the negotiations.  A measure disapproving the deal could torpedo the pact.  There may be enough votes in the Senate to override such a veto, but in the House, that's a very different story.
July 4: The Washington Post:  Military Exercises in Texas has Residents Fearful
Bastrop County GOP Chairman Albert Ellison said, that as the U.S. military prepares to launch one of the largest training exercises in history later this month, many Bastrop residents might suspect a hidden Obama plan -- confiscate their guns and ultimately establish martial law in one of America's proudly free conservative states. Meanwhile, across town such talk elicits a weary sigh from County Judge Paul Pape.  Pape said he has tried to explain to folks that the exercise, known as Jade Helm 15, is a routine training mission that poses no threat to anyone.  "I'm sensitive to the fact that some of our Bastrop residents are concerned, and I'm confident that they are very sincere about their concerns," Pape said. "But how did we get to this point in our country?"

July 1: The Hill:  Oklahoma sues to stop Obama's Climate Change Rule:
Oklahoma's attorney general filed a lawsuit Wednesday to stop the Obama administration's signature proposed climate change regulation.  The federal lawsuit from Attorney General Scott Pruitt is comes less than a month after the Court of Appeals for the District of Columbia Circuit threw out two challenges to the same regulation, saying they were premature, because federal courts cannot review rules that are not final.
July 1: The Washington Times:
Clinton's Private Email Server Contained Classified Documents without Cyber Security Protocols in Place:
The State Department on Wednesday conceded that two dozen of Hillary Clinton's emails did contain classified information, a fact that could trigger a U.S. policy that authorizes the government to take control of her private server and sanitize the contents. A former senior intelligence official told The Washington Times the policy also requires the government to check other Internet paths her secret information could have taken.

July 1: Fox News: Hillary's EmailGate Reveals she is Equipment Challenged:
Top presidential aides didn't know how to reach the secretary of state, months into the administration.   And when it came to using fax machines ... well, Clinton was no pro. These are just a few of the colorful details emerging about Clinton's day-to-day life in the early part of the Obama administration, according to 3,000 pages of emails released overnight by the State Department. And they depict a different side of the aloof and now-2016 Democratic presidential candidate.
July 1: The Daily Caller:
School Pensions force firings of up to 1,400 teachers and staff in Chicago; others blamed:
About 1,400 Chicago public school teachers and staff are expected to lose their jobs in order to finance a pension debt of $634 million, the city announced Wednesday.  The layoffs are part of an aggressive $200 million budget cut to help finance the pension payment, which is required of Chicago Public Schools by Illinois law. The rest of the pension payment is coming from heavy borrowing, adding to the school district's already massive $1.1 billion deficit.  In announcing the layoffs, Mayor Rahm Emanuel blamed the rest of the state for not picking up the slack, saying the rest of Illinois doesn't pay its fair share for pensions.
June 30: Politico: IRS Lawyer Now Heads Clinton Email Production:
May be slow walking the release of the documents:
A year ago, Catherine Duval was embroiled in the scandal over former IRS official Lois Lerner's lost emails.  Now the top government attorney is heading up another document project in the cross hairs of Congress: the State Department's release of Hillary Clinton's emails and Libya documents to the House Select Committee on Benghazi.   GOP investigators are raising red flags, accusing her and the State Department of stonewalling Congress by narrowly interpreting document requests and failing to disclose important information. 
June 25: The Daily Signal: Quotable Quotes: Scalias Dissent on Court's ObamaCare Decision
Justice Antonin Scalia is known for his sharp wit and even sharper pen. He pulled no punches in his dissent today from the Supreme Court's decision in King v. Burwell allowing the Obama administration to allow Obamacare subsidies to flow through the federal exchange.  Here is a highlight:
- "Perhaps sensing the dismal failure of its efforts to show that 'established by the State' means 'established by the State or the Federal Government,' the Court tries to palm off the pertinent statutory phrase as "inartful drafting.' This Court, however, has no free-floating power 'to rescue Congress from its drafting errors.'"
June 23: Fox News: Most Illegal Aliens Skip Court Dates after Release:
Tens of thousands of illegal immigrant women and children streamed across the U.S. border last year seeking asylum and protected status, claiming a "credible fear" of going home to the violence in Central America. President Obama addressed the crisis through what he termed increased border enforcement, more detention beds, more immigration judges and pressure on political leaders in their home countries. But a year later, new data obtained exclusively by Fox News shows the policy isn't stopping the influx. Not only are illegal immigrant women and children continuing to cross the border in large numbers, but the majority charged with crimes aren't even showing up for court. "These figures are very strong evidence that the Border Patrol was right all along, that these people were coming because they knew they would be allowed to stay, that they were not planning to make some kind of plea for humanitarian status such as asylum," said Vaughan.
June 23: The Daily Caller: Obamacare Exchanges Imploding State by State
And in the last few days, he has gone off the deep end on Obamacare. It's working even better than planned, he said. All the dire predictions made by opponents … none of them came true.  Well, there's this impressive list of predictions that did come true.
Hawaii turned over its healthcare to the Federal Government.
New Hampshire's Governor announced he will not seek another term because of problems with his efforts to rebuild the state's healthcare system.
In  Nevada and New Mexico, they gave up the ghost after realizing having their own exchanges wasn't financially viable.

June 23: Fox News:
Supreme Court: If you want a farmer's raisins you need to pay for them; it's unconstitutional
The Supreme Court ruled on Monday that the government can't force raisin farmers to give up part of their annual crop for less than it's worth, a victory for conservative groups that hailed the decision as a win for private property rights.  The justices ruled 8-1 that a 1940s-era program born out of the Great Depression is unconstitutional because it allows federal officials to seize personal property from farmers without fully compensating them, even though the goal is to benefit farmers by stabilizing market prices.
June 23: Fox News:  U.S. Military moving equipment into allied nations near Russian border
Defense Secretary Ash Carter announced Tuesday that the U.S. will deploy heavy weaponry across six European nations including those along the Russian border.   The move is meant to help reassure NATO allies facing an array of threats from Russia and terrorist groups. It is only the latest message being telegraphed to an increasingly assertive Vladimir Putin, in the wake of his country's intervention in eastern Ukraine. The equipment is set to be stationed in the Baltic states -- Estonia, Latvia and Lithuania -- as well as Bulgaria, Poland and Romania. Each set of equipment would be enough to equip a military company or battalion, and would go on at least a temporary basis to those six nations.
June 23: The Daily Signal: More Hillary Clinton Benghazi Emails Revealed:
There's new evidence that the investigative record has long been incomplete on the administration's actions surrounding the Sept. 11, 2012, terrorist attacks on the U.S. compounds in Benghazi, Libya.  Only now has the House Select Committee investigating Benghazi finally obtain additional, related emails exchanged through former Secretary of State Hillary Clinton's private server.  Longtime Clinton confidant Sidney Blumenthal turned over his email exchanges with Clinton as part of a committee document request prior to his deposition last week.
June 23: The Daily Caller:
Money Talks! Congressional Aide: Ex-Im Vote a Favor for Big Campaign Contributions
A staffer for Congressman Paul Cook told an undercover journalist that Cook will likely vote to reauthorize the Export-Import Bank, because big campaign contributors that benefit from the bank are in his district.   "He's probably going to vote in favor of it," Dillon Lesovsky, a field rep for the California congressman, told the undercover reporter in a video produced by Project Veritas.  [The] "reason being Boeing is in our district, and then we also have Mitsubishi Cement. We have a bunch of cement and minerals companies that export out a lot of stuff.  …they are big contributors of ours …so, you know, we'll help them out." If Congress does not act, the Ex-Im Bank will expire June 30.
June 22: The Daily Signal:
Meadows to fight GOP House Leadership: Sometimes you need to change the Coach
A conservative House lawmaker angry at "a culture of punishment and fear" created by Speaker John Boehner and his leadership team has had enough.  "For the last six months they have doled out small punishments in a variety of forms," said Rep. Mark Meadows of the conservative House Freedom Caucus.  "I personally have received those.  I have not gone public until now—because they went public first.  The leadership team wants to create a culture of punishment and fear without a culture of debate and dialogue.  But there is no honor in bowing to a bully.  There is only honor in fighting a good fight—win or lose. This is not a fight I will back down from."

June 20: Politico: 
Heavy Hand of Speaker Boehner/allies Falls on those who vote their conscience:
The House Republican crackdown has reached a new level of severity.  House Oversight and Government Reform Chairman Jason Chaffetz has stripped North Carolina Rep. Mark Meadows of his subcommittee chairmanship, just days after he defied leadership on the House floor by voting against a party-line procedural motion.  Losing a subcommittee chairmanship midway through a congressional session is among the most serious punishments thus far in Speaker John Boehner's (R-OH) majority.
June 20: The Hill: McConnell Calling Democrat's "bluff" on Trade Bill:
Senate Majority Leader Mitch McConnell is daring Senate Democrats to vote against fast-track trade legislation they supported less than a month ago.  The GOP leader has scheduled a procedural vote on fast-track for Tuesday, and is signaling he's through offering concessions.  He believes he'll get the 11 Democratic votes he needs to move forward because pro-trade Senate Democrats have already gone out on a limb to support fast-track — despite the cries of organized labor and other groups on the left – and because they don't want to thrust the dagger into President Obama's prized legislative goal.  But this time the bill does not include Trade Adjustment Assistance (TAA) for workers who may be hurt by the deal.

June 19: The Fiscal Times: Madness?! Congress' Scramble to Save Obama's Trade Deal:
The White House and Congressional Republican leaders joined hands this week on a strategy to advance Obama Free Trade Deal. Yesterday's 218-208 vote in the House for trade promotion authority (TPA, or "fast track") kicks off a series of maneuvers designed to get something across the line that will allow the president to complete negotiations on the 12-nation Trans-Pacific Partnership.  But the strategy rests on a diminishing resource in Washington: Trust. The original fast-track bill was linked to Trade Adjustment Assistance (TAA) which would help for workers laid off as a result of trade deals.  But when the House offered a two-track vote, Democrats refused to go along and pass something they liked when doing so would advance a measure they didn't.  So the White House/Republican team decided to split up the two measures. [See related column]

June 19: Fox News:
Hillary Clinton breaks with Obama on Trade Despite supporting the deal as Secretary of State
After being coy for weeks on her position, Hillary Clinton on Thursday clearly broke with President Obama on his trade push -- despite having supported the trade deal he wants as secretary of state. The now-Democratic presidential candidate made her position clear after speaking at length about the uncertainty of what's in the deal and trade in general, Clinton was pressed for a yes-or-no answer on whether she'd vote for the package going through Congress.   "At this point, probably not," she said.
June 19: McClatchydc News: Court orders Feds to find and deport mother and daughter to Guatemala:
A U.S. Court of Appeals judge has ordered U.S. officials to intercept a mother and her 12-year-old daughter on plane Friday being deported to Guatemala and immediately return them to the United States. The 34-year-old mother, Ana, and her daughter were woken up at and pulled from their rooms at a Pennsylvania family detention center, where they had been living for over a year, said her attorney, Bridget Cambria. By 10 a.m., the two were placed on a plane flying to Panama City, where they would catch a second flight to Guatemala City. In a rare move that will likely draw more attention to the controversial practice of family detention, Chief Judge Theodore A. McKee of the Third Circuit Court of Appeals ordered U.S. officials to stop Ana and her daughter when they arrive in Guatemala City and immediately return them to the United States.
June 18: The Daily Caller: Senate Kills Amendment to Directly Arm the Anti-ISIS force:
As the Senate nears passing the annual defense policy bill, a key amendment was struck down on Tuesday.   The amendment to  directly arm Iraqi-Kurdish forces against the Islamic State and reform the military justice system failed to pass.  Sponsored by Barbara Boxer [D-CA] and Republican Joni Ernst, the amendment to arm Kurdish forces fell six votes short, amid criticisms from the White House and Iraqi government.  "The Administration is not required to act, but the amendment provides the President authorization to do so if he feels the situation warrants it to respond to ISIS, who is gaining momentum on the battlefield," said Ernst, in a statement.

June 18: The Daily Caller: Former Ambassador:
Obama Acted Delibertly to Undermine U.S.-Israeli Shared Goals
Michael B. Oren, Israel's former ambassador to the United States, did not mince words Tuesday calling out President Barack Obama for how he's handled relations with Israel.  Oren saw huge mistakes from both Obama and Benjamin Netanyahu, the prime minister of Israel, through the years. The difference, however, is while Netanyahu made missteps, Obama seemed to have purposely made his mistakes in a calculated move to undermine the shared goals of both nations.   "Yet many of Israel's bungles were not committed by Mr. Netanyahu personally," Oren noted. "From the moment he entered office, Mr. Obama promoted an agenda of championing the Palestinian cause and achieving a nuclear accord with Iran."
June 17: The Hill:  Defense policy bill clears final Senate Hurdle:
An annual defense policy bill overcame its last procedural test Wednesday, paving the way for final passage.  The Senate voted 84-14 to end debate on a House-passed shell bill being used as a vehicle for the Senate's National Defense Authorization Act (NDAA). Wednesday's move sets up a final vote on the bill, which Republicans predicated would occur Thursday. McCain [R-AZ] made a closing pitch for the bill ahead of Wednesday's votes, suggesting the legislation was a necessary "reform bill" for the Defense Department. Senate Democratic leadership has criticized the defense policy bill because it includes an extra $38 billion in the Pentagon's war fund. But a majority of Democrats have backed the legislation on the procedural votes so far.
June 17: The Daily Caller: Congress has plans for the Direction of the Federal Labor Relations Board!
Though previous attempts to rein in federal labor officials with legislation have failed, House Republicans Tuesday released a draft detailing a plan to instead use the 2016 budget.   In a statement released by the committee it says "The legislation also contains several policy provisions to improve government oversight, protect the rights of all Americans, and bolster economic growth. These provisions will rein in unnecessary regulatory overreach that ties the hands of employers and undermines job creation, maintain longstanding life policies and constitutional protections, and ensure that taxpayer dollars are being appropriately spent. In addition, the legislation defunds existing ObamaCare programs and prohibits any new discretionary funding from being used to further implement ObamaCare."    The draft bill significantly reduces the NLRB budget and includes limitations of the boards activities.
June 17: The Daily Signal: What the GOP will, or should, do it the Supreme Court strikes down subsidies
Republicans can offer a path forward without accepting the premise that the Obamacare model of highly regulated and subsidized insurance is the only solution, and they can do it while offering in legislative form the clearest possible distillation of the conservative case against Obamacare: that its mandates and regulations are driving up the cost of health insurance for all consumers and eliminating affordable coverage options, including those now dependent on Obamacare's federal subsidies.
June 17: Roll Call: House Prepares for TPA Re-Vote
The House is set to vote Thursday on Trade Promotion Authority, with GOP leaders employing procedural maneuvers and indirect promises to make sure the bill eventually gets signed into law.  Pro-trade lawmakers are moving ahead with a vote on TPA without Trade Adjustment Assistance, which aids U.S. workers displaced by international trade.  The success of their plan hinges on whether Democrats who voted for TPA will still support that measure without immediate certainty they'll also get TAA, which trade opponents voted down on June 12 to derail the entire package. Without the Trade Adjustment Assistance provisions, the Trade Promotion Authority has an uphill battle for passage, but the leadership is assuring Members that the TAA will be moved forward on a parallel track.  Meanwhile, conservative Republicans are asking why their leadership is going to the Democrats for votes, instead of members of their own party.
June 17: The Weekly Standard: Sessions: Fast Track Would Lead to three pacts encompassing 90%
of the World's GDP
Senator Jeff Sessions is worried that the adoption of the Trans-Pacific Partnership would lead to an "historic international regulatory Commission" that would  encompass 90 percent of the world's GDP. He's concerned that it would "[create] a self-governing and self-perpetuating Commission with extraordinary implications for American workers and American sovereignty."  According to Sessions through fast-track, Congress will have authorized the President to ink these deals before a page of them has been made public. Then, the Executive sends Congress 'implementing' legislation to change U.S. law—legislation which cannot be amended, cannot be filibustered, and will not be subjected to the Constitutional requirement for a two-thirds treaty vote," Sessions contended. The Congress would only be able to vote the trade deals up or down and by a simple majority vote.
June 17: The Hill: Congressman Gowdy ID's author of Benghazi Memos
Select Benghazi Committee Chair Trey Gowdy (R-SC) has identified the author of the memos on Libya and the 2012 attack on the U.S. diplomatic mission in Benghazi that Hillary Clinton confidant Sidney Blumenthal passed on to her while she was secretary of State.  He identified the author of the memos as Tyler Drumheller, a former CIA official, who was mentioned in some media reports following Blumenthal's roughly nine-hour deposition. Gowdy said of Blumenthal that he was simply forwarding "unvetted, uncorroborated, unsubstantiated intelligence" to Hillary Clinton. The chairman said the committee "might" call on the author of the memos to testify.

June 17: The Daily Caller: House Speaker throws low ball to Hilary Clinton over withheld Benghazi emails
After a House Benghazi Select Committee discovered either Hillary Clinton or the State Department withheld Benghazi emails, House Speaker John Boehner used the occasion to throw Bill Clinton's infidelity in her face.   "When it comes to Hillary Clinton's Benghazi-related emails, it depends upon what the meaning of the word 'all' is," Boehner tweeted Wednesday.   The line's a reference to Bill's infamous attempt to argue his way out of perjury before a grand jury after having oral sex with Monica Lewinsky and then lying about it. "It depends upon what the meaning of the word 'is' is," he said, arguing he wasn't lying when he said he "is" not in an improper relationship with Monica Lewinsky.
June 16: The Hill: Speaker gets revenge after embarrassing Trade Bill Defeat:
Speaker John Boehner is sending a stern message to his Republican conference: Either you're on the team or you're not. Roughly three dozen Republicans who voted against the Speaker.  Now three of them have lost their positions on the GOP leadership's Whip (vote counting) team and a handful of subcommittee chairs may lose their gavels – among them Congressman Jim Jordan from the Speaker's home state of Ohio and Louie Gohmert of Texas.  Also in jeopardy are some members who either ran or voted for someone other than Boehner for the Speaker's position in January.  The Speaker's office had no comment on Tuesday about the retributions.
June 15: Fox News: Feds accused of forcing diversity in wealthy neighborhoods:
Congressional Republicans are trying to thwart a new federal housing rule they claim would allow Washington to play a heavy-handed role in trying to remake upscale neighborhoods as racially and economically diverse "utopias."   The forthcoming regulations, expected to be formally proposed later this month, would leverage grant money to try and bring more affordable options into these neighborhoods. It would require local jurisdictions to report on their progress; they'd risk federal housing money if they don't.   Critics of the measure see it as a meddling federal government. Rep. Paul Gosar (R-AZ) has sponsored an amendment to the HUD spending bill that would block them from funding the new rule.  The HUD spending bill passed the House with the Gosar amendment.

June 15: The Daily Caller: Reporter who has criticized Hillary's Campaign Blocked from NH Campaign Event:
A reporter who has been critical of the Hillary Clinton campaign's lack of transparency and access was prohibited from serving as the designated press pool reporter for an event held in New Hampshire on Monday.  Clinton's handlers gave several different reasons for barring David Martosko, the U.S. political editor for the U.K.-based Daily Mail, from attending the event, which was held at the Puritan Backroom in Manchester, NH. Martosko and the Daily Mail had been designated by other outlets in the press pool to attend Clinton's speech, which is one of three that she gave on Monday. Members of the press have said that the campaign prohibits access to the Democrat and that she rarely takes questions from reporters.
June 15: The Hill: House Looking at Options on Trade Bill
House leadership has made no decisions on how to move a trade package forward following a colossal defeat on the floor at the end of last week which saw both Republicans and Democrats joining forces to defeat a major part of the measure.   The House on Friday approved fast-track authority for President Obama but voted down a separate measure that grants aid to workers displaced by trade. Both parts of the package must be approved to send the bill to the White House so that Obama could sign it into law. Members of both parties voted against the Trade Adjustment Assistance (TAA) program, including scores of Democrats who saw killing it as the only way to stop fast-track. 
June 15: CNN News: Ambassador Power Slams Russian Aggression in Ukraine
Ukraine: 10,000 Russian Boots in our Country:
A senior U.S. diplomat, on a visit Thursday to Ukraine, has slammed what she called Russian "aggression" in the country.  Samantha Power, the U.S. ambassador to the United Nations, pledged support to Ukraine and delivered a pep talk of sorts that encouraged Ukrainians to "demand change."    "America is clear-eyed when it comes to seeing the truth about Russia's destabilizing" actions in Ukraine, she said, adding that U.S. support for Ukrainians is "unwavering."
June 15: Fox News: Employees of Beleaguered VA Vent to Visiting Lawmakers:
Two months after testifying to Congress for a third time about the Department of Veterans Affairs Philadelphia regional office, this time about a "revolving door of taxpayer waste," culture of retaliation and improper behavior whistleblower Kristen Ruell said little had changed.  "I'm wondering what problems have been fixed," she said Monday, as a bipartisan delegation of congressmen showed up to grill managers about the scandal that has engulfed the office, which oversees benefits to more than 800,000 veterans in three states. "I'm seeing the same things, and it's worse than ever. Employee morale is at an all-time low." Nine congressman and one senator inspecting the office Monday said they heard a similar message during a closed-door meeting with Ruell and other employees — very different than the upbeat assessment from managers in a separate meeting.  

June 15: Fox News:  In Reversal, VA seeks to offer aid to Air Force reservists exposed to Agent Orange
Reversing a long-held position, the VA now says Air Force reservists who became ill after being exposed to Agent Orange residue while working on planes after the Vietnam War should be eligible for disability benefits.   The VA said it has been working to finalize a rule that could cover more than 2,000 military personnel who flew or worked on Fairchild C-123 aircraft in the U.S. from 1972 to 1982. Many of the Vietnam-era planes, used by the reservists for medical and cargo transport, had sprayed millions of gallons of herbicide during the 1955-1975 military conflict in Southeast Asia.


June 14: The Sunday Times of London:
German Tanks roll back into Poland
The tiny Polish town of Swietoszow did not officially exist during the Cold War; as home to a massive but secret Soviet tank force ready to strike at the West, it was removed from all public maps and records.   Last week NATO used the base for the first big deployment of a new special force to defend eastern Europe from an increasingly expansionist Russia.  American Black Hawk helicopters thundered in the skies as German tanks rolled from across the nearby border, along with troops and hardware from seven other nations that make up NATO's Spearhead Force, which was set up last year in response to Russia's intervention in Ukraine.   Operation Noble Jump, involving more than 2,000 troops from nine countries that will engage in live artillery fire, F-16 fighter jet aerial bombing, special forces combat and helicopter assaults.
[This site requires a subscription to read the rest of this story.]
June 14: The Daily Caller: IRS finds 6,400 new Lois Learner emails, won't release them
The Internal Revenue Service found 6,400 more Lois Lerner emails — but they're not handing them over in court jut yet.  The IRS' latest excuses are nothing short of infuriating.  Department of Justice lawyers Geoffrey J. Klimas and Stephanie Sasarak, acting as counsel for the IRS, submitted a U.S. District Court filing June 12 in the case Judicial Watch v. Internal Revenue Service. The court filing, provided to The Daily Caller, claims the IRS received new Lerner emails from the Treasury Department's inspector general (TIGTA) but can't fork over the emails to Judicial Watch, a nonprofit group suing to get the emails. Why? Because the IRS is busy making sure that none of the emails are duplicates – you know, so as not to waste anyone's time. 
June 13: The Hill:  Behind the scenes: Pelosi's Break with Obama on Trade
President Obama probably knew his trade agenda was going down in flames hours before the first votes were even cast in the House on Friday afternoon.   That morning, Obama made a rare visit to the Capitol to try to salvage legislation he needed to complete a major 12-nation Pacific trade deal.  It was there, in the second-floor office of one of his closest allies in Congress, that he got the bad news.   Minority Leader Nancy Pelosi (D-CA) told the president she was "leaning no" on a workers-aid bill — the linchpin to a broader package granting Obama so-called fast track trade authority.
[This is an interesting story about the ins and outs of this legislation which you might find an interesting read in its entirety.]

June 12: The Hill: Senate Iran Hardliners look to place sanctions bill on NDAA legislation
A pair of senators is looking to tie an annual defense policy bill to the administration's nuclear negotiations with Iran ahead of an end-of-the-month deadline.   Senators. Mark Kirk (R-IL) and Bob Menendez (D-NJ) are hoping to include a 10-year extension of Iranian sanctions legislation as an amendment to the National Defense Authorization Act (NDAA).   "No agreement is better than a bad agreement, and that is what my concern is ... that we are headed for a bad deal," Menendez said Thursday, adding that the United States "can't trust Iran to abide by its agreements."
June 12: Fox News:  Congressional Democrats May Sink PAC RIM Fast Track Trade Agreement
In a dramatic defeat for the White House, President Obama's trade agenda ran aground in the House on Friday in a 302-126 vote.    This was tied to one of the President's main agenda items -- legislation that would give Obama "fast-track" authority to negotiate trade deals. Without it, the trade push withers for now.  The key vote Friday was on the so-called Trade Adjustment Assistance bill, a program that retrains workers displaced by trade. The bill was originally put on the table as a sweetener to help get Democrats on board and ultimately move the "fast-track" bill. But Democrats are so opposed to that legislation, all but 40 opposed the sweetener.   The White House downplayed the defeat saying that these kinds of things are "endemic to the House of Representatives."
June 11: Yahoo News: House Committee approves bill punishing the
Department of  State over Benghazi Response
Over White House objections, a House panel approved a bill Thursday that withholds hundreds of millions of dollars from the State Department until it produces more documents to lawmakers investigating the deadly 2012 attack on the U.S. diplomatic post in Benghazi, Libya.    The $47.8 billion bill for the fiscal year beginning Oct. 1 also restricts funds to set up a diplomatic presence in Cuba — a setback to the Obama administration's effort to thaw relations with the communist state after a half century. The Republican-led Appropriations Committee approved the bill by voice vote.
June 11: The Daily Caller: Boehner Defends Secrecy of Trade Talks:
House Speaker John Boehner [R-OH] said Thursday that members of Congress do not want to reveal their positions are on the current negotiations to give President Obama broader authority on trade agreements.  He said this in response to a question about the secrecy surrounding the development of so-called "trade promotion authority," or TPA, which would allow the president to reach a trade deal with a foreign nation that would only require an up-or-down vote from Congress. Congress would not be allowed to filibuster the agreement.  [See Related Story]

June 11: The Daily Caller: The Restaurant Industry will suffer from an increase in the Minimum  Wage
Raising the minimum wage will have severe consequences, especially for those working in the restaurant industry, investor rating service Moody's warned on Thursday.  The Moody's report also showed the minimum wage doesn't even have to go up to $15 an hour for negative effects to occur. For instance, if the minimum wage went to $10.10 from the current $7.25 an hour margins, casual dining could fall substantially.
June 11:  The Hill: Centrist Dems Wary of Hillary's move to the left
Moderate Democrats are worried about Hillary Clinton's recent embrace of liberal policies.  After positioning herself as a centrist and steely potential commander in chief in the 2008 Democratic primary, Clinton has shifted.  Clinton is now to the left of President Obama on the federal minimum wage. While Obama has endorsed a $10.10 hourly rate, Clinton has signaled support for more than doubling it, to $15 an hour.   The former first lady says same-sex marriage should be a constitutional right and endorsed Obama's executive action shielding millions of illegal immigrants from deportation. She wants broad reform of a criminal justice system and calls for automatic voter registration.  Red-state Democrats in Congress don't want Clinton to lose sight of a broadly appealing economic message that can win over white working-class voters who have deserted the party in droves recently.
June 11: The Hill: Obama's Supreme Court Gambit
President Obama's impassioned defense of the Affordable Care Act is riling opponents of the law and drawing accusations he's trying to bully the Supreme Court.  But Obama's pointed comments, which appeared to be aimed at least partly at influencing the justices, are baffling some court-watchers. With the ruling on ObamaCare expected any day, legal experts say it's unlikely that any rhetoric from the White House could cause a major shift in the justices' opinion. "As a practical matter the case has been decided.  That doesn't mean all the nuances have been decided," said Jim Blumstein, a constitutional and health law professor at Vanderbilt University.
June 11: The Daily Caller: DHS Agent: Stripped of Gun, Nearly Lost Daughter
after she blew the whistle on the Immigration Visa Program
A Department of Homeland Security agent testified Thursday that she nearly lost custody of her 1-year-old adopted daughter and was told that she could not own a personal firearm after she voiced concerns about a little known federal program that grants green cards to foreign investors.  Taylor Johnson, a senior special agent with a division of Immigration and Customs Enforcement (ICE), testified at a Senate Committee on Homeland Security and Governmental Affairs hearing alongside several other whistleblowers who claim they've faced retaliation for reporting wrongdoing in their agencies.
June 11: The Daily Caller: American Pastor Beaten in an Iranian  Prison:
American pastor Saeed Abedini was beaten in his Iranian prison the day after his wife testified before Congress trying to secure his release.  Abedini was assaulted Wednesday June 3 by a fellow inmate at Iran's Rajai Shahr prison, where he is serving an eight-year sentence for preaching to Iranian Christians, which the Iranian government claims undermined that country's national security. Abedini has been in captivity since 2012.  He suffered two black eyes among other injuries, according to his American legal representative, the American Center for Law and Justice. His reading table was also destroyed by fellow prisoners.  The beating occurred one day after his wife testified before the U.S. House Committee on Foreign Affairs, where she appealed for help on behalf of her two children with the incarcerated Christian pastor.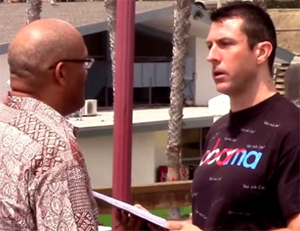 June 10: RT.com:
- Mark Dice gets Obama Supporters to Sign Fake Petition to Nuke Russia
- Dice on International Incident he provoked
US journalist Mark Dice has asked the people of San Diego, CA to sign a petition -- supporting a fabricated (spoofed) plan -- that the President wants to nuke Russia in order to "maintain America's superiority." Apparently the majority of beachgoers didn't appear to get the joke, and signed the fake petition -- maybe they had been in the sun too long. The "experiment" was recorded on video, which Dice then shared on YouTube and social media. Subsequently an international incident emerged where people in Russia believed the petition was for real and that the U.S. was seeking support for such a nuclear strike.


June 10: Breitbart.News: Sessions|Hunter: Trade Agreement is setting up a "European Union"
In a joint appearance on Sean Hannity's radio show on Wednesday, Sen. Jeff Sessions (R-AL) and Rep. Duncan Hunter (R-CA) warned against the passage of the so-called Trade Promotion Authority (TPA) currently being considered by the Congress.  Sessions argued it was more than just a framework for a process for the president of the United States to use in negotiating trade agreements, but instead was creating an economic union with wide-ranging powers.  The junior Alabama senator explained that he felt it was being kept secret because if the public were aware of this union, which he likened to the European Union, it would be stopped dead in its tracks.
June 9: The New York Times: Growing Body of Law Allows Prosecution of Foreign Citizens on U.S. Soil:
Arrested in Djibouti while he was en route to Yemen from Somalia, far from his home in Britain, Madhi Hashi was baffled to find himself jailed in Manhattan. An admitted member of the Shabab, the Somali militant group,  he didn't  understand why he'd been brought to the U.S. to stand trial, court documents revealed.  A similar situation happened late last month when Attorney General Loretta E. Lynch announced that Brooklyn prosecutors had indicted FIFA officials from the other side of the globe, on corruption charges.  Using a growing body of law that allows the United States to prosecute foreign citizens for some actions, the government has been turning the federal courts into international law-enforcement arenas. Perhaps no federal prosecutor was more aggressive about expanding her office's global reach than Ms. Lynch when she was the US attorney in Brooklyn.
June 9: Fox News: TSA Whistleblowers describe security concerns, culture of "Fear and distrust"
Whistleblowers on Tuesday portrayed the beleaguered Transportation Security Administration (TSA) as an agency mired in a culture of "fear and distrust" while raising security concerns over several programs -- including TSA PreCheck, in which passes for expedited screening allegedly are passed out "like Halloween candy."  The TSA employees leveled their criticism during a Senate hearing that follows recent bombshell inspector general reports showing undercover agents were able to sneak fake explosives and banned weapons through airport checkpoints about 96% of the time.  The findings led to the acting TSA secretary being reassigned last week. A second report released Monday showed the agency failed to flag 73 commercial airport workers "linked to terrorism."
June 9: Fox News: Escape probe focuses on prison tailor as search for two escaped murders continues
Authorities in New York state intensified the manhunt Tuesday for two "dangerous" convicted murderers who managed to escape a maximum-security prison near the Canadian border, and reportedly turned their attention to a prison employee who may have previously befriended one of the escapees.  Joyce Mitchell, an industrial training supervisor at the Clinton Correctional Facility, was questioned by authorities about the escape.  The local paper reported that she worked inside a tailor shop behind the prison's high walls.  Mark Fuhrman, a former Los Angeles Police Department detective and Fox News contributor, said there is no doubt the two had help -- both during and after the escape.  He said when you have someone afoot if you don't have reports of stolen vehicles  then they had to have help.
June 8: Breitbart News: NBPC: The Border Crisis is Re-Emerging with 70 women/children in one hour!
In the past few weeks, the numbers of unaccompanied minors and incomplete family units have begun soaring again, according to the National Border Patrol Council (NBPC), the organization that represents nearly 17,000 U.S. Border Patrol agents. "This is starting to resemble the summer border surge of 2014," said Border Patrol agent Chris Cabrera. He spoke to Breitbart Texas in his role as a NBPC spokesperson and representative.
June 8: Daily Caller: NJ woman murdered while awaiting permission to defend self with a fire arm
The June 3, 2015, tragedy in Berlin Township, NJ, where Carol Bowne was stabbed to death by her convicted felon ex-boyfriend Michael Anthony Eitel after securing a restraining order against him could have, and should have, been prevented.  Ms. Bowne obviously understood that a restraining order is simply a piece of paper that cannot effectively stop someone determined to cause harm. She had applied for a New Jersey permit to purchase a handgun on April 21, 2015.  The state of New Jersey failed to respond to the permit request within the statutory 30 days limit and was murdered some 42+ days after submitting her handgun license application.

June 3: Breitbart News:   Paul Ryan: Claims Obamatrade more transparent than Iran deal
House Ways and Means Chair Paul Ryan (R-WI) believes the Obamatrade process is more transparent than President Obama's negotiations with Iran  even though the text of the Trans Pacific Partnership trade deal that would fast track trade among pacific rim partners has been kept secret.
May 30: The Hill: Policy Differences could threaten Government Funding Later This Year
Spending bills crafted by Republican lawmakers include several policy provisions that could lead to a standoff with the Obama administration later this year.  While the fight over whether to bust spending limits will dominate this year's government-funding debate, there are other issues that could prove to be thorny as well as Congress moves forward on 12 appropriations bills.
Cuba Policy: The House seeks to torpedo the President's efforts to normalize relations with Cuba – An action that some have pointed out violates the law set in place by former Senator Jesse Helms (R-NC).

EPA Water Regulations:  Some Congressional members hope to use the power of the purse to stop the new EPA water regulation announced this week. 

Gun Control Restrictions:  The House has included some spending bill riders that some contend would relax gun control restrictions and impede efforts to combat illegal gun trafficking.
[Follow link to see more indepth information]
May 30: Fox News:  Union Leaders in LA See Exemption from Minimum Wage Law for businesses that unionize:
Union leaders in Los Angeles are being accused of hypocrisy after being caught trying to exempt themselves from a new minimum wage law they tried to impose on others.
May 30: The Hill:  President has one month as the clock ticks down on the Iran Nuke Deal
The Obama administration is one month away from the deadline for striking a final nuclear deal with Iran.  The lack of progress on a nuclear accord has sparked speculation that no deal will emerge. But it is clear that the White House wants to reach a compromise with Iran by the June 30 deadline, in part, because it would become the President's legacy of his second-term. Yet, the negotiations are facing deep skepticism in Congress and from allies such as Israel who are wary of a "bad deal" that empowers the Iranian regime.  The Iranians, meanwhile, are under pressure from hardliners to insist on a swift, immediate removal of sanctions that the United States has repeatedly rejected. 

May 30: Fox News: U.S.SECDEF Carter: U.S.  to Step Up operations in the South China Sea:
SECDEF Ash Carter on Saturday urged China to stop trying to convert artificial reefs in the South China Sea into a military airfield but also made clear the U.S. has no intentions of ending air-and-sea operation in that region.  The Defense Secretary made his comment at an international security conference filled with Asia-Pacific leaders and also said the United States has been flying and operating ships in the region for decades and opposes "any further militarization" of the disputed lands. 
May 30: The Hill: Obama Administration Reading a Dozen Gun Control Regulations for Release
The Justice Department plans to move forward this year with more than a dozen new gun-related regulations, according to list of rules the agency has proposed to enact before the end of the Obama administration.  The regulations range from new restrictions on high-powered pistols to gun storage requirements. Chief among them is a renewed effort to keep guns out of the hands of people who are mentally unstable or have been convicted of domestic abuse.  The gun lobby contends that such a sweeping ban would unfairly root out a number of prospective gun owners who are not a danger to society. 
May 29: The Daily Caller: Cruz: No Federal Funding for Schools that boycott Israel
Presidential candidate Republican Sen. Ted Cruz Thursday called for federal money to be withdrawn from any college that boycotts Israel.  "In 2017, we need a president who will stand up directly and confront the [Boycott, Divest, and Sanctions] movement," Cruz said in a speech. "BDS is premised on a lie and it is anti-Semitism plain and simple. And we need a president of the United States who will stand up and say if a university in this country boycotts the nation of Israel than that university will forfeit federal taxpayer dollars."  The Office of Antiboycott Compliance at the U.S. Department of Commerce (where I used to work) has laws on the books that make it illegal to participate in boycotts of Israel.
May 29: The Daily Caller: Phoenix VA Whistleblower Calls for Resignations
Jared Kinnaman, a vocational rehabilitation counselor and whistleblower at the Phoenix Department of Veterans Affairs medical center, is calling for the resignation of Phoenix interim director Glen Grippen and VA  Secretary Robert McDonald.  In two letters sent out Friday, Kinnaman recounted his struggle and efforts to promote accountability at the Phoenix VA, which so far have amounted to very little, despite promises of reform from the leadership. Still, the long list of unacceptable practices continues unabated at the hospital. 
May 27: Fox News: U.S. Vets Risk All to Fight ISIS with Kurdish forces
Aaron Core thought he had seen enough of Iraq during a U.S. Army tour that ended in 2010. But the image of American journalist James Foley being murdered by an ISIS executioner prompted him to leave Tennessee and head back, this time as an unpaid volunteer in the service of the Kurdish Peshmerga.  The 27-year-old Chattanooga resident and former Army National Guard specialist has taken part in numerous firefights with ISIS as the Kurds battle to stop the terrorist army's caliphate from encroaching on its territory in the nation's north.  The U.S. State Department does not support or encourage Americans traveling to Iraq to volunteer, but has not stopped many from doing just that.
May 27: The Hill:  Legal Setback Clouds Fate of Obama Immigration Actions
The fate of President Obama's controversial deportation-relief program has been thrown into question following a legal setback that has pro-immigration groups increasingly nervous.   In a split decision earlier this week, a three-judge panel from the 5th Circuit Court of Appeals handed a victory to Obama's opponents when it refused to lift a hold on his executive actions, which could allow millions of immigrants in the country illegally to live and work in the U.S. without fear of deportation.   The decision made it more likely the court battle will spill into 2016, the final year of Obama's presidency.

May 27: New York Times: Obama Immigration Executive Action on Hold?
President Obama's overhaul of the nation's immigration system, which he announced in a prime-time speech to the nation last November, may remain under a cloud of legal uncertainty until months before he leaves office in 2017, legal experts and administration officials said Wednesday.  Officials from the Justice Department said in a statement that they wouldn't ask the Supreme Court for permission to carry out the president's immigration programs — which seek to provide work permits and deportation protection to millions of undocumented immigrants — while a fight over presidential authority plays out in the lower courts.

May 27: Fox News: Contributions to the Clinton Foundation Continue to Raise Questions
The Clintons, already under scrutiny for accepting foreign donations to their family foundation and keeping them secret from the Obama administration while Hillary served as secretary of state, have received money from another controversial source: the Federacion Internationale de Football Association (FIFA).  Soccer's governing body, which donated between $50,001 and $100,000 to the Clinton Global Initiative and partnered with the former president's foundation on other projects, is entangled in an international corruption investigation spearheaded by the U.S. Department of Justice, which spans countries from Qatar and Russia to Switzerland and the United States.DOJ announced charges against nine FIFA officials and five other corporate executives in a 47-count indictment unsealed Wednesday, which includes allegations that over the last two decades, its executives were involved in racketeering, money laundering and wire fraud. 

May 26: Fox News: EPA Under Fire for Social Media PR Campaign on Water Regulations
Obama administration critics charge the EPA cajoled the public into supporting a controversial proposed regulation with an unprecedented social media campaign, pushing the boundaries of legal agency advocacy.   To enact a regulation, federal agencies typically propose a rule, allow the public to comment on that proposal and then alter the final regulation based on those comments.  Last year, the EPA unveiled a proposed regulation to expand its authority over America's waterways under the Clean Water Act. Then, it launched a social media campaign to draw public support.

May 25: The Telegraph: Goldman-Sachs: The World Is Drowning in Debt
The world is sinking under too much debt and an aging global population means countries' debt piles are in danger of growing out of control, the European chief executive of Goldman Sachs Asset Management has warned.  Andrew Wilson, head of Europe, Middle East and Africa (EMEA), said growing debt piles around the world posed one of the biggest threats to the global economy.  "There is too much debt and this represents a risk to economies. Consequently, there is a clear need to generate growth to work that debt off but, as demographics change, new ways of thinking at a policy level are required to do this," he said.
May 25: The Wall Street Journal: Islamic State's Gains Reveal New Prowess on the Battlefield
In late April, a commander for Islamic State said his forces were ready to launch an offensive to take Ramadi, and the group called for fighters to redeploy to Iraq from Syria.  Three weeks later, the jihadist group seized the capital of Anbar province after relentless waves of suicide bombings.  U.S. defense chief Ash Carter has blamed Ramadi's fall mainly on Iraqi forces' lack of will to fight. But Islamic State's battlefield performance suggests the terrorist group's tactical sophistication is growing—a development the Iraqis and the U.S.-led coalition have so far failed to counter, said Iraqi officials, former U.S. officials and military analysts studying the organization.
May 24: The Hill: Hawaii Democrat Pushes Back Against Obama "ISIS Plan"
Rep. Tulsi Gabbard (D-HI) said Sunday that she disagrees with President Obama's assessment that the United States-led coalition is not losing to the Islamic State in Iraq and Syria (ISIS) in the Middle East.  "Clearly ISIS has gained momentum, in particular over the last week, as we've seen the ground that they gained both in Iraq and Syria," Gabbard said on CNN's "State of the Union" program.  ISIS captured the Iraqi city of Ramadi last week and later pushed into the Syrian city Palmyra. Obama told The Atlantic last Tuesday, after Ramadi fell, that "No, I don't think we're losing. … There's no doubt there was a tactical setback."
May 24: The Hill: Benghazi Investigation Picking Up Steam:
The GOP-controlled House Select Committee on Benghazi is picking up the pace.  Rep. Jim Jordan (R-OH) said the uptick was result of mounting frustration over what they view as foot-dragging on the part of the Obama administration to the panel's various document and information requests related the 2012 attacks that killed a U.S. ambassador there and three other Americans, and their aftermath.    This week the panel subpoenaed Sidney Blumenthal, an informal adviser to Hillary Clinton when she helmed the State Department, and who has since agreed to appear before the select committee by the requested June 3 deadline.
May 23: The Daily Calller: Baltimore: Crime is up; Arrests are down; Morale is in the Sewer:
The spike in crime and decrease in arrests in Baltimore since the death of Freddie Gray is the partial result of low morale among the police force, an anonymous city cop told CNN.  The 12-year veteran said of officers' morale: "It's in the sewers. It's down. It's the worst I have seen in my career."  He said that officers have slowed their response to 911 calls. And when they do answer, they often travel in groups of three or four out of fear for their safety and of being accused of wrongdoing.  Six Baltimore officers were indicted by a grand jury on Thursday in the April 19 death of the 25-year-old Gray. He was arrested following a foot chase on April 12 and sustained a broken neck while riding in the back of the police van that was transporting him to jail.
May 23: The Daily Caller: Vote-Conscious Republicans Declare Opposition to EX-Im Bank
In an indication of the Export-Import Bank's dwindling popularity, previously undecided lawmakers are now responding to the mere threat of messaging from the bank's opponents.  Club for Growth, a free-market advocacy organization, announced Thursday that it would target four additional Republican representatives as part of an ongoing ad campaign aimed at convincing voters in key congressional districts to oppose reauthorizing Ex-Im's charter when it expires on June 30. At least three of those four, it appears, anticipated that their constituents would be responsive to charges that Ex-Im is little more than a corporate welfare slush fund catering primarily to the interests of large corporations like Boeing and GE. Without even waiting for the first ads to run they issued statements declaring their opposition to the bank.
May 23: Hot Air: Expect Obamacare Premiums to rise by Double Digits in some states in 2016
The Wall Street Journal is reporting that Obamacare rates are about to shoot up, in some cases as much as 40%. The rate increases requested by insurance carriers vary state by state, but the overall picture is bad. "In New Mexico, market leader Health Care Service Corp. is asking for an average jump of 51.6% in premiums for 2016," the Journal reports. "The biggest insurer in Tennessee, BlueCross BlueShield of Tennessee, has requested an average 36.3% increase. In Maryland, market leader CareFirst BlueCross BlueShield wants to raise rates 30.4% across its products. Moda Health, the largest insurer on the Oregon health exchange, seeks an average boost of around 25%."
May 23: MyWay.com:   Iraq Vets Tired of Presidential Politics  
Veterans of the Iraq War have been watching in frustration as Republican presidential contenders distance themselves from the decision their party enthusiastically supported to invade that country.  Some veterans say they long ago concluded their sacrifice was in vain, and are annoyed that a party that lobbied so hard for the war is now running from it. Others say they still believe their mission was vital, regardless of what the politicians say. And some find the gotcha question being posed to the politicians — Knowing what we know now, would you have invaded? — an insult in itself.  Do-overs just don't happen in real life!
May 22: CNN News: Clinton Email Dump Doesn't Stop Benghazi Questions!
The emails to Clinton don't contain a smoking gun, at least not yet.  But that's hardly surprising since Hillary  herself chose which emails to turn over to the State Department.  But the first batch released from the now-notorious personal account that she used as secretary of state does make clear that this is one headache that will linger for the front-running Democrat's White House campaign.  Also interesting is that at least one of the emails released contained redacted language continuing the debate whether she used her personal server – which did not have the standard State Department security – for sensitive or classified messages, something she has denied doing.

May 22: Yahoo News:  Clinton Received Sensitive Information on her Private Email Server
Former Secretary of State Hillary Clinton received information on her private email account about the deadly attack on U.S. diplomatic facilities in Benghazi that was later classified "secret" at the request of the FBI, according to documents released Friday, underscoring lingering questions about how responsibly she handled sensitive information on a home server.  Taken together, the correspondence provides examples of material considered to be sensitive that Clinton received on the account run out of her home while opting out of using the protected State Department email account.
May 22: The Daily Caller:  Would Be Carjacker Went After the Wrong Guys Car!
When Hashim Fannin arrived at his local Family Dollar, he met someone who was looking for a different kind of discount – a carjacker. But the carjacker, 61-year-old Egdar Horn, almost paid the ultimate price.  After Horn jumped into Fannin's car, Fannin pulled his gun.  "He told me, 'You know what this is,'" Fannin said. That is when Fannin says he pulled his gun out.  "I asked him to get out the car, probably not in those exact words," Fannin said.  "I told him no, there's no leaving, leaving was before you hopped into my car … at this point there is no leaving," Fannin said.
May 20: The Daily Signal: Debate on Renewal of the Ex-Im Bank Heats Up
The charter of the Export-Import Bank is set to expire on June 30 unless it is reauthorized by Congress.  Ex-Im Bank supporters are using scare tactics of bank supporters, saying failing to renew it would not mean the loss of thousands of American jobs.  However, economists have long understood that subsidies in the form of Ex-Im loans don't actually create jobs but serve to simply redistribute them among domestic producers.  So the radio" blitz" paid for by the U.S. Chamber of Commerce claiming that failing to renew the Ex-Im bank charter will eliminate thousands of jobs in Texas is not entirely accurate. 
May 20: The Weekly Standard:  Susan Rice: We have ended two wars responsibly:
"Now that we have ended two wars responsibly, and brought home hundreds of American troops, we salute this new generation of veterans …"  Rice also heralded the sacrifices that American troops (hundreds of thousands who served in Iraq and Afghanistan, not hundreds) have made since 9/11. "They all made us proud," she said. That left some wondering if she would still include soldiers like Sgt. Bowe Bergdahl, who is facing a court-martial for deserting his post in Afghanistan in 2009, but was feted in absentia in the White House Rose Garden in May 2014 after the Obama administration secured his release from the Taliban in a prisoner exchange for five detainees who had been held at Guantanamo Bay.
May 20: Yahoo News: China Army Announces the Internet means War:
In a chilling memo released on Wednesday, the People's Liberation Army, or PLA, informed the world that, at least on the internet, China is at war. The memo says "The internet has become the main battlefront for struggle in the ideological area.  With the existence of the network, the ideological front has been completely thrown open ... National security has become an important component part of our country's overall security 'chessboard.' It may be said that without cybersecurity, there is no national security." 
May 20: Newsweek:  Raising a Rebel Army to Overthrow Putin?
Andrei Kuznetsov a 32-year-old Russian exile said "Much of Russia is being led like cattle. But we call ourselves 'Different Russians.'" he goes on. "Russia needs a real, tough force that can be an opposition to the Putin regime. There are people who support an opposition movement in Russia, but there is no leader to unite them."   Kuznetsov, who has been living in Kiev for more than nine months, has set out to create what he calls a "Russian rebel army." He hopes to sidestep the Kremlin's seemingly invulnerable crackdown on domestic dissent by uniting Russian dissidents living in Ukraine and across Eastern Europe, ultimately paving the way for a legitimate opposition movement to return one day to overthrow Russian President Vladimir Putin. 

May 20: Fox News: Another Syrian City Reportedly in ISIS Hands
Islamic State militants reportedly captured the ancient Syrian town of Palmyra Wednesday as Syrian officials evacuated citizens and scrambled to keep priceless antiquities from falling into terrorist hands.  The Syrian Observatory for human rights told The Associated Press that government forces collapsed in the face of ISIS attacks and withdrew from the town late Wednesday.  The Wall Street Journal reported that before fleeing, the National Defense Forces evacuated civilians as militants took control of residential areas and established themselves in the city's nearby ruins.

May 20: The Weekly Standard:  Cotton: Obama is not providing necessary resources to defeat ISIS
Republican senator Tom Cotton of Arkansas said President Obama is "not providing the resources" to defeat the Islamic State in and that United States ought to send "a few thousand more" troops into Iraq to combat the terrorist group in that country.  "That's really a question, though, for our commanders to provide their best military judgment to the president to make a decision about the number and the types of troops that we need," he said. Cotton, who served in the Iraq War as an Army captain, added that there's "no doubt" the military needs more "specialized assets" in Iraq.
May 19: Fox News: Is a Rouge 4th Branch of Government is Threatening Us?
Two years ago this month, we learned of the burgeoning scandal at the Internal Revenue Service (IRS) – the deliberate targeting of conservative and Tea Party groups – a coordinated move to keep these groups on the sidelines during a critical election.  We are in federal court representing dozens of targeted groups and continue to seek justice in this case. But over the course of the two years when the scandal broke, one thing has become very clear: unelected, unaccountable bureaucrats were at the center of this scheme.  What's equally troubling – there's been no accountability. Not one person has been fired. Zero. The IRS, along with a long list of other agencies, is run by bureaucrats. And these bureaucrats destroy our liberty and threaten our democracy.
May 17:  Breitbart News: ABC's Stephanopoulos Apologizes for not coming clean on
Donations to the Clinton Foundation
On his Sunday broadcast of ABC's "This Week," host George Stephanopoulos reiterated an apology he had made days earlier while hosting "Good Morning America."  Stephanopoulos explained to "This Week" viewers he had given money to the Clinton Foundation and should have been more transparent on the heels of his tough interview of Peter Schweizer, whose book "Clinton Cash" takes a critical look at that organization.  "Now I want to address some news you may have seen about me," he said. "Over the last several years, I've made substantial donations to dozens of charities, including the Clinton Global Foundation. Those donations were a matter of public record, but I should have made additional disclosures on air when discussing the foundation. And I now believe making personal donations to that foundation was a mistake even though I made them strictly to stop the support of AIDS, help children and protect the environment in poor countries. I should have gone the extra mile to avoid even the appearance of a conflict. I apologize to all of you for failing to do that."

May 17: The Daily Caller: WSJ's Peggy Noonan:  Hillary's Strategy is Running a silent movie campaign!
Wall Street Journal columnist Peggy Noonan took aim at the former secretary of state Hillary Clinton's media strategy Sunday, telling "Face The Nation" Clinton is "running a silent movie of a campaign" as she dodges the press.   Noonan made the comments to host Bob Schieffer after giving credit to former Florida Gov. Jeb Bush for continuing to take questions from the media after he endured a tough week. Bush waffled on questions about the Iraq War.
May 17: Fox News: Group wants Air Force General Court Martialed for Speaking
about God at National Day of Prayer Meeting
An Air Force general who recently spoke about how God has guided his career should be court-martialed, a civil liberties group is saying.  In a speech at a National Day of Prayer Task Force event on May 7, Maj. Gen. Craig Olson credits God for his accomplishments in the military, and refers to himself as a "redeemed believer in Christ."  The Air Force Times reports that the Military Religious Freedom Foundation has taken issue with Olson's remarks, is calling for the two-star general to be court-martialed and "aggressively and very visibly brought to justice for his unforgivable crimes and transgressions."  The group authored a letter to Chief of Staff Gen. Mark Walsh, arguing that Olson's speech violates rules within the Air Force, which prohibits airmen from endorsing a particular faith or belief.

May 16: Breitbart News: US Special Forces Kill Top ISIS Commander in Raid in Syria
U.S. special operations forces based in Iraq conducted a cross-border raid into eastern Syria and killed senior ISIS leader Abu Sayyaf, said to be responsible for major Islamic State financial operations, including the sale of oil and gas assets.  According to the White House, the goal of the operation was to take Abu Sayyaf alive, but he "engaged U.S. forces" and was killed during the firefight.  "His wife, Umm Sayyaf, was captured and is being held in U.S. detention in Iraq," reports National Journal. "The White House said U.S. forces freed a young Yezidi woman, who officials believe was held as a slave by the couple, and said it intends to reunite her with her family 'as soon as feasible.'"

May 16: Breitbart News: Hillary Taking the weekend off: Media Avoidance going on 34-35 days:
Evan as the book "Clinton Cash" by Peter Schweizer is on all the Sunday talk shows, the book's subject – Hillary Clinton – is keeping quiet.  Former Secretary of State Hillary Clinton has not given an interview to a national media outlet since she announced her candidacy, via Twitter, on April 12. Other candidates, both announced and unannounced, have given dozens, answering hundreds of questions.  Next week, Clinton plans to visit Iowa once again. "She'll meet supporters at a grassroots-organizing event in Mason City on Monday. On Tuesday, she'll speak with small business owners in Cedar Falls as well as local campaign volunteers," a Quad Cities TV station reports. National reporters will, no doubt, be on hand. But no word on whether Clinton will answer any of their questions.
May 16: Breitbart News:  Ousted Egyptian President (Morsi) Sentenced to Death
An Egyptian court on Saturday sentenced ousted President Mohammed Morsi to death over his part in a mass prison  break that took place during the 2011 uprising that toppled Hosni Mubarak.  As is customary in passing capital punishment, Judge Shaaban el-Shami referred his death sentence on Morsi and others to the nation's top Muslim theologian, or mufti, for his non-binding opinion.  He set June 2 for the next hearing.   Morsi, Egypt's first freely elected president, was ousted by the military inn July 2013 following days of mass street protests by Egyptians demanding that he be removed because of his divisive policies.
May 15: Breitbart News: Bahrain King Snubs Obama to Meet Queen of England, Attends UK Horse Show:
Instead of participating in a Camp David summit of Gulf leaders – which was organized by President Obama to garner support from Gulf Arab leaders – the King of Bahrain decided to attend the Royal Windsor Horse Show, where he met on Friday with Queen Elizabeth II and other Brit royalty.  Bahraini King Hamad bin Issa al-Khalifa decided instead – like Saudi Arabia's King Salman, who also ditched Obama's summit – to send his crown prince to the United States.  The Bahrain royal court said that the king left for England on Thursday, accepting Queen Elizabeth's invitation to witness "the joint yearly celebration at Windsor." 

May 15: Wired: Feds: Researcher Overwrote Code of Aircraft in Flight and
Altered Its Flight Path Uncovering Vulnerabilities
A security researcher kicked off a United Airlines flight last month after tweeting about security vulnerabilities in its system had previously taken control of an airplane and caused it to briefly fly sideways, according to an application for a search warrant filed by an FBI agent.   Chris Roberts, a security researcher with One World Labs, told the FBI agent during an interview in February that he had hacked the in-flight entertainment system, or IFE, on an airplane and overwrote code on the plane's Thrust Management Computer while aboard the flight. He was able to issue a climb command and make the plane briefly change course, the document states.   "He stated that he thereby caused one of the airplane engines to climb resulting in a lateral or sideways movement of the plane during one of these flights," FBI Special Agent Mark Hurley wrote in his warrant application (.pdf). "He also stated that he used Vortex software after comprising/exploiting or 'hacking' the airplane's networks. He used the software to monitor traffic from the cockpit system."

May 15: The Daily Caller: VA Whistleblower Sheds Light on Billions Spent in Violation of U.S. Law
A culture of "lawlessness and chaos" reigns at the Department of Veterans Affairs when it comes to purchasing goods and services for the Veterans Health Administration, according to senior official Jan R. Frye.  Frye, deputy assistant secretary for acquisition and logistics, first brought to light problems of abuse back in March. He decided to air the information publicly after his 35-page memorandum to VA Secretary Robert McDonald went completely unanswered.  The sum total of the chaos amounts to at least $6 billion in wasted funds spent in violation of federal contracting rules, The Washington Post reports. 
May 15: Breitbart.com: Texas Draws Closer to Calling for a Federal Constitutional Convention
A Texas House Joint Resolution passed Thursday would, if passed by the Texas State Senate, ask the U.S. Congress to call an Article 5 convention, which would propose Constitutional amendments to impose fiscal restraint on the federal government, reduce its powers and jurisdiction, and limit the terms of office for federal officials and members of Congress.  Article 5 of the U.S. Constitution requires Congress to call a convention to propose constitutional amendments if the legislatures of two-thirds of the states apply.  Amendments adopted at an Article 5 convention would require ratification by three-fourths of the state legislatures.  The question that  remains:  whether calling such a convention opens the entire document to change on only those parts called for in the requests for holding a convention.
Rep. Bohac, a sponsor, said, "Our Founding Fathers provided for an Article V Convention as a check on the federal government by the states. Let's remember that it was the states that created the federal government, and they answer to us. It's time for the states to stand up to runaway spending and limit the jurisdiction of the federal government, and Texas should lead the way."
May 13: Sky News: Gulf Leaders Unimpressed with Obama's Middle East Gamble
Snubbed?  The Leader of the Free World, snubbed by Arabian monarchs who have depended on America for decades.  That's how it looks at first - Saudi Arabia's new King Salman, the emirs of Bahrain, Oman and the United Arab Emirates have opted not to turn up for Barack Obama's two-day session in Washington and Camp David.  The White House had intended the summit to be an opportunity for the US president to make the case for a deal with Iran that would stop its nuclear weapons program for a decade and ease sanctions against Tehran.  But Saudi Arabia and others in the region think this is just naive.

May 13: The Daily Caller:  American Federation of Teachers Chief gets $360,000 Annually
a Lot More than those Paying Her Salary!
The American Federation of Teachers pays its chief executive $360,000 each year and spent $19.5 million in membership dues to influence elections in 2014 alone. However, a just-released national survey shows rank-and-file members are deeply unhappy — with stress levels, working conditions, government insistence that students learn more and much else.  The union has responded to the gloom among its constituents by asking the federal government to intervene with a formal study of how difficult and hazardous it is to be a schoolteacher.  The survey of over 30,000 teachers and school administrators was released on Tuesday by the American Federation of Teachers and a group called the Badass Teachers, according to a press release sent to The Daily Caller.  The dire results show that just one in five of the teachers and administrators who completed the 80-question survey believe government officials and members of the media sufficiently respect them.

May 13: Fox News: New Poll: Hillary Favorably Slipping; Christe Underwater
Hillary Clinton's personal ratings continue to slip. Yet the Democratic presidential hopeful still garners higher favorable ratings than many in the 2016 GOP field, according to a new Fox News poll released Wednesday.  The number of voters who have a positive opinion of Hillary Clinton is down nine percentage points since last year. Currently, 45 percent have a favorable view of her. That's down from 47 percent in late March and 54 percent last summer (June 1-3, 2014).  Clinton's negative rating stands at 49 percent, up from 43 percent last June.

May 13: The Daily Caller: Bolton:  Hillary: Radical Roots from Law School
Of all the Republicans who may run for president, former U.N. Ambassador John Bolton has probably known Bill and Hillary Clinton the longest.  In the 1970s, Bolton — who will announce his decision about entering the 2016 race Thursday -- overlapped several years with the Clintons at Yale Law School.  "We were not exactly drinking buddies in law school, but you know it was a small enough place," the Republican recalled in an interview this week.  "Even back then it was pretty clear to me that Hillary was a radical," Bolton said. "And my view is the way you are at that time of your life in law school or grad school or whatever it is, that's pretty much the way you turn out to be."  He added: "So when you read about how she is moving to get to the left of Elizabeth Warren, she didn't have to move to the left. She was already there."

May 11: The Hill: Obama Administration: All Federally approved types of birth control must be offered for free
Insurers must cover a wide range of contraceptive methods at no cost to consumers, the Obama administration said Monday in new guidance to health insurance companies.  The guidance from the Department of Health and Human Services (HHS) makes clear that insurers are obligated under the Affordable Care Act to cover at least one version of each of the 18 federally approved birth control methods.  [We are not sure how all this fits with the Supreme Court decision in the Hobby Lobby case which allows closely held corporations to opt out of providing certain types of contraception if they have a religious objection .]
May 11: Associated Press: Mother of Mississippi Cop Killer Reveals son is a drug addict:
A Mississippi man accused of fatally shooting two police officers has mental problems and is addicted to drugs, appearing high in photos after he was arrested, his mother said Monday.  Mary Smith told The Associated Press that her son smoked synthetic marijuana known as "spice" daily and had been hearing voices ever since he was attacked and hit in the head with a pipe several years ago.  Smith's son, 29-year-old Marvin Banks, was charged with two counts of murder in the deaths of officers Benjamin Deen and Liquori Tate. The officers were slain Saturday night in what authorities have so far only described as a traffic stop gone awry.  The slaying of the two Hattiesburg police officers occurred as National Police  Week is being observed. 

May 11: The Washington Examiner: Charge: FEC Dems want to control Conservative Internet, Media and PACs
Bristling at claims that GOP opposition has made the Federal Election Commission "worse than dysfunctional" in the eyes of the Democratic chairwoman, Republicans counter-charge that the left is frustrated because it hasn't succeeded in regulating conservative Internet sites, media and right-leaning super PACs.  In an escalating fight on the politically-divided FEC, the former Republican chairman on Monday charged his Democratic replacement with playing politics and trying to belittle foes to get her way.  "In Washington, people have a way of vilifying anything they disagree with in the most unflattering labels," wrote Republican Commissioner Lee E. Goodman in a column for Politico. It was in response to claims by Democratic Chair Ann Ravel that the GOP is thwarting her bid to clean up politics.
May 11: Fox News: Most of Gulf Nations to miss U.S. Summit; Administration spin denies "snub"
The White House was scrambling Monday to put a positive face on an upcoming summit of Persian Gulf states after learning leaders from four of the six invited nations are expected to skip.   While those nations are still sending representatives to the summit being hosted by President Obama later this week at Camp David, the absence of crucial heads of state -- notably, Saudi Arabia's new king -- could present an awkward situation for the administration. But State Department spokeswoman Marie Harf rejected the notion this was a "snub," and White House Press Secretary Josh Earnest likewise said the administration is "confident" that Saudi Arabia and other nations will be "ably represented" at the summit.

May 11: Fox News: Will Putin give Kerry the "cold shoulder?"
Kremlin not confirming one-on-one meeting in Russia:
The prospect of Vladimir Putin giving U.S. Secretary of State John Kerry the cold shoulder looms over an official visit to Russia on Tuesday, with the Kremlin not yet confirming Obama administration claims that the two will meet. The confusion comes on the heels of Saudi King Salman pulling out of a planned Camp David summit with other Gulf leaders, sending a representative instead. While the administration on Monday denied the change of plans was a snub, the State Department apparently has no intention of being stood up by Putin, as Kerry heads to Russia for his first visit there since relations between Washington and Moscow plummeted amid disagreements over Ukraine and Syria.

May 10: Fox News: Merkel to Russia: Put pressure on Ukrainian Rebels to Abide by Cease Fire
German Chancellor Angela Merkel has called during a visit to Moscow for Russia to do more to persuade separatists in eastern Ukraine to abide by a cease-fire that has been strained in recent weeks.  Merkel was the only prominent European leader to visit Russia over the weekend to mark the 70th anniversary of the surrender of Nazi Germany.

May 10: The Washington Post: Hillary Dilemma: What to do with Bill!
The scene that unfolded in Morocco last week as Bill Clinton convened world leaders for a philanthropic conference was hardly what his wife's champion-for-everyday-Americans campaign would have ordered up. Gathered in Marrakesh for a Clinton Global Initiative confab, foreign oligarchs and corporate titans mingled amid palm trees, decorative pools and dazzling tiled courtyards with the former president and his traveling delegation of foundation donors — many of whom are also donors to Hillary Rodham Clinton's presidential campaign.  When daughter Chelsea moderated a discussion on women's empowerment, the only male panelist was Morocco's richest person, Othman Benjelloun, whose BMCE Bank is a CGI sponsor. For the week's biggest party, guests were chauffeured across the city to an opulent 56-room palace that boasts a private collection of Arabian horses, overlooks the snow-capped Atlas Mountains and serves a fine-dining menu of "biolight" cuisine.  Hardly the impression Hillary wants in the public eye these days.
May 8: MyHighPlains.com: Abbott working to calm fears of Texans over Summer Military Exercises
Governor Greg Abbott, R-TX, says he's trying to bring calm to some Texans about a military exercise that will take place in Texas and six other states.  The eight-week exercise, known as Jade Helm 15, will begin July 15 and involves U.S. Specials Operations Forces such as Navy Seals and Green Berets. They will use public and private lands to train for overseas missions.
May 7: Yahoo News: State Department: Not Going to look into Hillary's ethics pledge breaches
The U.S. State Department will not review the breaches of the 2008 ethics agreement Hillary Clinton signed in order to become secretary of state after her family's charities admitted in March that they had not complied, a spokesman said on Thursday.  Clinton, now the Democratic front-runner in the 2016 presidential election, had promised the federal government that the Clinton Foundation and its associated charities would name all donors annually while she was the nation's top diplomat.  She also promised that the charities would let the State Department's ethics office review beforehand any proposed new foreign governments donations.  In March, the charities confirmed to Reuters for the first time that they had not complied with those pledges for most of Clinton's four years at the State Department.

The State Department "regrets" that it did not get to review the new foreign government funding, but does not plan to look into the matter further, spokesman Jeff Rathke said on Thursday.  "The State Department has not and does not intend to initiate a formal review or to make a retroactive judgment about items that were not submitted during Secretary Clinton's tenure," Rathke told reporters.  The broken ethics agreement has made it harder for Clinton to deflect accusations in recent weeks that foreigners banned from donating to U.S. political campaigns can instead curry favor with her by giving to the charity that bears her name.  The charities accepted new donations from at least six foreign governments while Clinton was secretary of state: Switzerland, Papua New Guinea, Swaziland, Rwanda, Sweden and Algeria.
May 7: Times of Israel: Iran General: War with the U.S. is no big deal
Two top Iranian generals on Thursday tried to taunt the United States, saying the much-discussed military option to destroy Iran's nuclear facilities is "ridiculous," that Washington knows it can't be done, and that their country "welcomes war with the US."  The saber rattling came as Western powers prepared to sit down for another round of negotiations with Iran to reach an agreement on putting curbs on Iran's nuclear program. 
May 7: Associated Press: Hillary on Immigration: Obama on Steroids!
President Barack Obama says his executive actions blocking the deportation of millions living illegally in the U.S. go as far as the law allows. But Hillary Rodham Clinton says that if she becomes president, she would go even further.  Clinton's aggressive stance reinvigorates the debate over the scope of presidential powers, which has become a flashpoint in Washington's politically fraught immigration fight. It also raises questions about the legality of Clinton's proposals and sets up a potential conflict between the Democratic front-runner and the Obama White House.  In a surprise to many supporters, Clinton said she would move unilaterally to let even more people stay in the country if Congress didn't act on broad legislation.

May 6: The Hill:  The White House: Obama has done all it can on immigration
President Obama has done all that he can to change immigration policy through executive action, the White House said Wednesday in response to questions about Hillary Clinton's pledge to go even further.  Clinton on Tuesday backed Obama's executive actions and said she would be willing to expand them to provide deportation relief to parents of young immigrants who brought to the U.S. illegally, known as "Dreamers," if Congress does not pass a bill.
May 6: Associated Press:  U.S. Productivity Rate Drops Dramatically in the First Quarter of 2015
U.S. worker productivity declined in the first three months of the year as labor costs jumped, reflecting a slowdown in growth.   Falling productivity coupled with higher labor costs are usually a negative for the economy, since it implies additional expenses without improvements in worker efficiency. Increased worker productivity generally fuels stronger economic performance.  Overall economic growth essentially flat-lined in the first quarter, rising at a tepid annual pace of only 0.2 percent, the government reported last week.

May 6: The Daily Caller: When Asked what his foundation did with the foreign donations, Bill Clinton just laughed
Asked by a backer why someone at the Foundation doesn't just honestly explain to the press where the highly publicized foreign donations went, Bill Clinton laughed.  "I open the newspaper and I was shocked to see these attacks on the Foundation," telecom billionaire Mo Ibrahim said during a conference in Morocco to promote the Foundation's charitable work. "And what amazed me is, I used to respect American media, and I was amazed … none of those people asked a question: What this foundation is doing actually?"  The Clinton Foundation has come under intense scrutiny since the revelation it received millions in donations from foreign governments while Hillary Clinton was secretary of state, including from Qatar, Kuwait and Saudi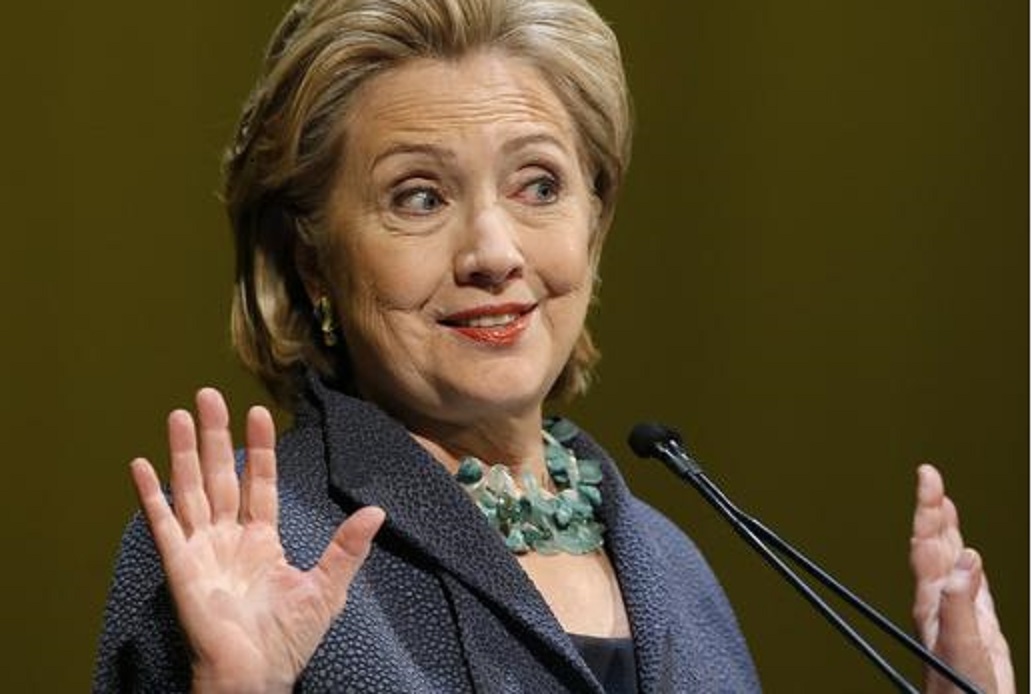 May 6: The Hill | Fox News:  State Department Official:  Clinton email practices "not acceptable"
A State Department assistant secretary said Wednesday it's "not acceptable" for any agency employee to conduct government business on a private email server as former Secretary of State Hillary Clinton did.   Joyce Barr, the agency's chief freedom of information officer, made the comment under questioning from senators who used a Senate Judiciary hearing on open records laws to attack Clinton over her email practices.   Sen. John Cornyn of Texas said that Clinton's approach amounted to a "premeditated and deliberate" attempt to avoid open records requirements.   Sen. Thom Tillis of North Carolina said that anyone who took such an approach should be fired, and asked Barr whether it would be considered acceptable. Barr said that she had not been aware of Clinton's decision to conduct all her State Department email on a private server but that the agency has now made it clear to employees that such an approach would not be acceptable. 
May 6: The Hill:  Florida Governor Confronts HHS over Obamacare:
Florida Gov. Rick Scott (R) on Wednesday demanded an answer from the Obama administration "right now" on the renewal of federal funds for hospitals in his state, amid a showdown over ObamaCare's Medicaid expansion. At issue are federal funds to reimburse hospitals in Florida for treating uninsured people, known as the Low Income Pool (LIP). Scott is suing the Obama administration, alleging that the administration is withholding the funds in an effort to force the state to expand Medicaid under ObamaCare.

May 6: The Hill: Republicans bring new case against Obamacare: Coverage and Care are Two Different Things
Republicans are shifting their line of attack on ObamaCare saying enrollees are getting stuck with low-quality insurance plans.  Republicans initially argued the Affordable Care Act (ACA) had not made a dent in the size of the uninsured population. A year later, the Republicans are pointing to the quality of the insurance that people are gaining and the costs to argue that the law is still bad for the country. "Yeah, you know why there's more people insured? Because a lot more people are on Medicaid," Boehner (R-OH) said.  "Giving people Medicaid insurance is almost like giving them nothing, because you can't find a doctor that will see Medicaid patients," he contended.

May 6: Sky News: Baltimore: State of Emergency Lifted
Maryland's governor has lifted a state of emergency for Baltimore more than a week after violence erupted across the city in the wake of Freddie Gray's death. Governor Larry Hogan called in some 2,000 National Guard troops in addition to state police to help restore calm after protests spiraled into violence on 27 April. The Guard troops began pulling out of the city at the weekend after Baltimore's mayor lifted a citywide curfew.
May 6: The New York Daily News: ISIS threatens blogger Pam Geller in message
boasting 71 trained soldiers in 15 different states
ISIS appears to declare war on controversial blogger Pamela Geller on Tuesday in an ominous online message claiming it has fighters across America ready to attack "any target we desire."  The threat, posted on an anonymous message board, singles out Geller, who helped plan a Prophet Muhammad cartoon contest that was attacked by two gunmen in Garland, Texas, over the weekend. ISIS claimed responsibility for the shooting early Tuesday, marking the first time the terror group called an American attack one of its own, though lawmakers believe the two men were influenced by the group, not guided directly by it.

May 6: The Hill: Iran's Supreme Leader Threatens to Walk out of Nuclear Talks
Ayatollah Ali Khamenei, Iran's supreme leader, vowed on Wednesday that his nation would leave nuclear negotiations if it feels threatened by America's armed forces.  "Recently U.S. officials threatened to take military action against #Iran," Khamenei tweeted.  He said Tehran does not need the economic relief the U.S. is offering in a potential deal over its nuclear arms research.  The pact would lift sanctions on Iran in return for greater restrictions on its nuclear programs. 
May 6: The Washington Free Beacon: Report: Iranian navy chases after U.S. Warships near Yemen
An Iranian naval fleet chased a U.S. warship and military planes through the waters off the southern coast of Yemen late Monday in yet another provocative encounter between the two nations, according to Iranian state media reports.  A U.S. warship and several planes reportedly "changed their direction" on Monday after encountering an Iranian naval fleet during a patrol in the Gulf of Aden near Yemen, Iranian state media revealed. 

May 6: Fox News: Senate Test Vote on Iran Deal Set for this Week:
Senate Majority Leader Mitch McConnell set a test vote for Thursday on stalled bipartisan legislation to let Congress review and possibly reject any agreement the Obama administration makes to ease sanctions on Iran in exchange for concessions on nuclear research and development.  The bill has been on the Senate floor off and on for more than two weeks.  It has been stalled since Rez     publican Sens. Marco Rubio of Florida and Tom Cotton of Arkansas proposed politically attractive changes that drew the objections of Democrats as well as some Republicans who want the bill kept free of controversial provisions that could prompt the White House to withdraw its support.

May 2: The Hill: Ted Cruz on Religious Freedom
Sen. Ted Cruz (R-TX) said Saturday that the culture wars show off the cozy relationship between Democrats and corporate America.  Speaking in South Carolina, Cruz bemoaned the "perfect storm of the Democratic Party and big business coming together," according to Bloomberg.  The Texas Republican was specifically referencing the recent fight over Indiana's law on religious freedom. But Cruz noted that there'd been similar spats in Houston and elsewhere in the U.S., and insisted conservatives needed to gear up for the battle to defeat gay marriage. 

May 2: Fox News: Baltimore Prosecutor: Rush to Judgment, Conflict of Interest?
The Maryland prosecutor who brought charges Friday against six Baltimore police officers within hours of receiving a medical examiner's report on the death of Freddie Gray is facing accusations that her swift action was over zealous and perhaps politically motivated.  The Baltimore police union leader, Gene Ryan, made the most clear-cut accusations, after he raised concerns about Marilyn Mosby being married to City Councilman Nick Mosby.  "It is clear that your husband's political future will be impacted, for better or worse, by the outcome of your investigation," Ryan wrote Mosby after her Friday announcement.  He also argued Mosby has a conflict of interest because she received campaign contributions from Gray's family attorney William Murphy. Ryan asked that she appoint a special prosecutor to avoid the appearance of impropriety or of violating the rules of professional responsibility.  Gray, a 25-year-old black man, suffered a severe neck injury at some point April 12 while being arrested by officers or being transported in a police wagon. He died April 19.
May 1: Fox News: George Soros May Face Up to $7 Billion Tax Bill
George Soros may soon face a monumental tax bill -- of nearly $7 billion -- after years of playing hard-to-get with the IRS. Despite Soros having advocated for higher taxes on the wealthy, the liberal billionaire reportedly has delayed paying his own for years thanks to a loophole in U.S. law. That loophole was closed by Congress in 2008. But before that, Bloomberg reports, Soros used it to defer taxes on client fees. Instead, he reinvested them in his own fund, and they grew tax-free. According to Bloomberg, Soros moved assets shortly before the change to Ireland, seen as a possible shelter from the law. But tax attorneys told Bloomberg they don't know of a way for money managers to avoid the bill in 2017.

May 1: Fox News:  Analysis: Baltimore Prosecutor may not be able to get a conviction
Details matter:  Every criminal charge is made up of elements that must be proven. Murder requires a criminal state of mind—whether it be premeditation, ill will, hatred, spite; it's what differentiates murder from manslaughter. Manslaughter, on the other hand, does not stem from intent to do harm but rather from a high level of negligence often called gross negligence or culpable negligence; a higher fault than simply failing to use reasonable care. What Ms. Mosby presented was a strong argument for negligence, a civil wrong, or possibly the criminal charge of manslaughter if a jury agrees that failing to render aid when requested or failing to buckle Mr. Gray in to his seat amounts to gross or culpable negligence. But it doesn't lay out a case of murder.  In the end, a jury will decide what criminal charges, if any, are appropriate in this case. Based on the facts laid out today, however, the prosecutor failed to lay out a basis for murder and even manslaughter may be a difficult sale.

May 1: Associated Press: AP Poll: Many, including Democrats, lukewarm on Hillary
Americans appear to be suspicious of Hillary Rodham Clinton's honesty, and even many Democrats are only lukewarm about her presidential candidacy, according to a new Associated Press-GfK poll.  Is she strong and decisive? Yes, say a majority of people. But inspiring and likable? Only a minority think so. Clinton's struggles to explain her email practices while in government, along with questions about the Clinton Foundation and Republican criticism of her openness, wealth and trustworthiness seem to have struck a nerve in the public's perception of the dominant Democratic figure in the 2016 campaign. In the survey, 61 percent said "honest" describes her only slightly well or not at all.  Nearly four in 10 Democrats, and more than six in 10 independents agreed that "honest" was not the best word for her.  Even so, she is viewed more favorably than her potential Republican rivals, none of whom are as well-known as the former secretary of state, senator and first lady.
Apr. 30: House Select Committee on Benghazi: Committee Receives Documents Requested Two Years Ago
Select Committee on Benghazi Chairman Trey Gowdy (R-SC) today announced the committee has received more than 4000 pages of documents and notes from the State Department Benghazi Accountability Review Board. The collection of documents marks the first time that proceedings from a State Department ARB have been turned over to Congress, according to State.  "The Benghazi Committee continues to build the most comprehensive and complete record on what happened before, during and after the Benghazi terrorist attacks," said Gowdy. 
April 30: Fox News: ISIS Training Camp in Afghanistan
New photos purport to show ISIS fighters training at a terrorist camp in Afghanistan, near the Pakistani border, in what may be yet another sign of the black-clad jihadist army's expanding reach.  The pictures, obtained by a Pakistani journalist earlier this month and published by the military blog The Long War Journal, show apparent ISIS radicals training, marching in formation and brandishing heavy artillery.  Pakistani journalist Saleem Mehsud originally tweeted out the photos on his Twitter page on April 18, but would not divulge details about their origin.



April 30: Fox News: U.S. Navy to Escort U.S. Flag Ships in the Persian Gulf
U.S. Navy ships will begin to accompany U.S. flagged commercial ships as they travel the Strait of Hormuz, a defense official confirmed to Fox News, on the heels of Iran seizing a cargo ship.   The Obama administration is closely monitoring Iran's takeover of the ship, as it involved a Marshall Islands-flagged vessel. The Marshall Islands and the U.S. have a longstanding security agreement, and officials said Thursday the two nations are in contact.   But, in a clear response to that incident, a defense official said the U.S. Navy will now accompany all U.S.-flagged ships going through the area. The move is the latest development in a high-stakes chess match in the region, with the Iran nuclear talks continuing to play out in the background.
April 30: The Daily Caller: White House Press Secretary Earnest Grilled over the Clintons    
In what has become almost a weekly occurrence at his point, ABC's Jon Karl took White House press secretary Josh Earnest to task Thursday over revelations of non-disclosures by the Clinton Foundation.  This time around, Karl asked Earnest if "out-and-out bribery" is the only problem the Obama administration would have with Hillary Clinton's time at the State Department. Karl also asked Earnest during Thursday's W.H. briefing what the "bar" for wrongdoing is in the administration.
April 29: Washington Post: U.S. Economic Growth slows to a grinding halt:
The U.S. economy ground nearly to a halt in the first three months of the year, according to government data released Wednesday morning, as exports plunged and severe winter weather helped keep consumers indoors.  The gross domestic product grew between January and March at an annualized rate of 0.2 percent, the U.S. Commerce Department said, adding to the picture of an economy braking sharply after accelerating for much of last year. The pace fell well shy of the 1 percent mark anticipated by analysts and marked the weakest quarter in a year.  The economy had expanded at a rate of 2.2 percent in the final three months of 2014 and at a rate of 2.4 percent for the year.  Economists, employers and policymakers now face the challenge of determining whether the slowdown is temporary — stemming mostly from an unusually snowy winter in the Northeast — or a sign of broader problems. 
April 29: Daily Caller: Govt. Scares Oyster Farmer Out of Business – Payback?
The National Park Service used falsified data to shut down an 80-year-old oyster company in Point Reyes, Calif, its owner claims.  Drakes Bay Oyster Company operated in Point Reyes for decades until National Park Service officials used falsified data to force Kevin Lunny's family-run oyster farm to shut down. The experience has left its mark on Lunny: "We Are Terrified," he told lawmakers during a hearing Thursday.  "Let me be clear, we did not fail as a business," Lunny said in his prepared testimony. "This was not bad luck. Rather, the Park Service engaged in a taxpayer-funded enterprise of corruption to run our small business out of Point Reyes."  Lunny made this statement in response to a question by Congressman Raul Labrador asking whether felt like there could be consequences from his testimony against the National Parks Service.
 
April 29: CNS News: Alito: Are there any limitations on who can marry whom?
In the oral arguments presented yesterday in the Supreme Court on the question of whether the U.S. Constitution guarantees two people of the same sex the right to marry one another, Justice Samuel Alito asked whether—if two of the same sex have a right to marry—why not four people of opposite sexes.  "Would there be any ground for denying them a license?" Alito asked.  "Let's say they're all consenting adults, highly educated. They're all lawyers," he said.

Mary Bonauto, representing those in favor of gay marriage, said, "I believe so, Your Honor."  Alito pointed out that polygamous relationships have existed in other societies and still exist today. "Under the logic of the decision you would like us to hand down in this case… What would be the logic of denying them the same right?" Bonauto was not willing to acknowledge that just like having relationships between multiple people, that calling a relationship between two people of the same sex is also breaking new ground. 
April 28: USA Today: Supreme Court is Divided on Whether Gays can get Married
The Supreme Court appeared both cautious and deeply divided Tuesday on whether to change an opposite-sex definition of marriage that several justices noted has existed for "millennia."  Finally addressing head-on the question of whether gays and lesbians should be allowed to marry nationwide, the court's key conservatives indicated that a victory for same-sex couples would not come easily.  Their ambivalence about leading the country into largely unknown territory highlighted a 2 1/2-hour oral argument that was among the most consequential in the court's 226-year history. Faced with an uncertain future, it seemed, several justices would prefer to leave marriage laws to the states.

At the same time, two conservatives -- Justice Anthony Kennedy and Chief Justice John Roberts -- showed sympathy for same-sex couples unable to marry in 13 states because marriage laws are intended to regulate procreation.
April 27: CBS News Baltimore: Sheriff Sick When Told to Stand Down:
A Maryland sheriff who traveled to Baltimore to help law enforcement stop Monday's riots told a local station but was stunned when officers alerted him of the orders to stand down. Michael Lewis is the Sheriff in Wicomico County and talked on Thursday about the alleged controversial orders the police were given during the riots.

April 26: Fox News: Clinton Cash Author: It's time to investigate the nexus
of Clinton as Secretary of State and Foundation Contributions
The author of "Clinton Cash" acknowledged that his book has no evidence that Hillary Clinton as secretary of state directly influenced huge international deals in exchange for million-dollar contributions to her family foundation, but argued the numerous instances deserve an investigation.  "It's a very extensive pattern," author Peter Schweizer told "Fox News Sunday." "There are 11 instances. And I think, when you have one or two examples, it's coincidence. When you have this many, to me it's a trend. … I think this warrants an investigation." 

For his upcoming book, Schweizer spent roughly 10 years probing the mix of public and private business and money between Hillary Clinton, her husband and former President Bill Clinton and their Clinton Foundation – all of which he calls the "Clinton Blur."  The dealings disclosed in the book come in the early weeks of Clinton's campaign to become the Democratic presidential nominee for 2016.  One key example of a possible deal, Schweizer argues, is the relationship between the former president and wealthy Canadian mining investors who donated millions to the foundation after the State Department and eight other U.S. agencies signed off on a deal in 2010 that ultimately gave the Russians access to part of the U.S. uranium reserves.

April 26: Yahoo News:  Russian Economy Tanking: Putin Ponders Raising the Retirement Age
Taking care of pensioners who are his bedrock of support has been a key feature of President Vladimir Putin's rule, but as crisis bites, the Russian government is mooting an idea that has been taboo for 80 years: raising the retirement age.  Since 1932, Russian men have been eligible to retire at the age of 60 and women at the age of 55. In numerous professions, especially hazardous ones like mining, people may retire even earlier.  But the budget has come under strain as people have started to live longer, as Russian women now have a life expectancy of 76 and men 65.  Now, faced with a shrinking economy thanks to Western sanctions over Ukraine, an oil price that is half of what it was a year ago and a weak ruble, even Putin is cautiously bringing up the subject, which threatens to unleash protests and hurt his high ratings. 

April 26: Fox News: Democrat Senators Call on President to Declassify Pac Rim Trade Deal Details
Massachusetts Sen. Elizabeth Warren is asking President Obama to make public classified information in the international trade deal that he's asking Congress to 'fast track' -- the latest incident in which the populist, first-term Democratic senator appears critical of the president's relationship with Wall Street and big business.  At issue is the Trans-Pacific Partnership, known as the TPP -- a significant deal with 11 Pacific Rim nations that aims to create a free trade zone in the Asia-Pacific region.  Warren and fellow Senator Sherrod Brown (D-OH) argue that by deeming the draft of the agreement's text classified and from public view, the administration has, in fact, made the deal secret.  "As a result of your administration's decision, it is currently illegal for the press, experts, advocates, or the general public to review the text of this agreement," they Senators contended.  Warren further claimed that corporate executives and lobbyists have had opportunities to not only read it, but to shape the terms, and calls for the American people to have the same ability.
April 25: The Telegraph: Clinton Rebranding – Same Old Problems
Modern U.S. presidential campaigns are first and foremost exercises in personal branding, where voters are asked to buy into a vision of America's future embodied in a candidate's personal story and public image.  In the end, says one longtime Democrat strategist, it's a "gut" thing – which is why this past week has been a particularly scarring one for Hillary Clinton.  As a venerable political brand who failed last time around, Mrs. Clinton's team correctly identified that she was in need of some reinvention, and so launched her campaign within the a soft-focus commercial in the mode of a big oil company or an investment bank seeking to lift their corporate image.   The production was slick but, just like those ads, hilariously implausible.  Ordinary Americans – from the overweight retiree to a soon-to-be wed gay couple – talked dreamily of their own futures before Mrs. Clinton appeared on screen offering to be "the champion" of these little people.
  
Unfortunately for Mrs. Clinton in presidential politics the rival concerns get to fire back, and this week Republicans began the process of pre-emotively destroying the New Clinton brand.   It begins with "Clinton Cash", a new book to be published next week.   The result, even before "Clinton Cash" hits the book stalls, has been a numbing barrage of information about the Clinton's finances, a world where over a decade Bill Clinton earned $26m in personal speaker fees from the same firms who donated to his philanthropic foundation.   There is no smoking gun as yet, just the whiff of cordite after the fact and the sense – deepened by Mrs Clinton's decision to delete 30,000 emails after she finished as Secretary of State – that someone might have been racing round wiping fingerprints off the door knobs.
April 25: National Review:  Senate Republicans Cave on Loretta Lynch AG Appointment
On Thursday morning, top Republican strategist Karl Rove proclaimed, "The dysfunctional Congress finally appears to be working again as the Founders intended." Just hours later, the GOP-controlled Senate confirmed as attorney general — i.e., as the chief federal law-enforcement officer of the United States — a lawyer who quite openly supports the systematic non-enforcement of federal law. In fact, Ms. Lynch also supports President Obama's blatantly unconstitutional usurpations of legislative authority, including most notoriously, of Congress's power to set the terms of lawful presence by aliens in our country.

April 25: CNN News: NBC Internal Investigation Discovers ten Brian Williams Embellishments
The in-house investigators assigned to look into Brian Williams' past reports have documented at least 10 instances of exaggerations and embellishments by the NBC anchorman.  The investigation is not yet complete, according to a person with knowledge of it, who described some of the findings on condition of anonymity.  It is unclear whether Williams had had a chance to defend himself to his bosses. NBC has not allowed him to do so publicly.   It has been suggested that the network is nearing a decision about Williams' future.   Williams was suspended nearly three months ago when a scandal erupted about his recounting of an Iraq War mission in 2003.  His suspension is scheduled to end in August, but it is unclear whether NBC will reinstate him at that time.  The network has been under pressure -- both internally and externally -- to reach a decision about Williams and announce it well ahead of the August deadline.  That decision will be informed by NBC's internal fact-checking effort, which is being led by Richard Esposito, the news division's senior executive producer in charge of investigations.   All of the people involved are being incredibly tight-lipped, and NBC refuses to confirm anything about the investigation.

April 25: The New York Times: Russians read President Obama's Emails
Some of President Obama's email correspondence was swept up by Russian hackers last year in a breach of the White House's unclassified computer system that was far more intrusive and worrisome than has been publicly acknowledged, according to senior American officials briefed on the investigation.  The hackers, who also got deeply into the State Department's unclassified system, do not appear to have penetrated closely guarded servers that control the message traffic from Mr. Obama's BlackBerry, which he or an aide carries constantly.  But they obtained access to the email archives of people inside the White House, and perhaps some outside, with whom Mr. Obama regularly communicated.

April 25: CNN News: FBI: There may be an ISIS-inspired Threat in the U.S.
The FBI is investigating a possible ISIS-inspired terrorist threat in the United States, law enforcement officials said Saturday.  The investigation originated from intercepted chatter and other intelligence information that led officials to believe a possible plot could be in the works, the officials said.  No arrests have been made. It's not clear whether the threat is real or "aspirational."  The exact nature of the threat couldn't be learned. One official said it focused on parts of California where officials stepped up security, a U.S. official said. The TSA alerted local law enforcement agencies that are responsible for external security around airports, but officials said the possible threat is not necessarily aviation-related. Some cities around the United States have increased their security as a precaution. 

April 22: The Washington Examiner: Census Records show by 2023 --
51 million immigrants in 8 years; 82% of U.S. growth
Legal and illegal immigrants will hit a record high of 51 million in just eight years and eventually account for an astounding 82 percent of all population growth in America, according to new U.S. Census figures.  A report from the Center for Immigration Studies that analyzed the statistics said that by 2023, one in seven U.S. residents will be an immigrant, rising to one in five by 2060 when the immigrant population totals 78 million.  The surge in immigrant population, both legal and illegal, threatens to slam into the presidential campaign as GOP candidates move to figure out what their position is and the president tries to use executive powers to exempt some 5 million illegals from deportation.
April 19: The Hill: Former Governor Chafee: "I won't let Hillary forget Iraq!"
Former Rhode Island Gov. Lincoln Chafee is aiming to take down Hillary Clinton over her controversial 2002 vote to support the Iraq war.  The Republican-turned Independent-turned Democrat surprised many last week when he announced he was weighing a long shot White House bid. His way of making a name for himself against his newly adopted party's frontrunner is to hit the former secretary of State particularly hard on the issue that was a liability in her failed 2008 run.
April 19: The Wall Street Journal: The Impact of ObamaCare? Hospital Monopolies
During the 2008 financial crisis, "too big to fail" became a familiar phrase in the U.S. financial system. Now the U.S. health-care system is heading down the same path with a record number of hospital mergers and acquisitions—95 last year—some creating regional monopolies that, as in all monopolies, will likely result in higher prices from decreased competition.  Hospital consolidation, done properly in a competitive marketplace, can have positive effects. Multi-hospital conglomerates can quickly disseminate best practices and quality initiatives, for example. But competition and the choices it provides can also disappear.
April 19: Fox News: Three Democrat Contenders Say Hillary Can Be Beat in Race for Nomination
Three potential candidates considered among the most likely to challenge Hillary Clinton's juggernaut campaign to become the Democratic Party's 2016 nominee for president expressed confidence Sunday about defeating her, each outlining potential paths to victory.  Sen. Bernie Sanders, Independent-Vermont, questioned whether Clinton or any 2016 GOP presidential candidate would challenge Wall Street for the middle class.    Former Virginia Democratic Sen. Jim Webb also challenged Clinton, a former first lady and secretary of state, saying voters want new leadership.  And also on Sunday, former Maryland Democratic Gov. Martin O'Malley, considered perhaps the mostly likely to challenge Clinton, continued to argue that his two terms running the state would qualified him to run the country, if he gets into the race. 

April 19: The Hill: Senator Graham: There's Not a Snowball's Chance in Hell the
Iran Nuke Deal will get Congressional approval
Sen. Lindsey Graham (R-SC) on Sunday said President Obama's tentative nuclear agreement with Iran would not survive its review by Congress.  "I don't think there's a snowball's chance in Hell this framework will get approved by Congress after review," Graham told host Chris Wallace on "Fox News Sunday."  "It is so weak in a time we need to be strong," the potential 2016 GOP presidential candidate added of the draft agreement's details.  "I don't think any Republican or Democrat is going to allow that to become final," he concluded.  Graham said Obama's potential accord lacked the necessary safeguards for preventing a Tehran with nuclear arms.
April 19: The Tribune Reporter: The Gathering Storm:  An IRS Defeat
Attempting to obscure the extent of its alleged targeting of conservative groups, the Internal Revenue Service has been smacked with a serious setback in its court fight in Ohio.   A federal judge granted a motion compelling the IRS to list the 298 targeted organizations, which the IRS had identified for the Treasury Department inspector general. In a lawsuit filed in 2013, 10 conservative groups, through discovery, have been trying to pry free the list of all groups targeted by the IRS. Getting this information could open the door to a class action suit against the IRS.

April 19: ABC News: Senator McCaskill Takes on Rubio, saying he folded on Immigration
Coming to the defense of former Secretary of State Hillary Clinton, Missouri Sen. Claire McCaskill took aim at recently declared Republican presidential candidate Marco Rubio, saying the Florida senator folded on immigration reform after coming under pressure from the conservative wing of his party.  "If you look at Marco Rubio's record, he took a principled, courageous stand on immigration reform and we passed a comprehensive bill in the Senate," she said. "Then, the minute his party's base started chewing on him about it, the minute Rush Limbaugh criticized him, he folded like a cheap shotgun."   The scathing critique came in response to Rubio's dismissal of Clinton as "a leader from yesterday ... promising to take us back to yesterday."
April 19: Fox News: House Oversight Committee seeking answers to light aircraft landing on Capitol Hill Lawn
Rep. Jason Chaffetz (R-UT), chairman of the House Committee on Oversight and Government Reform, said Sunday that Secret Service officials will talk to panel members this week about the gyrocopter that recently landed on the lawn at Capitol Hill.  The Chairman said agency officials will "brief" members, Washington parlance for a closed-door meeting, four days after Florida mailman Doug Hughes piloted his ultralight aircraft onto the Hill's West Lawn, through restricted airspace.  Chaffetz suggested his biggest concern with the agency regarding the incident is that agents had interviewed the 61-year Hughes at his Tampa Bay-area home twice, mostly recently in 2013, about his plans to carry out such an operation, to demand campaign-finance reform.
 
Chaffetz said he's giving Secret Service officials some time "so they can sort out their story." Chaffetz also said that as a member of Congress he did not receive an alert about the midday incident. And he said that he has serious concerns about the competence of new agency Director Joseph Clancy and his potential to improve the agency, but he is not calling for Clancy's firing.
[Editor's Note: Back in 1971 I was making a movie (A Week in Washington) for Congressman Lou Frey, Jr.(R-FL).  That movie required us to do a fly over of the Capitol in a helicopter taking aerial video footage of that building.  In order to do this there were numerous approvals needed from the FAA, Secret Service, Capitol Hill Police, and a host of others. That was a different time, but the security protocols have been in place for a very long time, even back then.]

April 19: The Hill: MSNBC (of all media outlets) says Hillary Clinton is
running the most contrived appearing campaign ever!
During a panel discussion about the campaign on "Up with Steve Kornacki" Sunday, Clinton's first week was met with dismissiveness, with multiple talking heads remarking that the campaign seems contrived.  "I wish I could sit here and say it's been a wonderful week for Hillary Clinton, but it hasn't. All political campaigns are contrived," said Forbes' Rick Ungar. "But the whole point of a good one is to contrive the campaign to not appear contrived. And I don't think I've seen a more contrived-appearing campaign ever. It's just been horrible."  "It's been a huge distraction…  …I think it's just been a disaster for the first week for Hillary Clinton. The message is getting lost."
April 19: The Register-Guard: Gun Control Burdensome Legislation Won't Stop Criminals from Getting Guuns
Background checks for private gun sales is just not as simple an issue as it seems. "Common sense gun-laws" is a comforting cliché. When faced with something like Newtown, Conn., our natural impulse is to do something. But doing the wrong thing is worse than doing nothing at all.  I'm a Democrat, I'm socially liberal, and I'm a gun owner. And when I say a new law won't stop criminals from getting guns, I hope readers will at least pause for a moment to consider. The bill's unintended consequences will further polarize politics, while doing nothing to keep guns away from criminals.
April 18: The Daily Signal: Paul: Benghazi Fiasco Disqualifies Hillary Clinton from being President
What motivated Sen. Rand Paul to run for president? The Kentucky Republican said he's "tired of throwing things at the television."  Paul said he wants to find solutions to the problems facing the nation rather than simply complaining about them. He added that the loss of four lives in the attacks on the American consulate in Benghazi "should ever preclude her [Hillary Clinton] from holding higher office."
April 18: The Tribune Live/The Washington Post: GOP Presidential candidates go after Hillary Clinton 
Sen. Rand Paul, (R-KY), said Clinton's handling of the 2012 attacks on U.S. facilities in Benghazi, Libya, were a "dereliction" of her duty that should "preclude her" from serving as president. He said Clinton and Obama overstepped with airstrikes in that country in 2011: "Why the hell did we ever go into Libya in the first place?" he asked.   Continuing, Paul ribbed Clinton saying that she will need two campaign planes — "one for her and her entourage and one for her baggage."  (We assume he was referring to the political "baggage" like the Benghazi she will need to contend with.)
April 17: Breitbart News: Billy Currington and Tim McGraw pull out of "Gun Control" Concert
According to the International Businesss Times, a gun control concert near Sandy Hook, CT, got the wrong kind of exposure when Breitbart News reported on April 14th that concert beneficiary Sandy Hook Promise "is a vehicle through which various relatives of Sandy Hook victims have joined to push gun control until it passes."  Currington announced his decision to pull out via Facebook:

April 16: Fox News:Man-made disaster: Critics say California drought caused  by misguided environmental policies
The blistering drought that has Californians timing their showers, driving dirty cars and staring at brown lawns and empty swimming pools is a "man-made disaster," according to critics, who say the Golden State's misguided environmental policies allow much-needed freshwater to flow straight into the Pacific.  In an average year, California gets enough snow and rain to put 200 million acres under a foot of water, but environmental opposition to dams over the last several decades has allowed the majority of the freshwater to flow into the ocean, even as the state's population exploded to nearly 40 million people. The current drought has left farms parched and residents under strict water consumption orders, but some say it didn't have to be that way.

"This is a man-made disaster," said Bonner Cohen, senior fellow with the National Center for Public Policy Research. "Southern California is an arid part of the world where droughts -- even severe droughts -- are commonplace, and knowing this, you'd think the government of California would have included this mathematical certainty in its disaster preparedness planning, but the government has done nothing, not even store rain, as the population has continued to grow."

April 16: USA Today: Police: Muslim migrants threw Christians overboard:
Italian police arrested 15 Muslim migrants who survivors said tossed 12 Christians from a boat during a recent Mediterranean crossing attempt. In a separate incident, 41 migrants were feared drowned as the situation in the region intensifies.  The Muslim migrants involved in the clash with Christians were arrested in the Sicilian city of Palmero and charged with "multiple aggravated murder motivated by religious hate," police said in a statement Thursday, according to the BBC.

The victims were from Nigeria and Ghana. The suspects were from Ivory Coast, Mali and Senegal.  Police learned of the incident through interviews with survivors, who said they boarded a rubber boat Tuesday off the Libyan coast with 105 passengers aboard, the Associated Press reported. The surviving Christians were able to remain onboard only by forming a "human chain" to resist the assault, police said.
UPDATE: April 11 @7:30 p.m. CDT: NBC News: Man Commits Suicide at the Capitol
The U.S. Capitol Building was temporarily on lockdown after a man killed himself outside Saturday afternoon, NBC News reported. A senior federal official said the man killed himself with a single shot, and that he did not have any identification. Police are now looking for the suspect's car. The incident took place in a public area a little past 1 p.m. The man, who is not being identified, had a backpack and a roller case with him, which bomb technicians handled as a suspecious package, U.S. Capitol Police Chief Kim Dine said at a press conference. Dine added that at this time, there seems to be no connection to terrorism. The man did not have any other weapons with him aside from a gun but did have a sign with him about "social justice," according to the police chief. At this time, the exact language of that sign is unclear.
BREAKING NEWS: April 11@1:35 p.m. CDT: Associated Press:
U.S. Capitol on Lock Down -- Shooter Neutralized -- Suspicious Package being investigated:
Police report shots fired on the west front of the Capitol in Washington and say the building has been locked down as a precaution. Spokeswoman Kimberly Schneider of the Capitol Police says in a statement that the suspected shooter has been "neutralized," but there is no immediate explanation what that means. She also says the Capitol Police are investigating a suspicious package on the lower west terrace of the building. No one is being allowed to enter or exit the Capitol and the visitors center. Congress has been on spring break for two weeks and lawmakers are set to return to work Monday.
April 11: The Daily Signal: Federal Judge in Ohio hands the IRS and DOJ Another Defeat
on the IRS Targeting Scandal
At almost the same time last week that the outgoing U.S. Attorney for the District of Columbia, Ronald Machen, gave Lois Lerner a get-out-of-jail free card over her contempt of Congress citation, the Justice Department and the Internal Revenue Service suffered a huge procedural loss in a court fight in Ohio.  In litigation filed in 2013 by conservative organizations targeted by Lerner and the IRS, a federal judge granted a motion compelling the IRS to produce the names of the 298 targeted organizations identified by the IRS for the Treasury Inspector General. It is highly likely that once the plaintiffs in this case receive and review this information they may have what they need to make this a class action against the IRS/DOJ for  its attempt to suppress speech critical of Obama administration policies.
April 11: Reuters: Iranians caught red handed: Two Iranian Officers Caught in Yemen Assisting the Rebels
Local militiamen in the Yemeni city of Aden said they captured two Iranian military officers advising Houthi rebels during fighting on Friday evening.  Tehran has denied providing military support for Houthi fighters, whose advances have drawn air strikes by a regional coalition led by Saudi Arabia, the Islamic Republic's main rival for influence in the Gulf.  Three sources in the southern port city's anti-Houthi militias said the Iranians, identified as a colonel and a captain from Iran's Revolutionary Guards, were seized in two separate districts that have been rocked by heavy gun battles.

April 10: The Washington Free Beacon: Russian Fighter Jet Nearly Collides with U.S.
Intelligence Gathering Aircraft Over International Waters
A Russia Su-27 jet fighter flew dangerously close and nearly collided with a U.S. reconnaissance aircraft this week in the latest aerial provocation by Moscow, defense officials revealed to the Washington Free Beacon.  The Su-27 conducted the close-in intercept of an RC-135 reconnaissance aircraft in international airspace over the Baltic Sea on Tuesday, said officials. The incident prompted a diplomatic protest.  A defense official said the Russian fighter jet flew within 20 feet of the unarmed reconnaissance jet in what the official called a "reckless" encounter that endangered the lives of the RC-135 crew.  In Moscow, a Russian Defense Ministry spokesman confirmed the incident.
April 9: The Hill: Iran Hostage Victims Demand Compensation be part of the Nuke Deal
Americans who were held hostage in Iran from 1979 to 1981 are pushing the Obama administration to demand that they be compensated as part of any nuclear deal.  Sen. Isakson (R-GA) has filed two amendments to Iran legislation that would "ensure that resolving the issue of compensation for hostages is considered" prior to the consumation of any nuclear agreement. The Senate Foreign Relations Committee is expected to move forward with the legislation on the Iran nuclear deal on Tuesday.   A State Department official noted that the administration has in the past backed Isakson's bipartisan efforts on compensating the hostages, but suggested the issue would not be part of the nuclear talks.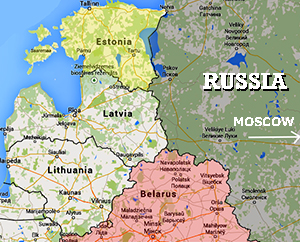 April 9: Yahoo News: U.S./Russian War Games
Rekindle Cold War Tensions
Russia is so close that the F-16 fighter pilots can see it on the horizon as they swoop down over a training range in Estonia [yellow on the map] in the biggest ever show of U.S. air power in the Baltic countries.  The saber-rattling raises the specter that either side could misinterpret a move by the other, triggering a conflict between two powers with major nuclear arsenals despite a sharp reduction from the Cold War era.  With memories of five decades of Soviet occupation still fresh, many in the Baltic countries find the presence of U.S. forces a comfort rather than a risk.
April 9: Washington Free Beacon: Iran: Nuke Deal is not acceptable
[Framework collapses days after historic announcement]
Iran has described an agreement to curb its nuclear program as "not acceptable" days after the United States hailed the new framework deal.  Following the announcement of a framework accord that the United States described as a major step in rolling back Iran's nuclear work, leaders in Tehran began to accuse the Obama administration of lying about the deal's parameters.  The disagreement revolves around a White House fact sheet that outlined concessions Tehran agreed to after negotiations in Lausanne, Switzerland, last week.
April 9: NewsMax.com: Judicial Watch Emails: Lernner Feared IRS Targeting Might Raise Questions
Judicial Watch released more emails in the IRS targeting scandal Thursday, with these showing that former IRS supervisor Lois Lerner feared that the information used to single out tea party groups and other opponents of President Barack Obama for special scrutiny "might raise questions."  Agents placed groups with words like "tea party and "patriot" in their names on a "be on the lookout" — or BOLO — list for additional screening of its applications for tax-exempt status. I'm not sure how [the TIGTA] investigators are looking at [whether] we were politically motivated, or what they are looking for with regard to targeting," Lerner told Paterson. 
April 9: The Daily Signal: Ken Paxton: If the Law Matters, The Courts will
Side with the States on President's Unilateral Immigration Actions
As a federal appeals court considers whether to keep or rescind a hold on Obama's immigration program, the attorney general of the state (Texas)  leading the charge against the president's executive actions "is very confident" the plaintiffs will win out.  "All I can tell you is, based on the law, I feel very confident," said Texas Attorney General Ken Paxton in an interview with The Daily Signal. "I am very confident we are right on the law. And if the law matters, we will do very well."  The U.S. Court of Appeals for the 5th Circuit is scheduled to hear oral arguments on April 17 about whether to uphold or remove an injunction on Obama's 2014 immigration actions.  Judge Andrew S. Hanen of the Federal District Court in Brownsville, Texas put a hold on those actions on Feb. 16, preventing the immigration initiatives from going into effect.
April 9: The Washington Post: Supreme Court: Obamacare Case Could Impact Subsidies for 8 million people
We won't find out for another few months how the Supreme Court will rule on a crucial case regarding Obamacare subsidies. If the Supreme Court rules that the text of the ACA does not allow for states using a federally run exchanges to receive subsidies, these people would lose financial assistance. The Urban Institute has said that such a decision could leave 8.3 million more people uninsured.  The states that run their own exchanges and would not be impacted by the ruling, at least initially. Proponents of Obamacare believe that striking subsidies for the states in brown would make health care unaffordable for many people and undermine Obamacare altogether.
April 8: The Washington Examiner: Federal Judge Slams Obama Lawyers in Immigration Case:
A federal judge has issued a scathing rebuke to lawyers for the Obama administration in a case involving the president's unilateral immigration action. In an order issued Tuesday night, U.S. District Judge Andrew Hanen, who had put a temporary hold on the action, not only refused to lift the hold — he also came very near to accusing administration lawyers of flat-out lying to him.  The case was brought by the attorneys general of 26 states seeking to stop the president's decision to grant quasi-legal status and work permits to millions of illegal immigrants. The controversy that angered Judge Hanen involved the timing of the president's new measures. Administration lawyers told the court that the first part of the president's action was scheduled to begin Feb. 18, 2015. The second part was scheduled to go into effect in mid-May. The judge was stunned when, on March 3, administration lawyers filed a "Defendant's Advisory" admitting that the administration had begun implementing the program expansion back in November of 2014.
April 8: The New York Times: Judge Refuses to allow Administration's Unilateral Immigration Actions
A federal judge in Texas on Tuesday angrily denied the federal government's request to allow President Obama's immigration executive actions to proceed, even as an appeals court signaled that it might disagree with the judge when it takes up the issue next week.   The judge concluded that he "remained convinced" that the president had exceeded his authority by seeking to allow millions of undocumented immigrants to stay in the country legally and obtain work permits.

April 8: Breitbart News: Libya Uncovers "New Elements" in Killing of Ambassador Stevens
Libya's internationally recognized parliament said Tuesday it has uncovered "new elements" behind the 2012 assassination of the US ambassador when the American consulate was stormed in eastern city Benghazi. "I have been tasked today with leading a team of inquiry," Tareq Saqar al-Jeruchi, deputy head of the parliament's security and defense committee, told AFP. He said the team had "new elements on the real perpetrators of the attack" and would work closely with the FBI and Congressional commissions of inquiry, although he did not elaborate on the identities of the assailants.  A Libyan parliamentary delegation is to travel to the United States for consultations with members of Congress, Jeruchi said.
April 8: The Washington Times: Obama Gun Control Push Backfires as Industry Sees Unprecedented Surge
The American firearms industry is as healthy as ever, seeing an unprecedented surge that has sent production of guns soaring to more than 10.8 million manufactured in 2013 alone — double the total of just three years earlier.  Industry backers say they aren't surprised firearms buyers and manufacturers alike have responded to the national gun control debate by making and purchasing more.  "The surge in firearms sales in 2013 reflects both a long-term upward trend in shooting sports participation and [a] particular concern that year that law-abiding gun owners and those interested in purchasing a firearm for the first time could face tougher restrictions affecting access to and selection of firearms," said Mike Bazinet, spokesman for the National Shooting Sports Foundation, an industry group
April 7: KTAR News/Associated Press: Man Arrested in Arizona High Speed Chase has been
deported Twenty Times
Authorities say a man arrested after a high-speed chase in Pinal County is a native of Mexico who has been deported 20 times.  County Sheriff's officials say 26-year-old Genaro Cisneros-Delgado is being held on a $50,000 bond on suspicion of felony flight and endangerment.  They say Cisneros-Delgado took a sheriff's deputy on a 30-mile chase on Interstate 10 last Friday night and speeds reached more than 100 mph.  Authorities say Cisneros-Delgado crashed through a locked gate outside a Sun Lakes retirement community before stopping the vehicle and fleeing with three passengers. Sheriff's officials say Cisneros-Delgado and the other three are in the country illegally and he was smuggling them into the U.S.  Cisneros-Delgado was jailed and the other three have been turned over to the U.S. Border Patrol for processing.
April 6: Yahoo News: U.S.—Cuba "Warming" Held Up by Listing as a Country Supporting Terrorism
The Administration's hope of opening an embassy in Havana before presidents Barack Obama and Raul Castro meet at a regional summit this week have been snarled in disputes about Cuba's presence on the U.S. list of state sponsors of terror and U.S. diplomats' freedom to travel and talk to ordinary Cubans without restriction, officials say.  The Summit of the Americas will be the scene of the presidents' first face-to-face meeting since they announced Dec. 17th that they will re-establish diplomatic relations after a half-century of hostility.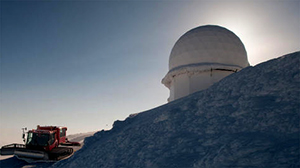 April 6: The Los Angeles Times: The Intent of Russian Flights
Near the U.S. Airspace Remains Unclear:
Named for an old mining camp, Tin City is a tiny Air Force installation atop an ice-shrouded coastal mountain 50 miles below the Arctic Circle, far from any road or even trees. The Pentagon took over the remote site decades ago and built a long-range radar station to help detect a surprise attack from the Soviet Union.  It's the closest piece of U.S. land to Vladimir Putin's Russia. In 2013 the U.S. scrambled F-22s ten time to escort and photograph Russian Tu-95 "Bear" bombers and MiG-31 fighter jets that flew over the Bering Sea without communicating with U.S. air controllers or turning on radio transponders. These are deliberately provocative acts and a sign of the deteriorating ties between Moscow and the West since Russia's annexation of Ukraine's Crimea region in March of last year and its military intervention to support separatists in eastern Ukraine.
April 6: The Daily Caller:  Obama's Statement on Massacre Fails to Mention they are Christians
Once again, President Barack Obama has released a statement denouncing a mass terror attack on persecuted Christians, without mentioning the fact that they were killed for their faith.  When nearly 150 students at a Kenyan university were massacred on Friday, the Islamist terrorists affiliated with al-Shabaab separated the Christians from the Muslims, killing only the Christians. But in Obama's statement condemning the slaughter, once again there was no mention of the fact that the students were killed for their faith.
April 6: Fox News: Eastern European Civilians Under Go Military Training in the Face of Russian Threats
NATO aircraft scream across eastern European skies and American armored vehicles rumble near the border with Russia on a mission to reassure citizens that they're safe from Russian aggression.  But these days, ordinary people aren't taking any chances.  In Poland, doctors, shopkeepers, lawmakers and others are heeding a call to receive military training in case of an invasion. Neighboring Lithuania is restoring the draft and teaching citizens what to do in case of war. Nearby Latvia has plans to give university students military training next year.

April 6: Associated Press: Poland to Build Watch Towers Along its Border with Russia
A Polish news agency is reporting that the country plans to build six watchtowers along its border with Kaliningrad, a move that comes after Moscow said it will place state-of-the-art Iskander missiles in the Russia exclave.  The Polish news agency PAP on Monday cited a spokeswoman for border guards, Miroslawa Aleksandrowicz, as saying that six such towers would be built along the 125-mile border between Poland and Kaliningrad.  The move comes amid heightened tensions between Russia and the West over the Ukraine conflict. 
April 6: The Daily Caller: Supreme Court Could Take Case to Shut Down
Mandatory Union Membership for some Government Employees:
The U.S. Supreme Court will decide by the end of April whether to hear a case that could end mandatory union membership for all government workers.  Rebecca Friedrichs a teacher in California is at the center of it all.  "The union runs everything," Friedrichs said.  The whole machine is geared to serving the union members and not the students.  Eventually this led her and nine other teachers to sue the CTA and its affiliate, the National Education Association. Friedrichs v. California Teachers Association goes beyond just public school teachers however. A verdict in favor of Friedrichs and the other teachers involved could result in all government workers gaining the right to stop paying union fees.
April 6: The Guardian: Greek Foreign Minister Seeks U.S. Help in Avoiding being Ousted from the EuroZone
Yanis Varoufakis, the Greek finance minister, has continued efforts to drum up support in the US for his debt-stricken country as speculation mounted over the ability of the Athens government to survive in its current form.  In the coming weeks, the country faces a series of debt major repayments, including an installment to the IMF on April 9th. Greece's leftist-led coalition is hoping to draw support from a US administration widely perceived to have taken a softer line than creditors in Europe over Athens' need to adopt austerity.  The Greek prime minister, Alexis Tsipras, was swept into power nine weeks ago on an anti-austerity platform and ever since has been haggling with Brussels, the European Central Bank and the IMF over a cash-for-reforms deal to unlock aid for his nation.

April 6: McClathydc News:  Arab Nations' donations to Hillary's Foundation:
Curing the World's Ills or Currying Favor?
Four oil-rich Arab nations, all with histories of philanthropy to United Nations and Middle Eastern causes, have donated vastly more money to the Clinton Foundation than they have to most other large private charities involved in the kinds of global work championed by the Clinton family.  Since 2001, Saudi Arabia, Oman, Qatar and the United Arab Emirates gave as much as $40 million to the Clinton Foundation. The level of Arab support for the Clinton Foundation, which occurred during the time Hillary Clinton was a U.S. senator, was seeking the Democratic nomination for president against Barack Obama, and was serving as secretary of state, fuels questions about the reasons for the donations. Were they solely to support the foundation's causes, or were they designed to curry favor with the ex-president and with a potential future president?
April 6: The Washington Times: Influx of Children at the Border reaches last year's levels
The second wave of unaccompanied illegal immigrant children has begun, with more than 3,000 of them surging across the Mexican border into the U.S. last month — the highest rate since the peak of last summer's crisis and a warning that another rough season could be ahead.  Immigration officials warned that they expected another surge as the weather improved. Although the numbers are down some 40 percent compared with last year's frenetic pace that sparked a political crisis for the Obama Administration, fiscal year 2015 is shaping up to mark the second-biggest surge on record.
April 4: The Daily Caller: Concealed Carry Civilian Shoots Carjacker:
An off-duty city worker in Georgia likely helped save a woman who was stuck on the hood of her car while her car was being carjacked on Friday.  The scene was captured on surveillance video and shows a woman vacuuming her car when a teenage suspect hops out of a red minivan with several other men inside. The suspect is seen sliding into the woman's car. He got behind the wheel and slammed the car into reverse. The car owner jumped on the hood, but that didn't deter the carjacker who sped up as he drove out of the view of the camera. The off-duty city worker was a licensed concealed hand gun holder and shot the carjacker stopping the incident.
April 4: The Hill: DC and the NRA Face Off over Gun Control in the District of Columbia
A years-old feud between the District of Columbia and the National Rifle Association is raging anew, as the gun lobby throws its support behind GOP legislation aiming at striking down local firearm restrictions.   The showdown centers around the Second Amendment Enforcement Act, introduced last week. The bill is designed to roll back many of the barriers to gun ownership in Washington, D.C.  The emerging battle has once again put the deeply liberal District at "the epicenter" of the national gun debate. After obtaining Home Rule status, Washington, DC prohibited home owners having guns in their homes for protection. In 2008 the Supreme Court struck down those laws, where upon the District enacted laws that made it difficult to obtain the necessary permits to have a weapon. The Second Amendment Enforcement Act continues the battle against the anti-gun advocates in Washington, DC.
April 4: The Hill: Hezbollah: Iran in the Nuclear Club after the deal
A Hezbollah leader Friday hailed this week's tentative framework for Iran's nuclear weapons program as a major win for the Islamic republic. Hezbollah MP Nawar Sahli praised the agreement as an Iranian "victory" in his remarks, the Lebanon Daily Star reported Saturday. Hezbollah is a Shia Islamist group in Lebanon closely linked with Tehran and its clerics of the same faith."There is a global recognition of Iran as a member of the nuclear club," Sahli said of the deal's implications.
April 3: The New York Post: The Iran Nuke Deal: Another Obama Bungle
Boy do I have a deal for you. Give me enough money to build a fancy new house, and I promise I won't try to blow up yours.  You can even check my basement to make sure I'm not stockpiling dynamite. Oh, and I promise I won't try to buy any explosives from those shady characters I hang out with or hide what I already have in a storage unit somewhere else!  Sound like a good bargain? Well, in simple terms, it pretty much describes the framework the Obama administration has signed on to in order to persuade Iran to give up its quest to build nuclear weapons. President Obama seems to regard as a major achievement an agreement to reach an agreement, which is all this week's deal is — a formal agreement won't happen until June, if at all.  The President's administration has so far botched everything it has touched when it comes to foreign affairs -- failing to restore America's reputation as he promised when he came into office.

April 3: The Hill: Obama Administration puts on a Full Court Press to Keep Congress
from moving forward on Iran Sanctions
The Obama administration has launched an aggressive sales pitch aimed at convincing Congress to hold its fire on Iran in the wake of a framework nuclear agreement.  The administration wants lawmakers to suspend legislation related to Iran until after June 30, the deadline for negotiators to finalize a deal on Iran's nuclear program. 
April 3: The Daily Caller: Indiana Pizzeria Owners to Reopen Shop After They Get Overwhelming Public Support
The Indiana pizzeria owners under fire for their stated refusal to cater a gay wedding responded gratefully Thursday to a massive outpouring of financial and moral support, including more than $250,000 in donations.  "Once the other folks started supporting, and we were getting support from the other side, it really bolstered us and made us feel a lot better and more comfortable," Kevin O'Connor told Dana Loesch in an interview on The Blaze. "There was so much negativity. It beats you down to nothing.  But it's been fantastic the support we have got," he continued. "I don't have words to describe it."

He and his daughter Crystal received death threats after they told a local reporter their business, Memories Pizza, would never refuse a gay customer, but would have to refuse to cater a gay wedding if asked. The reporter sought them out to answer the hypothetical question in search of a story to bolster critics of a religious freedom law enacted in Indiana this week.   A few people threatened to burn the shop to the ground, and the O'Connor's closed the shop indefinitely, and considered moving out of town. But in the interview Thursday, Kevin told Loesch the shop will stay in place and reopen.
April 3: The Daily Caller: Obama Administration Welcomes Central American Immigrants with new program
The Obama administration is moving forward with a little-known program that will bring the families of legal immigrants from Central America to the United States.  The Obama administration launched the program, the Central American Minors Refugee/Parole Program, in December, minus any legislation from Congress, but hasn't widely advertised it yet. The program is bringing in primarily children (under 21) and in certain cases, grandchildren and spouses of immigrants who are from El Salvador, Guatemala and Honduras. Immigrants eligible for the program can qualify for refugee status — which allows them to eventually receive green cards and ultimately citizenship.
April 3: The Hill: Tax Filers sent the wrong Obamacare Form will not face penalties for late filing:
ObamaCare customers who received the wrong tax form from the federal government this spring will not face penalties if they miss the April 15 deadline, officials announced Friday.  Anyone who has not yet been sent corrected tax forms and are "unable to file an accurate tax return" now have until Oct. 15 to file — as long as they request an extension.  The government did not say how many people will be given extra time, though officials said in late March that 80,000 people were still waiting on their corrected tax forms. A total of 800,000 people had mailed the wrong forms.
April 2: Fox News: The IRS: No Justice from Justice Department
The Obama administration's Internal Revenue Service is institutionally incapable of self-correction.   And, now it is even clearer that the Obama administration's Department of Justice is incapable of holding accountable those responsible for a massive illegal targeting scheme. The latest troubling development comes as the Justice Department announced it will not pursue criminal contempt charges against former top IRS official Lois Lerner – who's at the center of a scandal that unlawfully targeted conservative and Tea Party groups because of their political views.  Sadly, this conclusion is not surprising. This latest development reflects what has become standard operating procedure for the Obama administration in its so-called "investigation" of this unlawful targeting scheme by the IRS.  The Justice Department is making a mockery of our criminal justice system. It's not independent. It was fully involved in the IRS targeting scheme.
April 1: The Hill: Justice Department Refuses to Prosecute Contempt of  Congress Charges against Lerner
The Justice Department won't follow up on the contempt of Congress charge against the former IRS official who first acknowledged the agency's improper scrutiny of Tea Party groups.  Lois Lerner will apparently get off scot free!  Ronald Machen, the U.S. attorney for Washington, told Speaker John Boehner (R-OH) in a letter dated Tuesday that Lerner did not waive her Fifth Amendment rights in her appearances before Congress and that it would be inappropriate for the Justice Department to bring the matter before a grand jury.  The House voted to charge Lerner, who quickly became the central figure in the Tea Party controversy, with contempt in May 2014, after she twice invoked her Fifth Amendment right against self-incrimination before the Oversight Committee.

April 1: The New York Times: Norway Reverts to Cold War Mode as Russia becomes more assertive in the Air
From his command post burrowed deep into a mountain of quartz and slate north of the Arctic Circle, the 54-year-old commander of the Norwegian military's operations headquarters watches time flowing backward, pushed into reverse by surging Russian military activity redolent of East-West sparring during the Cold War.  Last year, Norway intercepted 74 Russian warplanes off its coast, 27 percent more than in 2013, scrambling F-16 fighters from a military air base in Bodo to monitor and photograph them. This is far fewer than the hundreds of Soviet planes Norway tracked off its coast at the height of the Cold War. However, last year's total was a drastic increase from the 11 Russian warplanes Norway spotted 10 years earlier.
April 1: The Hill: Indiana Pizza place threatened by bullies, closes its doors until further notice:
Owner Kevin O'Connor said vitriol toward his restaurant was so intense it was closed until further notice. The eatery began receiving threatening phone calls and social media postings after revealing its support for the Indiana law earlier this week.   O'Connor and his family initially inspired backlash after declaring they would not cater gay weddings on Tuesday.  Their position was not that they would cease from serving gays in their restaurant but that they would not cater weddings. That announcement made Memories Pizza Indiana's first business to refuse potential customers service for religious reasons under the new law.  The announcement drew venom from furious critics online. They have since flooded the store's Yelp page with negative reviews protesting the O'Connor family's position. Memories had an average rating of 1.5 out of 5 stars based on 1,850 reviews as of Wednesday evening, many if not most of whom have never set foot within the establishment.
April 1: CBS News – Cleveland: Pizza place becomes the first Christian establishment to say it will not cater gay weddings because they violate the owner's religious beliefs
An Indiana pizza shop may be the first to publicly say it will not serve gay weddings.  The O'Connor family owns Memories Pizza in Walkerton, southwest of South Bend."If a gay couple came in and wanted us to provide pizzas for their wedding, we would have to say no," Crystal O'Connor told WBND-TV adding, "We are a Christian establishment."  Family members say they agree with Gov. Mike Pence that the bill does not encourage discrimination against gays and lesbians."We're not discriminating against anyone, that's just our belief and anyone has the right to believe in anything," O'Connor told WBND.

The family has owned the pizzeria for nine years and supports the Religious Freedom Restoration Act.  Kevin O'Connor says the negative backlash against Indiana is not fair. "That lifestyle is something they choose. I choose to be heterosexual. They choose to be homosexual. Why should I be beat over the head to go along with something they choose?" he tells the station.  Despite their opposition to gay marriages, the O'Connor family promises that if a gay couple or a couple belonging to another religion come in to the restaurant to eat, they would not be turned away.
March 31: Fox News: Governor vows to Clarify the Religious Freedom Law
Indiana Gov. Mike Pence, whose state is under fire over the passage of a religious freedom law that critics say could allow businesses to discriminate based on sexual orientation, said Tuesday that he and legislative leaders plan to clarify the policy in the coming days. "I abhor discrimination," the Republican governor told Fox News.   Pence said he stands by the law and there was never any intent to create a "license to discriminate." But, acknowledging the furor over the policy, he said: "We'll clarify that in the days ahead, and we'll fix this and move forward." Pence later held a press conference in Indianapolis calling for legislation on his desk "before the end of this week" that would make clear the law does not allow businesses "to deny services to anyone." "We've got a perception problem here ... and we intend to correct that," Pence said at the news conference.
March 29: The Hill: Indiana Governor: Hoosiers don't believe in discrimination but do believe in Religious Freedom
Gov. Mike Pence (R-IN) vowed his state would not alter its religious freedom legislation after criticism that it may permit discrimination based on sexual orientation.  "We're not going to change the law, OK?" Pence told host George Stephanopoulos on ABC's "This Week."  "I stand by this law," he continued. "It represents a fundamental protection for individuals."  Pence also criticized most of the debate over the law as "shameless rhetoric."  Many of the law's critics, he added, have used the "red herring" of discrimination to mischaracterize the bill's intent.  "Hoosiers don't believe in discrimination," Pence argued.

He said the Restoring Religious Freedom Act only applied to cases in which Indiana's government interfered in faith matters. So under the law, the baker who does not want to make a "wedding" cake for two domestic partners of the same sex because of religious beliefs could not be forced to do by the State of Indiana.  "It was not intended for disputes between private entities," the Governor added.
March 29: Yahoo News: Israel PM Says Nuke Deal is Bad for Humanity
Israeli Prime Minister Benjamin Netanyahu issued a dire warning Sunday about a possible nuclear accord with Iran as talks in Switzerland towards the outline of a deal intensified days before a deadline.  Israel, widely assumed to have nuclear weapons itself, is concerned that a deal that six powers are trying to agree the contours of by midnight on March 31 will fail to stop Iran from getting the bomb.  Iran, hit hard by international sanctions, denies wanting nuclear weapons and insists that its atomic program is purely for peaceful purposes. Israel, not Iran, is the real regional danger, Tehran says.
March 28: The Weekly Standard: Iranian Defector:  "U.S. Negotiators There Mainly to Speak on Iran's Behalf
An Iranian journalist writing about the nuclear negotiations between the United States and Iran has defected. In an interview Amir Hossein Motaghi, has some harsh words for his native Iran. He also has a damning indictment of America's role in the nuclear negotiations."The U.S. negotiating team are mainly there to speak on Iran's behalf with other members of the 5+1 countries and convince them of a deal," Motaghi told a TV station after just defecting from the Iranian delegation while abroad for the nuclear talks. The P 5 + 1 is made up of United States, United Kingdom, Russia, China, France, plus Germany.
March 28: Fox News: Head of House Benghazi Probe Says Clinton Wiped her Email Server Clean:
Hillary Clinton wiped her email server "clean," permanently deleting all emails from it, the leader of the House committee investigating the 2012 terror attacks in Benghazi said Friday.  Meanwhile Congressman Gowdy (R-SC) has revealed that Mrs. Clinton has failed to produce a single new document in recent weeks and has refused to relinquish her server to a third party for an independent review. "It is not clear precisely when Secretary Clinton decided to permanently delete all emails from her server, [but] it appears she made the decision after October 28, 2014, when the Department of State for the first time asked the secretary to return her public record[s] to the Department," Gowdy said. "Not only was the secretary the sole arbiter of what was a public record, she also summarily decided to delete all emails from her server ensuring no one could check behind her analysis in the public interest," the Congressman contended.
March 28: The Hill:  RNC: "Even Nixon Didn't Destroy the Tapes!"
Republican National Committee Chairman Reince Priebus blasted Hillary Clinton on Saturday for wiping her server and permanently deleting all emails. "Even Nixon didn't destroy the tapes," Priebus said in a statement.
Clinton's lawyer informed the House Select Committee investigating Benghazi on Friday that Clinton no longer had copies of any emails from her four-year tenure as secretary of State, ending in 2013.   Rep. Trey Gowdy (R-SC), the chairman of the committee, said in a statement Friday that "Clinton unilaterally decided to wipe her server clean and permanently delete all emails from her personal server."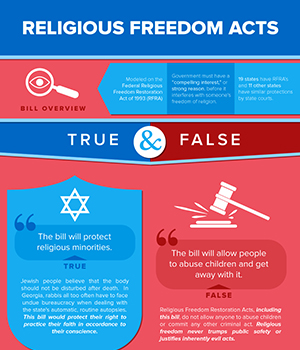 March 27: The Daily Signal:
The Truth about the Indiana Religions Freedom Law
The mainstream media has launched an all-out blitz over a new law that protects the fundamental freedom of Indiana citizens from unnecessary and unreasonable government coercion. The media's gross mischaracterizations of the Indiana Religious Freedom Restoration Act ignore the truth: Religious Freedom Restoration Acts prevent government discrimination against religious free exercise and simply provide a way to balance religious liberty with compelling government interests.
Religious liberty isn't an absoolute right. Religious liberty doesn't always trump. Religious liberty is balanced with concerns for a compelling state interest that's being pursued in the least-restrictive means possible.
The First Amendment Partnership, an organization whose mission is "to promote and protect religious freedom for people of all faiths," created an infographic separating myth from fact on Religious Freedom Restoration Acts. [Click on the image to see the entire infographic. Click again once you get to infographic to enlarge the size of the image.]
March 27: The Washington Post:
Lots of Showmanship as Senate Passes Budget:
For the second time in the past seven years, the U.S. Senate passed a budget, this time under Republican leadership. But not to be outdone some senators attempted to score political points by offering amendments on such issues as same sex "marriage,"  Iran sanctions, and defense spending.  In the end, the Republican budget proposal passed, 52-46, with all Democrats voting against it. Senate Republicans say their budget would achieve balance in 10 years and a $3 billion surplus in year 10.   Senators Ted Cruz (R-TX) and Ran Paul (R-KY) were the only Republicans to vote against the bill.
March 26: Fox News: The Manatee Coal Power Plant Connection:
Republicans may have found an unconventional argument against tightening regulations on coal-fired power plants: think about the manatees. The connection between manatees' well-being and power plants was raised at a hearing last week. It turns out, in Florida, the endangered manatee population enjoys the warm water that is discharged from the state's Big Bend Power Station; in fact, a manatee viewing center has been created near the plant. But the power station may have to partially close over new regulations, which could mean no more warm water for the treasured sea cows.

Rep. Rob Bishop (R-UT), chairman of the Committee on Natural Resources, pressed the director of the Fish and Wildlife Service on the issue at last week's hearing. He is expected to follow up by asking why there shouldn't -- if such a change negatively affects an endangered species like the manatees -- be further investigation under the Endangered Species Act. "Our goal is to determine if the administration is selectively applying the law. If this is the case, we will have even more questions."   The Big Bend Power Station is not the only one with a manatee dilemma -- other plants in Florida, Georgia, and other coastal regions reportedly may have the same problem.   The station, situated on Tampa Bay, houses four coal-powered units. Reportedly a new carbon emissions rule could result in at least one of the units closing by 2025.
March 26: InfoWars: DOD Exercise Draws Attention as Texas and Utah Labeled "Hostile Territory"
A key component of the controversial military exercise set to take part in nine U.S. states this summer will involve soldiers operating "undetected amongst civilian populations," to see if they can infiltrate without being noticed.  The "realistic" military training exercise, which will involve the Green Berets, Navy Seals, and the 82nd Airborne Division, is set to take place from July 15-Sepember 15, but has prompted concerns after Texas and Utah were labeled "hostile" territory in documents related to the exercise.  The Army contends that the exercises are designed to prepare troops for foreign occupations and has nothing to do with preparations for martial law.  No less than 17 different Texas cities will see an Army presence as part of the exercise, which will involve, "participants in civilian dress and civilian vehicles, military aircraft, low-altitude airdrops of personnel and weapons with blank rounds, to avert fearful reactions".
March 26: Washington Free Beacon: U.S. Caves to Key Issues in Iran Nuke Deal – A Deal At Any Price?
The Obama administration is giving in to Iranian demands about the scope of its nuclear program as negotiators work to finalize a framework agreement in the coming days, according to sources familiar with the administration's position in the negotiations.  U.S. negotiators are said to have given up ground on demands that Iran be forced to disclose the full range of its nuclear activities at the outset of a nuclear deal, a concession experts say would gut the verification the Obama administration has vowed would stand as the crux of a deal with Iran.  Until recently, the Obama administration had maintained that it would guarantee oversight on Tehran's program well into the future, and that it would take the necessary steps to ensure that oversight would be effective. The issue has now emerged as a key sticking point in the talks. Some are contending that the President wants a deal at any price.

March 26: Fox News: Hamas Accused of War Crime while the Media Blamed Israel at the time:
A horrific missile attack that killed 11 children in Gaza during last summer's war between Israel and Hamas, for which Israel was broadly condemned at the time, was actually caused by a Palestinian missile misfiring and killing its own people, Amnesty International charged in a report released Thursday.  "In the deadliest incident believed to have been caused by a Palestinian armed group during the conflict, 13 Palestinian civilians – 11 of them children – were killed when a projectile exploded next to a supermarket in the crowded al-Shati refugee camp in Gaza on 28 July 2014, the first day of Eid al-Fitr," Amnesty's report said. "The children had been playing in the street and buying crisps and soft drinks in the supermarket at the time of the attack."

March 26: The Daily Caller: MSNBC to Press Secretary: Is Yemen Still a Success Story?
A cadre of MSNBC personalities challenged White House press secretary Josh Earnest Thursday morning over the administration's refusal to dial back its propping up of Yemen as a counterterrorism "success story."  "Should we dial back on the words that it is a success story, when you have the president fleeing on a boat?" asked an MSNBC reporter, who asked if the state is a success multiple times.  "The fact is that even though U.S. personnel is no longer in Yemen, the United States continues to have the capacity and resources and reach to be able to take strikes when necessary against extremists operating there," Earnest said.
March 25: Yahoo News: NASA to Retrieve Bolder from Asteroid and Place it in Moon Orbit
NASA plans to launch a craft to capture a boulder from a nearby asteroid and move it into orbit around the Earth's moon for exploration by astronauts, the space agency said Wednesday.  The mission, to be conducted in the mid-2020s, will help hone the capabilities NASA needs to send humans deeper into space, including to Mars, the agency said.  "The option to retrieve a boulder from an asteroid will have a direct impact on planning for future human missions to deep space and begin a new era of spaceflight," NASA associate administrator Robert Lightfoot said in a statement about the Asteroid Redirect Mission.

An unmanned spacecraft will fly to a nearby asteroid, deploy a robotic arm to take a boulder from its surface, and then make a multi-year journey to put the boulder in orbit around the moon, the agency said. The craft will use solar electric propulsion for the mission that will test numerous new space navigation techniques, NASA said.  Once the boulder is in orbit, NASA plans to send two astronauts in its Orion spacecraft on a 25-day mission to rendezvous with the unmanned vehicle and study the boulder.  "Astronauts will conduct spacewalks outside Orion to study and collect samples of the asteroid boulder wearing new spacesuits designed for deep space missions," NASA said in a statement. NASA has three possible nearby asteroids picked out for the mission and plans to announce the target body in 2019.

March 23: Forbes: Report Says Former IRS Employees – Think Lois Lerner – Can Still Peruse Your Tax Return:
Could Lois Lerner still take a look at your tax returns on IRS computers? It sounds preposterous, but a new watchdog report says former IRS employees still have access to IRS computer systems long after they have no official business with the information. The report is by the GAO, an independent, nonpartisan agency that works for Congress. The GAO investigates how the federal government spends taxpayer dollars. In the case of IRS security, the report says not well.
The March 23: Politico: Obama Administration says Israeli "Occupation" must End:
White House Chief of Staff Denis McDonough made clear in a speech to a left-leaning Israel advocacy group that President Barack Obama isn't letting Israeli Prime Minister Benjamin Netanyahu off the hook for his dismissal of a two-state solution.  That stance, as well as Netanyahu's suggestion also made in the closing days before last week's Israeli elections that he'd approved settlements in contested territory in Jerusalem for the strategic purpose of changing the borders are "so very troubling," McDonough told J Street's annual conference in Washington. He called the pro-Israel group, which opposes some of Netanyahu's policies, "our partner."

March 23: The New York Times: Inside Hillary Clinton's In Box:
Mrs. Clinton's aides used their private email accounts to communicate with Hillary Clinton while she was Secretary of State. Not only was Mrs. Clinton corresponding from a private email account, four of her closest advisers were doing so as well. That raises questions about whether State Department servers were colllecting and storing official emmails as Clinton has claimed. From those emails that have been released it is clear that after the Benghazi attacks Clinton was closely monitoring the news media coverage and how it impacted the State Department (and her) image.
March 21: Associated Press: Gowdy's Benghazi Committee Formally Requests Clinton's Email Server
The chairman of a House committee investigating the deadly 2012 attacks in Benghazi formally requested Friday that Hillary Rodham Clinton turn over her email server for an independent review.  Rep. Trey Gowdy (R-SC) sent a letter requesting that Clinton, a likely Democratic presidential candidate, turn over to the State Department inspector general or other third party the server she used for official business while serving as secretary of state. The aim would be to have a third party determine what records should be made public.  "Though Secretary Clinton alone is responsible for causing this issue, she alone does not get to determine its outcome," Gowdy said in a statement. His request to turn over the server is "in the interest of transparency for the American people," Gowdy said. [See the related column by the Three Musketeers]

March 21: The Washington Free Beacon: New Russian Cruise Missile Could Threaten the U.S.
Russia is developing a long-range cruise missile that poses a new threat to the United States, the commander of the U.S. Northern Command warned this week.  "Russia is progressing toward its goal of deploying long-range, conventionally-armed cruise missiles with ever increasing stand-off launch distances on its heavy bombers, submarines, and surface combatants, augmenting the Kremlin's toolkit of flexible deterrent options short of the nuclear threshold," Adm. William Gortney, Northcom chief who heads the U.S.-Canadian North American Aerospace Defense Command (NORAD) said Thursday.  "Should these trends continue, over time NORAD will face increased risk in our ability to defend North America against Russian cruise missile threats," he said in prepared testimony to the House Armed Services subcommittee on strategic forces.


March 21: The Telegraph: Russia Warns Denmark Not to Join NATO's Missile Defense Shield or it will become a Nuclear Target!
The Danish military scrambled fighter aircraft over 58 times in 2014 to head off Russian Aircraft Intrusions.  Now Russia has gone on the offensive in the Baltic, warning Denmark that if it joins Nato's missile defense shield, its navy will be a legitimate target for a Russian nuclear attack.   "I don't think that Danes fully understand the consequence if Denmark joins the American-led missile defence shield. If they do, then Danish warships will be targets for Russian nuclear missiles," said Mikhail Vanin, the Russian ambassador to Denmark, to the Jyllands-Posten newspaper.  

Denmark's Foreign minister, Martin Lidegaard, reacted strongly to the comments, calling the ambassador's statement "unacceptable".   "If that is what he has said, then it is unacceptable. Russia knows full well that Nato's missile defense is defensive and not targeted at (Russia).
March 21: The Daily Caller:  Putting you Money where your Mouth is: Climate Change
News reports out of Hawaii indicate that the President may have just purchased a beachfront home in Hawaii. But isn't he worried about the sea level rising from global warming?  Obama has long warned that the rise of sea levels caused by man-made global warming will make storm surges and flooding worse for coastal communities. In his 2015 State of the Union speech, Obama said "we'll continue to see rising oceans, longer, hotter heat waves, dangerous droughts and floods." Hawaii's KTV4 News reports that a man connected to Obama purchased the multi-million dollar beachfront home featured in the show "Magnum P.I." — the property was then sold to a limited liability corporation in Colorado.
March 21: USA Today: Local Police Departments Turning to Immigrants to Fill Vacant Positions:
Law enforcement agencies struggling to fill their ranks or connect with their increasingly diverse populations are turning to immigrants to fill the gap. Most agencies in the country require officers or deputies to be U.S. citizens, but some are allowing immigrants who are legally in the country to wear the badge. From Hawaii to Vermont, agencies are allowing green-card holders and legal immigrants with work permits to join their ranks.

March 20: KRGV.com(ABC News):  Undocumented Immigrants the fail to appear at hearings Jumps by 150%
The federal government said the number of undocumented immigrants failing to appear at deportation hearings is on the rise.  According to the Executive Office of Immigration Review, the number of people who did not show after being released on bond or on their own recognizance grew by 153 percent in the last four years.  Immigration judges ordered deportations for those no-shows. About 30 to 40 percent of undocumented immigrants failed to appear at their hearings last year.  The statistics also show that judges grant asylum less than 50-percent of the time while immigrants from Central American countries get asylum an average of 2-percent of the time.

March 20: Yahoo News: Federal Judge Warns Justice Department of Possible Sanctions
over Actions in Obama's Immigration Lawsuit
A federal judge who blocked President Barack Obama's unilateral immigration executive action suggested on Thursday he could order sanctions against the Justice Department if he rules it misled him about when exactly the administration began implementing one of the measures.  The crux of the discussion is whether federal officials had misled the judge so they could give more than 108,000 people three-year reprieves from deportation before the stay went into effect. Hanen chided DOJ attorney Kathleen Hartnett on Thursday for telling him in January -- before the injunction was issued --that nothing would be happening until Feb. 18. "Like an idiot I believed that," Hanen said. The DOJ attorney repeatedly apologized for any confusion.   But Hanen asked DOJ  "Can I trust what the president says? That's a yes or no question." The DOJ attorney responded  "Yes your honor!"
March 19: The National Journal:  Make Leadership Mandatory, Not Voting!
President Obama is like the half-baked doctor who diagnoses what's wrong with you and prescribes the wrong medicine. Good call, bad doctor. Take two major ails of the U.S. political system:  1. Declining voter participation, particularly among young and minority voters who are most likely to feel disenfranchised.  2. An unhealthy approach to financing campaigns after the Citizens United case where the Supreme Court nullified restrictions on political spending.

Obama's prescription? Force everybody to vote.  Nearly half of all eligible voters blew off the 2012 president election. The turnout for last year's midterm elections was the worst in more than 70 years.   The problem is with the leadership.  People want to vote for someone they can trust but they are hard pressed to find those people.  No, Mr. President: "Some folks" [code word Republicans] didn't force millions of potential votes to stay home. Most Americans just don't think their votes matter and that their leaders aren't listening to them. Sadly, they're right.
March 18: The Hill: House Democrats Open to Medicare Deal
House Democrats say they are open to supporting an emerging Medicare deal despite concerns about provisions that would make some beneficiaries pay more.   Democratic Leader Nancy Pelosi (D-CA) has been in negotiations with Speaker John Boehner (R-OH) over a permanent stop to automatic spending cuts for doctors under Medicare known as the Sustainable Growth Rate.  There had been concerns brewing among some Democrats about ways to pay for the deal, including making wealthier Medicare beneficiaries pay more and introducing a deductible for some supplemental Medigap plans. Rep. Keith Ellison (D-MN), co-chairman of the Congressional Progressive Caucus, said he would oppose the deal and the AARP opposes the measure as well. A key moment came on Wednesday, though, when Pelosi signaled at her press conference that the deal is going forward.
March 18: The Daily Caller: Netanyahu Beats Obama!
The nationalist coalition led by Israeli Prime Minister Benjamin Netanyahu has snagged at least 54 seats in the country's March 17 elections, while the leftist coalition backed by President Barack Obama's allies has won less than 44 seats, according to Israeli media reports.  That's a defeat for the U.S. president, whose DC-based allies funneled support to Netanyahu's Israeli rival, Isaac Herzog.  "They've done everything they can to shape a Netanyahu defeat," former U.S. Ambassador to the UN John Bolton told Fox News.  "That's something I think Congress should definitely look into."

March 18: Fox News: New Rift between Obama and Netanyahu after latter wins big!
After staying mum on Israeli issues in the run-up to the election, the White House on Wednesday broke its silence -- answering Prime Minister Benjamin Netanyahu's victory with fresh criticism and making clear that a new rift has opened between U.S. and Israeli leaders, this time over Palestinian statehood.   In its first public response to Netanyahu's election triumph, White House Press Secretary Josh Earnest said President Obama still believes in a two-state solution. This was after Netanyahu, shortly before the vote, reversed his stance and stated he would not allow the creation of a Palestinian state.

March 18: Myway.com: Netanyahu Scores Resounding Victory
Prime Minister Benjamin Netanyahu's Likud Party scored a resounding victory in Israel's election, final results showed Wednesday, a stunning turnaround after a tight race that had put his lengthy rule in jeopardy.  Netanyahu surged ahead after a last-minute lurch to the right in which he opposed Palestinian statehood and vowed continued settlement construction, setting the stage for fresh confrontations with the White House just weeks after criticizing U.S. talks with Iran in a divisive address to Congress.  With nearly all votes counted, Likud appeared to have earned 30 out of parliament's 120 seats and was in a position to build with relative ease a coalition government with its nationalist, religious and ultra-Orthodox Jewish allies. 
March 18: The Hill: Republicans move closer to ObamaCare Alternative
Budget proposals from the House and Senate are moving the GOP closer to a fallback plan if Supreme Court strikes down billions of ObamaCare subsidies later this spring.  Both chambers' budget proposals include an obscure but powerful budget tool known as "reconciliation," which allows committees to write bills that can't be filibustered in the Senate -- much like how the Democrats got Obamacare passed in the first place.  GOP leaders had been eyeing reconciliation as a way to show the Supreme Court that they have a plan of action in case King v. Burwell goes in their favor, while buying themselves several months to hammer out details.
March 18: The Hill:  Outgoing AUSA failed to act on Lerner Contempt Charges
Ronald Machen, the U.S. attorney for the District of Columbia appointed by President Obama and set to step down next month, has not acted on a contempt of Congress charge for former IRS official Lois Lerner.   Machen, who announced at the beginning of the week he'd step down April 1 to return to private practice, has not referred Lerner's case to a grand jury. Her contempt citation for not testifying at two hearings has been in Machen's hands since May 2014. "Under Lois Lerner's direction, the IRS became a political tool used to systematically target and undermine Americans' First Amendment rights," said Rep. Jim Jordan (R-OH) who accused Machen of using "his own post for political ends" by not referring the case to a grand jury for months "as he is legally bound to do." 
March 18: The Washington Times:  Obama Blames the IRS for bad ObamaCare Customer Service
The IRS is unable to answer most taxpayers' calls this year because it's had to put money into getting up and running for Obamacare, agency Commissioner John Koskinen told Congress on Wednesday.  Koskinen said his agency has had to shift tens of millions of dollars from customer service over to build the computer systems and get ready to handle questions this year about Obamacare and the law's tax penalty, which kicks in for the first time this year. Apparently the IRS is answering just 43 percent of taxpayers' calls so far this year, which is a huge drop in customer service for the agency.   Congress has cut the agency's funding, in part as a signal of disapproval of the IRS's activities such as the targeting of TEA Party group's applications for nonprofit status. 
March 18: The Hill: Hawks back GOP Budget
Republican defense hawks said Wednesday they expected to fall in line behind the House budget, which would likely give GOP leaders the breathing room they need to pass another fiscal framework.    Senior Republicans on the House Armed Services Committee had declined to endorse the first budget from Rep. Tom Price (R-GA) over concerns that Congress would have to find offsets for a portion of the $90 billion in extra defense spending that is set aside in an account for overseas wars. But defense hawks said Wednesday that Price had given them assurances that lawmakers wouldn't have to find a way to pay for any of those funds. 
March 16: The Daily News:
Transparency Can Mend a Loss of Credibility:
Obamacare: The President said if you like your doctor you can keep your doctor and if you like your health plan you can keep your health plan, repeating this over and over again as if repeating them would make them come true, but it didn't.  Benghazi: The Administration spun the tale that it was because of a video, even though they knew differently. Then they stonewalled Congressional investigations into the facts surrounding the incident.
The current Administration has a credibility problem. They don't seem to know truth when it is presented to them and when confronted with the truth they either deny it outright or stonewall efforts to reveal the truth. It's time for us to demand that all public officials – regardless of party -- conduct the public's business in a transparent way, tell the truth, and stop spinning the story line to their own advantage. We need to remind our elected officials they're in office to serve us and not the other way around.
March 16: Forbes: Hillary Clinton's Defense of Personal Email Server Controversy Doesn't Add Up
Last week Clinton held a press conference where she addressed the email server controversy and responded to questions from the media, and some of the points she made don't really make sense.  Clinton told the audience, "I opted for convenience to use my personal email account, which was allowed. I thought it would be easier to carry just one device for my work and for my personal emails instead of two." But the truth is it's actually not easier to set up and manage your own personal server.  You probably don't know how to do it and Mrs. Clinton doesn't either.

March 16: The Daily Mail: Hillary's "email-gate" now linked to Whistle Blower's description
of boiler-room operation set up to Hide Documents after Benghazi!
The latest twist in the alleged cover-up of former secretary of state Hillary Clinton's private emails involves a former senior diplomat who said State Department officials conspired to prevent investigators from seeing documents related to the 2012 Benghazi, Libya terror attack.   Some of those documents may have been emails that went through the now-infamous private email server Clinton kept at her Chappaqua, New York home.  If they still exist, they could shed light on Clinton's actions following the deadly Benghazi raid by militants acting with Ansar al-Shariah, an Islamist terror faction linked to al-Qaeda. Raymond Maxwell, a former DAS for Near Eastern affairs, last year said that a room in the basement of the State Department was converted to a makeshift document review center where a secret boiler-room operation had been organized in order to keep damning documents from the prying eyes of an internal Accountability Review Board. 

March 13: The Daily Caller: Krauthammer: "It's not over" either Hillary committed a felony or perjury:
In an appearance on Fox News' "Special Report" Charles Krauthammer said the issues facing Hillary Clinton about her emails is "not over" and has "long legs." Citing the impending lawsuit against the State Department by the Associated Press and investigations by the House, Krauthammer says the problems facing the former secretary of state won't be going away any time soon.  He added that Clinton either committed a felony or perjury, depending on whether she signed government documents or not, echoing a point made by fellow panelist Judge Andrew Napolitano.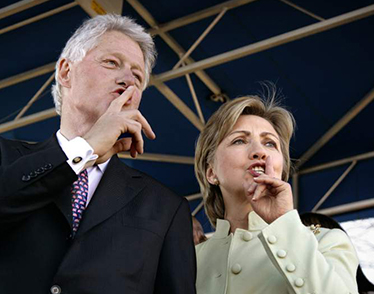 March 12: Business Insider:
Hillary Email Deal Gets Bigger that just email
Hillary Clinton is being bombarded on all sides after her exclusive use of a personal email address while she was secretary of state became public last week. Her belated explanations have not sufficed, and experts on all sides are wondering whether the former first lady and likely 2016 presidential candidate may have jeopardized US interests by using a vulnerable form of communication and deleting many of her emails.  But don't expect all that to stop Hillary, who is treating the flap like many of the events that have defined her political career.

"The Clintons play by their own set of rules. And in this case, the former Secretary of State explained, those rules bless her decision to erase some 30,000 emails from the family server despite knowing that the emails had become a subject of intense interest to congressional investigators," David Von Drehle wrote in Time.  After Clinton had finished taking questions at her press conference, her staff disclosed that no one actually read through those 30,000-odd documents before she 'chose not to keep' them."

March 12: The Daily Caller | Associated Press: Hackers reveal Hillary's Private Server was very insecure
Fox News chief Washington correspondent James Rosen has once again joined up with a team of hackers to dig deeper into Hillary Clinton's use of private emails, this time demonstrating that there were multiple security lapses when maintaining her private server.  One of the anonymous hackers, who has "long experience in the U.S. intelligence community," had previously revealed that Clinton had registered multiple email accounts. The team used legally obtained information about the server to create a virtual replica, and from there, used software to test the entire system for vulnerabilities. The hackers began by confirming reports where Clinton's server was located in even down to an exact intersection. Another problem was that clintonemail.com was run on outdated versions of Microsoft software and, they contend, it would be child's play for a hacker to take advantage of security vulnerabilities in that software. 

[Related Story] At a State Department briefing, Associated Press reporter Matthew Lee grilled State's spokeswoman Jen Psaki asking why Russian hackers had more access to State Department records than the American public and Congress.
March 12: The Daily Caller: The EPA will take 100 years to fulfill a Conservative Group's FOIA request
The free-market Competitive Enterprise Institute (CEI) is suing the EPA over its extremely slow release of emails related to chief Lisa Jackson's alias email account.  CEI says that at its current pace, EPA will fulfill the group's government records request in 100 years.  In 2012, CEI requested records regarding Jackson's alias email account under the name "Richard Windsor" — an address she used to communicate with government officials and green groups while avoiding federal transparency laws. CEI sued and eventually got 3,000 "Richard Windsor" emails from EPA, but that was only the tip of the iceberg.

The EPA says there are about 120,000 records related to CEI's Freedom of Information Act request, but the agency claims it can only process about 100 records per month — meaning CEI's FOIA request will be fully processed in about 100 years.  "We have shown this administration using whatever tactics it can – even violating the law – to hide what is going on in our federal agencies," said CEI senior fellow and attorney Chris Horner in a statement, "whether it's Hillary Clinton's personal email account, Lisa Jackson working with lobbyists on her own private account, utilizing text messages then destroying them, or this slow-rolling production of Richard Windsor emails for a century."

March 12: CNN News: State and County Law Enforcement take over Security in Ferguson
With tensions running high after the shooting of two officers in Ferguson, Missouri, state and county police are once again taking over protest security in the St. Louis suburb.  St. Louis County Police and the Missouri State Highway Patrol will "assume command of the security detail regarding protests" at 6 p.m. St. Louis County Police said in a statement.   Ferguson Police will remain responsible for routine policing services in the city, the statement said.  The takeover comes less than a day after two police officers standing guard outside Ferguson police headquarters were shot in what St. Louis County Police Chief Jon Belmar called an "ambush," spurring a manhunt for those responsible for targeting the line of officer.

Meanwhile InfoWars.com reports some in Ferguson celebrated the shooting of police officers.    Two cops were seriously injured when shots were fired during a rally outside the Ferguson Police Department just after midnight following the announcement that Ferguson Police Chief Thomas Jackson planned to resign.  "These police officers were standing there, and they were shot–just because they were police officers," St. Louis County Police Chief Jon Belmar told reporters.  In video footage which captures the moments before and after the shooting, one protester is heard to say, "Acknowledgement nine months ago would have kept that from happening," a reference to the death of Michael Brown.  Further justification of the shooting emerged on Twitter, with some even expressing their satisfaction that the officers were targeted.
March 11: The Washington Times: Clinton could face criminal charges and lengthy legal challenges:
The Obama Administration will soon find itself in court having to explain to federal judges why it never told anyone former Secretary of State Hillary Clinton's use of a secret email address, potentially spoiling dozens of open records requests. And Clinton, herself, could face up to three years in prison per message if she is found to have broken her word and handled classified information on the secret account, one open records expert told The Washington Times.  The legal challenges have already begun, with The Associated Press filing a federal lawsuit saying the State Department has foiled five years' worth of requests for Clinton's emails, but never told them or the court that she kept her own server — meaning that her emails weren't being searched. Mrs. Clinton's office remained silent a day after the former first lady and potential 2016 presidential candidate held a press conference admitting she kept a private email server out of "convenience," belatedly went through and found public records among her emails and then deleted nearly 32,000 emails she and her lawyers deemed private. [Read More]

March 11: International Business Times:Clinton press conference did not staunch the bleeding
Former Secretary of State Hillary Clinton attempted to put the latest controversy behind her by addressing the media Tuesday regarding her use of her private email account to conduct State Department business. But her "convenience" explanation -- namely, that she thought it would be easier to use one device for both her private and public email communications using the same account -- wasn't sufficient, according to political observers. "She did not staunch the bleeding," George Arzt, who runs a New York City communications firm and served as press secretary for late New York City Mayor Ed Koch, said. "This is a story that will continue to run because there's so many holes in Hillary's defense yesterday and it doesn't match up with previous statements." [Read More]
March 8: The Hill: Clinton could face Criminal Charges over emails
Rep. Darrell Issa (R-CA) on Sunday suggested that Hillary Clinton could face criminal charges if she knowingly withholds emails from congressional investigators. Appearing on CNN's "State of the Union," Issa noted that "voluntary cooperation does not guarantee that it's a crime not to deliver all" requested emails. Clinton last week called on the State Department to release the 55,000 pages of her emails that she self-selected and turned over. State has turned over about 900 pages to the committee.  Issa argued that Clinton "wasn't forthcoming two and a half years ago.  She, in fact, hid the very existence of this until she was caught."
March 8: Fox News & Associated Presss:
McConnell Vows No Shutdown, but what about limiting the ever increasing Debt?
Senate Majority Leader Mitch McConnell said Sunday that the Republican-controlled Congress won't allow the government to default as the Treasury Department quickly approaches its so-called "debt ceiling."  "I made it clear after November that we won't shut down the government or default on debt," the Kentucky Republican told CBS' "Face the Nation."  McConnell's promise came two days after Treasury Secretary Jack Lew told Capitol Hill that the government loses its authority after March 15 to borrow money to cover approved congressional spending and that his agency would have to resort to "extraordinary measures" as a short-term solution. The debt limit has been suspended for the past year, meaning that Treasury could borrow whatever it wanted in order to keep the government running. But the limit will go back into effect on March 15 at whatever level of debt exists at that point.  The question is do we want to keep allowing the ongoing and seemingly never ending increase of debt around our necks and the necks of our children?  The nation's debt currently stands at $18.1 trillion.

March 8: Yahoo News: "Huge Gaps" reported in Clinton email record
Huge gaps exist in the emails former U.S. Secretary of State Hillary Clinton has provided to a congressional committee investigating the 2012 attack on a U.S. consulate in Benghazi, Libya, the panel's chairman said on Sunday.  Republican Representative Trey Gowdy said his committee lacked documentation from Clinton's trip to Libya after the attack despite a popular photo image of her using a handheld device during a flight to that country.  "We have no emails from that day. In fact we have no emails from that trip," said Gowdy "There are huge gaps."
March 8: National Journal:
More Clinton Emails may be key to addressing "pay to play" whispers at family foundation:
"Follow the money." That apocryphal phrase, attributed to Watergate whistle-blower "Deep Throat," explains why the biggest threat to Hillary Rodham Clinton's presidential dreams is not her emails. It's her family foundation. That's where the money is: corporate money, foreign money, gobs of money sloshing around a vanity charity that could be renamed "Clinton Conflicts of Interest Foundation."  What about the emails? Hillary Clinton's secret communications cache is a bombshell deserving of full disclosure because of her assault on government transparency and electronic security. But its greatest relevancy is what the emails might reveal about any nexus between Clinton's work at State and donations to the Bill, Hillary & Chelsea Clinton Foundation from U.S. corporations and foreign nations.  Under fire, Bill Clinton said his namesake charity has "done a lot more good than harm"—hardly a ringing endorsement. One of his longest-serving advisers, a person who had worked directly for the foundation, told me the "longtime whispers of pay-to-play are going to become shouts."  This person, a Clinton loyalist and credible source, has no evidence of wrongdoing but said the media's suspicions are warranted. "The emails are a related but secondary scandal," the source said. "Follow the foundation money."
March 8: Fox News: GOP Battles for Veto on Iran Nuke Deal
Democrats and Republicans sparred Sunday over congressional involvement in the Iran nuclear agreement, as President Obama attempted to assure critics that the U.S. won't accept a bad deal.  The debate intensified as the United States and five other world powers are set to resume negotiations next week with Iran. The GOP-led Congress wants to be able to vote on a final deal before it's accepted.   "The Iranian parliament will get to say yes or no on this deal," said Sen. Ron Johnson (R-WI), a member of the Senate Foreign Relations Committee.   "I think the United States Congress should have that exact same input into the process." 
March 8: The Daily Caller: New Zealander: Amnesty is Obama's Trump Card to Transform America:
New Zealander Trevor Loudon, author is spending a lot of time lately telling Americans that "amnesty is the trump card" for President Obama to permanently transform America.  Citing a 2010 speech by White House consultant and radical leftist, Eliseo Medina, Loudon implores Americans to wake up before it is too late in this video interview. He says, with Mitt Romney losing to Obama in 2012 by 2 and ½ million votes, if Obama can succeed in legalizing "10, 15 or 20 million more votes, almost all of whom will vote Democrat," Obama can lock in progressive electoral victories for the foreseeable future and "make it practically impossible for the Republicans to ever elect another president." 
March 8: Fox News:  Fashion Show on how to safely conceal weapons:
Hundreds of women packed an event hall Saturday in Indianapolis for a different kind of fashion show – one on how to safely conceal guns.  "There are ways to carry, whether you're wearing a cocktail dress, shorts and a tank top," Cathy Brown, the co-chair of the Fashion and Firearms Concealed Carry Extravaganza, told Fox 59.  Event organizers said the idea of the show is to make sure women have fashionable options while carrying. More than 300 women attended, raising money to support local Well Armed Woman chapters. 

March 8: The Guardian: EU Commission President: Calls for a European Army
The European Union needs its own army to help address the problem that it is not "taken entirely seriously" as an international force, the president of the European commission has said.  Jean-Claude Juncker said such a move would help the EU to persuade Russia that it was serious about defending its values in the face of the threat posed by Moscow.  However, his proposal was immediately rejected by the British government, which said that there was "no prospect" of the UK agreeing to the creation of an EU army. 
March 4: Fox News: If you cross Putin you end up dead?
Enemies of Vladimir Putin have a way of winding up dead!  Whether they are poisoned, gunned down on the streets of Moscow or blown to bits in their homes, people who have crossed or merely criticized the Russian president have turned up dead around the world. Putin political adversary Boris Nemtsov, who was shot and killed near the Kremlin last week, is only the latest in a long line that includes hundreds of journalists, human rights activists and businessmen.  "I believe Vladimir Putin is a stone-cold killer," said Bill Browder, author of "Red Notice, A True Story of High Finance, Murder, and One Man's Fight for Justice." "Anyone who gets in the way seems to be arrested, exiled or killed."[See some of the more notable cases]
March 4: Fox News: Supreme Court Split on "Four Little Words" in the Obamacare law
The Supreme Court appeared divided Wednesday along ideological lines after hearing a challenge of ObamaCare tax subsidies that, if struck down, could affect up to 8 million policy holders. The liberal justices peppered Michael Carvin, the lawyer for the health law challengers, with skeptical questions almost from the outset over his argument to limit the subsidies.  When Solicitor General Donald Verrilli Jr. -- who represents the Obama administration -- stepped to the lectern, the liberal justices fell silent, and Justices Alito and Scalia took over. But Chief Justice John Roberts, who was the deciding factor in the last major ObamaCare case in 2012, said almost nothing in nearly 90 minutes of back-and-forth. And the questions posed by Justice Anthony Kennedy, often a key swing vote on the bench, did not make clear how he will come out. During the hearing, Kennedy posed tough questions to both sides.

March 4: The Washington Post | Fox News:
House Committee subpoenas Clinton's email from personal email account and Internet providers:
The Select Committee investigating the attack on Benghazi has issued a subpoena for all the Clinton personal emails related to her knowledge of what happened related to the Benghazi attack.  It also issued an order telling Internet Service Providers to save and protect any of these emails they have.  Making difficult the retrieval of these documents is the fact that a week prior to Clinton's confirmation as Secretary of State, she set up a personal email server in her home that was, and is, not under the control of the Department of State. During her four years in office she used almost exclusively this personal server and a personal email account linked to it.  This means that no government entity has control over what was, and is, on that server.  It also raises the question that if she wanted to delete critical or sensitive emails who would ever know?

March 3: The Hill: Benghazi Committee Chair: Clinton personal email account is "troubling"
A key House Republican is calling Hillary Clinton's use of a private email account as secretary of State "troubling," and suggests it could prompt lawmakers to ask her to testify multiple times before a panel investigating the 2012 terrorist attacks in Benghazi, Libya.  Rep. Trey Gowdy, the chairman of the House Select Committee on Benghazi, said the panel learned late last summer that Clinton used a personal email address exclusively while serving at the nation's top diplomat.  "You do not need a law degree to understand how troubling this is," he said at a press conference attended by five other Republicans on his panel.  He called the fact that Clinton did not use a government email "nothing short of incredible."
March 3: The Daily Caller:
Krauthammer on Hillary Clinton using personal email address for official Dept. of State business  [Video]
Appearing on "Special Report" Tuesday night, syndicated columnist Charles Krauthammer blasted the recent news that Hillary Clinton used a personal email to do her business at the State Department during her tenure.  The conservative commentator called the revelation "so Clintonian," while adding that it's "as if Clintons are entitled to their own rules…  …Look, when you hear these stories about the Clintons, it's all of a pattern. Whether or not it was illegal, how scandalous it is, yes, it was a breach of secrecy, it established a security risk and, of course, it allows the Clintons complete control over what is known and what's not known, which is not supposed to be the case. But it is so Clintonian.
March 3: The Hill: Administration Threatens Veto over EPA Secret Science Bills
The White House on Tuesday threatened to veto a pair of Republican bills aimed at changing the way the Environmental Protection Agency (EPA) uses science to justify regulations.  The first bill would attack the EPA's use of "secret science."  In response to common Republican accusations that the EPA is not transparent enough, it would require the agency to publicly release the details of any scientific research that it uses for regulations. The second bill would reform the EPA's Scientific Advisory Board, a panel of independent experts that make recommendations on science, regulations, standards and other subjects to the agency.  The White House argued that both of the bills would prevent the EPA from protecting human health and the environment, and said that President Obama's advisers would recommend that he veto them.
March 3: The Daily Caller: Obama Admin is going after gun dealers
The Obama administration's Operation Choke Point program targets gun and ammunition dealers and tries to make life "miserable" for businesses that it doesn't like, a payment processor told a Choke Point victim in jarring new audio.  Operation Choke Point is a program by which the Department of Justice works with other administration agencies, including the Consumer Financial Protection Bureau, to force banks to shut down accounts of businesses that it objects to. The program purports to fight fraudulent businesses, but has instead targeted many gun and ammunition dealers and other lawful businesses.

March 3: Fox News: Netanyahu Addresses House and Senate on Iran Nuclear Weapons Program (Transcript)
Before lifting sanctions Prime Minister Netanyahu said "the world should demand that Iran do three things.
First, stop its aggression against its neighbors in the Middle East.
Second, stop supporting terrorism around the world.
And third, stop threatening to annihilate my country, Israel, the one and only Jewish state."
The Prime Minster also said Israel is prepared to stand alone if need be, but that it doesn't stand alone because the American people have, and will continue to, stand with the state of Israel.
March 3: The Hill: Wyndham takes on FTC over enforcement authority
A federal consumer watchdog has overstepped its authority by punishing companies for weak cybersecurity, lawyers for Wyndham Worldwide argued Tuesday The 3rd Circuit Court of Appeals heard 90 minutes of spirited oral arguments Tuesday, as Wyndham's lawyers sought to reverse a district judge's decision endorsing the FTC's enforcement authority.  Since 2002, the commission has brought more than 50 legal actions against companies purported to have weak cyber defenses that put consumer data at risk.   Wyndham, which suffered a severe data breach in 2008-2009, is seeking to dismiss the FTC complaint by arguing, in part, that the commission's action is illegal. "The commission has simply anointed itself a roving cybersecurity prosecutor — but, unlike other prosecutors, one that seeks to define the offense and to do so after the fact," Wyndham argued in a court brief.  The case highlights a legal gray area that has become more relevant to companies, as threats from hackers explode in frequency and severity.
March 2: The Daily Caller: President Unveils National "ObamaLaw" Plan
President Barack Obama today introduced his plan for a progressive takeover of state and local policing.  "We have a great opportunity… to really transform how we think about community law enforcement relations," he said Monday.  "We need to seize that opportunity… this is something that I'm going to stay very focused on in the months to come," Obama said, as he touted a new interim report from his Task Force on 21st Century Policing.  Obama also instructed his media allies to help a federalization of policing, and to sideline critics of centralized policing rules. "I expect our friends in the media to really focus on what's in this report and pay attention to it." Obama's strategy matches the progressive playbook, which continuously expands progressives' power by gradually adding more conditions to federal dollars. That same strategy has been implemented in education via the "Common Core" education plan, in the health-sector via Obamacare, in the banking industry via the mortgage rules that caused the damaging property bubble and in housing via Obama's  "regionalism" plan.
March 2: The Daily News:
High School Understanding of American History? 56% of States get a "D" or "F" Grade:
Recently the American Bar Association Journal published an article on "Why America's Kids Know So Little."  Only South Carolina earned an "A" in American History.  In January, Arizona started to require high school students to pass a 100-question civics test in order to graduate.  The Arizona State Senate Majority Leader said "How can we expect them [high-schoolers when they grow up] to protect the principles on which this country was founded, if we are not preparing them for that task right now?"  There are efforts in other states to improve the understanding of U.S. history.  Meanwhile, in Texas the State Legislature is considering eliminating the 28-year old high school graduation test requirement altogether. 
March 2: The Daily Caller: House GOP unveils replacement plan for Obamacare if it goes down
Three House Republican chairmen on Monday night outlined a healthcare plan to replace ObamaCare, if the Supreme Court guts the president's signature healthcare initiative. The court is this week hearing arguments in a challenge to key ObamaCare subsidies.  The plan would roll back ObamaCare's mandates to buy insurance while also providing tax credits to help people afford coverage.
Gone would be the requirement for individuals to buy insurance and for employers to provide it.
This plan guarantees that people who already have coverage are able to renew it.
It also includes some elements of ObamaCare, such as letting people stay on their parents' plans until they are 26 and prohibiting lifetime limits on benefits.
The second main element of the plan would offer people in states losing ObamaCare's subsidies some tax credits to help them buy insurance. The size of the refundable credits would be adjusted for age, with the elderly getting more support.
March 1: Arutz Sheva (Israel National News.com): REPORT:
Obama Threatened to Shoot Down Israel Air Force Jets in 2014:
Related Report: The Daily Caller
Kuwaiti paper claims unnamed Israeli minister with good ties with the US administration 'revealed the attack plan to John Kerry.'  The Bethlehem-based news agency Ma'an has cited a Kuwaiti newspaper report Saturday, that President Obama thwarted an Israeli military attack against Iran's nuclear facilities in 2014 by threatening to shoot down Israeli jets before they could reach their targets in Iran.  Following Obama's threat, Prime Minister Binyamin Netanyahu was reportedly forced to abort the planned Iran attack.  According to Al-Jarida, the Netanyahu government took the decision to strike Iran some time in 2014 soon after Israel had discovered the United States and Iran had been involved in secret talks over Iran's nuclear program and were about to sign an agreement in that regard behind Israel's back.
February 27: The Washington Post:
Obamacare threatens to end Robert's dream of a nonpartisan Supreme Court:
The first time the Affordable Care Act (ObamaCare) came before the Supreme Court, its constitutional foundation under attack, John G. Roberts Jr. was its unlikely savior. In a spectacular display of spot-welding, the chief justice joined fellow conservatives on some points and brought liberals on board for others. Roberts was the only member of the court to endorse the entire jerry-rigged thing, and even he made sure to distance himself from the substance of the law. ("It is," he wrote, "not our job to protect the people from the consequences of their political choices.") Still, his efforts rescued President Obama's signature achievement on grounds that many had dismissed as an afterthought.
February 27: The National Journal: 
Congress may consider Defunding the FCC in light of the so-called "Net Neutrality" decision.
As Internet activists celebrated their net-neutrality win Thursday, Republicans were already plotting their revenge.  GOP lawmakers were virtually unanimous in expressing their outrage about the Federal Communications Commission's vote to reclassify the Internet as a utility. But there is widening disagreement within the ranks about just what flavor of revenge the party should ultimately pursue, such as compromise legislation, a congressional resolution of disapproval, or a fight over FCC funding.  Twenty-one House Republicans sent a letter to FCC Chairman Tom Wheeler vowing to push a resolution of disapproval under the Congressional Review Act—which only needs a simple majority in both houses—to nullify the agency's actions and prevent any future reliance on Title II of the Communications Act. The president can still veto such a resolution.  "We will not stand by idly as the White House, using the FCC, attempts to advance rules that imperil the future of the Internet," the Republicans, led by Judiciary Chairman Bob Goodlatte, wrote. They added that they intended to "take every action necessary to ensure that the Internet remains a free, competitive marketplace."
February 27: United Press International: Congress passes last-minute one week DHS funding bill:
The U.S. Congress passed legislation late Friday to fund the Department of Homeland Security for an additional week -- a move to give lawmakers more time to find a long-term solution and avoid a partial shutdown of one of the nation's most vital national security agencies.  The Senate earlier Friday approved $40 billion to fund the Department of Homeland Security through September, but the House of Representatives ignored it because it did nothing to nullify the President's immigration directives.  In the meantime Congress passed a week-long extension while the House is asking the Senate to form a conference committee to work out the differences, thereby avoiding a shutdown in the short term.  Earlier the House attempted to pass its own bill, funding DHS through March 19th, but the measure suffered a humiliating defeat 203-224, defeated in part because of a lack of support by conservative Republicans. The week long extension passed by a vote of 357-60.
February 26: MRCTV News:  President:  I have just expanded my authority
In a town hall meeting the President said: "So in the short term, if Mr. McConnell, the leader of the Senate, and the Speaker of the House, John Boehner, want to have a vote on whether what I'm doing is legal or not, they can have that vote. I will veto that vote, because I'm absolutely confident that what we're doing is the right thing to do."  Obama argued that he has merely "expanded my authorities" – not broken any laws:  "What we've done is we've expanded my authorities under executive action and prosecutorial discretion as far as we can legally under the existing statute, the existing law. And so now the question is, how can we get a law passed."  Obama called the "political process" a "separate track":  So we're going to have to keep on with the political process on a separate track. But in the meantime, we're going to do everything that we can to make sure that we implement executive actions as we've discussed.
February 26: National Review: 
Clinton's Aides Knew within Minutes the Benghazi Attack was from Terrorist, Emails disclose:
From the very first moments of the terrorist attack on the U.S. compound in Benghazi on September 11, 2012, then-Secretary of State Hillary Clinton and her top aides were advised that the compound was under a terrorist attack. In fact, less than two hours into the attack, they were told that the al-Qaeda affiliate in Libya, Ansar al-Sharia, had claimed responsibility. These revelations and others are disclosed by a trove of e-mails and other documents pried from the State Department by Judicial Watch in a Freedom of Information Act lawsuit.
February 26: The Washington Times: Lerner Missing Emails Now Subject of Criminal Investigtion
The IRS's inspector general confirmed Thursday it is conducting a criminal investigation into how Lois Lerner's emails disappeared, saying it took only two weeks for investigators to find hundreds of tapes the agency's chief had told Congress were irretrievably destroyed.  Investigators have already scoured 744 backup tapes and gleaned 32,774 unique emails, but just two weeks ago they found an additional 424 tapes that could contain even more Lerner emails, Deputy Inspector General Tim Camus told the House Oversight Committee in a rare late-night hearing meant to look into the status of the investigation.  "There is potential criminal activity," Camus said.
February 26: The Washington Examiner: Obama to ban bullets by executive action: Threatens AR-15s
As promised, President Obama is using executive actions to impose gun control on the nation, targeting the top-selling rifle in the country, the AR-15 style semi-automatic, with a ban on one of the most-used AR bullets by sportsmen and target shooters.  This month ATF revealed that it is proposing to put a ban on 5.56 mm ammo on a fast track, immediately driving up the price of the bullets and prompting retailers to urge sportsmen to urge Congress to stop the president.  Wednesday night, Rep. Bob Goodlatte (R-VA) Chair of House Judiciary, stepped in with a critical letter to the bureau demanding it explain the surprise and abrupt bullet ban.
February 26: The Intercept: TSA issues warning of potentially catastrophic aviation threat
The Transportation Security Administration (TSA) said it is unlikely to detect and unable to extinguish what an FBI report called "the greatest potential incendiary threat to aviation," according to a classified document obtained by The Intercept. Yet despite that warning, sources said TSA is not adequately preparing to respond to the threat.  Thermite — a mixture of rust and aluminum powder — could be used against a commercial aircraft, TSA warned in a Dec. 2014 document, marked secret. "The ignition of a thermite-based incendiary device on an aircraft at altitude could result in catastrophic damage and the death of every person onboard," the advisory said.  TSA said it is unlikely to spot an easy-to-assemble thermite-based incendiary device during security screening procedures, and the use of currently available extinguishers carried on aircrafts would create a violent reaction. The TSA warning is based on FBI testing done in 2011, and a subsequent report.

February 26:  The Daily Caller:
Byron Allen takes on Sharpton, Obama, and Comcast over the future of Black Media
Legendary TV talk show host Byron Allen is taking on Al Sharpton, President Obama, and the most powerful media corporations in the world in a battle to spotlight the crisis at the heart of American race relations. It's a daunting mission. But for some reason he doesn't sound scared.  Allen told The Daily Caller that top media interests are actively freezing out and in some cases destroying black-owned media companies — and they're paying Al Sharpton to give them racial cover to do it.  As for Washington politicians like Obama? According to Allen, they're bought out by the very same interests, and they're playing a part.
Allen, 53, is the chairman and CEO of the production company Entertainment Studios, which joined with the National Association of African-American Owned Media to file a $20 billion racial discrimination lawsuit this week against Comcast, Time Warner Cable, Sharpton's National Action Network, the NAACP, the Urban League, and former FCC commissioner Meredith Attwell Baker. Allen and his fellow plaintiff also filed a $10 billion suit against AT&T and DirectTV.  "It's cheaper to give Al Sharpton money than it is to do business with real African-American owned media," Allen said. "What Comcast does is they give Al Sharpton money so he doesn't call them racist. That is the issue here."
February 24: Fox News: VA Secretary Admits Lying about Special Forces Service
Veterans Affairs Secretary Robert McDonald has admitted that he lied about serving in the special operations forces in a conversation with a homeless veteran that was caught on camera earlier this year.  McDonald made the claim in January while he was in Los Angeles as part of the VA's effort to locate and house homeless veterans. During the tour, a homeless man told McDonald that he had served in the special operations forces.   "Special forces? What years?" McDonald responded. "I was in special forces." The exchange was broadcast on the CBS Evening News  Jan. 30. McDonald graduated from the U.S. Military Academy at West Point in 1975 and completed Army Ranger training before being assigned to the 82nd Airborne Division until his retirement in 1980.
February 23: Yahoo News:  Obama-Kerry Iran Deal may give them the bomb!
Edging toward a historic compromise, the U.S. and Iran reported progress Monday on a deal that would clamp down on Tehran's nuclear activities for at 10 years but then slowly ease restrictions on programs that could be used to make atomic bombs.   Officials said there were still obstacles to overcome before a March 31 deadline, and any deal will face harsh opposition in both countries,  not to mention U.S. ally Israel. It also would be sure to further strain already-tense U.S.-Israeli relations.   Israeli Prime Minister Benjamin Netanyahu is expected to strongly criticize the deal in an address before Congress next week.
February 23: CNSNews: Gov. Abbott: 20,000 illegals have crossed the border in the last 60 days:
"We all saw what happened on the Texas border last summer, but we need to understand that the problem is not going away," Texas Gov. Greg Abbott told CBS's "Face the Nation" with Bob Schieffer on Sunday.  "Already this calendar year, since January 1, we have had more than 20,000 people come across the border, apprehended, unauthorized. And so we have an ongoing problem on the border that Congress must step up and solve."   All told in fiscal year 2014, U.S immigration officials removed 213,719 individuals apprehended while attempting to unlawfully enter the United States. 

February 23: The Washington Post: Give us your fingerprint or we'll cut off your cell phone service:
Cell phones didn't just arrive in Pakistan. But someone could be fooled into thinking otherwise, considering the tens of millions of Pakistanis pouring into mobile phone stores these days. In one of the world's largest — and fastest — efforts to collect biometric information, Pakistan has ordered cell phone users to verify their identities through fingerprints for a national database being compiled to curb terrorism. If they don't, their service will be shut off, an unthinkable option for many after a dozen years of explosive growth in cell phone usage here.  Prompted by concerns about a proliferation of illegal and untraceable SIM cards, the directive is the most visible step so far in Pakistan's efforts to restore law and order after Taliban militants killed 150 students and teachers at a school in December.
February 21: The Hill:  DHS  may shutdown next weekend if Senate Democrats Don't Lift Threat of Filibuster
The fight over funding for the Department of Homeland Security (DHS) will dominate the Sunday talk shows, as DHS Secretary Johnson makes the rounds to press for lawmakers to act.  The department will shut down on Feb. 28 if Congress does not pass new funding.  At the center of the fight are President Obama's executive actions on immigration.   Republicans are looking to tie measures halting the moves to the new funding, while Democrats insist on a "clean" bill. With the two sides at an impasse, there is no clear path forward as Senate Democrats repeatedly blocked votes on the House funding measure.
February 21: Associated Press: White House "Unwelcome Mat" for Israeli Prime Minster
In what is becoming an increasingly nasty grudge match, the White House is mulling ways to undercut Israeli Prime Minister Benjamin Netanyahu's upcoming trip to Washington and blunt his message that a potential nuclear deal with Iran is bad for Israel and the world.   There are limits but the following options remain on the table:
- a presidential interview with a prominent journalist known for coverage of the rift between Obama and Netanyahu
- multiple Sunday show television appearances by senior national security aides and
- a pointed snub of America's leading pro-Israel lobby, which is holding its annual meeting while Netanyahu is in Washington, according to the officials. [See related story: Rudy Giuliani Video on ISIS]
February 21: The Washington Post:
Walker: Press question on President's Religion Speaks Volumes about Washington and the News Media:
In response to reporter's questions about the President's religion, Governor Scott Walker said "I've actually never talked about it or I haven't read about that.  You've asked me to make statements about people that I haven't had a conversation with about that. How [could] I say if I know either of you are a Christian?"  Walker said such questions from reporters are reflective of a broader problem in the nation's political-media culture, which he described as fixated on issues that are not relevant to most Americans.  "To me, this is a classic example of why people hate Washington and, increasingly, they dislike the press," he said. "The things they care about don't even remotely come close to what you're asking about."  Walker said Saturday that if he runs for president, he will focus on problems affecting the country, from tax policy and the economy to confronting Islamic State terrorists.  He was critical of Obama for not conveying strongly enough the breadth and depth of the threat from Islamic militants, mentioning the videos of beheadings and other barbaric acts.  "If I were in position to be commander in chief," he said, "I would take nothing off the table. I would firmly say to the American people that I will do whatever it takes to make sure that no American's son or daughter . . . will ever have to deal with the kind of horror we've seen on these kinds of videos."
February 21: The Daily Caller:  VA reinstates benefits to Vet they claimed was dead, but wasn't!
Mark Ellis Jr., a very much alive Marine veteran from Michigan, has had his VA benefits restored months after the agency cut them because it believed he was dead.  Earlier this week, Fox News in Detroit reported on Ellis's story.  The former F-18 mechanic from Dearborn, who was honorably discharged from the Marines in 2011, went to the news station after he was having a difficult time getting his VA benefits restored.  The trouble started when his wife Meghan received a letter from the agency in November informing her that benefits for a Mark S. Ellis would come to an end since he was dead.  But that was news to the living and breathing Ellis who had actually visited a VA hospital the day before the letter came in the mail. Ellis is rated 60 percent disabled and receives GI Bill and other benefits.
February 20: The Hill: Feds sent incorrect tax info to 800,000 people on ObamaCare
The administration sent the wrong tax information to 800,000 people who have enrolled in ObamaCare, officials announced Friday.  The information used to calculate subsidies was wrong on about 20 percent of tax forms, an error that could delay tax refunds for thousands of people.  Administration officials stressed that the vast majority of HealthCare.gov customers received the correct forms, and White House spokesman Josh Earnest said the issue impacted "a very small fraction of people."  But the tax glitch quickly provided new ammunition for Republicans, who continue to argue that the healthcare law is fatally flawed.  "Surprise, surprise, the Obama administration still does not have its act together," Rep. Marsha Blackburn (R-TN) vice chair of the House Energy and Commerce Committee, wrote in a statement.  She said the new problems offer more proof that the IRS should be kept out of healthcare, and pledged to redouble her efforts to repeal the ObamaCare insurance penalty entirety.
February 20: Reuters/Yahoo News: Putin: No Military Force has the strength of the Russian Military
Russian President Vladimir Putin said on Thursday other countries should not have the illusion that they can attain military superiority over Russia, Interfax reported.  "No one should have the illusion that they can gain military superiority over Russia, put any kind of pressure on it. We will always have an adequate answer for any such adventures," he was quoted as saying in an address dedicated to the Defenders' of the Fatherland Day holiday next week.

February 20: The New York Times: Caracas (Venezuela) Mayor Arrested, county in turmoil
The abrupt arrest of the mayor of Caracas on accusations that he had plotted an American-backed overthrow of the government threatened to plunge Venezuela into new political convulsions on Friday, as his supporters rallied in the capital and pockets of protest erupted elsewhere.  The arrest of the mayor, Antonio Ledezma, on Thursday evening by intelligence agents who fired weapons in the air, was viewed by the opposition as the kidnapping of a political rival to President Nicolás Maduro.
February 19: Fox News: Guiliani speaks frankly about President, Terrorism, and Iran (Video)
Former New York City Mayor Rudy Giuliani blasted President Barack Obama, saying in a recent speech that Israeli Prime Minster Bejamin Netanyahu is a "a man who fights for his people, unlike our president."  Guiliani's comments came during a Feb. 13 speech on countering Islamic extremism.
February 19: The Daily Caller:  Senator may face discrimination law suit with a Veterans Administration Twist
Sen. Tammy Baldwin (D-WI) may soon feel the heterosexual heat from firing a staffer over a VA scandal in Wisconsin. Local news reports indicate that the staffer, who is straight, may file suit against Baldwin, who is gay, for "sexual discrimination" over the firing.   Marquette Baylor, Baldwin's ex-deputy state director, isn't taking the news of being fired quietly. The former chief of Baldwin's Milwaukee office, according to the Milwaukee Journal Sentinel, has "lawyered up" for a possible wrongful termination suit involving sexual discrimination.  Baylor declined a severance package that would, in effect, muzzle her. By taking the deal, Baylor would be unable to reveal what she knows about troubling reports that hit Baldwin's desk concerning the Tomah VA Medical Center last August.   According to news reports, Baldwin received warnings of high opiate prescriptions rates but did nothing for several months.  Three vets dying eventually got her attention. She ultimately called for a federal investigation.
February 19: The Daily Caller: Woman shoots intruder with gun her son bought for her a week ago:
A concerned son's decision to buy his mother a gun just last week out of fear for her safety proved wise Thursday morning.   The woman, a widow who lives alone in a crime-plagued Columbus, Ohio neighborhood, grabbed her gun after a man broke through her front window at around 5 a.m.  "She was armed and apparently fired multiple shots at him," Columbus Police Sgt. Dave Sicilia told the news outlets.  The unnamed suspect had attempted to rob a house across the street. After residents there forced him out of the upstairs window, he broke into the widow's home through her window.  After the woman shot him, he was rushed to the hospital and pronounced dead at around 7 a.m.
February 19: The Hill: Paul eyes debt ceiling fight/Audit of the Federal Reserve
Sen. Rand Paul (R-KY) is mulling attaching his Audit the Fed legislation to a vote to raise the debt ceiling, Paul spokesman Brian Darling has said.  Darling said Paul  fully expects to get a vote on the measure in the Senate this year and that "there are numerous options to get a bill passed by itself or combined with other legislation."  "The strategy going forward will be to use regular order," Darling said.   "If regular order does not work, Audit the Fed would be a great amendment to a debt-limit increase or any other piece of must pass legislation that hits the Senate floor."

February 18: Fox News: Train Derailment Reignites Keystone Pipeline Debate

The derailment of a train in West Virginia that sent flames soaring and at least some of the 3 million gallons of crude oil onboard into a Kanawha River tributary has prompted a renewed call for the approval of the Keystone XL pipeline as a safer alternative to rail transportation.  "Any time you make more trips -- whether it's trains, trucks or buses -- accidents increase," Daniel Kish, an Institute for Energy Research vice presiden said. "I'm not trying to scare people. But the records show that if you move more stuff there will be more problems." [See Related Column]
February 18: Tax Professor Blog: The IRS Scandal: Day 650
Attorney General Eric Holder said on Tuesday he expects the Justice Department to soon release a list of final recommendations stemming from its probe into whether the Internal Revenue Service wrongfully targeted conservative groups.   "I am satisfied with the progress that the criminal division has done; the civil rights division as well," Holder told reporters at a press conference. "I expect that we will have some final recommendations coming up relatively soon.
February 18: The Washington Examiner: Lawmakers:  Atlanta Fire Chief Fired for Believing the Bible
Six Georgia House members have jumped to the defense of the former Atlanta fire chief, claiming he was fired for believing in the Bible — and should be reinstated.  In a move that escalates the fight between the Atlanta Mayor Reed and supporters of former Chief Cochran, lawmakers this week said the firing robbed the former chief of his religious freedom to speak and write his view.  "Your action against Chief Cochran appears to violate fundamental principles of free speech and religious freedom," they wrote to Reed. "As fellow Georgians, we are extremely troubled that a capable and long-standing public servant in our state can be targeted for retaliation and dismissed solely because of his religious views," they added.   The Chief's supporters claim the firing was retaliation for a book he published over a year ago that, among other things, equates homosexuality with bestiality.
February 18: Yahoo News: Texas judge's Immigration Rebuke May be hard to Challenge
President Obama's administration faces a difficult and possibly lengthy legal battle to overturn a Texas court ruling that blocked his landmark immigration overhaul, since the judge based his decision on an obscure and unsettled area of administrative law, lawyers said.  In his ruling on Monday that upended plans to shield millions of aliens from deportation, U.S. District Judge Andrew Hanen avoided diving into sweeping constitutional questions or tackling presidential powers head-on. Instead, he faulted Obama for not giving public notice of his plans.  The failure to do so, Hanen wrote, was a violation of the 1946 Administrative Procedure Act, which requires notice in the Federal Register as well as an opportunity for people to submit views in writing.  The ruling, however narrow, marked an initial victory for 26 states that brought the case alleging Obama had exceeded his powers with executive orders that would let up to 4.7 million illegal immigrants stay without threat of deportation.
February 17: The Daily Caller: Judge Napolitano: Obama Amnesty is Absolutely Dead
Reacting on "The Kelly File" Tuesday to a federal judge's blocking of President Obama's executive action on immigration, which was set to award work permits to four million illegals, Judge Andrew Napolitano called the court's decision "devastating" for the Obama administration's agenda.  "This is a preliminary injunction which means the court viewed the court's documents and challenger's documents…and he made two conclusions. 1) At the end of the case, the challengers will probably prevail, meaning the president probably overstepped his bounds and he has ordered the Department of Homeland Security to create new law.  "And 2) if he does not impose the temporary restraints that he imposed last night, actually, irreparable harm will be visited upon the 26 states," Napolitano explained.  "In my opinion, the Obama amnesty plan is dead. Absolutely dead."
February 17: Yahoo News: Federal Judge Stalls Obama's  Action on Immigration
The White House promised an appeal Tuesday after a federal judge in Texas temporarily blocked President Obama's executive action on immigration and gave a coalition of 26 states time to pursue a lawsuit aiming to permanently stop the orders.    U.S. District Judge Andrew Hanen's decision late Monday puts on hold Obama's orders that could spare from deportation as many as 5 million people who are in the U.S. illegally. In response, the U.S. Department of Homeland Security said it would halt preparations for a program to protect parents of U.S. citizens or legal permanent residents until further notice. 

February 17: Fox News: Related Story on Federal Judge's Order Re: Obama's Unilateral Immigration Policy
House and Senate Republican leaders pointed to the judge's decision on temporarily blocking the Administrations unilateral immigration policy in amplifying calls to advance a stalled bill that would both fund the Homeland Security department and undo Obama's immigration plan. The bill passed the House, but is stuck in the Senate. "This ruling underscores what the President has already acknowledged publicly 22 times: He doesn't have the authority to take the kinds of actions he once referred to as 'ignoring the law' and 'unwise and unfair,'" Senate Majority Leader Mitch McConnell (R-KY) said in a statement. "Senate Democrats -- especially those who've voiced opposition to the President's executive overreach -- should end their partisan filibuster of Department of Homeland Security funding."
February 17: The Wall Street Journal:
Foreign Donations to Clinton Foundation on the Rise – Raise Ethical Questions:
The Clinton Foundation has dropped its self-imposed ban on collecting funds from foreign governments and is winning contributions at an accelerating rate, raising ethical questions as Hillary ramps up her expected bid for the presidency.  Recent donors include the United Arab Emirates, Saudi Arabia, Oman, Australia, Germany and a Canadian government agency promoting the Keystone XL pipeline.   In 2009, the Clinton Foundation stopped raising money from foreign governments after Mrs. Clinton became secretary of state. Former President Bill Clinton, who ran the foundation while his wife was at the State Department, agreed to the gift ban at the behest of the Obama administration, which worried about a secretary of state's husband raising millions while she represented U.S. interests abroad.
February 17: The Hill: Holder wants a halt to the Death Penalty until Supreme Court Rules:
Attorney General Eric Holder called Tuesday for a national moratorium on the death penalty until the Supreme Court weighs in on the issue later this year.  "Our system of justice is the best in the world. It is comprised of men and women who do the best they can, get it right more often than not, substantially more right than wrong. But there's always the possibility that mistakes will be made," he said.  "It is one thing to put somebody in jail for an extended period of time, have some new test that you can do and determine that person was, in fact, innocent. There is no ability to correct a mistake where somebody has, in fact, been executed. And that is from my perspective the ultimate nightmare."
February 16: Associated Press: Dems Seek Relief from Obamacare Taxes
The official sign-up season for President Barack Obama's health care law may be over, but leading congressional Democrats say millions of Americans facing new tax penalties deserve a second chance.  Three senior House members told AP  that they plan to strongly urge the administration to grant a special sign-up opportunity for uninsured taxpayers who will be facing fines under the law for the first time this year.  The three are Michigan's Sander Levin, the ranking Democrat on the Ways and Means Committee, and Democratic Reps. Jim McDermott of Washington, and Lloyd Doggett of Texas. All worked to help steer Obama's law through rancorous congressional debates from 2009-2010.

February 14: Fox News: State-Led Efforts to pass a Balanced Budget Amendment Gains Steam
A state-level campaign to rein in the federal government spending by calling an unprecedented convention to amend the U.S. Constitution is gaining steam, picking up support from two high-profile Republicans as more states explore the idea. The latest figures to endorse the effort are retired Oklahoma Sen. Tom Coburn and Ohio Gov. John Kasich.  Coburn, a legendary government-waste watchdog, announced this week that he has joined the effort by becoming a senior adviser for the group Convention of States Action, which wants states, not just Congress, to pass constitutional amendments. A primary goal is to get an amendment to the Constitution requiring a balanced federal budget, in which spending does not exceed revenue. So far, the Alaska, Florida and Georgia legislatures have each passed a resolution in support of a convention, and 25 more are considering one, according to the group.  "Our founders anticipated the federal government might get out of control," Coburn said Tuesday. "And they gave us a constitutional mechanism to rein it in."

Article V of the Constitution says amendments can be ratified either by Congress or by states if two-thirds of them petition Congress to call a convention. Then, any amendment proposed at the convention must be ratified by three-fourth, or 38, states.  But Beware!  Unless such a convention is limited to only focusing on a Balanced Budget Amendment then other measures could also be considered opening a Pandora's box.  For example: Beyond getting Congress to pass a balanced budget, supporters of the largely Republican-backed effort are also focused on such issues as campaign finance reform and making sure the Environmental Protection Agency doesn't over regulate.
February 16: The Daily News: A Look at U.S. Foreign Policy:
The President hasn't had an ally-friendly foreign policy or a clear and effective strategy for dealing with ISIS. "You can't defeat an enemy that you don't admit exists!" After much criticism from military leaders and allies he has asked Congress for a limited declaration of war against ISIS. Meanwhile Israeli officials claim that the White House has already given Iran eighty percent of what it wants, while still allowing them to continue to develop nuclear weapons while the negotiation process continues. In Cuba the Administration failed to follow the Helms-Burton Act which has specific benchmarks that must be reached prior to the normalization of relations. In the Ukraine the Administration is unwilling to make available the antii-tank/anti-mortar weapons they need in order to withstand the Russian onslaught. The list goes on! So the question needs to be asked, why is this Administration doing things that are not granted to it under The Constitution: IRS targeting of conservative organizations, common core, etc. and why is this Administration not doing what it is required to do -- which is to protect our nation through a sound foreign policy?
February 14: Fox News: State-Led Efforts to pass a Balanced Budget Amendment Gains Steam
A state-level campaign to rein in the federal government spending by calling an unprecedented convention to amend the U.S. Constitution is gaining steam, picking up support from two high-profile Republicans as more states explore the idea. A group called the Convention of States Action, wants states, not just Congress, to pass constitutional amendments. A primary goal is to get an amendment to the Constitution requiring a balanced federal budget, in which spending does not exceed revenue. But Beware!  Unless such a convention is limited to only focusing on a Balanced Budget Amendment then other measures could also be considered opening a Pandora's box. Article V of the Constitution says amendments can be ratified either by Congress or by states if two-thirds of them petition Congress to call a convention. Then, any amendment proposed at the convention must be ratified by three-fourth, or 38, states.  

February 14: The Hill: Social Security Entitlements focus of Debate as 2016 Election Year nears
Social Security is surging to the forefront of the political debate ahead of the race for the White House in 2016.  The entitlement program has been thrust into the spotlight by a fight over the Social Security disability fund, which is expected to run dry by the end of next year. The looming shortfall is stirring a burst of activism on the left, with Sen. Bernie Sanders (I-VT), a likely 2016 candidate, and liberal hero Sen. Elizabeth Warren (D-MA) warning of an assault on the program from Republicans in Congress.  Republicans have pushed back hard, and say they are the ones seeking to fix a broken program.
February 14: Fox News:  Both Sides Claim Violations Hours into the Ceasefire in Ukraine
A cease-fire was declared in east Ukraine at a minute after midnight Sunday, kindling slender hopes of a reprieve from a conflict that has claimed more than 5,300 lives.  But within two hours of the cease-fire's scheduled start, the warring sides were already trading accusations of fresh attacks.  International attention will be focused in the coming days on the strategic railway hub of Debaltseve, where Ukrainian government forces have for weeks been fending off severe onslaughts from pro-Russian and Russian-backed separatists.  The U.S. State Department said images from eastern Ukraine offer "credible pieces of evidence" that the Russian military has deployed larger amounts of artillery and multiple rocket launchers around Debaltseve to shell Ukrainian forces.  "We are confident that these are Russian military, not separatist systems," State Department spokeswoman Jen Psaki said in a statement Saturday.

February 14: Reuters: Shelling in Ukraine Stops under Ceasefire: Germany: High Price to pay for violators
Shelling suddenly stopped at midnight in the eastern Ukrainian city of Donetsk after President Petro Poroshenko gave the order to government forces to halt firing in line with a ceasefire agreement reached last Thursday.  Poroshenko said in a televised address that there was still "alarm" over the situation around Debaltseve, a key transport hub, where government forces are hard pressed by encircling Russian-backed separatists.  And he warned that Ukraine, if it was slapped once, would not offer the other cheek.  The ceasefire, negotiated in four-power talks in Belarus last Thursday, foresees creation of a neutral "buffer zone" and withdrawal of heavy weapons responsible for many of the 5,000 deaths in a conflict that has caused the worst crisis in Russia-West relations since the Cold War a generation ago.
February 14: The Daily Caller: Should Employers be allowed to give bonuses to productive workers?
Advocates for right-to-work policies are pushing a bill for reform of labor laws so that employers can reward employees without having to ask a union's permission.  The Rewarding Achievement and Incentivizing Successful Employees Act, which was introduced Thursday by Sen. Marco Rubio and Rep. Todd Rokita, is designed to amend the National Labor Relations Act so employers can give merit-based compensation increases to individual employees, even if those increases are not part of their collective bargaining agreement.  "Currently, if an employer wants to reward particularly hard-working employees, in almost all cases, the union can and will block any bonuses to those workers, which then makes it difficult to keep the best employees," Patrick Semmens, the vice president of the National Right to Work Foundation said.  "The bill would stop unions from being able to block such merit bonuses."  Current law, which requires unionized companies to negotiate wage increases through the union. 

February 14: The Hill: Five Decisions Hillary Can't Duck:
Hillary Clinton will have to made decisions about where she stands on a number of controversial issues as she nears a presidential campaign.  Clinton so far has been picking and choosing what issues to weigh in on, something easier to do as an unofficial candidate.  Republicans have sought to make Clinton's silence an issue arguing she's in hiding. 
- Military Force and ISIS: The question of how Congress should authorize military action against the Islamic State in Iraq and Syria is an impossible one for Clinton to avoid and is difficult since she supported legislation authorizing the Iraq War which hurt her in her 2008 campaign.
- Keystone XL Pipeline:  While Secretary of State, Clinton failed to move this project forward and has repeatedly refused to wade in on the subject.  The House and Senate have now moved to approve it with an almost certain veto by the President.
- Medical Device Tax: Speaking to a conference of medical device manufacturers in Chicago last fall, Clinton refused to firmly state where she stands on whether this controversial tax included in the healthcare law should be repealed.
- Social Security:  Senator Warren wants to raise the caps on contributions, Clinton has yet refused to take a position.
- International Trade:  This may be the trickiest issue for Clinton because Republicans have been portraying her as a flip-flopper on this issue.  Husband Bill won passage of NAFTA and as Secretary of State Hillary backed free-trade policies.  But there are those within her party who want greater protections against the loss of U.S. jobs.
February 14: Valley Central News: Border Patrol apprehends Middle Eastern man crossing the border:
Border Patrol agents Thursday took a Middle Eastern man into custody. The unauthorized immigrant was caught south of Pharr, according to Border Patrol. An order for expedited removal back to his country of origin is being processed.  Middle Eastern countries are not part of the statistical breakdown of U.S. Border Patrol apprehensions by country of nationality, based on the DHS from fiscal years 2005 through 2010.  It classifies apprehensions of unauthorized immigrants from the Middle East into an "all other countries" category, which make up fewer than 1 percent of apprehensions on average. 
February 14: Fox News: Obamacare signups hit snag on Big Weekend
Consumers trying to sign up for health insurance ahead of a looming deadline are getting snagged by technical difficulties, the Obama administration said Saturday.  Administration spokeswoman Katie Hill said some people trying to get coverage under President Barack Obama's health care law haven't been able to get their income information electronically verified.  That's crucial because the amount of financial assistance to help pay premiums is based on people's income. The health care law offers subsidized private insurance to people who don't have coverage on the job. More than 8 in 10 of those who apply qualify for help. Without it, most can't afford the coverage.

February 14: The Daily Caller: Legal Expert: Gun Rights are Human Rights
By controlling the guns, you can easily control your opponents. This is the core argument Stephen Halbrook, an attorney and expert on gun laws, delivered before the eighth Students for Liberty Conference. "Although it may not be the explicit intent of governments at the time gun registration is enacted that it will be used against the people, history shows otherwise."  The law professor, who's authored several books and articles defending gun rights, gave the easy example of gun registration in Germany in the early 1930s.
February 13: The Daily Caller: Bloomberg Keeps Speech on Keeping Guns from Minorities
from being Posted Online
Former New York City mayor Michael Bloomberg has successfully blocked video from a controversial talk he gave at the Aspen Institute last week from being posted online.  At the Institute's Feb. 5 event, the pro-gun control multi-billionaire suggested keeping guns out of the hands of young, male minorities. Ninety-five percent of murders are attributed to the group, said Bloomberg. "These kids think they're going to get killed anyway because all their friends are getting killed," Bloomberg said at the summit. Various national media outlets jumped on the pointed comments, for both the pro-gun control sentiment and the racial aspect which may be the reason Bloomberg asked that the comments not be posted. 
February 13: The Daily Caller: Caucus Member Didn't Know Illegal Aliens will Get a Tax Break
Illinois Congressman Luis Gutierrez said Friday that he didn't know that illegal immigrants are eligible for tax refunds — even if they haven't paid taxes.  IRS Commissioner John Koskinen told members of Congress Wednesday that illegal immigrants who did not pay taxes will be able to claim back-refunds once they are issued social security numbers.  "Under the new program," Koskinen told members of the House oversight committee Wednesday, "if you get a Social Security number and you work, you'll be eligible to apply for the Earned Income Tax Credit."  "If you are an individual working and applying for the Earned Income Tax Credit, the maximum you can get is in the range of 500 to 600 dollars." But that is apparently for just one year and could be applied retroactively for up to four years or a maximum of $24,000.


February 12: United Press International: Pentagon Sending 12 A-10 Warthogs to Europe because of Ukraine Conflict
The U.S. Air Force has announced it is sending twelve A-10 Thunderbolts, also known as Warthogs, to Europe in support of Operation Atlantic Resolve, a response to Russia's actions in Ukraine.  The A-10s will be sent to Spangdahlem Air Base, Germany, and deployed to partner nations in Eastern Europe – not the Ukraine.  The 1970s-era aircraft was designed for close-air support for ground troops. Called "tankbusters" for their iconic nose-mounted Gatling guns, capable of quickly dispatching enemy tanks, the A-10s can carry a variety of munitions.   

February 12: The Washington Times: Loophole in Obama's Amnesty Actions May allow Illegal Aliens to Vote
President Obama's temporary deportation amnesty will make it easier for illegal immigrants to improperly register and vote in elections, state elections officials testified to Congress on Thursday, saying that the driver's licenses and Social Security numbers they will be granted create a major voting loophole.  While stressing that it remains illegal for noncitizens to vote, secretaries of state from Ohio and Kansas said they won't have the tools to sniff out illegal immigrants who register anyway. And after all they entered the country illegally.  What is to stop them from also registering to vote illegally?
February 11: Reuters: President asks for Congress to Authorize War on Islamic State
The President asked Congress on Wednesday to authorize military force against Islamic State that would bar any large-scale invasion by U.S. ground troops and limit operations to three years.  Republicans, who control Congress, put up swift resistance to the proposal. They say Obama's foreign policy is too passive and want stronger measures against the militants, also known as ISIS.  With Obama's fellow Democrats wary of another Middle East war, it could be difficult for the White House to win enough support to pass the bill, even though six months have passed since the military campaign began.  Some lawmakers predicted a vote as soon as March but others anticipated debate could last for months.
February 11: The Washington Examiner:  FCC Explore Regulating Websites: Freedom of Speech?
Claiming that thousands of public comments condemning "dark money" in politics can't be ignored, the Democrat-chaired Federal Election Commission (FEC) on Wednesday appeared ready to open the door to new regulations on donors, bloggers and others who use the Internet to influence policy and campaigns.  During a broad FEC hearing to discuss a recent Supreme Court decision that eliminated some donor limits, proponents encouraged the agency to draw up new funding disclosure rules and require even third-party internet-based groups to reveal donors, a move that would extinguish a 2006 decision to keep the agency's hands off the Internet.  Noting the 32,000 public comments that came into the FEC in advance of the hearing, Democratic Commissioner Ellen L. Weintraub said, "75 percent thought that we need to do more about money in politics, particularly in the area of disclosure. And I think that's something that we can't ignore."  But a former Republican FEC chairman said in his testimony that if the agency moves to regulate the Internet, including news voices like the Drudge Report  many thousands more comments will flood in in opposition of regulation.
February 11: The Hill: House Sends Keystone Pipeline Bill to the President
The House voted Wednesday to approve legislation authorizing construction of the Keystone XL pipeline, setting up the first major veto of the Obama presidency.  Passage fell largely along party lines in a 270-152 vote, with 29 Democrats joining all but one Republican  in supporting the pipeline.  The White House has repeatedly said President Obama will veto the legislation, and Republicans do not appear to have the two-thirds majority in either chamber to override him.  The only mystery left is when and how Obama will announce the veto.  It could be a tricky situation for the president, who may not want to be overly confrontational with Democrats and labor groups that back constructing the pipeline.

February 10: The Daily Caller: 
FCC Commissioner: Unprecedented Executive Branch involvement in Decision Making:
Republican Federal Communications Commission Commissioner Ajit Pai hosted a press conference on Tuesday to discuss with reporters his concern about President Obama's proposal "to regulate the internet." Pai cited concerns ranging from the proposal causing heavy-handed FCC regulations on the internet to the plan being a "gift to trial lawyers." Under the idea of net neutrality the president, along with FCC Chairman Tom Wheeler, is pushing the plan forward prior to the Feb. 26 FCC vote on the matter. However, Sen. Ron Johnson (WI) appears concerned about the influence the White House may have on the agency decision making with this policy.
Johnson sent a letter to the commission asking for information on the issue, as did House Oversight Chairman Jason Chaffetz.  Johnson told reporters after Pai's press conference, "We certainly want to find out to what extent [Wheeler's] change of heart was actually his own or whether there was influence by the White House. [The FCC] is supposed to be an independent agency and so we're trying to find the information. We want to find the communication between himself and the White House—his agency and the White House and see whether this truly was an independent act." [Related Story]
February 10: USNI News: NORAD Head: Russians are Increasing their arctic long range air patrols
While Russian military aircraft have stepped up their activity everywhere from the North Sea to the Baltic to the Black Sea in the last year they have also been spotted more frequently closer to the U.S. territory in the Arctic, the head of U.S. Northern Command (NORTHCOM) and North American Aerospace Defense Command (NORAD) said on Tuesday.  In particular – flights of Tupolev Tu-95 Bear 'H' Bombers have increased recently NORTHCOM's Adm. Bill Gortney said.  "They've been very aggressive for us in the Arctic…  in the amount of flights we are seeing, not aggressive in how they fly," he said. 
February 10: The Washington Examiner: Illegal Immigrants Squeeze School Budgets
Recent reports show Washington-area schools are facing budget crises as a result of an influx of immigrant students.  Since the 2005-06 school year, the percent of students enrolled in English proficiency classes in the D.C. area has increased by an average of nearly 70 percent across seven school districts in the metro area, according to a report by the advocacy group, Federation for American Immigration Reform, which promotes tighter border security, an end to illegal immigration and reduced levels of legal immigration.  Those classes cost an average of about one quarter of each district's budget, and the chunk is getting larger as new students, many of them illegal immigrants or children of illegal immigrants, enroll in English-as-a-second-language classes.  "Education programs are being cut," said the report's author, Eric Ruark. "We're not saying that [English proficiency classes] are the cause, but it's certainly taking money away from them."  However, a policy analyst at the Migration Policy Institute, an independent think tank that tracks international migration and refugee trends, maintains that such a correlation just isn't that clear. 
February 9: Breitbart News:  The President's Internet Neutrality is not Neutral!
Ajit Pai, one of two Republican Commissioners on the Federal Communications Commission (FCC), inferred in a tweet that President Barack Obama's secret, 332-page "Net Neutrality" document is a scheme for federal micro-managing of the Internet to extract billions in new taxes from consumers and again enforce progressives' idea of honest, equitable, and balanced content fairness.  FCC Chairman Tom Wheeler recently acknowledged that the three Democrats on the commission had decided to avoid Congressional input regarding the Internet by following the  1934 Communications Act to regulate the Internet in the same way this Act was used to in Franklin Roosevelt's time against the phone companies.  In order to ensure that the contents of the document was not made available to its opponents, Chairman Wheeler "embargoed" release of any of the specifics in the new administrative "policy" that will act as law has been published.

Do you remember the "Fairness Doctrine" that was used to keep broadcast media license holders to tow the line or lose their license?  Apparently what the FCC is now considering pales by comparison, taking on the Internet that has taken over the free expression and exchange of ideas.  Pai claims that "President Obama's plan marks a monumental shift toward government control of the Internet. It gives the FCC the power to micromanage virtually every aspect of how the Internet works," he said. "The plan explicitly opens the door to billions of dollars in new taxes on broadband… These new taxes will mean higher prices for consumers and more hidden fees that they have to pay."
February 8: The Daily Caller: Democrat Strategist: My Party is a "Dictator to the Common Man"
[This report is a little longer than I normally include but you may find it worth the read]
Famed Democrat strategist Pat Caddell is one of the most unvarnished, independent critics of Washington elites. Last December he issued a stunning three-part poll of Republican voters [National Survey of Republican Voters | Key Findings | and  Views on Immigration and Healthcare ]. The survey revealed what Caddell calls a "large Grand Canyon chasm" between Republican voters and their leaders in Congress. Stunningly, "60% wanted someone new to lead them."
Amnesty and repeal of Obamacare were pivotal issues for these voters, as well as their hostility to the budget negotiations on the Continuing Resolution. Rank and file members of Congress find their constituents and supporters back home growing anxious and frustrated, while Republican leaders dismiss these citizens.  One Republican leader confidently told a dinner companion last year that he can ignore the tea party agenda, as it is "only 8% of his base." Caddell has news for the mistaken leader and others who are ignorant of those who put them in office. Caddell confirms, "It ain't 8%. It's about 40% of his voters." He is stunned at the disconnect that seems to be growing in the Republican Party, and this is a Democrat strategist talking. He even relayed a warning that "1/4 to 1/3 of Republicans appear ready to bolt their party."
Caddell discusses a "donor, lobbyist, establishment class" of Republicans who "have lost election after election" while lining their own pockets, abusing donors and destroying candidates. "They have no message," he declares. "The problem with Republicans is that as long as they can keep their hands on their goodies in this town, a lot of these lawyers, lobbyists and others, they don't care whether the Republican Party wins or what happens to the country." To Caddell, the country is in decline, politicians are self-absorbed and President Obama is in a dangerous "twilight zone" without media scrutiny.
The strategist recalls "when the Democrat Party was the voice of the common man, not the dictator to the common man." Today, Democrats "have become a tool totally controlled by special interests. The left doesn't care about ordinary people." He says big environmental funders like "Tom Steyer basically control the White House and other people." He detests hypocrites who "fly around in private planes but think the rest of us have to have bicycles."
February 8: The Daily Caller: Obama Former Intel Chief: Terrorism Strategy Clearly Not Working"
President Obama's former Defense Intelligence Agency director Lt. Gen. Michael Flynn came out against the current U.S. strategy against terrorism across the board, saying it is "clearly not working," adding that the U.S. needs a "much broader" strategy to combat the threat.  He told Fox News' Chris Wallace this administration seems unable to define the enemy and "…you can't defeat an enemy that you don't admit exists."

February 8: Fox News:  Biden: Ukraine has a right to defend itself – Nothing about weapons
Vice President Joe Biden, was in Germany this weekend to help reach a diplomatic solution to Russian aggression in Ukraine. Biden said the Ukrainians "have a right to defend themselves" but did not address the possibility of the United States sending anti-tank, anti-motar, or other desperately needed weapons systems to them.  Biden said he and other U.S. leaders think they should "attempt an honorable peace."   He suggested that the impact of economic sanctions imposed on Russia for its actions will get worse if leaders refuses to accept a peaceful resolution and continue to escalate the conflict, the White House said Saturday. Meanwhile Russia has said any attempts to provide arms to the Ukrainians would be viewed as a threat to Russian national security!

Can we learn from history?  Neville Chamberlain was the Prime Minister of Britain who is perhaps best known for his appeasement in foreign policy and in particular for his signing of the Munich Agreement in 1938, conceding the German-populated area of Czechoslovakia to Germany.  And we all know how that turned out in 1939 as Hitler continued his aggressive policies.  Is there a parallel that can be drawn between this Administration and the Chamberlain approach to foreign policy?
February 8: BBC News: Greenspan Predicts Greece Exit from Euro Inevitable
Greenspan said he could not see who would be willing to put up more loans to bolster Greece's struggling economy.  Greece wants to re-negotiate its bailout, but Greenspan said "I don't think it will be resolved without Greece leaving the eurozone".   Greenspan has long been a critic of the European single currency.
February 7: Yahoo News: Benghazi panel plans to interview Susan Rice and others:
A House panel investigating the deadly 2012 attacks on U.S. diplomatic facilities in Benghazi, Libya, plans to interview at least 20 officials including National Security Adviser Susan Rice, former Pentagon chief Leon Panetta and ex-CIA head David Petraeus, the committee said Friday.  The list of interviewees - a veritable "who's who" of U.S. foreign policy and national security officials - emerged as Democrats complained about the "unlimited" budget of the Select Committee on Benghazi and its open-ended schedule, as it covers similar ground to earlier investigations.  Democrats say the committee's efforts are politically motivated while Republicans say that the Department of State under the headship of Hillary Clinton, failed to protect U.S. diplomatic personnel, including the Ambassador.

February 7: The Daily Caller: Obama's National Security?  Well at least we are not in fear of being nuked?
The Russia bear is eating Ukraine, the Middle East's jihadis are role-playing Mohammad's own wars, China's wealthy nerds are tunneling through the Internet to steal anything they can find, unskilled Latin-American migrants are rushing the border and young Americans can't get decent jobs, but President Obama's national security adviser says Americans shouldn't worry. "What's missing here in Washington is a sense of perspective," Susan Rice said at a Feb. 6 briefing intended to explain her boss' national security strategy.  "Yes, there's a lot going on," but it's not as threatening as during the Cold War when the nation faced the prospect of utter nuclear annihilation, she said. 
February 6: Reuters: Justice Department Charges Six with supporting Islamic Militant Groups
Six people have been charged with providing money and equipment including U.S. military uniforms, combat boots, tactical gear, and firearms accessories to foreign fighters joining al Qaeda, Nusra Front and Islamic State in Syria and Iraq, the U.S. Justice Department said on Friday.  The six are Bosnian natives living in Missouri, Illinois and New York. Five of them were arrested in the United States and charged with conspiring to provide material support and resources to terrorists. The sixth person is overseas, the department said in a statement.  The Grand Jury indictment said people in Turkey and Saudi Arabia acted as intermediaries who received the money and property from the defendants in the U.S. and transferred them to militants fighting with groups in Syria, Iraq and elsewhere.  It was also disclosed that two of the accused parties discussed buying a night-vision optic with a built-in camera for recording killings while fighting in the Middle East, according to the indictment.  All those indicted were charged with conspiring to provide material support and resources to terrorists, and with providing material support to terrorists.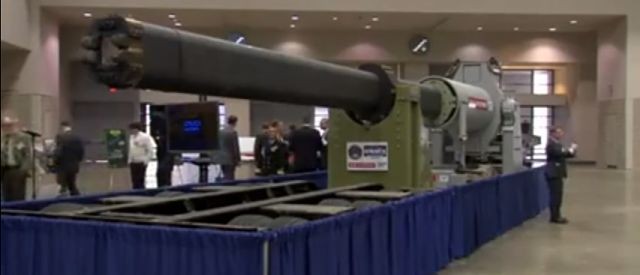 February 6: The Daily Caller: Navy's New Gun fires projectiles
at up to Mach 7 – No Powder or Explosives Needed!
The U.S. Navy publicly unveiled its latest futuristic weapon at the Future Force Science and Technology Expo in Washington, D.C. this week — the electromagnetic railgun, which can fire projectiles at an air-splitting 5,300 miles per hour.  By using electromagnetic pulses to generate a magnetic force between two rails, the latest prototype of the railgun developed by defense contractor BAE in conjunction with the Office of Naval Research can accelerate a projectile up to Mach 7 within 10 milliseconds. The gun uses no gunpowder to generate propelling force for its shots, which hit with such destructive force, they don't need to carry any explosive ordinance.  "It's like a flux capacitor," chief of Naval research Rear Admiral Mathias Winter said in a video posted on YouTube. "You're sitting here thinking about these next generation and futuristic ideas, and we've got scientists who have designed these, and it's coming to life."
February 6: Yahoo News: Israeli Official: Netanyahu may have been misled by House Speaker
A senior Israeli official suggested on Friday that Prime Minister Benjamin Netanyahu may have been misled into thinking an invitation to address the U.S. Congress on Iran next month was fully supported by the Democrats.  He was invited by Speaker Boehner to address the House on March 3rd. The move angered the White House, which is upset about the event coming two weeks before Israeli elections and that Netanyahu, who has a testy relationship with Democratic President Obama, is expected to be critical of U.S. policy on Iran. 
February 6: International Business Times: Colorado Revives Gun Control Debate in State Legislature:
Lawmakers in Colorado this week wrangled over a slate of bills aimed at rolling back restrictions on gun ownership and the sale of firearms. Colorado policymakers debated seven bills over gun control this week, with narrow defeats for four proposals in the Democrat-controlled House. Republicans, who won a slim majority in the Senate during last November's elections, advanced two Senate bills -- one repealing a requirement for background checks for anyone transferring possession of a firearm, and another authorizing concealed carry for anyone authorized to carry a handgun. The measures are expected to fail in the House or be vetoed by the Democratic governor, however. Republican lawmakers in Colorado said they were committed to the ideology of gun ownership championed by the party.

February 5: The Washington Post:
President's Comments about Christians vs. ISIS and Muslims Offensive to many Christians
Some Republicans are outraged. "The president's comments this morning at the prayer breakfast are the most offensive I've ever heard a president make in my lifetime," said former Virginia governor Jim Gilmore. "He has offended every believing Christian in the United States." 

February 5: Fox News: Obama: Christians have done wrong things too!
The President called on people of faith to reject those who use religion to justify evil – and in doing so – reminded people about the terrible things done in the name of Jesus Christ.  Speaking at the National Prayer Breakfast in Washington the President issued a word of warning to Christians.  "And lest we get on our high horse and think this is unique to some other place – remember that during the Crusades and the Inquisition committed terrible deeds in the name of Christ," the president said.  He also chided the United States, "our home country."  "Slavery and Jim Crow all too often was justified in the name of Christ," he added. He mentioned those who try to justify terrible acts in the name of religion, but as has been his practice the President never mentioned radical Islam or jihadists or Islamic extremists. He did, however, call ISIS a "brutal, vicious death cult that in the name of religion carries out unspeakable acts of barbarism."

February 5: Fox News:  Shocked Jordanians Rally Behind King to Fight ISIS
The shocking images of a Jordanian Air Force pilot being burned alive in an outdoor cage by ISIS terrorists have galvanized the country, once seen as possible fertile recruitment ground for the group, behind King Abdullah II's calls for a stepped-up military campaign.  Jordan's monarch has vowed to wage a "harsh" war against ISIS after consulting with his military chiefs Wednesday. In a statement, the king said Jordan is waging a war of principles against the militants. He said that Jordan's response to the killing of the pilot "will be harsh because this terrorist organization is not only fighting us, but also fighting Islam and its pure values." Abdullah pledged to hit the militants "hard in the very center of their strongholds."  The NY Times reported the king was greeted warmly upon his return Wednesday by thousands of people who lined the main roads to and from the airport.
February 5: Fox News: GOP unveils plan for ObamaCare Replacement:
Congressional Republicans are unveiling what they say is a new plan to repeal and replace ObamaCare, but the 'blueprint,' as they call it, looks an awful lot like what's been floated before.  The Patient Choice, Affordability, Responsibility and Empowerment – or CARE – Act provides for targeted tax credits to individuals and families up to 300 percent above the poverty line to encourage people to buy plans in the market place.  It also allows insurers to sell plans across state lines and caps the amount of monetary damages that can be awarded in medical malpractice litigation.   Like the Affordable Care Act, dependents are able to stay on their parents' healthcare plans until they're 26, and no one can be denied coverage for pre-existing conditions -- although this plan calls for a specific 'continuous coverage' protection where individuals moving from one plan to another cannot be denied.

February 5: Fox News: Gallop CEO Calls Jobless Rate another White House Lie:
The chairman of the venerable Gallup research and polling firm says the official U.S. unemployment rate is really an underestimation and a "big lie" perpetuated by the White House, Wall Street and the media.  Gallop CEO and Chairman Jim Clifton says the "cheerleading" for the 5.6 number is "deafening."  But says Americans out of work for at least four weeks are "as unemployed as one can possibly be" and argues that as many as 30 million of them are now either out of work or severely underemployed.  He points out that an out-of-work engineer, for example, performing a minimum of one hour of work a week, even mowing a lawn for $20, also is not officially counted as unemployed.  In addition, those working part time but wanting full-time work -- the so-called "severely underemployed" -- also are not counted.  "There's no other way to say this," Clifton says. "The official unemployment rate … amounts to a big lie."
February 4: Stars and Stripes: 
Don't Believe Everything You Hear on Television: Brian Williams NBC Anchor Busted!
NBC Nightly News anchor Brian Williams admitted Wednesday he was not aboard a helicopter hit and forced down by RPG fire during the invasion of Iraq in 2003, a false claim that has been repeated by the network for years.  Williams repeated the claim Friday during NBC's coverage of a public tribute at a New York Rangers hockey game for a retired soldier that had provided ground security for the grounded helicopters, a game to which Williams accompanied him. In an interview with Stars and Stripes, he said he had misremembered the events and was sorry.  The admission came after crew members on the 159th Aviation Regiment's Chinook that was hit by two rockets and small arms fire told Stars and Stripes that the NBC anchor was nowhere near that aircraft or two other Chinooks flying in the formation that took fire. Williams arrived in the area about an hour later on another helicopter after the other three had made an emergency landing, the crew members said. Williams apologized, well kind of, by saying his falsehood was done as an attempt to show support for the troops.  But, apparently, this is not the first time he has stretched the truth.  The actions NBC will take after these revelations is still under consideration. 
February 4: CNN News:  Jeb Bush Comments on Immigration Shock Conservative Voters:
During a "Family Reunion" conference hosted by the Hispanic Leadership Network in April 2013, Jeb Bush spoke freely on the promise immigrants hold for America and his views on reform.  He said, during a discussion with Univision, that it was "ridiculous" to think that DREAMers, children brought to the U.S. by their parents illegally, shouldn't have an "accelerated path" to citizenship. As he moves towards a probable presidential run his 2013 comments are certain to deepen already developing headaches for him — on both the left and especially the right, as conservatives react in a mixture of bewilderment and eye-rolling when confronted with some of Bush's resurfaced lines on immigration.

February 4: Computer World:
California Utility Company forcing IT workers to train emigrants from India who will replace them:
Information technology workers at Southern California Edison (SCE) are being laid off and replaced by workers from India. Some employees are training their H-1B visa holding replacements, and many have already lost their jobs.  The employees are upset and say they can't understand how H-1B guest workers can be used to replace them.  The immigration laws clearly state that people are not to be allowed to emigrate if by doing so it will adversely impact American jobs.  But that is exactly what seems to be happening under this current administration.  In this instance, the IT organization's "transition effort" is expected to result in about 400 layoffs, with "another 100 or so employees leaving voluntarily," SCE said in a statement.
February 4: Breitbart News: Rand Paul  to oppose Lynch AG Nomination
Sen. Rand Paul will oppose—very publicly—the nomination of U.S. Attorney Loretta Lynch to replace Eric Holder as Attorney General of the United States.  When Paul heard about her non-answer to a Ted Cruz (R-TX) question during the confirmation —she wouldn't commit that the federal government does not have the authority to take the immigration actions it did — he was incredulous. He told his office staff he's going to oppose her and aim to derail her nomination chances. "Oh, she's going down," Paul said. 

February 2: National Review:
Over 5.5 Million Work Permits Issued to Foreign Nationals since President took office – Impact on U.S. citizens seeking employment?
More than 5.46 million foreign nationals have received work permits from the federal government since 2009, according to a new report from the Center for Immigration Studies. Data uncovered from the U.S. Citizenship and Immigration Services agency reveal that approximately 982,000 work permits were given to illegal immigrants and other foreign nationals unqualified for admission, most of whom crossed the border without inspection. USCIS is the DHS agency responsible for issuing work permits and processing applications related to President Obama's executive action on immigration. The remarkable number of work permits granted by the federal government to law-breaking aliens better explains how all net jobs growth since 2007 has gone to immigrants.

Related Story:  The Daily Caller: President Barack Obama has quietly handed out an extra 5.46 million work permits for non-immigrant foreigners who arrived as tourists, students, illegal immigrants or other types of migrants since 2009, according to federal documents released by a Freedom of Information Act request.  "The executive branch is operating a huge parallel work-authorization system outside the bounds of the [immigration] laws and limits written by Congress [and which] inevitably reduces job opportunities for Americans," said Jessica Vaughan, the policy director at the Center for Immigration Studies. 
February 2:  Americans for Tax Reform:  Obama's Budget crates a second Death Tax
The Obama budget calls for a stealth increase in the death tax rate from 40% to nearly 60%. Here's how it works:  Your dad buys a house for $10,000. He dies and leaves it to you. The fair market value on the date of death is $100,000. You sell it for $120,000. Under current law, you have a capital gain of $20,000 (sales price of $120,000 less step up in basis of $100,000).  Under the Obama plan, you have a capital gain of $110,000 (sales price of $120,000 less original basis of $10,000).  There are exemptions for most households, but this misses the larger point: the whole reason we have step up in basis is because we have a death tax. If you are going to hold an estate liable for tax, you can't then hold the estate liable for tax again when the inheritor sells it. This adds yet another redundant layer of tax on savings and investment. It's a huge tax hike on family farms and small businesses.

February 2: Yahoo News:  Behind President's Budget Proposal is a "Gloomy" view of the future:
Beneath President Barack Obama's plan to fight income inequality lies a gloomy view of an economy that is growing slower and creating fewer rewards for its workers than it did in much of the last century.  In a budget proposal unveiled on Monday, the White House cut forecasts for an array of economic variables, depicting less growth, weaker inflation and lower interest rates than officials expected only a year ago.   This comes despite an unemployment rate that the Obama administration expects to hit the 5.2 percent level considered to be roughly in line with full employment sometime this year.   The administration's take on the economy is one of close to a prolonged period of stagnation.
February 2: The Washington Times:
Secret Tapes of Hillary Clinton's Role in War in Lybia to be reviewed by Benghazi Committee:
The chairman of a special House committee created to investigate the 2012 Benghazi tragedy on Monday instructed his staff to review secretly recorded tapes and intelligence reports that detail Hillary Clinton's role in advocating and executing the war in Libya, opening the door for a possible expansion of his probe.  Chairman Gowdy's decision to seek a review of the materials carries potential consequences for the 2016 election in which Clinton is expected to seek the presidency. It could also move the committee to examine the strained relationship between the State Department and Pentagon, which sharply disagreed over the 2011 war in Libya and the response to the terrorist attack on the U.S. compound in Benghazi a year later.
January 31: Jerusalem Post:
Obama has agreed to 80% of Iran's Nuclear Talk Demands, Israeli Officials Claim:
Israeli officials told Israeli media on Friday that they are convinced the Obama Administration has already agreed to most of Iran's demands in the P5+1 negotiations over the Islamic Republic's nuclear program.  According to unnamed officials, Washington "has given the Iranians 80 percent of what they want" out of the negotiations, local media reports.  Jerusalem officials appear alarmed at the prospect that the United States will soon strike a deal with the Iranian regime that will leave it with a "breakout point" of months before it can gallop toward the bomb.  Meanwhile an Obama Administration official dismissed the claims as "complete nonsense."  But then again these are the same people who brought you if you like your doctor you and keep him and if you like you plan you can keep it!
January 31: The New York Times:  White House Seeks to Limit Health Law's Tax Troubles!
Obama administration officials and other supporters of ObamaCare say they worry that the tax-filing season will generate new anger as uninsured consumers learn that they must pay tax penalties and as many people struggle with complex forms needed to justify tax credits they received in 2014 to pay for health insurance.  The White House has already granted some exemptions and is considering more to avoid another political firestorm. 
January 30: The Washington Post: The CIA/Mossad killed senior Hezbollah figure in car bombing:
On Feb. 12, 2008, Imad Mughniyah, Hezbollah's international operations chief, walked on a quiet nighttime street in Damascus after dinner at a nearby restaurant. Not far away, a team of CIA spotters in the Syrian capital was tracking his movements.  As Mughniyah approached a parked SUV, a bomb planted in a spare tire on the back of the vehicle exploded, sending a burst of shrapnel across a tight radius. He was killed instantly.  The device was triggered remotely from Tel Aviv by agents with Mossad, the Israeli foreign intelligence service, who were in communication with the operatives on the ground in Damascus. "The way it was set up, the U.S. could object and call it off, but it could not execute," said a former U.S. intelligence official.
January 29: The Washington Times:
Senate Demands Obama Administration Turn Over All Communications with the IRS:
Senate Finance Chair, Orrin Hatch and 13 other Republicans on the Committee  demanded that President Obama turn over all communications he and his aides have had with the IRS since 2010, hoping to find out whether the tax collection agency shared private taxpayer information with political operatives at the White House. The request, made in a letter,  is specifically addressed to the President and is an attempt to determine whether any White House or IRS officials  employees broke the law by acquiring or sharing private information

January 29: Fox News:
DOD opened back channel with Qaddafi to keep U.S. & Clinton from getting involved with Libyan Civil War:
Pentagon officials were so concerned with then-Secretary of State Hillary Clinton's push in 2011 to back Libyan rebels against Muammar Qaddafi that they opened their own back-channels with Qaddafi to try and prevent the U.S. from entering the civil war, according to a report that cited newly uncovered audio tapes. According to a report Thursday in The Washington Times, Pentagon officials used an intelligence "liaison" to communicate with Qaddafi's son and a top Libyan leader outside of White House or State Department knowledge. A senior Democratic congressman also reportedly was involved. Recorded conversations said "You should see these internal State Department reports that are produced in the State Department that go out to the Congress. They're just full of stupid, stupid facts," the U.S. intermediary reportedly told the Qaddafi regime in 2011. The paper said the liaison was "specifically dispatched by the Joint Chiefs of Staff." Eventually the U.S. helped topple the Qadddafi regime and in the aftermath of the civil war the U.S. ambassador was murdered during the attack on Benghazi in 2012 while under Mrs. Clinton's watch. The Washington Times story suggests that the Obama Administration's efforts, led by Clinton, were focused on regime change, not a negotiated settlement, during the lead-up to the war.

January 29: The Weekly Standard:  White House Netanyahu Ratchets Up Rhetoric
The Obama Administration is angry with Israel for accepting a Republican Congress' invitation to address both houses in a joint session and for doing so without checking with the White House first! The outrage the episode has incited within President Obama's inner circle became clear in unusually sharp criticism with statements like the Israeli ambassador, who helped orchestrate the invitation, had repeatedly placed Mr. Netanyahu's political fortunes above the relationship between Israel and the United States. This is not the first time unnamed Administration officials have made derogatory statements about Israeli officials, such as last summer when one called Prime Minister Netanyahu a "coward" and a "chickens--t". But there is no reason to think those unnamed angry officials do not speak for an angry president.  The Obama White House usually prides itself on not getting angry. Its self-image is that it's cool, calm, and collected. And it doesn't get angry at, for example, the Islamic Republic of Iran. The Obama White House understands and appreciates the complexities of the Islamic Republic's politics and history. It seems it is only with respect to the Jewish state that the Obama White House is impatient, peremptory, and angry.
January 29: The Daily Caller: Obama Administration Advisors caught "Green-Handed"
In 2013, John Podesta was paid $87,000 by a "shadowy" foreign billionaire whose passion is preventing energy exploration on American land.  Just two years later, Podesta is a member of President Obama's inner circle, and the driving force inside the White House to block 12 million acres of land in Alaska's Artic National Wildlife Refuge from oil drilling.  The circumstances suggest Podesta may have run afoul of Obama's highly-touted ethics pledge, which requires political appointees to disqualify themselves in matters relating to the interests of a former employer or client.  Podesta — who is preparing to leave the White House to take a top position with Hillary Clinton's presidential campaign -- has largely avoided public scrutiny during his time as a White House Counselor. But his work came into fuller view earlier this week when he emerged as one of the architects of the new White House policy that seeks to end any future drilling for oil on Alaska's coastal plain.

A public ethics controversy for the White House Counselor involving Hansjorg Wyss, the second wealthiest man in Switzerland, could be awkward for Podesta as he prepares to kick off Hillary's campaign.  The ethical questions could also force into the open the relationship between Podesta and Wyss — including why a left-wing foreigner is wielding influence over how Americans use their land.  Wyss, a Swiss citizen, has been a generous donor to Podesta's Center for American Progress, giving $4 million to the group during Podesta's tenure. Podesta has returned the favor by rewarding Wyss with a coveted seat on CAP's board. 
January 29: Sky News: UK Summons Ambassador over Russian Bomber Overflights
Two Civilian Aircraft needed to be Diverted as Russian Bomber flew over the English Channel.  Britain has summoned Russia's ambassador after RAF Typhoons were scrambled when two Russian bombers flew over the English Channel.  The British fighter jets were scrambled on Wednesday when the Russian TU-95 'Bear' long-range bombers flew near UK airspace.  A Foreign Office spokesperson said while the planes stopped short of entering British airspace, the incident was part of an "increasing pattern of out of area operations by Russian aircraft".  A spokesperson said: "While the Russian planes did not enter sovereign UK airspace and were escorted by RAF Typhoons throughout the time they were in the UK area of interest, the Russian planes caused disruption to civil aviation.  "That is why we summoned the Russian Ambassador today to account for the incident."
January 29: The Hill: Senate votes to build the Keystone XL Pipeline
The Senate on Thursday voted 62-36 to build the Keystone XL oil sands pipeline, delivering Republicans the first legislative achievement of their new majority.  Nine Democrats joined with Republicans in voting to approve the $8 billion project, five votes short of the two-thirds majority that would be needed to override a promised veto from President Obama.  The bill now heads to the House, where Republicans are determined to act quickly to force Obama into taking what they believe will be a politically unpopular stand against a project that would carry oil sands from Canada to refineries on the Gulf Coast. While the House voted to build the pipeline earlier this year, the Senate added several amendments to the legislation. The earliest the Keystone bill could reach Obama would be next week — just as the State Department receives final comments on the proposal to build the pipeline.

January 29: The Hill: Obama Budget $74 Billion over caps:  
President Obama will propose in his 2016 budget request to raise discretionary spending by $74 billion above the caps in sequestration, a White House official said Thursday.  Obama, who will formally unveil his next budget blueprint on Monday, will ask Congress to increase discretionary spending by 7 percent above caps set by the Budget Control Act of 2011.   White House press secretary Josh Earnest called the budget "the beginning of a negotiation," but argued it was an important marker for the president's priorities.
January 28: The Daily Mail:
CBO report says Obamacare program costs taxpayers $50,000 for every person covered:
It will cost the federal government [Taxpayers, that is] $50,000 for every person who gets health insurance under the Obamacare law, the Congressional Budget Office (CBO) revealed on Monday.  The best-case scenario described by the CBO would result in 24-27 million more people being insured but it also will require an estimated bank-busting $1.35 trillion – or $50,000 per head - to cover the cost of the subsidies.  Not addressed is what would happen if the Supreme Court decides this summer that health insurance subsidies only apply to states that have their own healthcare exchanges (e.g., not including most of the states where the Federal government, and not the state, established the exchanges).
January 28: Jerusalem Post:
IDF strikes Syrian army targets following Golan rocket attacks:
The Israel Air Force (IAF) struck Syrian army artillery targets late on Tuesday night in response to an earlier rocket attack carried out on the Golan Heights and Mount Hermon.  "The IDF views the Syrian regime as responsible for what occurs in its territory, and will act at any time and any way it sees fit to protect the citizens of Israel," the IDF said. The targets were accurately struck, the IDF added. Two rockets launched from Syrian territory exploded in open territory, failing to cause injuries or damages.
January 27: Yahoo News:
Arabs in Israel banding together to try and defeat Netanyahu
Israel's Arab political parties are banding together under one ticket for the first time ever ahead of national elections in March, hoping to boost turnout and help unseat Prime Minister Benjamin Netanyahu.  The result is an awkward political marriage of communists, Palestinian nationalists, religious Muslims, feminists and even one Jew. But Arab politicians say it will improve chronically low Arab voter turnout and help block Netanyahu from forming the next government.  "We will be a central player in politics like never before," said Ayman Odeh, a first-time parliamentary candidate and the leader of the combined Arab list.
January 27: Fox News: Senate to start hearings on Lynch nomination to AG position: Immigration and IRS expected to be focus of the meeting:
Senate hearings begin Wednesday on whether to confirm U.S. Attorney Loretta Lynch as President Obama's next attorney general, with Judiciary Committee members set to question her aggressively on such issues as immigration law and potential overreaches by the IRS and federal law enforcement.  The hearings in the GOP-led Senate Judiciary Committee are expected to begin with Republican members asking Lynch, the U.S. attorney for the Eastern District of New York, about whether she thinks Obama has overstepped his executive authority by deferring deportation for millions of illegal immigrants.   "It will be a long first day, because my approach … is to allow for as many questions as necessary to ensure that members have a chance to receive answers in person if they'd like," said committee Chairman Sen. Chuck Grassley, (R-IA)

January 27: Fox News: Ex-military Intel Officer says White House is delaying announcement that Bergdahl will be charged with desertion:
A former military intelligence officer claimed Tuesday that the White House was delaying the announcement of its decision to file desertion charges against Sgt. Bowe Bergdahl, who was released by Taliban-aligned militants last year in exchange for five Guantanamo prisoners.  In defending claims he originally made Monday on "The O'Reilly Factor" that Bergdahl would be charged, retired Lt. Col. Tony Shaffer told Bill O'Reilly that there was "no doubt" the White House was dragging out its decision.  Shaffer, who believes the White House's alleged decision to delay its announcement is politically motivated, added that he stands by "all of those facts," referring to his report on Monday that Bergdahl's lawyer has been given a statement of charges.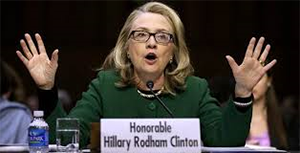 January 27: The Hill:   Clinton Willing to testify on Benghazi:
Hillary Clinton is willing to testify before the House Select Committee that is investigating the 2012 terrorist attacks in Benghazi, Libya, according to the panel's top Democrat.  Congressman Cummings (D-MD) on Tuesday said he has spoken to Clinton about the possibility of testifying at the request of Chairman Gowdy (R-SC), and she "did not hesitate for one second.  She said ... I'll do it, period," Cummings said.
January 27: The Daily Caller: 
State Benghazi witness takes withering questions for criticism of conservatives
A State Department witness was confronted during a Capitol Hill hearing on Tuesday about his past comments questioning the motives of conservatives for investigating the 2012 terrorist attacks against Americans in Benghazi.  During a hearing of the Benghazi Select Committee, Congressman Roskam (R-IL) repeatedly questioned Joel M. Rubin, the deputy assistant secretary for House affairs, about past op-eds he authored suggesting that Republicans were only investigating the attacks for partisan reasons.  "You don't think that this a frivolous, partisan investigation, do you?" Roskam asked Rubin Tuesday.

January 27: Washington Free Beacon:  Photos Show China Military Base Near disputed Japanese Island:
Recent satellite photos of an island off the coast of China confirm Beijing's buildup of military forces within attack range of Japan's Senkaku islands. Construction of a helicopter base on Nanji Island was observed by a commercial spy satellite in October.   "China's new heli-base on Nanji Island demonstrates that the PLA is preparing for an offensive military operation against the Senkaku/Daiyoutai Islands," said Rick Fisher, a senior fellow with the International Assessment and Strategy Center. "If you want to rate the level of tension, this is the PLA reaching for its holster. When forces start deploying to Nanji Island, that means the hammer is cocked."
January 26: The Daily News: Congressional Deadlines May Determine the Course of the Nation:
It is time for Congress to get its job done, taking actions that are fiscally sound and based on sound policies.  If the President vetoes such actions and parts of government are shutdown, let the blame fall upon the Administration!  Fiscal restraint and sound policy are not an option, they're an imperative!

January 25: Fox News:  Grassley to Hospitals: Why are you suing poor patients?
Sen. Charles Grassley  (R-IA) is calling out nonprofit hospitals who are suing poor patients over unpaid bills and says they could be breaking the law. Grassley said the hospital had stretched the law to the breaking point. He was concerned that "… patients who would qualify for financial assistance…"  have been subject to abusive billing and collection practices.  "The practices appear to be extremely punitive and unfair to both low-income patients and taxpayers who subsidize charitable hospitals' tax breaks."
January 25: Sky News: Change in Greek Leadership may see them leave the EuroZone
Greece was forced by the Euro bailout to make deep budget cuts and fiscal reforms as part of the deal.  The current leadership is insisting that its actions are about to bear fruit, but exit polls indicate that Samaras – current leader of Greece – is about to be relieved of duty by the leftist candidate (Syriza) who wants to soften the burden of the cuts.  If this happens it looks as though Greece will be cut loose from the European Union's EuroZone and allowed to fail on its debt payments.  What is happening in Greece  is a picture of what could happen in the United States if it doesn't start dealing with its thirst for spending and its continual increasing of the national debt. 

January 25: Reuters: Aggression in Ukraine Continues – Obama Promises Steps Against Russian-backed Rebels but Taking Military Option Off the Table:
Pro-Moscow rebels, backed by what NATO says is the open participation of Russian troops, pressed on with their offensive on Sunday after restarting the war in eastern Ukraine with the first all-out assault since a truce five months ago.  President  Obama said Washington was considering all options short of military action to isolate Russia. The European Union called an emergency meeting of foreign ministers of its 28 member states. 
January 25: Fox News: TSA: Record Number of Guns seized in 2014
Government screeners at airport checkpoints seized a record number of guns in 2014.  Air travelers caught trying to board a plane with a weapon included a 94-year-old man at New York's LaGuardia Airport. The man had a loaded .38-caliber revolver clipped to his belt.  The LA Times reported Friday on a new Transportation Security Administration study that found a significant increase in the number of firearms seized in carry-on bags at 224 airports. The TSA said it confiscated 2,212 firearms in 2014, compared to 1,813 in 2013. That's a rise of 22 percent.

January 25: The Daily Caller: George Will: Obama goes out of his way to show disdain for Congress:
When asked about President Barack Obama's refusal to meet with Israeli Prime Minister Benjamin Netanyahu during his trip to Washington to address Congress, syndicated columnist George Will said on "Fox News Sunday" that Obama often goes out of his way to "show disdain" for Congress and Netanyahu. When asked if Boehner was wrong to invite Netannyahu without consulting the White House and whether the Prime Minister should have accepted the invitation, Will responded neither was wrong.

January 24: The Times of Israel: Iran Vows to Attack Israel from the West Bank
Iran has threatened to attack Israel from the West Bank, in retaliation for an alleged Israeli airstrike in Syria on Sunday that left 12 Iranian and Hezbollah operatives dead. The airstrike has been attributed to Israel and though Jerusalem has not officially confirmed it, anonymous government sources have admitted as much.   Deputy head of Iran's Revolutionary Guards Lt.-Gen. Hossein Salami vowed Saturday to "open new fronts [against Israel] and change the balance of power." In an excerpt of an interview with Salami, the IRGC's number two said that Iran and Hezbollah would provide a "special reprisal" to the strike, according to the Tasnim News Agency, adding that opening a new front in the West Bank was in the works.
January 24: The Hill: Walker Wows the Conservative Crowd in Iowa
Gov. Scott Walker (R-WI) delivered a fiery speech in Iowa on Saturday, wowing the conservative crowd with a passionate argument for small government and his own lengthy resume.  The Wisconsin governor, in rolled-up shirtsleeves, paced the stage as he blasted big government and touted a long list of conservative reforms he's pushed through in blue Wisconsin -- touted his three victories over Democrats and recall win as well as his state-level education reforms.  Each new policy he helped pass drew cheers: Voter ID laws, education reforms, tax cuts and defunding Planned Parenthood. The governor also showed a rhetorical flourish that's largely been absent from his previous campaigns, drawing the crowd to its feet multiple times.  "There's a reason we take a day off to celebrate the 4th of July and not the 15th of April," he said, almost yelling as his voice grew hoarse. "Because in America we value our independence from the government, not our dependence on it."

January 24: The Telegraph:  The EU Dream is Dying one State at a Time:
Europe is being swept by a wave of popular disenchantment and revolt against mainstream political parties and the European Union.  In 2007, a majority of Europeans - 52 per cent - trusted the EU. That level of trust has now fallen to a third.   In Greece, a far-Left Socialist party candidate, Syriza, is poised to win elections with a political program that would overturn eurozone policies.  Many believe the Greek revolt against the loss of their economic sovereignty by eurozone is only the beginning.  France, Italy, Spain, and even Germany are beginning to show cracks in the European political order are beginning to show. [Related Story]
January 23: The Daily Caller: NY Gun Store to Close: Restrictive Gun Laws Cited:
A New York gun dealer says he will shut down two stores he operates near Rochester and move to North Carolina because of onerous regulations on the sale of firearms and ammunition.  "The SAFE Act killed us in terms of business," Kordell Jackson, who owns Jackson Guns and Ammo, said.  "It was very difficult with sales and regulations with transferring and obtaining firearms, so I decided to close up," Jackson said.
January 23: The Hill: GOP to IRS: Why hire the company that botched Healthcare.gov?
A Republican lawmaker is asking the Internal Revenue Service (IRS) why it hired a contractor to help with ObamaCare that was previously fired for its shoddy work on HealthCare.gov.  Rep. Peter Roskam (R-IL), who leads the Ways and Means subcommittee on Oversight, called on the IRS Friday to explain how CGI Federal was chosen and what work the company will perform.  "The American people should know why the IRS spent millions of taxpayer dollars to hire the same company responsible for the botched HealthCare.gov rollout," Roskam said in a written statement.  "From an agency clamoring for more funding, this isn't a confidence-inspiring use of resources," he said
January 22: The Daily Signal:
Federal Agencies Continue to Stonewall Benghazi Investigation:
Some federal agencies continue to stonewall when it comes to the ongoing investigation into the Benghazi terrorist attacks, according to insiders familiar with the process. They say the House Benghazi Select Committee isn't getting access to all relevant documents and witnesses.  That will be the topic of the committee's first public hearing of 2015 called for Tuesday next week.  Most of the committee's work since a (slightly) bipartisan vote created it May 8, 2014, has quietly focused on the massive task of gathering information. The committee has provided relevant federal agencies a list of several dozen witnesses it wishes to interview. But Republican staff members are encountering some of the same roadblocks that other committees met as they investigated pieces of the events surrounding the Sept. 11, 2012, terrorist attacks on U.S. facilities in Benghazi.
January 22: The Hill:  House approves anti-abortion bill  but not by a veto-proof margin [242 For, 179 Against]
House Republicans on Thursday passed an alternative anti-abortion bill after pulling their originally planned legislation from the floor in a last-minute scramble.  The new bill, unveiled less than 24 hours earlier, would prohibit taxpayer funding for abortion. Passage fell largely along party lines by a vote of 242-179. Rep. Richard Hanna (R-NY) was the only Republican to oppose the measure, while three Democrats — Reps. Henry Cuellar (TX), Dan Lipinski (IL) and Collin Peterson (MN) — voted in favor of it.

GOP leaders scheduled the vote for the same day as the annual March for Life, when thousands of anti-abortion-rights demonstrators descend upon the National Mall on the anniversary of the Roe v. Wade Supreme Court decision.   But leadership yanked the original measure slated for a vote after complaints from House GOP women and centrists who objected to language granting the victims of rape an exception from the ban on abortions after 20 weeks of pregnancy only if the rape was reported to police.
January 22: MCR Television: Head of Immigration Officer's Union Blast Amnesty and Immigration bill
"We admit individuals who have no business being admitted," the head of the immigration officers' union said today, blasting both Obama's amnesty and the new border bill.  The new "border security" bill is "a global joke," he said.   Those who arrived in the 2014 border run are still here, often living on US support and even applying for US jobs. The bill also delays by years the implementation of biometric exit-entry to police the rising overstay catastrophe."
January 22: Fox News: GOP base: Repeal Obamacare or go home!
[Republican lawmakers are facing rising pressure from conservative groups and activists to go big – or potentially go home].
After taking control of Congress, Republicans who ran in part on their opposition to the law are starting to roll out legislation undoing pieces of it. But the party is stuck in an internal debate over how far they can really go – risking a potential backlash from the party's right flank if they don't go far enough.  Tea Party activists say they are frustrated with the pace of progress toward conservatives' goal of upending the Affordable Care Act. So far, several Republican lawmakers, like Senate Finance Committee Chairman Orin Hatch (R-UT) have indicated they'd have better luck chipping away at the law "piece by piece."  On Wednesday, Senators Hatch and Alexander (R-TN) introduced legislation to repeal the health care law's individual mandate requiring most people to obtain insurance. The legislation is backed by 20 GOP senators.  They are also pushing a bill to scratch the law's controversial 2.3 percent tax on medical devices.
January 22: The Daily Caller: DOJ Won't File Against Wilson in Ferguson Case – It's Over!
The Justice Department is preparing to clear Ferguson, Missouri police officer Darren Wilson of violating the civil rights of Michael Brown.  Federal law enforcement officials are putting the finishing touches on a legal memo recommending that Wilson not face charges, which would have required the Justice Department to show that Wilson intended to violate the civil rights of Brown — who is black — when he opened fire.  They can't build a case against him because there is no case against him. They knew that going in. This was a purely political move. Now that it's safe to drop it, they're dropping it.  Darren Wilson shot Michael Brown in self-defense. It's over. You can whine all you want, you can blurt out as many stupid, dishonest slogans as you want, but it's over.
January 22: Associated Press: President passes on meeting with Netanyahu:
Israeli Prime Minister Benjamin Netanyahu's planned trip to Washington in March is kicking up a diplomatic dust storm in the nation's capital.  On Thursday, the White House said President Barack Obama would not meet the prime minister when he comes to the U.S. to address a joint session of Congress. The White House appeared stunned by what it saw as a breach of diplomatic decorum by Netanyahu, a leader with whom Obama has a history of tension.
January 22: Israel National News: Fury in Israel over Obama's Mossad Lies:
Senior Israeli says 'friends don't act like this' after Mossad Head denies US claim that he opposed Iran sanctions in talk with senators.  A senior Israeli official delivered an uncommonly harsh attack on US President Barack Obama's administration Thursday evening, following the American report that alleged that Mossad Head Tamir Pardo had warned US senators against further Iran sanctions, in contradiction of Israel's official stance.   Israeli government officials said they had gone over the minutes of the meeting between Pardo and the delegation of senators, and that Pardo had not said what was attributed to him.
January 20: The Washington Examiner:
President's proposed tax credit will pay for about two weeks of childcare:
Among the highlights of President's State of the Union address plans to pull the American family out of economic plight is a $500 tax credit for two-earner families.   Here's how the White House presented it in a fact sheet: "Provide a new, simple tax credit to two-earner families. The president will propose a new $500 second earner credit to help cover the additional costs faced by families in which both spouses work — benefiting 24 million couples."  The provision is included in his effort "to help middle class families get ahead." Like who? Administration officials said families earning up to $210,000 would get a piece of the tax credit. That is four-times the earning of the "typical" middle class income of $51,939 calculated by the Obama-supporting Center for American Progress.  The $500 annual tax credit would also only cover about two weeks of childcare costs.
January 20: The Hill: Keystone marathon begins as two Democrat amendments fail:
The Senate on Tuesday began what is expected to be a weeks-long debate over the Keystone XL pipeline by holding a trio of amendment votes. An amendment by Senator Portman (R-OH) that is a trimmed down version of an energy efficiency bill passed (95 to 4). Two other amendments -- one that would ban the export of oil shipped to Texas through the pipeline and another that would require the project to be built with U.S. steel products – both failed to pass. Sen. Joe Manchin (D-WVA), a co-sponsor of the underlying Keystone bill, said he didn't mind having votes to table amendments. "It is the first time we have got to vote very much since I have been here in four years, so the vote to table something is a vote," Manchin told reporters.  Senators on Tuesday agreed to take up another six amendments, with votes set to begin Wednesday.
January 20: The Daily Caller: NY Sheriff:  Handgun renewal permit going into the garbage
"because that is where they belong"
Fulton County, N.Y. is home to a strong hunting and fishing tradition. Guns are commonplace.  But they are about to come head to head with the New York state government.   With tough state  gun control laws in place, New York is attempting to crack down on gun ownership and permits.  But Thomas Lorey, Fulton County Sheriff with 45 years of law enforcement under his belt is fighting back.  Fulton County is poised to defy a governor that has forced unreasonable gun restrictions on law-abiding citizens – in this case paying the state for the right to keep your handgun.
January 20: The Hill: Obama threatens another veto: Opposes bill to eliminate abortions after 20 weeks:
The Obama administration on Tuesday threatened to veto the GOP-backed bill to ban abortions after 20 weeks, calling it a "direct challenge" to a court-protected right for women.  The House is planning to vote on the bill Thursday, the anniversary of the landmark Supreme Court abortion case, Roe v. Wade, and the same day that thousands of anti-abortion advocates will participate in the March for Life.

January 19: United Press International:Kurdish forces take control of strategic hill near Kobane
Kurdish militia have taken control of a strategic hilltop that overlooks the city of Kobane, Syria, as the fight for the city rages on.   The capture of Mishtenur hill now puts Islamic State resupply routes within the line of fire of Kurdish troops. "The military operation led to the deaths of at least 11 Islamic State fighters, and the seizure of large quantities of weapons and ammunition," the Syrian Observatory for Human Rights said.   In Kobane, hundreds have died and more than 200,000 have fled to Turkey.  Kurdish troops have been advancing to take control of Kobane with the support of air strikes by the U.S.-led coalition against the Islamic State.
January 19:  Reuters: Separatists renew attacks on Airport as Russia and Ukraine bicker
Pro-Russian separatists renewed attacks on Ukrainian forces at an airport complex in the east on Monday after Kiev launched a mass operation to reclaim lost ground there that Russia called a "strategic mistake".  Ukrainian officials said three soldiers had been killed and 66 wounded over the past 24 hours, during which they said they had returned battle lines at the airport outside Donetsk to the status quo under a much violated international peace plan.  Ukrainian Prime Minister Arseny Yatseniuk said Ukrainian intelligence had confirmed Russian cross-border arms deliveries to the separatists were continuing.
January 19: The Daily News: Reaching Dreams Through Self-Reliance
When a nation chooses to live completely beyond its means citizens need to start managing their money before it manages them; to develop self-discipline and be self-reliant with respect to their own spending; to learn and value the principle of hard work and eduction; to make wise choices about life and health; and to plan for emergencies, both natural and financial. Individually, we may not possess the power to change the direction of our nation, but history speaks loudly that those who prepare ahead of time survive!
January 19: The Hill:  Possible Secret Weapon for fighting unilateral actions by the Administration
Republicans believe they have identified a potent weapon in their fight against President Obama's regulatory agenda.  GOP lawmakers plan to employ the seldom-used Congressional Review Act (CRA), which gives lawmakers the power to formally disapprove of major agency rules, as they seek to ratchet up their attacks on federal red tape.  "It hasn't been possible to use this in a divided Congress," House Judiciary Committee Chairman Bob Goodlatte (R-VA) told The Hill, "but now that it is, we certainly are interested in reviewing regulations to make sure they meet with congressional intent."

Senate Majority Leader Mitch McConnell (R-KY) began threatening to use the CRA to stop regulations last year, after the EPA proposed a rule aimed at cutting carbon emissions from new power plants. "That's why I, along with about 40 Republican co-sponsors ... intend to file a resolution of disapproval under the Congressional Review Act to ensure a vote to stop this devastating rule," he said at the time. The fly in the ointment is that they will need the President's signature for the resolution to go into effect, a signature they are unlikely to obtain.  But by acting, they can at least continue to apply pressure on the Administration.
January 19:  Fox News:GOP establishment forgets the power of the party's conservatives
The 2012 election has had a searing effect on the Republican Party. The Rommney 126-electoral-vote defeat of its nominee to  an incumbent thought to be highly vulnerable may have altered the trajectory of the GOP.   It left Republicans stunned and searching for answers, a quest that very much continues today. Meanwhile Senator Ted Cruz (R-TX) said "If we nominate another candidate in that mold the same people who stayed home in 2008 and 2012 will stay home in 2016 and the Democrats will win again…"  The GOP goal should be to find a charismatic candidate who will excite the conservative wing of the party while not alienating those who are more moderate.  Without the backing of the conservatives, Ted Cruz's statement will be correct.  The problem is that there doesn't seem to be a viable candidate on the horizon who will stick to his/her conservative principles and who will excite the majority of the GOP electorate. 
January 19: The Weekly Standard:  Obamacare: Democrats having second thoughts – buyer's remorse?
Republicans have gone from 41 percent of the House seats after the 2008 election to 57 percent and after 2014 and from 40 senators to 54.  Inevitably, some Democrats have begun to disparage Obamacare. Half of the 60 Democratic senators who voted for the Affordable Care Act in December 2009 are no longer in the Senate. These ex-senators include eight who were defeated by Republicans, and eight more who chose not to run again and were succeeded by Republicans.  In the wake of the new reality, some Democrat Senators are claiming Obamacare was a mistake or needs to be redrafted to fix the problems that are becoming more evident on a daily basis.

January 18: The Washington Times: Obamacare taxes are likely to be more than $95
Those Americans who didn't get health insurance last year could be in for a rude awakening when the IRS asks them to fork over their Obamacare penalty ["tax" according the U.S. Supreme Court]  — and it could be a lot more than the $95 many of them may be expecting. It could be from $95 up to 1% of their household income [If a person has no health insurance and earns $70,000 a year the tax penalty could be $700] And next year it gets worse.
January 18: Yahoo News: Middle Class Decline: Legacy of Six Years of Obama Rein
President Obama enters the final two years of his presidency with a blemish on his legacy that looks impossible to erase: the decline of the middle class he has promised to rescue.  The revival of middle-class jobs has been one of his mantras since he took office in 2009.   It was a major theme of his last State of the Union address and is expected to feature in the one scheduled for Tuesday.  Administration officials said on Saturday the president would propose higher capital gains taxes, new fees on large financial firms, and other measures to raise $320 billion for programs and tax breaks aimed at the middle class.
January 18: Yahoo News: Netanyahu shifts focus to Asian markets as European Cities become anti-Israel:
Israeli Prime Minister Benjamin Netanyahu said on Sunday a wave of anti-Semitism and what he called "Islamisation" in Western Europe are factors in a Jewish state push to expand trade with Asia. Europe is Israel's biggest trading partner, but deepening diplomatic disputes over policy toward the Palestinians and anti-Jewish incidents such as a Jan. 9 attack by an Islamist gunman on a Paris kosher deli have triggered Israeli worries. Netanyahu, who is also finance minister and a free-market champion, cast his courting of China, India and Japan over the past two years as a partial response to European developments.
January 18: The Washington Examiner: Harry Reid may retire instead of facing a tough challenge in 2016
Senate minority leader Harry Reid is the most vulnerable Democrat up for re-election in 2016, and may retire to duck a humiliating defeat, according to a new analysis of the 2016 race.  "We identified Reid as probably the most vulnerable Democratic incumbent in this Senate cycle," said a "Crystal Ball" report from the University of Virginia's Center for Politics.  It's also possible that he will retire, although his heavy fundraising and public comments suggest that he's running again," said the latest report from analyst Geoffrey Skelley. Recent reports suggest Reid is going for his sixth term.  The analysis found that of all senators ever to seek a sixth term, Reid's ratings and margin of victory in past races puts him on the endangered list.

January 18: Fox News: Graham: Giving Senate a vote on Iran Sanctions
Senator Lindsey Graham (R-SC) said Sunday that he would set aside efforts to impose more sanctions on Iran if President Obama allows Congress to vote on a final deal with that country over its nuclear program.  "I'm willing to forgo that vote with the understanding that any deal he negotiates will come to the Congress for our approval or disapproval as a check and balance," Graham said on NBC's "Meet the Press." Imposing sanctions on Iran to force the country to curtail its nuclear enrichment program, presumably to build a nuclear weapon, has bipartisan support in Congress.  This weekend, Senate staffers confirmed some details about upcoming legislation sponsored by Senators Mark Kirk (R-IL) and Bob Menendez (D-NJ) both members of the Senate Banking Committee. 
January 15: Bloomberg.com: President set to ask Congress for a 7% budget busting increase:
President Barack Obama will ask Congress for as much as $68 billion more than current budget limits in fiscal 2016, according to two people familiar with the administration's proposal. The request sets up a fight with the Republican-led House and Senate over whether to reverse part of the spending limits that the U.S. Congress and the White House agreed to in fiscal deals earlier this decade.  The new spending would mean as much as $34 billion each for the national security and domestic sides of what will be a budget of almost $4 trillion. It will be detailed in the budget proposal Obama will send to Congress on Feb. 2.  
January 15: Arizona Family.com:Arizona becomes the first state to require students to pass a civics test:
Arizona became the first state in the nation on Thursday to enact a law requiring high school students to pass the U.S. citizenship test on civics before graduation, giving a boost to a growing nationwide effort to boost civics education.  Both the Arizona House and Senate quickly passed the legislation on just the fourth day of the legislative session, and newly elected Republican Gov. Doug Ducey signed it into law Thursday evening.  The swift action in Arizona comes as states around the country take up similar measures. Arizona's law requires high school students to correctly answer 60 of 100 questions on the civics portion of the test new citizens must pass.  The test is being pushed nationally by the Arizona-based Joe Foss Institute, which has set a goal of having all 50 states adopt it by 2017, the 230th anniversary of the U.S. Constitution. The institute says legislatures in 15 states are expected to consider it this year.
January 15: National Journal: McConnell: Senate will try to pass the House Immigration Bill:
After hearing a week's worth of complaints from his conservative members, Senate Majority Leader Mitch McConnell said Thursday that the Senate will attempt to approve a House-passed bill that guts President Obama's executive actions on immigration.  But McConnell affirmed at a joint House and Senate Republican retreat in Hershey, Pa., that he will work to get the House's bill—which passed that chamber Wednesday—to the president's desk. "We're going to try to pass it," he told reporters Thursday.

January 15: Breitbart.com: Congressman Denham says GOP is quietly crafting an immigration bill:
The GOP's most outspoken proponent of comprehensive immigration reform let loose in an interview with reporters here, detailing quiet efforts to draft far-reaching legislation, saying House leadership is "committed" to bringing the hot-button topics on the floor and criticizing President Obama for carrying out too many deportations. 
January 14: Yahoo News: Need help with your tax return? Don't bother calling the IRS!
Filing a federal tax return is about to get more complicated for millions of families because of President Obama's health law. But they shouldn't expect much help from the IRS. The IRS is experiencing budget woes caused by cut backs in funding. These budget cuts were in response to the IRS targeting of conservative groups and the Administration's (IRS's) stonewalling of the Congressional investigation to the Democrat use of this agency for political purposes.  The emails from Lois Lerner and her associates have still not been provided to the Congress. Meanwhile the commissioner blames Congress and not the actions of his own agency for the problems the IRS is facing.
January 13: The Daily Caller:  White House: Obama will fight media to stop anti-jihad articles
The White House Press Secretary said yesterday that President Obama has a moral responsibility to push back on the nation's journalism community when it is planning to publish anti-jihadi articles that might cause a jihadi attack against the nation's defenses forces.  Presidential spokesman Josh Earnest's disclosure during the regular White House morning briefing was an unprecedented reversal of Americans' civil-military relations, and of the president's duty to protect the First Amendment.  Earnest tried to excuse the administration's opposition in 2012 to the publication of anti-jihadi cartoons by the French satirical magazine Charlie Hebdo.
January 13: The Daily Caller:   Former Secret Service Agent:
Obama a Petulant Child, Blaming Secret Service for Skipping Paris Trip:
Former Secret Service agent Dan Bongino blasted the President's decision to blame security concerns for his decision not to attend an anti-terrorism rally in Paris.  The White House blamed security concerns for Obama's decision not to attend the "March Of Unity" in Paris after a deadly Islamic terrorist attack on the satirical magazine Charlie Hebdo in Paris. The Secret Service said that it was never asked to prepare for a presidential visit to Paris.
January 13: McClatchy DC News:  GOP and White House Set Stage for Immigration Debate:
Congress and the White House are heading toward a high-stakes showdown over immigration, with financing for the crucial Department of Homeland Security at stake at the very moment that terrorist attacks in Paris last week have Americans on edge.  The House is expected to vote Wednesday on a $39.7 billion bill to keep the department open after money runs out Feb 28, but with language attached that would aggressively roll back several of President Barack Obama's immigration actions.  Obama says he wants to sign a bill to keep funding the department but that he'll veto it if takes on his immigration orders. 
January 13: National Journal: Obama Backs Government-Run Internet; Of Course He Does!
President Obama will travel to Cedar Falls, Iowa, on Wednesday to tout the ability of local governments to provide high-speed Internet to their residents. And he will urge the Federal Communications Commission to strike down state laws around the country that restrict the ability of cities to build their own broadband networks. The move is likely to draw fire from Republicans, who argue that states should be free to set their own policies—including restrictions on local governments.  Telecom and cable companies have been lobbying for the state laws, arguing that it's not fair for them to have to compete with government-owned Internet providers. The companies claim the city projects discourage private investment and are often expensive failures. House Republicans passed legislation last year to protect the state laws from FCC action.

January 11: Fox News: Senate needs four more votes for Veto-Proof Passage of XL Pipeline
The Senate still needs four votes to pass veto-proof legislation to build the Keystone XL oil pipeline, Senator Hoeven (R-ND), who sponsored the legislation, said Sunday.  Hoeven, said the Senate remains shy of the 67 votes needed to override a presidential veto.  All of the chamber's 54 Republicans and nine Democrats are expected to support the legislation, which needs a two-thirds majority to override a veto.  "But we're going to the floor with an open amendment process, trying to foster more bipartisanship," Hoeven said.  He also suggested Senate Republicans might attach the bill to other legislation that would get 67 votes.  The upper chamber could hold a preliminary vote on the legislation as early as Monday.
January 11: The Hill: White House in Trouble over only sending Ambassador to Paris Unity Rally:
The Obama administration was criticized on social media Sunday for the lack of high-ranking U.S. officials at the unity rally in Paris, where more than 40 world leaders marched in commemoration of the lives lost to terrorism last week.  Attorney General Eric Holder was in Paris for talks on combatting terrorism and was scheduled to attend the rally. He was replaced by U.S. Ambassador to France Jane Hartley, according to reports.
January 11: Fox News: Four Million March for Unity in France following Terrorist Attack
At least 3.7 million people including more than 40 world leaders are marching throughout France on Sunday in a rally of national unity to honor the 17 victims of a three-day terror spree that took place around the French capital.  Missing was a high ranking representative from United States.  The French Interior Ministry said the rally for unity against terrorism is the largest demonstration in France's history, more than the numbers who took to Paris streets when the Allies liberated the city from the Nazis in World War II.

January 11: Fox News:
Dempsey things more can be done to combat terrorism; But Backs Closing of GITMO
Army Gen. Martin Dempsey, chairman of the Joint Chiefs of Staff, suggested Sunday that the United States could do more to fight terrorism but predicted eventual defeat for the new-but-extremely-violent Islamic State group.  Dempsey said that defeating terrorism will require an increased group effort that includes the U.S. military and intelligence community.  Meanwhile others have made the observation that instead of killing militant leaders and the information they have with them, that it might be more productive to capture leaders and put them in GITMO where we can learn more future attacks and methods.  But Dempsey disagrees, giving his support for the closing the U.S. prison in Guantanamo Bay, Cuba, saying the facility, opened in the aftermath of the 9/11 terror attacks, is a "psychological scar" on the American psyche. 
January 11: The Hill: Democrats suit up for Tax Reform Debate
More and more congressional Democrats are insisting that they cannot sign on to a tax overhaul that only helps businesses despite the potential to give a legacy achievement to the President.  Obama and GOP leaders have pointed to taxes as one of just a handful of areas for potential agreement over the next two years, and the White House has long said it wants to limit the focus of reform efforts to streamlining the tax code for U.S. companies.   But liberal lawmakers say there's no way they can agree to a deal that would favor powerful corporations over individuals and families that have yet to feel the economic recovery, especially after Democrats fought unsuccessfully to extend expanded tax breaks for the working poor late last year.
 
January 10: The Daily Caller: Milwaukee Barber Shop Customers Takes on Armed Robber
A would-be armed robber who stuck up a Milwaukee barber shop on Friday received more than a haircut when an armed patron pulled out his own gun and fatally shot the criminal.  "He asked some questions about how much a haircut costs, then went into the bathroom to put his mask on and get his gun ready or whatever," a man identified as Ty told WISN News. "The robber took his eye off the guy that he originally robbed first. I guess he didn't check him good enough because he had a gun on him," Ty explained. 

January 8: The Washington Post: 25 Republicans Defect Speaker Boehner
In the biggest defection from an incumbent speaker in at least 100 years, 25 House Republicans voted for someone other than John Boehner to serve as speaker in the 114th Congress.  Of the 25 there are three from Texas, Brian Babin (voted present), Louie Gohmert (voted for himself), and Randy Weber (voted for Louie Gohmert).  There were also four Democrats who voted against their nominee, House minority leader and former speaker Nancy Pelosi (D-CA).
January 8: National Journal: Boxer out of the Ring
Barbara Boxer (D-CA) who has served in the Senate for 21 years, announced Thursday she will retire at the end of her term at the end of 2016.  This  will open a Senate seat in California for the first time since 1992.  In an interview with her grandson Zach Rodham (who is also Hillary Clinton's nephew), Boxer said that while she will be leaving Congress, she will continue her work on Democratic politics. [This is the same Senate seat vacated by Aaron Augustus Sargent in 1879, the man who first introduced the language of the 19th Amendment that gave women the right to vote.]
January 8: The Daily Caller: A New Year, 300 New Obama Administration Regulations
This year is already seeing a wave of new regulations being published in the Federal Register as the Obama administration unveils 300 new rules in the first seven days of 2015.  According to the Regulatikons.gov Website, they have published 300 final rules, proposals for new rules and regulatory notices in the seven days since the new year began. The bulk of these new regulations are notices, which can lead to rulemakings, meetings and other government activities.  Rules having to do with energy, environment, public lands and agriculture make up the largest share of new regulations. Included in these new rules are proposed EPA air quality standards for lead, reforming coal and oil leases on Indian lands and adjustments for the total amount of fish people can catch off Alaska's coast.
January 8: The Washington Examiner: IRS issues 21 pages of ObamaCare Tax Instructions:
The complicated process of signing up for Obamacare is now being matched by IRS instructions to help Americans figure out how much in healthcare taxes they owe Uncle Sam.  The agency has issued 21 pages of instructions, complete with links to at least three long forms and nine tip sheets.  It is geared to those who have Obamacare or who owe a fine, dubbed "shared responsibility payment," for refusing to get health insurance. The IRS warned that everybody must have health insurance or pay the tax.
January 8: The Weekly Standard: President's Motorcade passes right by scandal-ridden Phoenix VA Hospital
President Obama is in Phoenix Thursday, and his motorcade drove past that city's Veterans Affairs hospital without stopping. Politico's White House correspondent reports.  Obama is spoke at Central High School, about a mile from the VA hospital, but did not visit the VA hospital during his trip to Phoenix.  Dovere of Politico also reported that the president did have time to stop at a nearby home, purchased with federal assistance, while avoiding an opportunity to highlight the importance of fixing the problems with the VA medical service.
January 7: Associated Press: President issues three veto threats in two days:
The White House threatened more vetoes Wednesday against top-priority legislation of the two-day-old Republican-controlled Congress; the Keystone XL pipeline, to make changes to the health care law they also have vowed to repeal, and to delay a key provision of a 2010 financial regulation law.  The conflict comes at a time when the president and the two Republican congressional leaders have all stressed the opportunity for bipartisanship in the two years ahead, and polls generally indicate the public wants divided government to produce compromise instead of gridlock. By approving measures with bipartisan support — the pipeline legislation has well over 60 supporters from both parties in the Senate — it appears Republicans are trying to make the president pay at least a short-term political price if he makes good on his veto threats.  Far larger and more partisan fights likely lie ahead, particularly if, as expected, Republicans attempt to seek large savings in government benefit programs as part of an attempt to balance the budget.
January 6: The Telegraph: Greece verses Europe: Who will blink first?
The Eurozone stands on the brink of another crisis as Athens confronts Brussels and Berlin.  Everybody thinks everybody else is bluffing, all of them betting that a calamitous chain reaction will be averted.  But this time, Berlin seems almost eager to evict Greece from the EU. Greece, on the other hand believes the EU has so much already invested they will not walk away from the 245 billion in loans already dispersed since the crisis erupted in May 2010.
January 5: The Daily Caller: Florida: Constituents tell Congressman to vote against Boehner
Congressman Ron DeSantis (R-FL) dodged and ducked as his constituents pushed him at a Jan. 3 constituency meeting to vote against the re-election of House Speaker John Boehner.  "Are you going to vote for him or not? I mean, that's the question," a Florida constituent asked DeSantis at the meeting in Palm Coast, Florida. DeSantis tried to deflect the pressure, partly by suggesting that no major rival to Boehner has emerged before the first ballot, which is scheduled for Tuesday, Jan. 6, and also by suggesting that Boehner has enough votes to win.  But the constituent pushed back, even as DeSantis said an anti-Boehner vote would provide no gains.  "I'll tell you what it does. It gives you some political capital with people like us. Even if you lose once or twice, at least we know you are fighting for us," he said. "But when you say 'Oh, if I don't vote for it,' then you're not fighting for us. What you're doing is you're bending. We didn't put you there to bend."

January 5: Fox News: Attkisson Sues Obama Administration over Computer Hacking
Former CBS News correspondent Sharyl Attkisson has sued the Justice Department over the hacking of her computers, officially accusing the Obama administration of illegal surveillance while she was reporting on administration scandals. In a series of legal filings that seek $35 million in damages, Attkisson alleges that three separate computer forensic exams showed that hackers used sophisticated methods to surreptitiously monitor her work between 2011 and 2013. "I just think it's important to send a message that people shouldn't be victimized and throw up their hands and think there's nothing they can do and they're powerless," Attkisson said in an interview. The award-winning reporter says she and her attorneys have "pretty good evidence" that these efforts were "connected" to the Justice Department. She said she was caught in a "Catch-22," forcing her to use the lawsuit and an administrative complaint to discover more about the surveillance through the discovery process and to learn the identities of the "John Does" named in the complaints.

January 5: The Daily News: "Normalizing" Relations with Cuba?
On December 17th the President announced plans to "normalize" relations with Cuba and opening a U.S. embassy in Havana.  There're a number of questions worth considering in the wake of the President's unilateral actions. First, were the sanctions working? Will this new policy accomplish our long-term goal of freedom and liberty for the Cuban people?  What is motivating U.S. business support?   Did we get a fair (balanced or a good) deal?  And finally, did the President follow the law? We favor of normalizing relations with Cuba  but only under certain circumstances. Embedded in the Helms-Burton Act is a provision giving the Congress (House and Senate) the authority to override any unilateral Administration actions to recognize Cuba.  We encourage the Congress to exercise this authority until a better deal that helps the average Cuban is negotiated.
January 5: ABC News: Cuban Human Rights: Dissident Detentions on the Rise:
The Cuban government carried out a record number of detentions of dissidents and political activists last year, an independent Cuban human rights group said Monday.  The Cuban Commission for Human Rights and National Reconciliation recorded 8,899 short-term detentions of dissidents and activists in 2014. That was about 2,000 more than the previous year and four times as many as in 2010, said the group's head, Elizardo Sanchez. A U.S. official said on condition of anonymity Monday that the release of all the dissidents wasn't a prerequisite for planned talks in Cuba between the Obama administration and Cuban officials later this month
January 4: Fox News:Retired COP & Navy Vet sues NY over Gun Confiscation
A decorated retired New York cop who served in the U.S. Navy is challenging New York's tough new SAFE Act gun control law, claiming in a lawsuit that his guns were confiscated after he was mistakenly diagnosed as mentally unstable after he sought treatment for a sleeping problem.  Donald Montgomery's lawsuit contends that Gov. Andrew Cuomo and other state officials violated his Second Amendment rights when his guns were seized after a brief hospital stay for insomnia. Montgomery, a cop for 30 years and a U.S. Navy veteran, brought the lawsuit in Rochester Federal Court on Dec. 17.  Montgomery was the owner of four guns -- a Colt .38 handgun, a Derringer .38, a Glock 26 9-mm. and a Smith & Wesson Bodyguard 380.

January 4: The Hill: Thune: We won't shutdown the government but we will use the power of the purse:
John Thune (R-SD) said on "Fox News Sunday" that Republicans would use their budget power in order to fight back against President Obama's executive orders, which GOP lawmakers argue is an overreach of power.  "We're not going to shut the government down," Thune said. "We'll use power of the purse to challenge the president."  Meanwhile, Sen. Bob Corker (R-TN.) said on "Fox News Sunday" that "on bigger issues, we absolutely need him to be involved."  "We look forward to that opportunity," Corker said.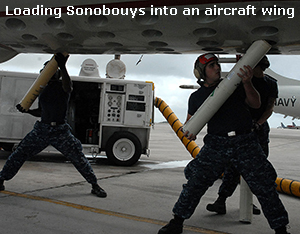 January 4: KOMO News: Navy's CINCPACFLT considers
hundreds of Sonobouys Off the U.S. West Coast
The U.S. Navy could significantly increase the number of sonobuoys it plans to deploy off the Pacific Coast.  The floating, acoustic surveillance devices are used in anti-submarine warfare.  The Oregon reports that in a modified environmental assessment for Northwest training and testing, the Navy increased the number of planned sonobuoys from 20 to 720.  They would be in areas at least 12 miles offshore from Alaska, Washington, Oregon and Northern California.  In addition to more buoys, the document also details additional "maritime security operations" that weren't reviewed in the earlier environmental assessment, possibly including escorts for submarines, search-and-seizure exercises, and anti-piracy missions.
January 4: Fox News: Gohmer (R-TX) to challenge Boehner for Speakership
Louie Gohmert (R-TX) said Sunday that he will challenge House Speaker John Boehner for his post when Congress returns this week to Washington. Congressman Ted Yoho (R-FL) has also thrown his hat in the ring.  "We have heard from a lot of Republicans that said, 'I would vote for somebody besides speaker Boehner.' But nobody will put their name out there," Gohmert said. "That changed yesterday with Ted Yoho."  Boehner once again returns to Capitol Hill amid challenges to keep his post, largely from the conservative members who most recently say he caved in by agreeing last month to a $1.1 trillion temporary federal spending bill, which averted another partial government shutdown.

January 4: Politico:  GOP House and Senate Leadership Staring at Cliffs
[GOP Leadership has big plans but also big obstacles]
Republican leaders think 2015 is their year.  They just won control of the Senate and have a historic majority in the House. The presidential election hasn't yet begun. President Barack Obama says he wants to engage with Capitol Hill. For the first time in a while, there seems to be a genuine thirst for getting something done.  But guess what: Congress is running straight into another series of cliffs --  legislative fights spread throughout the year, which could give House and Senate leadership nearly monthly headaches as they seek to preserve the improving economic climate in the U.S.   The legislative land mines range from tricky transportation issues to the ever-explosive debt ceiling.  These problems can't be ignored, and GOP leadership will have to decide if it wants to set up short-term solutions or negotiate permanent fixes to these long-lingering problems. These deals don't come together quickly and could require leaders to spend their hard-earned political capital on brokering compromises.  The first of these issues is the funding of DHS by February 28th which will include the debate about securing our boarder against illegal immigrant aliens. 

January 4: The Daily Caller: Krauthammer: I'm a recovering Democrat who was mugged by reality
Appearing on Fox News "MediaBuzz," conservative commentator Charles Krauthammer spoke about his political transformation from a Democrat to a conservative, and how he was "mugged by reality."  He was working at "The New Republic" in his 20-30s and was a Democrat.  Then Krauthammer describes what happened: "It was a slow-motion mug, and I came out of it intact and a conservative a decade later." He said his writing at the New Republic were on foreign policy issues and that these articles were always conservative.  "People don't remember that in the 1970s, there was a strong conservative wing of the Democratic Party," he said, and he was part of that.

January 4: The Hill:
McConnell: Jobs, Keystone Pipeline and Regulatory Expansionism will Head the Senate Agenda:
Soon-to-be Senate Majority Leader Mitch McConnell (R-KY) said on Sunday that the GOP agenda will be focused on "voting on things I know [President Obama is] not going to like."  He said that jobs would be the number one focus, also lumping in the Keystone XL pipeline project and rolling back strict environmental and healthcare regulations.  The incoming majority leader also took a softer tone than in years past when it came to working with the administration.  "You know, the first two years, he had huge majorities in the House and Senate. The last four years, he controlled the Senate. They guaranteed he never got anything he didn't like," he said on Sunday.  "Now he needs to talk to us," McConnell continued. "And that's good, because when the American people elect a divided government, they're not saying they don't want anything done. What they are saying is, they want things done in the political center, things that both sides can agree on. We talk about the things where there may be some agreement."
January 3: Fox News: Huckabee Leaves Fox, Considering a run in 2016
Fox News host and former Arkansas Gov. Mike Huckabee announced Saturday that he is leaving the network after six and a half years as the host of "Huckabee," and will make a decision on a possible 2016 presidential run by late spring.  The former governor expressed thanks for what he called "the ride of a lifetime."  "I have never had so much fun in my life," Huckabee said. "But I also realize that God hasn't put me on earth just to have a good time or to make a good living, but rather has put me on earth to try to make a good life."  Huckabee said that he would not rule out running for president in 2016, and that it is not possible for him to openly determine political and financial support to justify a race while doing the show.
January 1: The Hill: ObamaCare Faces New Challenges in 2015
As ObamaCare enters its fifth year, there are still major components of the law to be worked out for the first time.  Both the individual mandate and the employer mandate – which are considered vital pillars of the president's landmark healthcare law – will confront new challenges in 2015.  Doctors and hospitals will also face new penalties for failing to comply with federal rules such as those requiring the use of e-records.  The stakes are high in 2015. The administration will be hoping that ObamaCare regains ground after a muddy patch over the last few weeks that included controversies around the administration's famously blunt former adviser Jonathan Gruber, an inflated enrollment tally and a new legal threat to the law's subsidies.
January 1: The Hill: The Budget will be one of the conflicts between the White House and Congress in 2015
The federal budget is likely to be the central battleground between the President and the new Congress in 2015.  The Republicans have vowed to slash the size of government.  The President has threatened to use his veto. Here are the dates to watch as the conflict unfolds.
February 2: Obama's budget deadline:
February 27: DHS funding runs out: 
March 15: Debt limit suspension expires:
April 1: GOP budget resolution: 
September 30: Shutdown deadline:
January 1: The Daly Caller:
Armed Robber holds up fireworks stand, clerk shows him a different kind of firecracker:
An employee at a fireworks stand near Houston used a special kind of firecracker in response to an armed robbery attempt that occurred Tuesday night.  Two men pulled up one of the men got out and pulled a gun on the employee on duty and demanded money from the store.  But the clerk thought fast and remembered he had something that goes "Boom" in the store's office.  He had a gun of his own and fired it several times at the armed man, hitting him in the face, wrist, and back.  The would-be robber was air-lifted to a nearby hospital and is listed in critical condition. His accomplice fled the scene in the getaway car. The clerk was not injured.