GO TO The Chronology of News Coverage starting in January 2019

December 31: Yahoo News:  Brits deploy ships in channel to stem illegal immigration
Britain announced Monday it will deploy two border patrol ships in the Channel in response to a surge in migrants crossing from France in dinghies.  British interior minister Sajid Javid said the  ships will balance protecting human life with protecting Britain's borders.  In December, around 230 people tried to make the 21-mile journey from France to Britain.  The attempts were chiefly by Iranian nationals, who attempted to cross one of the world's busiest shipping lanes in dinghies and other small craft.

December 31: The Washington Examiner: Trump issues fewest regulations ever
President Trump has made good and then some on his pledge to slash costly federal regulations, issuing the fewest new rules in recorded history in his first two years, according to a new analysis.  In fact, the efforts by the Administration to cut/reduce the flow of regulations this year have only ever been topped once: by the same Trump team last year.

December 30: The UK Daily Mail:  Trump applauds Obama wall around their DC home; says the country should have a barrier as well!
President Trump argued former President and Michelle Obama have a wall around their Washington, D.C. home so the U.S. should have the same.  'President and Mrs. Obama built/has a ten foot Wall around their D.C. mansion/compound,' he tweeted.   He noted: 'The U.S. needs the same thing, slightly larger version!'  The Obama home had a wall built around it before they moved in as part of security upgrades put in by the Secret Service

December 29: San Jose Mercury News: Stanislaus County Sheriff blasts California immigration law for police officer's death
A suspected drunken driver accused of killing a California police officer was captured Friday as he tried to flee back to Mexico, where he lived before illegally crossing into the U.S., authorities said.  The sheriff leading the investigation blamed California's sanctuary law for preventing local authorities from reporting Gustavo Perez Arriaga to U.S. immigration officials for two previous drunken driving arrests. If he had been deported, the sheriff said, Cpl. Ronil Singh of the tiny Newman Police Department would still be alive.  "We can't ignore the fact that this could have been preventable," Stanislaus County Sheriff Adam Christianson told reporters, asking why the state was "providing sanctuary for criminals (and) gang members. It's a conversation we need to have."

December 28: The Daily Caller: House GOP announces committee chairmanship appointments:
Incoming House Minority Leader Kevin McCarthy announced Friday night the members who would serve as the conference's ranking members in several more committees.  Six Texas Republicans were chosen for these leadership positions.

December 28: The Daily Caller:  Graham to Pelosi:  No wall monty; No deal!
Republican Sen. Lindsey Graham told House Minority Leader Nancy Pelosi and her Democratic caucus on Friday that there would not be a deal on a funding bill unless it included appropriations to construct a wall on the U.S.-Mexico border.  "To Nancy Pelosi and the House Democrats," Graham tweeted. "No Wall Money, No Deal."  The House passed a stopgap funding bill on Dec. 20 that included $5.7 billion for a border wall, however, with a 51-seat majority in the Senate, Republicans fell short of the necessary 60 votes needed to send it to President Donald Trump's desk for signature.
December 27: Fox News: Suspect in CA cop shooting is an illegal alien
The suspect sought in connection with the murder of a California cop earlier this week is in the U.S. illegally, authorities revealed on Thursday.  The unidentified man alleged to be behind the slaying of Newman 33 year old police Cpl. Ronil Singh.  Stanislaus County Sheriff Adam Christianson said during a news conference on Thursday afternoon, vowing that the manhunt would "relentlessly continue." "This suspect … is in our country illegally. He doesn't belong here. He is a criminal. We will find him, we will arrest him, we will bring him to justice," Christianson said.

December 27: Breitbart News: Armed customers stops two armed robbers
The Rockingham County Sheriff's Office (NC) says a customer shot two armed suspects at a Reidsville Stop and Shop Convenience Store in the early hours of Christmas Day.  Reports say two masked men entered the store shortly after 2 a.m. and allegedly held a cashier and two customers at gunpoint.  One customer opened fire striking both suspects and causing them to flee in a getaway car driven by a third suspect.  One of the suspects has been arrested while a search for the others continues.  Neither the clerk nor the customers in the store were harmed during the incident.

December 27: The Daily Caller: Ohio Legislature overrides Kasich's gun-owner rights veto:
Ohio Republican Gov. John Kasich's veto opposing a bill for gun owners' rights was overturned by the Republican-led state legislature Thursday.  The state House first voted to overturn Kasich's veto on thebill, which makes it easier for off-duty police officers to access guns and also changes laws regarding self-defense cases. The state Senate then voted later, 21-11, turning down Kasich's veto on the legislation,

December 27: The Wrap: WSJ shreds Washington Post for Trump Coverage:
"Undermines the Credibility of the Press"
The Wall Street Journal's editorial page offered a feisty Boxing Day piece on Wednesday lashing into the Washington Post over coverage of PresidentTrump's Christmastime visit to the troops.  The Journal focused on this piece by the Post's Philip Rucker and Paul Sonne, citing the opening two paragraphsand accusing it of needlessly working in unrelated Trump scandals into a piece that did not call for it.


December 26: The UK Daily Mail: Trump and First Lady visit troops in Iraq
President Trump and first lady Melania made a surprise visit to Iraq on Wednesday — their first visit to a war zone since the sitting president took office nearly two years ago. They left from Joint Base Andrews in Maryland shortly after midnight with a small group of journalists and aides in tow. Trump was in the country for roughly three hours before the White House confirmed his whereabouts.   The president delivered a speech to the rank and file at Al Asad Airbase, took selfies with the troops and met with military leaders in Iraq. 'I want to come and pay my respects most importantly to the great soldiers,' he said of the visit. 'Great troopers we have here.'

One soldier told the President "I came back into the military because of you," to which the President replied "I came here because of you!"
December 24: The Wall Street Journal: Trump: The only problem our economy has is the FED
President Trump criticized the Federal Reserve Monday, calling the central bank the "only problem our economy has" and likening its policies to a golfer who can't putt.  Mr. Trump's Christmas Eve tweet marked his latest expression of frustration with the Fed, which decided last week to raise short-term interest rates for a fourth time this year and signal more increases are likely in 2019.

December 24: The Guardian:  Socialism works:  Just ask those leaving Venezuela!
As Brazil threatens to quit the new UN migration pact, its border-town shelters are bursting at the seams, with hundreds more arriving each day.  A short distance from the Venezuelan border, new arrivals are surrounded by their possessions and waiting to hear if they'll be given a bed at the nearby shelter – or spend their first night in  Brazil sleeping on the street.  "We had to leave  Venezuela. There is nothing to eat and children are dying of hunger," says one refugee who had crossed the border into Brazil  after making the 18-hour journey from northern Puerto la Cruz.

December 23: The Daily Caller: Supreme Court Intervenes in Mueller secret case
Chief Justice John Roberts stayed a contempt order in a case that likely arose from Special Counsel Robert Mueller's investigation on Sunday night. Roberts' order could mark the first time that the Supreme Court has intervened in the Mueller inquiry.  The scant facts which are available about the case are these: a grand jury issued a subpoena to an unnamed company owned by a foreign government some time during the summer of 2018. That firm, referred to in court filings as "the corporation" has been fighting the subpoena in federal court since August. The company appealed that decision to the Supreme Court. The corporation faces a fine for every day that it fails to abide by the subpoena.  Roberts' decision temporarily halts the non-compliance fines requiring the Department of Justice to submit a response to the foreign company's application by Dec. 31.

December 23: The New York Post: How arrest exposes Chinese regime's plot for world dominnation
Huawei executive Meng Wanzhou's arrest in Vancouver on Dec. 6 led to immediate blowback.  Furious Chinese Communists have begun arresting innocent Canadians in retaliation.  Why such a reaction by the Chinese?  Meng is the heiress apparent of China's largest and most advanced high-tech company, one which plays a key role in China's grand strategy of global domination.  Huawei is much more than an innocent manufacturer of smart phones. The Chinese government now requires all companies -- whether they are private or owned by the state – to be part and parcel of the party's massive overseas espionage campaign.

December 22:  LMTonline: Matter of distrust: Congress fails to act resulting in partial government shutdown
Most congressional leaders left the Capitol on Friday evening around 7 p.m. Hours later, the shutdown happened. Things didn't get any better Saturday. After minimal effort from both sides, Senate Majority Leader Mitch McConnell, R-Ky., announced that the shutdown would last well into the week and shuttered the chamber for legislative business until Thursday evening. With so little trust between Trump and Congress, lawmakers headed home for the holidays without any idea about when many federal agencies would be able to open again.

December 21: Fox News: Court rejects Trump effort to crackdown on asylum enforcement
The Supreme Court on Friday blocked the Trump administration from immediately enforcing a strict new asylum policy, in a 5-4 decision that marks the second legal setback this week for efforts to tighten immigration rules.  The court, in a brief written order, denied a bid to begin enforcing an asylum ban for any immigrants who illegally cross the U.S.-Mexico border. The decision leaves in place lower-court rulings that blocked the administration from automatically denying asylum to people who do not go through official border crossings.  Chief Justice John Roberts provided the critical vote.

December 19: The UK Daily Mail: Fed raises interest rates; markets lose ground
Federal Reserve Board Chair Jerome Powell said 'nothing' will deter independent central bankers from following their economic convictions – after an extraordinary pressure campaign by President Donald Trump failed to stave off a rate hike.  The Dow Jones Industrial Average immediately retreated from a 350-point gain in the minutes after the news. The broader S&P 500 shed its 1-percent morning gain. The tech-heavy NASDAQ also dropped.

December 19: The Hill: NC passes Voter ID law over Governor's  veto
North Carolina's Republican-led legislature enacted a new voter ID law on Wednesday, overriding Gov. Roy Cooper's (D) veto from last week. Under the new law, voters will be asked for photo identification when they go to the polls starting next year, local.   The bill says voters must show one of seven types of identification, including military or veteran's identification cards and student identification cards.

December 19: Fox News: President orders withdrawal of troops from Syria
Trump's order Wednesday to remove all 2,000 U.S. troops from Syria should be seen and celebrated for what it is: a great victory over the ISIS terrorist group and the fulfillment of his pledge not to do nation-building.  Trump campaigned on a  pledge to crush ISIS.  He ordered the Pentagon to develop a plan to "demolish and destroy" ISIS. Then U.S. and allied forces did just that.  President Trump's choice of retired Marine Gen. James Mattis as secretary of defense was pivotal. Mattis freed U.S. forces who'd been fighting with one arm tied behind their backs, and contributed to major battlefield gains without a massive invasion. Of course, ISIS stragglers still exist  but so did Japanese holdouts after the surrender of WWII. But ISIS is kaput as an organized military and governing force in Syria and Iraq.

December 19: The Daily Caller: Dems face no-win scenario on attorney general appoinntment
President Donald Trump's selection of William Barr for attorney general has caught Democrats in the horns of a dilemma. Without a Senate majority, Democrats have little chance of stopping Barr's confirmation, but with ordinary obstruction mechanisms, a month-long delay is conceivable — the question is whether Democrats ought to do so, and there's no easy answer from their perspective.  On one hand, the acting AG Whitaker's departure would be beneficial to Mueller, and  Barr, a former colleague of Mueller, is reputedly a person who respects the Department of Justice's traditions and protocols. On the other hand, Barr is a talented, capable lawyer with a professed hostility to roving prosecutors.  What's more, he is a dogmatic conservative.

December 19: The Hill: Senate GOP shelves resolution to join in defense of ObamaCare
Senate Republicans on Wednesday blocked a vote on a resolution that would have allowed the Senate to intervene in a federal lawsuit against ObamaCare.  Democrats asked for unanimous consent to authorize the Senate legal counsel to defend ObamaCare in court after a district judge in Texas declared the entire law unconstitutional last week. Senator Barrasso (R-WY) objected to a vote on the resolution and accused Democrats of playing politics. Only one senator needs to object to block a unanimous consent motion.

December 15: The Daily Caller: FBI releases summary of Steele Dossier
The FBI has released a summary that James Comey used in a briefing with President-Elect Donald Trump and President Obama regarding the Steele dossier.  The document is sure to grab the attention of those who have accused the FBI of relying too heavily on the unverified dossier for its investigation of possible collusion between the Trump campaign and Russian government. The summary shows that the FBI claimed Steele was working for "private clients," when he was actually working for the DNC and Clinton campaign. It also noted that Steele relied on "identified and unidentified sub-sources" to fill out the dossier

December 15: The Galveston County Daily News:
Bush wants coastal barrier system built on beach, not roads (requires subscription)
Texas Land Commissioner George P. Bush on Friday said he favored building a coastal barrier along beaches, rather than highways, on Galveston Island and Bolivar Peninsula. The Texas General Land Office issued the statement amid a groundswell of concern among residents that a barrier the U.S. Army Corps of Engineers has proposed would leave hundreds of homes between a wall and the Gulf of Mexico. "I support locating the barrier on or along the beach, however, data and engineering studies must still be done before we can determine the placement of the levee," Bush said.

December 14: NBC News: Federal Judge declares Obamacare is unconstitutional without individual mandate:
A federal judge in Texas struck down the Affordable Care Act on Friday night, ruling that former President Obama's signature domestic legislation is unconstitutional.  U.S. District court judge Reed O'Connor in Fort Worth sided with the 26 states that brought suite saying that Obamacare could no longer stand now that there is no penalty for Americans who fail to purchase coverage.  O'Connor pointed out that the reason it was constitutional was that it was a tax – which is in Congress' jurisdiction – and with the individual mandate no longer part of the law it is no longer a tax, thereby making it unconstitutional.

December 14: The Hill: Gov. Walker signs last minute legislation that will impact his successor
Out going Governor Scott Walker (R-WI) signed legislation that would limit the next governor's authority to withdraw the state from a lawsuit challenging ObamaCare. Another bill gives the legislature control of the state's economic development authority, and a third would give the legislature the authority to hire its own attorneys to defend state laws.

December 14: Fox News: Mueller turns over redacted documents under order of a federal judge
Special Counsel Robert Mueller's team on Friday released key documents relating to the FBI's questioning of former national security adviser Michael Flynn, confirming agents did not believe at the time Flynn intentionally lied to them -- though he was later charged with making false statements in that interview.  The documents also reveal that the decision to interview Flynn in early 2017 about contacts with the Russian ambassador was controversial within the Justice Department.  

Meanwhile a recent spending report shows  the Mueller investigation has cost U.S. taxpayers more than $25 million so far. Between April 1 and September 30 $ 4.56 million was spent.  Of that $2.9 million went to "Personnel Compensation and Benefits" - $1 million of that went to special counsel employees' salaries and benefits, and $1.9 million was "reimbursable" for Justice Department employees on detail with the special counsel's office.

December 14: The Wall Street Journal: China hacking/stealing U.S. Navy technology from U.S. contractors
Chinese hackers are breaching Navy contractors to steal everything from ship-maintenance data to missile plans, officials and experts said, triggering a top-to-bottom review of cyber vulnerabilities. A series of incidents in the past 18 months has pointed out the service's weaknesses, highlighting what some officials have described as some of the most debilitating cyber campaigns linked to Beijing.  Cyberattacks affect all branches of the armed forces but contractors for the Navy and the Air Force are viewed as choice targets for hackers seeking advanced military technology, officials said.

December 13: Sky News: May squeaks by in confidence vote
PM May was given the thumbs up a day after the 48-letter threshold was reached to hold a vote over her leadership.  The prime minister won 200/117  - a majority of 83.  The result of the vote means 63% of Conservative MPs backed the prime minister, with 37% voting against her.  She is immune from another leadership challenge for 12 months and can now focus on somehow changing the parliamentary arithmetic in order to get her Brexit withdrawal agreement through a Commons vote.

December 13: Reuters: Jobless numbers lowest in 49 years
The number of Americans filing applications for jobless benefits tumbled to near a 49-year low last week, which could ease concerns about a slowdown in the labor  the most in more than three years in November as the cost of petroleum products tumbled and a strong dollar weighed on prices of other goods, pointing to subdued imported inflation.

December 13: Bloomberg: Speaker Ryan's legacy; increased debt and short term funding bills
When Paul Ryan became speaker of the House in 2015, the federal budget deficit was $438 billion. He blamed the "failed policies of President Obama" for budget deficits that had exploded to $1.4 trillion in 2009, the year after the Great Recession, though shortfalls began shrinking in the following years and were continuing to fall as Ryan took the gavel.

Today, with Ryan preparing to retire from Congress, the annual federal budget deficit is again approaching $1 trillion. Over his two decades in Congress, the total national debt increased from less than $6 trillion to nearly $22 trillion. Yet the years of his speakership saw no new foreign conflict or recession that forced the government to live beyond its means. The problem was a Republican-led Congress that pushed a small-government agenda only in part.

December 13: The Daily Caller: A coalition of Republican voters made a pair of bold requests while asking the Supreme Court to uphold a lower court ruling striking down a Democratic gerrymander in Maryland.  In an aggressive move, the plaintiffs are asking the Court to summarily affirm the lower court, meaning they want the justices to uphold the lower court decision without briefing and oral arguments.  Should the Court decide to take the case, the plaintiffs also asked the justices to schedule their argument on the same day as a related partisan gerrymandering case arising from North Carolina.

December 13: The Hill: Senate bucks Trump, votes to end support for Saudi War in Yemen
The Senate approved a resolution Thursday to end U.S. support for the Saudi-led war in Yemen, dealing a significant blow to President Trump amid heightened tensions over the death of U.S.-based Saudi journalist Jamal Khashoggi.  Senators voted 56-41 on the resolution, which would require the president to withdraw any troops in or "affecting" Yemen within 30 days unless they are fighting al Qaeda.  The measure needs to be passed by the House and get the President's signature.  Trump has threatened to veto the measure should it get to his desk.

December 12: Breitbart News: Smuggler packs 19 illegal migrants in pickup truck
Border Patrol agents in the Laredo Sector stopped a human smuggling attempt where a driver packed 19 migrants into a pickup truck. The driver managed to escape after fleeing the scene, leaving his cargo behind.  During the month of November, Laredo Sector agents apprehended a total of 2,670 illegal immigrants who crossed the border between ports of entry. Those included 183 unaccompanied minors and 49 family members. This is up from 2,283 in November 2017.

December 12: CNBC News: Bernie Sanders:  America is controlled
by a few billionaires; he maybe right!
The power and greed of billionaires in the United States is threatening the country.  So says Bernie Sanders (I-NH) who tried unsuccessfully to win the Democratic presidential nomination in 2016.  "We live in a nation owned and controlled by a small number of multi-billionaires whose greed, incredible greed, insatiable greed, is having an unbelievably negative impact on the fabric of our entire country," Sanders told the CEO and senior editor of  The Real News Network, in an interview posted Thursday.

December 12: InfoWars: U.S. debt poised to hit $22 trillion mark
According to the U.S. Treasury, the debt of the federal government is currently sitting at $21,854,172,540, and at our current pace we will likely hit the $22 trillion mark next month. This is national crisis and yet nothing is being done about it. The U.S. national debt was $10.6 when Obama entered the White House – January 08, since then we have  added $11.2 trillion of new debt to that total.  We are adding an average of over a trillion dollars a year to the national debt. But instead of curbing an insatiable appetite for spending Congress is actually accelerating spending. This scenario is not a story that ends well and both Republicans and Democrats are to blame.

December 12: Bloomberg: Pelosi under pressure to pursue Trump impeachment
House Democratic leaders are downplaying the possibility that they'll quickly seek Trump's impeachment when they take over the House in January, but the steady trickle of revelations against the president may make it harder to say no.  Likely Democrat leaders are under rising pressure to take a more aggressive stance, while this is likely to the risk of derailing important policy goals

December 12: The Hill:  Election Fraud: New election in North Carolina almost certain
A new election in North Carolina's 9th District appears all but certain as new fraud claims surfaced about early votes being leaked and details emerged about the alleged illegal collection of absentee ballots.  More Republicans are joining the chorus of calls for a reset, with the state GOP saying a new race is necessary if allegations that early votes were shared with nonelection officials prior to Election Day in Bladen County are true.  Prospects are also growing that any new race could involve a primary as well; previous expectations were that it would likely entail only a general election rematch.

December 12: The Daily Caller:  Known terrorist leading migrant group
A suspect in a 1987 bombing that wounded six American soldiers in Honduras is leading a group of migrants demanding entry into the United States.  Alfonso Guerrero Ulloa organized a march of approximately 100 migrants to the U.S. Consulate in Tijuana, Mexico, on Tuesday, The San Diego Union-Tribune reported. Ulloa delivered a letter to the consulate on behalf of the migrants, asking for either entry into the U.S. or a payment of $50,000 per person.

December 10: Breitbart News:  "Trade War" truce
Rocky financial markets, driven largely by Federal Reserve uncertainty and President Trump's aggressive tariff negotiation strategy, shouldn't overshadow two trade victories at the recent G20 Summit.  Trump and his Chinese counterpart Xi Jinping negotiated a trade war truce. Trump agreed to delay raising tariffs on $200 billion worth of Chinese imports to 25% in return for Chinese promises to purchase more American agricultural, energy, and industrial exports and reduce the trade deficit.  This ceasefire is double victory for Americans. The most obvious winners are the farmers who have seen their export markets dry up as a result of China's retaliatory tariffs.

December 10: The Hill:  Dems wrongly classify private transaction as campaign contribution?
President Trump on Monday said Democrats are "wrongly" calling a "simple private transaction" a "campaign contribution," referring to payments made by his former attorney to two women who alleged affairs with the president more than a decade ago. Trump claimed that a payment by Michael Cohen was "done correctly," adding that he would not be liable if it was done incorrectly, and that Cohen was "just trying to get his sentence reduced."

December 10: Fox News:
Kavanaugh swing vote: Supreme Court won't consider Medicaid funding of Planned Parenthood
The U.S. Supreme Court Monday rejected review of appeals from two states, which claim the nation's largest abortion provider should not receive any public funding after a series of disputed videos surfaced reportedly showing the group engaged in illegal sales of fetal tissue for medical research.  Planned Parenthood does not receive any federal funding for abortion, but does provide a range of other medical and health services for poor families, including cancer screening and contraception. It was never charged in the fetal tissue issue. The latest appointment to the court was the deciding vote.

December 9: Bloomberg: China Summons U.S. Envoy Over Huawei CFO
China's Vice Foreign Minister Le Yucheng has summoned the U.S. Ambassador to China, Terry Branstad, in a protest over the arrest of Huawei Technologies Chief Financial Officer Meng Wanzhou, and said it will take "further action" if needed.  Meng was arrested in Vancouver on Dec. 1 on the orders of U.S. authorities for allegedly violating American sanctions on selling technology to Iran. Canada's ambassador to China was summoned to the ministry on Saturday.  Meng's arrest, on allegations that she committed fraud to sidestep sanctions against Iran, has become a flash-point in ties between the U.S. and China.



December 8: The Daily Caller: Army-Navy game's stunning
national anthem rendition puts kneeling NFL players to shame:
Army and Navy met again Saturday afternoon in the neutral site of Philadelphia to play a football game between the two oldest branches of the armed forces. This year marks the 119th time the two teams have met. A U.S. president is occasionally on hand for the national anthem and coin toss.  President Trump took the field Saturday in Philadelphia before an enormous crowd in Lincoln Financial Field. The audience was composed of Midshipmen of the Navy, West Point cadets and other assembled active duty and military veterans.  The crowd roared as Trump took the field. Before the game, the student choirs of both military academies join together to sing the national anthem.

December 8: Fox News: Comey transcript released; claims not to remember key details
Former FBI Director James Comey claimed "I don't know" or "I don't remember" in response to dozens of questions concerning key details in the Russia probe, according to a lengthy transcript released Saturday of his closed-door interview with congressional lawmakers.  The former bureau boss frustrated GOP lawmakers during Friday's session, in large part because his lawyers urged him not to answer numerous questions. Comey is expected to return later in the month for another round, though blasted Republicans on his way out for what he called a "desperate attempt to find anything that can be used to attack the institutions of justice investigating this president."

December 6: Reuters:  Bush 41 Attorney General may get the job under Trump
Former U.S. Attorney General William Barr, who served under former President George H.W. Bush, is the leading candidate for the job as a permanent replacement for Jeff Sessions, a source familiar with the matter said on Thursday. The Washington Post reported earlier on Thursday that President Donald Trump could choose his nominee for attorney general in coming days, and that Trump had told advisers he plans to nominate Barr. Sessions departed from the role last month, and Trump named  Matthew Whitaker as the government's top lawyer on an interim basis. With the current session of Congress set to soon end, anyone Trump nominates may have to wait until well into 2019 for confirmation.

December 6:  The Hill:  ObamaCare enrollment is down 11% from last year
With only one week left to sign up enrollment in ObamaCare plans is down by 11 percent compared to last year, according to new sign up numbers released by the administration. The number of new customers signing up is also down 17 percent, compared to last year.   Health insurance experts say there are a number of reasons enrollment could be dropping, including funding cuts for advertising and a smaller number of local groups that provide enrollment assistance. It's also the first year individuals without insurance won't have to pay a penalty, which could encourage customers to drop ObamaCare plans.

December 6: Bloomberg Business:  U.S. net oil exporter for first time in 75 years
America turned into a net oil exporter last week, breaking 75 years of continued dependence on foreign oil and marking a pivotal -- even if likely brief -- moment toward what U.S. President Donald Trump has branded as "energy independence."  The shift to net exports is the dramatic result of an unprecedented boom in American oil production, with thousands of wells pumping from the Permian region of Texas and New Mexico to the Bakken in North Dakota to the Marcellus in Pennsylvania.

December 6: Fox News: Supreme Court Double Jeopardy case holds implications on mueller probe
A Supreme Court case concerning double-jeopardy rules is receiving outsized attention due to its potential implications for Special Counsel Robert Mueller's Russia probe.  At issue in the case heard Thursday is whether and when being tried in state and federal courts for the same crimes is permissible. Under a current constitutional exception, it has been allowed for years. The intriguing relevance to Mueller's investigation would be if one of the defendants charged or convicted in the broad investigation -- such as Trump's former campaign chairman Paul Manafort -- were to be pardoned by the president for various federal offenses. Would a state then be allowed to pursue its own separate charges, including tax evasion or corporate fraud?  The Supreme Court's ruling could have an impact on the answer.

December 6: The Hill: Congress sends a two-week short-term funding bill to Trump:
The Senate approved a two-week government funding bill on Thursday, sending the measure to the White House and pushing a fight over the U.S.-Mexico border wall up against the holidays.  The Senate passed the continuing resolution by a voice vote hours after it was approved in the House. Trump will need to sign it by the end of the day Friday to prevent a partial government shutdown.  The resolution punts the funding deadline from Dec. 7 to Dec. 21, a week after Congress's initial get-out-of-town date of Dec. 14.  Senator Shelby(R-AL), the chairman of the Senate Appropriations Committee, said negotiators could solve the funding fight in "15 minutes" if they could get a deal on the wall funding.

December 5: The Daily Caller: Whistleblower advocates & attorneys condemn FBI raid on whistleblower
Whistleblower advocates across the political spectrum condemned an FBI raid on the home of a recognized whistleblower who reported potential wrongdoing surrounding the Clinton Foundation, the Uranium One deal and former Secretary of State Hillary Clinton. The Daily Caller detailed how 16 FBI agents raided the home of Dennis Cain Nov. 19 and rummaged through his home for six hours even though he told them that DOJ Inspector General Horowitz awarded him whistleblower status.  Horowitz instructed a top aide to personally hand-carry the documents to the House and Senate intelligence committees over the summer after he received, Socarras, Cain's attorney said.

December 3: Fox News: Election law change in California allowed Dems to rout Reps in midterm election
A minor change in California's election laws may had a major effect on last month's midterm elections that saw Democrats steamroll their Republican rivals and claim all but seven of the Golden State's 53 House seats. Despite holding substantial leads on Election Day, many Republican candidates in California saw their advantage shrink, and then disappear, as late arriving Democratic votes were counted in the weeks following the election. While no hard evidence is available, many observers point to the Democrats use of "ballot harvesting" as a key to their success in the elections.

December 3: The Daily Caller: Supreme Court turns down challenge to the border wall
The U.S. Supreme Court declined to take up a challenge to President Donald Trump's border wall Monday, which asserted that the administration violated the Constitution when it exempted border barrier projects from environmental regulations.  The plaintiffs warn of adverse effects to local ecosystems should the administration raise a wall along the border with Mexico. A 1996 law authorized the attorney general (and later the Homeland Security secretary) to build border barriers to deter illegal immigration. In that connection, the law gave the Department of Homeland Security secretary power to exempt certain border projects from environmental laws like the Endangered Species Act, as well as other legal rules, to ensure quick construction.

December 3: Fox News:  Complaint filed against Mueller, alleges bid to seek false testimony
Author Jerome Corsi on Monday filed a "criminal and ethics complaint" against Special Counsel Robert Mueller's team, accusing investigators of trying to bully him into giving "false testimony" against President Trump.  The complaint, which Corsi had threatened for days, is the latest escalation between Mueller's team and its investigation targets.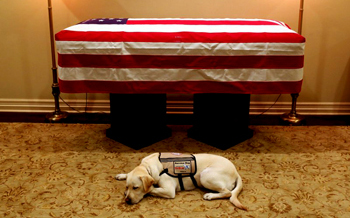 December 3: Associated Press: 
Bush 41 heads for final trip to Washington
George H.W. Bush is ready to embark on his final journey to Washington as the nation salutes the 41st president for his lifetime of public service that began in the Navy during World War II, ended with four years as president and was characterized throughout by what admirers say was decency, generosity and kindness.  A long motorcade accompanied the hearse carrying Bush's remains from a Houston funeral home to nearby Ellington Field for the trip to the nation's capital on an aircraft that often serves as Air Force One.


December 2: Fox News:  Russia deploys surface to surface missiles in Crimea
Satellite images shot Sunday and exclusively show a newly deployed Russian S-400 surface-to-air missile battery in the Dzhankoy airbase in Crimea.  The intelligence report by ImageSat International indicates that the infrastructure for the S-400 battery was prepared in recent months, a long time before last weekend's naval encounters that sparked new tension between Russia and Ukraine.  The images showed a bare ground in April 2018, and construction by November 10 – two weeks before the recent escalation.

| | |
| --- | --- |
| | |
December 2: The Hill: Deficits may coming back to roost:
With a new Congress set to take office, the most recent projections have the U.S. budget deficit reaching nearly $1 trillion in 2019, or more than double the level of 2015. The deficit is a perennial topic of discussion for politicians, reporters, pundits and economists, yet many people have difficulty understanding why it's a problem.  Spending more than we take in sounds irresponsible, but how does the deficit actually impact the life of average Americans? The downside is especially hard to see when deficit spending generates immediate benefits, while the costs occur well into the future.

December 1: NBC News:  George HW Bush dies at 94:
Complete broadcast on George HW Bush's life.

December 1: Foundation for Economic Freedom: Questions answered about the
US-Mexico-Canada free trade agreement
Shortly before midnight on September 30, the United States and Canada agreed to a deal to replace the North American Free Trade Agreement (NAFTA). The new trilateral trade agreement is called the United States-Mexico-Canada Agreement (USMCA).  But before it can take effect it needs to be approved by each country's legislature.  It's not a free trade agreement.  It's a protectionist agreement imposed by the U.S. on the other two countries. 

December 1: CNBC: Blinking? China and US agree to put off tariffs for 90 Days while discussions take place:
Chinese President Xi Jinping and U.S. President Donald Trump put their bilateral trade war on pause momentarily, striking an agreement to hold off on slapping additional tariffs on each other's goods after January 1, as talks continue between both countries.  In a White House readout of a dinner at the G-20 summit in Argentina, Xi and Trump discussed a range of nettlesome issues — among them the trade dispute that has left over $200 billion worth of goods hanging in the balance.

November 30: The Daily Caller:  Senate Intel referred case to Mueller for action:
The Senate Select Committee on Intelligence has made criminal referrals to the special counsel's office, including regarding former Trump lawyer Michael Cohen, the chairman of the panel revealed Friday.  "We have made referrals to the special prosector," North Carolina Sen. Richard Burr said at a forum held at the University of Texas in Austin. "One instance just highlighted of late, is that the special prosecutor is using the transcripts of interviews that we have used in our committee to indict somebody for lying to Congress."

"It's a loud message to everybody who's interviewed by our committee … if you lie to us we're going to go after you," the Republican added.

November 29: The Daily Caller: FBI raids home of a whistleblower on Clinton/uranium deal
The FBI raided the home of a whistleblower who was in possession of documents regarding the Clinton Foundation and Uranium One, according to the whistleblower's lawyer, Michael Socarras.  The whistleblower, Dennis Nathan Cain, had turned the documents over to the Department of Justice's inspector general and both the House and Senate Intelligence committees, according to the lawyer. The FBI rummaged through Cain's home for six hours, even after the whistleblower handed over the documents, according to Socarras.

Related:  Whistleblower's documents shed light on Mueller's failure
to investigate Clinton for potential criminal activity:
The Justice Department's inspector general was informed that the documents show that federal officials failed to investigate potential criminal activity regarding former Secretary of State Hillary Clinton, the Clinton Foundation and Rosatom, the Russian company that purchased Uranium One. The documents also show that then-FBI Director Robert Mueller failed to investigate allegations of criminal misconduct, shedding light on Mueller who is currently the special counsel investigating possible Trump campaign collusion with Russia

November 29: Politico: Mueller stalks Trump abroad
White House aides had hoped that the G-20 summit would be an opportunity for President Donald Trump to showcase his deal-making skills. Now, they're worried that special counsel Robert Mueller's latest bombshell could overshadow his latest tour on the world stage.  And some think that's just the way Mueller wanted it.

In a Thursday statement, Trump's lawyer, Rudy Giuliani, called it "hardly coincidental" that Mueller made a dramatic legal move "just as the President is leaving for a meeting with world leaders," adding that the chief Russia investigator "did the very same thing as the President was leaving for a world summit in Helsinki."

November 29:  CNN News:  Japan plans to purchase F-35 stealth fighters and place them on small ships
Japan is preparing to order roughly 100 US-deigned F-35 stealth fighters in a deal that could potentially upend the balance of power in Asia, according to sources famililar with the process.  That order would include a version of the aircraft that can take-off and land vertically, a feature that could prompt Japan to transform some of its existing ships into aircraft carriers so that it can operate the fighters at sea – something they have not had since World War II.  "With short take-off vertical landing capabilities you are now able to operate at sea.  You are able to penetrate areas and reach ranges in a shorter distance which is an important capability"  a source said.

November 29: Fox Business:  IRS releases 2019 tax brackets
Here's what rates look like for 2019:
Bracket
Individual Income
Married Couples Income
10%
$9,700 or less
$19,400 or less
12%
over $9,700
more than $19,400
22%
over $39,475
more than $78,950
24%
over $84,200
more than $168,400
32%
over $160,725
more than $321,450
35%
over $204,100
more than $408,200
37%
over $510,300
more than $612,350
Standard deduction: The standard deduction for married couples rises to $24,400; for individuals it increases to $12,200, up $400 and $200, respectively.
November 28: Breitbart News: Is the FED Chair backing off interest rate hikes?
Federal Reserve Chairman Jerome Powell said Wednesday that interest rates are "just below" the level that would be neutral for the economy, a retreat from his position in early October when he described monetary policy as "a long way" from neutral.  Fear that the Fed could overshoot on interest rates and push the economy into a recession has been rising in recent weeks.

November 28: The Boston Globe: Manafort Attorneys briefed Trump Attorneys
following interviews with Mueller team
A lawyer for Paul Manafort, the president's onetime campaign chairman, repeatedly briefed President Trump's lawyers on his client's discussions with federal investigators after Manafort agreed to cooperate with the special counsel, according to one of Trump's lawyers and two other people familiar with the conversations. Trump's lead attorney Giuliani said, Mueller wanted "... Manafort to incriminate Trump."
November 28: Politico: Republican Hyde-Smith wins Mississippi runoff brings Senate headcount to 53/47
Senator Cindy Hyde-Smith (R-Mis) has won reelection in her Senate runoff, defeating Democrat Mike Espy 54 to 46 with 95% of precincts reporting. The result means Republicans will hold a 53-47 majority in the Senate next year, and it makes Hyde-Smith the first woman elected to represent Mississippi in the Senate. She will have to run again in 2020.

November 27: Associated Press: Manafort and other witnesses claim
the Mueller Team interrogated them as if they were a "POW in the Korean War"
Jerome Corsi, an associate of Roger Stone is contesting a Mueller grand jury subpoena in court. Corsi said Monday he was rejecting a plea offer and said that being questioned was like being "interrogated as a POW in the Korean War." 

November 27: Breitbart News:  Obama used tear gas on the border eighty times
Under the Obama Administration, U.S. Customs and Border Protection (CBP) law enforcement officials, including Border Patrol agents, utilized tear gas against migrants at or near the border approximately 90 times between FY2012 and early FY2017. CBP officials reported the use of tear gas and pepper spray to push back "assaultive" caravan migrants attempting to enter the U.S. illegally on Sunday. The agency began using these particular sprays during the Obama administration in 2010. 
| | | | | | | | | |
| --- | --- | --- | --- | --- | --- | --- | --- | --- |
| Fiscal Year | 2012 | 2013 | 2014 | 2015 | 2016 | 2017 | 2018 | TOTAL |
| Incidents of Tear Gas Use | 26 | 27 | 15 | 8 | 3 | 18 | 29 | 126 |


November 27: The Wall Street Journal:  Lawmakers gridlocked over wall funding as a partial shutdown looms
Republicans discussed the idea of spreading out President Trump's request for $5 billion for the border wall over two years, but Democrats quickly shot down that idea. And House GOP leaders, who met with Mr. Trump at the White House on Tuesday afternoon, indicated that he remained fixed in his position for now.  "President Trump's been very adamant that we need to get the $5 billion for border security," House GOP Whip Steve Scalise (R-LA) said as he returned from the White House. "That's something we're very committed to following through on."

November 26: Breitbart News: Texas elementary school teacher killed by illegal in El Paso hit and run
A 28-year old Texas 6th grade elementary school teacher lost her life on Thanksgiving Day after being struck by a hit-and-run driver who, reportedly, was in the United States illegally and had a criminal record.  The victim was in the crosswalk of an El Paso intersection when a 1996 red Chevrolet Cavalier ran a traffic light and killed her.  The driver of the vehicle fled.  On Saturday, Sergeant Robert Gomez, El Paso Police Department spokesman, announced detectives arrested Joel Velazquez, 24, charging him with accident involving death. Bail has been set at $150,000.

November 26: Fox News: Trump threatens to close down the border if Mexico doesn't send illegals home
President Trump offered Mexico some advice on deporting migrants massed in Tijuana and threatening to storm the U.S., telling the neighboring nation in a tweet to send them "back to their countries" by plane or by bus – or face a permanent closure of the border.

November 26: The Hill:  Trump may play hardball:
Partial government shutdown if funding for the wall is not included
Congress is returning to Washington with a tight deadline to pass seven spending bills and avert a partial government shutdown over President Trump's demand that lawmakers fund his wall on the Mexican border.  The partial shutdown will take place on December 7th  if Congress doesn't pass legislation.

November 26: The UK Daily Mail: 17 Russian fighter jets swarm Royal Navy warship in the Black Sea
Incredible footage has captured the moment a Royal Navy warship was 'buzzed' by 17 Russian fighter jets 30 miles off the coast of Crimea. A documentary captured the dangerous moment as HMS Duncan led a Nato fleet through the Black Sea in May. 'Buzzing' is when an aircraft flies fast and low past a building or another vehicle and the Russian fighters were so close to the Type 45 destroyer their electronics could have been scrambled by the ships, which could have caused a crash.  Defence Secretary Gavin Williamson described the incident as 'brazen hostility' from Russia while he praised the work done by the flagship, worth around £1billion, and her crew.

November 26: Breitbart News: Corsi to reject Mueller plea deal and "Gestapo" tactics; plans on suing Mueller
Former Infowars D.C. bureau chief Jerome Corsi will reject a plea agreement offered by the special counsel and fire back with a criminal complaint, accusing Robert Mueller of "Gestapo" tactics in attempting to pressure the author into pleading guilty to one count of perjury.  "They can put me in prison the rest of my life. I am not going to sign a lie," Corsi said.  


November 25: The Hill:  Business braces for Dem push for increases in the corporate tax rate
The business community is bracing for Democratic proposals to raise the corporate tax rate to pay for infrastructure spending and other priorities.  Infrastructure is seen as one of the rare areas where Democrats and President Trump might be able to come to a deal, since both sides have called for improvements to the nation's roads, railways and bridges.  The problem is how to pay for the new spending.

November 25: The UK Sun:  UK moves one step closer to exiting the EU
As Britain moved a step closer to our exit, the Prime Minister insisted it was "time to move on" and her deal was "the only possible deal" that could be secured.  At a press conference this lunchtime after meetings with other leaders she said in a direct pitch to her wavering MPs: "The British people don't want to spend any more time arguing about Brexit. "This will allow us to come together again as a country." After 18 months of political wrangling, heads of government were finally ready to sign and seal the deal today.

November 25: Breitbart News: Venezuela: Example of how socialism works, or doesn't!
With over one million refugees from Venezuela having fled to other countries, with dozens of people dying violently in Venezuela every day, Venezuela's dictator Nicolás Maduro's Socialist policies seem to drive the country further into disaster every week. 

November 24: Fox News: 
South Dakota may be the first state to allow citizens to carry concealed weapons without a permit
After years of unsuccessful attempts, supporters of legislation that would allow people to carry concealed handguns without a permit in South Dakota anticipate revived prospects once GOP Gov.-elect Kristi Noem takes office in January.  The legislation languished under retiring Republican Gov. Dennis Daugaard, but Noem in her campaign offered support for a so-called constitutional carry law. GOP state Sen.-elect Lynne DiSanto, who as a member of the state House of Representatives sponsored a permitless concealed carry bill that Daugaard vetoed, said such legislation is likely in the upcoming session and she's optimistic about its prospects.

November 24: The Chicago Tribune: Deal made to keep U.S. asylum seekers in Mexico?
The Trump administration has tentatively won the support of Mexico's incoming government for a plan to remake U.S. border policy by requiring asylum seekers to wait in Mexico while their claims move through U.S. courts. 

November 23: CNN:  The VP's Chief of Staff may be on the short list to replace Kelly
President Trump and Vice President Pence meet weekly over lunch with their Chief of Staff also attending.  Over the last year this get together has given Nick Ayers, Pence's Chief of staff, the ability to have regular face-time with the President. As the President considers replacing his chief of staff, Ayers has emerged as a top contender. 

November 22: The National Post: 
Trump's plan would require asylum seekers to remain in Mexico while cases are processed
Central Americans who arrive at U.S. border crossings seeking asylum in the United States will have to wait in Mexico while their claims are processed under sweeping new measures the Trump administration is preparing to implement, according to internal planning documents and three Department of Homeland Security officials familiar with the initiative.
 
November 22:  Fox News: 
Clinton: Europe needs to handle immigration to avoid rise of rightwing populists
Hillary Clinton has issued frank advice to European leaders: If you want to stop the rise of rightwing populists then get a handle on your immigration crisis.  Clinton said to the Guardian that the one million migrants and refugees that have flooded into the European Union since 2015 have thrust immigration into the spotlight and fueled the rise of hard-line leaders around the globe. While she praised German chancellor Angela Merkel for her compassion, she cautioned that countries can't leave the door open forever.  "I think Europe needs to get a handle on migration because that is what lit the flame," Clinton said regarding the rise of rightwing populists like Hungary's Viktor Orbán.


November 21: Navy Times: 
USS Ronald Reagan visits China's Hong Kong
The USS Ronald Reagan dropped anchor in Hong Kong harbor days after two B-52 bombers flew over a disputed South China Sea island.  The arrival of  the Reagan strike group in the Asian financial hub is being seen as a friendly gesture ahead of a planned meeting later this month between President Trump and Chinese leader Xi Jinping. That meeting will mark the first time they've sat down together since the start of a bitter trade war and amid tensions over the South China Sea. China has demanded the U.S. cease military activity of all kinds near the heavily armored South China Sea island it claims.  The U.S. says it takes no stance on sovereignty claims, but will continue to sail and operate wherever it wants in international waters.

November 21: The Free Beacon: Iran's secret plans to build five nukes
A new bombshell report based on a secret trove of seized Iranian nuclear documents shows the Islamic Republic had concrete plans to manufacture and build at least five nuclear weapons and that it was much further along in this scheme than previously known by the international community.  Iran's contested nuclear weapons program was much further along than the international community thought, according to a report based on scores of secret Iranian plans seized by Israel and publicly disclosed for the first time earlier this year.
November 21: Fox News: Trump: Comments on the 9th Circuit Court of Appeals
President Trump on Wednesday insisted that the nation does, in fact, have "Obama judges," the latest remarks in the back-and-forth disagreement over the matter with Supreme Court Chief Justice John Roberts.  "It would be great if the 9th Circuit was indeed an 'independent judiciary,' but if it is why are so many opposing view (on Border and Safety) cases filed there, and why are a vast number of those cases overturned," Trump continued. "Please study the numbers, they are shocking. We need protection and security - these rulings are making our country unsafe! Very dangerous and unwise!"

November 20: YouTube: Trump commutes Thanksgiving turkey!
Humorous video that is worth watching!


November 18: NBC News: The GOP's secret weapon in Florida
Jessica Johnson, the 37-year-old general counsel to the National Republican Senatorial Committee, found herself in Tallahassee, quarterbacking the GOP's legal response to the two-recount Senate contest between the Democratic incumbent, Bill Nelson, and Gov. Rick Scott, his Republican challenger.  While she worked in relative obscurity her opposite number in this fight, Democratic super-lawyer Marc Elias, had more than 50,000 Twitter followers, a resume that includes serving as the general counsel on two presidential campaigns.  The main stakes were always the same: a U.S. Senate seat and the framework that will govern how Florida election laws are applied and interpreted in the 2020 presidential election.

November 18: Yahoo News: Finally, Scott becomes Senator
Rick Scott, Florida's outgoing governor, was declared the winner on Sunday of his hard-fought U.S. Senate race against incumbent Democrat Bill Nelson following a hand recount of ballots, giving Republicans control of both of the state's Senate seats for the first time since the 19th century.  In the recount of the Nov. 6 election, Scott won by 10,033 votes out of 8.19 million cast statewide, Florida elections officials said. Scott took 50.05 percent, compared to 49.93 percent for Nelson, they added.

November 17:  Yahoo News: 
Netanyahu heads into cabinet showdown as allies demand early Israeli elections
Benjamin Netanyahu faces a showdown with his coalition government partners on Sunday as he tries to stop them from forcing early elections in the wake of his unpopular decision to agree to a ceasefire with Hamas. Three of the smaller parties in the Israeli prime minister's coalition have demanded elections as soon as possible and want to use today's cabinet meeting to formally agree on a date for the vote.

November 17: The New York Times:  Homosexual Groves Texas councilman Ousted
Cross Coburn, who served as an openly gay councilman in the small Texas town of Groves in Jefferson County, the midterm election was a bitter defeat.  He was ousted in a recall election on Nov. 6, nine months after he was told that City Hall had received an anonymous package of nude photos that Mr. Coburn had sent in private messages on the dating app Grindr. Those photos were later sent to the Beaumont Enterprise, after which supporters of a petition to remove him questioned  whether he fit the "moral standards" of the city.


November  16: The UK Sun: 
VP Pence stares down Russian President
Pence and Putin "discussed the upcoming G20 Summit and touched on the issues that will be discussed when President Trump and President Putin are both in Argentina for the summit," according to the vice president's press secretary, Alyssa Farah.  An NBC reporter tweeted
"New per the @VP's Office—> The VP's office says Vice President Pence directly addressed Russian meddling in the 2016 election in a conversation with Vladimir Putin on Thursday in Singapore.


November 16: The Los Angeles Times:  China takes gloves off on economic espionage
It was the great microchip heist — a stunning Chinese-backed effort that pilfered as much as $8.75 billion in patented American technology.  U.S. officials say the theft took a year to pull off and involved commercial spies, a Chinese-backed company, a Taiwanese chipmaker and employees affiliated with Micron Technology, a U.S.-based microchip behemoth.  Yet what Micron called "one of the boldest schemes of commercial espionage in recent times" is most notable because it's not unusual.

November 14: Politico: 
CNN | White House go to court over denial of CNN reporter to White House grounds
After pulling White House credentials for Jim Acosta -- CNN's reporter who refused to give up the microphone and allow the President to move to another reporter at a press conference – the White House asserted that a president has the authority to bar "all reporters" from the White House complex for any reason he sees fit.  This claim came during the first public hearing over a CNN lawsuit to restore Acosta's access to the White House.

Related:  The Hill: OANN to support White House position
The head of One America News Network (OANN) said Thursday that the organization will file an amicus brief in support of the White House as it faces a lawsuit from CNN over the revocation of reporter Acosta's  press pass.  OANN CEO Robert Herring wrote on Twitter that the organization backs the White House's decision in part because he believes Acosta prevents his network's own reporters from asking questions.

November 13: CNN News:  Russia jams GPS during NATO exercises
The Russian military jammed GPS signals during a major NATO military exercise in Norway that involved thousands of US and NATO troops, the alliance said Wednesday, citing the Norwegian government.  A US defense official told CNN that the jamming had "little or no affect" on US military assets during the NATO exercise.


November 13: Fox News:  McCarthy elected House Minority Leader with 79% of the vote
Rep. Kevin McCarthy, (R-CA) beat back a challenge from dark horse candidate, Rep. Jim Jordan (R-OH) on Wednesday for the role of House minority leader, with Rep. Liz Cheney, (R-WY) nabbing the title of GOP conference chairman.  During a closed-door session with House Republicans, the California lawmaker took a decisive victory against Jordan, bringing in 159 votes to the Ohio representative's 43 votes.  McCarthy was initially elected to the House in 2006 and has served as the House majority leader since 2014. Jordan is a prominent member of the House Freedom Caucus and an ally of President Trump.


November 13: Fox News San Diego:
Caravan reaches U.S. Border. Some scaled the fence!
People on the Mexican side of the border could be seen climbing the fence near Border Field State Park Tuesday afternoon after part of the Central American migrant caravan arrived in Tijuana.  Several people scaled the fence and sat o n top of it. A few jumped or crawled to openings in the fence onto U.S. soil but quickly ran back as Border Patrol agents approached.  Several border agents were seen patrolling the area in trucks, 4-wheelers, a helicopter and on horses.

November 13: Politico: Pence's Chief of Staff: An upgrade in positions?
Vice President Mike Pence's chief of staff Nick Ayers has reemerged as a leading candidate to succeed White House chief of staff John Kelly, according to several White House officials and others close to the presidential orbit.  An appointment would continue the rapid rise of the young aide, 36, and install a chief who enjoys warm relations with some of the most important figures in President Donald Trump's orbit: his eldest son, Don Jr., his eldest daughter, Ivanka, and his son-in-law, Jared Kushner. Ayers also enjoys support among the motley crew of outside advisers.
November 12: Breitbart News:
California Governor blames forest fires on climate change
Gov. Jerry Brown (D-CA) Sunday blamed climate change for the California wildfires, despite a complete lack of evidence — a day after President Donald Trump was widely criticized for blaming poor forest management.  Brown said, "Managing all the forests in everywhere we can does not stop climate change.  And those who deny that are definitely contributing to the tragedies that we're now witnessing, and will continue to witness in the coming years." Trump's theory is that over-regulation has led to under-harvesting of forests, leaving more fuel for fires to burn. Brown's theory is that the global use of fossil fuels is making California warmer and drier, and more prone to fires.

November 12: Loomer Blog: Broward County Elections Team seems incompetent at best and perhaps worse
In an explosive new development in the Florida election process, a provisional ballot box from the Broward County Supervisor of Elections Office was discovered in the back of a rental car by an Avis employee at the Fort Lauderdale Airport on Sunday night.  The Broward Sheriff's office closed down the airport claiming there was a suspicious package on the premises when it was apparent the package was two containers of provisional ballots.  The rental car in which the ballots were found was rented by an election worker who, it turns out, appears to be part of the "anti-trump army" and also may be tied to Democrat gubernatorial candidate Andrew Gillum  who withdrew his concession to Governor Scott in recent days.


November 12: Breitbart News:  Rockets descend upon Israel
Israel came under sustained terrorist rocket and mortar attack Monday afternoon, with early reports indicating at least one man seriously injured. A rocket from Gaza hit a home in the southern city of Netivot, Hadashot news reports. Rocket sirens continue to sound across southern Israeli communities as local communities take shelter.



November 11: Fox News: (Video)
Dr. Sebastian Gorka reacts to Macron's comments on nationalism
Former Deputy Assistant to the President commented on French President Macron's comments about nationalism and President Trump's Make America First approach to U.S. foreign policy.  Gorka said "…people don't die for globalization, they don't died for the United Nations… they die for their nation… this is an outrage that (he thinks) people will die for something outside their nation."  He then encouraged Macron to look up the definition of nationalism in the dictionary.   Nationalism is, according to Gorka,  "the love of nation, devotion to your country. How is that a bad thing?" 

November 10: The Daily Caller: Happy Birthday for the Marine Corps
The U.S. Marine Corps turns 243 years old today, marking nearly two and a half centuries of protecting America at home and abroad.  Marines have fought in every major war in U.S. history — in fact, the Marine Corps is older than our country itself and traces its roots to the Continental Marines of the Revolutionary War period.  In 1775, the Second Continental Congress adopted a resolution to form "two battalions of Marines" to be led by Captain Samuel Nicholas, who is considered the first Commandant of the Marine Corps. Today, that date is regarded and celebrated by Marines around the world as the birth of America's most iconic — and fearsome — fighting force.

November 10:  Bloomberg: 
Top Democrats in the House don't want to touch impeachment of the President
Impeaching Donald Trump may be the dream of some Democrats, but party leaders poised to take control of the House of Representatives won't go there even after the president ousted Attorney General Jeff Sessions.  Representative Jerrold Nadler is expected to become chairman of the House Judiciary Committee in January, he and other House Democratic leaders are still stopping short of citing the constitutional power of impeachment that they could wield -- and that some party activists are demanding they pursue. It's a move that could backfire by coming off as partisan overkill and prove futile because impeachment by the House would be unlikely to result in removal of the president by the Senate, where the Republicans increased their majority in Tuesday's elections.

November 10:  Associated Press:  Eighteen Years later it's Florida and recounts all over again
The Florida secretary of state is ordering recounts in the U.S. Senate and governor races, an unprecedented review of two major races in the state that took five weeks to decide the 2000 presidential election.  Secretary Ken Detzner issued the order on Saturday after the unofficial results in both races fell within the margin that by law triggers a recount.

November 10: The Hill: Judge orders Palm Beach County to turn over ballots; a clear win for the Scott campaign
A judge in Palm Beach, Fla., on Friday ordered the county's top elections official to turn over to the county canvassing board a trove of ballots deemed faulty by local officials, delivering a key legal victory to Gov. Rick Scott's (R) Senate campaign.  The ruling by Chief Judge Krista Marx came in response to a lawsuit filed by Scott's campaign late Thursday alleging that Palm Beach Supervisor of Elections Susan Bucher's office had withheld crucial information about vote counts. A separate lawsuit filed by Scott and the National Republican Senatorial Committee (NRSC) in Broward County is being heard as well.

November 10: Breitbart.com: Arizona election official employing controversial counting practices
The Maricopa County election official (vote recorder) employing controversial vote-counting practices was the defense attorney for an accused Mexican cartel gun straw purchaser and a Bernie Sanders supporter.  Maricopa County recorder Adrian Fontes faces accusations of employing corrupt vote-counting practices as his county delivered a late-breaking lead to Democrat Kyrsten Sinema in the U.S. Senate race with Republican Martha McSally. McSally led the race for two days until large batches of votes in Maricopa County flipped the lead to Sinema.

Several county Republican parties sued county recorders in the state over the vote-counting method Fontes was using. Friday, a judge delivered a resolution that gave recorders until Wednesday to resolve issues like verifying signatures of early ballots dropped at polling locations on Election Day. The Republican Party also "criticized the official for opening emergency voting centers the weekend before Tuesday's election and for mixing disputed ballots with valid ones," according to the report.

November 10: Fox News:  Florida Democratic candidates wants non-citizens' votes to count
Lawyers for the Florida Democratic gubernatorial and Senate candidates objected Friday to the rejection of a provisional ballot cast by a noncitizen, according to a transcript obtained by Fox News.  The incident occurred during a canvassing meeting Friday in Palm Beach County, where provisional ballots were being examined. According to the draft transcript of the meeting, taken by a court reporter hired by the Florida Republican Party, a provisional ballot was ordered excluded from the count, as it came from a non-U.S. citizen.

November 9: The Hill: 
Trump signed measure to curb asylum to those in the county illegally
President Trump signed a proclamation Friday blocking certain immigrants from claiming asylum, completing a controversial move that is expected to trigger a wave of legal challenges. "We want people to come into our country, but they have to come into the country legally," Trump told reporters before leaving the White House for a trip to Paris. The directive was rolled out earlier this week by the Trump administration would limit asylum claims to migrants who enter the U.S. through legal ports of entry.


November 9: Fox News: Accusations fly over Broward County ballot shenanigans, mystery truck deliveries, slow counting and more
Florida braces once again to become ground zero in a national election fight, and the epicenter appears to be Broward County where late-arriving ballots in Democratic strongholds are fueling accusations of political shenanigans.  Florida Republican Sen. Marco Rubio has highlighted a range of possible problems in the county—including a suspected mystery truck delivery of ballots—and has criticized local officials for their molasses-like process of counting ballots in the Senate race between Republican Rick Scott and incumbent Democratic Sen. Bill Nelson.


November 9: The Daily Signal:  Sessions did some great things as Attorney General
There is no question that Attorney General Jeff Sessions had a rocky relationship with President Donald Trump, over his recusal from the investigation of Russia's interference in the 2016 election.  But his firing should not diminish the fact that Sessions' very commendable leadership over the past two years has helped restore the integrity of the Justice Department and get it back in the business of enforcing the law.
November 8: The Washington Examiner: 
Record high debt expected to reach of $22 trillion this summer
The federal government is set to reinstate its borrowing limit, and a new analysis indicates that it will be a record-high $22 trillion — and then, it won't provide enough money to fund the government past summer.  The ceiling has been in suspension since the deal reached by the GOP Congress last year and the debt has consequently grown. The statutory debt ceiling is set to be reinstated on March 2, 2019.

November 8: CNBC:  Supreme Court Justice Ginsburg falls; breaks three ribs
On Wednesday evening Supreme Court Justice Ruth Bader Gisnsburg fell in her office and fractured three ribs. The 85-year-old liberal justice was admitted to a hospital Thursday.  Ginsburg's health has been a matter of intense speculation in recent years. The court's oldest member, Ginsburg has survived multiple bouts with cancer, and in 2014 underwent a procedure to have a stent placed in her right coronary artery.

November 7: The Daily Caller: It could be days before we know who won the Arizona senate race:
The race to become Arizona's next U.S. senator is too close to call, and because of uncounted absentee ballots, it could remain that way for days to come.  Former US Air Force pilot Martha McSally (R) leads her opponent Kyrsten Sinema (D) by just 1,600 votes as of Wednesday morning.   That's 49.3% to 48.4% with 99% of the precincts reporting.   The two candidates are markedly different.  McSally has a military background while Sinema has a record of participating in a number of anti-war activities.

November 7: The Daily Caller:  Sessions Out and Whitaker in at Justice Department
On Wednesday President Donald Trump fired Attorney General Jeff Sessions and replaced him with his chief of staff.  Trump has long been agitated with Sessions for recusing himself from the Russia investigation and blames him for the appointment of special counsel Robert Mueller.   The president will not face stiff opposition to confirming Matt Whitaker  after the Republicans picked up several new seats in the U. S. Senate in the midterm elections.

November 7: Fox News: Missouri mother of three saved by gun owner
Ben Seadorf told FOX4 he was at his Kansas City home with his four children when he suddenly heard "blood-curdling screams" coming from the direction of a nearby intersection.  He grabbed his registered 9-millimeter handgun and headed towards the screams. When he reached the source, he encountered Alarick Williams allegedly attacking a woman dragging her into his car. The fight happened in front of the couple's three children, who were in the vehicle.  Seaford approached the car with his gun pointed at Williams, and told him to get out of the vehicle and on to the ground. Kansas City Police soon arrived and arrested Williams. Seaford told FOX4 that officers thanked him for stopping the attack.
November 4: The Daily Caller:  Cruz and Rubio praise Trump for Iran sanctions urge even more:
Senators  Marco Rubio (R-FL) and Ted Cruz (R-TX) praised President Trump Friday for issuing a second round of sanctions against Iran, but they urged the White House to impose "maximum pressure" by going even further.  The White House announced earlier that all of the sanctions lifted under the Obama administration would be reimposed, targeting industries critical to the Iranian economy.
November 4: Associated Press: Trump Presidency faces a high-stakes midterm election:
President Trump has been acting like a candidate on the ballot this week, staging daily double-header rallies.  A knot of investigations and partisan gridlock have dogged his presidency.  If the Democrats win is will be a warning shot for his re-election bid and potentially debilitating fallout should Republicans lose control of one or both chambers in Congress.  On the flip side, if Republicans maintain control of the House and Senate, that's not only a victory for the GOP but also a validation of Trump's brand of politics and his unconventional presidency.

Related: Vibrant U.S. economy complicates voter's decision:
For many voters in America's affluent suburbs, a flourishing economy is forcing a thorny dilemma for the midterm elections.  Some want to vote Democratic to protest what they see as a divisive and unpresidential president while they also want to back Republicans in hopes that the economy will continue thriving under the majority party?  The healthy economy has at least complicated their decision and blurred the outcome of the midterm elections . On Friday, the government reported that employers added a robust 250,000 jobs in October. And the unemployment rate stayed at a five-decade low of 3.7 percent.

November 2: The UK Independent: 
Finnish soldiers may have found secret Russian military bases in their backyard!
A Finnish island purportedly belonging to Pavel Melnikov, a 54-year-old Russian from St Petersburg, was raided in September by Finnish forces, part of 400 of them who landed on 17  other islands.  The conjecture is that these islands have been turned into small Russian military bases.  One island (Sakkiluoto) has dotted the property with security cameras, motion detectors and no-trespassing signs. It also has nine piers, a helipad, a swimming pool draped in camouflage netting and enough housing – all of it equipped with satellite dishes – to accommodate a small army.

November 2: The Economist:  Birthright Citizenship and Immigration
Phrases like chain migration, anchor baby and migrant caravan have entered popular parlance these days.  Add to this list "birthright citizenship." President Trump said this week his is looking to end this by executive order.  Doing so would deny citizenship to the American-born children of illegal aliens and perhaps foreigners in the country on non-permanent visas. Meanwhile Senator. Lindsey Graham says that he will write legislation to "deal" with birthright citizenship, calling it a "magnet for illegal immigration".
November 1: Bloomberg:  Saudi Prince starts to pay the price for Khashoggi's murder:
The fallout from the murder of Saudi critic Jamal Khashoggi is mounting for the Saudi kingdom's young leader abroad.  Some of the investors who courted Crown Prince Mohammed bin Salman stayed away from his economic gathering in Riyadh last week, the U.S. is now signaling its position on the man is shifting.
November 1: The Wall Street Journal: Chinese supersizing internment camps
Chinese authorities aggressively expanded the scale of internment camps in Xinjiang this year, according to a new study, even as China's program of mass detentions of Muslims in the region started to draw international scrutiny.  An examination of satellite imagery released by the Australians map out the expansion of 28 detention camps in the restive frontier region with the square footage of the facilities growing by 465%.
October 30: CNBC: Accusations of sexual misconduct may surface against Mueller:
Jack Burkman, a conservative commentator who says he is  a registered lobbyist, said in a tweet Tuesday that "we will reveal the first of Special Counsel Robert Mueller's sex assault victims" on Thursday.  "Some sad news. On Thursday, November 1, at the Rosslyn Holiday Inn at noon, we will reveal the first of Special Counsel Robert Mueller's sex assault victims. I applaud the courage and dignity and grace and strength of my client."  Meanwhile Special counsel Robert Mueller has referred to the FBI allegations that women were "offered money" to make "false claims" about him, a spokesman said Tuesday.
October 29: Orlando Sentinel: Gunman shoots out windows of Republican party headquarters:
At least four shots were fired into the Volusia Florida GOP's office in South Daytona, police said Monday.   No one was injured, according to South Daytona police Capt. Mark Cheatham, but the shooting broke the offices' front window and caused some damage to the drywall inside.  Cheatham said a volunteer reported the incident on Monday, which could've happened between Sunday afternoon and Monday morning.

October 28: The Hill: Campbell Soup Co. to expedite departure of Tweeting executive:
The Campbell Soup lobbyist who tweeted that George Soros was helping fund the immigrant caravan streaming toward the U.S. border left the company late last week after his already planned departure was accelerated.  "Mr. Johnston and the company discussed in August that he would transition out of his role with his departure scheduled for early November," a company spokesperson told The Hill via email regarding Kelly Johnston. "In the last few days, the company and Mr. Johnston agreed that under the current circumstances it would be best to accelerate the timing of his departure."

October 25: Associated Press: Investigators looking for source is sought in explosive
Investigators examining the explosive devices sent to high-profile targets in Washington and New York will be working to glean forensic clues to help identify who sent them, gathering fingerprints and DNA evidence while tracking the origin of the packages and the components used to make the bombs.  Larry Johnson, a former head of criminal investigations for the U.S. Secret Service who also served as a special agent in charge of the presidential protective detail, said that bomb makers usually leave evidence behind. "If there is a human involved, there is a high probability you're going to get somewhere investigatively," he said. "There will be no stone left unturned."

October 25: The Hill:
Grassley refers Swetnick/Avenatti testimony to DOJ for investigation
Senate Judiciary Committee Chairman Chuck Grassley (R-IA) announced Thursday that he is referring Julie Swetnick and her lawyer Michael Avenatti to the Justice Department for a potential criminal investigation into whether they made false statements to Congress about Supreme Court Justice Kavanaugh.  Grassley said that in addition to making false statements, he is asking for the Justice Department to look into whether the two sought to obstruct his panel's investigation of the allegations against Kavanaugh.

October 25:  Breitbart.com:
AZ State Troopers withdraw support for Democratic Senate Nominee
The ASTA endorsed Kyrsten Sinema (D) in three previous elections, but polled association members after initially endorsing her this year then recanted their endorsement.  On October 18, Breitbart News  reported that Sinema refused to clarify her gun control positions. Her communications director failed to respond to numerous requests to clarify whether Sinema still wanted to license all gun owners and expand background checks. Zeller and other Sinema staff members also would not say whether Sinema wanted to ban "assault weapons."

October 25: CNBC:  Russians working on anti-satellite missile for 2022 deployment
A never-before-seen missile photographed last month on a Russian MiG-31 interceptor is believed to be a mock-up of an anti-satellite weapon that will be ready for warfare by 2022, three sources with direct knowledge of a U.S. intelligence report say.  The Russian anti-satellite weapon, which is attached to a space launch vehicle, is expected to target communication and imagery satellites in low Earth orbit, according to one source, who spoke on condition of anonymity. For reference, the International Space Station and the Hubble Space Telescope travel in low Earth orbit.

October 25: Fox News: Trump imposes sanctions on Hezbollah
President Trump on Thursday imposed major new sanctions on the Islamist terrorist group Hezbollah, as his administration continues its all-out economic squeeze on the Iranian regime that backs it.  After a speech punctuated by raucous applause, Trump signed the Hizballah International Financing Prevention Amendments Act (HIPAA) of 2018 into law on the 35th anniversary of Hezbollah's 1983 truck bombing of the barracks in Beirut, Lebanon, which killed 241 U.S. service members and 58 French peacekeepers.  According to the International Monetary Fund, Iran's economy is set to shrink by 3.6 percent next year. Before Trump withdrew from the nuclear deal, the IMF had expected growth in excess of 4 percent.
October 24: Yahoo News:  NATO shows strength in giant exercise
A total of 31 countries are taking part in Trident Juncture 18, NATO's biggest military exercise since the end of the Cold War.  Norway is hosting the exercises as NATO reminds Russia the Alliance stands united.  Some 50,000 soldiers, 10,000 vehicles, 65 ships and 250 aircraft from 31 NATO countries are taking part in the exercise aimed at training the Atlantic Alliance to defend a member state after an aggression.
October 24: The Hill: The middle class in California is evaporating
California made major news this month, surpassing Britain and reclaiming a valuable economic marker as the fifth largest economy in the world. Its post-recession growth is accelerating under President Trump's administration and the state even turned in a modest surplus.  However, the state remains one of the most unequal in the nation — one that has both billions of dollars in Silicon Valley and rampant homelessness. The Golden State's efforts to eliminate poverty instead accentuates it, and its tax system inadvertently aids those who are already wealthy. With the middle class leaving in droves, California's society represents a neo-feudal mix of robber barons and poor. It's an unsustainable mixture.
October 24: Fox News:  Suspicious packages sent to high ranking Democrats
The FBI said Wednesday evening that it had identified seven suspicious packages addressed to prominent liberal and Democratic political figures over the previous three days that contained "potentially destructive devices."  The bureau initially said it had recovered five packages that were similar in appearance and bore the return address of an office for Rep. Debbie Wasserman Schultz, D-Fla.
October 19: Fox News:  Texas Democratic Party under investigation for
sending "pre-checked" voter registration applications to non-citizens
The Texas Democratic Party is under investigation after being accused of sending out voter-registration applications to non-citizens with the citizenship box already checked "Yes."  The possible violation was first raised Thursday by the Public Interest Legal Foundation, a nonprofit specializing in election integrity, which alerted both state and federal authorities.  Following the reports of the alleged violation, Texas Gov. Greg Abbott said the issue  "is being investigated" and "there will be serious consequences" if confirmed.  "A complaint says the Texas Democratic Party asked noncitizens to register to vote, sending applications with citizenship box pre-checked. This is being investigated. If true there will be serious consequences," he wrote in a tweet.
October 19: ZeroHedge.com: Saudi's may replace Crown Prince MbS with his brother:
The major French daily Le Figaro on Thursday published a bombshell story which reports the Saudi royal family is actively considering a replacement to crown prince Mohammed bin Salman(MbS) as next in line to succeed his father King Salman as the kingdom finds itself under the greatest international pressure and scrutiny it's faced in its modern history over the murder of journalist Jamal Khashoggi — widely believed to have been killed on orders of MbS himself.   The report suggests the ruling family is seeking to replace the 33-year old MbS with his much less ambitious and more predictable brother, Prince Khalid bin Salman.

October 19: This Week:  Hillary Clinton may try it again!
Philippe Reines, who worked for Hillary Clinton going back to 2002 and was her senior adviser at the State Department, made the argument to Politico that the former Democratic nominee might actually be the party's best hope for defeating Trump in 2020. He said no other Democrat has "anywhere near a base of 32 million people," especially not Sens. Bernie Sanders (I-VT) or Elizabeth Warren (D-MA). The party, he feels, shouldn't dismiss her as a failed candidate because she's "smarter" and "tougher" than most, and she "could raise money easier than most."
October 18: Yahoo:  Baltimore Police shut down administrative functions to put more officers on the street
In the city where the mayor undercut the police department, a day after 11 people were shot in Baltimore, the troubled police department said it's shutting down its administrative functions so that more officers can hit the streets.  The Baltimore Sun reports 230 officers assigned to administrative duties will go on patrol, putting a total of 650 officers on the streets in a department struggling to fill 500 vacancies.
October 18: Politico: Could GOP keep the House? Unlikely? Definitely Impossible? No.
Just about every poll predicts the GOP won't keep control of the House.  And yet House Republicans — and privately, even a few Democrats — say the GOP could still hang on, if only by a few seats. The confirmation of Brett Kavanaugh to the Supreme Court has given GOP voters a badly needed enthusiasm boost, they argue, and several races seen as unwinnable just weeks ago are suddenly back within reach for Republicans.
October 18: The Daily Mail:  If Mexico doesn't stop the caravan the U.S. may seal the border with troops
Donald Trump said on Thursday he'd seal America's southern border with military force unless Mexico intervenes to stop the flow of illegal immigrants traveling to the U.S. from Central America.  The stern, tweeted warning came as a group of more than 4,000 travels north through Mexico in the hope of reaching the United States, despite having no visas or other legal papers to enter.  Trump blamed his Democratic rivals for the resulting chaos, saying 'they want Open Borders and existing weak laws.'
October 18: Fox News: Mexico promises to deal with the caravan approaching the U.S.
U.S. and Mexican officials have agreed on a plan to handle the approaching migrant caravan making their way up from Central America, a senior administration said  on Thursday.    Under the deal, which was developed over the course of several months, Mexico requested that the United Nations High Commissioner for Refugees (UNHCR) establish shelters along its southern border with Central America, the official said.
October 18: The Daily Caller:  O'Rourke asked by student what connection he has with Hispanic people
Democratic Texas Congressman Beto O'Rourke was forced to explain why he goes by the nickname "Beto" after a student at a CNN town hall asked how he is connected to the Hispanic community. 
October 15: The Navy Times:  Beijing defends confrontation with U.S. ship in the South China Sea
The guided-missile destroyer Decatur operating in the South China Sea as part of the Bonhomme Richard Expeditionary Strike Group had to avoid a collision by a Chinese ship that was acting provocatively coming within 45 yards of the US ship.   China claims their ship, the Luoyang, a Chinese missile destroyer, was deployed to identify the U.S. warship and drive it away. China's ambassador to the United States has defended the Chinese navy's action saying America's warships are "on the offensive" near Chinese territory. 
October 15: The Hill: Cherokee Nation slams Senator Warren for claiming native American heritage:
The Cherokee Nation on Monday afternoon called out Senator Elizabeth Warren (D-MA) for attempting to claim Native American heritage by releasing the results of a DNA test.  The Cherokee Nation in a statement saying "Using a DNA test to lay claim to any connection to the Cherokee Nation or any tribal nation, even vaguely, is inappropriate and wrong.  It makes a mockery out of DNA tests and its legitimate uses while also dishonoring legitimate tribal governments and their citizens, whose ancestors are well documented and whose heritage is proven."
October 15: CNBC: Federal deficit expands as spending increases continue
The U.S. federal budget deficit rose in fiscal 2018 to the highest level in six years as spending climbed, the Trump administration said Monday.  The deficit jumped to $779 billion, $113 billion or 17 percent higher than the previous fiscal period, according to a statement from Treasury Secretary Steven Mnuchin and Office of Management and Budget Director Mick Mulvaney. It was larger than any year since 2012, when it topped $1 trillion.
October 15: Mediate.com: 
Federal Judges throws out Daniels lawsuit against Trump, ordered to pay Trump's legal fees
On Monday, a federal district court judge in California ruled to dismiss Stormy Daniels' defamation lawsuit against President Trump, and ordered the adult film star to pay his legal fees.  The judge dismissed the case on the grounds that the tweet was "rhetorical hyperbole" rather than defamation and Daniels claimed.
October 12: ZeroHedge.com:
Chinese hint them may reduce Treasury Purchases in response to Trump trade policies
Nine months following headlines warning of China reducing its purchase of U.S. Treasury bill (sparking a mini-panic), a senior Chinese policy advisor has once again raised the specter of China rotating away from USD in its reserves, and specifically reducing its UST purchases. China's Treasury holdings have been falling for much of the last 6 years, so this is nothing new per se. 
October 12: Fox News: 
Trump snubs Feinstein and Harris, nominating three conservative judges to 9th Circuit
Presidents traditionally work with senators from judicial nominees' home state -- in this case, California -- to put forward judicial picks. They often seek what's known as a "blue slip," or an opinion from those senators.  But in a snub of California Democratic Senators Dianne Feinstein and Kamala Harris, the White House announced Wednesday that Trump had nominated Patrick Bumatay, Daniel Collins and Kenneth Kiyul Lee (all from the Golden State, and reportedly all members of the conservative Federalist Society) to the influential circuit.  The existing 9th Circuit has one of the highest records of being overturned by the Supreme Court.

October 12: BBC News:  Florida hit with the "Mother of all Bombs" – Hurricane Michael
Hurricane Michael has all but rubbed a Florida beach town off the map after landing like the "mother of all bombs". The storm smashed into the state's north-west coast near the community of Mexico Beach on Wednesday afternoon packing 155mph (Cat. 4) winds.
Over 1.4 million homes had no power in Florida, Alabama, Georgia, Virginia and the Carolinas on Friday morning. One of the most powerful hurricanes in US history, Michael is known to have killed at least 12 people.  Rescuers are still searching for survivors. The storm had moved out to sea off the Virginia coast by early Friday morning.
October 12: Fox News:
Minneapolis Mayor Angers Police with Mandatory Illegal Alien Placards
Minneapolis Mayor Jacob Frey has announced that mandatory placards detailing illegal immigrants' rights will be displayed in police squad cars, and some officers are pushing back.  The signs will be displayed in all of the city's squad cars.  The mayor said the city is going to step up because Congress has failed to do so.  Specifically the placards say immigrants don't need to answer questions about their immigration status or  citizenship.  Lt. Bob Kroll, president of the Police Officers Federation of Minneapolis, said on "Fox & Friends First" Friday that this is an example of city leaders' "extreme, left-wing politics."
October 11: The Washington Post:
Russian rocket with two aboard fails – Astronauts are safe!
A Russian Soyuz rocket malfunctioned two minutes after liftoff Thursday on a mission to the International Space Station, triggering an automatic abort command that forced the two-member crew — an American and a Russian — to make a harrowing emergency landing in their capsule, 200 miles from the launch site in the steppes of Kazakhstan. Russian launches of Soyuz spacecrafts are on hold while they try to figure out what went wrong.

October 11: Fox News: Michelle O rebukes Holder and Clinton
Former first lady Michelle Obama on Thursday openly challenged calls from Hillary Clinton and Eric Holder for Democrats to eschew civility in favor of confrontational politics, saying she "absolutely" stands by her famous slogan, "when they go low, we go high." "Fear is not ... a proper motivator," Obama said during an interview on NBC's "Today." Holder, the former Attorney General, was found in Contempt of Congress while he was the top law enforcement officer in the land.

October 10: NE News Now:
Majority Leader McConnell blasts Clinton on her call to abandon civility:
Senate Majority Leader Mitch McConnell (R-KY) blasted former Democratic presidential nominee Hillary Clinton Tuesday for calling Democrats to abandon civility with Republicans, indicating that her call for anarchy and disorder is nothing less than a promotion of gang mentality. From the United States Senate floor, the Republican leader pointed out the former secretary of state's inflammatory battle cry to fellow Democrats earlier in the day.

October 10: NBC News: Chinese agent stealing trade secrets discovered at General Electric:
The Justice Department revealed Wednesday that an officer of China's intelligence and security agency has been arrested and brought to the U.S. to face charges of conspiring and attempting to steal sensitive trade secrets from a U.S. company that makes aircraft engines.

October 10: Northwest Florida Daily News: Red Cross walks off job over shelter disagreement:
Okaloosa (Florida) County Sheriff's Office school resource officers were called in to help run an evacuation center at the Northwest Florida State College campus Raider Center Tuesday night when, according to a County Commissioner, Red Cross volunteers walked off the job. The walk off occurred when a disagreement arose apparently over the registration procedure used to sign in evacuees. County Sheriff's Office personnel were signing people in and then conducting background checks in order to identify sexual predators or undocumented immigrants. County officials saw a need to segregate children and families in an evacuation center environment for their safety, the Commissioner explained.

October 9: Associated Press: UN Ambassador Haley will resigning later this year:
U.N. Ambassador Nikki Haley is resigning later this year. Haley, who is not personally wealthy, hinted in her resignation letter to Trump that she is headed to the private sector. "I have given everything I've got these last eight years," she said, referring to her six years as South Carolina governor as well as her time at the U.N. "And I do think it's good to rotate in other people who can put that same energy and power into it."

October 9: Breitbart News:
Congressman Kevin McCarthy Introducing Bill to Fully Fund Border Wall, Making Midterm Immigration
Referendum Kevin McCarthy will introduce a bill this week that includes the full funding for the border wall – about $23.4 billion more than what has already gone to the wall effort – as well as several other enforcement measures that have already passed the House of Representatives. Congress has already directed $1.6 billion to wall funding in the omnibus spending bill for fiscal year 2018 that just passed Congress, and McCarthy's new bill–titled the "Build the Wall, Enforce the Law Act"–would take the wall the rest of the way, in addition to providing for a variety of enforcement measures.

October 9: Fox News: Liberal Billionaires pour millions into Midterms
Liberal billionaires are throwing hundreds of millions of dollars behind the Democratic Party in the upcoming midterm election in November, raising questions whether the so-called "blue wave" is really a grass roots effort that activists led many to believe. As Democrats shun direct donations from the billionaires, they pour hundreds of millions into groups aimed at mobilizing voters and running ads against their political opponents.

October 9: The Hill: GOP Senator accuses Schumer of being behind release of Ford letter
Senator Cotton (R-AR) on Tuesday said he "strongly suspects" Senate Democratic Leader Schumer (D-NY) was behind the leak of an explosive letter that almost derailed Brett Kavanaugh's nomination to the Supreme Court. Cotton didn't provide any direct evidence although he pointed to what he thinks is are suspicious circumstances surrounding the leak. Both Cotton and Cruz (R-TX) have called for an investigation into how a letter from Dr. Ford alleging that Kavanaugh sexually assaulted her was made public, despite Ford's wishes. "I believe the Schumer political operation was behind this from the very beginning," Cotton told conservative radio host Hugh Hewitt in an interview Tuesday.

October 7: The Daily Caller:
Federal Judge upholds New Jersey ban on magazines that hold more than 10 rounds
Just in case gun owners needed another reason to back Judge Kavanaugh's nomination to the U.S. Supreme Court or to get energized ahead of the 2018 midterm elections, the U.S. District Court for the District of New Jersey gave them one. On September 28, Federal District Court Judge Sheridan denied a motion for a preliminary injunction that would have enjoined enforcement of New Jersey's 10-round magazine capacity limit.  Owners of the newly prohibited magazines are required to forfeit possession of their property within 180 days, or to permanently modify their magazines to accept no more than 10 rounds.
October 6: CNN:
U.S. Navy Admiral warns of increased Russian submarine capability
America's most senior naval officer in Europe, Adm. James Foggo, said Friday that he was "concerned" about some of Russia's newer and more advanced fleet of submarines.  While Foggo said Russia's surface fleet, including its aging aircraft carrier, posed little threat -- saying Moscow did "not have a robust capital ship capability" -- he did express concerns about Russian advancements in its development of submarines and cruise missiles.

October 6: Associated Press: Kavanaugh Confirmed and Sworn In
Brett Kavanaugh was sworn in Saturday night as the 114th justice of the U.S. Supreme Court,   Kavanaugh took his oath of office in a quiet private ceremony, not long after the narrowest Senate confirmation in nearly a century and a half.  The climactic 50-48 roll call capped a fight that seized the national conversation after unsubstantiated claims emerged that he had sexually assaulted women three decades ago.
October 4: The New York Post: Key Senate swing votes may support Kavanaugh nomination
A pair of GOP senators who had been on the fence about Brett Kavanaugh indicated Thursday they were satisfied with the FBI's updated background check on the Supreme Court nominee — an apparent signal of support of his confirmation.
October 4: Fox News: Tucker:  Questions about Ford's Kavanaugh Story
What's remarkable is that, after all we have learned, there are still basic questions that remain unanswered. They are central ones that pertain directly to the core allegations here, the ones that Christine Ford made more than two weeks ago.   In a Washington Post profile, Ford says that she "came to understand her assault and the significance during a psychotherapy session." What does that mean exactly? Is Ford's story at least in part a recovered memory?  This is a critical question, because most psychiatrists consider recovered memories, however sincere, as roughly as reliable as dreams.
October 4: Breitbart News: Relative says Ford threw friend, Keyser, under the bus
Leland Keyser's relative has accused Christine Blasey Ford of throwing her "witness" and lifelong friend–Keyser–"under the bus." This family member also sounds skeptical of Ford's allegations against Supreme Court nominee Brett Kavanaugh. Ford, the woman whose accusations of sexual conduct have crumbled under scrutiny, claimed that Keyser, a lifelong friend since high school, would validate her allegation.  Instead, Keyser said in a statement that she not only does not remember the house party where the 1982 incident allegedly took place, but she also has never even met Kavanaugh.
October 3: The Hill: U.S. terminates 1955 treaty with Iran
The United States is officially terminating a 1955 treaty with Iran after an international court issued a ruling based on the treaty this week, Secretary of State Pompeo announced Wednesday.  "I'm announcing that the United States is terminating the 1955 Treaty of Amity with Iran," he said at a press briefing. "This is a decision frankly that is 39 years overdue."
October 3: The Daily Caller: Florida Governor & Senate candidate calls for term limits
Senate candidate and current Republican Florida Gov. Rick Scott lobbied for congressional term limits on "Fox & Friends" Wednesday, then turned his attention to critics of Supreme Court nominee Brett Kavanaugh. "Last night's debate is a great example of why we need term limits," Scott said. "Senator [Bill] Nelson did have one thing he could say he accomplished. He's been in office since Richard Nixon was president. Had nothing he could say."
October 2: Op-Ed Piece: The Kavanaugh Confirmation Process
If it ain't broke don't fix it? Well Capitol Hill is broken and it really needs fixing! As a long-time Hill staffer, what we have seen these past few weeks is worse than anything I witnessed. The issue is the partisan confirmation process over Judge Kavanaugh to be an Associate Supreme Court Justice. Instead of a continued partisanship we need to return to respecting each other and be able to disagree without being disagreeable. We should have learned this in kindergarten but perhaps some skipped that grade!
October 2:  The Washington Post: FBI navigates political minefield and deadline in Kavanaugh inquiry
FBI leaders are warily trying to navigate their way through the politically charged background-check investigation into Supreme Court nominee Brett M. Kavanaugh, as the bureau seeks to protect itself now — and after the midterm elections — from what could be fierce congressional criticism, according to people familiar with the matter.
October 2: The Wall Street Journal: FBI to wrap up investigation soon
People familiar with the process said Tuesday that the FBI investigation into the allegations of sexual misconduct against Judge Kavanaugh could wrap up very soon, well ahead of the end-of week deadline. GOP aides on the Hill and another person familiar with the process said they were expecting the bureau to conclude its report as soon as late Tuesday or early Wednesday.
October 2: The Daily Caller: Report: Ford former boyfriend says Ford coached a friend before taking a polygraph  
An alleged ex-boyfriend of Dr. Christine Blasey Ford came forward on Tuesday and said that she had once coached her longtime friend on how to take a polygraph test.  It said, "During that time, it was my understanding that [Ford's roommate, Monica] McLean was interviewing for jobs with the FBI and US Attorney's Office. I witnessed Dr. Ford help McLean prepare for a potential polygraph exam... ...Dr. Ford explained in detail what to expect, how polygraphs worked and helped McLean become familiar and less nervous about the exam. Dr. Ford was able to help because of her background in psychology," the letter continued.
October 2, 2018: The Daily Caller:
Numbers show voters favor Kavanaugh if FBI investigations turns up nothing
A majority of voters supports the confirmation of Judge Brett Kavanaugh to the U.S. Supreme Court if the FBI finds no corroborating evidence to back up claims of sexual assault made against the nominee, according to a Monday poll. Three quarters of voters said California Democratic Sen. Dianne Feinstein should have given the letter from Ford — in which she alleged the judge assaulted her — to the Senate Judiciary Committee when she first received it in July instead of holding it until the middle of Kavanaugh's confirmation process. Most voters were strongly displeased with the Kavanaugh confirmation process, saying it was "politicized and mishandled." Sixty-nine percent of voters called the process a "national disgrace," according to the poll.
October 1: The Daily Caller: Who has the right to restrict second amendment rights?
A California law allows a family member or police officer to obtain a "gun violence restraining order" (GVRO) – against another person. The order requires the mandatory confiscation  all firearms the restrained person owns, possesses, or has access to. A temporary or emergency order is issued without notice or the opportunity to contest the order and is effective for 21 days pending a second court hearing. At this full hearing the person has a right to appear and answer the allegations (and prove his/her innocence?).  The court may terminate the order or extend the gun ban by issuing a one-year GVRO.
September 28: Committee for a Responsible Federal Budget: Federal Deficit has doubled
Kevin Brady (R-TX), the House Ways and Means Committee Chairman, says the projected deficit has doubled because of the tax bill and increased Congressional spending. This, however, may be mitigated as the economy continues to improve, thereby increasing the taxable base.
September 28: The Daily Caller:
F-35 debut with the U.S. Marines over Afghanistan
The F-35 joint strike fighter is prepared to enter combat for this first time this week with the U.S. Marine Corps. The state-of-the-art aircraft is slated to take off from the USS Essex within days to deliver airstrikes over Afghanistan.  The Essex is headed for the Persian Gulf, defense officials told CNN.  The F-35 is also the primary fighter jet chosen by the U.S. Air Force, Britain's Royal Air Force and the Royal Australian Air Force. It could still someday be used by the Royal Canadian Air Force as the Canadian military retires its F-18s.
September 26: The New York Post: Ford story has 8 big problems
Christine Blasey Ford's allegations against Brett Kavanaugh are serious. She is accusing him of violent attempted rape.  But her story is also growing less believable by the day. There are eight reasons why.

Ford cannot recall the basic details
She told nobody at the time therefore having no one to corroborate here account
Four people she says were present deny any knowledge of the gathering
Her mother, father and two siblings are conspicuously absent for the letter from relatives supporting her
This summer Ford reached out to old high school/college friends in order to jog her memory
Ford is an anti-Trump marcher, Democrat, who has hired a Democratic activist lawyer, raising questions about her motive
She contends notes from a 2012 therapist session corroborates her account, but those notes do not mention Kavanaugh and has inconsistencies with her current account and
Ford told the Washington Post that she was upset when Trump won in 2016 because Kavanaugh was mentioned as a possible Supreme Court pick when his name was not added to the list until November 2017.
September 25: The Washington Times: Kavanaugh's Accuser Tries to Dictate Terms to Senate Judiciary
Ford's lawyers have asked senators to limit the press who will be allowed in the room to cover Thursday's hearing with her and Supreme Court nominee Brett Kavanaugh and sought to dictate at least some of the outlets.  Coverage is one of a number of issues Ford's lawyers are negotiating with Republicans on the Senate Judiciary Committee.  While committees sometimes limit press based on space at hearings, and some witnesses have arranged to have their identities shielded, longtime Capitol Hill watchers struggled to think of precedent for a witness dictating terms of press coverage.

September 25: Politico: Senate Judiciary to Vote on Friday following Hearing
The Senate Judiciary Committee will vote on Brett Kavanaugh's nomination to the Supreme Court on Friday morning, fewer than 24 hours after Kavanaugh and Christine Blasey Ford appear before the panel to discuss Ford's allegation that Kavanaugh sexually assaulted her more than 30 years ago.  According to committee rules, Judiciary must schedule a committee vote three days in advance. But the committee said the vote will only proceed if a "majority of the members" of the 21-member committee are ready to vote on Friday.

September 25: Breitbart News: Second Accuser Refuses to Cooperate with Committee
or make a Statement under Oath
Any testimony given to the Committee, including a statement, would be considered under oath, which carries with it the risk of perjury and imprisonment.   The only statement she has made is to the New Yorker, which does not carry any penalty for perjury.  In a bombshell story co-authored by Ronan Farrow and published in the New Yorker Sunday, Ramirez alleged that during a drunken 1983 party in a Yale dorm room, when both she and the Supreme Court nominee were freshman, Kavanaugh aggressively flashed her.  Ramirez's story quickly unraveled, though, and did so on the pages of the New Yorker.
September 24: The Daily Caller: Cruz chased out of DC restaurant by anti-Kavanaugh protesters
Senator Ted Cruz (R-TX) was chased out of a DC restaurant by protesters on Monday night, according to video posted on Twitter.  The video showed a large group of protesters chanting "We believe survivors" in reference to sexual assault allegations against Supreme Court nominee Brett Kavanaugh at Cruz and his wife.  The video shows a protester confronting Cruz and his wife as they entered the restaurant.   Cruz tells the woman "God bless you" before attempting to take a seat at a table.  After the protesters surround the table, Sen. Cruz tells Mrs. Cruz, "Let's go ahead and go" and leaves.

September 24: The Hill: Kavanaugh: I was a virgin all the way through college
Supreme Court nominee Brett Kavanaugh on Monday defended himself against the sexual assault allegations roiling his nomination by saying he was a virgin through high school and college. Kavanaugh said "I've never sexually assaulted anyone,"   "I did not have sexual intercourse or anything close to sexual intercourse in high school or for many years thereafter ... The girls from the schools I went to, and I, were friends."
"Through all these years that were in question, you were a virgin?" Fox News host Martha MacCallum asked. "That's correct," Kavanaugh replied, adding that he did not have sex until "many years after" college.

September 24: The Gateway Pundit: Lawyer casts doubt on Kavanaugh accuser testifying at Thursday's hearing
Michael Bromwich, newly retained Christine  Ford attorney cast doubt on his client's commitment to appearing at the scheduled Thursday hearing where Ford was expected to personally level her uncorroborated charge of sexual assault by Supreme Court nominee Brett Kavanaugh.  Bromwich stated there are "serious reservations" about the Republican majority's plan to have a sex crimes prosecutor question Ford, and stating the hearing plan "does not appear designed to provide Ford with fair and respectful treatment."

September 24:  Yahoo.Com: Judge seems ready to toss out Stormy Daniels lawsuit against Trump
A federal judge appeared poised Monday to toss out a defamation lawsuit against President Donald Trump by porn actress Stormy Daniels.  Judge S. James Otero said in U.S. District Court that a tweet the president wrote in April appears to be "rhetorical hyperbole" and speech protected under the First Amendment.

September 21: The Daily Signal:  NJ Woman Accused of Buying Votes
Voter fraud is an ongoing problem in America. For those who doubt, look no further than a new case out of New Jersey.  On Thursday, federal officials charged a New Jersey woman with "promoting a voter bribery scheme." Lizaida Camis allegedly offered Hoboken voters $50 in exchange for applying to receive mail-in ballots, and then casting them in favor of candidates for whom Camis worked. Camis' alleged fraud took place in 2013, but the filing of charges offers a timely reminder of the pressing need to ensure the integrity of our elections.

September 21 Fox News: Rosenstein Reportedly Considered Secretly Taping the President – 25th Amendment
The Trump administration was rocked Friday afternoon by a bombshell report saying Deputy Attorney General Rod Rosenstein last year suggested secretly recording President Trump to expose chaos in the White House and enlisting Cabinet members to invoke the 25th Amendment to remove him from office. Rosenstein adamantly denied the accusations.
September 21: Fox News: How is Rosenstein Connected to Trump & the Russian Investigation?
As the investigation into Russian interference in the 2016 presidential election – and any involvement from the Trump campaign – forges ahead, Deputy Attorney General Rod Rosenstein has found himself on the receiving end of some Republicans' ire.  A bombshell report published by The New York Times on Sept. 21 alleges Rosenstein suggested secretly recording President Trump to expose chaos in the White House and enlisting Cabinet members to invoke the 25th Amendment to remove him from office — accusations Rosenstein vehemently denied. Rosenstein appointed Robert Mueller as the special counsel to oversee the investigation into Russian influence in the 2016 election in May 2017.   The appointment came after Attorney General Jeff Sessions recused himself from the probe, and Rosenstein stepped in to oversee the investigation.  At the time, Rosenstein said his decision to appoint a special counsel was "not a finding that crimes have been committed or that any prosecution is warranted."
September 5: Fox News: Democrats press Kavanaugh in second day of  hearings
Senate Democrats aggressively questioned Judge Brett Kavanaugh about his previous rulings on abortion, executive power, and gun rights on Wednesday, the second day of confirmation hearings marked by persistent interruptions from protesters and thinly veiled suggestions that the Supreme Court nominee was not being entirely forthcoming. In a combative moment late in the day, Sen. Cory Booker, D-N.J., implied Kavanaugh had been open to racial profiling tactics, citing an email exchange between Kavanaugh and a colleague. But Booker did not provide Kavanaugh a copy of the emails to review while questioning him about it, prompting an objection from Utah Republican Sen. Mike Lee, who charged that it was inappropriate to "cross-examine" Kavanaugh about documents that he "can't see."
September 4: The New York Times: Mueller will accept written responses to some questions
The special counsel, Robert S. Mueller III, eased up slightly on his demands to question President Trump in the Russia investigation, a shift that came as the president's lawyers, who have advised him against sitting for an interview, are fighting his desire to answer investigators' queries.  Mr. Mueller will accept written answers from Mr. Trump on questions about whether his campaign conspired with Russia's election interference, Mr. Mueller's office told the president's lawyers in a letter, two people briefed on it said on Tuesday.
September 4: Breitbart News: Democrats Reveal they Plotted to Disrupt the Kavanaugh Confirmation Hearings
Sen. Dick Durbin (D-IL) admitted Tuesday in the Senate Judiciary Committee hearing on the nomination of Judge Brett Kavanaugh to the Supreme Court that he and other Democrats participated in a conference call on how to disrupt the hearings.  Durbin was responding to a question by Sen. Tom Tillis (R-NC), who cited an NBC News tweet from earlier in the morning that reported that Senate Democrats, led by Minority Leader Chuck Schumer, had planned over the Labor Day weekend to use protests and interruptions.

September 4: Fox News: Judge Napolitano taken back by lack of civility at hearing by Senate Democrats
Judge Napolitano said Tuesday that he was surprised at the lack of civility shown by the Democratic Senate during Kavanaugh Supreme Court nomination hearing.  During his opening remarks Committee Chair Chuck Grassley (R-IA) was continually interrupted by Senators Harris (D-CA), Blumenthal (D-CT), Booker (D-NJ), Hirono (D-HI), Whitehouse (D-RI) and Leahy (D-VT).  Napolitano, a Fox News senior judicial analyst, added that it was obvious that Democrats lack the votes needed to block Kavanaugh's nomination.  "I was quite surprised at the acerbic tone and the lack of civility that the Democrats fomented right from the start," he said. "If you can't interfere with a nomination, let's interfere with the process."

September 4: Fox News: Senator Ted Cruz on the Kavanaugh nomination hearings:
Sen. Ted Cruz (R-Texas) said that congressional Democrats want to delay the confirmation of Supreme Court nominee Brett Kavanaugh because they're attempting to "re-litigate" the 2016 presidential election.
September 3:  Yahoo News: Israel willing to attack Iranian missile assets in Syria and Iraq
Israel has threatened to attack any Iranian military assets in Iraq as it has done in Syria, following reports Tehran has moved ballistic missiles closer to the Jewish state.  There are concerns that Iran might attempt to put 400 mile range missiles in Syria and perhaps friendly regions in Iraq.
September 3: Reuters: Iranian currency hits all time low against the dollar
The Iranian rial hit a record low against the U.S. dollar on the unofficial market on Monday amid a deterioration in the economic situation and the reimposition of sanctions by the United States. The currency has been volatile for months because of a weak economy, financial difficulties at local banks and heavy demand for dollars among Iranians who fear the pullout of Washington from a landmark 2015 nuclear deal and renewed U.S. sanctions could shrink Iran's exports of oil and other goods.  A set of U.S. sanctions targeting Iran's oil industry is due to take effect in November.
September 3: USA Today: Sparks likely to fly at SCOUS Kavanaugh nomination hearing this week
For eight weeks since President Donald Trump nominated him for the swing seat on the Supreme Court, Brett Kavanaugh's judicial record and legal philosophy has gotten lost amid partisan disputes and alleged withheld documents. But when the Senate Judiciary Committee holds four days of hearings this week, those controversies probably will take a back seat to issues affecting millions of Americans: Abortion. Guns. Health care.
September 3: Fox News: Will Congress reel in regulations on American fishermen? Revisions to the Magnuson Stevens Act awaits action in the U.S. Senate. When NOAA was asked why fishing in fisheries that have an abundance of resources it still heavily regulated Chris Oliver of NOAA Fisheries said, "If you think about one fisherman catching 8 fish, or whatever your state's limit is, it doesn't seem like much. But multiply that by roughly 45 million recreational angler fishing trips in the mid-Atlantic in 2016 and that is a significant number of fish." 
In May 2017 Sarge started exploring a run for Texas Congressional District 14 against an incumbent who had served in public office for twelve years. Then in August 2017 he announced he was running (See his campaign Website). Starting in May 2017 this website was put in "mothballs" until after the campaign was over. In September 2018 after loosing his primary challenge, Sarge restarted this summary of current news stories.
May 16, 2017: Independent Journal Review: Family of Murdered DNC Staffer
Seth Rich Speaks Out After Shocking Report Ignites WikiLeaks Conspiracy
The family of murdered Democratic National Committee staffer Seth Rich refuted a shocking report suggesting he was in contact with WikiLeaks before his death. The report, based on the unconfirmed claims of a private investigator, ignited new conspiracy theories about Rich's tragic murder on social media.  Rich was gunned down on a Washington, D.C., street close to his home in what police believe was possibly a botched robbery.

May 16: The Hill:  Dems Prepare to launch "Resistance Summer"
The Democratic National Committee is attempting to harness resistance to President Trump into a national effort aimed at building out state and local party ranks.  Billed as the "Resistance Summer," the DNC will hold events with allies across the country in early June before sponsoring a national training summit in the hopes of registering scores of new Democratic voters. The move is the first concrete action from Democrats' promise to return to a "50-state solution" in light of massive Republican gains in state legislatures across the country.

May 16: The Daily Caller: Dems want Trump to provide transcript of meeting with the Russians
A report in the Washington Post Monday that said the president disclosed information about a terrorist threat from the Islamic State in a meeting with Foreign Minister Sergei Lavrov and Russian Ambassador Sergey Kislyak. This drew concern and outcry from Capitol Hill, and now several Democratic lawmakers are demanding the White House release a transcript of the meeting — if one exists.
May 9: The Daily Caller: Honduran Official:  Exodus after Texas enacts anti-sanctuary city law
Honduras' deputy foreign minister is preparing for an exodus of Hondurans from Texas after the state outlawed sanctuary cities.  Texas Gov. Greg Abbott signed Senate Bill 4 into law on Sunday night, which calls for criminal penalties for sheriffs and police chiefs whose agencies refuse to comply with federal immigration detainers. Travis County, home to Austin, has refused to comply with dozens of immigration detainers including those for immigrants accused of sexual assault.
May 9: Fox News: Why was Director Comey canned?
President Trump's seemingly abrupt decision Tuesday to fire FBI Director James Comey was made at the recommendation of top Justice Department officials who claimed that his controversial handling of the Hillary Clinton email case last year rendered him unfit for the position.  Comey had been the subject of a review by the very top of the Trump Justice Department. Newly confirmed Deputy Attorney General Rod Rosenstein penned an extensive memo for Attorney General Jeff Sessions outlining concerns with Comey's conduct during and after the Clinton email probe.
May 8: The Daily Caller:  Conservatives lavish praise on Trump's new judicial picks
Conservative legal scholars lavished praise on President Donald Trump's latest round of judicial nominations, calling the list a vindication of a central campaign pledge.  The New York Times' Adam Liptak reported late Sunday that the administration will submit ten nominees to judicial vacancies around the country early this week. Five of the nominations will be to federal appeals courts, four to district courts, and one to the U.S. Court of Federal Claims. Two of the district court nominees are individuals who former President Barack Obama originally selected.

May 8: The Hill: Appeals Court hears testimony on Trump travel ban
A Richmond-based federal appeals court grappled Monday with the legality of President Trump's travel ban, which was blocked by a Maryland district court judge.  The court appeared divided over whether Trump's statements during the 2016 presidential campaign about blocking Muslims from entering the country should be considered.  That was the reason why the Maryland district judge held up the travel order — a revised version of Trump's initial plan — which blocked people from six predominantly Muslim countries from entering the United States. 
May 8: The Daily Caller:  Judge's advice to all who don't like the Texas law:
Judge Napolitano gave some simple advice to people who are angry with Texas Governor Abbott's crackdown on sanctuary cities: move.  Kennedy of Fox News asked Judge Napolitano if federalism could be a potential solution to the sanctuary city debate, by "allowing different states to have a different [immigration] threshold."  "Well that's the beauty of Reagan's statement when he said that you ought to be able to vote with your feet," Judge Napolitano responded. "So if you don't like the law in Texas, move to Oklahoma."
May 8: The Hill: McConnell: Obamacare replacement bill won't be quick
Senate Majority Leader Mitch McConnell (R-KY) is signaling that the Senate will not quickly pass legislation to reform the nation's healthcare system after a bill cleared the House last week.  "This process will not be quick or simple or easy, but it must be done," McConnell said on Monday. He added that "to those who have suffered enough already my message is this: We hear you, and Congress is acting."
May 5: The Daily Caller: Dept. of State told to release latest batch of Hillary's server emails
A federal judge ordered the Department of State to release new emails stored on former Secretary of State Hillary Clinton's private server regarding the 2012 attack in Benghazi, a nonprofit government watchdog group announced Friday.  Two previously unreleased emails have a subject line "Quick Summary of POTUS Calls to Presidents of Libya and Egypt" and were sent two days after terrorists attacked the U.S. Embassy in Benghazi on Sept. 11, 2012, according to Judicial Watch.
April 5: Fox News: Unmasking had detailed info on everyday activities
The intelligence reports at the center of the Susan Rice unmasking controversy were detailed, and almost resembled a private investigator's file, according to a Republican congressman familiar with the documents. "This is information about their everyday lives," Rep. Peter King of New York, a member of the House Intelligence committee said. "Sort of like in a divorce case where lawyers are hired, investigators are hired just to find out what the other person is doing from morning until night and then you try to piece it together later on."

May 5: Fox News: Extreme vetting process unveiled
Following through on President Trump's campaign promise to put immigrants to the U.S. through "extreme vetting," the State Department announced new proposals Thursday to increase the screening of certain applicants, including requesting social media handles.

May 5: Fox News: GOP Repeal and Replace bill could cut $1 trillion in taxes
The Republican-authored American Health Care Act would drastically overhaul the nation's health insurance system. Supporters claimed the bill would lower premiums and give struggling patients more choice. Opponents say it would leave vulnerable and elderly customers facing higher costs and lead to less coverage. According to the White House, the cuts amount to $1 trillion.  Most the changes, however, won't be implemented until 2018, at the earliest.
May 5: The Daily Caller: Trump signs Continuing Resolution: Dems love, Conservatives hate:
No Democrat senators voted against the omnibus spending bill President Trump signed Friday.  The $1.1 trillion measure will keep the government funded through September and has been panned by many conservatives. When it was voted on by the House of Representatives, 103 Republicans voted against the bill supported by both Speaker Ryan and the Trump administration. The American Conservative Union opposed the legislation, and radio commentator Rush Limbaugh asked Vice President Mike Pence, "What is the point of voting Republican if the Democrats are gonna continue to win practically 95 percent of their objectives?"

May 5: The Hill: Jobless rate lowest since 2007
The U.S. economy added a robust 211,000 jobs in April, which was better than expected as the labor market rebounded after a weak start to the year.  The unemployment rate fell from 4.5 percent to 4.4 percent, the lowest since May 2007, before the recession started, the Labor Department reported on Friday.
May 5: The Daily Caller: Russia moves to bar US military from skies over Syria:
The Russian government is attempting to bar the U.S. from most of Syria's airspace in its latest effort to implement a ceasefire in the Syrian civil war, a senior diplomat told reporters attending the ceasefire conference Friday in Kazakhstan. Russia's special envoy to Syria Aleksandr Lavrentiev said the U.S. led international coalition against ISIS would only be allowed to strike ISIS's capital along with "some populated areas in the area of the Euphrates, Deir al-Zour and further on the Iraqi territory." He emphatically declared, "The work of aviation, especially the forces of the international coalition, is absolutely not envisaged. With notification or without notification, this issue is now closed."

May 4: Fox News: Russian Jets approach Alaska, prompting Air Force response 
Two Russian Bear bombers -- escorted for the first time by a pair of Su-35 "Flanker" fighter jets -- entered Alaska's Air Defense Zone on Wednesday night, U.S. officials told Fox News.  The Russian formation was intercepted by a pair of U.S. Air Force F-22 stealth fighter jets that were already flying a patrol about 50 miles southwest of Chariot, Alaska. A NORAD spokesperson told Fox News the intercept began at 9 p.m. ET on Wednesday and a defense source said it also occurred into Thursday.  It was the first time the U.S. Air Force has seen advanced Russian Su-35 fighter jets escort Russian Cold War-era bombers near Alaska.
May 4: Fox News: House Passes North Korean Sanctions Bill
The House overwhelmingly voted Thursday to impose new sanctions on North Korea amid heightened tensions over its nuclear and ballistic missile programs.  The vote, 419-1, targets North Korea's shipping industry and use of slave labor.   It also requires that the Trump administration report to Congress within 90 days on whether North Korea should be reinstated on the government's state sponsors of terror list. Such a designation would trigger more sanctions, including restriction on U.S. foreign assistance.  Adm. Harry Harris Jr., the top American military officer in the Pacific, has warned lawmakers that it's a question of when, not if, Pyongyang successfully builds a nuclear-tipped missile capable of striking the U.S.

May 4: The Hill: House passes compromise Obamacare repeal and replace legislation
House Republicans on Thursday passed legislation aimed at repealing and replacing ObamaCare, taking a major step toward a long-held goal and setting in motion an overhaul of the nation's health system.  The narrow 217-213 vote is a victory for GOP leaders, who faced a tumultuous path to getting the bill to the floor. The measure had to be pulled in March because of a lack of votes, but a series of deals since then brought on board the conservative Freedom Caucus and then wavering moderates.  Twenty Republicans voted against the bill, most of them centrists hailing from swing districts that Democrats are targeting in 2018.
May 1: McClatchy DC: Republicans prepare for war, with each other!
Look out, Republicans up for re-election in 2018. Look out, House Speaker Paul Ryan.  The fiery, never-give-in ultra-conservative wing of the GOP is highly displeased with the budget agreement reached this week.   "Instead of fighting for President Trump's conservative budget priorities, they have surrendered to the Democrats once again," Ken Cuccinelli, a former Virginia attorney general who heads the Senate Conservatives Fund, said of congressional Republican leaders.  Democrats are elated over the $1.07 trillion budget deal, which reads almost like an Obama administration blueprint.

May 1: CNN:  Obamacare Repeal and Replace on the Verge of Defeat
The White House and congressional Republicans are in serious danger of not having enough votes to pass their health care bill.  Several Republicans have come out Monday against the current measure to repeal and replace Obamacare, bringing the CNN whip count to 21 Republicans, mostly moderates, opposed to the bill with at least 17 lawmakers still undecided. There is no vote scheduled and it's unclear if there will be one before the House leaves for a week-long break Friday.

May 1: The Wall Street Journal: Pre-existing conditions divide House GOP on Healthcare bill
A number of states would likely pursue waivers in the House Republican health plan enabling them to charge higher premiums to people with pre-existing conditions who let their coverage lapse, health analysts said.  The waivers are the latest twist to the House GOP proposal that would topple most of the Affordable Care Act and replace it with a new plan that would bring steep Medicaid cuts and refundable tax credits to help people obtain health insurance if they don't get it from their job.  Many Republicans say that giving insurers more flexibility in what kind of plans to offer, and how to price them, would create competition and drive down premiums.
May 1: Yahoo News: North Koreans warn of nuclear test at any time
North Korea warned Monday that it will carry out a nuclear test "at any time and at any location" set by its leadership, in the latest rhetoric to fuel jitters in the region.  Tensions on the Korean peninsula have been running high for weeks, with signs that the North might be preparing a long-range missile launch or a sixth nuclear test -- and with Washington refusing to rule out a military strike in response.