Go to the Chronology of News Stories from 2019 (second half)


June 30: The Washington Times: Cruz seeks probe into Portland, OR mayor's actions
Senator Ted Cruz (R-TX) called Sunday for a federal investigation and charges against Portland, Oregon, Mayor Ted Wheeler after he ordered the police to take no action to stop an attack on a journalist by "anti facists" activists during one of the city's frequent protests.  Mr. Ngo, a journalist, was mobbed by black-masked activists who grabbed pelted him with milkshakes and projectiles as he tried to walk away.  He was treated at the hospital for bloody cuts and bruises to his face and neck after the attack.

June 29: Fox News: House approves bipartisan border bill but Dem left wing not happy
A coalition of moderate Democrats and Republicans approved crucial border funding legislation late Thursday in the House, sending the $4.6 billion bill to President Trump's desk for his expected signature -- after Speaker Nancy Pelosi backed down from a push to include restrictions on immigration enforcement that could have scuttled the measure.  In doing so, Pelosi risked a severe backlash from the progressive base calling for those measures, convinced that so-called "guardrails" must be imposed to prevent alleged abuses by border officials.

June 28: The Hill: Senate rejects efforts to curb President on Iran war powers
Senators blocked an effort on Friday to restrict President Trump's ability to go to war with Iran, handing a victory to Republicans and the White House. Senators voted 50-40 on the proposal from Democratic Sens. Kaine (Va.) and Udall (N.M.) to block the president from using funding to carry out military action without congressional authorization.

June 28: Tucson Weekly: Supreme Court rejects for now citizenship question on 2020 census
The Supreme Court handed a temporary victory Thursday to opponents of a citizenship question on the 2020 Census, saying the government will have to go back and make a better case in lower courts if it wants to include the question. That could be difficult for the Census Bureau, which had said that it needed a final ruling by the end of June to have enough time to print the millions of Census forms that must be ready for 2020.

June 28: The Daily Caller: Thomas: Justices must confront "what this court has wrought" | Dismemberment Abortions
Supreme Court Justice Clarence Thomas spoke out against dismemberment abortions Friday, saying that justices must confront the realities of what the Supreme Court "has wrought" through abortion rulings.  In a concurring opinion, Thomas spoke on an Alabama law against dismemberment abortion after the Supreme Court declined to hear the case on Friday. The justice said that it is "implausible" that the Constitution would protect the dismemberment of a living child. The case was Harris v. West Alabama Women's Center.

June 28: USAF Central Command: F-22 stealth aircraft deploy to the Persian Gulf
U.S. Air Force F-22 Raptor stealth aircraft have been deployed to the Al Udeid Air Base, Qatar. This is the first time these aircraft have been deployed to Qatar where they will defend American forces and interests in the U.S. Central Command area of responsibility.

June 28: The Daily Caller: Universities push back on monitoring Chinese-sponsored students
BI officials have advised at least 10 American universities since 2018 to monitor certain Chinese nationals amid fears that Chinese propaganda is seeping into U.S. academia.  But administrators of the institutions the FBI briefed, which are member schools of the Association of American Universities (AAU), have pushed back on the FBI's non-mandatory advice due to their skepticism of the threat posed by visiting Chinese students and scholars affiliated with Chinese state-affiliated research institutions.
Editor's Note: It is illegal under the Export Administration Act to allow the transfer of certain technology (ie., intellectual property,
source codes, etc.) to restricted foreign nationals even if they are in the United States. 

June 27: Fox News: Administration  may delay 2020 census while dealing with citizenship question
The Supreme Court has said that the administration's explanation for adding a citizenship  question was insufficient and sent it back to the lower courts for further consideration. While more lower-court litigation is possible, it would be difficult for the government to get the question on the census in time for the forms to be printed by their original self-declared summer deadline.  But Trump raised the possibility of a delay until a final resolution by the courts. Trump said it "seems totally ridiculous" for the government not to ask such a "basic question."

June 26: Fox Business: Low-tax states ramp up efforts to recruit unhappy SALT cap victims
The exodus from high-tax states is expected to accelerate throughout the coming months and years, and lower-tax states are welcoming both individuals and businesses with open arms.  There are a number of campaigns popping up in states like Florida – where there is no state income tax – targeting people in states like New York, New Jersey and Illinois, which were some of the areas hardest hit by a new $10,000 cap on state and local tax deductions.

June 25: The Daily Caller:  Did John Adams really say that?  If not, he should have!
A post on Facebook claims that founding father John Adams once said,
"In my many years, I have come to a conclusion that one useless man is a shame, two is a law firm, and three or more is a Congress." Unfortunately there is no evidence that he ever said that although the fictional Adams in the 1969 musical "1776" did.  If he didn't actually say it, perhaps he should have!

June 25: Fox News: ICE releases names of aliens released and crimes committed showing
danger of sanctuary laws
ICE officials in the Pacific Northwest took the unusual step of criticizing  Washingtonstate's new sanctuary state law and giving detailed examples of the danger they believe it presents to the public. The office recently issued a press release which lists seven cases in which ICE requested detainers on criminal illegal aliens being held in local jails and those requests were ignored, with tragic consequences.

June 25: Fox News: US Navy starts construction of a new class of FBM subs
Almost nobody knows where they are at any given time, yet nuclear-armed ballistic missile submarines quietly patrol dark domains of the undersea realm in strategically vital waters around the globe, bringing the prospect of unprecedented destruction upon potential enemies -- all as a way to keep the peace.  Construction of the new Columbia class fleet ballistic missile [FBM] submarine started last month in Newport News, VA.  This new submarine will be quieter and stealthier than the twelve current Ohio class FBMs.

June 24: Washington Free Beacon: US kicks off 19-nation war games in Ukraine
From July 1 to 12, American military assets will join with "19 nations, 33 ships, 26 aircraft, and over 3,000 troops to participate in a maritime, air, and land exercise that will enhance capabilities, improve interoperability and build upon decades of partnership and friendship," according to information provided by the Defense Department.  The drills are an annual exercise known as Sea Breeze that is now in its 19th year.  The nations scheduled to participate in the exercise include Bulgaria, Canada, Denmark, Estonia, France, Georgia, Greece, Italy, Latvia, Lithuania, Moldova, Norway, Poland, Romania, Sweden, Turkey, Ukraine, and the United Kingdom.

June 24: The Hill: Trump slaps new sanctions on Iran
On Monday Trump  announced additional U.S. sanctions against Iran targeting the country's supreme leader. The executive order will deny the supreme leader and others access to financial instruments. "The supreme leader of Iran is one who ultimately is responsible for the hostile conduct of the regime," Trump said. "He's respected within his country. His office oversees the regime's most brutal instruments."  He called the new sanctions a "strong and proportionate response to Iran's increasingly provocative actions.

June 24: Fox News: Supreme Court rejects challenge to Trump tariffs on steel imports
The U.S. Supreme Court refused Monday to rule on a case challenging President Trump's 25 percent tariffs on steel imports into the U.S. that was imposed last year.  The decision, which the justices did not immediately comment on Monday, will leave in place the U.S. Court of International Trade's ruling from March that allowed the president's tariffs.   In March 2018, Trump imposed 25 percent tariffs on imported steel and 10 percent tariffs on imported aluminum.

June 23: The Hill: Supreme Court set to deliver ruling on census question
The Supreme Court is set to hand down its much-anticipated decision on whether the Trump administration can include a citizenship question on the 2020 census. The question has been the subject of multiple legal challenges since it was first announced in early 2018. And a courtroom twist this past week added a new level of drama that could affect the Census Bureau's timeline for finalizing and printing the decennial questionnaire. The administration has been steadfast in its insistence that including the question is necessary to enforce the 1965 Voting Rights Act.
[See a related story]

June 23: Breitbart News: AOC refuses invitation to visit Auschwitz concentration camp
Rep. Alexandria Ocasio-Cortez (D-NY) refused Sunday to visit the Auschwitz concentration camp, after a Jewish group had invited her to tour that camp and others this summer to educate herself about the facts of the Holocaust.  Last Monday evening, Ocasio-Cortez compared detention facilities for illegal aliens caught crossing the U.S.-Mexico border to "concentration camps," adding the phrase "never again," which commonly refers to the Nazi Holocaust.  The remark drew outrage and criticism, even from fellow Democrats.

June 23: The Daily Caller: Gowdy: Mystery FBI transcript "Changed My Perspective" of the Russia Probe
Former Congressman Trey Gowdy (R-SC) said Sunday his "perspective" of the special counsel's investigation changed after he saw a transcript of an interaction between the FBI and a Trump campaign associate believed to be George Papadopoulos.  Gowdy said in an interview on Fox News' "Sunday Morning Futures" that the public would likely see the transcript as a "game changer" if it was ever released.   He also said it was never presented to the FISC surveillance court which allowed four FBI surveillance warrants against Trump campaign advisors.

June 22: Associated Press: U.S. launches cyber attack on Iranian military
U.S. military cyber forces launched a strike against Iranian military computer systems on Thursday as President Donald Trump backed away from plans for a more conventional military strike in response to Iran's downing of a U.S. surveillance drone, U.S. officials said Saturday.  The strikes were apparently conducted with approval from Trump. The attacks — a contingency plan developed over weeks amid escalating tensions — disabled Iranian computer systems that controlled its rocket and missile launchers, the officials said. The attacks  specifically targeted Iran's Islamic Revolutionary Guard Corps computer system and were provided as options after Iranian forces blew up two oil tankers earlier this month.

June 22: CNN:  Pelosi talked with Trump Friday night asking him to call off ICE raids
Speaker Pelosi called President Donald Trump Friday night and asked him to call off the raids by ICE scheduled for Sunday.  Trump pushed the raids back for two weeks in ten major cities across the U.S.  The raids were targeted for those who had court ordered deportation orders but who still remained in the country.  The President announced via Twitter that he would delay for two weeks US raids to give Congress a chance to "get together and work out a solution" on the enforcement of his signature immigration policy.  The Speaker and the President spoke for about 12 minutes according to White House deputy press secretary Judd Deere.

June 22: The Galveston County Daily News: Citizenship Question Neither New or Wrong
This month the U.S. Supreme Court will decide whether a citizenship question should be included in the 2020 census. This question has been part of our census since 1820 until 2010.  It was first included at the request of Thomas Jefferson "for the purpose of more exactly distinguishing the increase of population by birth and immigration." So it's not new!  The citizenship question also doesn't ask about a person's legal status.

June 21: The New York Post: Massive explosion at Philly oil refiners
This is the moment a massive fireball erupted from a 150-year-old oil refinery in south Philadelphia when a vat of butane exploded early Friday — in a spectacle that could be seen from miles away and felt as far as South Jersey, according to reports.  The blaze began at the Philadelphia Energy Solutions Refining Complex shortly after 4:20 a.m., according to police. Flames went "hundreds of feet in the air" but thankfully nobody was injured.

June 21: The Hill: Washington wondering about Trump's next move re: Iran
The possibility of U.S. military action against Iran continued to loom large Friday, despite Trump's decision to call off an overnight strike.  Trump said he reversed course Thursday night because the strike was "not proportionate" to Iran's downing of a U.S. surveillance drone -- leaving open the question of whether the president is still searching for a military response he would consider proportionate.

June 21: The Jerusalem Post: Iran: We refrained from shooting down U.S. plane with 35 aboard
Iran refrained from shooting down a US plane with 35 people on board that was accompanying the downed drone in the Gulf, a Revolutionary Guards commander said on Friday.

June 20: CNN : Iran shoots down U.S. drone
Iran says it shot down an approaching US spy plane on Thursday. The US says the drone was flying in international airspace over the Strait of Hormuz.The move is likely to increase friction between Washington and Tehran. Trump announced Monday he would send 1,000 more troops to the Middle East. And last week, US officials blamed Iran for attacks on two oil tankers.

June 19: The Daily Caller: Rifle packing Grandma holds car thief at bay until the Calvary arrives
An Alabama grandmother packing a rifle held off a suspected car thief in her front yard until police arrived Monday.  Marcia Black, 75, said she grabbed her gun when she saw Cameron Powers, an alleged car thief who had been on the run for several hours after crashing a stolen car, walk toward her front porch.  When he got closer to her home, Black fired her rifle in the air stop his advance. "He wouldn't get down so I shot in the air and he realized I meant business," she said.

June 19: The Washington Times: Some NY counties will not issue driver's licenses to illegals
Some county clerks in New York say they will defy a new state law authorizing driver's licenses for immigrants who are in the United States illegally. Erie County Clerk Michael Kearns says Wednesday he's going to federal court with his concerns that the law signed by Democratic Gov. Andrew Cuomo Tuesday conflicts with federal policy.  Clerks in Rensselaer, Niagara and Allegany counties are among those who've also told local media outlets they will not grant licenses to people in the country illegally.

June 19: The Daily Caller: House passes bill with Hyde Amendment
The House of Representatives passed a bill Wednesday renewing the hotly-contested Hyde Amendment.  Though controlled by Democrats, the house passed the bill within a package of Labor and Health and Human Services appropriations with a vote of 226 to 203.  No Republicans supported the bill and seven Democrats, including Democratic New York Rep. Alexandria Ocasio-Cortez, opposed it,  The Hyde Amendment bars the use of federal funds for abortions.

June 19: The Washington Times: Dems not happy, witness doesn't answer their questions
Democrat members of the House Judiciary Committee on Wednesday said a White House attorney is preventing President Trump's former communications director Hope Hicks from answering the panel's questions about her time in the administration.  Hicks, who served as Trump's communications director through February 2018, is the first senior administration official referenced in special counsel Robert Mueller's report to testify before Congress. She appeared at a closed-door hearing, with a transcript expected to be made public within 48 hours.

June 18: Associated Press: Even the dead are not exempt in Venezuela
Even the dead aren't safe in Maracaibo, a sweltering, suffering city in Venezuela. Thieves have broken into some of the vaults and coffins stealing ornaments and sometimes items from corpses such as gold fillings. Much of Venezuela is in a state of decay and abandonment, brought on by shortages of things that people need the most: cash, food, water, medicine, power, gasoline.

June 18: Americans for Tax Reform: Biden: The first thing I would do is eliminate the tax cuts
"First thing I would do as president is eliminate the president's tax cut," Biden said during the Poor People's Forum in Washington, D.C. on Monday.  This would mean a family of four earning the median income of $73,000 would see a $2,000 tax increase.  A single parent (with one child) making $41,000 would see a $1,300 tax increase.  Small employers will face a tax increase due to the repeal of the 20% deduction for small business income and the U.S. would once again have the highest corporate tax rate in the world which would result in an exodus of firms leaving the country.

June 18: Reuters: Trump plans to deport "millions" of people in the country illegally
President Donald Trump said on Monday that U.S. authorities would begin next week removing millions of immigrants who are in the United States illegally.  "Next week ICE will begin the process of removing the millions of illegal aliens who have illicitly found their way into the United States," Trump tweeted.  Under a deal reached earlier this month, Mexico has agreed to take Central American immigrants seeking asylum in the United States until their cases are heard in U.S. courts.

June 17: Fox News Business : Huawei says revenue will be $30 billion less in next 2 years due to US ban
Huawei founder and CEO Ren Zhengfei estimates the tech company's revenue will be $30 billion less than forecast over the next two years due to the U.S. government's ban on federal contract with any firm that does business with Huawei and ongoing trade dispute with China.  "We never thought that the U.S.'s determination to attack Huawei would be so strong, so firm," Ren said. "…We cannot get components supply, cannot participate in many international organizations, cannot work closely with many universities, cannot use anything with U.S. components, and cannot even establish connection with networks that use such components."

June 17: The Daily Caller: Supreme Court lifts punishing order on Christian baker
The Supreme Court lifted an order Monday punishing a Christian baker in Oregon who refused to produce a wedding cake for a same-sex couple, telling a lower court to reconsider the dispute in light of the 2018 Masterpiece Cakeshop decision. "This is a victory for Aaron and Melissa Klein and for religious liberty for all Americans," said Kelly Shackelford, president of the firm that represents the Klein family. "The Constitution protects speech, popular or not, from condemnation by the government. The message from the Court is clear, government hostility toward religious Americans will not be tolerated."

June 16: Politico: UK to deploy marines to Persian Gulf
Within weeks the United Kingdom is expected to send one hundred Royal Marines to the Gulf of Oman to protect its warships amid rising tensions with Iran, according to the Sunday Times.  The planned deployment follows Thursday's attacks on two oil tankers, which the U.S. has blamed on Iran. British Foreign Secretary Jeremy Hunt on Friday  said the U.K. would make its own assessment, but believed the U.S. claim that Tehran was behind the incident.

June 15: Sky News: F-35 jets: Chinese-owned firm making parts for top-secret UK/US fighters
A Chinese-owned company is making circuit boards for the top-secret next generation F-35 warplanes flown by Britain and the United States, Sky News can reveal.  Exception PCB, a printed circuit board (PCB) manufacturer in Gloucestershire, south west England, produces circuit boards that "control many of the F-35's core capabilities", according to publicity material produced by the UK Ministry of Defence (MoD).  This includes "its engines, lighting, fuel and navigation systems", it said.

June 14: The Daily Mail: Trump will not fire Kellyanne Conway
President Trump defended his chief counselor Kellyanne Conway on Friday, saying he won't fire her despite the urging of an influential office that serves as the executive branch's civil service watchdog.   The Office of Special Counsel recommended Conway's sacking in a report that concluded she violated the Hatch Act.   Trump said "'Based on what I saw yesterday, how could you do that? They have tried to take away her speech," framing Conway's alleged violations as a First Amendment matter.

June 13: USA Today: East Texas town becomes sanctuary city for the unborn
Waskom, a small town in East Texas has declared itself the state's first "sanctuary city for the unborn" after its city council passed a resolution banning most abortion procedures.  The town currently has no abortion services available, but supporters of the ordinance wanted a measure to prevent an abortion clinic from being able to open in the city of roughly 2,000.  The measure, exempts victims of rape and incest and women whose lives are at risk without an abortion.

June 13: Fox News: Iran behind attacks on oil tankers in the Gulf
U.S. Secretary of State Mike Pompeo has blamed Iran for the "blatant assault" on oil tankers in the Gulf of Oman earlier Thursday.  In a press conference Thursday afternoon, Pompeo said: "This assessment is based on intelligence, the weapons used, the level of expertise needed to execute the operation, recent similar Iranian attacks on shipping, and the fact that no proxy group operating in the area has the resources and proficiency to act with such a high degree of sophistication."

June 13: CNBC: Sanders to leave White House; What's next?
White House press secretary Sarah Huckabee Sanders will leave the job at the end of the month, President Donald Trump said Thursday.  In a pair of tweets, the president said Sanders will return to her home state of Arkansas — and urged her to run for governor. He thanked her for what he called a "job well done" in the White House. Trump did not immediately announce who would replace her.

June 13: Breitbart News: Streets in Hong Kong still filled with protestors
Police and protesters battled again in Hong Kong on Thursday, followed by what observers characterized as an uneasy truce. Hundreds of demonstrators are still taking to the streets, but their numbers are far less than the tens of thousands reported on Wednesday or the hundreds of thousands last Sunday.  The lighter turnout could be partly due to the legislature, known in Hong Kong as LegCo, deciding to postpone hearings on the fiercely-opposed extradition bill after massive demonstrations and violence on Wednesday.

June 11: Fox News: Abbott signs "Save Chick-Fil-A" bill
Governor Greg Abbott (R-TX) on Monday signed the so-called "Save Chick-fil-A" bill into law, a new provision that supporters say defends the fast-food restaurant and protects religious freedoms. Opponents have argued it discriminates against the LGBT community.   The new law stops the government from taking unfavorable action against a business or person for contributions to religious organizations.

June 11: The Daily Caller: House votes to hold AG Barr in contempt
The House of Representatives voted 229-191 in a party line vote Tuesday to hold Bill Barr and Don McGahn in contempt of Congress.  Both Trump's Attorney General and former White House counsel defied subpoenas from the House Judiciary Committee, and congressional Democrats followed through on threats to hold them in contempt.

June 11: The Hill: Senate may cut August recess short if funding bill not passed
The lack of a spending deal with fewer than 20 legislative days remaining until the August recess is prompting some GOP senators to discuss the possibility of cutting short the Senate's August break.  Sen. David Perdue (R-GA), who is up for reelection next year, said he will ask Senate Majority Leader McConnell (R-KY) to consider trimming the annual recess in order to tackle government spending bills.  The effort to shorten the recess was successful in 2018 after Perdue and other lawmakers sounded the alarm on a pileup of spending measures. This year, the Senate is even further behind schedule on its to-do list.

June 11: Fox News: Colorado baker being sued for a third time; when will it stop?
The owner of Masterpiece Cakeshop -- which won a case before the U.S. Supreme Court recently -- was sued for a third time this week.  Jack Phillips, the Lakewood, Colo. bakery owner who has refused to bake cakes that violate his Christian faith, is being sued again by Autumn Scardina, a transgender woman, for refusing to bake a gender transition cake.  Scardina claims it is textbook LGBT discrimination. But Phillips said she is rehashing old claims that hold no merit.


June 11: The Daily Caller: Planned Parenthood sues Administration over conscience rule
Planned Parenthood joined several other groups in suing the Trump administration on Tuesday over the "conscience" rule, which would allow health care workers to refuse to conduct abortions due to religious or moral beliefs.  The Department of Health and Human Services' (HHS) "conscience" rule "protects individuals and health care entities from discrimination on the basis of their exercise of conscience in HHS-funded programs," according to the HHS website.


June 10: One News Now:  300,000 "Anchor Babies" born in the USA annually
An analysis of United States Census Bureau statistics revealed that nearly 300,000 "anchor babies" – children born to illegal aliens in the U.S. – add to the U.S. population annually, with about 20 percent of all births in America being born to legal or illegal immigrants.  And with President Donald Trump's "tough on immigration" agenda being countered by pro-immigration/open borders Democrats at every turn, the trend is no different this year.

June 10: The Daily Caller: DOJ review of Trump surveillance is "broad in scope and multifaceted"
Attorney General William Barr's review of surveillance against the Trump campaign is "broad in scope and multifaceted, and is intended to illuminate open questions regarding the activities of U.S. and foreign intelligence services as well as non-governmental organizations and individuals," Boyd, a DOJ official said.  Boyd continued saying U.S. Attorney Durham's team has requested that intelligence community agencies preserve certain records, ensure that witnesses pertinent to the review be made available for interviews, and to identify and assemble documents relevant to the review.

June 10: Fox News: SCOTUS rejects atheist attempt to scrub "In God We Trust"
The Supreme Court rejected an atheist case Monday to remove "In God We Trust" the national motto, from all coins and currency from the Department of Treasury.  Michael Newdow, an activist attorney,  lost his case, arguing Congress' mandate to inscribe "In God We Trust" on currency was a government endorsement of religion and a violation of the First Amendment.  The justices rejected his petition without comment.

June 10: The Hill: House Dem Leadership unlikely to allow a vote to lift the "Hyde Amendment" language
House Democratic leaders are unlikely to allow a floor vote on a measure that would lift a ban on federal funding for abortions, dealing a major blow to progressive lawmakers who want to strip the Hyde Amendment from an upcoming spending bill.  The proposed amendment, offered by Rep. Pressley (D-MA) and other progressive Democrats, would "ensure" coverage for abortions in federally funded health programs, including Medicaid, Medicare and the Children's Health Insurance Program.

June 9: Reuters:  Hong Kong plunged into political crisis – huge public protests
Riot police surrounded Hong Kong's parliament early on Monday after what had been a peaceful million-strong (an estimated 1.03 million) protest against an extradition bill descended into running clashes between police and protesters.  The Legislative Council is where debates will start on Wednesday to pass a new government bill that will allow suspects wanted in mainland China to be sent across the border for trial.  One protestor commented "If the law is implemented anyone can disappear from Hong Kong. No one will get justice in China. We know there are no human rights."

June 9: The Washington Times: Mexico celebrates; dignity is intact
Mexican President Andrés Manuel López Obrador said he was reluctantly prepared to slap retaliatory tariffs on U.S. goods if negotiators in Washington had failed to strike a deal, addressing a boisterous celebratory rally Saturday in the border city of Tijuana.  The president's comments came shortly after his foreign minister and chief negotiator, Marcelo Ebrard, told the rally the country had emerged from the high-stakes talks that avoided U.S. tariffs on Mexico's exports with its "dignity intact."

June 9: Fox News: Police officers serve others:  Minnesota cop
mows lawn for elderly lady after welfare check
A Minnesota police officer demonstrated one of the many ways officers assist those they serve is by grabbing a lawnmower.  The officer, after conducting a welfare check, asked the lady why her yard was so unkempt.  The lady responded that she didn't have anyone to mow it for her.  The next thing she knew the officer grabbed her push mower and confronting knee-high weeds where he had just conducted a welfare check on the owner, a woman living alone.

June 8: Yahoo News:  Supreme Court upcoming rulings may be decided by one vote
Justice Ruth Bader Ginsburg hinted that sharp divisions will mark the final weeks of a Supreme Court term that will include major rulings on the census and partisan gerrymandering.  Speaking before the annual conference of federal judges in New York, Ginsburg suggested that more than a quarter of the court's remaining 27 rulings will be decided by a single vote. Of the 43 argued cases settled so far, 11 were by a vote of either 5-4 or 5-3, she said.

June 8: Yahoo News: US-Mexico deal forged; tariffs avoided
The Trump Administration and Mexican President Andres Manuel Lopez Obrador hammered out a deal where Mexico agreed to expand its policy of taking back migrants, most of them from violence-riven Guatemala, Honduras and El Salvador, as the United States processes their asylum claims. Mexico will also use its newly created National Guard to crack down on illegal migration, in particular along its southern border with Guatemala, a gateway for poor Central Americans hoping to reach the US.

June 7: Fox News: US makes deal with Mexico on tariffs and immigration
The U.S. has reached an agreement with Mexico that heads off the start of tariffs on Monday, President Trump said in Friday night tweets.  Trump said "the tariffs scheduled to be implemented by the U.S. on Monday, against Mexico, are hereby indefinitely suspended.  Mexico, in turn, has agreed to take strong measures to....stem the tide of Migration through Mexico, and to our Southern Border. This is being done to greatly reduce, or eliminate, Illegal Immigration coming from Mexico and into the United States.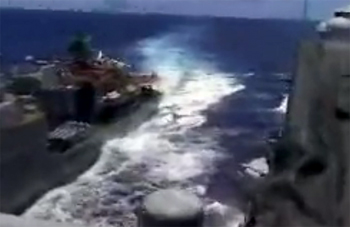 June 7: Commander US 7th Fleet:  Russian Navy destroyer's
maneuver endangers U.S. Navy cruiser in Philippine Sea
At approximately 11:45 am local time on 7 June 2019 while operating in
the Philippine Sea, a Russian Destroyer (DD 572) made an unsafe maneuver
against USS Chancellorsville (CG-62), closing to 50-100 feet putting the
safety of her crew and ship at risk. While Chancellorsville was recovering
its helicopter on a steady course and speed when the Russian ship
accelerated and maneuvered from behind up the starboard side of
Chancellorsville and closed to an unsafe distance forcing the U.S.
cruiser to execute an all back full procedure and maneuvering to avoid
a collision.
[See the video]

June 7: The Daily Caller: Presidential candidate Harris vows to do away with right to work
Democratic presidential candidate and California Senator Harris has said that if she's elected, she would issue an executive order to rescind hard-won worker freedom.  In right-to-work states, workers can decide for themselves if they want to join a union or remain independent. In 22 states, including California, workers are forced to join unions, or at least pay union dues, when their employers use organized labor.

June 6: The Daily Caller:  Biden buckles under Dem pressure on Hyde Amendment
banning use of taxpayer money for abortions
Former Vice President Joe Biden reversed his position on the Hyde Amendment Thursday after facing intense backlash from within his own party.  Biden, while speaking in Atlanta, first reaffirmed his support for Roe v. Wade but then he took things a step further, saying that the current culture made it impossible for him to continue to support the Hyde Amendment that blocks federal dollars from being spent to support abortions.

June 6: Fox News: Limbaugh: Pelosi's Trump to prison comment is a sign
she is in big trouble
Speaker Pelosi (D-CA) is in big trouble with her own party, and her reported comment about wanting to see President Trump in prison proves it, according to Rush Limbaugh.  The conservative radio host offered up his analysis of the situation Thursday after Politico reported Pelosi told top committee chairmen in her party: "I don't want to see him impeached, I want to see him in prison."   Limbaugh said "She's trying to keep her impeachment mob at bay. And she's having trouble. She's in big trouble. You know, Trump has a nickname for her, "Nervous Nancy," and its spot on." 

June 6: Politico: Pelosi wants Trump in prison
Speaker Nancy Pelosi told senior Democrats that she'd like to see President Donald Trump "in prison" as she clashed with House Judiciary Chairman Jerry Nadler in a meeting on Tuesday night over whether to launch impeachment proceedings.  Pelosi met with Nadler (D-N.Y.) and several other top Democrats who are aggressively pursuing investigations against the president, according to multiple sources. Nadler and other committee leaders have been embroiled in a behind-the-scenes turf battle for weeks over ownership of the Democrats' sprawling investigation into Trump.

June 6: Fox News: Dems besides themselves as Trump plans to
address the nation from the Lincoln Memorial on July 4th
Democrats on Capitol Hill are fuming over President Trump's plan to deliver a speech at the Lincoln Memorial during the traditional July 4th celebration on the National Mall, saying the event should appear non-political.  The U.S. Park Police confirmed this week that Trump planned to attend this year's celebration, which typically brings thousands to the nation's capital.

June 5: The Daily Caller: Tucker Carlson: Would you vote for this
kind of person?  But that's not what we have in Congress!
Fox News host Tucker Carlson slammed Republican politicians on Wednesday for abandoning the economic nationalism that their base voted for in 2016 in order to appease the libertarian donors to whom they are beholden.  "In Washington, almost nobody speaks for the majority of voters," Carlson said on "Tucker Carlson Tonight."

June 5: Axios.com: Poll:  Americans view fake news as bigger
problem than terrorism
Americans view made-up news and information as a bigger problem than other critical issues, including terrorism, immigration, climate change and racism, according to a new survey from Pew Research Center.  The survey finds that Americans feel more worried today about fake news because it's undermining their trust in key institutions, like government and the media.   The only issues that rank higher than made-up news and information as "very big problems in the country today" are drug addiction, the affordability of health care, the U.S. political system, and the income gap.

June 5: The Hill: Laid off reporters launch effort to save journalism
The newly formed nonprofit "Save Journalism" effort estimates 2,400 journalists lost their jobs in 2019 so far. It also estimates 1,300 communities lost local news coverage in the last 15 years, with 60 percent of the nation's counties without a daily newspaper and 171 with no newspaper coverage at all. Laura Bassett (formerly of the Huffington Post) and John Stanton (formerly of BuzzFeed) are behind the effort.

June 4: Fox News: DOJ reveals Dems acknowledged subpoena of Barr was "overboard"
Hours after the Department of Justice (DOJ) slammed House Democrats for planning a contempt vote against Attorney General Bill Barr -- and charged that Democrats had privately admitted their subpoena requests were "overbroad" -- House Judiciary Committee Chairman Jerry Nadler announced late Tuesday that he is open to negotiating with the DOJ "without conditions."

June 3: Fox News: Dem's case about Trump moving money
for national emergency denied
Washington, D.C., district court Judge Trevor McFadden threw out House Democrat's lawsuit seeking an injunction against President Trump's emergency border wall funding reallocation, saying that the matter is fundamentally a political dispute and that the politicians lack standing to make a legal case. Trump had declared a national emergency this past February over the humanitarian crisis at the southern border, following Congress' failure to fund his border wall legislatively.

June 3: Fox News: Russia removes defense advisors from Venezuela
Russia has withdrawn key defense advisers from Venezuela, an embarrassment for President Nicolás Maduro as Moscow weighs the leader's political and economic resilence against growing U.S. pressure.  Russian state defense contractor Rostec, which has trained Venezuelan troops and advised on securing arms contracts, has cut its staff in Venezuela to just a few dozen, from about 1,000 at the height of cooperation between Moscow and Caracas several years ago, said a person close to the Russian defense ministry.

June 3: CNN: Justice Thomas: Rumors are false
Justice Thomas'  booming voice filled the Supreme Court chamber Monday afternoon, as he took time off from the last month of the term to give a wide-ranging talk and publicly question where the rumors of his retirement come from.  "People can say things about you and for you that have nothing to do with you," Thomas told an audience attending an event sponsored by the Supreme Court Historical Society in the ornate chamber.  "I enjoy being here, I enjoy my work," he said.

June 3: Chicago Tribune: Most violent weekend in Chicago
t least 52 people were shot, eight of them fatally, across Chicago over the weekend, the most violent of the year as summer gets underway, with a toll even higher than during the long Memorial Day holiday just a week earlier.

June 2: The Jerusalem Post: Arabs riot as Jews allowed
on the temple mount on Jerusalem Day
Following the report that Jews will be allowed on the Temple Mount for Jerusalem Day, riots broke out at the Temple Mount on Sunday.  The commander of the Jerusalem district, Maj.-Gen. Doron Yedid, ordered the police to enter the Temple Mount and take care of the rioters.  Jews are generally forbidden to enter the area during the last days of the month of Ramadan. The police, however, allowed the entrance of Jews especially for Jerusalem Day.  After the riots subsided, Jews slowly began entering the area.

June 2: Fox Business:  Administration removes restrictions on E-15 gasoline
The Trump Administration on Friday announced that it would allow the year-round sale of gasoline with higher concentrations of ethanol.  This action could help corn growers who may see expanded markets for their commodity and a 10-15 cent decrease in gas prices at the pump. However, E-15 gasoline which contains 15% ethanol (vs. 10%) could also adversely impact vehicle gas mileage and is opposed by the refining industry.

June 1: The Daily Caller: Dems don't care about victims of
Virgina Beach shooting; only want to take away your rights
Many Democrats, including most 2020 presidential candidates, were quick to politicize the tragic mass shooting in Virginia Beach to push their gun control agenda, but Second Amendment supporters weren't about to take any of it lying down.  They pushed back on the notion of using a senseless tragedy to take away gun rights.

June 1: Yahoo News: Hi tech companies should be quaking in their boots
This is the moment the U.S. technology superpowers surely knew was coming: The U.S. government is preparing to crawl all over Google to figure out whether it is an abusive monopolist. Google parent company Alphabet Inc. and the other tech giants should be quaking in their fleece vests.  Bloomberg News and other news organizations reported late Friday that the U.S. Department of Justice is preparing to open an investigation into Google's compliance with antitrust laws. If it goes forward, an investigation will no doubt be broad, lengthy, messy, and impossible for Google and its investors to predict.

June 1: SF Gate: Amazon could face intense antitrust scrutiny
Amazon could face heightened antitrust scrutiny under a new agreement between U.S. regulators that puts it under closer watch by the Federal Trade Commission, three people familiar with the matter said.  The move is the result of the FTC and the Department of Justice, the U.S. government's leading antitrust enforcement agencies, quietly divvying up oversight of two of the country's top tech companies.

June 1: The Daily Caller: Rep Collins points to Peter Strzok as FBI leaker
A top House Republican is asking the Justice Department's inspector general whether Peter Strzok is the former FBI official accused of leaking sensitive materials to the press and accepting gifts from a reporter. Collins, the ranking member of the House Judiciary Committee, sent a letter to the DOJ IG asking about the identity of a former FBI deputy assistant director (DAD) who was investigated for unauthorized contacts with the press.  The IG found the FBI official accepted a $225 ticket from a reporter to a media-sponsored event. The official also had "dozens" of unauthorized contacts with the media, and provided law enforcement sensitive information to reporters on "multiple" occasions.

May 31: The Daily Caller: Barr rebukes "bogus" collusion conspiracy theory
Attorney General William Barr offered his most pointed rebuke to date against conspiracy theories that President Donald Trump is in bed with Russia.  "Mueller has spent two and half years and the fact is there is no evidence of a conspiracy. So it was bogus, this whole idea that the Trump was in cahoots with the Russians is bogus," Barr said.   Special counsel Mueller said in his report that investigators were unable to establish that Trump or his campaign associates conspired with Russia to influence the 2016 election.

May 31: Associated Press: With Biden absent, rivals pounce on California gathering
Democratic presidential hopefuls took rival Joe Biden's absence at a California state party gathering Saturday as a chance to take subtle digs at the former vice president and craft themselves as better positioned to bring Democrats into the future. Fourteen presidential contenders attended the three day event in San Francisco of the California Democratic Party, featuring thousands of fervent activists. Biden was the only big-name candidate to skip the gathering, opting instead to campaign in Ohio. That allowed Warren, Vermont Sen. Bernie Sanders, California Sen. Kamala Harris and others a chance to grab the spotlight.

May 30: Associated Press: Mueller: We did not exonerate Trump
Special counsel Robert Mueller said Wednesday that charging President Donald Trump with a crime was "not an option" because of federal rules, but he used his first public remarks on the Russia investigation to emphasize that he did not exonerate the president.

May 30: Fox News: Giuliani: If Mueller could not indict then he
just wasted two years and a lot of money
President Trump's personal attorney Rudy Giuliani didn't hold back when it came to addressing Robert Mueller's 's latest comments on the Russia investigation.  "If you take that analysis that he can't indict, and he can't give an opinion, then the reality is we just wasted two years. He did give an opinion. And his opinion is no collusion, no obstruction," Giuliani said.

May 30: The Daily Caller: Judicial Watch calls for investigation of Mueller
Judicial Watch president Tom Fitton called for an investigation into Robert Mueller for suggesting "wrongdoing by an innocent person without any foundation."  Fitton's Wednesday night appearance on Fox Business' "Lou Dobbs Tonight" comes after the former special counsel delivered prepared remarks regarding his investigation.

May 30: Fox News:  Limbaugh: Mueller begged Congress to impeach despite
lack of evidence
"Robert Mueller made it clear as a bell today that he wants to nail Donald Trump and he wants Donald Trump out of office, he just doesn't have the evidence. And so he's asked Congress to take over the job," conservative talk show host Limbaugh said Wednesday on his radio show.

May 29: The Advocate: Louisiana Democrat governor to sign abortion bill
Louisiana lawmakers have passed a bill that would ban abortions at about six weeks of pregnancy if upheld by the courts, sending it to the governor's desk without exceptions for victims of rape and incest. Gov. John Bel Edwards, the only Democratic governor in the Deep South, said he will sign the bill into law.

May 28: CBS News: Missouri may be the first state without an abortuary
The last remaining abortion clinic in Missouri says it expects to be shut down this week, effectively ending legal abortion in the state.  In a statement Tuesday, Planned Parenthood said Missouri's health department is "refusing to renew" its annual license to provide abortion in the state. If the license is not renewed by May 31, Missouri would become the first state without a functioning abortion clinic since 1973 when Roe v. Wade was decided.   Planned Parenthood filed a lawsuit requesting a restraining order against the state, hoping to restore the license and avoid service disruption. A circuit court judge will hear arguments on Wednesday.

May 28: Fox News: Ginsberg and Thomas exchange opinions over abortion ruling
Supreme court Justices Ginsburg and Thomas had two very different opinions when it came to a ruling on Tuesday that allowed Indiana to enforce a requirement that abortion clinics either bury or cremate fetal remains following an abortion. The justices said the case does not involve limits on abortion rights. Ginsburg dissented and said in a short solo opinion that she believes the issue does impact a woman's right to have an abortion "without undue interference from the state."  Ginsburg's dissent was not met well by Thomas, who said that it "makes little sense" to say that the remains of a child somehow impacts the ability of a woman to have an abortion in the first place.

May 28: CBS News:  U.S. Forces wearing MAGA patches, violating DOD policy?
U.S. service members attending a Memorial Day address by President Trump during his trip to Japan were photographed wearing patches inspired by his campaign slogan, and this may have violated the Pentagon's strict rules barring soldiers from showing political preferences. Navy spokesman Samuel Boyle said in a statement to CBS News, "Navy leadership is currently reviewing this instance to ensure that the wearing of the patch does not violate DoD policy or regulations."

May 28: The Daily Caller: Democrat city leaders issue a cease and desist order on
privately funded border wall
The half-mile private border wall that sprung up over Memorial Day weekend was hit with a cease and desist order Tuesday for being built in violation of a Sunland Park, New Mexico, city ordinance.  The wall, built near El Paso, Texas, by a nonprofit organization funded by triple-amputee Airforce veteran Brian Kolfage's viral $20 million GoFundMe fundraising campaign, didn't obtain a building permit prior to breaking ground.  It is unclear whether the city has the authority to tear down the structure.  The wall was constructed with the blessing of Trump and the Border Patrol.

May 27: Washington Times: Private border wall built faster and cheaper than by US government
A private group announced Monday that it has constructed a half-mile wall along a section of the U.S.-Mexico border in New Mexico, in what it said was a first in the border debate.  The 18-foot steel bollard wall is similar to the designs used by the Border Patrol, sealing off a part of the border that had been a striking gap in existing fencing, according to We Build the Wall, the group behind the new section.  The section was also built faster and, organizers say, likely more cheaply than the government has been able to manage in recent years. Reports are that the project has the blessing of the President and local Border Patrol agents.

May 27: The Charlotte Observer: Graham: Pray that the President will be embolden against his foes
House Speaker Pelosi said last week that she's praying for Trump after he walked out of a meeting on infrastructure, and evangelist Franklin Graham is apparently asking Christians across the nation to join her.  However, Graham's reasoning may not be in line with Pelosi's.  Graham and 250 other Christian leaders are calling for Sunday, June 2, to be a "Special Day of Prayer for the President" in hopes God will "protect, strengthen, embolden and direct" Trump against his political foes.

May 27: Fox News: Texas gun safety rider puts Gov. Abbott in the cross hairs
A Texas gun storage safety measure added to a massive spending bill sets up a political test for Gov. Greg Abbott as the legislation heads to his desk.  The $1 million measure was added late Sunday by budget negotiators.  The bill was approved Sunday night by the GOP-controlled legislature. The campaign for safe home gun storage, just one part of the much broader $250 billion state budget.  It would instruct three state government departments to do more to prevent gun-related accidents but is opposed by the NRA and gun rights advocates.  Abbott has line-item veto power in regard to the budget and  must decide whether to nix the measure or ignore pressure from some gun rights groups and approve it.

May 26: The Daily Caller: Lindsey Graham: Obama officials worried about declassification of information
Senate Judiciary Committee Chairman Lindsey Graham asserted Sunday that the former government officials opposing declassification of Russia probe documents "are worried about being exposed."  In an interview on "Fox News Sunday" with Chris Wallace, Graham also argued Democrats are unconcerned with whether the FBI misled the federal surveillance court in order to obtain Foreign Intelligence Surveillance Act (FISA) warrants against Trump campaign adviser Carter Page.

May 26: The Hill: Cheney: Statements by agents investigating Trump could be treason
Rep.Liz Cheney (R-WY) said on Sunday that statements by FBI agents investigating President Trmp sounded "an awful lot like a coup, and it could well be treason."  Cheney told Martha Raddatz on ABC's "This Week" that the beginnings of special counsel Robert Mueller's Russia investigation were suspect and need to be investigated.


May 25: Fox News: Jason Chaffetz: Dems worried about release of intel info on Trump
Democrats were puffing hot air and criticized the Trump administration because they feared his  declassification plan would uncover their dirty deeds, according to Jason Chaffetz former chair of the House Oversight Committee.  He called concerns that President Trump's plans would hurt national security "hogwash."  He argued doing so would improve AG Barr's  ability to communicate with intelligence agencies.  He speculated that Democrats were projecting their own fears about the declassification uncovering troubling activities on their part.

May 25: The UK Daily Mail: Pope: Abortion is like hiring a hit man
Pope Francis has compared abortion to 'hiring a hitman' during a Vatican-sponsored anti-abortion conference. He said abortion can never be condoned, even when the fetus is gravely sick or malformed. He urged doctors and priests to support families to carry such pregnancies to term.

May 25: Associated Press: U.S. moving additional resources to the middle east
The U.S. will send hundreds of additional troops and a dozen fighter jets to the Middle East in the coming weeks to counter what the Pentagon said is an escalating campaign by Iran to plan attacks against the U.S. and its interests in the region. And for the first time, Pentagon officials on Friday publicly blamed Iran and its proxies for recent tanker bombings near United Arab Emirates and a rocket attack in Iraq.  President Donald Trump told reporters Friday that the 1,500 troops would have a "mostly protective" role as part of a build-up that began this month in response to what the U.S said was a threat from Iran.

May 24: NBC News: Judiciary Chair Nadler falls ill in Manhattan
Chairman of the House Judiciary Committee Jerry Nadler appeared weak and on the verge of passing out at a presser held by New York City Mayor Bill de Blasio Friday morning in Manhattan.   The mayor is speaking -- and then there's a sudden commotion. De Blasio and others move to help an extremely pale Nadler as he sits, a ghost-like look on his face, in the chairs at P.S. 199 on the Upper West Side.

May 24: Yahoo News: Utah Judge suspended for anti-Trump comments
A longtime Utah judge has been suspended without pay for six months after making critical comments online and in court about President Donald Trump, including a post bashing his "inability to govern and political incompetence."  Judge Michael Kwan's posts on Facebook and LinkedIn violating the judicial code of conduct and diminished "the reputation of our entire judiciary," wrote Utah State Supreme Court Justice John A. Pearce in an opinion posted Wednesday.

May 24: The Hill: Supreme Court puts hold on Ohio & Michigan redistricting ruling
The Supreme Court on Friday agreed to pause a pair of lower court rulings ordering that Ohio and Michigan redraw their district maps ahead of the 2020 election. The justices' ruling, issued in several unsigned orders, mean that the states don't have to immediately start redrawing the maps, after the lower courts found that current district maps constituted a partisan gerrymander. A federal court struck down Michigan's district maps as unconstitutional in April. Another federal court ruled similarly just a week later in regard to Ohio's congressional districts.

May 24: Fox News: FAA investigating airports restricting Chick-Fil-A concessions
The FAA is investigating two airports -- San Antonio International and Buffalo Niagara International -- over religious discrimination complaints, following the exclusion of Chick-fil-a from the premises.  "The Department of Transportation has received complaints alleging discrimination by two airport operators against a private company due to the expression of the owner's religious beliefs," the agency said.  According to the agency, federally funded airports cannot discriminate on the basis of religion.

May 24: Clarion Ledger: Federal Judge blocks Mississippi heartbeat abortion law
U.S. District Judge Reeves on Friday issued a preliminary injunction blocking Mississippi's "heartbeat abortion law, that would have banned abortions as early as six weeks into a pregnancy, when a fetal heartbeat is detected.  Reeves' order will combine the lawsuit against Mississippi's fetal heartbeat ban with an ongoing one against the state's previous 15-week abortion ban.

May 23: Associated Press:  Far from the border cities feel the impact of migrant releases
A surge of asylum-seeking families has been straining cities along the southern U.S. border for months, but now the issue is flowing into cities far from Mexico, where immigrants are being housed in an airplane hangar and rodeo fairgrounds and local authorities are struggling to keep up with the influx.  U.S. immigration officials have eyed spots in states like Florida, Michigan and New York, to help process the migrants before they move on to their destination, which could be anywhere in the U.S.

May 22: Brietbart News: Infrastructure legislation off the table for the moment
President Donald Trump ripped Speaker Pelosi on Wednesday for accusing him of a "cover-up" by keeping his advisers from testifying in front of the House Judiciary Committee.  Trump says he was happy to do a meeting on infrastructure with Democrats, but that Pelosi accusing him of a "cover-up" earlier that morning was absurd.  "I don't do cover-ups," he said. "You people know that probably better than anybody."  The meeting ended abruptly and Trump said he would not deal with Democrats unless they ended the endless investigations in an attempt to take down the president.  He said that there were already House investigations, Senate investigations, and ultimately the Robert Mueller report found no collusion and no obstruction. Additional resource  

May 21: Real Vetted Sources: Has AG Barr found the smoking gun?
There are now three different investigations into how the FBI and the Obama administration began the Russian collusion probe.  Attorney General Barr is overseeing a coordinated effort with the new heads of the FBI, CIA, and Office of National Intelligence to get to the bottom of why and how the Obama administration and the FBI spied on the Trump campaign during the 2016 election.  "I've been trying to get answers to the questions, and I've found that a lot of the answers have been inadequate and some of the explanations I've gotten don't hang together, in a sense I have more questions today than when I first started," Barr told a shocked Fox News.

May 21: Fox News: Impeaching Trump? A silver lining for the President?
As talk of impeaching Trump ramps up, two co-hosts of "The Five" explained why the president may actually want to be impeached... but for slightly different reasons than the Democrats.  "I think he wants to be impeached by the House because he will not be convicted by a Republican majority in the Senate and then he will say... 'Oh you know, they beat me up but I'm still standing," Ron Williams said. "It's about folk hero status when you go after somebody. He has a great economy going. All of this good stuff is happening, peace and prosperity and you're impeaching him? It's going to turn him into Paul Bunyan," Greg Gutfeld said.

May 20: Politico: Lower Federal Court upholds subpoena for President's financial records
A federal judge on Monday upheld a congressional subpoena seeking President Donald Trump's financial records from an accounting firm, arguing that Congress is well within its rights to investigate potential illegal behavior by a president — even without launching a formal impeachment inquiry.

May 20: Fox News: Former AG Lynch contradicts Comey on Clinton email  investigation
Former Attorney General Loretta Lynch has flatly accused former FBI Director James Comey of mischaracterizing her statements by repeatedly alleging, under oath, that Lynch privately instructed him to call the Hillary Clinton email probe a "matter" instead of an "investigation."

May 20: LawandCrime.com: Two latest SCOTUS appointees disagree three times in one day
President Trump's two appointments to the bench, Kavanaugh and Justice Neil Gorsuch, disagreed on three separate decisions in one day. Each case dealt with a different area of law. 

May 19: The Associated Press: Saudi Arabia:  We don't want war but we will defend ourselves
Saudi Arabia does not want war but will not hesitate to defend itself against Iran, a top Saudi diplomat said Sunday, after the kingdom's energy sector was targeted this past week amid heightened tensions in the Persian Gulf.  Adel al-Jubeir, the minister of state for foreign affairs, spoke a week after four oil tankers— two of them Saudi— were targeted in an alleged act of sabotage off the coast of the United Arab Emirates and days after Iran-allied Yemeni rebels claimed a drone attack on a Saudi oil pipeline.

May 19: The Washington Times: ICE to fly hundreds of migrants to California
The U.S. Border Patrol said Friday that it would fly hundreds of migrant families from south Texas to San Diego for processing and that it was considering flights to Detroit, Miami and Buffalo, New York.  The flights are the latest sign of how the Border Patrol is struggling to keep up with large numbers of Central American families that are reaching the U.S. border with Mexico, especially in Texas. Moving migrants to less crowded places is expected to distribute the workload more evenly.

May 18: The Washington Examiner: DNA tests show that 30% of migrant claiming to be
families are not related
Some of the migrant families arrested at the southern border weren't actually families.  In a pilot program, approximately 30% of rapid DNA tests of immigrant adults who were suspected of arriving at the southern border with children who weren't theirs revealed the adults were not related to the children.  "There's been some concern about, 'Are they stepfathers or adopted fathers?'" an official said. "Those were not the case. In these cases, they are misrepresented as family members."

May 18: The Daily Republic: Dems may use the Supreme Court and Abortion 
as a campaign issue
Democrats are attempting to turn the Supreme Court into a campaign issue as they confront President Donald Trump's success at reshaping the federal judiciary with young, conservative judges and the prospect that abortion rights are close to being eliminated.  It's a shift after decades of GOP candidates rallying their voters with promises to reshape the courts in a backlash to Warren Court rulings of the 1960s, and Roe v. Wade in 1973, the landmark abortion rights ruling.

May 17: The UK Sun: Science fiction becomes reality for battlefield?
The U.S. Air Force could deploy missiles that fry Iran and North Korean weapons with microwaves'  The USAF has deployed twenty such weapons which can zap enemy electronics with massive energy pulses rendering then useless.  A unique feature of the system is its ability to penetrate bunkers where facilities are hidden without harming anyone inside.  News of the state-of-the-art weapons - which are carried into battle by B-2 stealth bombers - comes as a Saudi state newspaper called for the US to launch "surgical strikes" against Iran now.

May 17: Fox News:  AG Barr coming for Comey?
Attorney General Barr revealed that the recently announced review of the origins of the Russia probe will focus in part on a controversial briefing that intelligence officials gave President Trump shortly before he took office in 2017.  At that time, Trump was briefed by intelligence and law enforcement officials on Russian election meddling -- and was also informed by former FBI Director James Comey about the now-infamous anti-Trump dossier which included salacious allegations against him. Details later leaked to the press.

May 17: Politico: Saunders tape from Soviet "honeymoon" described
Unseen by the public for three decades, a POLITICO reporter views hours of footage from his 1988 'honeymoon' to the USSR.  "If you're wondering what's wrong with capitalism, it's made in Hong Kong," he jokes. "Sorry about that."  Earlier this year, two minutes of the long-lost videos went viral when a staffer at Chittenden County's Channel 17 posted a compilation of the station's archives online.

May 15: The Hill: AG Barr appoints US Attorney to examine FBI probe into
Trump campaign and its handling of the Clinton emails
Barr has appointed a U.S. attorney in Connecticut with the responsibility of examining the origins of the FBI's investigation into the Trump campaign, a move long clamored for by President Trump and his conservative allies. But the decision comes as a trio of high-profile Senate Republicans are planning their own investigations into "spying" on the Trump campaign during the 2016 election and the FBI's handling of the Clinton email probe.

May 15: The Washington Free Beacon: AG Barr; a man with a sense of humor
Attorney General William Barr asked Speaker Nancy Pelosi (D., Calif.) if she brought "handcuffs" for him Wednesday at the Capitol, following her accusing him of lying to Congress earlier this month.  Sources say  Barr approached Pelosi following the National Peace Officers Memorial Service in Washington, shook her hand, and asked, "Madam Speaker, did you bring your handcuffs?" Pelosi smiled and said the House Sergeant at Arms was present if an arrest was necessary, to which Barr laughed and walked away.

May 14: The Hill: Alabama Senate passes antiabortion legislation
The Alabama Senate on Tuesday evening passed legislation that bans nearly all abortions in the state, sending the measure to Gov. Kay Ivey's (R) desk to be signed into law.   The measure passed  by a 25-6 margin and would ban abortions in virtually all instances in Alabama, including for victims of rape and incest, and would only permit the procedure if necessary to save a mother's life.  Anyone performing an abortion could be punished by 10 to 99 years in prison, but no criminal charges would be filed against a person undergoing the procedure.

May 14: Breitbart News: Venezuelan general implies Cuba had Chavez killed
to install Maduro in power
A Venezuelan general who participated in a failed coup d'etat alongside Hugo Chávez in 1992 published a video this week urging soldiers to rise up against dictator Nicolás Maduro and suggested the communist government in Cuba killed Chávez to install Maduro as their puppet.

May 14: Fox News: Florida Gov: two counties hacked no impact on votes
Two Florida counties were hacked by Russins during the 2016 elections, but the security breach was "nothing that affected the vote count," Gov. Ron DeSantis said at a press conference on Tuesday. 

May 13: The Times of Israel: Iran says USA will not attack them for fear of an attack on Israel
A senior Iranian official on Sunday dismissed the US military buildup in the region as psychological warfare, saying that the US will not attack for fear of provoking an Iranian assault on Israel.  In addition to its own missiles, Iranian proxies like Hezbollah in Lebanon and Palestinian Islamic Jihad in the Gaza Strip have hundreds of thousands of rockets aimed at Israel.

May 12: Breitbart News: Kudlow: Tariffs worth risk given 20 years of abuse
On this weekend's broadcast of "Fox News Sunday," Trump economic advisor Larry Kudlow argued that the tariffs the United States is set to levy on China were worth the risk, especially given the past two decades of what he called "unfair trading practices."  But the problem is two weeks ago in China, there was backtracking by the Chinese, and we covered the same ground with Liu He this past week, Ambassador Lighthizer and Secretary Steven Mnuchin.

May 12: The Daily Caller: Obama White House kept tabs on FOIA request for Hillary emails
According to recently released emails, the Obama White House kept tabs on a Freedom of Information Act (FOIA) request for information on former Secretary of State Hillary Clinton's email accounts that the State Department improperly denied.  The emails show for the first time that the Obama Administration was aware of the Clinton-related FOIA request.  The State Department denied the request in May 2013, claiming that no responsive records existed despite the fact that officials at the State, the White House and even the President knew  Hillary Clinton used a personal email account for government business.

May 11: US News and World Report: Abortion: "Heartbeat" legislation making gains
in the south and Midwest
If a new Mississippi law survives a court challenge, it will be nearly impossible for most pregnant women to get an abortion there or potentially, in neighboring Louisiana, Alabama, or Georgia.  The Louisiana legislature is halfway toward passing a law — like the ones enacted in Mississippi and Georgia — that will ban abortions after a fetal heartbeat is detected, about six weeks into a pregnancy and before many women know they're pregnant. Alabama is on the cusp of approving an even more restrictive bill.  State governments are on a course to virtually eliminate abortion access in large chunks of the Deep South and Midwest. Ohio and Kentucky also have passed heartbeat laws while Missouri is considering one.

May 10: Associated Press: Cuba initiates rationing in face of crisis
The Cuban government announced Friday that it is launching widespread rationing of chicken, eggs, rice, beans, soap and other basic products in the face of a grave economic crisis. While Cuban officials blamed rationing on shortages caused by the U.S. trade embargo, economists give equal or greater blame to a plunge in aid from Venezuela, where the collapse of the state-run oil company has led to a nearly two-thirds cut in shipments of subsidized fuel that Cuba used for power and to earn hard currency on the open market.

May 10: Fox News: Nenes: Comey is in a lot of trouble
"This is a guy who continues to just make a mockery of the entire FBI and the Department of Justice," Nunes said, reacting to Comey's appearance at CNN's town hall event on Thursday.  "This is the guy who, remember, leaked his memos in order to make sure that a Special Counsel was created to investigate the president.  "This is the guy who put an unverified dossier in front of a FISA court. There are lots of problems with Comey's story. None of it matches up with reality."  Comey was fired in May 2017 by Trump.

May 10: Reuters:  US warns merchant fleet of possible action by Iranians
Iran could target U.S. commercial ships including oil tankers, the U.S. Maritime Administration (MARAD) said on Friday, as a senior Iranian cleric said a U.S. Navy fleet could be "destroyed with one missile."   Meanwhile the aircraft carrier USS Abraham Lincoln, deployed as a warning to Iran, passed through Egypt's Suez Canal on Thursday and American B-52 bombers have also arrived at a U.S. base in Qatar, U.S. Central Command said.

May 9: NBC News: U.S. seizes North Korean ship suspected of violating UN sanctions:
The U.S. has seized a North Korean freighter that was caught shipping coal in violation of U.S. sanctions, the Justice Department revealed Thursday. The 17,000-ton cargo ship, called the Wise Honest, was stopped in Indonesia last year after it was found to be carrying coal. The ship's captain was charged with violating Indonesian law, and last July, the U.S. filed an action to seize the ship, according to court papers.  This marks the first time the US has taken possession of a North Korean ship for violating the UN sanctions.

May 9: The Hill: Trump Administration proceeds with plan to least
public lands in California for oil and gas exploration
The Trump administration moved forward Thursday with its plan to open up hundreds of thousands of acres on California's Central Coast to oil and gas drilling. The effort comes despite opposition from Democratic officials in the Golden State, who have starkly criticized the plan.  The plan estimates that up to 32 new oil and gas development wells could be built on the federal lands during the plan's lifetime.  The Trump administration's drilling plans run directly counter to California's clean energy push, and the state's  Democrat Attorney General criticized it for having an emphasis on fossil fuel use.

May 9: Reuters: China reversed course on trade talks causing US
to react with tariff increases
Top U.S. and Chinese trade negotiators concluded the first of two days of talks on Thursday to rescue a trade deal that is close to collapsing as Washington prepares to go ahead with plans to hike tariffs on hundreds of billions of dollars of goods imported from China.  A source familiar with the talks said China's changes to the language of the draft trade deal were so extensive it could take a month to fix them, assuming the United States rejects them.   The talks could still go several ways, a person close to the discussions said.   China could make some concessions to prolong talks even after tariffs and retaliation. The two sides could end negotiations, given they are so far apart. Or China could reverse the changes to the text and return the negotiations to where they were a week ago. 

May 8: NBC News: House Judiciary votes to hold AG Barr in contempt
The House Judiciary Committee voted Wednesday to advance a measure that would hold Attorney General William Barr in contempt of Congress after President Donald Trump asserted executive privilege over special counsel Robert Mueller's unredacted report.  The Justice Department pushed back. "Nadler's actions have prematurely terminated the accommodation process and forced the President to assert executive privilege to preserve the status quo," spokeswoman Kerri Kupec said in a statement. "No one, including Chairman Nadler and his Committee, will force the Department of Justice to break the law."

May 8: The Washington Times:  Feds release over 165,000 illegals into local communities
The government is so overwhelmed by the border surge that it's already released 168,000 illegal immigrant family members directly into communities, the government said Wednesday.  An ICE official made the revelation at a Senate hearing where she and other top immigration officials pleaded with Congress to do something to stop the surge of migrants that's overwhelming the system.  April set new records, with the Border Patrol nabbing more than 58,000 illegal immigrants traveling as families in that month alone.

May 7: Mediaite: Special Prosecutor Ken Starr takes on a "whiney" Mueller
With rare exception, special counsel Robert Mueller has emerged from the past two years unscathed — seemingly immune to cable news criticism. But on Monday, one man who previously ran a high-profile independent investigation of a president came after him with a blistering take.  Starr, who headed up the investigation of President Clinton shredded Mueller for his letter to Attorney General William Barr, which took the AG to task for his four-page Mueller Report summary.  Starr said "His (Mueller's) letter, that was then leaked on the very eve of Bill Barr's testimony, was essentially, I believe, an unfair, whiny complaint."

May 7: The Hill: Former FBI Director Comey is in trouble and he knows it
Barr has made plain that he intends to examine carefully how and why Comey, as FBI director, decided that the bureau should investigate two presidential campaigns and if, in so doing, any rules or laws were broken.  Comey has realized, probably too late, that he has to try to counter the narrative set by the attorney general at the Senate Judiciary Committee last week.

May 7: Fox News: California teacher files law suit that could cost labor unions millions
Tommy Few, a special education teacher at Sepulveda Middle School in Los Angeles' San Fernando Valley, filed suit late last year against the United Teachers of Los Angeles – along with the Los Angeles Unified School District and California Attorney General Xavier Becerra – claiming his First Amendment rights to freedom of speech and association were violated when he tried to leave the UTLA following last summer's Supreme Court ruling in Janus v. AFSCME.

May 7: CNN News: Iran moving ballistic missiles by water
Intelligence showing that Iran is likely moving short-range ballistic missiles aboard boats in the Persian Gulf was one of the critical reasons the US decided to move a carrier strike group and B-52 bombers into the region, officials say.  The concerns over the movement of the missiles was one of multiple threads of intelligence from various sources that led the US to believe Iran had a capability and intention to launch strikes against US targets.

May 7: The Wall Street Journal: Trade talks with China turn tough
Prospects for a speedy conclusion to the U.S.-China trade fight dimmed Monday after U.S. officials accused Beijing of reneging on its promises and vowed to implement President Trump's threat to raise tariffs quickly on Chinese imports. "Over the course of the last week or so, we've seen an erosion in commitments by China, I would say retreating from commitments that have already been made, in our judgment," said U.S. Trade Representative Robert Lighthizer, declaring tariffs on $200 billion in Chinese imports would rise to 25% starting Friday.

May 6: The Hill: Biden takes major lead over Bernie in 2020 primary
Former Vice President Joe Biden has a 32-point lead in the Democratic presidential race in a Hill-HarrisX poll released Monday.  Biden won 46 percent in the poll compared to 14 percent for Sen. Bernie Sanders (I-Vt.), who came in a distant second place. Former South Bend, Ind. mayor  Pete Buttigieg was in third place with 8 percent, followed by Sen. Elizabeth Warren (D-Mass.) with 7 percent.

May 6: Yahoo News: Venezuela: Guaido backers failed to follow through
Venezuelan opposition leader Juan Guaido said Monday that backers who had pledged support for his abortive uprising last week had "failed to follow through" to dislodge President Nicolas Maduro.  But that "doesn't mean that they won't do it soon," Guaido told AFP in an interview in Caracas.  Guaido, recognized as interim president by more than 50 countries, said it was "obvious today, there is widespread discontent from which the armed forces aren't immune."

May 5: The UK Sun: Israel prepares for possible ground attack on Gaza
after 450 rockets fired
The latest round of violence began on Friday during protests against the blockade of Gaza which saw two Israeli soldiers wounded at the border fence.  More than 450 rockets, many of them intercepted by its Iron Dome anti-missile system, have been fired at southern Israeli cities and villages since Friday.  A spokesman for the Israel Defence Forces Lieutenant Colonel Jonathan Conricus said the army's 7th armored brigade had been deployed to the border with Gaza "on standby for offensive mission".

May 4: Yahoo News:  Russia's increased influence in Cuba
Russia is stirring the ghosts of Cuba's Cold War past as it looks to re-establish its influence in the Communist-run island nation, although this time analysts say Moscow has no intention of bankrolling Havana.  Whereas once the Soviet Union and Cuba were linked by an ideological bond, now pragmatism and a shared rejection of US foreign policy is drawing them together again.

May 4: The Daily Caller: Trump proposes to make easier deportation of aliens who
are living off social welfare programs
The White House is considering a proposal to make it easier to deport low-income immigrants who are dependent on public benefits.  According to Reuters, DOJ has written a draft regulation that, if implemented, would greatly expand the number of immigrants in the U.S. who could be subject to deportation for using public benefits.  Such benefits include the food stamp program, Supplemental Security Income (SSI) doled out to the elderly and disabled people; Temporary Assistance for Needy Families (TANF); Section 8 housing vouchers and various Medicaid benefits.

May 4: Associated Press: Israel responds to heavy rocket attacks
Palestinian militants on Saturday fired over 250 rockets into Israel, drawing dozens of retaliatory airstrikes on targets across the Gaza Strip in a round of heavy fighting that broke a month-long lull between the enemies. Six Palestinians, including a pregnant mother and her baby, were killed, while four Israelis were wounded, including an elderly man who was in a critical condition.  The fighting, the most intense between the sides in months, came as leaders from Hamas, the militant group that rules Gaza, and the smaller armed faction Islamic Jihad, were in Cairo for talks with Egyptian mediators aimed at preventing a fraying cease-fire from collapsing altogether.

May 3: The Daily Caller: Trump's actions in Venezuela are starting to pay off
Protestors have taken to the streets to participate in Operación Libertad (Operation Liberty), a bold attempt to oust Venezuelan strongman Nicolás Maduro through continued demonstration. But the heinous Maduro regime is holding on tight, even going as far as to run over peaceful protestors with military grade vehicles.  Thankfully, the Venezuelan people and their rightful leader President Juan Guaidó aren't alone in this noble fight. They have a powerful ally in President Trump, who has been one of the most vocal supporters of the effort to dispose of Maduro and restore freedom to the Venezuelan people. Maduro must go, and President Trump will not stop until he does.

May 3: Fox News: Federal Court says Ohio Congressional map is unconstitutional:
A federal court on Friday found Ohio's Congressional map unconstitutional ordering that a new map be proposed by June ahead of the 2020 elections -- and blocking the state from holding another election under the current map.    "Accordingly, we declare Ohio's 2012 map an unconstitutional partisan gerrymander, enjoin its use in the 2020 election, and order the enactment of a constitutionally viable replacement," the decision said.

May 3: Associated Press:  U.S. renews Iran sanctions
The Trump administration on Friday renewed five of seven sanctions waivers that allow Russia and European nations to conduct civilian nuclear cooperation with Iran but revoked the other two as it steps up pressure on Tehran.  Secretary of State Mike Pompeo extended the waivers for 90 days, shorter than the 180 days that had been granted in the past. The waivers permit work at several Iranian nuclear sites to continue without U.S. penalties. Under the terms of the 2015 Iran nuclear deal, Russia and several European nations help maintain the facilities and are engaged in converting equipment there for exclusively civilian use.

May 3: CNS News: Labor stats are out: Hispanic unemployment hits an all time low
The national seasonally-adjusted unemployment rate for Hispanics and Latinos in the U.S. labor force fell to a record low of 4.2% in April, U.S. Bureau of Labor Statistics (BLS data) released Friday show.  In April, the unemployment rate for Hispanics and Latinos, aged 16 and up, was 4.2%, down from 4.7% in March – breaking the record low of 4.3% set two months earlier in February. BLS began tracking Hispanic-Latino employment data in 1973.

May 2: Fox News: Trump:  It's over;  McGahn won't testify
President Trump told Fox News in an exclusive wide-ranging interview Thursday evening that the White House has lost patience with congressional Democrats, and forcefully dismissed their efforts to subpoena former White House counsel Don McGahn and other administration officials to testify.  "They've testified for many hours, all of them. I would say, it's done," Trump told Fox News' Chief Intelligence Correspondent Catherine Herridge. "Nobody has ever done what I've done. I've given total transparency. It's never happened before like this. They shouldn't be looking anymore. It's done."

Attorney General Bill Barr made the right call in deciding not to appear before the House Judiciary Committee on Thursday, Trump said, following his testimony Wednesday in the Senate. House Democrats had insisted that committee counsel, rather than members of Congress, question Barr.

May 2: The Daily Caller: Baltimore Mayor resigns
Baltimore Mayor Catherine Pugh resigned from her position Thursday, her attorney said at a news conference.  Her resignation was effective immediately. Pugh did not appear at the press conference. The 69-year-old former mayor allegedly sold her "Healty Holly" books to the University of Maryland Medical System (UMMS) for $500,000 while on the system's board.  Several officials, including Baltimore City Council members and Republican Maryland Gov.  Larry Hogan, called on Pugh to resign throughout April.

May 2: Associated Press: Investigation Indigestion!
Attorney General William Barr skipped a House hearing Thursday on special counsel Robert Mueller's Trump-Russia report, escalating an already acrimonious battle between Democrats and President Donald Trump's Justice Department. House Speaker Nancy Pelosi said Barr had already lied to Congress in other testimony and called that a "crime." The committee Democrats even went so far as to place a statute of a chicken in the witness chair and one member pulled out a bucket of Kentucky Fried Chicken and ate it as the theatrics on Capitol Hill continued.
Congressional theatrics as Attorney General Barr decides not to attend a hearing because of the format imposed by the House Judiciary Committee.
______________________

Perhaps it's time for our elected representatives to grow up or resign from office!
May 1: Politico: Barr won't testify before House Panel on Thursday
The attorney general is boycotting the hearing amid a disagreement with Democrats over the ground rules for his testimony. The Justice Department issued a double-barreled rebuff to Democrats Wednesday, informing the House Judiciary Committee that Attorney General William Barr would not show up for his scheduled testimony before the panel and that the department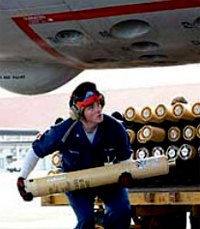 May 1: Defense News: Key U.S. Navy tool
against foreign submarines needs a reliable supplier
A key tool in the U.S. Navy's fight against Russian and Chinese submarines weighs eight pounds, is three feet long and it doesn't even explode.  The sonobuoy is an expendable, waterborne sensor that has been air-dropped by the hundreds to detect enemy subs, a  go-to capability for America and its allies for decades. The Pentagon wants to buy 204,000 sonobuoys in its fiscal 2020 budget request, a 50 percent spending increase over 2018.  But just as the U.S. military needs them most, this critical capability is under threat, because without government investment in the market the Pentagon says it may no longer have a reliable supplier

April 30: The Daily Caller: Pelosi and Schumer have deal
with Trump, but at what cost? 
House Speaker Nancy Pelosi and Senate Minority Leader Chuck Schumer say they have reached a deal with President Donald Trump in regards to a $2 trillion infrastructure bill after meeting with Trump Tuesday.  While departing the West Wing after their meeting with the president, Pelosi and Schumer told reporters that they have agreed on a number for the infrastructure bill and that they would be meeting again soon to discuss how it will be paid for. Although they did not agree on how it will be funded, Schumer said they agreed on the $2 trillion and another meeting with Trump in three weeks to work out specifics.

April 30: Fox News: Venezuela military drives over protesters with armored vehicle
Emboldened supporters of opposition leader Juan Guaido brutally clashed withVenezuelan security forces as dramatic footage from Caracas showed a military armored vehicle plowing into the crowd.

April 30: The Daily Caller: Venezuela banned private gun ownership,
now some  citizens are regretting it! 
Venezuela banned private citizens from owning guns seven years ago, leaving firearms solely in the hands of the army and the police. Now, as the country's opposition attempts to oust the oppressive Maduro regime from power, it is a decision some have come to regret.  Interim President Juan Guaido called for a military uprising against socialist dictator Maduro on Tuesday. Venezuelans have been protesting for months against Maduro's "re-election," which the United States has declared to be illegitimate in light of Maduro's jailing of political dissidents and protesters

April 30: Bradenton Hearld: Trump rattles sabers over possible US use of force in Venezuela
President Donald Trump is dancing on a razor's edge in Venezuela.  Three months after the U.S. backed an uprising in its backyard, Trump appears closer than ever to toppling one of the three legs in what his administration has called the western hemisphere's "Troika of Tyranny." On Tuesday, Venezuelan National Assembly leader and self-declared Venezuelan President Juan Guaidó called on Venezuelans to rise up against Nicolás Maduro and, according to the U.S., nearly convinced the embattled ruler to flee to Cuba.

April 30: Fox News: Head of Venezuela secret police breaks with Maduro
The head of Venezuela's  feared secret police has turned his back on disputed President Maduro in an open letter made public Tuesday night. Meanwhile, Maduro took to Venezuela's airwaves to proclaim that the uprising sparked by opposition leader Juan Guaidó had been defeated. In a rambling address, Maduro said his regime had responded to the rebellion with "nerves of steel, maximum serenity and effective action" and claimed that the leaders of the uprising were under arrest and being questioned.

April 29: Jerusalem Post: Lots of condemnation of NYT over anti-Semitic cartoon
Condemnations of The New York Times increased over the weekend afte the paper's international edition published an anti-Semitic cartoon The offensive image was of a blind US President Donald Trump wearing a yarmulke, being walked by a dog with the face of Prime Minister Benjamin Netanyahu and wearing a Star of David collar. Despite the paper calling it an "error of judgment" to publish it, congressmen and Jewish organizations joined the chorus of outrage.

April 28: Fox News: Trump: Strong economy and incentives provided
by Dems reasons for increased border crossings
President Trump told "Sunday Morning Futures" that illegal immigrants are pouring into the country at unprecedented rates "because our economy is so good," and "everyone wants a piece of it" -- and, he asserted, Democrats have now provided major incentives for illegal immigrants to bring children with them as a legal shield.  "You have to have Perry Mason involved" in order to fight some immigration challenges and enforce border security, Trump said, alluding to the backlog of immigration cases and a recent Ninth Circuit ruling requiring that asylum applicants be allowed to go before a federal judge.

 April 28: Associated Press: AG Barr may not appear before the House Judiciary Committee this week
The Justice Department has informed the House Judiciary Committee that Attorney General William Barr may not attend a Thursday hearing to review special counsel Robert Mueller's report due to objections over the panel's questioning format.  The department has issues with the panel's plans to allow committee counsels to question Barr after the traditional round of questioning by members. Barr is scheduled to testify before the Senate Judiciary Committee on Wednesday.

April 27: The Daily Caller: Obama not the first president to spy on a political opponent!
President Barack Obama is not the first man accused of spying on his party's political opponents in an election year.  Dr. Lee Edwards detailed the months he and his colleagues on Sen. Barry Goldwater's 1964 campaign for president spent under FBI and CIA surveillance ordered by President Lyndon B. Johnson.

Goldwater, who's Senate seat would later go to Sen. John McCain, was pressured by supporters to run a campaign for president he understood was doomed by President John F. Kennedy's assassination the year before. Knowing national grief and a politically vicious opponent meant disaster on Election Day, Goldwater used the campaign to launch the conservative takeover of the national Republican Party that would be finally realized 16 years later with the election of President Ronald Reagan.

April 27: Vatican News: Pope sends half a million to caravans in Mexico
Pope Francis has donated 500,000 dollars to assist migrants in Mexico. The funds, from the Peter's Pence collections, will be distributed among 27 projects promoted by sixteen Mexican dioceses and religious congregations, which requested assistance in continuing to provide food, lodging, and basic necessities to the migrants.

April 27: Yahoo News:  Guaido makes new appeal to Venezuela army
ahead of Mayday protests
Venezuela's opposition leader Juan Guaido used his latest mass rally on Saturday to reiterate an appeal to the army to end its support for Nicolas Maduro's regime, and announced massive Mayday protests to oust the embattled president.  Guaido told supporters at the rally in Caracas that the support of the army was "fundamental" to oust Maduro, "but time is passing and the wait cannot be eternal." He reminded military leaders they have "a historic opportunity resting on their shoulders. Despite support from more than 50 states who recognize him as interim president, US-backed Guaido has been unable to affect Maduro's grip on the military, which with support of both Russia and China continues to keep him in power.

April 26: The Wall Street Journal: Has the recession been cancelled?
The strength of the U.S. economy continues to confound members of the liberal establishment, the WSJ reports. "What would we do without experts? As U.S. workers continue to enjoy a vibrant job market, they should spare a thought for laborers in one category of professional services who remain mired in a multi-year slump. Established manufacturers of Keynesian economic forecasts have entered a prolonged period of secular stagnation. Some may even wonder if they can ever break out of a "new normal" of declining prestige."

April 26: Arizona Central: Border patrol dumping migrants in Tucson
Border Patrol officials have begun releasing migrant families in Tucson because they lack the space to detain them and immigration officials are unable to take them into custody. The practice has been going on for about a month, according to the Border Patrol's Tucson sector, which covers most of Arizona's border with Mexico.  It was a central topic of a meeting Border Patrol officials in Tucson held Friday with local law-enforcement, elected and community leaders.
April 24: Breitbart: DHS releases 7K illegal aliens in five days
The latest catch and release totals obtained by Breitbart News revealed that, currently, DHS is releasing about 1,400 border crossers and illegal aliens into the interior of the U.S. every day. Between April 18 to April 22, DHS released about 7,000 border crossers and illegal aliens into the country.  The catch and release process often entails federal immigration officials busing border crossers into nearby border cities and dropping them off with the promise that they will show up for their immigration and asylum hearings, sometimes years later. The overwhelming majority of border crossers and illegal aliens are never deported from the country once they are released into the U.S.

April 24: The Daily Caller: Responding Officers: Beto tried to flee
The law enforcement officers who responded to Democratic presidential hopeful Beto O'Rourke's 1998 drunk driving crash are standing by their official report that the former Texas congressman tried to flee the scene.  "I believe we have contradicting stories here," Richard Carrera, the investigating officer, told  The Texas Tribune on Wednesday. "I stand by my report."

April 23: Associated Press:  Justices seem prepared to allow citizenship question on census
Despite evidence that millions of Hispanics and immigrants could go uncounted, the Supreme Court's conservative majority seemed ready Tuesday to uphold the Trump administration's plan to inquire about U.S. citizenship on the 2020 census in a case that could affect American elections for the next decade.  There appeared to be a clear divide between the court's liberal and conservative justices in arguments in a case that could affect how many seats states have in the House of Representatives and their share of federal dollars over the next 10 years. States with a large number of immigrants tend to vote Democratic.

April 23: Fox News: Limbaugh: Republicans who don't back Trump get on board
Conservative radio talk show host Rush Limbaugh didn't mince words while addressing multiple issues Tuesday on "The Story with Martha MacCallum" but his strongest hits were aimed at Republicans who had yet to fully jump on the President Trump bandwagon.  "Rush Limbaugh, Sean Hannity, Tucker Carlson, we are not in politics. We are media titans, but we are not in politics. It is the party of Donald Trump right now, and the Republicans that don't realize that had better get on board," Limbaugh said, reacting to a New York Times op-ed by Joe Lockhart, a press secretary to then-President Bill Clinton.

April 23: The Daily Caller: Bernie: Felons in jail should be able to vote!
Senator Bernie Sanders has repeatedly said he believes that incarcerated felons should have the right to vote from within prison.  His comments at a CNN town hall Tuesday night, however, surprised even liberal voters!  When asked if he supported "enfranchising people like the Boston Marathon Bomber, a convicted terrorist and murder," as well as "those convicted of sexual assault" who would be able to vote on governmental officials that would have a direct impact on women's rights, he remained unabashed.

April 22: Associated Press: In Venezuela, women sell hair to get by
Valery Díaz covered her eyes and held her breath before looking in a hair salon mirror to see herself without much of the long dark hair that used to frame her face.  The 16-year-old student was paid $100 for the shorn hair, money she'll use to help her family and buy a cellphone at a time when Venezuela's sharp economic decline has led to shortages of food and medicine, and hyperinflation has made salaries nearly worthless.

April 22: CNBC:  Oil surges 2.7% to nearly a six month high
Oil prices surged about 3% at midday on Monday, hitting fresh 2019 highs, after the Trump administration announced that all oil buyers will have to end imports from Iran in just over a week or be subject to U.S. sanctions.  The administration said the State Department will cease granting sanctions waivers to any country still importing Iranian crude or condensate, an ultra-light form of crude oil, after May 2.

April 22: The Wrap: MSNBC criticized for accosting Mueller at church on Easter
MSNBC came in for criticism on Sunday after reporter Mike Viqueira attempted to question special counsel Robert Mueller as he left Easter church services in Washington, D.C.  "Will you testify before Congress, sir? If he were anybody but the president, would Mr. Trump be indicted, sir?" Viqueira asked as Mueller struggled to get into his car. "Sir, why didn't you make a recommendation to Congress one way or the other? Did the attorney general accurately characterize your positions on conspiracy and obstruction, sir?" Mueller responded "No Comment!"

April 20: The Washington Examiner: Mexican troops disarm US soldiers in the US
Armed Mexican troops disarmed two United States soldiers while they were on the American side of the border, U.S. defense officials have said.   U.S. Northern Command said that "five to six Mexican military personnel questioned two U.S. Army soldiers who were conducting border support operations" this month.  Officials confirmed that the Mexican troops were armed with what seemed to be rifles. They raised their weapons when they saw the two U.S. soldiers, and then took a pistol from one and put it in the CBP vehicle. According to officials the two Americans obliged "in an attempt to de-escalate a potential volatile situation."
April 17: Yahoo News: Bernie or bust: Problems for Dems in 2020?
The fierce loyalty Bernie Sanders inspires in his supporters is creating a dilemma for the Democratic Party.  For a sliver of Sanders' base, it's Bernie or bust. They may detest President Donald Trump, but they didn't vote for Hillary Clinton and they're not sure they'll back the Democratic nominee in 2020 if Sanders isn't on the ballot. They're willing do whatever it takes to push the party to adopt his ideas.
April 17: The Daily Caller: Rep. Rashida Tlaib hosts another
extreme anti-Israel, terror-affiliated activist on Capitol Hill
Democratic Michigan Rep. Rashida Tlaib met with members of the anti-Israel organization American Muslims for Palestine during an advocacy event they hosted on Capitol Hill.  She was photographed after sitting down with Joe Catron, an "extreme anti-Israel activist" and "outspoken terrorist supporter".  Tlaib's time in congressional office has been embroiled in allegations of anti-Semitism.

April 17: Roll Call: Bracing for release of the Mueller report
The White House is bracing for the public's first glimpse at some of special counsel Robert Mueller's findings but it likely would take a bombshell to alter President Donald Trump's approach to campaigning for a second term.  Attorney General William Barr is set to release on Thursday morning a version of the former FBI director's report — though a substantial portion is expected to be blacked out, redacted that is, for legal and security reasons. White House aides have long echoed Trump's contention that his 2016 campaign did not conspire with Russians to influence the race..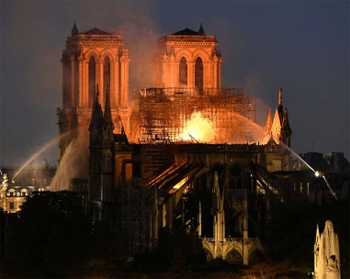 April 16: France24 News:  Investigators face a long hard task
to determine the cause of the Notre Dame fire
As firefighters doused the smoldering ruins of Notre-Dame with water on Tuesday, investigators were busy at work trying to establish what started the raging inferno that swept through the Gothic cathedral in the heart of the French capital. Hundreds of firemen battled the blaze which consumed the roof and collapsed the eight-centries-old cathedral's spire for more than twelve hours before bringing it under control, saving its bell towers and outer walls.

April 16: Reuters: Venezuelan scavengers fight vultures for garbage scraps
Surrounded by vultures perched on trees awaiting their turn, Venezuelan migrants scrape out a living scavenging for metal, plastic, cardboard and food in a Brazilian border town's rubbish dump. Trapped in a wasteland limbo, they barely make enough to feed their families and cannot afford a bus ticket to get away and find regular work in Brazilian cities to the south.   They blame leftist President Nicolas Maduro for mismanaging their oil-producing nation's economy and causing the deep crisis that has driven several million Venezuelans to emigrate across Latin America.

April 15: Reuters: Russia blocks news website for anti-Putin graffiti
Russian authorities blocked a regional news website over the weekend over a report about graffiti insulting Vladimir Putin, its chief editor said, under a new ban on insulting officials online. The legislation, which Putin signed into law last month, allows authorities to block sites that carry content deemed to show "blatant disrespect". Kremlin critics say the measure is a form of direct state censorship. The law's authors say it is needed to preserve healthy public debate online.

April 15: NBC News: Barr to release Mueller report on Thursday
Special counsel Robert Mueller's redacted report on the Russia investigation and President Donald Trump is expected to be made public Thursday morning, the Justice Department said Monday.  Washington has been waiting for the release of the report, which has put Attorney General William Barr at loggerheads with congressional Democrats who have demanded that the entire, unredacted document be released after Mueller recently concluded his nearly two-year investigation.

April 12: News One: Franklin Graham reminds
South Bend Mayor/Presidential candidate who it is that decides what is sin
After condemning the first openly homosexual presidential candidate, Pete Buttigieg, for his attack on Vice President Mike Pence's Christian faith, Rev. Franklin Graham reminded the ultra-left Democrat that God is the One who decides what sin is – not man.

April 11: KPRC News: Abbott goes full California!
Many elected Texas Republicans love to use the masquerade of fiscal conservatism and the promise of austerity to justify denying providing services to the most vulnerable Texans. But these very same Republicans refuse to practice what they preach.  The end result: Governor Greg Abbot, Lieutenant Governor Dan Patrick, and House Speaker Dennis Bonnen all lined up yesterday to announce their support for raising Texas sales tax to 7.25%.  Add to this additional local sales taxes and you end up with 9.25%!


April 10: The Detroit News: Prolife advocates taking on Roe v. Wade
Emboldened by the new conservative majority on the Supreme Court, anti-abortion lawmakers and activists in numerous states are pushing near-total bans on the procedure in a deliberate frontal attack on Roe v. Wade.  Mississippi and Kentucky have passed laws that would ban most abortions after a fetal heartbeat is detected – which means as early as six weeks, when many women don't even know they're pregnant. Georgia could join them if Republican Gov. Brian Kemp signs a measure that has been sent to him, and a bill in Ohio is nearing final passage. Similar bills have been filed in at least seven other states with anti-abortion GOP majorities in their legislatures.

April 10: Yahoo News: Netanyahu will come out on top
Despite corruption allegations and stiff opposition from a new centre party, Israeli premier Benjamin Netanyahu has managed to boost his party's share of the vote and looks set to keep power. While his right-wing Likud party and a centrist coalition appear set to have around the same number of parliamentary seats after Tuesday's general elections, the man called 'King Bibi' by admirers has a clear path to forming a coalition. The 69-year-old is now likely to form another right-wing government and become the longest-serving Israeli prime minister later this year.

April 10: Yahoo News: Despite Congressional campaign promises to be fiscally
responsible the U.S. deficit is 15% higher than last year
The federal government reported a $146.9 billion deficit in March, causing annual debt to rise 15% for the first half of the budget year compared to the same period in 2018.  The Treasury Department said Wednesday in its monthly report that the fiscal year deficit has so far totaled $691 billion, up from nearly $600 billion in 2018. The Treasury Department expects that the deficit will exceed $1 trillion when the fiscal year ends in September. 

April 10: Fox News:  Dems rage against Barr for backing claims of Trump
campaign "spying" by FBI
Prominent Democrats lined up to hammer Attorney General Barr for testifying Wednesday that federal authorities had spied on the Trump campaign in 2016, with one top House Democrat charging that Barr is not acting "in the best interest of the DOJ or the country."  "I think spying did occur," Barr said during the explosive hearing before a Senate Appropriations subcommittee. "The question is whether it was adequately predicated. …Spying on a political campaign is a big deal."

April 9: NBC News: AG Barr reviewing the conduct of FBI's 2016 Trump probe
Attorney General William Barr said Tuesday that he is "reviewing the conduct" of the FBI's Russia probe during the summer of 2016, and that the Department of Justice inspector general will release a report on the FBI's use of the Foreign Intelligence Surveillance Act process and other matters in the Russia case in May or June.  "I am reviewing the conduct of the investigation and trying to get my arms around all the aspects of the counterintelligence investigation that was conducted during the summer of 2016," Barr said

April 9: The Daily Caller: Gunmaker to appeal to Supreme Court in Sandy Hook lawsuit
Gun manufacturer Bushmaster Firearms will appeal to the U.S. Supreme Court after a panel of Connecticut judges said nine victims of the 2012 Sandy Hook Elementary School massacre can sue the company despite a federal law shielding gunmakers from most lawsuits.  Bushmaster produced the weapon used to kill 26 people at the Sandy Hook Elementary School.  Congress extended immunity to firearms manufacturers, distributors and trade associations in 2005 when it adopted the Protection of Lawful Commerce in Arms Act (PLCAA). The law generally protects the industry from liability when third parties use weapons for criminal purposes. It applies in both federal and state courts.

April 9: The Hill: Treasury expected to miss deadline on Trump tax returns
The Trump administration is expected to miss the Wednesday deadline set by Democrats to hand over Trump's tax returns, raising the odds that the battle will turn into a lengthy court fight.  Trump has said he cannot make the records public because of an audit, and his acting chief of staff on Sunday publicly said the administration will never hand them over to Democrats.

April 9: Politico: Pelosi pulls budget bill amid strife in the Democrat party
House Democratic leaders on Tuesday abandoned plans to vote on a key budget measure this week in the face of sharp opposition from both progressives and moderates.  The revolt over legislation to set federal spending is a setback for Speaker Nancy Pelosi and her deputies on the eve of their 100 day mark in the majority. And it darkens the outlook for how Washington will resolve a slew of ugly funding battles later this year.

April 8: Reuters: Netanyahu on course to win Israeli election partial results show
Both Prime Minister Benjamin Netanyahu and his main challenger Benny Gantz claimed victory in Israel's election but early results indicated on Wednesday the veteran right-wing leader was on course for a record fifth term.  Both key contenders have won 35 parliamentary seats.  Though neither party captured a ruling majority in the 120-member Knesset, the partial results put Netanyahu in a strong position to form a coalition government with right-wing factions, key to an ultimate victory.

April 8: Reuters: Deadlock in London keeps Brexit hanging in the balance
Britain's exit from the European Union hung in the balance on Monday as Prime Minister Theresa May tried to coax the Labour Party into agreeing a divorce deal, two days before an emergency summit where she will try to delay the April 12 departure.  Brexit has already been delayed once but May is asking the EU for yet more time as she courts veteran socialist Jeremy Corbyn, whose Labour Party wants to keep Britain more closely tied to the EU after Brexit.

April 8: USA Today: The conservative "takeover" of the Supreme Court doesn't seem to be happening
Chief Justice John Roberts and the court's newest member, Brett Kavanaugh, have voted in tandem on nearly every case that's come before them since Kavanaugh joined the court in October. They've been more likely to side with the court's liberal justices than its other conservatives.  The two, both alumni of the same District of Columbia-based federal appeals court, have split publicly only once in 25 official decisions. Their partnership has extended, though less reliably, to orders the court has issued on abortion funding, immigration and the death penalty in the six months since Kavanaugh's confirmation battle. 

April 7: France: Cuba: Newsprint shortages and a failing economy
The newsprint shortages which forced Cuba's Communist daily to run a trimmed-down edition on Friday would pass off as a simple supply glitch in most other countries, but in Havana they carry chilling memories of the not-so-distant past.  The last time the government cut back on newspapers because of a lack of newsprint was in the early 1990s during the period when it's main sponsor the Soviet Union was collapsing. Today, Cuba is again facing financial difficulties as it continues to support the socialist regime in Venezuela.

April 7: Bloomberg News: Netanyahu floats West Bank settlement annexation
Israeli i Prime Minister Benjamin Netanyahu said he would extend sovereignty to areas of the West Bank, an incendiary gambit that suddenly appears within the realm of plausibility, just days before national elections.  The declaration, in a Saturday night interview with Israeli television, seemed aimed at right-wing voters whose support Netanyahu needs to secure a fifth term April 9. Amid a tight race against former army chief Benny Gantz, the comments on annexation could distract attention from Netanyahu's potential indictment on bribery and fraud charges in a wide-ranging corruption investigation.

April 6: Reuters: Venezuela: Rally for restoration of power and water and end of current regime
After weeks of power cuts and limited access to water, tens of thousands of Venezuelans took to the streets on Saturday to back opposition leader Juan Guaido and protest against President Nicolas Maduro, who they accuse of wrecking the economy.  Venezuelans, already suffering from hyperinflation and widespread shortages of food and medicine, say the crisis has worsened over the past month. That is when crippling nationwide power outages began to leave vast swaths of territory in the dark for days at a time, cutting off water supplies and cell phone service.

April 5: Yahoo News: US film on Abortion surprises box office!
A movie produced by a Christian studio about a former employee of an organization that provides abortions who became a "pro-life" activist is proving to be a surprising box office hit.  "Unplanned," which was released in theaters on March 29, has pulled in more than 8.6 million dollars in North America, according to Box Office Mojo.  That put the film in an unexpected fourth place for the week behind the much bigger budget pictures "Dumbo," "Us," and "Captain Marvel."

April 5: The Washington Examiner:  U.S.  doesn't rule out military action in Venezuela
A military intervention to oust Venezuelan President Maduro remains "a very serious option" for the United States, according to President Trump's national security team. "Obviously, that's a result that no one would like to see but clearly one that is seriously considered as events unfold," a senior administration official, speaking on condition of anonymity, told reporters Friday evening.  President Trump's team has wielded that threat to deter any attack by Maduro loyalists on Juan Guaidó, the opposition lawmaker whom the U.S. and other Western democracies recognized as Venezuela's legitimate interim president in January.

April 4: The Hill: Israel: Shoots the moon!
Israel became the seventh nation to orbit the moon Thursday.  A Space IL spacecraft called Beresheet is scheduled to land on the moon on April 11 after it entered the celestial body's orbit, according to The Jerusalem Post. It was previously in the Earth's orbit.

April 4: The Daily Caller: Michael Cohen has ploy to reduce his prison sentence
Former Trump attorney Michael Cohen's attorneys asked lawmakers, in a letter sent to congressional Democrats, to write a letter documenting Cohen's cooperation with congressional committees as well as his willingness to hand over documents from the newly discovered hard drive.

April 4: Fox News: GOP senators alert Barr to allegations that Mueller team
Shortly before Special Counsel Robert Mueller filed his report on the Russia investigation last month, Senators  Grassley (R-IA) and Graham (R-SC) alerted Attorney General Bill Barr to what they described as the "selective" use of emails in Mueller court filings -- as well as potential "improper political influence, misconduct, and mismanagement" in the FBI's original Russia probe.

April 3: Politico: Senate GOP triggers the "nuclear option" in order to stop Democrats
stalling confirmation of Trump nominees
Senate Republicans used the "nuclear option" Wednesday to unilaterally reduce debate time on most presidential nominees, the latest in a series of changes to the fabric of the Senate to dilute the power of the minority.  The move by Senate Majority Leader Mitch McConnell (R-Ky.) immediately paves the way for quicker confirmation of President Donald Trump's judicial and executive branch picks and comes amid deep GOP frustration with Democratic delays. Future presidents will benefit too, though McConnell and Trump stand to gain inordinately as they seek to fill 130 District Court vacancies over the next 18 months before the 2020 election.

April 3: National Review: Wisconsin's Supreme Court may turn conservative
if election results hold
In Tuesday's Wisconsin supreme-court election, conservatives appear to have scored a shocking upset victory. With only a handful of precincts left to report, conservative-backed Brian Hagedorn leads liberal-backed Lisa Neubauer by nearly 6,000 votes out of 1.2 million cast, according to unofficial results.  The 6,000 vote lead is seen as insurmountable for Neubauer to overcome.

April 2: The New York Times: Leaked? Some of Mueller's investigators see their
findings more damaging than Barr's summary suggests
The New York Times reports some of Robert S. Mueller III's investigators have told associates that Attorney General William P. Barr failed to adequately portray the findings of their inquiry and that they were more troubling for President Trump than Mr. Barr indicated, according to government officials and others familiar with their simmering frustrations.

April 1: USA Today: Trump threatens to close the southern border
and stop aid to central American countries
President Donald Trump on Friday threatened to close the nation's Mexican border or large sections of it next week, a potentially drastic step affecting both nations' economies, if Mexico does not halt illegal immigration at once.

March 30: Reuters:  Trump stopping aid to central American countries over migrants
The United States is cutting off aid to El Salvador, Guatemala and Honduras, known collectively as the "Northern Triangle," the State Department said on Saturday, a day after President Donald Trump blasted the Central American countries for sending migrants to the United States. "We are carrying out the President's direction and ending FY (fiscal year) 2017 and FY 2018 foreign assistance programs for the Northern Triangle," a State Department spokesperson said in a statement. The department declined to provide further details. The State Department said it would "engage Congress in the process," an apparent acknowledgement that it will need lawmakers' approval to end the funding. A U.S. House Appropriations Committee aide estimated that around $700 million of aid was affected.

March 29: The Daily Caller: Federal Court strikes down California gun magazine law
The U.S. District Court for the Southern District of California on Friday afternoon struck down California's ban on firearm magazines that hold more than 10 rounds.  Judge Roger T. Benitez that the restriction on magazine round capacity in the state of California "as amended by Proposition 63, burdens the core of the Second Amendment by criminalizing the acquisition and possession of these magazines that are commonly held by law-abiding citizens for defense of self, home, and state."

March 29: Reuters: Bolton warns Russia over presence in Venezuela
President Donald Trump's national security adviser warned Russia on Friday about its military presence in Venezuela, saying any move to establish or expand operations there would be considered a "direct threat" to international peace.  "We strongly caution actors external to the Western Hemisphere against deploying military assets to Venezuela, or elsewhere in the Hemisphere, with the intent of establishing or expanding military operations," White House national security adviser John Bolton said in a statement.

March 28: The Daily Caller: Lawsuit seeks documents potentially showing the FBI ignored
intelligence community  evidence that Chinese hacked Clinton's server:
Judicial Watch is suing the Office of the Director of National Intelligence (ODNI) to produce records detailing the FBI response to warnings that then - Secretary of State Hillary Clinton's email server had been compromised by a foreign power. Judicial watch hopes the suit will prove that political partisanship compromised the investigation. "Our lawsuit could further expose how anti-Trump activists like disgraced FBI official Peter Strzok bent over backwards to protect Hillary Clinton from having to answer for her national security crimes," said Judicial Watch President Tom Fitton.

In July 2018, during the committee's questioning of Strzok, Republican Texas Rep. Louie Gohmert described a meeting in which named members of the ICIG staff met with Strzok. He said they informed Stzrok of "an anomaly they had found on Hillary Clinton's emails that were going to the private unauthorized server that you were supposed to be investigating."  "It was going to an unauthorized source that was a foreign entity unrelated to Russia," Gohmert said.

March 28: The Hill: Judge rules against Trump on healthcare associations
A federal judge struck down President Trump's rules governing association health plans (AHPs) on Thursday, Bloomberg News reported.  Judge John Bates at the U.S. District Court for the District of Columbia blocked the rules which would allow small businesses and individuals to band together to create group health plans.   Bates in his ruling called it a clear effort to avoid following the rules of the Affordable Care Act (ACA).

"Indeed, as the president directed, and the Secretary of Labor confirmed, the final rule was designed to expand access to AHPs in order to avoid the most stringent requirements of the ACA," the Judge said.  The legal challenge against AHPs was brought by nearly a dozen Democratic state attorneys general.

March 27: Yahoo News: Trump tells Russia to get out of Venezuela
US President Donald Trump demanded Wednesday that Russia remove troops from Venezuela and said again that he was not ruling out military action to topple far-left President Nicolas Maduro.  Russia's deployment of troops and equipment to bolster Maduro has ratcheted up already high international tension in Venezuela where the Trump administration is pushing hard for regime change amid mounting chaos in the once rich country.  "Russia has to get out," Trump said at the White House alongside Fabiana Rosales, wife of opposition leader Juan Guaido, who has been recognized by the United States and more than 50 other countries as Venezuela's interim president in place of Maduro.

March 27: Breitbart News: U.S. projected to add 1.5 million illegal aliens this year
The United States is projected to add about 1.5 million illegal aliens to the American population by the end of the year, should current rates of Catch and Release, border crossings, and visa overstays pan out. 

March 24: The Daily Caller: Media's Russian "bombshells"
look even worse after no collusion found by Mueller
Attorney General William Barr told Congress Sunday that special counsel Robert Mueller did not find collusion between the Trump campaign and the Russian government, destroying two years of media speculation and bad reporting.  In light of the Mueller investigation The Daily Caller compiled a list of over 15 of the worst media screw ups related to Trump and possible Russian collusion. These "bombshells" came from CNN, ABC, NBC, NPR, BuzzFeed, Bloomberg News, The Washington Post,  and the New York Times.

March 23: The Daily Caller: The Mueller Report:
500 witnesses; 2,800 subpoenas: No Collusion!
Attorney General William Barr delivered a report of the special counsel's Russia investigation to Congress on Sunday.  By far the most significant finding in the four-page letter is that the special counsel did not find evidence that President Trump or members of his campaign conspired with Russians to influence the 2016 election. Barr said that evidence was not sufficient to establish that Trump obstructed justice during the investigation. He also said that the special counsel's team of 19 lawyers, found no evidence "that any U.S. person or Trump campaign official or associate" conspired or "knowingly coordinated" with Russian efforts to use social media platforms to spread disinformation during the 2016 campaign. Nor did Trump associates conspire with Russians in the efforts to hack Democrats' emails and disseminate them online.

March 23: Mediaite: Unwilling to accept Mueller's findings, Democrat
House Judiciary Chair says he will call AG Barr to testify
Shortly after Attorney General William Barr released his summary of the Mueller report to Congress, Democrat House Judiciary Committee Chairman Jerry Nadler announced that he will be calling Barr to testify because "Mueller did not exonerate the President" of obstruction.   See the text of the Attorney General's letter.

March 23: Texas Monthly: Border Patrol shuts down checkpoints so
agents can process asylum seekers
The El Paso Border Patrol sector has temporarily closed its system of highway checkpoints as it struggles to cope with a record influx of families crossing the border and requesting asylum. The agents who usually staff the checkpoints will be redeployed to process and transport the asylum seekers, according to multiple sources who spoke to Texas Monthly.
"We were told to go ahead and close down all the checkpoints," one official said Saturday morning. Agents assigned to checkpoints were told they would be sent indefinitely to assist in efforts to process and transport hundreds of families and unaccompanied children crossing the border each day in El Paso, a surge that is overwhelming available resources. "It's really out of control. It's bad," the official said.


March 23: The UK Daily Star: Two Russian planes carrying troops
reportedly land in Venezuela
Two Russian Air Force reportedly planes landed in Venezuela's main airport on Saturday carrying a Russian defense official and around 100 troops. One flight tracking website shows two aircraft left a Russian military base for the Venezuelan capital Caracas on Friday, with a further jet leaving on Sunday. The arrival of the military jets was confirmed by Javier Mayorca, an independent journalist, who said an Antonov-124 cargo plane and a smaller jet touched down late on Saturday.  Also seen was about  35 tons of equipment.

March 22: NBC News: Mueller Report submitted to Attorney General
Special counsel Robert Mueller on Friday wrapped up his investigation into possible collusion between Donald Trump and Russia and sent his report to Attorney General William Barr.  No details of the findings have been released, but Attorney General Barr said he may be able to brief congressional leaders on the report as soon as this weekend. "I am reviewing this report and anticipate that I may be in a position to advise you of the Special Counsel's principal conclusions as soon as this weekend," Barr wrote in a letter on Friday to a group of lawmakers on the House and Senate judiciary committees.

March 22: The Daily Caller: Trump nominates conservative economist to the
Federal Reserve Board
President Trump announced Friday morning that he will nominate Heritage Foundation economist Stephen Moore to the Federal Reserve board of governors.  Moore has long been a supporter of Trump, including throughout the 2016 presidential election. He has written approvingly of the president's criticisms of the Federal Reserve. 

March 21: The Hill: Trump: It's time to recognize Golan Heights is Israel's
On Thursday President Trump said the U.S. should recognize Israeli control of the disputed Golan Heights territory, delivering a diplomatic win for Prime Minister Benjamin Netanyahu ahead of a tough reelection race.  "After 52 years it is time for the United States to fully recognize Israel's Sovereignty over the Golan Heights," Trump tweeted.  Trump wrote that the territory, which is located between Israel and Syria, "is of critical strategic and security importance to the State of Israel and Regional Stability!"

March 21: Military.com: Google work with Chinese may be undermining the U.S. military
Joint Chiefs Chairman Gen. Joseph Dunford said Thursday that he would likely be meeting next week with Google executives on his concerns that the work Google was doing with China on artificial intelligence and other technologies was undermining the U.S military.  "This is not about me and Google, this about us looking at the second and third order effects of our business ventures in China [and] the impact it's going to have on U.S. ability to maintain a competitive military advantage and all that goes with it," Dunford said. 

March 21: ABC News: No more indictments; Mueller report expected soon
There's no shortage of speculation on the special counsel Robert Mueller's report, much of it totally uninformed. But we don't need to speculate on the scope – the man who appointed Mueller has already given us a potential road map on what to expect from the special counsel.  The bottom line: Do not expect a harsh condemnation of President Trump or any of his associates if they have not been charged with crimes.

March 20: The Hill: Justice Thomas asks questions during oral arguments
Justice Clarence Thomas, who is known for his silence, shocked spectators in court Wednesday when he asked a question during arguments in a dispute over racial discrimination in jury selection.  Thomas last spoke in February 2016 when he asked several questions during oral arguments in a gun rights case.  On Wednesday, Thomas waited until the very end of the hour-long arguments to ask if the defense for defendant Curtis Flowers, who is black, had struck any jurors from the sixth trial and, if so, what their races were.

March 20: The Virginia Pilot: Border Patrol releasing detainees because of overcrowding:
The Border Patrol released 250 migrants here on Tuesday and Wednesday and expects to free hundreds more in coming days because there is no room to hold them.  Normally, the agency would transfer the migrants to Immigration and Customs Enforcement to be "processed" and in many cases placed in detention facilities. But officials said Wednesday that a recent influx of Central American families has led to a severe shortage of space. 

March 19: The Washington Examiner: Chinese-Americans see communist ghost chasing
them in leftwing Democrat turn
When Saga Zhou first moved to the United States from China in 2009, she steered clear of politics. The Communist Party rules supreme in China, so most Chinese immigrants bring a built-in aversion to political involvement.   But Zhou's interest in politics was piqued as she began to see the American Left embracing policies that reminded her of those she'd fled in China.

March 19: Fox News: El Paso: Border Patrol snags over 400 illegals in five minutes
It took a mere five minutes on Tuesday morning for Border Patrol agents in Texas to apprehend more than 400 illegal immigrants. According to U.S. Customs and Border Protection (CBP), agents near the wall just west of Bowie High School in El Paso encountered a group of 194 illegals around 2:45 a.m. Just five minutes later, agents snagged a second group -- this time, it was 245 people -- near downtown El Paso.

March 19: The Wall Street Journal: Jury finds that Round Up causes cancer in California!
A jury found that a man developed cancer from exposure to Roundup weedkiller he used in his yard, in the second case to go to trial over the alleged harms of the popular Bayer AG BAYRY 2.50% product. The six-person jury in U.S. District Court in San Francisco now is set to begin hearing evidence to separately weigh whether Bayer's Monsanto unit should be held liable, a decision that could bring substantial financial damages against the company. 

March 19: Market Watch: Lawyers file a class action suit against the National
Association of Realtors over 6% commission monopoly
A class-action lawsuit takes aim at real estate agents and housing industry watchers say it could revolutionize the way Americans buy and sell the biggest asset they'll ever own. The suit charges the mighty Washington-based lobby National Association of Realtors, as well as the four largest national real estate brokerages, and the Multiple Listing Services they use, have conspired to require anyone selling a home to pay the commission of the broker representing their buyer "at an inflated amount," in violation of federal antitrust law.

March 19: The UK Daily Mail: Clinton/Obama advisor commits "suicide"
The suicide of Alan Krueger, a former Obama and Clinton adviser who killed himself this weekend, has shocked the worlds of politics and business where he was universally revered. Krueger, 58, had a new book coming out in June and was still a member of faculty at Princeton University in New Jersey. 

March 15: Yahoo News:  Israel strikes back at Gaza after rocket attacks
Israel said Friday its aircraft had struck dozens of Hamas targets in the Gaza Strip overnight in response to rockets from the Palestinian enclave, including rare fire toward its economic capital Tel Aviv. The escalation followed weeks of growing tensions and came at an especially sensitive time ahead of Israel's April 9 elections.

March 15: The UK Sun: Some in Parliament say they will vote for
BREXIT if May agrees to step down after it's passage
The PM is set to try and push her deal through for the third time next week.  Mr Bone told the Daily Mail: "If the Prime Minister were to say that she would go, say, two months after the Withdrawal Agreement were passed then I and a lot of other people might suddenly be attracted.  "What is clear is that we need a completely different approach in the second part of the negotiations to the disaster we have had in the first."  And he said that if the DUP came on board he would be more mindful to back it too.

March 15: Reuters: Mass murders in New Zealand mosques
A gunman who killed 49 people at two New Zealand mosques live-streamed the attacks on Facebook for 17 minutes using an app designed for extreme sports enthusiasts, with copies still being shared on social media hours later.

March 15: Washington Examiner: Truly independent votes are 10%
and lower number are likely to actually vote
All the media and political hype over the importance of "independent voters" appears to overshadow the truth about the group — less than 10 percent of Americans are truly independent.  And according to a new survey, most of them don't register to vote and even fewer actually vote. Instead, many of the 38 percent of Americans who describe themselves as "independent" lean toward one party or the other, according to the Pew Research Center.

March 15: Associated Press: "Revamping" Cuba's Socialist Economy
In the midst of a regional crisis over Venezuela and tough economic straits, the Cuban government is about to launch a sweeping makeover of its centrally planned, single-party system with dozens of new laws that could reshape everything from criminal justice to the market economy.

March 14: Daily Signal: Local and Federal law enforcement
implore California sanctuary state laws after another death
Local and federal authorities are imploring California lawmakers to revise the state's "sanctuary" policies after another illegal immigrant with a known criminal record was charged in a brutal killing in the Democrat-controlled state.  Police say Bambi Larson, 59, was stabbed to death in her home Feb. 28 by Carlos Eduardo Arevalo Carranza, 24, an illegal immigrant with a long rap sheet.

March 14: CNBC.News:  GOP controlled Senate passed resolution
overturning the Trump Border National Emergency — Veto likely
The Senate voted Thursday to block President Donald Trump's national emergency declaration over the southern border, a sharp bipartisan 59 to 41 vote to reject the President's use of his executive power. The chamber comfortably passed the measure but does not appear to have the votes to override a Presidential veto, which seems likely.  .

March 13: Reuters:  China in a league of its own; human rights abuse
U.S. Secretary of State Mike Pompeo highlighted abuses in Iran, South Sudan, Nicaragua and China in the department's annual "Country Reports on Human Rights Practices," but told reporters that China was "in a league of its own when it comes to human rights violations."  "For me, you haven't seen things like this since the 1930s," Michael Kozak, the head of the State Department's human rights and democracy bureau told the same briefing, referring to abuses of China's Muslim minority in the Xinjiang region.

March 13: Fox News: Clinton investigators told by Obama DOJ
"not willing to charge" her on key espionage statute
An internal chart prepared by federal investigators working on the so-called "Midyear Exam" probe into Hillary Clinton's emails contained the words "NOTE: DOJ not willing to charge this" next to a key statute on the mishandling of classified information. The notation appeared to contradict former FBI Director James Comey's repeated claims that his team made its decision that Clinton should not face criminal charges independently.

March 12: The UK Sun: So what happens now that Parliment has voted
down May's BREXIT plan once again -- A flow chart
March 11: The Daily Caller:  Pelosi: I don't want to impeach Trump, He's not worth it
Speaker Nancy Pelosi expressed opposition to filing articles of impeachment against President Trump on Monday claiming that he is not worth the effort, despite being unfit to hold the office.  "I'm not for impeachment. This is news. I'm going to give you some news right now because I haven't said this to any press person before,"  Pelosi said while being interviewed.  "And he's just not worth it," she continued.

March 11: Breitbart News: Trump: I don't want anyone coming in who is on welfare
In an interview on Monday in the oval office President Trump said, "I don't want to have anyone coming in (the country) that's on welfare."   "We have a problem, because we have politicians that are not strong, or they have bad intentions, or they want to get votes, because they think if they come in they're going to vote Democrat, you know, for the most part."

March 11: Reuters: Mueller navigates dangerous currents in Trump Russia probe
Robert Mueller brought an enviable reputation as the architect of the modern FBI and a force behind major criminal prosecutions to his job as special counsel investigating Russia's role in the 2016 U.S. election but has encountered a relentless campaign by President Donald Trump to discredit the probe.  The big question is whether Mueller will present evidence of criminal conduct by the president himself. Such findings could prompt the Democratic-controlled U.S. House of Representatives to begin the impeachment process laid out in the Constitution for removing a president from office for "treason, bribery, or other high crimes and misdemeanors."

March 10: Associated Press: As budget deficit balloons, as few in congress seem to care
The federal budget deficit is ballooning and few in Washington seem to care.  And even if they did, the political dynamics that enabled bipartisan deficit-cutting deals decades ago has disappeared, replaced by bitter partisanship and chronic dysfunction. This is the reality that will meet the President's proposed budget, aimed at balancing the budget within 15 years.  In the meantime annual deficits are topping the $1 trillion level.

March 10: Reuters:  Venezuela's Guaido calls for massive protests as blackout drags on
Venezuelan opposition leader Juan Guaido on Saturday called on citizens nationwide to travel to the capital Caracas for a protest against socialist President Nicolas Maduro, as the country's worst blackout in decades dragged on for a third day. Addressing supporters in southwestern Caracas, Guaido - the leader of the opposition-run congress who invoked the constitution to assume an interim presidency in January - said Maduro's government "has no way to solve the electricity crisis that they themselves created." 

March 10: Fox News: Top House Dems say Cohen likely to face DOJ perjury probe
A top Democrat on the House Oversight Committee told "Fox News Sunday" that she believes the panel's chairman, Rep. Elijah Cummings, will "end up referring" former Trump attorney Michael Cohen to the Department of Justice for a perjury investigation, after numerous contradictions and inconsistencies have surfaced in his dramatic public testimony late last month.  Even as she seemingly acknowledged that Democrats "can't go anywhere" on impeaching President Trump at the moment, Hill indicated that Cummings had more than enough justification to request another criminal probe into Cohen, who has already pleaded guilty to lying to Congress in 2017  concerning the duration of negotiations to build a Trump Tower in Moscow.

March 10: Daily Caller: ABC news' Terry Moran: Media and Dems
face reckoning if Mueller finds no collusion
Democrats and the media will face a "reckoning" if special counsel Robert Mueller finds no evidence of collusion involving the Trump campaign, ABC News' Terry Moran argued in a panel discussion Sunday.  "How big a deal is it if they don't find collusion for the president?" ABC "This Week" host Martha Raddatz asked Moran.  "Huge," said Moran.

March 9: The New York Post: Coming soon, EU to require U.S. travelers to apply for visa-like travel pass
Americans traveling to Europe will soon have to add a new item to their packing lists.  Starting in 2021, the European Union will require US visitors to get a pre-approved, visa-like travel pass issued by the European Travel Information and Authorization System at a cost of $7.90. Once received the permission to travel will be good for three years and  be valid for multiple trips in and out of the Schengen Zone, which covers 26 countries.

March 9: The Daily Caller: Eight of Trump's Court of Appeals appointments
clerked for Supreme Court Justice Clarence Thomas
One credential in particular has been a boon to candidates President Donald Trump considers for judicial appointments: a clerkship with Justice Clarence Thomas.  To date  the president has appointed seven Thomas clerks to the federal appeals courts, while an eighth is expected in the near future. "At this point, Justice Thomas is clearly the leading intellectual force on the conservative side of the bench," said Carrie Severino, a former Thomas clerk. "His principled approach to the law is very much in the ascendency and those are the kind of judges that this president has pledged for the courts," Severino added.

March 9: The Daily Wire: AOC says America is "garbage"
Socialist Rep. Alexandria Ocasio-Cortez [AOC] (D-NY) suggested during a talk on Saturday that America is "garbage" and that former President Ronald Reagan presented a "racist" vision of the country that "pitted" white working class people against minorities in order "to screw over all working-class Americans."  Ocasio-Cortez made the remarks while speaking at the left-leaning South by Southwest Conference & Festivals in Austin, Texas.

March 8: Daily Caller: Republican releases transcript of Bruce Ohr
Georgia Rep. Doug Collins unilaterally released a 268-page transcript Friday of a deposition that Justice Department official Bruce Ohr gave to Congress in August.  Collins, the top Republican on the House Judiciary Committee, took the unusual step by reading a statement on the House floor and providing a link to the Ohr transcript in the public record. The representative said his patience with the Justice Department "has grown thin."

March 8: The Hill: Dems pass sweeping election reform legislation
The House passed  (234-193 with five not voting) a 700 paged election bill (HR 1). One  key provision of the bill would establish an automatic voter registration system. Another would prohibit states from denying convicted felons who have served out their sentences the right to vote (something Texas already does). A different provision would make Election Day a federal holiday in a bid to boost voter turnout. It would attempt to curtail partisan gerrymandering -- the drawing of congressional districts  to benefit one political party over another --  by ordering states to create independent redistricting commissions.  The bill is expected to be dead on arrival in the Senate.

March 8: The Washington Times: Democrat House votes to defend illegal immigrant voting
House Democrats voted Friday 228-197 to defend localities that allow illegal immigrants to vote in their elections, turning back a GOP attempt to discourage the practice.  The vote marks a stunning reversal from just six months ago, when the chamber voted to decry illegal immigrant voting.

March 8: CNBC News:  Wealthy leaving New York for lower tax states while state auditors
try to get them to pay on their way out of town!
As wealthy New Yorkers leave for lower tax states such as Florida, the empire state looks at cell phone data, vet appointments, dentist appointments and even refrigerator contents to prove they haven't really changed domiciles! If you are wealthy and want to leave New York state you can bet you will be audited.  An upside is, if you are found to have moved to another state, you will not be subject to New York's high estate and income taxes in the future.  With the federal income taxes limiting the state tax write off to no more than $10,000 moving may be worth it.

March 7: The Daily Caller: Federal Judge: Asking citizenship question on census
could adversely impact Congressional representation
A federal judge accused the Secretary of Commerce making an arbitrary, capricious decision about including a question about citizenship on the 2020 census.  The judge from northern California say asking the question was "fundamentally counterproductive to the goal of obtaining accurate citizenship data about the public."  She said including the question would reduce the participation of immigrants creating "a significant risk of distorting the apportionment of congressional representation among the states. In short, the inclusion of the citizenship question on the 2020 Census threatens the very foundation of our democratic system."
[Editor's Note: Isn't Congressional representation supposed to be based on the number of citizens as opposed to the total population (i.e., citizens, non-citizens and illegal immigrants)?]

March 7: The Wall Street Journal:  North Korea missile site may be operational
A North Korean missile launch site that Pyongyang had previously said it was dismantling appears once again to be operational, according to an independent analysis of updated satellite photos.  President Trump said Wednesday that he would be "very very disappointed" if the initial reports that  North Korea was restoring the launch site at Tongchangri turned out to be true, but allowed that it was too early to know if Pyongyang was restoring the site. [This site requires a subscription to read more information]

March 7: Fox News: Teacher tells Utah child to wash off Ash Wednesday's ashes
A Utah elementary school teacher apologized to one of her Catholic students Wednesday -- and may still face disciplinary action -- after she forced him to wash off the Ash Wednesday cross on his forehead, the boy's family said.  William McLeod, a fourth grader at Valley View Elementary School, received the ash marking -- made in the shape of a cross and applied by a priest and then went to school. William's grandmother said she was "pretty upset" by the incident and received a call from the school's principal and the teacher who ordered the cross to be washed off.  "I asked her if she read the Constitution with the First Amendment, and she said, 'No,'" William's grandmother said.

March 7: The Washington Times:  Feds splurge with use it or lose it funds
It turns out September, not April, may be federal taxpayers' worst nightmare.  The end of the government's fiscal year usually brings an orgy of spending as agencies look at their budgets, see extra cash lying around, and figure they'd better use it all up or risk getting cut in the future.  The "use it or lose it" mentality explains why the Defense Department shelled out $9,241 on a Wexford leather chair, $2.3 million on crab and another $2.3 million on lobster tails in September, according to a study released Thursday by OpenTheBooks.

March 7: Associated Press: Heads bowed to the ground, suspected ISIS members surrender
Suspected Islamic State group members, including foreign fighters, sat in a long line in a field of bright yellow flowers, exhausted and hunched over as they were questioned and searched Thursday by U.S.-led coalition members and Kurdish fighters. They were the latest group to surrender from the besieged final pocket of Syrian territory held by the militant group.  Unlike previous days when hundreds of families emerged from the IS-held Baghouz village, the evacuees included dozens of fighting-age men, some of them wounded and limping on crutches days after U.S.-backed forces pounded the area.

March 6: Fox News: Rank-and-file Democrats revolt against Pelosi over
resolution to condemn anti-Semitism
House Speaker Pelosi was "taken aback" by the growing dissent and anger among rank-and-file Democrats over a possible resolution to formally condemn anti-Semitism, a Democratic source said,  highlighting Pelosi's tenuous grip on control over the House and underscoring the growing power of the party's nascent far-left progressive wing.  Reportedly Pelosi walked out of a meeting with her Democrat House members, setting down her microphone and telling attendees, "Well if you're not going to listen to me, I'm done talking."


March 5: CNN News:  Church burns to the ground but its Bibles were not even scorched!
When firefighters arrived at Freedom Ministries Church in Grandview, West Virginia they were left stunned by what they saw. A devastating fire -- so hot that firefighters had to back out at one point -- was ravaging through the building, the Coal City Fire Department said. But as they went through the charred wreckage, they noticed something extraordinary. "In your mind, everything should be burned, ashes. Not a single bible was burned and not a single cross was harmed!!" the department wrote.  [Editor's Note: Ever read the story of the fiery furnace? (Daniel 3 verses 13-25)]

March 5: KTRH Radio: Facebook policies restricted advertising of gun trigger lock
Policies at Facebook and Google meant to block online ads for guns are also blocking new safety devices.  Omer Kiyani is founder of Sentinl Inc., which developed Identilock, a fingerprint-activated trigger lock.  But he's having a hard time gaining any market share because the online giants are constantly flagging his ads.  He's been told he's more than welcome to advertise Identilock, but his ad cannot feature a firearm.  "It's the fastest trigger lock on the planet, but it's a struggle to show a product that is supposed to secure a gun without a gun," he says. "And any visual of a gun is automatically blocked."

March 5: The Daily Caller: Treasury asks Congress to raise the debt ceiling, again!
Treasury Secretary Steven Mnuchin on Monday urged congressional leaders to raise the federal debt limit "as soon as possible" as the department begins accounting maneuvers to prevent a default.  Mnuchin wrote in a March 4 letter to top lawmakers that the Treasury Department had begun a "debt issuance suspension period" to avoid missing a debt payment, and asked for swift action to raise the cap on federal debt. [Editor's Note: The question is when, if ever, will the Congress start to live within its means and stop the continual approving spending increases?]

March 5: Breitbart News: Washington Post reports border crossings may reach 100,000 in March
According to the Washington Post the cross-border migrant inflow may reach 100,000 people in March.  "The number of migrants taken into custody last year jumped 39 percent from February to March, and a similar increase this month would push levels to 100,000 detentions or more," the Post reported March 4.

March 5: The Daily Caller: Counties establish gun sanctuaries in four states
Counties in Illinois, Washington, Oregon and New Mexico have declared gun sanctuaries, according to Reuters, in response to legislation they believe is an infringement on the 2nd Amendment to the U.S. Constitution, which guarantees the right to keep and bear arms. All four states have Democratic majorities and governorships. 
Sixty-three municipalities in Illinois have passed some type of measure and more are likely, according to Dave Campbell, a member of the board of Effingham County, Illinois, in an interview with Reuters. "If they want to have their own laws, that's fine. Don't shove them on us down here," Campbell said.  Meanwhile half the counties in the State of Washington are prepared to declare gun sanctuaries.

March 5: The Hill:  Congress on a collision course with White House over the emergency declaration
Congress is on a collision course with the Trump administration over the President's national emergency declaration, setting the stage for the first veto of his administration.  A showdown appears all but inevitable with momentum building behind a resolution of disapproval, which clinched the votes needed to pass over the weekend and could pick up several additional Republican supporters ahead of a vote expected to take place in a matter of days.

March 4: News 12(Westchester): Hillary will not run for President in 2020
Hillary Clinton ruled out a 2020 presidential run for the first time on camera in an exclusive interview with News 12, pledging instead to take an active role by working with the candidates in the crowded Democratic field.  "I'm not running, but I'm going to keep on working and speaking and standing up for what I believe," she told News 12's Tara Rosenblum.

March 3: Reuters: Guilty until proven innocent? House to open investigation into possible obstruction by Trump
The House Judiciary Committee will seek documents from more than 60 people and organizations as it begins investigations into possible obstruction of justice and abuse of power by President Donald Trump, the panel's chairman said on Sunday.  Committee Chairman Jerrold Nadler told ABC's "This Week,"   "It's very clear that the president obstructed justice   He said it was too soon to consider whether impeachment should be pursued, however.

March 3: ABC News: Four women fined and given probation for leaving water on the border for illegals
A federal judge sentenced four women to 15 months probation and a $250 fine each on Friday as a result of charges stemming from leaving out jugs of water and cans of beans for migrants crossing the U.S.-Mexico border.

March 3: The Daily Caller: Cohen debunked collusion dossier on closed door session
Former Trump lawyer Michael Cohen "totally debunked" the infamous Steele dossier in his congressional testimony last week, the top Republican on the House Intelligence Committee Devin Nunes (R-CA) claimed in an interview on Fox News Sunday.  Last Wednesday, Cohen dealt a severe blow to the Democrate-funded dossier by disputing, under oath, one of the document's key claims.

March 2: Associated Press: So far, so good!  SpaceX rockets crew
capsule toward the international space station
America's newest capsule for astronauts rocketed Saturday toward the International Space Station on a high-stakes test flight by SpaceX. The only passenger was a life-size test dummy, named Ripley. SpaceX needs to nail the debut of its crew Dragon capsule before putting people on board later this year. The capsule is due to reach the space station Sunday morning, just 27 hours after liftoff. It will spend five days docked to the orbiting outpost, before making a retro-style splashdown in the Atlantic next Friday — all in preparation for two live astronauts to strap in for the vehicle's first manned voyage sometime next summer.

March 2: The UK Daily Mail: Trump unloads at the Conservative Political Action Conference
Trump spoke to the Conservative Political Action Conference on Saturday for more than two hours, the single longest political address of his career.  He mocked the Green New Deal and said he hopes Democrats keep promoting it.  Regarding the Mueller report, the President said "We're waiting for a report by people who weren't elected… …Unfortunately you put the wrong people in a couple of positions… … and all of a sudden they're trying to take you out…"   The President also announced that he will soon sign an executive order that will mandate colleges and universities receiving public dollars to protect free speech on campus – this in the wake of numerous schools (like Cal-Berkeley) that have kept conservative speakers from appearing on campus. 

March 1: Dallas News: Abortion: If there is a heartbeat the baby is protected!
Texas has several laws that women seeking abortions have to navigate, including a 24-hour waiting period between a mandatory ultrasound and the procedure. One lawmaker has filed a bill to add another — banning abortion after a fetal heartbeat is detected, which can be as early as six weeks, before a woman may realize she's pregnant.   HB 1500, would ban abortion after heartbeat detection except in the case of medical emergencies. Current law allows abortion up to 20 weeks.

March 1: Bloomberg: Hold the conservative revolution; Chief Justice Roberts
keeps joining the courts liberal wing
Chief Justice John Roberts is showing a new willingness to side with the U.S. Supreme Court's liberal wing after the divisive confirmation fight over Justice Brett Kavanaugh. Roberts joined the liberals Wednesday in two rulings that left the conservatives in dissent. Most notably, he cast the deciding vote to order a new look at the mental competence of a death row inmate who says he can't remember the crimes he committed.  The votes add to an unmistakable pattern, offering fresh indications that Roberts is in no hurry to oversee a conservative legal revolution. The chief justice has also joined 5-4 orders that blocked President Donald Trump from curbing bids for asylum at the Mexican border and stopped Louisiana from enforcing new abortion restrictions.

March 1: The UK Daily Mail: Rate of Hispanic poverty in the US hits an all time low
Rate of Hispanic poverty in America has fallen to a record low 18.3% - and the overall rate of poor Americans has declined three years in a row, new Census data reveals.  The 1.1% year-on-year decrease in their rate poverty of in 2017 was also the largest single decline that the U.S. Hispanic population has ever experienced. The rate of poverty among all Americans has also declined slightly in 2017 to 12.3%, the third year in a row that the numbers have gone down.   Hispanic households also saw their median household income increase 3.7% to $50,486 in 2017, the third year in a row that this population saw a rise in income.


March 1: Reuters: Venezuelans find meals
in garbage bins/trucks to ward off hunger
Tony, a 36-year old security guard, rummages through the garbage bins of a wealthy district in Caracas on his days off work, scavenging for food as Venezuela's economic meltdown has left even the employed struggling to find enough to eat.  Scenes of Venezuelans picking through garbage in a search for something to eat has for years been a symbol of the nation's economic meltdown, which has been marked by widespread shortages of food and medicine as well as hyperinflation.

February 28: Roll Call:
Senate confirms former lobbyist to be EPA Administrator
The Senate on Thursday voted 52-47 to confirm Andrew Wheeler, a former coal lobbyist -- who favored weakening and delaying national and global environmental protections -- as the head of the EPA.  Wheeler has served as acting EPA administrator since July, when the previous head, Scott Pruitt, resigned.  Like Pruitt, Wheeler has proposed regulatory changes at the EPA that favor industry and chisel away at former President Obama's climate policies, including the Clean Power Plan designed to slash domestic greenhouse gas emissions.

February 28: The Hill: Dems wrestle over how to deal with "Green New Deal"
Senate Democratic leaders are grappling over how to vote on a controversial climate change proposal that is being championed by progressives and mocked by conservatives.  Senate Democratic Leader Schumer (N.Y.) has floated a plan with his caucus to vote present on the ambitious legislation. It remains to be seen if Senate Democrats will embrace Schumer's strategy.  Senate Majority Leader McConnell (R-KY) on Wednesday panned the Green New Deal as "the far-left's Santa Claus wish list dressed up to look like serious policy."

February 28: Reuters: Guaido to return to Caracas even with threat of imprisonment
Venezuelan opposition leader Juan Guaido, visiting Brazil to drum up support for his bid to push for a change of government in his country, said on Thursday he will return to Caracas by Monday despite threats of imprisonment. Guaido, head of Venezuela's National Assembly, last month invoked constitutional provisions to assume an interim presidency, arguing that Maduro's re-election last year was fraudulent. He has since been recognized by most Western nations as the rightful leader of Venezuela.

February 27: The UK Daily Mail: Trump calls off summit abruptly
Donald Trump's talks with Kim Jong-un ended abruptly on Thursday as the president said he was forced to walk away after the North Korean dictator demanded that all sanctions be lifted in return for giving up only some of his nukes.  Trump said the final snag that caused the sudden breakdown was over sanctions – and Kim's push to have all of them lifted in exchange for a concession Trump and his secretary of state could not live with. Sometimes you have to walk away,' Trump told reporters at a press conference in Hanoi that was abruptly moved up after a breakdown in talks. The president expressed his hope that the two leaders would meet again, but acknowledged: 'It might be soon, it might not be for a long time. I can't tell you.'

February 27: The Daily Caller: Cohen admits he cannot corroborate his allegations against Trump
President Donald Trump's former attorney Michael Cohen admitted Wednesday he is unable to corroborate allegations that the president discussed elements of WikiLeaks' email hacks with Roger Stone.  He claims to have overheard Stone tell Trump during the 2016 presidential campaign that he had spoken to Assange about the release of emails stolen from the Democratic National Committee.

February 26: The Hill: 2018 Taxes: Eleven million may be impacted by limit on state/local taxes paid
Nearly 11 million taxpayers may be subject to the limits on the state and local tax (SALT) deduction in the new tax law, a Treasury Department watchdog  estimated in a report released Tuesday.  The Treasury Inspector General for Tax Administration (TIGTA) estimated that if the $10,000 cap on the deduction had been in place in 2017, roughly 10.9 million taxpayers would have been unable to deduct about $323 billion in state and local tax payments on their federal tax forms.
February 26: The Hill: House to vote on gun background check legislation
The House is slated to vote Wednesday on landmark legislation to require universal background checks for gun sales, a top priority for Democrats.  It will mark the most significant gun control vote in years after the Senate failed in 2013 to pass similar bipartisan legislation to expand the federal background check system.

February 26: Wall Street Journal: Cuba reliance on Venezuela's cheap oil
The potential collapse of President Nicolás Maduro's regime poses a threat to Cuba, which relies on Caracas for about 28% of the island's oil needs.  Venezuela's opposition says the government's longstanding oil-barter agreement with Cuba is irrational.    If Juan Guaidó, who is recognized by the U.S. and about 50 other countries as Venezuela's legitimate head of state, wrests control of the country from Mr. Maduro, his government is expected to quickly halt oil shipments. The result would be power outages, fuel shortages and government spending cuts that would cause the Cuban economy to shrink by as much as 10%, according to Omar Everleny Perez, an independent Cuban economist in Havana.

February 26: CBS News: House passes resolution to block Trump's declaration of a national emergency
The House of Representatives passed a resolution late Tuesday afternoon that would terminate President Trump's national emergency proclamation, which is also being challenged in court by a multistate lawsuit.   The final vote of 245 to 182 fell largely along party lines, but 13 Republicans joined Democrats in supporting the measure. The President declared a national emergency based upon an "invasion" of our southern border by illegal aliens.

February 26: Fox News: Senate confirms nomination to 9th Circuit Court of Appeals
The Senate on Tuesday confirmed President Trump's nominee to be a judge on the liberal 9th Circuit Court of Appeals in a party-line vote -- and, in a historic snub, the White House ignored the input of the judge's two Democratic home-state senators in the process.  The new 9th Circuit judge, Seattle attorney Eric Miller, was confirmed 53-46. Miller was one the 51 federal judicial nominees left over from the previous Congress whom the White House re-nominated last month.

February 26: Breitbart News: Key Dems support Trump talks with Kim Jong-un
A group of key Democrats in the House of Representatives have come forward to publicly back President Donald Trump ahead of his summit with North Korean leader Kim Jong-un in Hanoi, Vietnam. Led by Rep. Ro Khanna (D-CA), a top voice in the Democrat Party pushing for an end to endless wars around the globe, a group of 18 Democrats have signed onto a resolution in the House that would formally end the Korean War in its 68th year. Technically, the war never ended–and U.S. troops have remained deployed along the Demilitarized Zone (DMZ) between North and South Korea–since open conflict stopped decades ago.

February 26: Associated Press: Attacked and powerless, Venezuela soldiers choose desertion
A restive village on the Columbian border with Venezuela has become a refuge for the newly homeless: 40 Venezuelan soldiers who abandoned their posts and ran for their lives. A high-stakes plan by the Venezuelan opposition to bring humanitarian aid into the country floundered Saturday when troops loyal to Maduro refused to let the trucks carrying food and medical supplies cross, but it did set off a wave of military defections unlike any seen yet amid the country's mounting crisis. Over 320 mostly low-ranking soldiers fled in a span of four days, Colombian immigration officials said Tuesday.

February 26: News Now: Senate Democrats block consideration of infant surviving legislation
Senate Democrats on Monday blocked a Republican bill that would have threatened prison for doctors who don't try saving the life of infants born alive during abortions. The vote on S.311 (Born-Alive Abortion Survivors Protection Act) was the latest instance in which Republicans have tried to go on offense on the issue and put Democratic abortion-rights lawmakers in an uncomfortable position. Supporters said the measure presented lawmakers with a simple, moral choice.  Senators voted 53-44 for Sasse's bill — seven votes short of the 60 needed to end Democratic delaying tactics aimed at derailing the measure.

February 26: Reuters: Cohen says he's keen to tell his story
The House Oversight Committee said in a statement it would steer clear of the House Intelligence Committee's inquiry into "efforts by Russia and other foreign entities to influence the U.S. political process during and since the 2016 U.S. election, and the counterintelligence threat arising from any links or coordination between U.S. persons and the Russian government." That will put off-limits for Cummings' committee questions about "any financial or other compromise or leverage foreign actors may possess over Donald Trump, his family, his business interests, or his associates," the committee said. Cummings' panel will focus on Trump's debts and payments "relating to efforts to influence the 2016 election," as well as his compliance with financial disclosure, campaign finance and tax laws, it

February 25: Fox News: Federal Judges are appointed for life not eternity!
On Monday the Supreme Court ruled that the decisive vote in a California pay dispute case before a lower court doesn't count -- because the vote came from a judge who died before the ruling was issued. Judge Stephen Reinhardt, who was seen as a progressive icon on the bench, heard the dispute and participated in a preliminary vote. The appeals court then issued an opinion in his name nine days after he passed away in March 2018. But the high court, vacating the decision of a federal appeals court, said Monday that "federal judges are appointed for life, not for eternity."

February 25: Yahoo News:  Venezuela's Guaido meets with Pence
Vice President Mike Pence told Venezuelan opposition leader Juan Guaido that Donald Trump supports him "100 percent" as the pair met regional allies on Monday to thrash out a strategy to remove Nicolas Maduro from power after the failed attempt to ship in humanitarian aid. The meeting comes after four people were killed and hundreds injured as Guaido supporters clashed with Venezuelan security forces on the borders with Colombia and Brazil over the weekend.

February 25: Reuters: Russian TV lists Missile Targets in the USA
Russian state television has listed U.S. military facilities that Moscow would target in the event of a nuclear strike, and said that a hypersonic missile Russia is developing would be able to hit them in less than five minutes.  The targets included the Pentagon and the presidential retreat in Camp David, Maryland.

February 25: The Hill: Hezbollah's tunnels threaten Israel
For weeks, Israeli and Lebanese soldiers have eyed each other uneasily at close range while Israeli engineers neutralize cross-border infiltration tunnels. These sophisticated tunnels, clearly intended to attack civilians, embody Hezbollah's ongoing efforts to threaten substantial harm to Israel. They are also a reminder of that border's fragile calm, and the potential for major destruction and suffering that would befall both Israeli and Lebanese civilians in another conflict on Israel's northern front.

February 24: SFGate.com: Debate on Venezuela shakes up Florida politics
The crisis in Venezuela is sending tremors through the political landscape of Florida, emboldening Republicans and throwing Democrats on the defensive in the nation's largest swing state.  Florida Republicans hope the outspoken push by President Donald Trump and Sen. Marco Rubio (R-FL), to oust Venezuelan President Nicolás Maduro will help the GOP strengthen its bonds with the state's Hispanic voters, paying dividends in the 2020 election and beyond. Opposition to the socialist regime in Caracas, which is closely aligned with communist Cuba, has been a shared cause of the state's large and traditionally pro-Republican Cuban-American and Venezuelan immigrant communities.

February 22: The Daily Caller: ICE: Sanctuary laws allow illegal who tried to kill a police
officer to remain in the US
Immigration and Customs Enforcement officials claim a deadly shootout between an illegal immigrant and a sheriff's deputy could have been prevented if California sanctuary laws allowed them to do their job.  A deadly shootout on Sunday took place between a cop and a Mexican national. During a routine traffic stop in Napa County, California, Javier Hernandez Morales, 48, attempted to shoot a Napa County Sheriff's Deputy. The deputy was able to maneuver away and return fire, killing Hernandez Morales at the scene. Footage of the shootout was captured on the deputy sheriff's body camera.

February 22: Politico: Trump Administration issues rules to strip Planned Parenthood
of millions of taxpayer dollars
The Trump administration issued a final rule Friday that could effectively cut off tens of millions of federal family planning dollars to Planned Parenthood and steer some of that funding towards anti-abortion, faith-based care providers.  While the revamp of the Title X program does not accomplish the full defunding of Planned Parenthood that Republicans have called for, it is a major step in that direction, and marks another major policy win for social conservatives looking to prohibit access to abortion.

February 21: AZFamily.com: Border wall is under construction
Construction has begun on the fifth border wall project of Donald Trump's presidency, replacing up to 14 miles of barrier in San Diego. U.S. Customs and Border Protection said Tuesday that the first panels are in place to replace a steel-mesh fence with steel bollards up to 30 feet high.  A Galveston, Texas company was awarded the contract in December.  Construction began three days after Trump declared a national emergency to build his proposed border wall with Mexico. Lawsuits have been filed over the emergency declaration.

February 21: Roll Call: Justice Kavanaugh could decide redistricting case
Colorado and Michigan approved ballot measures in November to create independent redistricting commissions to prevent one party from carving up a state in such a way as to entrench itself in office. Missouri approved a plan in which a state demographer and a statistical test will help determine lines. Utah approved the creation of an advisory commission. But the ultimate success of those commissions, as well as lawsuits to combat partisan gerrymandering, could hinge almost entirely on the views of one person — newly confirmed Supreme Court Justice Brett M. Kavanaugh.

February 21: The Wrap: Chicago Police Commissioners calls out media/politicians for pushing Hoax
Chicago Police superintendent Eddie Johnson called out celebrities, news commentators and even presidential candidates on Thursday for their decision to amplify coverage of what he said was the "phony attack" against "Empire" star Jussie Smollett.  "The accusation within this phony attack received national attention for weeks," Johnson told reporters during a press conference. "Celebrities, news commentators and even presidential candidates weighed in on something that was choreographed by an actor."

"I am left hanging my head asking 'why?' Why would anyone — especially an African American man — use the symbolism of a noose to make false accusation," Johnson added. "Bogus police reports cause real harm. They do harm to every legitimate victim who is in need of support by police and investigators as well as the citizens of this city … I'm offended by what happened and I am also angry."

February 21: WSOCTV.com: New election ordered by NC board of elections
The North Carolina Board of Elections unanimously ordered a new election after an evidentiary hearing addressing allegations of election fraud in the U.S. House District 9 race. The decision came after Republican Mark Harris called for a new election himself after facing hours of questions on Thursday. "I believe a new election should be called," Harris said. "It has become clear to me that the public's confidence in the 9th District's general election has been undermined to an extent that a new election is warranted."

February 20: Yahoo News:  Rubio:  Soldiers have started to disobey orders
Venezuelan troops have begun disobeying orders from Nicolas Maduro's top officers and are unlikely to heed calls to crack down on a humanitarian-aid caravan scheduled to enter the country this weekend, U.S. Senator Marco Rubio said.  "Saturday's a day when we're going to find a lot about the Maduro regime," Rubio, who's been helping set U.S. policy toward Venezuela, said in a telephone interview on Wednesday. "I have reason to believe that rank-and-file military are not going to violently suppress aid workers."

February 19: Reuters: Justice Thomas urges Supreme Court to reconsider 1964 ruling on defamation of character
Conservative Justice Clarence Thomas on Tuesday urged the U.S. Supreme Court to reconsider its landmark 1964 ruling that made it harder for public figures to sue for defamation, a precedent that has served as powerful protection for the news media.  Thomas took aim at the unanimous ruling in the libel case known as New York Times Co. v. Sullivan in an opinion he wrote concurring with the court's decision to end a defamation suit against Bill Cosby filed by a woman who said the comedian raped her in 1974.

February 19: Fox News: White House may seek return of federal funds for
the defunct California high speed rail project
The Trump administration announced on Tuesday that it is exploring "every legal option" to reclaim $2.5 billion in federal funds spent by California on its now-defunct high-speed rail project, and also that it intends to cancel $928 million in federal grants not yet paid for the project to link Los Angeles and the San Francisco Bay Area.

February 19: Reuters: Venezuela on the Brink
Venezuelan troops will remain stationed along the country's borders to prevent territorial violations, the defense minister said on Tuesday, ahead of the opposition's plan to bring in humanitarian aid to alleviate an economic crisis.  President Nicolas Maduro has rejected offers of foreign food and medicine, denying there are widespread shortages and accusing opposition leader Juan Guaido of using aid to undermine his government in a U.S.-orchestrated bid to oust him.

February 19: Breitbart News:  New information reveals a possible FBI cover up of Clinton violations
Judicial Watch just received 186 pages of records from the Department of Justice that include emails documenting an evident cover-up of a chart of potential violations of law by former Secretary of State Hillary Clinton.  Peter Strzok wrote; "I have redlined some points. Broadly, I have some concerns about asking some our [sic] senior field folks to get into the business of briefing this case, particularly when we have the D's [Comey's] statement as a kind of stand alone document. In my opinion, there's too much nuance, detail, and potential for missteps. But I get they may likely be asked for comment."

February 18: Fox News:  California hits stumbling block over gun collection program
Authorities in California are struggling to enforce a state law that permits officials to seize firearms from people with previous criminal convictions or mental health issues – running into staffing and budgetary issues that have contributed to a massive backlog of guns marked for confiscation.  The law set aside $24 million for seizure programs, had a goal of confiscating around 20,000 guns over three years. But six years later, according to reports, there are still roughly 9,000 of those guns out there, with more being added to the list yearly.

February 18: The Daily Caller: Ilhan Omar's Minnesota congressional district
is the terror-recruitting capital of the US
FBI statistics reveal that Minnesota's fifth congressional district, which is represented by Rep. Ilhan Omar and includes the urban area of Minneapolis, is the jurisdiction with the highest rate of terrorist recruitment in the United States.  Minnesota is reported to have the highest Somali population in the United States

February 18: The Hill: GOP getting defensive over lower tax returns
The Trump administration and key GOP lawmakers are playing defense after early data showed Americans are getting smaller tax refunds in the first filing season under the GOP tax law. The average refund size through Feb. 8 was 8.7 percent smaller than the same period last year, according to IRS figures. Democrats have seized on the numbers, arguing they prove that the 2017 tax-code overhaul by Republicans was a "scam" designed to help the wealthy at the expense of the middle class.

February 17: South China Morning Post: China data leak exposes vast hi-tech surveillance operation
A Chinese surveillance firm is tracking the movements of more than 2.5 million people in the far-western Xinjiang region, according to a data leak flagged by a Dutch internet expert.  An online database containing names, ID card numbers, birth dates and location data from a Shenzhen-based facial-recognition technology firm.  Exposed data also showed about 6.7 million location data points linked to the people which were gathered within 24 hours, tagged with descriptions such as "mosque", "hotel", "internet cafe" and other places where surveillance cameras were likely to be found.

February 17: Yahoo News: Venezuelans send out SOS from Colombian border
Desperate doctors and nurses are protesting at Venezuela's border with Colombia, demanding that President Nicolas Maduro allows in humanitarian aid that remains tantalisingly out of reach.  "Right now it's a critical situation, it's terrible because we have nothing: no gloves, no dressings, no medicines," Francis Duran, a 34-year-old nurse at the San Antonio hospital in the border town of Urena, told AFP.

February 17: The UK Daily Mail: Trump quotes Limbaugh's claim
"Mueller's investigators ought to be in jail"
President Trump leveraged the opinion of talk radio host Rush Limbaugh on Sunday to suggest that investigators on Special Counsel Robert Mueller's team should be facing prison terms for a political cover-up. Limbaugh alleged that there has been 'real collusion and conspiracy between Democrats and Russians to undermine the Trump candidacy and the Trump presidency,' while the much-sought evidence of collusion between Moscow and Trump's 2016 campaign has so far remained elusive.  The talk show host cited the case of Andrew McCabe, the former deputy FBI director who said this week in a CBS News interview that he knew of Justice Department discussions about using the 25th Amendment to the U.S. Constitution to remove Trump from office.

February 16: The Washington Times: Senate panel to investigate meetings between
Russians and Obama officials
The Senate Finance Committee is probing meetings reportedly held in 2015 between two of former President Barack Obama's top economic officials and Maria Butina, a Russian national who later pleaded guilty to conspiring to covertly influence U.S. foreign policy, the panel said Friday. "The Senate Finance Committee has a constitutional responsibility to engage in vigilant oversight of entities and government agencies within its jurisdiction," wrote Chairman Grassley (R-IO) and Senator Wyden (D-OR) the committee's ranking member.  "A critical issue facing the Committee and the country is the extent to which the Russian government engaged in efforts designed to undermine our political system and governmental policy through obfuscation and manipulation."
February 15: The Conservative Review: Spending now worse than under Obama and Bush
We're now $22 trillion in debt, yet despite all that red ink, the Mexican cartels have control of our border and we're not one bit closer to spending money on our own security. We've gone into deep debt for everything except the core function of the federal government.

February 15: ABC News: President signs bill avoiding 2nd government shutdown;
declares National Emergency to get border barrier funding
After signing the funding measure that does little to stem the public debt the President said "I am going to be signing a national emergency." He explained his move in a Rose Garden announcement, saying "We're going to confront the national security crisis on our southern border and we're going to do it one way or the other."   He said "We're talking about an invasion of our country with drugs, with human traffickers, with all types of criminals and gangs."

February 15: Yahoo News: NASA heading back to the moon; this time to stay!
NASA is accelerating plans to return Americans to the Moon, and this time, the US space agency says it will be there to stay.  Jim Bridenstine, NASA's administrator, told reporters Thursday that the agency plans to speed up plans backed by President Donald Trump to return to the moon, using private companies.  "It's important that we get back to the moon as fast as possible," said Bridenstine in a meeting at NASA's Washington headquarters, adding he hoped to have astronauts back there by 2028.

February 14: The Hill: Pelosi warns GOP; declaring a national emergency would
open the way for a Democrat president to do the same for restricting guns
Speaker Pelosi (D-CA) on Thursday issued a warning to Republicans poised to support President Trump's decision to declare a national emergency at the southern border: the next Democratic president, she said, could do the same on guns. "A Democratic president can declare emergencies, as well," Pelosi told reporters in the Capitol. "So the precedent that the president is setting here is something that should be met with great unease and dismay by the Republicans."

February 14: ABC News: McConnell; President will sign the funding bill
In a surprise development Thursday, Senate Majority Leader Mitch McConnell announced on the Senate floor that the President told him he would sign a border security funding bill that would avert a government shutdown and that he would also a national emergency in order to get additional funds for building a border barrier. McConnell's announcement caught Capitol Hill off guard. The Senate then voted overwhelmingly to approve the measure 83-16, sending it to the House for a vote late Thursday. The House approved the measure 300-128.

February 14: The Daily Caller:  Beto responds to question:  Would you take down the wall?
Former Democratic Texas Rep. Beto O'Rourke said Thursday he would remove the existing border barrier in his hometown of El Paso if he had the ability to do so, a question proposed to him by his fellow Texan, Republican Rep. Dan Crenshaw.  Prior to President Donald Trump's rally in El Paso on Monday, Crenshaw tweeted O'Rourke, asking "if you could snap your fingers and make El Paso's border wall disappear, would you?"
February 12: NBC News: Senate investigation — no evidence of conspiracy involving the Trump campaign
After two years and 200 interviews, the Senate Intelligence Committee is approaching the end Of its investigation into the 2016 election, having uncovered no direct evidence of a conspiracy between the Trump campaign and Russia, according to both Democrats and Republicans on the committee.  "If we write a report based upon the facts that we have, then we don't have anything that would suggest there was collusion by the Trump campaign and Russia," said Sen. Richard Burr, R-N.C., the chairman of the Senate Intelligence Committee
February 12: The Hill: Political move? Senate will vote on the "Green New Deal" putting
everyone on the record!
The Senate will hold a vote on the Green New Deal, an environmental and energy plan touted by progressives, Senate Majority Leader Mitch McConnell (R-KY) said on Tuesday.  McConnell told reporters after a meeting of the Senate Republican caucus that he has "great interest" in the plan, which would spell an end for coal, a key economic driver in McConnell's home state of Kentucky, while promising new jobs for out-of-work miners and other workers.  "We'll give everybody an opportunity to go on record and see how they feel about the Green New Deal," McConnell said.

February 12: American Mirror: Use $14 Billion of seized cartel money to build the wall?
Could El Chapo's seized drug money – about $14 billion – be used to build the border wall?  That's what Senator Ted Cruz (R-TX) wants to do!  This is one of the questions many are asking on Tuesday following news of the former drug kingpin being found guilty on all counts.  Mexico's most notorious drug kingpin, Joaquin "El Chapo" Guzman, will spend the rest of his life in prison after a jury found him guilty on all 10 counts following a three month trial.

February 12: USA Today: US debt tops $22 trillion for first time ever
The national debt surpassed $22 trillion for the first time on Tuesday, a milestone that experts warned is further proof the country is on an unsustainable financial path that could jeopardize the economic security of every American.
February 11: Roll Call: House and Senate appropriators to attempt to break
stalemate to avoid government shutdown
Republican and Democratic appropriators from both chambers plan to meet Monday afternoon in an effort to revive spending talks as the government heads toward its second shutdown in three months.  Negotiators disclosed Sunday that their talks had hit a snag, with Shelby blaming the problem on Democratic insistence to limit the number of beds available for Immigration and Customs Enforcement arrests inside U.S. borders.

February 11: The Daily Caller: 9th Circuit sides with Trump on environmental
waivers for border barrier
The 9th Circuit Court of Appeals ruled for the Trump administration Monday in a case challenging its use of waivers to bypass environmental regulations in constructing parts of the border wall.  The state of California and several environmental groups sued the Trump administration in September 2017 to stop construction of a border wall prototype and ongoing repairs to 14 miles of an existing barrier in San Diego.

February 11: Rasmussen Reports: Daily tracking poll has Trump approval at 52%
The Rasmussen Reports daily Presidential Tracking Poll for Monday shows that 52% of Likely U.S. Voters approve of President Trump's job performance. Forty-seven percent (47%) disapprove. Trump's highest level of approval since shortly after his inauguration.  The latest figures include 39% who Strongly Approve of the job Trump is doing and 39% who Strongly Disapprove.

February 10: ABC News: Some Washington state sheriffs refused to enforce
new sweeping gun control laws:
Sheriffs in a dozen Washington counties say they won't enforce the state's sweeping new restrictions on semi-automatic rifles until the courts decide whether they are constitutional.  A statewide initiative approved by voters in November raised the minimum age for buying semi-automatic rifles from 18 to 21, required buyers to first pass a firearms safety course and added expanded background checks and gun storage requirements, among other things. It was among the most comprehensive of a string of state-level gun-control measures enacted in the U.S.  The NRA and Second Amendment Foundation have filed suit in federal court alleging the initiative is unconstitutional.

February 10: Bloomberg News:  As Maduro digs in aides looking for alternatives
Nicolas Maduro is under pressure at home and abroad, and being encouraged by the U.S. to go to "a nice beach somewhere far from Venezuela."  The question is where would -- or could -- he go? The Venezuelan leader has held on for years in the face of protests, a collapsed economy and international sanctions, via a tight grip on the military and by cracking down on the opposition.  But the stress has never been greater. The financial noose is tightening globally, many neighbors and western nations are calling on him to hold elections or step aside, and the opposition has galvanized under Juan Guaido into a more cohesive force.

February 9: Associated Press:  Gun-seizure laws grow in popularity
In the year since the deadly mass shooting at a Florida high school, more and more states have passed laws making it easier to take guns away from people who may be suicidal or bent on violence against others, and courts are issuing an unprecedented number of seizure orders across the country.  Nine states have passed laws over the past year allowing police or household members to seek court orders requiring people deemed threatening to temporarily surrender their guns, bringing the total to 14. Several more are likely to follow in the months ahead.
February 9: The Daily Caller: What Ocasio-Cortez's advisor told Tucker Carlson
went viral but was wrong
A policy adviser for Alexandria Ocasio-Cortez  (D-NY) claimed that her Green New Deal proposal did not include economic protections for those "unwilling to work" and claimed that the phrase came from a "doctored document."  A now-deleted "Green New Deal FAQ" published on Ocasio-Cortez's website, however, did use the phrase "unwilling to work."  Ocasio-Cortez retweeted a misleading video of the exchange posted by a Media Matters senior researcher who said that the adviser "[debunked] all the conservative media lies."  The adviser admitted to TheDCNF that he got the facts wrong.

February 8: Fox News: Oversight hearing with Acting Attorney General Whitaker
Acting Attorney General Matthew Whitaker stunned onlookers and lawmakers during an already-contentious House hearing Friday, when he Judiciary Chair he  had used up his five minutes!  The retort came after Chairman Nadler (D-NY), first said he wanted Whitaker to appear for a private deposition after the hearing and went on to ask Whitaker whether he had been "asked to approve any requests or action" for the special counsel.
February 8: The Daily Caller: White House warns of another possible shutdown as
negotiations near their end
White House deputy press secretary Hogan Gidley warned of a possible government shutdown if Congress does not deliver funding for a border wall, in a Friday morning gaggle with reporters at the White House.  "We're on the verge of a government shutdown again because Democrats won't come to the table to have a conversation about securing the country," Gidley warned as a Feb. 15 deadline for congressional negotiations comes to a close.

February 8: CNN News: Roger Stone argues against gag order
Roger Stone is trying a new tactic in arguing against a federal judge who may restrict what he says in public: He's claiming he's not much of a celebrity.  Federal Judge Jackson said last week that she's considering placing a gag order over Stone's criminal case, which includes allegations of threatening a witness, lying to a congressional committee and obstruction of justice.  Stone pushed back in a court filing Friday saying his speech shouldn't be restricted, because his lifeblood is writing and speaking about politics and fashion, his attorneys say.
February 8: Roll Call:  Emerging border security deal will be the first big test of
Democrats unity
With some barrier funding expected, the House vote expected next week may show fractures among the new Democrat majority.  House and Senate appropriators serving on a Homeland Security funding conference committee signaled Thursday that they're narrowing in on a border security deal that could be finalized and ready for floor votes next week ahead of a Feb. 15 government funding deadline. Details of the emerging deal are scant, but appropriators from both parties acknowledge it would include some funding for a physical border barrier. And that will be a hard sell to many House Democrats.

February 7: Washington Times: Chief Justice votes to block Louisiana abortion law
The U.S. Supreme Court stopped Louisiana from enforcing new regulations on abortion clinics in a test of the "conservative" court's views on abortion rights.  The justices said by a 5-4 vote late Thursday that they will not allow the state to put into effect a law that requires abortion providers to have admitting privileges at nearby hospitals.  Chief Justice Roberts joined the four liberal justices in putting a hold on the law, pending a full review of the case.  Kavanaugh wrote a dissenting opinion in which he said the court's action was premature because the state had made clear it would allow abortion providers an additional 45 days to obtain admitting privileges before it started enforcing the law.

February 7: Bloomberg:  Expert testifies Congress would be in "uncharted territory"
demanding President's tax returns
The U.S. government would be in "uncharted territory" if Treasury Secretary Steven Mnuchin were to block a House request to release President Trump's tax returns, a law professor told a congressional panel on Thursday. The Democrats who now control the House Ways and Means Committee are eager to get their hands on the returns and are easing their way into an almost-certain legal battle.

An array of professors and lawyers testified before the panel's oversight committee to advise its members how that struggle might play out. Mnuchin has no "wiggle room" to deny a legitimate request from the House for Trump's tax returns, but there's also no precedent to follow if he did, one witness said.  Mnuchin has said he would review the request and respond if required by law, but has declined to say what legal position he might take.  If a challenge is raised by Trump's legal team it would likely push a final decision well beyond the 2020 election.

February 6: Bloomberg News: Venezuela's rank-and-file soldiers deserting in droves
Even before the U.S.-backed leader of Venezuela's National Assembly called on the military to abandon President Nicolas Maduro, the government was trying to stop a surge of desertions and ordered border guards to stop soldiers trying to leave the country without permission. Two documents illustrate the erosion of the armed forces. One lists about 4,300 national-guard officers who deserted since 2014.  The second, dated Nov. 13, orders personnel at entry and exit points to prevent members of the military and retirees on reserve duty from going abroad without specific authorization.

February 6: The Hill: Trump to visit El Paso next week
The Trump campaign announced the President will hold a rally in El Paso on Monday.  The location is notable. El Paso sits right on the U.S.-Mexico border and was referenced by Trump on Tuesday night in his State of the Union address as he sought to make the case for the border wall.  "The border city of El Paso, Texas, used to have extremely high rates of violent crime — one of the highest in the country, and considered one of our nation's most dangerous cities," Trump said. "Now, with a powerful barrier in place, El Paso is one of our safest cities."

February 6: Breitbart News: Surprise!  Much of President's State of the Union speech appealed to both sides
Several veteran White House reporters noted – to their surprise – that Trump's State of the Union address won applause from both Democrats and Republicans.   Trump even managed to win a series of standing ovations from Democrat women wearing white in protest.Though arguably he gave little ground on policy, Trump honored national heroes, and pitched his speech to national themes and priorities shared in common by most Americans — including the opposition.

February 5: Gateway Pundit:   State of the Union acceptance? Polls overwhelmingly favorable
CBS News and CNN released instant polls taken immediately after President Trump's State of the Union address with both polls finding 76 percent of those who watched approved of the speech. The CBS poll 72 percent approved of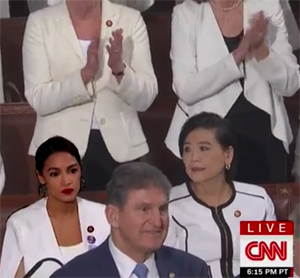 Trump's immigration proposals while the CNN poll showed 76 percent approval with 59 percent "very positive."

February 5: The American Mirror: Ocasio-Cortez has no stomach
for "…cooperation, compromise and the common good"
"But we must reject the politics of revenge, resistance and retribution, and embrace the boundless potential of cooperation, compromise, and the common good," Trump said during his State of the Union address.  As most in the House chamber applauded, Ocasio-Cortez remained seated with a sour look on her face.  House Speaker Nancy Pelosi even applauded. West Virginia Sen. Joe Manchin partially obscured Ocasio-Cortez as he stood, too.  But the Bronx socialist couldn't bring herself to side with unity.


February 5: The Daily Caller: It's been a rough 24 hours for Democrats
It's been a rough 24 hours for Democrats. After thinking they were getting their problems in Virginia under control, the wheels came off. And beyond Virginia, there are signs of cracking as the extreme left is preparing for a civil war for control of the party, led by none other than New York Rep. Alexandria Ocasio-Cortez and the people who made her.

February 4: Roll Call: Congress not likely to reduce spending anytime soon
Despite deficits hurtling toward $1 trillion and more for the foreseeable future, Congress is unlikely to make any real effort to pull the red ink back to Earth anytime soon. In fact, it seems that the excess of spending over revenue will probably be even greater than official forecasts.  This continues the trend under both Republican and Democrat leadership in the House.   Another two-year agreement to raise discretionary spending caps, which most observers expect will occur, would increase projected deficits by some $2 trillion over the next decade, based on Congressional Budget Office estimates. Lawmakers might also extend expiring tax breaks, requiring additional Treasury borrowing. Any deal on an infrastructure program would also likely increase spending.

February 4: Associated Press: Feds starting to expand border barrier in Texas Rio Grande Valley
The U.S. government is preparing to begin construction of more border walls and fencing in South Texas' Rio Grande Valley, likely on federally owned land set aside as wildlife refuge property.  Heavy construction equipment was expected to arrive starting Monday, U.S. Customs and Border Protection said. A photo shows an excavator parked next to its property.  Last March Congress approved more than $600 million for 33 miles of new barriers in the Rio Grande Valley.  While the standoff between the Congress and the White House, the Administration is pushing ahead with what has already been funded. .

February 4: The Daily Signal: Nationwide injunctions from federal courts – especially
the 9th Circuit – rise to a new level
Federal district judges who preside over a portion of a single state have been able to block President  Trump's actions 30 times through nationwide injunctions—far more than any other administration in history, according to the Justice Department.   The trend has prompted the administration's Justice Department to seek an end to nationwide injunctions; the same argument made by the Obama administration.  Prior to 1963 no lower court had issued such an injunction.  It did not become routine until the mid-1980s.

February 3: The Wall Street Journal: State of the Union Guests: Immigration debate
When President Trump delivers his State of the Union address on Tuesday, the debate over immigration that spurred the recent government shutdown will be well-represented in the guests invited to view from the House gallery. Democratic lawmakers have invited refugees and immigrants, including two who were undocumented when they worked for Mr. Trump's Bedminster, N.J., golf club. Republicans are offering seats to law-enforcement officers, including those who work on or near the border with Mexico.

February 3: Associated Press:  Blackface photo stirs calls for resignation from across the spectrum
Gov. Ralph Northam clung to office Sunday amid nearly unanimous calls from his own party to resign over a racist photo in his 1984 medical school yearbook, going silent after a bizarre 24 hours in which he first admitted he was in the picture, then denied it.  The Democrat's stunning about-face — at a weekend news conference where he also acknowledged putting on blackface for a dance contest decades ago and appeared to briefly entertain the notion of doing the Michael Jackson moonwalk for reporters — only seemed to make things worse.

February 2: Richmond Times Dispatch: VA Governor denies racism; won't resign
Gov. Ralph Northam refused to resign from his office Saturday and instead attempted to ride out a scandal that is threatening to end his political career by denying he was one of the two men in a racist photo that appeared in his medical school yearbook.

February 2: The Daily Caller: Schumer's Aide and sexual misconduct
A top aide to Senate Minority Leader Chuck Schumer was reportedly quietly forced to resign in November 2018 over improper sexual relationships with junior staffers that made some of his colleagues uncomfortable. Matt House announced in November 2018 he was leaving Schumer's office, where he had served as communications director for the past six years. Prior to that, he worked for Joe Biden's 2008 presidential campaign.

February 2: France 24: Iran successfully tests new cruise missile
Iran announced the "successful test" of a new cruise missile with a range of over 1,350 kilometres on Saturday, coinciding with celebrations for the country's 1979 Islamic revolution.  "The test of the Hoveizeh cruise missile was carried out successfully at a range of 1,200 kilometres (840 miles) and accurately hit the set target," Defence Minister Amir Hatami said, quoted on state television which broadcast footage of its launch.  "It can be ready in the shortest possible time and flies at a very low altitude," he said.  Hatami described the Hoveizeh as the "long arm of the Islamic Republic of Iran" in defending itself.

February 1: CNS News: Labor force participation at a Trump-Era High: 63.2% in January
The Labor Department's Bureau of Labor Statistics said the economy added 304,000 jobs last month, much higher than analysts were expecting.  The Congressional Budget Office, in a  report released this week, said it expects last year's strong employment growth to carry into 2019. However, "Strong demand for goods, services, and labor is expected to put upward pressure on price and wage inflation, as well as interest rates, in 2019," CBO said.

February 1: Associated Press:  US pulls out of Cold War nuclear deal with Russia
The United States announced Friday that it is pulling out of a nuclear arms treaty with Russia, arguing that it should not be constrained by a deal Moscow is violating with "impunity" by deploying banned missiles. Trump repeated a years-long U.S. accusation that Russia secretly developed and deployed "a prohibited missile system that poses a direct threat to our allies and troops abroad." He said the U.S. had adhered to the Intermediate-Range Nuclear Forces treaty since it was signed in 1987, but Russia had not.

February 1: Fox News:  Illegal arrested in Montgomery County, TX;
He'd served three stints for abusing children
An illegal immigrant – who's served at least three stints in U.S. prisons for sexually abusing children -- was reportedly arrested during an early morning traffic stop in Texas on Wednesday.  Marvin Yovani Mejia Ramos, 50, had given a fake name but was arrested after the deputy who stopped him on 69 North ran an onsite fingerprint scan that revealed his identity,  KHOU.com reported. A Mexican national, Ramos was turned over to the Department of Homeland Security after his arrest.  "Mejia Ramos is a very dangerous convicted criminal that is in our country illegally," Precinct 4 Constable Kenneth Hayden said in a Facebook post. "Great job by our deputy that located him and is once again bringing him to justice."

January 31: Fox News 8:  60 foot border tunnel found in the valley region
Border Patrol agents discovered a 60-foot-long tunnel still in progress this week at the U.S.-Mexico border in South Texas.  It's located in Hidalgo, along roughly the same stretch of the border that President Donald Trump personally visited earlier in January.  Border Patrol contacted Othal Brand, the president of the Hidalgo County Water Improvement District 3, for help. The tunnel is located about 1,500 feet downriver from his pump station, on U.S. Fish and Wildlife property.

January 31: NE News Now: Hispanic pastors to Trump: No open borders, crisis is real!
On Friday, President Trump invited Hispanic pastors from around the country to the White House for a roundtable discussion on immigration. In talking to the press, he touted a recent poll showing growing support for him among Latinos.  Pastor Ramiro Pena of Waco, TX delivered a letter he said was endorsed by 150 Hispanic evangelical leaders. "One thing you have not done, Mr. President, is manufacture a humanitarian crisis. It's real," said Pena. "And although many people began to declare repeatedly this is a 'manufactured crisis' – being a pastor from Texas, I can tell you the human suffering that's been going on for many decades has hit a fever pitch."

January 31: Bloomberg: Political prisoner is calling the shots in Venezuela
In two weeks, Juan Guaido has become the international symbol of Venezuelan revolt, projecting the image of a steely and unflappable operator. But his out-of-nowhere rise is due in large part to his mentor, opposition leader Leopoldo Lopez, who from his living room has unified and orchestrated the movement despite a house arrest that bars him from politics. Intelligence police monitor Lopez's home around the clock, a tracking device is attached to his ankle and he's prohibited from talking to reporters. Allies and members of his inner circle say the 47-year-old former presidential candidate nonetheless holds planning meetings and directs activists.

January 31: The Times of Israel: Army training exercise simulates attacks on Israeli gas drilling platforms
The Israel Navy this week simulated an attack on the country's natural gas platforms, including a live-fire test of sea-to-sea missiles to destroy an "enemy ship," the military said Thursday. Four Sa'ar-4.5 model corvettes participated in the week-long naval exercise, dubbed "Raging Sea," which ended on Thursday.  
Terror groups Hezbollah in Lebanon and Hamas in the Gaza Strip have both threatened to attack Israel's natural gas platforms.  Israel has in recent years transformed into a major gas exporter after major reserves of the resource were discovered in its waters in the Mediterranean.  Attacks on these resources could impact the Israeli economy.

January 30: The Hill:  Lawmakers meet for the first time to try and avoid another government shutdown:
Lawmakers from the House and Senate will meet for the first time Wednesday as they seek to work out a deal on border security that would prevent a second government shutdown this year. The conference committee includes Democrats and Republicans with reputations for deal-making, but the panel faces tough odds in seeking to build a compromise that could earn the support of Trump and Pelosi.  Trump himself on Wednesday appeared to give it little chance of success, even as he repeated his demands that Democrats fund a wall on the Mexican border.

January 30: The Daily Caller:  Bizarre statement by Virginia Governor on abortion after birth
Virginia Democratic Gov. Ralph Northam couldn't precisely answer whether he supports abortion until birth and suggested an infant could be born and then the mother and doctor could discuss what should happen next, in a Wednesday morning interview.  "If a mother is in labor, I can tell you exactly what would happen. The infant would be delivered. The infant would be kept comfortable. The infant would be resuscitated if that's what the mother and the family desired, and then a discussion would ensue between the physicians and the mother," Northam said in a WTOP interview.  Aborting a baby after it has been born is illegal.

January 30: The Hill: Senate Judiciary Chair asks for briefing on Stone arrest by the FBI
Senator Lindsay Graham (R-SC), the chairman of the Senate Judiciary Committee, has requested that the FBI give a briefing to the panel on February 5th about last week's arrest of longtime GOP operative and former informal Trump adviser Roger Stone.  Graham sent a letter to FBI Director Christopher Wray on Wednesday expressing concerns about the "manner" in which Stone was arrested, including the number of agents involved in taking Stone into custody, "the tactics employed" and the timing of the arrest.  Stone was reportedly arrested in the dark hours of the night by FBI agents wielding assault weapons when, according to Stone, a simple call to his attorney would have resulted in his surrendering himself voluntarily.  Additionally, there are questions about how CNN was tipped off and able to get video footage of the raid.

January 29: The Washington Times:  The Last Congress most ineffective in years
To hear Republican leaders tell it, the just-concluded 115th Congress was a master class in bipartisan achievements.  The numbers suggest something altogether different.  Congress wrote fewer laws, held fewer formal House-Senate negotiations, and was near the bottom on several key yardsticks in the Senate — a reflection of Democrats' ability to flex their filibuster powers to delay the President.  Records date back to just after World War II, and in those 72 years, the only President George W. Bush had a worse legislative start — and he faced a Democratic majority in the Senate for most of the first Congress.

January 29: Bloomberg News: Venezuela: Socialist Government sends
masked special police to attack/kill demonstrators
Since protests against Maduro began last week, the socialist regime has regularly sent the police's elite Special Action Force racing into Caracas slums on personnel carriers and motorcycles. Its masked members, all in black, attack demonstrators with weapons including tear gas, guns and even grenades. They settle long-standing scores and rob residents' homes, eyewitnesses say. At least 35 people have died amid the demonstrations, adding to scores of deaths in two years of unrest.

January 29: Reuters: Two bombs explode in Iran; police officers wounded
Two bombs exploded on Tuesday in front of a police station in the city of Zahedan in southeastern Iran, local officials told state media, causing minor injuries to three police officers.  Jaish al-Adl, a Sunni militant group, claimed responsibility for the explosions. The group said it had targeted a police station with "two strong bombs", damaging a police car and motorcycle.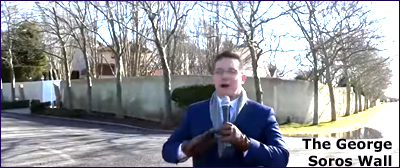 January 29: The Daily Caller: Walls Across the America series
The Daily Caller takes you to places across the nation where the rich and famous have walls with gates where those who are authorized may enter.  They raise the question that if this is okay for people like George Soros, who apparently has his ten foot high wall to keep unwanted people out, then why is it morally wrong to have a wall or barrier on the southern border of the USA?  [See Video: https://youtu.be/u3YfjPe9JH0]
January 28: Fox News:  Border Patrol  wives invite Pelosi to Texas town; see situation on the border first hand
A group of women whose husbands patrol America's southern border along the banks of the Rio Grande are inviting House Speaker Nancy Pelosi to come to Texas so she can see first-hand why a barrier between the U.S. and Mexico is desperately needed.  "We would like to show you around! You don't need to bring any security detail. Our husbands/boyfriends/fiances/wives/significant others are actually very good at their jobs, thank goodness!" Jill Demanski wrote in the letter posted on Facebook.

January 27: Bloomberg News:  US Treasury to borrow $1,000,000,000,000 to finance U.S. deficit
The U.S. Treasury Department is set to maintain elevated sales of long-term debt to finance the government's widening budget deficit, with new issuance projected to top $1 trillion for a second-straight year.  Many strategists at primary-dealer firms predict that this Wednesday's quarterly refunding announcement will see the Treasury maintain note and bond sales at the record high levels they have boosted them to in recent months.

January 27: The UK Telegraph: NATO members increase defense spending by $100 billion
NATO states will increase their defense spending by 100 billion dollars in response to Donald Trump's demands that European allies shoulder a greater financial burden, the alliance's secretary general has said. Mr Trump has repeatedly complained that other members of Nato do not meet their spending commitments, including a blistering tirade at the NATO summit in Brussels in July in which called other member governments "delinquent."

January 27: CBS News: Private Firm launches largest number of satellites in history
A private company has set off a revolution in space by launching hundreds of small satellites, enough to photograph the entire landmass of the Earth every day.  For decades the U.S. Has relied on spy satellites to look deep inside the territory of its adversaries -- giant billion-dollar satellites that take high resolution photographs which can see objects as small as a fist inside Russia, North Korea or etc.  Now a private company has put about 300 small satellites into space, enough to take a picture of the entire land mass of the Earth every day. Those satellites are creating a big data problem for the government which can't possibly hire enough analysts to look at all those pictures.

January 26: Yahoo News:  US calls to "stand for freedom" re: Venezuela
The U.S. pressed all nations to "stand with the forces of freedom" in Venezuela, encouraged by a tougher European line as Russia stood in the minority in backing embattled leader Nicolas Maduro.  State Mike Pompeo made a forceful case at a special session of the UN Security Council.  He said, "Now it is time for every other nation to pick a side. No more delays, no more games. Either you stand with the forces of freedom, or you're in league with Maduro and his mayhem."  Pompeo also urged all countries to end financial transactions with Maduro's government, which has struggled to pay bills despite the country's oil wealth.  He denounced Russia and China, which have stood by Maduro, saying that they were "propping up a failed regime in the hopes of recovering billions of dollars in ill-considered investments and assistance made over the years."

January 26: Breitbart News: Migrant caravan swells to 12,000 on Mexico's southern border
The ranks of a new Central American migrant caravan reportedly grew in size to more than 12,000 as of Friday. The caravan is now heading to Mexico's southern border.  Mexican immigration officials in the city of Ciudad Hidalgo, which borders Guatemala, are establishing procedures to expedite the process in which to approve one-year humanitarian visas for members of the Central American migrant caravan who are arriving daily. The one-year humanitarian visas, promised by Mexico's new President Andrés Manuel López Obrador, is a newly adopted policy which allows migrants to legally travel and work during their stay in Mexico.

January 26: Reuters: Hezbollah could enter Israel for years via tunnels from Lebanon
Iran-backed Hezbollah has "for years" been able to enter Israel, the Lebanese group's leader said on Saturday, responding for the first time to Israel's discovery of tunnels dug into Israeli territory from Lebanon.  Israel's unveiling of what it called Hezbollah "attack tunnels" last month, and Lebanon's accusation that an Israeli border barrier crosses into its territory, have increased tensions.  Israel regards Iran as its biggest foe and Hezbollah as the main threat on its borders. It has waged an increasingly open campaign of military strikes against them both in Syria, where they are fighting on the government side in the civil war.

January 25: The New York Times: Texas Secretary of State questions citizenship of 95,000 registered voters
The Texas secretary of state's office on Friday called into question the citizenship status of 95,000 registered voters who were found to have identified themselves at some point to a state law enforcement agency as noncitizen, legal residents of the United States.  SOS said its findings were a result of an 11-month investigation with the Texas DPS that also found that about 58,000 people on the list had voted since 1996.  The results were referred to Attorney General Paxton.
The announcements are likely to reignite debate over the frequency and impact of voter fraud which Democrats contend is nonexistent.  "Every single instance of illegal voting threatens democracy in our state and deprives individual Texans of their voice," Paxton, who has prosecuted cases of illegal voting, said in a statement. "Nothing is more vital to preserving our Constitution than the integrity of our voting process, and my office will do everything within its abilities to solidify trust in every election in the state of Texas." 
[Editor's Note:  We are aware of at least one case in the City of Galveston where a person who is not a citizen, apparently voted in five separate elections prior to being removed from the Voter Registration rolls.]

January 25: The Wall Street Journal:  White House makes deal with Congress
for opening Government for three weeks
President Trump said Friday he had reached a deal with congressional leaders to reopen the government for three weeks while negotiations over border security funding continue, marking at least a temporary concession by the president to Democrats.  Speaking in the Rose Garden, Mr. Trump said he would sign a bill to open the government until Feb. 15 and start negotiations between the House and Senate over a full-year bill funding the Homeland Security Department, which oversees the border.   "After 36 days of spirited debate and dialogue, I have seen and heard from enough Democrats and Republicans that they are willing to put partisanship aside, I think," Mr. Trump said.

January 25: Associated Press:  Anti-Maduro coalition came from secret talks
The coalition of Latin American governments that joined the U.S. in quickly recognizing Juan Guaido as Venezuela's interim president came together over weeks of secret diplomacy that included whispered messages to activists under constant surveillance and a high-risk foreign trip by the opposition leader challenging President Nicolas Maduro for power, those involved in the talks said.  In mid-December, Guaido quietly traveled to Washington, Colombia and Brazil to brief officials on the opposition's strategy of mass demonstrations to coincide with Maduro's expected swearing-in for a second term on Jan. 10 in the face of widespread international condemnation, according to exiled former Caracas Mayor Antonio Ledezma, an ally.

January 24: Reuters: Jobless claims lowest in the U.S. since 1969
The number of Americans filing applications for unemployment benefits fell to more than a 49-year low last week, but the drop likely overstates the health of the labor market as claims for several states including California were estimated.  Still, labor market conditsions remain strong, which for now should help to temper fears of a sharp slowdown in economic growth.

January 24: South China Sea Post:  U.S. warships sail through the Taiwan Straits,
turning up pressure on Beijing
Two US Navy warships sailed through the Taiwan Strait on Thursday and Taiwan said multiple Chinese military jets flew near the southern tip of the self-ruled island to the West Pacific on the same day for a naval training exercise.  US guided missile destroyer McCampbell and the USNS Walter S. Diehl conducted "a routine" Taiwan Strait transit "in accordance with international law", a US Pacific Fleet spokesman said.   "The ships' transit through the Taiwan Strait demonstrates the US commitment to a free and open Indo-Pacific…  and The US Navy will continue to fly, sail and operate anywhere international law allows."

January 24: Politico:  Dueling bills to open the government are shot down
The Senate blocked two proposals on Thursday to reopen the government, but amid the ongoing stalemate, there's some hope that Washington might be inching closer toward ending a shutdown now on its 34th day. In a 52-44 vote, the Senate rejected House-backed legislation that would fund the government through February 8. The Senate, in a 50-47 vote, blocked legislation endorsed by President Donald Trump that provided $5.7 billion for his border wall and granted temporary protection for some undocumented immigrants. Both bills were expected to fail.

January 24: Associated Press:
President agrees to postpone the State of the Union address
President Donald Trump said he is postponing his State of the Union address until the partial government shutdown ends, yielding after a weeklong showdown with House Speaker Nancy Pelosi.  Trump agreed Wednesday night that "no venue that can compete with the history, tradition and importance of the House Chamber." He said he was not looking for an alternate option after Pelosi uninviting him by serving notice earlier in the day that he wouldn't be allowed to deliver the address to a joint session of Congress next week.

January 23: Bloomberg News: 
Venezuela President squeezed as Trump recognizes Guaido as President:
Venezuelan President Nicolas Maduro is under unprecedented pressure after the U.S. and other nations recognized opposition leader Juan Guaido as the country's rightful head of state and protests against the ruling regime expanded.  Trump formally recognized Guaido minutes after the 35-year-old president of the Venezuela National Assembly declared himself the head of state. Countries including Canada, Argentina, Brazil, Colombia, and Panama quickly followed the U.S. lead.

January 23: The Hill: Republican lawmakers offer alternative locations for the State of the Union Speech
Trump won't be delivering the State of the Union address on the House floor on Jan. 29, but GOP lawmakers are offering a number of alternatives for him to consider.  Most of them involve their own districts, as many of the Republicans would love to host Trump's speech — if he decides to deliver it someplace outside the Capitol.  What if he delivered it at the wall located south of San Diego surrounded by Border Patrol agents?!

January 22: Kentucky.com:  McConnell scheduled two votes on government shutdown:
Now Mitch McConnell has joined the game and suddenly, things have changed.  The Senate majority leader, who until late last week had been virtually invisible during negotiations to re-open the government, announced Tuesday the Senate will vote Thursday on President Trump's pitch to fund his border wall and end the partial shutdown.  And under the Senate rules, if it does not pass, there will be a separate vote on a Democratic-backed package to open up the government immediately — but not give Trump the money for his wall.

January 22: Fox News: White House planning to go ahead with the State of the Union Address
The White House is still planning to move ahead with next week's scheduled State of the Union address, but the details remain up in the air after House Speaker Pelosi strongly urged the president to delay the speech or submit it in writing amid the government shutdown fight.  According to multiple sources, it remains unclear whether the address scheduled for Jan. 29 will in fact go forward, or what venue it would be in. The White House is even planning for the possibility of a speech outside of Washington.

January 21: Associated Press: Signs of fraying in military support for Venezuela president
Venezuelan President Nicolas Maduro launches his second term challenged by a re-energized opposition movement.  Experts say his hold on power relies more than ever on military backing.  He has granted bonuses to rank-and-file soldiers and placed generals in key government posts, but with Venezuela sliding into economic collapse, there have been signs in recent years of fraying in military support. On Monday, authorities reported detaining a small group of National Guard soldiers who stormed a police station in the capital of Caracas before dawn. The soldiers captured a captain and used two vehicles to steal a cache of weapons from another outpost, officials said.

January 21: The Daily Caller:  Trump/Pence silence critical media with surprise visit
Media outlets slammed President Trump for not celebrating Martin Luther King Day just hours before the president made a surprise visit to the MLK Memorial in Washington, D.C.  Much of the criticism centered on the fact that the president had no public events scheduled for the holiday, despite the fact that the White House will often keep events off of the schedule for security reasons or just to make them a surprise.  Trump forced the media into a similar gaffe over the Christmas holiday when he made a surprise visit with the first lady to the troops in Iraq.

January 21: Business Standard:  China sees lowest birthrates since 1961
The number of babies born last year fell by some 2 million from 2017, to 15.23 million, it was the least since 1961 and the third-lowest since the founding of the People's Republic of China in 1949.  The country's looser two-child policy has done little to reverse its slowing birthrate, and worsening the outlook for growth in the world's second-largest economy.  The demographics stand to fuel concerns about China's economy, which is on a long-term slowing trajectory even as signs of stabilization suggest efforts to cushion its deceleration are taking hold. China's expansion was the slowest since the 2009 financial crisis last quarter, as the government grapples with a debt cleanup and ongoing trade war with the U.S. [source page removed by the Business Standard]
January 21: Fox News: Texas homeowner thwarts home invasion; three dead two wounded
Three men were killed and two others were injured after dozens of shots were fired by  a homeowner in Texas during a home invasion early Sunday, officials said.  The incident reportedly happened around 1 a.m. in east Houston after five men wearing ski masks broke into the home.  The male resident inside then grabbed his weapon and opened fire at the men. Police report the homeowner was not injured.

January 21: The Hill: Senator Graham determined to look into Clinton and Obama issues
New tensions are flaring on the Senate Judiciary Committee over plans by its new chairman, Lindsay Graham (R-SC), to dig into Obama-era scandals.  Graham has outlined several areas he wants to probe now that he has the Judiciary Committee gavel.  These include the FBI's handling of its investigation into Hillary Clinton's private email server and the Foreign Intelligence Surveillance Act (FISA) warrant applications targeting former Trump campaign aide Carter Page.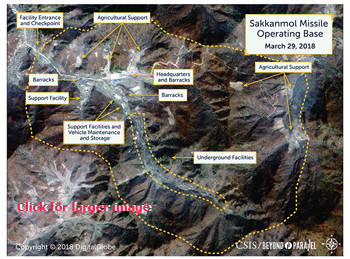 January 20: Beyond Parallel: 
Undeclared North Korean missile sites
Though the subject of speculation by open-source researchers for years, new research undertaken by Beyond Parallel has located 13 of an estimated 20 North Korean missile operating bases that are undeclared by the government.  Indications are that these missile operating bases  can be used for all classes of ballistic missile from short to long range ballistic missiles.  Presumably these would have to be subject to declaration, verification, and dismantlement in any final and fully verifiable denuclearization deal between the U.S. and North Korea.  Apparently these bases are not launch sites but bases where missiles could be dispersed to camouflaged pre-prepared launch sites throughout the country.

January 20: CNBC: Chinese economy growth lowest pace in 28 years
China on Monday announced that its official economic growth came in at 6.6 percent in 2018 — the slowest pace since 1990.  That announcement was highly anticipated by many around the world amid Beijing's ongoing trade dispute with the United States its largest trading partner.

January 20: USA Today: VP Pence makes surprise visit to the Right to Life rally
Thousands of anti-abortion activists, including many young people bundled up against the cold weather gripping the nation's capital, gathered at a stage on the National Mall Friday for their annual march in the long-contentious debate over abortion. Signs reading "Choose love, Choose life," "I am the pro-life generation," and "Defund Planned Parenthood" dotted the crowd gathering under hazy, wintry skies at the morning rally.  Pence and his wife Karen made a surprise appearance at the rally with a video message from Trump. Pence said "This will be the generation that restores the right to life in America."


January 19: The Hill:  Trump pitches three part proposal to end partial government shutdown
Saturday President Trump proposed linking funding for a strategically placed border wall with a three year extension of protections for some undocumented immigrants as a pathway out of the weeks-long partial shutdown, showing his willingness to negotiate an end to the stalemate.  But his proposal quickly ran into pushback from Democrat leaders. Trump's offer would extend protections for Deferred Action for Childhood Arrivals (DACA) program and protections for Temporary Protected Status (TPS) holders for three years in exchange for $5.7 billion for a border barrier.

January 19: Reuters: First time Mueller's team has commented on Cohen/Trump story
Special Counsel Robert Mueller's office disputed key elements of a media report that President Donald Trump directed his former lawyer to lie to Congress about a Moscow real estate deal, raising questions about a story that has dominated U.S. news coverage for the past 24 hours.  BuzzFeed News reported Trump's former attorney Michael Cohen  told investigators working for Mueller that Trump had instructed him to lie about efforts to build a skyscraper in Moscow while he was running for president.  "BuzzFeed's description of specific statements to the Special Counsel's Office, and characterization of documents and testimony obtained by this office, regarding Michael Cohen's Congressional testimony are not accurate," a spokesman for Mueller, said in the special counsel's first comment on a media report since its probe started 20 months ago.

January 19: Galveston County Daily News: Coastal Barrier System needed with some modifications:
The reports after the Ike Dike public hearings sounded like people don't want it.  But the issues are with the placement of the barrier and not the strategy of the Corps of Engineers has put forward.  The USACE strategy is sound – create a coastal spine that will protect against storm surge and increased water levels in Galveston Bay; thereby protecting an infrastructure that is of national security and national economic significance.

January 18: News Observer: Green card holder voted illegally three times in N.C.
Hyo Suk George lived legally in the United States for nearly 20 years before she voted in her first election, coaxed to cast her ballot by an enthusiastic town council member at church. To register, she presented a green card, Social Security number and driver's license — proof enough for the elections officials — then voted in 2008, 2010 and 2016. But on Thursday, George, 70, faced charges of illegal voting from the U.S. Department of Homeland Security, for which she might have spent six months in prison. Instead, U.S. District Court Judge Terrence Boyle chastised the elections board in Whiteville, letting George go with a $100 fine. [In Galveston there is a case still under investigation where another non-citizen voted five times before being removed from the voter rolls.]

January 18: Associated Press:  Pelosi cancels trip to Afghanistan
House Speaker Nancy Pelosi on Friday canceled her plans to travel by commercial plane to visit U.S. troops in Afghanistan, saying President Donald Trump had caused a security risk by talking about the trip.It was the latest twist in what has become a Washington game of brinkmanship between Pelosi and Trump, playing out against the stalled negotiations over how to end the partial government shutdown.  Earlier in the week, Pelosi had asked Trump to reschedule his Jan. 29 State of the Union address, citing security issues at a time when the Homeland Security Department and other agencies remain unfunded.

January 18: ABC News: Hundreds of aliens tunnel under wall in Arizona
The largest single group of asylum seekers ever to cross into the U.S. tunneled beneath the border wall near San Luis, Arizona, on Monday, voluntarily turning themselves into Customs and Border Protection, according to the agency. Migrants can be seen marching toward Border Patrol agents by the hundreds, according to video obtained by ABC News. Smugglers dug a series of seven holes, only a few feet long beneath the steel border fence, with hundreds going beneath the wall and a smaller number clambering over it, according to CBP.

January 17: The Daily Caller: 5th Court of Appeals lifts the injunction
on Texas stripping Planned Parenthood from receiving Medicaid funding
The 5th U.S. Circuit Court of Appeals lifted an injunction forbidding Texas from stripping Planned Parenthood of Medicaid funds Thursday, while stridently criticizing the abortion provider for its rhetoric and medical practices.  "Planned Parenthood's reprehensible conduct, captured in undercover videos, proves that it is not a 'qualified' provider under the Medicaid Act, so we are confident we will ultimately prevail," Texas Attorney General Ken Paxton said in a statement after Thursday's ruling.

January 17: Breitbart: Voters split on border wall
U.S. voters are evenly split on the merits of building President Donald Trump's border wall — but they strongly support "building a fence in high crime areas along the U.S.-Mexico border," according to a new poll.  When the panel of 1,001 registered voters was asked if they "favor building a wall across the entire U.S. border," the response was 49 percent support and 51 percent oppose. But when the panel was asked January 12-13 for their views on "building a fence in high-crime areas along the U.S.-Mexico border," the positive response spiked to 69 percent yes versus 31 percent no.

January 17: The Hill: House rejects GOP measure to pay furloughed workers
while not stopping the partial shutdown
The House rejected a GOP measure to pay furloughed workers but keep the government closed in a 222-195 vote.  Six Democrats voted for the GOP measure, offered as an alternative to a Democratic bill to reopen the government. The Democratic bill is expected to pass but be dead on arrival in the Senate.  This comes as parties continue to point fingers over who bears the responsibility for the ongoing partial government shutdown. 

January 17: Politico: Trump plays hardball; pulls military flight for CoDel during shutdown
The Administration cancelled a planned congressional trip to Afghanistan just moments before Democrats were slated to depart.  In a letter to House Speaker Pelosi and distributed to reporters Trump said "Due to the Shutdown, I am sorry to inform you that your trip to Brussels, Egypt, and Afghanistan has been postponed…  …We will reschedule this seven-day excursion when the Shutdown is over. In light of the 800,000 great American workers not receiving pay, I am sure you would agree that postponing this public relations event is totally appropriate."  Trump also called on Pelosi to remain in Washington during the shutdown, adding that lawmakers are welcome to make the trips abroad on commercial flights.

January 17: The Wall Street Journal:  US considers  lifting tariffs on China
U.S. officials are debating ratcheting back tariffs on Chinese imports as a way to calm markets and give Beijing an incentive to make deeper concessions in a trade battle  that has rattled global economies.  The idea of lifting some or all tariffs was proposed by Treasury Secretary Steven Mnuchin in a series of strategy meetings, according to people close to internal deliberations. They say the aim is to advance trade talks and win China's support for longer-term reforms.  But Mr. Mnuchin faces resistance from U.S. Trade Representative Robert Lighthizer, who is concerned that any concession could be seen as a sign of weakness, these people said.

January 16: Associated Press: Mueller report may be short on details
Robert Mueller's Russia probe has to end with a report. But anyone looking for a grand narrative on President Donald Trump, Russian election interference and all the juicy details uncovered over the last 20 months could end up disappointed.  Attorney General nominee William Barr, who will oversee the investigation after an almost certain Senate confirmation, says he wants to release as much information as he can about the probe into possible coordination between Trump associates and Russia's efforts to sway the 2016 election. But during his confirmation hearing Tuesday, he also made clear that he will ultimately decide what the public sees — and that any report will be in his words, not Mueller's.

January 16: NBC News: Barr confirmation hearings conclude, political bias continues
Confirmation hearings for Attorney General nominee William Barr concluded Wednesday afternoon with lingering Democratic skepticism over his approach to special counsel Robert Mueller's probe. Barr dealt directly with how he would approach the Mueller investigation but California Senator Feinstein said she was troubled.  "I know his integrity," she said, but "this is a big report and the public needs to see it — and with exception of very real national security concerns, I don't even believe there should be very much redaction."   The normal process is for the special counsel to send a classified report to the Attorney General and for the AG to provide a unclassified summary to the Congress and public.

January 14: The Hill: Senate Dems set to take aim at Attorney General nominee
William Barr will be in the hot seat this week when he faces the Senate Judiciary Committee for a two-day grilling that is expected to focus on the fate of Mueller's investigation into the 2016 election and potential collusion between the Trump campaign and Moscow.  Democrats were already anxious over Barr because of an unsolicited memo he drafted criticizing Mueller's investigation. But those concerns have ballooned amid reports that Deputy Attorney General Rosenstein, who appointed Mueller and has overseen the investigation, will be leaving the Justice Department.  Barr was unanimously approved by the Senate for the same position under the George H.W. Bush administration, but that was a different era!

January 14: Fox News: Latest reports may offer proof the FBI has been corrupt and dishonest
The latest proof comes in a New York Times report that the FBI initiated an investigation in May of 2017 into whether President Donald Trump was serving as a covert Russian agent. The accusation itself was ludicrous on its face. But from a legal standpoint, the FBI's probe constituted an egregious abuse of power. The Bureau had no probable cause, no evidence, and no reasonable suspicions. They investigated Trump because they could. They defied the law, ignored or perverted facts, and debased the integrity of a heretofore-respected law enforcement agency.

January 13: Breitbart News: Media chooses not to discuss Angel Families, victims of illegal alien crimes
Since January 1, neither CNN nor MSNBC has booked a single "Angel Mom" — mothers of children brutally murdered by illegal aliens — as guests on their networks, per an analysis conducted by the Republican National Committee (RNC).  The Angel Moms, or Angel Families, are the surviving family members of those Americans who were tragically killed by illegal aliens. Their plight is a particularly vivid illustration of the effects of unfettered illegal immigration. Had the federal government enforced immigration law and removed the illegal aliens who committed these heinous crimes before they committed them, the crimes never would have happened and their loved ones would presumably still be alive today.

January 13: The Daily Caller: What to expect from the House Democrats
If the previous Democrat-led effort to reform healthcare is any indication of what they may be hoping to do this time, we can expect the Democratic proposal to include heavy government involvement in healthcare. Since the Republican party took control of the White House two years ago, Democrats have pleaded that the Affordable Care Act does not need to be repealed, but rather just needs to be tweaked. However, Americans who actually purchase their healthcare through the government Exchange may feel quite strongly that it's going to take more than a tweak to stop the skyrocketing monthly prices of healthcare programs listed on the Exchange.

January 13: The Wall Street Journal: Wall impasse is frustrating many newly elected House Dems
Some House Democrats have grown concerned by what they see as the absence of a clear strategy from party leaders over how to end the partial government shutdown.  Some newly elected Democrats are increasingly frustrated with angry complaints from constituents without having a mapped-out plan to end the partial shutdown.  Many believe they were elected to Congress to try to end its dysfunction and had hoped to be reaching a bipartisan compromise over border security to reopen the government.   Reportedly there are a number of House centrist Democrats meeting with Republicans to try and find a compromise but so far no deal has been met.

January 13: The Washington Examiner:
Thirty Dems in Puerto Rico with 109 lobbyists despite partial government shutdown
Some 30 Democratic lawmakers left the government shutdown behind Friday on a chartered flight to Puerto Rico for a winter retreat with 109 lobbyists and corporate executives during which they planned to see the hit Broadway show "Hamilton" and attend three parties including one with the show's cast.  Those attending the Congressional Hispanic Caucus BOLD PAC winter retreat in San Juan planned to meet with key officials to discuss the cleanup after Hurricane Maria at a roundtable Saturday.  But the weekend is packed with free time for the members and their families on the trip.

January 12: The Hill: Dreamers for the Wall trade going nowhere in the House
A deal to reopen the government by trading border wall funding for immigration benefits for so-called Dreamers doesn't stand a chance in the House, according to legislators on both sides of the aisle.  House Democrats say they don't trust Trump to keep his end of any bargain, and are wary of negotiating a deal that could benefit those in the Deferred Action for Childhood Arrivals (DACA) program while throwing other undocumented immigrants under the bus.

January 16: Associated Press: Mueller report may be short on details
Robert Mueller's Russia probe has to end with a report. But anyone looking for a grand narrative on President Donald Trump, Russian election interference and all the juicy details uncovered over the last 20 months could end up disappointed.  Attorney General nominee William Barr, who will oversee the investigation after an almost certain Senate confirmation, says he wants to release as much information as he can about the probe into possible coordination between Trump associates and Russia's efforts to sway the 2016 election. But during his confirmation hearing Tuesday, he also made clear that he will ultimately decide what the public sees — and that any report will be in his words, not Mueller's.

January 16: NBC News: Barr confirmation hearings conclude, political bias continues
Confirmation hearings for Attorney General nominee William Barr concluded Wednesday afternoon with lingering Democratic skepticism over his approach to special counsel Robert Mueller's probe. Barr dealt directly with how he would approach the Mueller investigation but California Senator Feinstein said she was troubled.  "I know his integrity," she said, but "this is a big report and the public needs to see it — and with exception of very real national security concerns, I don't even believe there should be very much redaction."   The normal process is for the special counsel to send a classified report to the Attorney General and for the AG to provide a unclassified summary to the Congress and public.

January 14: The Hill: Senate Dems set to take aim at Attorney General nominee
William Barr will be in the hot seat this week when he faces the Senate Judiciary Committee for a two-day grilling that is expected to focus on the fate of Mueller's investigation into the 2016 election and potential collusion between the Trump campaign and Moscow.  Democrats were already anxious over Barr because of an unsolicited memo he drafted criticizing Mueller's investigation. But those concerns have ballooned amid reports that Deputy Attorney General Rosenstein, who appointed Mueller and has overseen the investigation, will be leaving the Justice Department.  Barr was unanimously approved by the Senate for the same position under the George H.W. Bush administration, but that was a different era!

January 14: Fox News: Latest reports may offer proof the FBI has been corrupt and dishonest
The latest proof comes in a New York Times report that the FBI initiated an investigation in May of 2017 into whether President Donald Trump was serving as a covert Russian agent. The accusation itself was ludicrous on its face. But from a legal standpoint, the FBI's probe constituted an egregious abuse of power. The Bureau had no probable cause, no evidence, and no reasonable suspicions. They investigated Trump because they could. They defied the law, ignored or perverted facts, and debased the integrity of a heretofore-respected law enforcement agency.

January 12: The Hill: Gabbard-Hirono clash shocks Hawaii
The Hawaii delegation in Congress has long been known as one of the most tightly-knit in Washington, but that tradition was shattered this week when Gabbard (D-HI) publicly criticized Senator Hirono's (D-HI) questioning of a judicial nominee. Gabbard did not mention Hirono by name but  her fellow Hawaiian clearly saw the op-ed as friendly fire. Earlier Hirono questioned a Trump judicial appointment about his membership in the Catholic Knights of Columbus.

January 12: Fox News: Biden's brother: Family members voted for Trump, 'felt slighted' by Clinton
Frank Biden, younger sibling of former VP Biden reportedly said that some members of the family "felt slighted" by 2016 Democratic presidential nominee Hillary Clinton and instead decided to cast their ballots for Donald Trump.  The former U.S. leader's brother took aim at the Clinton team's campaign strategy during an interview with The Palm Beach Post. Frank told the outlet, in the report posted Monday that he believed if his brother had run at the time, he would've secured states that Clinton lost.

January 9: Washington Free Beacon:
Pentagon: Military logistics system is not ready for a war with China/Russia:
The strategic American military system for moving troops, weapons, and supplies over long distances has decayed significantly and needs rapid upgrading to be ready for any future war with China or Russia, according to a report by the Pentagon's Defense Science Board.  A special task force on survivable logistics evaluated the military's current airlift, sealift, and prepositioned equipment and supplies and found major problems with supporting forces during a "high-end" conflict.

January 9: ABC News: Rosenstein to depart DOJ when new Attorney General is confirmed:
There have been reports that Deputy Attorney General Rosenstein has communicated to the President Donald and White House officials his plan to depart the administration around the time William Barr, Trump's nominee for attorney general, would take office following a Senate confirmation.  There is no indication that he is being forced out. 

January 9: CNS News:  Republican House increased national debt by $7.9 Trillion in eight years
The recently deposed Republican majority increased the federal debt by $7.9 trillion in the eight years it controlled the House of Representatives.  That works out to approximately $989,401,125,420 per year, or $2,710,688,015 per day.  Some Republicans may claim they should not be blamed for the massive increase in the federal debt during the eight years they controlled the House. They may say: "For four of those eight years, the Democrats controlled the Senate." Or: "For six of those eight years, Barack Obama was president."  But the Constitution says, "No Money shall be drawn from the Treasury, but in Consequence of Appropriations made by Law."  And no law may be enacted unless it passes the House.

January 9: Fox News: 
NY Post Columnist: Refusal to budge on border barrier shows Dems are still hung up on 2016
If only things were as simple as they appear. In fact, the Democrats' refusal even to consider any kind of border barrier and other serious measures illustrates that the dispute is merely a proxy for the real issue dividing the nation: 2016.  Like generals fighting the last war, Nancy Pelosi and Chuck Schumer are fixated on the last presidential election. Their refusal to let it go and get on with governing in a divided Congress is a shameful sign of how radical their party has become since Trump's election.

January 8: Fox News: Trump and Dems address the nation in prime time
President Trump laid out the case for border security in a primetime address to the nation stating that the request for a border fence (or wall) is based upon the requests from the border patrol agents with boots on the ground.  He said the only reason for the partial government shutdown is the unwillingness of Democrats to fund a border security barrier.  (See related)  Meanwhile Senate Minority Leader Schumer and House Speaker Pelosi retorted that Trump is manufacturing a crisis, calling upon the President to end the partial government shutdown and then they would work with him to try to solve the border security issue.  The unfortunate truth is that the only leverage the President has to get the Democrats to act is the shutdown.  If it goes as long as March it will have a direct impact on food stamp recipients; many of whom are Democrat supporters.

January 8: Breitbart News: Fact Checking Trump's speech to the nation:
Trump claimed Democrats once supported fences and barriers on the US-Mexico border.   He is correct.  The Congressional Record show 26 Democrat senators and 64 House Democrats  supported the Secure Fence Act of 2006 which authorized 700 miles of the same kind of barrier Trump is requesting.   [These included Schumer (D-NY), Clinton (D-NY), Obama (D-IL), Feinstein (D-CA), Biden (D-DE), and Boxer (D-CA)].  All 54 Senate Democrats, in 2013, voted again to commit funding to secure 700 miles of the U.S.-Mexico border in the Economic Opportunity, and Immigration Modernization Act — which was authored and introduced by Schumer.

January 8: Fox News: Kellyanne eats CNN's Acosta's lunch at press event
Kellyanne Conway embarrassed CNN White House correspondent Jim Acosta during a press gaggle on Tuesday, referring to him as a "smarta--" unliked by other reporters.  Acosta asked Conway if she could promise that President Trump would tell the truth when addressing the nation on Tuesday night.  "Yes, Jim," Conway shot back, "Can you promise that you will? The whole truth and nothing but the truth, so help you God? Am I allowed to mention 'God' to you?"

January 7: Mediaite:  Trump to address the nation during prime time on Tuesday
After initial reports that networks were skittish about giving primetime air to the president, all networks have announced they intend to broadcast the speech live at 9 p.m. EST: that's CNN, MSNBC, Fox News, CBS, FOX, NBC and ABC. 

January 7: The Daily Caller:  Pence: Democrats are still refusing to negotiate over shut down and the wall:
Democratic lawmakers are refusing to negotiate with the White House over funding for a proposed wall along the U.S. southern border unless the government is reopened, Vice President Mike Pence told reporters Monday in a briefing at his ceremonial office.  "It's time for the Democrats to start negotiating," the vice president repeatedly declared.  Pence told reporters he met with the Democratic congressional leaders' senior staffers throughout the weekend and was told simply that they would not have a negotiation if the government remained partially closed.

January 7: Associated Press: Ginsberg misses oral arguments for the first time in 25 years:
Justice Ruth Bader Ginsburg is missing arguments for the first time in more than 25 years as she recuperates from cancer surgery last month, the Supreme Court said.  Ginsburg was not on the bench as the court met Monday to hear arguments. It was not clear when she would return to the court, which will hear more cases Tuesday and Wednesday, and again next week.  Court spokeswoman Kathy Arberg said the 85-year-old justice is continuing to recuperate and work from home after doctors removed two cancerous growths from her left lung on Dec. 21.

January 7: The UK Sun: China scrambles ships and aircraft as US destroyer
sails through the South China Sea:
The South China Sea has become a flashpoint that experts have warned could spark a conflict.  hina lays claim to vast swathes of ocean and many islands - but some parts are also claimed by the likes of Vietnam, the Philippines, Brunei, Malaysia, Indonesia and Taiwan.  America's military presence and exercises in the area are a direct challenge to China's claim, which Beijing has used to justify setting up military bases and even runways on the disputed islands.

January 6: CNN: Trump inclined to declare a national emergency if border wall/shutdown talks fail to break an impasse
According to a White House official, President Donald Trump could declare a national emergency to secure military funding for his long-promised southern border wall if talks between administration and top Democrat lawmakers continue to stall.  While this is not the administration's preferred plan, the use of emergency powers to fund the wall could "provides a way out" amid a series of contentious meetings that have stalled the process.
Meanwhile, CBS News reports that failure to reach an agreement by February could result in many food stamp recipients not being able to get them in March.  The food stamp program is authorized but without appropriated funds, the pipeline will run dry toward the end of February.

January 6: Reuters:  Iran and Russia scheduled to conduct joint military exercises
Iran and Russia are preparing to hold joint naval exercises in the Caspian Sea, including rescue and anti-piracy drills, the commander of the Iranian navy was quoted on Sunday as saying.   "Tactical, rescue and anti-piracy war games between Iranian and Russian naval forces are being planned and will be implemented in the near future," the semi-official news agency Mehr quoted Rear Admiral Hossein Khanzadi as saying. Iran and Russia have held several naval drills in the Caspian Sea, including in 2015 and 2017. Iran and Russia have close ties, including in Syria where they both back President Bashar al-Assad in the country's civil war.

January 6: Fox News: Joseph diGenova, former US Attorney for DC claims Comey
is the man who destroyed the FBI
The treachery revealed by Comey, Clapper, and Brennan requires accountability. That can only happen through a federal grand jury investigation headed by John W. Huber, the U.S. Attorney in Utah who has been appointed to investigate the FISA criminality by the Obama FBI and DOJ.  The evidence of illegal and unconstitutional abuse of law enforcement and intelligence community power and authority is clear. diGenova says grand jury subpoenas need to be issued. These individuals have stolen more than fifteen months of a new president's tenure. They have thrown the country needlessly into spasms of doubt about the bona fides of an election. Comey should get the first grand jury subpoena.

January 5: Fox News:  Go Get Them Ted!  Bill introduced to enforce term limits on House and Senate members:
Two Republican lawmakers recently introduced a Constitutional amendment that would impose term limits on members of Congress. The bill, proposed by Sen. Ted Cruz (Texas) and Rep. Francis Rooney (Fla.), calls for a maximum of three two-year terms in the House and two six-year terms in the Senate. The bill is co-sponsored by Sens. Rubio (R-FL), Lee (R-UT) and Perdue (R-GA.).  Rooney appeared on "Fox & Friends" Saturday and said that the proposal would help avoid "entrenched politicians" who are aligned with special interests.

January 5: Breitbart News: From day one House Democrat looks to destroy the Electoral College
Desperate to bring the Tyranny of the Majority to our representative democracy, on the first day Democrats assumed control of the House of Representatives, Rep. Steve Cohen (D-TN) submitted a bill to kill the electoral college.  Because of the careful way it was set up, the electoral college helps to protect that most important right of all — the right of the minority.  By "minority," I mean those states with minority populations. To cobble together the 270 electoral votes required to win the presidency, candidates are forced to appeal to a broad coalition of states, including states with small populations (Maine, New Hampshire, New Mexico, Nevada, Iowa, Nevada, etc.).

January 4: The UK Daily Mail: Trump says he'll allow the partial shutdown to continue
for a year if that's what it takes
Donald Trump told Congressional leaders Friday that he will shut down the government for 'months or even years' if he does not get money for his border wall with Mexico — and said he was 'proud' to do it because it's the right thing.   Trump said "I did. I did. I did say that. Absolutely, I said that. I don't think it will, but I am prepared,' Trump said at the beginning of a lengthy news conference.

January 4: Fox News:  China should think twice before threatening to attack Americans
China is betraying a level of strategic anxiety not yet seen as the impact of trade tariffs looms and its return to its historical power role in the Asia seems to have stalled.  China's leaders assumed after the 2008 global financial crisis that the Communist, centrally controlled economic state's time had come giving it an opportunity to regain its historic role in the region.  But Xi and his followers have watched their diplomatic, economic and military initiatives come up short rather than causing other nations in the region to realign with China  as they had expected.  Now the Trump administration's trade tariffs threaten to destabilize the Chinese economy, resulting in a cascade failure of Xi Jinping's broader strategy and threatening to undermine the legitimacy of the Communist Party

January 4: Associated Press: US employers went on hiring spree in December
U.S. employers went on a hiring spree in December, adding a surprising 312,000 jobs and providing a dose of reassurance about the economy after a turbulent few months on Wall Street.  The job gains reported Friday by the Labor Department came despite a trade war with China, a global slowdown and a partial government shutdown now entering its third week.  The nation's unemployment rate rose slightly to 3.9 percent last month, but that, too, was considered a positive sign, reflecting an increase in Americans beginning to look for work. And average hourly pay improved 3.2 percent from a year ago.

January 3: Bloomberg: Venezuela has lessons for U.S. socialists
It's hard to overstate how disastrous the reign of Hugo Chavez and his successor Nicolas Maduro has been for Venezuela.  Reports depict the hellish, never-ending struggle for survival in Caracas, the country's capital. Hungry children roam the streets, people fleeing the country, nonexistent healthcare, endemic violence and even water is scarce. Chavez's peaceful revolution transformed a peaceful country into  a nightmare that puts the ruinous Soviet Union of the 1980s to shame.

It's important for other countries not to ignore Venezuela's example, but to use it as a cautionary tale. Senator Bernie Sanders (I-NH) and Rep. Alexandria Ocasio-Cortez (D-NY) have embraced socialism, as have many young Americans. But before going the way of Venezuela they should consider the end result. 

January 2: Breitbart News: Border mob turned back; Then they tried to push minors over the barbed wire:
The migrants gathered at the San Diego sector of the United States border with Mexico on New Year's Eve tried to force their way over the barrier. When turned back by Customs and Border Patrol agents, some in the group started throwing rocks and attempted to push children over the barbed wire atop the barrier.  "Once again we have had a violent mob of migrants attempt to enter the United States illegally by attacking our agents with projectiles," Katie Waldman, Department of Homeland Security spokeswoman said. "The agents involved should be applauded for handling the situation with no reported injuries to the attackers."

January 2: The Daily Caller: Dems refuse to even listen to boarder security briefing at the White House:
Democratic lawmakers brought a border security briefing at the White House to a screeching halt Wednesday, refusing to even listen to Homeland Security Secretary Kirstjen Nielsen, a White House official tells The Daily Caller.  House Majority Leader Kevin McCarthy echoed this version of events to reporters outside the White House immediately after the briefing, saying, "Once the secretary started, Schumer interrupted her and didn't want to hear it."

January 2: Fox News: Pelosi's Daughter:  She will cut your head off and you won't even know you're bleeding 
Nancy Pelosi's daughter did not mince words Wednesday when she was asked about her mother's leadership style.  "She'll cut your head off and you won't even know you're bleeding," Alexandra Pelosi bluntly told CNN in an interview Wednesday morning. "That's all you need to know about her."

January 1, 2019: The Washington Times: "Real Justice Department" veteran emerges as
Mueller's top courtroom adversary
Eric Dubelier is a litigator for the Reed Smith law firm who knows international law and the D.C. playing field. He served eight years prosecuting cases as a  DOJ assistant U.S. attorney in Washington. He refers to his former employer as "the real Justice Department," implying that Mueller's team is something less. His biting remarks have come in months of court filings and oral arguments.  Dubelier has depicted Mueller as a rogue prosecutor willfully ignoring DOJ guidelines and has accused him of creating a "make-believe crime."

January 1: WTOP Radio News:  DC sees 40% increase in homicides in 2018 while having strict gun controls
In D.C., 160 people died by homicide in 2018, up from 116 in 2017 — a spike of about 40 percent.  In all, of the 534 people shot by another person in D.C. through mid-December, 23 percent ultimately died, according to statistics compiled by the Washington Post. City officials say more gun violence has contributed to the rising number of murders, and D.C. saw one of the biggest increases in fatal shootings nationwide while most other major cities reported overall decreases.