June 11, 2019: The Hill: Senate may cut August recess short if funding bill not passed
The lack of a spending deal with fewer than 20 legislative days remaining until the August recess is prompting some GOP senators to discuss the possibility of cutting short the Senate's August break.  Sen. David Perdue (R-GA), who is up for reelection next year, said he will ask Senate Majority Leader McConnell (R-KY) to consider trimming the annual recess in order to tackle government spending bills.  The effort to shorten the recess was successful in 2018 after Perdue and other lawmakers sounded the alarm on a pileup of spending measures. This year, the Senate is even further behind schedule on its to-do list.

June 8: Yahoo News: US-Mexico deal forged; tariffs avoided
The Trump Administration and Mexican President Andres Manuel Lopez Obrador hammered out a deal where Mexico agreed to expand its policy of taking back migrants, most of them from violence-riven Guatemala, Honduras and El Salvador, as the United States processes their asylum claims. Mexico will also use its newly created National Guard to crack down on illegal migration, in particular along its southern border with Guatemala, a gateway for poor Central Americans hoping to reach the US.

June 7: Fox News: US makes deal with Mexico on tariffs and immigration
The U.S. has reached an agreement with Mexico that heads off the start of tariffs on Monday, President Trump said in Friday night tweets.  Trump said "the tariffs scheduled to be implemented by the U.S. on Monday, against Mexico, are hereby indefinitely suspended.  Mexico, in turn, has agreed to take strong measures to....stem the tide of Migration through Mexico, and to our Southern Border. This is being done to greatly reduce, or eliminate, Illegal Immigration coming from Mexico and into the United States.

June 7: The Daily Caller: Presidential candidate Harris vows to do away with right to work
Democratic presidential candidate and California Senator Harris has said that if she's elected, she would issue an executive order to rescind hard-won worker freedom.  In right-to-work states, workers can decide for themselves if they want to join a union or remain independent. In 22 states, including California, workers are forced to join unions, or at least pay union dues, when their employers use organized labor.

June 5: The Daily Caller: Tucker Carlson: Would you vote for this
kind of person?  But that's not what we have in Congress!
Fox News host Tucker Carlson slammed Republican politicians on Wednesday for abandoning the economic nationalism that their base voted for in 2016 in order to appease the libertarian donors to whom they are beholden.  "In Washington, almost nobody speaks for the majority of voters," Carlson said on "Tucker Carlson Tonight."

June 2: Fox Business:  Administration removes restrictions on E-15 gasoline
The Trump Administration on Friday announced that it would allow the year-round sale of gasoline with higher concentrations of ethanol.  This action could help corn growers who may see expanded markets for their commodity and a 10-15 cent decrease in gas prices at the pump. However, E-15 gasoline which contains 15% ethanol (vs. 10%) could also adversely impact vehicle gas mileage and is opposed by the refining industry.

June 1: Yahoo News: Hi tech companies should be quaking in their boots
This is the moment the U.S. technology superpowers surely knew was coming: The U.S. government is preparing to crawl all over Google to figure out whether it is an abusive monopolist. Google parent company Alphabet Inc. and the other tech giants should be quaking in their fleece vests.  Bloomberg News and other news organizations reported late Friday that the U.S. Department of Justice is preparing to open an investigation into Google's compliance with antitrust laws. If it goes forward, an investigation will no doubt be broad, lengthy, messy, and impossible for Google and its investors to predict.

June 1: SF Gate: Amazon could face intense antitrust scrutiny
Amazon could face heightened antitrust scrutiny under a new agreement between U.S. regulators that puts it under closer watch by the Federal Trade Commission, three people familiar with the matter said.  The move is the result of the FTC and the Department of Justice, the U.S. government's leading antitrust enforcement agencies, quietly divvying up oversight of two of the country's top tech companies.

---

May 24: Fox News: FAA investigating airports restricting Chick-Fil-A concessions
The FAA is investigating two airports -- San Antonio International and Buffalo Niagara International -- over religious discrimination complaints, following the exclusion of Chick-fil-a from the premises.  "The Department of Transportation has received complaints alleging discrimination by two airport operators against a private company due to the expression of the owner's religious beliefs," the agency said.  According to the agency, federally funded airports cannot discriminate on the basis of religion.

May 12: Breitbart News: Kudlow: Tariffs worth risk given 20 years of abuse
On this weekend's broadcast of "Fox News Sunday," Trump economic advisor Larry Kudlow argued that the tariffs the United States is set to levy on China were worth the risk, especially given the past two decades of what he called "unfair trading practices."  But the problem is two weeks ago in China, there was backtracking by the Chinese, and we covered the same ground with Liu He this past week, Ambassador Lighthizer and Secretary Steven Mnuchin.

May 10: Associated Press: Cuba initiates rationing in face of crisis
The Cuban government announced Friday that it is launching widespread rationing of chicken, eggs, rice, beans, soap and other basic products in the face of a grave economic crisis. While Cuban officials blamed rationing on shortages caused by the U.S. trade embargo, economists give equal or greater blame to a plunge in aid from Venezuela, where the collapse of the state-run oil company has led to a nearly two-thirds cut in shipments of subsidized fuel that Cuba used for power and to earn hard currency on the open market.

May 9: The Hill: Trump Administration proceeds with plan to least
public lands in California for oil and gas exploration
The Trump administration moved forward Thursday with its plan to open up hundreds of thousands of acres on California's Central Coast to oil and gas drilling. The effort comes despite opposition from Democratic officials in the Golden State, who have starkly criticized the plan.  The plan estimates that up to 32 new oil and gas development wells could be built on the federal lands during the plan's lifetime.  The Trump administration's drilling plans run directly counter to California's clean energy push, and the state's  Democrat Attorney General criticized it for having an emphasis on fossil fuel use.

May 9: Reuters: China reversed course on trade talks causing US
to react with tariff increases
Top U.S. and Chinese trade negotiators concluded the first of two days of talks on Thursday to rescue a trade deal that is close to collapsing as Washington prepares to go ahead with plans to hike tariffs on hundreds of billions of dollars of goods imported from China.  A source familiar with the talks said China's changes to the language of the draft trade deal were so extensive it could take a month to fix them, assuming the United States rejects them.   The talks could still go several ways, a person close to the discussions said.   China could make some concessions to prolong talks even after tariffs and retaliation. The two sides could end negotiations, given they are so far apart. Or China could reverse the changes to the text and return the negotiations to where they were a week ago. 

May 7: Fox News: California teacher files law suit that could cost labor unions millions
Tommy Few, a special education teacher at Sepulveda Middle School in Los Angeles' San Fernando Valley, filed suit late last year against the United Teachers of Los Angeles – along with the Los Angeles Unified School District and California Attorney General Xavier Becerra – claiming his First Amendment rights to freedom of speech and association were violated when he tried to leave the UTLA following last summer's Supreme Court ruling in Janus v. AFSCME.

May 7: The Wall Street Journal: Trade talks with China turn tough
Prospects for a speedy conclusion to the U.S.-China trade fight dimmed Monday after U.S. officials accused Beijing of reneging on its promises and vowed to implement President Trump's threat to raise tariffs quickly on Chinese imports. "Over the course of the last week or so, we've seen an erosion in commitments by China, I would say retreating from commitments that have already been made, in our judgment," said U.S. Trade Representative Robert Lighthizer, declaring tariffs on $200 billion in Chinese imports would rise to 25% starting Friday.

May 3: Associated Press:  U.S. renews Iran sanctions
The Trump administration on Friday renewed five of seven sanctions waivers that allow Russia and European nations to conduct civilian nuclear cooperation with Iran but revoked the other two as it steps up pressure on Tehran.  Secretary of State Mike Pompeo extended the waivers for 90 days, shorter than the 180 days that had been granted in the past. The waivers permit work at several Iranian nuclear sites to continue without U.S. penalties. Under the terms of the 2015 Iran nuclear deal, Russia and several European nations help maintain the facilities and are engaged in converting equipment there for exclusively civilian use.

May 3: CNS News: Labor stats are out: Hispanic unemployment hits an all time low
The national seasonally-adjusted unemployment rate for Hispanics and Latinos in the U.S. labor force fell to a record low of 4.2% in April, U.S. Bureau of Labor Statistics (BLS data) released Friday show.  In April, the unemployment rate for Hispanics and Latinos, aged 16 and up, was 4.2%, down from 4.7% in March – breaking the record low of 4.3% set two months earlier in February. BLS began tracking Hispanic-Latino employment data in 1973.


May 1: Defense News: Key U.S. Navy tool
against foreign submarines needs a reliable supplier
A key tool in the U.S. Navy's fight against Russian and Chinese submarines weighs eight pounds, is three feet long and it doesn't even explode.  The sonobuoy is an expendable, waterborne sensor that has been air-dropped by the hundreds to detect enemy subs, a  go-to capability for America and its allies for decades. The Pentagon wants to buy 204,000 sonobuoys in its fiscal 2020 budget request, a 50 percent spending increase over 2018.  But just as the U.S. military needs them most, this critical capability is under threat, because without government investment in the market the Pentagon says it may no longer have a reliable supplier


---

April 28: Fox News: Trump: Strong economy and incentives provided
by Dems reasons for increased border crossings
President Trump told "Sunday Morning Futures" that illegal immigrants are pouring into the country at unprecedented rates "because our economy is so good," and "everyone wants a piece of it" -- and, he asserted, Democrats have now provided major incentives for illegal immigrants to bring children with them as a legal shield.  "You have to have Perry Mason involved" in order to fight some immigration challenges and enforce border security, Trump said, alluding to the backlog of immigration cases and a recent Ninth Circuit ruling requiring that asylum applicants be allowed to go before a federal judge.

April 26: The Wall Street Journal: Has the recession been cancelled?
The strength of the U.S. economy continues to confound members of the liberal establishment, the WSJ reports. "What would we do without experts? As U.S. workers continue to enjoy a vibrant job market, they should spare a thought for laborers in one category of professional services who remain mired in a multi-year slump. Established manufacturers of Keynesian economic forecasts have entered a prolonged period of secular stagnation. Some may even wonder if they can ever break out of a "new normal" of declining prestige."

April 16: Reuters: Venezuelan scavengers fight vultures for garbage scraps
Surrounded by vultures perched on trees awaiting their turn, Venezuelan migrants scrape out a living scavenging for metal, plastic, cardboard and food in a Brazilian border town's rubbish dump. Trapped in a wasteland limbo, they barely make enough to feed their families and cannot afford a bus ticket to get away and find regular work in Brazilian cities to the south.   They blame leftist President Nicolas Maduro for mismanaging their oil-producing nation's economy and causing the deep crisis that has driven several million Venezuelans to emigrate across Latin America.



April 11: KPRC News: Abbott goes full California!
Many elected Texas Republicans love to use the masquerade of fiscal conservatism and the promise of austerity to justify denying providing services to the most vulnerable Texans. But these very same Republicans refuse to practice what they preach.  The end result: Governor Greg Abbot, Lieutenant Governor Dan Patrick, and House Speaker Dennis Bonnen all lined up yesterday to announce their support for raising Texas sales tax to 7.25%.  Add to this additional local sales taxes and you end up with 9.25%!

April 10: Yahoo News: Despite Congressional campaign promises to be fiscally
responsible the U.S. deficit is 15% higher than last year
The federal government reported a $146.9 billion deficit in March, causing annual debt to rise 15% for the first half of the budget year compared to the same period in 2018.  The Treasury Department said Wednesday in its monthly report that the fiscal year deficit has so far totaled $691 billion, up from nearly $600 billion in 2018. The Treasury Department expects that the deficit will exceed $1 trillion when the fiscal year ends in September. 

April 9: The Hill: Treasury expected to miss deadline on Trump tax returns
The Trump administration is expected to miss the Wednesday deadline set by Democrats to hand over Trump's tax returns, raising the odds that the battle will turn into a lengthy court fight.  Trump has said he cannot make the records public because of an audit, and his acting chief of staff on Sunday publicly said the administration will never hand them over to Democrats.

April 9: Politico: Pelosi pulls budget bill amid strife in the Democrat party
House Democratic leaders on Tuesday abandoned plans to vote on a key budget measure this week in the face of sharp opposition from both progressives and moderates.  The revolt over legislation to set federal spending is a setback for Speaker Nancy Pelosi and her deputies on the eve of their 100 day mark in the majority. And it darkens the outlook for how Washington will resolve a slew of ugly funding battles later this year.

April 7: France: Cuba: Newsprint shortages and a failing economy
The newsprint shortages which forced Cuba's Communist daily to run a trimmed-down edition on Friday would pass off as a simple supply glitch in most other countries, but in Havana they carry chilling memories of the not-so-distant past.  The last time the government cut back on newspapers because of a lack of newsprint was in the early 1990s during the period when it's main sponsor the Soviet Union was collapsing. Today, Cuba is again facing financial difficulties as it continues to support the socialist regime in Venezuela.

April 6: Reuters: Venezuela: Rally for restoration of power and water and end of current regime
After weeks of power cuts and limited access to water, tens of thousands of Venezuelans took to the streets on Saturday to back opposition leader Juan Guaido and protest against President Nicolas Maduro, who they accuse of wrecking the economy.  Venezuelans, already suffering from hyperinflation and widespread shortages of food and medicine, say the crisis has worsened over the past month. That is when crippling nationwide power outages began to leave vast swaths of territory in the dark for days at a time, cutting off water supplies and cell phone service.


---

March 22: The Daily Caller: Trump nominates conservative economist to the
Federal Reserve Board
President Trump announced Friday morning that he will nominate Heritage Foundation economist Stephen Moore to the Federal Reserve board of governors.  Moore has long been a supporter of Trump, including throughout the 2016 presidential election. He has written approvingly of the president's criticisms of the Federal Reserve. 

March 15: Associated Press: "Revamping" Cuba's Socialist Economy
In the midst of a regional crisis over Venezuela and tough economic straits, the Cuban government is about to launch a sweeping makeover of its centrally planned, single-party system with dozens of new laws that could reshape everything from criminal justice to the market economy.

March 10: Associated Press: As budget deficit balloons, as few in congress seem to care
The federal budget deficit is ballooning and few in Washington seem to care.  And even if they did, the political dynamics that enabled bipartisan deficit-cutting deals decades ago has disappeared, replaced by bitter partisanship and chronic dysfunction. This is the reality that will meet the President's proposed budget, aimed at balancing the budget within 15 years.  In the meantime annual deficits are topping the $1 trillion level.

March 8: CNBC News:  Wealthy leaving New York for lower tax states while state auditors
try to get them to pay on their way out of town!
As wealthy New Yorkers leave for lower tax states such as Florida, the empire state looks at cell phone data, vet appointments, dentist appointments and even refrigerator contents to prove they haven't really changed domiciles! If you are wealthy and want to leave New York state you can bet you will be audited.  An upside is, if you are found to have moved to another state, you will not be subject to New York's high estate and income taxes in the future.  With the federal income taxes limiting the state tax write off to no more than $10,000 moving may be worth it.

March 7: The Washington Times:  Feds splurge with use it or lose it funds
It turns out September, not April, may be federal taxpayers' worst nightmare.  The end of the government's fiscal year usually brings an orgy of spending as agencies look at their budgets, see extra cash lying around, and figure they'd better use it all up or risk getting cut in the future.  The "use it or lose it" mentality explains why the Defense Department shelled out $9,241 on a Wexford leather chair, $2.3 million on crab and another $2.3 million on lobster tails in September, according to a study released Thursday by OpenTheBooks.



March 5: KTRH Radio: Facebook policies restricted advertising of gun trigger lock
Policies at Facebook and Google meant to block online ads for guns are also blocking new safety devices.  Omer Kiyani is founder of Sentinl Inc., which developed Identilock, a fingerprint-activated trigger lock.  But he's having a hard time gaining any market share because the online giants are constantly flagging his ads.  He's been told he's more than welcome to advertise Identilock, but his ad cannot feature a firearm.  "It's the fastest trigger lock on the planet, but it's a struggle to show a product that is supposed to secure a gun without a gun," he says. "And any visual of a gun is automatically blocked."

March 5: The Daily Caller: Treasury asks Congress to raise the debt ceiling, again!
Treasury Secretary Steven Mnuchin on Monday urged congressional leaders to raise the federal debt limit "as soon as possible" as the department begins accounting maneuvers to prevent a default.  Mnuchin wrote in a March 4 letter to top lawmakers that the Treasury Department had begun a "debt issuance suspension period" to avoid missing a debt payment, and asked for swift action to raise the cap on federal debt. [Editor's Note: The question is when, if ever, will the Congress start to live within its means and stop the continual approving spending increases?]

March 1: The UK Daily Mail: Rate of Hispanic poverty in the US hits an all time low
Rate of Hispanic poverty in America has fallen to a record low 18.3% - and the overall rate of poor Americans has declined three years in a row, new Census data reveals.  The 1.1% year-on-year decrease in their rate poverty of in 2017 was also the largest single decline that the U.S. Hispanic population has ever experienced. The rate of poverty among all Americans has also declined slightly in 2017 to 12.3%, the third year in a row that the numbers have gone down.   Hispanic households also saw their median household income increase 3.7% to $50,486 in 2017, the third year in a row that this population saw a rise in income.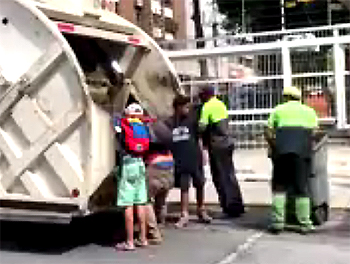 March 1: Reuters: Venezuelans find meals
in garbage bins/trucks to ward off hunger
Tony, a 36-year old security guard, rummages through the garbage bins of a wealthy district in Caracas on his days off work, scavenging for food as Venezuela's economic meltdown has left even the employed struggling to find enough to eat.  Scenes of Venezuelans picking through garbage in a search for something to eat has for years been a symbol of the nation's economic meltdown, which has been marked by widespread shortages of food and medicine as well as hyperinflation.

---

February 26: Wall Street Journal: Cuba reliance on Venezuela's cheap oil
The potential collapse of President Nicolás Maduro's regime poses a threat to Cuba, which relies on Caracas for about 28% of the island's oil needs.  Venezuela's opposition says the government's longstanding oil-barter agreement with Cuba is irrational.    If Juan Guaidó, who is recognized by the U.S. and about 50 other countries as Venezuela's legitimate head of state, wrests control of the country from Mr. Maduro, his government is expected to quickly halt oil shipments. The result would be power outages, fuel shortages and government spending cuts that would cause the Cuban economy to shrink by as much as 10%, according to Omar Everleny Perez, an independent Cuban economist in Havana.

February 19: Reuters: Venezuela on the Brink
Venezuelan troops will remain stationed along the country's borders to prevent territorial violations, the defense minister said on Tuesday, ahead of the opposition's plan to bring in humanitarian aid to alleviate an economic crisis.  President Nicolas Maduro has rejected offers of foreign food and medicine, denying there are widespread shortages and accusing opposition leader Juan Guaido of using aid to undermine his government in a U.S.-orchestrated bid to oust him.

February 15: The Conservative Review: Spending now worse than under Obama and Bush
We're now $22 trillion in debt, yet despite all that red ink, the Mexican cartels have control of our border and we're not one bit closer to spending money on our own security. We've gone into deep debt for everything except the core function of the federal government.

February 15: ABC News: President signs bill avoiding 2nd government shutdown;
declares National Emergency to get border barrier funding
After signing the funding measure that does little to stem the public debt the President said "I am going to be signing a national emergency." He explained his move in a Rose Garden announcement, saying "We're going to confront the national security crisis on our southern border and we're going to do it one way or the other."   He said "We're talking about an invasion of our country with drugs, with human traffickers, with all types of criminals and gangs."

February 14: ABC News: McConnell; President will sign the funding bill
In a surprise development Thursday, Senate Majority Leader Mitch McConnell announced on the Senate floor that the President told him he would sign a border security funding bill that would avert a government shutdown and that he would also a national emergency in order to get additional funds for building a border barrier. McConnell's announcement caught Capitol Hill off guard. The Senate then voted overwhelmingly to approve the measure 83-16, sending it to the House for a vote late Thursday. The House approved the measure 300-128.



February 12: USA Today: US debt tops $22 trillion for first time ever
The national debt surpassed $22 trillion for the first time on Tuesday, a milestone that experts warned is further proof the country is on an unsustainable financial path that could jeopardize the economic security of every American.

February 11: Roll Call: House and Senate appropriators to attempt to break
stalemate to avoid government shutdown
Republican and Democratic appropriators from both chambers plan to meet Monday afternoon in an effort to revive spending talks as the government heads toward its second shutdown in three months.  Negotiators disclosed Sunday that their talks had hit a snag, with Shelby blaming the problem on Democratic insistence to limit the number of beds available for Immigration and Customs Enforcement arrests inside U.S. borders.

February 8: The Daily Caller: White House warns of another possible shutdown as
negotiations near their end
White House deputy press secretary Hogan Gidley warned of a possible government shutdown if Congress does not deliver funding for a border wall, in a Friday morning gaggle with reporters at the White House.  "We're on the verge of a government shutdown again because Democrats won't come to the table to have a conversation about securing the country," Gidley warned as a Feb. 15 deadline for congressional negotiations comes to a close.

February 4: Roll Call: Congress not likely to reduce spending anytime soon
Despite deficits hurtling toward $1 trillion and more for the foreseeable future, Congress is unlikely to make any real effort to pull the red ink back to Earth anytime soon. In fact, it seems that the excess of spending over revenue will probably be even greater than official forecasts.  This continues the trend under both Republican and Democrat leadership in the House.   Another two-year agreement to raise discretionary spending caps, which most observers expect will occur, would increase projected deficits by some $2 trillion over the next decade, based on Congressional Budget Office estimates. Lawmakers might also extend expiring tax breaks, requiring additional Treasury borrowing. Any deal on an infrastructure program would also likely increase spending.

February 1: CNS News: Labor force participation at a Trump-Era High: 63.2% in January
The Labor Department's Bureau of Labor Statistics said the economy added 304,000 jobs last month, much higher than analysts were expecting.  The Congressional Budget Office, in a  report released this week, said it expects last year's strong employment growth to carry into 2019. However, "Strong demand for goods, services, and labor is expected to put upward pressure on price and wage inflation, as well as interest rates, in 2019," CBO said.

---
January 30: The Hill:  Lawmakers meet for the first time to try and avoid another government shutdown:
Lawmakers from the House and Senate will meet for the first time Wednesday as they seek to work out a deal on border security that would prevent a second government shutdown this year. The conference committee includes Democrats and Republicans with reputations for deal-making, but the panel faces tough odds in seeking to build a compromise that could earn the support of Trump and Pelosi.  Trump himself on Wednesday appeared to give it little chance of success, even as he repeated his demands that Democrats fund a wall on the Mexican border.

January 27: Bloomberg News:  US Treasury to borrow $1,000,000,000,000 to finance U.S. deficit
The U.S. Treasury Department is set to maintain elevated sales of long-term debt to finance the government's widening budget deficit, with new issuance projected to top $1 trillion for a second-straight year.  Many strategists at primary-dealer firms predict that this Wednesday's quarterly refunding announcement will see the Treasury maintain note and bond sales at the record high levels they have boosted them to in recent months.

January 25: The Wall Street Journal:  White House makes deal with Congress
for opening Government for three weeks
President Trump said Friday he had reached a deal with congressional leaders to reopen the government for three weeks while negotiations over border security funding continue, marking at least a temporary concession by the president to Democrats.  Speaking in the Rose Garden, Mr. Trump said he would sign a bill to open the government until Feb. 15 and start negotiations between the House and Senate over a full-year bill funding the Homeland Security Department, which oversees the border.   "After 36 days of spirited debate and dialogue, I have seen and heard from enough Democrats and Republicans that they are willing to put partisanship aside, I think," Mr. Trump said.

January 24: Reuters: Jobless claims lowest in the U.S. since 1969
The number of Americans filing applications for unemployment benefits fell to more than a 49-year low last week, but the drop likely overstates the health of the labor market as claims for several states including California were estimated.  Still, labor market conditsions remain strong, which for now should help to temper fears of a sharp slowdown in economic growth.

January 24: Politico:  Dueling bills to open the government are shot down
The Senate blocked two proposals on Thursday to reopen the government, but amid the ongoing stalemate, there's some hope that Washington might be inching closer toward ending a shutdown now on its 34th day. In a 52-44 vote, the Senate rejected House-backed legislation that would fund the government through February 8. The Senate, in a 50-47 vote, blocked legislation endorsed by President Donald Trump that provided $5.7 billion for his border wall and granted temporary protection for some undocumented immigrants. Both bills were expected to fail.

January 22: Kentucky.com:  McConnell scheduled two votes on government shutdown:
Now Mitch McConnell has joined the game and suddenly, things have changed.  The Senate majority leader, who until late last week had been virtually invisible during negotiations to re-open the government, announced Tuesday the Senate will vote Thursday on President Trump's pitch to fund his border wall and end the partial shutdown.  And under the Senate rules, if it does not pass, there will be a separate vote on a Democratic-backed package to open up the government immediately — but not give Trump the money for his wall.

January 20: CNBC: Chinese economy growth lowest pace in 28 years
China on Monday announced that its official economic growth came in at 6.6 percent in 2018 — the slowest pace since 1990.  That announcement was highly anticipated by many around the world amid Beijing's ongoing trade dispute with the United States its largest trading partner.

January 19: The Hill:  Trump pitches three part proposal to end partial government shutdown
Saturday President Trump proposed linking funding for a strategically placed border wall with a three year extension of protections for some undocumented immigrants as a pathway out of the weeks-long partial shutdown, showing his willingness to negotiate an end to the stalemate.  But his proposal quickly ran into pushback from Democrat leaders. Trump's offer would extend protections for Deferred Action for Childhood Arrivals (DACA) program and protections for Temporary Protected Status (TPS) holders for three years in exchange for $5.7 billion for a border barrier.

January 17: The Hill: House rejects GOP measure to pay furloughed workers
while not stopping the partial shutdown
The House rejected a GOP measure to pay furloughed workers but keep the government closed in a 222-195 vote.  Six Democrats voted for the GOP measure, offered as an alternative to a Democratic bill to reopen the government. The Democratic bill is expected to pass but be dead on arrival in the Senate.  This comes as parties continue to point fingers over who bears the responsibility for the ongoing partial government shutdown. 

January 17: The Wall Street Journal:  US considers  lifting tariffs on China
U.S. officials are debating ratcheting back tariffs on Chinese imports as a way to calm markets and give Beijing an incentive to make deeper concessions in a trade battle  that has rattled global economies.  The idea of lifting some or all tariffs was proposed by Treasury Secretary Steven Mnuchin in a series of strategy meetings, according to people close to internal deliberations. They say the aim is to advance trade talks and win China's support for longer-term reforms.  But Mr. Mnuchin faces resistance from U.S. Trade Representative Robert Lighthizer, who is concerned that any concession could be seen as a sign of weakness, these people said.

January 9: CNS News:  Republican House increased national debt by $7.9 Trillion in eight years
The recently deposed Republican majority increased the federal debt by $7.9 trillion in the eight years it controlled the House of Representatives.  That works out to approximately $989,401,125,420 per year, or $2,710,688,015 per day.  Some Republicans may claim they should not be blamed for the massive increase in the federal debt during the eight years they controlled the House. They may say: "For four of those eight years, the Democrats controlled the Senate." Or: "For six of those eight years, Barack Obama was president."  But the Constitution says, "No Money shall be drawn from the Treasury, but in Consequence of Appropriations made by Law."  And no law may be enacted unless it passes the House.

January 7: The Daily Caller:  Pence: Democrats are still refusing to negotiate over shut down and the wall:
Democratic lawmakers are refusing to negotiate with the White House over funding for a proposed wall along the U.S. southern border unless the government is reopened, Vice President Mike Pence told reporters Monday in a briefing at his ceremonial office.  "It's time for the Democrats to start negotiating," the vice president repeatedly declared.  Pence told reporters he met with the Democratic congressional leaders' senior staffers throughout the weekend and was told simply that they would not have a negotiation if the government remained partially closed.

January 4: The UK Daily Mail: Trump says he'll allow the partial shutdown to continue
for a year if that's what it takes
Donald Trump told Congressional leaders Friday that he will shut down the government for 'months or even years' if he does not get money for his border wall with Mexico — and said he was 'proud' to do it because it's the right thing.   Trump said "I did. I did. I did say that. Absolutely, I said that. I don't think it will, but I am prepared,' Trump said at the beginning of a lengthy news conference.

January 4: Associated Press: US employers went on hiring spree in December
U.S. employers went on a hiring spree in December, adding a surprising 312,000 jobs and providing a dose of reassurance about the economy after a turbulent few months on Wall Street.  The job gains reported Friday by the Labor Department came despite a trade war with China, a global slowdown and a partial government shutdown now entering its third week.  The nation's unemployment rate rose slightly to 3.9 percent last month, but that, too, was considered a positive sign, reflecting an increase in Americans beginning to look for work. And average hourly pay improved 3.2 percent from a year ago.

January 3: Bloomberg: Venezuela has lessons for U.S. socialists
It's hard to overstate how disastrous the reign of Hugo Chavez and his successor Nicolas Maduro has been for Venezuela.  Reports depict the hellish, never-ending struggle for survival in Caracas, the country's capital. Hungry children roam the streets, people fleeing the country, nonexistent healthcare, endemic violence and even water is scarce. Chavez's peaceful revolution transformed a peaceful country into  a nightmare that puts the ruinous Soviet Union of the 1980s to shame.