Information on the "Ike Dike" Coastal Barrier


---
June 30:  The Wall Street Journal:  Supreme Court: Decision on CFPB
The Supreme Court ordered changes to a government consumer-finance watchdog created in the wake of the 2008 financial crisis, capping a 10-year battle over the agency by ruling its structure was unconstitutional because the director held too much unchecked power.  To address the problem, the court held that the president can remove the director of the Consumer Financial Protection Bureau for any reason. The court rejected the broader argument that it should strike down the bureau altogether.

June 30: The Wall Street Journal: India bans Chinese apps
India banned dozens of Chinese mobile apps, including widely used TikTok and WeChat, after a border clash between troops from the two countries left 20 Indian soldiers dead this month.  New Delhi cited cybersecurity concerns in blocking the Chinese apps from one of the largest and fastest-growing markets in the world. A senior Indian government official said the ban was imposed because the apps.

June 30: The Wall Street Journal:  Hong Kong Security Law gives Beijing broad new powers
China's legislature approved a sweeping new law aimed at quashing threats to national security in Hong Kong, rejecting Western criticism that Beijing's efforts will curb people's freedoms in the protest-torn city.   Senior members of the National People's Congress voted unanimously Tuesday to pass the legislation, which is meant to prevent and punish subversives, sessionists, and terrorists.

June 29: Fox News: Justice Thomas about the Supreme Court's decision on abortion
Supreme Court Justice Clarence Thomas filed a blistering opinion dissenting from a Monday decision to strike down a Louisiana law that required abortion doctors to obtain admitting privileges at a nearby hospital, calling the court's record on abortion "grievously wrong."    "The plurality and [Chief Justice John Roberts] ultimately cast aside this jurisdictional barrier to conclude that Louisiana's law is unconstitutional under our precedents," Thomas wrote.  "But those decisions created the right to abortion out of whole cloth, without a shred of support from the Constitution's text. Our abortion precedents are grievously wrong and should be overruled."

June 29: The New York Post: Supreme Court: Administration has unfettered power to fire officials
A divided Supreme Court on Monday put the brakes on Congress' attempt to limit the president's power to remove executive branch officials in a win for President Trump.  The justices ruled, 5-4, that the Constitution requires the president have unfettered discretion to fire the head of the Consumer Financial Protection Bureau. 

June 29: Townhall.com: Another virus, another possible pandemic, from where?  China!
As the world continues to deal with the Wuhan coronavirus, researchers are warning about another strain of the flu that has the potential to turn into a pandemic. Pigs are the source of the strain but have the potential to be transmitted to humans, the BBC reported. Because of how new the strain is, the chances of humans having immunity to it is little to none.  This new strain is said to be similar to the swine flu, which came from China in 2009. The humans that are being infected with the new strain, as of now, work in China's pig industry.  10.4 percent of those working in the swine industry are positive for the new strain. Those between the ages of 18 and 35 are most at risk of being infected.

June 28: The Washington Free Beacon: New gun owners could be an important voting bloc in elections
The record-breaking gun sales during the coronavirus pandemic could bolster candidates that support the Second Amendment in 2020 and alter the course of American gun politics for the foreseeable future.  Several of the country's leading gun-rights groups are working to convert many more first-time owners into new gun-rights voters in the run-up to the 2020 election. Amy Hunter, a spokeswoman for the National Rifle Association, said that the group's success could change the political landscape at the local, state, and national level.

June 28: The Washington Times: Feds charge four men with attack on statue
Four men have been charged with damaging and trying to tear down the Andrew Jackson statue near the White House, federal prosecutors announced Saturday night.   One, Connor Matthew Judd, has already been arrested and appeared in court Saturday.  The other three were at large as of the announcement, prosecutors said. They are identified as Lee Michael Cantrell, Ryan Lane and Graham Lloyd.  Prosecutors said all four were caught on video using straps to try to pull down the statue, which stands on federal land in Lafayette Park, across the street from the White House. The statue was targeted earlier this week as an outgrowth of the Black Lives Matter protests that have roiled cities across the country over the last month.

June 27: The Washington Examiner: Four men charged with voter fraud in New Jersey
Four people have been charged with voter fraud stemming from a May 12 special election in New Jersey.   Paterson, New Jersey, City Councilman Michael Jackson, Council-Elect Alex Mendez, and two other men have been charged with voter fraud after the Passaic County Board of Elections had opted not to count 800 ballots across several different municipalities.  Jackson, 48, and Mendez, 45, were charged with fraud related to casting mail-in votes, unauthorized possession of ballots, tampering with public records, and falsifying public records. Mendez was also charged with election fraud.  The investigation began when the U.S. Postal Inspection Service alerted the N.J. Attorney General's Office that hundreds of mail-in ballots were found in a mailbox in Paterson. Numerous additional ballots were found in a mailbox in nearby Haledon, NJ. Due to the COVID-19 pandemic, all voting in May 12 elections in New Jersey was done by mail-in ballots.  [See additional information: InsideNJ.com]

June 27: Fox News: TX AG on absentee ballots and voter fraud (video)
Texas Attorney General Ken Paxton was asked on Fox and Friends   "What do you say about to those who say that accusations that there is increased fraud with absentee ballots is bogus?" 
"Well they obviously haven't been investigating fraud in my state," Paxton said, " because we have a team of lawyers and investigators whose sole job is to investigate voter fraud.  Two-thirds of our cases over the last decade have been about mail in ballots. We know for a fact that there is mail in ballot fraud going on … so we are dealing with it, we're prosecuting it, and if we had more resources we'd be prosecuting more! There is a lot of voter fraud going on," he concluded.

June 27: The Washington Examiner: AG Barr on mail-in ballots
Attorney General William Barr said he supports mail-in balloting for a "limited" amount of people but is concerned about expanding the process.   "I think there's a range of concerns about mail-in ballots. And let me just clarify here, I'm not talking about a mail-in ballot for a limited number of cases where somebody is going to be traveling around the world, and the way that the state has provided for that is, you mail in your ballot," Barr said in an  NPR interview.  "I'm talking about a comprehensive rule where all the ballots are essentially mail-in, and there's so many occasions for fraud there that cannot be policed."

June 27: The Washington Times:  US Supreme Court refuses to consider
challenge to Texas absentee voting challenge
The U.S. Supreme Court refused Friday to take a case attempting to force Texas to allow mail-in voting for anyone who fears contracting COVID-19.  The decision leaves in place an appeals court ruling that had already shot down the request by Democrats.  Texas law allows mail-in voting only for those who will be traveling or otherwise unable to make the polls on Election Day, and for those over 65 or who have a disability. The state Democratic Party had argued that the danger of contracting the coronavirus should count as a disability, freeing the entire state to vote by mail. They also said it was age discrimination to allow those over 65 to vote by mail, but not anyone younger.

June 25: The Washington Examiner: Carlson: Trump could lose the election
Fox News host Tucker Carlson warned conservatives that President Trump may lose the election.  Carlson said that it may be "tough" for Trump to win reelection if he does not adequately respond to civil unrest in the country.   "Not many people are saying it out loud on the Right. But the fact is that President Trump could well lose this election. In fact, unless fundamental facts change soon, it could be tough for him to be reelected," Carlson said in his opening monologue. He said if former Vice President Joe Biden wins in November, the White House will be controlled by "radicals" who will "remake the country."

June 25: The New York Post: NYPD Commander quits in protest
A Bronx NYPD precinct commander is quitting to protest the department's handling of police reform and anti-brutality protests, The Post has learned.   Deputy Inspector Richard Brea is hanging it up after nearly three decades, Guardian Angels leader Curtis Sliwa told The Post on Thursday following a phone conversation with Brea, who led the Bronx's 46th Precinct.   Brea put in his papers because his bosses are not giving him enough guidance on how to get guns and drugs off the street now that the department has disbanded and reassigning its anti-crime unit, Sliwa said.

June 25: The Daily Caller: Biden strongly overstates COVID-19 deaths
Former Vice President Joe Biden said Thursday that "over 120 million" people have died from the novel coronavirus before correcting himself – the actual number is closer to 126,000 with 2.4 million cases reported.  The live stream of Biden's campaign event appeared to cut out as the former vice president was preparing to correct himself.



June 25: Global News (Canada): Trump Administration
awards  $5.5 billion Navy contract for building frigates
in Wisconsin
Donald Trump announced a US$5.5 billion Navy contract awarded to Fincantieri Marinette Marine in Wisconsin on Thursday, which would see the company build the service's first new frigate, which is a type of ship, with options for nine more. This is a deal that is expected to lead to the hiring of about 1,000 American workers.

June 24: The Washington Examiner: Appeals Court sides with DOJ on
dropping the Michael Flynn Case
U.S. District Judge Emmet Sullivan, a Clinton appointee,  issued a minute order Wednesday evening after an appeals court panel sided with the Justice Department in its effort to force the judge to allow it to drop its case against President Trump's first national security adviser.  "In light of the Opinion and Order issued by the Court of Appeals on Mr. Flynn's petition for writ of mandamus, the deadlines and hearing date set forth in the Minute Order of May 19, 2020 are HEREBY STAYED," the order by Sullivan said.

June 24: The Washington Times: Former policy toward China is being reversed
by the current Administration
Decades of coaxing China's rulers into moderating the communist system backfired and instead have produced the "greatest failure of American foreign policy since the 1930s," President Trump's top security aide argued in a major policy address Wednesday.  White House National Security Adviser Robert C. O'Brien said the failure was the result of misunderstanding the nature of the Marxist-Leninist system that guides China's rulers to this day.  The Trump administration has begun reversing past policies toward Beijing that it says ignored massive theft of data and technology and abuse of conciliatory American trade and other policies, he said.

June 24: Fox News:  Newly uncovered FBI notes shed light on Comey, Obama,
and Biden's knowledge on the issue
Michael Flynn's lawyers said newly uncovered notes from former FBI official Peter Strzok indicate then-FBI Director James Comey appeared to downplay Flynn's calls during the presidential transition with Russia's ambassador as "legit" during a meeting where then-President Barack Obama and then-Vice President Joe Biden also weighed in.  The handwritten notes, purportedly penned by Strzok, were submitted by Flynn's legal team on Wednesday as part of his court case, after acting U.S. Attorney Michael Sherwin and the U.S. District Court for the District of Columbia shared them with his attorneys.

June 23: The New York Post: Oregon issues face mask order exempting non-whites
Lincoln County, Oregon, has exempted non-white people from a new order requiring that face coverings be worn in public — to prevent racial profiling.  Health officials announced last week residents must wear face coverings in public settings where they may come within six feet of another individual who is not from the same household.  But people of color do not have to follow the new rule if they have "heightened concerns about racial profiling and harassment" over wearing the masks, officials said.

June 23: Fox News: Trump visits part of the 220 miles of new southern border wall
President Trump on Tuesday toured new construction of the wall at the southern border in Arizona, marking more than 200 miles of wall built -- as he seeks to show that he has delivered on what became a central and controversial 2016 election promise.  "So my administration has done more than any administration in history to secure our southern border, our border has never been more secure," he said in remarks at a roundtable in Yuma, Ariz., before he toured the wall.

June 23: United Press International:  Appeals court rules Trump can expand
expedited deportation policies
A federal appeals court on Tuesday ruled that the Trump administration can move forward with a measure to more quickly deport undocumented immigrants although it faces legal challenges.  The District of Columbia U.S. Circuit Court of Appeals reversed a preliminary injunction blocking the administration from expanding the Department of Homeland Security's ability to conduct expedited removals.

June 23: The Daily Caller: DOJ turns over Peter Strzok notes to Michael Flynn's lawyers
The Justice Department on Tuesday provided Michael Flynn's lawyers with handwritten notes that former FBI official Peter Strzok took in early 2017 as part of the investigation into the former national security adviser.  The acting U.S. attorney for the Eastern District of Virginia, told Flynn's lawyers that a federal prosecutor appointed to review the Flynn case discovered the documents.  He said Strzok, the former deputy chief of FBI counterintelligence, compiled the notes likely between Jan. 3 and Jan. 5, 2017, a key date range in the FBI's investigation of Flynn.

June 23: The Washington Times: Trump addresses young conservatives: US
"will never surrender to mob violence"
President Trump told cheering conservative students Tuesday that America "will never surrender to mob violence," warning that Democratic rival Joseph R. Biden would be a caretaker president who would allow leftist activists to control the streets.  "We will never cave to the left wing and the left-wing intolerance," Trump told the crowd of about 3,000 in Phoenix, Arizona, a swing state where Mr. Biden has held a slim lead in polls.  He also repeated his opposition to the push for widespread voting by mail, saying the November contest is shaping up "the most corrupt election in the history of our country."

June 22: United Press International: Amazon driver follows delivery
instructions to a "T" ... Trust me... you'll want to watch this!
A Delaware woman's doorbell camera footage of an  Amazon delivery driver complying with her son's "additional instructions" for delivery -- shouting "abra cadabra" and running away.  Lynn Staffieri said her 13-year-old son, Jacob, ordered a package from Amazon and left a message for the driver in the section of the order that asked, "Do we need additional instructions to find this address?"   

June 22: The Washington Times: Trump to cut 525,000 foreign guest-workers
in order to speed up COVID-19 jobs recovery
President Trump unleashed American workers to begin the coronavirus recovery Monday, announcing a series of immigration moves that will block hundreds of thousands of new foreign workers the rest of this year and push businesses to offer better pay to those who do come in the future.  Defying the Washington consensus that has long supported higher immigration, Mr. Trump said he's betting on American workers to lead the country out of the coronavirus-induced slump.  He issued a proclamation tripling the size of his immigration pause, blocking about 525,000 visas that would have been issued over the next six months and, he hopes, saving those spaces for Americans.

June 22: Fox News: Seattle to "dismantle" the CHOP area after killing where
police were not able to respond
Seattle will move to end the police-free zone known as the "Capitol Hill Organized Protest," or "CHOP," after two recent shootings, one of which was deadly, signaling that a stunning chapter in the city's history could be drawing to a close.  The mayor – who allowed the protestors free rein – said the violence was distracting from changes sought by thousands of peaceful protesters seeking to address alleged racial inequity and police brutality. "CHOP" has been in control of the city's Capitol Hill neighborhood for about two weeks; keeping police from entering.   City leaders have faced mounting criticism -- including from President Trump -- over the protest zone amid reports of violence inside the area and how police couldn't respond to such incidents. The proposed dismantling of the CHOP follows the death of a 19-year-old man.

June 22: The Washington Examiner: NPR makes excuses for violent mob attacking a black motorist
According to police reports a black female motorist on Wednesday struck a man with her car when he tried to block her from escaping a violent mob in Louisville, Kentucky.  Despite the immediate availability of footage showing the woman speed away as she was being physically assaulted by the crowd, despite the fact that one of her assailants even pulled a gun on her, National Public Radio published a report this weekend portraying the motorist as not just a villain, but a "right-wing" extremist.   Although it is notoriously difficult to sue news outlets in the United States for defamation or libel, the Kentucky motorist has a pretty strong case.

June 22: The United Press International: Barr and Berman at odds over
letter led to Berman's dismissal
The day before Attorney General William Barr announced plans to replace Geoffrey Berman as the Manhattan U.S. Attorney, supervisors in Mr. Barr's Justice Department asked Mr. Berman to sign a letter criticizing New York Mayor de Blasio for the city's enforcement of social-distancing rules to block religious gatherings but not following the same enforcement rules for recent street protest.  According to those familiar with what happened, Berman's refusal to sign the letter led to his removal.

June 22: The Daily Caller: South Korea says Bolton's book distorts the facts
South Korea's national security adviser said that former U.S. national security adviser John Bolton's book "substantially distorts facts."   Trump and North Korea's Kim first meeting raised hopes that North Korea would abandon its nuclear program when they met in June 2018 in Singapore, but after Trump rejected Kim's offer to give up a main nuclear facility in exchange for the United States lifting sanctions, the second meeting fell through.  Bolton reportedly describes South Korea's Moon position as "schizophrenic." A top official in Moon's office told reporters, in reference to this comment by Bolton: "Perhaps he is in that condition."

June 21: The New York Post: Barr expects 'developments' in Russia
probe investigation this summer
Attorney General William Barr said he expects there will be "developments" later this summer from the ongoing federal investigation into the origins of the Russia probe. The investigation, being spearheaded by the US Attorney for Connecticut, John Durham had been delayed by COVIDD-19.   Durham will also examine whether the federal government's actions to collect intelligence on the Trump campaign was done legally. 

June 21: The Washington Times: Trump questions Biden's loyalty to blacks
based on earlier marks made when Biden was a US Senator
President Trump. back on the campaign trail, challenged Joseph R. Biden, the presumed Democratic nominee's fidelity to black voters and mental fitness for office.  "America should not take lectures on racial justice from Joe Biden… a man who praised … segregationists, shipped millions of black Americans' jobs overseas and everyone else's jobs too," the president said. "Biden is now smearing as racists tens of millions of people like yourselves. Racial justice begins with  Joe Biden's retirement from public life,"  the President said.

June 21: Fox News: Woman suspected of burning down Wendy's may be Brooks' girlfriend
The woman sought in connection with an arson fire at the Wendy's in Atlanta where Rayshard Brooks was killed may have been his girlfriend, according to police bodycam footage.  Investigators on Saturday identified Natalie White, 29, as a suspect in connection to the fire. The Atlanta Fire Department has obtained an arrest warrant for White for first-degree arson, a felony in Georgia.

June 21: Breitbart News: Report: Surge in shootings in NYC after anti-crime unit disbanded
Reports indicate that shootings in New York City surged last week following the NYPD's decision to disband it plainclothes anti-crime unit.  The New York Post reported the unit was disbanded on Monday, June 15, 2020, and the week ended with "28 [shooting] incidents and 38 victims."  During the same week in 2019 there were only 12 shootings.  An law enforcement source told the Post, "This is what the politicians wanted — no bail, nobody in Rikers, cops not arresting anyone."  The source added, "All those things equal people walking around on the street with guns, shooting each other."

June 21: The Daily Caller: Trump likes to hear both sides but after two
conversations with Bolton started to question what he was hearing
President Donald Trump told the Daily Caller about a series of conversations he had with former National Security Adviser John Bolton that made him realize Bolton was a "dumb maniac who wants to go to war with any anybody that can breathe."   The first was in May 2018 about the situation with North Korea.  The Second centered around Bolton's support for war in Iraq.


June 20: The New York Post:  A terrifying five-day stay inside Seattle's "cop-free-zone"
On June 8, Seattle police frantically loaded what they could from the east precinct onto trucks and cars. Within hours, they boarded up and abandoned the station. That night, left-wing protesters from Black Lives Matter and Antifa declared ownership of the six-block neighborhood in the middle of the Pacific Northwest's largest city. During five undercover days and nights in the zone, journalist Andy Ngo witnessed a continuing experiment in anarchy, chaos and brute-force criminality.  Crime has surged inside and outside the zone. In one case a person was shot and another wounded.  Police Chief Carmen Best has stated that police response times to 911 calls in the surrounding area have "more than tripled" because they are down a station.  "Emergency calls, which often means somebody's being assaulted, sometimes it's a rape, sometimes it's a robbery, but something bad is happening if it's a top priority call, and we're not able to get there," she has said.

June 20: The Washington Times: Trump fires U.S. Attorney, ending standoff
President Trump on Saturday officially fired the U.S. Attorney for the Southern District of New York, where Manhattan is located, Attorney General William P. Barr said in a letter.  But Mr. Trump, speaking to reporters said, "Well, that's up to the attorney general.  That's his department, not my department. But we have a very capable attorney general so that's really up to him. I"m not involved."

June 19: The Washington Times:
Texas LULAC volunteer arrested for voter fraud
Texas authorities have charged a former volunteer for LULAC, a major Hispanic civil and voting rights organization, for voting twice in the Texas March 3 primary.  But the national LULAC president says the woman's votes were an innocent accident, and he said the prosecution is intended to send a signal of voter suppression in the upcoming election.  According to the Howard County Election Administrator Jodi Duck, Isabel Calderon, 46, cast one ballot in person during the state's early-voting period, then showed up and voted again on primary day.  The Texas Rangers were called in to investigate after the local sheriff recused himself, saying he's on the ballot this year. The rangers reported that Calderon confessed, leading to her arrest.  The charges come amid the ongoing debate over voter fraud. 

June 19: Fox News: The Hill's media reporter says Biden's
campaign wants him to only respond to handpicked questions
The Hill's media reporter, Joe Concha, said on Friday that the only time presumptive Democrat Presidential nominee Joe Biden has been challenged by the media was when urban hip-hop host Charlamagne Tha God addressed matters on race relations.  "The bottom line is that Joe Biden is in the business of handpicked questions from handpicked outlets from safe situations," Concha said.  After interview on "The Breakfast Club" did "not go well," the former vice president's campaign staff wants to avoid that from happening again, Concha contends.

June 19: Townhall: Over half of those surveyed believe Biden is in the early stages of dementia
The mainstream media is pretending like it's completely normal for the presumptive Democratic presidential nominee to be hiding out in his basement and refusing to hold a press conference in the months before the presidential election. Obviously, something is wrong. Biden doesn't can't finish his sentences, forgets where he is and who he's taking with, and says bizarre and bewildering things. So what's surprising is that only 55 percent think Biden is likely in the early stages of dementia. It might be true that people don't really pay attention to the candidates until after Labor Day. The poll, conducted by Zogby, found 77% of Republicans, 56% of independents, and 32% of Democrats think Biden is in the early stages of dementia., even think Biden likely has dementia.

June 19: The Hill: McEnany: Trump likes to hire people with countervailing views
When asked about his criticism of former aides and Cabinet officials, White House press secretary Kayleigh McEnany said  that President Trump prefers to hire individuals who have "countervailing viewpoints."  McEnany said she spoke to Trump specifically about his decision to hire John Bolton, his former national security adviser who penned a forthcoming book that offers a scathing picture of the White House. McEnany said Trump told her he likes "to counterbalance my own opinion with individuals who oftentimes have the very opposite opinion of my own."  "He likes the model of having a 'team of rivals' like what we saw in President Lincoln's administration," McEnany continued. "I've been a part of that. I often see rigorous debate and the president uses his gut and makes the best decision how to move forward."

June 19: Fox News: Ben Carson reflects on Juneteenth
Housing and Urban Development Secretary Ben Carson told "Bill Hemmer Reports" Friday that Juneteenth should become a national holiday.  "I think to commemorate the emancipation of slaves is a wonderful thing," he said. "Providing freedom in our country, but also celebrating the hundreds of thousands of people who were of multiple different ethnicities who gave their lives in order that we could achieve that freedom in this country is a very significant, important step."   Juneteenth marks the anniversary of Union Major General Gordon Granger telling Texans of federal orders to end slavery.

June 19: The Washington Free Beacon: TN passes heart-beat abortion bill
Tennessee lawmakers on Friday passed a "heartbeat bill" banning abortion once a fetal heartbeat is detected—a regulation on abortion that has run into legal challenges in several states. The bill makes any abortion performed after a fetal heartbeat is detected a felony. Detection of the fetal heartbeat generally occurs six weeks into a pregnancy, and the bill prohibits abortions based on a fetus's race, sex, or disability.  The bill also creates exceptions for situations where the health of the mother is in danger.

June 18: United Press International: Many Atlanta police fail to show up
for work after officer Brooks is charged
The Atlanta Police Department saw a rise in officer absences early Thursday amid word of a planned walkout to protest criminal charges against two officers in the death of Rayshard Brooks.  Some officers who had reported to work refused to answer calls in certain precincts Wednesday night. The Fulton County DA, who is reportedly in a tight reelection bid, charged officer Garrett Rolfe with murder before the investigation of the incident was completed and failed to take the case to a grand jury, which is the way normally followed. 

June 18: The Washington Times: Trump Tulsa rally grows as the crowd
numbers swell and controversy swirls
President Trump plans to jolt his campaign to life Saturday with musical acts and a second stage that allows him to address an overflow crowd in  Tulsa, Oklahoma, turning his rally comeback into an all-out spectacle as he tries to rebuild the economy and prove that the nation can reopen safely.  Mr. Trump's opponents say he is courting disaster by scheduling a mass gathering during a pandemic, but remained uncharacteristically quiet during the protests and riots over the past few weeks. Oklahoma recorded another single-day high of COVID-19 cases at midweek. 

June 18: The Washington Examiner: China develops weapon to "fry"
the American electric grid
With the help of stolen U.S. technology, China has developed at least three types of high-tech weapons to attack the electric grid and key technologies in a "surprise Pearl Harbor" assault that could send America into a deadly blackout, according to a new analysis.  According to the report from the independent EMP Task Force on National and Homeland Security, China has built a network of satellites, high-speed missiles, and "super-electromagnetic pulse" weapons that could melt down the U.S. electric network, fry critical communications, and stifle aircraft carrier groups.

June 18: Fox News: Seattle Businessman warns city is facing mass
exodus as homeless, drugs, and gangs take over downtown
Seattle business owner Joey Rodolfo told Tucker Carlson Thursday that his city's troubles began long before demonstrators took over six city blocks and birthed the "Capitol Hill Occupied Protest" (CHOP).  "I've lived in Seattle for 38 years, for 38 years," said Rodolfo, an apparel designer and co-founder of the Buki clothing brand. "And [over] the last three years, I've seen the crime rate surge. I've seen homeless, drugs and gangs take over our downtown. Not to mention the destruction of property. It's happening here in Seattle and with no consequences. We have a judicial system here that is a revolving door. So, if you're a store owner or a restaurant in Seattle, these are very, very difficult times."

June 18: The Daily Caller: Trump nominee to the DC Court of Appeals confirmed 51-42
The U.S. Senate confirmed a judge appointed by President Donald Trump, and opposed by Senate Democrats, to serve on the U.S. Court of Appeals in Washington.  Trump nominated Judge Justin Walker in May, and the announcement was met with opposition from Democratic politicians who criticized the newly appointed district judge for his past comments on a Supreme Court ruling upholding ObamaCare.  Walker also granted a temporary restraining order April 11 preventing Louisville Mayor Greg Fischer from blocking Easter drive-in services, and issued a harsh criticism of the city's decision. 

June 17: The Washington Examiner: Trey Gowdy: It's easy to make
accusations if you avoid cross examination.  Bolton wouldn't survive
Congressional testimony
Former Rep. Trey Gowdy slammed former White House national security adviser John Bolton's upcoming book that alleges corruption in the Trump administration.   Gowdy, a former federal prosecutor, said "John Bolton's argument now is that Trump is unfit for office and should be removed, that he's committed high crimes and misdemeanors."  "He had a chance to go before the House, he didn't do it. He had a chance to go before the Senate, he didn't do it. He had a chance to come on your show or some other host's show and answer tough questions, but no; for $29.95, he's going to save you from this existential threat to our republic."
June 17: Fox News: Democrat Sheriff says shooting by Atlanta
police was "completely justified"
Sheriff Alfonzo Williams of Burke County, GA argued Tuesday that Atlanta police officer Garrett Rolfe was "completely justified" in using lethal force against a 27-year-old [Brooks] whose death has sparked a new round of protests.   Brooks had stolen one of the officers' Taser and attempted to fire it in Rolfe's direction as he ran.  "This is the third law enforcement agency I've been head of," Williams, who is black, told CNN. "Every agency I've gone to, I've required every officer who carries a Taser to be Tased with it, so that you understand the incapacitation." For five seconds "…if an officer is hit with that Taser that he, all of his muscles will be locked up and he'll have the inability to move and to respond. And yet he is still responsible for every weapon on his belt."
June 17: The Washington Times: GOP moves to revoke big tech's
"free pass to censor and silence" conservative points of view
Republican lawmakers on Wednesday introduced legislation aimed at fighting what they see as anti-conservative bias on Google and other social media platforms.  Under the legislation Big Tech would be stripped of its liability protections and hit with $5,000 fines for unfair treatment.  The legislation takes aim at Section 230 of the Communications Decency Act, which has long shielded Big Tech from legal liability for material that users post on their platforms.
June 17: Breitbart News: Poll: Voters in ten swing states want less
immigration amid massive unemployment
The majority of voters in ten wing states say they want reductions to overall immigration hile about 30 million Americans remain jobless.  A Zogby Analytics poll reveals overwhelming support President Trump would have among swing state voters if he expanded his executive order to further reduce the inflow of foreign workers to the U.S. labor market.  In Pennsylvania, 63.6 percent of voters said they strongly or somewhat support reductions in the number of new emigrants.  In Florida 6 out of 10, and in Georgia its nearly 60%.  In Michigan, a key state for Trump in the 2020 presidential election, more than 59 percent of voters said they support measures to further reduce immigration. Nearly 60 percent of Arizona voters said the same.
June 17: The Wall Street Journal: China tightens controls over Beijing
because of spread of COVID-19 infections
Chinese officials cancelled hundreds of flights in and out of Beijing, restricted movement and renewed closures of businesses and schools as they battled to contain a fresh wave of new coronavirus cases in the nation's capital.   Health officials on Wednesday reported 31 new confirmed cases in Beijing for Tuesday, bringing the city's six-day total to 137 since the most recent cluster on infections first emerged on June 11th.
June 17: United Press International: India vows to protect its territory as conflict with China heats up
Indian Prime Minister Modi on Wednesday said his country will staunchly defend its territory two days after 20 Indian soldiers died in a hand-to-hand clash with Chinese troops in the Himalaya Mountains.  Modi made the vow while speaking during a televised meeting of India's chief ministers, his first public comments since the violent face-off late Monday in the high, narrow ridges of Himalayan range along the India-China border.
June 16: The Washington Times: Judge refuses to stop Trump rally
An attempt to force social-distancing measures at Saturday's Make America Great Again rally in Oklahoma, or potentially shut down the event as a virus "super-spreader," has failed.  Numerous news outlets reported Tuesday evening that Judge Rebecca Nightingale had rejected the lawsuit in Tulsa County court brought by two local black-history organizations — The Greenwood Cultural Centre and the John Hope Franklin Center for Reconciliation.  The lawsuit had sought a temporary injunction against ASM Global, the company that manages the 19,000-seat BOK Center, according to the lawsuit, "to protect against a substantial, imminent, and deadly risk to the community.
June 16: The New York Post: Cops refuse to respond to store near the occupied area in Seattle
An auto-shop owner on the edge of Seattle's Cop-Free CHAZ says police refused to help as an angry mob stormed his property — forcing his son to pull a gun to protect them. "He's just trying to protect his business," a local reporter said in a livestreamed video as he noted the gun during the attack. No shots appeared to have been fired.  The owner said the near-disaster was proof that the "mayor and governor need to get their act together" over the area.
June 16: Townhall.com: Trump working to bring police and communities together
Donald Trump is taking unprecedented action to strengthen the relationship between law enforcement and their local communities by recognizing the need to invest more energy and resources in police training and supporting efforts to bring the police and communities together.  Meanwhile, Democrat nominee for President Joe Biden—who has been in public office for almost half a century—remains silent, hiding in his basement, as radical-left elements of the Democratic Party attempt to tear the nation apart.
June 16: The Daily Caller: No winners and lots of losers if police are defunded
Abolishing the police would create an ugly world, one in which highwaymen, street gangs, and warlords fill the vacuum where an officer once stood, according to two veteran law enforcement officers and several GOP lawmakers.  "I don't see there being any winners, and the losers will probably be the future generations…"   Sergeants Benevolent Association of New York Vice President Vincent Vallelong, a long-time veteran of the New York City Police Department said.  Many activists have pushed defund the police during demonstrations against the death of George Floyd.
June 16: Fox News:  Mom of black jogger met with Trump says he is very companionate
Wanda Cooper-Jones, the mother Ahmaud Arbery, said President Trump was "very compassionate" when he met with various families behind closed doors on Tuesday, prior to signing an executive order geared toward reforming the country's policing tactics.  Cooper-Jones said "I can say that President Trump was very receiving. He listened and he addressed each and every family accordingly."  Arbery was a black man who was shot dead on Feb. 23 while out jogging in Brunswick, Ga. Trump met with families of other victims of racially-charged violence, as well.
June 15: United Press International: Supreme Court refuses to hear case against shielding police
The U. S. Supreme Court on Monday declined to hear a case seeking to reexamine the legal doctrine of "qualified immunity," which shields police and government officials from some lawsuits.  The police-involved killing of George Floyd on Memorial Day has renewed demands on police reforms, including the "qualified immunity" doctrine.   The doctrine shields government officials performing discretionary functions from lawsuits unless a plaintiff shows that their conduct violated "clearly established statutory or constitutional rights of which a reasonable person would have known," Supreme Court precedent shows.


June 15: Townhall.com: AOC opponent drops bomb
about police shooting in Atlanta
Was the officer justified in shooting his service weapon? According to Antoine Tucker, a former gangster who is now running against Rep. Alexandria Ocasio-Cortez in New York, the officer was absolutely right to shoot Brooks.  "I see brothers and sisters going to the streets in Atlanta and destroying they communities. Then I hear the mayor calling for these officers to be fired and charged without due process. If I was these officers I would sue this mayor because they deserve due process," he explained. "You heard, as the attorneys for this young man said, in Atlanta, a taser isn't considered a dangerous weapon."  "The suspect could have taken that taser, shot that cop in the face with it and once he turned around, incapacitated that officer, taken his service weapon and then killed him with it," the congressional candidate explained.
June 15: The Washington Times: GOP national convention move
sparks economic hopes in Florida
The Sunshine State is relishing what it considers a lucky break in getting to host the 2020 Republican National Convention after North Carolina's governor refused to relax the state's coronavirus shutdown enough to allow a big party for President Trump's reelection run.  The influx of business that the nominating convention is expected to bring to Jacksonville will give the state a big boost at a key moment in its reemergence from its coronavirus-induced economic downturn, officials say.  "National conventions have the potential to create hundreds of direct jobs with an associated tens of millions of dollars in labor income, draw tens of thousands of visitors to the host city and inject $100+ million into the local economy," Erin Isaac, communications director for the Jacksonville 2020 Host Committee said.
June 15: The Daily Caller: Supreme Court overrule lower court decision on pipeline
The Supreme Court ruled Monday that a permit for the Atlantic Coast Pipeline, a proposed natural gas pipeline which would be built under the Appalachian Trail, would be reinstated.  In a 7 to 2 decision, the justices tossed out a decision from a lower court and ruled that the U.S. Forest Service can grant rights-of-way for developers in land within national forests, the Associated Press reported. Energy companies and the Trump administration supported reinstating the permit, while environmental groups opposed it.  The pipeline's construction has already created 17,000 new jobs and $2.7 billion in economic activity, and is projected to generate $28 million in property tax revenue annually.
June 15: Fox News: Uptick in COVID-19 positives have not yet been evident
from Minneapolis protests
Coronavirus testing of more than 1,300 people who protested Minnesota's Twin Cities after the death of George Floyd shows few new positive cases, according to a report.  Health officials across the country have expressed fear the mass protests over the black man's death in police custody that have taken place over the past two weeks could lead to new outbreaks of the virus.  But those fears haven't been borne out in Minneapolis and St. Paul, as of yet, based on early test results, the St. Paul Pioneer Press reported Saturday.
June 14: The Washington Times: Ben Carson: Trump may address racial justice and
civil unrest at Oklahoma rally
President  Trump is considering addressing civil unrest and racial justice issues at his campaign rally in Oklahoma later this week, according to Housing and Urban Development Secretary Ben Carson.  Trump moved a scheduled campaign rally in Oklahoma from June 19 to Saturday, June 20, amid concerns about the rally overlapping with the Juneteenth commemoration of the ending of slavery in America. Trump's critics noted that Tulsa, Oklahoma, was the site of racial violence nearly 100 years ago.
June 14: The Daily Caller: Protestors wreck Wendy's after police shooting in Atlanta
Protesters set fire Saturday to the Wendy's where Rayshard Brooks had been shot and killed by police a day earlier, burning it to the ground.  As has been the case in many cities in recent weeks, what began as a peaceful protest in Atlanta gave way to more violent actions overnight.
June 14: The Washington Examiner: Grenell: Russian investigation had red flags from the beginning
The nation's former acting spy chief says there were "red flags from the beginning" of the Trump-Russia investigation, but concerns that were raised, including about potential flaws with British ex-spy Christopher Steele's dossier, were concealed from the public.   Richard Grenell, who was previously the U.S. ambassador to Germany and the temporary national intelligence chief, told Fox News that problems were raised by numerous officials early on in the Crossfire Hurricane investigation were concealed from the public.
June 13: United Press International: New coronavirus outbreak in China shuts down market
Beijing shut down its biggest fruit and vegetable market Saturday amid a new cluster of COVID-19 cases and declared "wartime emergency mode" in one district.  More than 50 people have tested positive for COVID-19 in the new cluster, including more than 40 who showed no symptoms. The asymptomatic patients have been quarantined.

June 13: The Daily Caller: Trump addresses 2020 West Point graduation
President Trump delivered a commencement address to the graduating cadet class of the U.S. Military Academy at West Point with graduates spaced six feet apart and no parents in attendance.  Trump's remarks focused on the pedigree of West Point graduates, which include American icons like Gen. George Patton, President Dwight D. Eisenhower, Gen. Douglas MacArthur and Gen. Omar Bradley.  Trump also took the opportunity to lay out his goals for the military, saying the army's mission is not to be "the police of the world" or to solve ancient disputes in far away lands.
June 13: The Washington Examiner:
Cuomo: "You win" will deny finding to police departments that don't pass race reforms  | Meanwhile the Vast majority of Americans are opposed to defunding police departments
Democratic New York Gov. Andrew Cuomo said local New York police departments must pass race reforms, or they will lose state funding.   During a press briefing on Saturday, Cuomo told protesters they "won" by protesting over the issues of police violence and systemic racism, introducing a plan in which communities will implement reforms consistent with their constituency's demands.  "We heard you. You're right. We agree with you, protesters," Cuomo said, revealing a plan to "remake" police departments within a period of nine months.
Meanwhile Polling shows that a strong majority of the American public doesn't support calls to defund the police in the wake of George Floyd's death.   An ABC/Ipsos poll released on Friday shows that 64% oppose defunding the police, and 60% opposed reallocating some funds from the police to social and health programs.  The poll showed that 34% of people in the United States do support defunding the police.  The ABC poll is consistent with a Yahoo News poll conducted at the end of May that shows 65% of people don't support defunding the police.
June 13: Fox News: Seattle mayor and police chief at loggerheads over occupied zone
Seattle Mayor Jenny Durkan and police chief Carmen Best are at odds over the city's handling of the self-declared autonomous zone set up by protesters spanning several blocks surrounding a police precinct.  Best has accused the mayor of shirking her responsibilities as an elected official and allowing protesters to oust police officers from a precinct located inside the 6-block radius now deemed a "cop free zone."  Demonstrators inside the perimeter of the "Capitol Hill Autonomous Zone" - or "CHAZ" - have battened down for almost a week decrying police brutality and are  demanding the city abolish the Seattle Police Department.
June 12: United Press International: Administration takes traditional
interpretation for health protections
The Trump administration on Friday rolled back non-discrimination protections for people based on sexual orientation or gender identity.  The move by the Department of Health and Human Services scraps a rule under ObamaCare, saying under the amended rule, the government will take a more narrow interpretation of sex discrimination.   "HHS will enforce [the rule] by returning to the government's interpretation of sex discrimination according to the plain meaning of the word "sex" as male or female and as determined by biology," the department said. That means the additional protections for LGBTQ individuals, including those who are gay, lesbian and/or transgender will no longer apply.
June 12: The Hill: Trump reschedules Tulsa rally to June 20th
President Trump announced he will push back his planned rally for next week by one day to avoid overlapping with Juneteenth.  "We had previously scheduled our #MAGA Rally in Tulsa, Oklahoma, for June 19th – a big deal. Unfortunately, however, this would fall on the Juneteenth Holiday," Trump tweeted late Friday night.  "Many of my African American friends and supporters have reached out to suggest that we consider changing the date out of respect for this Holiday, and in observance of this important occasion and all that it represents," he continued. "I have therefore decided to move our rally to Saturday, June 20th, in order to honor their requests."
June 12: Townhall.com: Trump got Dems to defend criminals and an anarchist mob
Whether he meant to do it or not, Trump has gotten two prominent Democrats, a governor of a state and a mayor of a large city, to defend what can only be described as the unlawful actions of a violent, anarchist mob. They hate Trump so much and are so fervent in their desire to oppose his every utterance they have gladly defended the indefensible.  All Trump had to do was make a common-sense condemnation of anarchy, theft, violence, and hooliganism in Seattle and Democrats reflexively attack him and defend the criminals.
June 12: The New York Post: Three in NYC indicted for throwing Molotov cocktails at police
An upstate woman and two Brooklyn lawyers were indicted Friday on federal explosives and arson charges for allegedly tossing Molotov cocktails at NYPD vehicles during George Floyd protests in New York City.  Samantha Shader, 27, of Catskill, is accused of hurling the makeshift explosive at an NYPD vehicle occupied by four police officers.  Around the same time, Brooklyn lawyers Urooj Rahman, 31, and Colinford Mattis, 32, were accused of tossing their own Molotov cocktail at an unoccupied police vehicle in Brooklyn during a separate attack.  All three face life in prison on the seven-count indictments, charging them with the use of explosives, arson, use of explosives to commit a felony, arson conspiracy, use of a destructive device, civil disorder, and making or possessing a destructive device.  The lawyers also could face disbarment.
June 12: The Washington Times: Appeals court hears oral arguments on Michael Flynn case
A federal appeals court Friday heard oral arguments on whether to dismiss the charges against Michael Fynn, President Trump's first national security adviser, in a case that tests the power of the Justice Department to abandon politically charged prosecutions.  "This has already become a public spectacle and, I think, becoming more of a public spectacle," said Jeffrey B. Wall, principal deputy attorney general for the department.  "It threatens to harm not just the integrity of the Executive [Branch] and its prosecutorial discretion and its deliberative processes but I think it threatens to harm the Judiciary [Branch] as well," he continued.
June 12: Fox News: 300,000 apply for 19,000 tickets at Trump's first rally since COVID-19 pandemic
Around 300,000 people have applied for tickets to President Trump's first scheduled rally since states began efforts to resume activities following weeks of lockdown measures amid the  coronavirus pandemic, according to the campaign.  Trump campaign manager Brad Parscale on Friday tweeted the figure for the June 19 event at the 19,000-seat BOK Center in Tulsa, Oklahoma. 
June 11: Judicial Watch: JW asks DC mayor permission to paint
"Because No One Is Above the Law" on a Capitol Hill street
Judicial Watch announced today that it has asked District of Columbia Mayor Muriel Bowser and DC Attorney General Karl Racine for permission to paint "Because No One is Above the Law!" on a Capitol Hill street. The Judicial Watch message would be the identical size and coloring of the DC Government's "Black Lives Matter" political message on 16th Street NW.  On June 5, 2020, after days of protests and riots in Washington, DC, Mayor Bowser authorized the painting of "Black Lives Matter" on 16th Street NW, and later allowed "Defund the Police" to be painted alongside it. "Mayor Bowser made a decision to turn DC streets into a forum for public expression. Judicial Watch seeks equal access to use this new forum to educate Americans by painting our organization's motto and motivation, 'Because No One Is Above the Law!' on a Capitol Hill street," said Judicial Watch.
June 11: The Daily Caller: Washington's Governor: unaware of what's happening in Seattle
Democratic Washington Gov. Jay Inslee said he was not aware of Seattle rioters seizing a portion of the city during a press conference Wednesday.  "Well that's news to me. So I'll have to reserve any comment about that — I have not heard anything about that," Inslee told a reporter when asked about the situation.  A large group of demonstrators took control of an area around Seattle's abandoned East Police Precinct. Activists fenced in the six-block span of the city and named it the Capitol Hill Autonomous Zone,  A banner over the zone reads "This space is now property of the people," Newsweek reported.  Some are reportedly extorting both citizens and business in the area.
June 11: The Washington Examiner: Federal Judge fast tracks hearing on
voter ID and absentee voting in Wisconsin
A federal judge wants to hear arguments whether the rules for Wisconsin's next election should change between now and Election Day.   U.S. District Judge William Conley on Wednesday ordered a hearing on a lawsuit over voter ID requirements, absentee ballots, and the timeline for returning those ballots by the end of June.   The question before the federal court is whether voters need to show proof of ID when casting an absentee ballot, and how they can request those ballots in the mail or electronically. The lawsuit also wants to end the requirement that ballots have a witness signature.
June 11: The Washington Times:  Trump announces four part plan to improve
policing nationwide and improving conditions for minority communities
President  Trump announced a broad four-part plan on Thursday to improve policing nationwide and improve conditions in minority communities, a vision he called "force with compassion" that won't allow liberals to defund police departments.    Trump said he'll sign an executive order soon requiring police departments to meet high professional standards for the use of force, including tactics for de-escalating confrontations. It will also include pilot programs to allow social workers to join certain law enforcement officers "so they can work together," he said.  "That means force, but force with compassion," the president said. "We're not defunding police. If anything, we're going the other route. We're going to make sure our police are well-trained."
June 10: The Wall Street Journal: FED projects no rate increases until 2022
Federal Reserve officials projected no plans to raise interest rates through 2022 and said they were committed to providing more support to the economy following shutdowns to contain the coronavirus.  FED Chairman Powell said the central bank was committed "to do whatever we can for as long as it takes" to support the economy following the shock caused by the pandemic.  He spoke at a virtual new conference after the FED's policy meeting.
June 10: The Washington Times:  Trump considering
executive order on national policing issues
President  Trump could take action on race and policing by issuing an executive order,  White House press secretary Kayleigh McEnany said Wednesday.  The president could announce action on Thursday when he travels to Dallas, Texas, to meet with faith leaders, law enforcement officials and small-business owners. The White House said the president will "discuss solutions to historic economic, health and justice disparities in American communities."  "We do believe that we'll have proactive policy prescriptions, whether that means legislation or an executive order," Ms. McEnany said. She didn't elaborate, saying the president is still weighing options.


June 10: New York Post: Prominent Democrat: Biden should stay in his basement
for the remainder of the campaign!
Terry McAuliffe, prominent Democrat and Joe Biden supporter, told a meeting of Virginia Democrats that the former vice president should remain in his Delaware home's basement for the duration of the 2020 presidential campaign, according to a report on Wednesday.  McAuliffe, who was Hillary Clinton's campaign chairman in 2016, spoke via Zoom to a videoconference of the Norfolk City Democratic Committee.  "People say all the time, 'Oh, we got to get the vice president out of the basement,'" McAuliffe said. "He's fine in the basement."  The former Democratic governor of Virginia told the group that Biden, the presumptive Democratic presidential nominee, will find it difficult to find a platform to compete with President Trump, who can use the White House's bully pulpit.
June 10: Townhall.com: Pastor Darrell Scott
blasts effort to defund police
Speaking during a House Judiciary Committee hearing on Capitol Hill Wednesday morning, Ohio Pastor Darrell Scott blasted proposals from leftist Democrats to defund and disband police departments across the country.  "I want to begin by saying the prospect of defunding and or dismantling police departments across the country is one of the most unwise, irresponsible proposals by American politicians in our nation's history and makes absolutely no sense at all," Scott said. "I believe it is nothing short of the politicizing of current social events in the effort to garner votes during this election season. I also believe that it's a reactionary measure that can and will result in short and long-term damage to American society, particularly in our inner-city and urban communities."
June 10: The Washington Free Beacon: Uber's offer to delivery free food
from Black-owned businesses raises possible legal issues
New meal-delivery company promotions benefiting black-owned restaurants are raising legal questions about whether gig economy giants can offer race-based benefits.  The programs, announced by Uber Eats and Postmates following the death of George Floyd at the hands of police, waive delivery fees for black-owned restaurants but make no such benefit available to other minority or white-owned businesses.  One capital standby, the Old Ebbitt Grill, appeared on a curated list of black-owned restaurants as of Tuesday afternoon. Clyde's Restaurant Group, which owns Old Ebbitt, is operated by a team of executives, none of whom are black. A spokesperson for the Clyde's Restaurant Group told the Free Beacon that they asked Postmates to remove the restaurant, which was added without their input.
June 9: Fox News: AG Barr: Familiar names among
those included in the USA Durham probe
Attorney General Bill Barr told Fox News' Bret Baier that Americans will be able to recognize "some" of the names under investigation as part of U.S. Attorney (USA) John Durham's ongoing probe into federal surveillance abuses -- and that he is "very troubled" by "what has been called to" his attention so far.  Barr asserted that despite the coronavirus pandemic, the Durham team "has been working very aggressively to move forward," and that there "will be public disclosure" of his findings. "I think we're concerned about the motive force behind the very aggressive investigation that was launched into the Trump campaign…  …with a very thin, slender reed as a basis for it," Barr told Baier.
June 9: Rasmussen: Most people reject defunding police departments
Despite the high-profile anti-police protests nationwide, few Americans believe there are too many cops in this country, and most reject the push by the political left to defund police departments.   The latest Rasmussen Reports national telephone and online survey finds that 27% of American Adults favor reducing the police budget in the community where they live. Despite the growing political movement to defund police departments and channel that money into more social services, 59% are opposed to cutting their local police budget, while 14% are undecided.
June 9: The Daily Caller: Senator Scott (R-SC) to
take lead on GOP police reform legislation
Sen. Tim Scott (R-SC) [image left] laid out what will be in the Republicans' police reform legislation being drafted in response to the nationwide protests over the death of George Floyd. Majority Leader McConell (R-KY) appointed Scott to lead the effort with an effort to pass the bill by July 4th.  Scott said they will be looking at "no knock" warrants and will include anti-lynching provisions.  It will also address death or serious bodily injury reporting.  "Right now, about 40% of the police departments are reporting to the DOJ through the FBI. We'd like to see all the agencies report," Scott said.  He also wants a significant increase the use of body cameras by police.
June 9: United Press International:  Chinese Coronavirus may have
started as early as August 2019
The COVID-19 outbreak may have started in Wuhan, China, in August 2019 -- at least three months earlier than previously thought -- according to an analysis by researcher at Harvard University.  The findings, based on satellite images of city streets and search engine use among local residents, show a marked increase in traffic outside five hospitals in Wuhan from late August to December.   This coincides with a spike in online searches for symptoms like "cough" and "diarrhea," the researchers said.  Of course, Chinese officials have refuted the findings, calling them "ridiculous."
June 9: Townhall.com: NYC police union slams the media
New York City Police Benevolent Association President Mike O'Meara slammed the media for attempting to vilify all police officers in the wake of the tragic killing of George Floyd in Minneapolis. According to O'Meara, the NYPD has over 375 million interactions with the public each year, the majority of which have "been overwhelmingly positive."  Despite that, the police union president said the media's projection of what's taking place in the United States is different than what's actually occurring.

June 9: Defense News: Trump calls for three new ice breakers by 2029
U.S. President Trump ordered a review of the country's requirements for icebreaking capabilities in the Arctic and Antarctic, with the goal of getting a fleet in place by 2029, according to a memo released Tuesday.  The memo was directed at the Defense, State, Commerce and Homeland Security departments, as well as the Office of Management and Budget.   Much of it directs work already in progress – including building a fleet of at least three heavy icebreakers– but says the remaining ships not under contract should be reviewed for what can be done to maximize their utility in the frozen poles.

June 8: Fox News: AG Barr: Straight talk about riots and protests
In an interview Attorney General Bill Barr harshly criticized efforts to defund police departments, arguing that some jurisdictions had gone too far in their COVID-19 restrictions. He also defended the U.S. Park Police's decision to clear Lafayette Park  a move that came, Barr told Bret Baier, after the attorney general himself was targeted with rocks and other projectiles.  Determining who is behind the protests has become a top priority for the DOJ.  "There appear to be sources of funding, and we are looking into the sources of funding," Barr said. "And, you know, there is clearly some high degree of organization involved at some of these events and coordinated tactics that we're seeing. And we're looking into that as well. And some of it relates to an Antifa. Some of it relates to groups that act very much like Antifa. As I said, there's a witches' brew of extremist groups that are trying to exploit this situation on all sides."

June 8: The Daily Caller: Bush: Reports that I won't be voting
for Trump are completely made up
Former President George W. Bush's spokesman vehemently denied an article from the New York Times that alleged he would not be voting for President Donald Trump in 2020.  The NYT reported Saturday that a slew of high-profile Republicans do not plan supporting Trump's reelection. Included in that list was Bush, and the NYT cited "people familiar with their thinking."  "This is completely made up," Bush's spokesman Freddy Ford said in an email according the Texas Tribune. "He is retired from presidential politics and has not indicated how he will vote."

June 8: United Press International: North Korea to sever communication
lines with the south after leaflets dropped by balloons
North Korea said it will sever all communications with South Korea after days of angry rhetoric over leaflets being sent balloons and dropped across its border by defectors, state-run media reported on Tuesday morning.  "We have reached a conclusion that there is no need to sit face to face with the [S]outh Korean authorities and there is no issue to discuss with them, as they have only aroused our dismay," the report said.

June 8: The New York Post: WHO: Very rare that asymptomatic
COVID-19 individuals transmit the virus to others
People who have the coronavirus but don't display symptoms aren't driving the spread of the pandemic, World Health Organization officials said Monday.  "From the data we have, it still seems to be rare that an asymptomatic person actually transmits onward to a secondary individual," Dr. Maria Van Kerkhove, head of WHO's emerging diseases and zoonosis unit, said at a news briefing in Geneva, CNBC reported.  "It's very rare."

June 7: The Washington Examiner: SCOTUS to decide homosexual and transgender case
The Supreme Court this month will deliver a divisive ruling about whether or not Title VII of the Civil Rights Act protects gay and transgender people from employment discrimination.  No matter how the court rules, the decision is expected to heighten partisan disagreements. If the court does not extend protections, it will draw the ire of homosexual and transgender activists. If it rules for them, outcry is expected from religious groups worried that their ability to hire people who align with their beliefs will be restricted.  One of the attorneys in the case said "Redefining sex to mean gender identity creates chaos, is unfair to women and girls, and puts employers in difficult situations.  Title VII and other civil rights laws, like Title IX, are in place to protect equal opportunities for women; changing sex to mean gender identity undermines that."

June 7: The Washington Times: NYC Mayor changes his mind and decides to
"defund" the city's police force
New York City Mayor Bill de Blasio knuckled under to protesters Sunday and promised to cut funding to "New York's Finest." Just two days after speaking skeptically of demands by Black Lives Matter and other protesters to defund the police, Mr. de Blasio agreed to start doing so, though he gave few specifics.   "We're committed to seeing a shift of funding to youth services, to social services, that will happen literally in the course of the next three weeks, but I'm not going to go into detail because it is subject to negotiation and we want to figure out what makes sense," the mayor said, Sunday.

June 6: Yahoo News: Cop in Louisville protected by strangers
Officer Galen Hinshaw was alone and on his way to help fellow officers who were being attacked by protestors.  In the process he was surrounded by angry protestors himself. As things grew tense five protestors, all strangers to each other, gathered around him and linked arms to protect the officer. "A human was in trouble, and right is right," said Ricky McClellan, a factory worker from Old Louisville who was locked onto others to protect Hinshaw. "Those guys, they saved me," officer Hinshaw said. "There's no doubt about it. And I am beyond thankful. If it wasn't for them intervening and recognizing that I was in trouble and helping me, I am sure that I would've been assaulted in one form or another."

June 6: The Daily Caller: Sec. of State: D-Day, Nazi Germany and Communist China
On June 6, 1944, Allied troops stormed the beaches of Normandy, France in the greatest amphibious invasion in history.  Secretary of State Mike Pompeo said in an interview that understanding the lessons from D-Day is important in today's global environment.  The reason D-Day happened is because Germany seized France. Currently, China is tightening its grip on Hong Kong as it seeks to become the single, greatest world power, which, in a way, is comparable to Germany's actions during the Second World War, Pompeo said.  "The promises that the Chinese Communist Party had made in their treaty with the United Kingdom that they broke when they made the decision to deny Hong Kong people the freedoms that they had been promised were similar to some of the promises that were broken back in the days when Germany advanced against the rest of Europe," he said.

June 6: The Washington Examiner: Chinese nationals sentenced for
illegal photos at Naval Air Station
Three Communist Chinese nationals were sentenced to prison on Friday after pleading guilty to taking illegal photographs of military installations at the U.S. Naval Air Station in Key West, Florida.   The Justice Department said Lyuyou Liao , 27, was sentenced to one year in prison for illegally entering the military installation on December 26, 2019, and taking photographs and video footage of property on the Truman Annex of the station, including nabbing images of vital military equipment.   In a separate case, Jielun Zhang , 25, and Yuhao Wang , 24, were sentenced to one year and nine months in prison respectively for illegally entering the station just over a week later on Jan. 4, and taking photographs of military and naval infrastructure located on the Sigsbee Park and Trumbo Point Annexes.

June 6: United Press International: Brazil considering following U.S. lead: Leaving WHO
Brazil has threatened to leave the World Health Organization over alleged bias as the South American country recorded the second-highest number of cases of the coronavirus.  Brazilian President Bolsonaro announced the threat weeks after U.S. President Trump cut U.S. ties with WHO.   Bolsonaro said the specialized agency of the United Nations in charge of international public health has "ideological" bias.  "I'm telling you right now, the United States left the WHO, and we're studying that, in the future," the far-right leader told reporters. "Either the WHO works without ideological bias, or we leave, too."

June 6: The Washington Times: China and India at each other's throats
As if the world didn't have enough problems, the two most populous and nuclear armed countries — India and Communist China — are now at each other's throats in a long-running border cold war that has suddenly become very hot.  The high-altitude row over a long-disputed Himalayan border territory has literally featured fist fights between Indian and Chinese troops in recent weeks. It's also prompted growing unease in Washington.  Analysts say major escalation between the nuclear-armed rivals appears unlikely at the moment, although the prospect of a widening or slow-burning clash between China's communist leaders and the world's most populous democracy in India is very real.

June 5: The United Press International: U.S. adds 2.5 million jobs
as economic turnaround looks likely
The U.S. economy gained 2.5 million jobs during the month of May, the Labor Department said Friday in its monthly jobs report -- a major surprise to economists and the first labor increase since February.  The report also said U.S. unemployment declined to 13.3 percent. The figure represents the largest month-to-month increase since the 1930s.  Many analysts expected between 7-8 million job losses in May, following a record decline of more than 20 million in April.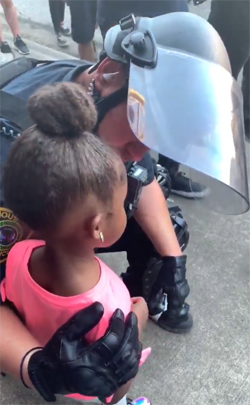 June 5: Fox News: 5 year old girl to a Houston police officer
"Are you going to shoot us?" Read his great response
"During the protest in Houston yesterday one of the police officers noticed my daughter crying," Simeon Bartee the 5 year old's father said. "She asked him 'Are you gonna shoot us?' he (the officer) got down on one knee wrapped his arm around her and responded."  "We're here to protect you,  we're not here to hurt you at all. OK? You can protest, you can party -- you can do whatever you want. Just don't break nothing."  
See the Tweet (Now this is an example of community policing at its finest!)
June 5: The Washington Times: 57 Buffalo cops resign after two are suspended
The entire Buffalo Police Department Emergency Response Team resigned Friday to support two police officers who pushed an elderly man to the ground in a viral video, according to a report from a local news outlet.  A total of 57 officers quit the team as a sign of support for the officers involved in the video who were suspended without pay.  The 57 are still officers on the police force.  The Buffalo police officers' union told members they would no longer be covering legal fees related to the protests and are upset with the officers' suspension.  "Our position is these officers were simply following orders from Deputy Police Commissioner Joseph Gramaglia to clear the square," Buffalo Police Benevolent Association President John Evans said.  "It doesn't specify clear the square of men, 50 and under.  They were simply doing their job."
June 5: The Washington Free Beacon: Gov. Whitmer dodges COVID-19 oversight probe
Michigan's Democratic governor Gretchen Whitmer refused an invitation to testify before a special oversight committee created by the state legislature to examine her widely criticized handling of the coronavirus pandemic.  Republican state lawmakers on Thursday requested that Whitmer testify before the Joint Select Committee on the COVID-19 Pandemic, which was created after the governor awarded a lucrative coronavirus-related contract to a major Democratic consulting firm that had previously worked for her campaign. Whitmer said she would not testify during a Friday press conference, citing the legislature's ongoing lawsuit over her use of executive authority throughout the pandemic.
June 5: The Daily Caller: Texas sheriff reacts to the "defund police" movement
Tarrant County Sheriff Bill Waybourn said in an interview "It would be total chaos  everybody would be on their own. I would say at that point the Second Amendment would become the most important amendment in the world."  Waybourn talked about how the riots and the anti-police sentiment is affecting morale among law enforcement and that it is likely that it will impact recruitment efforts. 
June 4: United Press International:  Appeals Court overturns lower
federal court ruling on absentee voting in Texas
A three-judge panel of the U.S. 5th Circuit Court of Appeals extended its order Thursday blocking a lower court's sweeping ruling that would have allowed all Texas voters to qualify to vote by mail during the coronavirus pandemic.  With early voting for the primary runoff elections starting later this month -- and the Texas Supreme Court also blocking expanded voting by mail in a separate case --Thursday's ruling effectively eliminates the possibility that Texas voters will be able to legally request mail-in ballots solely because they fear a lack of immunity to the new coronavirus will put them at risk if they vote in person.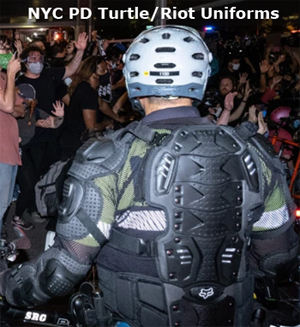 June 4: The New York Post: NYCPD Motormen
break out "Tuttle" (riot) gear
NYCPD cops deployed to protests are suiting up in motocross gear they're calling "turtle uniforms" to protect against objects hurled at them as riots grip the city, a police source said Thursday.  The elite crowd control bike cops began wearing the uniforms — which are made with a hard-plastic shell and cushioning along the spine and elbows — Monday after officers were injured during protests, the source said.  Designed based on BMX bike gear and hockey equipment shields cops from objects hurled at speeds up to 40 mph along with falls and other injuries.  "It was created so you don't break anything if you fall, or if you get with a projectile to absorb the blow," the police source said.
June 4: The Washington Examiner: NY Judge: NYCPD can detain curfew violators for more than 24 hours
A New York state judge ruled NYPD officers can now keep any peaceful protester arrested for violating the New York City curfew for over 24 hours.   The ruling also extends to keeping criminal looters detained for more than 24 hours, given the outbreak of rioting that took place over several nights.  "It's a crisis within a crisis," Judge James Burke said. "All writs are denied: Brooklyn, Bronx, and Manhattan."
June 4: The Washington Times: Campaign ad touts Trump economic credentials
A pro-Trump super PAC is launching a $7.5 million ad blitz aimed at Joseph R. Biden's "disastrous" economic policies in the battleground states of Pennsylvania, Michigan and Wisconsin.  "For decades, Joe Biden was willing to sacrifice hundreds of thousands of blue-collar jobs to appease China and the promise of globalists," said Brian Walsh, president of America First Action PAC. "Now, as our nation begins its recovery, Americans cannot afford Joe Biden's failures, lack of economic experience and pandering to the radical left."  He said Mr. Trump is the only candidate "who knows how to create jobs in this country and can lead America's economic recovery."
June 4: Fox News: Cops walkout on Louisville Democrat Mayor
Dozens of police officers in Louisville, KY walked out on the city's Democratic mayor, Greg Fischer, as a form of protest, as the Fraternal Order of Police president explained that the officers felt "disrespected" as they struggle to keep the peace after more than a week of fiery protests.  A video shows Fischer standing in the middle of the room at a roll call before the start of a 12-hour shift, as streams of Louisville Metro Police Department (LMPD) officers and detectives silently file out.  FOP President Ryan Nichols said the move was an unplanned reaction to Fischer's address.  "They feel completely unsupported and disrespected by this administration," Nichols said. "They feel whatever he was going to say would have been nothing more than lip service, and he does not care about them at all."
June 4: The Daily Caller: Never forget June 4: Tens of thousands defy ban in Hong Kong
Tens of thousands of demonstrators in Hong Kong defied law enforcement by gathering for a mass vigil Thursday in order to commemorate the victims of the 1989 Tiananmen Square crackdown in Beijing.  The gathering took place in the city's Victoria Park, where demonstrators shouted anti-communist slogans and lit candles in remembrance of the pro-democracy protestors, mostly students, who were killed by the Chinese military June 4, 1989 during demonstrations in Tiananmen Square, BBC News reported.  Hong Kong police banned the vigil Monday, citing health concerns due to the coronavirus, although growing tensions between China and Hong Kong have cast a shadow on the future of the vigil, which has been held annually for 30 years.
June 3: The Daily Caller:  Attorneys accused of firebombing
donated to Sander's campaign
Two attorneys accused of firebombing a New York City Police Department (NYPD) vehicle both donated to Vermont Sen. Bernie Sanders's 2020 presidential campaign, Federal Election Commission (FEC) records show. Urooj Rahman and Colinford Mattis, the two attorneys, "were arrested in a van early Saturday morning while allegedly in possession of explosive device components shortly after Rahman hurled a Molotov cocktail at an NYPD vehicle before fleeing with Mattis," the U.S. Attorney's Office for the Eastern District of New York announced. 
June 3: The Washington Free Beacon: Former Obama Intelligence official bails
out NYC attorneys who fire bombed NYC police vehicle
Former Obama official, Salmah Rizvi, told a judge the alleged firebomber is her "best friend." Rizvi helped secure the release of fellow lawyer Urooj Rahman by agreeing to be a suretor for her bail. That means Rizvi is liable for the full cost of the $250,000 bail if Rahman fails to obey the court's orders.  Rahman was released to home confinement over the objections of government attorneys after her arrest for throwing a lit Molotov cocktail through the window of an NYPD vehicle. Evidence presented by prosecutors included images of Rahman holding a Molotov cocktail in the passenger seat of a van that was later found to be full of the necessary materials for making the explosive devices.  U.S. District Judge Margo Brodie acknowledged the strong evidence against Rahman, who was also accused of distributing the incendiary devices to other rioters.
June 3: Fox News: Tables turned on Dems re: voter suppression and absentee voting
Judicial Watch President told a House Committee "If you want to be sure your vote is counted, the best way to do it is to show up and vote. And to hear inflammatory rhetoric that you're choosing your life over your vote is just not appropriate and it causes people to be nervous about voting. That is as suppressive as anything I've heard, telling people they're going to die or likely to die if they vote."  Countering Democrats' insistence that people need to vote by mail so they can exercise their right while avoiding COVID-19, Fitton reference the mass protests that have been taking place across the country and the lack of social distancing, despite stay-at-home orders still being in place in many areas.  Fitton argued against the idea of sending absentee ballots to all voters, citing a lack of security and the likelihood that ballots sent to registered voters who have moved or died could be filled out by others.
June 2: The Washington Times: Law and Order President; Trump threatens action
President  Trump has shifted almost overnight from a candidate focused non-stop on economic recovery to promoting himself once again as the law-and-order president. With his calling out of more federal forces against rioters across the U.S. this week, Trump is a counting on a suddenly more muscular law-and-order theme to help propel him to victory against a Democratic Party perennially criticized for being soft on crime.   The president said Tuesday on Twitter that New York City "was lost to the looters, thugs, Radical Left, and all others forms of Lowlife & Scum" in rioting Monday night and early Tuesday.

June 2: The Galveston County Daily News: Unintended consequences? Dems
actions could eliminate absentee ballots for the elderly in Texas
If the decision of a Federal District Court judge stands it could mean that the courts are taking on the role of legislating and changing the Texas Election Code.  The judge's found unconstitutional  the statute that allows people 65 or older to vote by mail.  If a planned appeal fails to overturned that running it could mean disenfranchising and eliminating the choice many elderly Texas voters to vote by mail.

June 2: The Daily Caller:  Ted Cruz  "We will not be cowed by terrorists"
Sen. Ted Cruz (R-TX) said Tuesday he is happy President Donald Trump walked out of the White House and across the street to St. John's Church, which was set on fire by protesters Sunday night.  "I am glad the president, yesterday, led by going to St. John's Church, a historic church in our capital city that was firebombed by terrorists. It was important for him to be there and say 'we will not be cowed by terrorists.'" 
June 2: Fox News: Former Antifa member reveals what they are really about
Gabriel Nadales, a former member of the radical Antifa organization told "The Ingraham Angle" Monday that the group's claim to be "anti-fascist" is a "false narrative."  "Antifa pretends to be about fighting fascism, but then they define fascism as basically anything that does not conform with their radical leftist agenda; which goes back to exactly what President Trump is doing," he said.  "I'm incredibly happy that he's finally declared Antifa a domestic terrorist organization because that really helps fight against this false narrative that Antifa is fighting anything but for their failed leftist socialist ideology."
June 2: United Press International: Trump wants to include South Korea
and Australia in the G7 meeting; China reacts
China warned against excluding Beijing from major world organizations, following reports U.S. President  Trump could be seeking to expand the Group of Seven summit to include South Korea, Australia, India and Russia.  The G7 is an intergovernmental economic organization of advanced, mostly Western economies: Canada, France, Germany, Italy, Japan, Britain and the United States. In 2018, the seven nations represented nearly 60 percent of global net wealth, and more than 32 percent of global GDP, as measured by purchasing power parity.  Meanwhile, China has continued to flex its economic muscles overseas. 
June 1: The Daily Caller: Biden campaign won't say if it has addressed
staffers who donated to pay bail for jailed rioters/looters
More than a dozen staffers working for Vice President Joe Biden's presidential campaign have donated to pay bail for those arrested while protesting and rioting against George Floyd's death, but the campaign didn't say whether they're going to do anything about it.  When asked whether the Biden campaign would do anything about its staffers making the donations, they did not respond.  The campaign appears to have been supportive of the effort, however, with spokesman Andrew Bates told Reuters Biden opposes cash bail as a general policy. President Donald Trump's campaign  responded "It's disturbing that Joe Biden's team would financially support the mayhem that is hurting innocent people and destroying what good people spent their lives building."
June 1: The Washington Times: Gun sales up 80% in May
Gun sales surged in May as shops reported an uptick in interest and demand amid national protests after the Memorial Day killing of George Floyd and as the COVID-19 pandemic wreaked havoc and stoke fear across the country.  "Almost, you couldn't even keep up with it. That's how crazy it was," said Joe Hawk, owner of Guns & Roses in New Jersey. "After Memorial Day, it spiked again. It just went crazy again."  Small Arms Analytics & Forecasting, a private research firm, estimated that more than 1.7 million guns were sold in May, an 80% jump from May 2019.
June 1: The Washington Free Beacon: Biden promotes police protocol decried by gun-safety experts
Presumptive Democratic nominee Joe Biden said Monday police should be trained to shoot at the legs of assailants, which police training experts decry as impractical and dangerous.   Biden said, if elected, he would try to form a police oversight committee in the first 100 days of his presidency. Jason Johnson, president of the Law Enforcement Legal Defense Fund, said shooting a gun at somebody is and should always be considered use of deadly force in the law enforcement community, and the decision to use deadly force must be justified. He said the scenario Biden articulated, where a suspect runs at a police officer with a knife, should certainly be considered an example of a deadly threat and police are trained to use the most effective means to stop an assailant before they can do harm. Officers are "not trained to shoot to kill. They're trained to shoot to stop," he said.
June 1: United Press International: Thousands of protestors arrested  across the nation
President Trump is scheduled to meet today with state governors, law enforcement officials and national security advisers.  The White House said the meeting is focused on "keeping American communities safe."  He will also meet with Attorney General Bill Barr.  On Sunday night the Secret Service moved Trump to a secure bunker beneath the White House as a security precaution after riots broke out in Lafayette Park across the street from the residence.   Thousands of demonstrators were arrested over the weekend after clashing with police and defying curfews in numerous major U.S. cities, including Los Angeles, New York City, Miami, Chicago, Seattle and Salt Lake City.   The Washington, D.C. headquarters of the AFL CIO labor union was targeted and set afire, officials said.    New York City police said they arrested more than 200 people over the weekend as looters targeted stores like Bloomingdale's and Gucci.  Police say that anarchist groups from outside the city are to blame for the destruction and that "Crossing State lines to incite violence is a federal crime!"   Trump tweeted "Liberal governors and mayors must get much tougher…"   Mayor de Blasio, whose daughter was among 800 arrested in NYC, declined to impose a curfew, praised police for showing restraint.  "The protesters are human beings. They need to be treated with tremendous respect," he said.

May 31: Fox News: Big City Dems who imposed strict lockdown rules let rioters flout the rules
Many Democrats in charge of big cities -- including several who once insisted on strict quarantine measures -- line up to champion the nationwide mass demonstrations over the in-custody death of George Floyd forgetting social distancing.  
- New York Gov. Andrew Cuomo lashed out at lockdown protesters saying "you have no right to jeopardize my health ... and my children's …," and threatened to levy $1,000 fines on violators.   - New York City Mayor Bill de Blasio told the Jewish community that "the time for warnings has passed" after he said a funeral gathering had violated social distancing guidelines.
- Minneapolis Mayor Jacob Frey warned that in-person worship services would be a "public-health disaster," disregarding constituents' concerns that he was violating their First Amendment rights. Now these Democrat politicians are supporting protestors, even freely distributing masks to rioters, and in one case allowing them to burn down a police station.
May 31: The Washington Examiner: Local leadership in Minnesota
"almost invisible" former senator says
A former Minnesota senator, who was previously mayor of St. Paul, is speaking out against local leadership for being "invisible" during the unrest prompted by the death of George Floyd.   "What's tragic has been the response in the community, the looting, the breaking, the violence, the destruction, the police station being burnt down with the mayor giving the order to abandon the station," Norm Coleman said on Sunday. "Absolutely stunning. We've had two mayors that have been relatively silent and absent."   Many of the state and local Democrat leaders initially blamed destructive activity on out-of-state residents but later walked back the comments when it became clear that the majority of those arrested were from Minnesota.
May 31: Fox News: Get out of Jail Free Card: Biden staffers donate to "Minnesota Freedom Fund"
At least 13 members of Joe Biden's campaign staff have made donations to a group that helps Minneapolis protesters get out of jail on bail, according to a report. The staffers posted on Twitter that they contributed money to a group called the Minnesota Freedom Fund, which opposes the practice of making people who are arrested pay money to avoid pre-trial imprisonment, Reuters reported.  Biden himself opposes cash bail, comparing it to a "modern day debtors prison," campaign spokesman Andrew Bates told Reuters.  Following the death of George Floyd in Minneapolis on Monday, the Minnesota Freedom Fund raised about $20 million over four days, Forbes reported. [Related Story]
May 31: The Daily Caller: Amid riots, "Antifa" to be designated a terrorist organization
The United States will officially designate Antifa as a terrorist organization, President Donald Trump announced on Sunday.  The move comes following days of protests, riots, looting and violence across the country in response to the police-custody death of George Floyd. Reports from Minneapolis, Minnesota suggest large numbers of Antifa members are acting as catalysts for violence and looting.  "Antifa" is short for "anti-fascists," and the group has been responsible for violence at dozens of protests in recent years.
May 31: United Press International: U.S. SpaceX astronauts enter the international space station
Two NASA astronauts safely boarded the International Space Station on Sunday, capping a successful flight of SpaceX's historic Crew Dragon Demo 2 mission.  The capsule connected to the station at 10:16 a.m. EDT, slightly ahead of the scheduled time as the space station passed above the northern China-Mongolia border.
May 30: The Washington Times: U.S. makes history with commercial launch of astronauts from U.S. soil
A SpaceX mission roared into the heavens as President Trump looked on Saturday, marking the first time a commercial space company has sent American astronauts into orbit.  Mr. Trump and Vice President Mike Pence watched from a rooftop two miles away as the Falcon 9 rocket launched the Crew Dragon capsule from the Kennedy Space Center in Florida to ferry astronauts Bob Behnken and Doug Hurley to the International Space Station. The trip should take about 19 hours.  The first manned mission from U.S. soil in nine years offered a dazzling, the-future-is-here moment amid a deadly coronavirus pandemic that's upended normal life.
May 30: The New York Post: AG Barr says he will prosecute
rioter-protestors under 1960 anti-riot law
Attorney General Bill Barr will go after violent demonstrators with a 1968 law meant to quell rioting. "We must have law and order on our streets and in our communities,"  Barr said at DOJ headquarters in Washington, DC. "It is a federal crime to cross state lines or to use interstate facilities to incite or participate in violent rioting," he said. "We will enforce these laws."  He  accused "anarchistic and far-left extremists, using Antifa-like tactics" for the unrest that has spread to cities throughout the nation since Monday, in the wake of the killing of George Floyd while in the custody of Minneapolis police.  "Groups of outside radicals and agitators are exploiting the situation to pursue their own separate and violent agenda," Barr said.
May 30: The Washington Examiner: Minnesota Businessman: The people will
rise up over officials' inaction
An exasperated man who claimed to own a shopping center in downtown Minneapolis blasted officials who he believes failed to protect businesses during a week of protests that have escalated into back-to-back nights of looting and fires.  Speaking to a KARE Minneapolis reporter, the unnamed man said citizens will rise up, if the government won't, and quell the protests, which have, in some cases, become riots over the past 24 hours.  "What I want to tell people right now is that if the governor and the mayor are not going to take care of this problem, people will," he said. "People will uprise over this."
May 30: Fox Business: China weaponizes its currency allowing it to slide as
tensions rise over Hong Kong
China has quietly allowed its currency to slide to its weakest level against the U.S. dollar in over a decade as the Trump administration ratcheted up attacks on Beijing over its crackdown on Hong Kong and handling of the COVID-19 outbreak.  Unlike the dollar, China's currency is not backed by a promise to pay interest on its debt. The so-called renminbi, or RMB, which has slid 2.47 percent versus the U.S. dollar year-to-date, on Wednesday fell to less than 7.17 per dollar, its weakest since 2008. That pushed the currency below the levels that last summer caused the Trump administration to label Beijing a currency manipulator. The label was removed in January as the two sides ironed out an initial trade agreement.
[See related OpEd by Peter Zeihan "The Beginning of the End of China (pdf)]
May 29: Fox News: Minneapolis Cop charged with murder
and manslaughter
Derek Chauvin, the Minneapolis police officer seen kneeling on George Floyd's neck until he could not breathe, has been charged with 3rd degree murder and manslaughter, Hennepin County Attorney Mike Freeman announced Friday afternoon. Freeman said the evidence against Chauvin includes video from a bystander's cell phone, body camera footage as well as statements from witnesses and a preliminary report from the medical examiner. "We felt in our professional judgment that it was time to charge and we have done it," Freeman said.
May 29: The Washington Times: Former Intelligence Chief says Dems lied about Trump
Former acting chief of U.S. intelligence Richard Grenell this week launched a pointed defense of his short, but activist tenure, accusing one Democrat of repeatedly lying to America about President Trump and Russia collusion.   Grenell served only three months as acting director of national intelligence and declassified a number of documents while revamping headquarters staff. The documents included a list of Obama officials, including Joe Biden, who requested that the name of retired Army Lt. Gen. Michael Flynn be revealed in secret intelligence reports they were reading.  He has also prepared for release the call transcripts of Flynn and Russian ambassador Sergey Kislyak––the evidence used by the FBI to gain a criminal conviction.
May 29: The Jerusalem Post: Fourth Iranian tanker arrives in Venezuela but it may be the last
The once prime producer of petroleum in South America is now relying on imports from Iran.  The Venezuelan navy said it escorted a fourth fuel tanker from Iran through its waters on Thursday, while the United States called the shipments to the gasoline-starved country a distraction from problems facing President Nicolas Maduro.  The oil industries of Iran and Venezuela are both under US sanctions. Iran is providing its fellow OPEC member up to 1.53 million barrels of gasoline and refining components to help ease an acute shortage, the result of the near-complete breakdown in its refining network as well as the sanctions.
May 29: The Washington Examiner: The last state (NJ) to restrict in-person
church services may allow them by mid-June
New Jersey is the only state where in-person church services are still banned, and it's unclear when Gov. Phil Murphy will lift those restrictions.  During a Friday afternoon press conference, the governor said he hopes to allow churches to resume in-person services on June 12 but that it all depends on the trends of "health metrics."  Murphy is the sole holdout after President Trump threatened last week to "override" the governors still prohibiting services and Attorney General William Barr's Justice Department sent several letters asking for the same. California, Minnesota, and Vermont lifted restrictions over the weekend. Washington Gov. Jay Inslee announced an end to the ban on Wednesday.
May 28: The New York Post: AG Barr appoints special prosecutor to review
2016 election and unmasking
Attorney General William Barr has appointed a US Attorney in Texas to review the "unmasking" process that took place at the time of the 2016 presidential election, his spokeswoman announced.  DOJ confirmed the new probe Wednesday evening, saying that Barr had tapped John Bash, US Attorney for the Western District of Texas, after he had "determined that certain aspects of 'unmasking' needed to be reviewed."  A DOJ spokesperson said US Attorney for Connecticut John Durham's investigation into the Russia probe, which Barr ordered in last May, had been looking into "unmasking," but the attorney general wanted that process to be addressed separately.
May 28: The Washington Examiner: Pelosi pulls FISA bill from House consideration
House Democrats pulled a federal surveillance measure from the floor after opposition from both parties doomed passage of the bill.  Majority Leader Steny Hoyer blamed President Trump for calling on Republicans to vote against it, but Democrats control the majority in the House, and they, too, were unable to garner enough votes to clear the measure for Trump's signature.
May 28: Fox News: Oil Tankers headed for Venezuela diverted midst sanction threat
Two Liberian-flagged, Greek-owned ships that "were en route to Venezuela carrying Iranian fuel, scrapped their deliveries after the U.S. threatened sanctions," a senior U.S. official told Fox News.  The Greek-owned ships would have been unable to access international banking and maritime insurance had they carried out the shipment.  According to experts, the oil shipments were only expected to satisfy Venezuelan demand for a couple of weeks. "Iranian gas cannot prevent the inevitable: a democratic transition that restores prosperity to Venezuela," the State Department spokesperson said.
May 28: United Press International: China passes controversial national
security bill that threatens Hong Kong freedom
China's legislature on Thursday approved a highly controversial national security law that critics say will deteriorate the rights and freedoms of the semi-autonomous territory of Hong Kong.  China's rubber-stamp National People's Congress passed the resolution with a near-unanimous 2,878 votes to criminalize acts of secession, sedition, subversion, terrorism and conspiring with foreign actors to threaten national security in Hong Kong. Only one lawmaker voted against the bill while six abstained.
May 28: The Daily Caller: Trump signs executive order on social media
Donald Trump signed an executive order Thursday calling for social media giants to lose their shield against liability if they engage in censorship.  If a social media platform censors content on its platform then, under the executive order, it would lose its immunity to legal liability for content posted on it.  The executive order calls for changing Section 230, the law governing internet platforms.  Ultimately, however, it is up to Congress to change the law.
May 27: The Texas Tribune: Texas Supreme Court decision on Ballots by Mail
The Texas Supreme Court ruled Wednesday that a lack of immunity to the new coronavirus does not qualify a voter to apply for a mail-in ballot.  In the latest twist in the legal fight over voting by mail during the coronavirus pandemic, the court agreed with Texas' Attorney General that the risk of contracting the virus alonedoes not meet the state's qualifications for voting by mail.  "We agree with the State that a voter's lack of immunity to COVID-19, without more, is not a 'disability' as defined by the Election Code," the court wrote.  The Texas election code defines disability as a "sickness or physical condition" that prevents a voter from appearing in person without the risk of "injuring the voter's health."
May 27: The Washington Times: Biden's reliance on COVID-19 governors may be backfire
Joseph R. Biden is hitching his political fortunes to Democratic governors from battleground states as he looks to resurrect the "blue wall."  Mr. Biden is betting the lovefest with the governors will pay off even as they face stiffening scrutiny from Trump, his allies and even some in-state Democrats over the pace of their reopening plans.  Charlie Gerow, a Pennsylvania-based Republican Party strategist, said the polls have failed to capture the intensity of voters' anger over the length of the lockdowns.  "The bottom line is people are pissed," he said. "The folks who are showing up at these rallies represent the overwhelming majority of Pennsylvanians, Michiganders and Wisconsinites and represent the salt of the earth and heart and soul of America.  "These are regular folks who want to go back to work," he said. "Joe Biden hitching his wagon to Tom Wolf doesn't help him one little bit."
May 27: The Washington Free Beacon: Internal emails contradict Michigan
Governor's story on selection of COVID-19 contractor
Michigan governor Gretchen Whitmer's (D) office gave the "green light" on a coronavirus-related contract awarded to a Democratic consulting firm that worked for her campaign, according to internal emails obtained by Bridge Magazine.  The documents contradict the Whitmer administration's public statements denying any knowledge of the lucrative deal, as well as the Democrat's attempt to blame the state health department when controversy over the contact tracing contract erupted. The emails also reveal that agency officials expressed doubts about the purpose of the contract and raised questions about the players enlisted to carry out the collection of sensitive health data from Michigan residents.
May 27: Breitbart News: Twitter's fact check of Trump doesn't
disclose company partnered with groups pushing mail-in ballots
Twitter for the first time put a fact-check label on tweets from President Trump, using the controversial tactic on messages in which the president complained there is "no way" that "mail-in ballots will be anything less than substantially fraudulent."  Twitter did not disclose in its so-called fact-check it is partners with two groups financed by leftist donors that engage in voter participation efforts, including drives pushing mail-in balloting.
May 27: Fox News: DOJ urges Trump to veto House FISA legislation
Just hours before the House was scheduled to take up the reauthorization of FISA the Justice Department issued a statement saying the legislation goes too far and would weaken national security tools.  House GOP Leader Kevin McCarthy (R-CA) asked Speaker Nancy Pelosi to pull the legislation from the floor citing several reasons that Democrats should delay the legislation, including new developments surrounding Obama administration officials using FISA authorities to launch the Russia probe into Trump campaign officials and associates. Meanwhile, Senator Marco Rubio (R-FL) said the FISA process isn't problematic, it was abused.
May 26: The Daily Caller: What Acting DNI did to remake the intelligence community
Acting Director of National Intelligence, Richard Grenell, will hand over the reins to John Ratcliffe this week.  Though he only led the Office of the Director of National Intelligence (ODNI) for just three months, U.S. intelligence officials has said Grenell prioritized dozens of initiatives that restructured the intelligence community and Trump it gave him the opportunity break up the deep state.  While in office he both eliminate leaks from within the intelligence community and reduce interagency overlap in order to refocus ODNI resources.  He saved an estimated $19 million through the elimination and consolidation of government and contractor resources.
May 26: The Federalist: It's not the Administration politicizing the
Fynn Case, it's Judge Sullivan
Not quite two weeks ago, Judge Emmet Sullivan threw open the doors of his federal courtroom to the swamp when he invited third parties to pontificate on the propriety of the Department of Justice's motion to dismiss the criminal charges against Michael Flynn. The next day Sullivan went further: He appointed a former federal judge, John Gleeson, as an amicus curiae, or friend of the court, to argue that the government's motion to dismiss should be denied. 
May 26: The UK Telegraph: UK must grant Hong Kong people asylum
as Communist China imposes its will
Simon Cheng Man-kit, a former UK consulate worker tortured by Chinese secret police, is urging the British government to give Hong Kong people the opportunity to come to the UK as Beijing imposes a national security law in the territory.  The law – set to be approved Thursday by China's parliament, bypassing Hong Kong's legislature – will criminalize separatism, subversion, terrorism and acts of foreign interference, and paves the way for the ruling Communist Party to quash dissent under the guise of national security. "It's a disaster – I cannot imagine any other scenario worse than this," Mr. Cheng told The Telegraph, who fears the torture he endured in China last year over Britain's role in Hong Kong, will soon become commonplace. "Once they 'legalize' it, then it will become undeniable reality."
May 25: United Press International: Taiwan vows "necessary assistance"
to Hong Kong residents
China has announced it is planning to pass legislation that would criminalize treason, secession, sedition and subversion against the central Beijing government and permit Beijing security forces to perform national security duties.   This prompted massive demonstrations in Hong Kong over the weekend.  In response Taiwan's President Tsi Ing-wen has promised "necessary assistance" to the people of Hong Kong saying the people of Taiwan stand with those of Hong Kong in their struggle against China's introduction of a new security law.  "If the law is implemented, the core values of Hong Kong's democratic freedom and judicial independence will be severely eroded," she said, stating it "seriously threatens Hong Kong."
May 25: The New York Post: Michigan Governor in hot water over
husband flouts her shutdown guidelines
The governor of Michigan — whose strict coronavirus lockdown policies have caused infamous revolts in the state — is taking heat after her husband appeared to have flouted some of her own advice about holiday travel. Whitmer started to relax some of the restrictions in upstate but told people in more populated areas not to travel there, saying "if you don't live in these regions … think long and hard before you take a trip into them."    Three days later, Whitmer's husband called a boat works near their vacation property asking them to get the Whitmer's boat in the water before the Memorial Day Weekend. 
May 25: The Washington Times: Biden leaves his home for first time in two months
Presumptive Democratic presidential nominee Joe Biden made his first public appearance in two months on Memorial Day to honor members of the military who died defending the nation.  He and his wife placed a wreath at a veterans park near their home in Delaware. 
May 25: The Daily Caller: COVID-19 uncovered 90% reliance on China for medications
The coronavirus pandemic has revealed a troubling truth: Global supply chains simply aren't reliable. We are learning this in real-time as we see the Chinese threaten to cut off imports for critical medicines and pharmaceuticals. That has put millions of lives at risk since 90% of the generic medications that Americans use each day are imported. Worse,90% of the ingredients for generic drugs used to treat coronavirus infections are sourced from China.  In response, Washington must encourage the reshoring of pharmaceutical production as well as the development of countermeasures for future threats, including critical drug treatments, vaccines, medical devices, and personal protective equipment.
May 25: Fox News: A parcular twist; Federal Judge hires defense attorney for Flynn appeal
U.S. District Court Judge Emmett G. Sullivan has taken the unusual step of hiring an attorney to represent him as an appeals court reviews his decision not to immediately grant the Justice Department's (DOJ's) request to dismiss its case against former National Security Adviser  Michael Flynn.  Meanwhile, the D.C. Court of Appeals has given Sullivan until June 1st to justify his reasons for not dismissing the case.
May 24: Fox News: Former AG Whitaker on judge's order in Flynn Case
Former Acting Attorney General Matthew Whitaker reacted  to Judge Sullivan's position on the Flynn Case during an interview on "Sunday Morning Futures."  Whitaker said "There is no discretion of Judge [Emmet] Sullivan to not dismiss the case once the Department of Justice has decided to no longer pursue those charges… …I think ultimately it's going to be a strange proceeding when the appeals court gets their filing from the judge, trying to defend his actions."  He went on to say that "the case will be dismissed and the charges will no longer be held against him [Flynn]."
May 24: The Daily Caller: National Security Advisor O'Brien; Wouldn't be
surprised if China stole the COVID-19 vaccine once developed
White House National Security Adviser Robert O'Brien on Sunday suggested that the Chinese Community Party would very likely try to steal American developments on a coronavirus vaccine.   O'Brien predicted that the United States would be the first country to develop a vaccine for the novel coronavirus. But he added that the Chinese government has been working diligently to steal the U.S. government's coronavirus vaccine research.  He noted "Look, they've [China] got a many, many year history of stealing American intellectual property and knocking off American technology…"
May 24: United Press International: Weather could delay manned space launch
Weather has become a major concern for the planned launch of two American astronauts Wednesday from Kennedy Space Center in Florida in the first crewed mission from U.S. soil in nine years.  If delayed, the next possible launch window would be Saturday.
May 23: United Press International: Trump to attend US manned space launch
President Donald Trump is scheduled to travel to Florida on Wednesday to watch as SpaceXlaunches its Falcon 9 rocket and Crew Dragon spacecraft into orbit. If the launch goes according to plan, it will be the first spaceflight launched from U.S. soil with American astronauts on board since 2011. On Friday NASA and Space X completed a flight readiness review to launch NASA astronauts Robert Behnken and Douglas Hurley from Kennedy Space Center in Merritt Island in Florida.  Wednesday's trip to Florida will be Trump's first not directly related to the coronavirus pandemic in two months. He's largely kept to the White House since March, when he declared a national emergency. Vice President Pence is also expected to attend.
May 23: Breitbart News: Poll: More trust Trump than Biden for economic recovery
When it comes to the nation's economy a greater share of registered voters trust Trump to handle the economic recovery. 43% of registered voters surveyed, verses 40% for Biden, trust Trump to handle the economic recovery moving forward.  Similarly, 44 percent trust Trump on the economy in a general sense, compared to 41 percent for Biden. Forty-four percent of registered voters also trust the president on the issue of jobs — a four percent advantage over Biden.
May 23: The Washington Times: Rebel Dems in battleground states could be good news for Trump
Democratic lawmakers in battleground states have unexpectedly broken ranks in recent weeks to heap praise on President Trump, stirring up turmoil in their party.  Republicans see those rebels as a good sign for Trump and down-ballot races on Election Day in November.  Democrats in Pennsylvania, Georgia and Michigan suffered pushback for their pro-Trump rhetoric within the last month. The phenomenon is all the more startling because those are Trump-won states that Democrats hope to take back in 2020.
May 23: The Washington Examiner: Biden "no tax increase" pledge doesn't
line up with his campaign tax plan
Joe Biden's vow Friday not to increase taxes on anyone earning less than $400,000 a year conflicts with his platform, according to outside tax experts.  "The tax policy proposals that he has already put forth would violate that promise because he is already proposing to raise taxes on households that earn less than $400,000," said Kyle Pomerleau, a resident fellow at the American Enterprise Institute.  Pomerleau said the plan Biden released late last year includes tax increases that kick-in at roughly $160,000 since it caps itemized deductions at 28% for all taxpayers. That provision means filers in higher tax brackets suffer a tax increase.
May 23: The Washington Free Beacon: COVID-19 changed first time gum buyer's politics
Scott Kane went 38 years without ever touching a gun. In March, fearful of the harassment his wife and child experienced over their Asian ancestry, Kane found himself in a California gun shop. His March 11 purchase of a 9mm would have been the end of the story, were it not for a political standoff over shutdown orders and background checks. Now Kane, a former supporter of gun-control measures and AR-15 bans, is frustrated by the arduous process that has denied his family a sense of security. The pandemic has made the soft-spoken software engineer an unlikely Second Amendment supporter.  "This has taken me, a law-abiding citizen with nary an unpaid parking ticket to my name, over a month," he said. "Meanwhile Joe Bad Guy has probably purchased several fully automatic AK-47s out of the back of an El Camino in a shady part of town with zero background checks."
May 22: The Washington Times: DOJ strikes a blow for federalism in a COVID-19 case
The Trump administration struck a blow for federalism Friday, filing papers in court telling Illinois Gov. J.B. Pritzker that the fight over his coronavirus shutdown order belongs before a state judge, not in federal court. The case was being heard by a state judge until Thursday, when the Governor's lawyers had it moved to a federal district court. State Rep. Darren Bailey, who filed the lawsuit, accused the governor of creating arguments to try to find a friendlier judge than the state courtroom where the matter was being argued.  DOJ weighed in saying the matter should be decided inside the state.  The lawsuit says the powers the governor is using only last for 30 days, and he's extended beyond that timeframe. 
May 22: Fox News: Nevada – A case study in voter fraud to swing an election
Democrats in Clark County, NV successfully got a new voting plan that was  "shrouded in mystery," according to the Las Vegas Review-Journal. Officials would now increase the number of in-person voting locations in the Democrat-heavy region (thereby increasing the Democrat verses Republican turnout), mail ballots to all "voters" (even those that the state officials believed may have moved) and allow "field registrars," commonly known as ballot harvesters, to pick mail ballots up. Weeks before the election, live ballots were piling up at apartment complexes. Others were found in the trash.  A postal worker reported finding thousands of ballots just "sitting in crates with no additional safeguards." Some, she said were ballots for residents who "had all moved or died."   A local Las Vegas resident said she found dozens of ballots pinned to community bulletin boards. "From Friday to Monday, I could have voted 20 times," she said.
May 22: The Daily Caller: N.J. voter fraud as 3,000 votes not counted in local election
In a New Jersey city council election that was decided by just a handful of votes, over 3,000 ballots were reportedly set aside, raising questions about the legitimacy of the election. In addition to the roughly 800 ballots that were discounted due to allegations of fraud from the US Postal Service, another 2,300 ballots were not counted, according to the Paterson Press. In total, 19% of all the ballots cast were disqualified.
May 22: The Independent Journal Report: Biden: If You Can't Decide on Voting for
Trump or Me, 'Then You Ain't Black'
Former Vice President  Joe Biden sparked some controversy over remarks about race during an interview on the New York City radio show "The Breakfast Club."  Biden's team had called the interview over but the Democrat added as a parting message, "If you have a problem figuring out whether me or Trump, then you ain't black."  He added, "Take a look at my record, man. I extended the Voting Rights Act 25 years. I have a record that is second-to-none. The NAACP's endorsed me every time I've run. I mean, come on. Take a look at the record."

May 22: The Washington Examiner: U.S. overtures to Taiwan may escalate tensions with China
President Trump's administration plans to sell 18 torpedoes to Taiwan at a time when worsening tensions between the United States and China raise the specter of conflict over the island's political sovereignty.   "Torpedoes are real important if you want to sink ships," the Hudson Institute's Seth Cropsey said. "One of Taiwan's large military issues at the tactical level is the possibility of a [Chinese military] blockade that would cut the Taiwanese off from importing and exporting. So, the increased ability to sink ships that you get with torpedoes makes sense."
May 21: The Washington Times: Appeals Court: Judge Sullivan; respond to
request to remove case on Michael Flynn
A federal appeals court Thursday ordered the judge overseeing the case against former national security adviser Michael Flynn to respond to a petition from Flynn's legal team seeking to remove him from the case.  In a one-page order, the D.C. Circuit Court of Appeals ordered U.S. District Judge Emmet Sullivan to "file a response addressing the petitioners' request."  Judge Sullivan has 10 days to address Flynn's legal brief. The court also invited the Justice Department to weigh in on whether Judge Sullivan should be reassigned.
May 21: The Washington Free Beacon: Call for DOJ investigation of Planned
Parenthood fraudulently taking funding
Sen. Tom Cotton (R-AR) led a group of lawmakers calling on the Department of Justice to investigate Planned Parenthood over allegations the abortion provider fraudulently obtained federal loans.  "Planned Parenthood fraudulently taking tens of millions of dollars that were intended to help keep those small businesses and nonprofit organizations afloat cannot stand and must be addressed," a letter sent by the lawmakers to Attorney General William Barr stated.  The letter points to a statement from Planned Parenthood Action Fund, the group's political action committee, criticizing the CARES act for excluding Planned Parenthood as evidence that the group fraudulently obtained the loans.
May 21: The Daily Caller: Terrorist attack against second Naval Air Station
The Federal Bureau of Investigation (FBI) has determined that a Thursday morning shooting at the Naval Air Station in Corpus Christi is terrorism related, according to ABC News.  The FBI also announced that "there may be a second person of interest at large in the community."  A U.S. defense official told CNN that the suspect attempted to rush the security gate with a vehicle and security deployed a barrier to stop the vehicle. The suspect exited the vehicle and began to fire, prompting security forces to return fire.  The attacker was killed, a security guard was injured.
May 21: New York Post: Trump in Michigan; Thanks Ford workers for ventilators
President Trump traveled to Michigan Thursday to visit a Ford plant converted to making ventilators, and thanked employees for their efforts to help save Americans' lives during   coronavirus pandemic.  "With your help, not a single American has been denied a ventilator, not a single one," Trump said during the campaign-style appearance at the Rawsonville plant in 2020 battleground Michigan.
May 21: The Washington Examiner: How secure are your mail in ballots?
S.C. ballots end up in Maryland!
"Maryland election officials found a bunch of ballots from South Carolina mixed in with their shipments to Baltimore," Baltimore Sun reporter Emily Opilo tweeted. "They use the same vendor. I just talked to an elections official in SC, and he says they're ready to dump the company."  Maryland and South Carolina use the same vendor.   South Carolina officials say this isn't the first time they've had trouble with SeaChange, the Minnesota-based printer they use. 
May 21: The Washington Times: Democratic Party official admits to stuffing ballot boxes
A Philadelphia elections judge and Democratic Party official pleaded guilty Thursday to stuffing ballot boxes in favor of Democratic candidates in elections in 2014, 2015 and 2016, while collecting thousands of dollars in cash to make the changes.  Prosecutors hinted at an even broader conspiracy by an unnamed "political consultant" who charged his clients "consulting fees" then used some of the money to pay off multiple Election Board officials.  The U.S. Attorney's Office in Philadelphia won Thursday's guilty plea from a Democratic Party ward chairman who served as a judge of elections, responsible for overseeing a polling place during voting.
May 20: The Daily Caller: Audio tapes of Biden and the $1 billion payoff leaked
A Ukrainian lawmaker with ties to the Russian KGB released on Tuesday excerpts of recorded phone calls reportedly made between former Vice President Joe Biden and former Ukrainian President Petro Poroshenko in 2016 discussing the ouster of a Ukrainian prosecutor in return for a $1 billion loan guarantee.  The lawmaker, Andriy Derkach, said during a press conference Tuesday that Poroshenko recorded his phone calls with Biden and that he received the tapes from investigative journalists.
May 20: Fox News: Senate passes bill to remove rouge Chinese firms from the US stock exchanges
The U.S. Senate has passed a bill boosting oversight of companies based in China and other nations that could lead to their removal from American stock exchanges. The vote on the measure, introduced more than a year ago by Sens. John Kennedy, R-La., and Chris Van Hollen, D-Md., comes as Congress and the Trump administration seek ways to punish Beijing for its initial handling of the COVID-19 pandemic. The legislation says that if the Public Company Accounting Oversight Board -- a nonprofit established by Congress after the WorldCom and Enron scandals of the early 2000s -- is denied access to a foreign stock issuer's books for three years, the Securities and Exchange Commission will prohibit trading in the shares on U.S. exchanges.
May 19: The Hill: Texas Supreme Court: Not everybody can
vote by mail; Federal Judge: Not so; expect an appeal
A federal judge on Tuesday ruled that all Texans can apply to vote by mail during the coronavirus pandemic, after the state's Supreme Court, in separate litigation, blocked the expansion of absentee voting last week.  U.S. District Judge Fred Biery sided with the Texas Democratic Party, saying that to follow existing state absentee voting rules, in which you have to be 65 or older or have a stated disability, would put unconstitutional and illegal burdens on Texas voters. The case is likely to be appealed.
Editor's Note: The Federal Judge's decision opens the door to possible vote harvesting and fraud while also meaning that Texas counties may not be able to get results from the November election for days and in some cases a week or more.
May 19: Breitbart News: COVID-19 Blue state governors not listening to cries from their constituents
Several blue state governors have refused to listen to the cries of residents begging them to reopen their respective states, instead issuing threats against localities and business owners who fail to comply with their draconian lockdown orders — threats that have, largely, failed to come to fruition.  One prime example is Governor Wolfe (D-PA) who threatened to withhold federal stimulus discretionary funds from counties defying his order and also issued a threat to business owners directly, warning that they could lose their health department certificate, liquor license, and certificate of occupancy, at the hands of the state.
May 19: News One Now: Michigan business defies Governor's order opens for business
Erik Kiilunen, who owns two Michigan businesses impacted by the economy-crushing shutdown, is calling on others to defy the governor's stay-at-home order that is set to expire May 28.   Gov. Whitmer, a first-term Democrat, angered the public weeks ago for her oddball lockdown orders that forced businesses to rope off paint aisles and garden seeds. More recently, the governor suggested the lockdown would continue because of massive protests that filled Lansing, and she ignored the GOP-led legislature that appears to have the legal authority to grant or deny Whitmer's extension to the stay-at-home orders.
May 19: Fox News: Secretary of Treasury: People offered a job by
previous employers are not eligible for unemployment benefits
Treasury Secretary  Steven Mnuchin warned on Tuesday that individuals who reject an offer from their company to return to work after being laid off due to coronavirus are no longer considered eligible to receive federal unemployment benefits.  Mnuchin said that companies receiving benefits under the Payroll Protection Program who are inviting employees who had been laid off or furloughed due to the coronavirus crisis to return to work should plan to notify state unemployment offices of their offers.  If the employee, in turn, turns down the job, they would then be considered ineligible to receive expanded unemployment benefits.
May 19: The Washington Times: Trump signs order to deregulate in
order to speed up the COVID-19 economic recovery
President Trump ordered a sweeping emergency deregulation effort Tuesday to jump-start the economic recovery as states reopen from coronavirus shutdowns, and he directed federal agencies not to "over-enforce" regulations against small businesses that are working to bounce back.  Mr. Trump signed an executive order, in his first Cabinet meeting since the crisis hit, that directs federal agencies to rapidly use all emergency and "good cause" authorities to find red tape that can be rescinded or temporarily waived to promote job creation and economic growth. In addition to cutting regulations, the president's order instructs Cabinet agencies to "consider exercising appropriate temporary enforcement discretion" for the good of the recovery.
May 19: United Press International: Trump threatens to permanently cut WHO
funding if changes aren't made
President  Trump late Monday threatened to permanently pull funding from the World Health Organization  (WHO) unless it commits to "major substantive improvements within the next 30 days." The threat is an escalation to a hold Trump put on U.S. funding to the United Nations' health agency last month so as to conduct a review of the WHO's response to the coronavirus outbreak. Trump has accused it of "mismanaging and covering up" the spread of the disease.
May 18: Fox News: California illegally opens COVID-19 funding to immigrants
Undocumented immigrants in California are now allowed to apply for the state's coronavirus relief program that will pay $500 per person and up to $1,000 per household, according to reports Monday.  Sacramento has freed up $75 million for the fund, which could help about 150,000 who may be facing severe hardships during the pandemic. The LA Times said the Center for American Liberty is suing the state, claiming that the money is "not a slush fund for the governor to spend as he sees fit." It hopes to block the package.  Opponents of the measure insist that any taxpayer funds should be directed to U.S. citizens who are also struggling amid the pandemic.
May 18: The Washington Times: Obama inserts self in ways unthinkable for
former Presidents while Biden sits on the sidelines
Forget about Joe Biden. The race for The White House in 2020 looks more and more like a contest between President Trump and his predecessor Barack Obama.  The former president has returned to politics with a vengeance, inserting himself in ways previously unthinkable for those who have occupied the Oval Office and calling his successor a lawless incompetent.  Meanwhile, former Speaker of the House Newt Gingrich said on Fox News that he believes Obama is inserting himself, partially at least, because of fear and anxiety over the recent revelations of his knowledge, and perhaps involvement in, the 2016 investigation of the Trump campaign.
May 18: The Washington Free Beacon: Lawmakers urge Trump to sanction
Chinese officials over COVID-19
In a letter to the State and Treasury Departments sent on Monday, Congressmen Jim Banks (R-IN)   Lance Gooden (R-TX),  and Dan Crenshaw (R-TX) urged the Trump administration to sanction at least ten top Communist Party officials over their efforts to conceal information about the coronavirus and for imprisoning those who sought to provide the world with the information. They encouraged Treasury to exercise its authority under the Magnitsky Act, which permits the U.S. government to punish global human-rights abusers.
May 18: United Press International: Maryland bar shows
ingenuity; "Bumper Tables" for social distancing
A Maryland restaurant preparing to reopen amid the ongoing  COVID-19 pandemic unveiled its fleet of wheeled bumper tables designed to enforce social distancing.  The Fish Tales bar and grill in Ocean City, which is currently open only for take-out service, shared a videoshowing employees testing out the social distancing tables the eatery plans to use once the governor's office gives the go-ahead for dining rooms to reopen.
May 18: The Daily Caller: How the FBI used "News Hooks" to further its investigation into Trump
A common theme that has emerged from the FBI's Crossfire Hurricane investigation is bureau officials' use of media reports and leaks to advance aspects of the bureau's probe of the Trump campaign's possible ties to Russia.  In at least five instances, FBI officials capitalized on the so-called news hooks and leaks as justification to open up new areas of the investigation.  James Comey, Andrew McCabe and Peter Strzok all took advantage of media reports to push the investigation forward. And in one case, Comey orchestrated a leak of his own to spur the appointment of a special counsel.
May 17: The New York Post: Two shot on Bolivar Peninsula (TX)
during Jeep Weekend
Two people were shot when a fight broke out at "Jeep Weekend," an unofficial gathering for enthusiasts of the carmaker in Texas, according to a report.  Galveston County Sheriff's Office said the shooting occurred just before midnight Saturday when two women became involved in a fight.  Two men then jumped into the fray, and one of them opened fire, striking two people, according to the report.  Both of the victims were airlifted to local hospitals, where they underwent surgery.  Their condition is not known.  Authorities are searching for the suspects.
May 17: The Washington Times: Confrontation with China increases as U.S.
COVID-19 death toll climbs
President Trump is stepping up his confrontations with communist China as the U.S. death toll mounts from the COVID-19 pandemic, blocking trade with Chinese tech giant Huawei, halting some U.S. retirement investments in China and floating the suggestion that Beijing should compensate the world for the coronavirus first discovered in Wuhan.  The president, who once for now with Mr. Xi, even as both sides negotiate quietly to uphold the massive trade deal signed at the White House in January.
May 17: The Washington Examiner: Pompeo to China: Don't interfere with
U.S. journalists in Hong Kong
Secretary of State Mike Pompeo issued a warning to communist China over threats to interfere with the reporting of U.S. journalists in Hong Kong.  He said any decisions to impact Hong Kong's autonomy could affect the United States' assessment of the territory's status.  He noted American journalists in Hong Kong  are members of a free press, not propaganda cadres, and their valuable reporting informs Chinese citizens and the world.  "Any decision impinging on Hong Kong's autonomy and freedoms as guaranteed under the Sino-British Joint Declaration and the Basic Law would inevitably impact our assessment of One Country, Two Systems and the status of the territory," he added.
May 17: Fox News: Some Governors across the nation facing lawsuits/protests
for going too far on COVID-19 executive orders
Stay-at-home orders aimed at reducing the spread of Chinese coronavirus are now facing legal challenges from residents and state officials alike, alleging that some measures – mostly put in place by Democrats -- go too far while the country gradually moves toward reopening.  California alone is facing at least a dozen lawsuits that include claims that the state has unjustly closed down gun shops and religious services, infringed on freedoms of speech and assembly by restricting protests, and one case where a resident alleges that being forced to remain at home constitutes forced detention without due process.  And California is not alone.  Lawsuits and protests have also been happening in Michigan, Wisconsin, and Kentucky.
May 16: The Washington Times: Judge blocks NC governor's
church shutdown order
A federal judge in North Carolina on Saturday sided with conservative Christian leaders and blocked the enforcement of restrictions that Gov. Roy Cooper ordered affecting indoor religious services during the coronavirus pandemic. The order from Judge James C. Dever III came days after two Baptist churches, a minister and a Christian revival group filed a federal lawsuit seeking to immediately block enforcement of rules covering religious services within the Democratic governor's executive orders. Dever agreed with the plaintiffs, who argued that the limits violate their rights to worship freely and treat churches differently from retailers and other secular activities.
May 16: The Washington Examiner: Susan Rice's desire to be Vice President
hamstrung by Benghazi and unmasking
Susan Rice wants to be Joe Biden's running mate. The question is whether the presumptive 2020 Democratic presidential nominee wants her on his ticket.  Rice, 55, was former President Barack Obama's national security adviser from 2013 to 2017, aligning herself with him early in his 2008 White House campaign over his then-rival Hillary Clinton.  Even though Rice, who's of Jamaican descent, ticks the boxes of being both a woman and a person of color, her record is both a help and hindrance if she hopes to become Biden's understudy. She was the one who claimed on nationwide television that the attack on the U.S. Consult in Benghazi was caused by a video, something that has been proven false.  She was also involved with the unmasking of Michael Flynn.
May 15: The Washington Times: Trump blocks shipments of semiconductors to China's Huawei
President Trump moved on Friday to block shipments of semiconductors to Chinese giant Huawei Technologies from global chipmakers, a step that could escalate tensions with Beijing.  The Department of Commerce announced it is amending an export rule to "strategically target  Huawei's acquisition of semiconductors that are the direct product of certain U.S. software and technology."  Huawei uses semiconductors to make its smartphones. The company has warned that the Chinese government would retaliate if the U.S. took the action. Meanwhile Commerce extended a temporary license to allow U.S. companies to continue doing business with Huawei through Aug. 13, to give time them time to adapt to the change. It warned it expected this would be the final extension.
May 15: The Wall Street Journal: The Senate is in session while House moves
to allow proxy voting
The House approved a slate of rules changes that will allow lawmakers to cast votes by proxy during the coronavirus pandemic, a historic step that Democrats cast as pragmatic but that Republicans warned could alter the nature of Congress.  The Democratic resolution authorizing proxy voting and committees to operate remotely cleared the House by a vote of 217-189.  Could this could allow Speaker Pelosi to hold proxies in her pocket and cast votes for her House Democrats?
May 15: The Washington Examiner: U.S. oil heading to Belarus, Russia infuriated
An American company is sending a shipment of oil to Belarus this week, in a blow to Russian President Vladimir Putin's drive to dominate the former Soviet satellite. "It certainly will infuriate Russia, especially that it is U.S. oil," a Baltic official said.  "The Kremlin tries hard to hide any signs of disagreement with Belarus. This is impossible to hide."   Secretary of State Mike Pompeo hailed the shipment as a bulwark of "Belarusian sovereignty and independence" in a Friday statement, emphasizing that the sale could be the first of many between the two countries. Such applause from the top American diplomat underscores how President Trump's administration is reaching out to the small authoritarian state, which has had poor relations with the United States for years, in an effort to diminish Putin's leverage over the country.
May 15: The Free Beacon: Fundraising record helps California GOP candidate win
WinRed, the GOP's digital fundraising platform, raised nearly $60 million in April, funneling more than $500,000 toward a Republican victory in a California congressional race widely seen as a bellwether for November.  WinRed raised $59.8 million from more than 1.6 million small donations in April, the largest monthly haul in its 10-month history, according to Axios. Those efforts helped steer $503,087 to former Navy fighter pilot Mike Garcia, who became the first California Republican to flip a seat from the Democrats since 1998. Garcia won the race to replace congresswoman Katie Hill by double digits, despite the fact that the suburban district has 30,000 more registered Democrats than Republicans.  This is the seat once held by Congressman Barry Goldwater Jr.
May 14: The Washington Examiner:  Trump: Joe has absolutely no idea what is happening
President Trump, speaking ahead of an event at a medical supply facility in this key swing state, questioned Joe Biden's mental faculties, at one point claiming his Democratic challenger "has absolutely no idea what's happening."  Trump was reacting to news that Biden had teamed up with former rival Sen. Bernie Sanders in naming Rep. Alexandria Ocasio-Cortez co-chairwoman of a climate change panel, which Trump said would help cost Biden the state of Pennsylvania.  "AOC is a disaster. She wants all fossil fuel out," Trump said.   By allying with Ocasio-Cortez and Sanders on energy policy, Trump said, Biden "lost Texas. He lost Pennsylvania. He lost North Dakota. He lost Oklahoma. And he lost every other state where fuel is important — like about most of them."
May 14: The Daily Caller: A new cold war: Senate GOP looking to confront China, investigate
and sanction them and perhaps seize their assets over COVID-19 disinformation
Several Senate Republicans are mobilizing plans to confront China for its delay, cover up and suppression of critical information in the lead up to the global coronavirus pandemic, the Daily Caller has learned. Options on the table even include "authorizing U.S. courts to seize Chinese government assets" once an investigation "determine[s] the damages China owes the US — and the world."  Senator Ted Cruz said "We now know that leaders at the highest levels of the Chinese Communist Party actively hid the coronavirus outbreak from the world, silencing those who tried to sound the alarm, prevent a global pandemic, and save lives."
May 14: Real Clear Politics: Richard Grenell is after one: the truth
Richard Grenell the acting Director of National Intelligence, is after one: the truth. As DNI, Grenell has used his power responsibly, thoughtfully, and constitutionally to find the facts about what happened across the intelligence agencies serving the American people and how they were weaponized for political purposes before and after the 2016 election. Just weeks into his new role, Grenell began reforming the DNI office to enhance transparency and accountability while implementing measures to protect our intelligence agencies from future political interference. Grenell's most important contribution to justice — and truth — has been his decision to declassify the list of former Obama administration officials who "unmasked" the identity of the former National Security Adviser Michael Flynn. Thanks to Grenell's efforts, Americans now know that the Obama administration abused its power during the 2016 campaign in order to illegally spy on Donald Trump's associates.
May 14: Independent Journal Report:  Trump, Azar Blast Ousted Vaccine Chief's Testimony
Dr. Bright, a self-proclaimed whistle blower, testified before a House Committee today claiming the Trump Administration failed to take his advice and that of other experts. He also said contracts were given to "companies with political connections to the administration." He alleged his removal was due to his decision to limit the use of hydroxychloroquine — which Trump once touted as a possible "game-changer as a potential treatment of COVID -19. But Azar, the Secretary Health and Human Services, claimed  Bright was "the sponsor" of the drug. "So, his allegations do not hold water." Trump said "I never met Dr. Bright. I don't know who he is," and added, "And to me, he seems like a disgruntled employee."
May 13: The Hill: Unmasking Michael Fynn: Dozens of Obama Administration officials requested
Acting Director of National Intelligence (DNI) Richard Grenell declassified and then sent to Congress the list of names of dozens of Obama administration officials who they say asked for documents that led to the identity of former national security adviser Michael Flynn being "unmasked" from intelligence reports between the 2016 election and President Trump's inauguration.  The list includes a who's who of Obama-era officials, including then-Vice President Joe Biden, former White House chief of staff Denis McDonough, former FBI Director James Comey and former CIA Director John Brennan. A written justification for requesting that individuals names be "unmasked" is required before doing so.
May 13: Fox News: Federal Judge takes unusual step in considering Justice
Department request to drop charges against Michael Flynn
D.C. District Court Judge Emmet Sullivan issued an unusual order Wednesday appointing a law firm partner "to present arguments in opposition to the government's motion to dismiss" the matter -- and to consider whether the court should hold Flynn in contempt for perjury.  The partner, a retired federal judge has openly criticized the Trump administration's handling of Michael Flynn's case, raising concerns that he was selected to improperly bolster Sullivan's efforts to keep the Flynn case alive even though both the government and defendant want it dismissed.  Sullivan previously suggested Flynn may have committed treason, in a bizarre 2018 courtroom outburst, and seemingly confused key details about Flynn's overseas lobbying work.  The precise reasons for the perjury review were not clear in Sullivan's order.
May 13: The Daily Caller: Alameda County CA caves after it is revealed Tesla
owner talking to Texas Governor Abbott about moving
Elon Musk may reopen his Tesla factory provided the electric vehicle maker meets safety requirements, local California officials announced Wednesday.  Tesla can reopen its Fremont, Calif., plant as soon as May 18 if the company meets an agreed upon safety measures to limit the spread of COVID-19, the Alameda County Public Health Department said. Alameda County's decision comes after Musk threatened to move the plant to Texas.  Alameda County's decision came after Texas Gov. Greg Abbott said he and Musk spoke about moving Tesla out of California.
May13: United Press International: Texas AG calls on local
officials to fix "unlawful" coronavirus orders
Texas Attorney General Ken Paxton has warned local officials that orders mandating face masks be worn and other emergency measures aimed at stemming the spread of the coronavirus are unlawful.   In letters sent Tuesday to Dallas, Travis and Bexar Counties and the cities of Austin and San Antonio, the attorney general's office said some local public health orders are unlawful and confuse citizens, urging officials to repeal them.  "A few Texas counties and cities seem to have confused recommendations with requirements and have grossly exceeded state law to impose their own will on private citizens and businesses," Paxton said.
May 13: Fox News: GOP looking to make gains in California and Wisconsin
GOP candidates in California and Wisconsin were outperforming expectations in two closely watched  Congressional special elections on Tuesday night, as former Navy combat pilot Mike Garcia inched closer to retaking Democrat Katie Hill's seat north of Los Angeles and Republican Tom Tiffany easily prevailed in Wisconsin.  Garcia grabbed a substantial early lead Tuesday in the fight leading Democrat Christy Smith 55.9 percent to 44.1 percent but California typically counts mail in ballot after the polls close and they could cause the totals to swing back to the Democrats.  In Wisconsin, Republican Tom Tiffany easily won his special election in the state's heavily conservative, rural 7th Congressional District.
May 13: The Washington Times: Iran trying to compensate for military blunders
Iran captured world attention by launching its first military satellite into orbit just weeks ago, but its armed forces remain plagued by high-profile mishaps that undermine the Islamic Republic's carefully crafted image as a major regional power.  The death of 19 Iranians in a friendly-fire missile debacle Monday follows a pattern that saw Tehran's military embarrassingly shoot down a civilian airliner, killing all 176 people on board four months ago.  The two deadly errors stand in stark contrast to Iran's portrayal of itself as capable of going toe-to-toe with such Mideast rivals as Israel and Saudi Arabia — let alone fend off any potential American attacks on its homeland.
May 12: The Daily Caller: Judge in Fynn case isn't tossing charge just yet
The federal judge handling the case against Michael Flynn signaled Tuesday he is not yet ready to grant the Justice Department's request to throw out charges against the former national security adviser.  Emmet G. Sullivan, a district judge in Washington, D.C., said that he will allow for the submission of amicus curiae briefs, in which individuals and organizations who did not take part in the case can argue for or against the Justice Department's request to withdraw charges against Flynn.  The Justice Department filed a motion last Thursday to drop charges against the retired general, citing evidence uncovered by U.S. Attorney Jeffrey Jensen.
May 12: The Galveston County Daily News: The Michael Flynn investigation was a travesty
In the investigation of former National Security Advisor Michael Flynn, high level White House and FBI officials went rogue searching for a crime, as opposed to investigating criminal acts where there was "probable cause" to obtain a warrant. Their "strong arm" tactics forced Flynn into financial ruin and even threatened to go after his son.  Those involved should be held accountable. They should be required to financially compensate and make whole Flynn and others who were inappropriately targeted.

May 12: Fox News: AOC booted from union-backed party on primary ballot in New York
Rep. Alexandria Ocasio-Cortez(D-NY) was booted from the progressive union-backed Working Families Party (WFP) ballot line by a Queens judge, a blow to her potentially competitive Democratic primary fight.  The freshman lawmaker was removed from the primary ballot after receiving only 13 signatures from members of the progressive group that has dubbed itself the "Tea Party of the left" -- two short of what she needed to get on the ballot. Now, she won't be on the WFP ballot line in the November general election, either, said Martin O'Connor, attorney for AOC's Democrat opponent Michelle Caruso-Cabrera.
May 12: The Washington Free Beacon: Journalism organization cuts ties with Chinese firm Huawei
A major journalist association canceled its partnership with a Chinese telecommunications firm following public outcry.  The National Association of Black Journalists (NABJ) teamed up with Huawei, a company with ties to the Chinese government, to host a webinar about "the rise of misinformation" on Wednesday. CNN host Van Jones  and  African American personalities were set to discuss coronavirus misinformation at the event sponsored by the Chinese company despite warnings from national security officials that Huawei is a conduit for espionage.  Following widespread concerns about NABJ's partnership with Huawei, NABJ canceled the event on Tuesday, saying that "it has become a distraction from other priorities."
May 11: The Washington Times: It all depends upon whose ox is being gored! 
AG Holder or AG Barr, President Obama or Trump
President Obama lambasted the Justice Department's abandonment of criminal charges against Micheal Flynn as unprecedented, but his Justice Department did the same thing in another highly politicized criminal case.  In April 2009, then-Attorney General Eric Holder pulled the plug on the prosecution of Sen. Ted Stevens of Alaska, a liberal Republican who sided with Democrats on key issues including climate change and abortion.  The comparisons between Mr. Stevens and Flynn are striking. Both men faced the same criminal charges of making false statements, the same judge, U.S. District Judge Emmet Sullivan, handled both cases, and each had their criminal prosecution undone by a handwritten note that was buried by federal prosecutors.
May 11: Fox News: Chaffetz: Flynn docs are "smoking gun;" Obama,
Biden are "scared" the truth will come out
The internal memos released from the FBI's investigation of former National Security Adviser Michael Flynn represent a "smoking gun" against the FBI under James Comey's leadership, former House Oversight Committee Chairman Jason Chaffetz said Monday.  Chaffetz noted a meeting - before President Trump was inaugurated - involving President Obama, Vice President Joe Biden, former National Security Adviser Susan Rice, Comey and Deputy Attorney General Sally Yates in which they discussed matters "very specific to General Flynn." 
May 11: The Washington Examiner: Eighteen governors press Congress to
hold hearing on China's deceit over the coronavirus
Governors from across the country called upon Congress to conduct hearings about China's "deceit" during the coronavirus outbreak.  Eighteen state chief legal officers sent a letter to congressional leaders over the weekend asking them to look into the disinformation tactics put out by the Chinese government when the virus first broke out in Wuhan at the end of 2019.  The letter cited incidents in which Chinese officials "muzzled" Taiwanese complaints about the virus and expelled U.S. media outlets from the country. The attorneys general also said the country has heightened its propaganda tactics amid the pandemic.
May11: The Daily Caller: Huntsman: The one thing the Chinese fear most is transparency
China's Communist Party fears transparency more than anything else, former U.S. Ambassador to China Jon Huntsman said Monday. Huntsman praised a letter sent to Congress by 18 attorneys general demanding Congress investigate China's coverup of the coronavirus outbreak in its early stages.  He said on Fox News "Well, I'll tell you why this letter is such an important one… The Chinese have invested a lot in their relationship-building in our nation's capital. But they've also spent a lot of time and resources — listen to me, we have 350,000 Chinese students at our universities across this great country — they have also invested in state-by-state relationships, thinking they can use one against the other."
May 10: Independent Journal Review: DOJ spokeswoman slams NBC's
Chuck Todd for deceptive editing of AG's comments on Michael Flynn
In a tweet a Department of Justice spokeswoman accused NBC News of "deceptively editing" an interview with Attorney General Barr.  NBC's Chuck Todd asks
"In closing, this was a big decision [to dismiss] in the Flynn case, to – to say the least. When history looks back on this decision, how do you think it will be written?  What will it say about your decision making?"
Barr responds: "Well, history is written by the winner. So it largely depends on who's writing the history.  But I think a fair history would say that it was a good decision because it upheld the rule of law.  It helped, it upheld the standards of the Department of Justice, and it undid what was an injustice."
When the edited clip was aired by NBC News, what is shown (in blue above) was included.  The remainder (shown in red) was omitted, leaving a very different impression in the viewer's minds.
May 10: The New York Post: China pressured WHO to delay global COVID-19 warning
Chinese President Xi Jinping pressured the director of the World Health Organization in January to hold off on issuing a global warning about the coronavirus outbreak, according to a report in a German newspaper.  The Jan. 21 conversation cited intelligence from Germany's federal intelligence service, known as the Bundesnachrichtendienst (BND).  The report published over the weekend said Xi urged the WHO chief to "delay a global warning" about the pandemic and hold back information on human-to-human transmission of the virus.  The BND estimated that China's action to conceal information resulted in a loss of four to six weeks in the fight against COVID-19.
May 10: The Washington Examiner: Oil price boom expected following
pandemic crash
If history is a guide, an oil price boom is coming after the pandemic-generated crash.  While the near-term demand picture is highly uncertain, as people reconsider their travel and work habits, this latest bust, the worst of them all, is unlikely to hasten the demise of oil.  "The only way to get away from the boom-bust cycle is to get off of oil," said Bob McNally, president of Rapidan Energy Group. "That's really tough because there are no scalable substitutes. As a result, we expect a thirstier world will collide into insufficient supply, and crude prices will have to rise sharply to balance the market."  Oil supply will take longer to return than demand as drillers shut-in a record amount of production, companies cut spending on new investments, and the U.S. shale revolution slows.
May 9: The Daily Caller:  Meat packing plants are starting to reopen
Tyson Foods reopened a plant in Waterloo, Iowa, after more than 1,000 workers at the facility tested positive for coronavirus, or COVID-19.  Meanwhile Sarah Little, a representative for the North American Meat Institute said President Donald Trump's executive order mandating a reliable food supply has made a big difference in getting the plants reopened.   Meat packers are placing dividers between workstations, deep-cleaning facilities and assigning so-called social distance monitors to maintain safety precautions.

May 9: The Washington Free Beacon: GA county maintains gun shutdown
despite statewide opening
Despite a statewide reopening, residents in one Georgia county are still unable to legally obtain firearms-carry licenses after a federal judge allowed local authorities to shut down the permitting process, sparking a legal showdown.  District Court judge Steve Jones ruled that the plaintiffs did not have standing to challenge the state's permit law or the county's implementation of it during the coronavirus pandemic. Gun-rights activists have vowed to appeal the decision. The case has gained renewed energy as the county has refused to reopen the vetting office even as Republican governor Brian Kemp has lifted pandemic restrictions.
May 9: Fox News: Ex-FBI official: Obama White House may have seen
Flynn as an opportunity
It would be "abominable" if the Obama White House was behind the  FBI's controversial interview of former national security adviser Michael Flynn, a former assistant director of intelligence for the bureau said Friday night.  Kevin Brock shared his observations on "The Ingraham Angle" where he responded to reports that former President Obama had claimed the "rule of law is at risk" after DOJ dropped its case against Flynn over charges of lying to investigators.  "I think they saw this as an opportunity to disrupt the general. And I think what we have to find out [is...] did the FBI conduct this interview at the behest of the White House or was it motivated by their own now well-established personal biases and prejudices against the president?" Brock said.
May 9: The Washington Times: Musk threatens to pull Tesla out of California
over virus restrictions
Eoln Musk threatened Saturday to move his electric automobile company Tesla out of California over measures imposed in response to the continuing global novel coronavirus pandemic. "Tesla is filing a lawsuit against Alameda County immediately. The unelected & ignorant 'Interim Health Officer' of Alameda is acting contrary to the Governor, the President, our Constitutional freedoms & just plain common sense!" Musk said on Twitter.  "Frankly, this is the final straw,  Tesla will now move its HQ and future programs to Texas/Nevada immediately. If we even retain Fremont manufacturing activity at all, it will be dependent on how Tesla is treated in the future. Tesla is the last carmaker left in CA."
May 8: The Daily Caller: SCOTUS: Encouraging illegal aliens to remain in the US is a crime
The Supreme Court unanimously upheld a federal statute that forbids encouraging illegal aliens to remain in the U.S. unlawfully in a decision Thursday.  The SCOTUS justices voided an earlier decision by the San Francisco based Ninth Circuit Court of Appeals, which had ruled that a federal anti-harboring statute was unconstitutional on the grounds that it violated the First Amendment by restricting free speech. The ruling by the nation's highest court Thursday upholds the law.  The Supreme Court not only vacated the appeals court's decision, but also criticized the judges for "drastically" straying from judicial norms.
May 8: The Wall Street Journal: Businesses struggle to lure
workers away from unemployment benefits
Some workers are making more from unemployment than at their old jobs, thus complicating efforts to reopen the economy.  For some workers, unemployment benefits are now paying more than their old jobs did. For others, safety concerns or a lack of child care, as most schools and day-care centers remain closed, are making them hesitant to go back.  That means reopening may not go as quickly or as smoothly as some elected officials and business owners had hoped.
May 8: The Washington Examiner: Sally Yates: Comey kept her in the dark,
she learned of Flynn targeting from Obama
Newly released documents show that former FBI Director James Comey kept his superior Deputy Attorney General Sally Yates at the Justice Department in the dark about the bureau's investigation into retired Lt. Gen. Michael Flynn.  Yates told special counsel Robert Mueller's team that President Obama, not FBI Director Comey, told her the FBI possessed and was investigating recordings of Flynn's late 2016 conversations with a Russian envoy.    Yates, who was briefly the acting attorney general during the early days of the Trump administration also laid out how in the ensuing days, Comey kept the FBI's actions cloaked in secrecy and repeatedly rebuffed her suggestions that the incoming Trump team be made aware of the Flynn recordings.
May 8: The Washington Times: SCOTUS halts Dems access to Mueller grand jury information
Chief Justice John Roberts on Friday put a temporary hold on the release of secret materials from former special counsel Robert Mueller's investigation to a Democrat-led House committee. The order stops the clock on a lower court's ruling requiring the Justice Department to turn over confidential grand jury materials underlying the Russia probe to the House Judiciary Committee.  Grand jury information is typically held to be confidential.  Additionally, DOJ urged federal courts to stay out of the fight between the Executive and Legislative branches. If the federal courts weigh in, it would appear as if they were taking sides in partisan political fights, they said. The transfer of materials would have been required by Monday had not SCOTUS not intervened.
May 8: The Washington Free Beacon: Federal Judge reopens Massachusetts gun stores
A federal judge ordered Massachusetts to allow gun stores to reopen on May 9, in a decision that could pave the way for a future Supreme Court ruling on the constitutionality of shutdowns.  US District Judge Douglas P. Woodlock said there was "no justification" for Gov. Charlie Baker's total shutdown of gun stores in the state during the coronavirus pandemic. He said stores could reopen so long as they operate on an appointment basis and follow strict social distancing rules.  "I have enough information to say, in this very small corner of this emergency, we don't surrender our constitutional rights," Woodlock said.
May 7: Fox News: Texas Supreme Court releases business
owner jailed by Dallas County District Court Judge
The Texas Supreme Court on Thursday ordered the release of salon owner Shelley Luther, who was jailed for opening in violation of the state's rules, as Gov. Greg Abbott issued an executive order retroactively eliminating jail time as a consequence for violating the state's COVID-19 restrictions.  Shortly after Abbott's announcement, the Supreme Court of Texas ordered Luther's release. An attorney for Luther, who is with her at the jail, told Fox News they don't know the timing yet of when she will be freed.  "Throwing Texans in jail who have had their businesses shut down through no fault of their own is nonsensical, and I will not allow it to happen," Abbott said in a statement.
May 7: The Daily Caller: Justice Department drops charges against General Michael Flynn
The Justice Department dropped its case against Michael Flynn on Thursday, citing "newly discovered" information from the investigation of the former national security adviser.  "Based on an extensive review and careful consideration of the circumstances, that continued prosecution of this case would not serve the interests of justice," Timothy Shea, the U.S. attorney in Washington, D.C., said in a court filing.  Shea cited an FBI memo recommending that the investigation of Flynn be closed on Jan. 4, 2017, because it had yielded an 'absence of any derogatory information.
May 7: The Washington Times: DAG Rosenstein targeted Trump
Administration officials after the DNC-paid-for dossier fell apart
Former Deputy Attorney General Rod Rosenstein put Trump campaign volunteer Carter Page under special counsel investigation after a year in which allegations against him in a Democratic Party-financed dossier had fallen apart.  The Justice Department has released a less-censored "scoping memo" which Rosenstein sent to Robert Mueller August 2, 2017. The memo authorized Mueller to target Mr. Page, retired Army Lt. Gen. Michael Flynn, campaign volunteer George Papadopoulos and former campaign manager Paul Manafort.  At the time, there was no evidence that any of the four conspired with Russia to interfere in the 2016 election — O=other than the DNC-financed Steele dossier. No evidence ever materialized and Mueller closed his probe without charging any Trump associate with conspiracy.
May 6: The New York Post:  "Busted" 5 year old gets the ride he wanted in a Lamborghini!
A 5-year-old Utah boy who was busted driving his parents' SUV while on a mission to buy a Lamborghini ended up scoring a ride in one of the luxury sports cars after all, according to a report Wednesday.  A neighbor offered him a ride in his own Lambo,  according to the "voice of Utah" KSL in Salt Lake City..  "He had the courage to just go after what he wanted, you know?" said Jeremy Neves. "He didn't have the skill set, let alone the size to drive a vehicle, and he figured it out."  "Maybe he's getting punished, maybe he's grounded, maybe he's got some chores to do … At the same time, I thought it would be really cool to say, 'Your dreams aren't as far away as you think they are.' "
May 6: Breitbart News: CA Sheriff: I refuse to make criminals out of business owners
Riverside County Sheriff Chad Bianco reaffirmed his stance on not enforcing stringent stay-at-home orders, telling the Riverside County Board of Supervisors this week that he refuses to "make criminals out of business owners, single moms, and otherwise healthy individuals for exercising their constitutional rights."  Eight weeks ago, officials  "participated in something never done before in our nation's history," Bianco  began. Government "ordered residents into their homes, closed their businesses, made them wear masks, forbid them from going to church, and eliminated constitutional freedoms put in place over 200 years ago," he explained.  "In the name of a public health crisis, our civil liberties and constitutional protections were placed on hold," he continued.  Bianco said he did not enforce the stay-at-home order from the beginning, partly because he "trusted our residents' ability to do the right thing without fear of being arrested" and emphasized that he continues to hold that position.
May 6: The Daily Caller: Get a grip Gov!  Healthcare volunteers who traveled
to NY to help fight the COVID-19 pandemic must pay NY income taxes
Health care workers that traveled from across the country to volunteer to help fight New York's coronavirus outbreak will have to pay state taxes, Democratic Gov. Andrew Cuomo announced.  In a Tuesday news conference, Cuomo said the state isn't "in a position to provide any subsidies right now because we have a $13 billion deficit."  However, it is unclear whether the $13 billion is COVID-19 related.
May 6: Fox News: Intelligence Committee transcripts show Schiff
came up empty on Russian collusion
Transcripts of House Intelligence Committee interviews that have been cleared for release show top law enforcement and intelligence officials affirming they had no evidence of collusion between the Trump campaign and Russia during the 2016 election, senior administration and intelligence community officials told Fox News on Wednesday. This aligns with the results of former Special Counsel Robert Mueller's investigation.  Reports are that Chairman Schiff (D-CA) went into panic mode when the redaction process was completed and the results revealed.
May 6: Texas Score Card: Dallas County disregards Attorney General's warning on voting by mail
Four days after Texas' top law enforcement officer warned county officials to avoid misleading the public on vote-by-mail laws, the second-most populous county in Texas signaled support for allowing voters to disregard the laws due to fears of the Chinese coronavirus.  Dallas County Commissioners Court voted 4-1 Tuesday to approve a resolution allowing any voter to claim a "disability" and vote by mail ballot in any 2020 election.  The letter from AG Ken Paxton explained to the County Judge and county election that state election law does not allow voters to claim disability on mail-ballot applications based on fears of contracting the coronavirus.  Paxton's letter also warned county officials could be criminally prosecuted for misleading the public about vote-by-mail laws.
May 5: Dallas Morning News: Businesswoman jailed for reopening shop in violation of court order
A Dallas salon owner will spend a week in jail after she was found in contempt of court Tuesday for violating an order to close her salon during the coronavirus pandemic.  In addition, Shelly Luther was fined $7,000 for continuing to operate her business in violation of a judge's temporary restraining order issued against her business.   The judge's action comes as such businesses are being allowed to reopen in Texas, demonstrations throughout the country, and continues the controversy over whether the government has the authority to shutdown business in the midst of the pandemic.  Luther was taken into custody immediately after the hearing and booked into the Dallas County.
May 5: The Washington Examiner: Cruz files bill to prohibit DOD contracting
with movie studios that allow Chinese censors
On Tuesday, Senator Ted Cruz (R-TX) announced he was introducing a bill  which would prohibit the Department of Defense from contracting with studios that allow China to censor their content. Cruz said the coronavirus pandemic has revealed the need to act immediately.  "The problem of censorship is a massive problem within China. China's own censorship and coverup of this pandemic helped produce 250,000 deaths worldwide, and when it comes to Hollywood, Hollywood is not an innocent bystander here," Cruz said. "Hollywood is fully complicit. Hollywood works with the Chinese censors."
Mar 5: The Washington Times: Hopes for recovery rise as states start lifting bans  
Florida joined a growing list of states easing restrictions against the coronavirus Monday, while retailer  J. Crew filed for bankruptcy protection, becoming the first major casualty of the pandemic and underscoring the urgency for the nation to get back to work.  Republican Gov. Ron DeSantis of Florida lifted restrictions for restaurants and stores in most parts of the state, allowing them to operate at 25% of indoor capacity. Remaining closed are schools, bars, hair salons and gyms.
May 5: The Daily Caller:  Federal Judge: New York must hold its June primary election
A federal judge ruled that New York must go forward with its presidential primary after the state's board of elections voted to cancel it amid coronavirus fears. 
May 5: The Washington Examiner:  White House sees British trade talks as a
chance to cement an anti-Chinese alliance
Washington officials hope to tie London into a trade deal that would make it harder for China to extend its influence as the United Kingdom and the United States begin talks on Tuesday.  Boris Johnson's government has made no secret of its desire for  rapid trade deals as the U.K. finds a new place in the world after leaving the European Union.  And as tensions rise with China and with months of economic gloom ahead, officials in Washington see an opportunity to score a win over Beijing's expansionism.  The Office of the U.S. Trade Representative says it wants to be able, under the deal, to act if the U.K. strikes free trade deals with "non-market countries," restricting London's ability to negotiate with Beijing.
May 5: Fox News: Justice Ginsburg admitted to hospital again
Supreme Court Justice Ruth Bader Ginsburg was hospitalized with an infection caused by a gallstone, the court announced Tuesday, adding that she's expected to remain in the hospital for a "day or two."
May 4: The Washington Examiner: GOP House leaders seek info on Chinese
influence on US college campuses
House Republicans are investigating Chinese influence on U.S. campuses nationwide.   The ranking members on seven House committees sent a letter to Education Secretary Betsy DeVos on Monday, which was obtained by the Washington Examiner, noting that under her leadership the Education Department "has sought to improve transparency and reduce reliance on foreign investment in U.S. higher education" and "recent revelations of China taking steps to suppress academic research into the origins of the COVID-19 pandemic underscores the importance of your efforts."  The lawmakers are seeking "a better understanding of the Department's efforts to address unreported foreign direct investment into the U.S. higher education system" as part of an effort "to investigate the Chinese government's propaganda and cover-up campaign surrounding this pandemic."
May 3: The New York Post: Knucklehead arrested in Austin after pushing
park ranger who was enforcing social distancing into a lake
A Texas park ranger was pushed into a lake while trying to enforcing social distancing regulations in Austin.  The plunge was caught on camera at Lake Austin with the clip beginning as the ranger seemingly politely asks a group of parkgoers to disperse and keep six feet apart to help stop the spread of the coronavirus.  But then a shirtless man, identified by police as Brandon Hicks, 25, can be seen running up and shoving the ranger, sending both into the water.  Hicks was arrested and faces charges of attempted assault on a public servant, according to the local NBC affiliate.
May 3: The Washington Examiner: DHS report: China "intentionally concealed
the severity" of COVID-19, hoarding supplies
China downplayed its coronavirus outbreak in order to buy time to hoard medical supplies needed to respond to the pandemic, according to intelligence documents.  A four-page DHS report dated May 1, showed that U.S. officials believe Chinese leaders "intentionally concealed the severity" of the virus, including how contagious it is and how large the country's outbreak was, from the rest of the world in January.  The analysis indicated that China increased imports of medical supplies and decreased exports while it was hiding the extent of the coronavirus and even attempted to cover up doing so by "denying there were export restrictions and obfuscating and delaying provision of its trade data."
May 3: The Washington Times: Development of COVID-19 vaccine likely this year
Prospects of landing a vaccine for the coronavirus this year are "pretty good" and a top candidate may show efficacy by June, a British front-runner in the medical race said Sunday, as the U.S. and other countries clamor for ways to shield people returning to work and other normal routines.  John Bell, an Oxford University professor, said his researchers have so many people to test the vaccine that they should have a sense of its safety and effectiveness within six weeks. He said "I certainly wouldn't put the possibility at 80%. That's a pretty big number… but we are gradually reeling it in bit by bit, and as every day goes by, the likelihood of success goes up."
May 3: The Hill: FL Governor: COVID-19 stimulus funds for states shouldn't
be used bailout state obligations that preexisted the pandemic
Florida Gov. Ron DeSantis (R) said Sunday that coronavirus relief funds should not include aid to states for financial obligations that predate the pandemic.  "Florida, we were flush before this. We were going well. Obviously, this is going to hit our revenues, because you have had key sectors of our economy, like tourism, that have taken a huge hit," the Governor said. "What I would say is, it's one thing to help a state with lost revenue from the pandemic, but this pandemic should not be used to bail out obligations that were run up over 20 or 30 years."
May 2: The Daily Caller: What the intelligence community (IC) thinks happened –COVID-19
The majority view among the U.S. intelligence community agencies is that COVID-19 is natural and accidentally leaked out of a laboratory in Wuhan, China, a senior intelligence official said.  While not all of the 17 agencies that make up the IC are fully behind the idea that the novel coronavirus was an accidental laboratory leak, most believe that to be the case, according to the senior official. The official added that the holdouts are still open to the possibility that the virus leaked from a laboratory. The unanimous view of the IC is that the virus was not the result of an intentional act, the senior official noted.
May 2: The Washington Times: Fauci to testify  before Senate Committee May 12th
Dr. Anthony Fauci, a member of the White House coronavirus task force, is slated to testify before the Senate Health, Education, Labor and Pensions Committee on May 12, after the Trump administration blocked him from testifying to a House panel next week.  The White House had said it would be counterproductive to take Dr. Fauci away from the rigors of his job to testify before the Democrat-led House Appropriations Committee, which had sought his testimony at a subcommittee hearing on May 6 on the COVID-19 response.
May 2: The Washington Examiner: New sexual allegations against Biden
A woman alleges that Joe Biden made an inappropriate comment about her breasts more than a decade ago when she was 14 years old.  Eva Murry, now 26 recounted when she accompanied her aunt at an annual party and roast attended by Delaware politicians, journalists, and business leaders in 2008. She said  "I remember walking into the lobby and being in awe of all the people in such fancy clothes," Murry told Law & Crime. "Our two parties of people gravitated towards each other, and everyone started saying their hellos. When it was Biden and my aunt's turn to say hello, he quickly turned to me and asked how old I was. I replied with my age, and he replied with the comment: 'Fourteen? You're very well endowed for 14!' I was confused, but it was definitely weird. He looked me up and down and hovered his eyes on my chest, so I had some clue [about] the notion of his comment but didn't fully understand at the time. We quickly separated from his area after the encounter."
May 1: Fox News: Intel Report: How China deceived the world and destroyed COVID-19 evidence
A 15-page intelligence document from U.S., Canada, the U.K., Australia and New Zealand  intelligence agencies states that China intentionally hid or destroyed evidence of the coronavirus outbreak, resulting in the loss of tens of thousands of lives around the world.  The report states that China's secrecy amounted to an "assault on international transparency."  The dossier touches on themes that have been discussed in media reports including initial denial that the virus could be transmitted between humans, the silencing or "disappearing" of doctors who tried to speak up, the destruction of evidence in laboratories and refusal to provide live samples to international scientists working on a vaccine.  Specifically, the file notes that China began censoring news of the virus on search engines beginning Dec. 31.
May 1: The New York Post: Kim Jong Un appears in public for first time in recent weeks
North Korean dictator Kim Jong-un, rumored for weeks to be deathly ill or even dead, has made his first public appearance in 20 days, North and South Korean media reported Friday.  Few details were immediately available, but if true, the appearance would belie rumors of Kim's death following surgery.  The North's official Korean Central News Agency said Kim attended the ceremony with other senior officials, including his sister, Kim Yo-jong, who many analysts predicted would take over if her brother is suddenly unable to rule.
May 1: The Washington Times:  White House delays Fauci's Congressional testimony
The White House said Friday it won't allow Dr. Anthony Fauci to testify at a House hearing next week on the administration's coronavirus response, saying he has more important things to do at the moment.  "While the Trump administration continues its whole-of-government response to COVID-19, including safely opening up America again and expediting vaccine development, it is counter-productive to have the very individuals involved in those efforts appearing at Congressional hearings," White House deputy press secretary Judd Deere said in a statement. "We are committed to working with Congress to offer testimony at the appropriate time."
May 1: The Washington Examiner: Weekend brings allure of beaches as lockdown is eased
Whether to open beaches and other outdoor spaces is a major consideration for governors and mayors this weekend as more of the country looks to emerge from pandemic lockdowns.   Beaches on the east coast and along the gulf coasts of Alabama and Florida have begun reopening, and people are expected to gather at beaches en masse this weekend.   Florida Gov. Ron DeSantis has the state under a stay-at-home order but left the decision to close beaches up to county and local leaders. Jacksonville Mayor Lenny Curry decided that beaches in Duval County, for instance, could stay open as long as people followed social distancing guidelines.   St. Petersburg and other popular beaches in Pinellas County will open Monday with law enforcement officials present to ensure that people don't gather together and individual groups stay at least 6 feet away from one another.
May 1: The Hill: Trump's New Press Secretary:  "I will never lie to you"
White House press secretary Kayleigh McEnany in her first formal briefing said Friday that she would never lie to the press.  "I will never lie to you. You have my word on that," McEnany said when asked by a reporter if she would pledge to never lie to the White House press corps from the podium.
May 1: The Daily Caller: Chris Wallace: Case against Biden stronger than the one against Kavanaugh
Fox News host Chris Wallace said Friday that the case made by Joe Biden accuser Tara Reade is "a lot stronger" than the case made by Justice Brett Kavanaugh accuser Christine Blasey Ford.  "I will say that the case that Tara Reade makes against Joe Biden is a lot stronger than the case Christine Blasey Ford made against Brett Kavanaugh, because Blasey Ford had not told anybody for decades after the event happened and really was incredibly sketchy and there was no real record that she and Brett Kavanaugh had ever met," Wallace continued. "Clearly, Tara Reade worked for Joe Biden, worked in his office, and did tell people contemporaneously in '93 and in the years immediately thereafter that this happened."
April 30: The Hill: Surprising support for the great lockdown
There is at least one political surprise amid the coronavirus crisis — the Great Lockdown is popular among Americans.  People are, of course, hardly thrilled by stay-at-home orders, closed schools and the myriad other uncertainties of the current situation.  But there is a resilient consensus around the need for such measures even though there are major concerns over the economic impact and many states are starting to relax restrictions
April 30: The Washington Fee Beacon: Seven top Dem women asked about
alleged assault as Biden remains silent
Seven leading female Democratic politicians have had to publicly defend Joe Biden against a sexual assault allegation even as the presumptive Democratic nominee has remained silent.  Progressive activists and women's rights advocates are putting pressure on Biden to personally address former aide Tara Reade's accusation that he penetrated her with his fingers in a Senate hallway in 1993. While Biden's campaign has denied the allegation, the candidate has not been pushed to comment on the matter despite conducting 19 different interviews since the allegation surfaced in March.
April 29: The Daily Caller: Hume: Two reasons a call for a national lockdown
is getting weaker and weaker
"Two things," Brit Hume are the reasons calls for a national lockdown are getting weaker.  The first is the "collateral damage from it is extraordinary."   : "We are saddling our country and future generations with debt on a scale that was already high and now it is far, far worse. Not to mention the toll on businesses with which won't reopen and so on. The unemployment."  The second reason Hume said  is that the virus is not impacting the entire nation equally.  Places outside major metropolitan areas like New York City are not feeling the impact to the same degree.
April 29: The Washington Times: Trump wants "sanctuary city adjustments"
if there is to be another COVID-19 stimulus package
President Trump warned Democrats on Tuesday that he will demand "adjustments" for sanctuary cities as a condition of bailout aid for states, as both parties take increasingly partisan paths toward the next round of emergency coronavirus relief. With Democrats demanding at least $500 billion to fill state coffers drained by business shutdowns, Trump said he doesn't want to reward states "to recover 25 years of bad management."
April 28: One News Now: A  bold prediction: Biden off the ticket by July 4th
A long-time observer of Washington, D.C. politics has a theory about Democratic nominee Joe Biden: He is just a place holder for bigger, bolder plans for the party.  Rick Manning, the leader of Americans for Limited Government, isn't the first political observer to predict the ailing Biden, 77, will not be the nominee, but he speculates it is virtually certain the party will perform a switcheroo when the time is right.  In the Manning said Democrats were already concerned about Biden's mental abilities and then came sexual assault accusations from Tara Reade, a former Biden staffer who claims the then-senator sexually assaulted her in 1993.  He predicts that both will end Biden's candidacy even though he has gotten recent endorsements from Barrack Obama and Hillary Clinton.
April 28: The Hill: Treasury Secretary says heirs should return COVID-19 check
sent to deceased relatives
Treasury Secretary  Mnuchiun said Tuesday that people who have received coronavirus relief payments for their deceased relatives should return that money to the federal government.  "You're not supposed to keep that payment," he told the Wall Street Journal. "We're checking the databases, but there could be a scenario where we missed something, and yes, the heirs should be returning that money."  Legislation Trump signed late last month provided for one-time direct payments to most of Americans of up to $1,200 per adult and $500 per child. The IRS started issuing the payments earlier this month.
April 28: The New York Post: NYC ignores social distancing as Blue Angels
and Thunder Birds do flyover
The New York Metro area blew off social distancing Tuesday, with hundreds packed shoulder-to-shoulder to catch a glimpse of the Blue Angels and Thunderbirds as they roared overhead in a tribute to coronavirus frontline workers.  Photos from throughout the region show large crowds jammed together in waterfront parks and venues in New York and New Jersey, looking skyward for a glance at the famous jets.  There was little local officials could do to stop them.
April 28: The Hill: Appeals Court considers Democrats challenge to Trump's border wall
A federal appeals court in Washington, D.C. on Tuesday heard arguments over a Democratic challenge to the Trump administration's use of defense funding to build a wall along the U.S.-Mexico border.  The House Democrats' lawsuit arose early last year after President Trump declared a national emergency at the southern border. Trump's move sought to free up additional funding after a congressional spending bill allocated some $1.3 billion for border security, far short of the nearly $5 billion Trump said was needed to complete his signature project.
April 27: The Supreme Court:  Decision: Government has an obligation to
reimburse insurers under Obamacare
The Patient Protection and Affordable Care Act's now expired "Risk Corridors" statute—which set a formula for calculating payments to healthcare insurers for unexpectedly unprofitable plans during the first three years of online insurance marketplaces—created a Government obligation to pay insurers the full amount of their computed losses; and petitioners properly relied on the Tucker Act to sue for damages in the Court of Federal Claims.
April 27: Daily Caller: NY cancels Presidential primary; Sanders campaign objects
The New York State Board of Elections canceled the state's June 23 Democratic presidential primary scheduled on Monday despite receiving a request from Vermont Sen. Bernie Sanders's presidential campaign urging the primary to take place as planned.  Officials on the board acknowledged that the move to cancel the presidential primary outright will anger some of Sanders's supporters, but said they couldn't justify holding the election amid the coronavirus crisis.
April 27: The Washington Times: Barr orders legal action against governors
whose COVID-19 actions infringe on civil rights
Attorney General  Barr on Monday ordered federal prosecutors across the country to consider legal action against governors if their efforts to stop the spread of the coronavirus infringe on Americans' civil rights.  In a two-page memo, Barr said  U.S. attorneys to "be on the lookout" for local and state directives that could violate religious, free speech or economic rights under the Constitution.  "If a state or local ordinance crosses the line from an appropriate exercise of authority to stop the spread of COVID-19 into an overbearing infringement of constitutional and statutory protections, the DOJ may have an obligation to address that overreach in federal court," Mr. Barr wrote in a memo to the 93 U.S. attorneys.
April 26: The Daily Caller: "I want the same equal treatment": Biden's accuser
said to media, women's group, and Democrat politicians
Tara Reade condemned the media's silence regarding her sexual assault allegations against former Vice President Joe Biden in an interview and demanded equal treatment as "other survivors" like Christine Blasey Ford.  56-year-old Reade lamented that her sexual assault accusation has become a "partisan tool," saying that Republicans have weaponized her and Democrats have both ignored and discredited her.  "It's inexcusable," she told the DCNF. "I'm sorry that I'm politically inconvenient but my perpetrator was Joe Biden. And people need to deal with it."
April 26: The Washington Examiner: Sources say Michael Flynn will be exonerated this week
This week is shaping up to be a critical one for retired Lt. Gen. Michael Flynn.  "Breaking News: sources tell me [Flynn] will be completely exonerated this week. It was a total fraud. A Set up. More tomorrow," tweeted Fox Business host Maria Bartiromo on Sunday.  Earlier in the day Bartiromo noted during a conversation with Rep. Devin Nunes that it would be an "important" week for Flynn. 
April 26: The Washington Free Beacon: Missouri AG confident he can make China pay for pandemic
Missouri attorney general Eric Schmitt is "confident" he will secure damages from the Chinese government for its responsibility in unleashing the coronavirus pandemic.  While congressional Republicans have floated legislation to allow American citizens to sue China for mishandling the coronavirus, Schmitt on Tuesday made Missouri the first state to file a lawsuit against the communist nation. The suit says the Chinese government must be held liable for the "enormous loss of life, human suffering, and economic turmoil" brought on by the deadly disease. Schmitt estimates that the virus has caused tens of billions of dollars in economic damage in the Show-Me State alone.
April 26: Fox News: Space Force: Iran's military satellite "tumbling webcam in space"
The first satellite launched into space by Iran last week that revealed the country's secret military space program is nothing but "a tumbling webcam in space," the head of the U.S. military's newest service said Saturday.  Iran's Revolutionary Guard said Wednesday it put up a "Noor," or "Light," satellite into a low orbit circling the Earth after using a mobile launcher at a new launch site.  U.S. Space Force commander Gen. Jay Raymond gave his military assessment "Iran states it has imaging capabilities—actually, it's a tumbling webcam in space," he said.
April 25: The Washington Times: FLA Governor: Things are going in the right direction
Florida Governor Ron DeSantis said Saturday testing is up in his state but the percentage of people testing positive for the coronavirus is down, suggesting Florida is heading in a good direction in its battle against the Chinese coronavirus.  About 320,000 people have been tested in Florida.  In the past two days, 37,000 people reported having coronavirus tests and less than 2,000 of those came back positive, DeSantis announced.
April 25: The New York Post; North Korean dictator rumored to be dead, brain
dead, or just fine; who knows?
North Korea's Kim Jong Un is either dead, brain dead or just fine, depending on which Asian media report you believe. The dictator apparently underwent a stent procedure earlier this month that started a swirl of international speculation.  A Hong Kong broadcast network claimed Saturday that Kim died, citing a "very solid source." A Japanese magazine, meanwhile, reported late Friday that he is in "a vegetative state." On Kim's home turf, the North Korean media has acted as if everything is perfectly normal. 
April 24: Info Wars: NJ driver wearing N95 mask passes out and hits telephone poll
A driver in Lincoln Park, New Jersey wrecked their car after the N95 mask they were wearing cut off their oxygen supply to the point they passed out and hit a telephone pole.  The driver, who remains unidentified, wore the mask for several hours before the incident and had been breathing in too much carbon dioxide and not enough oxygen, according to a Lincoln Park Police statement.  While the department-maintained citizens should continue wearing masks when in public, they did admit that "in most cases, the wearing of this type of mask while operating a vehicle with no other occupants is unnecessary."
April 24: The Washington Times: Navy brass recommendation may reinstate Teddy Roosevelt CO
The fired commander of a Navy aircraft carrier now pier-side in Guam and stricken with the coronavirus could get his old job back following an official investigation by the vice chief of naval operations.  Senior Navy leadership will brief Defense Secretary Mark T. Esper on the results of their investigation into a coronavirus outbreak aboard the USS Theodore Roosevelt and concerns over the crew's health that resulted in the firing of Captain Crozier, the resignation of the secretary of the Navy and many of its 5,000 sailors being placed in quarantine.
April 24: Fox News: Protesters gather outside MI Governor's house
Protesters gathered outside the home of  Michigan Gov. Whitmer on Thursday -- the same day reports emerged that she plans to extend the state's coronavirus stay-at-home order by two weeks until May 15.  "We wanted to send Gretchen Whitmer a message, we didn't want to surrender our liberties just for a little temporary safety," Brian Pannebecker, who helped organize the protest, told Fox 2.  Meanwhile, the Michigan Legislature has scheduled a special session for Friday with the goal of creating an oversight committee to review Whitmer's coronavirus orders and possibly strip her of some of her powers,  The Detroit Free Press reported.
April 24: The Washington Examiner: World is far too dependent on China's medical supply chain
Dozens of headlines over the past few weeks have confirmed an alarming fact: China's medical supplies don't work. Yet we continue to order them.  Canada's public health authority is only the latest to announce that nearly one million KN95 respirators China had sent failed to meet health professionals' standards. Spain's health ministry had earlier announced that it is seeking compensation for 640,000 defective coronavirus tests that China had delivered. These tests were supposed to replace the old supply that Spain had purchased from China, which had also been defective.
April 24: The Daily Caller: Trump supporter: Georgia Democrat changes mind about resigning
Vernon Jones, a Democratic state representative in Georgia who attracted immense ire from his party after endorsing President Donald Trump, said he will remain in office.  Jones had announced on Wednesday that he would be resigning from his post within the Georgia House of Representatives, citing attacks and harassment from the Democratic Party for supporting Trump's re-election. However, the renegade Democrat later said that, after an avalanche of public support, he has changed his mind and will not resign. 
April 23: The Washington Times: Biden wants Congress to fund
voting by mail for November
Presumptive Democratic presidential nominee Joe Biden is calling on Congress to provide enough money for every state to allow voters to cast a ballot by mail this November amid the coronavirus pandemic.  In making that pitch during an online fundraiser Thursday night, Biden blasted President Donald Trump for working to block emergency funding for the cash-strapped U.S. Postal Service, which would handle tens of millions of ballots this fall. Biden said it's evidence that Trump already is trying to "undermine" the election and make it more difficult for Americans to vote.  But mail ballots could also open the opportunity for voter fraud.
April 23: The Washington Examiner:  SCOTUS rules green card
holders are subject to deportation
The Supreme Court upheld a lower court decision against a permanent immigrant resident subject to deportation for multiple crimes.  In a 5-4 decision split along ideological lines on Thursday, the high court issued a ruling to broaden the scope of crimes that make immigrants, including green card holders, ineligible to have their deportation orders canceled.  The case  involved the U.S. government ordering Jamaican immigrant to be deported in 2016 for multiple crimes in Georgia, including firearms violations, drug crimes, and aggravated assault offenses.
April 23: Fox News: San Diego protestors say county overreaching
on virus restrictions; sheriff threatens legal action
A coastal city in San Diego County is demanding that county officials return local control over its access to public spaces such as walking trails and beaches.   Encinitas, which is about 25 miles north of San Diego, made national headlines Sunday when a group of about 200 people gathered to protest the city's closure of the Coastal Rail Trail and a portion of South Highway 101 to pedestrians amid the  COVID-19 pandemic.
April 22: The Daily Caller: GA state representative steps down
after harassment by his Democrat party
Democratic Georgia state Rep. Vernon Jones announced that he is stepping down from office, citing attacks and harassment from his party following his endorsement of President Donald Trump for re-election.  Jones shocked the Georgia political establishment when he became the first state-elected Democrat to endorse Trump in early April. The blowback from Jones' party is too much, and he is stepping down from his post as the representative for Georgia's 91st House District, Jones said.  "I'm sick and tired of me and my family being attacked and harassed by the Democrat Party for putting my country before my party," Jones said in a statement released Wednesday. 
April 22: The Washington Free Beacon:  MI Gov. Witmer blames state agency
for handing coronavirus contract to a campaign consultant
Michigan Democratic governor Gretchen Whitmer denied responsibility after her administration awarded a coronavirus-related contract to a prominent Democratic consulting firm, blaming the decision on the state's health department.  "The department thought that that vendor was the best one for some reason. I don't know what that reason was."  The Whitmer administration on Monday announced that it had awarded a contract to Great Lakes Community Engagement to conduct contact tracing in the state. This is the same firm had previously served as a Whitmer campaign vendor.
April 22: The Washington Examiner: N.Y. Gov. Cuomo: Unemployed?
Get an "essential" job you bums!
New York Gov. Andrew Cuomo has mostly earned high marks for his leadership amid the coronavirus pandemic. But not today.  The governor was asked at a press conference Wednesday to respond to the quarantine protesters who say the state's economic lockdown cannot continue as-is because their cash savings are running out. After a lengthy back-and-forth with a reporter, Cuomo eventually said that if broke, out-of-work New Yorkers want a job so badly, then they should become "essential."  That is some great advice. Why didn't the more than 73,900 New Yorkers, including bricklayers, steelworkers, and carpenters, who lost their jobs between February and March, think of that first and become Amazon deliverymen?
April 22: The New York Post: IF Kim Jong Un dies it could spark
a civil war and military response
Rumors swirling that North Korean leader Kim Jong Un has fallen critically ill have sparked fears that his demise would destabilize the region and lead to a refugee crisis that would draw in the US, South Korea and possibly other allies, according to a report.  But even if the 36-year-old overweight despot isn't moribund, he does have health issues and a possible end to his rule would create turmoil, experts told the Military Times.  Although Kim has no named successor or heir apparent, his younger sister — senior ruling party official Kim Yo Jong — appears to be the most likely candidate to step in.  However, some experts believe a collective leadership, which could end the family's dynastic rule, also could be possible.

April 21: Breitbart News: Pew Research: More than 9 in 10 Americans
call China's power a "threat" to the U.S.
More than nine in ten Americans now call China's power and influence in the world a "threat" to the United States.  About 91% Americans were of this opinion with 62%  believing China is a "major threat" with 29% saying they are a "minor threat."  China's economic rise has been at the expense of America's economy and U.S. workers.  Since 2001, free trade with China has cost millions of Americans their jobs. For example, the Economic Policy Institute has found that from 2001 to 2015, about 3.4 million U.S. jobs were lost due to the nation's trade deficit with China.
April 21: The Washington Times: Trump announces 60-day pause
on immigration for guest workers
President  Trump said Tuesday he will order a 60-day halt to new immigrants with an eye toward preventing them from competing with Americans for jobs during the coronavirus crisis — though he said temporary guest workers will still be allowed.  Mr. Trump said he felt a "solemn duty" to Americans thrown out of work by what he calls the "invisible enemy" of coronavirus. "It would be wrong and unjust for Americans laid off by the virus to be replaced with new immigrant labor flown in from abroad," the president said at the White House.
April 21: The Washington Examiner: DC police are actively investigating
sexual assault allegations against Joe Biden
The Metropolitan Police Department of the District of Columbia is actively investigating the complaint against Joe Biden brought by Tara Reade, the woman who accused Biden of sexually assaulting her in 1993, despite her allegation being impossible to prosecute since it is past the statute of limitations.   "This is an active, ongoing investigation, and there are no further details to provide at this time," a Metropolitan Police Department spokesperson told the Washington Examiner Tuesday regarding Reade's case. "Cases that are handled by the Metropolitan Police Department's Sexual Assault Unit go through a multi-review prior to being assigned a disposition. This case is progressing through the review process."
April 21: The Daily Caller: Cash flush universities set to get millions in federal funding
Eight elite private colleges of the Ivy League are slated to receive millions in taxpayer-funded coronavirus stimulus money despite controlling endowments with a combined value in 2019 of over $140 billion.  Five of the posted operational surpluses in 2019.  Collectively they are set to receive an additional $61.7 billion in federal funds.
April 20: Fox News: Trump to sign executive order temporarily
halting immigration over coronavirus
President Trump announced late Monday he will soon sign an executive order "to temporarily suspend immigration into the United States," in what appeared to be a drastic escalation of his efforts to fight the coronavirus pandemic and boost the economy.  "In light of the attack from the Invisible Enemy, as well as the need to protect the jobs of our GREAT American Citizens, I will be signing an Executive Order to temporarily suspend immigration into the United States!" the president tweeted.  The precise contours of the president's planned executive order were not immediately clear. The White House did not immediately elaborate on Trump's announcement.
April 20: The Washington Times: "Unlawful mandates":
Conservatives rebel against COVID restrictions
Conservatives rallied in state capitals from Pennsylvania to Arizona on Monday to reopen businesses from the coronavirus shutdown, a groundswell warning to governors to halt the unprecedented expansion of their powers.  Several hundred demonstrators in Harrisburg, Pennsylvania, defied Democratic Gov. Tom Wolf's's ban on mass gatherings — and social-distancing guidelines — to protest the governor's tight restrictions on "non-essential" business. The boisterous rally included an excavating company's truck cab painted with the message "Jesus is my vaccine" that blew its horn as it drove past the gathering.  The White House said every state now has enough coronavirus testing capacity to satisfy "phase one" of the administration's three-phase guidelines for reopening.  "It's critical to continue the medical war while reopening the economy in a safe and responsible fashion," said President Trump, who suggested that 30 states are in a position to do so.
April 20: The Daily Caller; North Korean leader Kim Jong Un
may be in "grave danger" after surgery
Reportedly the United States is monitoring intelligence that North Korean Leader Kim Jong Un is in "grave danger" following a surgery.  CNN reported Kim was last seen nine days ago on April 11th and recently missed the celebration of his grandfather Kim Il Sung on April 15th, raising questions regarding his health. According to Reuters, Kim was believed to be recovering from a cardiovascular procedure "at a villa in the Mount Kumgang resort county of Hyangsan  A separate U.S. official informed CNN that the reports concerning the North Korean leader's health are legitimate, but the level of severity could not be confirmed.
April 19: The Washington Examiner: Barr: Chinese Communist Party
cannot be trusted
Attorney General William Barr and other U.S. leaders condemned the Chinese government's move to arrest more than a dozen leaders from Hong Kong's pro-democracy movement for alleged crimes stemming from last year's mass protests.  Over the weekend, the ruling Chinese Communist Party arrested 15 of the key leaders of the pro-democracy movement in Hong Kong, a former British colony with semi-autonomous status, in an effort to continue to crack down on anti-authoritarian thought in the city following protests that rocked it last year. Some were released on bail over the weekend, and all must appear in court on May 18.
April 19: Fox News: China "cornered" the personal protective equipment
market and is "profiteering" during the coronavirus outbreak
White House Trade Adviser Peter Navarro said in an interview Sunday that China "cornered" the personal protective equipment (PPE) market during the coronavirus outbreak and "is profiteering."   Navarro, who is also the National Defense Production Act policy coordinator reacted to recent reports citing multiple sources that are saying there is increasing confidence that the COVID-19 outbreak likely originated in a Wuhan laboratory, though not as a bioweapon but as part of China's attempt to demonstrate that its efforts to identify and combat viruses are equal to or greater than the capabilities of the United States.  Navarro noted "China did [several things] over the course of this thing," which, he said, "led to the deaths of many people worldwide."
April 19: Breitbart News: Trump: Coronavirus exposed dangers of supply chain dependence on China
President Trump said Saturday that the biggest lesson of the coronavirus crisis was that the U.S. shouldn't rely on China for their supply chains.  "We've learned a lot about supply chains," Trump said. "We've learned that it's nice to make things in the U.S., I've been saying that for a long time."  The president discussed the issue during the White House press briefing, recalling he ran for president on the dangers of America's dependence on bad trade deals and foreign countries while gutting our country's industries.  "If one thing comes out of this more than anything else is that we should make product in the United States," he said.
April 18: The Washington Examiner: Brit Vet, 99, raises over $20 million for
UK National Health Serve by walking in his garden
A 99 year old British World War II veteran has raised more than $20 million for the country's National Health Service through a charity walk he started to commemorate his 100th birthday which is at the end of April. Last week, Tom Moore decided he would raise money to help the efforts to stop the spread of the coronavirus by walking the length of his 82-foot garden back and forth 100 times, using his walker for support.  His initial goal was about $1,250, but he ultimately skyrocketed past that marker to raise approximately $23 million.
April 18: Breitbart News: Hong Kong: Pro-democracy lawmaker stabbed but will live
Ousted pro-democracy legislator "Long Hare" Leung Kwok-hung was stabbed as he protested outside Beijing's liaison office in Hong Kong on Thursday, the South China Morning Post reports. An assailant attacked Leung with a sharp object, causing a gash by his waist, a Hong Kong police spokesman confirmed. Leung was subsequently taken to a nearby hospital for treatment and later discharged.
April 18: The Washington Times: TN allows drive in church services after law suit
A Tennessee mayor is reversing course to allow drive-in church services during the coronavirus pandemic after the city was sued over its ban.  Chattanooga Mayor Andy Berke confirmed the change in policy Saturday on Twitter. The conservative legal group Alliance Defending Freedom recently filed a federal lawsuit over the drive-in church ban on behalf of Chattanooga-based Metropolitan Tabernacle Church.  "I have spoken to pastors who assured me they could operate drive in church safely, with spaces between the cars and no collection plates," Berke said Saturday on Twitter. "This week's order therefore permits drive in church. Please observe safely.
April 18: Fox Business: Coronavirus pressures US manufacturers to bring plant home from China
The COVID-19 pandemic has America rethinking its reliance on China for not only key medical supplies but production capacity in general after Beijing clamped down on exports of critical items used to combat the disease.  China is the world's largest producer of masks, test kits and other medical equipment needed to control the spread of COVID-19, and the shipping restrictions sparked outrage in the U.S., which leads the world in infections with more than 706,000 cases.  Indeed, only about 11 percent of U.S. gross domestic product comes from manufacturing today, down from almost 40 percent in 1945.
April 18: The Daily Caller: Ohio, North Dakota, and Idaho to begin opening May 1
President Trump announced that three more states will begin a phased reopening process on May 1 after meeting the requirements for decreasing cases of COVID-19.  The governors of Ohio, North Dakota and Idaho all intend to begin the process – Texas was the first to announce a relaxing of restrictions. Reopening will occur in three phases for each state according to the severity of their outbreaks. Minnesota began relaxing distancing guidelines on Friday, but states with the most critical outbreaks like New York, New Jersey and Louisiana may take much longer to reach phase one.
April 17: The Daily Caller: NASA and Space X team up to
send astronauts to the space station
NASA administrator Jim Bridenstine announced Friday that in May, America's space program would do something it hasn't done since 2011.  He tweeted that NASA,  in partnership with Elon Musk's SpaceX, would launch the Dragon spacecraft from the Kennedy Space Center in Florida and carry astronauts Robert Behnken and Douglas Hurldy to the International Space Station.  The flight is the Dragon program's first manned test in orbit and has been dubbed "Launch America."
April 17: Dallas Morning News: Texas Governor first in the nation to relax coronavirus restrictions
Gov. Greg Abbott lifted some restrictions he put on Texans during the coronavirus pandemic but said Friday that public schools should remain closed for the rest of the academic year.  While teachers may return to campuses under controlled conditions to conduct remote instruction and perform administrative duties, Abbott said traditional public and charter schools should stay shuttered to help reduce spread of the novel coronavirus.  Starting April 24, retailers who previously were considered nonessential may begin providing pick up or home delivery for customers.  Starting Wednesday  restrictions on elective procedures and surgeries will be loosened;  cited biopsies for cancer as one example.  And on Monday, state parks will again open their gates, though visitors will have to wear masks or face coverings and keep at least six feet away from other visitors who aren't members of their families.
April 17: Fox News: Pence: The states have enough tests to start Phase I
of the recovery if they choose to do so
On Friday the Trump administration talked about the availability of mass testing for the coronavirus, with Vice President Mike Pence telling reporters that states "have enough tests to implement the criteria of phase one" of the White House plan to reopen the economy "if they choose to do so."  A slide in the White House briefing room showed that the U.S. had completed more than 3,780,000 tests as of Thursday.    Many governors have expressed caution about lifting stay-at-home orders, saying they need more help from the federal government to make tests available. President Trump said governors must take responsibility and lamented "false reporting" on testing.  Meanwhile, protesters in several states have demanded the reopening of schools, businesses, and commerce.
April 17: The Washington Examiner: Trump: Some governors are taking
stay-at-home orders too far
President Trump criticized some Democratic governors who he believes have taken stay-at-home orders meant to prevent the spread of the coronavirus too far.  A number of communities placed under stay-at-home orders have taken to the streets to protest the strict restrictions in states such as Michigan and New Jersey. The president weighed in on the protests on social media Friday morning, appearing on the side of the protesters, saying that people in Michigan, Minnesota, and Virginia "liberate" themselves and reopen their economies.
April 17: The Jerusalem Post: Trump unveils three stage process
for opening up after the coronavirus
US President Donald Trump proposed guidelines on Thursday under which US state governors could act to revive the US economy from its coronavirus shutdown in a staggered, three-stage process.  The plan suggests a 14-day "downward trajectory" in coronavirus cases before beginning a three-phase process of re-opening.  Guidelines: 
- First groups of more than 10 people should be avoided if appropriate distancing measures are not practical. Non-essential travel should be minimized, telework should be encouraged, and common areas in offices closed.
- Second, in states where there isn't evidence of rebounding cases groups of more than 50 be avoided where social distancing is not practical. Non-essential travel can resume, while schools and youth camps can reconvene and bars with "diminished standing-room occupancy" may re-open.  And
- The third includes unrestricted staffing of workplaces.
April 16: The Wall Street Journal:  Texas: Dems want to expand mail voting over coronavirus
Texans may vote by mail if they are over 65, out of town for the weeks an election runs, sick or disabled. That is defined as having "a sickness or physical condition" that prevents them from appearing at a polling place without the likelihood of "injuring the voter's health."  Democrats want to expand this to include anybody who is "afraid of getting an illness."  Voting by mail avoids the need for a photo ID and also opens avenues to possible voter fraud, Republicans contend.  [In Galveston we had a case where a person voted twice – once in Galveston by mail the other in person in Minnesota – in a Presidential election.  He was found guilty and paid $4,000 for doing so.]
April 16: The Daily Caller: A governor who has risen above the coronavirus
hysteria and defended the Constitution
Republican South Dakota Gov. Kristi Noem is one of a few state governors who have not yet placed citizens under a stay-at-home order in response to the current outbreak. Not only has she not placed the order, she has been outspoken in her contention that doing so would stand against everything America is supposed to stand for. She sees her decision as empowering individuals to take the necessary precautions to protect themselves and their families.
April 16: The Washington Times: Trump: Some states will reopen starting May 1st
President  Trump announced Thursday that states with low amounts of coronavirus cases can begin to reopen for business on May 1, as he issued new guidelines calling for governors to move at their own pace amid mounting economic hardship from the crisis.  Citing medical data that nearly one-third of the nation has had no new cases of COVID-19 in the past seven days, the president said it's time for many Americans to go back to work.
April 16: Fox News: Scott Walker: big power grab  has made people increasingly frustrated
Talking about how some in government have handled responding to the coronoavirus former Wisconsin Governor Scott Walker said   "You need to look at the data and the facts,' They're just ignoring that in a big power grab,  and I think this is what has made people increasingly frustrated with what's going on all across the country, Michigan probably being the tip of the spear."  Hundreds of cars, trucks and SUVs descended on Michigan's state capital Wednesday afternoon as part of a noisy protest against Democratic Gov. Gretchen Whitmer's social-distancing restrictions that critics say have gone too far.
April 15: The Washington Examiner: Trump to reveal guidelines for reopening US economy tomorrow
President Trump said the United States was past the peak of new coronavirus infections as he promised to unveil guidelines on Thursday for reopening the country's shuttered economy.  "The battle continues, but the data suggests that nationwide we have passed the peak on new cases," he said on Wednesday during his daily White House briefing.
April 15: The Daily Caller: Trump Administration refutes Pelosi claims that
temporarily stopping payments to WHO are "illegal"
An official explained that the funding allocation for is broken down into two groups: assessed dues and voluntary contributions made at an agency level.  WHO's assessed dues, according to OMB, can be immediately halted because a treaty does not exist that legally binds the US to WHO.  Meanwhile, voluntary funds will be reassigned to different world health organizations, thereby continuing to use the fund for the purpose Congress intended (e.g., world health).
April 15: Fox News: Sources believe coronavirus originated in Wuhan lab as
part of Chinese effort to complete with U.S.
There is increasing confidence that COVID-19 likely originated in a Wuhan laboratory not as a bioweapon, but as part of China's effort to demonstrate that its efforts to identify and combat viruses are equal to or greater than the capabilities of the United States, multiple sources who have been briefed on the details of early actions by China's government and seen relevant materials tell Fox News.   This may be the "costliest government coverup of all time," one of the sources said. The sources believe the initial transmission of the virus was bat-to-human, and that "patient zero" worked at the laboratory, then went into the population in Wuhan. [See related April 14 Washington Post story]
April 14: The Washington Post:  Dept. of State officials warned of
issues with PRC labs two years ago
Two years before the novel coronavirus pandemic upended the world, U.S. Embassy officials visited a Chinese research facility in the city of Wuhan several times and sent two official warnings back to Washington about inadequate safety at the lab, which was conducting risky studies on coronaviruses from bats. The cables have fueled discussions inside the U.S. government about whether this or another Wuhan lab was the source of the virus — even though conclusive proof has yet to emerge.
April 15: The Jerusalem Post: Trump to halt U.S. funding of
WHO over coronavirus response
U.S. President Trump said that he instructed his administration to temporarily halt funding to the World Health Organization (WHO) over the organizational response regarding the coronavirus pandemic.  Trump claimed the official United Nations health body "failed in its basic duty and it must be held accountable" for its efforts towards the initial outbreak in Wuhan, China - adding that it was a "disastrous decision to oppose travel restrictions from China and other nations."  He said the group had promoted China's "disinformation" and "defended the actions of the Chinese government" that likely led to a wider outbreak of the virus.  "With the outbreak of the Covid-19 pandemic, we have deep concerns whether America's generosity has been put to the best use possible," Trump said. 
April 14: The Washington Times: Freedom of Religion: DOJ supports allowing churches
to conduct drive in services
The Department of Justice (DOJ) on Tuesday sided with a Mississippi church that filed a lawsuit after local police broke up a "drive-in" service and slapped the automobile-bound worshipers with $500 tickets.  DOJ said the city of Greenville, Mississippi, had imposed coronavirus-related restrictions on the church that it had not applied to secular entities.  Attorney General William Barr said intervention was warranted to protect Americans' right to exercise their religion freely.
April 14: The Washington Examiner: Petition to recall of Michigan Governor over
response to the coronavirus gets over 60,000 signatures in 24 hours
An online petition to recall Michigan Gov. Gretchen Whitmer gained an additional 60,000 signatures in less than 24 hours as people in the state grow increasingly frustrated with the Democrat's handling of the coronavirus pandemic.   Sitting at 216,000 signatures as of Tuesday morning, the petition accuses Whitmer of overreacting to the outbreak of the coronavirus in the state.   The petition cites a laundry list of grievances, including "closing and banning various non-essential business's and activities while leaving others open. Further promoting the pandemic."
April 14: Fox News: Trump rejects push to expand voting by mail
Trump continued to  press against efforts by Democrats and even some Republicans to expand voting by mail and absentee ballot this November due to health threats from the coronavirus pandemic. The President said on Twitter: "Get rid of ballot harvesting, it is rampant with fraud, the USA must have voter ID, the only way to get an honest count!"    Ballot harvesting – also known as vote harvesting – is political speak for a practice in which organized workers, activists, or volunteers collect absentee or mail-in ballots and drop them off at a polling location or election office. It's legal in some states and illegal in others like Texas). The term – which carries a negative connotation – suggests voting improprieties or even election fraud.
April 13: The UK Daily Mail: China moves carrier toward Taiwan as two U.S. WESPAC
carriers are dockside due to the coronavirus
China's aircraft carrier, Liaoning, passed through the Miyako Strait on Saturday.  Along with five other ships, the Liaoning, sailed in waters on Taiwan's east coast and then into seas to south of Taiwan, carrying out exercises, officials said.  Taiwan's armed forces monitored carrier group's progress as it conducted drills.  The USS Theodore Roosevelt and USS Ronald Reagan are only two US carriers in Pacific, but both were forced to dock due to coronavirus cases onboard.  Without the presence of the two ships, China effectively has free range in region. 
April 14: The Daily Caller: Raleigh, NC: Protesting is not an essential activity
The Raleigh Police Department said Tuesday that protesting is "a non-essential activity," as they attempted to disperse a crowd of protesters who gathered to demand businesses in the state be allowed to reopen.  North Carolina is one of 43 states currently under a stay at home order over the coronavirus pandemic, and protesters  gathered at the state capital in Raleigh in opposition to those restrictions. At least one person at the rally was arrested, according to local investigative reporter Jonah Kaplan, who estimated that over 100 people attended the rally in total.


April 13: The Washington Times: Watchdog group blasts "electioneering" in Wisconsin elections
The Honest Elections Project said Monday it will spend $250,000 on an ad campaign attacking Democratic attempts to change election laws.  The election watchdog group's 30-second ad, "Hard to Cheat," will run on television and online and blames Democrats for the chaos surrounding the April 7 state election in Wisconsin. A bitter court battle about whether and how to postpone the Wisconsin election amid the coronavirus-related social distancing guidelines did not stop Tuesday's election, the results of which are expected to become public on Monday afternoon.
April 13: The Daily Caller: SCOTUS to hear oral arguments by telephone
The United States Supreme Court announced Monday that for the first time in history, it will hear select oral arguments via "telephone conference" in May, doing so in response to the coronavirus pandemic.  Among the 10 arguments being heard via teleconference are three cases involving President Trump's personal finances. SCOTUS originally agreed to take up the cases back in December after lower courts all unanimously rejected the Trump legal teams' arguments. All three were set to originally be heard in first March and then April but were finally postponed after the nation's highest court rescheduled the remainder of the term's cases over coronavirus fears.
April 13: Fox News: Protesters of stay at home order
At least 15,000 cars and trucks are expected to descend on Michigan's state capital on Wednesday to protest what they're calling Gov. Gretchen Whitmer's tyrannical new guidelines to slow the spread of Coronavirus in the state. The so-called "drive-by" demonstration – in order to maintain social distancing -- aims to bring traffic to a gridlock in Lansing and protest the "Stay Home, Stay Safe" executive order by Whitmer, a Democrat, mandating what businesses could stay home, what some businesses could sell and ordering people in her state against any gatherings – no matter the size or family ties.
April 12: The Independent Journal Report: Former FDA Commissioner: WHO
should investigate what China knew and when
Former Food and Drug Administration Commissioner Scott Gottlieb believes that if Chinese officials were more open about their coronavirus data, the spread of it could have slowed.   "China was not truthful with the world at the outset of this," Gottlieb said during an interview on CBS News' "Face The Nation" on Sunday.  He continued, "Had they been more truthful with the world, which would have enabled them to be more truthful with themselves, they might have actually been able to contain this entirely — and there is some growing evidence to suggest that."
April 11; The Washington Free Beacon: Planned Parenthood asks Supreme
Court to ease virus-related abortion restrictions
Texas abortion providers asked the Supreme Court on Saturday to allow some forms of abortion to continue, despite a state order barring nonessential medical treatments.  Texas governor Greg Abbott (R.) on March 22 imposed a far-reaching ban on elective procedures, including abortion, to preserve medical supplies needed to fight the coronavirus pandemic. Though an initial challenge to the ban failed, lawyers for Planned Parenthood and the Center for Reproductive Rights are seeking an exception for pill-based abortions, which are effective in the early weeks of pregnancy.
April 11: The Washington Examiner: Federal data shows more than
16 million mail ballots went missing from 2016 and 2018 elections
Roughly 16 million mail-in ballots ended up missing in the 2016 and 2018 elections, according to federal data.   Data from the U.S. Election Assistance Commission and the Election Administration and Voting Surveys for both the 2016 and 2018 elections show that 16.4 million ballots that were sent to registered voters by mail went missing.   In the 2018 election, about 42.4 million ballots were mailed to registered voters. Of those mailed, more than 1 million were undeliverable, more than 430,000 were rejected, and nearly 10.5 million went missing.  "Putting the election in the hands of the United States Postal Service would be a catastrophe," J. Christian Adams, president of the Public Interest Legal Foundation, said.

pril 11: The Washington Times: Louisville church can hold drive in Easter
services Federal Judge says
A federal district court in Kentucky granted a temporary restraining order on Saturday against a ban on drive-in church services ahead of Easter Sunday.  Judge Justin Walker, a Trump-appointee, sided with the On Fire Christian Center, which had sought to hold drive-in church services.  But Louisville Mayor Greg Fischer had warned the authorities would take down license plate numbers and force people to quarantine due to the COVID-19 pandemic. Kentucky is a state with a stay at home order.

Fox News reports similar bans on drive-in church occurred in Mississippi with police threatening parishioners with a $500 fine if they failed to depart.  Kelly Shackelford, president of the First Liberty Institute, argued that the city's order "is just massively unconstitutional."  "It targets churches in a way that it targets no other group," he said. "Cars in parking lots are fine. It's only a crime if the cars…" are in a church parking lot.  The Rev. James Hamilton of the King James Baptist Church in Greenville said on Tucker Carlson Tonight "We were abiding by the CDC [Centers for Disease Control and Prevention] guidelines… and Members of the church were inside their cars, had their windows up, and I was preaching the Word of God. So, no one was outside, and also we had cars at a distance."
April 10: The Daily Caller: FBI leadership knew of the Russian disinformation in the Steele dossier
The FBI received evidence that Russian disinformation polluted the infamous Steele dossier, according to information declassified Friday from the Justice Department inspector general's report of the FBI's surveillance of the Trump campaign.  FBI officials also had concerns as far back as 2015 of dossier author Christopher Steele's relationship to Russian oligarchs, but those were never shared with the FBI team that led the Trump investigation.  Despite those red flags, the FBI continued relying on Steele's information in applications to obtain surveillance warrants against Carter Page, the former Trump campaign aide.
April 10: Fox News: Trump establishes task force on reopening the economy
President Trump said Friday that that choosing when to move to reopen the U.S. economy amid the coronavirus pandemic would be "the biggest decision I've ever had to make."  "I want to get it open as soon as possible," Trump told reporters at Friday's briefing with members of the White House task force. "This country was meant to be open and vibrant and great."  The president added that he would formally convene an "Opening our Country" task force April 14 that will be comprised of doctors and business leaders. According to Trump, the second, smaller task force would "include names that you have a lot of respect for."
April 10: The Independent Journa Reviewl: Trump urges Congress to fund
small businesses with no additions
President Donald Trump said on Friday the funding measure to help small business should be approved by Congress with no additions, as a partisan skirmish in the U.S. Senate cut short a Republican effort to speed $250 billion in new assistance.  Republicans sought quick Senate passage of a small-business measure sought by Trump's administration on Thursday but ran into opposition from Democrats who wanted to add provisions such as funds for hospitals, local governments and food assistance.  Democrats then tried to move their own measure, only to see it rejected by Republicans.
April 9: The Washington Times; Senate Dems block additional funding for small businesses
Senate Democrats blocked a move by the Trump Administration Thursday to provide businesses with another $250 billion to keep their employees on the payroll, even as 6.6 million more people applied for unemployment benefits and the three-week toll for job losses reached 1 in 10 American workers.  The partisan Senate showdown began just hours after the Federal Reserve announced $2.3 trillion in emergency lending for businesses and communities to weather the coronavirus pandemic, and Treasury Secretary Mnuchin predicted that Americans will return to work next month.
April 9: Fox News: AG Barr: Russia investigation not a mistake but something far more troubling
Attorney General  Bill Barr Thursday called the Russia investigation of President Trump "one of the greatest travesties in American history," adding that he believed it was an attempt to "sabotage" Trump's presidency.  Asked about U.S. Attorney John Durham's ongoing probe into the origins of the Russia investigation Barr said "My own view is that the evidence shows that we're not dealing with just the mistakes or sloppiness.  There was something far more troubling here. We're going to get to the bottom of it. And if people broke the law and we can establish that with the evidence, they will be prosecuted."
April 9: The Daily Caller: Tucker Carlson about the WHO; a dishonest organization
Fox News host Tucker Carlson blasted the World Health Organization (WHO) and its director, Tedros Adhanom Ghebreyesus, on Thursday.  "Looking back, we'll conclude that no organization has dishonored itself more thoroughly during this pandemic than the World Health Organization," Carlson said, pointing out a "series of lies" the organization has told "at the behest of the Chinese government," lies that "undoubtedly cost people their lives." 

April 9: The Washington Free Beacon: Trump Admin. moves to revoke Chinas
authority to provide telecommunications in the U.S.
The Trump administration on Thursday sought to "revoke and terminate" licenses that permit a Chinese company to provide telecommunication services to and from the United States.  The Department of Justice said in a release that it "identified substantial and unacceptable national security and law enforcement risks" associated with China Telecom, the U.S. subsidiary of China's state-owned telecommunications company. It recommended the Federal Communications Commission revoke licenses allowing the company to operate in the United States
April 9: The Wall Street Journal; Farmers dumping milk as demand shrinks amid restaurant closings
It was still dark outside at four o'clock on a recent morning when a tanker truck poured 6,000 gallons of milk into a manure pit on Nancy Mueller's Wisconsin dairy farm.  The milk, collected from Mueller Dairy Farm's 1,000 cows, should have been hauled to dairy processors across the state for bottling or to be turned into cheese. But the Chinese coronavirus is disrupting all that, closing restaurants and schools that buy the nation's dairy products—and forcing hard choices for farmers
April 9: US News and World Report: Chinese coronavirus outbreak on USS Nimitz
There's been a very small number of breakouts on the Nimitz, and we're watching that very closely," Air Force Gen. John Hyten, vice chairman of the Joint Chiefs of Staff, told reporters at the Pentagon on Thursday about the 5,000-member crews. He said that those sailors have "been isolated on the ship."   He pointed to the inherent problem of containing the spread of the virus, aboard a ship in which many crewmembers share quarters, sometimes with as many as two dozen sleeping in bunks in one room. The ship is attempting to isolate them on board.  
April 8: Fox News: Custom/ Border Patrol to stop exports of critical PPEs
until a determination can be made that they are not needed in the U.S.
Personal protective equipment (PPE) -- which is in short supply in hospitals across the country amid the coronavirus pandemic -- will be prevented from leaving the United States, the federal government said Wednesday. U.S. Customs and Border Protection (CBP) said it will prevent critical supplies such as respirators, surgical masks and surgical gloves from leaving the country while the Federal Emergency Management Agency (FEMA) determines whether to purchase the equipment, allow it to be exported or keep it for use in the U.S.
April 8: The UK Daily Mail: Coronavirus facts China wants
the world to forget
China's official news agency has released a  coronavirus timeline to hit back at accusations that Beijing tried to cover up the full scale of the outbreak.  The 37-page document describes the efforts China has taken however it left out some of the most crucial events of the health crisis, each of which has played a decisive role in the development of the global emergency.  Omitted from the report are;
-The whistle blowers; eight Wuhan medical workers who sounded the alarm on the virus at the end of December and who were accused of spreading fake news and reprimanded by police.
-The Huanan seafood market; Since the beginning of the outbreak, researchers and authorities have linked the virus to the Huanan Seafood Wholesale Market, a once-popular wet market in the city of 11 million.
-The Gag Order; A high-profile investigative report has accused Chinese officials of ordering labs to stop testing and destroy all samples of the coronavirus in the very early stages of the outbreak.
April 8: The Washington Examiner: Talk of freezing funds to WHO amidst
claims of being apologists for Chinese actions in coronavirus
Top Republican senators voiced support for President Trump's suggestion that the United States should pull its funding for the World Health Organization (WHO) as the group faces allegations that it has a pro-China bias leading to a botched coronavirus response. Trump criticized WHO at the White House coronavirus task force briefing on Tuesday for not supporting a travel ban he implemented on China earlier this year meant to limit the spread of the novel coronavirus from the country where it originated, and he raised the possibility of at some point putting a "very powerful hold" on the "vast amounts" of funds the U.S. gives it.
April 8: Fox News: Bernie suspends campaign leaving Biden as the presumed Democrat nominee
Bernie Sanders has suspended his Democratic presidential campaign -- all but handing the nomination to former Vice President Joe Biden.  According to a brief campaign statement, He announced the decision during an all-staff conference call Wednesday.  Sanders' lingering presence in the race had agitated Biden allies, concerned he would continue to make it difficult for Biden to fully focus on a general election battle against President Trump.
April 8: The Jerusalem Post: Germany allows U.S. sanctioned Iranian "terror" bank to operate
The organization United Against Nuclear Iran published a report on Tuesday, disclosing that German Chancellor Angela Merkel's government is permitting Iranian banks sanctioned by the US government to operate within the federal republic.  "The oldest Iranian bank operating in Germany is Bank Melli, established in 1965 in Hamburg. It is also Iran's national bank, wholly owned by the Government of Iran, and its biggest company by revenue. The US Treasury sanctioned Bank Melli in 2018 for its support of Iran's Islamic Revolutionary Guard Corps (IRGC), having enabled the IRGC and its affiliates to move funds inside and outside Iran," wrote the report's author, Daniel Roth.
April 7: The Daily Caller: VA Congressional candidate is producing 3D coronavirus
masks; donating them to local hospitals
Republican congressional candidate Ben Loyola is harnessing both his technological resources and his entrepreneurship as an American to create and donate COVID-19 masks through his 3-D modeling company.  Loyola, who is running to unseat a one term Democrat incumbent in Virginia's 2nd Congressional District, started a multi-million dollar engineering company after retiring from thirty years in the U.S. Navy.  He is now he is using his company, Loyola Enterprises, to create masks to donate to local hospitals and first responders.
April 7: The Washington Free Beacon: Judge allows California's closure of
gun stores amid the Chinese coronavirus
A federal judge on Monday denied a request by gun-rights groups to prevent California from shutting down gun stores during the coronavirus crisis in a legal battle that could end up before the Supreme Court.  Second Amendment activists had filed a federal suit to block California localities from including gun stores in emergency shutdown orders related to the coronavirus. Judge André Birotte Jr. denied the request, ruling that Los Angeles County—where the case was filed—or any other jurisdiction could close gun stores to prevent the spread of the virus
April 7: Independent Journal Review: Acting SecNav tenders resignation after
remarks revealed about the commanding officer of the USS Teddy Roosevelt
Acting Navy Secretary Thomas Modly submitted his resignation a day after audio of him calling the captain of the USS Theodore Roosevelt, Captain Brett Crozier, "stupid" surfaced, according to several reports.  In a speech to the crew of the Roosevelt, Modly blasted Crozier for raising the alarm after more than 100 crew members tested positive for the coronavirus.  Crozier had requested in a letter to Navy leadership that the crew of the ship be allowed to disembark and quarantine to prevent the spread of the virus.
April 6: The Daily Caller: Democrat Michigan State Rep credits Trump with saving her life
Democratic Michigan state Rep. Karen Whitsett credited President Trump for saving her life after she used hydroxychloroquine to treat her coronavirus.  Whitsett was diagnosed with the Chinese coronavirus late last month, and said she started to feel relief just two hours after taking the drug.  She praised the president's advocacy for the drug, and said "Yes, I do" when asked if she thinks Trump may have saved her life.  "It has a lot to do with the president … bringing it up," Whitsett said. "He is the only person who has the power to make it a priority."
April 6: The Washington Times; Wisconsin Supreme Court overrules Governor;
Primary Election to proceed
The Wisconsin primary election on Tuesday is back on.  The state Supreme Court appeared to get in the the final word Monday evening, thwarting Gov. Tony Evers' last-ditch attempt to postpone in-person voting in the state's election and reschedule the vote for June 7. The U.S. Supreme Court later blocked state Democrats' bid to extend early voting a week after the election.  The Wisconsin court ruled by a 4-2 margin that Mr. Evers, who had issued a statewide stay-at-home order in response to the coronavirus epidemic, lacked the authority to unilaterally change an election date through the executive order he had issued earlier in the day.
April 6: The Washington Free Beacon: Wisconsin Governor (Dem) postpones primary
election and bans in person voting; prompting GOP court challenge
A bewildering series of events left the fate of Wisconsin's elections in doubt less than a day before in-person voting was set to begin. Gov. Tony Evers (D.), who previously said he has no power to suspend elections, issued an extraordinary order on Monday delaying the state's elections until June 9, just 18 hours before precincts opened for voters to cast their ballots. The Republican-controlled legislature claims Evers has no authority to issue such a command and promised an immediate challenge to his order in the Wisconsin Supreme Court.
April 6: The Washington Examiner: State declines opportunity to join Hillary Clinton's
attempt to dodge testifying under oath before Judicial Watch attorneys
The State Department declined to join former Secretary of State Hillary Clinton's effort to convince an appeals court to let her dodge a judge-ordered sworn deposition about her use of a private email server and the 2012 Benghazi terrorist attack.  "The Court agrees with Judicial Watch — it is time to hear directly from Secretary Clinton," U.S. District Court Judge Royce Lamberth ruled in March ordering Clinton and her former Chief of Staff Cheryl to be deposed by the conservative watchdog.  Clinton's legal team filed a petition with the D.C Circuit calling the lower court's ruling outrageous.  Meanwhile the State Department, represented in court by Justice Department lawyers, declined to join Clinton's legal argument on Friday.
April 6: The Washington Examiner: State designates Russian white supremist group a terrorist organization
A group of Russian militants involved in bombings in Europe and the Russian invasion of Ukraine is a white supremacist terrorist group, the State Department's top counterterrorism official announced Monday.   "This is the first time the United States has ever designated white supremacist terrorists, illustrating how seriously this administration takes the threat," Counterterrorism Coordinator and Ambassador Nathan Sales told reporters. "We are taking actions no previous administration has taken to counter this threat."  The group, the Russian Imperial Movement, Sales explained "provides paramilitary-style training to neo-Nazis and white supremacists."  He blamed the movement for a series of bombings in Sweden and acknowledged "public reports" that the group has tried to expand into the U.S.

April 5: The Washington Free Beacon: Illinois Congressman blames Trump for
coronavirus while avoiding questions about Chinese coverup
As COVID-19 spreads across the nation, Rep. Sean Casten (D., Ill.) has repeatedly attempted to blame Trump and Republicans for the death toll, accusing them of spreading fatal misinformation about the pandemic. Casten himself, however, has misinformed the public about China's role in the pandemic. When one of his constituents asked about the early Chinese response to the outbreak at a March 21 electronic town hall, the congressman refused to talk about the regime's coverup of the virus. Instead, he incorrectly said that China had successfully isolated the outbreak in Wuhan.

April 4; The Washington Examiner: Trump notifies Congress he is removing
intelligence IG, effective in thirty  days
Trump notified Congress late Friday he was exercising his power to remove Michael Atkinson from the intelligence community inspector general role, effective in 30 days, because he "no longer" had the fullest confidence in him. The president said he would submit a replacement "who has my full confidence and who meets the appropriate qualifications" at a later date.  Michael Horowitz, the Justice Department inspector general whose work in uncovering impropriety by law enforcement officials has been championed by allies of the president, particularly his investigations into alleged surveillance abuses also vowed that "aggressive, independent oversight" would continue unabated.
April 4: Fox News: Trump warns of a rough week ahead because of the coronavirus
President Trump on Saturday warned the nation of a deadly week ahead in the fight against the coronavirus.  "This will probably be the toughest week -- between this week and next week," Trump said Saturday at the beginning of his coronavirus task force briefing at the White House.  "There will be a lot of death, unfortunately. But a lot less death than if this wasn't done," Trump said of the nationwide precautions underway. "But there will be death."
April 4: The Daily Caller: China appointed to UN Human Rights Council
irrespective of their appalling human rights record
China has been appointed to an influential United Nations Human Rights Council panel — despite the Communist regime having a long history of violating human rights and persecuting religious groups.  Jiang Duan, China's representative at the Geneva UN mission, will be part of the UN Human Rights Council's Consultative Group and will be the Asia-Pacific advisor for the body.
April 3: Fox News: Dr. Fauci: It's "mind boggling" that the Chinese wet markets
are still being allowed to operate
White House coronavirus task force member Dr. Anthony Fauci said on Friday that all of China's wet markets should be shut down immediately in light of the pandemic ravaging much of the world.  "It boggles my mind how, when we have so many diseases that emanate out of that unusual human-animal interface, that we just don't shut it down," Fauci said.  "I don't know what else has to happen to get us to appreciate that," he contended.
April 3: The Daily Caller: Wisconsin Democrat Governor wants to delay primary
election; move to all mail in voting; despite Biden's wishes
Democratic Wisconsin Gov. Tony Evers is calling the state legislature back to the capitol for a special session as he seeks to delay next Tuesday's primary elections over the coronavirus pandemic.  Evers wants the legislature to take up all-mail voting, and extend the deadline to send in a ballot until May 26, according to a press release. The move comes a day after Democratic front-runner Joe Biden said he did not think Wisconsin should postpone its primary. The Democratic Party announced Thursday that it was postponing its national convention from mid-July to mid-August over the pandemic.

April 3: Towlerroad.com: Sailors cheer ousted Navy CO;
Crew cheers Captain Brett Crozier as he departs USS Teddy Roosevelt (CVN-71) after being relieved of duty for sounding the alarm over a coronavirus on his ship.   Stars and Strips reports: hundreds were pictured in the gathering in the ship's hangar deck and many chanted Capt. Brett Crozier's name in multiple videos posted to social media. One person posted "That's how you send out one of the greatest captains you ever had!" Crozier was dismissed Thursday due to a loss of confidence in his ability to command and for not using his chain of command to make service leaders aware of his concerns about the virus outbreak that had infected more than 100 sailors on the ship, acting Navy Secretary Thomas Modly said at the Pentagon.
April 2: Fox News: California police take a "wipe" out of crime!
Beverly Hills officers took a "wipe" out of crime Tuesday after pulling over a stolen SUV and finding 192 rolls of toilet paper – a much sought-after commodity as people hoard supplies amid the  coronavirus pandemic.  Beverly Hills police posted a photo of officers searching the white SUV on social media. Two boxes stuffed with rolls of toilet paper are pictured outside the vehicle.  Police arrested the driver. It was unclear whether the toilet paper was also stolen.
April 2: The Daily Caller: Trump: Russia and Saudis considering cutting crude
oil production, good news for USA petroleum industry
Oil prices rallied Thursday after U.S. President Trump hinted his Russian counterpart, Vladimir Putin, and Crown Prince Mohammed bin Salman told him they might reduce crude production.  The two countries have been in an oil production/price war.  Trump said he "spoke to my friend MBS (Saudi Crown Prince), who spoke with President Putin of Russia, & I expect & hope that they will be cutting back approximately 10 Million Barrels."  The Dow Jones industrial average jumped more than 500 points after Trump's remarks. The president's bold talk provided hopes of a reprieve to a beleaguered oil industry, which saw the price of oil fall roughly 60% over the past month.
April 2: The Washington Examiner: With COVID-19 raging Pelosi & Schiff ramp up another investigation
The team is back in action. On Thursday, Speaker Nancy Pelosi announced the creation of the House Select Committee on the Coronavirus Crisis. The new panel will have the authority to investigate any aspect of the virus emergency and the Trump administration's handling of it.   Pelosi's announcement came a day after House Intelligence Committee Chairman Adam Schiff called for a 9/11-style independent commission to investigate "mistakes" in the virus response. Shortly after that, Schiff told the Washington Post, House Democrats must investigate the Trump administration's handling of virus testing and the government's distribution of personal protective equipment for healthcare workers.
April 2: The Daily Caller: Biden: Ignoring Chinese under reporting says U.S. has
more cases of COVID-19 than any other country
Former Vice President Joe Biden said Thursday that America has "more coronavirus cases than anywhere in the world," ignoring China's widely acknowledged undercounting of coronavirus cases and deaths.  Biden, who has repeatedly spread misinformation about the federal coronavirus response, criticized President Donald Trump in a statement released Thursday
April 1; Fox News: Trump:  I can't confirm China's numbers because of possible under reporting
President Trump said Wednesday he could not confirm the veracity of the numbers of coronavirus cases and deaths being reported by China, as he warned Americans to brace for more "horrific" days in dealing with the virus.  While Trump said the numbers being reported by Beijing "seem to be a little on the light side," the president and National Security Adviser Robert C. O'Brien said they currently have no way to confirm the number of COVID-19 cases being reported by the Chinese government. The comments follow accusations from critics that China is underreporting its cases.
April 1: The Daily Caller: Tom Cotton Blasts 'Apologists' In Media For Accepting Chinese
Propaganda Surrounding Coronavirus Origins
Senator Cotton (R-AR) said it is wholly appropriate to question whether the coronavirus outbreak originated from a biochemical lab in Wuhan, China, in an exclusive interview with the Daily Caller News Foundation.  Noting the Chinese government's dishonesty surrounding the outbreak from its earliest stages, Cotton criticized the media for their inclination to accept Chinese propaganda at face value.  "The mainstream media are largely apologists for Chinese communists and they will accept Chinese communist propaganda," Cotton said. "They immediately try to accuse anyone who raises these reasonable questions as conspiracy theorists that are accusing China of creating a biological weapon."
April 1: The Washington Times;  Trump: Iran could be planning an attack on US forces
President Trump on Wednesday suggested that Iran could be planning a "sneak attack" on U.S. troops or assets in Iraq and warned Tehran would pay a "heavy price" if an attack is carried out.  The Trump administration has for months suggested that any Iranian, or Iran-backed militia attacks against Americans in the region would warrant harsh U.S. military retaliation, but Mr. Trump's surprise announcement indicates new intelligence of a potential threat.  "Upon information and belief, Iran or its proxies are planning a sneak attack on U.S. troops and/or assets in Iraq. If this happens, Iran will pay a very heavy price, indeed!" Mr. Trump said in a tweet shortly after a closed-door intelligence briefing.
April 1: The Washington Examiner; Hunter Biden can't deny impropriety any
more than he can deny paternity
In a recent interview Hunter Biden said his only error was in showing the "poor judgment" of not realizing his board position with a dicey foreign corporation might give "a hook to some very unethical people to act in illegal ways to try to do some harm to my father. That's where I made the mistake."   The Washington Examiner column notes there is a difference between doing something illegal and something that's unethical.  The huge ethical problem with taking Burisma's highly paid board position was that it unambiguously put a cloud over important U.S. diplomacy. When Biden joined Burisma's board on April 18, 2014, his father was already well-ensconced as the Obama administration's point man on policy toward Ukraine, one of the world's leading diplomatic hot spots. Worse, Biden the son had no obviously relevant experience for the position.
March 31: The Washington Free Beacon: Idaho bars biological male athletes f
rom competing in all-female athletics
Idaho governor Brad Little (R.) on Monday signed the Fairness in Women's Sports Act to prohibit biologically male students from participating in all-female sports.  "Athletic teams or sports designated for females, women, or girls shall not be open to students of the male sex," the  legislation states.  The law cites differences in male and female physiology that results in distinct athletic capabilities.  "Under this bill, boys and men will not be able to take the place of girls and women in sports because it is not fair," state representative Barbara Ehardt said.
March 30: The Washington Times: China resumes allowing the selling of
wild animals, like bats, thought to be the origin of the coronavirus
Brit reporters say Communist China is permitting wild animal markets to resume selling bats, believed to be the source for the deadly coronavirus now killing people across the globe, including over 2,500 Americans to date.  A number of scientists say it is likely that bats either infected other market animals or humans directly. Bats carry a variety of coronaviruses and are blamed on for the 2002 SARS coronavirus epidemic that also originated in a Chinese market.
March 30: The UK Daily Mail: What happened to social distancing;
Crowds gather to see hospital ship Comfort arrive in NYC
Crowds gathered to watch the USNS Comfort, a Navy hospital ship with 1,000 beds for patients, arriving in New York City to alleviate the strain on the city's hospitals as it continues to battle the coronavirus pandemic - despite being warned to stay at home. The ship arrived at New York Harbor on Monday morning. It will welcome patients who do not have coronavirus but who still need care in order to clear out the city's other hospitals for those who have tested positive for COVID-19. It came as the death toll in New York City hit 790 and more than 36,000 cases were recorded. New York City is the epicenter of the virus in the US.
March 20: Breitbart News: Pelosi wants to investigate Trump's response to coronavirus while in February she dismissed the threat during a visit to San Francisco's Chinatown
House Speaker Pelosi wants to investigate President Trump for his actions in the lead-up to the coronavirus outbreak in the U.S, but in February she dismissed the threat with a visit to San Francisco's Chinatown.  "We want to be vigilant about what is out there in other places," Pelosi said to reporters in February as her entourage packed the sidewalk. "We want to be careful about how we deal with it, be we do want to say to people, 'Come to Chinatown. Here we are. We're careful, safe. Come join us.'"
March 29: The Washington Examiner: Brits reportedly furious with China
disinformation campaign over the coronavirus
The British government is reportedly furious with China over its handling of the coronavirus epidemic, particularly with the disinformation campaign that the U.S. Army is responsible for the COVID-19 virus outbreak.  Senior British government officials say China risks becoming a "pariah state" for its handling of the virus, which was first discovered in the city of Wuhan,. "There is a disgusting disinformation campaign going on and it is unacceptable. They [the Chinese government] know they have got this badly wrong and rather than owning it they are spreading lies," a source said to the Daily Mail. 
March 29: Fox News: Trump predicts "peak" of deaths in about two weeks;
social distancing guidelines extended through April 30th
Speaking at a contentious White House coronavirus news briefing on Sunday,  President Trump declared that "the peak in death rate" in the coronavirus pandemic "is likely to hit in two weeks," and said the federal government will be extending its social-distancing guidelines through April 30.  Saying his earlier hope was that the country could reopen by Easter was "just an aspiration," Trump added: "We can expect that be June 1, we will be well on our way to recovery" and that "a lot of great things will be happening."

March 29: The Daily Caller: ICE takes deportees to Central America b
rings back stranded US citizens on the return trip
ICE Air Operations, the air transportation arm of Immigration and Customs Enforcement (ICE), has so far rescued 466 U.S. citizens stranded in the Northern Triangle region of Central America amid the coronavirus pandemic.  Following orders of final removal, ICE deported Salvadoran and Honduran nationals back to their home countries on Friday. On the return leg of these flights, the agency took aboard U.S. citizens who were stranded due to COVID-19 lockdowns, according to an ICE press release.
March 29: The Wall Street Journal: Saudis intercept ballistic missiles from Yemen terrorist group
The Saudi-led coalition fighting in Yemen said early on Sunday that the kingdom's air defenses intercepted two ballistic missiles on Saturday night launched by Yemen's Iran-aligned Houthi group towards Riyadh and the city of Jizan, Saudi state news agency (SPA) said citing the coalition's spokesman.  The coalition's spokesman said that no fatalities had been recorded so far but that some shrapnel to fall on residential neighborhoods in the two cities.  The spokesman added that firing missiles at this time by the Houthis and Iranian Revolutionary Guards showed the real threat the group and Iranian regime supporting it pose, adding that this escalation does not reflect the group's announcement that it is welcoming a ceasefire.
March 28: Fox News: Trump: Quarantining NYC, NJ and CT should NOT be necessary
President Trump on Saturday night said the administration would not be issuing a quarantine on New York, parts of New Jersey and some of Connecticut as part of the efforts to curb the spread of the Chinese coronavirus.  "A quarantine will not be necessary," he tweeted, noting that the Centers for Disease Control and Prevention (CDC) would issue a "travel advisory" later in the evening.  The CDC shortly after issued a Domestic Travel Advisory urging against "non-essential domestic travel" in the tri-state area for 14 days.
March28: The Daily Caller: World Health Doc cuts off interview when question
suggested Taiwan is not part of China
A senior World Health Organization (WHO) official appeared to pretend he couldn't hear a reporter and then cancelled the call when she implied Taiwan was a separate country from China. The reporter asked whether the policy (of not allowing Taiwan to be a member of the WHO) might change during the coronavirus pandemic.  "Will the WHO reconsider Taiwan's membership?" the reporter asked.  It has been widely reported that senior WHO leadership has sympathy, if not ties to, communist China.
March 28: The Washington Free Beacon: Kennedy Center: musicians will no longer
receive pay checks after the April 3 even with the $25 billion earmark in the
Chinese coronavirus stimulus bill
The John F. Kennedy Center for the Performing Arts informed members of the National Symphony Orchestra that they would no longer be paid just hours after President Trump signed a $25 million taxpayer bailout for the cultural center.  Congress included $25 billion for the Kennedy Center in its $2+ trillion Chinese coronavirus stimulus package.  On Friday night nearly 100 musicians were notified by email that they will no longer receive paychecks after April 3, according to an email from the orchestra's Covid-19 Advisory Committee.  The apparent "abrupt email" said that librarians and musicians will not be paid again until the Center reopens.
March 27: Politico:  "Special deals" in the stimulus package
- Sen. Patrick Leahy (D-Vt) managed got a minimum assistance figure for every state — $1.5 billion — to make sure small states like his weren't left out in the legislation. 
- Casinos will be able to tap government loans for disaster assistance, a payback after casinos were blocked from receiving tax breaks extended to other businesses after Hurricane Katrina in 2005.
- Travel agents will be able to apply for part of the $25 billion in loans and loan guarantees reserved for the airlines.
- The final package creates a new tax benefit for student loan borrowers whose employers help them pay off their debt. Under the bill, a company could pay up to $5,250 of an employee's student loan payments each year on a tax-free basis.
- The deal includes language making it easier for Congress to dole out money for harbor dredging by exempting from discretionary spending caps the Army Corps of Engineers funding provided through the Harbor Maintenance Trust Fund. The provision is a boon for ports that need dredging work.
March 27: Market Watch: House passes $2 trillion coronavirus stimulus package by voice vote
The House of Representatives on Friday approved a $2 trillion coronavirus stimulus package in a voice vote, with the move coming after Kentucky GOP Rep. Thomas Massie's push for a recorded vote -- that would create a record of how each member voted -- failed.. The legislation already has passed the Senate and is expected to be signed into law quickly by President Donald Trump.
March 27: MSN.com: Rep. Thomas Massie calling on roll call vote on the
$2 Trillion Chinese coronavirus stimulus bill
U.S. Representative Thomas Massie enraged President Donald Trump on Friday as he has leaders of Congress worried he will delay a planned Friday voice vote on a $2.2 trillion coronavirus economic rescue plan, drawing calls from the White House to throw him out of the Republican Party. But even though requiring a roll call vote might delay the passage of the stimulus package, it would also create a record of how each member voted.  With things that don't related to the Chinese coronavirus in the bill, this could be damaging for some members of Congress come election time.
March 27: The Washington Free Beacon: PRC gives cold shoulder to U.S.
journalist request to remain in China
China hit out at what it called "biased" reporting on Friday in a frosty response to a request by three major U.S. newspapers (NYT, WSJ, and Washington Post) to reverse the expulsion of several of their China-based journalists.  The three newspapers published an open letter earlier this urging China to reconsider it's decision, saying it was "uniquely damaging and reckless" at a time when the world is sharing the burden of fighting the coronavirus.  China's Foreign Ministry said in a statement that it welcomed media and reporters from all countries to report in China "in accordance with laws and regulations" but that it did not accept "the arrogance and prejudice" it said was revealed in the publisher's letter.   The statement did not directly answer the newspapers' request but suggested Beijing was in no mood to accept it.
March 26: The Washington Examiner: DOJ charges Venezuela's Maduro with narco-terrorism
Attorney General William Barr announced narco-terrorism charges against Venezuelan socialist leader Nicolas Maduro for his role in facilitating the global drug trade in coordination with the Colombia-based terrorist group known as the FARC.   The Justice Department said on Thursday that Maduro formed and leads his own drug ring, dubbed the Cartel of the Sun, and gives the FARC free reign to operate in parts of Venezuela.   Investigators said Maduro and his co-conspirators were being charged with conspiracy to commit narco-terrorism, conspiracy to important hundreds of tons of cocaine into the United States, and a variety of weapons charges. The Justice Department said Maduro expressly indented on flooding the U.S. with cocaine to harm the health and well-being of the nation. The chief justice of Venezuela was also charged with international money laundering.
March 25: The Washington Times: By unanimous consent Senate passes $2.2 trillion
Chinese coronavirus stimulus package
The Senate passed the $2.2 trillion emergency stimulus package to assist the overly stressed health care system and tumbling economy Wednesday night. The bipartisan deal passed on a 96-0 vote. Majority Leader Mitch McConnell touted the unanimous vote as a victory for bipartisanship, despite a drawn-out partisan negotiation process. With the country over a trillion dollars in debt the question some are asking is what will be the long-term impact with an additional $2.2 trillion added to the existing debt.
March 25: The Daily Caller: Former presidential economic advisor opposes
direct payments in Senate stimulus package
Sephen Moore , former economic adviser to President Trump, explained why he, along with economist Art Laffer, wrote an op-ed opposed to the direct payments in the Phase 3 stimulus plan, how Trump settled on April 12, Easter Sunday, as his optimistic date for ending the coronavirus shutdown and more. 
March 25: Fox News: Senate coronavirus stimulus bill contains big bucks for
non-virus-related projects
The Senate emergency stimulus compromise package allocates $75 million for the Corporation for Public Broadcasting (CPB), the nonprofit that funds National Public Radio (NPR), offers programming featuring the children's character "Big Bird" and supports other public stations.  The massive payout -- which the draft bill says would "make fiscal stabilization grants to public television and radio stations facing declines in non-federal revenues" -- is less than the $300 million that House Speaker Nancy Pelosi (D-CA) had proposed in her own coronavirus stimulus proposal. The money nevertheless drew complaints from senators who called the spending unrelated to the coronavirus, and who have long accused NPR of overt political bias.

March 24: The Washington Free Beacon: Senator Scott  rips Pelosi and Dems for
distractions in the coronavirus stimulus package
Sen. Tim Scott (R-SC) on Tuesday criticized Speaker of the House Nancy Pelosi (D-CA) and Senate Democrats for slowing down the progress on the coronavirus stimulus package for partisan reasons.  "For absolutely no reason, the speaker's passion for partisan hogwash started causing the type of delays that doesn't simply cripple our economy, but it imperils our health care response to people who are infected by the coronavirus," Scott said on the Senate floor.
March 23: MSN.com: Trump considers relaxing stay-at-home
policy; cure shouldn't be worse than the virus
President Trump on Sunday night said that the government would reassess the recommended period for keeping businesses shut and millions of workers at home after this week, amid millions of job losses caused by the efforts to contain the spread of the Chinese coronavirus.  "WE CANNOT LET THE CURE BE WORSE THAN THE PROBLEM ITSELF," Mr. Trump tweeted in all capital letters shortly before midnight. "AT THE END OF THE 15 DAY PERIOD, WE WILL MAKE A DECISION AS TO WHICH WAY WE WANT TO GO!"
March 23: The Daily Caller: "We are open:" Cleveland abortion clinic
defies health department order to stop during coronavirus outbreak
An Ohio abortion clinic is refusing to cease abortions during the coronavirus pandemic despite an order from the Ohio Department of Health.  A Preterm employee confirmed on Monday that the clinic will not stop performing abortions, despite a Wednesday order from the Ohio Department of Health mandating that all non-essential and elective surgeries cease in order to preserve Personal Protective Equipment (PPE) for health workers.  This was followed by a Friday letter from the Ohio Attorney General ordering two specific Ohio abortion clinics to stop providing any services that require PPEs.
March 23: The Washington Free Beacon: Iranian officials steal $1 billion in funds
earmarked to help fight the coronavirus
Iranian regime officials stole more than $1 billion meant to help the country's people fight the spread of coronavirus, according to Secretary of State Mike Pompeo.  European countries intended for more than $1 billion cash for medical supplies to go to the Iranian people, who have been ravaged by the virus. But American officials say regime leaders instead pocketed the money and are now using it to protect themselves from the virus as it spreads throughout the population. This includes hoarding medical supplies that were meant to aid Iranian citizens.
March 23: Fox News: Senate Democrats shoot down stimulus package for second time
Tensions flared on the Senate floor Monday as lawmakers viscerally clashed on camera over phase three of a coronavirus response package, with Democrats blocking Republican efforts to advance the massive stimulus bill for the second day in a row.  Leaving the legislation in limbo once more, the Senate stalled over the package Monday afternoon on a 49-46 vote. It needed 60 votes to advance.  Some believe, given the price-tag of $1+ trillion, that the logjam may not be a bad thing.
March 23: The Washington Examiner: FDA relaxing rules to help auto manufacturers
make ventilators to help combat the coronavirus
The Food and Drug Administration temporarily relaxed regulations on manufacturing regulators to give private companies more flexibility to build medical supplies needed to combat the coronavirus.  Ford, General Motors, and Tesla are adapting their facilities from building automobiles to pumping out regulators for hospitals struggling under an influx of COVID-19 patients. The federal government reportedly is simultaneously easing regulations to help the car companies pass through the bureaucratic process to make medical supplies faster. This includes easing restrictions on sourcing materials, allowing companies to buy ventilator components from a broader range of suppliers.
March 23: The Washington Times: Trump partnering with private sector making USA
supercomputers available for coronavirus research
The Trump administration has partnered with the private sector to make the nation's supercomputing capabilities available to researchers fighting the coronavirus.  The White House Office of Science and Technology and the Department of Energy formed the new partnership on Sunday with Amazon Web Services, Google Cloud, IBM and Microsoft.  Also participating in the COVID-19 High Performance Computing Consortium are five national laboratories, the National Aeronautics and Space Administration (NASA), the National Science Foundation, the Massachusetts Institute of Technology, and Rensselaer Polytechnic Institute.
March 22: The Hill: Democrats are getting nervous about
delaying primary elections
Democrats are increasingly nervous about the coronavirus pandemic upending the Democratic primary calendar.  As more and more states postpone their primaries — delaying their elections as far back as June — some Democrats say that it will make the job of defeating President Trump more difficult.
March 22: The Associated Press:  "Chinese virus" arrives in Gaza
The arrival of the coronavirus in the Gaza Strip, an impoverished enclave where the health care system has been gutted by years of conflict, raised fears Sunday the pandemic may soon prey on some of the most vulnerable populations in the world.  Authorities in Gaza, which has been under an Israeli and Egyptian blockade since the Islamic militant group Hamas seized power from rival Palestinian forces in 2007, confirmed its first two cases overnight, in returnees who had come from Pakistan.
March 21: The Daily Caller: China applauds Clinton for spreading communist line about
the "Chinese virus"
China's ambassador to South Africa on Friday cheered former Secretary of State Hillary Clinton for advancing the Chinese Communist Party's official line about the coronavirus not being a "Chinese virus."  The state-owned propaganda outlet China News noted how Clinton had been quick to criticize Trump calling COVID-19 the "Chinese virus" and saying his rhetoric was "racist." It suggested he was desperate to "eclipse his poor response in curbing the virus outbreak."
March 21: The Washington Times: McConnell: Getting close on coronavirus deal;
test vote planned for Sunday
Senate Majority Leader Mitch McConnell said late Saturday that lawmakers are close to striking a final deal on a coronavirus stimulus package, and he said they're plowing ahead with plans for a first test vote Sunday afternoon.  "The past two days of intense bipartisan talks are very close to a resolution. I believe we are poised to deliver the significant relief that Americans need with the speed that this crisis demands," Mr. McConnell said in a statement.
March 21: The Washington Examiner: Nunes considers legal action against Schiff
for releasing phone records
Rep. Devin Nunes said he is exploring "all" of his legal options in response to House Intelligence Committee Chairman Adam Schiff subpoenaing and releasing his phone records during the recent Ukraine-related impeachment investigation. Nunes, the ranking Republican on the House Intelligence Committee said "We're going to look at all the legal remedies that we can take."  The phone call logs, subpoenaed from AT&T and Verizon, appear in a 658-page December report released by House Democrats.
March 20: The Washington Free Beacon: Government reaction to the "Chinese virus"
raises Constitutional issues
California's Gavin Newsom became the first governor to impose an extraordinary lockdown measure Thursday night, directing state residents to remain at home or face fines, except for essential tasks like grocery shopping or walking a pet. Yet it's unclear whether Newsom's order is constitutional. Even if it isn't, judges might allow such extreme steps, at least for a limited period of time.  Some of the legal questions presented by COVID-19 are new, like Newsom's confinement order, or whether the Centers for Disease Control can impose quarantines inside U.S. borders to contain the virus.  Professor James Hodge, a public health law specialist at Arizona State University, said "We've seen lockdowns in China and Italy. The capacity to pull off similar efforts in the United States at any level of government is sketchy at best because of rights to travel, due process and other specific constitutional norms."
March 20: The Washington Examiner: Israeli drug company donating
six million malaria drugs to help combat the Chinese coronavirus in the U.S.
Israel's leading drug producer announced Thursday it will donate 6 million doses of anti-malaria drugs to the United States in hopes that it could be helpful treating  coronavirus symptoms. Teva Pharmaceutical Industries says the drug could potentially treat people with the coronavirus and will ship the hydroxychloroquine tablets through wholesalers nationwide by the end of the month and will provide 10 million doses in total.  "We are committed to helping to supply as many tablets as possible as demand for this treatment accelerates at no cost," Teva Executive Vice President Brendan O'Grady said about the move.
March 20: Fox News: Trump:  Suspension of student loan payments
President Trump on Friday announced that the administration would allow federal student loan borrowers to suspend their payments without penalty for at least 60 days, and that standardized test requirements would not be enforced for elementary and high school students amid the coronavirus pandemic.  The president announced earlier this week that he had waived interest on federal student loans "until further notice," but took that measure to the next level Friday by suspending payments.  "Borrowers should contact their lenders, but we've given them very strong instructions," Trump added. "That's a big thing, that's going to make a lot of students very happy."
March 20: Breitbart News: Trump Administration shuts down
northern and southern borders to all non-essential travel
During a press conference on Friday, Secretary of State Mike Pompeo and Acting Department of Homeland Security (DHS) Secretary Chad Wolf announced that the U.S. would be closing off its southern and northern borders for all non-essential travel to stop the spread of the Chinese coronavirus.  Non-essential travel at the southern and northern border includes tourism and recreational travel.  "We've reached an agreement with both Canada and Mexico to limit non-essential travel across our land borders," Wolf said. "Let me be clear that neither of these agreements with Canada or Mexico applies to lawful trade or commerce. Essential commercial activities will not be impacted."
March 19: The Hill: McConnell introduces massive coronavirus stimulus package
Senate Majority Leader Mitch McConnell (R-KY) unveiled the Republicans third coronavirus funding package which, by some estimates, could cost a trillion dollars!  They will start negotiating the provisions of the 250-paged bill with Senate Democrats on Friday.  The measure will take 60 votes in order to jump the cloture threshold.  Among other provisions the bill proposes to pay individuals who earned up to $75,000 in 2018  $1,200 ($2,400 for married couples earning up to $150,000) and $500 for each child in the household.  It would also extend the federal income tax filing deadline to July 15th and provide relief for small businesses. [See more details]
March 19: The Hill: California estimates 56% of its population will be
infected in the next eight weeks
California Gov. Newsom (D) said in a letter to the Trump administration that 56 percent of the state's population — 25.5 million people — is projected to be infected with the coronavirus over an eight-week period.   In the letter, Newsom asked Trump to deploy the USNS Mercy hospital ship to the port of Los Angeles until September of this year "to help decompress our current healthcare delivery system in the Los Angeles region in response to the COVID-19 outbreak."  Jesse Melgar, a spokesman for the governor, specified that the estimate was without mitigating factors.  On Thursday the Trump Administration it would send USNS Mercy to New York City and that it planned to send Mercy to Seattle in the next five to 10 days. Washington is one of the states hit hardest by the virus, with more than 1,887 confirmed cases and 68 deaths.
March 19: MSN.com: California Governor issues statewide stay at home order
California Gov. Gavin Newsom on Thursday ordered all Californians to stay at home, marking the first mandatory restrictions placed on the lives of all 40 million residents in the state's fight against the Chinese coronavirus.  The governor's action comes at a critical time in California, where 19 people have died and an additional 958 have tested positive for the disease.  The mandatory order allows Californians to continue to visit gas stations, pharmacies, grocery stores, farmers markets, food banks, convenience stores, take-out and delivery restaurants, banks and laundromats. People can leave their homes to care for a relative or a friend or seek healthcare services. It exempts workers in 16 federal critical infrastructure sectors, including food and agriculture, healthcare, transportation, energy, financial services, emergency response and others.
March 19: Yahoo News: Airlines sending airplanes for storage in Arizona desert
Ninety miles south of Phoenix is an airport located in the middle of the Arizona desert just off of an isolated strip of I-10. With only one runway and no passenger terminal, Pinal Air Park doesn't see commercial airline service but it is home to some of the most iconic aircraft ever to roam the skies. Known in the industry as an aircraft boneyard, Pinal Air Park is where aircraft are housed for long-term storage. In other words, it's a retirement home of sorts for grounded airliners whose time has come as newer, younger planes take their place in airline fleets across the world. Now Delta, among others, is sending aircraft that are not being used because of the coronavirus to this airfield.
March 19: Washington Free Beacon: Tom Cotton debuts plans to take back Rx
production from China
Sen. Cotton (R-AR) introduced legislation Thursday to repatriate pharmaceutical manufacturing from China to America, aiming to reduce a dependency that could seriously limit the U.S. coronavirus response.  The bill aims to severely curtail the volume of Chinese active pharmaceutical ingredients (APIs) from the U.S. medical drug supply. The PRC currently produces most of the world's APIs—the "active ingredients" in commonly used drugs—leaving the United States and other nations critically dependent on it for medicines.  The White House has been urging "Buy American" efforts while many companies are beginning to see the cost-savings from Chinese-made pharmaceuticals as not worth the risk of undersupply during another pandemic, or during a potential conflict with America's main geostrategic rival.
March 18: Fox News: Judge Napolitano: Opinion Piece on Central
micromanagement of healthcare can kill people
In 1866 the Supreme Court ruled that our rights can only be interfered with by means of due process.  This fundamental right is being put to a severe test today in most states.  Mayors and governors have not been outdone by the feds in their totalitarian impulses. Many have issued decrees that are profoundly unconstitutional.  The governors of New York, New Jersey, Pennsylvania and Connecticut have all issued decrees closing most retail establishments -- restaurants, bars and theaters. The governor of New Jersey is threatening to ban all travel after dark. These totalitarian impulses have put more than 1 million folks out of work, closed thousands of businesses and impaired the fundamental rights of tens of millions of persons  in violation of the Constitution. 
- The Contracts Clause prohibits the states from interfering with lawful contracts, such as leases and employment agreements. 
- The Due Process Clause of the Fourteenth Amendment prohibits the states from interfering with life, liberty or property without a trial at which the state must prove fault.
- The Takings Clause of the Fifth Amendment requires just compensation when the state meaningfully interferes with an owner's chosen lawful use of his property.  [Read More]
March 18: The Washington Times:  PRC threatens electronic strikes on
U.S. Naval forces in the South China Sea
China has called for using electromagnetic attacks on U.S. warships transiting the South China Sea, according to a state-run Chinese outlet.  The Communist Party-affiliated organ Global Times, quoting a military expert, said the use of nonlethal electromagnetic and laser weapons should be used by the People's Liberation Army to expel American warships from the disputed sea.  The report followed China's potentially dangerous use of a laser against a Navy P-8A maritime patrol aircraft near Guam last month, and an earlier lasing two years ago of C-130 aircraft near China's military base in Djibouti on the coast of Africa.
March 18: Fox News: President invokes the Defense Production Act;
unpacking what this means
The DPA is jointly administered by the Bureau of Industry and Security(BIS) in the Department of Commerce  and the Department of Defense.  The DPA gives the administration the authority to go to the head of the line in ordering items deemed critical to national security.  Under the DPA companies are required to accept and prioritize contracts from the government.  While this provision has historically been used to ramp up military production, in the midst of the COVID19 pandemic the act will be used for medical supplies such as ventilators, surgical masks, and the like.  The act also allows competing companies to work together, plan, and to coordinate with each other to increase the availability of supplies -- when doing so is approved by the government -- thereby protecting them from antitrust lawsuits.
[FYI: The editor of this blog served in BIS from its creation in 1987 until his retirement in 2004
and helped get the DPA reauthorized by Congress during his tenure at BIS]

March 18: The Washington Examiner: Senate passes $104 Billion Coronavirus package
The Senate cleared a $104 billion federal aid package Wednesday aimed at responding to the coronavirus pandemic, freeing up lawmakers to focus on a third, much more significant budget busting stimulus plan that could cost in the range of $1 trillion. The $104 billion measure, which President Trump is expected to sign quickly, provides up to 10 days of sick leave and 12 weeks of paid family leave for some workers. It also pays for free coronavirus testing for those who need it.
March 18: The Washington Times: Sanders opens campaign offices
in Biden's home state of Pennsylvania
Despite Sen. Sander ' lackluster performance since Super Tuesday, the self-professed democratic socialist has beefed up his presence in  Joe Biden's boyhood home state of Pennsylvania.  Sanders opened five offices in the key swing state and staffed them with about 20 staffers last week.   The campaign acknowledged, however, that these offices may be short-lived due to the spread of the coronavirus and the campaign's transition to digital outreach through virtual rallies and town halls. The Pennsylvania primary is scheduled for April 28, though some states are moving their primaries to June because of fears of increased transmission COVID-19 in crowded polling spaces.
March 18: United Press International: 5.7 Earthquake hits Salt Lake City,
shakes homes 150 miles away
A strong magnitude-5.7 earthquake struck the Salt Lake City area on Wednesday, shaking buildings, closing the airport and cutting power to thousands.  The quake was the strongest to hit the city, which sits on a major tectonic fault, since 1992.   The quake that was felt as far as 150 miles from Salt Lake was followed by a 4.4 magnitude aftershock.
March 17: The Wall Street Journal: China bans journalists
from the WSJ, NYT, and Washington Post
China said it would revoke the press credentials of Americans working for three major U.S. newspapers in the largest expulsion of foreign journalists in the post-Mao era, amid an escalating battle with the Trump administration over media operating in the two countries.  China's Ministry of Foreign Affairs said Wednesday it was demanding that all U.S. nationals working for The Wall Street Journal, the New York Times and the Washington Post whose press credentials expire by the end of the year turn those credentials in within 10 days.
March 17: Fox News: Biden takes Florida and Illinois; Arizona too close to call
Biden has decisively won the delegate-rich Florida and Illinois primaries, Fox News projects, further cementing the former vice president as the dominant frontrunner in the race for the Democratic presidential nomination over rival Bernie Sanders.  Florida and Illinois will award a hefty 219 and 155 pledged delegates, respectively, meaning Biden will significantly pad his growing delegate lead from these victories.  Polls have also closed in Arizona, which has 67 delegates to offer, but it is too early to call.
March 17: Associated Press: Forget the eye-popping national deficit; Trump
asks Congress for authority to send checks to Americans
In a massive federal effort Tuesday, President Donald Trump asked Congress to speed emergency checks to Americans, enlisted the military for MASH-like hospitals and implored ordinary people — particularly socially active millennials — to do their part by staying home to stop the spread of the coronavirus.  His proposed economic package alone could approach $1 trillion, a rescue initiative not seen since the Great Recession. Trump wants checks sent to the public within two weeks and is urging Congress to pass the stimulus package in a matter of days.
March 17: USNI News: US Navy preparing hospital ships
Mercy and Comfort to assist in treatment of coronavirus patients
The Pentagon is starting the process of activating Navy hospital ships USNS Mercy (T-AH-19) and USNS Comfort (T-AH-20) as part of the Defense Department's domestic response to the spreading COVID-19 virus. "We've already given orders to the Navy… to lean forward in terms of getting them ready to deploy," Secretary of Defense Mark Esper told reporters on Tuesday.  The ships will now begin the several days-long process of bringing aboard medical staff and equipment ahead of deploying along the East and West coasts, a defense official confirmed.
March 17: USA Today: California: millions in lock down, people
calling 911 about neighbors coughing
Six counties across the Bay Area issued a "shelter in place" order on Monday for all residents – requiring about 6.7 million people to stay in their homes – in an attempt to slow the coronavirus outbreak.  For the next three weeks, people living in San Francisco, Santa Clara, San Mateo, Marin, Contra Costa and Alameda counties will be restricted from all "non-essential travel" by "foot, bicycle, scooter, automobile, or public transit" outside their homes. Also, most businesses will be forced to close until April 7, starting at midnight on Monday. Meanwhile some Coachella Valley police departments say they've started fielding 911 reports from concerned callers convinced a neighbor's overly loud sneeze or hacking cough is proof the person has the virus. 
March 16: The Washington Examiner: House GOP press for hearing
on Chinese threat to  U.S. pharmaceutical industry
Republicans on the House Oversight Committee demanded that Democrats schedule a hearing to look into the "threat" of relying on China for medicines used in the United States.  Striking a sense of urgency, a letter signed by ranking member Jim Jordan of Ohio, Rep. Chip Roy of Texas, and 12 other Republicans argued the coronavirus pandemic has brought this issue to a head.  "The outbreak of coronavirus (COVID-19) has highlighted a critical threat to the domestic supply of life saving prescription drugs. Too many supply chains for our most critical medicines and medical devices are too dependent on China," said the letter addressed to Oversight Committee Chairwoman Carolyn Maloney.
March 16: Fox News: Trump releases guidelines to slow coronavirus
spread but warns it could be July or August before this is over
President Trump announced on Monday a set of guidelines that he said Americans should follow to prevent the further spread of the coronavirus -- despite admitting that the pandemic could stretch into July or August.  Speaking during a briefing of the coronavirus task force, Trump outlined a plan to slow the spread of COVID-19 in 15 days.  "With several weeks of focused action, we can turn the corner and turn it quickly," Trump said. "Our government is prepared to do whatever it takes."
March 16: Fox News New York: Oregon police say stop calling 911
complaining that you cannot get toilet paper
One police department in Oregon posted a reminder on their Facebook page, asking the public to not call for an emergency if they run out of toilet paper due to the coronavirus outbreak. "It's hard to believe that we even have to post this," police in Newport, Oregon wrote. "Do not call 9-1-1 just because you ran out of toilet paper. You will survive without our assistance." 

Meanwhile, the Palo Alto High School Class of 61 posted comic information about the "Great Toilet Paper Pandemic of 2020" on its website.  Below is a sampling of that post: (Click on Image for larger view)

March 15: The Daily Caller: Democrat debate between two remaining male candidates
Sunday night's debate between former Vice President Joe Biden and Vermont Independent Sen. Bernie Sanders, the last two standing candidates in the 2020 Democratic field, featured both sides trading predictable lines on the coronavirus pandemic and committing to naming female running mates.  The DNC moved the debate from its scheduled location in Arizona to CNN's studio in Washington, D.C. last week amid coronavirus fears. The only people present in the room were Biden, Sanders, and moderators Dana Bash, Ilia Calderon and Jake Tapper.
March 15: The Associated Press: Federal Reserve drops rates to near zero
The Federal Reserve took massive emergency action Sunday to try to help the economy withstand the coronavirus by slashing its benchmark interest rate to near zero and saying it would buy $700 billion in Treasury and mortgage bonds.  The Fed's surprise announcement signaled its rising concern that the viral outbreak will depress economic growth in coming months, likely causing a recession, and that it's poised to do whatever it can to counter the risks. It cut its key rate by a full percentage point to a range between zero and 0.25%. The central bank said it will keep its rate there until it is "confident that the economy has weathered recent events."
March 14: DNYUZ News: Chinese tycoon who criticized Xi's response to coronavirus has vanished
Ren Zhiqiang's latest commentary was among his most explosive yet.  He is an outspoken property tycoon in Beijing, and, wrote in a scathing essay that China's leader, Xi Jinping, was a power-hungry "clown." He said the ruling Communist Party's strict limits on free speech had exacerbated the coronavirus epidemic.  Now Mr. Ren, one of the most prominent critics of Mr. Xi in mainland China, is missing, his friends said on Saturday.  His disappearance comes amid a far-reaching campaign by the party to quash criticism of its slow, secretive initial response to the epidemic which has killed over 3,100 people in China and sickened more than 80,000.
March 14: The Washington Examiner: Surgeon General to the media: "stop finger-pointing" at the Trump Administration over coronavirus
Surgeon General Jerome Adams ripped into reporters during a White House press conference, telling them they should stop blaming the Trump administration for their response to the coronavirus outbreak.   "We really need you all to lean into and prioritize the health and safety of the American people," Adams said at the Saturday press conference. "No more bickering. No more partisanship. No more criticism or finger-pointing."
March 14: The Washington Times: Russian recon aircraft closes on U.S. airspace
After Russian reconnaissance aircraft came within 45 miles of the coast of Alaska on Saturday, the commanding general of the joint U.S.–Canada North American Aerospace Defense Command (NORAD) said they are seeing repeated incursions into the Alaskan Air Defense Identification Zone, known as ADIZ.  F-22 fighters assigned to NORAD were scrambled to intercept two pairs of Russian Tu-142 that entered the ADIZ from the west and the north of Alaska. One pair of Russian aircraft spent about four hours in the zone near a spot where the U.S. Navy was conducting submarine operations in the Arctic, NORAD officials said.
March 14: The Daily Caller: Trump adds UK and Ireland to the travel ban
Vice President Mike Pence announced during Saturday's coronavirus press briefing that the United Kingdom has been added to the White House's coronavirus travel restriction list.  President Trump announced Wednesday night that the U.S. would ban all travel for foreign nationals who had recently visited Europe but kept the U.K. off that list.  Politico accused the White House of exempting the U.K. in order to protect business at the three Trump-owned golf resorts in Scotland and Ireland. [Of course they said that…!  Editorial comment, the political gamesmanship needs to stop!]  Pence cited the rising number of cases in the U.K. as the reason for the new travel restrictions.
March 14: The Washington Examiner: House passes coronavirus bill 363 to 40
The House voted just before 1 a.m. Saturday to pass an emergency coronavirus response bill to increase testing and aid people kept from work, a measure meant for quick signing by President Trump next week as the government tries to arrest the pandemic. The bill will provide for free coronavirus testing, guarantee workers two weeks of paid sick leave and up to three months of paid leave, increase unemployment benefits, provide lunches for children who would normally eat at school, and increase Medicaid funding.
March 13: The Daily Caller: Governor Abbott declares a "State of Disaster" in Texas
The governor of Texas declared a "State of Disaster" Friday regarding the coronavirus pandemic. "From the very beginning, our number one objective has been to implement preventative strategies that build on our state's existing public health capabilities so that no matter how this situation unfolds, Texas will be ready," Abbott said. "That is exactly what our state agencies have done."
March 13: The Washington Times:   Full Court of Appeals to hear challenges over Don McGahn testimony
The federal appeals court in Washington, D.C., granted a request by House Democrats Friday to rehear cases over testimony from former White House Counsel Don McGahn and funds for President Trump's border wall.  Both cases are scheduled to be argued before the full circuit court on April 28. Democratic lawmakers in Congress have argued the president violated federal law by reallocating more than $8 billion from the Department of Defense to build the border wall.
March 13: Fox News: More rocket attacks from Iran-backed militia in Iraq
Dozens of rockets slammed into an Iraqi base north of Baghdad Saturday wounding 3 American and 2 Iraqi troops.  It's the same base where 2 Americans and a British Army medic were killed in a rocket attack Wednesday prompting US airstrike on Iranian-backed forces blamed for the attack.  U.S. Air Force jets destroyed 5 weapon storage sites housing 107 mm Katyusha rockets, the same rockets used in the attack Wednesday and Saturday.
March 13: ABC News: Trump declares a National Emergency over Coronavirus
President Donald Trump announced Friday he's declaring a national emergency to deal with the coronavirus as cases increase. He said his action would give all hospitals the maximum ability to respond to the virus including the waiver of regulations that will now allow doctors in other states to serve those in states where there are critical needs and fewer medical services; the waiver of regulations for "critical access" hospitals that limit the number of beds and the length of stay to 96 hours; and the waiver of requirements for a patient to stay three days in a hospital before being moved to a nursing home.
March 12: The Washington Times: Russian/Saudi oil price war rages
The raging oil price war between Saudi Arabia and Russia has highlighted the delicate balance between oil prices and energy sector profitability, and analysts think the industry has reached the tipping point at which some companies simply won't survive.  "A lot of people argue we're at that moment now," said Gifford Briggs, president of the Louisiana Oil and Gas Association. "I think this is it or we are at least crossing into it, when you go south of $30 or $35 a barrel. These are areas that are pretty precarious because when it comes to the business plans and forecasts, those prices aren't just off, they're way off."
March 12: Reuters:  Chinese: U.S. military may have virus to China; right!
A spokesman for China's Foreign Ministry suggested on Thursday the U.S. military might have brought the coronavirus to the Chinese city of Wuhan, which has been hardest hit by the outbreak, doubling down on a war of words with Washington.  China has taken great offense at comments by U.S. officials accusing it of being slow to react to the virus, first detected in Wuhan late last year, and of not being transparent enough.  On Wednesday, U.S. National Security Adviser Robert O'Brien said the speed of China's reaction to the emergence of the coronavirus had probably cost the world two months when it could have been preparing for the outbreak.
March 12: Fox News:  U.S. forces respond to rocket attack; launch
strikes against Iran-backed militias
The U.S. military launched multiple strikes using warplanes targeting multiple bases used by Iranian-backed Shia militias believed to be behind the rocket attack on Camp Taji,  Iraq, the day before that killed two Americans and one British soldier, a senior U.S. military source told Fox News. The launch began after 1 a.m. Baghdad time. "These strikes were defensive, proportional, and in direct response to the threat posed by Iranian-backed Shia militia groups (SMG) who continue to attack bases hosting OIR coalition forces," the Pentagon said.
March 11: The Washington Free Beacon: California Congressman who owns
back taxes shuttles bill to reveal tax liens
A California Democrat who owes nearly $145,000 in unpaid federal income taxes voted on Wednesday to block a bill requiring members of Congress to disclose tax liens.  The IRS filed a tax lien against Rep. T.J. Cox (D-CA) in January, listing nearly $87,000 and $57,000 in unpaid federal income taxes from 2016 and 2017, respectively. He voted Wednesday to block legislation that would force politicians to reveal such liens in congressional financial disclosures. The bill would also garnish federal wages from elected officials until the debt is resolved.
March 11: The Hill: House passes key surveillance bill with deadline looming
The House on Wednesday passed legislation to reauthorize a key intelligence surveillance bill after weeks of back-and-forth tussling between members in both parties.   The passage of the Foreign Intelligence Surveillance Act (FISA), 278-136, comes the day after the House struck a bipartisan deal on the legislation and just before the bill is set to expire on Sunday.  Negotiators had worked for weeks, as both liberal Democrats and libertarian-leaning Republicans pushed for additional privacy protections, putting them at odds with lawmakers who wanted a clean reauthorization of the FISA bill, which they believed would easily pass in the upper chamber.
March 11: The Washington Times: President announces ban on travel from
Europe for thirty days because of spread of coronavirus
President  Trump said Wednesday he will take the "strong but necessary" action of suspending all travel from Europe for the next 30 days to combat the coronavirus.  The rules will go in effect Friday at midnight.  There will be some exceptions for properly screened Americans, though the decision marks a dramatic escalation in the fight against the disease known as COVID-19. There is also an exception for travel from the United Kingdom which left the European Union earlier this year.
March 11: The Daily Caller: "Buy American" President signs executive order 
to end medical supply chain reliance on China
White House Director of Trade and Manufacturing Policy Peter Navarro confirmed Wednesday the administration is working on an executive order to eliminate the government's reliance on foreign-made medical supplies.  The "Buy American" order comes on the heels of concerns expressed by senators during their Tuesday meeting with President Donald Trump on Capitol Hill.  Republican Florida Sen. Marco Rubio said that during the meeting on easing coronavirus-related financial pressures on Americans, he asked Trump to support the Senate's "efforts to invest in diversifying our supply chain, especially in pharmaceuticals and medical equipment."
March 11: Fox News: Hunter Biden slammed by judge for "duplicitous" bid
to delay paternity proceedings
An Arkansas judge issued a scathing order Tuesday evening largely rejecting Hunter Biden's "duplicitous" requests and his argument that he needed a nine-month delay in his paternity case proceedings because of the coronavirus outbreak and other personal matters.  But soon afterward, the parties said they had reached a "global, final settlement of all issues" -- a surprising turn of events that still needs the court's approval. The abrupt about-face, if approved by Independence County Circuit Court Judge Holly Meyer, would mean that Biden would not need to turn over a slew of financial information to the court.
March 10: Breitbart News: Biden to Michigan auto worker "You're full of s _ _ t"
Democrat presidential hopeful Joe Biden got into an argument over guns with a Michigan plant worker Tuesday, arguing over "AR-14."  The worker and Biden went back and forth on proposed gun controls, with the working saying, "You are actively trying to infringe our Second Amendment right to keep and bear arms."  Biden responded, "You're full of s _ _t."  Upon further claims that he was trying to take their guns, Biden responded to the worker, "Don't tell me that," and said he would "slap" him.
March 9: The Associated Press: Italy shuts down,
Israel tightens entry to country
The battle to halt the coronavirus brought sweeping new restrictions Monday, with Italy expanding a travel ban to the entire country, Israel ordering all visitors quarantined just weeks before Passover and Easter, and Spain closing all schools in and around its capital.  Even as workers in Beijing returned to their jobs and new infections in China continued to subside, Italians struggled to navigate the rapidly changing parameters of the nation's self-imposed lockdown.
March 9: The Daily Caller: Trump's Chief of Staff voluntarily self-quarantines self
President Donald Trump's new chief of staff Mark Meadows announced Monday that he will be self-quarantining after possibly meeting the individual who attended the Conservative Political Action Conference (CPAC) while infected with coronavirus.  Mark Meadows was advised this weekend that he might have come in contact with the individual. Meadows took a precautionary test which came back negative. Meadows' chief of staff Ben Williamson said: "He'll be self-quarantined till the 14 day period passes Wednesday."
March 9: Fox News: Schumer's targeting of Supreme Court justices is not
over as GOP considers censuring him
Senate Minority Leader Schumer (D-NY) may still face consequences from his colleagues after facing criticism from conservatives and liberals alike for remarks he directed towards Supreme Court Justices Neil Gorsuch and Brett Kavanaugh at an abortion rights rally last week that some have considered threatening.  Sen. Josh Hawley (R-MO) has continued to call for Schumer to be censured after introducing a resolution in the Senate to do just that. And dozens of well-known leaders signed a letter Monday adding their voices to the calls.
March 9: New Scientist: Boeing developing submarine for US Navy that could
kill without any humans aboard
The US Navy is quietly developing armed robot submarines controlled by onboard  artificial intelligence. The vessels could potentially kill without explicit human control.  The Office of Naval Research is carrying out the project, known as CLAWS, which it describes in budget documents as an autonomous undersea weapon system for clandestine use. CLAWS will "increase mission areas into kinetic effects", say the documents – military-speak for destroying things. 
March 8: Fox News: Hunter Biden accused of contempt for the law by mother of child he fathered
Hunter Biden should be held in contempt for continuing to defy a court order to turn over his financial information, flaunting his lack of "respect" for the legal process and undermining the interests of the child he has refused to support or even acknowledge, according to a blistering new filing from the mother of Biden's child in an ongoing paternity case. The motion comes as Joe Biden has surged to front-runner status in the Democratic presidential primary amid new questions over whether his son may have corruptly benefitted from his father's position as vice president. The case threatens to surface new information about the younger Biden's  overseas dealings in Ukraine, China and elsewhere during the Obama administration -- and his father's apparent knowledge of those arrangements.
March 7: Reuters: Biden warns against blood bath in the Presidential campaign
U.S. Democratic presidential candidates Joe Biden and Bernie Sanders will campaign in the Midwest on Saturday, as the two prepare for a showdown in Michigan, Missouri and four other nominating contests next week.  After Sanders, a self-described democratic socialist, ramped up his attacks on Biden on Friday, Biden told a crowd at a fundraiser in Bethesda, Maryland, he was worried his battle with Sanders for the Democratic nomination could turn ugly.  "What we can't let happen is let this primary become a negative bloodbath. We can't tear this party apart and re-elect Trump. We have to keep our eyes on the ball," Biden said as he telephoned in to the Bethesda event.
March 7: The Washington Free Beacon: Justices asks Supreme Court to uphold "wait in
Mexico" asylum policy amid concerns of increased border crossings
Fearing an unprecedented influx of asylum seekers on the southern border, the Trump administration is asking the Supreme Court to lift a court decision blocking implementation of the "Wait in Mexico" asylum policy. The 9th  U.S. Circuit Court of Appeals upheld an injunction blocking the Migrant Protection Protocols (MPP) in February. The appeals court limited the injunction to blocking the policy only in Arizona and California. The injunction's reduced reach will still foment chaos at ports of entry, the administration told the justices in a Friday legal filing.  "The injunction is virtually guaranteed to impose irreparable harm by prompting a rush on the border," Solicitor General Noel Francisco told the justices in a legal filing. "There is no need to speculate about the consequences. Immediately following the 9th Circuit's Feb. 28 decision, hundreds of migrants presented themselves at the border for admission."
March 6: The Wall Street Journal: Illinois heading for default?
Long the economic hub of the Midwest, Illinois has lost more than 850,000 residents to other states during the past decade. The state has been shrinking for six consecutive years and suffered the largest raw population decline of any state in the 2010s.  Like Puerto Rico, Illinois is drowning in a sea of red ink. Growing government debt and a crushing tax burden are depressing economic growth. State spending is up, but personal-income growth is lagging. Since 2000, Illinois's per capita personal income growth has been 21% lower than the national average. Home prices are growing at the second-slowest pace in the nation, at only 2% compared with 5.1% on average nationwide. With speculation that Illinois could be the first state to go into default, ratings firms are paying attention. Illinois's credit rating is one notch above junk.
March 6: Fox News: House Dems file for rehearing on McGahan subpoena
The Democrats on the House Judiciary Committee filed a petition with the U.S. Court of Appeals for the D.C. Circuit on Friday asking it to have an "en banc" rehearing – a hearing before all 11 judges on the court – of its case to enforce a subpoena against former White House Counsel Don McGahn.  The committee sued to force McGahn to testify and won on the district court level before the appeals court reversed the ruling, arguing that the judiciary would be violating the separation of powers and historical precedent if it were to meddle in this dispute between the other two branches of the federal government.

March 6: The Daily Caller: Administration to deploy active duty military police on the
southern border following 9th Circuit Court decision
Customs and Border Protection (CBP) announced Friday that roughly 160 active duty soldiers will be deployed at two ports of entry along the southern border to assist the agency. Around 80 personnel will be sent to El Paso, while another 80 will be sent to California.  The administration's decision to deploy military police support stems from the 9th Circuit Court of Appeals' decision to block Migrant Protection Protocols — a program that keep thousands of asylum seekers in Mexico — in California and Arizona beginning March 12.
March 6: The Washington Times: SecDef Esper presses China
on "unsafe" use of laser on U.S. Navy aircraft
Defense Secretary Mark Esper this week confronted  China's defense minister over the Chinese military's use of a high-powered laser to illuminate a U.S. Navy patrol aircraft near Guam last month.  Esper called Chinese Defense Minister Wei Fenghe to discuss several issues, including the Feb. 17 laser incident some 380 miles west of Guam.  China's government made no mention of the laser incident in the official government readout of the Esper-Wei call, and the Chinese government's spokesmen have been silent on the provocative action.
March 6: The EIB Network: Romney under pressure, decides to support Hunter Biden subpoena
"Romney obviously is feeling some pressure," Rush Limbaugh said. "Well, get this. Mitt Romney has said that he will vote to authorize as part of the Senate investigation into Hunter Biden and Ukrainian energy giant Burisma, he's authorized the subpoenas to look into Hunter Biden."
March 5: The Washington Examiner:  Emails show Hunter Biden touted
political influence to get university position
Hunter Biden, the son of former Vice President Joe Biden, reportedly touted his political connections in order to obtain a teaching position at the University of California, Los Angeles School of Law.   New emails reveal that, while communicating with university officials, Biden attempted to convince the administration to have him teach a course on drug policy, providing a potential list of guest lecturers who were largely connected to his father.
March 5: Fox News: Trump:  With all his gaffs Is Biden competent to serve as President?
Trump speaking at a Fox News Town Hall in Joe Biden's hometown of Scranton, Pa., on Thursday evening, openly suggested that the new Democratic front-runner's repeated gaffes could be a sign of a competency issue -- honing a line of attack that Republicans are expected to repeatedly deploy if Biden becomes his party's nominee.  Trump went on to argue that Biden was "damaged" by the impeachment process that implicated his son Hunter in apparent overseas corruption while Biden was vice president. "They aimed at Trump and they took Biden down," the president said.
March 5: The Daily Caller: Warren bows out of Presidential race, fails to endorse another candidate
Democratic Massachusetts Sen. Elizabeth Warren got emotional during her first appearance after dropping out of the 2020 presidential race Thursday, also saying that she won't be making an endorsement at this time.  "I say this with a deep sense of gratitude for every single person who got in this fight, every single person who tried on a new idea, every single person who just moved a little in their notion of what a president of the United States should look like," Warren said, her voice beginning to crack.
March 5: Fox News: California leads the nation in non-citizens voting
State officials and lawmakers from California and Texas to Pennsylvania and West Virginia are raising concerns over the threat that noncitizens on the voter rolls pose to the integrity of U.S. elections.  On Thursday, Tomi Lahren said that the issue is most pronounced in California. "We have a voter fraud and election integrity epidemic in the state of California," she said, "I want to expose it so I sat down with the great ladies of Election Integrity Project-California (EIPCa)."  "So to say that illegal immigrants are voting is a given in this state?" asked Lahren.  "Absolutely," said EIPCa president and co-founder Linda Paine, "because when you open the door to corruption and fraud, people are going to walk through it."
March 5: This Week:  Southwest CEO: Domestic travel drop off feels like 911
Mounting concern over the new coronavirus outbreak has caused school closures and movie premiere pushbacks, and now the crisis' effect on the aviation industry is drawing comparisons to 9/11.  Southwest Airlines CEO Gary Kelly told CNBC that the company has lost several hundred million dollars in a week's time thanks to a decline in bookings amid increasing fears over COVID-19. Kelly added that the drop-off was "noticeable" and "precipitous" and has continued declining on a daily basis.  Kelly said of the new coronavirus outbreak "It has a 9/11-like feel."
March 4: WUSA Channel 9: Whistle blower faces retaliation for disclosing alleged under
reporting of crime stats in D.C.
A whistleblower from the D.C. Police Department is talking openly about the crime underreporting she says she's witnessed inside the Metropolitan Police Department.  "I was surprised," said MPD Sergeant Charlotte Djossou. "I didn't want to believe it."  Djossou, a 15-year MPD veteran previously honored for her service by Police Chief Peter Newsham, is going public with stunning allegations about what she says is going on in her own department.  She claims D.C. police supervisors are ordering investigators to downgrade crime classifications form more serious crimes to less serious ones to make the city's crime stats look better.  "The commanders and the captains get promoted, and they get awards, when the crime stats are low," Djossou said.
March 4: The Daily Caller: Ben Carson: The coronavirus has a lesson for politicians
Dr. Ben Carson, Secretary of HUD, praised Vice President Pence for his work in fighting the spread of the coronavirus doing so with pharmaceutical companies who he noted are "normally are rivals."   He noted that they have been working "together voluntarily" along with members of the coronavirus task force to develop therapeutic medications and other remedies to stop the spread of the virus.  "Wouldn't that be a great lesson for the politicians," he concluded.
March 4: The Washington Free Beacon: Chief Justice Roberts calls Schumer's
threats to the Supreme Court "dangerous" 
Chief Justice John Roberts condemned Senate Minority Leader Chuck Schumer (D-NY as "dangerous" after the New York Democrat made threatening statements as justices heard oral arguments in a controversial abortion case on Wednesday.  Schumer addressed pro-abortion demonstrators rallying in front of the Supreme Court Wednesday morning and promised the pair (Justices Gorsuch and Kavanaugh) would "pay the price" if they voted to restrict abortion access. Chief Justice Roberts called such rhetoric "dangerous" saying in a statement "Justices know that criticism comes with the territory, but threatening statements of this sort from the highest levels of government are not only inappropriate, they are dangerous," Roberts said. "All Members of the Court will continue to do their job, without fear or favor, from whatever quarter.
March 4: Fox News: It's the Ninth Circuit again, stopping Trump policy of making asylum
seekers remain in Mexico while awaiting hearings
The Ninth Circuit Court of Appeals in San Francisco said Wednesday that it would block the "Remain in Mexico" policy in Arizona and California, the two border states where its authority extends.  The three-judge panel did not extend its decision to include federal court circuits in two other border states -- New Mexico and Texas -- as it originally had last week.  The Trump administration said it is asking the Supreme Court to intervene and had asked the policy remain in place until next week for the high court to rule.
March 3: NBC News: Delegate Tracker -  Biden leads Sanders
NBC News is tracking the number of delegates each candidate has won in the 2020 Democratic and Republican presidential races. Each party is governed by their own set of rules, but each state and territory offer a certain number of pledged delegates up for grabs based on the results of primary voting nights and caucuses. The Democratic nominee will be selected by delegates at the Democratic National Convention taking place July 13-16 in Milwaukee. To win the nomination on the first ballot, a Democratic candidate must receive support from a majority of pledged delegates — at least 1,991 of the total 3,979 pledged delegates. 
March 3: The Washington Free Beacon: Supreme Court Case: Does the President have
the authority to fire the head of the Consumer Finance Protection Bureau?
At issue is the 2010 Dodd-Frank law that includes language that says its director, unlike other senior government officials, may only be removed for "inefficiency, neglect of duty or malfeasance in office…"  The CFPB is the brain child of Elizabeth Warren (D-MA) and the language in the law was upheld by the notorious 9th Circuit Count of Appeals in San Francisco.  The matter is now before the Supreme Court.  In oral arguments Chief Justice Roberts drew attention to the CFPB's funding rules, asking if they exacerbate the constitutional questions. Unlike most agencies, the bureau does not have its budget set by Congress. Instead, the Federal Reserve finances CFPB operations. In that sense, Roberts said, the CFPB director is even more powerful than the president, who largely depends on congressional appropriations.
March 1: The Associated Press: Buttigieg ends campaign for President
Pete Buttigieg, former top-tier candidate for the Democratic presidential nomination, ended his campaign on Sunday.  "The truth is the path has narrowed to a close for our candidacy if not for our cause," Buttigieg told supporters in South Bend, Indiana. "We must recognize that at this point in the race, the best way to keep faith with those goals and ideals is to step aside and help bring our party and country together."  The decision came just a day after one of Buttigieg's leading rivals, former Vice President Joe Biden, scored a resounding victory in South Carolina that sparked new pressure on the party's moderate wing to coalesce behind Biden.
March 1: The Washington Examiner: Nunes:  If we win back the House we
are ready to go after "dirty cops"
California Rep. Devin Nunes said House Republicans have subpoenas "ready to go" if they win control of the House in November.  Nunes, the ranking member of the House Intelligence Committee, issued a warning to Justice Department and FBI officials involved in the Russia investigation during an interview with Fox News on Friday. "You can be sure of this, if we take the House in November, we have subpoenas ready to go that will continue going after these dirty cops," the Republican congressman said.  It's a tall order for the GOP to regain control of the lower chamber. Republicans need a net gain of 18 seats to win back the House. Most committees and subcommittees delegate the power to authorize subpoenas to the panel chairman or chairwoman.
March 1: The Daily Caller: Trump endorses candidate in Texas 7th
Wesley Hunt is quickly gaining notoriety as the Republican candidate for the 7th Congressional District of Texas.  In recent weeks Hunt has gained President Donald Trump's official endorsement, and Hunt also released a campaign video this week entitled "Chains," which went viral on social media.  The presidential endorsement launched the army veteran's campaign into the spotlight as he vies for the position currently held by Democratic Congresswoman Lizzie Fletcher.  In a tweet, President Trump said that Hunt will "help us accomplish our America First policies." He continued on to say that he is "strong on Crime, the Border, our 2nd Amendment, Trade, Military and Vets. Wesley has my Complete and Total Endorsement!"

March 1: Fox News: GOP billionaire buys major portion of Twitter stock
A billionaire Republican has purchased a "sizable" stake in Twitter and "plans to push" to oust CEO Jack Dorsey among other changes, according to new reports, raising the prospect of a shocking election-year shakeup of the social media platform that conservatives have long accused of overt left-wing political bias.  Paul Singer's Elliott Management Corp. has already nominated four directors to Twitter's board. The Bloomberg News noted that unlike other prominent tech CEOs, Dorsey didn't have voting control over Twitter because the company had just one class of stock; and he has long been a target for removal given Twitter's struggling user growth numbers and stock performance.
February 29: The New York Post: Chinese officials knew of coronavirus but
tried to cover it up
Chinese scientists knew about the coronavirus and its deadly effects as early as December — but were ordered by government officials to suppress the evidence, according to a report.  In late December, several genomics companies tested samples from sick patients in Wuhan — the center of the coronavirus outbreak — and noticed alarming similarities between their illnesses and the 2002 SARS virus, the Sunday Times of London reported, citing Chinese business news site Caixin Global.  The researchers alerted Beijing of their findings — and on Jan. 3, received a gag order from China's National Health Commission, with instructions to destroy the samples.
February 29: The Associated Press: Biden wins big in South Carolina
Joe Biden scored a thundering victory in South Carolina's Democratic primary on Saturday, riding a wave of African American support and ending progressive rival Bernie Sanders' winning streak.   The race now pivots immediately to a new phase when 14 "Super Tuesday" states take the campaign nationwide early next week.  Biden: 48.8% Sanders: 19.8%.
February 29: Fox News: Chicago releases felon sought by ICE; sexually assaults toddler
ICE is claiming that Chiacago released a Mexican citizen who later sexually assaulted a toddler at a fast food restaurant.  A CBS affiliate reported he confessed to placing "the child on his lap while he was in a restroom stall, pulled off her pants, and covered her mouth when she started calling out 'daddy daddy."  Chrstopher Puente, 34, was arrested on Feb. 19 for sexually assaulting a 3-year-old despite ICE's previous request that police continue detaining the previously deported felon. According to a press release on Thursday, Puente had two felony convictions for forced-entry burglary and forgery.  Despite his background, Chicago declined ICE's June 2019 request to detain Puente
February 29: The Daily Caller: President announces the first Corona death in the US
President Donald Trump announced the first coronavirus death in the U.S. Saturday during a press conference, adding that additional travel restrictions will be imposed on new countries.  The president and Vice President Mike Pence gave updates about the coronavirus, noting that one high-risk patient died in the U.S. from it.  The woman who died was from Washington state. Trump added that 22 people total in America have been diagnosed with the coronavirus and that many of them are well on their way to recovery.
February 28: The Washington Free Beacon: Report:  Programs pushed by Democrat
hopefuls will help the rich and hurt low income families
Although backed by redistributionist rhetoric, many programs pushed by 2020 Democrats would primarily benefit highly educated professionals, often at the expense of the bottom fifth of earners, a new report released by the Manhattan Institute concludes.  The report examines the distributive impacts of major proposals, including Medicare for All, student debt forgiveness, and the repeal of key components of the Tax Cuts and Jobs Act (TCJA). It argues that while Democratic candidates talk big about supporting workers and the poor, these programs primarily serve the interests of the wealthy.
February 27: Fox News: Chinese destroyer aims laser and US Navy aircraft in unsafe manner
A People's Republic of  China (PRC) navy destroyer 161 on Feb. 17 aimed a laser at a  US Navy P-8A Poseidon maritime patrol aircraft while it was flying above international waters, according to the U.S. Pacific Fleet.  The incident took place approximately 380 miles west of Guam and occurred without provocation, the fleet's public affairs office said in a statement.  The laser China used, which is invisible to the naked eye, had been observed by a sensor that was onboard the P-8A.  Weapons-grade lasers have the potential to cause serious harm to servicemembers and could have damaged various ship and aircraft systems.
February 27: The Washington Examiner:  US ambassador to NATO stunned by report of
Russian/Syrian attack on NATO ally/Turkish troops
A long-developing proxy clash in Syria between Russia and Turkey is "very much moving into crisis mode," a senior American diplomat said amid reports that Turkish troops were attacked in an airstrike.  Turkish President Recep Tayyip Erdogan called an emergency meeting of his national security team late Thursday as local media reported that Russia targeted a Turkish command post in Idlib. Turkish officials blamed the strike on Syrian dictator Bashar Assad, who has survived the civil war by virtue of Russian and Iranian military support for his regime.
February 26: Fox News: Sanctuary Cities: Appeals Court Ruling
A federal appeals court on Wednesday handed a major win to the Trump administration in its fight against "sanctuary" jurisdictions, ruling that it can deny grant money to states that refuse to cooperate with federal immigration authorities. The Second Circuit Court of Appeals in New York overturned a lower court ruling that stopped the administration's 2017 move to withhold grant money from the Edward Byrne Memorial Justice Assistance Grant Program, which dispenses over $250 million a year to state and local criminal justice efforts.  The latest decision conflicts with rulings from other appeals courts across the country concerning sanctuary policies, indicating a Supreme Court review is ultimately likely.
February 26: The Washington Free Beacon: Dem candidates/senators miss the born alive vote
Democratic presidential candidates skipped a vote on a bill that would have guaranteed medical care for newborns, a vote that Republicans and pro-life activists say will come back to haunt the candidates in November. Sens. Amy Klobuchar (D-MN), Bernie Sanders (I-VT) and Elizabeth Warren (D-MA) were not present for the vote on the Born-Alive Abortion Survivors Protection Act, which would mandate that doctors provide potentially life-saving care to babies who survive abortion. All three 2020 hopefuls voted to block the same bill when it was first proposed in 2019. Bill sponsor Sen. Ben Sasse (R-NE) ripped the Democratic presidential candidates for dodging the vote.
February 25: Scorecard: Texas convicted voter fraud perp faces deportation
A noncitizen who illegally voted five times in Texas is headed for deportation.  Mexican national Rosa Maria Ortega was  convicted of felony voter fraud in 2017 after falsely claiming to be a U.S. citizen on a voter registration application and voting in Dallas County multiple times between 2004 and 2014.  A Tarrant County jury found Ortega guilty of two counts of illegal voting, a second-degree felony, and sentenced her to eight years in prison. After serving nine months in prison, Ortega was paroled in December, then taken into custody by Immigration and Customs Enforcement. She awaits deportation back to Mexico. 
February 26: Fox News: Democrat offering cash for votes faces 50 years in jail
A Cincinnati city councilwoman could face up to 50 years in prison after being arrested Tuesday on federal corruption charges, authorities say, according to reports.  Shortly after being taken into custody, Tamaya Dennard appeared in court in handcuffs and leg irons to face charges of honest services fraud, bribery and attempted extortion, FOX 19 of Cincinnati reported.
February 25: The Daily Caller: ABC suspends veteran reporter over upcoming Veritas video
ABC News has suspended a reporter involved in an upcoming Project Veritas video the evening before the project is set to be released.  Project Veritas plans to release a video Wednesday exposing bias at ABC News.  Veteran reporter David Wright was suspended Tuesday evening ahead of the project's release, according to a person with direct knowledge of the situation. ABC News did not respond to a request for comment from the Daily Caller.  They have previously received insider videos exposing network biases in numerous networks, including CNN and ABC News. The watchdog group has also aired videos of a Democratic Vermont Sen. Bernie Sanders' staffer promoting violence against his political opponents.
February 25: The Hill: Moderators come under fire at SC Democrat debate
The CBS News moderators came under fire on social media Tuesday as the Democratic presidential debate in South Carolina grew heated, with crosstalk often drowning them out.  Megham McCain compared the debate's atmosphere to the contentious discussions she faces on "The View," saying, "these moderators need to get this under control."  Former Democratic National Committee interim chairwoman and Fox News contributor Donna Brazile also addressed the moderation issues, tweeting, "Dear Madam Moderators: throw your shoes down. Get control."
February 24: The Associated Press: Coronavirus spreads to Europe and Middle East
The new virus took aim at a broadening swath of the globe Monday, with officials in Europe and the Middle East scrambling to limit the spread of an outbreak that showed signs of stabilizing at its Chinese epicenter but posed new threats far beyond.  Italian authorities set up roadblocks, called off soccer matches and shuttered sites. In Iran, the government said 12 people had died nationwide, while five neighboring countries — Iraq, Kuwait, Bahrain, Oman and Afghanistan — reported their first cases of the virus, with all those infected having links to Iran.  Across the world, stock markets and futures tumbled on fears of a global economic slowdown due to the expanding spread of the virus.
February 24: The New York Post: Weinstein convicted of sex crimes
Harvey Weinstein's victims, and those who believe them, finally got their Hollywood ending: The dethroned Hollywood mogul led out of a courtroom in handcuffs.  On Monday, after nearly a week of deliberations, the jury returned their verdict: Guilty on two counts, rape and a criminal sex act.  Weinstein, who spent his evenings and weekends throughout the trial partying, his days bantering with press and ignoring admonitions by his trial judge, was immediately remanded to jail.  He will likely never get out.
February 24: Fox News: Trump calls upon Sotomayor and Ginsberg to recuse themselves over comments
President Trump late Monday called on Supreme Court justices Sonia Sotomayor and Ruth Bader Ginsberg to recuse themselves from any cases involving his administration over their past comments.  Trump has proven in the past that he is not bashful about criticizing justices, but he seemed to be particularly bothered by a recent dissent by Sotomayor hinting that conservative-leaning justices have a bias towards Trump.
February 24: The Jerusalem Post: Israel strikes targets in Gaza and
Syria in response to rocket attacks
The IDF struck numerous targets belonging to the Palestinian Islamic Jihad (PIJ) terror group in Syria and throughout the Gaza Strip following rocket fire towards southern Israel over the course of Sunday evening.  The military said that Israeli Air Force fighter jets struck PIJ targets south of the capital of  Damascus, including a compound which was "used as a hub of Islamic Jihad's activity in Syria" as well as dozens of terror targets belonging to the group across in the Strip.   Palestinian media said that two PIJ operatives were killed in the strike.
February 23: Breitbart News: Democrat elites prefer Trump to Burnie
It's an article of faith inside the Bernie Sanders campaign that the Democratic establishment is going to do everything it can to stop the him from winning the Democratic nomination this year. This is what happened four years ago during the primary battle, when the Democratic National Committee (DNC) was helping Hillary Clinton win the nomination, even as it feigned neutrality in the contest. For Democrats this year the intra-party antipathy toward Sanders is even stronger than it was in 2016; it feels like an Anybody But Bernie movement, or even an outright Never Sanders pledge. Anti-Sanders sentiment inside the high pavilions of the Democratic Party is fierce. On February 3, the Onion nailed it with a quip that the Democrats would go so far as to ask Trump as their nominee, as a way of stopping Sanders.
February 23: The Wall Street Journal: White House consider revamping surveillance laws
Senior White House officials are discussing plans to pursue an overhaul of how the government surveils individuals in the U.S. suspected of posing a national security risk. Apparently the effort seeks to take advantage of the looming expiration of some spying powers next month, including portions of the Foreign Intelligence Surveillance Act (FISA), a Watergate-era law that Mr. Trump believes has been improperly used.   Overhauling FISA has become a rallying cry for conservatives and allies of the president in the aftermath of a watchdog report detailing several errors made by the FBI in its applications for surveillance.  Some Republicans have called for upending FISA, prompting pushback from some in the administration, including Attorney General William Barr.
February 22: Politico: Dominoes fall in Nevada as Bernie wins the prize
On Saturday in Nevada, Bernie Sanders laid waste not just to his five main rivals but also the  conventional wisdom about the Democratic presidential primaries.   You could see the dominoes of punditry cliches falling inside the caucus rooms. The powerful Culinary Union, which opposes Sanders' Medicare for All plan and spent the final weeks of the campaign in a high-profile fight with his campaign, was supposed to weaken him. And yet the Sanders's ranks were speckled with red-shirted Culinary members. (Overall, Sanders won 34% of caucus-goers from union households, besting all of his rivals.)   With over 60% of the precincts reporting Bernie got 46% of the vote, Biden 19.6%, Buttigieg 15.3% and Warren 10.1%.
February 22: The Daily Caller: CNN/MSNBC repeatedly air misleading Bloomberg ad
TV networks, led by CNN and MSNBC, have aired a Michael Bloomberg ad more than 70 times in recent days in which the 2020 Democratic presidential hopeful falsely said he led New York City through 9/11.   "I led a complex, diverse city through 9/11, and I have common sense plans to move America away from chaos to progress," Bloomberg said in a 30-second campaign ad.   The problem with the claim is that Bloomberg did not take over as mayor of the Big Apple until Jan. 1, 2002, four months after terrorists flew airplanes into the World Trade Center towers in Manhattan.   Rudolph Giuliani served as mayor when the attacks occurred.

February 22: The LA Times: Shake it up baby now, twist and shout: The 9th Circuit Court
When President Trump ticks off his accomplishments he frequently mentions his appointment of 51 judges to the U.S. Court of Appeals across the nation.  In few places has the effect been felt more powerfully than in the sprawling 9th Circuit, which covers California and eight other states.   Trump has now named 10 judges to the 9th Circuit — more than one-third of its active judges — tilting it to the right.  Some of the older appointees are point to Judge Daniel P. Collins, a former federal prosecutor, saying he appears to be oblivious to court tradition saying by sending memos at all times of the night in violation of a court rule.  Collins also moved quickly to challenge some rulings by his new colleagues, calling for review of five decisions by three-judge panels.  Active judges vote on the calls behind the scenes, and the public becomes aware of a failed effort only when dissents are later filed by the judges who favored reconsideration. Judges said it was unprecedented for a new jurist to try to overturn so many decisions in such a short period of time.
February 21: The Daily Caller: Trump and efforts to shake up the Fed
There is more to President Donald Trump's monetary policy than political self-interest. If the president simply wanted low rates and to ease the regulatory burden of the Federal Reserve, he could achieve these outcomes without much resistance. However, Trump also wants to disrupt the Fed's ruling monetary clique. To this end, he has nominated Judy Shelton to the FED's  board.  Shelton's confirmation hearing  had the drama and combativeness befitting a Supreme Court confirmation fight. To quote Senate Banking Committee Chair Mike Crapo, there was an "orchestrated, calculated effort" to defeat Shelton led by Senators Joh Tester (D-MT) and Sherrod Brown (D-OH).  The well-prepared Democrats on the committee left no doubt of their united opposition to her confirmation.
February 21: The Washington Free Beacon: The Presidential race is stacking up
to be a battle of the boroughs
There are  329 million people in the U.S.  They are spread across 3.8 million square miles. The presidential race will be determined by the actions of three of them: Donald Trump, Bernie Sanders, and Michael Bloomberg. Each is a New Yorker. Each hails from a different borough. Trump was born in Queens, Sanders in Brooklyn, and Bloomberg, a native of Massachusetts, has worked and lived in Manhattan since 1973.
February 20: The Washington Examiner: Appeals court blocks Mississippi's h
eartbeat abortion ban
A federal appeals court has temporarily blocked a Mississippi law that would ban abortions after six weeks into a pregnancy.  A three-judge panel of the 5th Circuit Court of Appeals ruled unanimously Thursday to uphold a federal judge's ruling issued in May 2019 that the law couldn't stand. The same appeals court in December also struck down another Mississippi law that would have made abortion illegal after 15 weeks.  Supporters of six-week bans call them "heartbeat bills" because they make abortion illegal from the time a doctor can detect a fetal heartbeat.
February 20: The Hill: Democrats are having second thoughts about
Bloomberg after his first debate  
Democrats are having second thoughts about Mike Bloomberg after he fell flat in his debate stage debut.  Before Wednesday night's performance — which Democrats across the board labeled "terrible" and "pathetic" — many in the party were hopeful the former New York City mayor would emerge as a strong competitor to front-runner Sen.  Sanders (I-Vt.), who continues to gain momentum.  But Bloomberg's debate implosion left a lot to be desired.
February 20: Fox News: Judge concurs; original Roger Stone sentence
recommendations were excessive
The judge presiding over Roger Stone's case agreed with senior Justice Department leadership on Thursday that the original sentence proposal was excessive -- amid a clash inside the DOJ over his sentencing.  U.S. District Judge Amy Berman Jackson, who sentenced Stone to forty months in federal prison on Thursday, said the original sentence proposed last week by federal prosecutors of 87 to 108 months was steep given the charges.  She said the recommendation was "greater than necessary," while also saying the defense's recommendation of probation was "simply not sufficient."
February 20: The Daily Caller: Trump has first time every positive rating from Gallup
President Donald Trump is enjoying a positive approval rating for the first time since his inauguration, according to a poll released Thursday.  49% of Americans approve of the job Trump is doing, compared to 48% who disapprove of Trump's performance, according to a Gallup poll published Thursday. The poll also found that the president is enjoying his highest approval ratings among Independents since taking office at 43%.
February 20: Fox News: Navy stations F-35s on amphibs; changes future tactics
The Navy has ushered in a new era in amphibious warfare operations.   Launching a massive, fast-paced air assault from the sea, providing close-air support for amphibious assault forces, and bringing forward-operating surveillance and networking technology to maritime warfare are all part of the changing operational calculus introduced by adding stealth F-35s to maritime attack.  U.S. amphibious assault ships could deploy with over twelve such aircraft, expanding the capabilities of the fleet.
February 19: The Galveston Daily News: Galveston County elections are secure
The bottom line is whenever you rely upon manual counting of paper ballots you introduce human error; the results are usually not accurate. Why spend over $3 million in taxpayer dollars to upgrade to a paper back up when what we have works?  So, when Dwight Sullivan, your County Clerk, says our elections are secure, believe him!  He's telling the truth!
February 19: The Washington Free Beacon: Bloomberg: Bernie, we tried communism
and it didn't work
Former New York City mayor Mike Bloomberg attacked Democratic presidential frontrunner Sen. Bernie Sanders's (I., Vt.) economic agenda during Wednesday's debate, saying, "It was called communism and it just didn't work."  Asked if he would support Sanders's economic proposals as a business owner, Bloomberg said, "Absolutely not," adding that Sanders's communist policies have failed historically.
February 19: The Washington Times: Secession fever spikes in five states as
conservatives seek to escape blue rule
You've got Oregonians seeking to cascade into Idaho, Virginians who identify as West Virginians, Illinoians fighting to escape Chicago, Californians dreaming of starting a 51st state, and New Yorkers who think three states are better than one.  Separation fever is sweeping the nation as quixotic but tenacious bands of frustrated rural dwellers, suburbanites and conservatives seek to break free from states with legislatures increasingly controlled by liberal big cities and metropolitan strongholds.
February 18: The Washington Free Beacon: Stone gets 14 times more cable
coverage than George Washington on his birthday
An analysis found that cable news networks mentioned former Trump adviser Roger Stone nearly 15 times as often as George Washington on Washington's birthday. A TVEyes search found Roger Stone was mentioned 131 times on Fox News, MSNBC, and CNN on Monday. Excluding references to Washington, D.C., Washington state, and the Washington Post, the founding father received only nine mentions.
February 16: Fox News: Congressman Nunes: AG Barr is trying to clean up
the mess from Obama's FBI
" I think people need to understand that he's (Barr) cleaning up the mess from not only the Obama administration, but also the mess that was left with the whole Russia-gate fiasco," Nunes said, "…taxpayers paid tens of millions of dollars to fund then-Special Counsel Robert Mueller's team, that went chasing and trying to put us into a status of a permanent coup against the president of the United States," Nunes continued.  "I think what the attorney general said (about tweeting) was very clear, that the president should be careful making comments about criminal investigations. One should not see that as anything other than but what it is," Nunez said, adding that Barr "didn't say to stop tweeting, because the fact of the matter is, with 90 percent of the media being hard left and really just working for the Democratic Party, the president has to be able to tweet."
February 16: The Hill: Senate Intelligence Committee to consider
investigating whistleblower complaint process
With Trump's trial in the rearview mirror, the Senate Intelligence Committee is quietly shifting its attention back to its investigation into the complaint process after hitting pause on the inquiry as the impeachment effort consumed Washington.   The probe will force senators to decide if, and how, they speak with the whistleblower — a controversial call that could test the bipartisan reputation the Intelligence panel has maintained even amid deeply partisan fights in Congress.
February 16: Fox News: Conway: Bloomberg comments to women
"far worse" than Trump's access Hollywood tape
Counselor to  President Trump Kellyanne Conway joined Democrats in their criticism of Michael Bloomberg, after a Washington Post report detailed allegations of inappropriate comments toward women and discrimination within the presidential hopeful's media company.  The report described allegations from lawsuits and depositions against Bloomberg, as well as witness interviews, that described misogynistic remarks and a "pattern and practice of sexual harassment, sexual degradation of women and discrimination."  "The way Michael Bloomberg treated employees, female employees … who were relying on him for their livelihood, for their health benefits, for their 401ks, to have created that kind of culture, that unsafe workplace, to feel that you're being harassed because of your gender, that is problematic, and I think you're going to hear more of it," Conway said.  Conway contrasted this with her own experience working for President Trump. "He's the best boss I've ever had," she said.
February 16: The Hill: Trump "split screen" with Democrat primary hopefuls
President Trump has injected himself into the early primary states, staging rallies and shadowing Democrats as they campaign for votes in an effort to seize attention and better position himself for November.  The president's prominence is unusual. Most incumbents have refrained from going full bore on the campaign trail while the opposing party is sorting out its own nominating process. But Trump has made himself a central player in each of the early primary states through his mega rallies.  He has held events in Iowa, New Hampshire, and is expected to go to Nevada and  South Carolina. The strategy has already produced results in the first two voting states. Trump earned 31,464 votes in Iowa and roughly 129,000 in New Hampshire, the most of any of the last four incumbents in those state primaries and may also have long term benefits as he heads toward the November election.
February 15: The Daily Caller: Trump deploying elite border patrol unites to sanctuary cities
The Trump administration is deploying an elite unit of the Border Patrol, including 100 Customs and Border Protection (CBP) officers, to assist Immigration and Customs Enforcement (ICE) apprehend illegal aliens in sanctuary cities.  Members of the Border Patrol Tactical Unit (BORTAC) will be helping ICE officers arrest illegal aliens living at large in sanctuary cities, a spokesman for Customs and Border Protection, Lawrence Payne, confirmed on Saturday. BORTAC officers — considered the SWAT team of the Border Patrol — are specially trained for high-risk operations and typically execute operations against violent targets.
February 15: Breitbart News: Border Patrol seeing more armed undocumented
attempting to enter the US
Del Rio Sector Border Patrol agents apprehended an allegedly armed human smuggler during an attempt to bring illegals into the country. Sector agents report they have observed an increasing trend in armed human smugglers.  "Our agents are encountering armed smugglers now more than ever before," Del Rio Sector Chief Patrol Agent Raul L. Ortiz said in a written statement, "These are dangerous criminals who continue to show little regard for human life."
February 15: The Daily Caller: Pelosi claims Trump not acquitted because there
was no trial in the Senate
Democratic House Speaker Nancy Pelosi claimed President Donald Trump wasn't really acquitted in the impeachment trial during an interview on CNN.  According to her "You can't have an acquittal unless you have a trial, and you can't have a trial unless you have witnesses and documents. So he can say he's acquitted, and the headlines can say 'acquitted,' but he's impeached forever, branded with that, and not vindicated."   The Senate indeed did vote to acquit Trump in the impeachment trial, with every Republican but one, Utah Sen. Mitt Romney, voting against the charge of abuse of power, and all Republicans including Romney voting against the charge of obstruction.
February 14: NBC News: DOJ opens inquiry into FBI interview with Michael Flynn
The Justice Department recently opened an inquiry into the circumstances surrounding the FBI's interview of Michael Flynn while he was serving as President Donald Trump's national security adviser.  Reportedly Attorney General Barr has asked the U.S. attorney for the Eastern District of Missouri, Jeffrey Jensen, to look into Flynn's FBI interview.  In early January prosecutors recommended Flynn serve up to six months in jail but were overruled three weeks later when the government submitted a new sentencing recommendation to the judge saying probation for Flynn was appropriate.
February 14:The Daily Caller: White House says Trump "not bothered" by AG Barr's
comments about tweeting; has full faith and confidence in  Barr
According to White House Press Secretary Stephanie Grisham President Trump "wasn't bothered" by Attorney General Bill Barr's comments about his tweets on the Roger Stone case.  "The President wasn't bothered by the comments at all and he has the right, just like any American citizen, to publicly offer his opinions. President Trump uses social media very effectively to fight for the American people against injustices in our country, including fake news. The President has full faith and confidence in Attorney General Barr to do his job and uphold the law," Grisham said.
February 14: The Washington Examiner: Texas poll suggests a brokered
Democrat convention is possible
The latest University of Texas/Texas Tribune Poll of Democratic voters in Texas shows a race where no candidate is close to earning a majority of delegates following the state's primary on March 3. The poll found that Sen. Bernie Sanders of Vermont leads with 24% support, with former Vice President Joe Biden closely behind at 22%, Sen. Elizabeth Warren at 15%, and former New York City Mayor Michael Bloomberg at 10%. This poll from the second largest super Tuesday state indicates that the fight to be a dominant front-runner in the Democratic presidential primary may go on well into late spring or early summer.
February 13: The Washington Free Beacon:
USS Normandy (CG-60) seizes suspected Iranian weapons
destined for Yemen
This week the US guided missile cruiser Normandy seized weapons believed to be of Iranian "design and manufacture," including 150 anti-tank guided missiles and three Iranian surface-to-air missiles, the American military said on Thursday.  In a statement, the military said Normandy boarded a dhow, a traditional sailing vessel, in the Arabian Sea on Sunday.  "… weapons components seized aboard the dhow were of Iranian design and manufacture and included three Iranian surface-to-air missiles," US military sources said.  In recent years, U.S. warships have intercepted and seized Iranian arms likely bound for Houthi fighters in Yemen.
February 12: The Washington Examiner: McConnell: We're a long way
from finishing confirmations of conservative judges
Senate Majority Leader Mitch McConnell said people should not expect him to take his foot off the accelerator in confirming conservative judges to fill vacancies at federal courts across the country.  "My motto for the year is 'leave no vacancy behind,'" McConnell said. "That includes district courts as well. So we're a long way from being finished with doing court confirmations this year."   The Kentucky Republican set up five more judicial nominations for votes last week after impeachment ended.
February 12: The LA Times: It's words, not bullets,
for "bear whisperer" in the Eastern Sierras
Steve Searles is not really a cop, not really a civilian; he lives in limbo between those two worlds.  He has carved out a niche and a career as Mammoth Lakes' "bear whisperer," a protector of the wild things that roam the night: the ubiquitous bears, deer, coyotes and all manner of high-country cat. He protects the residents and the 2.5 million annual visitors too, though they have the numerical advantage.  Watch the video
February 12: Fox News: Roger Stone Jury forewoman defends prosecutors after her anti-Trump social media posts become public
Former Memphis City Schools Board President Tomeka Hart revealed Wednesday that she was the forewoman of the jury that convicted former Trump adviser Roger Stone on obstruction charges last year -- and soon afterward, a string of her anti-Trump, left-wing social media posts came to light.  Meanwhile it was disclosed that Seth Cousins, another Stone juror,  donated to Democrat  Beto O'Rourke and other progressive causes.  And another juror's husband reportedly worked at the Justice Department division that played a role in prosecuting Stone.  The revelations came as President Trump called into question the handling of Stone's prosecution. 
February 12: The Daily Caller: Foreigners working for the Sander's campaign raise questions
Foreign nationals, under the direction of Vermont Sen. Bernie Sanders's presidential campaign, have sent thousands of texts and phone calls urging American voters to support the democratic socialist in the Democratic primaries.  Since October 2019, a particularly devoted contingent of about 40 Australian volunteers have sent thousands of messages a day to American voters through a phone banking system operated by the Sanders campaign, according to a report by the Australian Broadcasting Corporation.  According to the Federal Elections Commission it's legal for foreign nationals to volunteer for political campaigns as long as they're not compensated for their services.
February 11: The Washington Times: AG Barr: Rouge DAs responsible for violent crime in large cities
Attorney General Bill Barr on Tuesday slammed "rogue DAs" he said are sabotaging the sanctity of the criminal justice system by bringing lesser charges or pleading down cases in order to keep people out of prison.
Barr, in a speech to the Major County Sheriffs of America, said the "self-styled 'social justice' reformers" are contributing to a recent rise in violent crimes in some of the country's largest cities, defying an overall nationwide trend toward safety.
February 11: The Washington Examiner: Planned Parenthood and ACLU suing Administration
over rule requiring separate billing for abortion and other healthcare services
Planned Parenthood of Maryland and the American Civil Liberties Union are suing the Trump administration over a rule that will require some health insurers to send their customers separate premium bills to cover abortion.   The finalized rule requires Obamacare insurers to send separate bills to enrollees, one for abortion coverage and one for all other healthcare costs.  As required by the Hyde Amendment Health and Human Services Secretary Alex Azar said that it "fulfills Congress' intent and reflects President Trump's strong commitment to preventing taxpayer funding of abortion coverage."
February 11: The Daily Caller: Virginia's House passes gun ban and seizure legislation
The Virginia House of Delegates passed a package of gun control proposals Tuesday on a near party line vote. The proposal passed the House 51-48 with all Republicans and several Democrats voting against the bill. The legislation includes a ban on the sale of several firearms defined as "assault weapons," including the popular AR-15. Virginia residents who currently own these types of firearms will not be forced to participate in a mandatory buyback program as had initially proposed but the bill gives the state government the authority to confiscate certain types of magazines that are considered "high capacity."
February 11: Fox News: Former CNBC anchor files to challenge AOC in the Democrat primary
Former CNBC anchor Michelle Caruso-Cabrera is hoping to knock Congresswoman Alexandria Ocasio-Cortez (D-NY), out in this year's primary, as she runs to take New York's 14th congressional district.  A registered Democrat and descendant of Cuban immigrants, Caruso-Cabrera has been a fierce critic of socialism and advocate for free markets. According to CNBC, she filed to run late Monday.
February 10: Defense.gov: President Trump releases his 2021 budget
request; beefs up national defense
The President's budget request includes $740.5 billion for national security, $705.4 billion of which is for the Department of Defense.  These funds are to be used to continue to improve military readiness and invest in the modernization of a more lethal force;  to strengthen alliances, deepen interoperability, and attract new partners; to  reform the Department for greater performance and accountability; and  to support service members and their families, recognizing that our people are our most valuable resource.
February 9: The Wall Street Journal: Florida law implementing amendment restoring
1.4 million felons voting rights causes confusion
More than a year after Florida voters approved a constitutional amendment restoring voting rights to an estimated 1.4 million people with felony convictions, widespread confusion surrounds its implementation.  A law aimed at carrying out the amendment has sparked legal battles that remain unresolved, the state has provided little guidance to local elections officials, and some counties are filling the void with inconsistent remedies.
February 9: Fox News: DHS defends barring NY from global entry TTP saying it is not retaliation
DHS stated its move has nothing to do with the state's decision to allow illegal immigrants to obtain driver's licenses, and everything to do with keeping Customs and Border Protection [CBP] officials from accessing necessary data.  Acting Secretary of DHS Wolf stressed the significance of having access to the state's DMV data in order to conduct proper security checks for applicants to programs such Global Entry, saying New York was making it impossible for CBP to do what was needed.
February 9: The Washington Examiner: House will attempt to revive the Equal Rights
Amendment this week
The House is poised this week to pass a measure that would revive the long-dead Equal Rights Amendment by repealing the 1982 deadline imposed on states to ratify it,  "permanently reopen the ratification process for the amendment by eliminating the deadline," the Congressional Budget Office reported.   But the effort to resuscitate the ERA faces significant obstacles.   The GOP-led Senate is unlikely to endorse the House measure.   Even if the Senate cleared the measure, the Justice Department has ruled it would be unconstitutional.  House lawmakers must start over if they wish to ratify the ERA, the Office of Legal Counsel ruled in January.
February 9: The Jerusalem Post:  Will the sun set on annexation of Judea and Samaria
Likud voters in Judea and Samaria are a relatively small yet influential group, and Netanyahu is left doing damage control and repeating over and over that annexation will really happen. The question is when?
February 8: Channel 4 Jacksonville: Republican voter registration booth rammed by van
Hours after a van plowed through a Republican Party tent where volunteers were registering voters, Jacksonville police arrested a 27-year-old man on two counts of aggravated assault on a person over 65 years old, criminal mischief and driving without a license.  Police Lt. Larry Gayle said after driving through the tent, the driver stopped, took a video and "flipped off" the people who were inside the tent before driving away.  No injuries were reported. One of the volunteers provided photos of the older brown Chevrolet driving away.
February 8: The Daily Caller: House Speaker Nancy Pelosi tries unsuccessfully to bully
Facebook and Twitter into removing an edited video of her at the State of the Union Address
Facebook and Twitter are refusing to bow to requests from House Speaker Nancy Pelosi to nix an edited video of the California Democrat tearing up President Donald Trump's State of the Union speech.  The edited video was posted on both social media platforms after the Tuesday night SOTU in which Pelosi can be seen ripping a copy of the speech. The video is spliced together to make it appear that Pelosi ripped the speech as Trump is saluting a Tuskegee airman and others in the audience.
February 8: Fox News: Trump to propose 12% increase in NASA's budget in order to
get men back to the moon in four years
President Trump is seeking billions of dollars in new funding for NASA aimed at returning astronauts to the moon within four years, according to administration officials. Trump will propose a 12 percent budget increase for the National Aeronautics and Space Administration when he releases his spending plan next week. The boost includes funding to develop human landers.  No one has been to the moon since 1972 under NASA's now-shuttered Apollo program. But since taking office, Trump has made space exploration a top priority, and his administration has set a target of 2024 for the next lunar landing.
February 8: The Washington Examiner: Dershowitz: FISA court needs "reshuffle"
to stop FBI officials with a "grudge"
Alan Dershowitz called for a "reshuffle" of the Foreign Intelligence Surveillance Court to protect the privacy of American citizens.  The Harvard Law School professor emeritus said that anyone, could be subject to surveillance abuse if a low-ranking FBI official has a "grudge" and a role in the FISA process.  "This could happen to you or me or anybody. Today, the way the FISA court operates, some low-ranking FBI agent with a grudge against somebody could walk in and say, 'Dershowitz,… were talking to the Russians, let's intrude on his privacy, his wife's privacy, his children's privacy,'" He said that Attorney General William Barr's memo to the FBI ordering the organization to clear any investigations into 2020 candidates with him may not go far enough.
February 7: The Washington Free Beacon: Strained relationship between AIPAC and
the new Democrat party standard barriers
A Democrat-backed effort to boycott the nation's leading pro-Israel group is gaining steam, worrying center-left advocates of the Jewish state who have been struggling in recent months to ensure their party continues to uphold the historically close U.S.-Israel relationship.  Far-left critics of Israel and its supporters in the United States have been gaining traction in the Democratic Party for some time. As young leaders such as Reps. Ilhan Omar (D-MN) and Rashida Tlaib (D-MI) gain increasing control of the party, anti-Israel voices once shunned by mainstream Democrats are beginning to find themselves welcomed with open arms.
February 7: The Washington Examiner: Trump: Vindman out because he lacked "judgment"
President Trump explained he fired Lt. Col. Alexander Vindman because of his lack of judgment and insubordination.  Vindman "....was given a horrendous report by his superior, the man he reported to, who publicly stated that Vindman had problems with judgement, adhering to the chain of command and leaking information. In other words, "OUT," Trump reported. Vindman, a key witness in the impeachment trial against Trump, was fired and escorted out of the White House. His dismissal came two days after the president was acquitted on all impeachment charges by the Senate.

February 6: The Daily Caller: DHS suspends travel program for New York residents
The Department of Homeland Security is suspending New Yorkers from enrolling in Global Entry and other Trusted Traveler Programs in response to a new state law that bans information sharing with the federal government.  The "Trusted" program allows expedited entry of pre-approved individuals and is heavily reliant on information from state driver's licenses.  Because a new law in New York allows illegal aliens to obtain driver's licenses and bans information sharing between DMVs and DHS agencies, DHS decided to suspend the program for New York residents.

February 6: Fox News: Senator Scott (FL) calls for amending the Constitution to
require a 60% vote in the House in order to impeach a President
"An act as divisive as impeachment must have bipartisan backing and overwhelming support. It should be harder – much harder – for either political party to take the process our Founders created as a last resort against a tyrannical leader and use it instead as a tool for the tyranny of a political majority," Senator Rick Scott (R-FL) said in a statement. "I look forward to all of my colleagues, on both sides of the aisle, joining me in this effort to protect the integrity of our nation and our constitution."
February 5: CNBC News: Trump found not guilty of the two impeachment charges
On Wednesday the Senate voted to acquit President Trump of both counts of impeachment.  Fifty-two Senators voted for acquittal with 48, including Romney (R-UT), voting to find him guilty of abuse of power.  The President was also acquitted of the charge of obstruction by a vote of 53 to 47.  Chief Justice Roberts, in his final remarks before the trial officially adjourned, said that he leaves the chamber "with sincere good wishes as we carry out our common commitment to the Constitution through the distinct roles assigned to us by that charter."  "You have been generous hosts and I look forward to seeing you again under happier circumstances," Roberts said.
February 4: The Daily Caller: Trump to give Rush Limbaugh the Presidential Medal of Freedom
President Donald Trump plans to award conservative radio legend Rush Limbaugh with the Presidential Medal of Freedom.  Limbaugh announced on his radio show Monday that he has advanced lung cancer and will be going through treatment for it.  "There are going to be days that I'm not going to be able to be here. Because I will be undergoing treatment," he said on air.
February 4: ABC News: In a sign of disrespect, Speaker
Pelosi rips up Trump's State of the Union Speech
In a moment that bookended an already divided night at the Capitol, House Speaker Nancy Pelosi tore in half a copy of the State of the Union address given to her by the president just as he finished speaking. President Donald Trump didn't appear to notice as Pelosi, standing behind him in the gallery, ripped up the papers. When asked after the event why she ripped up the speech, Pelosi told reporters it was "because it was a courteous thing to do considering the alternative. It was such a dirty speech."
February 4: The Hill: Acquittal of Trump may have
profound impact on Presidential power
President Trump's acquittal at the end of his Senate trial could set a new bar for future impeachment trials, according to experts and historians interviewed by The Hill.  It may take years or even decades to truly determine what kind of mark Trump's trial leaves, but historians and legal experts say an acquittal will likely lower the bar for permissible presidential conduct and give the executive branch more power in the face of congressional oversight — if the decision is based in part on the Trump legal team's expansive view of presidential power.
February 4: Philadelphia Inquirer | Military.com | News Break:
Three highlights from the President's State of the Union address


[Philadelphia Inquirer] A Philadelphia mother and her fourth-grade daughter made a special appearance Tuesday night as guests for President Donald Trump's State of the Union address.  Stephanie Davis and daughter Janiyah sat in the gallery as the president spoke. He talked directly to the girl while discussing his plans for school choice and federal tax credits. "Some good news for you" the President said,   'I am pleased to inform you that your long wait is over. … an opportunity scholarship has become available, is going to you, and you will soon be heading to the school of your choice," Trump concluded.

[Military.com] He's only 13, but he's already got his eye on joining the nation's newest military branch, the U.S. Space Force.  Meet Iain Lanphier, the Scottsdale, Arizona 8th-grader.  Sitting next to Ian was 100-year-old Charles McGee, one of the last survivors of the legendary  Tuskegee Airmen -- African-American pilots who fought heroically in World War II. "Charles McGee was born in Cleveland, Ohio, one century ago," Trump said. " ... After more than 130 combat missions in World War II, he came back to a country still struggling for Civil Rights and went on to serve America in Korea and Vietnam." Earlier that day Trump signed the papers making him an honorary brigadier general.

[News Break] President Donald Trump surprised a military family with an unexpected reunion during the State of the Union on Tuesday evening. While discussing how "war places a heavy burden on our nation's extraordinary military families," Trump recognized Amy Williams from Fort Bragg, North Carolina, and her two children, 6-year-old Elliana and 3-year-old Rowan.

February 4: Associated Press: Biden's poor showing shakes up the Democrat establishment
Joe Biden's third presidential bid enters a critical stretch after a disappointing finish in the Iowa caucuses sent the former vice president on to New Hampshire with a skittish donor base, low cash reserves and the looming threat of billionaire rival Michael Bloomberg and his unlimited personal wealth.  In New Hampshire on Tuesday, Biden insisted he had a "good night" in Iowa even as he trailed the top moderate candidate, former Mayor Pete Buttigieg of Indiana; Bernie Sanders, according to initial returns from 62% of precincts. Biden was running fourth, close to Minnesota Sen. Amy Klobuchar, who just days ago polled in single digits.

February 3: The Daily Caller: Harvard professor arrested  for ties with
Chinese Communist Government
The Chinese Communist Party (CCP) influence on American college campuses has continued to be of concern, highlighting a trend at America's most elite institutions.  Most recently, Charles Lieber, the chair of the Department of Chemistry and Chemical Biology at Harvard, was charged with aiding the Chinese government and hiding his ties about accepting millions in funding. His involvement with the Chinese government included recruiting skilled individuals to the Thousand Talent Program, which in some cases has resulted in violations of U.S. law, such as espionage, theft of trade secrets, and grant fraud.  Other universities with similar situations include Boston University and the University of Kansas.


February 3: Fox News: Limbaugh announces he has "advanced lung cancer"
Talk radio king Rush Limbaugh stunned his 20-million member audience Monday with the announcement he's been diagnosed with "advanced lung cancer."  The 69-year-old conservative talk pioneer closed his broadcast with the grim news, saying he will be leaving his golden EIB microphone for treatment, but hopes to return later this week.  The radio icon then told his audience that his job has provided him with the "greatness satisfaction and happiness" of his life.  "So, I have to tell you something today that I wish I didn't have to tell you. It's a struggle for me because I had to inform my staff earlier today," he said. "I can't help but feel that I'm letting everybody down. The upshot is that I have been diagnosed with advanced lung cancer."

February 2: Breitbart News: Sanders could sweep early primary states
Former Vice President Joe Biden is only 5 points ahead of Sen. Bernie Sanders (I-VT) in the latest poll of voters in South Carolina, the state where Biden had built a "firewall" of support among African-Americans.  The new poll result raises the possibility that Sanders could sweep all four of the early primary states that vote in February. He leads in the latest polls in Iowa and New Hampshire; he is statistically tied with Biden in the most recent poll in Nevada; and now he is clinging to a slim lead over Sanders in South Carolina.

February 2: Daily Caller: Google employees used company resources to resist Trump
Apparently Google employees interpreted Trump's election as a terrible outcome that they should have done more to prevent the American people from choosing and something they would work hard to make sure didn't happen again. Indeed, company documents and communications showing Google employees organizing anti-Trump protests using internal company channels, company time, and company office space.  "If your stomach turns when you consider a Trump presidency, I urge you not to let this moment pass quietly," one Google employee wrote in an email to coworkers, urging them to attend an anti-Trump protest in San Francisco ten days after Trump's election.

February 1: BBC News: UK begins new chapter outside the European Union
Celebrations and anti-Brexit protests were held on Friday night to mark the UK's departure.  Ex-Brexit Secretary David Davis said everyone would be a winner in the end.  The UK officially left the European Union on Friday at 23:00 GMT after 47 years of membership, and more than three years after it voted to do so in a referendum.  In a message released on social media an hour before the UK left, Prime Minister Boris Johnson vowed to bring the country together and "take us forward".  "For many people this is an astonishing moment of hope, a moment they thought would never come," he said. "And there are many of course who feel a sense of anxiety and loss."

February 1: The Daily Caller: Democrat Texan Congressman concerned about ICE
apprehending an illegal at local courthouse
Congressman Vicente Gonzalez (D-TX) said he was "disturbed" to hear that Immigration and Customs Enforcement (ICE) arrested a criminal illegal alien in a courthouse. The Congressman was repeating a criticism made by many immigrant-rights activists – courthouses should be considered "sensitive locations," or off-limits to ICE because such arrests might lead to the illegal immigrant community becoming fearful of approaching law enforcement altogether.  ICE has long pushed back on this argument, pointing out that arrests in these locations are a safe alternative to apprehensions out of the field — where individuals might be armed, and others might be put at risk. Courthouses, where individuals enter through a metal detector and are surrounded by law enforcement, ensure safety for everyone involved.


February 1: The Washington Examiner:  Romney "formerly not invited" to CPAC after
impeachment witness vote
The chairman of CPAC announced that Utah Sen. Mitt Romney is "formally not invited" to the conservative group's annual conference this year.  Matt Schlapp, the head of the American Conservative Union, said Romney is not allowed at the event after the Utah Republican voted in favor of summoning witnesses in the Senate impeachment trial of President Trump. Romney was one of two Republicans who joined 47 Democrats in supporting the motion, which failed to pass on Friday.

January 31: The Daily Caller: Clarence Thomas: Documentary
film in his own words
Supreme Court Justice Clarence Thomas is setting the record straight with a new documentary, "Created Equal: Clarence Thomas In His Own Words," released January 31.  Thomas is most well-known for his fiery defense of his own character during his nomination process, in which his former employee Anita Hill accused him of sexual misconduct. According to Michael Pack, the director and producer of the film, Thomas sees this incident as a product of a more general media bias against black people who espouse conservative ideas. 
See the trailer | Playing through February 6th at the AMC theater, 3301 Town Center Blvd S, Sugar Land

January 31: The Wall Street Journal: Senate rejects witnesses in Trump impeachment trial
The U.S. Senate rejected Democrats' demands to call new witnesses and documents in President Trump's impeachment trial, clearing the way for an acquittal on abuse of power and obstruction of Congress charges next week.  The 51-49 vote late Friday afternoon represented a major victory for the Senate leadership which has sought to complete the trial as quickly as possible.

January 31: Politico: Senate puts off final vote in Trump trial to next week
The Senate impeachment trial for Donald Trump will drag into next week, with a vote set for Wednesday afternoon on two articles of impeachment against the president, according to a bipartisan resolution negotiated by party leaders.  The 4 p.m. vote will conclude a 20-day proceeding, only the third presidential impeachment trial in U.S. history. The Senate is virtually certain to acquit Trump, and even some Democrats may oppose an obstruction of Congress article approved by the House.

January 31: The Daily Caller:  Rep. Nunes:  Tucker (Carlson) I have some bad news for you
Congressman Nunes:  The bad news:  "…this isn't going to end. I just can't imagine that Adam Schiff, after three and a half years of this nonsense — and Jerry Nadler — are not going to continue this, right? They are going to go back and subpoena John Bolton. We're going to have the same exact thing that you have been seeing for the last three and a half years. I just think you should prepare. Once Mueller collapsed completely, we thought, 'okay, we're going to get on to business,'" And then out of nowhere this Ukraine hoax appeared. …This was Adam Schiff and his staff concocting this all together with people that all know each other.   … I bet even after the acquittal we're gonna be working on this."

January 30: The Washington Examiner: Republicans feel increasingly
confident the Senate will not vote to call witnesses
"It does look to me like we are headed toward ending this week sometime," Sen. Roy Blunt (R-MO) a member of the GOP leadership team  said Thursday. Republican senators will meet privately Friday morning before the trial convenes again at 1 p.m. When the trial convenes, impeachment managers and defense lawyers will each have two hours to present final arguments before the Senate takes a pivotal vote on whether to end the trial or call additional witnesses.  A vote approving a call for witnesses is now considered unlikely.  Three Republicans are seriously weighing a vote to call witnesses, but the vast majority of GOP senators want the trial to end this week.

January 30: The Daily Caller: Rep. Jeffries says hiring former British Spy to get dirt from
Russian sources about Trump isn't foreign interference in the 2016 elections
Democratic Rep. Hakeem Jeffries, one of the House impeachment managers, argued Thursday that Democrats' hiring of a former British spy Christopher Steele  to collect dirt from Russian sources about the Trump campaign does not constitute foreign interference in the 2016 presidential election because the information was "purchased" rather than simply obtaining it. "The analogy is not applicable to the present situation because first, to the extent that opposition research was obtained, it was opposition research that was purchased," Jeffries contended in response to a question from Sen. Richard Burr and a group of Republican senators.

January 30: Fox News: Swing Senator announces he will vote against
hearing witnesses; acquittal of the impeachment of Trump seems likely
Sen. Lamar Alexander (R-TN) announced late Thursday night that he would not support additional witnesses in President Trump's "shallow, hurried and wholly partisan"  Senate impeachment trial, seemingly ending Democrats' hopes of hearing testimony from former national security adviser John Bolton and paving the way for the president's imminent acquittal as soon as Friday night.

January 30: You Tube: John Bolton's interview with Radio Free Europe regarding Ukraine
Full interview of National Security Advisor John Bolton from August 28, 2019, where he describes President Trump's two calls with the President of Ukraine as "warm and cordial."

January 29: Fox News: Impeachment: Chief Justice blocks Paul
question that would reveal the name of the whistleblower
Chief Justice Roberts blocked Sen. Rand Paul  (R_KY) from posing a question during the Senate impeachment trial that would have named the alleged whistleblower at the center of the episode but Paul may try to force the issue during the question-and-answer session that begins Thursday afternoon.  For now Roberts has control over what can be asked but he may soon lose his grip on the proceedings amid a torrent of criticism both inside and outside the Senate.  Paul, who has long raised concerns about possible intelligence community overreach, has not yet indicated what action(s) he may take in the final day of questioning.

January 29: The Conservative Tree House:  Outnumbered and still Trump appears to
have them surrounded
Think about it… The EU, Asia, World Bank, International Monetary Fund, China, Russia, U.S. Chamber of Commerce, Iran, U.S. Congress, Democrats, U.S. Senate, Wall Street, the Big Club, Lobbyists, Hollywood, Corporate Media (foreign and domestic), and the ankle-biters in Never Trump…. All of these financial interests are aligned against Main Street USA and against President Trump.  Name one individual who could take them on simultaneously and still be winning, bigly. They say he's one man. They say they have him outnumbered. Yet somehow, as unreal as it seems, he's the one who appears to have them surrounded.  
[A friend just sent this to us. Although it was originally published six months ago, we just now became aware of it]

January 29: The Daily Caller: UK to allow China's Huawei access to 5G networks
Britain announced Tuesday plans to allow Chinese company Huawei limited access to the country's 5G networks, effectively dismissing U.S. pressure to avoid the telecommunications giant.  The country will allow the company to supply and build 5G network infrastructure but will deny it access to some of Britain's government sites, The Washington Post reported Tuesday. Britain officials had been under intense pressure from the Trump administration to block Huawei.  President Donald Trump and U.S. officials believe Huawei represents a threat to national security, warning Beijing could direct the company to spy on Americans or cause disruptions to critical infrastructure.

January 28: AmmoLand.com: Trump Administration publishes historic rulemaking to
modernize U.S. firearms export regime
On Jan. 23, 2020, the Trump administration  published rules that will be a boon to the United States firearms industry and all who utilize its products. The new regulations will become effective on March 9, 2020.  The changes move firearm-related commerce from an antiquated Cold War paradigm into the modern era of broader international trade and access to information.  No more will small, non-exporting businesses – including gunsmiths – be caught up in an expansive regulatory scheme for manufacturers of "munitions" and their parts that requires a $2,250 annual registration fee with U.S. State Department.  The rule will move the control for exporting these items from the Munitions List (administered by the Department of State) to the "dual use" list of items licensed by the U.S. Department of Commerce.  The rule was the result of a year-long interagency process.  Meanwhile attorney generals from several anti-gun states have filed suit in Federal Court in Seattle, Washington, in an effort to stop the rule from taking effect.

January 28: The Washington Examiner: Trump and Netanyahu get
down to business while enemies circle
President Trump unveiled what he called his "deal of the century" for peace in the Middle East announcing a four-year halt to Israeli settlement building as the basis for finding a "realistic" two-state solution.  His plan calls for what would be the world's longest tunnel, linking Gaza to the West Bank, and other bold proposals such as allowing Israel to annex the Jordan Valley in return for Palestinian statehood.  "I was not elected to do small things or shy away from big problems," said Trump to cheers and applause as he stood beside Israel's longest-serving prime minister, Benjamin Netanyahu.

January 28: Fox News:  Rand Paul: Trump's children should sue Schumer
for defamation of character
Senator Rand Paul (R-KY) said Tuesday that President Trump's children should sue Minority Leader Chuck Schumer (D-NY) for defamation of character after Schumer  accused both them and their father of  illegally making money off of the presidency. Paul said he was "offended" and "shocked" that Schumer would "be so scurrilous" as to accuse the president and his children of making money illegally off of politics when "the only people we know who have actually made money off this have been Hunter Biden and Joe Biden."  He continued "So, Hunter Biden makes a million dollars a year. That's documented.  But, Schumer simply creates and makes up and says, 'Oh, maybe the president's kids are making money.'"

January 28: News One: Trump's team wraps up impeachment defense;
rejects Bolton testimony:
President Donald Trump's legal team argued forcefully against the relevance of testimony from Trump's former national security adviser John Bolton on Tuesday as the lawyers wrapped their defense and the Senate braced for debate on whether to summon Bolton and other witnesses into the impeachment trial.  Attorney Jay Sekulow undermined the credibility of Bolton's book by noting that other administration officials have disputed comments attributed to him.  Trump's attorneys also argued that the Founding Fathers took care to make sure that impeachment was narrowly defined, with impeachable offenses clearly enumerated.

January 27: The Washington Examiner:  Paul: "Disgruntled, angry" Bolton using
leak to "make a lot more money"
Republican Sen. Rand Paul dismissed claims that former Trump national security adviser John Bolton's testimony would add anything new to the impeachment case and charged that parts of Bolton's book critical of the president were leaked so he could make more money.  "He's a disgruntled, angry man who was fired. So you'd have to take him with a grain of salt. He wants to sell a book," the Kentucky senator told Secrets Monday in comments that echoed those of President Trump.  Paul suggested that the book excerpts leaked to the New York Times were part of a scheme to rally calls that the Senate call witnesses, especially Bolton, which would help the former aide cash in even more on his book,


January 27: The Daily Caller: Hemmer asks impeachment manager Demings
three times why the House didn't subpoena Bolton
Fox News host Bill Hemmer had to ask House Impeachment Manager Val Demings three times why the House had not subpoenaed former National Security Adviser John Bolton — and even then, she did not give an answer.  Hemmer spoke to Demings during a break Monday in the Senate's impeachment trial of President Donald Trump.

January 27: Breitbart News:  Trump defense team lays out their case
Trump defense counsel Cipollone made some quick observations before the Senate adjourns. He said he was thinking how Trump's impeachment would look like on a law school exam. After going over the fact pattern, he said the first thought would be this could not happen in America. He continued one would reject the impeachment. He concluded by saying the most important point is that this choice belongs to the American people and they will get to make their choice months from now. He said there is no basis in the law for Senators to remove the president from the ballot.

January 26: The Washington Examiner: Should Bolton testify don't expect
him to slam dunk Trump
John Bolton is unlikely to drop the bombshell on President Trump hoped for by Democrats should he testify in the Senate impeachment trial, according to those who know him well.  Bolton is a committed hawk who devoted his career inside and outside the government to persuading Republican politicians to adopt his foreign policy agenda. Whatever his opinion of Trump with regard to Ukraine Bolton associates are convinced he would not jeopardize his influence with Republicans on national security matters by testifying against the president.

January 26: The Washington Free Beacon: CNN blames bar shooting on lax gun laws; it
got the facts wrong
A CNN article on a recent Kansas City bar shooting mischaracterized the shooter's criminal history to blame the killing on Missouri's gun laws.   29-year-old Jahron Swift was identified by police as the shooter.  All of Swift's prior arrests and weapons charges came before Missouri's gun law went into effect. Even after it was enacted on Jan. 1, 2017, the permit-less carry law would not have nullified Swift's pending unlawful use of weapons charges. But regardless of the permit-less carry law, Swift was convicted of two felonies and therefore could not have legally carried a gun.

January 26: Fox News: Tennessee law would allow agencies to deny LGBTQ
adoption applications for religious  reasons 
The Governor of Tenseness signed a controversial law Friday that allows adoption agencies within the state to refuse to place children in homes that "violate the agency's written religious or moral convictions or policies."  The measure, signed by Republican Gov. Bill Lee, was widely condemned by members of the LGBTQ community for providing legal protections to agencies that reject foster care or adoption applications from same-sex homes. It also prohibits the state from denying agencies licenses or grants for public funding because they have a religious objection to placing a child in a certain home.

January 26: Yahoo News: Rocket attack his U.S. embassy in Bagdad injuring at least one
Three rockets slammed into the US embassy in Iraq's capital on Sunday in the first direct hit reported after months of close calls, as thousands kept up anti-government sit-ins across the country.  None of the attacks has been claimed but Washington has repeatedly blamed Iran-backed military factions in Iraq. 

January 25: The Daily Caller: Senator Ernst: Trump legal team shredded
House 24 hour impeachment case in just two hours
Republican Iowa Sen. Joni Ernst on Saturday reacted to the White House counsel's defense against impeaching President Donald Trump, saying they "shredded" the House managers' case in just two hours.  "Within two hours I thought that the White House Counsel and their team entirely shredded the case that has been presented by the house managers," Ernst said to reporters on Capitol Hill after listening to Trump's lawyers.

January 25: Breitbart News: Senator Hawley (R-MO) plans to force subpoena
votes for Bidens, Schiff, and the Whistleblower
Senator Josh Hawley revealed Saturday he has drafted motions to subpoena former Vice President Biden, his son Hunter, House intelligence Committee Chair Adam Schiff (D-CA),and the so-called whistleblower.  Hawley will attempt to force a vote on the subpoenas if the Senate approves additional witnesses and documents as part of the upper chamber's trial.  Hawley's motion is likely to be opposed by Sen. Lindsey Graham (R-SC), who has come out against subpoenaing Hunter Biden over concerns that the move will extend the trial longer.


January 24: Real Clear Politics: Trump speaks at March for Life rally in DC
It is my profound honor to be the first President in history to attend the March for Life. We're here for a very simple reason: to defend the right of every child, born and unborn, to fulfill their God-given potential. For 47 years, Americans of all backgrounds have traveled from across the country to stand for life. And today, as President of the United States, I am truly proud to stand with you

January 24: Fox News: Trump tells defense team, just be honest and tell the truth
President Trump told Fox News Friday that his defense team in the Senate impeachment trial merely has to "be honest" in laying out the case for why he shouldn't be removed from office before calling the proceedings a "fraud."  "What my people have to do is just be honest, just tell the truth," Trump told Raymond Arroyo at the March for Life rally in Washington. "They've been testifying, the Democrats, they've been telling so many lies, so many fabrications, so much exaggeration. And this is not impeachable."

January 24: Yahoo.Com: Experts fear too late for China virus lockdown
China's bid to contain a deadly new virus by placing cities of millions under quarantine is an unprecedented undertaking but it is unlikely to stop the disease spreading, experts warn.  The contagious virus has already reached elsewhere in China and abroad, and even an authoritarian government has only a small timeframe in which trapped residents will submit to such a lockdown, they say.  "I think we have passed the golden period of control and prevention," said Guan Yi, an expert on viruses at Hong Kong University.

January 24: Fox News: Senator Ernst impeachment "hypocrisy"
Democrats' claim that the Trump Administration broke America's promise to protect  Ukraine from Russia by withholding military aid is just an example of the party's hypocrisy, Sen. Joni Ernst (R-IA) claimed Thursday.  "The Democratic House Managers' hypocrisy is on full display," Ernst wrote on Twitter.  "They've spent most of their time lecturing the Senate on aid to Ukraine, yet four of them voted AGAINST legislation that provided the very same aid they're lecturing us on."  "What I find very interesting now is that the House Managers are very, very centered on the fact that Russia was invading Ukraine. And military funding to Ukraine," she said during a break from President Trump's impeachment trial earlier Thursday, reminding reporters that Crimea was invaded in 2014 during the Obama administration.

January 23: The Daily Caller:  Biden: DACA recipients are "More American
than most Americans"
Former Vice President Joe Biden said at a campaign event in Iowa on Tuesday that illegal immigrants in the Deferred Action for Childhood Arrivals (DACA) program are "more American" than most of their U.S.-born counterparts because they do well in school.  "These kids have come, they've done well, most of these kids — there's a lot of them, and they're not just Hispanic, they're Asian-Pacific Islanders as well. and they in fact have done very, very well," Biden said at an event in Ames, Iowa.

January 23: Fox News: Turnabout is fair play; Oklahoma bans
state travel to California
The governor of Oklahoma has banned all state-funded travel to California after officials there placed a similar ban on travel to his state.  Oklahoma's Republican Gov. Kevin Stitt announced the ban in an executive order on Thursday, barring all non-essential travel by state employees to the Golden State, with exceptions for business recruiting trips, college sports games and trips by schools to participate in out-of-state programs.  Stitt's executive order came as a response to similar travel bans imposed by California where Oklahoma was added after enacting legislation allowing adoption agencies to deny placement services to same-sex parents.

January 23: Fox News:  Key GOP senator "Offended" by Nadler cover up charge
House Democrats' handling of the impeachment to date may be turning off Republicans they need to help them in the final vote.  The first sign of a backlash among that critical group came Wednesday when Sen. Lisa Murkowski (R-AK)  said she was offended by House manager Jerry Nadler's assertion that GOP members voting against allowing new testimony and evidence were engaged in a "cover-up."  Murkowski's complaint about Nadler's remarks is particularly noteworthy, as she is among the small group of Republican senators seen as a possible swing vote on impeachment and a possible supporter of allowing more witness testimony later on in the trial. But Murkowski is not alone—Sen. Josh Hawley, R-Mo., on Wednesday said Democrats "took a huge step backward" in their opening.

January 23: The Daily Caller: DOJ concedes that two of its Carter Page
FISA orders were "not valid"
The Justice Department recently conceded that two of the four orders to wiretap former Trump campaign adviser Carter Page were "not valid," Judge James Boasberg said in a court order unsealed Thursday.   The Justice Department made the surprising concession in response to an inspector general's report that found "significant" errors and omissions in four applications submitted to the Foreign Intelligence Surveillance Court (FISC) to surveil Page.  While the IG report was highly critical of the FBI and Justice Department, it did not weigh in on the validity of the four surveillance applications, which were granted under the Foreign Intelligence Surveillance Act (FISA).

January 22: NBC News:  Senate adopts Leader McConnell's rules for
impeachment trial of Trump
The Senate passed Majority Leader Mitch McConnell's resolution laying out a blueprint for President Donald Trump's impeachment trial along party lines early Wednesday after 13 hours of back and forth between House prosecutors and attorneys for the White House.  Under the terms of the organizing resolution, the House case managers will have 24 hours over three days to make their arguments to remove the president from office on charges of abuse of power and obstructing Congress. Attorneys for the White House likewise will have 24 hours over three days to state their case for acquittal.

January 22: Fox News: House and White House legal teams tangle causing
Justice Roberts to admonish both
"We've (the President's legal team) been respectful of the Senate," White House counsel Pat Cipollone fired said.   "We've made our arguments to you. And you don't deserve, and we don't deserve, what just happened. Mr. Nadler came up here and made false allegations against our team. He made false allegations against all of you; he accused you of a cover-up. He's been making false allegations against the president. The only one who should be embarrassed, Mr. Nadler is you, for the way you've addressed the United States Senate. This is the United States Senate. You're not in charge here. ... It's about time we bring this power trip in for a landing."  The attacks went on back and forth causing the Chief Justice to admonish both legal teams

January 22: The UK Daily Mail: Gabbard sues Clinton; I'm no Russian Spy
Tulsi Gabbard is suing  Hillary Clinton for defamation after Clinton indicated she thinks the Hawaii congresswoman is a Russian plant in the 2020 presidential race.  'Rep. Gabbard must defend her good name,' her lawyer said in a statement on Wednesday. The complaint references Gabbard's military service in the Army National Guard, charges Clinton with hurting her presidential bid, and outlines her belief Clinton made the comments in retaliation for Gabbard endorsing Bernie Sanders in the 2016 Democratic primary.

January 22: The Jerusalem Post: Islamic Revolutionary Guard Corp Commander
gunned down; raises questions about regime's ability to deal with unrest
An Iranian Basij Forces commander was gunned down in front of his own home on Wednesday.  The Basij forces, one of the five forces of the Islamic Revolutionary Guard Corp (IRGC), are often used to suppress protests and demonstrations in the Islamic Republic.  He was killed by two men who wore masks and were riding a motorcycle, Iranian media reported. The killing could possibly signal that the regime is unable to contain widespread discontent among the Iranian public.

January 21: The UK Daily Mail: Democrats lose their first battle of
Trump's impeachment trial as Senate rejects subpoenaing the White
House for Ukraine documents
Rep. Adam Schiff (D-CA) blasted a proposed rules package and said Trump sought to 'coerce' Ukraine into helping him 'cheat' in the election. Trump denies he committed an impeachable offense and his defense has assailed the Democrats' process and lack of Republican backing. Majority Leader McConnell modified the initial rules to allow 24 hours of debate for each side over three days.  Minority Leader Schumer proposed an amendment that would allow Democrats to subpoena White House documents.  The Senate voted down the Schumer proposal by a 53 to 47 party line vote.   Several moderate GOP lawmakers - who Democrats had hoped to pick off to their side - said they were fine with waiting to vote on subpoenaing documents and witnesses after each side presents its opening argument, which is the same procedure used in Bill Clinton's Senate trial.

January 21: Fox News: Perino: Schumer risks losing public and senate
interest with amendments to the impeachment rules
Fox News cohost Dana Perino said Tuesday Senate Minority Leader Schumer (D-NY) risks losing the public's -- and the U.S. Senate's -- attention if he continues to offer "amendments" to the parameters of the Trump impeachment trial.  Most observers have a "limited amount of attention span," she said.  "He (Schumer) has to make a decision," Perino said.. "Does he want to go through all of these or tell [Majority Leader Mitch] McConnell: 'Put these amendments in the record. Table them all at once. Get to the substance right away.'"

January 21: Politico: Trump considers expanding travel ban that sparked uproar three years ago
President Donald Trump may expand his controversial travel ban with an announcement expected as early as Monday, the three-year anniversary of the original order, which targeted several majority-Muslim nations.  The list of countries is not yet final and could be changed, but nations under consideration for new restrictions include Belarus, Myanmar (also known as Burma), Eritrea, Kyrgyzstan, Nigeria, Sudan and Tanzania, according to two people familiar with the matter.

January 21: Fox News: Trump addresses World Economic Forum in Switzerland
President Trump on Tuesday addressed the global business community in Davos while his adversaries back home prepared for  his impeachment trial.  Trump took the stage and touted his administration's policies for helping create a historic unemployment level and taking a new proactive stance toward trade. He said recent trade agreements will represent a new model for the 21st Century that is based on fairness and reciprocity.  "Today I'm proud to declare the United States is in the midst of an economic boom, the likes of which the world has never seen before," he said. He went on to vow never to let "radical socialists destroy our economy."

January 20: The Washington Examiner:  White House adds GOP members to defense team
Eight Republican members of the House have joined President Trump's impeachment team ahead of his Senate trial.  The White House released the names including representatives Doug Collins (GA), Mike Johnson (LA), Jim Jordan (OH), Debbie Lesko (AZ), Mark Meadows (NC), John Ratcliffe (TX), Elise Stefanik (NY), and Lee Zeldin (NY). "Throughout this process, these Members of Congress have provided guidance to the White House team, which was prohibited from participating in the proceedings concocted by Democrats in the House of Representatives," the White House said in a statement. "The President looks forward to their continued participation and is confident that the Members will help expeditiously end this brazen political vendetta on behalf of the American people."

January 20: The Jerusalem Post: Iran threatens to pull out of the NPT if Europe
refers it to UN council
Iran said on Monday it could quit the global nuclear Non-Proliferation Treaty (NPT) if European countries refer it to the U.N. Security Council over a nuclear agreement, a move that would overturn diplomacy in its confrontation with the West.  The 1968 NPT has been the foundation of global nuclear arms control since the Cold War, including a 2015 deal Iran signed with world powers that offered it access to global trade in return for accepting curbs to its atomic program.  The fate of the 2015 pact has been in doubt since the United States pulled out of it and reimposed sanctions.

January 20: The Daily Caller: Trump considering crackdown on "Birth Tourism"
Reports say every year, tens of thousands of foreign visitors enter the U.S. and give birth.  The Trump administration is reportedly preparing a crackdown on those who visit the United States with the explicit intention to give birth, taking advantage of the country's birthright citizen laws. The President  is expected to roll out changes to visa requirements in the coming days in order to stifle the "birth tourism" industry . The proposals would be the latest in the administration's efforts to clamp down on abuse of the U.S. immigration system.

January 20: The Washington Free Beacon: CNN: While covering a peaceful gun
rights rally, repeatedly mentions instances of gun violence
While reporting on a peaceful gun-rights rally in Richmond, Va., on Monday, CNN kept a chyron up about a shooting the night before in Kansas City. CNN reported on three recent gun-related events: a Monday morning shooting in Honolulu, a Sunday night shooting in Kansas City, and a Monday gun-rights rally in Richmond. As the segment transitioned from the Kansas City shooting to the Richmond protest, the chyron title read "Virginia Gun Fight" with the subtitle "2 Dead, 15 Injured in Kansas City shooting."

January 19: The Daily Caller: Chris Wallace challenges impeachment manager
about "solemn" souvenir pen ceremony
"Fox News Sunday" host Chris Wallace challenged New York Democratic Rep. Hakeem Jeffries directly over the souvenir impeachment pens handed out by House Speaker Nancy Pelosi.  Jeffries, who was named one of Pelosi's impeachment managers late last week, spoke with Wallace on Sunday morning and claimed that House Democrats took "no joy" in that ceremony despite the fact that they were all seen smiling, posing for photos and received ceremonial signing pens.


January 18: The Hill: Ted Cruz: Having witnesses could extend an impeachment
trial by up to eight weeks
Senator Ted Cruz (R-TX) said Sunday that the Senate's impeachment trial could last as long as eight weeks if the chamber elects to hear from witnesses.  "I think it's certainly possible that this trial could last one to two weeks. On the other hand, if the Senate makes the decision to go down the road of additional witnesses, that could extend it to six to eight weeks or even longer," Cruz said. "This week is going to be the first time in a year that the president has had the opportunity to defend himself, to lay out the facts, to lay out the law, to lay out the actual substance," he added.


January 18: Fox News: McConnell could provide for a "kill switch" for
impeachment trial if Democrats attempt to drag it out
Senate Majority Leader McConnell reportedly is close to finalizing a rule that would allow President Trump's team to move to dismiss the articles of impeachment in the Senate quickly after some evidence has been presented, as a sort of safety valve in case Democrats try to drag out the trial for weeks.  McConnell, R-Ky., wouldn't be obligated to publicize the final version of his resolution setting the parameters of the impeachment trial until Tuesday, but top Republicans have said they supported affording Trump the opportunity to cut the trial short.

January 18: The Daily Caller: Trump asks Supreme Court to allow plan restricting green
cards for benefit-dependent immigrants
he Trump administration is asking the Supreme Court for permission to enforce a new rule that allows authorities to consider a foreign national's reliance on government benefits when deciding whether to give them a green card.  The Immigration and Nationality Act (INA) provides that aliens should not be admitted if they are "likely at any time to become a public charge." In the past, the government defined a "public charge" as a person primarily dependent on a cash assistance program, but the Trump administration expanded that definition in August 2019 to include people who use Medicaid, housing benefits or food stamps for a period of months.

January 17: The Washington Times: Sanders supports threaten to stay home if Biden is the nominee
Bernie Sanders supporters are warning that a lack of enthusiasm for Joe Biden could bring about the same result that nominating another establishment Democrat did four years ago: electing Donald Trump.   Sanders backers fret the socialist Vermont senator, 78, is being consistently ignored and underestimated by Beltway insiders and a Washington-based press corps — the same bunch, in their view, who failed to predict Trump's 2016 White House win and were sure Hillary Clinton, who beat Sanders for the Democratic nomination, would easily prevail.

January 17: Associated Press: Anti-Trump protests have shrunk
Days after President Donald Trump killed an Iranian general and said he was sending more soldiers to the Middle East, about 100 protesters stood on a pedestrian bridge over Chicago's Lake Shore Drive with an illuminated sign that read "No War in Iran."  Some 200 people marched in the bitter cold near Boston, while a few dozen people demonstrated on the steps of Los Angeles City Hall and at similarly sized gatherings across the U.S.   Three years after Trump took office and millions of people swarmed to the Women's March in Washington and companion marches across the country, these typically modest protests are often the most visible sign of today's Trump resistance.  Buy the Associated Press believes this should not be confused with "…a lack of energy or motivation to vote Trump out of office come November."

January 17: Fox News: Gingrich: This impeachment will last "forever" but not
how Pelosi thinks
House Speaker Pelosi (D-CA)seemed giddy Wednesday as she announced the impeachment managers who would go to the Senate and attempt to prosecute a case against President Trump.  "He's been impeached forever," Pelosi said. "They can never erase that."  Former Speaker Newt Gingrich said, "The wide repudiation of the House Democratic betrayal of the Constitution is already beginning. As a historian myself, I think it's important to document these reactions."

January 17: The Daily Caller: The Supremes' Cases: State laws on "unfaithful"
electors; religious exemptions to Obamacare
he Supreme Court took up two high-profile disputes Friday as it rounds out its docket for the 2019-2020 term, agreeing to decide on the Trump administration's bid to enforce exemptions from the Obamacare contraception mandate for religious dissenters, and whether state laws punishing "faithless" presidential electors are unconstitutional.  The latter case will be decided just months before the 2020 election, and could be decisive to the outcome of a closely-fought race.

January 17:  Fox News: Ayatollah lashes out at UK, France, and
Germany as they impose sanctions on Iran
On Friday Iranian Supreme Leader Ali Khamenei lashed out at Germany, the U.K. and France, calling them the "footmen of the U.S.," days after the European countries moved to sanction the Islamic Republic for violating the controversial 2015 nuclear deal.

January 17: The Daily Caller: Starr, Dershowwitz, and Ray to join the
Trump impeachment defense team
President Donald Trump will reportedly add lawyers Alan Dershowitz, Kenneth Starr and Robert Ray to his impeachment legal defense team. Starr helped with former President Bill Clinton's impeachment, and Dershowitz was the former lawyer of Jeffrey Epstein. Ray replaced Starr at the Office of Independent Counsel during Clinton's administration.


January 17: Fox News: Virginia Sheriff on Dems' gun control bill
Culpeper County Sheriff Scott Jenkins reacted on Friday to the Virginia state House Democratic majority pushing several gun control measures to the upper senate chamber, calling it an "overreaching agenda against the Second Amendment."  "Never have I, or anyone, seen in the Commonwealth of Virginia someone have a topic so strongly opposed as this issue and suddenly this strong uprising against it," Jenkins said.

January 16: The Associated Press: New Iowa caucus rules could spark clashes
The Iowa caucuses are never simple. Voters spend hours in high school gymnasiums or public libraries, starting their night by declaring support for their preferred presidential candidate. That's followed by a feverish round of lobbying in which supporters of eliminated candidates are pressed to make a new pick by the evening's end. This year, the caucuses could be even more chaotic.

January 16: Breitbart News: Seven times GAO found the Obama
Admin. violated federal law
Democrats and journalists were excited to learn the Government Accountability Office (GAO) released a legal opinion that the Trump Office of Management and Budget (OMB) had violated the Impoundment Control Act by withholding (actually delayed) Congressionally appropriated aid to Ukraine last summer. The non-binding opinion was disputed by the OMB, which released a memo last month arguing that the "programmatic" delay sought to fulfill, not oppose, congressional intent.   Nevertheless, if a mere GAO finding is sufficient to justify impeachment, then President Barack Obama ought to have been impeached at least seven times over for each of the cases in which the GAO found that the Obama administration had violated federal law.

January 16: The Daily Caller: Rand Paul: Fears GOP may restrict Trump's
team from calling witnesses of their choice
Kentucky Sen. Rand Paul said he's worried that his fellow Republican senators will block testimonies from the witnesses President Donald Trump wants called in his impeachment trial.  Trump previously said he wants Hunter Biden, Democratic California Rep. Adam Schiff,  and the whistleblower to testify if the Senate allows witnesses during the impeachment trial.  "Here's the thing is, fair is fair, and if they're going to put the president through this, they're going to have to have witnesses on both sides," Paul said.

January 16: The New York Times: Justice Dept. appears to be investigating
classified information links, may be focusing on Comey
Federal prosecutors in Washington are investigating a years-old leak of classified information about a Russian intelligence document, and they appear to be focusing on whether the former F.B.I. director James B. Comey illegally provided details to reporters, according to people familiar with the inquiry.  The case is the second time the Justice Department has investigated leaks potentially involving Mr. Comey, a frequent target of President Trump, who has repeatedly called him a "leaker." Mr. Trump recently suggested without evidence that Mr. Comey should be prosecuted for "unlawful conduct" and spend years in prison.

January 15: Grabien.com: Biden stumbles his way through final Democrat Debate
Democrats' 2020 front-runner ended the primary debate season much the way he began it: Stumbling and mumbling.  In his final performance before the Iowa caucuses, Biden once again struggled stringing together coherent sentences. During one of his first answers, Biden attempted explaining his foreign policy toward the Middle East: "It's a mistake to pull out the straw, small number of troops … It's lie that our embassies were going to be bombed."   Discussing North Korea, Biden offered: "I would not meet without Kim absent preconditions." On trade with China, Biden again got tongue-tied: "If we don't set the rules of the road by going out to our partners, instead of poking our eye — and, uh, excuse me, poking our finger in the eye of our friends ..."

January 15: The Daily Caller: Most of House impeachment team supported
impeachment prior to the "Whistleblower" coming forward
Six of the seven impeachment managers selected by Speaker of the House Nancy Pelosi supported the impeachment of President Donald Trump before the whistleblower complaint was filed.  House Intelligence Committee Chairman Adam Schiff is set to be the lead manager. 

January 15: The UK Sun: Speaker appoints impeachment team, sends articles to Senate
House speaker Nancy Pelosi announced today the House prosecutors who will lead the case for the impeachment of Donald Trump.  Pelosi said Rep. Adam Schiff, D-Calif., chair of the intelligence committee, and Rep. Jerry Nadler, D-N.Y., chair of the Judiciary Committee, are among the seven prosecutors, or "managers."  The other managers include: Representatives Hakeem Jeffries, D-NY, Val Demings, D-FL Jason Crow, D-WI, Sylvia Garcia, D-TX, and Rep. Zoe Lofgren, D-CA.

January 14: NBC Channel 12: Northam declares state of emergency, Capitol
weapon ban ahead of gun rights rally
Fearing a repeat of the deadly violence that engulfed Charlottesville more than two years ago, Virginia Gov. Ralph Northam declared a temporary emergency Wednesday banning all weapons, including guns, from Capitol Square ahead of a massive rally planned next week over gun rights.  The governor, a Democrat, announced the plans at a news conference Wednesday afternoon because of credible threats of potential violence and extremism, one official said. Northam's announcement comes days after Democratic leaders used a special rules committee to ban guns inside the Capitol and a legislative office building. That ban did not include Capitol grounds, which are under the governor's control and are where thousands of gun-rights advocates are expected to rally Monday.

January 14: Fox News: Hume: Dems push for witnesses is a "Hail Mary Pass"
Fox News senior political analyst Brit Hume said Tuesday that Democrats are depending on completing a "Hail Mary pass" by pushing for witness testimony in the upcoming Senate impeachment trial of President Trump.  "I think that witnesses could happen. But make no mistake about what this is. This is a Hail Mary pass being encouraged mostly by a Democratic prosecution, House prosecutors who obviously don't think that the evidence that they have introduced so far is sufficient for a conviction… …And they're trying now at the last minute to get further witness testimony," Hume said

January 14: CNS News: Federal spending sets record through December
The federal government spent a record $1,163,090,000,000 in the first three months of fiscal 2020 (October through December),  according to the Monthly Treasury Statement released Monday.  That was up $48,008,200,000 from the $1,115,081,800,000 (in constant December 2019 dollars) that the federal government spent in the first three months of fiscal 2019.

January 14: Jerusalem Post: Iranian protests enter third day, injuries reported,
internet disrupted
Iranians continued protests in multiple cities throughout the country on Monday as students and citizens expressed anger at the downing of Ukraine International Airlines Flight 752 and the failure of the Iranian government to admit their involvement.  Security forces continued to face off with demonstrators, as some reports claimed that protests were violently suppressed.   Internet watchdog Netblocks tweeted that internet connectivity dropped at the Sharif University in Tehran on Monday amid protests, but that national connectivity remained stable. In protests in November, internet connection was shut off around the country for over four days.

January 13: The Daily Caller: Ex-Treasury Department official pleads guilty to
leaking Trump Associates' financial documents to BuzzFeed
A former Treasury Department official pleaded guilty in federal court in New York City to leaking sensitive financial records of multiple Trump associates and figures in the Trump-Russia investigation to a reporter at BuzzFeed News.  Natalie Mayflower Sours Edwards, who served as a senior adviser at the Treasury Department's Financial Crimes Enforcement Network pleaded guilty to conspiring to disclose Suspicious Activities Reports, known from October 2017 until her arrest in October 2018.  They were used in around a dozen stories published at BuzzFeed by reporter Jason Leopold, according to prosecutors.

July 13: Breitbart News: Rabbi Shmuley: Booker lost because he followed
"Ilhan Omar wing" of the party
Rabbi Shmuley Boteach, a former close friend of Senator  Booker (D-NJ) said Booker had suffered a decline in his political fortunes because he sided with the "Ilhan Omar wing" of his party. 

January 12: CBS News Denver: First Time! Colorado judge denies confiscation
request under red flag law
For the first time, a judge has denied a request to take away a man's guns under Colorado's new red flag law. A Limon woman claimed a man who she had a relationship with threatened her with a gun and filed the request.  Since the law took effect, the red flag law has had many gun owners seeing red. At least four requests have been filed since the first of 2020; CBS4 is aware of them being filed in Denver, in Larimer County and this one — in Lincoln County. Many gun owners, like Jak Gruenberg, despise it. "Red flag laws just allow for harassment of legal gun owners," he said.

January12: Sacramento Bee: Boy are you in trouble! Police pull over woman with
child in the back seat
Alarmed drivers on a Northern California highway spotted a young girl Saturday evening in a vehicle holding up a handmade sign that read "Help me, she's not my mom!! Help!!" California Highway Patrol officers say.  After motorists on Highway 99 south of Elk Grove called 911, CHP officers and a K9 unit performed a high-risk stop on the vehicle near 8 Mile Road in Stockton, CHP officers wrote in a release. Then they discovered it was just a hoax cooked up by the girl, who "thought it was a fun thing to do," CHP officers wrote. The girl's mom, who was driving, was not in on the prank. After confirming the incident was bogus, officers let the mother and daughter go, the CHP reported.

January 12: Fox News: Kerry deflects question about why he
released money to Iran
Former Secretary of State John Kerry faced a question about his role in releasing billions of dollars to Iran during the Obama administration and responded by first attacking President Trump's criticism of the move.  President Trump has claimed that Iran's recent aggression against the U.S. in Iraq was funded by $150 billion that the Obama administration gave to Iran. Kerry insists that this is false, although in the past he recognized the at least some of the money – which was frozen due to sanctions and held in banks around the world before being released at roughly the same time the Iran nuclear deal was made – would end up in the hands of terrorists.

January 12: The Jerusalem Post: Trump expressed support for protestors
demanding Khamenei quit
US President Donald Trump has tweeted his support to the people of Iran, saying "I've stood with you since the beginning of my Presidency."  Hundreds of Iranian protesters demanded Iran's Supreme Leader Ayatollah Ali Khamenei step down on Saturday after Tehran admitted that its military had mistakenly shot down a Ukrainian plane, killing all 176 people on board.  "Commander-in-chief [Khamenei] resign, resign," videos posted on Twitter showed hundreds of people chanting in front of Tehran's Amir Kabir university.

January 11: Yahoo News: Iran admits shooting down Ukrainian airliner; Ukraine
demands compensation
Tehran admitted Saturday that it accidentally downed the Ukraine International Airlines (UIA) plane, killing all 176 people on board on Wednesday, shortly after launching missiles at bases hosting US forces in Iraq.  Ukraine on Saturday demanded that Iran punish those guilty for the incident and compensation. Ukrainian officials said "We expect Iran... to bring the guilty to the courts," the Ukrainian leader wrote on Facebook, calling also for the "payment of compensation" and the return of remains.

January 10: CNN News: Video; Russian ship steams within 60 yards of US destroyer in Middle East
A Russian warship "aggressively approached" a US Navy destroyer while it was operating in the North Arabian Sea Thursday, ignoring warnings from the US vessel and increasing the risk of a collision, the US Navy said Friday.  Video of the incident shows the Russian warship rapidly approaching the USS Farragut, coming as close as 180 feet to the US ship before changing course, according to two defense officials.

January 10: The Daily Caller: Trump would use Executive privilege if Bolton called to testify"
President Donald Trump said in a new interview on Fox News' "The Ingraham Angle" that he would use executive privilege to prevent former White House aide John Bolton from testifying in an impeachment trial.

January 10: Breitbart News: Game Over; Pelosi to transmit impeachment
articles to the Senate later this week
Speaker Pelosi told Democrats Friday that she is prepared to sent the articles of impeachment to the Senate for trial next week.  "I have asked Judiciary Committee Chairman Jerry Nadler to be prepared to bring to the Floor next week a resolution to appoint managers and transmit articles of impeachment to the Senate," Pelosi wrote in the letter. "I will be consulting with you at our Tuesday House Democratic Caucus meeting."  Pelosi's announcement marked a sudden reversal of her decision to delay the trial and try to force Senate Majority Leader Mitch McConnell to commit to calling additional witnesses and evidence in the trial.  Senate Democrats pressured Pelosi to drop her attempt to draw out concessions from McConnell.

January 10: The Washington Free Beacon: Texas becomes first state to reject refugees
Texas governor Greg Abbott (R.) on Friday told the State Department that his state will become the first in the nation to refuse federal refugee resettlement.  In a letter to Secretary of State Mike Pompeo, Abbott wrote that in the wake of the border crisis that rocked the state in 2019, Texas lacks the state and private capacity to deal with even more demand on its humanitarian resources.  "At this time, the state and non-profit organizations have a responsibility to dedicate available resources to those who are already here, including refugees, migrants, and the homeless—indeed, all Texans," Abbott wrote. "As a result, Texas cannot consent to initial refugee resettlement for FY2020."

January 10: Fox News: Not charged -- Mississippi homeowner shoots home invasion suspect
A Mississippi homeowner who reportedly shot and killed a man who broke into his home in broad daylight Tuesday morning will not be charged.  Walter Williams, 31, was named as the suspect shot before noon in Pascagoula, Miss., by the homeowner, according to Harrison County Coroner Brian Switzer. He was pronounced dead at the scene.  The name of the homeowner -- who was identified as a longtime employee of the coroner's office -- is not being released because he hasn't been charged with a crime at this time.

January 9: Associated Press: US Officials: "Highly likely" Iran shot down Ukrainian Jetliner
Two U.S. officials said Thursday it was "highly likely" that an Iranian anti-aircraft missile downed a Ukrainian jetliner late Tuesday, killing all 176 people on board. The crash came just a few hours after Iran launched a ballistic missile attack against Iraqi military bases housing U.S. troops amid a confrontation with Washington over the U.S. drone strike that killed an Iranian Revolutionary Guard general last week. "Somebody could have made a mistake on the other side," Trump said, noting the plane was flying in a "pretty rough neighborhood."

January 8: The Hill: Graham: The impeachment dam is cracking; anticipate trial will
start in about a week
Sen. Lindsey Grahan (R-SC) said on Wednesday that the Senate will start its impeachment proceedings next week, signaling an end to the stalemate over the articles which have sat in the House since December. Graham argued that Speaker Pelosi's (D-CA) "impeachment dam has broken," pointing to growing calls from some Senate Democrats for her to transmit the two articles of impeachment to the Senate. "You said it was urgent; if you believe it to be urgent, send it to the Senate for disposition," Graham said. "She's losing Democrats in the Senate. The impeachment dam of Nancy Pelosi is about to crack."

January 8: The UK Daily Mail: Trump: Obama gave the Iranians the
cash they need to buy missiles flung at U.S. bases; offers peace but
warns of "hypersonic weapons" and fast attacks
'The missiles fired last night at us and our allies were paid for with the funds made available by the last administration,' Trump said, citing $150 billion in frozen assets that the previous president released and $1.5 billion in cash flown by the U.S. to Tehran. 'Under construction are many hypersonic missiles,' Trump warned, and that he was not afraid to use additional force.  However, minutes later he offered an olive branch, urging European nations to make 'a deal with Iran that makes the world a safer and more peaceful place' and allows Iran to explore its 'untapped potential' as a mainstream trading partner.  'We want you to have a future, and a great future,' he told Iran's people, claiming its military 'appears to be standing down.'

January 8: Fox News: Fast and Furious: Brian Terry's killer gets life sentence
The man convicted of the shooting and killing U.S. Border Patrol agent Brian Terry in 2010 – a case that exposed the government's botched "Fast and Furious" gun-running operation – was sentenced Wednesday to life in prison.  Heraclio Osorio-Arellanes, who was convicted of  first-degree murder and other charges following his extradition from Mexico, was given the life sentence after U.S. District Judge David C. Bury heard tearful statement's from Terry's sisters. The agent's death exposed Operation Fast and Furious, an Obama era  Bureau of Alcohol, Tobacco, Firearms and Explosives (ATF) operation in which the federal government allowed criminals to buy guns in Phoenix-area shops with the intention of tracking them once they made their way into Mexico.

January 8: The Jerusalem Post: Israel unveils breakthrough laser to intercept missiles, aerial threats
The Defense Ministry has made a technological breakthrough in the development of lasers that can intercept aerial threats, including rockets and antitank guided missiles, it announced Wednesday.  New laser technology "makes the security apparatus more lethal, more powerful and more advanced," Defense Minister Naftali Bennett said Wednesday evening.  Speaking about this new addition to the existing tools of war employed by Israel, he said that "we will add a laser sword when dealing with threats from the North or the South."

January 8: The U.K. Sun: Ukrainian jetliner shot down?  Iran refuses to release the black box
Iran has refused to hand over to international investigators the black box of a plane that crashed killing 176 people.  The Kiev-bound airliner crashed after taking off from Tehran.  The tragedy came just hours after Tehran fired at least 15 ballistic missiles at two U.S. bases in Iraq, sparking fears it could have been shot down by mistake by jittery Iranian air defenses.  And chilling images show pieces of the aircraft's fuselage peppered with shrapnel holes - which some experts say points to a "shoot-down" event.

January 7: Fox News: Iran retaliates with ballistic missile attack
Iran fired "more than a dozen ballistic missiles" into Iraq, targeting U.S. military and coalition forces early Wednesday, Pentagon officials said, in a major retaliation by the rogue regime after the U.S. airstrike that killed Iranian Quds Force Gen. Soleimani last week. The missiles launched by Iran targeted military bases in Al-Assad and Erbil, the Pentagon added. Initial assessments showed "no U.S. casualties," a U.S. military official in Baghdad told Fox News, adding that the U.S. was continuing to look into possible damage.

January 7: Fox News: Senators introduce resolution to dismiss articles of impeachment if they aren't transmitted to them soon
Sen. Josh Hawley of Missouri joined with a host of fellow Republicans to introduce a resolution allowing the chamber to dismiss articles of impeachment against President Trump for lack of prosecution, as House Speaker Nancy Pelosi delays sending the case for trial. The resolution specifically would update Senate rules to allow the chamber to bring a motion dismissing the articles. "In the real world, when a prosecutor brings a case but refuses to try it, the court has the ability and the defendant has the right to have those articles, those indictments, those charges dismissed," Hawley said.  "That is precisely the action that I am proposing today."

January 6: The Hill: Battle lines harden ahead of pivotal impeachment week
Both sides are digging in as lawmakers enter a pivotal week in the entrenched fight over President Trump's impeachment trial.  The hardening battle lines come as the two articles of impeachment could be transmitted to the Senate as soon as this week. The House returns to Washington on Tuesday for the first time this year, and Democrats will meet on Wednesday, setting the stage for a crucial decision time.
January 6: Fox News: Pentagon deploys B-52 bombers
to Diego Garcia in Indian Ocean
The U.S. Air Force is deploying six B-52 bombers to Diego Garcia, an island base in the Indian Ocean, amid the rising threat from Iran after the U.S.-led airstrike killed Iranian Gen. Qassem Soleimani.  The move, which CNN first reported, was the latest in efforts by U.S. military officials to bolster resources near the Middle East.  The B-52 bombers reportedly were spotted departing from Barksdale Air Force Base in Louisiana to Diego Garcia, which is located 2,300 miles south of Iran's southernmost tip.

January 6: The Daily Caller:  How many abortions has Planned Parenthood
perform ed within a year?
The Planned Parenthood Federation of America performed 345,672 abortions during the 2018 fiscal year, the organization's annual report shows.  Planned Parenthood's 2018-2019 annual report shows that the organization performed 12,915 more killings during the 2018 fiscal year than the organization did between 2017-2018. Abortion killings made up 95% of Planned Parenthood's pregnancy resolution services, according to the Susan B. Anthony List.
January 6: Fox News: Soleimani's killilng ignites Russia vs Iran schism in Syria
The death of Iranian commander Soleimani at the orders of President Trump last week, not only has cast a murky shadow on the future of Iraq's leadership, but also has sent schisms through Syria's leadership, multiple sources say. Over the weekend, Syrian government forces and Iranian associates were documented to have fired several shells at the Conoco gas field in the Deir Ezzor area of eastern Syria, which U.S troops still in the embattled country have been tasked with protecting. Aside from the apparent act of retaliation, sources said that the surprise attack on Soleimani las  While some analysts have speculated that Soleimani's death will empower Russia in the region, they've largely observed a stronger Assad-led tilt toward Tehran over Moscow.t week has prompted deeper divisions within the Syrian government itself.
January 5: The UK Daily Mail: Iran puts $80M bounty on Trump's head; threatens
to attack the White House
Iran has placed an $80million bounty on Donald Trump's head and threatened to attack the White House in response to the president's warning that any strike on American interests in the region will bring massive retaliation.  Iran has also announced it they will no longer abide by any of the limits of its 2015 nuclear deal.  Earlier on Sunday, the Iraqi parliament voted for US troops to be expelled from the country. The vote will 'obligate the government to work towards ending the presence of all foreign troops on Iraqi soil,' the country's media office stated.
January 5: Reuters: Iraqi parliament passes non-binding resolution calling for
removal of all foreign troops
The Iraqi parliament called on the government on Sunday to work to end all foreign troop presence as a backlash grew after the killing of a top Iranian military commander and an Iraqi militia leader in a U.S. strike in Baghdad.  A resolution passed by a special session of parliament said the government should cancel its request for assistance from a U.S.-led coalition.  Parliament resolutions, unlike laws, are non-binding to the government. But this one is likely to be heeded: Prime Minister Adel Abdul Mahdi had earlier called on parliament to end foreign troop presence as soon as possible.
January 4: Yahoo News: Fear Hits Tehran Over What Might Come Next
Their supreme leader promised revenge and thousands gathered in Tehran to watch American flags burn, but any show of defiance after the assassination of their most prominent military man is laced with anguish for many Iranians.  In the capital, the strike that took out Al Quds commander Qassem Soleimani capped a year that had already been dominated by turmoil and fear as the country's finances crumbled, the authorities struggled to contain civil unrest, and provocation of the U.S. backfired.
January 4: The Daily Caller: Trump Administration presses Supreme Court on
LA abortion regulations
The Trump administration pressed the Supreme Court Thursday to protect a contested Louisiana rule that requires abortion providers have admitting privileges at a nearby hospital. An abortion clinic and two physicians challenging the law, called Act 620, warn that two of Louisiana's three abortion clinics will close if the regulation takes effect. The Trump administration said the plaintiffs have not made good faith efforts to comply with the law, such that any adverse consequences for abortion access would be their fault and not the state's.
January 4: The Washington Free Beacon: NRA promises "Strong presence" to
block VA ban on guns
The National Rifle Association said hursday it will work with gun owners to swamp the first hearing of the Virginia Senate committee considering new gun bans in an effort to beat back the gun-control proposals from Governor Ralph Northam (D-VA).  If gun-rights supporters can convince just a handful of Democrats to oppose a new gun-control measure, it will not become law. NRA spokesperson Mortensen said the Courts of Justice committee is the first stop for those new gun-control proposals, and gun owners in the state need to show their opposition to those bills face-to-face.
January 3: Washington Post: Guaido seeks reelection in Venezuela
Venezuela's opposition faces a critical test on Sunday, when its leader, Juan Guaidó, will seek reelection as head of the National Assembly - a title that forms the basis of his recognition as Venezuela's true head of state by nearly 60 countries around the globe.  For Guaidó, the vote amounts to a do-or-die moment. One year ago, he declared President Nicolás Maduro a usurper for claiming victory in tainted elections and declared himself Venezuela's rightful leader - an assertion based on Guaidó's status as head of the assembly. But after a year of failed attempts to oust Maduro, Guaidó is now struggling to maintain opposition unity, confronting flagging domestic support and scrambling to counter an alleged plot against him.
January 3: The Daily Caller: ICE apprehends illegal allegedly behind deadly
hit-and-run and released by local authorities
Immigration and Customs Enforcement (ICE) was able to apprehend an illegal alien who, after getting arrested for a deadly hit-and-run accident, was immediately released by local authorities.  ICE agents on Monday arrested Jorge Flores-Villalba, a Mexican national living in the U.S. illegally, on Monday following his release from police custody in New York, the agency announced in a press statement on Friday. The arrest by federal immigration authorities is the latest example of ICE's work to apprehend illegal aliens despite a growing lack of cooperation by local and state law enforcement. 
January 2: The Daily Caller: Over 200 members of Congress urge the Supreme
Court to reconsider Roe v. Wade
More than 200 members of Congress urged the Supreme Court to reconsider Roe v. Wade on Thursday, ahead of a March case concerning the constitutionality of a Louisiana regulation on abortion providers.  The lawmakers, who include 39 senators and 168 members of the House of Representatives, filed a legal brief arguing abortion case law is haphazard and inconsistent, such that reconsideration of Roe is in order.  "Forty-six years after Roe was decided, it remains a radically unsettled precedent: two of the seven Justices who originally joined the majority subsequently repudiated it in whole or in part, and virtually every abortion decision since has been closely divided," the brief reads.
January 2: The UK Daily Mail: Army paratroopers deployed to Middle East in response to the attack on U.S. embassy
The first wave of hundreds of U.S. Army paratroopers from a rapid reaction force has deployed to Kuwait in response to the assault on the U.S. embassy in Baghdad by pro-Iran militiamen, with thousands more soldiers on alert for snap deployment.  The initial force included 650 troops and equipment.  One hundred U.S. Marines have already been added to the security force at the embassy in Baghdad.  [Editorial Comment:  This sure is different response than when Hillary Clinton was Secretary of State and U.S. forces in Benghazi were attacked.]
January 2: Fox News:  Trump orders attack that takes out top Iranian general and other militants in Baghdad
President Trump ordered a game-changing U.S. military attack that killed Iranian Gen. Qassim Soleimani, the head of the Islamic Revolutionary Guard Corps' elite Quds Force at Baghdad International Airport the Pentagon confirmed.  The general was the military mastermind whom Secretary of State Pompeo had deemed equally as dangerous as Islamic State leader  Abu Bakr al-Baghdadi. In April 2019, the Department of  State announced Iran was responsible for killing 608 U.S. troops during the Iraq War. General Soleimani was the head of the Iranian and Iranian-backed forces carrying out those operations killing American troops. According to the State Department, 17 percent of all deaths of U.S. personnel in Iraq from 2003 to 2011 were orchestrated by Soleimani.
January 1: The UK Daily Mail: Baghdad embassy under siege for second day  by
pro-Iran militia supporters
Pro-Iran militia have stormed the US embassy in Baghdad for a second day, with US marines firing tear gas on the militants this morning following demands for American blood in retaliation for airstrikes on Iraq. Yesterday thousands of Iran-backed militants demonstrators  rushed through the heavily fortified Green Zone to the U.S. embassy after US air strikes killed 25 members of the Iran-backed Kataeb Hezbollah in air strikes Sunday night.  One furious militant said: 'God willing if this fire reaches inside the embassy, we will not spare a single employee.'  The pro-Iran demonstrators finally ended their siege today after commanders of the Popular Mobilization Force, of which Kataeb Hezbollah is a member, asked its supporters to stand down. 'You delivered your message,' it said in a statement.
January 1 Breitbart News: Iran: Trump $200B sanctions have wiped out Obama's $150B Nuclear Deal
Sanctions imposed on Iran by Trump have more than erased the benefits given by Obama under the Iran nuclear deal, according to Iranian sources.  Under the  deal, Iran gained  renewed access to up to $150 billion in assets that had been previously frozen. The Obama administration also gave Iran nearly $2 billion in cash for the release of American prisoners who were effectively hostages. The money is believed to have been used, in part, to fund Iranian terror operations. The Trump-imposed sanctions have punished Iran for its role in developing weapons of mass destruction; for its sponsorship of terror groups in the region and worldwide; and for its repressive human rights abuses against its own citizens.
January 1: Fox News: Judge in Hunter Biden's paternity case recuses himself
The circuit court judge overseeing Hunter Biden's paternity case, Don McSpadden, recused himself without reason on Tuesday, just days after a private investigation firm sought to intercede in the case.  D&A Investigations, based in Florida, filed a "Notice of Fraud and Counterfeiting and Production of Evidence" with the court on Dec. 23, claiming Hunter Biden "established bank and financial accounts with Morgan Stanley et al" for Burisma Holdings -- where he served as a former board member -- to satisfy a "money laundering scheme."