February 27, 2017

As Dick Daugird tells the story, his friends brought meat over to his house and said to he and his wife Horacene, "You guys are such great cooks, would you mind cooking this for us?" From that small beginning has come what today is known as the Lighthouse Charity Team. They cook meals for others, doing fund raisers for other charities, and all with volunteer help. After Hurricane Ike they set up at Moody Methodist Church and for thirty days served 30,000 lunches and dinners to first responders and residents on Galveston Island.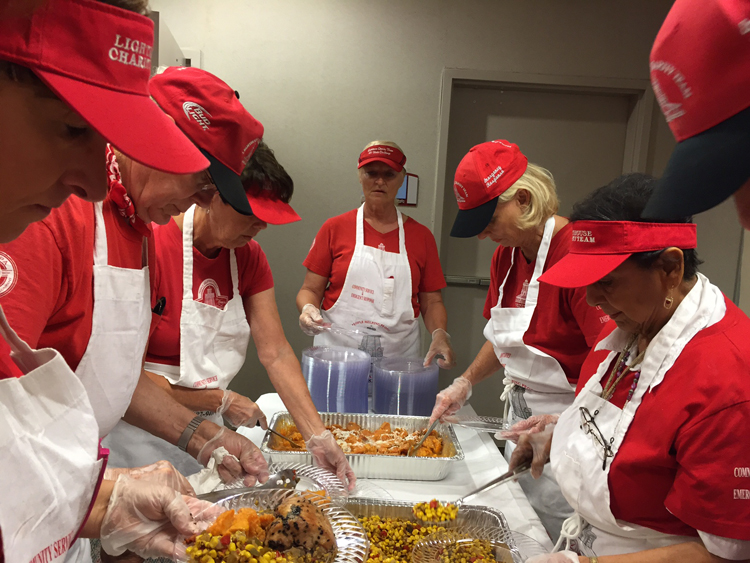 They seem to be everywhere and always serving others. In an average year their teams complete eighty events and serve over fifty thousand people. And the food? Wow! It can be shrimp, steak and baked potatoes, and even corn on the cob!
For each event, team members order the food, select the right equipment for the event (e.g., the 500 lbs crawfish cooker, the "Big Daddy" rotisserie, or the "Grand Daddy" which provides a 20 foot full serving line). The equipment is checked and made ready for cooking, then delivered to the site along with the food. In some cases only one or two trailers are needed for others the Lighthouse equipment can fill a parking lot! Volunteers cook the food on site, clean up the area before leaving, and return the equipment to one of their operation centers (in Galveston or Friendswood). At the centers they clean the equipment, inventory the supplies, and make sure everything is in place for the next event.
But cooking is not all they do. Every December they receive donated toys, bicycles, and more. Their 22,000 square foot facility which was donated by Larry Del Papa is filled to the brim. Teams of volunteers categorize the gifts and wrap them. They are then assigned to a specific child and in a three-day period just before Christmas teams of volunteers join the Galveston Police Department and its Citizens Police Academy Alumni delivering these gifts to children as part of the annual Blue Santa event.
The Lighthouse team is an all volunteer group of men and women to whom the word "service" is their guiding principle. They come from every walk of life and range from teenagers to senior citizens. There are about three hundred of them and they combined dedicate over 25,000 volunteer hours annually.
If you were to ask a volunteer why he or she gets involved you'd get a variety of answers but most of them center around one thing. They aren't thinking about themselves, they are thinking about others. Even in the hot sun and sweltering heat of summer they are there with smiles on their faces. It's not about them; it's about those they're there to serve. Their satisfaction comes from within, knowing that by their actions they are doing something that is making their community a better place.
If you're interested in serving and helping others, the Lighthouse Charity Team would be a good place to start. We hope to see you at the next event!

Bill, Mark, and John