Dec. 26: The Daily Caller: Colorado on pace for record year in gun background checks
By the end of the year, Colorado will have conducted more background checks on firearms purchases than ever before, thanks to a new law that went into effect in July mandating them for every gun transfer. But whether that has made the public safer is still in question. "Dozens of criminals would be walking around with a gun right now if not for the new law," said Rep. Rhonda Fields, in a news release. "Our intention was to make our communities safer and make it harder for criminals to get guns. We now have five months of data that prove that the law is working."
Others consider the law to be effective only at adding barriers to law-abiding gun owners.  "Background checks in and of themselves are not a bad thing," Colorado State Shooting Association president Tony Fabian said. "But they have really had no effect on keeping guns out of the hands of criminals, because criminals don't get their guns through legitimate means." 
The Colorado Bureau of Investigation conducted 354,880 background checks through the end of November, compared to 335,940 for all of 2012. December is typically the busiest month for gun sales, the Camera noted, meaning the total will be tens of thousands more than last year.
Dec. 26: The Washington Times: Wall Street advisor recommends guns, ammo for protection in collapse:
A top financial advisor, worried that  ObamaCare, the NSA spying scandal and spiraling national debt is increasing the chances for a fiscal and social disaster, is recommending that Americans prepare a "bug-out bag" that includes food, a gun and ammo to help them stay alive.  David John Marotta, a Wall Street expert and financial advisor and Forbes contributor, said in a note to investors, "Firearms are the last item on the list, but they are on the list. There are some terrible people in this world. And you are safer when your trusted neighbors have firearms."  His memo is part of a series addressing the potential for a "financial apocalypse." His view, however, is that the problems plaguing the country won't result in armageddon. "There is the possibility of a precipitous decline, although a long and drawn out malaise is much more likely," said the Charlottesville, Va.-based president of Marotta Wealth Management.
Dec. 21: Fox News: EPA forcing move away from Lead Bullets and toward more expensive copper ones:
When the last bullet-producing lead smelter closes its doors on Dec. 31, it will mark a major victory for those who say lead-based ammunition pollutes the environment, but others warn 'green' bullets will cost more, drive up copper prices and do little to help conservation.  The bid to ban lead bullets, seen by some as harmful to the environment, started slowly more than a decade ago. But with two dozen states, including California, banning bullets made of the soft, heavy metal, the lead bullet's epitaph was already being written when the federal government finished it off.
First, the military announced plans to phase out lead bullets by 2018.  Then the federal Environmental Protection Agency, citing emissions, ordered the shutdown of the Doe Run company's lead smelter in Herculaneum, Mo., by year's end.
Whether by state or federal regulation, or by market forces, lead bullets will be all but phased out within a few years in favor of so-called green bullets, experts say. While many believe that this will help the environment by keeping lead from contaminating groundwater, others say switching to copper-based bullets will cost hunters and sportsmen more and have little effect on the environment.  "Whatever the EPA's motivation when creating the new lead air quality standard, increasingly restrictive regulation of lead is likely to affect the production and cost of traditional ammunition," the National Rifle Association said in a statement
Dec. 13: The Daily Caller: Reid: "Shameful" that Senate Cannot Pass Gun Legislation
Senate Majority Leader Harry Reid said that the push for gun control is not over, one day before the anniversary of the massacre at Sandy Hook Elementary School. "At a time when more than 30,000 Americans are killed by guns each year, it is shameful that the United States Senate can't pass gun safety legislation that would protect our most vulnerable citizens — our children," Reid said in a floor speech on Friday, citing the "activism" of the family members in "raising awareness about gun violence and mental health issues."
Many of the family members of the victims have appeared on the Hill multiple times to lobby for gun legislation; a number were present when the Senate failed to pass such legislation over the summer.

Dec. 9: The Hill: Gun control advocates see gains in states while losing at the Federal level:
Eight states took significant steps toward tougher gun control in lieu of congressional action this year, according to a study issued Monday by a pair of advocacy groups. However, the state-by-state analysis released by the Law Center to Prevent Gun Violence and the Brady Campaign to Prevent Gun Violence gives failing grades to more than half the states, underscoring the difficult road ahead for proponents of stronger protections. In the year following last December's deadly shooting spree in Newtown, Conn., that state — along with California, Colorado, Delaware, Illinois, Maryland, New Jersey and New York — enacted major reforms, the groups said.
Dec. 3: Politico: Gun Control Supporters Must Settle for Small Gains
For gun control advocates, the smallest of accomplishments in 2013 may have to be enough.  A 10-year extension of the ban on plastic guns — not toys but high-powered firearms that can evade detection by metal detectors — is poised to clear Congress before the existing 25-year law expires on Dec. 9.  But even something that simple is full of obstacles and opposition.
House Republicans and the National Rifle Association have pushed back aggressively against efforts by Democrats to tighten the law, known as the Undetectable Firearms Act, including requiring all guns have at least one metal component and addressing the use of three-dimensional printers.  "I can't understand why anybody would want to make it easier and more convenient for bad guys and criminals to smuggle plastic guns onto airplanes," said Rep. Steve Israel (D-NY), who is pushing for tighter restrictions.   "To me, this is the consummate example of common sense."
Nov. 30: The San Jose Mercury News: 
Feinstein Doesn't want to give up on Gun Control even though support for it seems to be lagging.
Twenty years ago Saturday, the Brady Handgun Violence Prevention Act became the law of the land. This groundbreaking gun-safety law requires background checks on all gun sales by licensed dealers.  But Senator Feinstein (D-CA) wants to expand the law to require background checks on all gun sales including private citizens selling a gun to another citizen.  We are not sure whether she would require the same thing for a person giving a gun to another individual, but that could be the next step. 
Critics have argued that expanding background checks to close this loophole is pointless because no criminal would consent to a background check. California law -- which requires background checks on all gun sales except those between family members -- proves otherwise.
Nov. 29: The Daily Caller: Judge: Colorado Sheriffs cannot sue over gun control laws:
Colorado's elected sheriffs don't have the standing to sue the state of Colorado to overturn controversial new gun control laws, a federal judge ruled on Wednesday.  Most of the state's 64 sheriffs spearheaded a lawsuit to overturn laws that went into effect July 1 limiting the size of ammunition magazines and requiring universal background checks, saying they violate the Second Amendment and that they are unenforceable. 
But U.S. District Judge Marcia Krieger in Denver said the sheriffs couldn't sue the state as a group because they are elected officials.  "If individual sheriffs wish to protect individual rights or interests they may do so. However, the sheriffs have confused their individual rights and interests with those of the county sheriff's office," Krieger said, according to the Associated Press.  The ruling doesn't prevent the case from moving forward, but requires the sheriffs to decide within 14 days if they wish to rejoin the suit as individuals.  Twenty-one other plaintiffs, including outdoor outfitters and gun supply businesses, are named in the suit.
Krieger also upheld an interpretation of the magazine limit law issued by Colorado Attorney General John Suthers, who is defending the state. The law bans ammunition magazines that are "readily convertible" to hold more than 15 rounds. Opponents have argued that includes practically all magazines, since most contain a removable base plate that can replaced with a converter to hold more rounds.  Suthers' "technical guidance" said such magazines won't be considered illegal unless they've actually been converted to hold more ammo than the law allows.
Nov. 25: The Daily Caller: Family of armed robbery suspect upset that armed bystander shot their son!
The family of an armed robbery suspect is ticked off that a "Good Samaritan" shot their kin while he attempted to rob a dollar store in Mobile, Ala.  According to a local Fox News affiliate, the Good Samaritan says he shot 18-year-old Adric White in self defense.  The Good Samaritan, who we are not identifying, told FOX10 News he was shopping at the Family Dollar on Stanton road when he noticed a masked gunman leading one of the employees to the front of the store.  "He had the gun to his head. He had him on his knees," said the man. "I drew my gun on him and I said 'Hey don't move.' At that point he swung around and before he had a chance to aim the gun at me I fired. I didn't want to shoot him."
"If his (the customer) life was not in danger, if no one had a gun up to him, if no one pointed a gun at him – what gives him the right to think that it's okay to just shoot someone?" said the relative. "You should have just left the store and went wherever you had to go in your car or whatever."  White was shot five times and is recovering at a local hospital. He remains in police custody.
Nov. 20: The Hill:  Feds consider new gun regs
The Obama administration is working on new gun control regulations that would target stolen and missing weapons.  Police have a hard time tracking firearms that disappear from gun shops, which "just feeds the sort of already large and existing secondary market on guns," said Sam Hoover, a staff attorney with the Law Center to Prevent Gun Violence.  It is unclear precisely what the draft regulations, drawn up by the Bureau of Alcohol, Tobacco, Firearms and Explosives (ATF) and under review at the White House's regulations office, would do.
The ATF would not comment on the draft rule, since it has not yet been released to the public, but a description provided by the White House asserts that it would target cases where guns go missing "in transit."  Currently, gun dealers with a federal license are required to tell federal agents after they discover a firearm has gone missing, but they aren't required to do routine checks.  "They can discover a gun missing today and have no idea when it went missing, which really makes that information useless to law enforcement," said Chelsea Parsons, associate director of crime and firearms policy at the Center for American Progress.
The White House office has 90 days to review the proposed rule before releasing it to the public and allowing them to comment.  The draft rule was sent to the White House five months after the ATF completed a report that found that more than 190,000 firearms were estimated to have been lost or stolen last year. The report was one of 23 executive actions President Obama announced in January to reduce gun violence in the wake of last year's shooting in Newtown, Conn.
Nov. 14: The Washington Times: Petition drive against Colorado's Third State Senator faces deadline:
The recall effort against the third—and one might say most notorious—of three Colorado Democrat senators, Evie Hudak, is within 19 days of its deadline to collect a goal of 26,000 signatures. Organizer Mike McAlpine says he is confident that they will reach their goal and will be successful in recalling her.  Hudak is the one who was famously indifferent to rape victim Amanda Collin's testimony, telling her that even had she been allowed to carry her concealed carry pistol on the night she was attacked, statistics were not in her favor.
In keeping with that cold attitude toward victims of violent crime, those supporting Hudak have been harassing people collecting signatures and intimidating people trying to sign the petition to recall her. The tactics are similar to the ones used by the committees defending Morse and Giron—only intensified.  Volunteers for the Recall Hudak Too recall effort report men in cars following volunteers and taking pictures with cameras that have large telephoto lenses. In addition to taking pictures of the volunteers, pictures of license plates are also being taken. But the harassment doesn't stop there.
Hudak supporters verbally assault both volunteers and people wanting to sign the petition. In one case, an African-American woman drove up to a sign-and-drive location, but was blocked from getting out of her car by a man standing next to the driver's side door and refusing to move. Eventually he did move, but the woman was further harassed as another Hudak supporter rang a noisemaker in her ear while she signed.  A similar incident occurred to an African-American male. This young man was surrounded by Hudak supporters and taunted him with "You're killing Trayvon."

Nov. 11: The Daily Caller: Students use gun to scare away violent intruder now face expulsion:
Two Gonzaga University students are facing expulsion because one of them produced a gun in response to an aggressive, possibly homeless man who was violently demanding money and tried to enter their apartment.  Administration found seniors Erik Fagan and Daniel McIntosh in violation of a blanket policy outlawing guns in all university-owned buildings, reports The Spokesman-Review. Their Gonzaga-owned apartment at 207 E. Sinto Ave. is located a couple blocks from the urban campus.
The incident occurred on Thursday, Oct. 24 a little after 10 p.m. Fagan, 21, had just bid goodbye to a friend. There was a knock on the door. Fagan opened it to see the apparently homeless man, who wanted money.  Fagan said he offered the guy some food and a blanket, but cash was out of the question. The vagrant then became belligerent. Fagan said the man — a six-time felon — showed him an ankle bracelet and said, "You don't want to do this," according to The Spokesman-Review.  There was a tussle. The man tried to break into the apartment. Fagan yelled to his McIntosh for help. 
Nov. 9: Fox News:  Shakeup at Guns and Ammo:
The top editor of Guns & Ammo became the second employee of the venerable firearms magazine to lose his job after a column advocating gun control backfired, prompting rifle-toting readers to unload on the publication.  In a statement posted Wednesday on the InterMedia Outdoors-owned magazine's homepage, Jim Bequette apologized to "each and every reader" of the magazine for Dick Metcalf's column that appeared in its December issue, which generated "unprecedented" controversy and left readers "hopping mad" in regards to the magazine's commitment to the Second Amendment.
"Let me be clear: Our commitment to the Second Amendment is unwavering," Bequette wrote. "It has been so since the beginning. Historically, our tradition in supporting the Second Amendment has been unflinching. No strings attached."  But by publishing Metcalf's column, Bequette said he was "untrue" to the magazine's tradition. He reiterated that Metcalf's views did not represent his or that of the magazine before later acknowledging he would step down as editor earlier than originally planned.
Nov. 7:  The Daily Caller:  New Book looks at Hitler's use of Gun Control to disarm Jewish people
Stephen Halbrook has recently released "Gun Control in the Third Reich: Disarming the Jews and 'Enemies of the State'."   This famed Second Amendment attorney attempts to take a scholarly look at gun control in Germany before-and-after Hitler took power. But Halbrook doesn't shy away from pointing out what he sees as parallels, if not comparisons, between what happened then with what is happening in America now.
"Actually, there are parallels between the firearm bans and registration requirements enacted by the Weimar Republic and those proposed by President Obama," Halbrook, a Research Fellow at the Independent Institute, told The Daily Caller when asked what he would say to those who will argue making such a comparison sounds a bit hysterical. "Only law-abiding persons obeyed those laws. Weimar authorities warned that the lists of gun owners must not fall into the hands of 'radical elements.' The lists fell right into the hands of the Nazis when they assumed power. Gun owner data can be misused by the government today just as it did in the IRS scandal, and it can be hacked for nefarious purposes."
Nov. 3: The Hill: McCaul: LAX gunman hit a soft target
The Transportation Security Administration and Congress will review airport security procedures in the wake of the shooting at Los Angeles International Airport where a TSA agent was killed, House Homeland Security Chairman Mike McCaul (R-TX) said Sunday.  McCaul said he had spoken with TSA Administrator John Pistole about potential changes to airport security, noting that the shooting occurred in a "soft target" outside the security checkpoints.  "Remember, TSA officers are not armed. It's the local police that provide perimeter security, and a little more of a soft target outside the checkpoints," he said. "I want to work with the director of TSA to look at how we coordinate with the locals at the airports, the security police officers, to see if there's something to do better or different." 
On Friday, a gunman brought a semi-automatic rifle to the Los Angeles airport and shot and killed a TSA agent checking documents at a checkpoint. The suspect, Paul Anthony Ciancia, was also shot and taken into custody. 
Oct. 28: Politico:  Biden on the sidelines in Gun Control Debate:
President Barack Obama's behind-the-scenes plans for gun control go on but without Vice President Joe Biden.  Biden, the White House's public face of and private force behind the push for new gun control laws, and his chief of staff, Bruce Reed, are no longer involved in the long-term planning between the White House and major gun violence prevention groups, officials from several organizations tell Politico. 
The vice president's disappearance from an issue he'd been spearheading is a clear signal of how much the focus has shifted from passing gun control legislation in Congress to winning reforms at state capitols and building local networks that can pressure and help elect members of Congress over the long term. The background checks bill Obama championed in the Senate isn't going to get another vote after falling short in April unless several senators publicly change their mind, aides to senators involved in gun control discussions say.
Oct. 28:  The Daily Caller: Bloomberg anti-gun group leader wants to replace recalled Colorado State Senator:
A Democrat running for the seat once held by a Colorado state Senate leader recalled for supporting gun control has promised to pick up where John Morse left off.  Democratic candidate Mike Merrifield officially announced his candidacy on Sunday, even though he made his intentions to run for Morse's seat known several months ago.  Republican Bernie Herpin replaced Morse in the Sept. 10 recall election, but Herpin will only serve the remainder of Morse's term, which ends next year. Morse would have been term limited if he'd survived his recall challenge.
Merrifield is a former Manitou Springs City Councilman and a four-term state representative, but he is also the former state director of Mayors Against Illegal Guns, the anti-gun organization headed by New York City Mayor Michael Bloomberg.
Oct. 19: NBC News: Texas Gun Owners stage rally at the Alamo
Hundreds of gun-rights advocates, many toting rifles and shotguns, gathered early Saturday at the Alamo in San Antonio to rally in support of gun ownership and the right to bear arms.  The rally, called "Come and Take It San Antonio," comes in response to what organizers called San Antonio police's "disregard for Texas law and The Constitution." Organizers said the police department has harassed gun owners and created a hostile environment for legal gun ownership.
Gun-rights proponents flooded a plaza near the historic site -- considered a shrine of Texas liberty since a small band of Texans fought and died in a battle against Mexican forces there in 1836. Many of those gathered carried banners, flags and sundry firearms. 
The day's keynote speaker, Texas Land Commissioner Jerry Patterson, is a Republican candidate for the lieutenant governor and an avid gun-rights advocate.  According to Texas Law,  gun owners cannot openly carry handguns, but there is no such law prohibiting the carrying of long guns. San Antonio police have recently made arrests of people carrying long guns, citing a more restrictive city ordinance banning weapons in public places.  "The premise is that someone who is openly carrying a handgun is not a criminal," he said, adding that "criminals tend to be discrete" when carrying a hand gun.
Oct. 7: The Daily Caller: Third Colorado State Senator may face a recall election:
Energized by historic recalls of two Colorado state senators last month, activists have begun collecting signatures to oust state Democratic Sen. Evie Hudak from office.  Hudak, who represents Westminster, a suburb northwest of Denver, is a favorite target of the GOP for her liberal voting record and a propensity to attract bad PR for herself.  Under Colorado election law, those wishing to prompt a recall election must collect 18,900 signatures from district residents – 25 percent of the total votes cast in the last election. Hudak was initially elected to the state Senate in 2008 after two terms on the state Board of Education.
In both senate elections, Hudak has won by narrow margins; in 2008 she topped Republican Libby Szabo with 51 percent of the vote. In 2012, she won with only 47 percent, narrowly edging out Republican Lang Sias by 0.7 percent. Sias' defeat was blamed in Republican circles on the presence of Libertarian Lloyd A. Sweeny, who garnered nearly 7 percent of the vote. GOP analysts believe a majority of those Libertarian votes would have otherwise gone to Sias.

The recall petition cites strict new gun restrictions passed by the Colorado legislature as a reason for recalling Hudak. "She has infringed upon our constitutional right to keep and bear arms. She has voted to make all citizens less safe and to drive hundreds of jobs from Colorado," the petition reads.
Oct. 4: The Daily Caller: "Finger Gun" and Political Correctness gets boy suspended:
Do you remember a time where a game of "cops and robbers" during school recess was treated as innocently as it was meant to be?  If you are elementary school student Jordan Bennett, you don't.  Bennett was suspended from school for a day after playing that 'deadly' game in the school yard, which included the 8-year old forming his hand into the shape of a gun.  The boy's mother is fighting the suspension, but the damage has already been done.

Oct. 4: The Daily Caller: Democrats cling to one vote majority in Colorado after recall election:
Following historic legislative recall elections in Colorado last month, the Democratic Party's legislative majority in the Centennial State has been worn down to paper-thin margin. With two Democrats, including Senate President John Morse, recalled for their sponsorship of new gun-control laws, the Democrats are left with a one-seat majority in the state Senate. The Democratic caucus must choose a new leader to take charge of the rattled ranks.

Two Republicans, elected as part of last month's recalls in Colorado Springs and Pueblo, were sworn in Thursday inside a Senate chamber packed with pro-gun activists and other recall proponents. Bernie Herpin, a former city councilman, won Morse's seat while former police chief George Rivera will replace Pueblo's Angela Giron.

Oct. 2: Fox News: Judge refuses to block Maryland gun law, opponents say they will continue to fight it:
A federal judge on Tuesday refused to block implementation of Maryland's new gun control law, citing the late date of the challenge — just two business days before it was set to take effect — as an indication the law posed no imminent threat to core Second Amendment rights.  U.S District Judge Catherine Blake's refusal to grant emergency relief allowed Maryland to implement some of the nation's toughest firearm restrictions Tuesday. The disputed provisions include an expanded list of banned assault weapons and a 10-bullet limit on removable magazines. A separate lawsuit challenged a provision requiring prospective handgun buyers to submit fingerprints and get gun safety training.

The plaintiffs — three private citizens and seven gun dealers and associations — said they would continue to seek a court order invalidating the law on constitutional grounds.  "We will proceed with both cases," attorney John Parker Sweeney said after Blake rejected his clients' requests for temporary restraining orders. Their next goal is a preliminary injunction. No hearing dates were set.

Sept. 28: The Daily Caller: What's the most surprising outcome of the Colorado recall?
What's the "biggest win for the Second Amendment this year?"  According to gun rights advocate and author Emily Miller, it's the success of the Colorado recall.  In an in-depth interview with The Daily Caller, Miller highlighted the fact that the Colorado recall of members of a statewide office — the first time it has happened in the state's history — was not instigated by the NRA or the Colorado Republican party.

The NRA did, later, become involved as a horde of progressives, including millionaire anti gun advocate and Mayor of New York Michael Bloomberg, began funding the campaigns of pro-gun control state senators John Morse and Angela Giron.  "This wasn't by the NRA," Miller said. "This wasn't by the Colorado Republican party. They all helped in the end, because they had to because Bloomberg spent so much money. This was totally organic democracy at work. People just were outraged."

Sept. 22: The Daily Caller:
Obama accuses gun control opponents of fighting to let "dangerous people" to own guns:
President Barack Obama accused opponents of gun control of fighting to allow "dangerous people" to own guns in a speech on Saturday to activists at Congressional Black Caucus, promising he would revive his failed gun control efforts following recent urban shootings in Chicago and Washington D.C.'s Navy Yard.  "We can't rest until all of our children can go to school or walk down the street free from the fear that they will be struck down by a stray bullet," he said, citing recent shooting in Chicago's African-American districts.

The promise of gun control came with the incendiary suggestion that gun-rights supporters are eager to provide guns to criminals in Chicago, D.C. and other Democrat-run cities that have a high crime rate.  "As long as there are those who fight to make it as easy as possible for dangerous people to get their hands on a gun, then we've got to work as hard as possible for the sake of our children," he said.

In 2008, Obama ran on a "hope and change" promise of restoring bipartisan cooperation in D.C. — but on Saturday, he sketched out the beginnings of a P.R. campaign to overcome bipartisan resistance in the Senate to federal regulations on guns.

We have two questions:  First, is it against the law to murder someone? Of course the answer is "Yes!"  Then Second, if a person is willing to violate the law about murdering somebody what makes the gun-control advocates think that this same person will not violate any law enacted to keep them from getting a gun?  It is the law-abiding citizens who live within the law, not the people like the Navy Yard, Newtown, and Aurora shooters.


Sept. 22: Politico: Gun Control "Elites" focusing on the wrong target:
NRA CEO LaPierre on Sunday slammed "elite" focus on firearms in the wake of last week's Navy Yard shooting, saying there are bigger issues in play, including the need for more secure military facilities. "The whole country...knows the problem there was there weren't enough good guys with guns," LaPierre said on NBC's "Meet the Press." "When the good guys with guns got there, it stopped."  He  said politicians and the media wrongly turned back to the gun control issue following the deadly shooting near the Capitol, when instead the country should emphasize reforming the mental health system and enforcing laws already on the books.

"All the outrage... ought to be placed on an unprotected naval base," he said. The outrage should be focused "on a criminal justice system in Chicago that doesn't even enforce the federal gun laws" when that could  dramatically cut violence and on the "mental health system that is completely broken, on a check system that is a complete joke in terms of stopping the bad guys," and a broken criminal justice system.  He said that Navy Yard shooter Aaron Alexis, as well as several other perpetrators of gun crimes, were able to skirt current background check laws.  "So the Aurora shooter in Colorado gets checked, and is cleared," he said. "The Tucson shooter gets checked and gets cleared. Aaron Alexis goes through the federal and state check and gets cleared." 

Sept. 17: The Daily Caller: Feinstein can't get her hair done without a gun control argument
Democratic Sen. Dianne Feinstein of California doubled down on her call for heavier gun control Tuesday, lamenting that gun rights zealots wait to buttonhole her at her hair salon.  Feinstein said a background check law, of the variety that congress failed to pass earlier this year, would have flagged Aaron Alexis, the gunman who shot and killed 12 people at Navy Yard on Monday morning, and prevented him from purchasing the weapon he used. But in question is whether the gun controls proposed by Feinstein would have actually prevented the Navy Yard  Shooter from obtaining a shotgun which recent reports indicate was the only weapon he had.

Feinstein is a vocal gun control advocate, who issued a new call for gun control legislation after the shooting Monday. The debate had been largely dormant after a compromise amendment failed to pass the Senate in April.  "We're talking about a background check which would have picked up this person if, in fact, he did have three gun incidents that got into the system in terms of reports, he would've been picked up and denied the ability to have a gun," Feinstein told reporters at the Capitol Tuesday.  But Feinstein said she was "not optimistic right now" that any legislation of the sort could be passed in the Senate, much less in the Republican-controlled House.

"I'm going to have my hair done this morning and there's somebody outside the salon waiting for me who says, 'Are you going to try and take our guns away again?' With, you know, malevolence. It's that attitude, that, the lack of, I guess, care and concern about the survival of the general public so that somebody can have a house full of weapons."

Sept. 16: The Daily Caller: Colorado recall groups now aiming for repeal of new gun laws:
The two citizens groups that organized Colorado's historic recall of two Democratic state legislators last week now have their eyes on the gun laws that led to the ousters.  According to the website Complete Colorado, the Basic Freedom Defense Fund and Pueblo Freedom and Rights are circulating a questionnaire to Colorado lawmakers asking them if they would vote to repeal "Colorado's unlawful new gun restrictions" in 2014 and if they would support a statewide ballot initiative to see the new laws repealed.

The groups were behind the recent successful recalls of former state Sens. John Morse and Angela Giron, both of whom were targeted for supporting laws that limit the size of ammunition magazines and require universal background checks for all gun transfers.  "As you are likely aware, we recently succeeded in the first successful recall of not one, but two, State officials in Colorado history," the questionnaire reads. "As we consider our next endeavors, we wish to know where every legislator stands on a repeal of Colorado's unlawful new gun restrictions."

A spokeswoman said that the recalls were only the beginning of the groups' political activities and said that those who continue to support the new laws should know the risks.  "While we consider Tuesday's election a significant victory, we realize that these egregious gun laws remain and we want to know where each and every Colorado state legislator stands on them," said Jennifer Kerns.  "It is a new day in Colorado and constituents expect their legislators to represent the will of the people," she said. "No one is immune from the reach of the grassroots efforts which powered these two recall elections."  The groups also plan to poll candidates for state office, ensuring that voters haven't heard the last of the gun debate.

Sept. 14: Fox News: Gun control advocates say the Colorado recall is stifling efforts in Congress:
Colorado's historic recall of two state legislators who backed new gun restrictions may have national repercussions, as advocates say the effort will make it harder to revive stalled efforts in Congress to tighten firearm laws.  In April, federal legislation expanding background check requirements for gun buyers fell five votes short in the Senate, despite political momentum from last December's massacre at a Connecticut elementary school.

Gun control backers say they have yet to win a single new Senate supporter, and many worry that the muscle shown by pro-gun groups and voters last week in Colorado will make it even harder to find converts.  "The NRA does its job better than our side does our job," said Jim Kessler, a co-founder of Third Way, which advocates for centrist Democratic policies. "They know how to influence and intimidate elected people."
Sen. Chris Murphy, D-CT, who was representing Newtown, where 20 first-graders and six school staffers were gunned down, in the House at the time of the shooting, said "the results of the recall were not good news." Minutes after the Senate rejected the new background checks on April 17, President Obama and Senate Majority Leader Harry Reid, D-NV., pledged to continue the fight.  

Democrats and gun control lobbyists, however, don't expect Reid to bring the bill up again until next year at best, not until he has found enough additional votes to have a strong chance of prevailing.  That means the Dec. 14 anniversary of the school shootings probably will pass without a fresh Senate vote. Some gun curb advocates have hoped to use the widespread public attention that anniversary will receive to schedule a new vote by then.  "My advice to Reid is, if there's any indication of change or movement in a positive direction, we should consider it. But so far I've not seen that," said Sen. Dick Durbin, D-IL, his party's chief Senate vote-counter.

Sept. 12: Fox News: DNC head Wasserman Schultz Blames Colorado loss on "Voter Suppression"
The historic Colorado recall election that resulted this week in two Democratic lawmakers being ousted from office was seen by many as a rebuke to their support of gun control legislation. The head of the Democratic Party had a different take. "This was voter suppression, pure and simple," Rep. Debbie Wasserman Schultz, D-Fla., chairwoman of the Democratic National Committee, said in a statement. Schultz claimed the elections in Colorado on Tuesday "were defined by the vast array of obstacles that special interests threw in the way of voters for the purpose of reversing the will of the legislature and the people."

Colorado Secretary of State Scott Gessler's office also questioned Schultz' argument. "When you look at the results of this recall election, when more people showed up, Democrats got crushed," he told Politico. "So why she has any credibility whatsoever just blows me away when she says stuff that's just completely contradicted by facts on the ground."

On Tuesday, voters in Colorado successfully recalled Senate President John Morse, by 51 percent to 49 percent, and Sen. Angela Giron of Pueble, Colo., by 56 percent to 44 percent.

Sept. 12: Fox News:
Colorado Recall not about Guns It's about not being heard: Voter Suppression by political leaders
You see, for the people of Colorado, the recall was about something much more fundamental and personal - their right to be heard.  The American people will tolerate many things but as history has shown, the one thing that can serve as a catalyst for revolution is action without representation. We have a fervent belief in our right to be heard. The entire idea of our democracy is predicated on the notion that our representatives have an obligation to at least listen to their constituents before taking action on their behalf.  That absence of an ability to gain an audience with their representatives is why Coloradans from across the ideological spectrum recalled State Senate President John Morse and State Senator Angela Giron.

That's why it's somewhat laughable that Democratic National Committee Chairwoman Debbie Wasserman-Schultz has characterized the recall as "voter suppression, pure and simple" because it is in fact "suppression" that ignited the recall in the first place.  For Morse and Giron, their fates were sealed on March 4th when they chose to divert from standard practice and ignored the hundreds of Colorado citizens who traveled to the State Capitol on the day that Senate committees were deliberating new gun-control measures. They were turned away and not heard.  Among those citizens were 30 Sheriffs, who came to testify, but only one was allowed to speak.

Sept. 12: The Daily Caller: Arkansas Teachers Can Carry Guns After All
An Arkansas licensing board voted to let teachers keep their weapon permits for at least two years, meaning that districts wishing to protect schools with armed staff members may do so.  The board initially revoked all licenses it had issued to teachers, but then decided on Wednesday to reinstate them for a period of two years, according to The Arkansas Project.  The vote affects Clarksville School District, which had been training staff this summer to carry guns as a safeguard against school shootings, and Lake Hamilton School District, which has allowed its staff to carry weapons for 20 years.

Last month, Arkansas Attorney General Dustin McDaniel issues an opinion that arming teachers was illegal under state law. Since his opinion was nonbinding, Clarksville went back and forth on whether it should comply. Schools had already received weapons permits for some teachers, but were waiting on approval for others.


Sept. 11: The New York Times:
Colorado Lawmakers Ousted in Recall Election over Vote on Strict Gun Control Laws
Two Colorado Democrats who provided crucial support for a package of state gun control laws were voted out of office Tuesday in a special election that is seen as a test of whether swing-state voters would accept gun restrictions after mass shootings in gun free zones (a movie theater in Aurora, CO and a school in Newtown, CT).   The election had outside support with New York Major Bloomberg chipping in $350,000 and the NRA helping to support those who brought the repeal effort.

Sept. 11: The Washington Post:
Colorado recall shows the risks of supporting gun restrictions in battleground states:
Democratic voters in Colorado helped remove two state senators of their own party who voted for tighter gun control — an ouster that was both intensely local and a national test of what can happen to lawmakers who support gun restrictions in battleground states.  The well-organized activists who sought to recall Senate President John Morse and Sen. Angela Giron got the backing of gun-rights groups such as the National Rifle Association. It turned out they didn't need much assistance because voters were already so incensed by passage of the gun-control package.

Democrats, who maintain control of the Legislature, tried to spin the loss saying it was "purely symbolic."  But they could be a sign of things to come in 2014, both in Colorado's governor's race and in scores of other political contests around the country. 
Outspent by about 5-to-1, recall supporters cited a big anti-recall donation from New York Mayor Michael Bloomberg to make one of their main points — that Democrats controlling the state Legislature were more interested in listening to the White House and outside interests than their own constituents.
Sept. 8: Fox News: 
Early turnout strong in recall effort on gun legislation:
Colorado residents go to the polls Tuesday to vote on whether to recall two state senators who supported stricter gun laws in the aftermath of two 2012 mass shootings.  The recall vote effort appears to be the strongest backlash to such state votes -- considering Democratic-leaning Connecticut, Maryland and New York passed similar legislation without resulting in a recall effort getting on a ballot.

Gun rights advocates launched the recall initiative against Colorado Senate President John Morse and Sen. Angela Giron because they voted for stricter gun laws, including limiting the size of ammunition magazines and requiring universal background checks.  Early voting in Colorado's first legislative recall elections has been strong so far.  Some voting centers opened early Friday in Morse's El Paso County district after lines formed on Thursday -- the first day of early voting there.

A spokesman for the clerk's office said turnout was similar to that on a busy day during a presidential election.  Early voting has been under way in Giron's Pueblo County district for a week with more than 7,000 people voting so far. More voting centers were added Thursday. 

Aug. 30: Fox News: Mississippi high court upholds state's open-carry law:
The Mississippi Supreme Court on Thursday unanimously upheld the state's open carry-gun law, allowing it to take effect after a circuit judge's order had kept it on hold about two months.  "This court now finds that the circuit judge erred as a matter of law when he found House Bill 2 to be vague and, therefore, unconstitutional. He also erred when he stated that a 'reasonable person reading the bill could not discern what the law allows and what it prohibits,'" according to the ruling signed by Justice Randy Pierce.

Earlier this year, legislators passed and Gov. Phil Bryant signed the bill that says adults don't need a permit to carry a gun that's not concealed.  Several officials, including the Hinds County district attorney, sued to block the law, saying there could be chaos if people were openly carrying guns in public places. Circuit Judge Winston Kidd put the measure on hold just before it was to become law July 1.  After hearing arguments, Kidd issued an injunction July 12, saying the law was on hold until the Legislature can clarify it.  Justices overturned Kidd's injunction Thursday. They made the ruling based on written arguments filed by opponents and supporters of the law; they did not hear oral arguments.

The main sponsor of House Bill 2, Republican Rep. Andy Gipson of Braxton, said Thursday that he's pleased with the justices' unanimous ruling. "It just confirms, in a very real sense, the right to keep and bear arms," Gipson told The Associated Press.

Aug. 29: The Daily Caller: New Obama executive order will kill the 100-year-old Civilian Marksmanship Program:
The White House announced on Thursday that it intends to "ban almost all re-imports of military surplus firearms to private entities" through executive order, which would effectively shut down the 110-year-old Civilian Marksmanship Program.  In a Fact Sheet published on Whitehouse.gov today referencing the upcoming executive order the ban on importing military weapons is designed to "keep military-grade firearms off our streets." Exceptions for import may be allowed for museums.

The CMP tightly controls the distribution of obsolete military weapons. The program was created by the U.S. Congress as part of the 1903 War Department Appropriations Act with the purpose of allowing civilians to hone their marksmanship skills, should they later be called into military service. Participants receiving firearms through the CMP must comply with all state and federal firearm laws and undergo a background check conducted by a dealer holding a Federal Firearms License in order to receive the gun. Additionally, they must also be a member of a CMP affiliated shooting club, making participating in the program more difficult than anyone trying to purchase a firearm through usual retail channels.

The Civilian Marksmanship Program was administered by the United States Army from 1916 through 1996 when it was changed to the Corporation for the Promotion of Rifle Practice & Firearms Safety, a 501(c) (3) organization federally chartered by the U.S. Congress. There are no data indicating any of the weapons involved in homicide were imported surplus military rifles. According to the Federal Bureau of Investigation's homicide crime statistics, rifles accounted for only 323 deaths out of 12,664 homicides in 2011, the most recent data set provided by the FBI.

Aug. 29: Politico: White House announces new action on gun control
With no chance remaining for a legislative solution on gun control, President Barack Obama on Thursday targeted the issue for the first time in months with a pair of executive actions.  The moves, along with the morning swearing-in of Todd Jones, the director of the Bureau of Alcohol, Tobacco, Firearms and Explosives, mark a fresh push to spotlight presidential efforts to fight gun violence in the face of congressional inaction.  The ATF will now require background checks for all guns that will be registered to a corporation or a trust, the White House said.

One Obama order, the White House said, will close a loophole that allowed felons and other people prohibited by federal law from purchasing a gun by registering it to a corporation or a trust.  The White House said more than 39,000 requested to register a gun to a corporation or a trust last year.

Obama's second order will stop authorization that allows the re-importation of military-grade firearms that had been sold to allies or given as military assistance. [See The Daily Caller story above]

Aug. 25: The Daily Caller: Colorado Governor Vulnerable over Gun Control and Death Penalty:
Democratic Gov. John Hickenlooper's stance on the hot-button topics of gun control and the death penalty have given him a "lackluster" approval rating, according to a new poll that has him in a dead heat with Republican challenger Tom Tancredo.  Hickenlooper's approval rating is 48 percent, according to the Quinnipiac poll, which shows him leading by only single digits over all the GOP candidates.  The race is tightest against Tancredo, a former congressman, with Hickenlooper ahead 46-45. Hickenlooper leads Secretary of State Scott Gessler 47-42 and state Sen. Greg Brophy 47-40.

Earlier in the year, Hickenlooper took the highly unpopular step of indefinitely staying the execution of convicted mass murderer Nathan Dunlap, who was to have been put to death this week for gunning down four people in a restaurant in 1993.  Forty-eight percent of those polled disapprove of how Hickenlooper is handling the death penalty issue, compared to only 27 percent who support it.  And 52 percent disapprove of how Hickenlooper has dealt with highly controversial gun control legislation. He signed into law several measures, including one that limits the size of ammunition magazines and one requiring universal background checks.

Those laws have led to two historic recall elections against Democratic lawmakers who supported them and they among the reasons several rural counties have sought to secede from Colorado to form their own state.  Pollsters said Hickenlooper's fate could rest with the one-third of Colorado voters who aren't affiliated with any organized political party.

Aug. 25: Fox News: New Illinois gun law requires owners to report missing firearms:
Gun owners in Illinois will be required to report missing firearms under a new law signed by Gov. Pat Quinn.  According to the Chicago Tribune, Quinn said the law will make it easier to recover stolen weapons and help ensure that only responsible people buy firearms. The legislation includes a mandatory background check by gun owners of potential buyers of firearms.  The measure passed both chambers of the Illinois General Assembly.  "It's going to help our law enforcement," said Quinn, a Democrat. "It's going to help all of us be safe."  Quinn signed the legislation last Sunday at a South Side Park near when an off-duty Chicago police officer was killed with an illegal firearm in 2010, the paper reported.

Beginning immediately, gun owners whose weapons are lost or stolen will have 72 hours to notify police. And, according to the Tribune, beginning Jan. 1 individual gun owners will have to contact the state police before selling a firearm or prior to a transfer of ownership to ensure that the buyer is permitted to own a gun.

Aug. 23: The Daily Caller: Arkansas Private School: "Staff is Armed and Trained"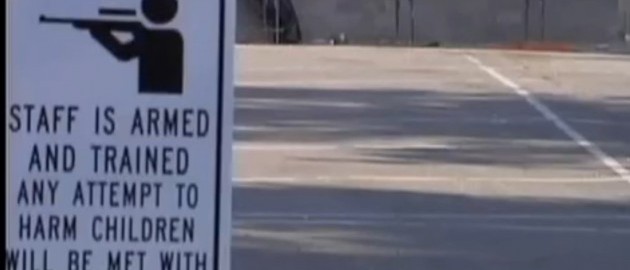 In the wake of Arkansas's decision to prevent school districts from proactively arming their teachers, a private school is taking the exact opposite approach.  The pastor of Arkansas Christian Academy in Bryant, Ark., has decided to advertise the fact that at any time, between one and seven school staff members are carrying guns.  "I just felt like with what's going on in many of the public sectors where there seems to be a lot of shootings we need to take the same stance that we do in church on Sunday for our kids Monday through Friday," said Perry Black, pastor of the school, in a statement.

Staff members began receiving training and permits to carry weapons earlier this year, in response to the mass shooting at Sandy Hook Elementary in Newtown, CT.,  Now, a sign outside Christian Academy stands as a warning to any would-be shooter.  "Staff is armed and trained. Any attempt to harm children will be met with deadly force," reads the sign.
Aug. 23: The Daily Caller: Poll Shows many in Colorado oppose recall elections:
As two Democratic lawmakers who supported gun control face recall elections, a new poll finds that most Coloradans aren't enthusiastic about the idea.  The Quinnipiac poll also finds that while most in the state oppose the new gun laws in general, the results are mixed when asked individually about the laws that inspired the recalls in the first place.  The somewhat schizophrenic findings were released Thursday, with just over two weeks remaining before the Sept. 10 recall elections, the first against state legislators in Colorado's history.
It shows that voters, by a 2-1 margin of 60-31 percent, believe lawmakers with whom they disagree should be removed from office during regularly scheduled elections.  Democratic Sens. John Morse and Angela Giron are being targeted for their support of a new law requiring universal background checks for all gun transfers and for a law that limits the number of bullets ammunition magazines can hold.
The poll also shows that voters disapprove of these strict new gun laws by 54-40 percent. When broken down by party, Democrats strongly favor the new laws and Republicans strongly oppose them. Unaffiliated voters also don't like them, by a margin of 56-39.
Aug. 16: The Daily Caller: Colorado drafts emergency rules to salvage the recall election [And you thought we have it hard with Voter ID here in Texas!!!]:
More than two-dozen people huddled at a public hearing of Colorado's secretary of state to help put back on track a pair of historic recall elections that were all but derailed by a recent court ruling.  A conflict between the state's constitution and a newly passed election reform law has scuttled plans to conduct the vote entirely by mail, leaving election officials with less than a month to come up with a plan for in-person voting that's fair to all registered voters.  "It's calling for our clerks to revisit a model of voting that hasn't been used in more than a decade," said Kristie Milligan, who represents the Citizens Project, an organization that works on voter-access issues.
The recalls have been the source of much drama since opponents of Democratic state Sens. John Morse and Angela Giron turned in enough valid signatures to give voters the chance to kick them out of office. Both were targeted for supporting new gun control legislation and the lawmakers fought back, filing identical challenges to the validity of the petitions. Failing that, they appealed to a judge, who also refused to stop the process.  But with less than a month remaining before the Sept. 10 elections, the Libertarian Party pointed out an irreconcilable conflict between timelines in the Colorado Constitution and in a newly passed election reform law. 
The election law mandates that recall elections be conducted by mail-in ballot, giving potential candidates 10 days after the date of the recall election had been set to petition their names onto the ballot.  The Constitution, however, allows candidates to submit petitions to appeal on the ballot up to 15 days before the election. That timetable makes it impossible to conduct a mail-only vote, because county clerks don't have time to verify signatures, allow time for challenges to the signatures, print ballots, and put them in the mail.  Before the conflict was noticed, El Paso County, which is running the recall election against Morse, already printed and mailed ballots to 645 people, including military voters serving overseas. Pueblo County, where Giron is fighting for her seat, already mailed out 279 ballots.
Libertarians sued, saying they weren't allowed access to the ballot because they hadn't met the deadline dictated by the new election law, arguing that the timeline in the Constitution should take precedent. A district court judge agreed, leading to a wholesale effort to plan the elections from scratch, minus most mail-in ballots.  The secretary of state's office hastily compiled emergency rules and its staff was still typing them up less than an hour before the public meeting.
Aug. 15: Fox News:
Demand for Gun Permits soars in Newtown after school shooting while gun manufacturers leave the state:
In the months following the Newtown, Conn., school shooting that left 26 people dead, the number of residents seeking permits to purchase firearms has surged, according to local authorities.  The New York Daily News reports that requests for gun permits in are on track to double this year over last year in Newtown.  An unidentified law enforcement official told the newspaper that in 2012, 177 gun permit applications were filed with the Newtown Police Department, up 75 percent from the 99 filed in 2011.The department has already had 211 permit requests this year.
Meanwhile Connecticut's firearms industry along with its jobs is leaving the state following Connecticut's enactment of gun control measures that are considered among the strictest in the nation. In June, Connecticut gun manufacturer PTR Industries said it is moving to South Carolina. The company's plant near Myrtle Beach will employ 140 people, many of whom will relocate from Connecticut over three years.
Southport's-based Sturm, Ruger said Tuesday it will open a new factory in Mayodan, North Carolina, to meet firearm demand that has spiked since Congress and some states sought to toughen gun controls. The community is already headquarters to Freedom Group Inc., which owns Bushmaster, Remington and other firearms brands.
Aug.7: The Daily Caller: Arkansas school district will arm teachers, the Heck with state AG's opinion:
An Arkansas school district that was advised against arming its staff by the state attorney general has decided to let teachers carry guns anyway.  Arkansas Attorney General Dustin McDaniel recently issued an advisory opinion to Clarksville schools instructing them to abandon plans to let teachers and staff volunteer to carry weapons on school grounds. The teachers and staff had already completed a two-day gun training program that district administrators believed would ultimately make their schools safer in the event of a mass shooting.
Clarksville Superintendent David Hopkins initially interpreted McDaniel's ruling to mean that the district could not deputize staff members. But after consulting with his own attorneys, Hopkins concluded that McDaniel's opinion was neither correct nor binding. Unless the Arkansas State Police shut down the program, Clarksville schools are set to allow teachers and staff to carry weapons when the fall semester begins on Aug. 19. 
"We're sitting on go," Hopkins said in a statement.  Hopkins also criticized McDaniel's conduct in the process.  "The only thing that's detracting from this process is the attorney general's erroneous opinion," he said.
Aug. 4: Fox News: Virginia sees gun crime drop as state's firearms sales soar:
Amid calls nationwide for stricter gun control laws, Virginia is experiencing a unique trend: the state's gun-related crime is declining but firearms sales are increasing. Firearms sales rose 16 percent to a record 490,119 guns purchased from licensed gun dealers in 2012, according to sales estimates obtained by the Richmond Times-Dispatch.  During the same period, major crimes committed with firearms dropped 5 percent to 4,378. 
"This appears to be additional evidence that more guns don't necessarily lead to more crime," said Thomas R. Baker, an assistant professor at Virginia Commonwealth University who specializes in research methods and criminology theory.  "It's a quite interesting trend given the current rhetoric about strengthening gun laws and the presumed effect it would have on violent crimes," Baker told the newspaper. "While you can't conclude from this that tougher laws wouldn't reduce crime even more, it really makes you question if making it harder for law-abiding people to buy a gun would have any effect on crime."
July 29: Fox News: Bloomberg gun-control group facing internal backlash amid growing profile:
New York Mayor Michael Bloomberg is losing part of his arsenal of local leaders as more and more long-time members of his gun-control group Mayors Against Illegal Guns say they aren't happy with the coalition's trajectory and want out.  While the group apparently is growing in membership overall amid an effort to assume a larger profile in the national gun debate, it's turning some members off. In the past five months, 50 members of the group have quit. Many say they did so because the organization abandoned its mission statement of going after illegal guns, and instead used its political clout to go after lawmakers who supported gun rights.
Most recently, the mayors of Rockford, Ill., and Nashua, N.H., dropped out after saying they felt misled by Bloomberg.  Nashua Mayor Donnalee Lozeau says she called it quits after the group launched television attack ads against New Hampshire Sen. Kelly Ayotte. Ayotte voted against legislation that would have expanded background checks to cover almost every gun purchase in the country.  "I said, 'Wait a minute. I don't want to be part of something like that,'"  Loezeau said.  "I told them, You're Mayors Against Illegal Guns; you're not mayors for gun control.'"
Rockford's three-term independent Mayor Lawrence Morrissey bowed out over similar concerns.  "The reason why I joined the group in the first place is because I took the name for what it said – against 'illegal' guns," Morrissey said at a town hall meeting on June 22. His comments were met with applause. "I thought it was about enforcement of (the) existing gun laws" against illegal weapons. "As the original mission swayed, that's when I decided that it was no longer in line with my beliefs."
July 28: Fox News: Sheriff's team working to seize guns from thousands in Illinois
An Illinois sheriff's team is crisscrossing the Chicago suburbs in an effort to seize guns from thousands of people whose right to own a firearm has been revoked, the Chicago Sun-Times reports.  According to the paper, more than 3,000 people in Cook County have failed to surrender their revoked Firearm Owners Identification Card, or FOID, which is required to legally buy guns or ammunition.  Sheriff Tom Dart said he thinks many of the 3,000 continue to possess firearms.
July 28: The Daily Caller: What Bloomberg Isn't Saying about Vargas Florida Shooting:
New York City mayor Michael Bloomberg's coalition Mayors Against Illegal Guns failed to release a statement in the hours after a Florida shooting rampage left seven people dead.  Bloomberg's coalition, which has been besieged by problems of late but nevertheless continues its nationwide 100-day bus tour for gun control, offered no response to Saturday's shooting in suburban Miami, in which 43-year old Pedro Vargas set fire to his apartment and then fatally shot six people in and around the building. Vargas had no previous criminal history.
Bloomberg's coalition was similarly silent in the aftermath of a June 7 shooting spree by John Zawahri in Santa Monica, California that left five people dead. Mayors Against Illegal Guns, a tax-exempt nonprofit group, currently faces criticism for employing public New York City Hall workers to manage its website, and for hosting its site on official city government servers. Bloomberg's coalition also sent a special counsel for Bloomber g's mayoral office to Nevada to register as a gun-control lobbyist.
July 25: Blumberg: Colorado face off anticipates high voter turnout in September:
The backlash against Colorado's toughest gun restrictions in a decade intensified as the laws took effect this month, with two Democratic state senators fighting unprecedented recall efforts and seven rural counties pushing to secede and form a 51st state.

State Senate President John Morse, who represents a district in conservative Colorado Springs, the state's second-largest city, and Senator Angela Giron, whose constituents are in Pueblo, south of Morse's district, face a Sept. 10 election. They're the first state lawmakers in Colorado history to be targeted for recall.
Morse, who was first elected to the Senate in 2006, won re-election in 2010 by just 340 votes.  Campaign finance reports show that most of the funding for the recall supporters came from within the state of Colorado while those supporting the candidates facing the recall are from a wide range of places including Hawaii, California, and Maryland.
July 19: Politico: Colorado Recall Election Moves Forward
For the first time in Colorado history, two state lawmakers will face recall elections for their support of tougher gun control measures. Colorado's Democratic Gov. John Hickenlooper signed an executive order on Thursday setting the date for the recall elections of the pair of Democratic state senators. Under pressure of a campaign by the NRA, Senate State President John Morse and Pueblo Sen. Angela Giron will face the first recall effort in Colorado history.
Morse and Giron asked a Denver District Court judge to block the recall because of the wording, but were ruled against on Thursday. Following the decision, Hickenlooper signed the executive order calling for a Sept. 10 recall election. NRA organizers submitted petitions to begin the recall process last month, gathering 12,648 signatures in Giron's district and 10,137 in Morse's, according to a CNN report.  Both senators voted in favor of universal background checks and limiting ammunition magazines.
July 19: Politico: Cruz say President had a "disregard for the Bill of Rights"
GOP Sen. Ted Cruz on Friday slammed President Barack Obama after his remarks about Trayvon Martin, saying the president has a "disregard for t Bill of Rights."  "It is not surprising that the president uses, it seems, every opportunity he can to try to go after our Second Amendment right to keep and bear arms," Cruz said on CNN. "I think it is unfortunate that this president and this administration has a consistent disregard for the Bill of Rights."
Cruz, who is in Iowa, spoke after he had addressed a GOP group in the state. Cruz told reporters he hadn't yet watched Obama's remarks, CNN said. But when he asked to comment on Obama's call during his statement at the White House for a review of stand your ground laws in the states, Cruz answered that Obama was disregarding constitutional rights.  According to CNN, Cruz also said that the Obama administration was violating free speech guarantees by "restricting the rights of our servicemen and women to share their faith and not be gagged" and he suggested that the use of drones raised other constitutional questions.
July 19: Politico: Durbin's Committee to Hold Hearings on Stand Your Ground laws
– expect probe of NRA & American Legislative Exchange Council:
The Senate's No. 2 Democrat will hold a hearing on "stand your ground" laws this Fall. Dick Durbin of Illinois announced on Friday that his Senate Judiciary subcommittee will hear testimony on state laws that give citizens the right of lethal force to defend themselves in situations where they feel their life is threatened, measures which are on the books in some form in dozens of states.   Durbin's hearing will probe the roles of the NRA and the American Legislative Exchange Council — which helps draft conservative legislation in statehouses — in the crafting of the "stand your ground" laws, his office said. Durbin also plans to examine the legal definition of self defense, how the laws have affected shooting confrontations and how the laws interact with racial profiling by law enforcement.
A witness list or further details will be released in August in advance of the September hearing, an aide said. The announcements comes six days after George Zimmerman was acquitted in the killing of Trayvon Martin, a case that sparked national scrutiny of "stand your ground" laws which had nothing to do with the self defense arguments offered by Zimmerman's defense team.
July 17: Fox News: NRA blasts Holder for attacking "Stand-your-ground" laws after Zimmerman  verdict:
The National Rifle Association blasted Eric Holder for using the George Zimmerman case to attack "stand-your-ground" laws, accusing the attorney general of exploiting Trayvon Martin's shooting death for political gain. Holder weighed in on the controversial self-defense laws for the first time on Tuesday during a speech to the annual NAACP convention, calling for a national review of the statutes. "Separate and apart from the case that has drawn the nation's attention, it's time to question laws that senselessly expand the concept of self-defense and sow dangerous conflict in our neighborhoods," Holder said. He has already confirmed that his Justice Department continues to investigate Zimmerman, in the wake of his acquittal, for possible federal civil rights crimes. But Chris W. Cox, executive director NRA's Institute for Legislative Action, claimed Holder went too far in extending the debate to "stand-your-ground" laws.
"The attorney general fails to understand that self-defense is not a concept, it's a fundamental human right," he said in a statement. "To send a message that legitimate self-defense is to blame is unconscionable, and demonstrates once again that this administration will exploit tragedies to push their political agenda." The laws are in place in more than two dozen states, including Florida. They allow people to use deadly force if they think their life is being threatened. The role that law played in the shooting of 17-year-old Trayvon Martin is a matter of dispute -- Zimmerman's defense team technically did not use the law as the basis for their arguments.
July 17: The Daily Caller: Man Cites Biden's Advice in Defense of His Shooting Shotgun in the Air:
Vice President Joe Biden's self-defense advice — warding off potential intruders with two shotgun blasts outside the house — has had an impact on at least one man. Jeffery Barton, a 52-year-old Vancouver, Wash. resident, pleaded not guilty Wednesday to charges stemming from his decision to chase alleged car intruders away with a shotgun blast in the air. He cited Biden's advice as his inspiration, according to a local news report.  "I did what Joe Biden told me to do," Barton told KOIN. "I went outside and fired my shotgun in the air."
During an online question and answer townhall event in February Biden advised that people keep intruders away by firing two shotgun blasts outside. "I said, Jill, if there's ever a problem just walk out on the balcony here or walk out, put that double-barreled shotgun and fire two blasts outside the house," Biden said. "I promise you who ever is coming in is not go — you don't need an AR-15."
Barton was arrested Monday night, according to KOIN, after he told police he fired his shotgun while attempting to chase alleged prowlers away. According to the local report, he is charged with one count of illegal aiming or discharging a firearm.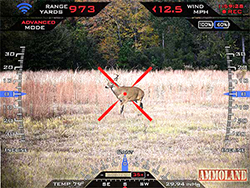 July 17: The Daily Caller: Gunmaker building a Super Gun
TrackingPoint Technology, creators of Xact precision-guided firearm technology, wants to push the limit of long-range shooting. The company announced Wednesday that they are developing a "super gun" that will be able to shoot accurately over 3,100 yards, "farther than the longest confirmed long-range small arms shot of all time," according to the release.  "What we have tried to do is allow technology to take what usually takes many years to get good at, the skill sets of long-range marksmanship, and to make the experience a better one," Jason Schauble, TrackingPoint CEO told the Daily Caller.
TrackingPoint's expectation is that the super gun will be able to accurately shoot farther than both the longest confirmed and unconfirmed kills at 2,707 and 3,079 yards, respectively. Craig Harrison, a British sniper, set the 2,707 yard Guinness World Record when he killed two Taliban insurgents in Afghanistan in 2009. "Initially, we are doing the development project partly to see if it can be done, and I want to challenge the engineering staff to continue to develop things that are challenging," Schauble said. Announcement of a Super Gun project comes just months after TrackingPoint debuted the first "Precision Guided Firearm" that can shoot accurately over 1,000 yards. The Xact PGF technology allows shooters to make accurate first shots and then share those shots via social media.
July 14: The Daily Caller:
Obama uses Zimmerman verdict to urge less gun violence and more federal intervention:
The President made a short statement that began by declaring that "the death of Trayvon Martin was a tragedy. Not just for his family, or for any one community, but for America." But he quickly harnessed the controversy to his ongoing effort to curb citizens' ownership of guns.  "We should ask ourselves if we're doing all we can to stem the tide of gun violence that claims too many lives across this country on a daily basis. We should ask ourselves, as individuals and as a society, how we can prevent future tragedies like this. As citizens, that's a job for all of us. That's the way to honor Trayvon Martin," Obama said.

Obama has used other shootings, most notably the killing of 20 children and six teachers in the Sandy Hook school massacre last December, to focus criticism on the GOP's support for gun-rights. Some Republicans suspect that Obama's fight over gun-rights is intended to help boost turnout of Democratic-leaning voters during the 2014 midterm elections.
July 10: Fox News: Colorado Democrats await dates for their recall election over gun control votes:
Two Colorado Democrats targeted for recall elections for supporting the state's new gun control laws were pursuing legal challenges to avoid going back to the ballot this year after failing to have the recall efforts thrown out. Sen. Angela Giron, D-Pueblo, on Tuesday failed in her effort to have the recall petition against her thrown out because it was improperly worded. Democratic Senate President John Morse of Colorado Springs lost an identical argument last week. Both senators are being targeted for recalls because of their support for new gun control laws, especially an ammunition magazine limit and a measure expanding background checks. Opponents say the gun controls violate Second Amendment rights.
Deputy Secretary of State Suzanne Staiert said in both decisions that recall elections are "a fundamental right" and that the petition questions were enough to meet the legal threshold for valid recalls. Unless a judge steps in, the senators would face recall elections between early August and early September — the first legislative recalls in Colorado history. Democratic Gov. John Hickenlooper must set the date. The special election must be held within 60 days of Hickenlooper receiving certification paperwork on the recall petitions from the secretary of state, which was submitted Monday, according to The Denver Post. "Every day of delay in setting the election restricts the voting opportunities of Colorado citizens," Wayne Williams, the Republican El Paso county clerk and recorder, told the newspaper.
A spokeswoman for Hickenlooper said this week that the governor's office is consulting with local officials about the best date for recalls. Sources told KDVR.com that a possible date has already been determined.
In El Paso County, Republicans chose former Colorado Springs City Councilman Bernie Herpin in a nonbinding straw poll Tuesday to challenge Morse if that recall election is held.
July 10: The Daily Caller: Federal Judge refuses to block Colorado ban on high-capacity magazines:
A federal judge in Denver won't block a controversial new law banning ammunition magazines that hold more than 15 rounds since the law has already gone into effect. The sheriffs sought an injunction against the magazine ban pending the outcome of their lawsuit to overturn it. The suit also seeks to overturn another law requiring universal background checks. "It is already the law of the state and there is nothing for me to enjoin," Judge Marcia Krieger said. The new laws went into effect July 1.
Krieger also said that both sides in the case agreed late Tuesday night on limitations to how the law will be enforced while the case is being heard, making an injunction unnecessary. The sheriffs are among several plaintiffs suing the state who say that the ban violates the Second Amendment. They also say the law is written too stringently, since it also bans magazines that can be easily converted to hold more than 15 rounds with after-market extenders. The new enforcement limitations will not outlaw smaller capacity magazines simply because they can be easily converted to hold more. Those who owned larger capacity magazines before the law went into effect are allowed to keep them as long as they're in "continuous possession" of them, according to the wording of the law. Opponents have taken that to mean that a shooter can't hand his rifle with the magazine inserted to another shooter without breaking the law.
July 9: Fox News: Illinois becomes the last state in nation to allow concealed-carrying of fire arms:
Illinois on Tuesday became the last state in the nation to allow gun owners to carry concealed weapons, as lawmakers overcame a last-minute attempt by Gov. Pat Quinn to change the legislation. Lawmakers were running up against a federal court's deadline to allow concealed-carry in their state. After Quinn, a Democrat, unilaterally tried to add more restrictions into the legislation, lawmakers decided it was better to override the governor than risk the courts allowing virtually unregulated concealed weapons in Chicago, which has endured severe gun violence in recent months. The Illinois State Senate voted 41-17 in favor of the override Tuesday afternoon after the House voted 77-31, margins that met the three-fifths threshold needed to set aside what is known as an amendatory veto. Quinn had used his veto authority to suggest changes such as prohibiting guns in restaurants that serve alcohol and limiting citizens to one firearm at a time.
The law as approved by the Legislature permits anyone with a Firearm Owner's Identification card who has passed a background check and undergone gun-safety training of 16 hours -- longest of any state -- to obtain a concealed-carry permit for $150. The Illinois State Police have six months to set up a system to start accepting applications. Spokeswoman Monique Bond said police expect 300,000 applications in the first year. The 7th U.S. Circuit Court of Appeals ruled in December that it's unconstitutional for Illinois to ban concealed carry. The court gave state officials until June 9 to rectify the shortfall, and later extended that by a month.
July 5: Fox News: Missouri Governor vetoes bill that would have nullified federal gun laws:
Gov. Jay Nixon vetoed legislation Friday that would have made it a Missouri crime for federal agents to attempt to enforce federal gun laws in the state and could have landed journalists in jail for publishing the names of gun owners. The Democratic governor said the bill passed by the Republican-led Legislature violated the supremacy clause of the U.S. Constitution, which generally gives preference to federal laws over conflicting state ones. He said it also infringed in the First Amendment rights of free speech and press. Some supporters of the legislation had proclaimed it one of the most gun-friendly bills ever passed by a state legislature. Nixon, however, said it could have had extreme consequences. "Under this bill, newspaper editors around the state that annually publish photos of proud young Missourians who harvest their first turkey or deer could be charged with a crime," the governor said in a written statement announcing the veto.  Legislators would need a two-thirds vote in both the House and Senate to override Nixon's veto when they return to session in September.
The legislation would have made it a misdemeanor crime for federal agents to attempt to enforce any federal gun regulations that "infringe on the people's right to keep and bear arms." It also sought to invalidate some specific federal laws, including a 1934 law that imposed on tax on transferring machine guns or silencers. The measure would have made it a misdemeanor to publish the names of gun owners. Other provisions in the bill would have allowed school teachers and administrators with concealed-gun permits and special training to be designated as a "school protection officer" capable of carrying hidden guns into schools. Missouri's age to obtain a conceal-carry permit would have been lowered to 19 instead of the current 21, and the bill would have allowed people with concealed gun permits to openly carry firearms up to 16 inches long -- even in jurisdictions that have ordinances against the open display of guns.
July 4: Fox News: Colorado Democrats fail to halt Gun Control Based Recall Efforts:
Two Colorado Democratic lawmakers facing recall elections for their support of the state's strict new gun control laws failed in separate attempts to block or slow their recall elections Wednesday. The secretary of state's office ruled against Senate President John Morse of Colorado Springs, who wanted his recall effort invalidated because of a technical error by his opponents. Deputy secretary of state Suzanne Staiert also rejected a request by Democratic Sen. Angela Giron of Pueblo to have her recall challenge shifted to a new venue because she said Republican Secretary of State Scott Gessler wouldn't fairly decide her case. The twin decisions mean appeals and more legal wrangling over what could be the first state legislative recall elections in Colorado history.
In the Morse case, Staiert rejected the Democratic claim that recall petitions were invalid because they were improperly worded. She said the petitions "substantially complied" with the law. She said that Morse's opponents "made a good-faith effort to comply with the law and did not consciously attempt to mislead the electorate."  In the Giron case, the senator's recall petitions were worded much the same, and she is making an identical challenge. But first, a Democratic lawyer asked for Gessler's deputy to recuse the office.
Jennifer Kerns, a spokeswoman for the group attempting to oust Morse, told The Denver Post that any further legal challenge would amount to an attempt to "delay and deny justice" to Morse's constituents. "They delivered above and beyond the number of signatures needed to commence the recall process," Kerns told the newspaper. "The people of Colorado knew darn well what they were signing; they want to recall the elected officials who are drastically out of touch with their constituents.  Giron and Morse are being targeted for recalls because they both supported gun control measures. Gun-rights activists say Democrats went too far curbing gun rights with two of the measures — one to restrict ammunition magazines and another to expand required background checks.
The Morse and Giron petitions had enough valid signatures to force recall elections, possibly later this summer. Gov. John Hickenlooper is required to set an election date after receiving the certificates from the Secretary of State's office, which could come as early as Monday, according to The Denver Post. The election must be held within 60 days of receiving the paperwork. Democratic Gov. John Hickenlooper would ultimately set the recall election dates, but not before legal challenges are exhausted. If Morse and Giron face recall elections, they'd be the first state lawmakers to go to a recall vote since Colorado adopted the recall in 1912. Grueskin, the lawyer making both recall challenges, has said he'd appeal decisions to the Denver District Court.
July 3: The Daily Caller: Recall against pro-gun Colorado Democrats moves forward:
The bare-knuckled effort to recall Colorado Democrat and Senate President John Morse will move forward after the deputy secretary of state ruled on Wednesday that the petitions seeking his ouster met "all of the constitutional and statutory requirements." However, it may only move forward to the next step of appeal — Colorado district court. Opponents to both Morse and Democrat Sen. Angela Giron — who were targeted because of their support for tough new gun control laws — gathered enough valid signatures to force a recall election, but both lawmakers have fought back bitterly in recent days, each filing identical challenges with the secretary of state's office about the wording on the petitions.
Mark Grueskin, an attorney representing constituents who have challenged the validity of petitions in both cases, argued that all of the signatures that have been certified as valid to trigger the lawmakers' recalls should be tossed out because the petitions did not specify that an election would be held to replace them, as required of the state constitution. Richard Westfall, who is representing the groups behind the recalls, said such "magic language" wasn't necessary and that the petitions complied with relevant state statutes. Deputy Secretary of State Suzanne Staiert, who conducted the hearings, agreed with Westfall. In her ruling she cited the need to "liberally construe" the laws in question because the right to recall elected officials is fundamental, according to Colorado courts. She also took into consideration the doctrine of "substantial compliance" on behalf of the recallers, determining that they made a good faith effort to comply with applicable laws and "did not consciously attempt to mislead the electorate."
July 2: The Daily Caller: Illinois Governor Vetoes Concealed Carry Bill
Illinois Gov. Pat Quinn issued an amendatory veto on a bill that would allow, and regulate, the carrying of concealed weapons in public places. The state has until July 9 to pass a bill that legalizes the right to carry a firearm, according to a federal court ruling, leaving the legislature with a week to either accept Quinn's changes and rewrite the bill, or override the veto.  "My foremost duty as Governor is to keep the people of Illinois safe," Quinn said in a statement. "This is a flawed bill with serious safety problems that must be addressed." He implied that the supporters of the bill prefer to serve the National Rifle Association in lieu of the public. "There are too many provisions in this bill that are inspired by the National Rifle Association, not the common good," he said. "Public safety should never be compromised or negotiated away, and I urge members to uphold the common sense changes I propose today."
The U.S. Court of Appeals ruled Dec. 11, 2012 — just three days before the massacre at Sandy Hook Elementary School in Newtown, Conn. — to strike down a previous law banning the concealed carry of weapons in public as against the Second Amendment. Quinn's nine amendments to House Bill 183 range from the definition of 'concealment' to the number of rounds of ammunition legally allowed.
"Mixing alcohol with guns is irresponsible and dangerous." Quinn added an amendment prohibiting weapons in establishments that serve alcohol.
Because the current bill allegedly "infringes on an employer's ability to enact policies that ensure a safe and secure work environment," Quinn asserted that "employers should have the right to enact policies that prohibit employees from carrying guns in the workplace."
"In the interest of common sense and the common good," citizens should only be allowed to carry one handgun accompanied by one ammunition clip which holds no more than ten rounds of ammunition, wrote.
Quinn pushed to remove preemption on "assault-weapon" bans, meaning that such weapons could eventually be banned.
Rather than weapons being "mostly concealed," citizens would have to completely conceal their guns.
The process of reporting mental health issues must be improved upon, he demanded.
The meetings and records of the Concealed Carry Licensing Review Board should be "announced, open, and available to the public," Quinn wrote.
If questioned by a police officer, individuals would have to immediately admit that they are carrying a gun, according to another demand.
June 30: The Daily Caller: Thousands attend Magpuls Colorado Rally to protest new Gun Laws:
A few thousand Coloradans ushered in their upcoming Independence Day celebrations by bidding farewell to one of their fundamental rights — to buy, own and give away ammunition magazines that hold more than 15 rounds — and vowing to take back control of a state government that they say represents liberal East Coast interests over their own.  Attendees of the nonprofit group Free Colorado's Freedom Festival stocked up on 30-round Magpul magazines Saturday ahead of a statewide ban on them that goes into effect on Monday, with 1,500 given away for free on a first-come first-served basis. Held in the town of Glendale — which is adjacent to Denver, where magazines holding more than 20 rounds are already banned — the festival featured live music, food, beer and more than a few open-carry holstered pistols.
While hundreds lined up to buy magazines and other merchandise, a slate of impassioned state and national conservative speakers provided the fist-pumping highlights, including one county sheriff who vowed not to enforce the new law.  "Since they're not enforceable, I will not enforce them," said Weld County Sheriff John Cooke, one of 55 county sheriffs suing the state to have the magazine capacity limit overturned.  "I'm not going to go after the single mom who's living with herself with her children who needs more than 15 rounds to protect her children," he told the enthusiastic crowd. "These laws will do nothing to enhance public safety."
Grievances against Colorado's Democratic-controlled state government got a full airing Saturday, with one speaker after another encouraging recall attempts against Democratic state Sens. John Morse and Angela Giron and promising to replace Democratic Gov. John Hickenlooper in the 2014 election. Republican state Sen. Greg Brophy drove home the point against Hickenlooper by asking how many in attendance had called Hickenlooper to protest the state's new gun laws, then following up to ask how many had actually gotten through to the governor.  To a chorus of boos, he noted that Hickenlooper took calls from New York Gov. Michael Bloomberg, who runs an organization called Mayors Against Illegal Guns and who is a driving force behind gun control efforts nationally.
June 28: Fox News: New Louisiana law restricting publication of CHL holders outrages 1st Amendment Advocates:
A new Louisiana press law related to gun owners has created outrage among journalists and First Amendment advocates around the country.  Louisiana Governor Bobby Jindal signed a bill last week penalizing those who publish the names of individuals who own or have applied for a concealed handgun permit with potential jail sentences of six months and fines of $10,000.  An identity may only be released if a concealed handgun carrier is charged with a felony offense involving the use of a firearm.
Editor Peter Kovacs of Baton Rogue's The Advocate said that while he doesn't see his paper publishing a list like the New York paper The Journal News did, there is no place for such legislation.  "I think it is a bad law," Kovacs told FoxNews.com  "It is probably unconstitutional and follows a non-existent problem in Louisiana."  The law raises the constitutional question of prior restraint, meaning when the government prohibits speech or other expression before it can take place.
The legislation comes six months after The Journal News, a Lower Hudson Valley newspaper published a map with the names and addresses of all licensed pistol permit holders from Westchester and Rockland counties in wake of the school shootings in Newtown, Conn.  Gun rights activists were outraged by the map, claiming it violated the privacy rights of permit owners and put them at a greater risk of violent crime, while law enforcement agencies said it could lead ex-convicts to the homes of officers who had them locked up.  The public disapproval quickly forced New York Governor Andrew Cuomo to pass regulations in January allowing gun permit holders to take their names off the public records.
June 28: The Daily Caller: Independence Day parade nearly nixed as TEA Party plans to bring unloaded guns:
The small Colorado town of Westcliffe nearly had to go without the annual Independence Day Parade after its longtime sponsor cancelled when it learned that a local tea party group wanted to march in it carrying unloaded rifles and handguns. The Southern Colorado Patriots Club put out a flier calling for Second Amendment supporters to bring their firearms — "especially the evil black ones" that resemble military rifles — to the July 4 parade.  "Celebrate and Defend our Constitution," the flier reads. "Use it or Lose it! March with your fellow Patriots and make a statement that WE still believe in our Constitution and that we want it RESTORED in Colorado."
In response, the Custer County Chamber of Commerce, which sponsored the parade, cancelled it. "It has polarized this community in a week," chamber president Donna Hood told the Denver Post.  "I'm sure safety was an interest with everybody," she said, "but I don't really believe that the TEA Partyers were gonna draw attention to themselves by shooting people going down our small town road."
The parade will go on, thanks to the town of Westcliffe picking up the tab.  Marchers are instructed to bring their weapons unloaded, with the safety on and with no magazines inserted into rifles. Rifles should be slung and handguns holstered, with the flier warning marchers, "No handling of weapons during the parade." In a letter to supporters, TEA Party member Mike Hess said that although there is no legal reason to have the weapons unloaded, it's being done as "a gesture of respect and as a small assurance to the courageous leaders of this community that so strongly and wholeheartedly supported us."
June 28: The Daily Caller: Charges finally dropped against 8th Grader who wore NRA shirt to school:
Sanity seems to have prevailed in Logan County, West Va., in the criminal case against the eighth-grader who was suspended and arrested after he refused to remove a t-shirt supporting the National Rifle Association.  A mere 70 days after the incident occurred, prosecutors have withdrawn the criminal charge of obstructing an officer pending against 14-year-old Jared Marcum. Had prosecutors continued in their attempts to bring Marcum to trial, the boy faced a $500 fine and a maximum of one year in prison.
Ben White, the attorney for the 14-year-old and his family called to mind the disturbingly large number of overreactions by school officials to things students have worn to school or brought to school.  Things that are not anything like real guns. "I think, with the gun issue, with what is going on, this is a victory for common sense," White told a local CBS affiliate.  White added that Marcum's family plans to move forward with a civil suit against the Logan County School District once the charges are formally and completely dropped.
June 23: The Daily Caller: Illinois Mayor Pulls Out of Bloomberg Gun Control Coalition:
An independent Illinois mayor is leaving New York City Mayor Michael Bloomberg's anti-gun coalition because he said the group strayed from its original mission and became too focused on pushing for an assault-weapons ban. "I've dropped out of a group called Mayors Against Illegal Guns (MAIG)," Rockford, Illinois mayor Larry Morrissey said at a Rockform TEA Party town hall Saturday as the crowd burst into applause. "The reason why I joined the group in the first place is because I took the name for what it said. Against 'Illegal' guns."
"The challenge that we see day in and day out in the city of Rockford is not dealing primarily with assault weapons or machine guns, automatic weapons. It's dealing with a typical handgun. All of those typical weapons are usually in the hands of people who are prohibited from having them," Morrissey said. "As the original mission swayed, that's when I decided that it was no longer in line with my beliefs. …So that's why I dropped out," Morrissey explained. "The focus should not be against law-abiding citizens. We should be focusing our enforcement on folks who have no right to carry a gun, concealed or otherwise." Morrissey also said that he supports concealed carry and plans to apply for a permit when the opportunity becomes available to him in Illinois.

June 21: The Daily Caller: Arkansas College bans guns on campus to make people "feel safe!"
Administrators at yet another Arkansas college have decided to restrict guns, out of concern for students and staff who might otherwise "feel less safe."  The board of trustees at Arkansas Northeastern College (ANC) voted Wednesday to prohibit concealed weapons on campus for everyone except licensed law enforcement officers. The decision is in line with a recent Arkansas law that allows schools throughout the state to set their own policies with respect to guns. Most state universities, including the University of Arkansas and Arkansas State University, have declared themselves gun-free zones.  ANC will, however, allow commuters to bring guns to campus as long as they are left behind, stored and secured, in vehicles.
ANC President Dr. James Shemwell hoped that this allowance would better protect the campus's female commuters. But if guns make female commuters safer on their drive to ANC, wouldn't guns also protect them while they were on school grounds? Not so, wrote Shemwell, who maintained that people should not be allowed to carry guns while on campus "because of the larger number of people who would feel less safe having to attend class or work next to someone with a gun at their fingertips."
June 19: Politico: Biden concedes White House Gun Control Push has faltered:
Vice President Joe Biden insisted to a subdued audience Tuesday that he and President Barack Obama "haven't given up" on gun control. But his remarks came at the first White House event since the Senate's failed April 17 background checks vote. And all that he had to show gun control supporters by way of progress was a list of completed or mostly completed executive actions — and a set of new guidebooks for churches and schools on how to deal with a mass shooting situation. Over the past two months, the White House has dramatically dialed back its gun push.

No new sponsors or votes for the background check bill have emerged publicly. Neither has any sort of timeline for when Congress might take up the measure again. "I had hoped we would have assembled in this auditorium earlier," Biden said. "I had hoped we would have assembled here a couple of months ago celebrating the first in a number of victories that we will have." So Biden conceded the obvious Tuesday: the White House gun push in Congress has faltered. Instead, Biden claimed a partial victory based on what he described as an evolution in the mood of the country. More voters, he said, are willing to punish members of Congress who oppose gun control measures.
June 17: The Daily Caller: Mystery man hands out cash to supporters of Colorado Democrat facing a recall over guns:
A mysterious man who no one claims to know was caught on video slipping $20 bills to volunteers supporting embattled Colorado state Sen. Angela Giron, who is facing a recall effort over her support for tough new gun-control laws. Through a spokesman, Giron said she doesn't know the man, who approached three people waving pro-Giron signs at a rally in Pueblo last weekend, and gave them each a $20 bill. "The volunteers don't know who the guy is," Chris Shallow, campaign manager of Pueblo United For Angela, told 9News. "He didn't tell them his name. Sen. Giron doesn't know who this guy is. I am treating this money as an anonymous contribution." He added that the man might have been planted by Giron's opponents to make her look bad, despite that one of the videos shows her appearing to have a conversation with the man.
The video shows Giron supporters holding signs and standing in front of tables set up by opponents gathering signatures for the recall. The tablers eventually called the police to force the protesters to move. While Giron is shown speaking to officers, an elderly man with a beard is seen doling out cash, which at least one volunteer appears to put in her pocket. "I think it speaks for itself," Victor Head, president of the pro-gun Pueblo Freedom and Rights, told 9News. "It looks like they're paying people to protest us." Giron is one of two Colorado Senate Democrats facing a recall push. Both her opponents and those of Senate President John Morse have turned in more than the required number of signatures needed to trigger a recall election.
June 12: Fox News:
When a majority of Americans do not want their right to bear arms restricted, big money steps up its campaign:
Six months after the Newtown school shooting, New York Mayor Michael Bloomberg continues to further his gun control campaign by asking donors not to support Democratic senators who opposed a bill to expand background checks on gun buyers, while a mayors' group he co-founded is embarking on a national bus tour to rally for efforts to curb gun violence. Friday will mark six months since the massacre, and the politics of gun control is mixing with emotions stirred by the tragedy as family members and advocates prepare for remembrances around the country.
What they don't get, or refuse to accept, is that controlling access to guns and ammunition will mean that law abiding citizens will go unarmed while the criminals will have and use them. This is a lesson from history. Consider what happened with prohibition and apply the same principles.
June 12: The Hill: NRA set to air TV ad in WVA:
The National Rifle Association is targeting Sen. Joe Manchin (D-WVA) with new ads urging him not to help President Obama and New York Mayor Michael Bloomberg pass new gun restrictions. The NRA is spending $100,000 on TV ads set to air for two weeks in West Virginia on local broadcasts. One of the new NRA ads begins with a clip of a 2010 Manchin Senate campaign ad where he says "as your senator I'll protect your second amendment rights." "That was Joe Manchin's commitment," a voiceover in one of the ads says. "But now, Manchin is working with President Obama and New York Mayor Michael Bloomberg. Concerned? You should be! Tell Sen. Manchin to honor his commitment to the Second Amendment and reject the Obama-Bloomberg gun control agenda."

The ad contrasts Manchin's current relationship with the NRA to the one he had with the lobby group before he and Sen. Pat Toomey (R-PA) introduced a proposal to expand background checks to include sales at gun shows and over the Internet. Manchin had earlier received an "A" rating on gun rights from the NRA, but is now facing the group's ire. The NRA's advertising come as Bloomberg urges wealthy Democrats to stop donating money to four Senate Democrats who voted to block expanding background checks for gun sales.
June 12: CNN News: Has the moment for Gun Control passed? Why the push for such fizzled:
Six months after a gunman burst into a Newtown, Connecticut, elementary school, promises of stricter national gun control laws remain largely unfulfilled. And though the families of those lost made yet another pilgrimage to Washington this week, it is highly unlikely that lawmakers will act. After a meeting with parents of the tragedy, House Speaker John Boehner (R-OH) said the discussions were "very good." Majority Leader Eric Cantor (R-VA), who was also at the meeting, told reporters, "I was struck again by the incredible pain that they are going through. I just can't imagine as a parent that kind of pain. My heart goes out to them."
Backers of gun control proposals were unable to advance legislation in the Senate centered on expanded background checks earlier this year, even after a high-profile push. The House never took up the measures. President Barack Obama lashed out when the Senate effort faltered, calling the defeat a "pretty shameful day for Washington."
The political climate isn't right. Politically vulnerable moderate Democrats eyeing the 2014 midterm elections don't want to risk political capital by voting to pass both an immigration overhaul and comprehensive gun control legislation, said CNN senior political analyst David Gergen. New York Mayor Michael Bloomberg's recent move to discourage funding the four Democratic senators who voted against shoring up background checks on gun sales will largely amount to a "symbolic" gesture, Gergen said. Only two of the four -- Sen. Mark Pryor (D-AR) Mark Begich, (D-AK) -- are facing re-election in 2014. In addition leading Democrats are also dubious about the overall impact of such a move. "The only way to pass a background check bill is to maintain a Democratic majority in the Senate, and any efforts that make that less likely are counterproductive," said Adam Jentleson, a spokesman for Senate Majority Leader Harry Reid.
June 11: Fox News: Actress Urges Gun Safety on Twitter and Looses half of her "Followers"
Actress Katee Sackoff said she lost half of her Twitter followers when she tweeted a message urging people to practice gun safety. After watching a television report about a four-year-old who accidentally shot and killed his father with a loaded gun that had been left unattended at a friend's house, the "Battlestar Galactica" star tweeted Monday: "Please practice gun safety. This is horrible!"
Soon after, Sackoff's Twitter feed blew up with followers advocating gun control instead of gun safety. "Here's a radical idea folks. How about NO gun?" one wrote. Sackoff responded to her critics: "Never gonna happen in the US. Proper gun safety is a necessity though." That did not satisfy many, who continued to criticize her initial comment. Sackoff tried to elaborate on her position: "Just to be clear...I NEVER said automatic guns should be legal!" But it was too late. While many came to her defense ("I don't understand why she got so much flack for a gun safety tweet. She's right"), her initial comment apparently cost her about 100,000 Twitter followers.
June 11: Fox News: Gun Play: Zero tolerance toward school kids could backfire:
Little boys around the nation keep getting in trouble for guns – whether they're made of plastic, formed by fingers or even fashioned from Pop-Tarts – but some experts say having "zero tolerance" for games children have played for centuries is turning the adults into bullies and backfiring on kids. Some say zero tolerance is too strict. In recent months, there have been several examples of children being disciplined for what was once seen as innocent role play.
A group of students was suspended this month from a Washington state elementary school for using Nerf dart guns as part of a math lesson, despite having permission from their teacher.
In March, second-grader Josh Welch was suspended from a Maryland elementary school after unknowingly biting a Pop-Tart into the shape of a gun.
Last month, also in Maryland, a 5-year-old boy who brought an orange-tipped cap gun onto his Calvert County school bus was suspended for 10 days, according to his family and a lawyer. The child was grilled for more than two hours by a school principal and wet himself, according to his family.
Girls have been swept up in the phenomenon as well. In January, a fifth-grade student in Philadelphia broke down in tears after being scolded in front of her classmates for accidentally bringing to school a piece of paper that was folded into the shape of a gun and given to her by her grandfather.
And a 6-year-old South Carolina was expelled after bringing a toy
Experts say "Out-of-touch policies such as these, which criminalize behaviors which have always been common among young kids, are contributing to the growing proportion of American kids, especially boys, who regard school as a stupid waste of time and who can't wait to get out of school so that they can get back to playing their video games."

June 7: Townhall.com: VP Biden Tries to Gain Back Support for Gun Control Legislation:
In a letter to supporters Friday, Vice President Joe Biden asked supporters to help bring back support for gun control. "Soon after our first attempt at reducing gun violence was blocked by a minority of senators, I brought together advocates for this legislation and gave them a very clear message: This fight is far from over." Biden said. "If you're with me in the fight for common-sense legislation to reduce gun violence, let the Republicans in Congress know you're not backing down," he continued. The problem is, Biden seems to be forgetting that there are a number of Senators from his own party who voted against the measure. A recent Reason poll showed that over 60% of those Americans surveyed want Congress to stop pushing the gun control issue and move onto other issues.

June 6: The Hill: House votes to delay bulk ammunition purchases by DHS:
The House late Wednesday voted to stop the Department of Homeland Security (DHS) from entering into new contracts to buy millions of rounds of ammunition until the DHS reports to Congress on the need for the ammo, and its cost. Rep. Mark Meadows (R-NC) proposed an amendment to the DHS spending bill for 2014 that would require the report to Congress before it can pursue plans to buy 1.1 billion rounds of ammunition. Meadows said the speed bump is a necessary reaction to news of the huge purchase, which alarmed many Americans and prompted conservative groups to suspect that the government was stocking up on the rounds to fight citizens.

"Given this large purchase, the American people and members of Congress rightfully had concerns and questions," Meadows said. "This is a responsible amendment which ensures that Congress and the American people are aware of the necessity and the cost of ammunition prior to entering into new contracts for procurement." Rep. John Carter (R-TX) said the amendment was unnecessary based on his talks with DHS officials. Carter said the department has since admitted that its ammunition needs are not as great as first reported, and said the department is pursuing a bulk purchase to keep the costs down.

June 4: Fox News: Recall Looms for Colorado State Senate Leader who supported State Gun Control Bill:
A group of gun-rights activists seeking to oust the President of the Colorado State Senate, a Democratic, over the passage of strict gun control legislation on Monday turned in double the signatures needed to force a recall election. Station KDVR reports the group turned in over 16,000 signatures, more than double the 7,178 valid signatures needed, to the Colorado Secretary of State's office in the effort to recall Senator John Morse. "This sends a strong message," Rob Harris, who delivered three boxes full of petitions to the office, told KDVR. "We've obtained enough signatures to recall a state legislator for the first time in the history of Colorado." The Secretary of State's office now has 15 days to determine whether enough of the signatures are valid, and then Morse's office has another 15 days to contest the validity of the signatures.

Senator Morse tells KDVR he is going to fight the recall effort. "We'll go through these signatures with a fine-toothed comb," he said. "And we'll file some protests with the Secretary of State's office because we know a lot of these signatures were gathered based on misinformation and lies." He also insisted he will not resign his seat to avoid a recall election.

June 1: New Jersey Star Ledger: One Woman's Opinion as stated to her local government leaders in New Jersey (YouTube Video)

May 30: Reuters: California's Democratic lawmakers push for tighter gun control:
Democratic lawmakers in California, critical of Congress' failure to pass significant gun control legislation after mass shootings in Colorado and Connecticut last year, advanced a package of bills on Wednesday that would tighten a ban on semi-automatic firearms and further regulate ammunition sales. The bills, which passed the state Senate mostly along party lines, would outlaw all new sales of semi-automatic weapons with removable magazines, ban ammunition clips that can fire more than 10 rounds, and make it illegal for people convicted of drug and alcohol felonies to own a gun for 10 years. The package of seven bills would also require people who want to buy ammunition in the state to undergo background checks and get a permit. But top officials in both houses say privately that some of the measures could be removed from the package in the state Assembly to assuage concerns of moderate Democrats before the bills reach the desk of Democratic Governor Jerry Brown.

May 30: Yahoo News: Maryland boy suspended for "gun shaping" now lifetime member of the NRA:
An 8-yer-old Maryland boy who was suspended from school for nibbling a pastry snack into the shape of a gun has been given a junior membership in the NRA. After hearing about Josh Welch's suspension from Park Elementary School in Anne Arundel County, a state legislator paid $550 to buy him a Junior Life Membership in the NRA, Welch's lawyer said on Thursday. "I was embarrassed that my county would do that to him," said Nicholaus Kipke, leader of the Republican minority in the lower house of the Maryland legislature. He presented the gift to the second-grader Wednesday night.

The boy's lawyer, Robin Ficker, said he is appealing the two-day school suspension that started on March 1 when Welch ate away part of his Pop-Tart during class snack time so that it resembled a gun shape. In the appeal, Ficker included pictures of the U.S. states of Idaho and Florida because "they look more like guns than Josh's Pop-Tart." The Anne Arundel County Public Schools spokesman, Bob Mosier, declined to comment on the status of the appeal.

May 25: Fox News: Illinois lawmakers approve plan to allow concealed carry for gun owners:
Gun owners could carry concealed weapons in Illinois, the last state in the nation to prohibit it, under legislation that swept through the House Friday with the backing of the powerful Democratic speaker from Chicago, a city torn by violence despite what critics claim are the nation's toughest firearms restrictions. The historic 85-30 vote would allow the carrying of concealed guns, a legislative task compelled by a federal appeals court ruling and precipitated by House Speaker Michael Madigan's turnabout.

But its obliteration of all local gun laws, including Chicago's ban on assault-style weapons, drew immediate resistance from Gov. Pat Quinn, a Chicago Democrat like Madigan. Quinn said the proposal endangers the public by pre-empting local gun laws, which have nothing to do with concealed carry, the only subject covered by the 7th U.S. Circuit Court of Appeals' decree."We need strong gun-safety laws that protect the people of our state. Instead, this measure puts public safety at risk," Quinn said in a prepared statement.

Senate President John Cullerton, another Democrat from Chicago, called the pre-emption provision "offensive." Cullerton said he would meet privately with his majority caucus Monday to decide how to proceed. A Senate concealed-carry plan, which overrules local control only by requiring a statewide carry program, is on the Senate floor awaiting a vote. The appeals court declared Illinois' last-in-the-nation prohibition on public possession of weapons unconstitutional in December and gave lawmakers until June 9 to adopt a carry system.

The measure, sponsored by ardent gun-rights advocate Rep. Brandon Phelps, a Democrat from Harrisburg in deep southern Illinois, outlines a so-called "shall issue" law, meaning law enforcement officials would be required to issue permits to qualified gun owners. Only about 10 states, such as New York, have more restrictive "may issue" laws, which give police more discretion to deny permission.

The plan would require the Illinois State Police to issue a carry permit to anyone who gets the required 16 hours of gun-safety training — most in the nation — passes a background check and pays a $150 fee. Local police or a county sheriff could object to an application, which a statewide review panel of criminal-justice and mental-health experts would review.

May 18: Fox News: Georgia town sued over law requiring gun ownership:
A group that supports gun control filed suit Thursday against a north Georgia town that recently passed a law requiring gun ownership that it said is mostly symbolic. The Washington-based Brady Center to Prevent Gun Violence filed a federal lawsuit against the town of Nelson, about 50 miles north of Atlanta, claiming the law is unconstitutional. The suit contends the Second Amendment doesn't require anyone to have a gun, and government cannot require citizens to arm themselves."Forcing residents to buy guns they do not want or need won't make the city of Nelson or its people any safer, and only serves to increase gun sales and gun industry profits," Jonathan Lowy of the Brady Center said in a statement. City manager Brandy Edwards said town leaders had not seen the lawsuit and had no immediate comment.

Council members passed the ordinance April 1 requiring every head of household in the town of 1,300 to have a gun and ammunition, but there are exceptions. The law exempts anyone who opposes gun ownership or has certain disabilities. City leaders said the law was mostly symbolic, isn't being enforced and includes no penalty.

May 18: Fox News: Colorado Sheriffs sue over new state gun restrictions:
Colorado sheriffs upset with gun restrictions adopted in the aftermath of last year's mass shootings filed a federal lawsuit Friday, challenging the regulations as unconstitutional. The lawsuit involves sheriffs from 54 of Colorado's 64 counties, most representing rural, gun-friendly areas of the state.

The sheriffs say the new state laws violate Second Amendment protections that guarantee the right to keep and bear arms. Opponents are criticizing the lawsuit as political maneuvering. The filing targets Colorado laws that limit the size of ammunition magazines and expand background checks. The regulations passed the Legislature this spring and are set to take effect July 1. It isn't yet clear whether the sheriffs' challenge will delay or jeopardize the laws. The filing, however, guarantees the renewal of a fierce debate over gun control. The gun control debate was one of the most emotionally charged of the legislative session, with lengthy debates and national attention. President Barack Obama added to the attention on the Colorado Statehouse, as his administration unsuccessfully pushed Congress to enact similar gun controls. Sheriffs' attorneys are considering whether to ask the court for a preliminary injunction, which would block the Colorado laws while the lawsuit moves forward.

May 9: The Daily Caller: Sandy Hook parent and Gun Control Lobbyist Faces Five Criminal Charges:
Neil Heslin, the father of one of the Sandy Hook Elementary School victims, is scheduled to appear in court Wednesday to face five separate criminal charges, including larceny, The Associated Press reports. Heslin has been one of the most outspoken advocates for gun control in wake of the shooting. Heslin missed a mandatory court date in Connecticut on April 15 because he was with other Sandy Hook parents meeting with senators in Washington, D.C. to advocate for universal background check legislation. He faces three charges of writing bad checks and two for writing checks from closed accounts. He has plead not guilty to all charges. When asked by the Danbury News-Times if he thought these charges could taint his gun-control crusade, he said, "I never gave it much thought. I guess you can look at it either way. If there's something to talk about, people are going to talk about it, good or bad, no matter what."

May 7: The Daily Caller: Colorado's new gun law drives four recall efforts:
As Colorado lawmakers entered the last frenzied 72 hours of the legislative session — 90 bills were still on the docket when the legislature was called to order Monday morning — four state politicians are facing efforts to recall them from office. Recall drives are in full swing against Senate Democrats John Morse, Evie Hudak and Angela Giron as well as Democratic Rep. Mike McLachlan. Citizens groups angry about these lawmakers' stances on gun control are collecting signatures to try and force a special election. To make the ballot, they must collect a number of signatures equal to 25 percent of the total vote in their districts.

Colorado has passed tough gun laws from its Democratic-controlled legislature in recent months, resulting in heated debate, numerous protests and even death threats against some lawmakers. In March, Gov. John Hickenlooper signed into law measures that ban magazines that hold more than 15 rounds, mandate universal background checks for all firearms transfers and require gun buyers to pay for those checks. Two other bills — one which prohibits gun ownership by people who have committed domestic violence and one requiring face-to-face instruction for concealed carry permits — are expected to be signed into law.

May 7: The L.A. Times: Gun Crime has Plunged, but Americans think it's up, study shows:
Gun crime has plunged in the United States since its peak in the middle of the 1990s, including gun killings, assaults, robberies and other crimes, two new studies of government data show. Yet few Americans are aware of the dramatic drop, and more than half believe gun crime has risen, according to the Pew Research Center.

In less than two decades, the gun murder rate has been nearly cut in half. Other gun crimes fell even more sharply, paralleling a broader drop in violent crimes committed with or without guns. Violent crime dropped steeply during the 1990s and has fallen less dramatically since the turn of the millennium. The number of gun killings dropped 39% between 1993 and 2011, the Bureau of Justice Statistics reported in a separate report released Tuesday. Gun crimes that weren't fatal fell by 69%.

May 7: Politico: Senate to vote on Coburn gun amendments to water bill:
The debate over gun control is coming back to the Senate earlier than expected.
The Senate agreed on Tuesday evening to vote Wednesday afternoon on a pair of firearms-related amendments to the Water Resources Development Act filed by Sen. Tom Coburn (R-OK). "I don't quite get why we're voting on guns, but that's the Republicans' desire," said the water bill's floor manager, Sen. Barbara Boxer (D-CA). One amendmentwould repeal a gun prohibition on land under the jurisdiction of the Army Corps of Engineers. The otherwould require annual reports from federal agencies on ammunition and gun purchases as well as firearm thefts, excepting some national security arms of government.

May 7: Politico: Senator Ayotte says she backs gun checks:
Facing a wave of intense criticism and plunging poll numbers after opposing a bill to expand background checks on gun purchases, New Hampshire Sen. Kelly Ayotte tried some damage control in an op-ed published Monday."Out of state special interests are running false ads attacking me and even lying about my efforts to prevent gun-related violence," Ayotte, a Republican, wrote in the op-ed, published by Patch news sites in New Hampshire. "I want to set the record straight: I support effective background checks and in fact voted recently to improve the National Instant Criminal Background Check System (NICS)."

Outside groups are attacking Ayotte for voting against a compromise crafted by Sens. Joe Manchin (D-WVA) and Pat Toomey (R-PA). That proposal would've mandated background checks for sales at gun shows and on the internet. Instead, the Granite Stater backed a bill written by Sen. Chuck Grassley (R-IA) that ignored gun shows and internet sales entirely, instead focusing on encouraging states to submit mental health information to the background check database."Some of my colleagues want to expand the broken background check system we have now," Ayotte wrote. "In my view, we shouldn't be expanding a flawed system. The focus should be on fixing the existing system, which criminals are flouting."

May 4: RedState.com: Eagle Scout trying to do the right thing faces felony charges from local authorities:
A North Carolina Eagle Scout who was expelled and arrested for accidentally leaving a shotgun in his pickup truck in the school parking lot has been offered a scholarship to attend Liberty University. Cole Withrow was just a few weeks from graduating with honors from Princeton High School when he was arrested on Monday and slapped with a felony weapons charge. Withrow had been skeet shooting with friends a day before and had only noticed he had left his shotgun in his truck as he reached to grab his book bag. When he realized his mistake, he went to the front office and called his mother. An administrator overheard the conversation and called police.

"You teach your kids if you're in trouble or if you see you've done something wrong, go ahead and admit it," family friend Kimberly Boykin said. "Be a man and it'll be fixed. In this case, that's what he did and he's being punished for it. That's not the lesson we need to teach our kids."

Meanwhile, Liberty University, the largest Christian university in the country has offered to let this young man complete his last two weeks of high school on line and a full scholarship if he decides to attend their institution. Jerry Falwell, Jr., chancellor of the university said "The anti-gun zealots seem to be vilifying him for making an honest mistake and we want to reward him for trying to do the right thing."

May 4: The Daily Caller: Gun Business Exodus from Colorado Begins:
HiViz Shooting Systems, a gun-parts manufacturer in Fort Collins, Colo., will move its operations up the road to Laramie, Wyo., making good on its threat to pull up its Colorado roots after Gov. John Hickenlooper signed into law several controversial gun control measures earlier this year.

Of the businesses planning to leave the state for the same reason, HiViz is the first to announce its new home. "The decision to relocate the company was difficult, and choosing the proper location was essential to our continued growth within the industry," said president and CEO Phillip Howe in a press release. "We look forward to settling into our new home in the firearm friendly state of Wyoming." Wyoming was chosen not just for its gun-friendly atmosphere, but also its tax advantages and because Laramie is less than an hour from its current location, allowing existing employees the option of commuting.


May 4: The Hill: Attorney General Holder and Kansas may be heading to court over Kansas Gun Law:
The Obama administration is on a collision course with the state of Kansas over a new law that claims to nullify federal gun controls. Attorney General Eric Holder has threatened litigation against Kansas over the law in what could the opening salvo of a blockbuster legal battle with national ramifications. "This is definitely a case that could make it to the Supreme Court," Kansas Secretary of State Kris Kobach said Friday afternoon. "There is nothing symbolic about this law." Kobach, a former constitutional law professor, helped craft the statute, which bars the federal government from regulating guns and ammunition manufactured and stored within Kansas state lines.

Scores of bills in at least 28 states have sought to provide similar exemptions. But the Kansas measure goes further than some, in that it would make felons of federal authorities who seek to enforce any federal "act, law, treaty, order, rule or regulation" in violation of the state law.
And unlike many of the gun bills that have stalled or fizzled in state legislatures around the country, the Kansas statute was actually enacted late last week.

May 2: Fox News: California Governor "Moon Beam" Brown Signs Legislation to Speed Up Gun Seizures:
Gov. Jerry Brown announced Wednesday that he has signed legislation expanding the ability of state agents to seize firearms from nearly 20,000 Californians who are not allowed to have them. They collectively own more than 39,000 handguns and 1,670 assault weapons but are prohibited from owning firearms because they have been convicted of crimes, ruled mentally unstable or are subject to domestic violence restraining orders.

The bill authorizes $24 million for the state Department of Justice's Armed and Prohibited Persons program. The money will go to hire more agents to confiscate the weapons and reduce the backlog over the next three years. The program, which is unique to California, cross-checks five databases to find people who bought weapons they are no longer legally allowed to own. The bill comes in the wake of an increasingly debt riddled financial situation for the State of California.

May 2: The Hill: Obama: This was just the first round of gun control measures:
As the man under whom Operation Fast and Furious was carried out, President Obama vowed Thursday during a press conference in Mexico City that the White House would continue pushing for an expansion of background checks to cover firearms purchases online and at gun shows. "Things happen somewhat slowly in Washington. But this was just the first round," Obama said. "I believe we'll eventually get that done. We'll keep on trying." He went on to argue that gun control was also important to prevent the trafficking of firearms across the border, where American-bought arms helped fuel Mexico's bloody drug wars.

Meanwhile the Mexican President Enrique Peña Nieto who presides over a nation ravaged by gun violence and drug cartels also urged the United States to adopt stronger gun laws, while acknowledging it was a "domestic issue." "If Mexico could add itself up to the important sector of the U.S. population, 90 percent [that support expanding background checks], we would do it," Nieto said. But the Mexican president also pledged that his country was "not waiting until that happens," promising stronger border patrol and policing efforts.

May 1: Fox News:
Iraqi War Vet Acts: Couldn't Have Done this in New York or Colorado under their new gun control laws!
Police say an Iraq War veteran thwarted two would-be burglars at his northern Michigan gas station by kicking one of them and ordering them away with an AR-15 rifle. State police said Shawn Schank was inside the gas station about 4:10 a.m. Sunday in Shingleton, an Upper Peninsula community in Alger County, when two people wearing ski masks forced their way into the building and approached the cash register. Police say Schank kicked one of them, retrieved the AR-15 from his office and ordered the burglars to leave. Police say one of the burglars took off his mask and pleaded with Schank not to shoot him before both suspects fled on foot. Police say they arrested a 17-year-old from Shingleton and an 18-year-old from Munising. They're jailed pending charges.

May 1: Politico: Kelly Ayotte on defense over gun vote
Sen. Kelly Ayotte's town hall meeting in New Hampshire ended with scant discussion of gun control, an issue that consumed Washington for much of the past month. Pro-gun control activists, who attended the meeting, were incensed. Security brushed aside two women who approached Ayotte and demanded to speak with the first-term Republican about her vote against expanded background checks for commercial gun sales, underscoring the lingering controversy that continues to hover over the New Hampshire senator.

"It's a mixed reaction," Ayotte told POLITICO as she rushed for the exits. "Something both sides feel strongly about." In the aftermath of the Senate's failed vote two weeks ago to expand background checks, New Hampshire has suddenly emerged as ground zero in the national battle over gun control, with Ayotte now stuck at the center of the fight.

Raising the question "Can the Major of New York City Buy Your Vote?" powerful outside groups run by New York Mayor Michael Bloomberg and others are bankrolling ads and vowing to dump huge resources into the state to force Ayotte to reverse her opposition to the bill or pay the political consequences. And after two years of projecting a profile as a foreign policy and deficit hawk, her critics in the state have spent the past two weeks trying to rebrand her as: "NRAyotte." Meanwhile, the National Rifle Association is running radio ads thanking her for her support.

Apr. 29: Fox News:
Will State Legislators Learn the Lesson that their actions can have negative results to their state's economi well being? Gunmakers aim for greener pastures taking some 3,000 jobs and $1.75 billion in tax revenues with them!
Arms manufacturers in at least two states with strict new gun laws are making good on their promise to move their operations -- along with thousands of jobs and millions in tax revenues -- to locales they deem friendlier to the industry. In Connecticut, where venerable gunmakers like Colt and Sturm, Ruger & Co. have been joined in the last decade or so by upstarts like Stag Arms and PTR, reform of gun laws in the wake of the Sandy Hook school shootings has left the industry feeling unwelcome. Bristol-based high-end rifle manufacturer PTR Industries announced this month via Facebook that it would be taking its 40 jobs and $50,000 weekly payroll to an unspecified new state, widely believed to be Texas. "With a heavy heart but a clear mind, we have been forced to decide that our business can no longer survive in Connecticut – the former Constitution State," PTR said in a statement earlier this month. AR-15 manufacturer Stag Arms could soon follow suit, along with Colt's Manufacturing and Mossberg & Sons. The moves could cost the Nutmeg State 3,000 jobs as well as the estimated $1.75 billion in annual taxable revenues.

Texas is making no secret of its desire to lure the gunmakers. This month, Gov. Rick Perry turned to Twitter to welcome PTR to move to the Lone Star state. "Hey, PTR," Perry posted on Twitter. "Texas is still wide open for business!! Come on down!"

Apr 29: The Hill: Democrats push for Additional Gun Control in D.C. but not in Battleground States; Wonder Why?
Democratic leaders are wooing staunchly pro-gun candidates to run in pivotal Senate races at the same time they are discussing a strategy for bringing gun control legislation back up for debate. The two-pronged effort has prompted Republicans to accuse the Senate Democratic leadership of hypocrisy, but Democrats say it is simply smart politics. The question is whether two of the Democrats' most promising potential candidates in Montana and South Dakota will pay a price for the leadership's political maneuverings in Washington. Or will recruiting candidates who do not support President Obama's gun control agenda have any effect on Democratic fundraising efforts?

Brad Dayspring, the communications director for the National Republican Senatorial Committee, took a swipe at Democrats for playing both sides of the gun issue.
"Washington Democrats preach gun control, but are recruiting adamantly pro-gun candidates like Schweitzer & Herseth-Sandlin. Can't be both," he posted on Twitter.
The Democratic Senatorial Campaign Committee (DSCC) posted a message on its online action center Friday calling for people to sign up to support Obama's agenda of immigration reform, common-sense gun control and equal rights. But it's eyeing candidates in Montana and South Dakota who are not likely to support Obama's gun control initiatives.

Apr. 26: Senator's Web: Inhofe, Lucas Introduce Bill Limiting Federal Agencies From Stockpiling Ammo:
U.S. Sen. Jim Inhofe (R-Okla.) and Congressman Frank Lucas (R-OK) today introduced in their respective chambers the Ammunition Management for More Obtainability (AMMO) Act of 2013. The legislation would require the Government Accountability Office (GAO) to conduct a report on the purchasing of ammunition by federal agencies, except the Department of Defense, and its effect on the supply of ammunition available to the public. The AMMO Act would restrict agencies from obtaining additional ammunition for a six-month period if current agency stockpiles are higher than its monthly averages prior to the Obama Administration.

"President Obama has been adamant about curbing law-abiding Americans' access and opportunities to exercise their Second Amendment rights," said Inhofe. "One way the Obama Administration is able to do this is by limiting what's available in the market with federal agencies purchasing unnecessary stockpiles of ammunition. As the public learned in a House committee hearing this week, the Department of Homeland Security has two years worth of ammo on hand and allots nearly 1,000 more rounds of ammunition for DHS officers than is used on average by our Army officers. The AMMO Act of 2013 will enforce transparency and accountability of federal agencies' ammunition supply while also protecting law-abiding citizens access to these resources."
Apr. 26: Fox News: Reps challenge DHS ammo buys, say agency using 1,000 more rounds per person than Army:
Republican Jason Chaffetz said Thursday that the Department of Homeland Security is using roughly 1,000 rounds of ammunition more per person than the U.S. Army, as he and other lawmakers sharply questioned DHS officials on their "massive" bullet buys."It is entirely ... inexplicable why the Department of Homeland Security needs so much ammunition," Chaffetz, R-UT, said at a hearing.

The hearing itself was unusual, as questions about the department's ammunition purchases until recently had bubbled largely under the radar -- on blogs and in the occasional news article. But as the Department of Homeland Security found itself publicly defending the purchases, lawmakers gradually showed more interest in the issue. Democratic Rep. John Tierney, D-MA., at the opening of the hearing, ridiculed the concerns as "conspiracy theories" which have "no place" in the committee room. But Republicans said the purchases raise "serious" questions about waste and accountability.

Apr. 25: U.S. News: DHS Denies Ammo Purchases Aimed at Civilians:
Officials at the Department of Homeland Security denied Thursday that its large-scale ammunition purchases were an effort keep bullets out of the hands of private citizens. At a hearing on Capitol Hill Thursday, top DHS training officer Humberto Medina said he could "say categorically that was not a factor at all" in the purchases. He also noted that ammunition DHS purchased would be used for both operations and training purchases. The AP reported in February that DHS was planning to buy more than 1.6 billion rounds over the next five years, a number that sparked fears of government stockpiling – which DHS previously denied. Officials told lawmakers DHS actually was planning to buy only up to 750 million rounds. But Rep. Darrell Issa, R-CA, said it still looked like the government was unnecessarily amassing ammunition.

Apr. 25: The Daily Caller: Colorado Town Considers Local Ordinance Requiring an Assault-Style weapon in every home:
The city council of Craig, Colo., a small mountain town that relies on hunting for much of its economic activity, is seriously pondering a citizen's proposal to mandate that every household have at least one sporting rifle equipped to hold a high-capacity magazine. Town leaders said such a law would be practically impossible to enforce, but resident Craig Rummel, who floated the idea at a recent council meeting, said the point would be to send a message to the state legislature, which he said was "hammering" rural towns with new rules on gun ownership, energy policy and other issues. "Our voices are not being heard, but if we pass an ordinance, it will go viral, and then they'll be forced to listen to us," he's quoted as saying in the Craig Daily Press.

Apr. 25: The Los Angeles Times: Gun Control Vote May Be Considered Again in the U.S. Senate:
Senators Schumer (D-NY) and McCain (R-AZ) predicted Thursday that gun legislation will come up again for a Senate vote – possibly before the end of the year – as public attitudes shift toward stricter controls. Their assessment comes after the defeat last week of a bipartisan background check measure. "I think we're going to bring this bill back before the end of the year and I think you may find some changes," Schumer said.

Apr. 21: An Editorial Comment: New Item to Control?
Now that it has been determined that the Boston Bombers used a pressure cooker to create the bomb that killed three people and injury a lot more, will there be a move afoot to require background checks on people purchasing pressure cookers? Will there be a limit to how many of these pots a person can purchase? Such would follow from the logic being used by the supporters of gun control to try to enact stricter background checks and the national registration of guns, not to mention people like Senator Feinstein who wants to banish any kind of guns that look "menacing" or like an assault weapon. So let's get serious. Let's start enforcing the laws already on the books and focus on the kinds of people who carry out mass attacks. It is not the weapon that is at fault, it's the person behind the weapon that is the problem!

Apr. 21: The Hill: Report: Boston attack suspects not licensed to own firearms:
The two suspects in the Boston Marathon bombings were not licensed to have the firearms they used in several shootouts with police on Friday, Reuters reported Sunday night. The news that the suspects were not authorized to own firearms will likely add fuel to calls for tougher gun laws – an issue that was put on the back-burner last week after the Senate blocked the central elements of President Obama's gun-control package. [The question this raises is how effective is gun control? When you have gun control it is those who choose not to obey the law that are those who have the guns, as in the case of the Boston Bombers!]

Police say Tamerlan Tsarnaev, 26, and his 19-year-old brother, Dzhokhar, went on a deadly shooting spree Thursday and Friday, killing a university policeman before confronting local officers in a wild firefight in the middle of a Watertown street that left the elder brother dead and a transit policeman injured. For all the gunplay, however, neither brother was apparently authorized to own the firearms they allegedly used, Reuters reported.  Because Massachusetts state law bars handgun ownership for those younger than 21, Tamerlan was the only brother who could have obtained a license from the town of Cambridge, Mass., where he lived. But he didn't take that step.

Apr. 21: The Hill: Dems scramble to change the subject after collapse of gun control bill
Democrats in Congress have quickly changed the subject from gun control to immigration reform and are relieved to be moving past an issue that divided them to more solid political ground. The political momentum from the resounding victories of Election Day stalled earlier in the week when Republicans punched out all three pillars of Obama's gun-control agenda. Democrats are counting on immigration reform to get their groove back. "I think Democrats are kind of licking their wounds after losing on the gun debate and will probably be pushing real hard to win on immigration," said David Di Martino, a Democratic strategist.

Sen. Chuck Grassley (R-Iowa) grumbled that Democratic leaders are so eager to move on to immigration reform they barely gave Republicans a chance to read the bill. "The majority is rushing us to read and analyze the bill. It's just under 900 pages and it tackles some very important issues," he said. "Most members and staff on this committee have not read the bill in its entirety before this hearing."

Apr. 20: The Daily Caller: Krauthammer: Gun Vote Loss Based Upon Intensity:
Last week, after the so-called Manchin-Toomey gun restriction compromise went down, some pundits attacked the Republican Party for being out of touch with the American public on guns. But according to Washington Post columnist Charles Krauthammer, it wasn't a matter of where the public as a whole fell on the issue, but instead the sheer "intensity" of those who oppose gun control. "I think I saw a poll where gun control ranked way down at the bottom of concerns of Americans. It's about 4 percent, I think. Generally people are for checks and for gun control. But it isn't the burning issue in their lives if they are pro-gun control," he said. "But if they are anti-gun control, it is extremely intense and that's what people are responding to. It isn't the plebiscite. It's the people who come out and vote."

Apr. 20: The Hill: Bill Daley: Heitkamp gun vote a 'betrayal'
Former Obama White House Chief of Staff Bill Daley lambasted Sen. Heidi Heitkamp (D-ND) and other Democrats who voted this week against an amendment to bolster background checks for firearms, warning that gun control advocates would not forget. In a scathing opinion piece penned for The Washington Post, Daley recounted contributing $25,000 to Heitkamp's successful 2012 bid to become North Dakota's junior senator. Now, Daley said, "I want my money back." "She struck me as strong-willed, principled and an independent thinker," Daley wrote. "But this week, Heitkamp betrayed those hopes." Daley's ire centers on Wednesday's vote on a bipartisan amendment to strengthen background checks on gun purchases. Proponents of the measure fell half a dozen votes shy of the 60 needed for passage in a major blow to efforts to tackle gun control through legislative action.

Apr. 20: The Daily Caller: Missouri School trains teachers to carry concealed guns:
Fairview School, in West Plains, Mo. recently announced its decision to allow and train some teachers to carry concealed weapons throughout the school day. Parents found out about the development when the story broke at the local paper, The West Plains Daily Quill, and most are pleased, school officials told the New York Times. Fairview is a grammar school that teaches kindergarten through eighth grade.

The decision to arm some employees was made at a school board meeting in February after pressure from parents about the school's security measure increased in the aftermath of the Newtown tragedy. Employees who were authorized to carry began a 40-hour training course through Shield Solutions, a training company whose instructors include local SWAT team members. Employees went through firearm and situational training and background, drug and mental evaluation checks. These checks and training are repeated annually. The school would not release the names of the armed employees or how many there are.

Apr. 19: The Daily Caller: Ed Crane: "If every person in Boston had a gun there would be no shut down, just a dead 19 year old terrorist"
Ed Crane, the founder and president emeritus of the libertarian Cato institute, told The Daily Caller that if everyone in Boston had guns, there would be no need to keep the city under lock-down. "Since when does the government shut down half of Massachusetts (stay in your house!) to catch one 19-yr-old?" Crane emailed. "If everyone in Boston had a gun there would be no shut down. Just a dead 19-yr-old." The Boston Police Department have told city residents to stay in their homes Friday as authorities attempt to apprehend 19 year-old Dzhokhar Tsarnaev, who is suspected of planting a bomb at the Boston Marathon on Monday. Police consider to be Tsarnaev armed and dangerous. Dzhokhar's brother, Tamerlan Tsarnaev, was also a suspect in both the bombings and the murder of a MIT campus police officer Thursday night. Tamerlan was wearing a bomb vest when he was shot and killed by police early Friday morning.

Apr. 19: The Hill: After Senate Defeat, Obama Administration Moves Forward on Background Check Efforts by regulation:
The Obama administration is pressing ahead with new regulations to bolster the national criminal background check system, following the high-profile defeat of a gun control measure this week in the Senate. The Department of Health and Human Services (HHS) filed a notice Friday afternoon initiating a rule making process aimed at removing legal barriers that are keeping states from sharing records with the National Instant Criminal Background System (NICS).

The database is designed to keep guns out of the hands of felons, drug abusers, the severely mentally ill and others who are prohibited from owning firearms. But it is woefully incomplete. Many states have declined to release certain information to the system, citing restrictions under the Health Insurance Portability and Accountability Act (HIPAA) that prevent them from sharing medical records. The law was designed to protect the privacy of individual health records. Through the rule-making notice, the administration is soliciting comment on how HIPAA is preventing states from sharing records and how the legal barriers could be removed "without discouraging individuals from seeking mental health services."


Apr. 18: Politico: Reid Pulls Gun Control Legislation from the Floor But Says It will Be Considered Again:
President Barack Obama and Democrats have decided to "hit a pause and freeze" on gun control legislation, Senate Majority Leader Reid said Thursday. Reid officially pulled gun legislation from the floor, but pledged to bring the Manchin-Toomey agreement to expand background checks back to the floor for a vote."I've spoken with the president. He and I agree that the best way to keep working towards passing a background check bill is to hit a pause and freeze the background check bill where it is." He said that would give gun control advocates more time to lobby Republican senators who voted against the legislation."It is only a matter of time… The stand of the Republicans is not sustainable," Reid said. "It is a question of how long they're going to stand firm, but it is not sustainable. I assure the 90 percent of Americans who support meaningful background checks. I'm going to continue this fight." The Manchin-Toomey legislation failed in the Senate by a 54-46 vote.

Apr. 17: The Hill: Senate rejects background checks on gun purchases in 54-46 vote:
Senate delivered a devastating blow to President Obama's agenda to regulate guns Wednesday by defeating a bipartisan proposal to expand background checks. It failed by a vote of 54 to 46, with five Democrats voting against it. Only four Republicans supported it. Democrat Senators Pryor (Ark), Baucus (MO), Heitkamp (ND), Begich (AK) and Senate Majority Leader Harry Reid (NV) voted against it. Reid supported the measure but voted against it to preserve his ability to bring the measure up again. GOP Senators McCain (AZ), Collins (ME), Toomey (PA) and Kirk (IL) voted for the measure.

The amendment sponsored by Senators Manchin (D-WV) and Toomey appeared to have political momentum last week. Democrats felt confident the compromise could pass once Toomey, a Republican with an A rating from the National Rifle Association, signed on. They were caught off guard by the vigorous lobbying campaign waged by the NRA, which warned lawmakers that Manchin-Toomey would be a factor in its congressional scorecard. What appeared to be a likely victory for the president was resoundingly defeated by the Senate as jittery Democrats facing tough reelections next year joined nearly the entire Republican conference.

Apr. 17: The Hill: In a related vote the Senate Rejected an Assault Weapons Ban 40 to 60:
The Senate also rejected a ban on certain semi-automatic weapons with military-style features on Wednesday in a 40-60 vote. The measure to reinstitute a ban on assault weapons was offered by Sen. Feinstein (D-CA) but was not expected to be added to the main gun bill given opposition from Republicans and many Democrats.

Voting against the measure were Democrat Senators Begich (AK), Bennet (CO), Johnson (SD), Donnelley (IN), Hagan (NC), Heitkamp (ND), Tester (MO), Landrieu (LA), Heinrich (NM), Udall (CO), Udall (NM), Pryor (Ark.), Manchin (WV), Warner (VA.) and Baucus (MO), GOP Senator Kirk (IL.) supported Feinstein's amendment. President Obama and gun control groups back the weapons ban, which expired in 2004. Feinstein said she was "dismayed" at the lack of courage from senators who were voting against gun control measure, which was opposed by the National Rifle Association.

Apr. 17: The Daily Caller: Obama loses 2014 wedge issue in Senate gun vote:
The Senate's effective rejection of President Barack Obama's post-Newtown gun control bill robs the Democratic Party of an important tool for trying to regain a majority in the House in November 2014. "Are they serious?" a visibly angry Obama demanded of opponents of the Toomey/Manchin Senate bill. In a late-afternoon announcement outside the White House, the president added that if Congress continues not to pass a gun control bill, "the answer will have to come from the voters."

But without a Senate bill, there's little chance that vulnerable GOP House members in suburban swing-districts will face the unpleasant choice of either recording a public vote against what Obama repeatedly describes as "common-sense measures to reduce gun violence and save lives" or voting against gun rights supported by the National Rifle Association and many Americans. Ironically, Obama lost partly because of opposition from several red-state Democrats facing re-election in November 2014.

Apr. 17: CBS New York: Bloomberg Rips Senate For Failing To Expand Background Checks For Guns:
Senate Republicans, backed by some Democrats, blocked legislation Wednesday to tighten restrictions on the sale of firearms, prompting Mayor Michael Bloomberg to rip lawmakers for failing to pass the bipartisan effort that focused on the expansion of background checks.
Not mentioning his own special interests and all the money he has thrown at trying to enact gun control legislation New York Mayor Bloomberg said "Today's vote is a damning indictment of the stranglehold that special interests have on Washington,"

Apr. 17: National Review: Feinstein Fumes over Defeat of Senate Gun Control Bill:
As the Senate debated the merits of an assault-weapons ban, an emotional Dianne Feinstein urged her colleagues to "show some guts" and vote in favor of the measure."I am really chagrined and concerned. If anybody cares, vote at least to prospectively ban the manufacture, the sale, the importation of military-style assault weapons," she said in remarks on the Senate floor. Feinstein is the author of the assault-weapons ban, which was defeated earlier today by a margin of 60 to 40. The compromise on background checks introduced by GOP senator Pat Toomey and Democratic senator Joe Manchin was also defeated, 54–46.

Apr. 17: Weekly Standard: Biden Wipes Away Tears at Rose Garden Gun Remarks:
Video: Vice President Joe Biden appeared to wipe away tears after a father of a Newtown victim spoke in the Rose Garden, and just as President Obama took the podium to speak about the Democratic-controlled Senate not expanding today's gun votes.

Apr. 17: Politico: Whatever happened to being a good looser? An Angry Giffords "I will not rest until we have righted the wrong these senators have done"
Former Rep. Gabrielle Giffords (D-AZ) responded with anger to the Senate's rejection Wednesday of the Manchin-Toomey gun measure. In an op-ed piece for the NY Times headlined "A Senate in the Gun Lobby's Grip," Giffords said that senators "gave into fear and blocked common-sense legislation.""Speaking is physically difficult for me. But my feelings are clear: I'm furious," she wrote. "I will not rest until we have righted the wrong these senators have done, and until we have changed our laws so we can look parents in the face and say: We are trying to keep your children safe."

Giffords was wounded, nearly fatally, in January 2011 in a gunman's attack in Tucson, that claimed the lives of six other people. After a difficult recovery that led her to resign her House seat, she and her husband, Mark Kelly, became vocal advocates for gun control legislation.

Apr. 17: The Hill: Senators Grassley and Cruz roll out alternative gun control bill:
Senators Grassley (R-IA) and Cruz (R-TX) unveiled an alternative gun control bill on Wednesday. "Rather than restricting the rights of law-abiding Americans, we should be focusing on keeping guns out of the hands of violent criminals, which this legislation accomplishes," Cruz said. "While the Obama Administration continues to politicize a terrible tragedy to push its anti-gun agenda, I am proud to stand beside my fellow senators to present common-sense measures that will increase criminal prosecutions of felons who try to buy guns, criminalize straw purchasing and gun trafficking, and address mental health issues."

Grassley and Cruz, along with Sens. Lindsey Graham (R-SC) and Dan Coats (R-IN) introduced the bill at a press conference Wednesday morning, just hours before the Senate will vote on it and other gun control measures. One of the primary criticisms Republicans had before a vote to move forward on a background checks bill last week was that they didn't have time to read it before the vote. Cruz said that despite the late hour, his legislation has 20 co-sponsors and had been circulated among Republicans and Democrats with no negative feedback. He predicted that despite the small window before the vote, the bill would garner bipartisan support. The National Rifle Association said it supports the bill. See the full report.
Apr. 17: YouTube: Video of Former Secret Service Agent Dan Bongino, speaking at a Guns Across American Rally in Annapolis, Maryland. He says that the right to bear arms is a God-given right, that the Second Amendment only reaffirms that right and that the effort to control guns is really an effort to control people.

Apr. 15: Fox News: Gun bill backers try to ease 'registry' concerns as Senate debate begins
As debate begins this week on sweeping firearms legislation, supporters are running into renewed concern from conservatives that the bill could lead to a gun "registry" despite adamant pledges to prohibit this. Fear of a national registry has remained even after two influential senators last week proposed a compromise on background checks. The proposal, which will be voted on as an amendment, would expand background checks to gun shows and Internet sales while exempting personal transactions like those among family members.
The provision, meant to ease concerns about the checks becoming too pervasive, also included language to bar the creation of a federal registry.
But the language was not enough. Some gun-rights supporters continue to worry about a slippery-slope scenario, where a background check expansion sets the stage for a national registry -- which could then be exploited to seize weapons from individuals. "Once you get these lists out there, once you have a gun dealer keeping lists for lots of other people, the only way that works, frankly I think, is if you keep the paper," Sen. Roy Blunt (R-MO), told Fox News on Monday. "And if you keep the paper, eventually, somebody's going to ask for it."
Apr. 15: Washington Times: Background checks amount to 'new tax on guns,' Coburn insists
The deal senators have struck to expand firearm background checks to all Internet and gun show sales will drive up prices for consumers, weapons retailers say. Manufacturers say the deal, which is the crux of the gun bill that senators will begin debating this week, also includes language that gives background checks for sales at gun shows priority over in-store purchases — something their top trade group says is unfair. Under current law, background checks are required for sales only by licensed retailers. The director of the top trade group for gun retailers said expanding checks to include Internet and gun show purchases will drive up prices and push business to federally licensed firearms retailers, who in many cases will perform the checks for private sellers. "You're going to have a lot more people paying a lot more money," said Andrew Molchan, director of the Florida-based Professional Gun Retailers Association. If background checks are required for all sales, he said, federal licensees could effectively corner the market, set their own transaction fees and pass the costs on to consumers.
Apr. 14: The Hill: Toomey: Senate vote 'going to be close' on background checks bill:
Sen. Pat Toomey (R-PA) said Sunday that's "an open question" whether his legislation with Sen. Joe Manchin (D-WV.) to expand background checks for gun sales will receive enough support to pass. Speaking on CNN's "State of the Union," Toomey said that he expected a vote on the bill this week. The Pennsylvania Republican said it wasn't clear that the legislation would pass the Senate. On CNN, Toomey as well as Manchin both defended the bill. The National Rifle Association is stridently opposed to the measure, arguing it would hinder the constitutional right to bear arms.
Apr. 13: CBS News: U.S. gun control: A Legislative History:
1934: President Franklin Roosevelt signed the National Firearms Act, which heavily taxed sales of gun machines.
1968: President Lyndon Johnson signed the Gun Control Act, which outlawed mail-order purchases of shotguns and rifles.
1972: The Bureau of Alcohol, Tobacco and Firearms was created as an enforcement body for the 1968 Gun Control Act.
1993 and 1994: President Clinton signed the Brady Handgun Violence Prevention Act and assault weapons ban, which instituted background checks and banned semi-automatic assault weapons.
2012-2013: The Obama administration continues to push for more restrictive gun-control laws, emphasizing background checks and a ban on high-capacity ammunition magazines. In April, Congress is set to begin debate on changes to gun-control legislation.
Below is an on-going chronology of the news coverage on the gun control issues
starting December 23rd when I made my first post on this issue.
Apr. 13: Fox News: Manchin-Toomey deal could allow gun owners, sellers to carry, sell across state lines:
The deal between Senators Manchin and Toomey on the gun-controlled legislation scheduled for formal Senate debate next week could make it easier to carry concealed weapons across state lines. The provision is part of the deal Manchin(D-WV) and Toomey (R-PA) reached earlier this week on background checks for gun buyers and will be among the first parts of the legislation that senators will consider.

The provision is similar to the Interstate Commerce Reform Act of 2012, which was sponsored by two Republicans: Scalise (LA) and Hatch(UT). The legislation failed despite strong support from the National Rifle Association. The proposal essentially grants states "reciprocity" regarding concealed carry provisions. The provision would grant gun owners the right to obtain a firearm and a concealed-carry permit in their home state, then use the permit to carry and conceal the firearm in another state. Though many states have laws on buying firearms and concealed-carry permits, the federal provision, if adopted, could trump state laws.

Apr. 12: Infowars.com: Must See Video on Californians Moving to Ban and Seize Guns:
Media critic and social analyst Mark Dice in a video posing as a person in California passing around a petition of to get all the guns of law abiding people but allowing criminals to keep their guns. It shows how unbelievably uninformed lots of the people are as they signed the petition. They were willing to sign a petition that would force everyone but the criminals, police and the military to turn in their guns and to do away with the second amendment altogether. And yes, these people are voters in California!

Apr. 12: The Hill: Bloomberg-backed group launches ad pressuring senators on gun control
Mayors Against Illegal Guns is launching a round of television ads to pressure seven Republican senators and two Democrats to vote for a bipartisan proposal to expand background checks. The new ad invokes the massacre at the Sandy Hook Elementary School in Newtown, Conn., and subtly chides the Senate for taking up gun control legislation more than 100 days after the tragedy. Mayors Against Illegal Guns is a bipartisan coalition of mayors from around the country co-founded by New York City Mayor Michael Bloomberg and Boston Mayor Thomas Menino. Bloomberg, a vocal advocate for new gun controls, has a net worth estimated at $27 billion, giving the group access to considerable resources.

Apr. 12: The Hill: Rep. Steve Stockman: 'If babies had guns, they wouldn't be aborted':
Congressman Stockman (R-TX) on Friday tweeted out the slogan for what he said would be his new campaign bumper sticker, which combines two hot-button conservative issues into one controversial sound bite.

Apr. 12: The DailyCaller.com: Carville: Gun bill 'doesn't have a chance to get out of the House':
On Friday's broadcast of "Morning Joe" on MSNBC, former Clinton campaign adviser James Carville explained why he does not expect pending gun legislation to pass the House of Representatives. He praised the Senate Republicans who voted to end debate on the bill, which moved it one step closer to an up-or-down vote.

"That was quite a number and to some extent, it was courageous," Carville said. "And it's not going to do any good because it's not going to pass the House. Senator Cornyn (R-TX) is right — what they are doing in the Senate will not do a lot of good because it probably doesn't have a chance to get out of the House. But it does show that after an event like this, it's something — you know, 90 percent of the people in the United States want expanded background checks."

Apr. 11: The Hill: Senate Moves Forward on Gun Control Legislation
The Senate voted to move forward on gun control Thursday, clearing the first of what is expected to be many 60-vote hurdles for the legislation. In a 68-31 vote, the Senate approved a procedural motion that will allow debate on the Democratic measure to begin. Sixty votes were required for approval. Sixteen Republicans voted in favor of the motion, while two Democrats — both from states President Obama lost in the 2012 election — voted against it. They were Begich (AK) and Pryor (AR), both of whom face reelection next year.

The 16 Republicans Senators who voted to proceed were Alexander (TN), Ayotte (NH), Burr (NC), Chambliss (GA), Coburn (OK), Collins (ME), Corker (TN), Flake (AZ), Graham (SC), Heller (NV), Hoeven (ND), Isakson (GA), Kirk (IL.), McCain (AZ), Toomey (PA) and Wicker (MS). Senator. Frank Lautenberg (D-NJ) missed the vote.


Apr. 10: Reuters: Possible Break Through in Senate but House is still problematic for Gun Control Advocates:
A breakthrough agreement to expand background checks for gun buyers, announced on Wednesday by two senators, boosts the prospects the Senate will approve at least some of President's proposed gun restrictions. The deal by Democrat Joe Manchin (WV) and Republican Pat Toomey (PA) sets the stage for a Senate debate on a gun-control bill starting on Thursday, when the Democratic-led chamber is expected to defeat conservative Republicans' efforts to block it from reaching the floor. Many hurdles remain, including weeks of expected debate in the Senate and amendments that could make the bill unacceptable to some senators who now support it. Any gun-control measure that clears the Senate also is likely to get a cool reception in the Republican-led House of Representatives.

Apr. 10: Fox News: Colorado sheriffs plan lawsuit challenging state gun control laws:
More than half of Colorado's elected sheriffs are planning to mount a legal challenge to the state's sweeping new gun restrictions. The Denver Post reports that 37 of the state's 62 sheriffs will sue to overturn laws passed in March that set limits on ammunition magazines and expand background checks for firearms. Weld County Sheriff John Cooke told the paper that the proposed lawsuit would argue the laws violate Second Amendment rights. He said the lawsuit would likely be filed within the next few weeks. The group County Sheriffs of Colorado has opposed a ban on high-capacity magazines, and about a dozen Colorado sheriffs spoke against the new laws during President Obama's visit this week. The laws take effect July 1.

Apr. 10: CNSNews.com: Sen. Lee: Background Checks Could Allow Holder to Create Gun Registry Using Regulations:
On Wednesday, Sen. Mike Lee (R-UT) took to the Senate floor and warned that universal background checks could lead to a national registry system for guns. "Some of the proposals, like for example universal background checks would allow the federal government to surveil law-abiding citizens who exercise their Constitutional rights. One of the provisions we expect to see in the bill based on what we saw in the Judiciary Committee, on which I sit, would allow the Attorney General of the United States (Eric Holder) to promulgate regulations that could lead to a national registry system for guns. Something my constituents in Utah are very concerned about, and understandably so," said Sen. Lee.

Apr. 10: Weekly Standard: Senate Aide: Gun Law Wouldn't Have Stopped Newtown Massacre:
Republican Pat Toomey and Democrat Joe Manchin announced a gun bill compromise to expand background checks earlier today. The legislation is in direct response to the massacre at Sandy Hook Elementary School in December.
"This amendment won't ease the pain ... but nobody here, not one of us in this great capital of ours in good conscious could sit by and not try to prevent a day like that from happening again," Manchin told the press at today's announcement. But aides on Capitol Hill admit that there is not a thing in the bill that would have prevented the killer, Adam Lanza, from killing 26 at the school in Newtown, Connecticut.
"There's nothing in this bill that addresses the fact pattern at Sandy Hook," a senior Senate aide told me on the phone.

The aide explains that the bill expands on the background-check system already in place, but that the system doesn't work properly."They are expanding on a broken system that we know will fail," says the aide.
Under this law, I'm told, Adam Lanza would still have been able to steal the so-called assault weapon that his mother legally owned—and use it to shoot up the school.

Apr. 10: InfoWars.Com: Obama's Ultimate Goal? Ban Ownership of Guns Altogether, Austin City Councilman Says:
Democratic Austin City Council member and potential next mayor Mike Martinez admitted during a speech that the Obama administration's long term gun control agenda is focused on banning firearms altogether. Pointing out a sign held by a protester which read, "stop gun ban!," Martinez remarked, "someone needs to inform him that there is no gun ban currently, but because of the work we're doing here today, we will make your sign legitimate shortly, so you hang on to that." The crowd cheered as Martinez made his vow.


Apr. 9: The Daily Caller: Reid determined to have vote on gun control measures, even if Republicans filibuster:
Senate Majority Leader Harry Reid promised Tuesday to make sure the various gun control provisions come to a vote regardless of Republican opposition. At least 14 Republicans have promised to filibuster gun control measures. Reid said he planned to file cloture Tuesday evening on the bill, and if he fails to get the 60 votes necessary to overcome the filibuster, he told reporters, "we're gonna vote on these things anyway." Reid said he would place each individual measure directly on the calendar and bring each to a vote, something he says he has the authority to do under Senate Rule XIV "and other measures." "It'll take a little bit of time, but as I've said for months now, the American people deserve a vote on background checks and federal trafficking and safety in schools and the size of clips, and yes, assault weapons. And of course, mental health," he said.

Apr. 9: The Hill: Obama calling senators to talk gun vote:
President Obama has been calling Republican and Democratic senators to discuss the gun-control vote, a White House official said. Obama is expected to reach out to between half a dozen to a dozen senators in all, the official said. The White House would not provide the call list, so it's unclear whether Obama is reaching out to Republican senators who have promised to filibuster gun-control legislation. One of the seantors to speak with Obama was Sen. Mark Kirk (R-IL). Kirk wrote on Twitter that he "had a good conversation" with the president about North Korea and background checks for gun sales.

As part of the lobbying effort, Obama is telling senators that gun-control legislation "deserves a vote," the official said. The president is expected to reiterate his message in recent days that Congress has an obligation to the victims of the school shooting in Newtown, Conn., to consider new restrictions on guns.

Apr. 5: The Hill | Politico: Mitch McConnell joins Senate gun filibuster:
Senate Minority Leader Mitch McConnell said he would join a group of Senate Republicans threatening a filibuster to oppose a cloture vote if Senate Majority Leader Harry Reid moves a gun bill to the floor this week.

Reid has promised to move a gun bill to the Senate floor this week, but it's unclear which one. It depends on whether Democrats can strike a deal on background checks on gun sales — otherwise, they may settle for a less strict bill that includes some form of background checks, increase penalties for gun trafficking and increase school security. In order to get around the filibuster, Reid has indicated that he would file a cloture motion, which would require a 60-vote margin to move the bill. "While nobody knows yet what Senator Reid's plan is for the gun bill, if he chooses to file cloture on the motion to proceed to the Reid Bill (S. 649), Senator McConnell will oppose cloture on proceeding to that bill," McConnell spokesman John Ashbrook said in a statement. In a related story, The Hill reports Sen. Enzi (R-Wyo) has joined the GOP group threatening to filibuster gun control.


Apr. 8: Politico: Harry Reid Blasts GOP Threat of a Filibuster:
Setting the tone for a likely fight on gun legislation this week, Senate Majority Leader Harry Reid on Monday bemoaned threats by more than a dozen Republicans to filibuster the bill. "There is simply no reason for this blatant obstruction," Reid said as the Senate returned from its two week recess. Reid is currently deciding how tough a bill he can move to the floor this week, as Democrats are still working to lure a Republican to a compromise measure that would include background checks for gun sales. But the legislation is likely to fall well short of the sweeping deal President Barack Obama laid out in January. Several Senate Republicans, led by Sen. Ted Cruz (R-TX) and Rand Paul (R-KY), have threatened to filibuster the bill.

Apr. 8: The Hill | Politico: Obama kicks off last gun control push:
President Barack Obama's gone from ambitious arguments for sweeping gun control to trying to stop a filibuster. It's the arc of Obama's strategy on guns since the last time he was in Connecticut, for the Newtown memorial service, and Monday, when he returned to the state to kick off a final push as legislation is expected to be introduced in the Senate this week.
And for the first time, Obama began to prepare supporters of gun control for defeat. Succeeding in getting something passed isn't about him, he said, but failing to would be about Congress if it can't even push through expanded background checks for gun sales – the sliver of his agenda that remains possible.

In a related story, some are asking why Obama keeps reminding us to remember the children killed in Connecticut while seemingly failing to remember the four diplomats who were killed in Benghazi Lybia.

Apr. 8: Politico: Colorado Gun Violence Case Raises Issues on the Confidentiality of News Sources:
Fox News' Jana Winter is facing jail time over refusing to reveal her sources in a story about the Aurora theater shooting — and some are questioning how the media is covering her case.
Winter wrote a story in July 2012 about a notebook that Aurora movie theater shooter James Holmes sent his University of Colorado psychiatrist. Winter's story cited unnamed law enforcement sources and quoted one source as saying the notebook was "full of details about how he was going to kill people." In January, the judge then currently on the Aurora case gave the okay for Holmes's lawyers to subpoena Winter. On April 1, a new judge in the case heard arguments from both Holmes' defense attorney and Winter's attorney. FoxNews.com reported that the current judge stated "the subpoena to Winter presented her with a 'Hobson's Choice." "If forced to testify, Winter would either reveal her confidential sources in the nation's highest profile trial – perhaps destroying her career as an investigative reporter – or spend up to six months in jail," the Fox News report stated. On Wednesday, the judge will decide if Winter must go on the witness stand — and her attorney has said that Winter will not answer questions about the identity of her sources.

In a related Story, the Daily Caller Reports a CNN journalist is criticizing liberal media bias in Jana Winter case. Denver-based CNN journalist Jim Spellman says the total lack of media coverage of the legal travails faced by Fox News reporter Jana Winter for protecting her sources clearly demonstrates an anti-Fox News bias in the press. Spellman claimed in a tweet that if Winter worked for the New York Times instead of Fox News, the case would be garnering far greater exposure.

Apr. 5: The Daily Caller: Colorado gun lobbyist walks out of 'unconstitutional' ethics probe:
A Colorado gun rights lobbyist who's facing an ethics investigation for allegedly threatening a Republican lawmaker with negative mailers in her district has now denounced the committee looking into the charge as an "unconstitutional tribunal" and is refusing to participate in the process. Rocky Mountain Gun Owners lobbyist Joe Neville read a statement at the ethics hearing Wednesday, then walked out of the room in protest.

"I've decided not to be the model penitent for your unconstitutional tribunal," Neville said. "In fact, I reject this entire process. So, with all due respect, I decline to participate further."
The ethics complaint stems from a run-in he had in February with Republican Rep. Cheri Gerou on the day the state House was to vote on four controversial gun control bills. Some members of the GOP asked Gerou about rumors that she was going to vote in favor of the bills. She denied them — and in fact voted against the bills — but was upset that someone was spreading misinformation about her.

Apr. 4: The Daily Caller: Unlikely Ally ACLU says Reid's gun legislation could threaten privacy rights, civil liberties:
As Senate Democrats struggle to build support for new gun control legislation, the American Civil Liberties Union now says it's among those who have "serious concerns" about the bill.
Those concerns have the capacity to prove a major setback to Sen. Harry Reid's current gun bill, which includes language from earlier bills introduced by Sens. Chuck Schumer and Barbara Boxer. In an exclusive interview with The Daily Caller, a top lobbyist for the ACLU announced that the group thinks Reid's current gun bill could threaten both privacy rights and civil liberties.

The inclusion of universal background checks — the poll-tested lynchpin of most Democratic proposals — "raises two significant concerns," the ACLU's Chris Calabrese told TheDC. Calabrese — a privacy lobbyist — said "If you're going to require a background check, we think it should be effective," "However, we also believe those checks have to be conducted in a way that protects privacy and civil liberties. So, in that regard, we think the current legislation, the current proposal on universal background checks raises these two significant concerns."

Apr. 4: Politico: NRA Rips Connecticut Gun Laws - Time will tell but doubtful it will reduce gun violence:
NRA Vice President Wayne LaPierre on Thursday ridiculed Connecticut's new gun control laws, saying that they will do nothing to reduce violence. "I think the problem with what Connecticut did, is the criminals, the drug dealers, the people that are going to do horror and terror, they aren't going to cooperate. All you're doing is making the law books thicker for the law-abiding people," LaPierre said on Fox.

Connecticut Gov. Dannel Malloy today signed what is being referred to as the toughest gun laws in the nation. As the Governor was preparing to sign this legislation, there were lines literally around the block of people waiting to purchase guns a local gun stores. The sweeping measure signed by the Governor bans some weapons, the sale and purchase of high-capacity magazines, and also requires background checks for every gun purchase, among other provisions.

LaPierre said the NRA believes that if the focus were actually on making people safe, there should be armed security in every school and improvements to the country's mental health system. "From the very start, my thought has been how little it has to do with keeping kids safe and how much it has to do with this decade-long agenda against firearms that…some of the political class and the media have had," he said.

Apr. 4: The Washington Times: Is support for the 2nd Amendment Losing Ground?
The Second Amendment got attacked this week from three sides, leaving gun owners scrambling to find safe ground. While President Obama has lost momentum for federal gun-control laws, he has picked up victories with his allies in blue states and at the UN. After Thursday, Connecticut should consider changing its state nickname from the "Constitution State" to the "Unconstitutional State" after Governor Mallory signed an extremely restrictive gun-control law.

Before the Newtown tragedy, the Brady Campaign determined that Connecticut was the fifth highest-rated state for restrictive gun-control laws. Slayer Adam Lanza ignored those laws — such as including stealing the guns, carrying them without a permit and violating the federal "gun free" school zone — in his evil mission to murder school children and teachers. State lawmakers decided that its current "assault weapon" ban, which had a two-characteristic test, was not severe enough, so all semi-automatic rifles with one scary-looking feature are illegal. The bill cites 100 specific makes and models that are banned.

Apr. 4: Politico: The Great Gun Control Fizzle:
Rarely has the political class whipped itself into a lather that has abated so quickly. After the Newtown massacre many invested hope in President Obama's pledge to "use whatever power this office holds" to pass new gun control laws. The president has certainly done his part. He has held rallies, used children as props, held events with parents of the little victims of Newtown. He has shamed the nation for its alleged forgetfulness over the terrible events of that day and urged members of Congress to "join me in finishing the job — for our communities and, most importantly, for our kids."

Yet public opinion is moving the wrong way. CBS News found that support for stricter guns laws dropped ten points to 47 percent and CNN registered a nine point drop to 43 percent. The gun control debate has shown the president again to be hopelessly detached as a legislative mechanic and ineffectual as a shaper of public opinion.

Apr. 3: The Daily Caller: Gun bill sponsor apparently doesn't understand how guns work:
Colorado Rep. Diana DeGette, the lead Democratic sponsor of a federal bill to ban high-capacity magazines, is apparently unaware that such magazines can be reloaded and reused, according to a comment she made at a Denver Post-sponsored forum on gun control on Tuesday. When asked how limiting the number of bullets in magazines would help reduce violence, she replied: "I will tell you these are ammunition, they're bullets, so the people who have those now, they're going to shoot them. So if you ban them in the future, the number of these high-capacity magazines is going to decrease dramatically over time, because the bullets will have been shot and there won't be any more available." Some audience members laughed, but gun-rights advocates weren't amused.

Apr. 3: Fox News: Obama goes to Colorado to rally support for gun control, amid Republican opposition:
President Obama on Wednesday visited Colorado -- the site of a recent mass shooting and home to new firearms regulations -- to rally public support for federal gun control legislation ahead of full Senate votes expected next week and amid Republican opposition. "I believe there doesn't have to be a conflict in reconciling these realities," Obama said in Denver. "There doesn't have to be a conflict between protecting our citizens and protecting our Second Amendment rights," he said.

To be sure, Obama and other gun control advocates already have lost hope for bans on semi-automatic weapons and high-capacity magazines, instead focusing their energy on getting tougher background checks and protections for school children. But Obama's strategy was quickly knocked down by Colorado Republican Rep. Doug Lamborn who said the president is touting a state model destined to fail in Washington. "Colorado Democrats rammed these bills through the state legislature in a highly partisan and contentious manner without gaining the support of a single Republican lawmaker," Lamborn said. "If President Obama and Democrats want to push their extreme, gun control agenda in Washington, they will face intense opposition."
Apr. 3: Greg Abbott: Will Sue If President Signs the U.N. Arms Treaty:
Your Liberty -- as a United States citizen -- was weakened and threatened yesterday when the Obama Administration helped the United Nations pass the Arms Trade Treaty. Immediately after this disappointing vote, I wrote a letter to President Obama urging him not to sign the treaty. If the President signs the treaty allowing the UN to be involved in regulating firearms in the U.S., Texas will lead the charge to have the treaty overturned in court as a violation of the U.S. Constitution.
Apr. 2: The Hill: U.N. approval of arms trade treaty sets up Obama, Senate showdown:
The Obama administration defied a majority of the Senate on Tuesday by voting to approve a United Nations treaty on the trade of small arms and other conventional weapons. The treaty, overwhelmingly approved by the U.N., requires countries to create internal mechanisms to ensure that their arms exports aren't likely to be used to harm civilians or violate human rights laws. President Obama is expected to sign the treaty within the next few months, but it faces a tough road to win the two-thirds majority support needed in the Senate for approval.
It is opposed by the National Rifle Association, which argues the accord violates the Second Amendment by regulating small arms, such as rifles and handguns, and calling for the creation of an "end-user registry." Fifty-three senators voiced their disapproval late last month by voting in favor of a nonbinding amendment to a Senate budget resolution to stop the U.S. from entering the treaty.
Apr. 2: The Daily Caller: Obama to praise Colorado's new gun laws as gun businesses head for the door:
When President Barack Obama comes to Colorado on Wednesday to praise state lawmakers for taking a tough stance on gun control — an example that he hopes Congress will follow — it will be to a backdrop of a changing economic landscape brought on by the new laws.
Because of strict new gun bills signed recently by Gov. John Hickenlooper that ban high-capacity magazines and require universal background checks on gun transfers, hunting groups are organizing boycotts, shooting competitions are being canceled and more and more businesses that serve the gun industry are announcing that they're taking their companies — and the jobs they provide — to more Second Amendment-friendly locales. On Monday, organizers for the Rocky Mountain Western States Regional IDPA Championship shooting competition canceled their July 4-6 event because the new laws will go into effect on July 1. Organizers expected 300 out-of-state shooters to come to Montrose for the weekend.
Apr. 2: Fox News: Democrats push bill in Congress to require gun insurance under penalty of fine:
A New York Democratic lawmaker is behind a national push that would force gun owners to buy liability insurance or face a $10,000 fine. The Firearm Risk Protection Act, pushed by Rep. Carolyn Maloney and seven co-sponsors, follows efforts at the state level to create the controversial new kind of insurance for gun owners. "For too long, gun victims and society at large have borne the brunt of the costs of gun violence," Maloney said in a written statement. "My bill would change that by shifting some of that cost back onto those who own the weapons."
The likelihood, though, of Maloney's bill gaining any traction is slim. Republicans control the House, and even states where Democrats have sizeable majorities have not approved the insurance idea. Six states -- California, Connecticut, Maryland, Massachusetts, New York and Pennsylvania -- have all introduced gun liability insurance legislation over the past few months. None has produced any results.
Apr. 2: Fox News: Obama criticized for using dated, disputed gun stat to sell background checks:
As President Obama prepares to head to Colorado on Wednesday to push gun control legislation, some are calling into question the validity of a key statistic he's using to tout his message on near-universal background checks. During several speeches, Obama has said 40 percent of all gun purchases were made without a background check. But that number is nearly two decades old and comes from a poll with a relatively tiny sample size. Gun rights groups like the National Rifle Association, as well as The Washington Post's "Fact Checker," are calling out the president's stat, saying his numbers on background checks need a background check of their own.
Apr. 1: The Hill: Veep Working the Hill for Gun Control Legislation:
Vice President Biden is calling his former colleagues on Capitol Hill on a near-daily basis as he mounts a full-court press to achieve new gun control measures. Biden has already held private meetings with Republican senators, including John McCain (AZ), Lindsey Graham (SC) and Johnny Isakson (GA), according to a senior administration official. The official added that Biden would also be spending considerable time on Capitol Hill in the weeks to come.
There are always a lot of dark alleys on these issues, but he's been trying to shake that all out," the official said. "He's making sure he's hearing from everybody and knowing where the pressure points are." Gun control is the latest subject where Biden had been called upon to leverage his relationships in Congress for President Obama's benefit.
Mar. 31: Fox News: Congress Spars over Universal Background Checks:
Senate Democrats recently removed bans on semi-automatic weapons from pending gun-control legislation in apparent hopes of passing the more politically acceptable universal background checks. But the issue has turned into the new sticking point in Congress with a top Republican saying Sunday the plan is "going nowhere" and Democrats and other gun-control advocates pressing the issue.
South Carolina Republican Sen. Lindsey Graham repeated the argument among gun-rights advocates that the federal government should not add new checks when existing ones are not enforced. "The current system is broken," he said on CNN's "State of the Union." "Why in the world would you expand that system if you're not enforcing the law that exists today. … So I think that legislation is going nowhere."
Mar. 29: Fox News: Homeland Security buying pricey ammo as department-wide cuts take hold:
The Department of Homeland Security is spending more and more on pricey hollow-point bullets for law-enforcement officers -- even as it plans to enforce furloughs and other cuts on Customs and Border Protection employees due to sequestration.
The Department of Homeland Security plans to buy more than 1.6 billion rounds over the next five years for training and on-duty purposes. They cite the numerous law enforcement agencies contained within the department with employees who carry weapons. But the purchases have led to criticism that the agency is spending money on bullets that can cost twice as much as regular ammo -- and questions over whether those bullets are really needed for training purposes. "Obviously you want to know how a hollow point is going to cycle through your weapon," Scott McCurley, manager for Maryland-based Horst and McCann firing range and a former soldier for the U.S. Army, told FoxNews.com. "But I don't think there's much of a difference when training. One box of rounds per gun is enough. The cost outweighs the purpose."
Mar. 29: The Daily Caller: New Gun Control Laws Could Spell Problems for Manufacturers:
As lawmakers consider a range of new restrictions on guns, the gun industry is growing nervous that its exceptional success during the "Great Recession" could be coming to an end. In the past four years, the gun industry has experienced an unprecedented level of growth, providing a rare boost to the ailing economy. But now, with states like New York and Colorado passing some of the strictest gun laws in decades — and Senate Majority Leader Harry Reid poised to bring a sweeping new gun control measure to the Senate floor — worries are growing about the widespread impact such gun laws could have on business.
Mar. 28: Fox News: Florida Legislature Moves Bill Forward Allowing Concealed Carry at Schools:
Public and private school principals could designate teachers and other school employees who would carry concealed weapons on campus at all times in an effort to make schools safer, under legislation that won approval Wednesday from a Florida House committee. It gives principals the option to designate one or several school employees to carry concealed weapons. The designee would be required to complete the same training that bank and courthouse security guards complete in addition to the statewide firearms training. Principals could also decline the concealed weapons option altogether. Proponents of the bill argued that since the state can't afford to put a school resource officer on every campus, the gun legislation is a commonsense alternative.
Mar. 28: Politico: Grassley Writing His Own Gun Control Bill - Could Complicate Democrat Efforts:
Sen. Chuck Grassley is crafting an alternative Republican gun control bill, a move that could further complicate what will already be a difficult lift for Democrats and the White House. The Iowa Republican has strongly opposed expanded background checks for gun sales, the key provision of the Democratic gun bill set for debate next month, as well as an assault weapons ban or limits on high-capacity ammunition magazines. "Senator Grassley, along with other concerned members, is putting together an alternative bill that addresses gun violence in a manner that doesn't violate the constitutional rights of law-abiding citizens in contrast to what appears to be in the bill proposed by the majority leader," said Beth Levine, Grassley's spokesman
Mar. 28: Fox News: Free Shotgun Program Draws Positive and Negative Responses in Arizona:
A former mayoral candidate in Tucson, Ariz., is drawing heated criticism from Democrats after he launched a program this week to hand out free shotguns in high-crime neighborhoods. Shaun McClusky, who kicked off the program Monday, financed it with initial donor commitments of $12,000. He told FoxNews.com that with those private donations alone, he can arm and train 36 people -- and hopes to begin that process in 60 days. McClusky said he's already received more than a dozen responses from residents, "none of them negative, all of them positive."
But with McClusky launching the gun handout program in the same area where former Rep. Gabrielle Giffords was shot in 2011, he's running into stiff resistance from Arizona officials.
Mar. 28: The Hill: Another Senator Joins Paul, Lee & Cruz threatening to filibuster Gun Control Legislation:
Sen. Marco Rubio (R-FL) joined a group of Republicans threatening to filibuster gun control legislation in the Senate. "We, the undersigned, intend to oppose any legislation that would infringe on the American people's constitutional right to bear arms, or on their ability to exercise this right without being subjected to government surveillance," he wrote in a statement on his website."The Second Amendment to the Constitution protects citizens' right to self-defense. It speaks to history's lesson that government cannot be in all places at all times, and history's warning about the oppression of a government that tries." Rubio joins Senators. Rand Paul (KY.), Mike Lee (UT), and Ted Cruz (TX) who wrote Senate Majority Leader Reid (D-NV) earlier this week pledging to "oppose the motion to proceed to any legislation that will serve as a vehicle for any additional gun restrictions."
Meanwhile President Obama made an emotional plea for Congress to pass gun-control legislation, telling the political world "shame on us" if it has forgotten the 26 people killed at Sandy Hook Elementary School less than 100 days ago.
Mar. 28: The Hill: UN Arms Treaty Stopped Temporarily - NRA Opposes Adoption - Administration Takes No Action:
A controversial UN arms treaty opposed by the NRA was blocked Thursday by a rogue's gallery of North Korea, Iran and Syria.The Obama administration did not object to the treaty even as the other countries prevented it from moving forward.
Because the treaty conference operates by consensus the objections mean the conference broke Thursday without an agreement. However, the treaty could still go before the UN General Assembly for a vote next week. The NRA has attacked the treaty as violating the Second Amendment, and argues it could restrict U.S. citizens' abilities to purchase or possess firearms or ammunition. The group warned the Obama administration not to endorse it.
Mar. 27: Fox News: Hunters threaten to boycott Colorado after passage of recent gun laws:
Hunters across the country are boycotting Colorado because of recent legislation meant to curtail gun violence. The state is known to be home to some of the best elk hunting in the country. But after its governor, John Hickenlooper, signed controversial bills this month banning ammunition magazines that hold more than 15 rounds, and require background checks for private and online gun sales, some out-of-state hunters say they'll take their business elsewhere. Hunting outfitters say people began canceling trips after the legislation passed, the Colorado Springs Gazette reported. The numbers are few, but growing.
Mar. 27: Fox News: Why are we leaving race out of the equation?
About 50% of the gun problem in this country is in the Black Community with black on black violence, said Juan Williams. A big part of the problem is the breakdown of the family in our nation. As a supporter of gun control, Williams is concerned with the influence of gangs and families without a fathers. The President responded to the White on White attack in Newtown but hasn't said anything about the Black on Black attacks that are occurring daily in Chicago because it is too politically sensitive, Williams concluded.
Mar. 26: The New York Daily News: GOP Senators vow to block debate on gun-control: Republicans Rand Paul of Kentucky, Ted Cruz of Texas and Mike Lee of Utah have all promised they would filibuster the package that would include tougher background checks and new gun trafficking laws. Senators will need 60 votes just to call up a gun-control bill in April after conservatives said they'll try to block debate. But it shows the intensity of opposition to even what backers call common-sense measures like universal background checks for gun purchases and a federal law against gun trafficking.
Mar. 25: Fox News: Why is DHS Buying 1.6 billion rounds of ammo, Lawmakers want to know:
Rep. Doug Lamalfa (R-CA): My constituents are having a hard time getting ammo for their own use and this purchase is making it worse, so we wrote DHS to ask them why they are buying so much of it. And why is the Social Security Administration buying 174,000 rounds of hollow point ammunition? Also, in a time of sequester should they really be spending this much money for this? Megyn Kelly reports that the DHS ammo buy is the equivelent to the amount needed to fight the war in Iraq for 24 years.
Mar. 25: The Hill: Obama plans road trip to prod Senate to move on gun-control legislation:
President Obama will hit the road to rally Senate support for new gun controls in coming weeks, seeking to frame upcoming votes on an assault weapons ban and universal background checks as tests of political courage for skittish Democrats.

White House spokesman Josh Earnest said Monday that Obama would travel the country in the coming weeks to rally support for the proposals. "I do anticipate that you will see the president using the power of the bully pulpit, as you describe it, by traveling across the country a little bit and talking about some of these issues," Earnest said.
Mar. 22: The Hill: Ever Notice the Money Isn't There Unless the Administration Wants to do Something?
The Obama administration announced plans on Friday for more than $20 million in grants aimed at strengthening the national gun background check system. The move is part of the president's 23 proposals to bolster the country's gun control laws, and comes as Senate Majority Leader Harry Reid (D-Nev.) has promised to bring a bill to the floor that would expand gun background checks.
The $20 million will be given to states through three separate grants, which the Justice Department (DOJ) is planning to oversee, in an effort to incentivize state officials to share more information with the National Instant Criminal Background Check System (NICS), according to the agency. "As part of President Obama's comprehensive plan to reduce gun violence, the administration is committed to enhancing and strengthening the national criminal record system in support of stronger firearm background checks," Attorney General Eric Holder who was held in Contempt of Congress last year said in a statement.
Mar. 21: The Washington Times: Stage set for Senate gun control debate; background checks are sticking point:
Senate Democrats said Thursday they will take up gun control immediately after a two-week Easter vacation, and said the bill they'll bring to the chamber floor will include universal background checks for all firearms sales and a crackdown on gun trafficking and straw purchases. The background checks are the biggest sticking point — Senate Majority Leader Harry Reid said he will include a strict measure written by Chrles Schumer (D-NY) rather than wait for a bipartisan compromise to emerge. "I want to be clear: In order to be effective, any bill that passes the Senate must include background checks," Reid said.
Mar. 21: Fox News: Another Company Considers Moving Out of State Because of Gun Control Issues:
Colt's Manufacturing, the company that has made the iconic gun dubbed "The Peacemaker" for more than a century, could pull up its Connecticut stakes after coming under fire in the national debate over the Second Amendment. President and CEO Dennis Veilleux said the pro-gun control climate that has taken hold in the wake of the Sandy Hook school massacre and other firearm attacks has left him feeling unwelcome in the state his company has called home for 175 years.
Proposed laws being debated by the Legislature and pushed by Gov. Dannel Malloy include a new gun offender registry, an expanded assault weapons ban, ammunition restrictions and a ban on bulk purchases of handguns. Veilleux said those measures have put Colt and its nearly 700 employees in the cross-hairs. Veilleux, who wrote an op-ed that appeared in The Hartford Courant this week in which he raised the prospect of leaving the state, said the company doesn't have any such "definite plans." But if Malloy follows through on his promise to ban the purchase and sale of AR-15 rifles, the centerpiece of the company's business, he said leaving could become an option.
Mar. 21: Fox News: Reid About what will and will not be in the Senate Gun Control Bill:
Gun control legislation that the U.S. Senate will debate next month will include an expansion of federal background checks for firearms buyers, Majority Leader Harry Reid said, indicating that lawmakers' most effective possible response to the December school massacre will move forward. But this week, Reid said the most controversial proposal, an assault weapons ban, had been dropped to make the remaining legislation to win approval in the Senate, which is controlled by Democrats but has plenty of gun rights supporters -- or lawmakers supported by gun-rights groups. Many gun supporters argue that gun restrictions run counter to the constitutional right to bear firearms.
Mar. 20: Fox News: Colorado Gov. Hickenlooper signs gun control package:
Gov. John Hickenlooper signed bills Wednesday that place new restrictions on firearms and signaled a change for Democrats who traditionally shied away from gun control debate in Colorado - a state with a moderate streak and pioneer tradition of gun ownership and self-reliance.
The bills require background checks for private and online gun sales and ban ammunition magazines that hold more than 15 rounds. The bills thrust Colorado into the national spotlight as a potential test of how far the country might be willing to go on new restrictions after the horror of mass shootings at a Newtown, Conn., elementary school and Aurora movie theater.
A Colorado-based manufacturer of magazines plans to relocate because of the new restrictions. Republicans have bashed Democrats, saying their proposal to limit magazine sizes will drive jobs from the state, and ultimately won't prevent criminals from getting larger magazines in other states. Some county sheriffs also opposed the new background checks, arguing they're unenforceable and endanger people's Second Amendment rights. Two ballot measures have already been proposed to try to undo the gun restrictions.
Mar. 18: Politico: Senate Gun Ban Loses Steam:
Sen. Dianne Feinstein (D-CA) said on Monday that a controversial assault weapons ban will not be part of a Democratic gun bill that was expected to reach the Senate floor next month. After a meeting with Senate Majority Leader Harry Reid (D-NV) on Monday, a frustrated Feinstein said she learned that the bill she sponsored — which bans 157 different models of assault weapons and high-capacity ammunition magazines — wouldn't be part of a Democratic gun bill to be offered on the Senate floor. Instead, it can be offered as an amendment. But its exclusion from the package makes what was already an uphill battle an almost certain defeat.
Mar. 17: The Hill: States to Fed: Don't Tread on Us!
A growing number of states are moving forward with legislation to exempt them from new federal gun controls and, in some cases, brand as criminals anyone who tries to enforce them.
While many of the bills are considered symbolic or appear doomed to fail, the legislative explosion reflects a backlash against legislative and regulatory efforts in Washington to tamp down on gun violence.

As of this week, at least 28 states had taken up consideration of gun bills this year, according to new data compiled by the National Conference of State Legislatures. More than 70 bills have been put forward in all.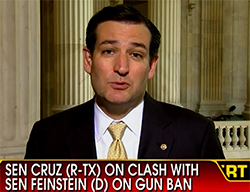 Mar. 15: Fox News: Sen. Ted Cruz on fiery hearing over gun control
Video report and interview with Ted Cruz.
Mar. 14: The Hill: Heated debate as Senate committee passes gun control legislation:
The Senate Judiciary Committee approved a ban on the sale and manufacture of more than 150 types of semi-automatic weapons with military-style features Thursday in a party-line vote. The 10-8 vote along party lines came after a heated exchange between Sen. Dianne Feinstein (D-CA) and Sen. Ted Cruz (R-TX), who Feinstein scolded for giving her a "lecture" on the Constitution. It's the fourth piece of gun control legislation to make it out of committee and perhaps the one with the longest odds of becoming law, given opposition from Republicans to a new ban on the weapons.
Committee Democrats first beat back four amendments offered by Sen. John Cornyn (R-TX) that would have carved out exceptions to the ban. Cornyn asked for exceptions for victims of domestic violence, military veterans and those living on Southwest border states that he said were affected by Mexican gang violence. Feinstein, the sponsor of the underlying bill, called the amendments "an effort to nip it and tuck it and create exceptions." Cornyn said Feinstein's bill would leave citizens with "peashooters" and outgunned by criminals.
Feinstein became furious at one point with Cruz, who she saw as lecturing to her about the meaning of the Constitution, the fourth amendment and why the framers of that document used certain language.
Mar. 10: The Huffington Post: Gun Control: Democrats Face Heat From Pro-Gun Voters:
HELENA, Mont. — U.S. Sen. Max Baucus has been here before. Back during the Clinton era, the Democrat faced a choice: support an assault weapons ban urged by a president from his own party and risk angering constituents who cherish their gun rights, or buck his party. He chose the ban, and nearly lost his Senate seat. Now, as he begins his campaign for a seventh term, Baucus faces the question again. For weeks, gun foes have sought assurances he would oppose the assault weapons ban. But it was only this past week he said he would oppose it.
That decision alone doesn't settle the issue for his re-election campaign. His opponents are watching closely, eager to pounce as he navigates a series of other gun control proposals, including an expected call for universal background checks. Baucus' predicament is one that a group of Democrats like him in the West and South are facing. They hail from predominantly rural regions of the country where the Second Amendment is cherished and where Republicans routinely win in presidential elections.
Mar.10: The Hill: Congress struggles to entice states to report mental illness for gun checks:
Lawmakers grappling with ways to keep guns from the hands of the mentally ill are faced with a central question: How to entice states to report such cases without trampling on the Constitution? Sen. Lindsey Graham (R-SC) this week said he's eying legislation to require states to report cases of severe mental illness to the federal government in hopes of reining in gun violence. "I'm thinking about that," he said Thursday. "That's a 10th amendment deal, but it's also – I think we'd benefit."
But even gun-control advocates doubt the federal government has the authority to compel states to share those records. They said Congress can provide financial incentives – both payments and penalties – to encourage such reporting. But a federal mandate would likely prove unconstitutional.
Mar. 9: The Ledger: Colorado: Background Checks, Domestic Violence Suspects Owning Guns Proposals Pass:
Standing firm on new firearm restrictions, Colorado Democrats advanced aggressive gun-control proposals in a state balancing a history of heartbreaking shootings with a Western heritage where gun ownership is treasured by many. Democrats shepherded through expanded background checks on private gun purchases and a new ban on gun ownership by people facing domestic-violence accusations. The measures passed after hours of debate as Republicans tried in vain to argue the gun proposals change Colorado's character and violate the Western ideal of self-reliance.
Mar. 9: The Guardian: Gun Control backlash prompts US towns to "require" residents bear arms.
Leaders in a handful of communities – fearful of new federal legislation – say they know their rules are likely unenforceable. A town of 140 people in Maine is considering an ordinance making gun ownership mandatory, the latest of a handful of communities nationwide to pass or consider such a rule even though the measures are widely considered unenforceable.
Communities from Idaho to Georgia have been inspired to "require" or recommend their residents arm themselves ever since a gunman killed 26 youngsters and educators December 14 in a school in Newtown, Connecticut, and raised fears among gun owners about an impending restriction on Second Amendment rights. Although it is only a handful of communities these measures reflect a growing divide in the US between those like President Barack Obama who believe guns need to be more strictly regulated and supporters of the powerful gun lobby the National Rifle Association, which maintains that more guns keep people safer. While generally more liberal states with large urban centers like New York and California lawmakers have been introducing more stringent gun control laws, more conservative, rural areas have been going in the opposite direction
Mar. 8: The Daily Caller: Republicans plan 'historical, monumental' effort to defeat gun bills:
Some of the most controversial gun bills being considered by the Democratic-controlled Colorado legislature might not be the shoo-in legislation that many have assumed them to be. According to an article in the Denver Post, three of seven gun bills being heard in the Colorado Senate on Friday are only one Democratic defection away from defeat.
The endangered bills would ban concealed weapons on college campuses, ban high-capacity magazines, and impose liability on owners, sellers and makers of assault-style weapons. While passions have run high over all of the gun bills introduced this year, these bills have inspired the most robust debate. Democrats control a thin majority in the Senate of 20-15, meaning Republicans must convince only three of their political opponents to switch sides to kill a bill.


Mar. 8: The Daily Caller: Outdoor Channel will not film shows in Colorado if gun bills pass:
While Colorado state senators argue their way through a marathon debate over a slate of gun-control bills, another company has vowed not to do business in Colorado if the legislation passes. A producer for the Outdoor Channel, a California company that produces television shows about guns and hunting in Colorado, emailed Republican Sen. Steve King on Tuesday warning him that not only will he film the shows in a more gun-friendly state, but also that he would warn hunters to stay away.
"The message we will take to our viewers and listeners is that these proposed laws are so dangerous to hunters and any other person, be she a fisherman or a skier who brings a handgun into the state for self-defense, that we cannot recommend hunting, fishing or visiting Colorado," wrote executive producer Michael Bane. "We reach millions of people, and, quite frankly, we have a credibility that Colorado government officials can no longer match."
[See related story from March 7th below]

Mar. 8: The Daily Caller: South Dakota passes law allowing teachers to carry guns in class:
With a signature from Gov. Dennis Daugaard, South Dakota officially passed into law Friday a bill which will explicitly allow the state's teachers to carry a firearm in the classroom.
The New York Times reports: While some other states have provisions in their gun laws that make it possible for teachers to be armed, South Dakota is believed to be the first state to pass a law that specifically allows teachers to carry firearms. About two dozen states have proposed similar bills since the shootings in December at Sandy Hook Elementary School in Newtown, Conn., but all of them have stalled.
Mar. 7: The Daily Caller: Billionaire Donor Stops Obama Supporter Purchase of the Pro-Gun Outdoor Channel:
The Outdoor Channel, a leading hunting and fishing-themed television network, announced Thursday that it plans to sell itself to billionaire sports mogul Stan Kroenke's company, destroying a merger deal with InterMedia Outdoor Holdings, which is owned by major Obama donor and Huffington Post blogger Leo Hindery Jr.'s private equity fund InterMedia Partners. Kroenke Sport and Entertainment has purchased the Outdoor Channel for $227 million in an all-cash deal. The Outdoor Channel board considered Kroenke's bid a "superior proposal" after Kroenke swooped in this week to outbid Hindery.
The Daily Caller first reported last week that Hindery is in the process of buying up and consolidating America's leading pro-gun media outlets as part of a business plan that has already led to the gutting and virtual destruction of media facilities like the Petersen's Hunting studio in Minnesota and Barrett Productions in Montana.
Mar. 7: Reuters: Senate Judiciary Moves Gun Control Legislation: Vote was along party lines:
The Senate Judiciary Committee on Thursday backed President Barack Obama's call to crack down on the clandestine trafficking of firearms, marking the first votes in Congress on gun-control since a school massacre last year prompted calls for action. On a largely party-line vote of 11-7, the Democratic-led committee approved a bill to make it a federal crime to engage in "straw purchasing," or buying of guns on behalf of those who are prohibited from owning them."It is designed to prevent criminals from using straw purchasers who can pass a background check and then hand those firearms to criminals," Chairman Patrick Leahy, a Vermont Democrat, said in touting his bill. It carries a maximum sentence of 15 years in prison.
The proposal was the first of four gun-control measures that are expected to pass the committee, setting up fights in the full Senate where Republicans strongly oppose a proposed ban on assault weapons and have doubts about a plan to expand background checks on prospective gun buyers.
Mar. 6: Reuters: Gun Advocates Are Buying Guns as fast as they become available:
In the gun-friendly state of Louisiana, the backlash against the President's proposed restrictions on firearms seems to be everywhere. It can be seen in the frenzied sales and empty racks at Jim's Firearms store in the state capital, Baton Rouge, where customers have rushed to make purchases as Congress weighs several gun-control bills.
It is evident in the state Legislature, where a series of bills aimed at protecting gun owners' rights have been introduced as a counter-punch to Obama's push in Washington. It is abundantly clear in the sea of hands that pop up when a congressman asks an overflow crowd in Baton Rouge how many are worried about their constitutional right to bear arms being threatened.
Mar. 6: Reuters: Attempt at Bipartisan Gun Control Measures Fails to make Progress:
Disagreement over details of how universal background checks track firearm purchases in the United States has halted momentum on further legislation, dimming -- for now -- prospects that Congress will pass major new gun laws in the wake of the Newtown shootings. Senate Democrats negotiating a bill to require all gun buyers to get a background check have abandoned discussions with GOP Sen. Tom Coburn, leaving the legislation -- at least for now -- without backing from a pro-gun Republican.
That means a key Senate committee will start discussing and voting on gun laws Thursday morning without a workable, bipartisan version of what's become the centerpiece of President Barack Obama's proposed package of new gun laws.
Mar. 4: ABC News: Mark Kelly Testifies in Denver on Gun Control Legislation
The battle over new firearm restrictions intensified in Colorado as hundreds of gun advocates filled the state Capitol, while the husband of former U.S. Rep. Gabrielle Giffords urged lawmakers to pass universal background checks. A constant chorus of car honking could be heard outside as lawmakers discuss seven gun bills Monday. Giffords' husband, Mark Kelly, told lawmakers that he and his wife are Second Amendment supporters, but that the right shouldn't extend to criminals and the mentally ill. The proposal Kelly testified for would expand background checks to include private and online sales.

Mar. 3: Fox News: Gun Lobbyist Faces Ethics Charges:
A gun lobbyist accused of going too far to push his point in Colorado faces an ethics investigation. Republican Rep. Cheri Gerou of Evergreen has accused Joe Neville of the Rocky Mountain Gun Owners Association of the ethics violation. Gerou said Neville "threatened political retribution," something lobbyists are not supposed to do. Further details of the complaint haven't been made public.
Gerou voted against a Democratic package of gun-control measures last week. She has said her constituents were falsely told she planned to support the gun limits. A panel of legislative leaders from both House and Senate decided Friday in a closed-door hearing that Gerou's complaint should be investigated. It wasn't clear how long lawmakers would spend deciding whether Neville improperly confronted Gerou.
March 2nd - Fox News: Company will move if Colorado approves gun control:
Unnoticed amid dozens of tract homes in the Denver suburbs, a nondescript industrial building is suddenly in the middle of the gun control debate in Colorado. The company, started in an ex-Marine's basement in 1999, is in a standoff with Colorado Democrats who want to restrict the size of ammunition magazines after mass shootings in a suburban Denver movie theater and a Connecticut elementary school. Magpul has issued lawmakers an ultimatum potentially worth millions: Pass the bill, and the business will move! It's a bold threat from a company that, by its founder's admission, has distanced itself from politics. "The people who wrote the bill didn't even know we existed in the state," said Richard Fitzpatrick, the founder and president of the company, one of the country's largest producers of magazines and other firearm accessories for gun enthusiasts, law enforcement and the military.
The warning from Erie-based Magpul underscores the political pressures Democrats are weighing as they advance the strictest gun-control measures lawmakers have ever considered in a state that still prides its frontier spirit. Other gun-control proposals include universal background checks, a ban on concealed firearms on campuses, and holding assault-weapon sellers and owners liable for shootings. Opponents need only three Democrats in the Senate to vote no against the magazine proposal to defeat it, and two have already said they won't support the bill. But most Democrats are not budging. The bill would make it a crime to have magazines that can carry more than 15 rounds, with a stricter limit of eight for shotguns. People who own larger magazines now would be allowed to keep them.
Mar. 1: Fox News: Obama Order for CDC to Resume Gun Research Reignites Old Debate:
Public health officials are, once again, in the crossfire of an old debate on guns. The latest issue stems from a Jan. 16 executive order. After a series of highly publicized mass-shootings, President Obama directed the Centers for Disease Control and Prevention to resume research on gun violence.
"No commonsense definition of public health would lead you to the conclusion that it's the business of the federal government or, more specifically the CDC, to study gun violence," said Bob Barr, a former Republican congressman who currently serves as a board member on the National Rifle Association. "This is all about politics and gun control, not public health."
Feb. 28: Politico: Assault Weapons Ban Proposal Delayed in the Senate:
The Senate Judiciary Committee postponed a markup for new gun control legislation for one week, delaying action on a controversial proposal to ban assault weapons. The postponement also allows more time for bipartisan negotiations between Sens. Chuck Schumer (D-NY) and Tom Coburn (R-OK) to reach a deal to expand background checks for all gun purchases. Those talks have stalled over Coburn's objections to permanent record keeping of gun purchases becoming a part of background checks.
Feb. 28: Politico: Democratic governors fear gun reform moment has passed:
Gun-control advocates hoped the shattering December murder of 20 first-graders in Newtown, CT., would upend the de facto non-aggression pact on federal gun laws that both political parties have consented to in the last decade. But now that expanded background checks seem to be the only initiative that may pass Congress, the most powerful bloc of gun-control proponents in the country is conceding that the gripping sense of outrage following the Sandy Hook massacre has ebbed.
Democratic governors fault Washington lawmakers for not acting more aggressively but, more strikingly, some even point a finger at Americans themselves for not keeping up the pressure on elected officials."I think the public outrage at this has somewhat waned and that makes the consensus harder to achieve," said Maryland Gov. Martin O'Malley,
Feb. 28: The Daily Caller: Employees: Obama donor in process of buying up and 'destroying' America's top pro-gun media outlets: Employees of Obama donor Leo Hindery Jr.'s media conglomerate Intermedia Partners, which now owns most of the top gun-culture media outlets in the country, believe that Hindery plans to gut and destroy all of them as part of a business plan that has already led to numerous layoffs and the virtual shuttering of prominent television production facilities in Minnesota and Montana.
Hindery, who was in consideration to be President Barack Obama's secretary of commerce, is managing partner of Intermedia Partners. The New York-based media private equity fund owns Intermedia Outdoor Holdings, which publishes 17 hunting, fishing, and shooting magazines, including Guns & Ammo, Handguns, Gun Dog, Rifle Shooter and Shooting Times.
Feb. 27: Fox News:Colorado Republicans bristle as White House meddles in state's gun control debate:
Republican lawmakers in Colorado say they want the White House to stay out of their state battle over gun control, accusing Vice President Biden of personally leaning on Democratic legislators for their votes in a tight campaign that could change the national conversation on gun rights. Republican state Rep. Carole Murray told FoxNews.com she doesn't appreciate "East Coast politics" interfering in her state.
The concern comes ahead of a tense Senate vote -- which could come late next week -- and after a vote in the House that prompted the White House to take the unusual step of lobbying wavering Democrats. Biden's office confirmed to FoxNews.com he made four phone calls to Colorado Democrats, two in moderate districts, but did not say what they were about.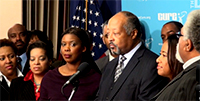 Feb. 22: The Daily Caller: Black Pastors Link Gun Control to Efforts to Control Blacks.
African-American leaders spoke out against President Barack Obama's call for more Gun Control on Friday, some saying the proposed measures have "racist" origins. "For black Americans, we know that gun control has ultimately been about people control. It sprouts from racist soil; be it after the, or during the infamous Dred Scott case where black man's humanity was not recognized," said Niger Innis, spokesman for the Congress of Racial Equality at the press conference sponsored by the Center for Urban Renewal and Education.
Harry Alford, the president of the Black Chamber of Commerce, praised the National Rifle Association noting that it was the NRA that originated to help ensure free Blacks had the right to bear arms so that they could protect themselves against armed KKK members.
Feb. 22: The Hill: Lawmakers Call Upon Obama Administration and Holder to Enforce Existing Gun Laws:
House Judiciary Committee members are calling on President Obama and Attorney General Eric Holder to prosecute more people for lying on their firearm permit applications and committing other gun-related crimes. In letters to Obama and Holder on Friday, the group of 23 GOP lawmakers — led by Committee Chairman Bob Goodlatte (VA) — highlighted a declining number of federal weapons prosecutions in recent years, as well as a low number of prosecutions of people who have had their gun permit applications rejected. The Republicans say those numbers show that more attention and resources should be placed on enforcing current firearms laws before the White House and Congress move to enact new ones. [See another report about Eric Holder and his being held in Contempt of Congress]
Feb. 21: The Daily Caller: Dems Plan to Parley Gun Control & Minimum Wage into 2014 Wins:
Don't expect President Obama's gun control plans and calls for a federal minimum wage hike to go away anytime soon. Democrats believe they have a chance to use those both issues to "campaign aggressively" in the 2014 midterms. The Washington Post's Greg Sargent (no relation!) has the details from the Democratic Congressional Campaign Committee: In an interview today, DCCC chair Steve Israel told me the party's House candidates will be running aggressively on Obama's proposals to reduce gun violence and raise the minimum wage. Both will be incorporated into a broader indictment of the GOP as so imprisoned by ideological extremism that the party has been rendered incapable of tackling the major challenges facing the country.
Feb. 19: The Daily Caller: Democrat Lawmaker in Colorado apologizes for comments about women with guns:
Democratic Colorado state Rep. Joe Salazar apologized Monday for suggesting some women are so unjustifiably afraid of being raped that they are liable to start shooting wildly. Salazar, arguing in favor of disarming college students, said Friday on the Colorado House floor that women fearing rape may suddenly and haphazardly "pop a round at somebody."
"It's why we have call boxes; it's why we have safe zones; it's why we have the whistles — because you just don't know who you're gonna be shooting at. And you don't know if you feel like you're gonna be raped, or if you feel like someone's been following you around or if you feel like you're in trouble when you may actually not be, that you pop out that gun and you pop … pop a round at somebody," Salazar said.
---
Feb. 18: FoxNews: Push to keep feds out of state gun markets gains momentum
States across the country are trying to protect gun ownership from the long arm of Washington by proposing bills declaring that firearms made and kept within their borders are not subject to federal restrictions. Nine states have proposed such legislation since President Obama and Senate Democrats began trying to tighten federal gun laws in the wake of several mass shootings that occurred within months of each other.

"There's a lot of momentum," Montana activist Gary Marbut told FoxNews.com on Monday. Marbut was behind the original Firearms Freedom Act, which says the Commerce Clause allowing Congress to regulate inter-state commerce does not apply to the in-state manufacturing, selling and ownership of firearms. Montana passed the bill in 2009. Since then, a host of other states have tried to pass copycat legislation. Alabama, Georgia, Indiana, Michigan, Mississippi, Nebraska, Oklahoma, Pennsylvania and Washington have proposed such legislation.

Related Video: The survivor of a shooting where her mother and father were gunned down talks about what happened, attacks in "gun-free zones" and why gun control is the wrong choice. In 1991 Suzanne Hupp wanted to fight back but she was following the law and left her gun in her car. These events are not happening where others have guns, she said, its happening where guns are restricted.
---
Feb. 17: Kira Davis | Video: A woman from black roots who has done a YouTube video on what gun control means to her and what it should mean to her people and to all Americans.

Feb. 16: FoxNews: You may not be able to buy 30 round clips but you can make your own:
New and proposed laws may be at least one step behind technology. Using 3D printers and schematics available on the Internet, gun owners can manufacture a fully functional, plastic magazine clip. Plans are free, although getting access to a 3D printer may prove expensive, at least for now.

"If you can download it, you can have it," said University of Texas law student Cody Wilson, who is part of a group that has created the design for what they refer to as a "Cuomo Clip" along with other gun parts. It is all under an initiative they refer to as the Wiki Weapon Project. "It's basically to head them [legislators] off at the pass, which we have," Wilson added, noting that "hundreds of thousands" of visitors have gone to his group's site to download the CAD file for the ammo magazine since it was first posted in mid-January.

Feb. 16: The Hill: GOP Lawmakers Slam Doctor's Group for Asking About Guns:
Republican lawmakers are furious with the American Academy of Pediatrics (AAP) for backing the right for doctors to ask kid questions about gun ownership during normal check-ups. Some doctors support the policy arguing that it helps ensure child safety. The Obama Administration has as vowed to protect doctors' right to ask.

But as the gun-control debate simmers in Washington, conservative lawmakers said pediatricians go too far when they inquire about family firearms. "It's not their business," said Rep. Steve King (R-IA), a member of the House Judiciary Committee. "It's like asking, 'Do people pray in your home? Do they voice opinions contrary to the [Obama] administration?'"

Feb. 16: The Daily Caller: Colorado Company Stands Up to State Lawmakers, Threatens to move to a more gun-friendly state:The Democratic-controlled Colorado House gave early approval to a bill limiting ammunition magazines to 15 rounds on a voice vote Friday, despite threats by at least two companies to close shop and move to a more gun-friendly state.

One of those companies, Magpul, makes 30-round magazines for sale to military customers, as well as other equipment for assault rifles. Alfred Manufacturing, a third-generation Colorado company, also said it would relocate if the bill becomes law. The bill specifically exempts magazine manufacturers and their employees from prosecution, but Magpul Chief Operating Officer Doug Smith has said the company will move out of Colorado on general principle. Magpul employs about 600 people in Boulder, Colorado.

Feb. 14: FoxNews: NYC Mayor throws $1.3 into race to stop a Pro-Gun Democrat from Chicago from being elected to Congress:
New York City Mayor Bloomberg has chipped in over a million dollars in an effort to stop former Congresswoman Debbie Halvorson from winning a 16-way race to represent Cook County Illinois. Some high profile Obama supporters are also working to make sure she is not elected. Halverson notes that Cook County has had an assault weapons ban since 1993 and yet they have the highest murder rate in the country. "There is something wrong with this picture," she says. Halvorson is running for the seat vacated by Jesse Jackson, Jr. She was supported by the NRA in her 2010 run.

Feb. 13: The Galveston Daily News: League City Texas Goes On Record Regarding Gun Control:
A resolution adopted by the city council would make League City a haven from gun laws. The resolution that passed 7 to 1 says that laws that infringe upon Second Amendment rights are in violation of the Constitution and "shall be considered null and void and of no effect in League City."

Councilwoman Theiss, a firearms dealer and sponsor of the measure, said that gun control is "the most fundamental issue we are going to be dealing with for quite some time. League City would lead the way in standing up against federal gun laws. We will be the first municipality to take such a measure, but we certainly will not be the last," she said. "The reason I wanted League City to take the lead on this is because we have been known for having the highest concentration of (concealed handgun licenses) within the state of Texas and considering how well-armed Texas is, that is saying something."

Feb.11: Fox News: Why the Right to Have and Use Weapons is Important:
A Washington state homeowner shot a drugged-out intruder who entered his home while he was asleep with his wife early Sunday. Brian L. Creed, entered the home and started walking down a hallway toward the homeowner, who was standing outside his bedroom door.

When the 24-year-old homeowner told the suspect to stop, Creed allegedly charged the homeowner, prompting him to fire a shot at the intruder. Creed then allegedly tackled the homeowner and the two were involved in a physical altercation until the homeowner was able to hold the suspect at gunpoint until authorities arrived.

Feb. 11: The Hill: Manchin (D-WV) opposes assault weapons ban:
Speaking on MSNBC, Manchin, who has an "A" rating from the National Rifle Association and in December called for federal action to reduce gun violence, said he thinks there's a better way to reduce mass shootings without introducing new restrictions for gun owners."I do not support an assault weapon ban because the definition of assault weapon is still hard to come by," Manchin said. "So I am not going to comment on people's legislation. I do not support that approach right now."

Manchin is part of a quartet of legislators working to tighten background checks required to purchase a gun. The other members of the group are Sens. Charles Schumer (D-N.Y.), Mark Kirk (R-Ill.), and Tom Coburn (R-Okla.).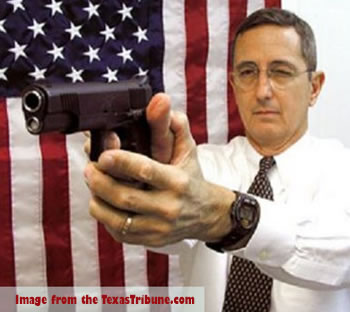 Feb. 9: From the Editor: This evening my family and I attended the Brazoria County Lincoln Day Dinner in Lake Jackson. Texas Land Commissioner Jerry Patterson was the keynote speaker. Back in 1995 he sponsored the concealed carry bill in the Texas Senate. At the time the reports in the media were that you'd better watch out because you are going to have shoot outs at four way stops! Of course this hasn't happened!

Patterson noted that there has been a dramatic drop in gun violence from 7 per 100,000 people to 3 per 100,000 people in 2011 (the last date the figures are available for). "What we are seeing is a dramatic increase in 'nut job' shootings in gun-free zones. We have a 'nut-case' problem and that is what we need to address not a gun control issue," he contended.
Feb. 8: The Daily Caller: NRA Meets with Colorado Elected Officials
Just days after Colorado Democrats introduced a far-reaching slate of gun control proposals, National Rifle Association president David Keene met separately behind closed doors Thursday with Colorado Gov. John Hickenlooper and Senate Majority Leader Sen. John Morse.
"We appreciate David Keene's willingness to come out to see firsthand what we're considering and talking about in Colorado," said Hickenlooper in a brief prepared statement after his meeting. "While we might not agree on a number of things, there will certainly be places we can find common ground." One of those places may be stronger background checks, which Keene has said the NRA generally supports.

Feb. 7: The Daily Caller: Los Angeles police launched a manhunt Thursday for former LAPD officer Christopher Dorner, who is suspected of murdering two people last weekend and killing one person and wounding another in a shooting Thursday morning. A lengthy manifesto on Dorner's Facebook page states his support for President Barack Obama and CNN host Piers Morgan, and his hatred of both the National Rifle Association and former Republican presidential candidate Mitt Romney.

Feb. 4: FoxNews: Obama tries to undercut NRA in gun control debate:
President Obama on Monday tried to undercut National Rifle Association leaders and appeal directly to their membership, claiming gun owners support the "common-sense" gun control measures he's proposed -- and urging those supporters to "keep the pressure" on Congress.
The president spoke in Minnesota, in his first campaign-style stop as part of a second-term push for new firearms laws. On the other side of that debate, the NRA has aggressively argued against Democrats' call for a new and stronger assault-weapons ban, a ban on high-capacity magazines and universal background checks. But in a risky move, the president used his speech Monday to try and sideline America's most powerful gun lobby.
The Daily Caller: David Keene, President of the NRA, speaks out about the 2nd Amendment and gun control:This video interview is something you may find both interesting and informative.
[Editor's Comment: I knew David from my time in Young Americans for Freedom in the 1960s. He is a reasonable person who stands on principle.]
Dave talks about this being the first instance where those who want to take away citizen's 2nd Amendment rights are mounting a coordinated attack and it is funded by Michael Bloomberg, the Mayor of New York City. When asked how much he is willing to spend, Bloomberg reportedly responded I spent $600 million fighting tobacco, I'll spend that much and more if that is what it takes.

Feb. 4: Reuters: Obama takes gun control campaign to Midwest
President Barack Obama on Monday took his gun control campaign to Minneapolis, making a visible push for reform ahead of his State of the Union address in a state with an active hunting culture where efforts have helped curtail violence. Obama wants to move quickly to pass laws before memories fade of the December mass shooting in Newtown, Connecticut.

Feb. 4: CNN: Obama still backs new gun ban; top senator less certain
President Obama on Monday reiterated his call for a comprehensive package of steps against gun violence as the focus on possible Senate legislation appeared to narrow to expanded background checks and limited ammunition magazines, rather than a ban on semi-automatic rifles that mimic assault weapons. Opponents led by the influential National Rifle Association, oppose any ban on weapons, and Senate Majority Leader Harry Reid has indicated that such a provision faced an uphill struggle. Reid told ABC on Sunday that he backed expanding background checks to private gun sales at shows and other steps, but he refused to endorse a ban on what are called assault-style rifles modeled after military weapons.
Feb 4: CNN: Meanwhile Obama "Shooting Image" Gets Blasted on the Web
The photo that the White House released Saturday of the President skeet shooting at Camp David did little to shoot down skepticism that he has fired a gun before – instead inspiring conspiracy theorists, critics and comedians on the Web. The controversy circles around the timing of the photo release, which occurred after Obama responded to a question about whether he had fired a gun before. "Up at Camp David, we do skeet shooting all the time," Obama said in an interview published January 27th by The New Republic. The following day, Republican Rep. Marsha Blackburn challenged Obama's comment during a CNN interview.
"If he is a skeet shooter, why have we not heard of this? Why have we not seen photos? Why hasn't he referenced this at any point in time?" Five days later, the White House posted the image of Obama shooting a gun wearing a black polo and blue jeans. Within minutes, the validity of the photo was questioned, some calling it staged and others saying it was edited.
National Rifle Association spokesman Andrew Arulanandam told CNN, "One picture does not erase a lifetime of supporting every gun ban and every gun control scheme imaginable."

Feb. 3: Fox News: Judge Jeanine: Banning weapons to prevent crime doesn't work:
We need to enforce U.S. gun laws, we need to look at keeping the mentally ill from getting them while ensuring that law abiding citizens can have them.

Feb. 3: The Wall Street Journal: Senate to Move on Gun Control Magazine Capacity Likely to Face Limit:
Senate Democratic leaders expect a gun bill to move to the Senate floor that includes most of the proposals backed by the President, with the notable exception of a ban on military-style, semiautomatic weapons, a top aide to Majority Leader Harry Reid said. The bill would likely seek to limit the capacity of ammunition magazines; expand background checks to include sales at gun shows and other private transactions; and require better record keeping to keep guns out of the hands of those with mental illnesses. It would also try to curb gun sales in states with more relaxed gun laws to buyers in states with stricter laws.
Jan. 30: FoxNews: Stirring Testimony Leaves Out the Reality these attacks are taking place in "Gun-Free Zones":
Former Congresswoman Gifford (D-AZ) testified today urging the enactment of stronger gun control laws. But left out, according to Larry Pratt, the Executive Director of Gun owners of America, is the fact that all of these attacks of gun violence have occurred in "gun free zones" like schools. Whenever one of these people is faced with a good guy with a gun they either give up or commit suicide, he contended. [Pratt's comments start about a minute into the video clip]
Jan. 29: The Hill: Reid declines to endorse Feinstein's assault-weapons legislation:
Senate Majority Leader Harry Reid (D-NV) on Tuesday declined to voice support for Democratic legislation that would ban assault weapons and high-capacity ammunition clips.   Reid said he would bring gun-violence legislation to the floor and open it to a lengthy amendment process. But he declined to endorse the assault weapons ban introduced last week by Sen. Dianne Feinstein (D-CA), which has the support of the 2nd and 3rd ranking Senate Democratic leaders.
"She's talked to me about her assault weapons. The new one," Reid said. "She believes in it fervently and I admire her for that. I'll take a look at that," he said in response to a reporter's question. "We're going to have votes on all kinds of issues dealing with guns, and I think everyone would be well advised to read the legislation before they determine how they're going to vote [on] it." [Editorial Comment: Just don't ask Nancy Pelosi about reading a bill before voting on it!]
Jan. 29: Fox News: Gun control supporters urge Obama to bypass Congress on new measures:
As Congress debates various gun control measures, President Obama is publicly putting the heat on Capitol Hill. "The only way that we're going to be able to do everything that needs to be done is with the cooperation of Congress," he said Monday while hosting law enforcement officials from around the country. But Supporters of tougher gun controls are growing increasingly worried lawmakers won't pass any substantial measures and have begun to focus their efforts elsewhere. A number of Obama allies across the country have called on public employee pension funds to divest of any holdings linked to the gun industry.
Jan. 27: FoxNews: Obama suggests Republicans unwilling to compromise in gun control debate:
President Obama is suggesting that House Republicans on the issue of gun control appear neither willing to work with him nor listen to the American public on the issue. "The House Republican majority is made up mostly of members who are in sharply gerrymandered districts that are very safely Republican and may not feel compelled to pay attention to broad-based public opinion, because what they're really concerned about is the opinions of their specific Republican constituencies," the president said in an interview with The New Republic.
[Editor's Comment: Hello? For once both Republicans and Democrats who believe in the Second Amendment, and who took the oath support and defend the Constitution against all enemies foreign and domestic, are living up to their oath and their promises. There is a point at which to compromise is to go against one's beliefs and the promises one has made. If our nation is to survive there will come a time when statesmen and real leaders will just say NO to compromise that violates their beliefs and their promises!]

In the meantime, the Washington Post Reports: For the first time since Obama became president four years ago, his political interests and Reid's may be diverging. Not so much because there is huge disagreement on the president's agenda, but because helping Obama may hurt vulnerable Democrats in the Senate. Reelected and unconcerned about ever having to face voters again, Obama seems determined to push a far-reaching agenda — on guns, climate change and gay rights, among other topics — that looks toward his presidential legacy. Majority Leader Reid (D-NV) is significantly more encumbered and must worry about how to protect 20 Democratic-held Senate seats that will be up for grabs in 2014, while Republicans are defending only 14 spots.
Jan. 27: The Daily Caller: Poll: Two-thirds of American voters with household guns would 'defy' gun laws:
As anti-gun lawmakers push for a government ban of more than 150 types of firearms, a new Fox News poll shows that two-thirds of American voters who have guns in their household would "defy" any law requiring them to give up the guns.
A majority of poll respondents – 52 percent – revealed that someone in their home owns a gun. Those respondents were then asked, "If the government passed a law to take your guns, would you give up your guns or defy the law and keep your guns?" Approximately 65 percent indicated they would "defy the law," including 70 percent of Republicans and 52 percent of Democrats who answered the question. Only 22 percent said they would "give up" their guns, while 13 percent were not sure.
Jan. 27: CBS News: President Obama said gun control proponents "have to do a little more listening" to second-amendment advocates in an interview with The New Republic, noting that he has a "profound respect" for hunting as a tradition and urging those who support stricter gun laws not to dismiss that tradition "out of hand."
Jan. 24: FoxNews: Democrats introduce expanded assault-weapons ban:
Senate Democrats introduced a new and broader assault-weapons ban Thursday, in a vivid press conference that included a display of various weapons they want to outlaw. It was a measure that was quickly condemned by the National Rifle Association as an assault on the Constitution, "instead of prosecuting criminals or fixing our broken mental health system. ...The American people know gun bans do not work and we are confident Congress will reject Senator Feinstein's wrong-headed approach," spokeswoman Andrew Arulanandam said.
The measure was written by Democratic Sen. Dianne Feinstein, who was behind the original 1994 assault-weapons ban which expired in 2004. As part of the press conference, lawmakers displayed an array of weapons, including a Colt AR-15, a semi-automatic assault rifle, and an Intratec TEC-9, a semi-automatic handgun. The move comes after NBC News host David Gregory faced an investigation for displaying a banned magazine on a Sunday show in the District -- but the Senate sergeant-at-arms office said the weapons were displayed Thursday in "compliance" with all applicable laws. The office said they are "authentic" and in the custody of the Philadelphia and D.C. police departments, which brought them.
The weapons ban, though, faces long odds even after last month's mass school shooting in the state of Connecticut. In a statement, Republican Texas Sen. Ted Cruz said the proposal would have done "nothing" to prevent the Newtown tragedy and vowed to fight to defeat the bill."Washington politicians shouldn't be taking advantage of recent tragedy to try to push an aggressive gun control agenda. Real assault weapons -- machine guns -- are already functionally illegal, and they have been since 1934," he said.
Jan. 24: The Daily Caller: Feinstein calls for banning more than 150 types of firearms:
California Democratic Sen. Dianne Feinstein staged a press conference Thursday on Capitol Hill with 10 weapons at her side and unveiled legislation instituting a government ban on more than 150 types of firearms, including rifles, pistols and shotguns. Flanked by other anti-gun liberal lawmakers, including New York Sen. Chuck Schumer and Illinois Sen. Dick Durbin, Feinstein announced the introduction of the "Assault Weapons Ban of 2013." The legislation being pushed by Feinstein would prohibit the sale, transfer, importation and manufacture of certain firearms. A list of the firearms affected can be found here.
During the press event the Democrats described these firearms as "dangerous military-style assault weapons." The bill would also ban high-capacity ammunition feeding devices that can hold more than 10 rounds. Feinstein said the country's "weak" gun laws allow massacres like the Sandy Hook Elementary School shooting occur. She failed to acknowledge, however, what experience has shown in places like Australia.

"Getting this bill signed into law will be an uphill battle, and I recognize that — but it's a battle worth having," Feinstein said in literature handed to reporters at the Thursday event.
Jan. 21: YouTube: Here is how Gun Control worked in Australia. Worthwhile video to see. Could this happen in the United States?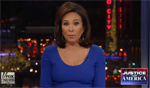 Jan. 21: FoxNews: Judge Pirro Commentary:
[2:15 Minutes into the video] Here are some of President Obama's suggestions on how to prevent Gun Violence:
#7 Launch a national safe and responsible gun ownership campaign.
"Do you really think a criminal is going to stop and consider how to be a responsible gun owner?"
[2:30] #4 Direct the Attorney General to review the categories of individuals who are prohibited from having a gun.
"Really? Aren't all criminals and the mentally ill already prohibited from owning a gun? And that hasn't stopped them!"
[2:55] #11 There should be a nomination of an ATF Director.
"By the way Mr. President isn't that something you should have done while the Fast and Furious operation was shipping guns to the Mexican drug cartels?"
[3:15] #13 Maximize enforcement efforts to prevent gun violence and prosecute gun crimes.
"And this from a President under whom the prosecution of gun crimes has gone down 40%? If you want to stop gun violence it doesn't start with the punishment of law abiding citizens. What you do is prosecute gun crimes."
The piece goes on for about 7:30 minutes, this is just a snippet of what she has to say. Go view it for yourself!
Jan. 21: State Rep. Greg Bonnen: President Obama's statement this morning demonstrates to me his clear intent to infringe upon the 2nd Amendment rights of law abiding citizens and it is my intent to oppose any action by the Administration or the Congress to reinstate a so-called 'assault weapons' ban or high-capacity magazine prohibition, both of which have been proven failures at effectively preventing gun crimes in the past."
Jan. 20: Fox News: Rudy Giuliani weighs in on gun control debate. Proactive policing is what it will take to reduce gun violence, Giuliani said. Criminals don't care about what the law says. What is needed is to seize the guns from the bad guys and not the average citizen, he contended.
Jan. 20: FoxNews: Top Democrat Senators Believe Gun Control Legislation is Possible: Top Democrats expressed confidence Sunday that Congress will pass significant gun-control legislation, with the backing of Washington lawmakers and pressure from Americans across the country. David Plouffe, a senior adviser for President Obama, acknowledged the president's gun-control proposals will need public support to pass in Congress and said the White House will try to "enlist" Americans in the debate through its newly formed, grassroots advocacy group.
Jan. 19: OneNewsNow.Com: Thousands of Gun Owners Rally at State Capitals Around the Country: Gun rights supporters, some with rifles slung across shoulders or pistols holstered at the hip, rallied peacefully Saturday in state capitals across the nation in opposition to President Obama's sweeping federal gun-control proposals. Many, summoned by social media for the "Guns Across America" event, gathered to protest against stricter limits sought on firearms. The crowds ranged from a few dozen in South Dakota to a few hundred in Boise, Idaho. About 2,000 turned out in New York while large crowds rallied in Connecticut, Tennessee, Texas, Utah and Washington state.

About 800 people gathered for the "Guns Across America" event in Austin, Texas, as speakers took to the microphone under a giant Texas flag stamped with one word: Independent. "The thing that so angers me, and I think so angers you, is that this president is using children as a human shield to advance a very liberal agenda that will do nothing to protect them," said state Rep. Steve Toth, as he referenced the recent elementary school massacre in Newtown, Conn.

Jan. 17: WND.com: States prepare to pull the rug out from under unconstitutional executive orders by the Obama Administration: Several legislatures are already developing bills that would simply pull the rug from under the president's agenda by specifying that unconstitutional rules or regulations, or executive orders, won't be allowed. In Wyoming, State Representative Kendall Kroeker has introduced the Firearms Protection Act and told WND.com, the new bill protects any Wyoming gun owner from federal gun regulations handed down that have to do with banning automatic rifles, banning magazines or gun registration stating that they "...will not apply to any gun, so long as it stays in Wyoming."
Texas also has started its work to develoop a plan to block enforcement of those efforts that are in violation of the Second Amendment, noting that the right to keep and bear arms "shall not be infringed." [Story suggested by Kenneth Clark, Commissioner, Galveston County]
Jan. 17: The Daily Caller: Cuomo's new gun law does not exempt New York cops, could prevent police from responding to school shootings: A New York lawmaker says that the state's recently passed gun control law stunningly fails to include any exemptions for law enforcement officers, and technically prohibits police from ever bringing guns on school grounds or possessing extended ammo magazines.
The NY SAFE Act, which was championed and signed into law by Democratic Gov. Andrew Cuomo, bans all magazines that hold more than seven bullets and pre-1994 high capacity magazines, and prohibits the carrying of guns on school grounds. But because no loophole for law enforcement was included in the law, every police officer in the state is technically in violation of the statute even though the prohibition is unlikely to be enforced, according to New York Assemblyman Al Graf.
Jan. 17: OneNewsNow.com: Here is a list of the 23 executive orders proposed by the Obama Administration to help curb gun violence.
Jan. 16: CNN : Oregon sheriff: 'Unconstitutional' gun control laws won't be enforced:
An Oregon sheriff says he will not enforce any federal regulation that President Barack Obama lays out in his package of gun control proposals Wednesday. Linn County Sheriff Tim Mueller joins several other public officials across the nation who have decided to square off with the White House even before it outlines what its plans are for expanded measures.
Mueller sent a letter to Vice President Joe Biden this week saying he won't enforce any federal regulation "offending the constitutional rights of my citizens." He won't permit federal officers to come to his county to enforce such laws either, he said. Mueller's defiant stand exploded into a groundswell of support. His letter -- posted on the department's Facebook page -- earned more than 59,000 likes and shares -- and was growing by the minute.
Jan. 16: FoxNews: President Obama's sweeping plan to address gun violence was met Wednesday with swift and stiff resistance by gun rights advocates and conservative lawmakers, setting up a tense debate that will be held on the airwaves, in congressional hearing rooms and in communities across America.
The package proposed Wednesday is the most comprehensive in decades. The president called for a new, tougher assault weapons ban and a 10-round limit on magazines, as well as legislation to bar the possession of armor-piercing bullets and require criminal background checks for nearly all gun sales. Separately, he approved 23 executive actions while calling for additional funding to address mental health and school security.
Jan. 16: FoxNews: Obama, Biden gun control proposals assailed as 'light' on Hollywood, gaming industry: Obama promised to convene a broad national dialogue about the causes of gun violence. But in the proposals that the president put forward on Wednesday, selected from a range of options prepared for him by Vice President Biden, critics noticed what they considered to be a large hole.
"It looks like the entertainment industry, once again, is getting off light," said Dan Isett, director of public policy at the Parents Television Council, a non-profit organization formed 16 years ago to help parents shield children from the violence, sex and profanity offered in TV shows, movies, video games and online fare. Isett noted that President Obama enjoys wide and deep support from the entertainment industry and that it was within his power to urge its leaders to be more responsible about the content they market to teenagers and children. "He has failed to do that," Isett told Fox News.
Jan. 15: The Hill: Sen. Rand Paul (R-Ky.) said Tuesday that President Obama was acting "like a king or a monarch" as the White House considers enforcing new gun laws through executive orders. Obama on Wednesday will unveil his proposals to stem gun violence, which are expected to include a ban on assault weapons and high-capacity clips, as well as increased background checks on gun buyers.
Jan. 15: The Hill: Fast and Furious shows gun control should start with administration: Rep. Louie Gohmert (R-Texas) said Tuesday that if the President Obama wants to impose new restrictions on gun ownership, he should start with his own administration, given how it handled the Fast and Furious gun-walking operation. "We have a president who makes speeches and an attorney general that makes speeches about how they're going to go after illegal gun sales, and yet there is blood on the hands of people in this administration, and we can't even find out who they are," Gohmert said on the House floor Tuesday night.
Jan. 15: FoxNews: The White House Draws Fire Ahead of Gun Control Announcement: President Obama plans to unveil a comprehensive proposal to address gun violence on Wednesday but is already facing criticism, over his potential use of executive action to push multiple gun control measures and over the staging of the announcement itself. The president plans to reveal the details of his plan shortly before noon on Wednesday, joined by children who wrote him letters about gun violence and school safety.
Jan. 15 The Daily Caller publishes an editorial on Operation Fast and Furious and Gun Control: Let's get this straight: Guns are too dangerous to be left in the hands of ordinary Americans. But guns in the hands of unknown rebels, who may turn out to be violent extremists, are just fine. There is no evidence of a connection. But what happened in Benghazi seems like a good reason to refrain from encouraging the distribution of weapons without knowing where they will end up or who will start firing them.
Jan. 14: FoxNews: Gun Sales surge in anticipation of restrictions out of Washington, DC: Long lines at gun show in Daly City outside San Francisco. Ammunition has doubled in price.
Jan. 12: FoxNews: As Vice President Biden prepares to hand in a set of recommendations to curb gun violence next week and pro-gun groups dig in their heels, the vice president has put in play the possibility of using executive action to get controversial gun control measures on the books. Analysts and political scholars tell FoxNews.com that if the president goes through with his threat to circumvent Congress and issue executive orders, he is likely to face an expensive uphill legal battle – on the taxpayers' dime.
But while pro-gun lobbyists have vowed to challenge President Obama's constitutional authority on the issue, that doesn't mean the president won't attempt executive action. A unilateral move to ban assault weapons could be legally perilous, but analysts say there are other measures the president could at least attempt."Much of what the Obama administration can get done will depend on" how far they try to stretch the bounds of executive power, law professor David Prince told FoxNews.com.
Meanwhile, the National Rifle Association says the meeting the Vice President had with them was just for show, that he was just "checking" another box to cover all the bases!
Jan. 10: FoxNews: National Rifle Association Disappointed with Meeting with Biden: Representatives of gun owners meet with Vice President Biden today to discuss ways to reduce gun violence. The NRA, the nation's largest gun lobby, said it entered the meeting prepared to have a "meaningful conversation about school safety, mental health issues, the marketing of violence to our kids and the collapse of federal prosecutions of violent criminals." The group said much of the discussion in the meeting focused on proposed restrictions on lawful firearms owners. "We were disappointed with how little this meeting had to do with keeping our children safe and how much it had to do with an agenda to attack the Second Amendment," the NRA said in a statement.
Jan. 10: The New York Times: Vice President Joseph R. Biden Jr. will present President Obama with proposals for stemming gun violence by Tuesday, setting in motion legislative and executive actions that will encompass guns, ammunition, mental health services and violent images in popular culture.
Jan. 10: Cato Institute: For decades, the Second Amendment was consigned to constitutional exile, all but erased from constitutional law textbooks and effectively banished from the nation's courts. But no more. Recent developments in the law and in political culture have begun the process of returning the amendment to its proper place in our constitutional pantheon. Congress now has a historic opportunity, not simply to stave off new gun-control proposals, but to begin restoring Americans' right to keep and bear arms.
[Provides links to "Face It: Guns Are Here to Stay" by Trever Burrus which says weapons do less harm and more good than many Americans will acknowledge and "Will Newtown Lead to 'Lockdown high'?" by Gene Healy who sayis such horrible but extremly rare tragedies often spur legislative panic attacks in which the urge to "do something" overwhelms sober judgment.]
Jan. 9: FoxNews - Hannity: The White House considers bypassing Congress to impliment gun controls. Vice President stated that the White House may move to put some gun control measures in place by executive order. As in the past, this administration has chosen to use the regulartory process and Executive Orders when he cannot get Congressional action.
Jan. 9: Fox News: Georgia mother who shot intruder imspires opponents of gun control: Melinda Herman grabbed a handgun and hid in a crawl space with her two children when a man broke in last week and approached the family at their home northeast of Atlanta, police said. Herman called her husband on the phone, and with him reminding her of the lessons she recently learned at a shooting range, Herman opened fire, seriously wounding the burglary suspect.
Jan. 8: One Man's Opinion: Letter to His Congressman with the case against additional gun control
Jan. 8: FoxNews: What is Obama's real view on gun control and gun rights? Does he want national gun registration? An interview with Kate Obenshain of Virginia.
Jan. 8: FoxNews: White House ramps up talks on gun control measures: The Obama administration is making a big push this week to gather ideas for a comprehensive plan to curb gun violence, amid reports that the Vice President Biden-led task force is homing in on a host of gun control measures. The administration has vowed, by the end of the month, to produce a comprehensive plan for addressing gun violence in the wake of the Newtown, Conn., school shooting massacre in which 20 children and six adults were killed. The administration says mental health and the entertainment industry also may be examined. Missing from the Administration's approach is the realization that guns in the hands of law biding citizens is one of the biggest deterrents to the illegal use of firearms. See the December 23rd post below.
Jan. 7: FoxNews: Journal News publishes list of gun permit holders in Westchester County, NY along with their addresses: The County Clerk says that the list provided to the Journal News was not accurate. FoxNews reports that many of the names and addresses published in the Journal News are those of police and correctional officers and that some correctional officers have been taunted by their prisoners who now know where they live.
Jan. 6: The Washington Post: Lawmakers kept up the renewed debate over the nation's gun laws Sunday, with the Senate's leading Republican arguing that the matter must wait until pressing fiscal issues are addressed in Congress and one Senate Democrat warning against "extreme" restrictions on guns.
Dec. 23: Post from Galveston, TX: This week I was having a discussion with a Galveston County Judge in the County Justice Center about what gun control advocates were saying in the wake of the Connecticut shootings. I'd like to share with you some parts of our conversation.

Once we tried to abolish the use of alcoholic beverages, we even amended the U.S. Constitution in an attempt to do so. It didn't keep people who wanted to drink from getting one. Eventually the Constitutional Amendment was repealed. So what makes one believe that abolishing access to guns will work any better than prohibition did? The people who want to get access to guns will still get them and then those of us who obey the law will be at the mercy of those who do not.

And consider this, in the Oregon shootings early this year, the guy doing the shooting had his weapon jam. He cleared the weapon and then raised it to start firing again. BUT when he did he was facing a man who had a concealed carry permit and who had a gun pointed directly at him. The shooter's immediate response was to commit suicide.

So what do these two things tell us? The first is that if we try to ban the ownership of guns we will find that we still cannot keep the bad guys from getting them. The second thing we learn is that when a bad guy is facing a good guy who is armed the bad guy will either back down or kill himself. Either way, citizens trained in the handling of firearms are able to stop gun violence in its tracks when the situation calls for doing so.