Information on the "Ike Dike" Coastal Barrier

---
November 26: Media-ite.com: Obama reportedly says Biden
doesn't have it
A new report on former President Barack Obama suggests the former president doesn't have faith in Joe Biden's chances to connect with voters in states, like Iowa, that made his 2008 campaign successful.-

November 26: Yahoo News:  Peaking too soon? Warren slips
Political wunderkind Pete Buttigieg rocketed into second place in the Democratic presidential nomination race, polling showed Tuesday, with support for progressive ex-frontrunner Elizabeth Warren sliding as voters sour on her universal health care proposal.  Buttigieg, the moderate millennial mayor of South Bend, Indiana, leapfrogged the race's main liberal candidates, Warren and fellow senator Bernie Sanders, to claim second behind the resilient national leader Joe Biden, according to Quinnipiac University's latest poll.

November 26: The Washington Free Beacon: Obama said privately he would speak out against
Sanders if he became the leader for Presidential nomination
Former president Barack Obama privately remarked earlier this year that he would speak up to stop Sen. Bernie Sanders (I-VT.) if Sanders were to take a commanding lead in the Democratic primary.  Obama has publicly vowed that he would not interfere in the Democratic primary, but was concerned earlier this year about Sanders running away with the nomination, and would "speak up to stop him" if the Vermont senator proved threatening, Politico reported.
November 25: CCN: Democracy parties make landslide gains in Hong Kong elections
Pro-democracy candidates appear to have made major gains in Hong Kong's district council elections, as early results trickled in Monday morning, with multiple high-profile pro-government figures losing their seats.   More than 2.9 million people turned out to vote in Sunday's elections, which have been framed as a de facto referendum on the almost six months of ongoing protests in the semi-autonomous Chinese city. With more than 95% of constituencies declared, pro-democracy candidates appeared to have won a landslide victory.

November 25: The Daily Caller: Dems may be having buyers remorse on impeachment
Now that one phase of the impeachment process is finished  the question is, where are we and where do we go from here?  In every sense that means anything substanitively, we are right back where we started.   The sum total of what we have learned can be summarized in a few points:
The Washington Establishment (especially at the State Dept.) dislikes President Trump with an animosity bordering on hatred.
The President disdains the Washington Establishment, notably careerists at the State Department, who regularly exhibit a predisposition in favor of the foreign countries rather than to the USA.
Congressman Schiff, House Intelligence Committee Chair, is still searching in vain for an "impeachable offense."
Zero is the number of actual fact-based pieces of evidence of  a "quid pro quo" that Trump sought to force Ukraine's president to investigate a "political rival" of Trump's in return for supplying military assistance to that corruption-infested country.
The impeachment process as played out thus far, is 100 percent partisan; with not a single witness allowed to be called by the minority party. So where are we, now that we are back at square one; not having passed "Go" and not even been able to collect our $200? It is difficult to say with any degree of confidence.
November 24: The New York Times:  Hong Kong pro-democracy candidates appear
to be on the road to victory
Pro-democracy candidates buoyed by months of street protests in Hong Kong won a stunning victory in local elections on Sunday, as record numbers voted in a vivid expression of the city's aspirations and its anger with the Chinese government.   It was a pointed rebuke of Beijing and its allies in Hong Kong, and the turnout — seven in 10 eligible voters — suggested that the public continues to back the democracy movement, even as the protests grow increasingly violent. Young Hong Kongers, a major force behind the demonstrations of the past six months, played a leading role in the voting surge.

November 23:  The Associated Press: Justice Ginsburg is hospitalized again
Supreme Court Justice Ruth Bader Ginsburg was hospitalized after experiencing chills and fever, the court said Saturday.  In a statement, the court's public information office said Ginsburg was admitted Friday night to Johns Hopkins Hospital in Baltimore. She was initially evaluated at Sibley Memorial Hospital in Washington before being transferred to Johns Hopkins for further evaluation and treatment of any possible infection.  With intravenous antibiotics and fluids, her symptoms abated and she expected to be released from the hospital as early as Sunday morning, the statement said.

November 23: Fox News: SecNav denies he threatened to resign over Navy Seal Chief Gallagher issue
Navy Secretary Richard Spencer denied he threatened to resign if the Navy was not allowed to go through with an administrative review board next month to determine if Eddie Gallagher could remain a SEAL.  Earlier Saturday, The New York Times reported that along with Spencer, Naval Special Warfare (NSW) Commander Rear Adm. Collin Green threatened to resign if the Navy carries out the request of President Trump to restore Gallagher's rank to chief petty officer after he was demoted last summer.

November 23: The Hill: Republicans are skeptical Pelosi will go through with Trump impeachment
New polling showing public opposition to impeachment has some Republicans along with officials in the White House voicing skepticism that Speaker Pelosi (D-CA) will go through with a vote on articles of impeachment.  While Pelosi has not guaranteed there will be a vote, it's hard to imagine she would risk a backlash from the Democratic base by cutting the process short after two weeks of public hearings. Many Democrats saw the hearings as providing damning testimony against Trump.  Even President Trump, while insisting he wanted an impeachment trial, predicted Friday that Pelosi might not go through with impeachment.
November 22: Fox News: IG Horowitz reportedly finds FBI lawyer falsified
FISA document – deletes Strzok connection
Justice Department Inspector General Michael Horowitz has found evidence that an FBI lawyer manipulated a key investigative document related to the FBI's secretive surveillance of a former Trump campaign adviser -- enough to change the substantive meaning of the document, according to multiple reports.  The new evidence concerning the altered document, which pertained to the FBI's FISA court warrant application to surveil Page, is expected to be outlined in Horowitz's upcoming report.

November 21: The Daily Caller: Trump signs short term spending bill; 
avoiding government shutdown
President Donald Trump signed a continuing resolution (CR) on Thursday to prevent a government shutdown just hours before the government would run out of money.  The CR will fund the government from Nov. 21 to Dec. 20. The Senate passed the vote earlier Thursday 74-20. The current spending bill would have expired at 11:59:59 pm ET Thursday, according to the Washington Post. Democrats and Republicans in Congress have continued to be split over President Donald Trump's proposed border wall funding, which was not included in this CR.

November 21: Mediaite.com: MSNBC Democratic debate brings inn lowest ratings to date
Chalk it up to presidential debate fatigue, broader political fatigue, or post-impeachment hearing fatigue, but Wednesday night's Democratic presidential primary debate hosted by MSNBC earned the lowest ratings of the seven debates this year.

November 21: Fox News: House Dems could draft articles of impeachment but the Senate
is likely to call witnesses at a trial that were barred by the House
In the next steps in the House impeachment would be to move to the Judiciary Committee, draft articles of impeachment, and hold hearings on them.  The GOP would be given a little more leeway but all subject to a veto by the committee chairman.  Meanwhile discussions are going forward in the Senate with plans for a possible extended trial where the GOP could call witnesses barred from being heard by House Chairman Adam Schiff (R-CA). Witnesses could include Hunter Biden, the whistleblower, and perhaps even Chairman Schiff who has been accused of lying about his and his staff's relationship with the whistleblower.

November 20: Yahoo.com: Dems debate  exposes divides
The top Democrats in the 2020 presidential nomination race clashed over health care and other priorities in Wednesday's debate, laying bare their divide between moderate and liberal policy platforms.

November 20:  The Daily Caller:  Nobody on the planet said Ukrainian aid tied to investigations?
United States Ambassador to the European Union Gordon Sondland testified Wednesday that not a single person told him President Donald Trump was tying Ukrainian aid to an investigation into the Bidens.  "No one else on this planet told you that Donald Trump was tying aid to these investigations, is that correct? Yes or no." Turner asked.  "Yes," Sondland replied, confirming Turner's question.

November 20: CNBC: Apple made in the USA
President Trump and Apple CEO Tim Cook toured a Texas manufacturing facility on Wednesday, getting a glimpse of a factory used by Apple to assemble the Mac Pro desktop. The tour was a public symbol of  Trump's close relationship with Cook, and also provided an opportunity for the president to showcase a leading American company that's manufacturing in the U.S. as Trump struggles to put into place the first piece of a U.S.-China trade agreement.

November 20:  The Daily Caller: Associated Press deletes Tweet that was false
A now-deleted tweet from the Associated Press claimed Wednesday that President Donald Trump was "contradicting his own ambassador" when he said he "wanted 'nothing' from Ukraine."But as people quickly pointed out, the president was not contradicting Sonland. In fact, he was quoting him directly.

November 19: Fox News: Witnesses undercut claims of "quid pro quo", "bribery", and
"cover-up" in impeachment inquiry
Republicans sounded a celebratory note as House Democrats' impeachment inquiry wrapped up another day of public hearings Tuesday evening, saying the day's witnesses had served only to highlight fundamental problems in the case against President Trump.  "Did anyone ever ask you to bribe or extort anyone at any time during your time in the White House?" House Intelligence Committee Ranking Member Devin Nunes (R-CA) asked at one point in Tuesday's hearing.  Former National Security Council (NSC) aide Tim Morrison: "No."   U.S. Special Representative for Ukraine Kurt Volker "No."

November 19: The Daily Caller: House plays catch up, passing temporary funding
bill to avoid government shutdown
The House voted to pass a continuing resolution (CR) on Tuesday to prevent a government shutdown just days before the government would run out of money.  The CR will fund the government from Nov. 21 to Dec. 20. The vote was 231-192. The current spending bill expires at 11:59:59 pm ET Thursday. The CR will now go to the Senate.  Democrats and Republicans in Congress have continued to be split over President Donald Trump's proposed border wall funding, which was not included in this CR.

November 19: Congressman Nunes (R-CA): Opening statement by the Ranking
Member of the House Intelligence Committee
 If you watched the impeachment hearings last week, you may have noticed a disconnect between what you actually saw and the mainstream media accounts describing it. What you saw were three diplomats, who dislike the President's Ukraine policy, discussing second-hand and third-hand conversations about their objections. Meanwhile, they admitted they had not talked to the president about these matters, and they were unable to identify any crime or impeachable offense the President committed. [Read the entire statement]
November 19: The Daily Caller:  DOJ releases scathing report on former FBI agent Strzok
In response to a lawsuit by former FBI agent Peter Strzok, the Department of Justice released a scathing report Monday on Strzok, best remembered as an original member of special counsel Robert Mueller's investigative team.  The DOJ is accusing Strzok of various "security violations" and flagrantly "unprofessional conduct" in documents filed Monday.  Strzok allegedly used the same unsecured personal devices for sensitive FBI work as he did to carry on an extra-marital affair with then-FBI attorney Lisa Page. Strzok's wife discovered the dalliance after perusing her husband's phone messages.

November 18: The Daily Caller: Senate sets date for FISA abuse hearings
The Senate Judiciary Committee will hold a hearing on Dec. 11 to examine the findings from a Justice Department inspector general's investigation into the FBI's alleged abuse of the Foreign Intelligence Surveillance (FISA) Court during the Trump investigation, the committee said Barr said on Nov. 13 that the release of the report is "imminent."

November 18: Fox News: Official's testimony on Trump Ukraine call conflicts with top diplomat's story
State Department official David Holmes' testimony on a newly revealed phone call between President Trump and Ambassador to the EU Gordon Sondland seems to conflict with that of top diplomat Bill Taylor at last week's lead-off impeachment hearing. Taylor, who testified before the House Intelligence Committee last Wednesday, said he had just learned about the July phone call this month.  But Holmes' timeline of events, according to a written statement from his closed-door interview, seems to depart from Taylor's  -- saying he notified Taylor of the call shortly after it happened.

November18: Breitbart News: Armed citizen stopped Oklahoma Wal-Mart shooter
A report by the UK Daily Mail indicates that Monday's shooting outside a Duncan, Oklahoma, Wal-Mart was cut short by an armed citizen who confronted the gunman.  Three deaths resulted from a shooting outside the Wal-Mart around 10 a.m. Two individuals were fatally shot while sitting in a car, and a third person died outside the vehicle when police arrived.

November 18: Associate Press: Chief Justice orders indefinite delay in House
fight for Trump financial records
Chief Justice John Roberts is ordering an indefinite delay in the House of Representatives' demand for President Donald Trump's financial records to give the Supreme Court time to figure out how to handle the high-stakes dispute.  Roberts' order Monday contains no hint about what the court ultimately will do.  The court's hold could last a matter of days or weeks, if the court is willing to let an appeals court ruling in favor of the House remain in place without granting full review of the case. But the delay could extend for months if the justices decide they need to hear arguments and issue a written opinion.
November 16: Fox News: Chairman Schiff continually cuts off GOP from
asking questions during impeachment hearings
The 35-year-old Congresswoman Elise Stefanik (R-NY) featured prominently as tensions boiled over between lawmakers on Friday during the questioning of former Ukraine Ambassador Marie Yovanovitch. Ranking Member Devin Nunes (R-CA)  attempted to give up the remainder of his time to her. But as Stefanik spoke, Schiff slammed down the gavel, arguing that it was not allowed under committee rules saying: "The gentlewoman will suspend."  "You're gagging the young lady from New York?" Nunes said at one point. "This is the fifth time you have interrupted a duly-elected member of Congress," Stefanik told Schiff, who repeatedly told her she was "not recognized" to speak.


November 16: The Washington Free Beacon: Impeachment
hearings are boring, nobody cares
Lack of confidence aside, we do know that about 14 million people watched the first day of impeachment hearings on television, or about 6 percent of the U.S. voting population. That's significantly less than the 19 million viewers who tuned in to watch former FBI director James Comey testify before the Senate Intelligence Committee in May 2017.  In case it is relevant, the Gallup survey found that, among independent voters, trust in the media has fallen from 53 percent in 1997 to just 36 percent in 2019.

November 16: Fox News: U.S. Coast Guard intercepts
narco-sub with 5,000 pounds of cocaine aboard
A U.S. Coast Guard cutter has seized an apparent narco-submarine carrying more than 5,000 pounds of cocaine worth approximately $69 million during an interdiction operation in the Pacific Ocean. The semi-submersible vessel was transporting 2 1/2 tons of cocaine at the time of the Oct. 23 seizure by Coast Guard law enforcement personnel aboard the Harriet Lane.  "The boarding teams took control of the vessel before the four suspected smugglers aboard could sink the craft using installed scuttling valves."


November 15: Fox News: Schiff continually stops GOP committee member from
questioning former US ambassador to the Ukraine during impeachment inquiry
Tensions between lawmakers boiled over Friday on the second day of the public impeachment hearings, when House Intelligence Chairman Adam Schiff, (D-CA) repeatedly shut down GOP Rep. Elise Stefanik (R-NY) citing House procedure -- as an astonished Ranking Member Devin Nunes (R-CA)  accused him of "gagging" the lawmaker.  The moment began when Nunes, as he questioned Yovanovitch, gave the remainder of his allotted time to Stefanik, who had sparred multiple times with Schiff on both Friday and during Wednesday's first nationally televised hearing. Schiff's actions show the extent to which the Democrats are attempting to control the outcome of the hearings.

November 15: The Daily Caller: Trump releases transcript of first conversation with Ukraine President
The White House released the transcript of President Donald Trump's first phone call with Ukrainian President Volodymyr Zelensky, which took place on April 21, 2019, at the start of Friday's public impeachment hearings.  The transcript features Trump congratulating Zelensky on his electoral victory and promising to invite him to the White House for a visit, and it is far less substantive than the leaders' July 25th call.

November 15: South China Morning News: Kissinger: Catastrophic conflicts unless
China and the U.S. settle their differences
Ninety six year old, former Secretary of State, Henry Kissinger said the conflict between the U.S. and China will be "inevitable" and result in "a catastrophic outcome" that "will be worse than world wars" unless the countries settle their differences.  The remarks from Kissinger – who was a diplomatic driving force behind then-US president Richard Nixon's groundbreaking visit to China in 1972 – came as the world's two largest economies are embroiled in a trade war that has dampened appetites for cross-border business and damaged their economic growth prospects.

November 14: Fox News:  Chairman Schiff hard to believe; doesn't know
who the whistleblower is?
House Intelligence Committee Chairman Adam Schiff went to great lengths to suppress any reference to the whistleblower during the first day of testimony, even going so far as to claim (laughably) that he doesn't know who the witness is.  However, we know that the whistleblower met with Schiff's staff. Are we supposed to believe that the Congressman stepped out of the office when he arrived or hid in another room when the whistleblower meeting took place? Or that his staff didn't share information about the whistleblower with him?  That's hard to believe!

November 14: Roll Call: Trump stumps for Louisiana GOP candidate
President Donald Trump on Thursday continues his considerable effort to rally Louisiana Republicans to oust the Democratic governor, making his fourth trip to boost GOP candidate Eddie Rispone.  Trump has already shown  that limits faced by previous presidents do not necessarily apply to him, and he continues to have 90 percent of Republicans nationwide saying they approve of his performance.

November 14: The UK Daily Star: Chicoms selling killer aerial drones to the middle east
The Chinese Communists are selling their most advanced "fully autonomous" military drones with fears that it could lead to a bloodbath in the Middle East.  The Asian superpower is reportedly selling AI-enhanced combat drones to the region, with potentially disastrous consequences.  An Australian outlet, news.com.au, reports that a state controlled Chinese defence company is negotiating the sale of its Blowfish A3 armed helicopter drone to Pakistan and Saudi Arabia.

November 13: The Daily Caller: Admin wants to deny work permits to migrants
who entered the country illegally
The Trump administration is proposing a new rule that, if implemented, would make asylum seekers ineligible for work permits if they entered the U.S. illegally.  The proposal is intended to force asylum seekers, who currently make up the bulk of migrants arriving at the U.S.-Mexico border, to arrive in a legal port of entry instead of crossing the border illegally. In addition to denying work authorization to illegal aliens and those with serious criminal records, USCIS is proposing to lengthen the time it takes for eligible applicants to secure a work permit. Currently, asylum applicants must wait roughly five months to become qualified and able to apply for a permit. The agency wishes to extend this five-month period to a year.

November 13: The EIB Network: So far the impeachment hearings are about Trump
not choosing to use "deep state" officials
Rush Limbaugh said Wednesday that the impeachment hearings are not living up to their promotions.  According to him the hearings lost much of the audience in the first ten minutes.  As far as content goes here is what Limbaugh said: "What we have here is exactly what I said yesterday. This is opening up for the American people to see exactly what this deep state is, whatever you want to call it. We have here a bunch of professional nerds who wear their bow ties and they have their proper diplospeak. And what are they upset about? They're upset that Donald Trump used irregular channels on foreign policy, that he might have used — and they spit the name out — Rudy Giuliani…"

November 13: The Daily Caller: AG Barr says release of the FISA Report iss "Imminent"
Attorney General William Barr said Wednesday that the release of an inspector general's report on FBI's surveillance of the Trump campaign is "imminent."  Horowitz told lawmakers in June that his investigators had interviewed more than 100 witnesses and reviewed more than 1 million documents during the investigation, which began in March 2018.  Horowitz has been investigating whether the FBI followed the law and bureau guidelines when applying for four Foreign Intelligence Surveillance Act (FISA) warrants against former Trump campaign adviser Carter Page.

November 11: The Hill: Ginsburg misses Supreme Court arguments due to illness
Supreme Court Justice Ruth Bader Ginsburg on Wednesday missed oral arguments due to a stomach bug.  Chief Justice John Roberts, speaking from the bench, said Ginsburg was "indisposed due to illness." He said Ginsburg would participate in deciding the cases based on written briefs and oral argument recordings.  A court spokeswoman confirmed that Ginsburg was at home with a stomach bug.  The 86-year-old justice has faced recurring health concerns. Ginsburg, who is considered the leader of the court's liberal wing, is a four-time cancer survivor.

November 13: The Washington Free Beacon: Democrat-linked group funded racially
charged Louisiana advertisement
The organization behind an ad calling Louisiana's Republican gubernatorial candidate Eddie Rispone a white supremacist is funded almost entirely by the state Democratic party and a second group that both shares a mailing address with the party and is directly tied to Governor John Bel Edwards's reelection campaign. Edwards, the lone Democratic governor in the Deep South, has distanced himself from the ad, and his campaign claims it had "absolutely no knowledge" of the radio spot before it began airing. Other groups in the state, however, say that Victory Non Federal 2019 (VNF) is directly tied to the Louisiana Democratic Party and has paid directly for some Edwards campaign expenses.

November 12: Fox News:  IG report alleges the Trump whistleblower
may be soliciting illicit donations
A newly filed complaint to the Intelligence Community Inspector General (ICIG) alleges that the Trump-Ukraine whistleblower may have violated federal law by soliciting more than a quarter-million dollars from mostly anonymous sources via a GoFundMe page.  The complaint alleges the roughly 6,000  worth over $227,000 "clearly constitute" gifts to a current intelligence official in violation of  5 CFR 2635.203 and other statutes. The Office of Government Ethics (OGE) warned federal employees earlier this year that they "may not accept any gift given because of the employee's official position," meaning that the gift would "not have been given had the employee not held the status, authority, or duties associated with the employee's federal position."  The GoFundMe page states it is to "help support the Intelligence Community Whistleblower [to] raise funds," and said funds will be used to pay his/her lawyers.  Read the complaint.

November 12: Breitbart News: Congressman publically names the
Trump whistleblower/leaker
Congressman Dan Bishop (R-NC) became the first member of Congress to publicly name the alleged "whistleblower," whose second-hand complaint sparked the Democrats impeachment inquiry. Bishop on Monday said in a tweet that he agrees 100% with a tweeter who suggested the GOP refrain from using the term "whistleblower," instead referring to him as "the leaker" or "the operative" or "the deep state spy in the White House."   Bishop said he refuses "to cower before the authoritarian intimidation campaign.    Eric Ciamarella is a deep state conspirator," the Congressman wrote and "He needs to testify now"

November 12: The Daily Caller: The Supreme Court looks like it might uphold
Trump decision to end DACA
A closely divided Supreme Court seemed inclined to uphold President Trump's bid to terminate the Deferred Action for Childhood Arrivals (DACA) program during arguments Tuesday morning.  The high court's conservative majority appeared to think the administration has provided an adequate basis for ending the policy, and in spaces even wondered if the courts have power to review the dispute.  Chief Justice Roberts – lately the swing vote on the panel -- noted that the high court in 2016 affirmed a decision of the 5th U.S. Circuit Court of Appeals that blocked an Obama-era DCAc amnesty program.

November 12: The Jerusalem Post: Israel prepares for more attacks after
being pounded overnight by 200 rockets
Israel is bracing for  continued violence as it carried out three waves of retaliatory strikes after the country was pounded by close to 200 rockets on Tuesday morning following the predawn targeted killing of Palestinian Islamic Jihad (PIJ) Leader Bahaa Abu Al-Ata the Gaza Strip.

November 11: The Hill: Congress hunts for path out of funding stalemate
Top negotiators are set to meet Tuesday to try to break a stalemate over funding the government.   Congress has until Nov. 21 to prevent the second shutdown of the year after a 35-day partial closure that ended in February. They're eyeing another stopgap bill to give appropriators more time with a potential end date between Dec. 13 and Dec. 20. The likelihood that lawmakers punt comes as they remain stuck over major details in the fiscal 2020 bills.  Lawmakers hope getting the top members of the House and Senate appropriations committees in a room together will pave the way for an agreement.

November 10: Houston Chronicle: Nikki Haley: Top aids tried to recruit
her to "save the country" from Trump
Two of President Donald Trump's former senior advisers undermined and ignored him in what they claimed was an effort to "save the country," former United Nations ambassador Nikki Haley claims in a new memoir.  Former Secretary of State Rex Tillerson and former White House Chief of Staff John Kelly sought to recruit her to work around and subvert Trump, but she refused, Haley writes in a new book, "With All Due Respect," which also describes Tillerson as "exhausting" and imperious and Kelly as suspicious of her access to Trump.  They believed  "It was their decisions, not the president's, that were in the best interests of America," Haley wrote of the views the two men held.

November 10: The Daily Caller:
(1) Schiff vetoes GOP request for "Whistleblower" to testify while
(2) Sen. Graham says House impeachment is dead on arrival if they cannot talk with the "Whistleblower"
Chairman Adam Schiff (D-CA)  rejected House Republicans' request Saturday to call the Trump whistleblower to testify publicly in the impeachment inquiry of President Donald Trump, calling the testimony "redundant and unnecessary."  Meanwhile Senator Lindsey Graham (R-SC) said Sunday that any impeachment trial that does not include access to the whistleblower would be "dead on arrival in the Senate."   "We will look at that," the Graham continued. "I consider any impeachment in the House that doesn't allow us to know who the whistleblower is to be invalid because without the whistleblower complaint we wouldn't be talking about any of this. And I also see the need for Hunter Biden to be called to adequately defend the president and if you don't do those two things it's a complete joke."

November 10: The UK Daily Mail: Hong Kong police shoots protester in 24th straight weekend of protests
A Hong Kong police officer shot a masked protester at point-blank range while activists set another man on fire after dousing him in petrol as a fresh round of violence erupted across the city today. The masked man was critically wounded by a gunshot in Sai Wan Ho as wild scuffles broke out this morning after the city's 24th straight weekend of protests. The protestor remains in critical condition at a local hospital.

November 9: The Daily Caller: Republicans name eight potential impeachment
witnesses they want to hear from
House Republicans on Saturday released a list of witnesses they want called to testify as part of the Trump impeachment inquiry, including the anonymous Trump whistleblower, Hunter Biden, and a DNC operative who met with Ukrainian officials in 2016.  The GOP list included among others Hunter Biden, Devon Archer (Biden's business partner), Alexander Chalupa (former DNC consultant who met with Ukrainian officials during the 2016 campaign), and Nellie Ohr (wife of DOJ official Bruce Ohr and former contractor for Fusion GPS).

November 9: Fox News: Angel Mom blasts sanctuary city policies, calls for
removal of California governor
Liberal and sanctuary city politicians like California Governor Newsom need to be educated about the realities of living with illegal immigrants, Angel Mom Agnes Gibboney said Saturday. Gibboney's son was murdered by an illegal immigrant in 2002.  After a federal grand jury indicted two illegal immigrants for the murder of California Deputy Brian Ishmael El Dorado County Sheriff John D'Agostini took aim at the liberal state's drug and sanctuary policies Thursday, singling out Newsom for skipping his funeral.

November 9: The Hill: Republicans add Hunter Biden and Whistleblower to
impeachment witness wish list
House Republicans plan to ask that former Vice President Biden's son and the Ukraine whistleblower, be called to testify as the Democrats' impeachment inquiry into President Trump's actions. Of course, Democrat Chairman Adam Schiff has the right under the rules approved by the House on a straight party line vote to veto the Republican's requests.  In requesting testimony from the whistleblower whose complaint sparked the impeachment inquiry, Nunes said that "Trump should be afforded an opportunity to confront his accusers," especially with what he claimed were "discrepancies" between the whistleblower's complaint and witnesses' closed-door testimony.

November 8: The Hill: Intel Ranking Member Nunes asks for Chairman to testify behind
closed doors before public impeachment inquiry begins
Devin Nunes (R-CA), the top Republican on the House Intelligence Committee, has formally requested that the committee's chairman Adam Schiff (D-CA)  privately testify as part of the House's impeachment investigation into President Trump.  Claiming that the House Intelligence Committee does not have jurisdiction over impeachment, Nunes wrote, "Prior to the start of your public show trial next week, at least one additional closed-door deposition must take place.  Specifically, I request that you sit for a closed-door deposition before the House Intelligence, Foreign Affairs and Oversight Committees."

November 7: Click2Houston: Texas Secretary of State's response to Harris County Elections on ballot security issues
The unofficial election results in Harris County were not published until around 7 a.m. Wednesday.  The Harris County Clerk said her office had to resort to a "natural disaster contingency plan" to tally votes because of a last-minute edict from the secretary of state's office. This resulted in a 12-hour delay in declaring unofficial election results after polls closed Tuesday, she said. The county clerk claimed her office became aware of a memo from Secretary of State's Office five days before the election. However in a letter, Keith Ingram of the Texas Secretary of State's office set the record straight providing an accurate timeline as well as the importance of safeguarding the integrity of the election.

November 6: Breitbart News: Republicans discussing whether to call Bidens as
impeachment witnesses
Republican lawmakers are discussing whether to call Joe and Hunter Biden as witnesses in the event of an impeachment trial in the Senate.  House Democrats passed a partisan impeachment inquiry resolution last week aimed to outline the procedures in their inquiry moving forward – an inquiry that was never officially authorized by a full House vote. While House Democrats are moving forward with the inquiry under what Republicans say is the guise of transparency, Senate Republicans are quietly preparing for the possibility of a trial in the Senate and weighing if they should call the Bidens as witnesses, if it comes to that point.

November 6: Fox News: Trump in Louisiana hits whistle blower's attorney for his
"disgraceful"  2017 tweet on having a coup
President Trump at a campaign rally in Louisiana Wednesday night, unloaded on whistle blower attorney Mark Zaid, after a Fox News Article from earlier in the day revealed that Zaid had tweeted about the beginning of a "coup" against the president back in 2017. The president extensively quoted from the article, which reported that Zaid has long called for Trump's impeachment -- even promising two years ago, "We will get rid of him." Zaid now represents the intelligence community whistle blower who is at the center of Democrats' impeachment inquiry against the president.

November 6: The Associated Press: Liberal Tucson rejects plan to become a sanctuary city
After Arizona passed a law that required local police to check the immigration status of people suspected to be in the country illegally, the state's second-largest city wanted to send a message. The Democrats who control Tucson designated their town an "immigrant welcoming city" in 2012, and the police department adopted rules limiting when officers can ask about the immigration status of people they encounter. But on Tuesday, given the chance to push the envelope further, the heavily Democratic city voted overwhelmingly not to become an official "sanctuary city" with more restrictions on how and when police officers can enforce immigration laws.

November 6: Mediaite: Bill Gates: Will support presidential candidate who is more professional
Wall Street has not been shy in expressing reservations over Sen. Elizabeth Warren's (D-MA) presidential candidacy — given her desire to install a wealth tax. Now, you can add one of the world's richest people to the list of those who are less than thrilled by the prospect of a Warren presidency.  "If I had to pay $20 billion, it's fine," Gates said. "But when you say I should pay $100 billion, then I'm starting to do a little math about what I have left over."

November 5: The UK Sun: US Army to deploy laser weapons by 2022
Army researchers have worked on laser weapons for several years.  High energy lasers travel at the speed of light and are one way the Army plans to defend itself from new aerial threats.  The extreme temperatures they produce is able to simply melt enemy craft in an instant.  Aerial threats of concern to US troops include drones loaded with guns or explosives, helicopters and incoming missiles.

November 5: The Washington Free Beacon: MSNBC analyst: Buttigieg may not be "qualified"
to be President
MSNBC national affairs analyst John Heilemann on Tuesday said Iowa Democrats may consider South Bend, Ind., mayor Pete Buttigieg (D.) unqualified to be president. Heilemann told Morning Joe host Mika Brzezinski elected Democrats in Iowa were "concerned" with the current field of Democratic presidential candidates. From their perspective, "Pete Buttigieg is someone who, you know, is mayor of a city of less than 100,000 people and is not obviously qualified to be president of the United States," Heilemann said.

November 4: The Daily Caller: ICE on Sanctuary County: "Clear Public Safety Threat"
– Illegal convicted for deadly car crash
Officials in Mecklenburg County, North Carolina, refused to honor an ICE detainer placed on an illegal alien convicted in a deadly drunk driving accident, opting instead to release him back into the community.  Immigration and Customs Enforcement (ICE) placed a detainer request on Jose Barajas-Diaz, a Mexican national living illegally in the U.S., a day after he was arrested in Charlotte, North Carolina, in January for driving while impaired and for felony death by motor vehicle. After his sentencing in October, however, the Mecklenburg County Sheriff's Office refused to honor the ICE detainer, and released him from their custody.

November 4: Fox News: Flynn attorney demands FBI search "Sentinel" database for
missing "manipulated" witness  reports
Michael Flynn's lawyer in a court filing demanded the FBI thoroughly search its internal "Sentinel database" and turn over "every" document in which agents described their critical January 2017 White House interview with the former national security adviser, after it emerged last month that FBI officials had apparently manipulated the so-called "302" witness report in the case weeks after the interview.  Flynn's attorney also asserted that separate handwritten notes from the interview drafted by since-fired FBI agent Peter Strzok and another agent are plainly inconsistent with one another, as well as the final FBI 302 that underpinned Flynn's guilty plea for one count of making false statements to investigators.

November 3: The Daily Caller: Obama appointed judge blocks Trump's
health care rule for immigrants
A federal judge has, at least temporarily, blocked the Trump administration from implementing a rule that would require immigrants prove that they have health insurance or can afford to pay for it.  Judge Michael Simon of the federal district court in Portland, Oregon, issued a nationwide temporary restraining order Saturday, barring President Donald Trump from implementing his health care requirement for foreign nationals applying for legal permanent status. 

November 2: San Francisco Chronicle: Impeachment a winner for Democrats? Don't bet on it!
If the goal was to damage President Trump by formalizing the impeachment inquiry, it's Mission was unaccomplished for House Democrats.  If anything, the vote solidified Trump's hold on power. There were zero GOP defections, meaning we have zero drama heading into the public phase of impeachment. Everyone is pretty much in the same lanes they've been in since the Russian-collusion investigation, the obstruction of justice investigation and every other investigation.

November 1: The Daily Caller: Beto O'Rouke is out
Former Democratic Texas Rep. Beto O'Rourke announced Friday that he was ending his presidential campaign.  The former Texas senate candidate was initially considered a front-runner for his party's presidential nomination, but saw his once-promising poll numbers quickly evaporate. He proposed a policy of mandatory gun buy backs.

November 1: The Washington Free Beacon: Warren's Medicare for all doesn't seem to add up
Sen. Elizabeth Warren's (D-MA) plan to pay for Medicare for All without substantial middle class tax hikes is unrealistic, according to many experts. The Warren plan, released Friday, relies on two bold assumptions: first, that Medicare for All will cost "only $20.5 trillion" over 10 years, and second, that middle class Americans will not need to pay for it. Nonpartisan analyses indicate that single payer will cost far more (projected to be more than $30 trillion), and experts suggest that even if Warren's taxes nominally only target the wealthy, their effects will be felt throughout the economy.

October 31: Fox News: Clinton-Obama emails sought by Senator Johnson amid
Dems' impeachment inquiry
Senate Homeland Security and Governmental Affairs Committee Chairman Ron Johnson on Thursday formally sought "all email communications" between Hillary Clinton and former President Obama, saying the Justice Department was blocking their release -- even though they could shed light on whether the former secretary of state discussed sensitive matters on her unsecured personal email system while she was overseas.  Johnson's letter came as House Democrats approved procedures for their impeachment inquiry against President Trump   Earlier this month, a State Department report into Clinton's use of a private email server for government business found  dozens of people at fault and hundreds of security violations.

October 31 The Daily Caller:  White House official testifies he was "not concerned that
anything illegal was discussed" on Ukraine call
The White House's top official for European affairs told Congress on Thursday that he was not concerned that "anything illegal" was discussed during the July 25 phone call between President Trump and his Ukrainian counterpart that is at the center of Democrats' impeachment inquiry.  Timothy Morrison said "I want to be clear, I was not concerned that anything illegal was discussed."   Morrison, who served as senior director for European affairs at White House and National Security Council, was one of several officials who listened in on the phone call between Trump and Volodymyr Zelensky, the president of Ukraine.  Morrison  said a memorandum of the phone call that the White House released on Sept. 25 "accurately and completely reflects the substance of the call." Some Democrats had speculated that the White House edited the transcript of the phone call in order to mask wrongdoing on the part of Trump.

October 30: Real Clear Investigations:  How the "Whistle blower" may be outed:  Ties to
Biden, Schiff's staff
All that's known publicly about the "whistle blower" is that he is a CIA analyst who, at one point, was detailed to the White House and is now back at the CIA.  But the name of a government official fitting that description — Eric Ciaramella — has been raised privately Federal documents reveal that the 33-year-old Ciaramella, a registered Democrat, is a holdover from the Obama White House who previously worked with former Vice President Joe Biden and former CIA Director John Brennan (a vocal critic of Trump who helped initiate the Russia "collusion" investigation of the Trump campaign). 
He was reassigned amid concerns about leaks to the media. . "He was accused of working against Trump," an anonymous   former NSC official said.  It's been reported Ciaramella huddled for "guidance" with Chairman Schiff's staff and  former colleagues held over from the Obama era whom Schiff's office had recently recruited.  It's also been reported that he worked with Democrat National Committee operatives during the 2016 election.   from the NSC. (Schiff is the lead prosecutor in the impeachment inquiry

October 30: Roll Call: Impeachment could be on a collision course with a government shutdown
Another government shutdown could be looming if lawmakers and the Trump administration can't reach an agreement on government funding during the next three weeks; throw impeachment into the mix and it complicates the legislative timeline.  The two events haven't overlapped before in the nation's history. With a shutdown roughly 2 million federal workers would be furloughed as the holiday season begins, including staffers working on the impeachment proceedings.
Top Republicans have been accusing Democrats of focusing on impeachment rather than legislation, affecting not just appropriations but other priorities like a prescription drug pricing bill and the U.S.-Mexico-Canada trade pact.  None of the dozen fiscal 2020 spending measures have been enacted, and they have only ten legislative days left before the  Nov. 21 deadline.

October 30: Fox News: Dems push impeachment rules over repeated GOP objections
In a contentious House Rules Committee meeting that lasted into the night on Wednesday, Democrats systematically rejected GOP attempts to alter the ground rules that lawmakers will use as they consider impeaching the President, even as Republicans argued that the Democrats' proposed procedures were fundamentally unfair.

October 29: Navy Times: Newest carrier three months ahead of schedule
Go underneath the future USS John F Kennedy before she exits dry dock in Newport News, Virginia. The ship is set to be delivered in 2022 and weighs more than 75,000 tons. She hit the water three months ahead of schedule.

October 28: Fox News:  Ken Star: History will judge Democrats harshly for impeachment of Trump
History will judge congressional Democrats harshly for their handling of  President Trump's impeachment inquiry due to their lack of public debate and failure to be transparent with the American people.  "The text of the Constitution just entrusts [impeachment] to the good judgment,"  he said.  "But history will, I think, judge this not well.  [You] didn't have a full debate on the floor of the House -- and that just lends itself to, 'then to let's go to court and have this litigated."

October 28: Fox News: House to vote on resolution authorizing impeachment process
It is not an actual article of impeachment, but rather a resolution that sets process ground rules.  Republicans responded saying, "A vote now is a bit like un-ringing a bell as House Democrats have selectively leaked information in order to damage President Trump for weeks."  House Minority Leader Kevin McCarthy (R-CA), told Fox News that what the Democrats are doing in this vote is saying we were right. You can't go back now."   "We won't be able to comment fully until we see the actual text, but Speaker Pelosi is finally admitting what the rest of America already knew – that Democrats were conducting an unauthorized impeachment proceeding, refusing to give the President due process, and their secret, shady, closed-door depositions are completely and irreversibly illegitimate," White House press secretary Stephanie Grisham said in a statement.

October 28: The Daily Caller: Trump challenging California Sanctuary law in Supreme Court
The Trump administration has asked the Supreme Court to quash California's migrant sanctuary law, which broadly prohibits state and local law enforcement from cooperating with federal immigration authorities.  "The federal government has plenary and exclusive power over immigration, naturalization and deportation," the government's petition to the high court reads. "The supremacy of the national power in this area is made clear by the Constitution; pointed out by the authors of The Federalist in 1787, and has been given continuous recognition by this Court."

The 9th U.S. Circuit Court of Appeals which continually has its opinions overturned upheld the law in April.   "The practical consequences of California's obstruction are not theoretical; criminal aliens have evaded the detention and removal that Congress prescribed, and have instead returned to the civilian population, where they are disproportionately likely to commit additional crimes," the government's petition reads.

October 28: The Hill: State Court strikes down North Carolina Congressional Map
A state three judge panel on Monday threw out North Carolina's congressional map imposing a preliminary injunction saying the current congressional districts could violate the "fundamental rights" of certain voters.  The court's action could have major consequences in 2020.   The ruling allows the North Carolina General Assembly to redraw the districts for the 2020 election instead of having an outside expert do it.

October 27: The UK Daily Mail: ISIS leader in Syria killed himself
as Delta Force closed in
ISIS leader Abu Bakr al-Baghdadi was killed when he detonated a suicide vest as US Army Special Ops forces closed in on his hideout in northwestern Syria.   Between 50 and 70 members of the US Army Delta Force and Rangers flew in on six helicopters and surrounded al-Baghdadi during the overnight raid in Syria's Idlib province, according to an official source.  President Donald Trump held a morning press conference on Sunday and confirmed that al-Baghdadi 'died in the extended firefight with US forces that had been searching for the founding Islamic State member for three years. There were  two minor injuries to US soldiers along with a U.S. K-9.

October 27: Texas Legislative Counsel: Early Voting continues on ten
Constitutional Amendments in Texas; Here is a valuable resource
If you are looking for a fair and balanced resource for information on the proposed Texas Constitutional Amendments check out this document produced by the Texas Legislative Counsel's office.  Although it is 58 pages long (yuck) if  you scan through it you will find what the Proponents and Opponents say about each of them. That cuts down the verbiage to about 10-12 pages.  Hope you find this information helpful!

October 27:  The Hill: Supreme Court agenda may be larger than anticipated
As the Supreme Court of the United States convened the first Monday of this month, there was  talk of big cases involving abortion, guns, gay rights, immigration, perhaps even affirmative action.  Other issues may also include multiple cases affecting Donald Trump's claims of personal and presidential prerogatives.  These cases could include the House of Representatives and — separately — New York prosecutors attempts to get copies of the President's tax returns and the House's efforts to enforce its subpoenas for testimony and information that are central to the impeachment inquiry (information the Administration has withheld based, in part, on the lack of due process and the secrecy of the Democrats impeachment process).

October 26: Reuters: Utility company in 36 California counties to shut off power to
reduce possibility of forest fires
California firefighters raced against time on Saturday as they cut defensive lines against a wildfire in Sonoma County's famed wine country and authorities ordered 50,000 people to evacuate, ahead of winds that are forecast to pick up at night and spread the flames. The expanded evacuation orders came as the utility Pacific Gas and Electric Corp prepared to shut off power to about 940,000 customers in 36 of the state's counties to guard against the risk that an electric mishap could spark a blaze. 
Friends of ours who live in Northern California tell us that the root cause of possible fires from electric lines comes from the environmentalist who have drastically curtailed the utility from cutting back limbs, brush, and trees from areas where their power lines are located.

October 25: Fox News: Turkey has agreed to make the cease fire with Kurds "Permanent"
Speaking at the White House, Trump said that while a "permanent cease fire" will be tough to maintain in the volatile region, he hopes it will last and end the conflict between Turkey and the Kurds.  "I do believe it will be permanent," he said. "This was an outcome created by us, the United States, and nobody else...we've done something very, very special."  A limited U.S. force will remain around oil fields in Syria to protect them from access to ISIS.  Meanwhile the ISIS fighters will remain under lock and key and most of those few who did escape earlier were recaptured. The President said that if Turkey does not keep up its part of the bargain the US retains the right to reimpose sanctions and tariffs.

October 25: The Washington Free Beacon:  Beto: Criminal consequences for those who don't turn in their guns
Democratic presidential hopeful Beto O'Rourke said that his mandatory gun buyback program would include "criminal" consequences for people who do not turn over their firearms.  O'Rourke said he would enact a series of measures to punish people who attempt to keep their guns after a buyback. "For anyone who does not and is caught in possession or seen in possession of one of these weapons of war, one of these instruments of terror, that weapon will be taken from them, and they will be fined," O'Rourke said. "And if they should persist in continuing to use and to buy these weapons, there will be other consequences in the criminal code."

October 24: MSN News: DOJ opens criminal case on beginnings of the Russia probe
Justice Department officials have shifted an administrative review of the Russia investigation to a criminal inquiry, according to two people familiar with the matter. The move gives the prosecutor running it, U.S Attorney John H. Durham, the power to subpoena for witness testimony and documents, to convene a grand jury and to file criminal charges.  

October 24: Fox News: IG Horowitz:  FISA probe report is nearing completion
Justice Department Inspector General Michael E. Horowitz told Senate and House lawmakers Thursday that the process of finalizing his report into potential Foreign Intelligence Surveillance Act (FISA) abuses ahead of the 2016 presidential election was "nearing completion," according to a letter .  The "lengthy" draft report "concerns sensitive national security and law enforcement matters," Horowitz wrote in the letter, adding that he anticipated "the final report will be released publicly with few redactions."

October 24: The New York Times:  DOJ opening criminal inquiry into Russian Investigation
For more than two years, President Trump has repeatedly attacked the Russia investigation, portraying it as a hoax and illegal even months after the special counsel closed it. Now, Mr. Trump's own Justice Department has opened a criminal investigation into how it all began.  Justice Department officials have shifted an administrative review of the Russia investigation closely overseen by Attorney General William P. Barr to a criminal inquiry, according to two people familiar with the matter. The move gives the prosecutor running it, John H. Durham, the power to subpoena for witness testimony and documents, to impanel a grand jury and to file criminal charges.

October 24: Fox News:  GOP reveals new Strzok texts, asking for watchdog investigation
Top Republicans on Wednesday demanded that Intelligence Community Inspector General (ICIG) Michael Atkinson explain why the watchdog hasn't said if it's investigating "a number of leaks of highly sensitive information" in recent years -- and released several previously unpublished texts and emails from since-fired FBI agent Peter Strzok.  The Republicans' letter came as reports emerged that U.S. Attorney John Durham's comprehensive, ongoing probe into potential FBI and DOJ misconduct has transitioned into a full-fledged criminal investigation, enabling Durham to subpoena witnesses and file charges.

October 23: Associated Press: Chaotic scene as GOP House Members try to attend DEM impeachment hearing
Republicans briefly brought the "secret" Democrat-led impeachment inquiry to a halt Wednesday when around two dozen GOP House members stormed into a closed-door deposition with a Defense Department official.  The protest by Republican lawmakers captured national attention, drawing the focus away from the testimony of a top U.S. diplomat.

October 23: Fox News: Impeachment and Chairman Schiff's connections to the Clintons
Who is Congressman Schiff and how did he get into this position of power? For starters, Schiff is closely connected to the Clintons.  After the Clinton impeachment in 1998-99 for perjury and obstruction the Clintons made it a priority to defeat the Republicans House impeachment managers in the 2000 elections.  One of those races was the Rogan (CA-R) vs. Schiff (CA-D) contest which Schiff won with 53% of the vote.  Fast-forward twenty years. Schiff is now the Chairman of the House Intelligence Committee and leading the anti-Trump impeachment crusade and his political benefactors -- the Clintons – who are still seething over Hillary's 2016 defeat.

October 22: Texas Tribune:  Texas House Speaker Dennis Bonnen to retire
First-term Texas House Speaker Dennis Bonnen announced Tuesday he will not seek reelection to the lower chamber in 2020 — completing a stunning fall for the Angleton Republican who enjoyed near unanimous support in the House just months earlier. 

October 22: Fox News:  US Attorney Durham's probe into FBI expanded
U.S. Attorney John Durham's investigation into the origins of the FBI's 2016 Russia probe has expanded based on new evidence uncovered during a recent trip to Rome with Attorney General Bill Barr, sources say.  Apparently Durham was "very interested" to question former Director of National Intelligence James Clapper and former CIA Director John Brennan, a fierce Trump critic who recently dismissed the idea.  The two Obama administration officials were at the helm when the unverified and largely discredited Steele dossier, written by British ex-spy Christopher Steele and funded by the Hillary Clinton campaign and Democratic National Committee, was used to justify a secret surveillance warrant against former Trump adviser Carter Page.

October 22:  Fox News: Gabbard to Hillary: "Step down from your throne!"
Dem. Presidential candidate Tulsi Gabbard assailed former Secretary of State Clinton in a new campaign video on Tuesday.  The video is Gabbard's latest response to Clinton's unsubstantiated suggestion that Gabbard was a "favorite of the Russians" in a recent interview. Clinton also claimed without evidence that Russians were "grooming her to be the third-party candidate" in the 2020 presidential election.  "Hillary, your foreign policy was a disaster for our country and the world -- resulting in the deaths and injuries of so many of my brothers and sisters in uniform, devastating entire countries, millions of lives lost, refugee crises," and more, Gabbard said.

October 21: Washington Free Beacon: CNN: Warren's healthcare politically untenable
CNN political correspondent MJ Lee said Monday that Sen. Elizabeth Warren's (D., Mass.) repeated dodging of questions about tax increases under her Medicare for All plan has become "politically untenable."  "We saw her, time and time again, avoid answering that particular question and pivoting instead to the question of total cost," Lee told CNN host John King. "She said over and over again that total costs will go down for the average American under Medicare for All. But I think we saw that politically this sort of tactic became politically untenable."

October 20: The Washington Free Beacon: Warren Threatens Israel:
Senator Elizabeth Warren (D-MA) took a hard line on Israel Saturday saying "everything is on the table" in imposing a two-state solution to the Arab-Israeli conflict.  "It is the official policy of the United States of America to support a two-state solution, and if Israel is moving in the opposite direction, then everything is on the table," Warren said during a press availability with reporters.

October 20: Fox News:  Gabbard links Clinton "smears" to her previous Sanders endorsement
Speaking directly to the camera in a video message posted on social media on Sunday, 2020 presidential candidate Tulsi Gabbard suggested that Hillary Clinton recently "smeared" her as a "Russian asset" as payback for Gabbard's defiance of the party establishment in 2016.   "If they can falsely portray me as a traitor, then they can do it to anyone -- and in fact, that's exactly the message they want to get across to you," Gabbard, a Democrat, said in the video. "If you stand up to Hillary and the party power brokers -- if you stand up to the rich and powerful elite and the war machine, they will destroy you and discredit your message.

October 20: Associated Press: Hong Kong in chaos again
Hong Kong streets descended into chaotic scenes following an unauthorized pro-democracy rally Sunday, as protesters set up roadblocks and torched businesses, and police responded with tear gas and a water cannon.  
Protesters tossed firebombs and took their anger out on shops with mainland Chinese ties as they skirmished late into the evening with riot police, who unleashed numerous tear gas rounds on short notice, angering residents and passers-by.  Police had beefed up security measures ahead of the rally, for which they refused to give permission, the latest chapter in the unrest that has disrupted life in the financial hub since early June.

October 18: The Washington Free Beacon: Turkey Plans Presence Across Northeast Syria, Erdogan Says
Less then 24 hours after he agreed the five-day truce to allow Kurdish forces time to pull back from Turkey's cross border assault, Erdogan underlined Ankara's continued ambition to establish a presence along 300 miles of territory inside Syria.  On the border itself shelling could be heard near the Syrian town of Ras al Ain on Friday morning despite Thursday's deal, and a spokesman for the Kurdish-led forces said Turkey was violating the ceasefire, hitting civilian targets in the town. But Reuters journalists at the border said the bombardment subsided around mid-morning and a U.S. official said most of the fighting had stopped, although it would "take time for things to completely quiet down.

October 17: Fox News: Jason Chaffetz: Why Pelosi may not hold a fourth impeachment vote
Speaker Pelosi isn't refusing to hold a vote on impeachment. She is refusing to hold a fourth vote on impeachment. There have already been three votes. They all failed. Miserably.  In other words, Congress has explicitly voted NOT to pursue impeachment. In December 2017, January 2018, and against in July 2019 under Pelosi's leadership, the House held votes on whether to open an impeachment inquiry. The results weren't even close. If she doesn't have the votes, moving forward with an impeachment inquiry would be completely discredited.

October 17: The Hill: White House Chief of Staff: No Quid Pro Quo
White House acting chief of staff Mick Mulvaney said Thursday that the flow of security assistance to Ukraine was not conditioned on Kiev investigating a theory related to 2016 election interference.  "Let me be clear, there was absolutely no quid pro quo between Ukrainian military aid and any investigation into the 2016 election," he said.  Mulvaney insisted the only reason security aid was held up was because the administration was reviewing whether other nations were contributing enough and out of concerns over corruption.

October 17: The UK Sun: Prime Minster Johnson upbeat on EU/UK Brexit
deal as it heads to the House of Commons
The upbeat PM said after the EU signed off the deal: "I am very confident that when MPs of all parties look at this deal they will see the merit of supporting it - getting Brexit done on October 31."  Boris Johnson said MPs should honor the mandate of the British people to get out of the EU after three years of dither and delay - and vowed that Britain would come out "as one" country.  There is "no case for delay", he insisted. "Now is the time to come together, get this thing done."

October 16: Fox News: Pelosi strategy questioned; not inclined to
hold an impeachment vote
House Speaker Pelosi's announcement that she doesn't plan to hold a vote to formally approve an impeachment inquiry of President Trump has been met with an outcry from Republicans and the White House who argue the ongoing probe lacks legal authority. Meanwhile Democrats are continuing to call witnesses for "secret"  closed door hearings while baring Republicans from participating.  The White House continues to resist Democrats' investigatory efforts based on the House's refusal to hold a vote.  Legal analysts say that if this clash end up before a judge, House Democrats could have a tricky time in court.

October 16: The Daily Caller: Hunter Biden served on Amtrak board; Qualifications?
Riding the Train!
Hunter Biden pointed to his previous seat on the Amtrak board of directors as justification for his position with a Ukrainian gas company — but that argument is reportedly very thin.  Biden's only qualification for joining Amtrak was that he was a frequent passenger on trains, according to  remarks made at the time in the Senate Commerce Committee.

October 15: The Hill: Trump's GOP Senate impeachment
firewall holds strong
President Trump has had a rough couple of  weeks, but his Republican wall of defense is holding in the Senate.  Senate Republicans by and large are standing by Trump despite polls showing growing public support for impeachment, even among GOP voters.  Senators Romney (R-UT), Sasse (R-NE), Collins (R-ME), and Portman (R-OH) have criticized Trump's phone call with Ukrainian President Volodymyr Zelensky, in which he pressed for an investigation into former Vice President Biden, a leading Democratic candidate for president. But none has endorsed the House impeachment inquiry.

October 15: Yahoo News: EU, UK negotiators closing in on a Draft Deal for Brexit
U.K. and European Union negotiators are closing in on a draft Brexit deal amid optimism there could be a breakthrough before the end of Tuesday, two EU officials said.  They cautioned talks haven't yet finished, and there could be problems hitting the midnight deadline. But there are clear signs that a legal text is close to being ready. 

October 14: The Washington Free Beacon: CNN fails to disclose that Warren
town hall questioners was a maxed out donor
Democratic presidential candidate Elizabeth Warren's zinger at an LGBT town hall may have gone viral, but CNN failed to disclose that the questioner donated the federal maximum to her 2018 Massachusetts Senate campaign. CNN's Chris Cuomo introduced Morgan Cox at the Thursday town hall as "the chair of the Human Rights Campaign board of directors" who was part of "a real estate investment firm in Dallas, Texas." Cox asked Warren what she would say if "a supporter approaches you and says, 'Senator, I'm old-fashioned and my faith teaches me that marriage is between one man and one woman.'"

October 11: Newsweek: Turkey bombs U.S. Special Forces; by mistake
A contingent of U.S. Special Forces was caught up in Turkish shelling against U.S.-backed Kurdish positions in northern Syria, days after President Donald Trump told his Turkish counterpart he would withdraw U.S. troops from certain positions in the area. A senior Pentagon official said shelling by the Turkish forces was so heavy that the U.S. personnel considered firing back in self-defense.

October 11: The Daily Caller: Federal Judge: temporary stay on Trump immigration rule
A federal judge blocked a Trump administration rule just days before it was due to go into effect and make it harder for low-income migrants to obtain green cards, dealing a serious blow to the president's immigration agenda. New York federal Judge George Daniels on Friday issued a preliminary injunction against the Trump administration's "public charge" rule, which takes into account a foreign national's use of government benefits when they apply to live in the U.S. on a more permanent standing.

October 11: Fox News: Pause in China U.S. trade war as drafting of the proposed
agreement is completed
The U.S. and China have reached a partial trade pause. President Trump, speaking at the White House, said: "We've come to a very substantial phase one deal"...adding it will take three to five weeks to get written. The deal includes intellectual property, financial services and $40-$50 billion related to agriculture products. It is unclear what the U.S will give up in return and a comprehensive trade deal will have two or three phases.  The U.S. will not be raising tariffs on the Chinese next week to the 30 percent level as part of this agreement.

October 10: The Washington Examiner: Officials reveal when Biden was VP he
worked with the "whistleblower"
The 2020 Democratic candidate with whom the CIA whistleblower had a "professional" tie is Joe Biden, according to intelligence officers and former White House officials.  Lawyers for the whistleblower said he had worked only "in the executive branch." The Washington Examiner has established that he is a career CIA analyst who was detailed to the National Security Council at the White House and has since left.   As an experienced CIA official on the NSC with the deep knowledge of Ukraine that he demonstrated in his complaint, it is probable that the whistleblower briefed Biden and likely that he accompanied him on Air Force Two during at least one of the six visits the 2020 candidate made to the country.

October 10: Associated Press: Venezuela's gas shortage stalls ambulances
Ambulances have become the latest casualty of Venezuela's unraveling political and economic crisis, struggling to fuel up and speed away to emergencies as gasoline scarcities deepen.  Long lines winding for miles up to service stations are often commonplace for residents living in border states and remote areas of the South American country, which has the world's largest proven oil reserves.  But first responders in the mountainous state of Tachira said this week they're now being stripped of priority service due to the work of smugglers who sneak Venezuela's dirt-cheap gas to Colombia for huge profits.

October 10: Reuters: Turkey shells prison where ISIS prisoners are being held
The Syrian Kurdish-led authorities accused Turkey of shelling a prison holding Islamic State (IS) militants of more than 60 nationalities, calling this "a clear attempt" to help them escape. The shelling on Wednesday night targeted part of Chirkin prison in the city of Qamishli, the Kurdish-led authorities said in a statement.   "These attacks on prisons holding Daesh (IS) terrorists will lead to a catastrophe the consequences of which the world may not be able to handle later on," the statement said.

October 10: The Jerusalem Post: They fought alongside U.S. for 5 years; now
being bombed by a NATO Ally
Never before in history has the US worked with a group and then opened the skies to have another US ally bomb and destroy it. On October 9, the Syrian Democratic Forces, a group of mostly Kurdish fighters who fought ISIS for five years and helped create a peaceful and stable area in northeast Syria, were bombed and bombarded by Turkey as US forces withdrew and watched.

October 9: The Washington Free Beacon: Planned Parenthood announces $45million will be
spent to defeat Republicans
In the midst of internal turmoil, Planned Parenthood announced a $45 million spending binge to defeat Republicans in 2020 by targeting specific swing states and focusing on state-level races.Kelley Robinson, the executive director of Planned Parenthood's super PAC, told National Public Radcio the spending is intended to combat pro-life attempts to undermine Roe v. Wade. She also said the $45 million is an "initial investment," and the group hopes to raise more money for pro-abortion causes.

October 9: The Daily Caller: Trump signs Executive Orders to target deep state regulations:
Donald Trump signed executive orders Wednesday afternoon that are designed to take much of the sting out of what conservatives believe is an out-of-control administrative state. The order gives Americans the opportunity to express their opinion before being targeted with fines and regulations. It will be the agency's duty to inform Americans of any new rules that might affect their lives and businesses, the president noted.  Federal guidance can be created quickly, unlike regulations, which are subject to lengthy reviews.

October 9: The Wall Street Journal: Counterterrorism analyst arrested for leaking
classified info to journalists
A U.S. counterterrorism analyst was arrested Wednesday at the Defense Intelligence Agency where he worked and charged with leaking classified information to two journalists for NBC and CNBC, the Justice Department said.  The arrest is the latest in an accelerated prosecution by the Trump Administration of government employees accused of sharing sensitive information with the media; a crackdown that started under the Obama Administration.

October 8: Fox News: The White House announced it will not comply with the "invalid"
and "unconstitutional"  impeachment inquiry.
White House Counsel Pat Cipollone wrote an 8-page letter to Speaker Pelosi and top Democrats  stating why the Administration will not participate in their "illegitimate and unconstitutional" impeachment inquiry, charging that the proceedings have run roughshod over congressional norms and the president's due-process rights.  "President Trump and his administration reject your baseless, unconstitutional efforts to overturn the democratic process," the letter stated. "Your unprecedented actions have left the president with no choice. In order to fulfill his duties to the American people, the Constitution, the Executive Branch, and all future occupants of the Office of the Presidency, President Trump and his administration cannot participate in your partisan and unconstitutional inquiry under these circumstances."

October 8: Fox News: VP Pence's Chief of Staff: Democrats are trying to "overturn the will of the American people"
Democrats' impeachment inquiry is part of an attempt to undermine the will of the voters, according to Vice President Mike Pence's Chief of Staff Marc Short.  Most Americans want to see a fair inquiry if there has to be one, but the White House has not been afforded due process, he claimed

October 7: The Daily Caller: Black conservatives open up about hate they've received from the left
Leftists always claim their the 'tolerant' ones, but we are once again learning that's hogwash.  "I had never been called a coon, or a house n-word, or a slave until I decided I was going to support this president," said Angela Stanton-King.  Some attendees also opened up about losing friends and frayed family relationships because of their support for President Donald Trump.

October 7: Fox News: Sources say IG  could not explain 18-day window between Ukraine call
and "whistleblower" complaint
Intelligence Community Inspector General Michael Atkinson, in testimony to House lawmakers about the whistleblower complaint on Trump's controversial phone call with his Ukrainian counterpart, could not explain what accounted for the 18-day window between the July 25 call and the Aug. 12 complaint filing — or when exactly the whistleblower contacted a key Democrat's staff, sources familiar with the testimony told Fox News.  The whistleblower's contact with Intelligence Committee Chairman Rep. Adam Schiff's staff before filing the complaint in mid-August has prompted renewed scrutiny of Schiff.

October 7: Yahoo News: Trump threatens Turkey after green lighting removal of US troops from Syria
US President Donald Trump has warned Turkey against going too far in Syria, just a day after giving Ankara an apparent green light to invade its southern neighbor and sparking panic among Washington's Kurdish allies.  The US pulled back 50 to 100 "special operators" from Syria's northern frontier, where they have served as a buffer preventing a long-planned assault by the Turkish military against Kurdish forces in Syria.


October 4: Fox News: Whistleblower didn't disclose contact with Schiff to the Inspector General
The intelligence community whistleblower who alleged White House misconduct over Trump's call to the Ukrainian president did not disclose contact with House Intelligence Committee Chairman Adam Schiff's staff to the intelligence committee inspector general (ICIG), sources said on Friday.  The sources said ICIG Michael Atkinson told lawmakers in a closed session that the whistleblower did not disclose the contact with the California Democrat's committee and that Atkinson didn't investigate that contact as he had no knowledge of it.

October 4: The Washington Post: "For Pinocchio's" to Chairman Schiff for claim his committee had not spoken to the whistleblower
The Post awarded "Four Pinocchio's" to House Intelligence Committee Chairman Adam Schiff, claiming he hadn't told the truth about his knowledge of the whistleblower.  The paper laid out a compelling, fact-based argument that Schiff wasn't honest when asked if he had advanced knowledge about the whistleblower's concerns regarding the now-infamous phone call between President Trump and Ukrainian President Volodymyr Zelensky in a series of interviews.

October 4: The Daily Caller: Former ambassador: No link between Giuliani's meetings with Ukraine
and military aid
Former special envoy to Ukraine Kurt Volker told Congress on Thursday that he did not see a link between pressure on Ukraine to launch investigations into the 2016 election or former Vice President Joe Biden and the withholding of military aid.  Volker noted in his opening remarks that he was not on the July 25 call between President Donald Trump and Ukrainian President Volodymyr Zelensky, but that he was aware that  Giuliani had been meeting with Ukrainian officials to discuss anti-corruption efforts.  Volker said that to his knowledge Biden was never brought up in those meetings.

October 2: EIB Network: Chairman Schiff colluded with leaker, suggested he become a whistleblower
There is a New York Times story, and I'm being serious here -- it looks like this whole whistleblower thing is an Adam Schiff setup.  Apparently Schiff learned about the outlines of a C.I.A. officer's concerns about President Trump's alleged abused his power days before the officer filed a whistleblower complaint… Apparently what happened is the person we know as the whistleblower was not a whistleblower. He went to Adam Schiff after he'd been told secondhand what had happened on the phone call. He went to Schiff. Schiff is who had him fill out the whistleblower form. The guy did not do it on his own initiative.

October 2: CBS News: Southern Ill: Planned Parenthood builds
mega abortion clinic in secret
After over a year of secret construction, Planned Parenthood announced its newest abortion facility on Wednesday: an 18,000-square-foot mega-clinic in southern Illinois. The new location is just 13 miles away from Missouri's last remaining abortion clinic, a facility in St. Louis fighting to keep its license. Since August 2018, Planned Parenthood has used a shell company to construct the facility, leaving no public trace that the former medical office would become one of the largest abortion clinics in the country.

October 2: ENM News: Intel Chair Schiff got an early account
of "whistle blower's" accusations
The Democratic chair of the House Intelligence Committee apparently learned about the outlines of a CIA officer's alleged concerns that President Trump had abused his power days before the officer filed a whistle-blower complaint according to a spokesman and current and former American officials.  According to officials there are indications that Democrats may have suggested the person file the complaint and also may have assisted in its drafting it.  This explains how Schiff knew to press for the complaint. Many who have read the complaint see a political bias in its wording and that its not based upon firsthand knowledge of  the conversation between the Presidents of both countries.

October 2: The UK Sun: PM Johnson reveals 11th hour Brexit proposal to the European Union
Prime Minister Johnson published his plans after making a barnstorming speech to Tory party conference.  He has proposed Northern Ireland follow all Brussels rules on goods as well as food and livestock with the key caveat that the people in the province must consent to this within nine months.  The move is a major departure from the British government's three year-long insistence on the same rules for all of the UK.  In exchange, Mr Johnson is asking for Britain to keep an independent UK-wide customs system so there is no limit on signing new trade deals.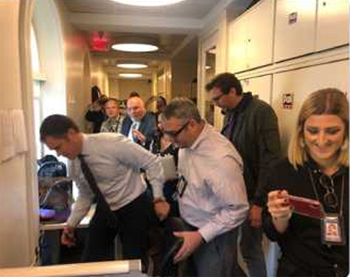 October 1: The Hill: Panic Attack:
Mouse hunt in the White House press room!
White House reporters were sent into a panic Tuesday morning after a mouse fell from the ceiling of the press booth.  NBC News White House correspondent Peter Alexander tweeted that a mouse "literally fell out of the ceiling" and onto his lap.  Other reporters, including Reuters correspondent Steve Holland, tweeted photos of White House reporters scrambling in the press room as they searched for the mouse as it ran around the booth.

October 1: Fox News: Pompeo to House Democrats:
Stop "bullying state employees"
In a letter and in tweets on Tuesday, Pompeo accused those Democrats of attempting to "intimidate" and "bully" the State Department's foreign service officers (FSOs) and said depositions being sought by Congress are "not feasible."  "Let me be clear: I will not tolerate such tactics, and I will use all means at my disposal to prevent and expose any attempts to intimidate the dedicated professionals whom I am proud to lead and serve alongside at the Department of State," Pompeo tweeted in response to the Democrats' demand for depositions.


October 1:  Breitbart News:  Biden Busted! Uncle Joe never spoke
to son about Hunter 's work in Ukraine?
Joe Biden said he never spoke to his son Hunter about his work in Ukraine, but a newly-unearthed 2014  photo shows the former Vice President and his son Hunter sharing a round of golf with Devon Archer, who sat on the board of the Ukrainian energy firm Burisma Holdings while the elder Biden was still Vice President. 

October 1: Fox News: Why impeach President instead of voting him out of office?
Instead of having the confidence that they can beat Donald Trump at the polls, a little more than a year from now, leaving the decision to whether he continues in office up to millions of Americans, House Democrats want to hand this decision to 100, mostly millionaire, senators.  Is that the definition of "elitism?" The House of Representatives moved forward on an impeachment inquiry last week, though they have not held a formal vote on the matter.


September 30: The Washington Free Beacon: Why is Chinese propaganda being delivered
each morning to Members of Congress?
Congressman Jim Banks (R-IN), a member of the House Armed Services Committee, demanded answers in a letter sent to the House Administration Committee and the Department of Justice as to why the China Daily, a notorious Communist Party mouthpiece, is winding up on the doorsteps of nearly every congressional office each morning.  Banks believes that a Chinese state-controlled entity is bankrolling the effort to deluge congressional offices with communist agitprop.

September 29: Fox News: Giuliani on Ukraine: What did Obama know?
"My role is very, very simple. I'm a lawyer defending a client," Giuliani said, stating that he was exploring a lead on information that he claimed not only could vindicate Trump regarding claims that he colluded with Russia in the 2016 election, but that could show that it was Democrats who colluded with Ukraine to hurt Trump's campaign.  "If you can prove that somebody else did it, or there's some other explanation for it, then you pursue that vigorously."

September 29: The Daily Caller: Biden pressures mainstream media not to invite Giuliani
Former Vice President Joe Biden's campaign team put pressure on major media outlets urging them to stop giving Trump attorney Rudy Giuliani a platform.  According to a report published Sunday in The New York Times, a note authored by Biden advisors Kate Bedingfield and Anita Dunn alleged that allowing Giuliani to discuss the situation with Ukraine was simply giving him a platform from which to "spread false, debunked conspiracy theories."

September 29: Breitbart News: Five of Hunter Biden's dealings present a conflict of interest for Joe Biden
Joe Biden's youngest son, Hunter, has a long and muddled history of profiting from business interests tied to the former vice president's political influence.  The younger Biden is at the center of controversy after President Trump suggested the Ukrainian government look into his business dealings in the country. Although the Bidens are denying any wrongdoing, even going to the extent of accusing Trump of abusing his power, the situation only underscores the shadowy nature of Hunter Biden's professional life.

September 29: The Hill: Trump wants to meet his accuser; the whistleblower
"Like every American, I deserve to meet my accuser, especially when this accuser, the so-called 'Whistleblower,' represented a perfect conversation with a foreign leader in a totally inaccurate and fraudulent way. Then Schiff made up what I actually said by lying to Congress," Trump said in a series of tweets.  "His lies were made in perhaps the most blatant and sinister manner ever seen in the great Chamber," he continued.

September 27: The Washington Free Beacon: Hunter Biden had "No Substantial Ukraine Experience"
"He really had no substantial Ukraine experience, no Ukraine experience, and no substantial experience in the energy sector at that stage in his career," New Yorker writer Adam Entous said. "So, you know, the suspicion was among people who worked for Joe Biden and some State Department and White House officials was this was an effort on the part of Burisma to curry favor."Entous also said the perceived conflict of interest over Hunter Biden's connection to the Ukrainian natural gas company Burisma while his father served as vice president is "a legitimate subject of scrutiny."

September 26: The Hill: Former ICE leader takes on Dem Vice Chair
During a congressional hearing on ICE detention, the former leader of the agency entered into a fiery back-and-forth with a congresswoman whom he accused of having a double standard.  Former ICE Chief Thomas Homan said DHS moved money around under the Obama Administration but no hearings were held; why now?  Homan said the Chairwoman needed to point out the "faults" that transpired under the Obama administration.  At that point, Rep. Jayapal — not seeming to appreciate being interrupted — banged her gavel to stop him from talking; while Homan continued to say "That's dishonesty. That's pathetic and it's sad!"

September 26: The Daily Caller:  Understanding the allegations and the move toward
impeaching the President
Once again, the mob turned out to be wrong. The administration released a transcript of the president's phone call with the Ukrainian head of state, and it says none of the things the news anchors claimed it would. Read it for yourself.  Trump never even mentions military aid. There's certainly something unseemly about a president asking a foreign government to investigate an American citizen, but is it wrong to ask that they assist our Attorney General in an investigation he is conducting?  None of this is illegal, and it's not all that different or worse than three Democratic senators' writing a letter to Ukraine just last year demanding investigations into Trump.

September 26: Fox News: The text of the whistleblower's allegations
Here is the text of the whistleblowers complaint for our readers.  
Editor's Note: In reading it I was struck by what seemed like a political bias and also that it was drafted as though an attorney or prosecutor had written it, not your average federal employee.  Additionally the complainant was repeating what others had told him.  He or she stated that he/she had no direct knowledge of what was in the accusations, in other words it was hearsay.  In comparing what was written in the complaint and the substance of the  President's phone conversation which was declassified and released to the public by the White House there seems to be a disconnect that begs questions about the veracity of the complainant's accusations.

September 26: The Washington Free Beacon: Dems proposal to prohibit fracking would kill millions of jobs
A proposed fracking ban put forward by leading Democratic presidential candidates would have a devastating impact on U.S. jobs, energy independence, and even national security, according to several studies.  Reports from industry experts painted a stark picture of the economic fallout from ending fracking, a process which has transformed the United States into the top oil and natural gas producer in the world.

September 25: The Daily Caller: House GOP leadership responds to Pelosi re: impeachment
House GOP leaders blasted Speaker Pelosi the day after she came out in favor of the impeachment of President Trump after meeting with her caucus.  "I think at the end of the day, the Speaker owes an apology to this nation, and I think it's even in question whether she should stay in her job. We are done with this," House Minority Leader Kevin McCarthy said.
"What Speaker Pelosi did yesterday really was the worst we've seen yet where she announced an impeachment inquiry without any evidence, without seeing a transcript of the phone call at issue, without seeing any details from the supposed whistleblower," Liz Chaney (R-WY) said in response to reporters.

September 25: Fox News: Media moves the goalposts after release of the Trump-Ukraine call transcripts
Critics of President Trump are being accused of moving the goalposts following the release of the transcript of a call with Ukrainian President Volodymyr Zelensky that  does not show Trump dangling American military aid in return for a Ukrainian probe of Joe Biden.  In pressing forward an impeachment inquiry, Democrats claimed Trump had frozen $400 million in aid to Ukraine to pressure officials into pursuing a Biden investigation. Democratic lawmakers and liberal pundits urged Trump to release the transcript of his controversial call, and he obliged with a CIA-drafted memorandum of the conversation. The document does not show Trump explicitly leveraging military aid as part of a quid pro quo.

September 24: Fox News: White House to release document showing intel community watchdog found whistleblower had "political bias"
A senior Trump administration official told Fox News late Tuesday that the administration will release a document showing the intelligence community inspector general found the whistleblower who leveled an explosive accusation against President Trump concerning his talk with Ukraine had "political bias" in favor of "a rival candidate" of the president.  A  senior administration official said the White House has been working as quickly as it can to release to Congress the whistleblower complaint involving President Trump's conversations with the leader of Ukraine, as long as it's legally possible.

September 24: Washington Free Beacon: EPA demands California address "Worst Air Quality" in the U.S.
The EPA has warned the state of California that it will face consequences if it fails to submit plans addressing what the Environmental Protection Agency called the "worst air quality" of any state in the country, according to a Monday letter from the agency.  The letter informs California that if it fails to submit new plans to increase air quality, the state would be ineligible to receive billions of dollars it is otherwise projected to get from the Federal Highway Administration.

September 24: Yahoo News: Speaker Pelosi tepid, no more, on Trump impeachment
Pelosi, already the most powerful woman in US political history, has just launched an extraordinary and turbulent process which, if successful would oust a sitting American president.  After resisting fellow Democrats' calls to impeach Donald Trump from the moment she became speaker of the US House of Representatives in early January, the tough-as-nails lawmaker changed course Tuesday, announcing an "official impeachment inquiry" by the House into her political nemesis. But an "official impeachment" must start with a vote in the House, which is something Pelosi wants to avoid (i.e., putting her members on the record).

September 24: The Daily Caller: New voter fraud in Michigan involves Dems
An election official in the state of Michigan who is now facing six felony charges over election tampering has a lengthy past as a partisan Democrat.  38-year-old Sherikia L. Hawkins, a city clerk for the city of Southfield, has been charged with a variety of different election crimes, including falsifying and forging public records. The indictment against Hawkins stated that ballots from the 2018 midterm elections in Hawkins' precinct were found in the trash. State police investigated and found that records had been altered for almost 200 voters.

September 24: Miami Herald: Venezuelans arrested with $5 million worth of smuggled
gold feds say was destined for the U.S.
Two Venezuelan nationals have been charged with smuggling $5 million worth of gold bars hidden inside the nose of a private plane that landed at Fort Lauderdale Executive Airport last week.  Passenger Jean Carlos Sanchez Rojas and pilot Victor Fossi Grieco were arrested Friday at the airport after flying from Caracas, Venezuela, according to a federal criminal affidavit filed Monday. U.S. Customs and Border Protection agents saw loose rivets on the plane's nose compartment and investigated further. The gold was hidden under a metal panel inside the nose, they said.

September 23: The Washington Free Beacon: Trump pushes for religious freedom at the
U.N. while slamming China
U.S. President Donald Trump called for an end to religious persecution on Monday at a U.S. event on the sidelines of the annual gathering of world leaders at the United Nations featuring a woman whose Uighur father has been imprisoned in China.   China has been widely condemned for setting up complexes in remote Xinjiang that it describes as "vocational training centers" to stamp out extremism and give people new skills. The United Nations says at least 1 million ethnic Uighurs and other Muslims have been detained.

September 22: The Daily Caller: Whistle blower had no direct knowledge of Trump phone call
The anonymous White House whistleblower suggesting President  Trump had an inappropriate conversation with a foreign power now known to be Ukraine reportedly made that claim based on hearsay.  Brit Hume noted Saturday how CNN admitted that the political firestorm is all based on a whistleblower, thought to be a White House intelligence agent, with second-hand information:

September 22: Fox News: Nunes:  Biden's presidential bid likely to end over Ukraine issue
Congressman Nunes (R-CA) predicted that former VP Biden's campaign is likely coming to an end -- all because of newly resurfaced reports about his possible misconduct in Ukraine that "first originated back when Hillary Clinton was trying to make sure Biden didn't get in the race."  The top Republican on the House Intelligence Committee made the claim as The Des Moines Register/CNN poll showed Sen. Elizabeth Warren surging ahead of Biden (22%-20%).

September 20: Rasmussen: Trump approval rating hits 52%
The Rasmussen Reports daily Presidential Tracking Poll for Friday shows that 52% of Likely U.S. Voters approve of President Trump's job performance. Forty-seven percent (47%) disapprove. The latest figures include 37% who Strongly Approve of the job Trump is doing and 39% who Strongly Disapprove.

September 20: Fox News: Former Acting AG: Reported whistleblower complaint is a
"clear example of someone from the Deep State" and "its outrageous"
Former Acting Attorney General Whitaker took issue on Thursday with a reported whistleblower complaint about private conversations between President Trump and a foreign leader. "This is a clear example of someone from the Deep State ... from the intelligence community," Whitaker said.   "It was completely overblown. ... It will be a big nothing burger."  He called the incident an example of "outrageous conduct," saying the President has broad constitutional powers to say whatever he wants to foreign leaders.

September 20: The Washington Free Beacon:  Saudis show attack damage claim they will
be back in operation within a month
Saudi Arabia on Friday took media to inspect oil facilities hit by attacks that Washington and Riyadh blame on Iran, showing melted pipes and burnt equipment, as Tehran vowed wide retaliation if heightened tensions boil over into hostilities.  The kingdom sees the Sept. 14 strikes on its Khurais and Abqaiq facilities as a test of global will to preserve international order.  "We are confident we are going back to the full production we were at before the attack (on Khurais) by the end of September," Fahad Abdulkarim, Aramco's general manager for the southern area oil operation, told reporters.

September 19: The Daily Caller: Immigration Chief wants to release info on immigrants charged with crimes
Atop immigration chief wants the authority to disclose personal information about refugees and asylees who are under criminal prosecution for certain crimes. Ken Cuccinelli, the acting director of United States Citizenship and Immigration Services (USCIS), apparently made the request sent  to the head of the Department of Homeland Security.

September 19: Breitbart News: Federal Judge temporarily blocks release of Trump tax returns
President Trump received a victory Thursday when a federal judge issued a temporary injunction against a  California law that would require presidential candidates to release their tax returns in order to have a place on the ballot.  U.S. District Judge Morrison England Jr. issued the order Thursday, citing the "irreparable harm without temporary relief" that the California law would cause on presidential and gubernatorial candidates. He indicated that a final ruling would be forthcoming.

September 19: The Washington Free Beacon: China reveals new supersonic drone
China's military is rapidly developing unmanned aircraft and recently disclosed one of its newest systems: a supersonic reconnaissance drone designed to defeat air and missile defenses. The DR-8 drone, covered in a camouflage tarp on a flatbed truck, was seen for the first time in photographs published on Chinese social media. The drone was included in a rehearsal in Beijing for a major military parade set for Oct. 1, the anniversary of the founding of China's Communist Party regime.  Satellite photographs of the rehearsal also showed two other drones with the DR-8, including the new Sharp Sword stealth attack drone, which is capable of firing air-to-ground missiles.

September 18: The Daily Caller: White House and Barr are pushing gun control on Republican legislators
The White House and Department of Justice (DOJ) have met with multiple Republican senators and congressmen to shop legislation on expanding background checks consistent with the Manchin-Toomey bill, sources familiar with the effort said.  Here is a copy of an idea sheet circulating among Republican members, which indicates that the legislation in question would expand background checks to include all commercially advertised unlicensed sales.

September 18: The Associated Press: Netanyahu faces uphill battle to remain Israeli Prime Minister
Israel's two main political parties were deadlocked Wednesday after an unprecedented repeat election, with Prime Minister Benjamin Netanyahu facing an uphill battle to hold on to his job.  The election's seeming political kingmaker, Avigdor Lieberman, said he'll insist upon a secular unity government between Netanyahu's Likud and Benny Gantz's Blue and White parties, who are running neck-and-neck to become the country's largest party. Without Lieberman's endorsement, though, neither party appears able to secure a parliamentary majority with their prospective ideological allies.

September 18: The Wall Street Journal: FED cuts interest rates by quarter of a percent
The Federal Reserve voted to cut interest rates by a quarter-percentage point for the second time in as many months to cushion the economy against a global slowdown.   While they left the door open to additional cuts, officials were split over Wednesday's decision and the outlook for further reductions. Seven of 10 officials voted in favor lowering the short-term benchmark to a range between 1.75% and 2%. As in July, two reserve bank presidents dissented from the decision in favor of holding rates steady. Fed Chairman Jerome Powell faced a third dissent from a bank president who preferred a larger, half-point cut.

September 17: The Washington Free Beacon:  FBI arrests Chinese official for visa fraud
The FBI has arrested a Chinese government official as part of China's massive scheme to illegally obtain American technology by recruiting experts in high-tech fields.  A criminal complaint in the case dated Sept. 13 linked the visa fraud charges to a Chinese government-funded Confucius Institute at a U.S. university.  The more than 100 Confucius Institutes have become a major focus of several members of Congress who have sought to have the institutes shut down in response to their role in furthering pro-Beijing propaganda activities.

September 17: The Wall Street Journal: Drones/missiles fired on Saudi oil facilities flown
from Iran at low altitude to avoid detection
U.S. and Saudi military forces and their elaborate air-defense systems failed to detect the launch of airstrikes aimed at Saudi Arabian oil facilities, allowing dozens of drones and missiles to hit their targets, U.S. officials said.Saudi and U.S. focus had been largely on the kingdom's southern border with Yemen, where Riyadh has been fighting Iranian-backed Houthi rebels in Yemen's civil war, the officials said. The attacks, however, originated from Iranian territory in the northern Persian Gulf, people familiar with the investigation into the strikes said.

September 16: Yahoo News: Drone attack on Saudi oil field seen as
realizing worst fears
For many of the national security teams that monitor threats on the U.S., the apparent drone strike Saturday on the heart of Saudi Arabia's oil production facilities was the realization of their worst fears.  Houthi rebels battling Saudi Arabia in Yemen took responsibility for the attack and said they used drones, though U.S. officials have said Iran was behind the attack and that at least some cruise missiles may have been used.

September 16: Fox News: Parkland father says "Guns didn't kill his daughter, Democrat policies did"
Andrew Pollack said, "I wanted to look into it, I wanted to honor my daughter to see what happened, and how it could happen that I put my daughter in a school, in a nice neighborhood, and then I'm never going to see her again.  I wanted to know the facts. I didn't just listen to mainstream media, I didn't jump on that bandwagon -- and I found out that there was a multitude of failures and policies that led up to my daughter getting murdered, that the mainstream media didn't want to cover."

September 14: Breitbart News: 150 Judicial nominee confirmed
The Republican-led Senate confirmed Trump's 150th judicial nominee on Wednesday– a significant milestone that continues to fill one of the president's key campaign promises of putting Constitutional conservative judges in the courts.  According to the Washington Times:  Six district court nominees won confirmation Wednesday, bringing the president's total number of appointed judges to the lower federal courts to 105. Mr. Trump has also appointed 43 circuit court nominees and two Supreme Court justices since taking office.  The Times notes that Trump's judicial confirmations surpass those of Obama's– "who only saw 20 circuit court nominees and 74 district court judges confirmed during the same period of time.

September 14: The Hill: Not enough funds to build all the planned constructions of border wall
The Trump administration reportedly scrapped three border wall projects it was looking to build after determining there weren't enough funds to pay for them. In a court filing, officials said current savings didn't amount to enough to pay for the additional 20 miles of the U.S.-Mexico border wall in Arizona and California.  The filing comes as lawmakers are preparing to ignore Trump's request to loosen restrictions on border wall funding as part of a short-term spending deal and amid renewed tensions over the border ahead of a Sept. 30 deadline to avoid another government shutdown.

September 14: The Hill: Supreme Court comes to Trump's aid on immigration
The Supreme Court has repeatedly come to President Trump's aid over the border, bolstering his efforts to build a wall and turn aside migrants seeking asylum on the southern border.  The latest example came Wednesday night, when the court issued an unsigned order allowing the administration's stringent new asylum policy to remain in place while battles over its legality continue.  The new rule is essentially a blanket rejection of asylum-seekers who pass through Mexico before arriving at the southern border, denying entrance to almost all Central American migrants, who make up the majority of the recent surge in border-crossers.

September 14: The Daily Caller: Trump confirms death of Osama Bin Laden's son
President Donald Trump confirmed Saturday a son of late al Qaeda leader Osama bin Laden was killed during a U.S.-led counterterrorism operation in South Asia.  "Hamza bin Ladin, the high-ranking al-Qa'ida member and son of Usama bin Ladin, was killed in a United States counterterrorism operation in the Afghanistan/Pakistan region," Trump said in a statement, confirming reports from July that the al Qaeda leader had been killed.

September 14: The Wall Street Journal: Drone strike on Saudi oil facilities
A coordinated drone strike hit at the heart of Saudi oil production on Saturday, sparking an enormous blaze and forcing the kingdom to shut down about half of its crude output, according to people familiar with matter.  Iran-alled Houthi rebels in neighboring Yemen claimed responsibility for what would be one of their largest-ever attacks inside the kingdom.

September 12: Reuters: Hong Kong residents troubled by unrest look for new homes abroad
As protests in Hong Kong stretch from summer into autumn with little sign of resolution, a surge in migration applications suggests more locals are making plans to leave the special administrative region.  Their sentiments, reflected in passport paperwork and in interviews with residents, migration agents and real estate brokers across the globe, show the potential for human and capital flight out of Hong Kong.

September 12: The LA Times: Administration announces plans to open Alaska's
Arctic National Wildlife Refuge to oil drilling
The Trump administration announced Thursday its final plan to open Alaska's Arctic National Wildlife Refuge to oil drilling, giving the petroleum industry access to the pristine wildland for the first time. The plan would allow oil leasing on 1.56 million acres of the 19-million-acre refuge.

September 12: The Daily Caller: Democrat debate gets personal as candidates go for the jugular
The Democratic presidential debate Thursday night quickly turned personal, as candidates took turns hammering each other on their vulnerabilities.  Joe Biden's memory, Elizabeth Warren's expensive plans, and Bernie Sanders's socialism all turned into political footballs over the course of the debate.

September 12: The Houston Chronicle: Army gives nod to "Ike Dike" plan for Texas coast
After three years of study, the U.S. Army Corps of Engineers announced Friday that the so-called "Ike Dike" -- the 70-mile-long coastal barrier that could cost as much as $31 billion (probably less) -- is the preferred choice for protecting the Texas coastline from future storm surges.  The barrier system would be a system of levees and sea gates beginning on high ground north of High Island and running the length of Bolivar Peninsula. It would then cross the entrance of Galveston Bay and run the length of Galveston Island, incorporating the existing Galveston seawall, It would end at San Luis Pass. 
See related stories: August 11, 2014 | September 19, 2016 | July 31, 2017 | January 19, 2019


September 12: Breitbart News:  Chinese prepared for Maoist type crackdown?
Chinese Communist Party chief Xi Jinping has long faced dissent from Communists who think he is insufficiently loyal to Marxist dogma, but he is increasingly provoking unease among Chinese Communist Party (CCP) elders who fear he might be a little too Communist in his outlook – or, more specifically, Maoist. Xi's government has been cracking down on Marxist student groups for years and fending off strikes by Marxist labor groups, even though the government officially adheres to that ideology and Xi is fond of quoting Marx himself.

September 12: Fox News: U.S. Attorney recommends moving forward with McCabe prosecution
U.S. Attorney Jessie Liu has recommended moving forward with charges against Andrew McCabe as the Justice Department rejects a last-ditch appeal from the former top FBI official and current CNN contributor.  McCabe -- the former deputy and acting director of the FBI -- appealed the decision all the way up to Jeffrey Rosen, the deputy attorney general, but he apparently rejected that request. The potential charges relate to DOJ inspector general findings against him regarding misleading statements concerning a Hillary Clinton-related investigation.

September 12: Yahoo News:  It's Elizabeth Warren's debate
At the third Democratic presidential debate, Thursday night in Houston, Senator Elizabeth Warren will be in the catbird seat. Each of the nine other candidates will be hoping that someone else takes the initiative to dislodge her. 
Warren has a long way to go to claim the Democratic nomination. Former Vice President Joe Biden, despite gaffes and age, will remain a formidable obstacle.  But if you were one of the 10 candidates headed for the stage in Houston, you'd want to be Warren

September 11: The Daily Caller: Trump campaign to fly banner over Houston prior
to the Democrat Presidential Debate
The Trump campaign is set to spring for a giant anti-socialism banner along with a plane to fly it over Houston, just before Tuesday night's Democratic debate.  The banner and flight apparently will fly from 2 p.m. until 6 p.m., just an hour before the start of the debate and will read "Social will kill Houston's economy, Vote Trump 2020"

September 11:  Fox News: Supreme Court ends all injunctions blocking White
House ban on asylum 
In a major win for the Trump administration, the Supreme Court issued an order late Wednesday ending all injunctions that had blocked the White House's ban on asylum for anyone trying to enter the U.S. by traveling through a third country, such as Mexico, without seeking protection there.

September 11: The Daily Caller: 9th Circuit hands Trump a victory on asylum
The 9th Circuit Court of Appeals handed President Donald Trump a major victory regarding his plan to prohibit most immigrants from applying for asylum and the U.S.-Mexico border.  The San Francisco-based 9th Circuit late Tuesday night rolled back a decision a federal judge made.  U.S. District Judge Jon Tigar, appointment by former President Obama, had reinstated a nationwide ban against Trump's new asylum policy Monday, but the appeals court put the policy back into place.

September 11: Fox News: Bishop wins for the GOP in North Carolina
In a major victory for both President Trump and national Republicans, North Carolina GOP state Sen. Dan Bishop was projected to win a fiercely contested special U.S. House election for the 9th District that was widely seen as a bellwether for the president's chances in the 2020 election. Not mentioned was the GOP winner was a virtual unknown while his Democrat opponent had been running for the seat for over two years and was well known. The GOP won the special election by two points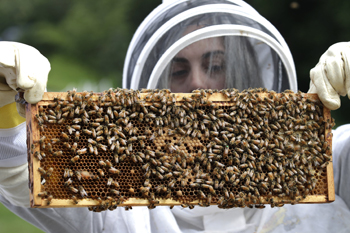 September 11: Medical Press: Veterans with PTSD may be  helped by beekeeping
In this photo Army veteran Wendi Zimmerman transfers a beehive frame to a new box at the Manchester, NH VA facility while checking for possible disease.   Veterans Affairs has begun offering beekeeping at a few facilities including in New Hampshire and Michigan, and researchers are starting to study whether the practice has therapeutic benefits. Veterans in programs like the one at the Manchester VA Medical Center insist that beekeeping helps them focus, relax and become more productive.

September 11: Fox News: Judicial pick whose family fled persecution blasts racism accusation
Donald Trump's pick for a seat on the 2nd Circuit Court of Appeals adamantly denied that he harbors racist beliefs or favors "racial purity" during his confirmation hearing Wednesday morning, as he responded to inflammatory accusations against him.  Menashi said his grandfather escaped Ukraine and fled to Poland, eventually making his way to the Bronx. Relatives who remained in Europe were murdered in the Holocaust.

September 11: The Washington Examiner: Newsroom jobs are shrinking; newspapers
last choice for news
The ongoing shrinking of the old media industry and business model has resulted in the elimination of 33,000 newspaper jobs, and now, even big, new-age, digital outlets are facing pressure, according to a new analysis.

September 10: Fox News: White House blasts CNN report on spy's extraction, warns
lives could be in danger
The White House on Tuesday rebuked CNN for a widely challenged report claiming the CIA had pulled a high-level spy out of Russia after President Trump "mishandled" classified material – saying the report is wrong and could put lives at risk.  "CNN's reporting is not only incorrect, it has the potential to put lives in danger," Press Secretary Stephanie Grisham said in a statement.

September 10: The Daily Caller: Minorities make historic employment gains in Trump era
American minorities have made historic employment gains since the end of 2016 that have continued with President Donald Trump in office, according to a Washington Post analysis of Department of Labor data. The analysis revealed that American minorities comprise more than 86% of jobs added since the end of 2016. 5.2 million more Americans have obtained jobs since 2016, and 4.5 million of that group are minorities

September 10: Fox News: Tucker Carlson: Beto believes America is fundamentally
evil… The good news? He will never be President!
This weekend, O'Rourke spoke at the New Hampshire Democratic Party Convention.  Beto began his speech by denouncing the country as racist, as he often does. From the very beginning, Beto told us, America has been an evil nation. 

September 10: Breitbart News: Nadler: Trump opposing subpoenas is a high crime and misdemeanor
During an interview with NBC News on Monday, House Judiciary Committee Chairman Jerry Nadler (D-NY) stated that President Trump's vow to oppose all subpoenas by Democrats "is a high crime and misdemeanor" according to the Constitution.

September 9: The UK Sun: Putin loses a third of seats in Moscow election
Sunday's poll was one of the most closely watched regional elections in years after many opposition candidates were excluded triggering the capital's biggest protests in nearly a decade.  Nearly complete election data cited by the RIA news agency suggested United Russia [Putin's party] had lost around one third of the seats it previously controlled.  RIA said it was on course to control 26 of the Moscow's parliament's 45 seats, enough to retain its majority.

September 9: Fox News: Airstrikes target Iranian base in Syria
Overnight airstrikes targeted an Iranian base in eastern Syria exposed last week by a Fox News report.  At least 21 people were killed at the site, which was hit with eight strikes, according to the Syrian Observatory for Human Rights.

September 8: The Hill: Congress faces 16 days to get the government funded  before October 1
Congress is bracing for a three-week sprint to avoid the second government shutdown of the year.  Lawmakers are returning to Washington on Monday, and they'll have 16 working days to reach a deal to fund the government by Oct. 1 or pass a spending patch to kick the fight closer to the holidays.   But the House and Senate are coming back to town with plans to move forward on different tracks. House Democrats are focused on passing a continuing resolution (CR), while Senate Republicans are set to make a late start at moving fiscal 2020 bills.

September 8: The Daily Caller:  John Ratcliffe:  DOJ "Is going to have to indict" Andrew McCabe
Texas Rep. John Ratcliffe said Sunday he expects Andrew McCabe, a former FBI deputy director who now works as a CNN analyst, to be indicted on charges of lying to the government. The inspector general has said McCabe lied multiple times and states he did so intentionally and knowing. Ratcliffe said. "I think the Department of Justice is going to have to indict Andy McCabe, simply because to do otherwise would be to admit that there are separate standards for people doing the same thing for the same conduct."

September 8: Fox News: August jobs report showed a strong economy and bad news for Democrats
The new jobs report is in and the verdict is clear — no one should believe a single word the Democrats say about the economy.  According to the Bureau of Labor Statistics (BLS), the number of people employed in August increased by a very impressive 590,000, pushing total employment to a record-high of nearly 157.9 million. The percentage of the population that was employed rose to 60.9 percent, the highest percentage since December 2008.

September 7:  The Washington Free Beacon: O'Rourke: El Paso shooting came "at the invitation
of our President"
O'Rourke (D-TX) accused President Donald Trump of inviting mass shootings during an appearance Saturday at the New Hampshire Democratic Party State Convention. The former Texas congressman said the El Paso shooter, who killed 22 people, was a product of America's racist culture and Trump's racist rhetoric.

September 7: CBS News: GOP from three states cancel their Presidential primaries
The Republican parties in South Carolina and Nevada announced Saturday that they would not be holding their presidential nominating contests in 2020, and all Republican delegates will be committed to President Trump.  They join the Kansas Republican Party, which confirmed on Friday that it will not hold its caucuses in 2020.

September 7: Reuters: Iran seizes ship with Filipino crew for alleged fuel smuggling in the Gulf
Iran's coast guard has seized a foreign tugboat suspected of smuggling fuel in the Gulf and detained its 12 Filipino crew members, state television reported on Saturday. It said the tugboat was carrying nearly 284,000 litres of diesel. The report did not say what national flag the vessel was flying. Iran, which has some of the world's cheapest fuel due to heavy state subsidies, has been fighting rampant fuel smuggling overland to neighboring countries and by sea to Gulf Arab states. It has frequently seized boats it says are being used for smuggling fuel in the Gulf.

September 6: The Daily Caller: Senator on Judiciary Committee floats
Ford probe after her attorney boasts of undermining the Kavanaugh nomination
Senator Tillis (R-NC) said a new investigation into Dr. Christine Blasey Ford's allegations of sexual misconduct against Justice Brett Kavanaugh may be appropriate in light of a new book suggesting she had political motives. He said a new video of Ford's lawyer connecting her allegations with the broader fight over abortion rights undermines Ford's credibility and could necessitate the Justice Department's intervention.  "This does seem to undermine what we all believed was a legitimate traumatic experience in her life," Tillis said.

September  6: Breitbart News: Black unemployment rate lowest In years
The unemployment rate for African-Americans fell to the lowest level ever recorded inn August, dropping from 6% to 5.5%.  One result: the persistent gap between white and black unemployment also narrowed to its smallest on record.

September 6: The Wall Street Journal: States to launch Google,
Facebook antitrust probes
Top state law-enforcement officials from across the country are formally launching antitrust probes into Facebook Inc. and Alphabet Inc.Google starting next week, further pressuring tech giants already under federal scrutiny over whether their online dominance stifles competition.  The moves, involving two large bipartisan coalitions of state attorneys general, add considerable heft to the investigative efforts under way in Washington. As in the government's antitrust action against Microsoft Corp. two decades ago, state attorneys general are likely to provide important contributions to the substance of the investigations, complementing the federal efforts.

September 5: The Washington Free Beacon: Mattis refuses to take the bait to slam Trump
Former secretary of defense James Mattis repeatedly refused MSNBC anchor Andrea Mitchell's invitations to criticize President Donald Trump in an interview Thursday.

September 5: The Daily Caller:  Coal miners say they were duped into appearing on
an anti-McConnell attack ad
Coal miners Randy Robbins and Albrow Hall say they were duped into appearing in a political attack ad for Kentucky Democrat Amy McGrath, who is hoping to oust Republican Senate Majority Leader Mitch McConnell from his Senate seat. Their lawyers have written to McGrath expressing their outrage over being used for a political purpose when they say they were never told that was the intent of the video.

September 4: PEW Research: Red flag laws spur debate over due process
n the year since Florida enacted its red flag law, Kendra Parris has defended nearly 20 clients against risk protection orders that could remove their firearms.  The Orlando-based lawyer has long represented people who might be subject to the state's involuntary mental health treatment provision. But when this new law, meant to protect against people who might be a harm to themselves or others, passed in the aftermath of the February 2018 Parkland mass shooting, she saw yet another opportunity for the state to potentially deprive certain people of their civil liberties. [See Related Story]

September 4: San Francisco Gate: "Frisco's" Board of Supervisors designate
the NRA as a domestic terror organization
The San Francisco Board of Supervisors passed a resolution on Tuesday declaring that the National Rifle Association is a domestic terrorist organization. The officials also urged other cities, states and the federal government to follow suit.  Under California state law it would then become possible for NRA members to have their guns confiscated.   In addition to calling the NRA a domestic terrorist organization, the Board of Supervisors called on the city and county of San Francisco to "take every reasonable step to limit ... entities who do business with the City and County of San Francisco from doing business" with the NRA.

September 4: The Washington Times: Book reveals how China steals free world high tech secrets
Together the PLA intelligence units have placed China at the forefront of the most significant foreign intelligence threat to American security. All three cooperate closely in stealing a broad array of secrets from the United States. If the information is in digital form, the Chinese steal it. They use a software called PoisonIvy. All computers and networks using Microsoft Windows operating systems are easy prey. Once inside, the malware allows remote key logging, screen capturing, video capturing, massive transfers of files, password theft, system administration access, internet and data traffic relaying and more.

September 4: The UK Sun: The House of Commons rejects PM's call for elections and BREXIT.
In a stunning rejection of the will of the British electorate, parliament has repeatedly put stumbling blocks in the way of exiting the European Union.  PM Johnson called for a snap election (which required a 2/3 vote to be successful).  The opposition called upon members to abstain rather than vote against the measure in an effort to dodge accusations the Labour leader is being cowardly by turning down the chance to fight Boris in an election.  It's the first time an Opposition party has ever not voted for an election.  PM Johnson demanded that an election be held rather than accept Corbyn's demands to go cap in hand back to Brussels in just six weeks' time.

September 4: The Daily Caller: Majority of government employees believe Comey should be prosecuted
A new poll found that a majority of government employees believe former FBI Director James Comey should be prosecuted for leaking information to the media. Forty-seven percent of all Americans and 57% of government employees think Comey ought to face legal consequences after the Department of Justice's inspector general found that he violated FBI policy, according to a  Rasmussen poll released Tuesday.

September 3: Fox News: Brit PM dealt a blow as BREXIT opponents seize control of Parliament's agenda
British Prime Minister Boris Johnson suffered a setback Tuesday when lawmakers opposed to a no-deal BREXIT voted to take control of the parliamentary agenda, prompting him to call for a new general election.  This opens the door for anti-BREXIT legislators to pass a measure stopping Johnson from taking the UK out of the European Union by the October 31 deadline. The House of Commons voted 328 to 301 to take control of the agenda, meaning rebel lawmakers could spurne the  will of the voter's to leave the EU by postponing action on the matter.

September 3: The Wall Street Journal: Texas shooter had been banned from buying a
firearm; so how did he get one?
A man who went on a deadly mass shooting spree across West Texas Saturday was barred under federal law from owning or buying firearms because a court had previously determined he was mentally unfit, according to law-enforcement officials. Authorities Tuesday were looking into whether the gunman bought the AR-15 style rifle used in the attack through a private sale, thus avoiding a background check, the officials said.

September 3: ZeroHedge.com: U.S. military working with Guyana in area bordering Venezuela
According to 0-Hedge the U.S. military has been deployed to the South American nation of Guyana located on the Atlantic coast just east of Venezuela.  At this point, they say, the USAF's mission is humanitarian and is intended to serve as "a stepping-stone toward a prolonged relationship" with the Guyana military forces. They believe it is an effort to counter the increasing influence of  Russia and China in the region.  The current deployment  is of 600 service members to help construct community centers and a woman's shelter in country.

September 2: The Hill:  Swing-seat Dems oppose impeachment, giving Pelosi leverage
Vulnerable House Democrats in swing districts are resisting pressure to back the launching of an impeachment inquiry against President Trump.  Even as a majority of the House Democratic Caucus backs impeachment, many of the "majority makers" in swing districts have stayed on the sidelines. Only 13 of the 55 Democrats on the House GOP campaign arm's 2020 target list publicly back an impeachment inquiry. And just two of the 31 House Democrats in districts carried by President Trump in 2016 back one: Reps. Pappas (N.H.) and Underwood (IL).

September 2: The Asian Review: China warns an end is coming to the protests in Hong Kong
China issued a stern warning to Hong Kong protesters as well as the West on Sunday, reiterating that it will not tolerate any attempt to undermine Chinese sovereignty over the city.  The strongly worded message was directed at "the rioters and their behind-the-scene supporters" -- which can be taken as an accusation of Western meddling. It said that "their attempt to 'kidnap Hong Kong' and press the central authorities is just a delusion," adding, "No concession should be expected concerning such principle issues."

September 2: The Hill: Media takes a hit for bitter partisanship
The news media is taking hits from all sides, underscoring the bitter partisan divide and fierce war over the "official story" coming out of President Trump's Washington. New controversies involving the nation's largest newspapers, top editors and cable news personalities have unfolded on a near-daily basis, making the press a central character in the 2020 presidential cycle.

September 1: The Washington Free Beacon: Castro/O'Rourke call for gun control
legislation after Texas shooting
Democratic presidential candidates, Julian Castro and Beto O'Rourke both pushed the need for new gun control legislation on Sunday in response to the mass shooting in Texas. Castro supports redefining who is a firearms dealer in order to expand background checks for those who sell more than five guns in a year.   O'Rourke supports stronger gun laws including a mandatory gun buyback program.  O'Rourke emphasized the buyback law would be mandatory, not a choice, forcing Americans to turn in specified weapons.

September 1: The Associated Press: Police: Seven killed, 22 injured in Midland/Odessa
shooting rampage
Authorities said Sunday they still could not explain why a man with an AR-style weapon opened fire during a routine traffic stop in West Texas to begin a terrifying rampage that killed seven people, injured 22 others and ended with officers gunning him down outside a movie theater.  Apparently  the gunman acted alone and federal investigators believe the shooter had no ties to any domestic or international terrorism group.  Authorities said those killed were between the ages of 15 and 57 years old but did not immediately provide a list of names. The injured included three law enforcement officers.

September 1: Fox News: Dems embrace anti-labor policies on Labor Day
A reality check shows  Trump's policies encouraging domestic energy production have created jobs, strengthened our economy, and reduced the amount of money we must spend to import energy.  Meanwhile it also shows that while Democrats boast about their supposedly pro-worker policies, those policies would actually destroy millions of working-class jobs and devastate many communities.  As just one example one of Ocasio-Cortez's proudest accomplishments was helping to persuade Amazon to cancel plans to build a second headquarters in her New York City congressional district. The headquarters would have created over 25,000 jobs with an average annual salary of over $150,000. Amazon said the highly paid workforce could have grown to 40,000 men and women in 15 years.

September 1: BBC News: Thousand defy protest ban in Hong Kong many beaten up
Hong Kong riot police used tear gas, rubber bullets, water cannon and even live ammunition warning shots to disperse crowds as tens of thousands marched in the city, defying a ban. Saturday's event was to mark five years since China ruled out fully democratic elections in Hong Kong.  Several key pro-democracy activists and lawmakers in China's special administrative region were arrested earlier in the week.

August 30: The Washington Free Beacon: Trump ratchets up sanctions
on Iran | Hezbollah terror network
The Trump administration on Thursday issued a new batch of sanctions on the Lebanese terror group Hezbollah in the latest salvo aimed at disrupting the Iranian-backed organization's illicit funding and weapons networks, according to information provided by the State and Treasury Departments.  As Iran continues to ratchet up regional support for terror groups that have attacked American and allied forces, the Trump administration is moving to disrupt these terror groups by hitting them in their pocketbooks. The latest sanctions target Lebanon's Jammal Trust Bank SAL, which the Trump administration has identified as providing "illicit financial and banking activities" for Hezbollah.

August 30: Fox News: Speaker Pelosi heckled over impeachment in her own backyard
Liberal protesters fed up with House Speaker Nancy Pelosis reluctance when it comes to impeaching President Trump disrupted a "Heart of the Resistance" dinner where the California Democrat was receiving a lifetime achievement award, claiming Pelosi does not deserve such an accolade unless she pushes for removing the president.  Demonstrators gathered outside San Francisco's InterContinental Hotel, where the event took place, calling on Pelosi to support impeaching Trump.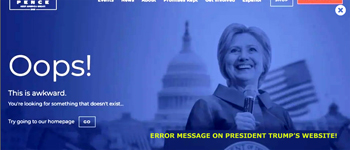 August 30: The Daily Caller: If you go to a page that doesn't
exist on Trump's Website here is what you will get!
President Donald Trump's campaign is trolling vanquished Democratic nominee Hillary Clinton with an 'error' page that shows Clinton holding a microphone behind the presidential seal with the message "Oops! This is awkward, You are looking for something that doesn't exist…"  The website's 'error' page harkens back to the results of the 2016 election, where Trump defeated Clinton with 306 electoral college votes.


August 29: The Guardian: Communist Chinese move military into Hong Kong
Chinese military vehicles have been seen moving across the border into Hong Kong, in what the military said were regular troop movements, as fears rose that the city could see a Beijing-led crackdown after months of political unrest. The movements come before a major anti-government demonstration planned for Saturday, as Hong Kong nears its third month of mass protests. On Thursday, the organizer of the demonstration, Civil Human Rights Front, received notice that police had banned the event.

August 29: Fox News: IG report highlights apparent inconsistencies in Comey's testimony
Findings by the Department of Justice inspector general released Thursday are raising new questions about the critical May 2017 timeline leading up to the appointment of Special Counsel Robert Mueller and former FBI Director James Comey's testimony before the Senate Intelligence Committee. Read the entire report.

August 29: The New York Post: IG report: Comey ignored DOJ procedures and policies
The Department of Justice Inspector General's damning report rebukes former FBI Director James Comey for several instances where he ran afoul of Bureau policy, most of them related to his retention and release of several confidential memos detailing his conversations with President Donald Trump. Among the violations Comey did not seek authorization from the FBI before providing government documents to his attorneys and the press.

August 29: The Daily Caller: Media fails to report on alleged use of campaign funds for an
affair between Rep. Omar and a married man
Multiple outlets have not reported on Democratic Rep. Ilhan Omar's alleged use of campaign funds to pursue an affair with a married man.  Omar's campaign gave $223,000 to E. Street Group, LLC, which is Democratic consultant Tim Mynett's company, FEC records show. The Minnesota congresswoman allegedly had an affair with Mynett, according to a divorce filling by Dr. Beth Jordan Mynett, his wife.

August 28: The Wall Street Journal: China's potential new trade weapon: Corporate Social Credits
After five years, China is putting the finishing touches on a sweeping new system to punish and reward companies for their corporate behavior. But foreigners worry that, amid the continuing U.S.-China trade dispute, Beijing will use its new corporate "social credit" system as a weapon against international businesses.

August 28: Fox News: DHS bars Dem staffers from visiting border facilities after rude
and disruptive behavior
The Department of Homeland Security (DHS) has barred Democrat staffers from the House Oversight Committee from visiting Customs and Border Protection facilities at the U.S.-Mexico border as part of a planned trip this week after committee staff allegedly were "disruptive" and refused to follow instructions during their last trip, Fox News has learned.  Committee Chairman Elijah Cummings, D-Md., had sent his staff to visit border facilities for "oversight inspections" last week and planned to send staff again to view Immigration and Customs Enforcement and CBP centers.


August 28: The Wall Street Journal: National security concerns threatens Google, Facebook and China undersea data link
U.S. officials are seeking to block an undersea cable backed by Google, Facebook Inc. and a Chinese partner, in a national security review that could rewrite the rules of internet connectivity between the U.S. and China, according to people involved in the discussions.  The Justice Department, which leads a multiagency panel that reviews telecommunications matters, has signaled staunch opposition to the project because of concerns over its Chinese investor, Beijing-based Dr. Peng Telecom & Media Group Co., and the direct link to Hong Kong the cable would provide.
August 28: The Galveston County Daily News: Red Flag Laws; proceed cautiously
Retired Judge Andrew Napolitano believes "red flag" laws" are unconstitutional because they sanction the rights of people before they have done anything.  Opening the door to allow the confiscation of weapons on the premise of what might happen could be a dangerous power to give government.  The permanent solution is to deal with the culture that promotes the hatred in the first place!
August 27: Fox News: Graham: God Bless Trump for taking on China that
destroyed South Carolina textile industry
Trump is doing the right thing by confronting China economically over its unfair trade practices, according to Senator Graham (R-SC).  Many people in South Carolina supported the president's actions despite potential effects from tariffs, which could have an impact on agricultural and industrial jobs, the Senate Judiciary Committee chairman said.  However, Graham said that amid the economic confrontation, farmers and consumers may feel some financial pain -- but he argued it's better to take on Beijing today than let America get hurt in the long run.

August 27: Fox Business: Costco in China closes early on opening day because
of overcrowding and traffic jams!
Costco closed early on the opening day of its first store in China because of overcrowding, according to reports. The retail giant reportedly sent a notice to shoppers on its app saying that it needed to close early because of the crowds and traffic in the suburban Shanghai neighborhood, AFP reported.  "Due to overcrowding in the market, and in order to provide you with a better shopping experience, Costco will temporarily close on the afternoon of August 27. Please avoid coming," the notification reportedly said.

August 27: The New York Post: Divorce Papers; man leave wife for Congresswoman Omar
A Washington mom says her political-consultant husband left her for Rep. Ilhan Omar, according to a bombshell divorce filing.  Dr. Beth Jordan Mynett says her cheating spouse, Tim Mynett, told her in April that he was having an affair with the Somali-born US representative and that, according to the divorce papers,  he even made a "shocking declaration of love" for the Minnesota Congresswoman before he ditched his wife.  The doctor and her estranged husband have an eleven year old son.

August 26: The Washington Free Beacon:  Biden: "I'm not going nuts!"
Democratic presidential candidate Joe Biden told supporters in New Hampshire on Friday he was "not going nuts," when he stumbled over the location of where he spoke at an event a few hours earlier.  Biden's comes amid a series of gaffes such as last week when he mistakenly claimed Martin Luther King Jr. and Robert Kennedy were assassinated in "the late 70s" when they were both killed in 1968.  Then in August he referred to former British prime minister Theresa May as Margaret Thatcher. And he also said "Poor kids are just as bright, just as talented, as white kids."

August 26: The Daily Caller: 2nd Circuit Court of Appeals next in the judicial nomination wars
Steven Menashi's nomination for the 2nd U.S. Circuit Court of Appeals is the latest touchstone in the judicial confirmation wars.  The 2nd Circuit is the federal appeals court that covers Connecticut, New York, and Vermont.  "These are the same types of smears the Democrats have thrown at several highly qualified people nominated by the president to serve as federal judges said the Judicial Crisis Network chief counsel Carrie Severino.  Writing for an American Enterprise Institute publication in 2000, Menashi accused college administrators of hypocrisy for opposing the military's "Don't Ask, Don't Tell" policy for gay soldiers while supporting separate campus housing for LGBT students.
August 26: The Washington Examiner: FEC Vice Chair resigns after serving eleven years
The Republican vice chairman of the Federal Election Commission resigned Monday, leaving the election oversight agency without enough members to vote on enforcement actions.  Matthew Peterson said, "It's just the right time," said Petersen, who has won wide praise for his steady and thoughtful approach to election issues, his dedication to the First Amendment, and battles to fend off the regulation of technology and the internet.

August 26: The Hill: California and Massachusetts lead coalition against the holding
illegals more than 20 days
A coalition of 20 states led by California and Massachusetts announced a lawsuit against the Trump administration's proposed rule to amend the longstanding court order that limits the detention of migrant minors to 20 days.  The Trump proposal would allow the incarcerated of immigrant families until their paperwork can be processed – estimated to be up to 60 days; thereby bringing to an end the current catch and release process caused by the 20 day limits.  It would keep families together and house them in locations that have medical facilities.

August 26:  Fox News: Success  from the G7 meeting in France
This is the third G-7 meeting for President Trump, and by far, the best. Before  Trump became president, few noticed these meetings of Britain, France, Germany, Italy, Japan, Canada and the United States, which have been taking place since 1975.  Iran is a major worry for the G-7 this summer, overshadowing even Britain's withdrawal from the European Union.  Trump's conditions are clear. No nuclear weapons, no ballistic missiles, and a longer timeline for a new Iran deal. Trump does not want regime change and insists Iran "must be good players."  Iran has failed in its top objective: to split the U.S. from Britain, France and Germany. The G-7, Japan included, is pulling together as a team to get past this Iran crisis.

August 25: Fox News: Bishop Hunt:  Slavery, a way forward for us
I call all Americans – and especially the Church – to join me in exploring how we can deliver justice and righteousness to the black community as we pause this August to reflect on the impact of slavery in the U.S. upon its 400th anniversary.  Let's commit to helping to restore families and bring equal opportunity for education and jobs, and see that justice is delivered blindly and fairly.
August 23: Reuters: Trump tells businesses they should consider closing China operations
President Donald Trump said on Friday he was telling U.S. companies to look at ways to close their operations in China and make more of their products in the United States instead, a rhetorical strike at Beijing as trade tensions mounted.  Trump cannot legally compel U.S. companies to abandon China immediately and he gave no detail on how he might proceed, although he said he would be offering a response later on Friday to tariffs on American products announced by China earlier in the day.

August 23: NPR News: Supreme Court Justice  Ginsburg more cancer treatments
Justice Ruth Bader Ginsburg has just completed three weeks of radiation treatment at Memorial Sloan Kettering Cancer Center in New York, the U.S. Supreme Court disclosed Friday.  The radiation therapy, conducted on an outpatient basis, began Aug. 5, shortly after a localized cancerous tumor was discovered on Ginsburg's pancreas. The treatment included the insertion of a stent in Ginsburg's bile duct, according to a statement issued by the court.  Doctors at Sloan Kettering said further tests showed no evidence of disease elsewhere in the body.

August 23: The Daily Caller: Former ICE director:  Stats prove illegal immigration is not a victimless crime
Reacting to newly-released data that shows a significant increase in arrest of non-citizens over the past 20 years,  former ICE director Tom Homan said, "I think that it validates illegal immigration is not a victimless crime. Many come to this country and violate the laws against the citizens of this country. ..  … Last year, ICE arrested over 142,000 criminal aliens. These are people that violate laws entering this country and commit yet another crime on top of that," he said.

August 23: The Military Times: Israel strikes Iran munitions depot in Iraq
Israel was responsible for the bombing of an Iranian weapons depot in Iraq last month, U.S. officials have confirmed, an attack that would mark a significant escalation in Israel's years-long campaign against Iranian military entrenchment across the region.  Such attacks are potentially destabilizing for Iraq and its fragile government, which has struggled to remain neutral amid growing tensions between the United States and Iran.

August 22: The Washington Free Beacon: Trump Administration clears sale of F-16s to Taiwan
The Trump administration on Tuesday formally cleared the sale of 66 new F-16 jet fighters to Taiwan in a bid to bolster the island nation's air power.  Randall Schriver, assistant defense secretary for Indo-Pacific security affairs, said the jet sale is partly a response to the growing threat posed by China.  "We've tracked the growing threat for a long time," Schriver told the Washington Free Beacon, noting annual Pentagon reports.  "In addition, part of Taiwan's air force is aging and in need of replacements," he said. "This sale is needed in order for Taiwan to keep a viable air defense,"

August 22: The Washington Free Beacon: PRC forbids any positive coverage of pro-democracy
demonstrations in Hong Kong
The ruling Communist Party of China issued internal guidelines recently mandating that state-run propaganda outlets avoid any positive reports on the pro-democracy protests in Hong Kong.  The guidelines were put out by the Chinese national security commission, the high-level party group is headed by President Xi Jinping.

August 21: Yahoo News: Susan Collins' senate seat in jeopardy?
Republican Susan Collins is caught in the cross-fire of the angry partisan division that's defining the nation's politics, turning her from a shoo-in for re-election into one of the most vulnerable senators running in 2020.  After spending four terms building a bipartisan brand in her home state of Maine, Collins has stoked anger from Democrats for her votes in favor of President Donald Trump's tax cuts and his Supreme Court pick of Brett Kavanaugh, and from Republicans for helping save Obamacare and her frequent criticism of the president's statements and behavior.

August 20: Fox News: LA residents fed up with the homeless problem in their city
In the summer of 2019, Fox News embarked on an ambitious project to chronicle the toll progressive policies have had on the homeless crisis in four West Coast cities: Seattle, San Francisco, Los Angeles and Portland, Ore. In each city, we saw a lack of safety, sanitation and civility. Residents, the homeless and advocates say they've lost faith in their elected officials' ability to solve the issue. Most of the cities have thrown hundreds of millions of dollars at the problem only to watch it get worse.   

August 20: The UK Daily Mail: Ransomware has cost 23 Texas cities millions
The wave of ransomeware attacks targeting 23 local government entities that hit Texas on Friday is believed to have cost the state at least $12 million, so far. On Friday, the Texas Department of Information Resources (DIR) said that it was leading the response to a 'coordinated ransomware attack' that was crippling critical government infrastructure across the state.Ransomware disables computer networks and holds them hostage in demand for payment.

August 19: Yahoo News: China lashes out at Taiwan for Asylum offer
China lashed out at Taiwan on Monday over its offer of political asylum to participants in Hong Kong's pro-democracy protest movement, a day after hundreds of thousands of people marched peacefully in the latest massive demonstration in the Chinese territory.  The government of Taiwan, a self-ruled island that China considers its own territory, strongly supports the protests, and Hong Kong students in Taiwan held events over the weekend expressing their backing. Taiwan's president made the asylum offer last month, though it's not clear if requests have been received.

August 19: The Associated Press: Planned Parenthood leaves the Federal Family Planning Program
Planned Parenthood said Monday it's pulling out of the federal family planning program rather than abide by a new Trump administration rule prohibiting clinics from referring women for abortions.  Alexis McGill Johnson, Planned Parenthood's acting president and CEO, said the organization's nationwide network of health centers would remain open and strive to make up for the loss of federal money. But she predicted that many low-income women who rely on Planned Parenthood services would "delay or go without" care.

August 19: Fox News: Pentagon tests intermediate range missile
The Pentagon announced Monday that the military conducted a test over the weekend of a type of missile that previously had been banned for the last 30 years under a treaty between the United States and Russia.  The test, which took place off the coast of California, marks the resumption of an arms competition that some analysts worry could increase U.S.-Russia tensions after the two world powers abandoned a long-standing treaty earlier this month.  The Trump administration says it remains interested in useful arms control but questions Moscow's willingness to adhere to its treaty commitments.
August 18: Yahoo News: Hong Kong protesters flood city streets; largest peaceful rally in weeks
A sea of democracy activists flooded the streets of Hong Kong Sunday under torrential rains in a peaceful demonstration to city leaders that their movement still draws wide public support, despite mounting violence and increasingly stark warnings from Beijing.  An estimated 1.7 million of umbrella-carrying protesters poured across the heart of Hong Kong island, defying both the downpour and a police order not to march from a park where they had gathered earlier for a rally.

August 18: Fox News: Senator Graham: IG's report on Russia probe will be
"ugly and damning" for DOJ
Senate Judiciary Committee Chairman Graham (R-SC) is adamant about revealing what went on behind the scenes of the Russia investigation and is looking forward to the American people learning about what happened.  "I believe the Horowitz [Inspector General] report will be ugly and damning," Graham said.  The report which keeps getting delayed is expected in the coming weeks.  "Mr. Horowitz is doing a very in-depth dive" into the FBI's use of the Foreign Intelligence Surveillance Act (FISA) to acquire a warrant to monitor former Trump campaign adviser Carter Page, Graham said.

August 17: Fox News: Europe and Germany in crisis mode
The health of  Europe's largest economy is in trouble as Germany teeters on the edge of a recession.  A decline in exports dampened the German economy, which shrunk by 0.1 percent in the second quarter of 2019.  Germany is in terrible shape with negative GDP this week and with their expectations looking for another negative GDP in the third quarter

August 17: USA Today: US issues warrant to seize Iran oil tanker after Gibraltar
judge orders its release
The U.S. Justice Department issued a warrant to seize an Iranian oil tanker detained in Gibraltar, a day after a judge in the British overseas territory ordered its release. The U.S. move late Friday deepens a weeks-long diplomatic dispute between Tehran and Washington.  The tanker  was seized last month in a British Royal Navy operation off the coast of Gibraltar. Authorities suspected it of violating European Union sanctions on oil shipments to Syria. Its seizure aggravated fears of a conflict in the Persian Gulf, where Iran claims control of the Strait of Hormuz, a strategic waterway for oil shipments.

August 16: Fox News: How Trump can help save Hong Kong
Trump has warned China that it must respond "humanely" to the protests in Hong Kong if it wants a trade deal, for the first time suggesting that the United States would impose costs on Beijing if it launched a Tiananmen Square-style crackdown on the city. China is in a much weaker position in Hong Kong than many realize. If it could easily crush the protesters, at a cost acceptable to Beijing, it would have done so by now. Trump should warn Xi that if he launches a crackdown in Hong Kong, then the United States will repeal the Hong Kong Policy Act, under which we treat Hong Kong separately from China and give it better terms.  The economic impact alone will make China think twice before acting.

August 16: The Hill: Israel approves Tlaib request to visit West Bank grandma on
humanitarian grounds, then she decides not to go!
Israel's interior minister, Aryeh Deri, on Friday announced he would approve a request from U.S. Congresswoman Tlaib (D-MI) to enter Israel to visit her Palestinian relatives in the West Bank,.  The move comes a day after Israel had announced it would deny entry to Tlaib and fellow congresswoman Rep. Omar (D-MN) for a scheduled trip, citing the lawmakers' past criticism of the country.  Tlaib then decides not to go after all.

August 16: The Daily Caller: Clinton aide who defied subpoena says he created an gmail
account and sent it nearly all of Hillary's emails
Virtually every single one of Hillary Clinton's emails were sent, potentially secretly, to a cryptically named Gmail address, according to a new Senate report.  The finding, which has not been previously reported, means that Clinton's emails, including classified ones and ones which were later deleted, likely existed on Google's U.S.-based servers. The FBI said in the report that it knew this — and of the suspicious explanation for it — but did not alert other intelligence agencies or the public, according to the report.

August 16: The Hill: The Log Cabin Republicans endorse Trump
The Log Cabin Republicans endorsed  President Trump's 2020 reelection bid on Friday, nearly four years after the conservative LGBT organization declined to endorse then-candidate Trump in 2016. The group said its national board of directors voted to endorse Trump after consulting with its chapters across the country.

August 16: The Washington Free Beacon:  Probe sought over candidate's muddy financial
disclosures in run for Olsen's House seat
A government watchdog group is seeking a probe into the financial disclosures of a Texas Democratic candidate after he reported just thousands in total income and his campaign issued a statement that is contradictory to what the disclosure forms show.  Sri Preston Kulkarni, a former State Department diplomat who left his position to run in Texas's 22nd Congressional District in 2018, a race he narrowly lost, is again seeking a bid at the seat with incumbent Republican representative Pete Olson retiring from Congress. The district is targeted by national Democrats.
August 16: The Wall Street Journal: Chinese | Russians test US | South Korean defenses
Chinese and Russian warplanes have increasingly nosed around and veered into South Korea's airspace, conducting close patrols that allow Beijing and Moscow to test the air defenses of the U.S. and its allies in the region.  The aerial campaigns come as Beijing vows to strengthen its military alliance with Moscow, heightening tensions across the Asia-Pacific region as the U.S. and China jockey for power.

August 15: The Hill: New evidence shows why Steele, Ohr, and TSA workers
never should have become DOJ sources
One of the inevitable outcomes of the Russia case will be that the Department of Justice (DOJ) almost certainly will need internal reforms.  The first reform is the most obvious, given the unraveling of the Russia collusion narrative: a new set of rules governing when the FBI can investigate or spy on a First Amendment-protected political campaign during an election. The FBI never should have been allowed to sustain a counterintelligence investigation into the Trump's campaign  based upon hearsay.

August 14: The Wall Street Journal: Trump to China: If you want to have a trade deal,
treat the people in Hong Kong humanely
President Trump suggested a "personal meeting" with China's President Xi Jinping to discuss the escalating crisis in Hong Kong and warned China it must respond "humanely" to the protests if it wants to strike a trade deal.

August 14: The Daily Caller: FBI: Attack on ICE office in San Antonio was
definitely a targeted attack
The FBI determined a shooting early Tuesday morning in San Antonio was a coordinated attack against an Immigration and Customs Enforcement (ICE) office.  "These shootings were cowardly, brazen, violent acts, absolutely without justification and a threat to our entire community," Christopher Combs, the FBI's Special Agent in Charge in San Antonio, said in a statement Tuesday provided to the Daily Caller News Foundation.

August 14: CBS Philadelphia: Six officers shot in standoff
At least six Philadelphia police officers were shot during a gun battle in Philadelphia's Nicetown-Tioga section and rushed to the hospital on Wednesday afternoon, authorities say. CBS News reports two officers are inside the second floor of the home with other possible hostages, while the gunman remains on the first floor.

August 14: Fox News: Federal Judge rules against House Judiciary subpoena
A D.C. federal judge on Wednesday shot down an attempt by House Judiciary Committee Democrats to link their subpoena for former White House counsel Don McGahn to a separate request for secret grand jury information from the Russia investigation after the Justice Department accused them of trying to "game the system."

August 13: Reuter: Clashes at Hong Kong Airport
Protesters clashed with police at Hong Kong's international airport on Tuesday evening after flights were disrupted for a second day, plunging the former British colony deeper into turmoil.  The scuffles broke out in the evening between police and protesters, after an injured person was taken out of the main terminal by medics. 

August 13: This Week: Hong Kong protestors wave American Flag
Hong Kong seem to be heading to a Tianenmen-like situation with thousands of protesters thronging the streets. Chinese media had already warned of potential terrorism rising in the country and even accused the US of supporting the riots. A video posted on twitter shows pro-democracy supporters in Hong Kong waving the American flag adding to the fury of the Beijing-backed government. 

August 13: Fox News: Hong Kong Commentary: 
What happened to the agreement guaranteeing Hong Kong economic and political freedom? 
What does the conflict say about what China has in mind for the rest of the world?
The outside world can do little to assure the future of freedom in Hong Kong beyond making the case that preserving the principles of liberty are at stake. Nevertheless, the plight of that territory's more than 7 million souls can teach us an important lesson about what China has in mind for the rest of the world. It is not good.

August 12: Fox News: Administration issues rule to allow denial of green cards to
immigrants relying upon welfare programs
The Trump administration on Monday issued a long-awaited rule strengthening the ability of federal officials to deny green cards to immigrants deemed likely to rely on government aid.  "The principle driving it is an old American value, and that's self-sufficiency," U.S. Citizenship and Immigration Services (USCIS) Acting Director Ken Cuccinelli said. "It's a core principle -- the American Dream itself -- and it's one of the things that distinguishes us, and it's central to the legal history in the U.S. back into the 1800s."

August 12: Reuters: Guatemala election winner sets sights on changing migration deal with the U.S.
Guatemalan conservative Alejandro Giammattei secured a crushing victory in a presidential election on Sunday, and promised to seek better terms for his country from an unpopular migration deal agreed with Washington last month.  Giammattei will not take office until January, by which time Guatemala may be under severe pressure from the deal, which effectively turns the country into a buffer zone, by forcing migrants to seek refuge there rather than in the United States.
August 11: Fox News: Ohio Governor: Gun proposal would safeguard due process
Gov. Mike DeWine (R-OH), said his state's new proposed gun-control measures have been crafted by Second Amendment supporters and will respect due process.  A person's gun(s) could  not be taken away unless they have gone to court first. "The previous governor tried what they called a red-flag law. It did not have the procedure. It did not have the due process," DeWine said.  DeWine also addressed calls for better emotional counseling in schools for young adults and cheered the Ohio state assembly for allocating funds to arm schools and boost mental health options.

August 11: The Associated Press: Muslims clash with Israeli police at the temple mount
Muslim worshippers and Israeli police clashed Sunday at the Temple Mount during prayers marking the Islamic holiday of Eid al-Adha.  Palestinian medics said at least 14 people were wounded, one seriously, in the skirmishes with police. Police said at least four officers were wounded. Witnesses said at least two people were arrested. Clouds of tear gas swirled and stun grenades thundered across the stone-paved esplanade as masses of worshippers skirmished with police in the worst bout of fighting at the contested holy site in months.

August 11: The Daily Caller: Bill Clinton wanted to appoint lawmaker mentioned in the
Epstein scandal to the U.S. Supreme Court
Former Senate Majority Leader George Mitchell (D-ME) -- whom former President Bill Clinton asked to succeed Justice Harry Blackmun in 1994 -- is one of the high profile people accused by alleged Jeffrey Epstein "sex slave" Virginia Giuffre of being the recipient of erotic massages and intercourse that she was forced to perform.  The former Senator denied any wrongdoing.

August 10: Fox News:  China expert praises Trump's tariffs saying the
things China is doing "smell desperate"
China is in a weaker position economically because of President Trump's tariffs which the Chinese are ultimately paying for, Gordon Chang, an expert on the Asian powerhouse, said.  "I think you can say the U.S. is winning because the Chinese are now doing things which smell desperate," he added before noting how China depreciated its currency. By devaluing their currency, Chang argued, the Chinese made their products cheaper for U.S. consumers. "So, effectively they're bearing President Trump's additional tariffs.  So, when Trump says the American consumer is not going to pay, he's correct on that," Chang said.

August 10: Breitbart News: Former DNC Chair: Trump had nothing to do with the
mass shootings in Ohio and Texas
Former Democrat National Committee (DNC)  chairwomen Donna Brazile said in a conversation with Fox News contributor Guy Benson that President Trump "had nothing to do" with the mass shootings in Dayton and El Paso.  Brazile, a black lady herself,  said she was "profoundly saddened" by the rhetoric on race surrounding the shootings.  She said she was "profoundly saddened" by the rhetoric.  "The President of United States, you know, should not be blamed for you know these individual killers," she contended.  She urged Americans to "set a tone for our kids" so they are clear on what values we share as Americans.

August 10: The Washington Free Beacon: Europe poised to put warning on Jewish-made products
The European Union is poised to mandate that Israeli products made in contested territories carry consumer warning labels, a decision that could trigger American anti-boycott laws and open up what legal experts describe as a "Pandora's box" of litigation, according to multiple sources involved in the legal dispute.  The Advocate General of the European Court of Justice recently issued non-binding opinion arguing that EU law requires Israeli-made products to be labeled as coming from "settlements" and "Israeli colonies."  With the EU court's 15 judge panel now poised to issue its own binding judgment in the case, the decision could trigger U.S. anti-boycott laws meant to stop Israeli-made goods from being singled out for unfair treatment on the international market.

August 9: The UK Daily News: Is Putin covering up a nuclear disaster?
Ambulances covered in protective film transport six Russians who suffered severe radiation poisoning in a mystery explosion during "test of new hypersonic missile" indicating that perhaps that the test went awry.  Alarming footage also shows men in protective clothing loading casualties into the vehicles in the wake of a blast at the Nyonoksa weapons testing site in the sub-Arctic Arkhangelsk region yesterday. Earlier the clothes of the victims and the medics who first treated them were destroyed, it was reported, before causalities were transferred for treatment at the Burnasyan Federal Medical Biophysical Centre in Moscow. Moscow has thrown a veil of secrecy over the explosion, which killed two and left six injured on Thursday.

August 8: The New York Post: Biden: Poor kids are just as bright as white kids
Gaffe-prone presidential hopeful Joe Biden put his foot in his mouth during an Iowa campaign stop on Thursday when he told a group of predominately Asian and Hispanic voters that "poor kids are just as bright, just as talented, as white kids."  Biden committed the stunning blunder while speaking about education at a town hall with the Asian and Latino Coalition in Des Moines, where he's campaigning and fundraising for the 2020 Democratic primary.

August 8: The Daily Caller: 4th grader escorted to school by deputies after
his dad died in the line of duty
A nine-year-old boy was escorted to his first day of fourth grade Wednesday by deputies from Hall County, Georgia after his dad was killed in the line of duty in early July.  Nicolas Dixon, 28, was in pursuit of a stolen vehicle when he was shot and killed by a teenage suspect.   Deputies from the Hall County Sheriff's Department wanted to give some "extra support and encouragement on this first day of class," so they escorted the young boy to school, an official Facebook post says.

August 8: The Hill: Biden opposed sanctuary cities in 2007, unclear where he now stands
After calling for a ban on sanctuary cities in 2007, Presidential candidate Joe Biden's current position is unclear, as the Obama administration's legacy on immigration becomes a pressure point for the former vice president in the Democratic presidential primary.  When Biden was running to be the Democratic presidential nominee in 2007, he was unequivocal when asked at a debate about whether he would allow sanctuary cities to ignore federal law. "No," he responded. But more recently he has opposed Trump's consideration of withholding federal funds for sanctuary cities that  refuse to work with federal law enforcement agencies.

August 8: The Clarion Ledger: ICE releases 300 of 680 arrested in Mississippi
bout 300 of the 680 people detained in Wednesday's federal Immigration and Customs Enforcement raid were released the same day, officials said. Approximately 30 people detained Wednesday were released at the same site they were detained on  "humanitarian grounds" according to a press release issued Thursday by Mike Hurst, the U.S. attorney for the Southern District of Mississippi, and ICE.  Another 270 were released after being processed by Homeland Security Investigations on Wednesday. Those 270 were taken back to where they were initially detained, the release stated.

August 7: Fox News: Well Dah!  Trump faces Dems delaying tactics on judicial nominees
Trump's judicial nominees have faced unprecedented opposition from the Senate in his first two-and-a-half years in office, records show, with Democratic senators voting against the nominees in higher numbers than at any point in American history.  Trump's nominees for the lower courts that feed cases to the Supreme Court contend with far more 'no' votes and delay tactics than any past president's, according to numbers compiled by the Heritage Foundation. Last week when 13 nominees were confirmed Senate Majority Leader Sen. Mitch McConnell (R-KY)  blasted Democrats for delaying routine appointments.

August 7: Associated Press: Venezuela talks in the balance
For weeks, representatives of Venezuelan President Nicolás Maduro and his would-be successor, opposition leader Juan Guaidó, have been shuttling back and forth to Barbados trying to agree on a common path out of the country's prolonged political standoff.  The meetings have been slow-going and shrouded in mystery, with neither side disclosing details. But now Maduro's supporters are accusing the U.S. of trying to blow up the fragile process by imposing sweeping new sanctions that freeze all of the Maduro government's assets in the U.S. and even threaten to punish companies from third party countries that keep doing business with his socialist administration.

August 7: The Wall Street Journal: Hong Kong protesters prepared to die
Hong Kong's protests against the mainland government's increasing reach are emerging as bigger, more frequent and more violent than previous pro-democracy movements. In a contrast to 2014, when demonstrations were largely led by students, the current action has been embraced by a broader cross-section of Hong Kong society—including civil servants, pop stars, doctors, shopkeepers and people of all ages. And those taking part in more radical acts of civil disobedience are finding wider support.

August 6: Fox News: Gowdy:  Strzok has nobody to blame but himself
Former congressman Trey Gowdy weighed in on ex-FBI agent Peter Strzok suing the FBI and the Department of Justice, saying he has no one to blame but himself. 

August 6: Reuters: China warns of impending chaos in the financial markets
President Donald Trump on Tuesday dismissed concerns over a protracted trade war with China despite a warning from Beijing that Washington's decision to label it a currency manipulator would lead to chaos in financial markets.  He also pledged to stand with American farmers in the face of Chinese retaliation. China has halted U.S. agricultural purchases and raised the specter of additional tariffs on U.S. farm products.  

Meanwhile CNN reports the DOW closes higher as "China Blinks!"   The Dow and the broader US stock market rebounded Tuesday, driven by optimism that currency tensions between the United States and China would ease.  For the S&P and the Nasdaq it is their first positive performance in seven days. The Dow is in the black for the first time in six days.   Markets recovered from a terrible day on Monday, when Chinese government officials said they would take steps to keep its currency from falling too far.

August 5: Vice.com: Amazon coaching Police on how to get video footage without a warrant
When police partner with Ring, Amazon's home surveillance camera company, they get access to the "Law Enforcement Neighborhood Portal," an interactive map that allows officers to request footage directly from camera owners. Police don't need a warrant to request this footage, but they do need permission from camera owners.   Emails and documents obtained by Motherboard reveal that people aren't always willing to provide police with their Ring camera footage. However, Ring works with law enforcement and gives them advice on how to persuade people to give them footage.
August 5: The Daily News: Dayton shooter's twitter appears to have had pro-Antifa
and Pro-Gun Control comments
The shooter identified in Sunday's Dayton, Ohio, attack appears to have had a now-suspended Twitter account filled with far-left rhetoric and comments about guns.  Connor Betts, 24, opened fire in downtown Dayton early Sunday morning. He killed nine people, including his sister, and injured 27 others. This attack came 14 hours after 21-year-old Patrick Crusius allegedly murdered 22 people and injured over two dozen others in an El Paso, Texas, shopping area Saturday.
August 5: Fox News: California sued over law blocking Trump from ballot unless
he releases tax returns
Four voters in California, along with the conservative transparency group Judicial Watch, announced Monday they have filed a federal lawsuit against the left-wing state, alleging its new law aimed at strong-arming President Trump into releasing his income tax returns is patently unconstitutional.  Democratic Gov. Newsom signed the law known as the "Presidential Tax Transparency and Accountability Act" last week. It would require Trump and other presidential primary candidates to file their tax returns for the most recent five years to the California secretary of state by November 26 or be excluded from the March 3, 2020 presidential primary ballot.

August 5: Politico: Treasury designates China as a currency manipulator
The United States took the rare step on Monday of formally labeling China a currency manipulator, as trade relations between the two countries continued to spiral downward after President Donald Trump's decision last week to impose additional tariffs on Chinese goods.  "In recent days, China has taken concrete steps to devalue its currency, while maintaining substantial foreign exchange reserves despite active use of such tools in the past," the Treasury Department said in a statement that followed the People's Bank of China's decision to let its currency, the renminbi, fall to the lowest level in more than a decade.  Treasury Secretary Mnuchin will now "engage with the International Monetary Fund to eliminate the unfair competitive advantage created by China's latest actions."

August 4: The Washington Times:  Retribution by Obama officials keeps courageous
Congressman in prison
Former Congressman Steve Stockman (R-TX), did more as an elected official than perhaps any other to alert the nation to the fact that Lois Lerner, the now-disgraced IRS official, was using her powerful position to target conservatives.  He boldly led the charge that eventually resulted in Lerner admitting her abuse of power, being held in contempt of Congress and being ousted her from her post. But while Lerner now lives as a free woman, even though she and her crooked government buddies enacted revenge on Stockman, who now is languishing in a federal prison under a 10-year sentence.

August 4: Fox News: Dayton, OH shooter shot by police in under a minute
Nine people were killed and dozens injured when a suspect wearing body armor opened fire outside a bar in Dayton, OH, early Sunday before responding officers shot the armed assailant to death less than a minute into the rampage.  It was the nation's second mass shooting in less than 24 hours after at least 20 people were slain in El Paso, TX.

August 3: The Daily Caller: Soldier acts to save children from El Paso shooter
 U. S. Army Private First Class Glendon Oakley carried kids out of harm's way with no regard for his own safety as shots rang out Saturday at an El Paso mall.  A licensed concealed carry holder he drew his gun and went to help.  On the way he saw kids who were scared and separated from their parents, and it never occurred to him not to stop and help them too.  He credited the Army with instilling in him the values that drove him to respond in the way that he had. The Army core values, drilled by every soldier-in-training until they are second nature, are: Loyalty, Duty, Respect, Selfless Service, Honor, Integrity and Personal Courage.

August 3: The New York Post: Feds probing AOC aide after sudden resignation
The Feds are looking into possible campaign finance misdeeds by Rep. Alexandria Ocasio-Cortez's chief of staff who suddenly resigned Friday.  The inquiry centers on two political action committees founded by Saikat Chakrabarti, the top aide who quit along with OAC spokesman Corbin Trent. Trent left to join the congresswoman's 2020 re-election campaign.  The brash Chakrabarti, who masterminded OAC's campaign and steered her proposed Green New Deal, had caused uproar in the halls of Congress with a series of combative tweets that contributed to a rift between OAC and Speaker Pelosi.

August 3: The Wall Street Journal: Hundreds arrested in Moscow over anti-Putin protest
Police detained 600 people at an unauthorized protest in the Russian capital demanding fair elections, as a recent wave of public discontent in Russia showed few signs of abating. The rallies, protesting the exclusion of opposition candidates from local elections, came a week after more than 1,300 people were detained and dozens injured in similar demonstrations.  The mass protests, which began in Moscow in mid-July, are some of the most significant displays of public dissatisfaction in Russia since President Vladimir Putin returned to the Kremlin in 2012. The rallies, which follow demonstrations on various issues across the country in the past year, come as Mr. Putin's approval rating has fallen to multiyear lows.

August 3: MSN.com: USAF to deploy ground based laser weapon
The Air Force announced Friday it will soon deploy two ground-based laser weapons to an undisclosed location to test how they can be used against small drones, the service's first "operational field test" of an experimental "directed energy" weapon.  

August 2: The Daily Signal: 113 year old statute hurting U.S. Ports
The Foreign Dredge Act of 1906 prohibits any foreign-built or chartered ships from dredging in the U.S. The result is to exclude the world's largest dredging companies that could provide better and cheaper service for dredging projects at the behest of a few politically connected companies.  This is adversely impacting the port of Houston.

August 2: The Daily Caller: Federal judge blocks release of Trump's NY tax returns
On Thursday a federal judge blocked New York state from turning over President greement to a proposal from the state that would allow it to challenge Nichols' juriDonald Trump's tax returns to Congress.  The order from Judge Carl Nichols came in asdiction over the issue.  The order will block any House Ways and Means Committee requests for the tax returns via the New York law until the jurisdictional dispute is resolved.

August 2: The Daily Caller: Graham moves Secure and Protect Act through Senate
In one of the last days leading up the six week August recess, the Senate Judiciary Committee got into a heated clash over a controversial asylum bill. Chairman of the Senate Judiciary Committee, Senator Lindsey Graham from South Carolina, refused to delay the bill any longer, after accusing Democrats of withholding a vote for 7-weeks.  The bill, known as the Secure and Protect Act, requires that asylum seekers from Central America apply for asylum outside of the United States before applying here. Graham's bill also extended the time that migrant families must be kept in detention centers from 20 days to 100 days, in order to help avoid immigration fraud.

August 2: CNS News: Record 157,288,000 employed in July
The number of people employed in the United States hit a record 157,288,000 in July, according to the employment report released Friday by the Bureau of Labor Statistics. That was up 283,000 from the 157,005,000 employed in June. The unemployment rate held steady in July at 3.7 percent, the same as it was in June.

August 1: NBC News: Senate passed massive budget bill
The Senate on Thursday gave final passage to a budget agreement approved by the House last week that would raise spending limits that would otherwise take effect and suspending the debt ceiling through mid-2021.  President Donald Trump is expected to sign the measure, which passed the Senate 67-28. The House passed the legislation 284-149 last week, with most Republicans voting against it.

July 31: CNBC News: Fed rate cut only quarter point
The Federal Reserve lowered its benchmark rate by a quarter point Wednesday as an insurance policy not against what's wrong with the economy now, but what could go wrong in the future. It was the first rate cut by the central bank in more than a decade.  Meanwhile Reuters reports Donald Trump's repeated calls for easier monetary policy may not be what's driving the Federal Reserve to cut interest rates on Wednesday.   But Trump's policies have set the table for it.

July 31: The Washington Free Beacon: Analysis: Dem candidates call for $200 Trillion in spending
Democratic candidates for the 2020 nomination have promised more than $210 trillion in new spending across the field, analysis shows.  Of the 26 declared candidates—including Rep. Eric Swalwell (D-CA) who dropped out earlier this month—most have put enormous new government programs front and center in their campaigns. Totaling up these proposals gives taxpaying voters a sense of the budget priorities of the average Democratic candidate.

July 31: The Hill: Two year budget deal delayed in Senate after some Republicans raise questions
The Senate has kicked the vote on a two-year budget and debt ceiling deal to Thursday amid lingering questions about whether a majority of Republicans will back the agreement.   GOP senators emerged from a closed-door lunch on Wednesday saying they expected the budget vote would take place on Thursday around noon. Asked if senators would have the votes to pass the budget deal, Sen. Thune (R-SD) said "We'll find out tomorrow. But we've been working it as you know and the Democrats and the Republicans are both going to have to deliver votes for this, but I would say failure is not an option."

July 31: The Wall Street Journal: California: You want to be on the primary ballot?  Hand over your tax returns!
California will require presidential candidates to hand over their tax returns in order to appear on the state's primary-election ballot, setting up a likely legal conflict with President Trump over his continued refusal to disclose any tax documents.  Under a law signed Tuesday by Gov. Gavin Newsom, candidates must turn over five years of tax returns at least 98 days before the March 3 primary. The state would then release a redacted version of the documents.

July 31: The Daily Caller: Chairman Cummings: Circa 1999; Baltimore is a "Drug-Infested Area"
A video has been uncovered from 1999 in which African American Chairman Elijah Cummings (D-MD) called his district a "drug-infested area."  The resurfaced video comes as President Trump has been accused of racism for referring to Baltimore as "rodent infested" and a place that no human would want to live. Trump partially blamed  Cummings, who has represented part of Baltimore for over 20 years, for the conditions in the major Maryland city.  Cummings was invited to tour a Housing and Urban Development (HUD) facility in Baltimore on Wednesday with HUD Sec. Ben Carson, but declined the offer.
July 30: Yahoo News: Fed expected to lower interest rates midst political pressure
The Federal Reserve is set to "vaccinate" the US economy against a slowdown with the first interest rate cut in a decade.  President Trump has been calling upon the Fed to reduce interest rates saying in a Tweet "The E.U. and China will further lower interest rates and pump money into their systems, making it much easier for their manufacturers to sell product… …In the meantime, and with very low inflation, our Fed does nothing - and probably will do very little by comparison." 

July 30: The Daily Caller:  President's characterization of Baltimore; true or false? President Donald Trump described Maryland Democratic Rep. Elijah Cummings's Baltimore district as a place where "no human being would want to live," as a "very dangerous & filthy place" and as a "rat and rodent infested mess."  The President's characterization sparked energetic media backlash coming to the defense of Baltimore and its Democrat mayor. The Daily Caller went to Baltimore to see if the President's characterization of true.  They found the streets appeared just as Trump said: crumbling, dirty and downtrodden. 

July 30: Breitbart News: Big shake up at the Democrat Congressional Committee
The Democratic Congressional Campaign Committee (DCCC) has been under intense pressure amid growing concerns over diversity that saw top staffers resign on Monday after the conflict boiled over into the public arena.  The high tensions within the DCCC mirror the bigger power struggle between House Speaker Nancy Pelosi (D-CA) and the far-left members of the "Squad" who aim to move the Democrat Party farther left in terms of ideology and self-imposed racial-based quotas. However, moderate Democrats worry that the extreme left-wing flank will alienate moderate voters and cost them crucial elections.

July 30: Conservative-Daily: Senator Wyden (D-OR) breaks law, brings
pregnant illegal alien into the U.S.
Oregon Senator Ron Wyden (D), instead of returning home to meet with his constituents during the August Congressional recess went to Mexico, found migrant woman who was 8.5 months pregnant, and then used his position as a Senator to force Border Patrol to allow him to smuggle her into the country.  Not only did this happen, but Senator Wyden is bragging about it.  Any health complications that this woman had could certainly have been taken care of in a hospital in Mexico.. But this Senator forced Border Patrol agents to let her into the United States to be treated so her child would become an "anchor baby?"

July 29: The Wall Street Journal: Treasury to borrow over $1 trillion for second year in a row
The U.S. government expects to borrow more than $1 trillion in 2019 for the second year in a row, though slightly less than it borrowed the previous year, the Treasury Department said Monday.  The Treasury said it expects net marketable debt to total $433 billion in the third quarter and $381 billion in the fourth quarter, which would bring total debt issuance for the calendar year to $1.23 trillion. That total would mark a slight decline from borrowing in 2018, when the Treasury issued $1.34 trillion in debt, more than twice as much as the $546 billion issued in 2017.

July 29: The Daily Caller: Black Pastor: It's hard to believe Trump is a racist
Reverend Bill Owens said Monday that he finds it "hard to believe" that President Donald Trump is racist after attending a meeting at the White House with other "inner city pastors."  Owens pushed back on the characterization of Trump's comments about Baltimore as racist. Owens, who is 80-years-old and the president of the Coalition of African American Pastors, said "I know[s] [racism] when I see it."


July 29: The Times of Israel: Israel/US successfully
test ICBM intercepts
Israel and the United States completed a series of successful tests (shown right) of their advanced Arrow 3 missile defense system in Alaska, the Defense Ministry said on Sunday.  The weapon system successfully demonstrated hit-to-kill interceptions of ballistic targets in space, according to the ministry, which added that the operation was conducted in Alaska [see image left] in order to test capabilities that cannot be tested in Israel. The system also proved capable of simultaneously intercepting multiple targets.

July 29: The Daily Caller: Trump grants pardons to
non-violent offenders
President Donald Trump granted full pardons Monday to five individuals previously involved in offenses like transporting marijuana and drug-trafficking. The president decided John Richard Bubala, Roy Wayne McKeever, Rodney Takumi, Michael Tedesco and Chalmer Lee Williams were worthy of Executive Grants of Clemency after "a careful review of the files" of each individual

July 28: Fox News: AG Meese concerned that Mueller was
not familiar with his own report
Former Attorney General Edwin Meese claimed in an interview airing Sunday on "Life, Liberty and Levin" that the Mueller report seemed "foreign" to the man credited with authoring it.  "I was concerned by his [Mueller's] testimony," Meese said. "I was concerned by the fact that so much of the report seemed to be foreign to him, or at least he was not familiar with it. And I've since reflected the views of a lot of people who were watching and that was that he was not familiar with the report because it looked like someone else had written it."

July 28: South China Morning Post: 6KM long march in Hong Kong ends in clashes
Police made at least a dozen arrests while tear gas was fired at various locations on Hong Kong Island. Protesters marched unauthorised for the second night running, after an illegal demonstration ended in bloody clashes at Yuen Long MTR station on Saturday.  The violence continued until the protesters dispersed at midnight, while earlier in the day the Hong Kong and Macau Affairs Office, Beijing's top policy body for the two cities, announced it would "declare its stance" on Hong Kong on Monday.

July 28: Fox News: Coats to resign and John Ratcliffe (R-TX) to replace him
as the Director of National Security
President Trump announced Sunday that John Ratcliffe (R-TX), will replace Dan Coats as director of national intelligence (DNI).  A source close to the matter told Fox News that Coats never saw his 2017 appointment as a long-term proposition. Ratcliffe has been well-versed in the intelligence community after driving key sections of ongoing Republican-led probes into apparent Foreign Intelligence Surveillance Act (FISA) abuses by the FBI and Justice Department, Fox News is told.  In Coats' letter of resignation he said "The Intelligence Community is stronger than ever and …  …As we have previously discussed, I believe it is time for me to move on to the next chapter of my life."

July 27: Associated Press: Supremes: Trump can proceed to build the border wall using Pentagon funds
The Supreme Court cleared the way for the Trump administration to tap billions of dollars in Pentagon funds to build sections of a border wall with Mexico.  In a 5 to 4 decision the court gave the administration a green light to begin on four contracts to build the wall.  The decision, once again, overturns a decision made by the 9th Circuit in San Francisco and allows the use of  approximately $2.5 billion in Defense Department money to replace existing sections of barrier in Arizona, California and New Mexico with more robust fencing.

July 27: The Daily Caller: So much for freedom as 1,000+ pro-democracy protesters
clash with Moscow authorities
More than 1,000 protesters and several opposition leaders were arrested in Moscow Saturday amid sweeping protests over local elections.  Protesters assembled outside Moscow's  mayoral office Saturday to protest the decision to exclude opposition candidates from city council elections set to take place September 8th.  The protest was organized by prominent opposition leader Aleksei A. Navalny, who was arrested Wednesday for calling the protest.

July 25: The Hill: House passes sweeping budget bill
The House passed a two-year budget deal Thursday that lifts the debt ceiling and boosts government spending by $320 billion.  The legislation would suspend the debt limit through July 2021 and increase spending caps for the next two years, putting the U.S. on track to add an estimated $1.7 trillion to the deficit over the next decade when compared with the billions in automatic spending cuts that would otherwise kick in.  Lawmakers passed the package in a 284-149 vote. Sixty-five Republicans voted for the measure, and 16 Democrats voted against it.


July 25: LMT Online: Royal Navy becomes first to escort British tankers through Gulf strait
The British navy has begun escorting vessels traveling through the Strait of Hormuz after Iranian forces seized a British-flagged tanker.  In a statement Thursday, Britain's Defense Ministry said that "the Royal Navy has been tasked to accompany British-flagged ships through the Strait of Hormuz, either individually or in groups, should sufficient notice be given of their passage."  The HMS Montrose [shown left], a Royal Navy Type 23 frigate, became the first navy ship to offer an escort in the narrow waterway, Sky News reported Thursday, citing shipping industry sources.

July 24: Breitbart News: Communist Cuba's healthcare system is running out of medicines
Healthcare authorities in Cuba blamed a "complex situation" Tuesday for crowing shortages of basic medicines that many of the country need to stay alive, stating that as many as 44 key medications will remain elusive nationwide throughout August.   The drugs listed as at risk for the greatest shortages include beta blockers for high blood pressure, hypertension medications, and antipsychotics. 

July 24: The Los Angeles Times: China raises the possibility of military intervention in Hong Kong
The latest protests in Hong Kong appear to have touched a nerve in Beijing, where officials and state media have escalated rhetoric against the pro-democracy movement, accusing the United States of interference and ominously affirming the People's Liberation Army's ability to intervene at the Hong Kong government's request.

July 24: Yahoo News:  Chris Wallace: Hearing a disaster for Mueller's reputation
During the first break in Wednesday's House testimony of former Special Counsel Robert Mueller, Fox News anchor Chris Wallace claimed the hearing had thus far been a "disaster" for both House Democrats and Mueller himself.  Fox News' special coverage team of Bret Baier and Martha MacCallum immediately noted at the break that the special counsel struggled to answer questions, saying the hearing had been "halting."  "I think you both have been very kind," Wallace responded. "This has been a disaster for the Democrats, and I think it's been a disaster for the reputation of Robert Mueller."

July 24: Fox News: Jim Jordan and Mueller at House Judiciary Hearing:
If you are only going to look at one exchange from the hearing, this is the one it should be!
Congressman Jim Jordan (R-OH), grilled former special counsel Robert Mueller on Capitol Hill Wednesday, accusing him of selective prosecution methods and promising Attorney General Bill Barr would get to the truth.

July 24: The Daily Caller: Rep. Debbie Lesko (R-AZ) exchange with Mueller
"Mr. Mueller, rather than purely relying on the evidence provided by witnesses and documents, I think you relied a lot on media. … how many times you cited The Washington Post in your report," Lesko asked.  Mueller was unsure how many times.  Lesko noted that she had counted 60 times that the Washington Post was cited in the report and also 75 times that Mueller cited the New York Times.  "I've got to say, it looks like Volume II is mostly regurgitated press stories," Lesko concluded. "Honestly, there's almost nothing in Volume II that I couldn't already hear or know simply by having a $50 cable news subscription. However, your investigation cost the American taxpayers $25 million."

July 24: Fox News: Mueller issues clarification
"I want to add one correction to my testimony this morning [at the House Judiciary Committee hearing]," Mueller said. "I want to go back to one thing that was said this morning by Mr. Lieu, who said and I quote, 'You didn't charge the President because of the OLC opinion. That is not the correct way to say it. As we say in the report and as I said at the opening, we did not reach a determination as to whether the President committed a crime [of obstruction]."  Mueller made it clear that he did not intend to support Lieu's implication that Mueller would have indicted Trump if not for the OLC opinion. That would have meant that Mueller determined that Trump committed a crime, but could not do anything about it.

July 23: The Hill: White House officials defend budget deal after conservative backlash
White House officials on Tuesday defended President Trump's support for a two-year budget deal negotiated with Congress, as backlash swelled among conservatives.  The deal would raise federal spending above the 2011 budget sequestration budget caps by $320 billion, and includes $77 billion in cuts or revenue-raisers to help pay for the agreement.   It includes $738 billion in FY 2020 and $740 billion in FY 2021 for funding the military and $632 billion in FY 2020 and $634 billion in FY 2021 for domestic programs.

July 23: The Daily Caller: Nigel Farage warns world leaders; 2016 was just the beginning
Brexit Party Leader Nigel Farage doesn't believe 2016 was a blip on the radar, but rather a harbinger of things to come.  2016 was the year that the U.K. voted to leave the European Union and the U.S. elected Donald Trump president, and both of those events have been seen as major victories for a rising populist movement in the West.

July 23: The Miami Herald: U.S. willing to leave Maduro alone if he leaves Venezuela
With no resolution in sight for Venezuela's leadership six months after the leader of the national assembly declared himself president, the Trump administration appears willing to offer guarantees to Nicolas Maduro that the U.S. will leave him alone if he leaves Venezuela.  A senior Trump administration official suggested that the U.S. would consider not indicting Maduro if he leaves power.

July 23: Breitbart News: IMF raises U.S. and U.K. GDP forecasts, cuts global growth protection
The International Monetary Fund said Tuesday the U.S. economic growth will be better than projected earlier this year while trade tensions will weigh on the global economy more than expected.  The IMF said it expects the U.S. economy to grow 2.6 percent in 2019, up from the 2.3 percent growth forecast in April's World Economic Outlook. The revision reflects stronger-than-expected first quarter performance, the IMF said.  But a sharp slowdown in the growth of global trade is weighing on the global economy more than expected.

July 23: Fox News: Barr says Mueller asked for DOJ letter limiting testimony
AG Bill Barr told Fox News on Tuesday that it was former Special Counsel Mueller's team who asked the Justice Department to send Mueller a letter telling him to keep his upcoming testimony to House lawmakers "within the boundaries" of the public version of his Russia probe report.  The letter provoked criticism from Democrats ahead of Wednesday's highly anticipated hearing, with House Judiciary Committee Chairman Jerry Nadler calling it "incredibly arrogant."  Barr said Mueller's staff asked the department for guidance ahead of the hearing.

July 22: Yahoo News: Dems and Trump reach 2 year budget
deal, raises the debt ceiling
President Trump said Monday that a "compromise" bipartisan budget agreement has been reached that will boost federal spending by $320 billion and suspend the debt limit beyond the next presidential election.  The deal, should it pass Congress as expected, would allow the federal government to borrow more money and avoid a disastrous default in the coming months, while significantly raising budget caps on defense and domestic outlays.  Trump tweeted that the deal is a two-year Budget and Debt Ceiling with no poison pills," which could have otherwise derailed the legislation.

July 22: Reuters: Widespread blackout hits Venezuela
More than half of Venezuela's 23 states lost power on Monday, according to Reuters witnesses and reports on social media, a blackout the government blamed on an "electromagnetic attack."  It was the first blackout to include the capital, Caracas, since March, when the government blamed the opposition and United States for a series of power outages that left millions of people without running water and telecommunications. The blackouts exacerbated an economic crisis that has halved the size of the economy.

July 22: Associated Press: European-led mission will protect shipping in the Gulf
Britain announced plans Monday to develop and deploy a Europe-led "maritime protection mission" to safeguard shipping in the vital Strait of Hormuz in light of Iran's seizure of a British-flagged tanker in the waterway last week.  Foreign Secretary Jeremy Hunt accused Iran of "an act of state piracy" that must be met with a coordinated international reaction.  Hunt said Britain's European allies will play a major role in keeping shipping lanes open. One-fifth of all global crude exports pass through the narrow strait between Iran and Oman. The secretary said Iran must understand that its actions will only lead to a bigger Western military footprint in the region.



July 21: Fox News: SOUTHCOM reports Russian built Venezuelan fighter jet aggressively shadows  Navy aircraft in Caribbean waters
A U.S. Navy intelligence aircraft was "aggressively shadowed" by a Venezuelan fighter jet over the Caribbean on Friday in a move that U.S. officials are calling "unprofessional" and endangered the safety of those on board.   According to U.S. SOUTHCOM  a U.S. Navy EP-3 Aries II aircraft was flying a mission in international airspace when it was approached "in an unprofessional manner" by the Russian built Venezuelan SU-30 Flanker fighter plane. 


July 21: Stars and Stripes: ISIS is still alive, this time in Iraq
Islamic State militants who escaped the defeat of their self-described caliphate in Syria earlier this year have been slipping across the border into Iraq, bolstering a low-level insurgency the group is now waging across the central and northern part of the country, according to security officials.  About 1,000 fighters have crossed into Iraq during the past eight months, most of them in the aftermath of the caliphate's collapse in March, said Hisham al-Hashimi, a security analyst who advises Iraq's government and foreign aid agencies.

July 21: The Associated Press: Protests in Hong Kong grow violent
Clashes involving Hong Kong's protest movement escalated violently late Sunday as police launched tear gas at protesters who didn't disband after a massive march and subway riders were attacked by masked assailants who appeared to target the pro-democracy demonstrators. The march had been peaceful when it reached its police-designated end point in Hong Kong's Wan Chai district in the late afternoon, but thousands continued onward, at various points occupying key government and business districts. They then headed for the Liaison Office, which represents China's Communist Party-led central government within the city.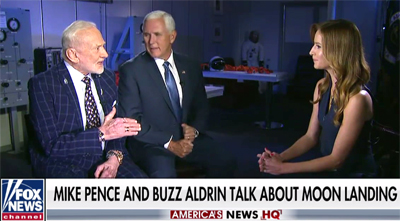 July 20: Fox News: 50 years later;
Going back to the moon and beyond
Apollo 11 astronaut Buzz Aldrin-- the second man to walk on the moon -- predicted that President Trump's "Artemis" program would bring decades of progress like the United States saw with the Apollo program that launched him into space. The interview, which aired on Saturday's "America's News HQ," came as the nation celebrated the 50th anniversary of Aldrin and Neil Armstrong making the first lunar landing on the Apollo 11 mission.  Check out the video in which Buzz Aldrin and Vice President Pence were interviewed.

July 20: The Daily Caller: Supreme Court to look at precedent of deferring to agency's interpretations
Late Justice John Paul Stevens left a far-reaching legal legacy in his 34 years on the Supreme Court including a decision that defer to a federal agcncy's interpretation of an ambiguous law which it administers. Yet the endurance of his legacy might be an open question as the  signaled it might overturn it -- one of his most significant opinions.  The Chevron case initially seemed like an arcane agency issue of little consequence.  However, under Chevron, the courts would defer to the Environmental Protection Agency's reading of an unclear provision in the Clear Air Act. If the Supreme Court revisits the issue, this approach could change.

July 20: The Japanese Times: Top Gun sequel coproduced by Chinese firm appears to
have removed Japanese and Taiwanese flags
Eagle-eyed viewers have spotted a curious discrepancy in the first trailer for "Top Gun: Maverick," the sequel to the beloved '80s classic "Top Gun," which Paramount debuted Thursday — the patches on the iconic leather jacket worn by star Tom Cruise no longer bear the Taiwanese and Japanese flags.  One possible reason for the difference could be that "Top Gun: Maverick" is being produced, in part, by Tencent Pictures, a Chinese film distributor and production company.

July 19: The Stamford Advocate: Trump tells advisors he plans to drastically cut spending in second term
President Donald Trump has instructed aides to prepare for sweeping budget cuts if he wins a second term in the White House, five people briefed on the discussions said, a move that would dramatically reverse the big-spending approach he adopted during his first 30 months in office.  Trump's advisers say he will be better positioned to crack down on spending and shrink or eliminate certain agencies after next year, particularly if Republicans regain control of the House of Representatives.

July 19: The UK Sun: Iran seizes two British oil tankers in the Gulf
All British ships have been told to steer clear of the Strait of Hormuz after Iran's Revolutionary Guards seized two oil tankers with dozens of crew on board less than an hour apart.  Troops in speedboats and helicopters boarded the Stena Impero and Mesdar tankers on Friday as they sailed through the busy shipping lane towards Saudi Arabia.  The raids came just over two weeks after Royal Marines boarded a supertanker off Gibraltar suspected of carrying Iranian crude oil to Syria - prompting Tehran to threaten "retaliation"

July 19: Breitbart News:  Iranian ships stranded in Brazil without fuel
Two Iranian ships are stranded in Brazil because Brazil's state-owned oil company refuses to sell them the fuel they need to return to Iran due to sanctions imposed against Iran by the U.S. 

July 18: The Daily Caller: House votes to raise the minimum wage
Regardless of the possible impact of reducing the number of low wage and entry level positions, the House  passed a measure raising the federal minimum wage from $7.25 to $15 per hour.  The vote was 231-199 with three Republicans supporting it and six Democrats voting against the measure.  Meanwhile KTRH Radio reports a Seattle, WA restaurant company filed for bankruptcy because it is unable to maintain reasonable prices and pay their employees these wages ($15 p/hr), so they are forced to close or file for bankruptcy.

July 18: The Wall Street Journal: Navy shoots down Iranian drone
President Trump said the U.S. Navy downed an Iranian drone that was flying too close to a U.S. warship in the Strait of Hormuz, hours after Iranian forces said they had seized a foreign tanker, the latest in a series of incidents that have ratcheted up tensions in a vital oil shipping route. Mr. Trump said the USS Boxer, an amphibious assault ship, took defensive action against the drone, which he said was "threatening the safety of the ship and the ship's crew" in the Strait of Hormuz. 

July 17: Real Clear Politics:  MAGA rally crowd chants "Send her back"
Attendees at a 'Make America Great Again' campaign rally Wednesday night in Greenville, N.C. chanted "send her back" after President Trump talked about Rep. Ilhan Omar (D-MN), claiming she is not proud of America and that she wouldn't disavow al Qaeda in an interview. In an interview  Ocasio-Cortez told CBS News correspondent Gayle King that she doesn't regret her controversial remarks about Israel.  Meanwhile Sen. John Kennedy (R-LA) called OAC one of the "four horsewomen of the apocalypse" in an interview and former Speaker of the House Newt Gingrich said the immigrant-turned-Congresswoman ought to be "grateful" that she lives in a country which protects her rights.

July 17: NBC News: House holds AG and Commerce Secretary in contempt of Congress
The House voted Wednesday to hold Attorney General William Barr and Commerce Secretary Wilbur Ross in criminal contempt of Congress for obstructing a probe into the administration's failed bid to add a citizenship question to the 2020 census. The criminal contempt resolution passed by a vote of 230 to 198. It passed along party lines — no Republicans voted in favor. Rep. Justin Amash of Michigan, now an independent after leaving the GOP earlier this month, voted in favor of the move. Four Democrats voted against the measure.

July 17: NBC News: Meanwhile, by a landslide, the House defeats measure to impeach Trump
The House also voted on Wednesday to table a resolution from Rep. Al Green, (D-TX) to impeach President Trump over so called "racist comments" he made about four Democratic congresswomen of color, effectively killing the measure.  The vote, 332 to 95, marked the first time the Democratic-controlled chamber had weighed in on impeachment, an issue that has created a widening schism within the party. Progressive newcomers and several 2020 candidates have pushed for impeachment proceedings, but the House leadership, including Speaker Nancy Pelosi, has been resistant.

July 16: Associated Press: Back on the launch pad 50 years later
Apollo 11 astronaut Michael Collins returned Tuesday to the exact spot where he and two other astronauts flew to the moon 50 years ago.   At NASA's invitation, Michael Collins spent the golden anniversary at Kennedy Space Center's Launch Complex 39A in Florida. He marked the precise moment — 9:32 a.m. on July 16, 1969 — that their Saturn V rocket departed on humanity's first moon landing. Buzz Aldrin did not attend. Mission commander Neil Armstrong — who took the first lunar footsteps — died in 2012.  Collins said he wished Aldrin and Armstrong could have shared the moment at the pad.

July 16: The Daily Caller: Administration acts on federal funding and abortion referrals
The administration directed Monday that taxpayer-funded clinics must stop referring women for abortions effective immediately.  Family planning clinics that refer women for abortions will be stripped of their Title X funding.   The rules now require that organizations that perform abortions and make abortion referrals will have to do so in separate buildings from those that receive Title X federal funds – a move could reportedly cost Planned Parenthood "tens of millions of federal family planning dollars."

July 16: Fox News: Pelosi's comments ruled out of order
Escalating tensions on Capitol Hill erupted into a floor fight in the House of Representatives on Tuesday afternoon, as Speaker Pelosi spoke in favor of a proposed resolution condemning "racist" comments by President Trump -- and Pelosi's words were eventually ruled out of order by House Majority Leader Steny Hoyer, a Democrat.   "The words used by the gentlewoman from California contained an accusation of racist behavior on the part of the President," Hoyer said, That technically banned Pelosi from speaking on the House floor for the rest of the day.

July 16: Market Watch: Beware: The IRS is eyeing you money
One of the perils of being well-off is the constant risk that the federal government and/or your friendly state and local tax collectors will figure out new and different ways to snatch more of your wealth. Especially wealth that you earned the old-fashioned way: by inheriting it. To raise your paranoia to the appropriate level, here are two new things to worry about.

July 15: The UK Sun:  Election debate in UK as voting approaches
BORIS Johnson and Jeremy Hunt went toe-to-toe in their final debate of the Tory leadership contest night.  Both teams appeared much more relaxed this time around compared to last week's ITV debate. They both attacked Donald Trump over his comments about democratic congresswomen, but refused to call him a racist.  In just a week's time we will know which of these two men will be the next Prime Minister.

July 15: The Washington Free Beacon: Sound familiar? If  you like your plan you can keep your plan
Former Vice President Joe Biden repeated one of his old boss's most infamous pledges on Monday, saying under his proposal, "if you like your health care plan … you can keep it."  The 2020 Democratic frontrunner released a health care plan Monday that would seek to build upon Obamacare. It which included subsidies to lower prices on the exchanges and also allowing for a "public option" his campaign called similar to Medicare.

July 14: Fox News: Is there a debt limit increase issue?
House Speaker Pelosi doesn't talk with the Treasury Secretary on a Saturday night, then send him a letter, and, then blast out a press release, unless it's urgent but that's exactly what happened on Saturday night!  The issue is the ability to fund the government which will come in less than two months. The problem is that a vote to increase the debt limit is one of the most onerous ballots lawmakers can cast. It's that no one wants to vote to authorize more debt but Congress must lift the debt threshold soon or risk a downgrade in the nation's credit rating, rattle the stock market or send a shock through the bond market. Secretary Mnuchin is imploring Congress to raise the debt ceiling before lawmakers abandon Washington for most of August and the traditional summer recess. All of this finds its roots in the inability of Congress – under both Republican and Democrat leadership – to live within its means.

July 14: ZDNet: European Union's GPS satellites down for over 100 hours
Galileo, the EU's global navigation satellite system, has been down for four days, since July 11, following a mysterious outage. All Galileo satellites are still non-operational, at the time of writing.  The European GNSS Agency (GSA), the organization in charge of Galileo, warned that the Galileo system "should be employed at users' own risk."  The downtime also comes after widespread GPS outages were reported at the end of June in Israel, Iran, Iraq, and Syria.  Israeli media have blamed  Russian interference, rather than a technical problem.

July 13: Associate Press: New election systems may use vulnerable software
Last April Pennsylvania told its counties to update their election systems.  But there's a problem: Many of these new systems still run on old software (Windows 7) with as of January 14 reaches its "end of life" and will no longer be supported by Microsoft (although they have promised to support security updates through 2023).  Here in Texas those counties using the Hart Intercivic equipment (Galveston, Fort Bend, Brazoria, Jefferson counties and others) are not on any networks and shouldn't be vulnerable to hacking.

July 13: The Daily Caller: NYPD union to members: Stand by ICE during raids
he New York City Police Department Sergeants Benevolent Association released a letter Friday calling on its union members to stand by Immigration and Customs Enforcement (ICE) agents should their agency need any assistance to uphold the rule of law this weekend during any ICE raids.  "We, the members of law enforcement, do not write these laws, nor do we engage in the politics and or opinions of the laws under the United States Code, New York State Penal Law or City Code. Our job is to simply enforce all laws equally upon all individuals so that each person receives equal justice under the law," Ed Mullins, SBA president, wrote to his union members.

July 12: Fox News: Former Acting ICE Director takes on House Committee
Former acting ICE Director Thomas Homan ripped into the agency's Congressional critics in a fiery defense of border agents during a House Oversight Committee hearing, saying they should be "ashamed" of their conduct.  "If you don't like this, do your job. Fix it," he said recalling in graphic detail his own experiences on the job seeing dead bodies in tractor-trailers as he underscored the severity of the border crisis.  He said agents, amid this crisis, have been subject to "unprecedented attack and vilification" and "those men and women who chose a life of service to this nation deserve better, not only from the media but those in this committee and other members of Congress."

July 12: Breitbart News: Chicago bars ICE from access to police database
Chicago mayor Lori Lightfoot (D) said that the Windy City has made moves to bar Immigration and Customs Enforcement (ICE) from accessing its police databases amid reports of possible raids on illegal immigrants who have already been through the justice system and issued deportation orders. 

July 12: MSN News: Facebook to pay $5 billion settlement
The Federal Trade Commission voted this week to approve a roughly $5 billion settlement with Facebook that could end an investigation into its privacy practices, according to a person familiar with the matter but not authorized to speak on the record, a deal that could result in unprecedented government oversight of the company. The settlement -- adopted with the FTC's three Republicans supporting it and two Democrats against it -- could end a wide-ranging probe into Facebook's mishandling of users' personal information that began more than a year ago.

July 11: The Hill: White House social media summit
President Trump on Thursday denounced the world's top social media companies as being biased against him and his supporters and pledged that his administration will be exploring "regulatory and legislative solutions" to protect free speech online.  "We have terrible bias, we have censorship like nobody has any understanding or nobody can believe," he said.

July 11: The Daily Caller: AOC's green new deal about overhauling the economy not climate change
Democratic New York Rep. Alexandria Ocasio-Cortez's "Green New Deal" is more about drastically overhauling the American economy than it is about combatting climate change, her top aide admitted.  Ocasio-Cortez's chief of staff, Saikat Chakrabarti, made the revealing admission in a meeting with Democratic Washington Gov. Jay Inslee's climate director.

July 11: The Daily Caller: Trump to get citizenship data by other means
President Donald Trump announced Thursday that he will drop a fight to put a citizenship question on the U.S. Census and instead signed an executive order directing the Department of Commerce to obtain the information through other means.

July 11: CNSNews: Federal spending explodes
The federal government spent a record $3,355,970,000,000 in the first nine months of fiscal 2019

July 10: The Hill: High anxiety hits Senate over raising the debt ceiling
Senators are growing anxious that they might have to vote to raise the nation's debt ceiling in a matter of weeks given new estimates that the government could hit its borrowing limit earlier than expected.  The Treasury Department is now taking steps known as "extraordinary measures" to prevent the government from going over its borrowing limit.  Lawmakers had hoped they would be able to avoid the politically painful vote to raise the debt ceiling until the fall and that it could be packaged with other legislation to fund the government and set budget caps on spending.

July 10: Breitbart News: MN city meeting erupts in "USA" after Pledge of Allegiance canceled
Saint Louis Park's city council meeting erupted inn displays of the U.S. flag and chants of "USA, USA" after officials canceled the recitation of the Pledge of Allegiance to kick off its meetings.  The announcement did not sit well with many citizens of the Minneapolis suburb.  The latest council meeting held on Monday featured a large number of citizens carrying American flags and chanting patriotic slogans.  Council member Anne Mavity, who pushed the ban on the Pledge, said that reciting the Pledge may make non-citizens that deal with the city uncomfortable.

July 10: The UK Daily Mail: Trump wins victory in court
Donald Trump won a rare unanimous judicial victory Wednesday after a three-judge panel in the 4th circuit tossed out a Democrat-led lawsuit accusing him of corruption by accepting foreign government business at his Washington, D.C. hotel.  The U.S. Constitution makes such dealings impermissible, although the Trump Organization writes am annual check to the Treasury to offload its profits from all such transactions it can identify.

July 9: The Daily Caller: House Intel witness accuses Fusion GPS founder of perjury
A House Intelligence Committee witness accused the founder of Fusion GPS -- the firm behind the Steele dossier -- of committing perjury during a Senate interview in 2017.  Felix Sater, who has worked with the Trump Organization, discussed the Fusion GPS founder, Glenn Simpson, while taking a break from a closed-door interview with the House panel.  Democrats sought an interview with Sater to discuss whether the Kremlin could have any leverage over President Donald Trump due to his business dealings in Russia.

July 9: Politico: Brit ambassador to U.S. resigns amid leaks
Reports that British Ambassador Darroch privately dissed Trump's team as "dysfunctional" and "inept" in leaked cables back to the British foreign ministry have set off a diplomatic spat and soured Trump on the diplomat.  The fracas started Sunday, when the Daily Mail published a story detailing the contents of secret cables that Darroch had sent to London offering his analysis and views on the Trump administration starting in 2017. According to the British news outlet, Darroch described internal divisions in the White House as "knife fights,"

July 9: Kansas City Star: Woman starts shooting because of long lines at DVM
A woman upset that the line wasn't moving fast enough at a DMV licensing office in Kansas City's Northland allegedly pulled out a gun and fired shots outside, police and witnesses said.  Law enforcement rushed to the scene after receiving reports of shots being fired by woman armed with a gun. The officers took the woman into custody as she was getting into her car in the parking lot.  Nobody was injured in the incident.
July 5: CNBC News: Strong job growth is back; payrolls jump in June as well
Payroll growth rebounded sharply in June as the U.S. economy added 224,000 jobs, the best gain since January and running contrary to worries that both the employment picture and overall growth picture were beginning to weaken. The unemployment rate edged up to 3.7% as labor force participation rose, according to the Labor Department.

July 5: Associated Press: Utah teachers practice responding to school shootings
The Utah school psychologist weaved through a maze of dusty halls before spotting him in the corner of a classroom, holding a gun to a student's head. She took a deep breath and fired three shots, the first time she's ever used a gun. "Nice work," a police officer told her.   Miramontes recently joined 30 other Utah teachers at a series of trainings where police instructed them on how to respond to an active shooter. Teachers went through the shooting drill inside a warehouse set up to look like a school, then moved outside to a shooting range.

July 5: CBC News: DOJ signals it is still fighting for citizenship question
The Justice Department signaled to a federal judge in Maryland Friday they're still fighting to place the citizenship question on the census, something Mr. Trump insists he wants.   U.S. District Judge George Hazel had given the Justice Department until 2 p.m. to explain what the administration intends to do

July 4: Yahoo News: Trump celebrates U.S. might, avoids politics in speech
President Donald Trump sang the praises of the US military and American heroes of the past two and a half centuries Thursday, skirting politics in a rousing Independence Day speech in Washington.  "What a great country," Trump exclaimed in an address saturated with patriotism and exceptionalism, after critics accused him of hijacking the annual celebration.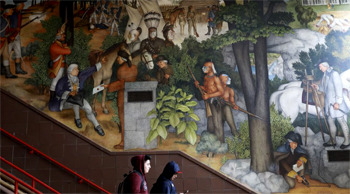 July 4: Associated Press: San Francisco to paint over
historic George Washington mural
San Francisco will spend up to $600,000 to paint over historical artwork at a public school depicting the life of George Washington, a mural once seen as educational and innovative but now criticized as racist and degrading for its depiction of black and Native American people.  The "Life of Washington" was painted by Victor Arnautoff, one of the foremost muralists in the San Francisco area during the Depression. The San Francisco School Board's decision to paint over the 83-year-old mural is prompting some to worry that other artwork from the so-called New Deal era could face a similar fate because of changing sensitivities.

July 3: Breitbart News:  Trade figures show China tariffs are working and helping U.S. allies
A small rise in the trade deficit with China in May masks a much larger shift in U.S. trade away from the world's second largest economy.  The most revealing figure in the May data, however, is the annual decline in trade and the trade gap between the U.S. and China. In the first five months of the year, imports have fallen by almost 12%. This suggests the trade dispute is hurting China's sales to the U.S.  The economic damage from the trade war is very specific to China. The U.S. appetite for imported goods has not diminished.  But the sources of imports have shifted away from China with one big beneficiary being Taiwan.

July 3: Fox News: Who's to believe;  Two Hispanic pastors or a Congresswoman?
Two pastors stood their ground after Congresswoman Ocasio-Cortez (D-NY) seemed to dispute their claims that conditions at immigration facilities they toured were "drastically different" from what she saw.  Rev. Sam Rodriguez, president of the National Hispanic Christian Leadership Conference, got permission to take a group of pastors to see for themselves the reported deplorable and inhumane conditions for illegal immigrants at an El Paso County, Texas migrant detention center.  He said what they saw was vastly different than what the congresswoman described was occurring there.

July 3: The Daily Caller: California City becomes as 2nd Amendment sanctuary city
Needles, California, has declared itself a sanctuary city for the Second Amendment and plans to resist some of California's restrictive gun laws, which they say infringe on their right to keep and bear arms.  Needles' city council voted unanimously to make the declaration.   The city attorneys are drafting legislation to allow those with out-of-state concealed weapons  permits to be able to carry within the city.

July 2: The Orlando Sentinel: NASA astronaut crew capsule endures intense test
Taking off from Canaveral the capsule was launched. Its mission: To test abort systems, proving the craft can save its human inhabitants in the case of an emergency mid-flight, though there were no astronauts on board for this flight.  Traveling at about 800 mph, the 93-foot stack consisting of a Northrop Grumman booster and Lockheed Martin-built crew module and launch abort system climbed to about 31,000 feet in 50 seconds. Just then, a roar crashed over the surf as the capsule initiated its abort. 

July 2: The UK Daily Mail: Court Martial: Gallagher found not guilty
Navy SEAL Eddie Gallagher has been found not guilty of murder and attempted murder after a two week war crimes trial. The jury took less than a day to reach a verdict. Gallager, 40, was convicted of posing with the ISIS fighter's corpse but is expected to walk free from court on Tuesday. The maximum sentence for the crime is four months and he spent longer than that in confinement awaiting trial before being freed by President Trump in March.

July 2: The UK Sun: Red Alert: Sailors die in submarine fire
The seaman were poisoned by fumes when the vessel caught fire while taking biometric measurements yesterday, the defence ministry said.  Russian Defense Ministry reported. "On July 1, a fire broke out in Russian territorial waters on a research deep-water apparatus designed to study the bottom space and the bottom of the World Ocean in the interests of the Russian Navy.

July 2: Breitbart News: 2/3rds of Americans favor asking the citizenship question on the census
Sixty-seven percent of voters said that the government should include a citizenship question on the 2020 census, according to a poll released Tuesday.  The poll arises as the Supreme Court decided last week to block a citizenship question on the 2020 census.  Eighty-eight percent of Republicans, 52 percent of Democrats, and sixty-three percent of independents said that they support a citizenship question on the United States census. 

July 1: The Washington Times: Independence Day in DC a new kind of celebration
President Trump is advocating that tanks be included in the July 4th celebration, the "Salute to America" festival.  The festivities will include a military jet flyover, a 35-minute fireworks display, a parade and a scheduled speech by Mr. Trump on the Lincoln Memorial.

July 1: The UK Express: Will Israel attack Iran as Nuke red line is crossed?
Iran has breached the limit on its stockpile of low-enriched uranium set under a 2015 nuclear deal with world powers, according to sources. The breach comes less than a day after senior US allies of the White House had warned that Israel would strike Tehran as soon as the uranium limit was breached There is growing concern that now Iran had crossed the uranium red line, Israel could soon step up its military confrontation with a strike on Iran.

July 1: Breitbart News: Hong Kong: Pro-democracy protestors storm government offices
Police in Hong Kong clashed with thousands of protesters on Monday morning as events marking the anniversary of its handover from the UK to Chinese Communist rule spun out of control.  In chaotic scenes, police used pepper spray and batons to contain protesters outside a venue hosting an annual flag-raising ceremony as others fought to smash their way into the government building.

July 1: Defense News: Navy looking at adding hypersonic weapons to destroyers' arsenal
With bigger, faster missiles in development and bound for the fleet, the U.S. Navy's engineers are considering installing upgraded launchers on the stalwart Arleigh Burke class destroyers.  "Vertical launch system has been a real game changer for us. We can shoot any number of things out of those launchers," Vice Admiral Moore said. "We'll probably change those out and upgrade them for prompt strike weapons down the road."